They say fortune favors the bold, and Tom Strickler is living proof that there's truth to the adage.

In the mid-'90s, after years working as a talent agent at two of the world's leading agencies, he took a chance and co-founded Endeavor, which grew from four employees to become one of the largest talent agencies in the world. A little over a decade ago, after retiring early, he founded Extera Public Schools in the Boyle Heights neighborhood of east Los Angeles that currently educates 1,000 children. This board member of SCI-Arc, an independent L.A. architecture school, also helped purchase a massive ranch in Chile with the Tompkins family (the founders of beloved California brand Esprit) that eventually became Patagonia National Park.

And while his list of accomplishments implies a certain gutsiness, none of Strickler's bold moves have been riskier than his approach to house paint. It was Strickler's idea to cover the exterior of his Venice vintage Craftsman house in a shade of orange typically reserved for detour signs and traffic cones. The shade, made by Fine Paints of Europe, is actually called "Safety Cone Orange."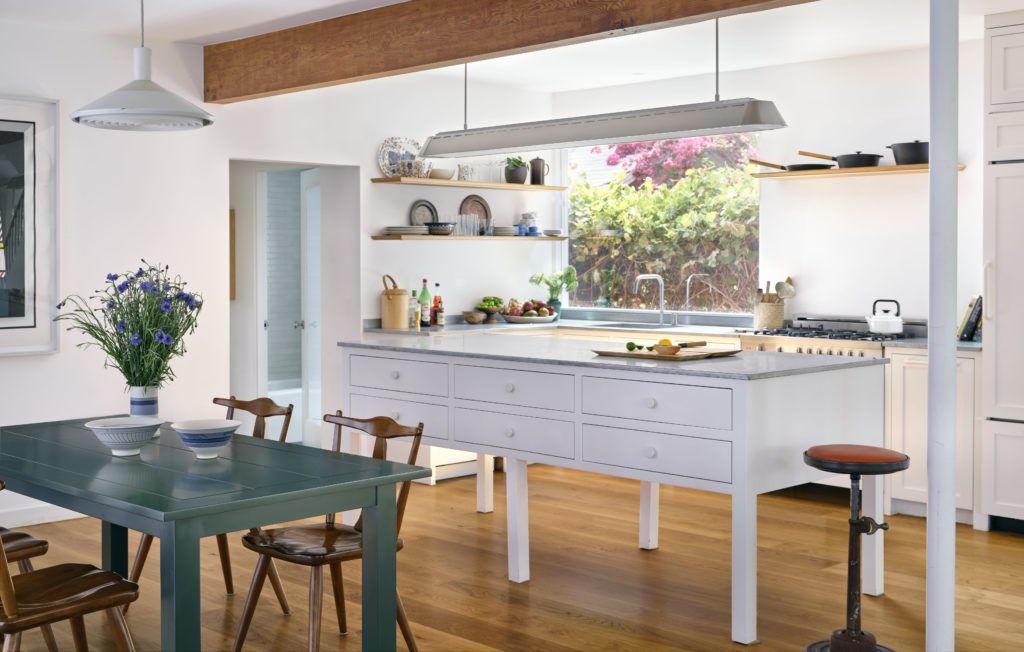 "Tom just has funny takes," says Cy Carter, the interior designer and partner (alongside his wife, Genevieve White) at Carter Design who collaborated on the renovation of the house with architect John Winston and Dirty Girl Construction. "He's been in the house since 1995, and really believes in living with a small footprint. The house was originally painted black. He did it back in the '90s before it was a trend, and then he wanted something different. He grew up summering in coastal Sweden, and all of the houses there are painted in really bright colors. We sampled loads of options. Then Tom said, 'What do you think about orange?'"

The vintage Bar Harbor wicker painted in cobalt (Evening Blue by Benjamin Moore) matched the intensity, creating an unpredictable palette that turns a few heads.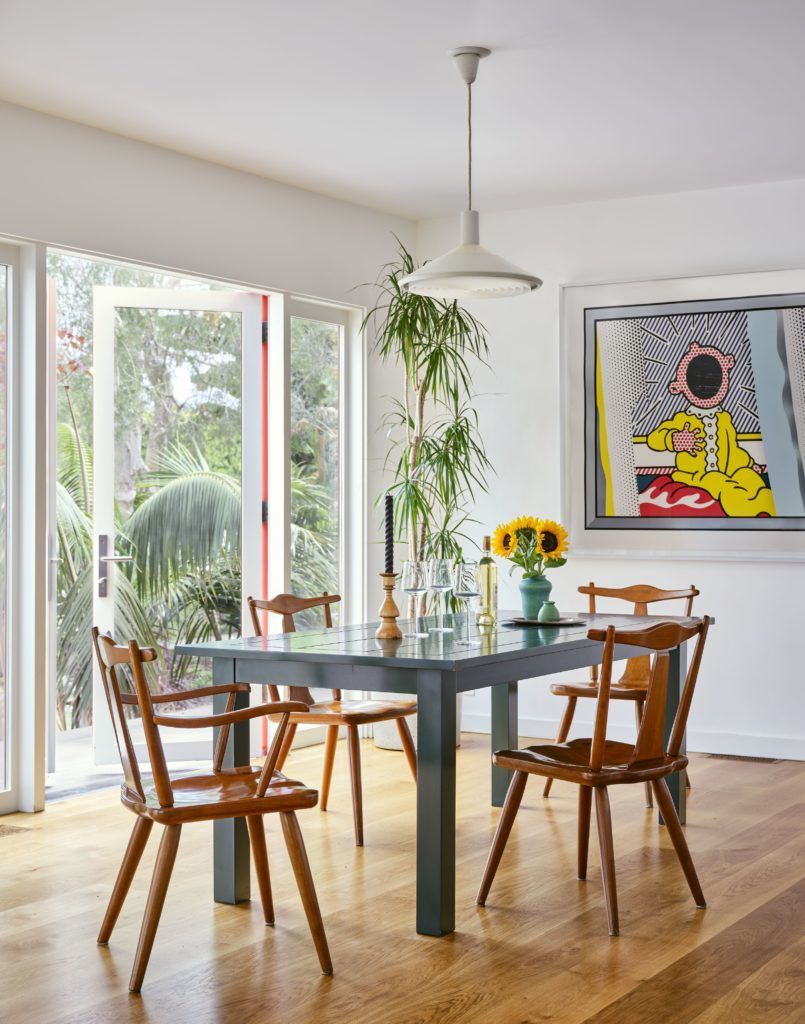 Carter describes the kitchen as "fresh and simple," saying that it was designed without stone or marble at his client's request. The custom zinc countertops by La Bastille were surprisingly affordable and will patina nicely with age.

The interiors are more subdued than the exterior, save for a few key pieces from Strickler's modern art collection.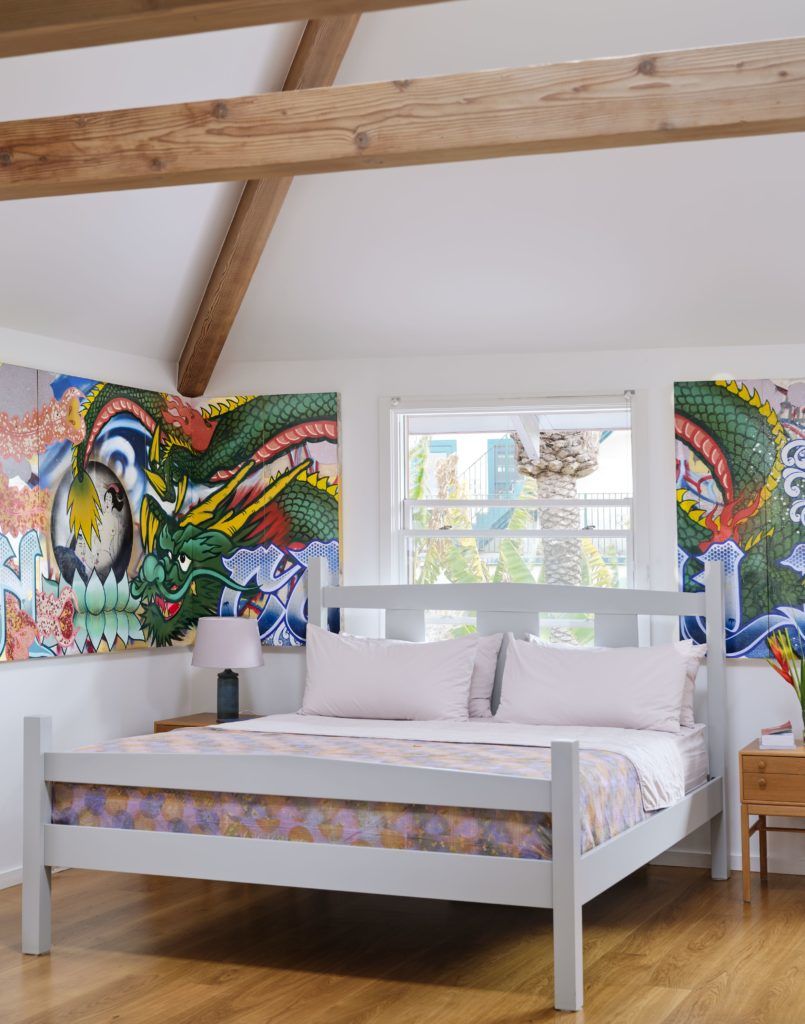 The art work that wraps around the primary bedroom is called "Southern Cali" by Gajin Fujita (2001). The bed is by Maine Cottage and the side tables are Tingstroms.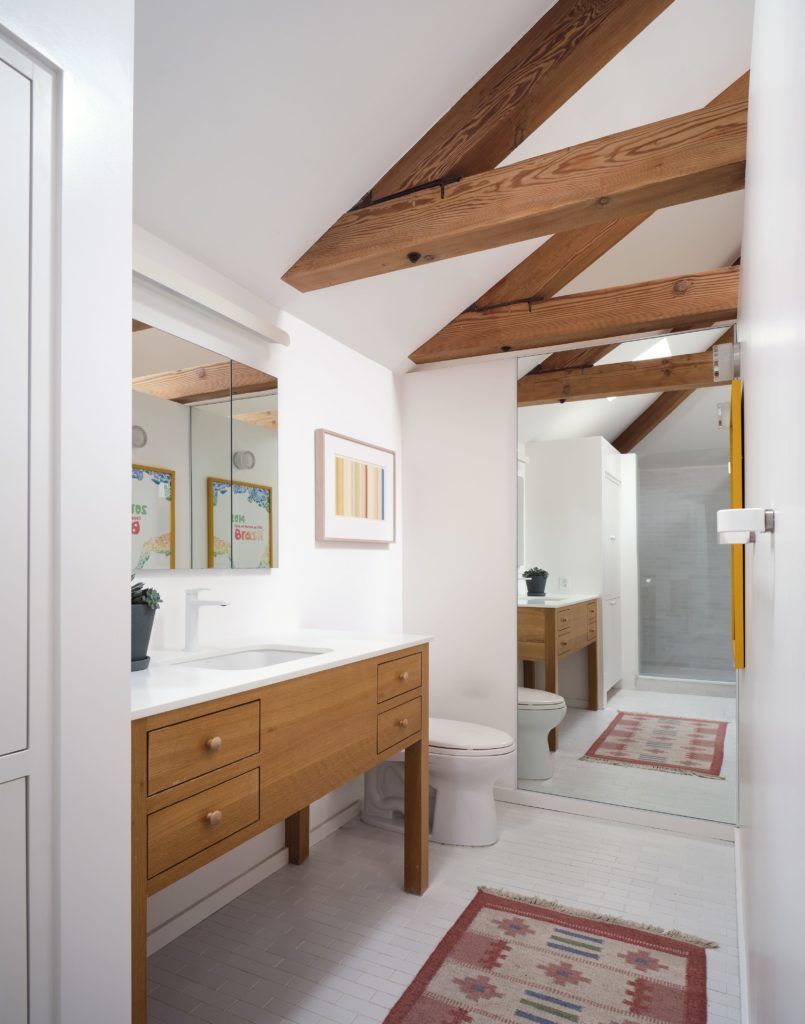 Strickler gave Carter a short but determined list of things he wanted in his house: Versatile guest rooms to accommodate a revolving crew of house guests from around the world, generous wall space for his art collection, and a trio of "the most comfortable chairs you've ever sat in." Carter was up for the challenge, and threw snobby design convention out the window, when he agreed to commit the No. 1 interior decorating sin to achieve this goal.

He bought La-Z-Boy recliners.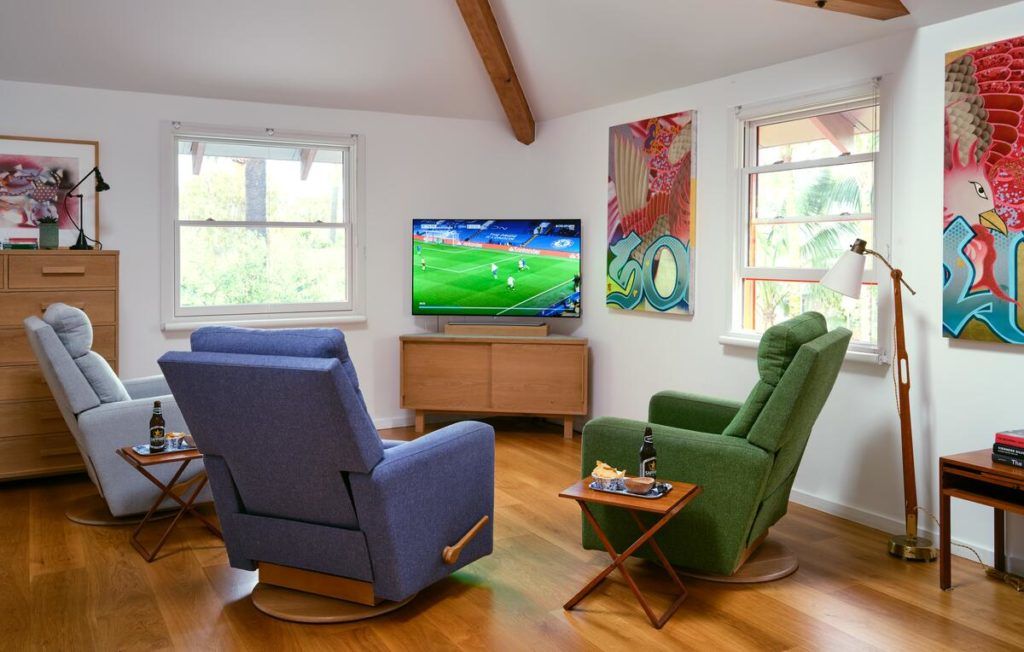 Then he tore them apart, stripping off the original fabric, and having them upholstered in a luxurious Italian wool.

"We took off all of the plastic parts and replaced them with oak," says Carter, clearly delighted by his own ingenuity. "He wanted a comfortable place to watch sports on TV with his pals, and he got what he wanted. "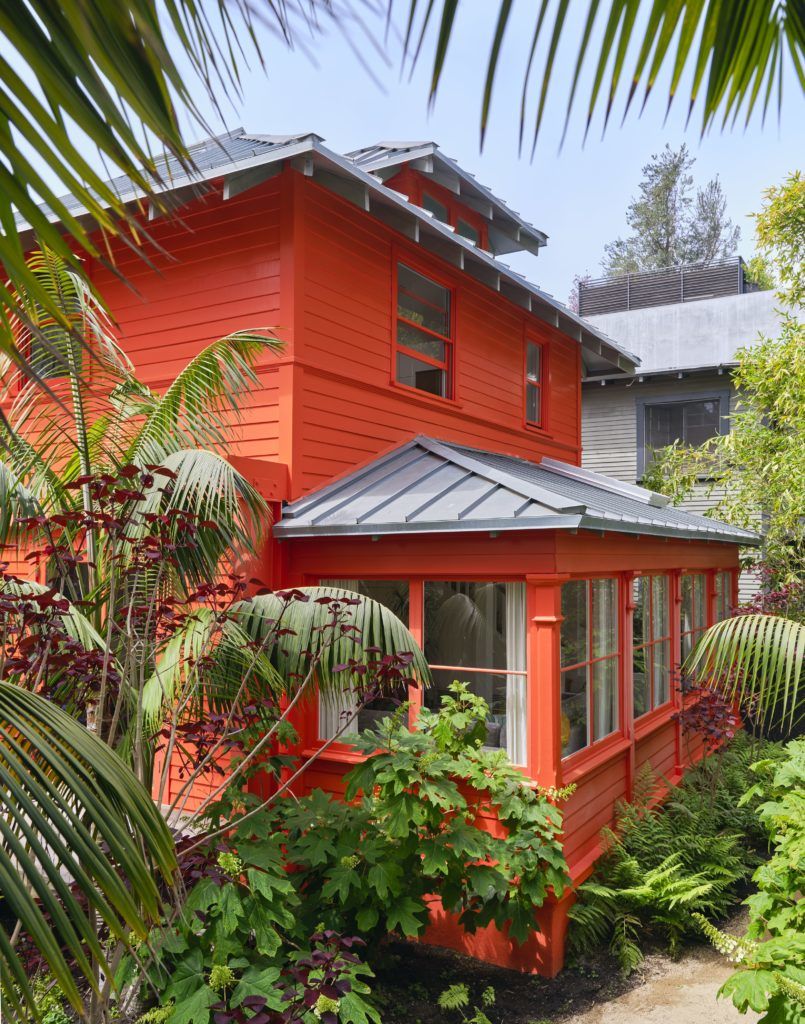 Outside, the rare double lot in Venice was landscaped by Jay Griffith to feel like a retreat in the tropics. The metal Rheinzink roof reflects heat and is built to last. You'll find a VW bus in the driveway ready to roll onto the next adventure.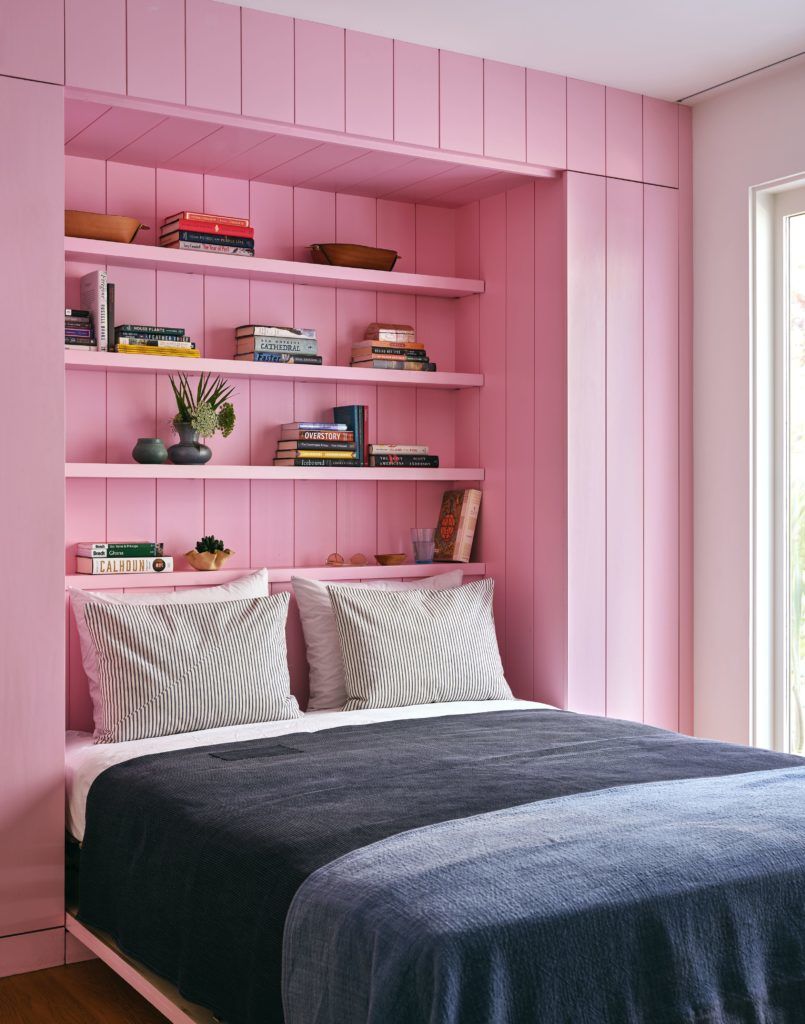 Back in a guest room, a wall bed stows away into a shiplap paneled wall, and is clad in a custom paint blended to match the pink of an Oxford dress shirt. When the bed is up, it's Strickler's preferred home office Zoom background. And it's caught the attention of fellow SCI-Arc board members, including Barbara Bestor.

"They've been Zooming a lot to prepare for the school's 50th and people have been noticing that pink wall behind him. They'll say, 'Tom, where are you?' But he likes to play it cool, and just smile, like it's totally normal," says Carter, acknowledging that it's anything but. "He's adventurous and fun and he just loves to play with color."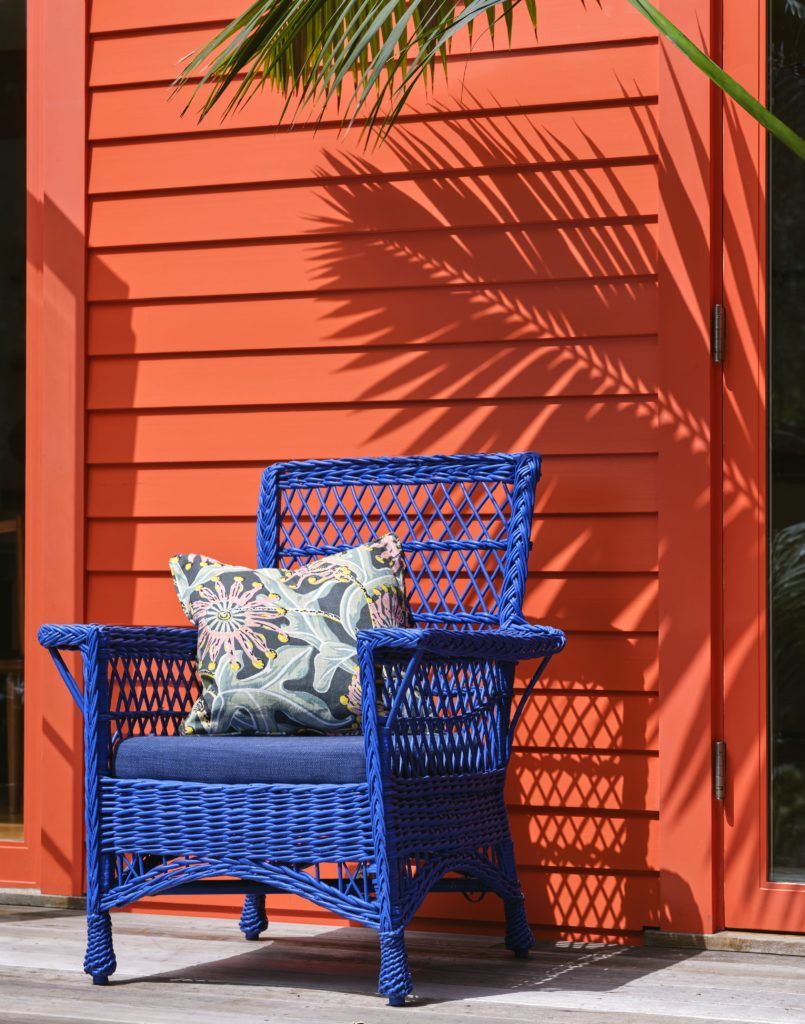 Antique stick wicker gets a modern makeover with several coats of Evening Blue by Benjamin Moore.