Located in Llanogrande, Colombia, 5 Solidos architects have designed this imposing jungle house to incorporate tranquil Japanese Ethos. The form of the home is softened inside and out with curved corners that facilitate a peaceful flow. Natural wood grain, great expanses of water and majestic trees join to create calm zen encounters across enchanting outdoor spaces, of which there are an equal balance over first and second story terraces.

Interior design is a sleek Japanese inspired affair of low to the ground chabudai tables, zabuton cushions and zaisu chairs. Minimalist aesthetics radiate a warm, earthy and traditional essence that creates a soothing sight to behold.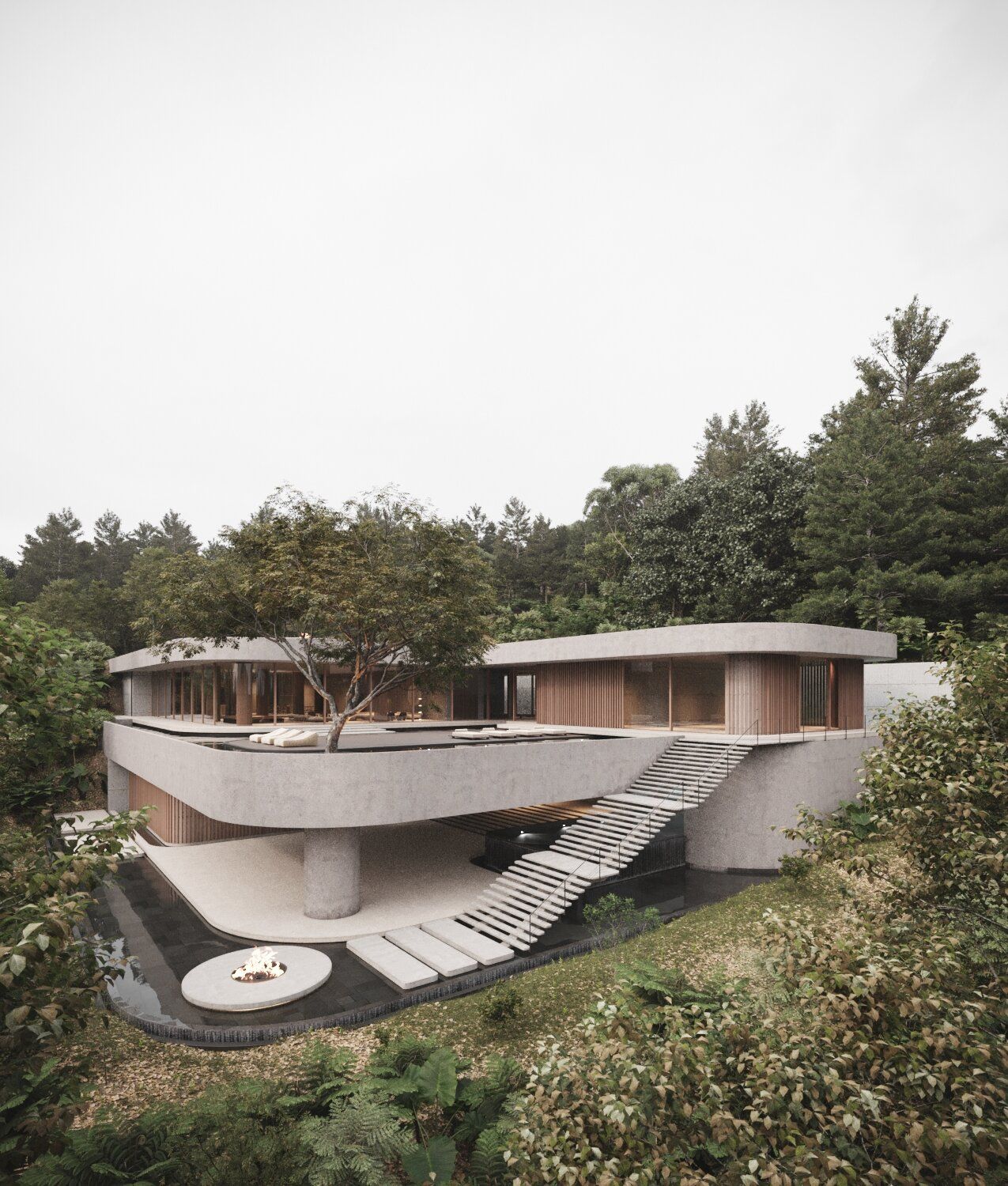 The modern exterior is dominated by a huge concrete staircase design that descends from the upper floor all the way down to a spectacular firepit on the ground floor terrace.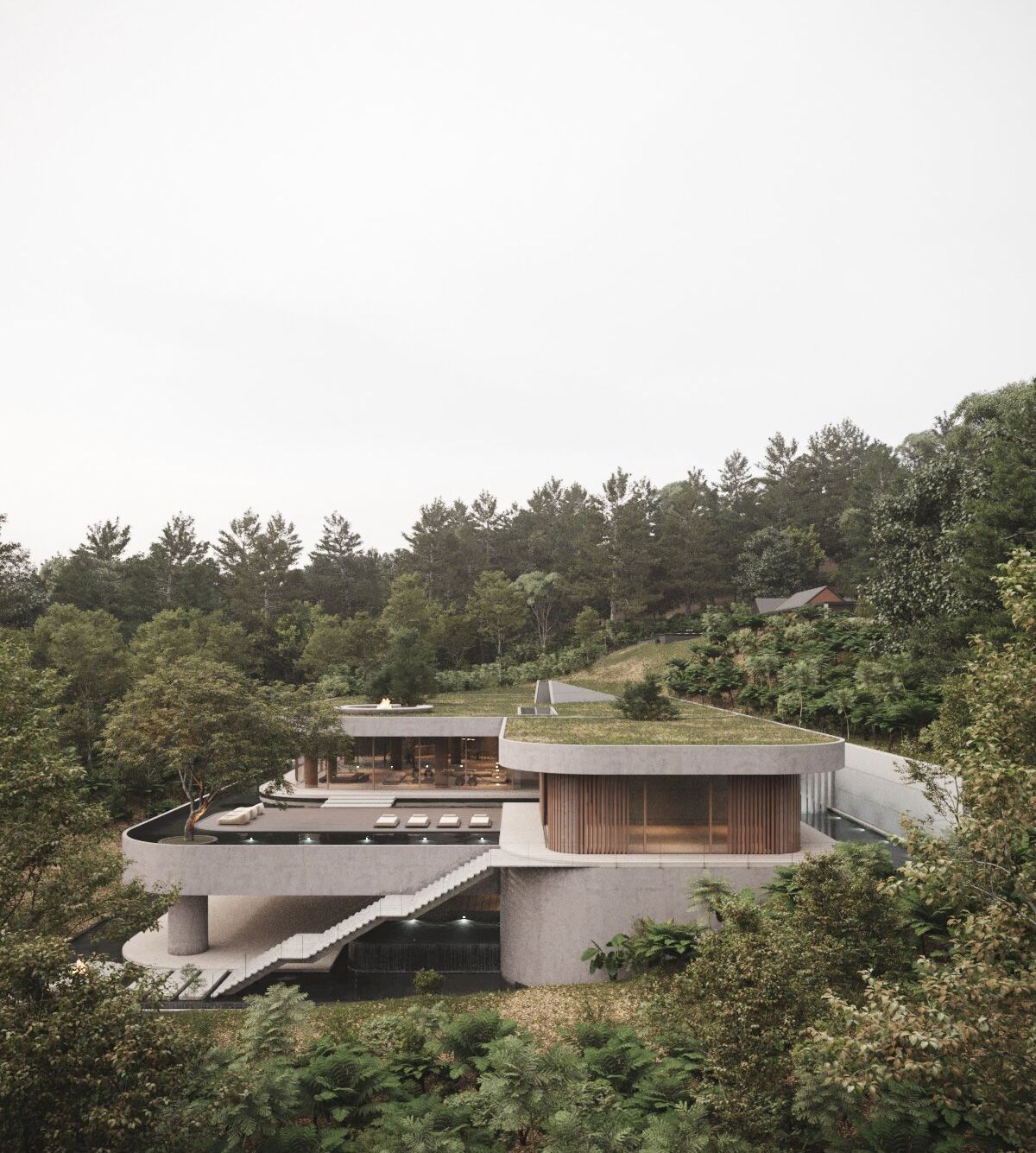 The second story has its very own terrace too, with a huge sundeck and a pool that wraps the softly curved perimeter of the concrete structure.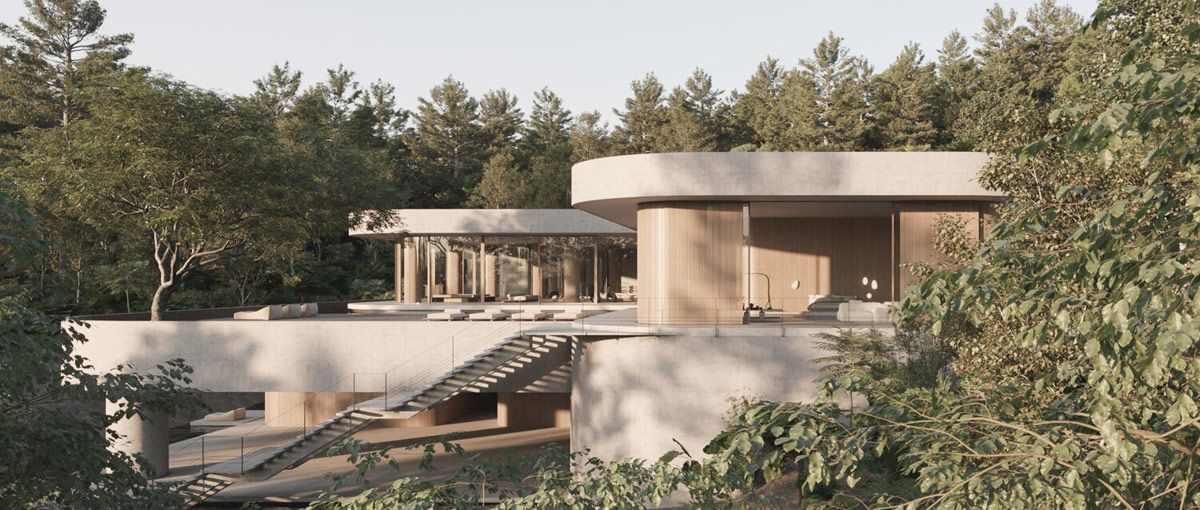 Mature trees shield the luxurious facade from the rest of the world, deterring unwelcome prying eyes and dampening any undesirable noise.

Wooden fascias interrupt the building's concrete exterior, building interludes of warmth and slatted texture.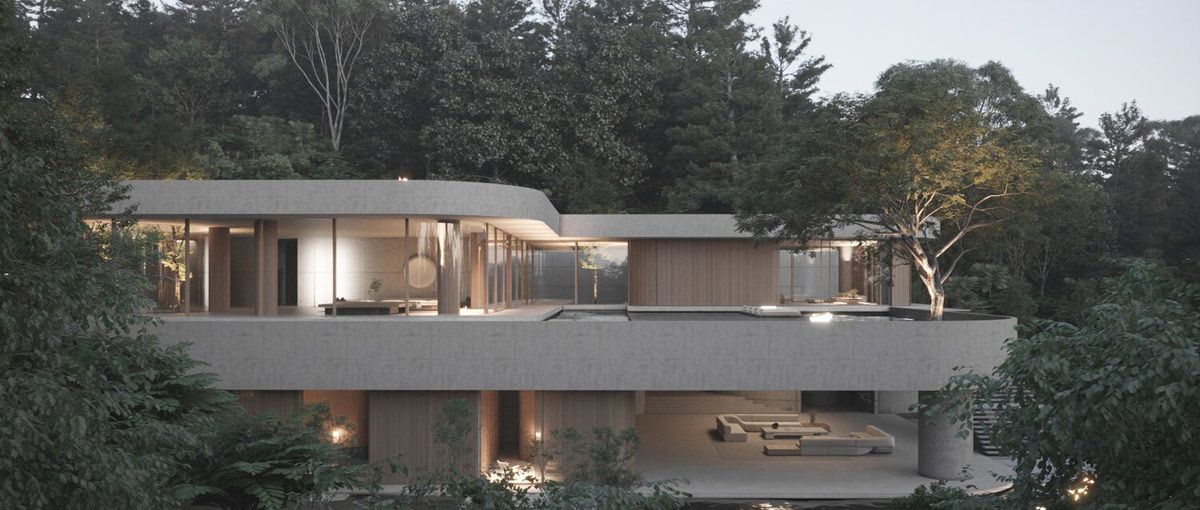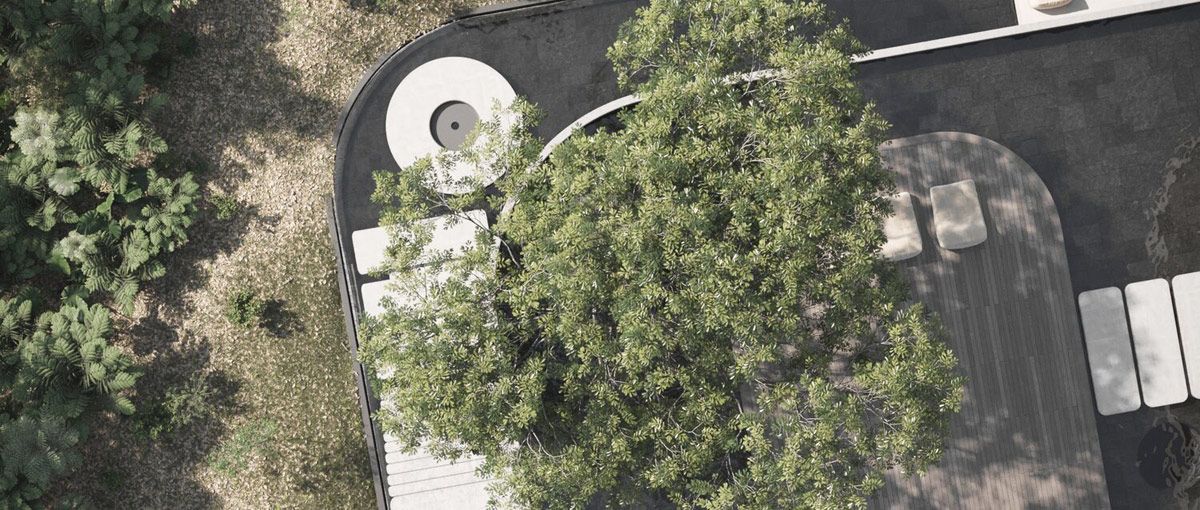 The home has its own resident tree that emerges in its full glory up on the top terrace. It's wide leafy branches grant blissful shade over the outer deck and pool.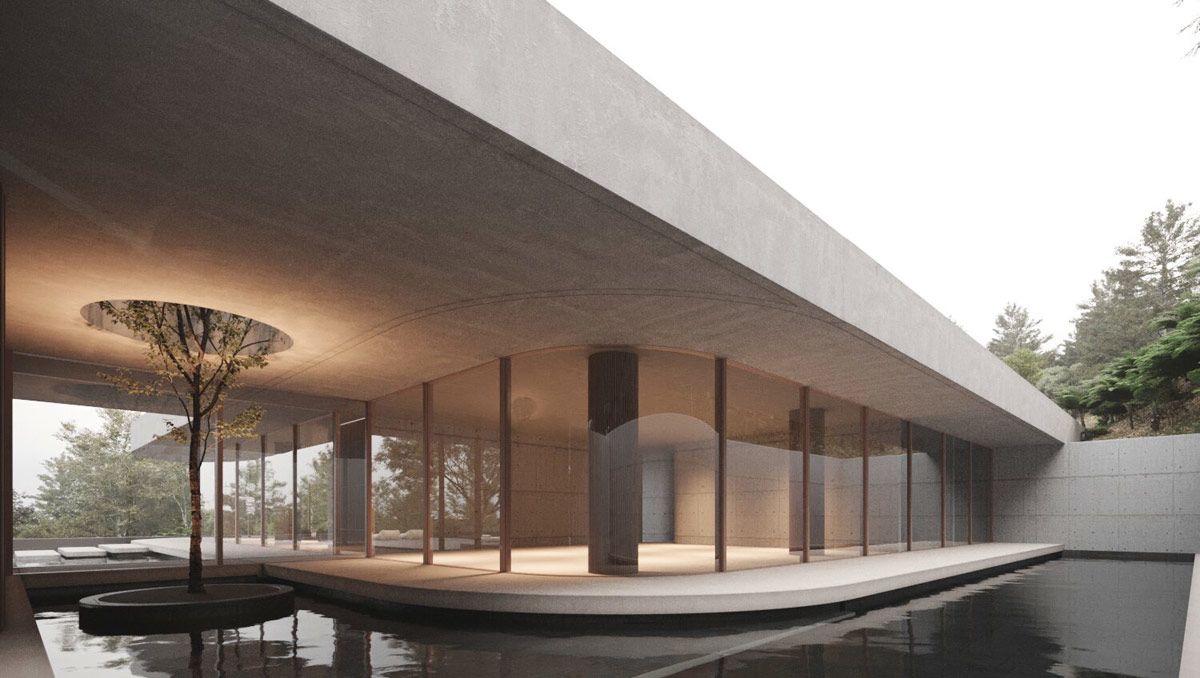 The tree's roots are planted firmly in ground level, isolated on an island surrounded by tranquil waters.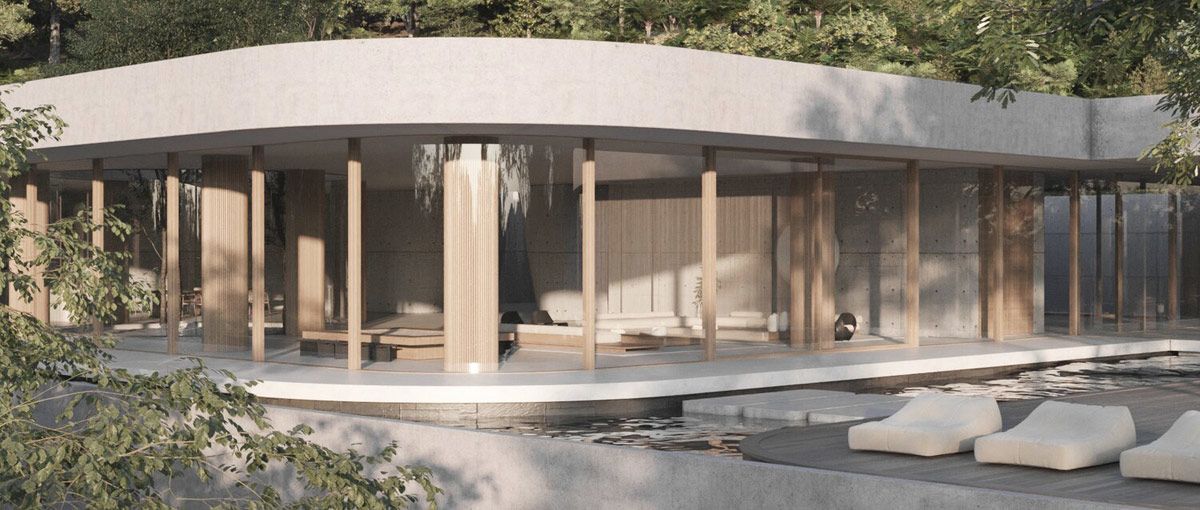 The vast majority of the home's walls are made entirely of glass and timber frame, allowing the interior to drink in the jungle view.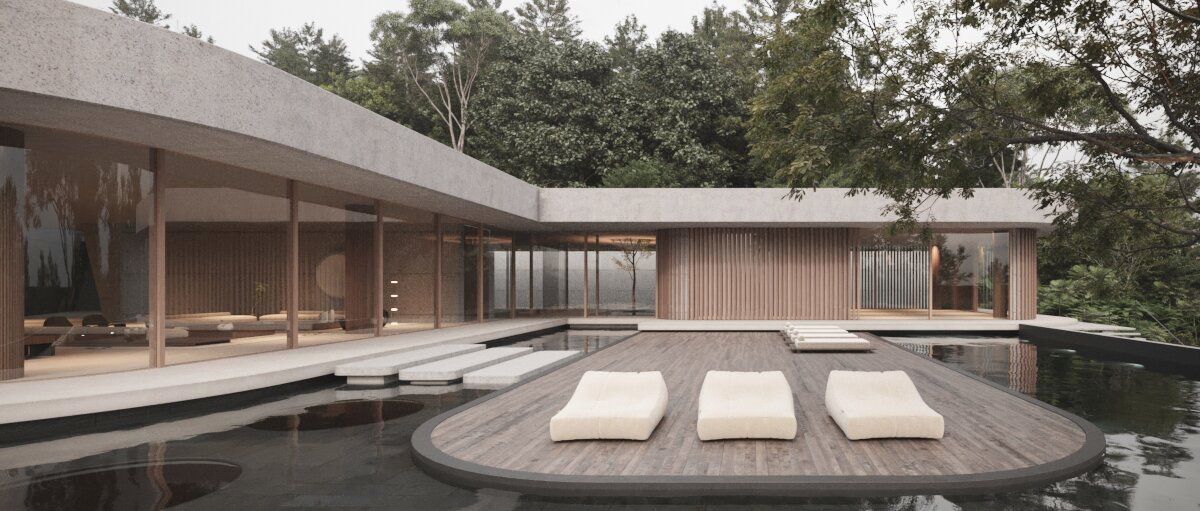 Huge stepping stones appear to float a path over the pool, before reaching the decked island at its centre.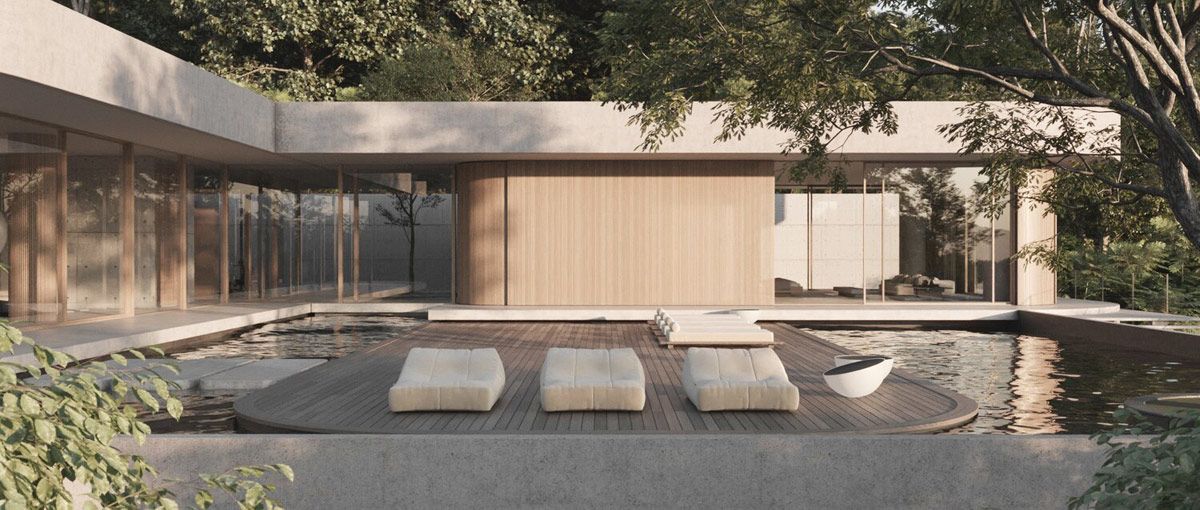 Modern outdoor chaise lounge chairs line up by the waters edge.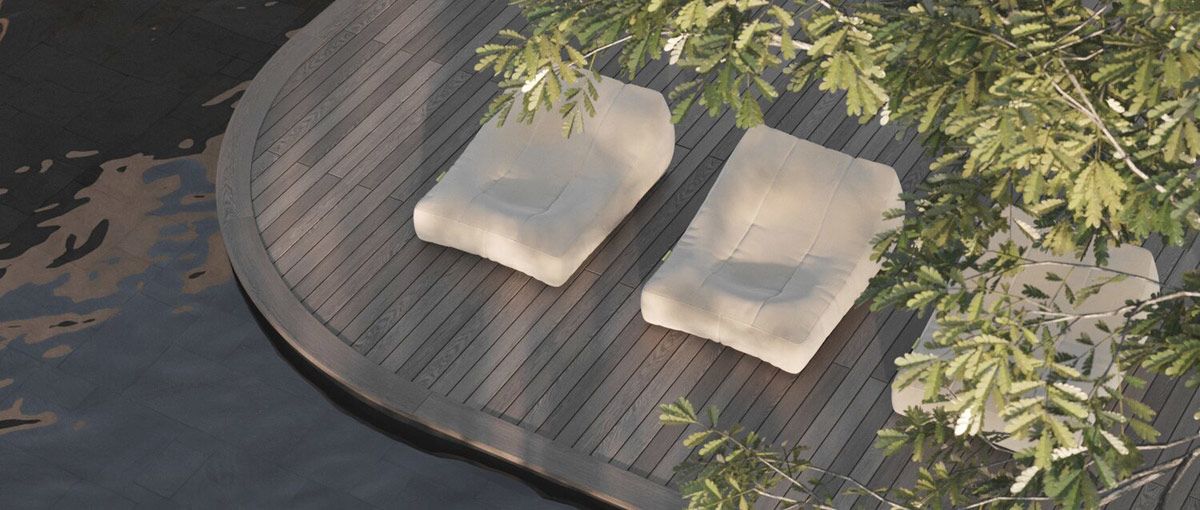 Natural wood, water and the majestic tree pull together to create a zen-like experience that quiets the mind, body and soul.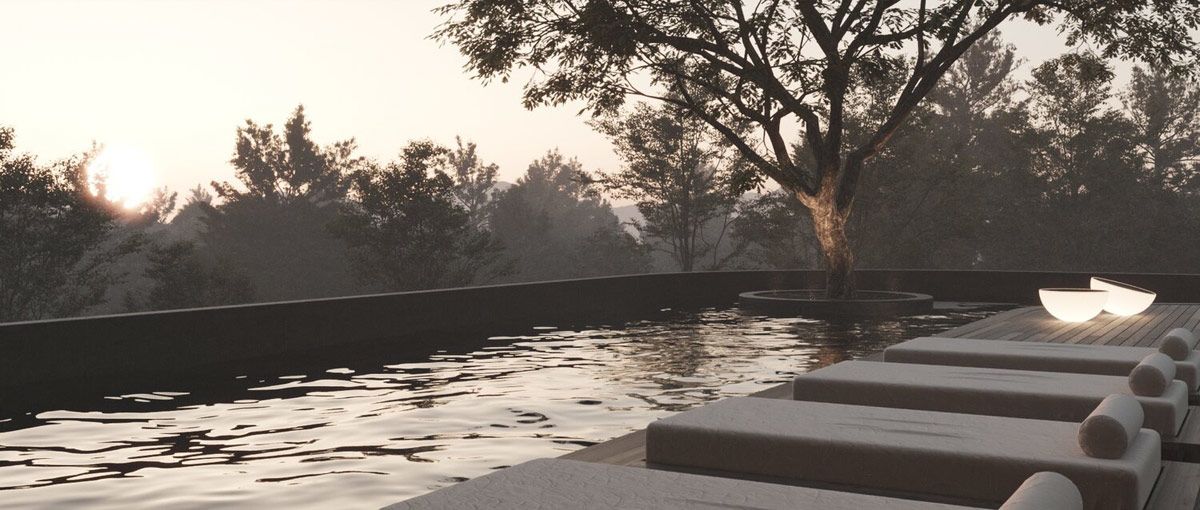 Abstract outdoor lights shine their glow at sundown, as daylight disappears behind the trees.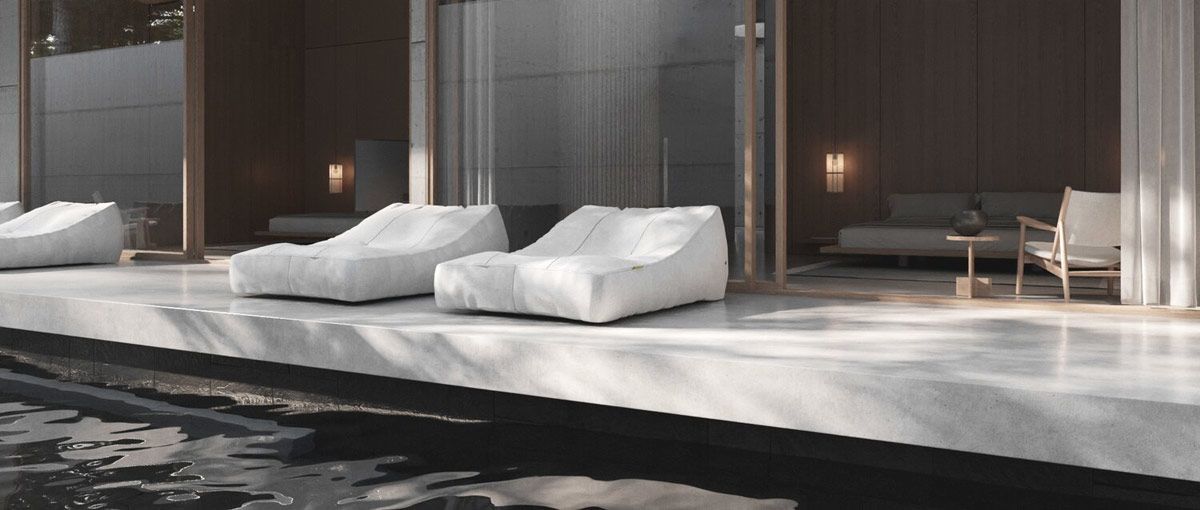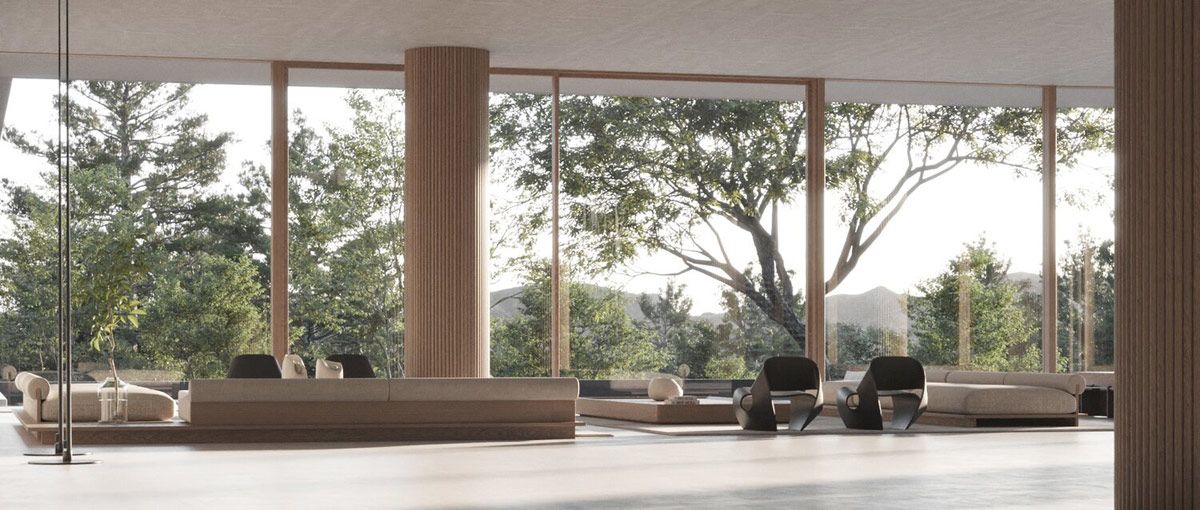 We enter the building at the living room, but it's not lounge furniture that commands the eye. A breathtaking panorama stretches out beyond floor to ceiling glass panes. Great pillars push vertically through the space like ancient tree trunks.

Upon pulling our eyes away from the glorious view, we find a contemporary concrete wall living room with sleek modern Japanese finesse.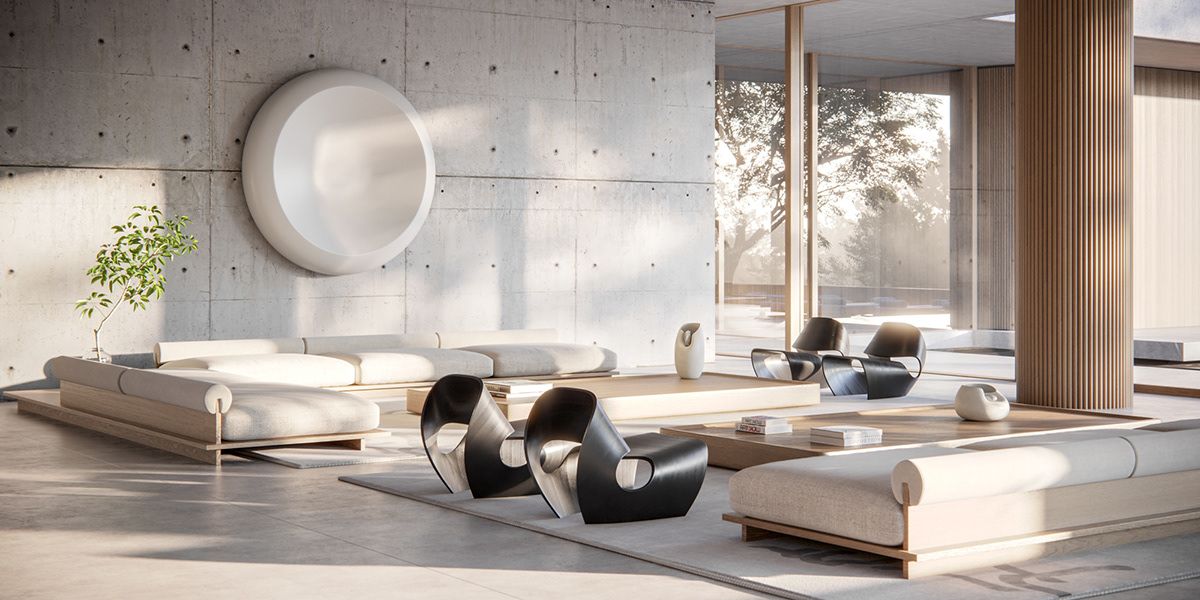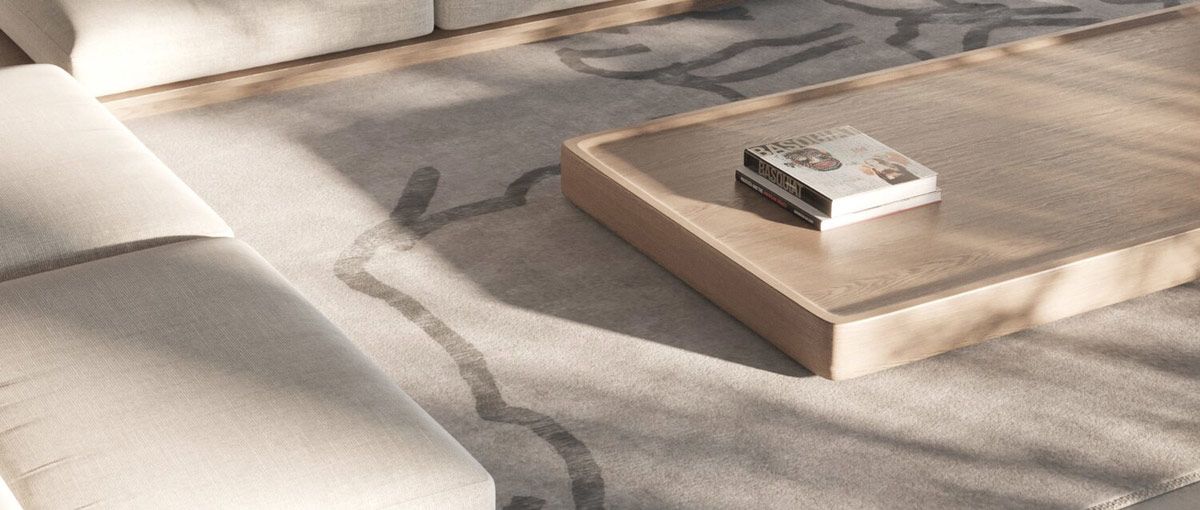 A low level sofa and a low coffee table hug the floor. A small stack of coffee table books tidily accessorise the smooth tabletop.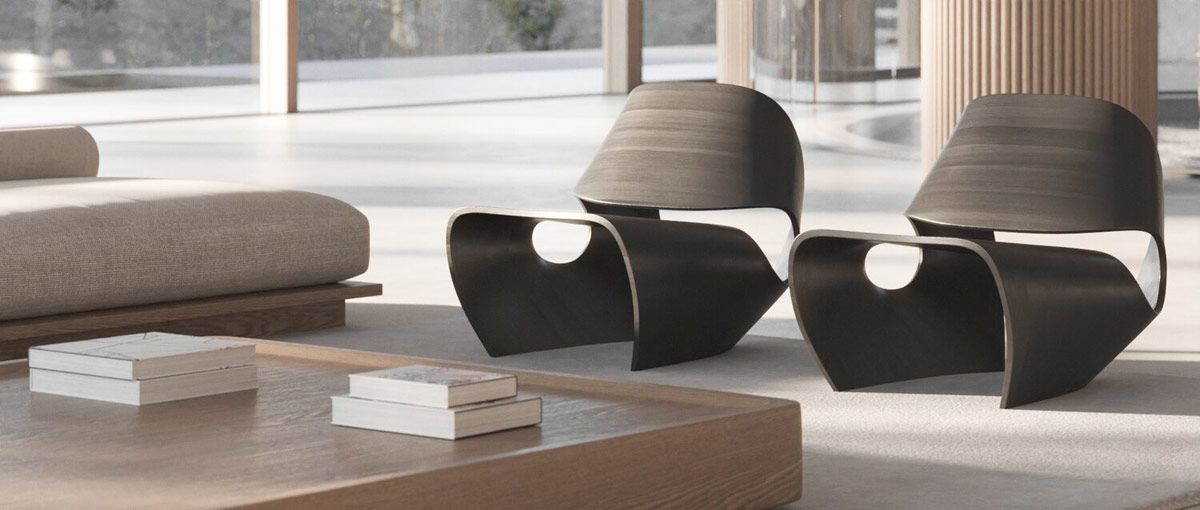 Unique sculptural accent chairs are paired to double their eye catching presence.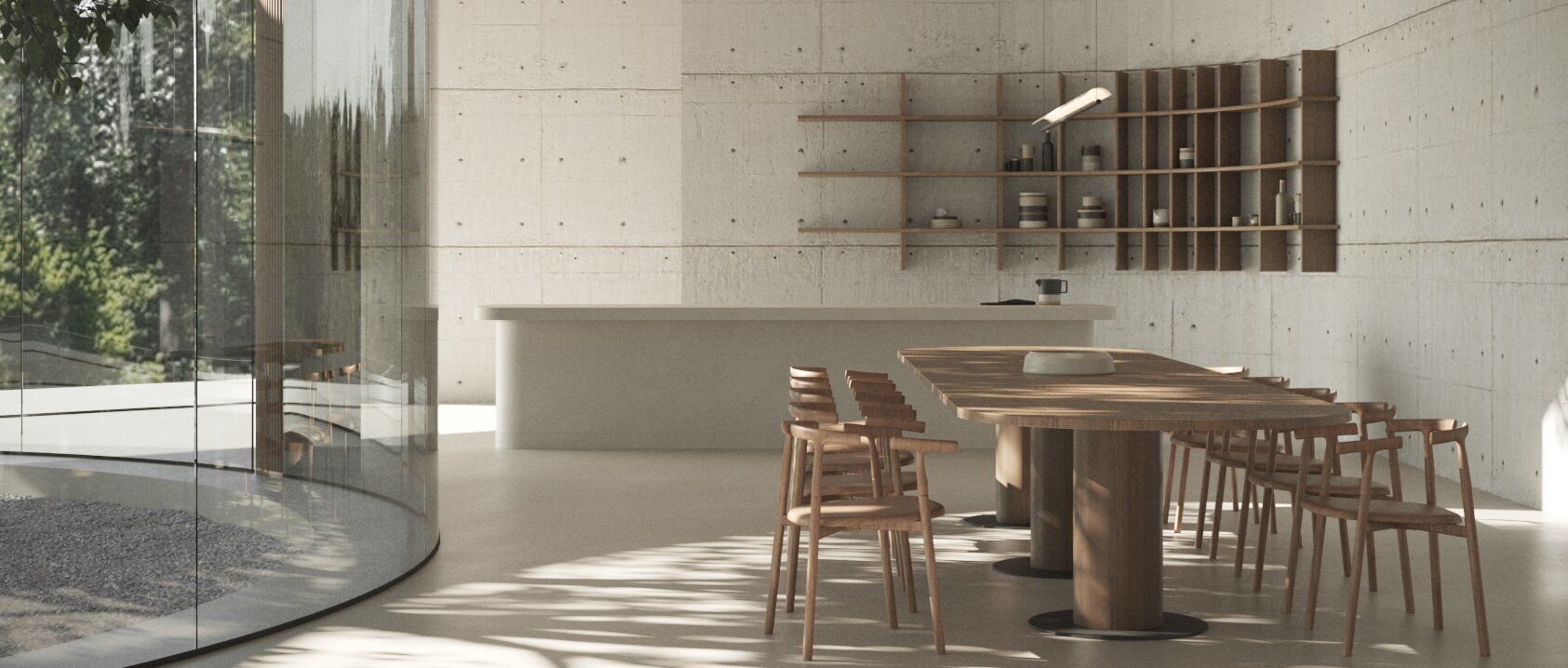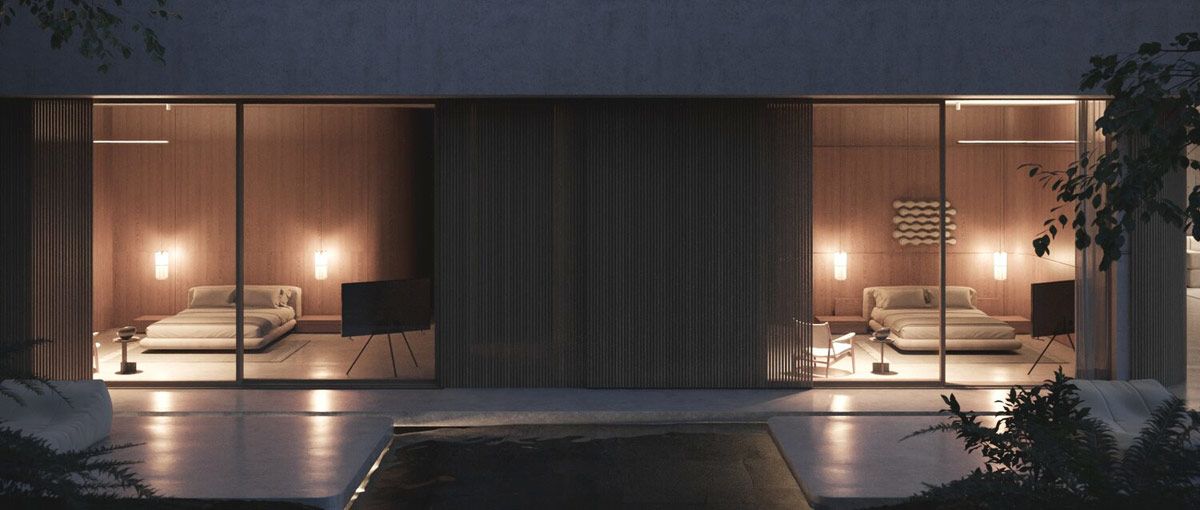 Bedroom designs twin with the same warm wood clad decor and tranquil minimalism. Japanese style platform beds and contemporary bedside units lay low to the ground.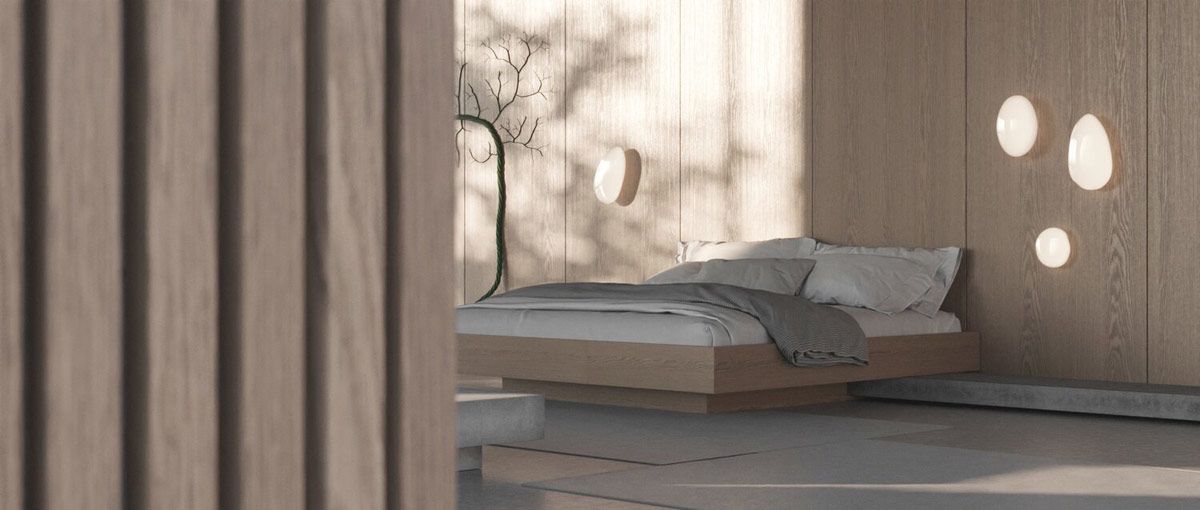 Modern wall sconces erupt from bedroom walls, like huge gems waiting to be mined.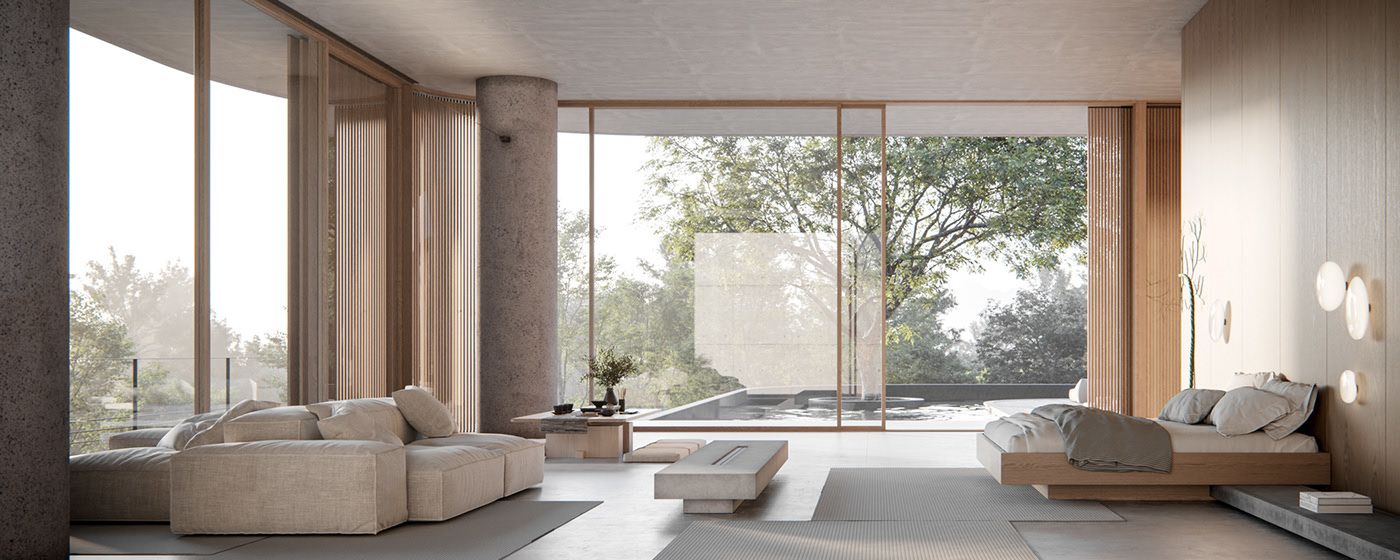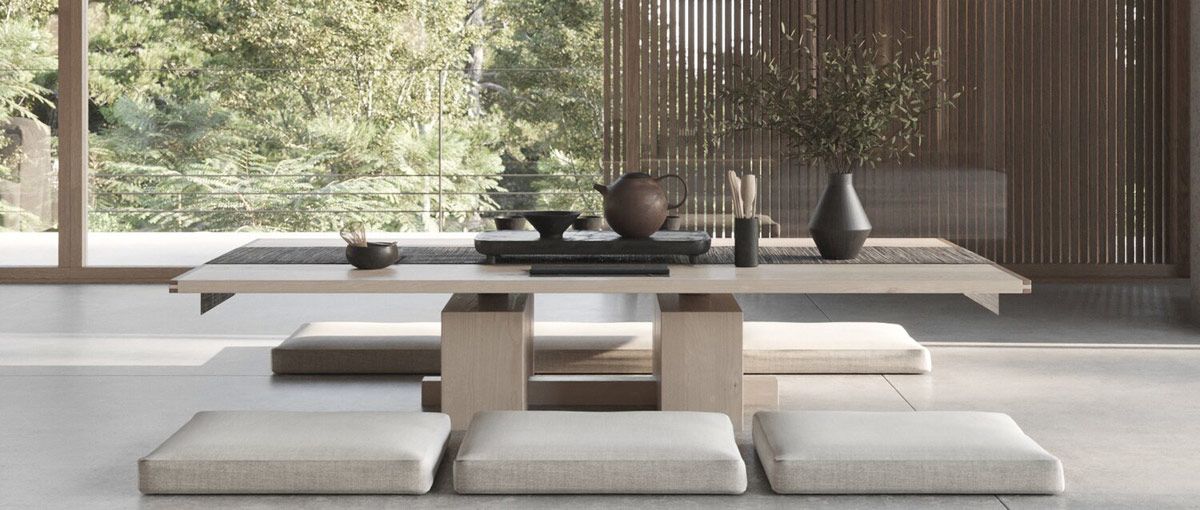 Zabuton cushions line up at a modern Chabudai table, where a unique teapot awaits to serve.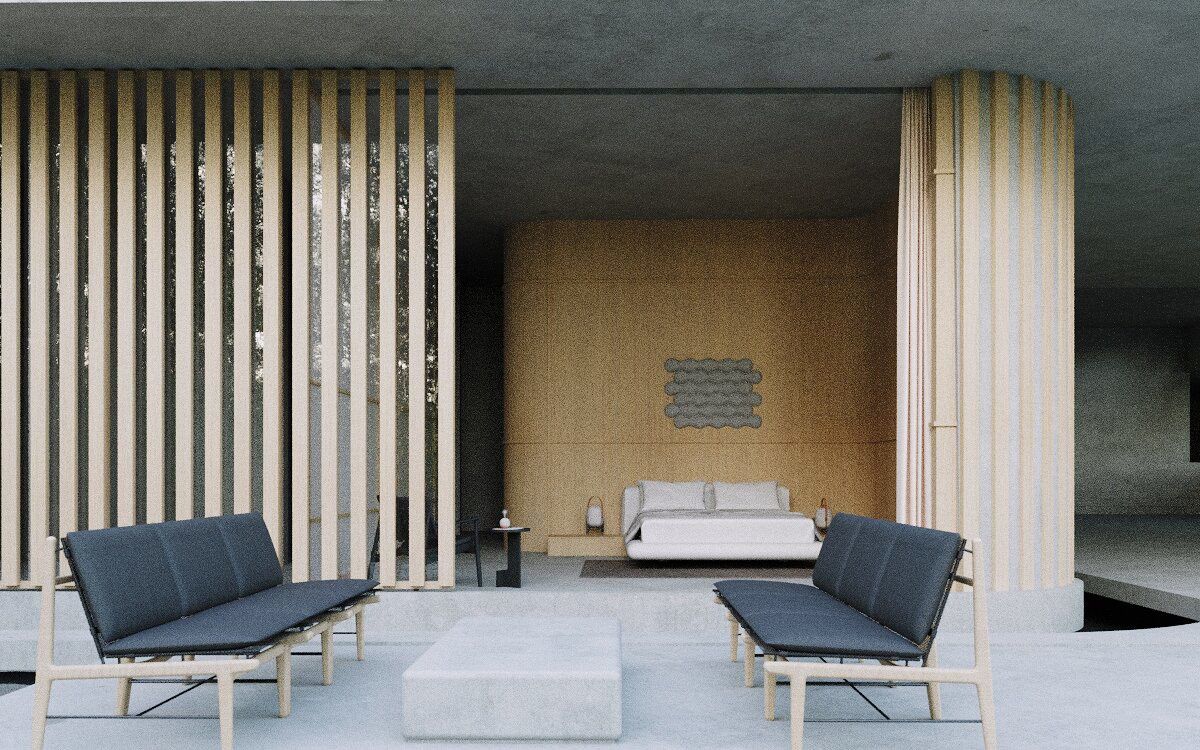 On the terrace, a monolithic outdoor coffee table melds with the concrete floor. An outdoor sofa flanks each side in a conversational arrangement.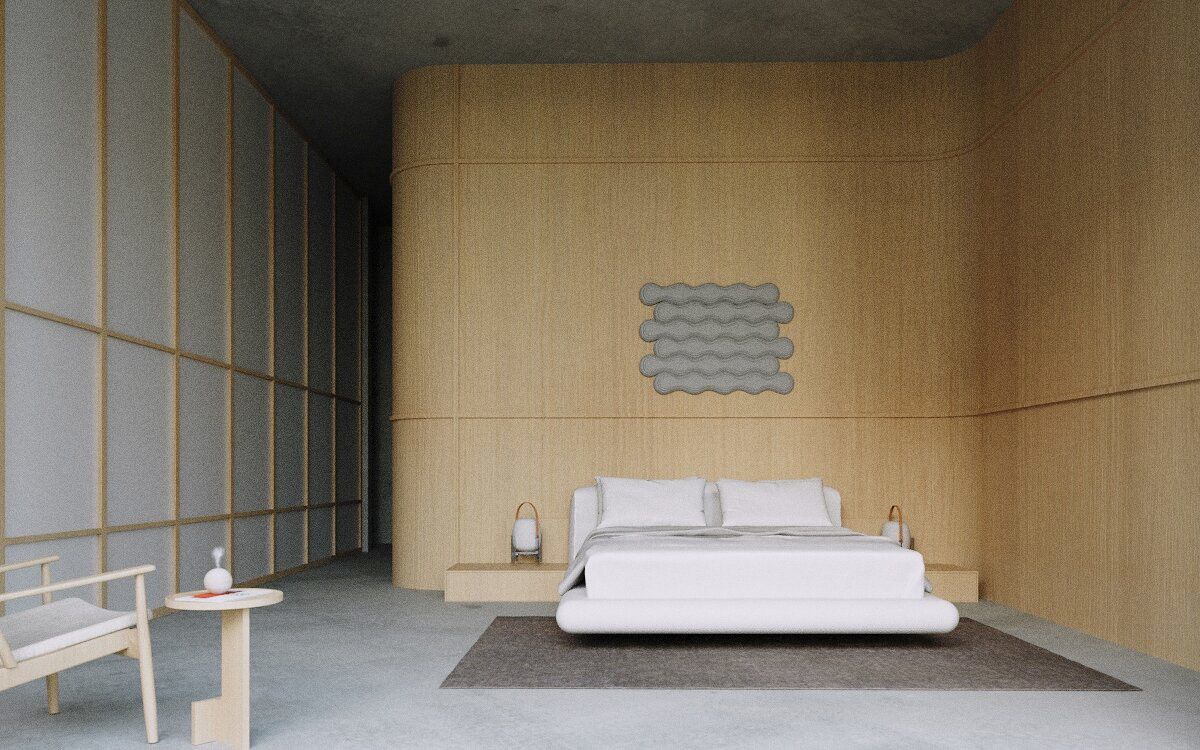 In this minimalist bedroom design, towering wall height builds a unique palatial atmosphere.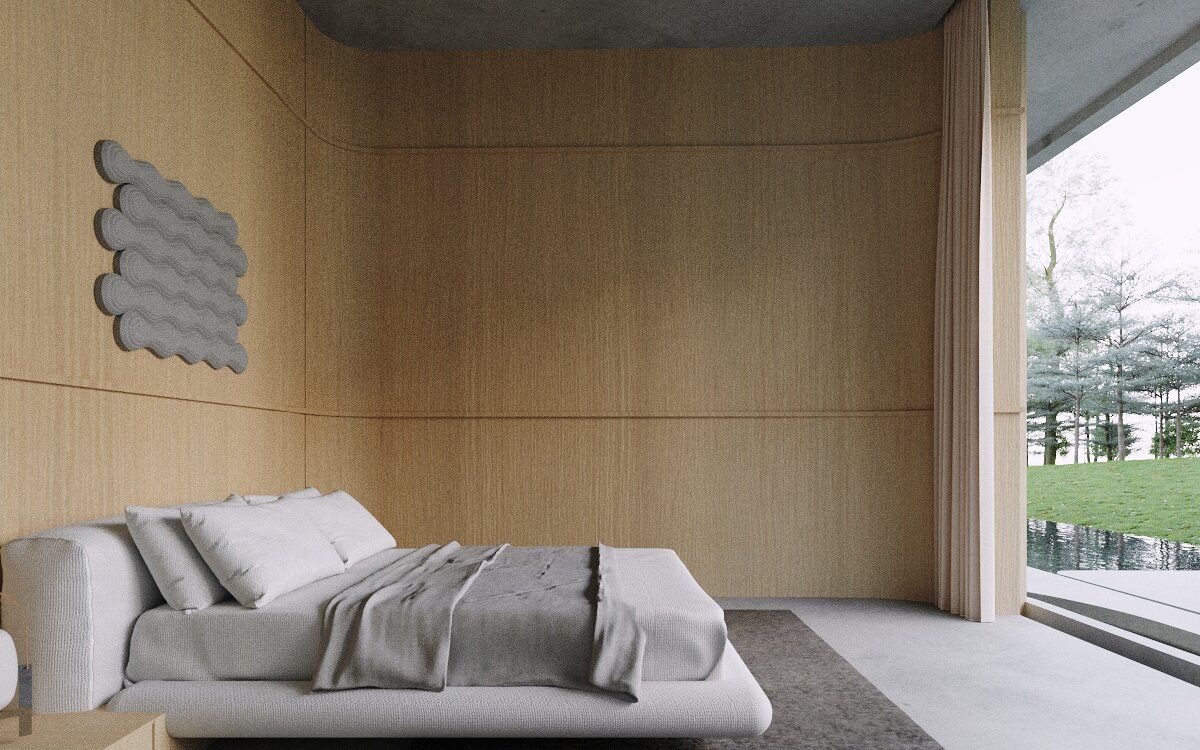 Wooden wall panels curvaceously navigate the space.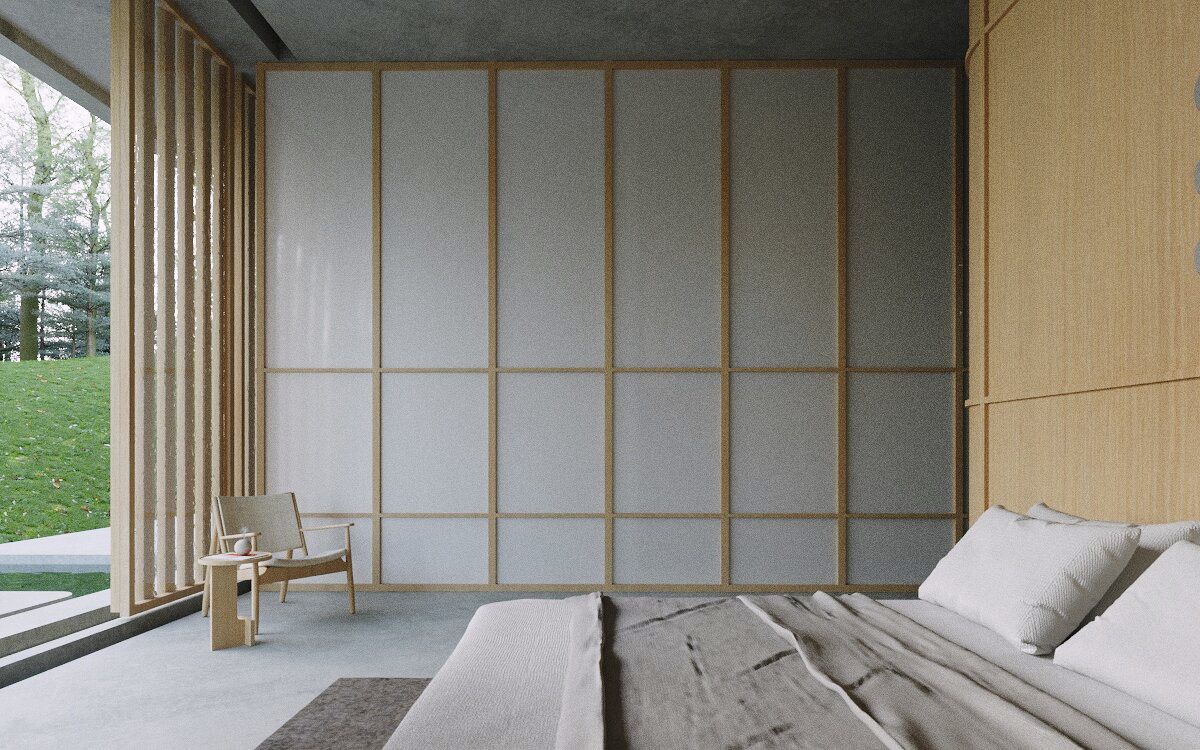 A bedroom chair and small side table rest beside the window wall, where wooden slats manipulate direct sunlight. Concrete stepping stones steal away from the exit.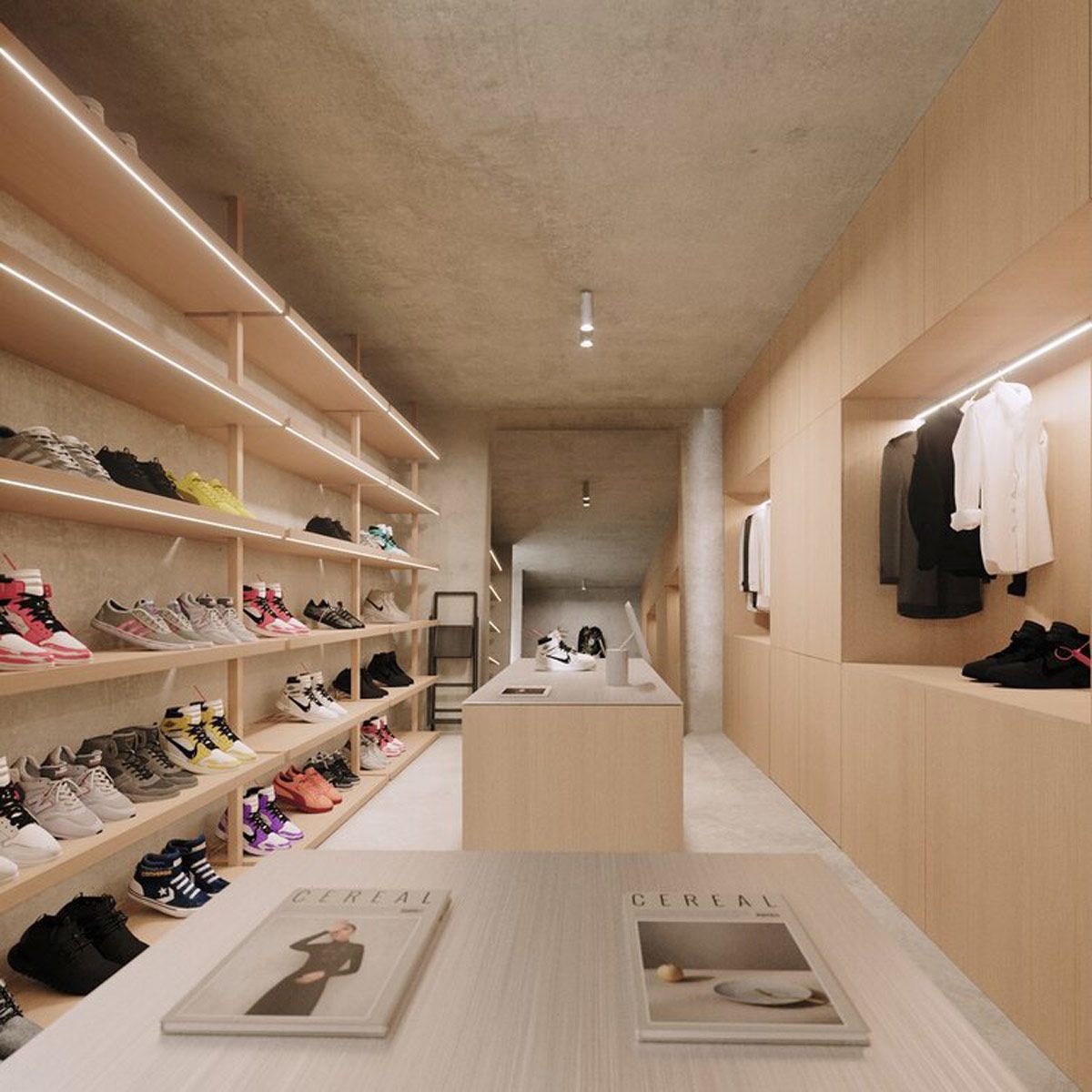 Is it a shoe store or is it a walk in wardrobe? No need to decide, just bask in the glory of this enviable kicks collection.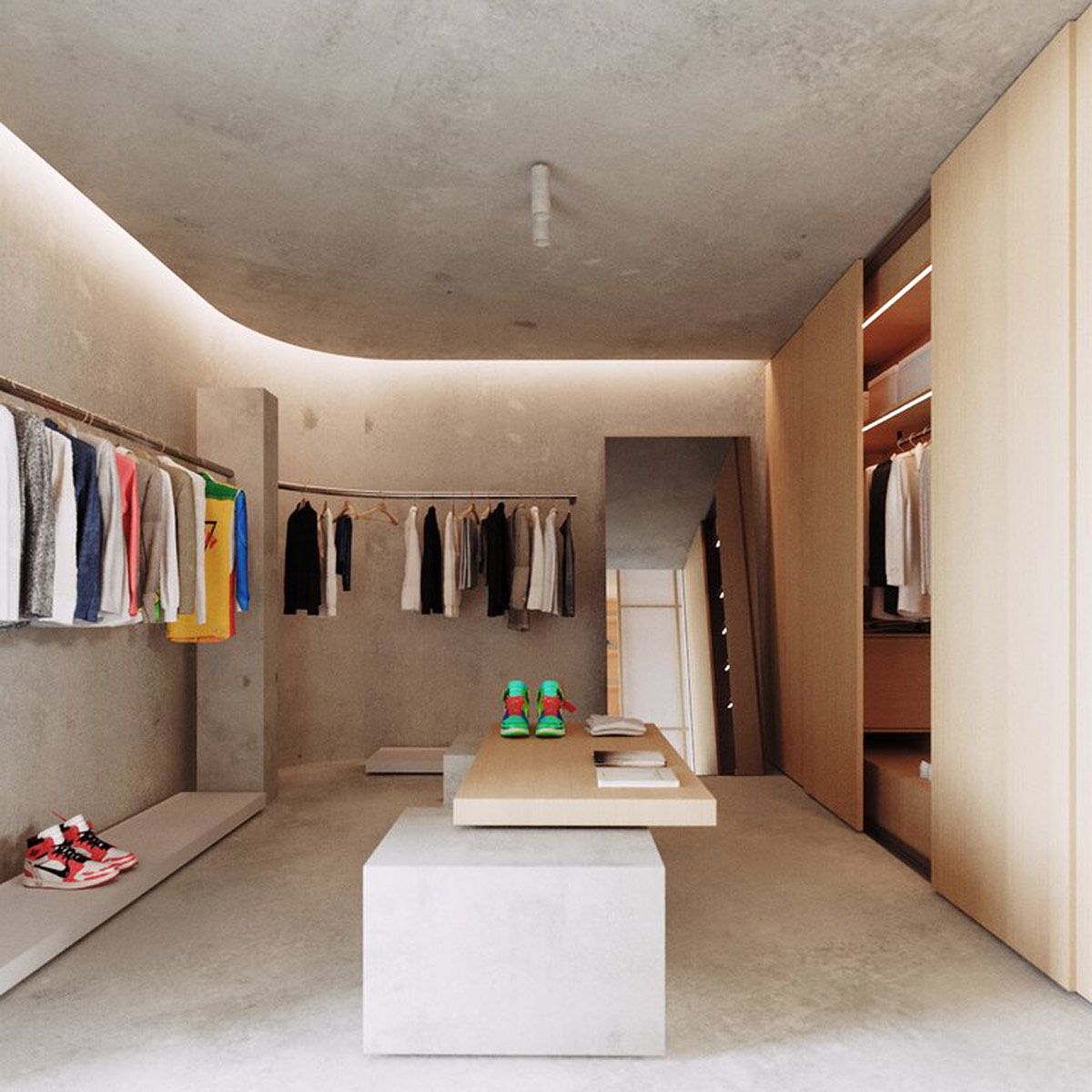 The fun doesn't stop there though, this closet just keeps on going and going. Industrial style rails lay out the current casual collection, whilst enclosed closets stow away vintage pieces and precious favourites.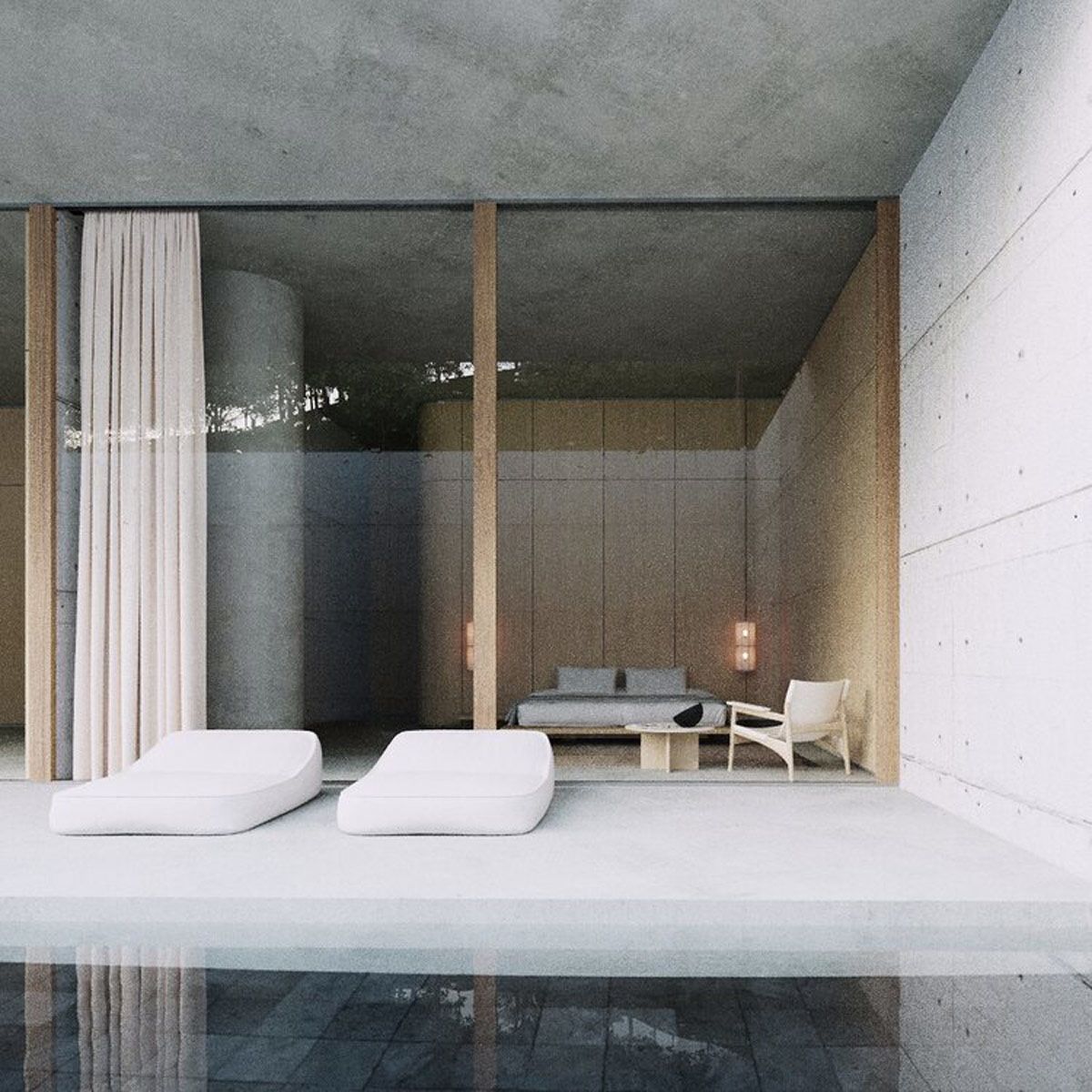 Concrete ceiling planes blur the boundaries between indoor space and out.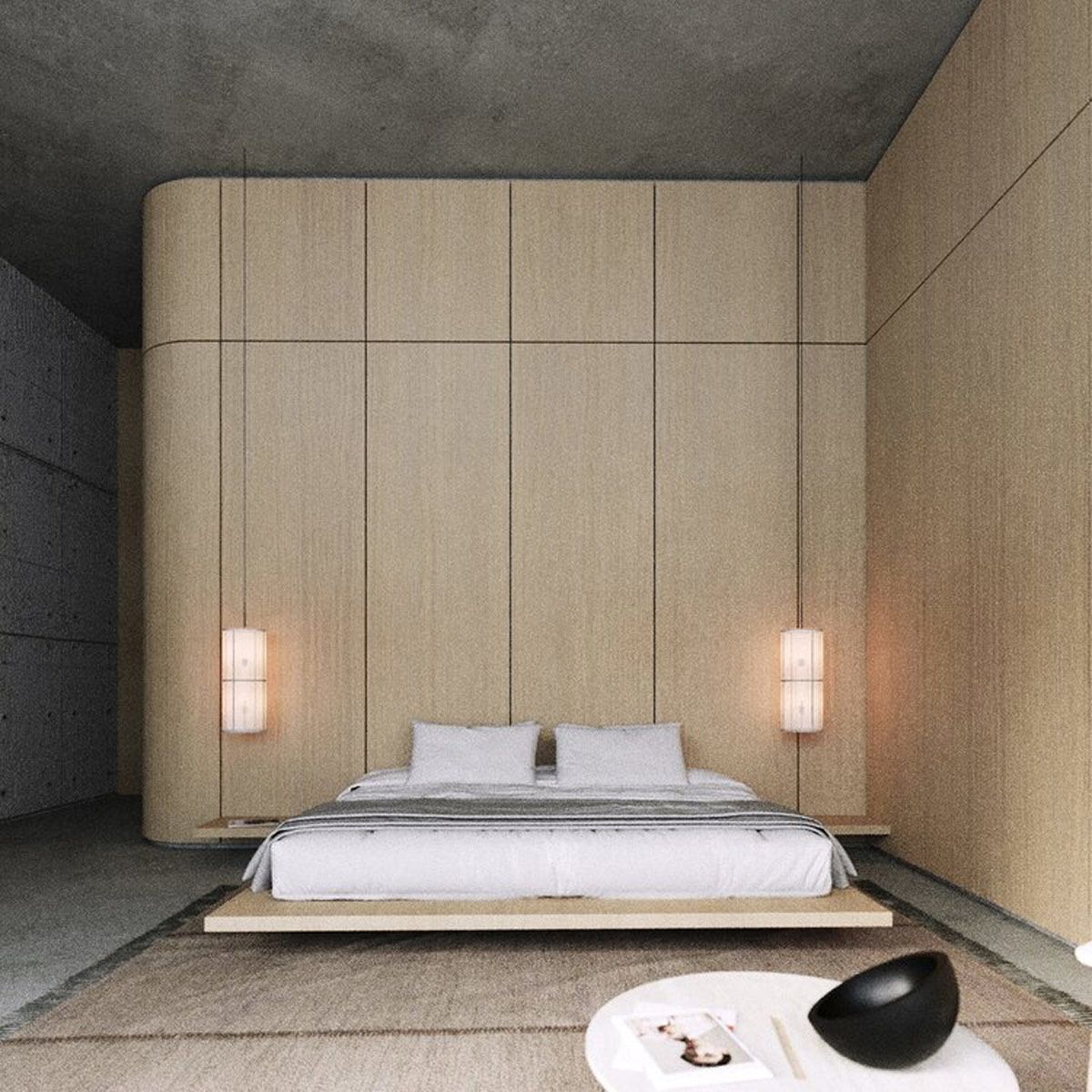 In another of this home's many, many bedrooms, a modern platform bed is flanked by bedroom pendant lights that are reminiscent of traditional Japanese paper lanterns.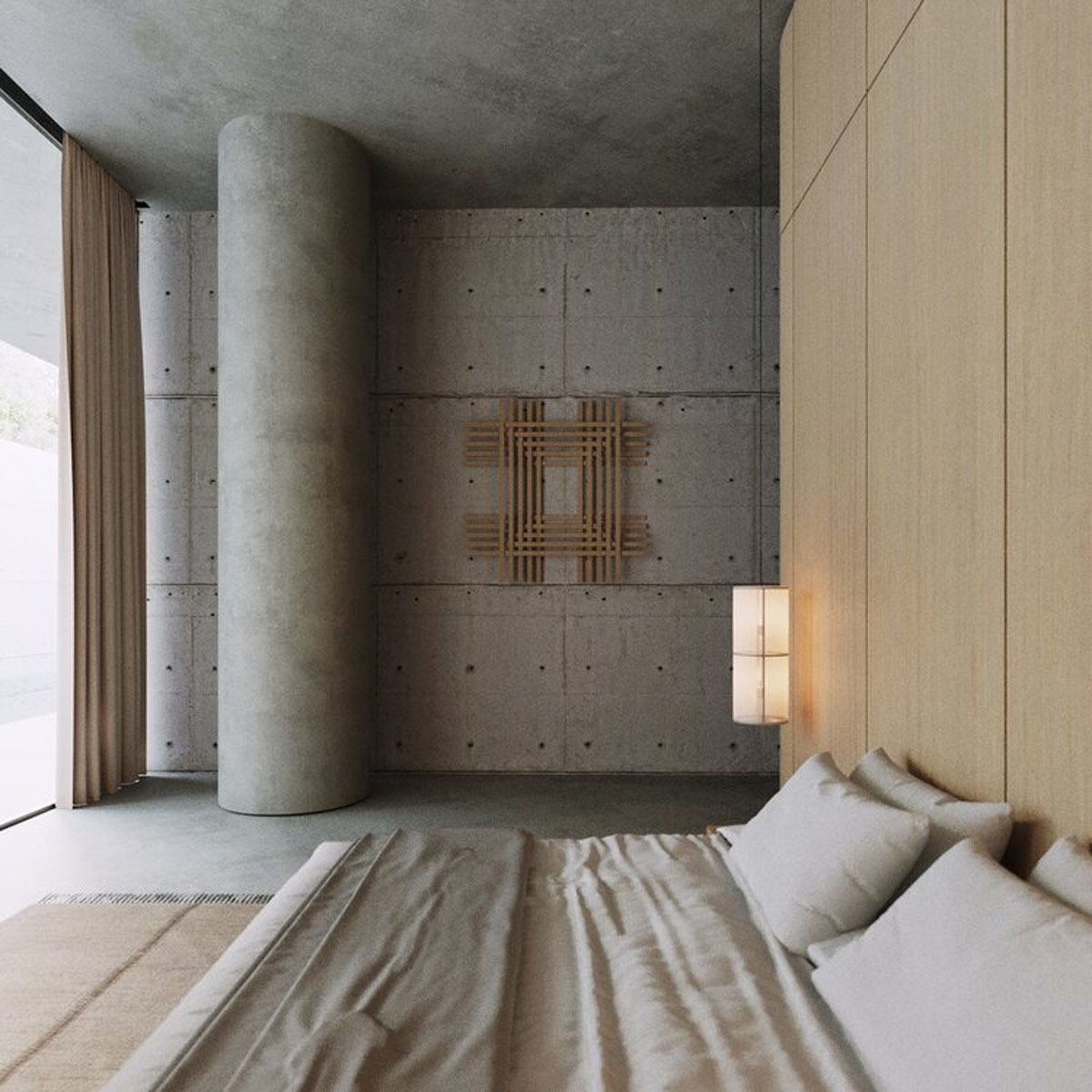 An imposing concrete column looks irresistibly tactile. Wooden wall art adds contradicting intricacy.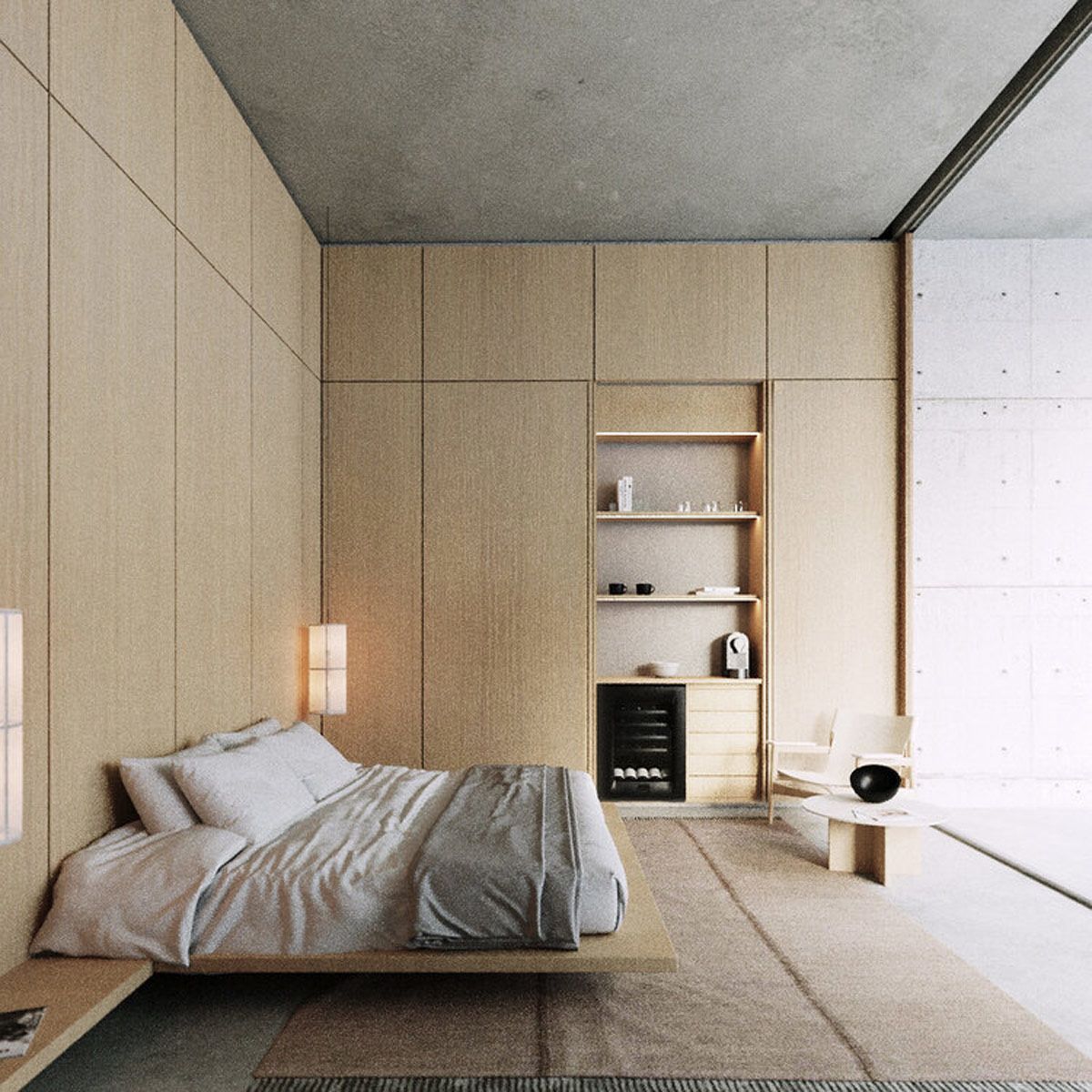 Surprising secrets are held within the unassuming wooden walls of the bedroom, namely, a mini fridge and coffee bar.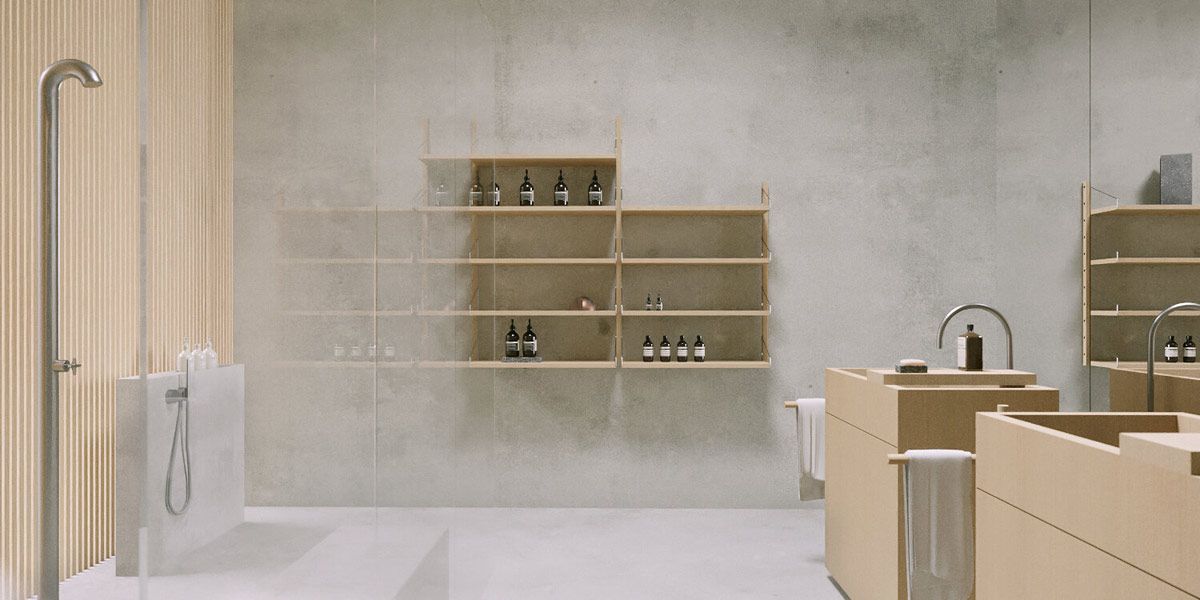 Open shelving inside one of the home's luxury bathrooms reads like an apothecary of lotions and potions.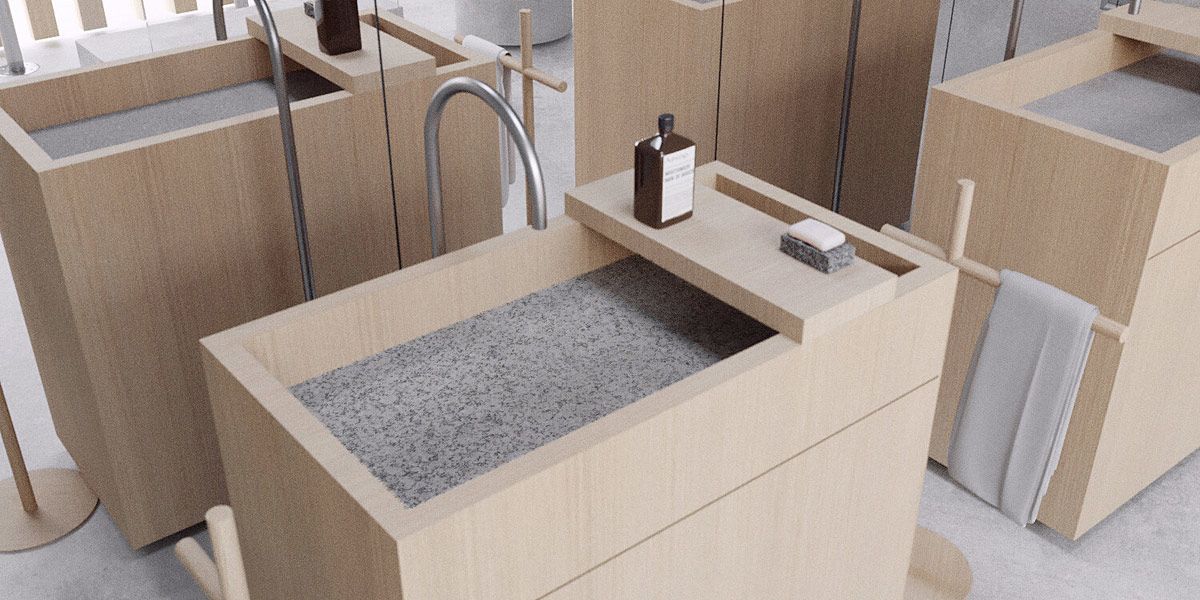 Unique freestanding pedestal sinks twin up in front of a solid wall of mirrors. Grey stone basins create cool contrast with their linear wooden frames.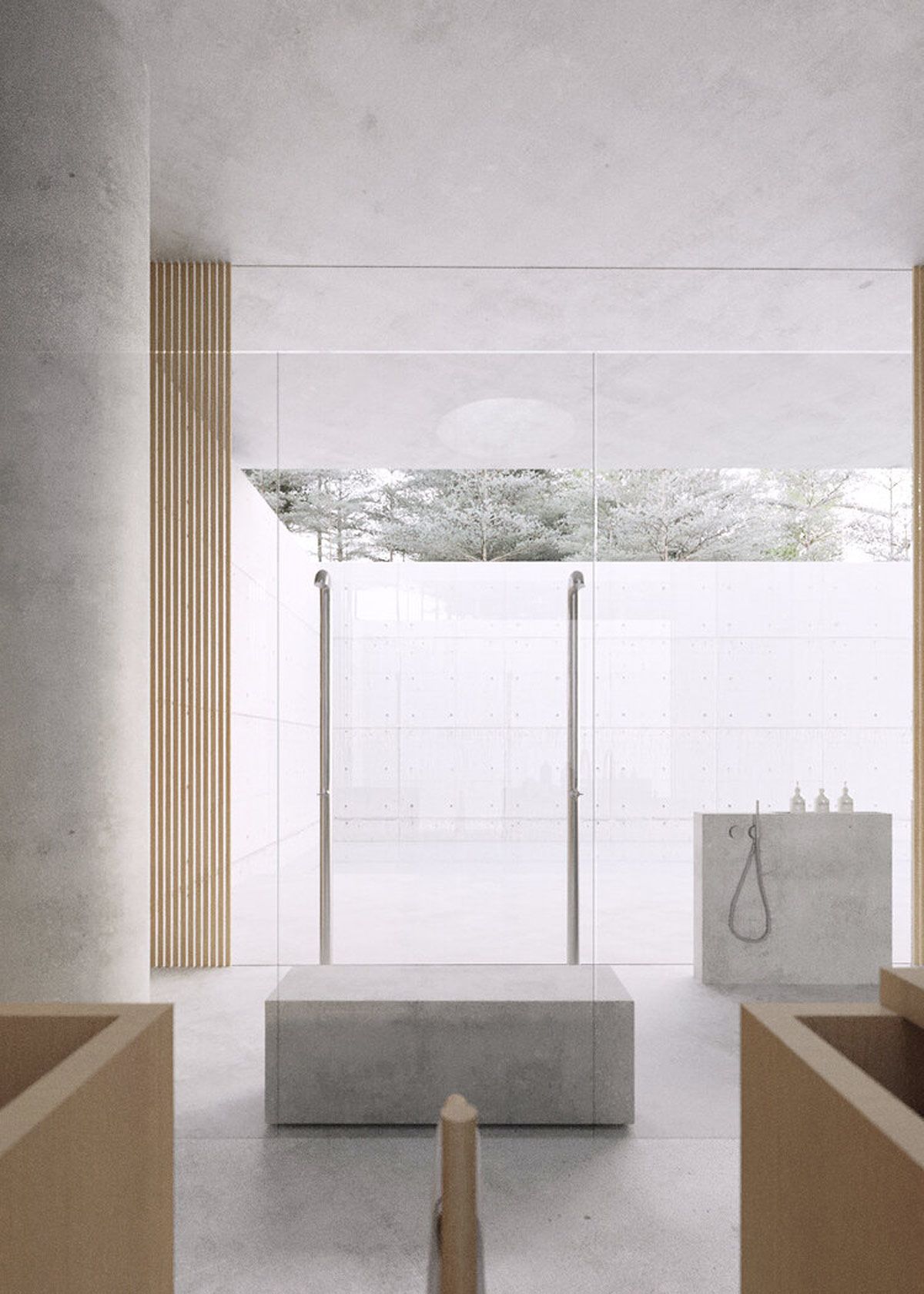 Twin minimalistic showers sprout as simple standpipes.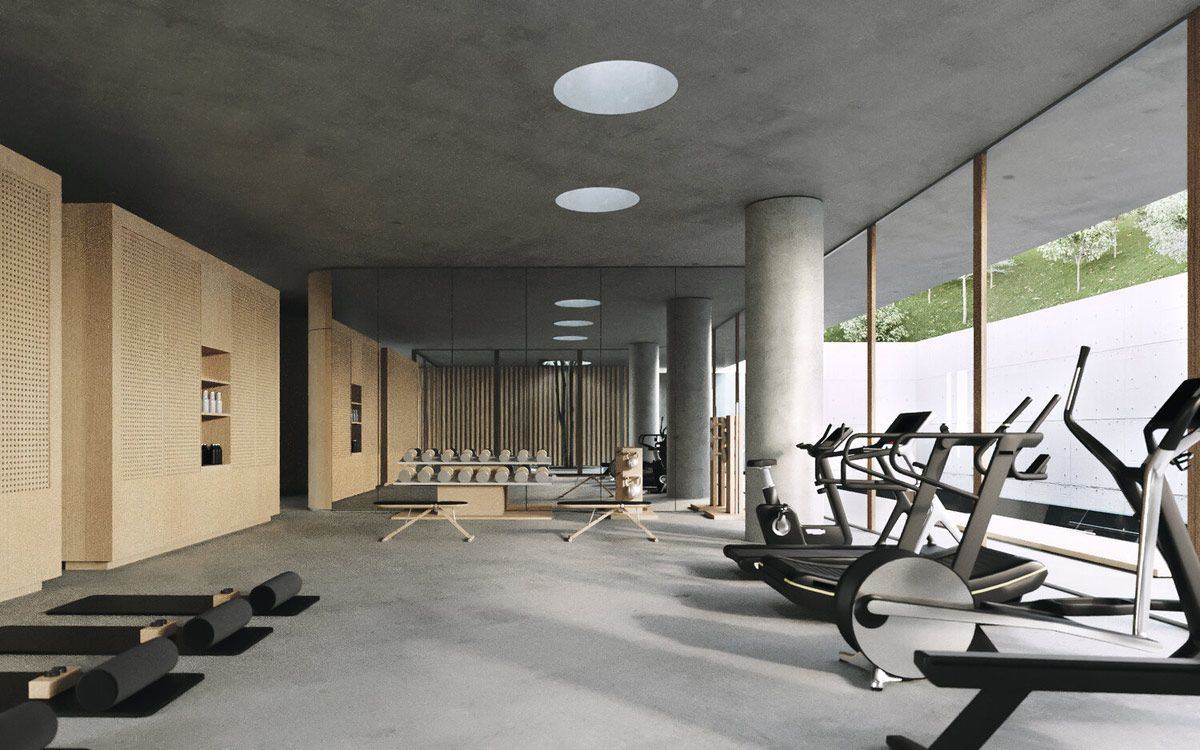 The home gym design is equipped for many people to work out in at any one time.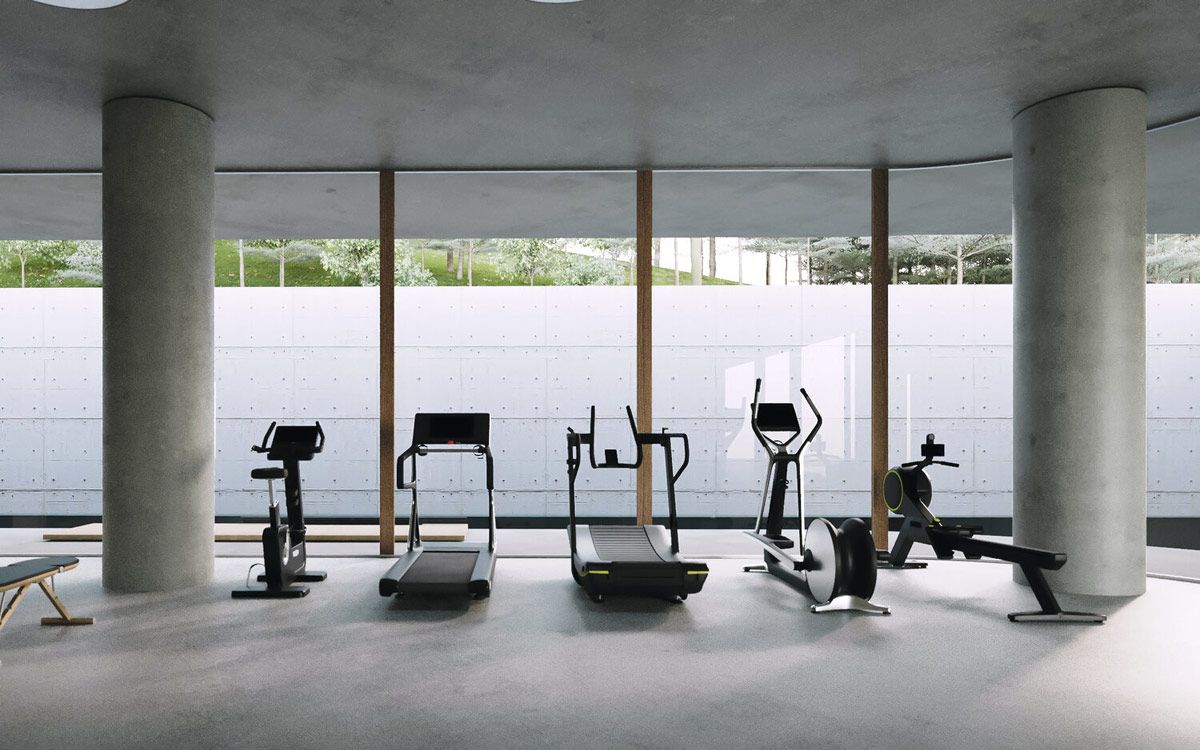 Various gym equipment lines up along the window wall, whilst mats are spaced along the back for floor work.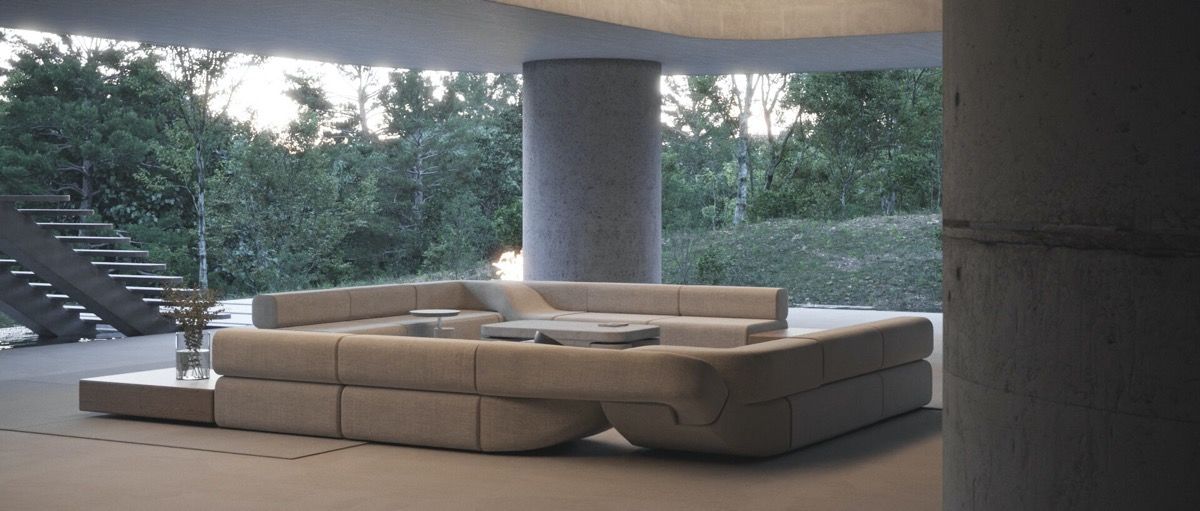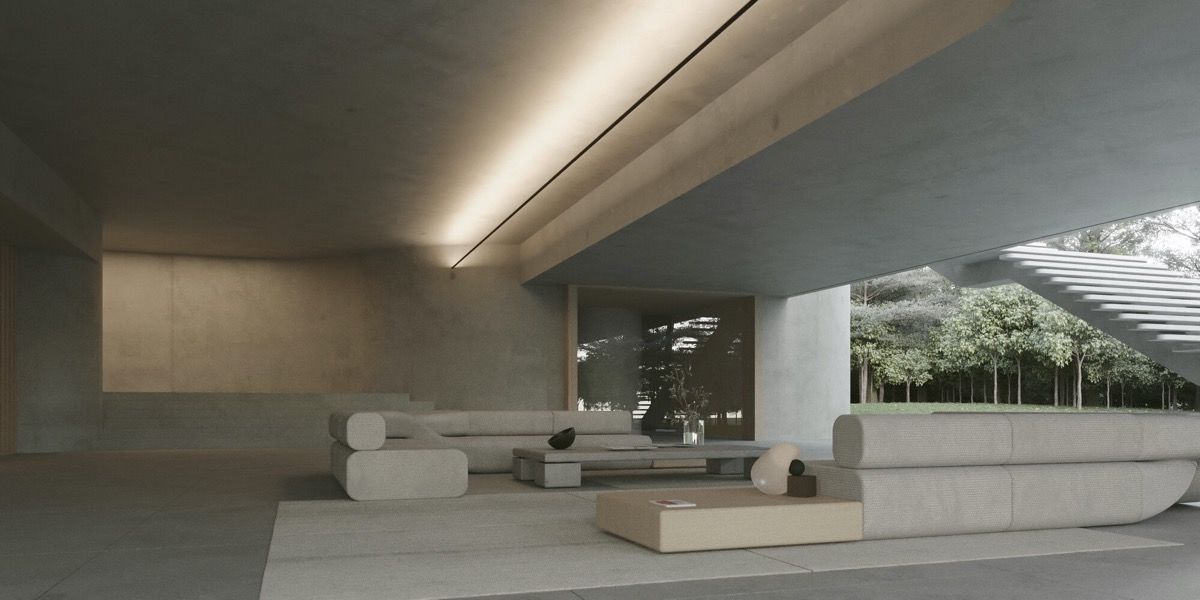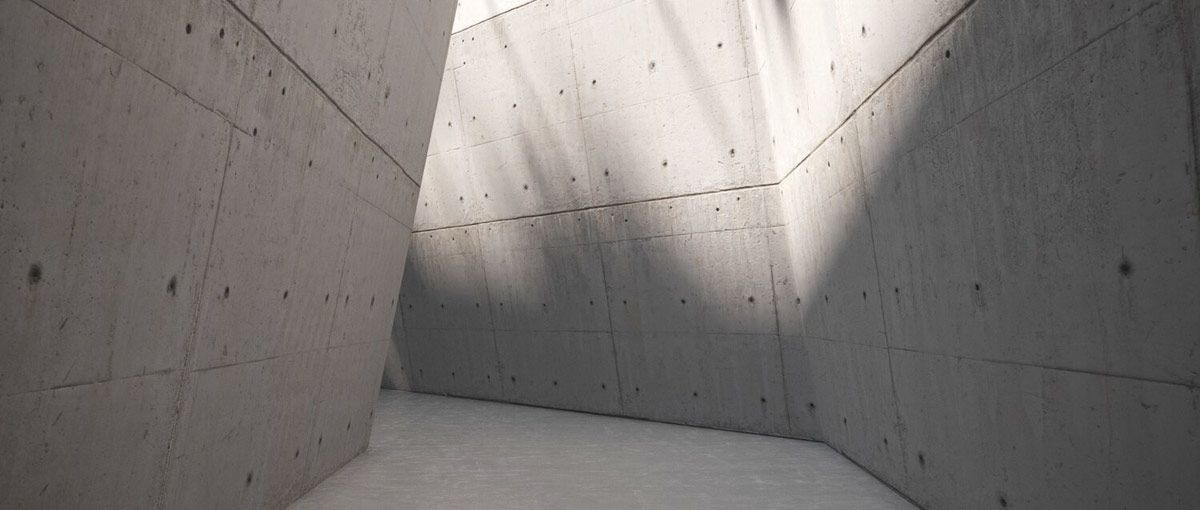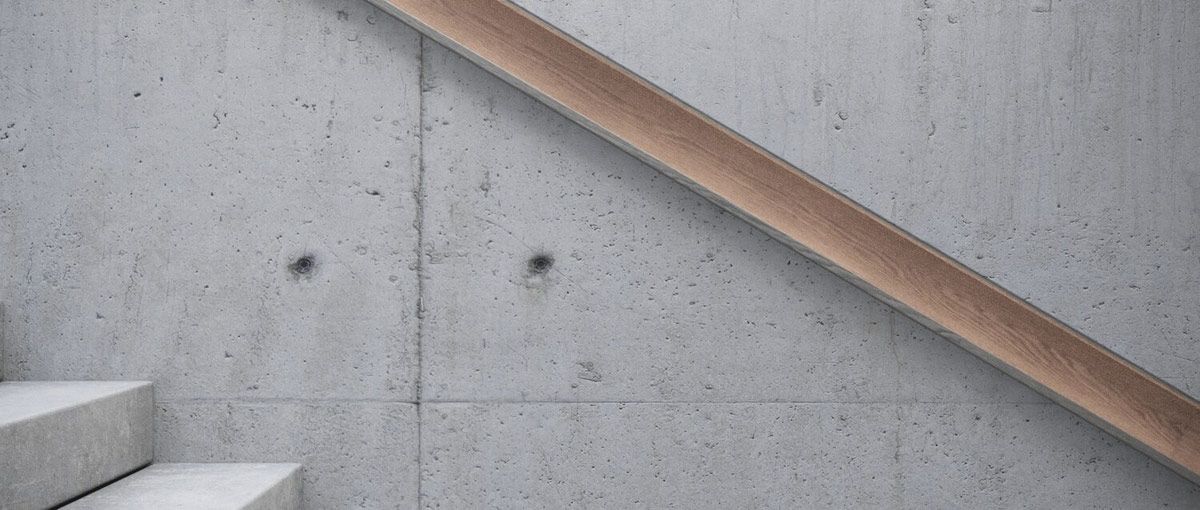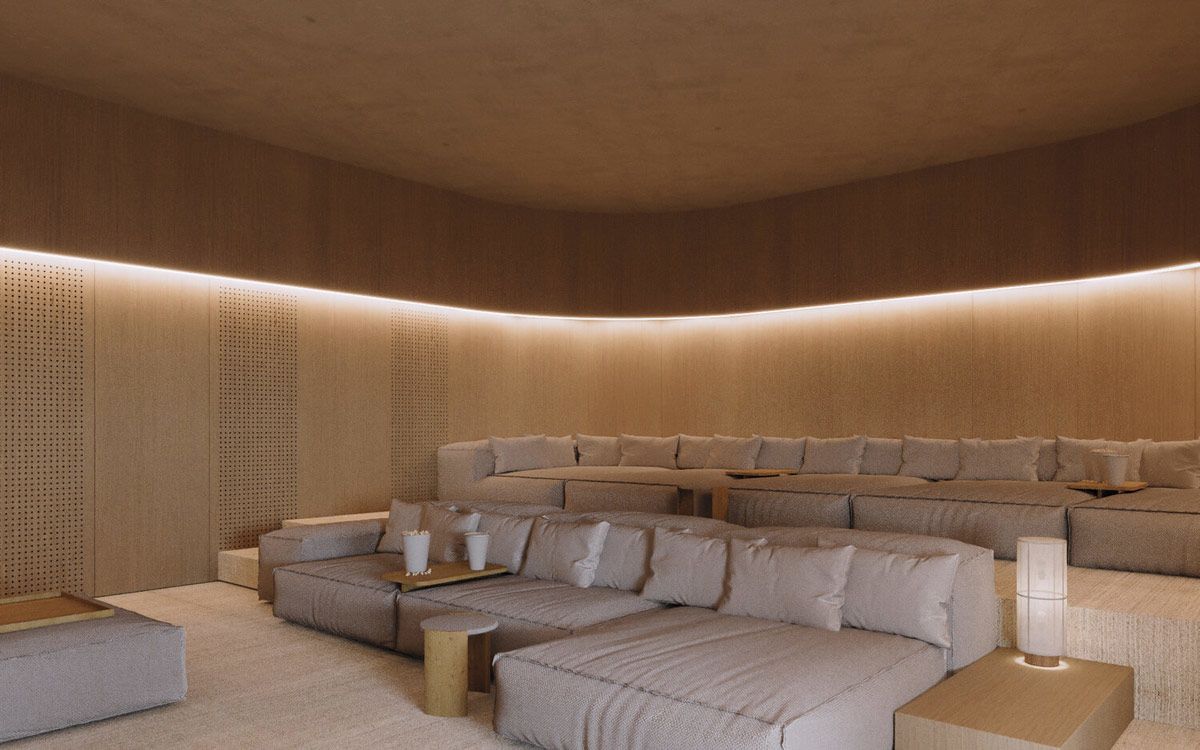 Hidden perimeter lighting paints a warm glow around the softly curved edges of the cinema space.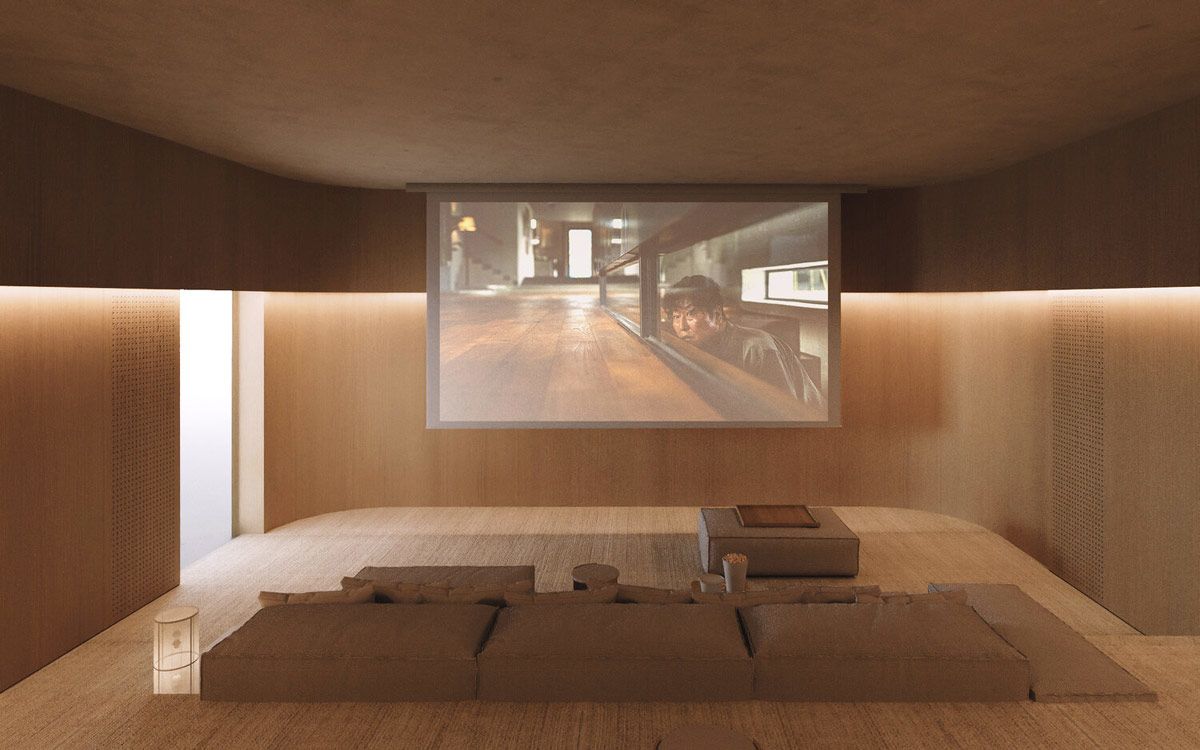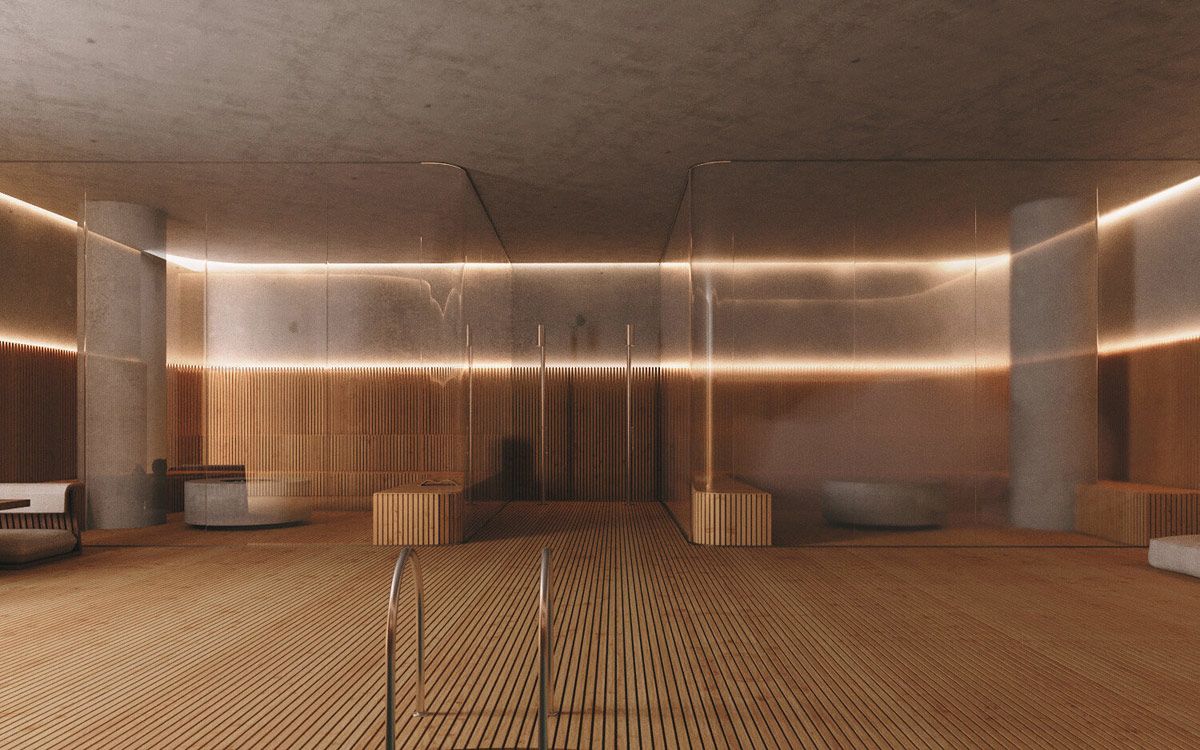 If movies aren't on the homeowner's mind, then there's always the home spa.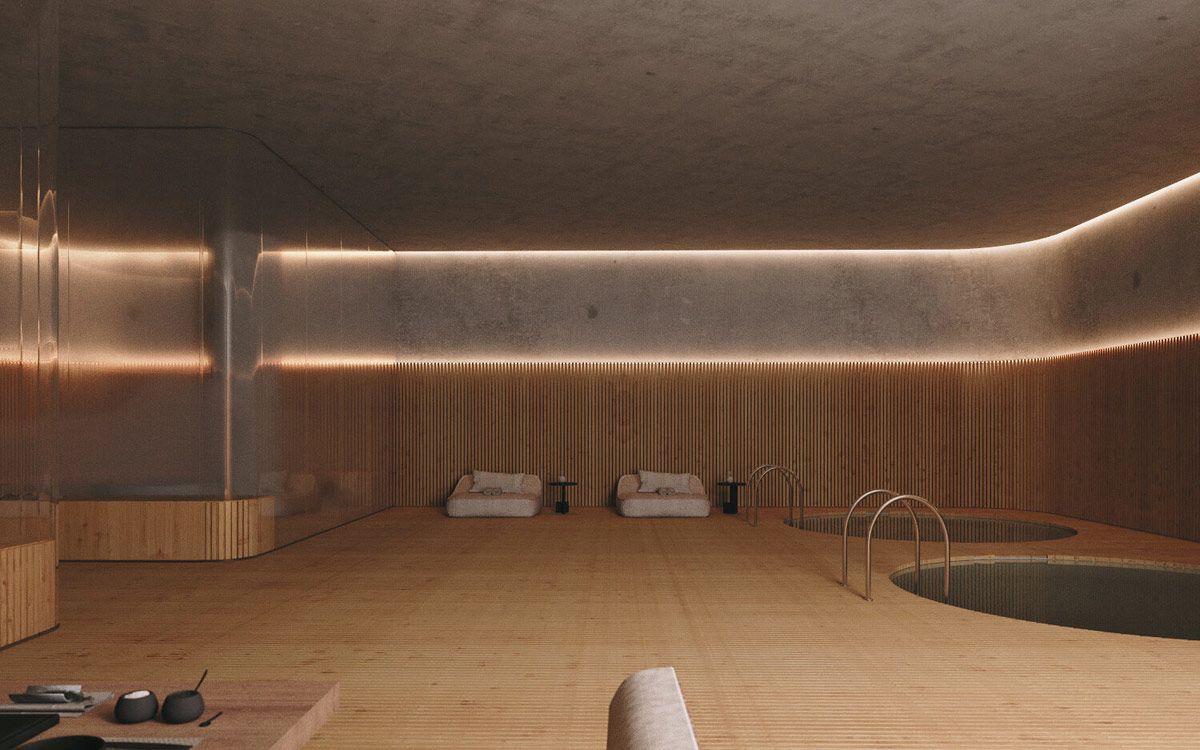 Jacuzzis and saunas take the trials and tribulations of the day away.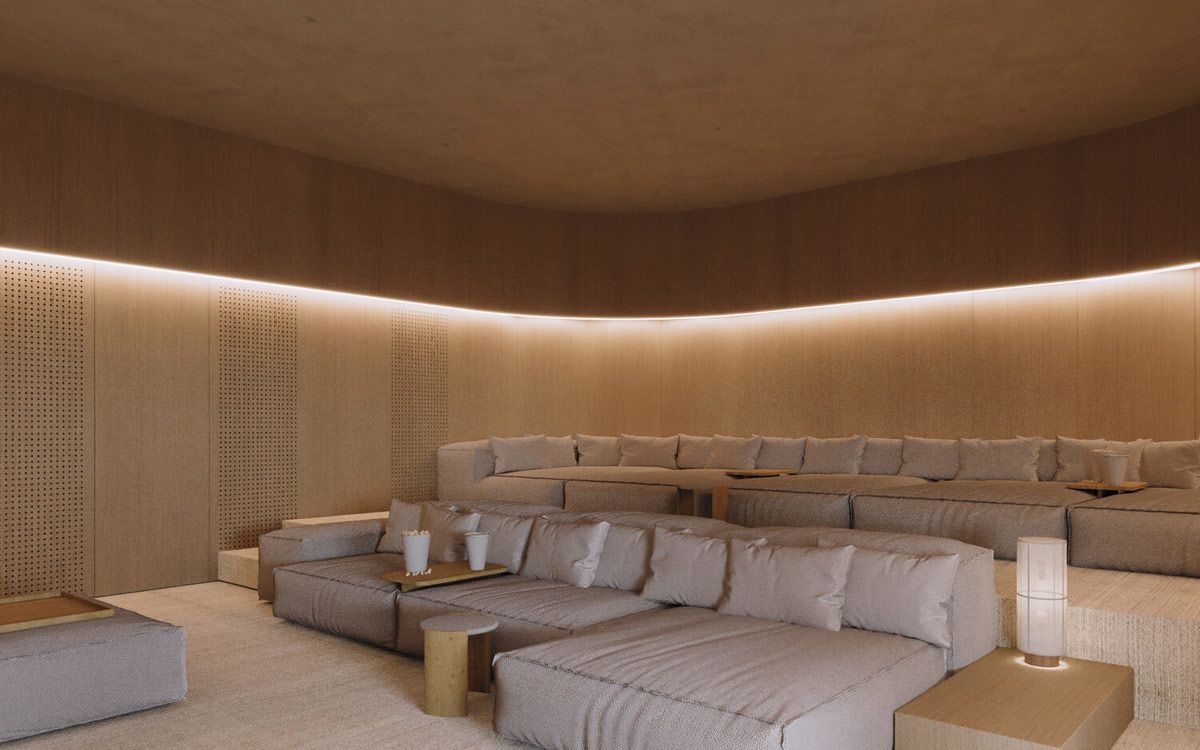 After a long work out in the morning, there's got to be time for relaxation and snacks in the evening. Where better to unwind than in a luxurious home theatre, with a whole bunch of close friends and family.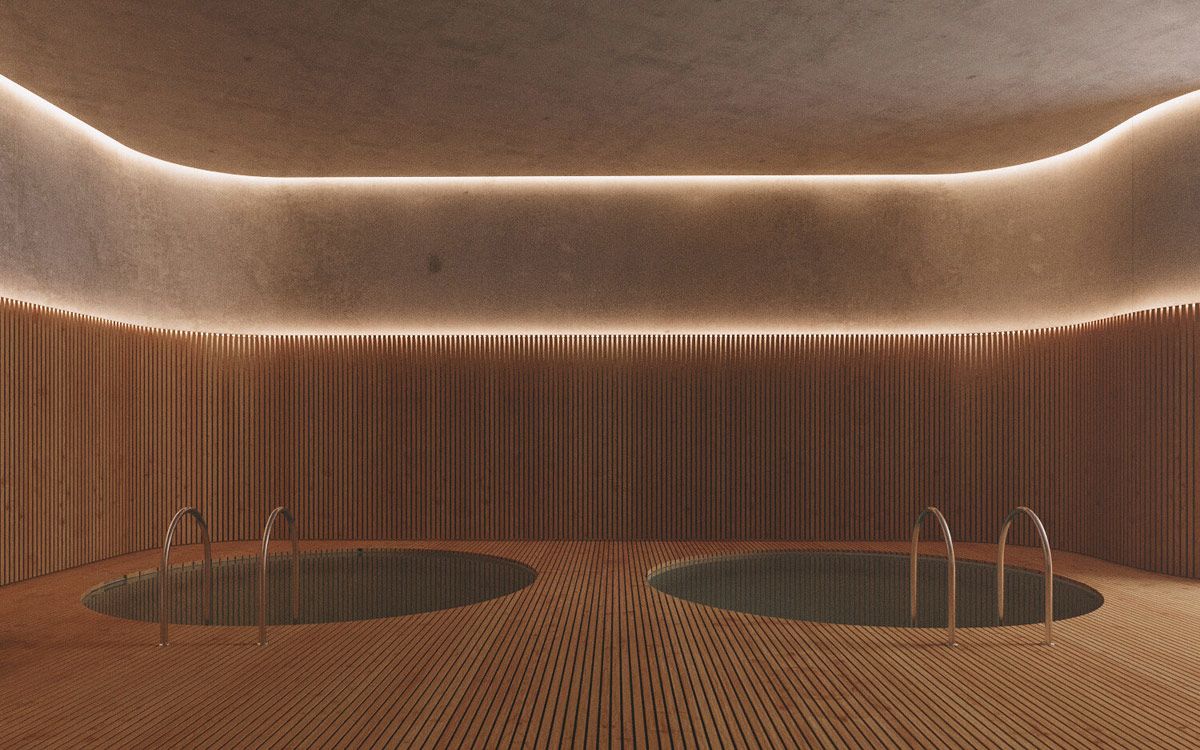 Slatted wood floors and walls warmly cocoon the room, with pale concrete lightening the upper half.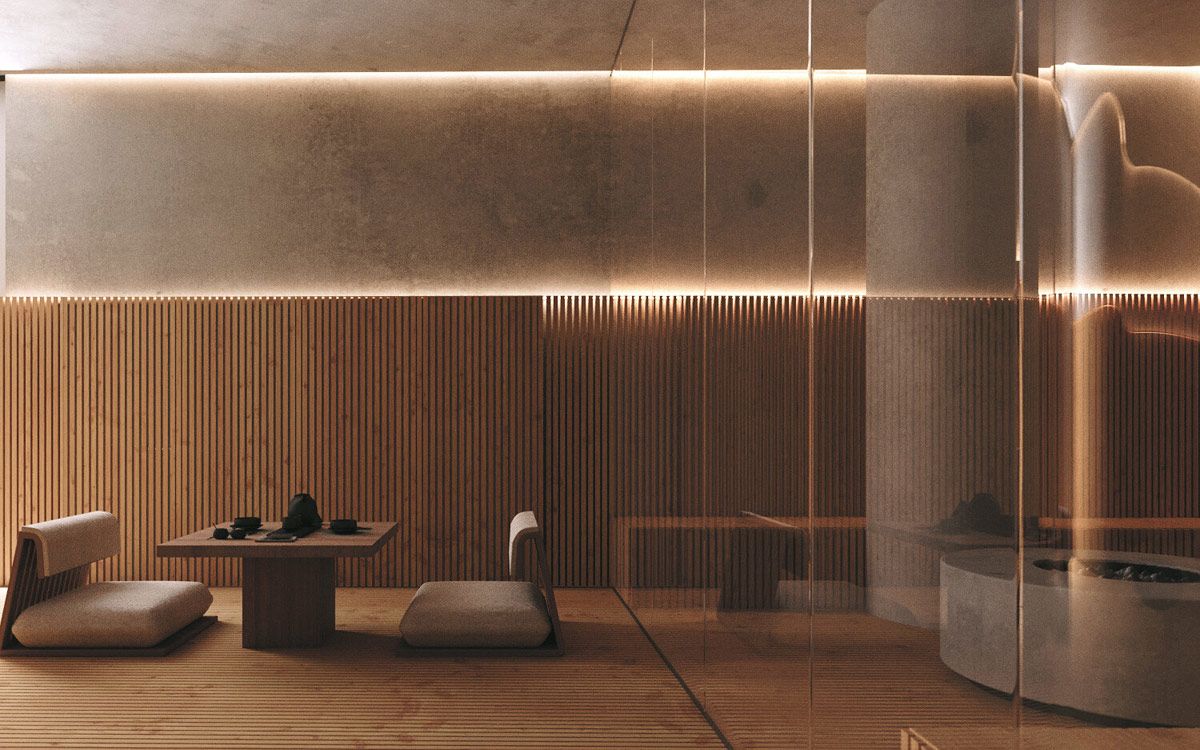 Even in the spa, there's always time for tea. Japanese Zaisu chairs sit at a pedestal style Kotatsu.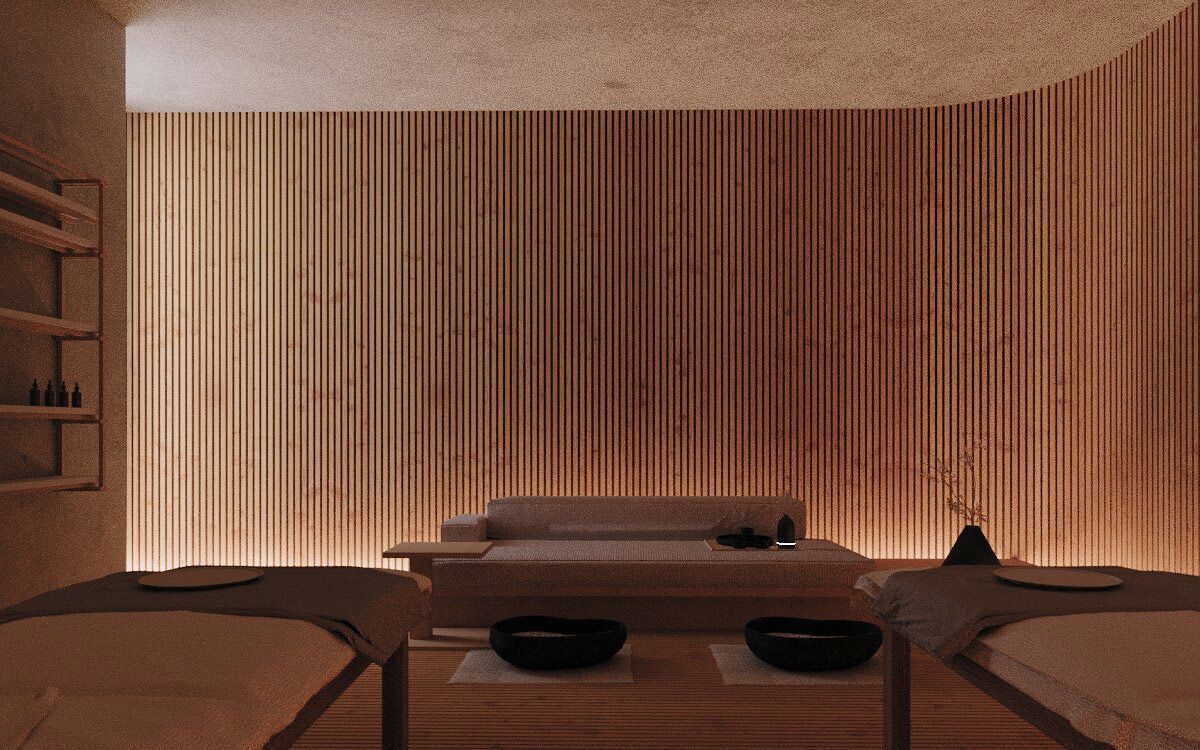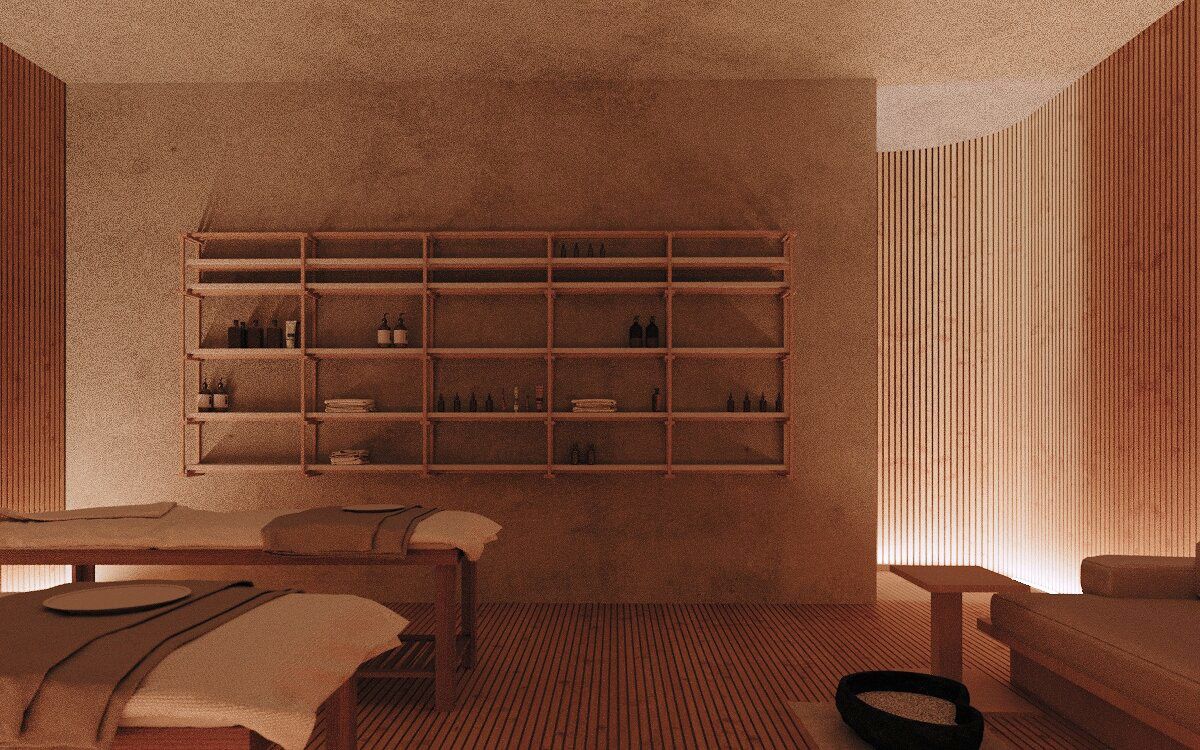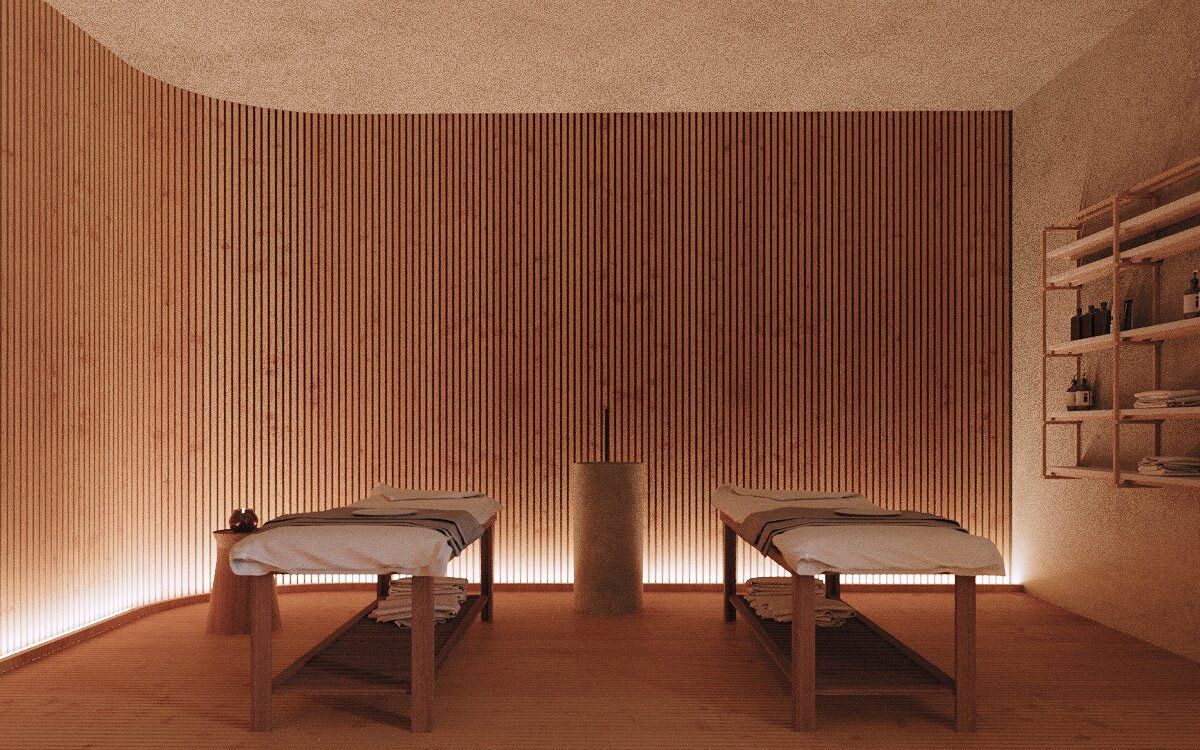 But first, a relaxing massage for two.

Check out the house tour: