Home libraries are places in which to escape, to become lost in the pages of adventure, romance, deep study or self-reflection. Whilst screens have their place in our modern lives, there's nothing quite like cracking open a new paperback or revisiting an old favourite. The relaxation of flipping through those familiar smelling pages is a completely different form of reading than being bombarded with blue light.
These special moments deserve a special place, so we've gathered together 51 home library designs that will have you lost in a love of books for hours – take a pot of tea and a pack of biscuits to keep you going!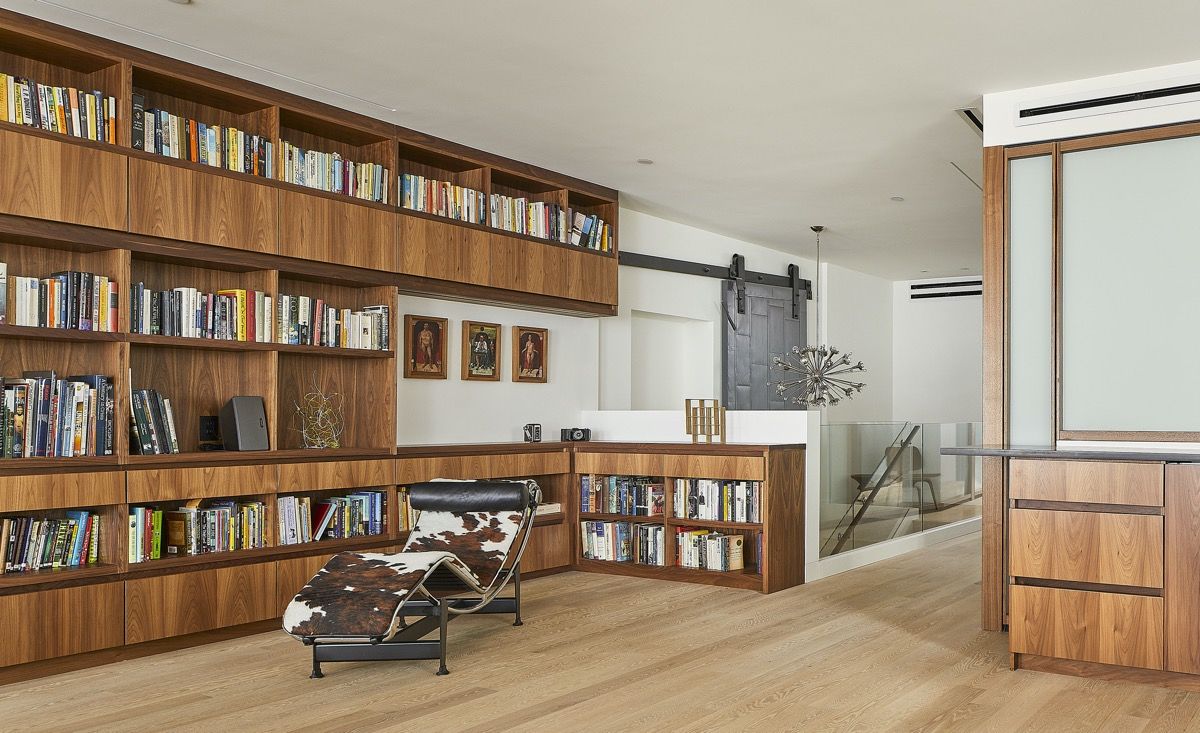 Laid-back for lounging, this cosy, wood encased home library design cocoons a comfortable LC4 chaise lounge chair designed by Charlotte Perriand, Le Corbusier & Pierre Jeanneret for Cassina. As the only seat in this large home library, the solo furniture piece states that this is a place for solitude, peace and escape.

Climb the stairway to book heaven with a stairwell home library. This one provides colour and character to an open plan living room. See more living rooms for book lovers here.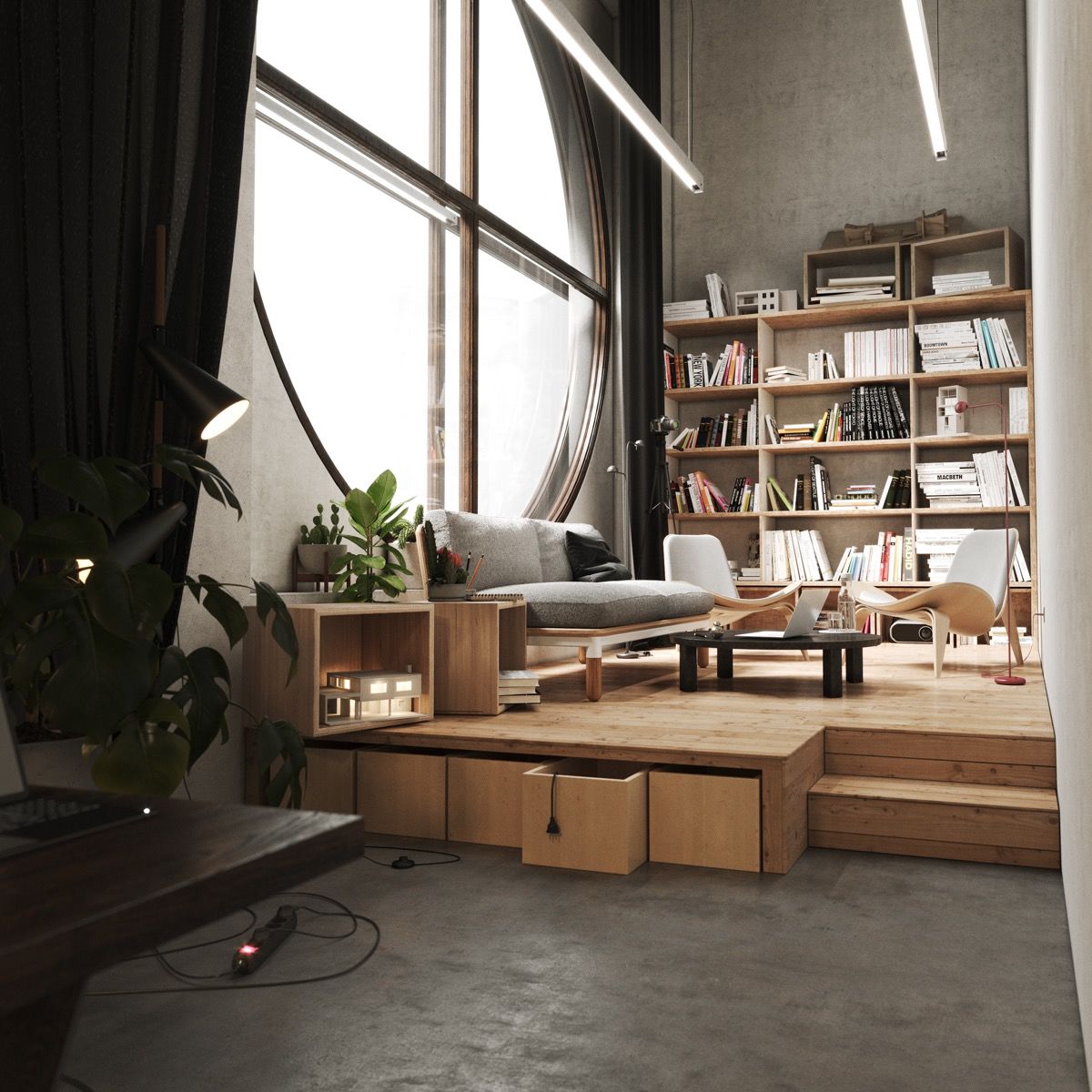 Moving on up. A raised platform floor elevates this unique home library toward a spectacularly huge round window, which bathes the reading area in natural light. Bookshelves stack at the back of the raised floor, whilst drawers utilise the void underneath.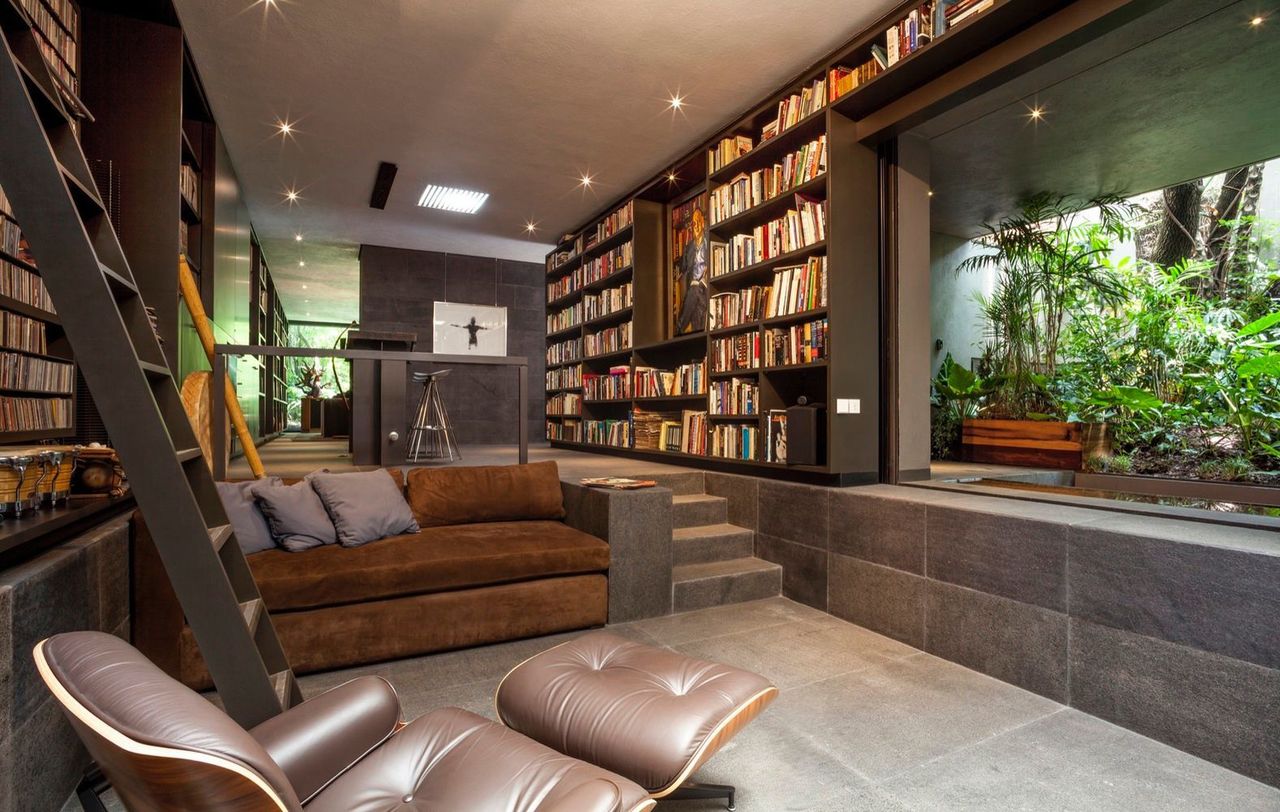 Serene and green. This nature loving bookworm's home has the perfect mix of human imagination across the pages and Mother Nature's own creation thriving in the courtyard.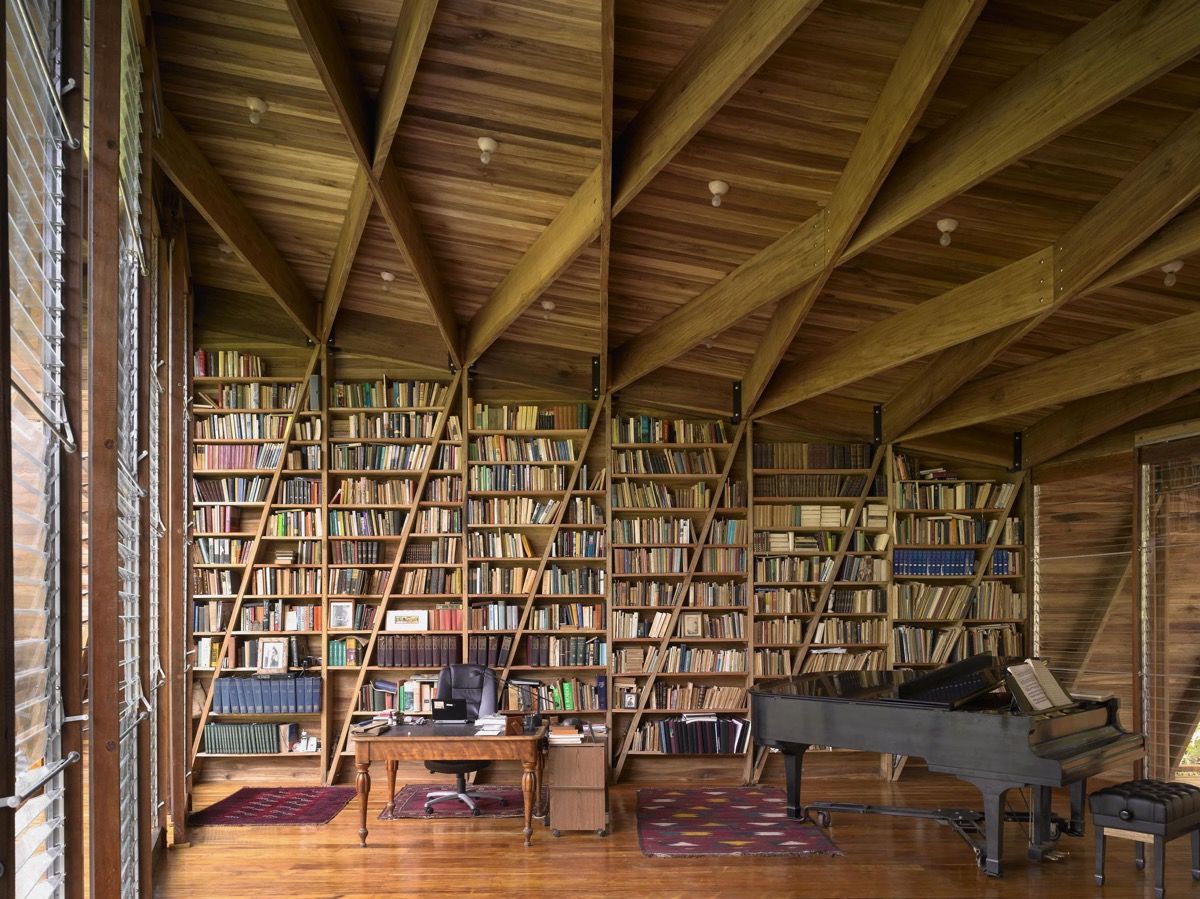 Speaking of human imagination, this inspiring writer's home has a library that is designed specifically for getting the creative juices flowing, whether through literature or a moment of contemplative music.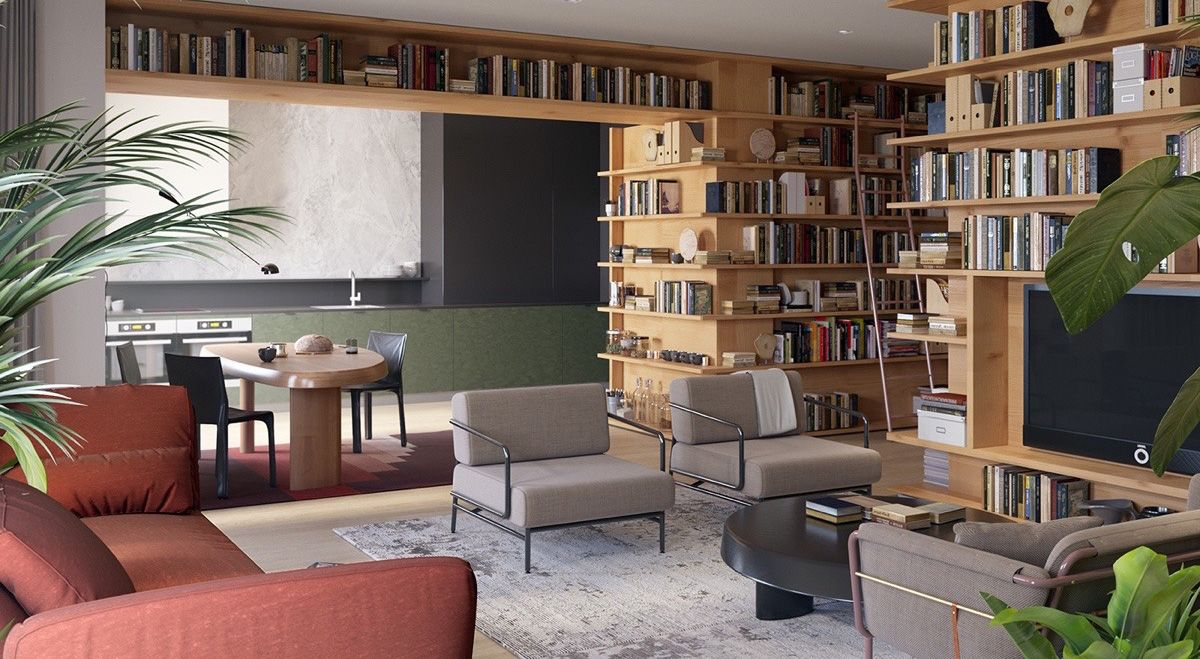 Struggling to find enough wall space for a full home library installation? Fear not, bespoke bookshelves can be shaped to fit around any corner, nook or cranny. This set surrounds the edges of a partition between a lounge and kitchen, rounds the corner into a short hallway, and fills out the TV wall to boot.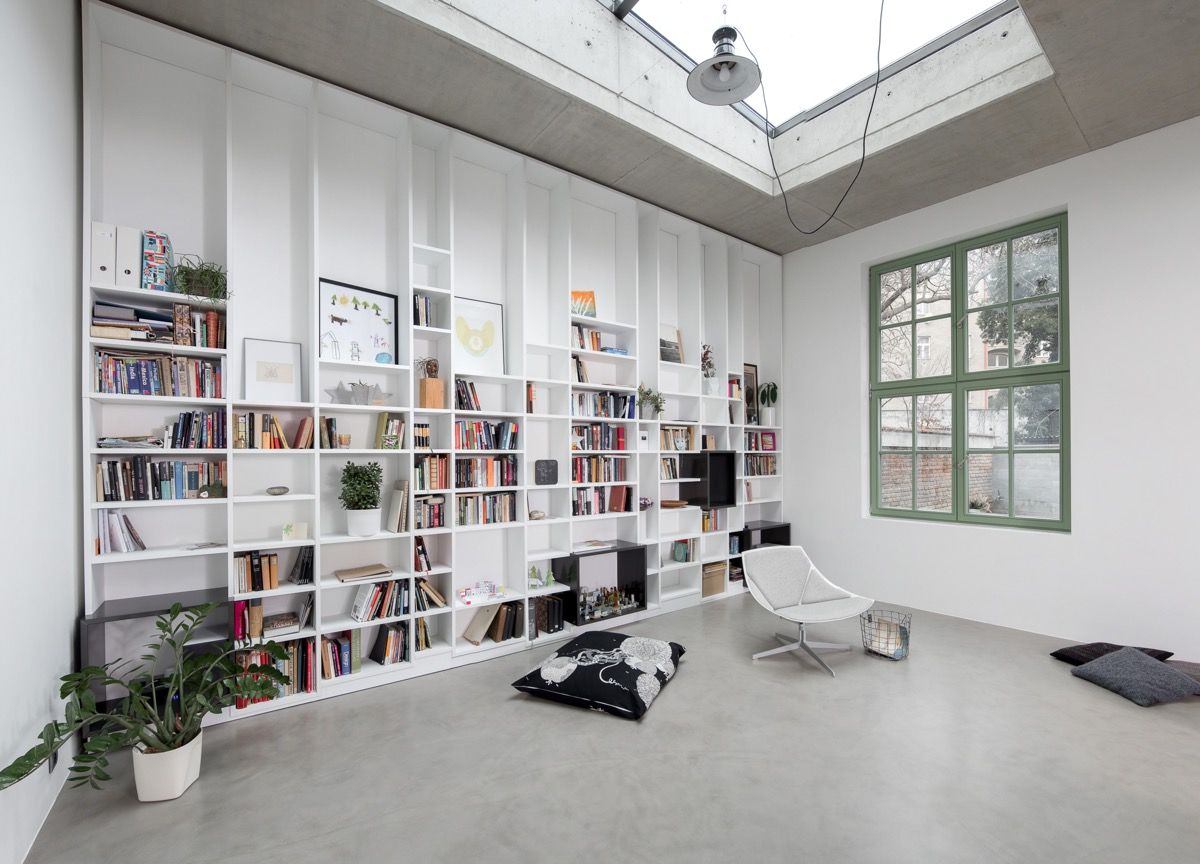 Make the most of high ceilings. Why stop short when you can max out a generous wall height? Either take the shelves all the way to the top for extra storage, or simply extend the casing for a sleek aesthetic like this light-filled library.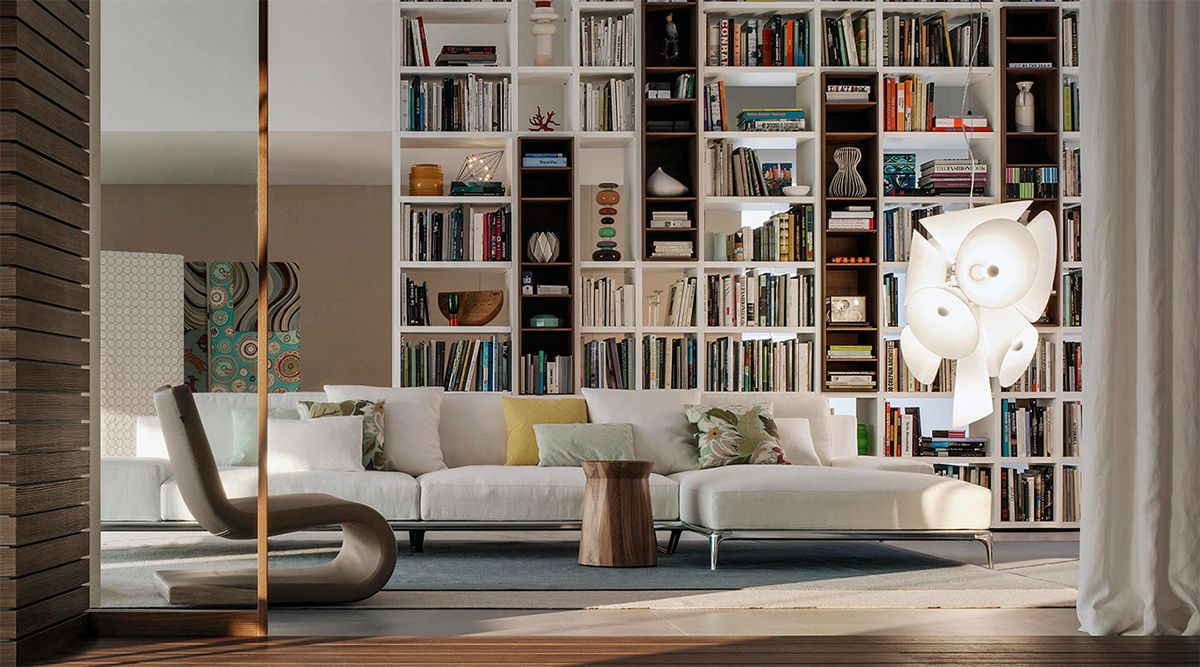 Set the mood inside your home library with atmospheric lighting. This low hanging pendant is a Nebula by Flos.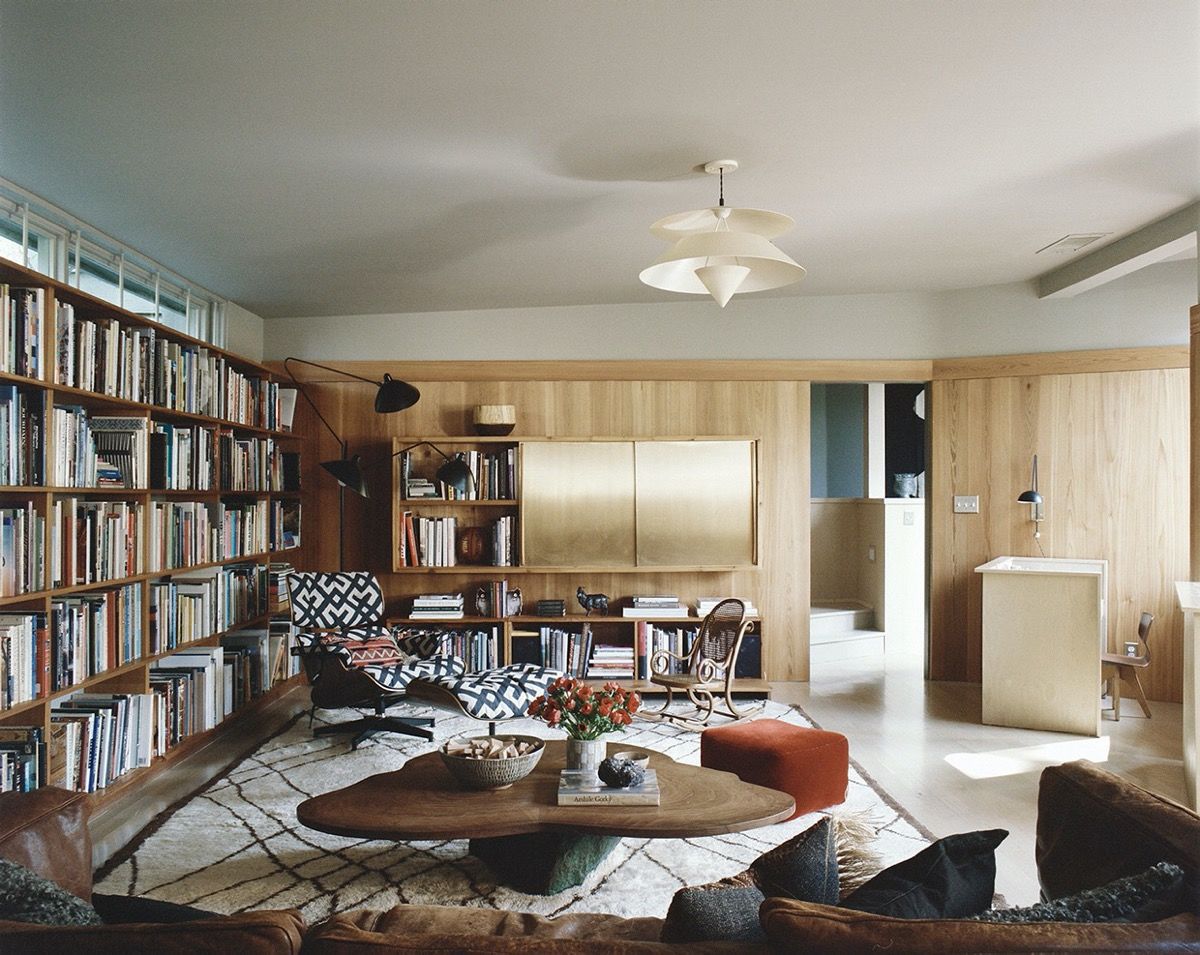 Pull in some pattern. Sure, it's nice to look at the rise and fall of colourful book spines across the stacks, but a hero furniture piece almost has a gravitational pull in making you want to sit for a while. This Eames lounge chair designed by Charles and Ray Eames for Herman Miller is pretty irresistible.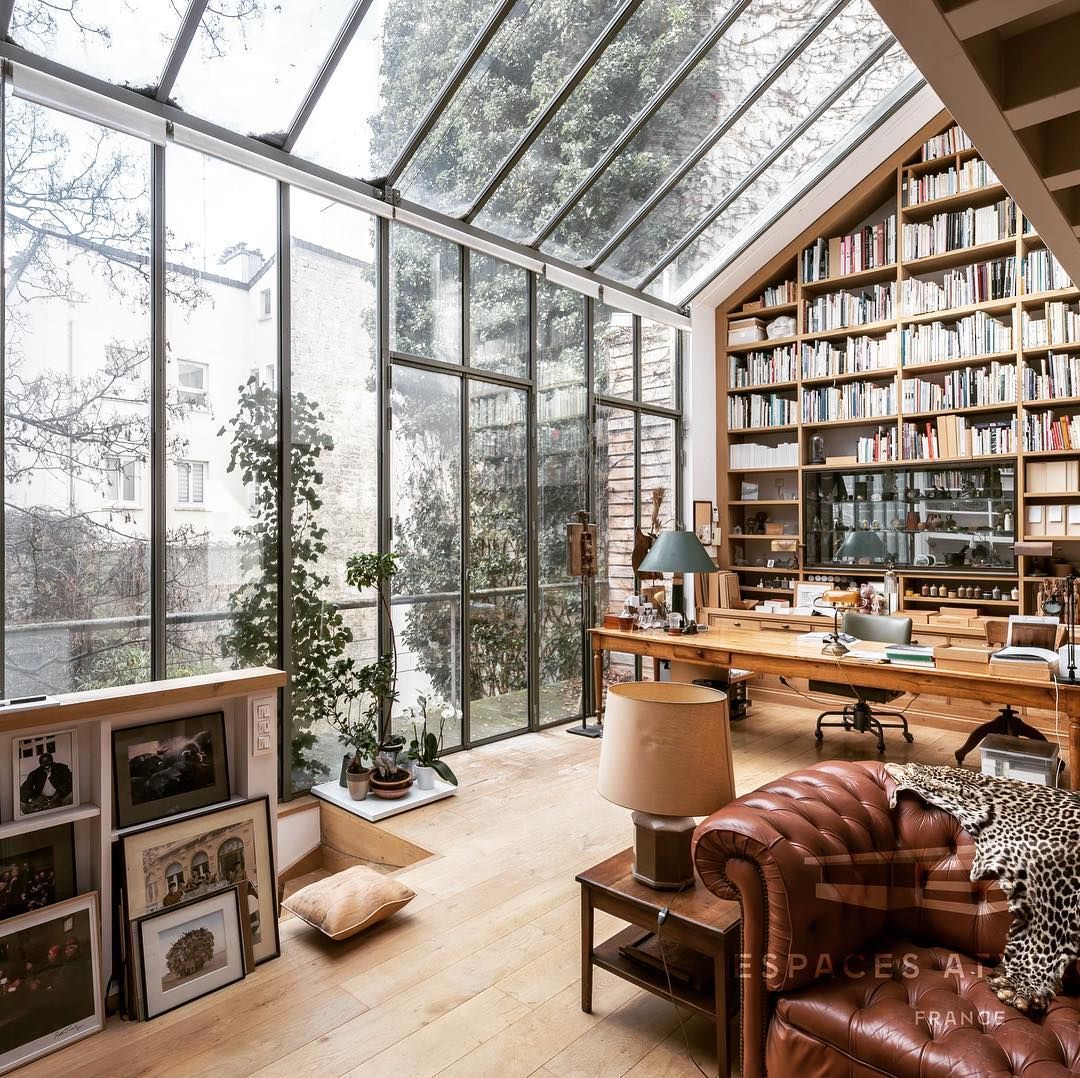 Light, bright and filled with brilliance, this wonderful glass wall study features academic book stacks all the way up into the sloping roof line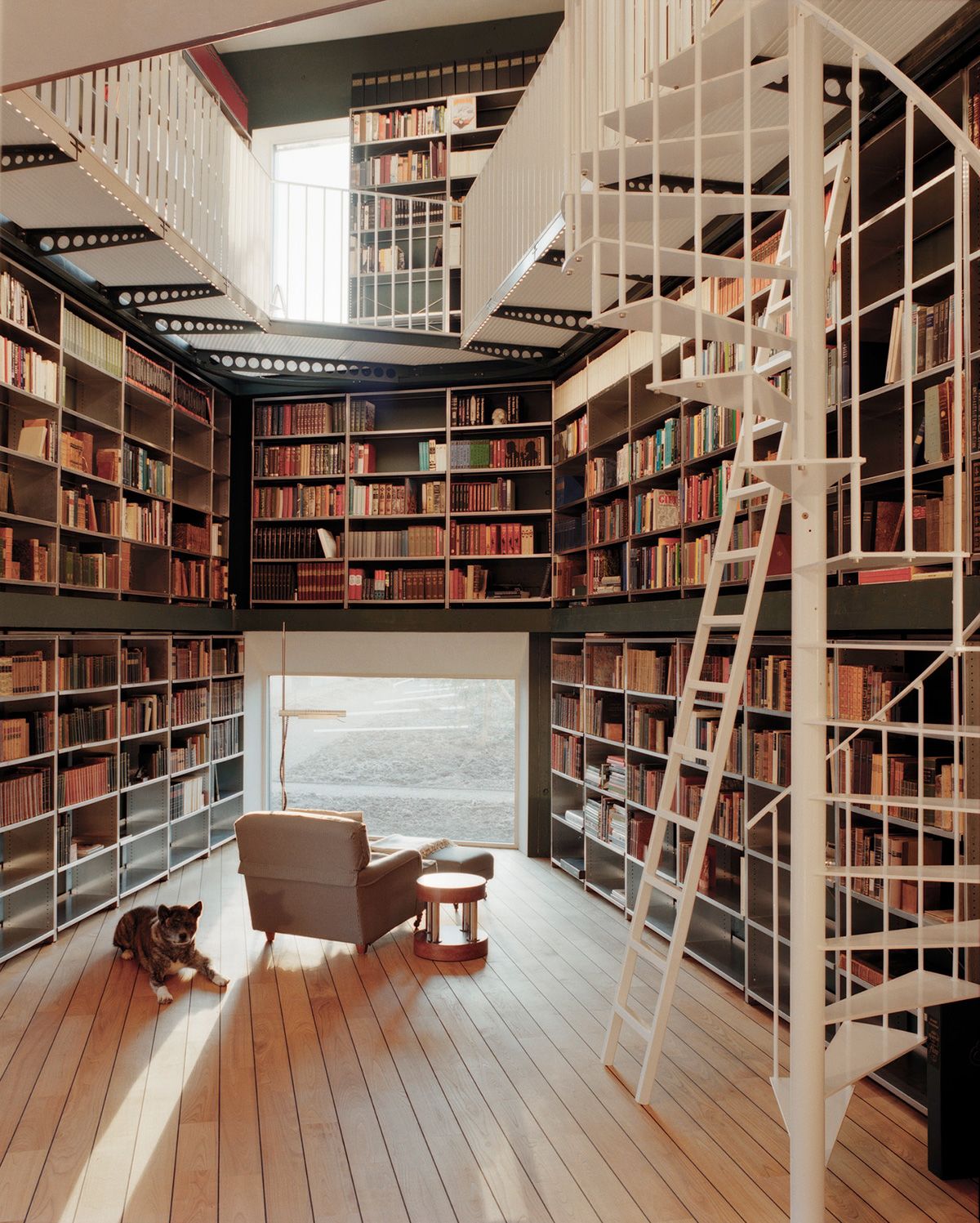 Layer upon layer of book lover's paradise, this multilevel library is accessed by librarian ladder, a spiral staircase and a wraparound mezzanine.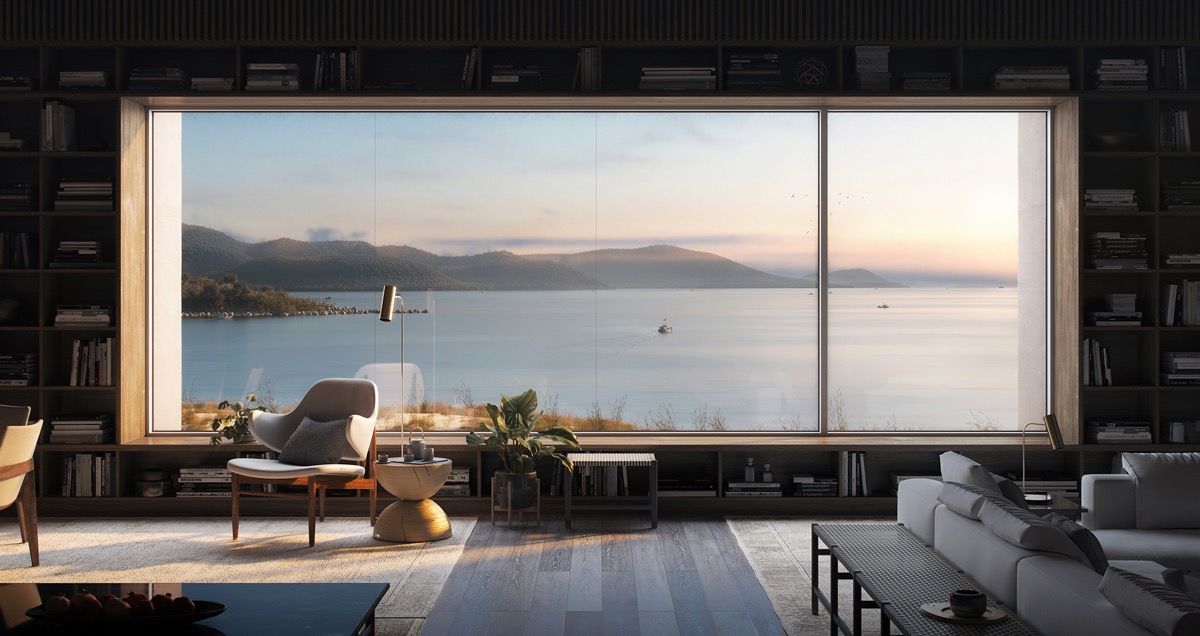 Frame a spectacular library view with a built-in bench along the window sill line and custom-fit bookcases up and over the remaining reveal.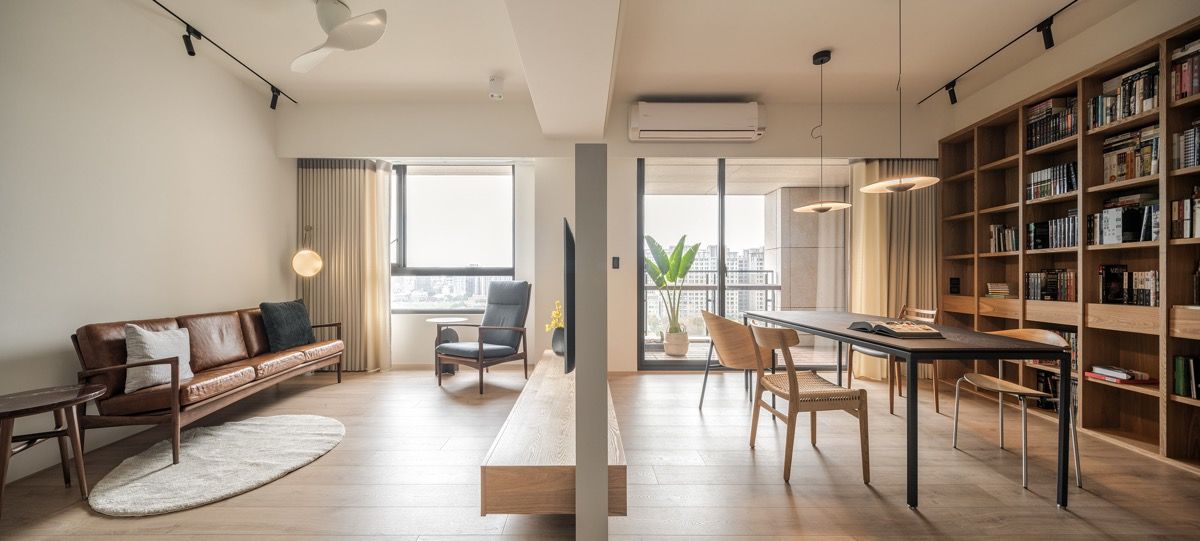 Take a slice of living space as a home library by installing a small partition wall. A half-height partition maintains the wider spatial flow and allows light share.

Juxtapose straight edged bookshelves within a curvaceous outline. You can do this as a free standing silhouette, or under an undulating ceiling. This curvaceous example is complemented by a round table and an oversized globe pendant light.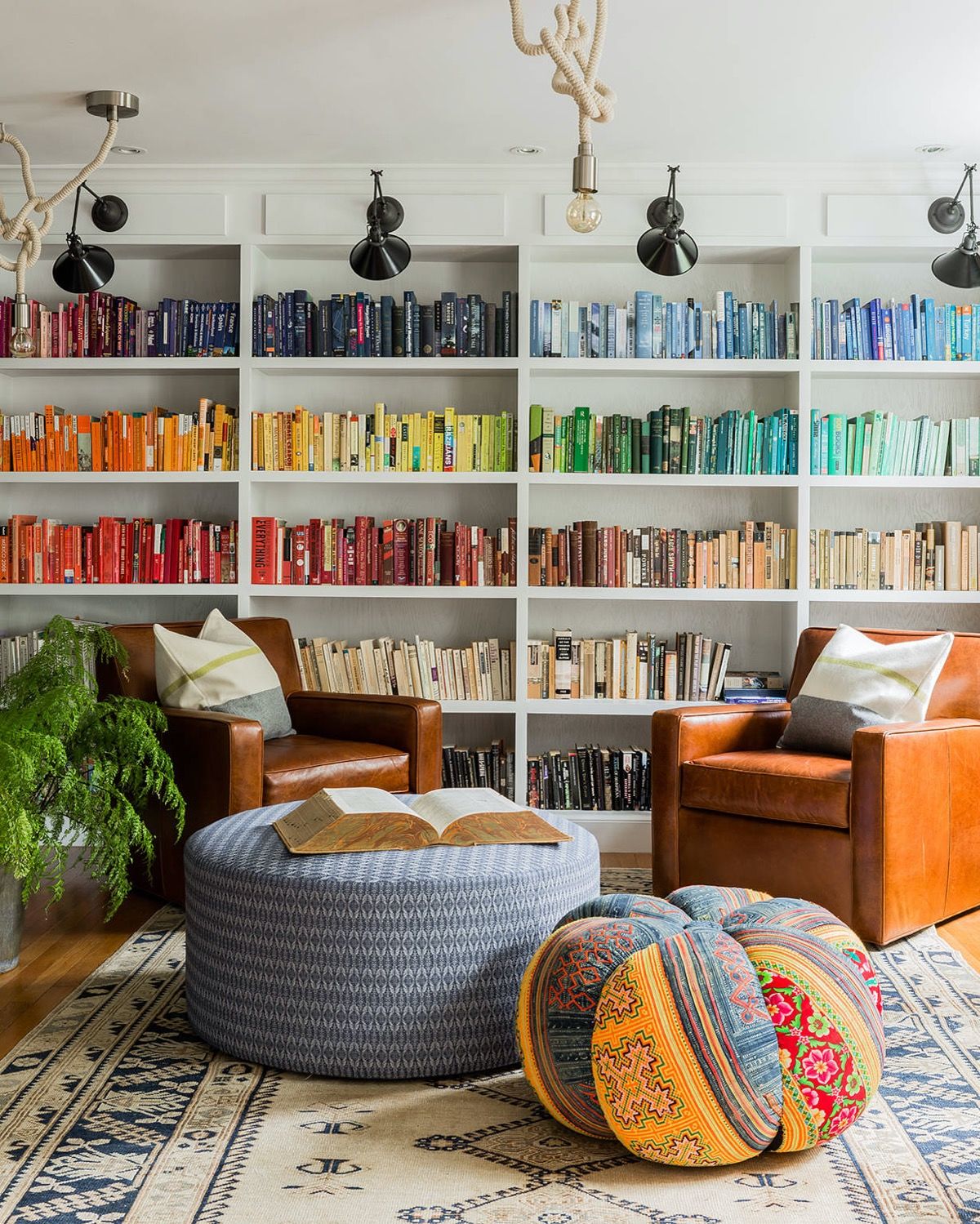 Got the bookshelves but lacking style? Colour ordering your book collection could be the answer to your dreary days. Add some colourful poufs to your seating area to extend the joyful palette.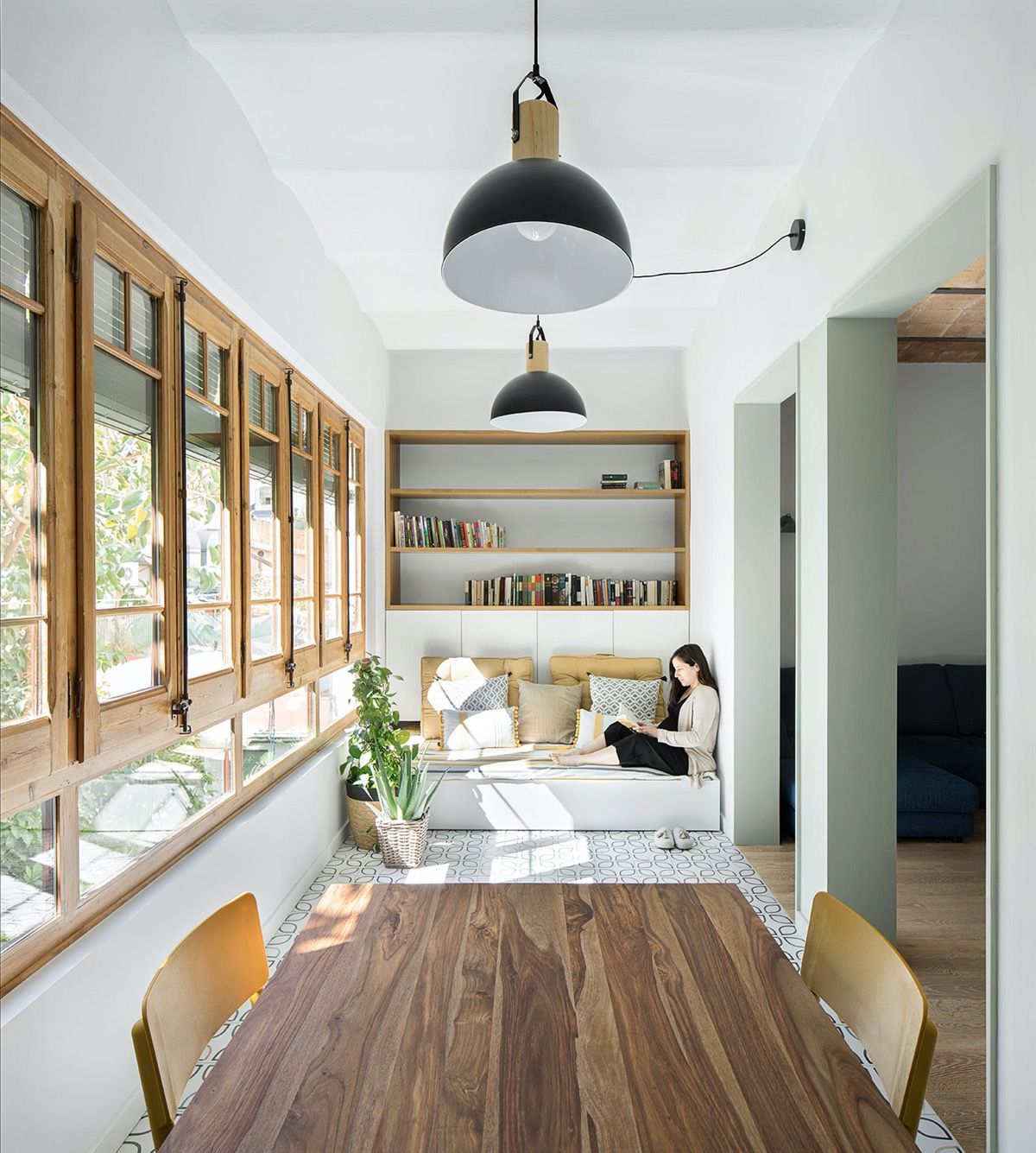 Carve out a corner. Even the smallest niche can be fashioned into a beautiful reading nook.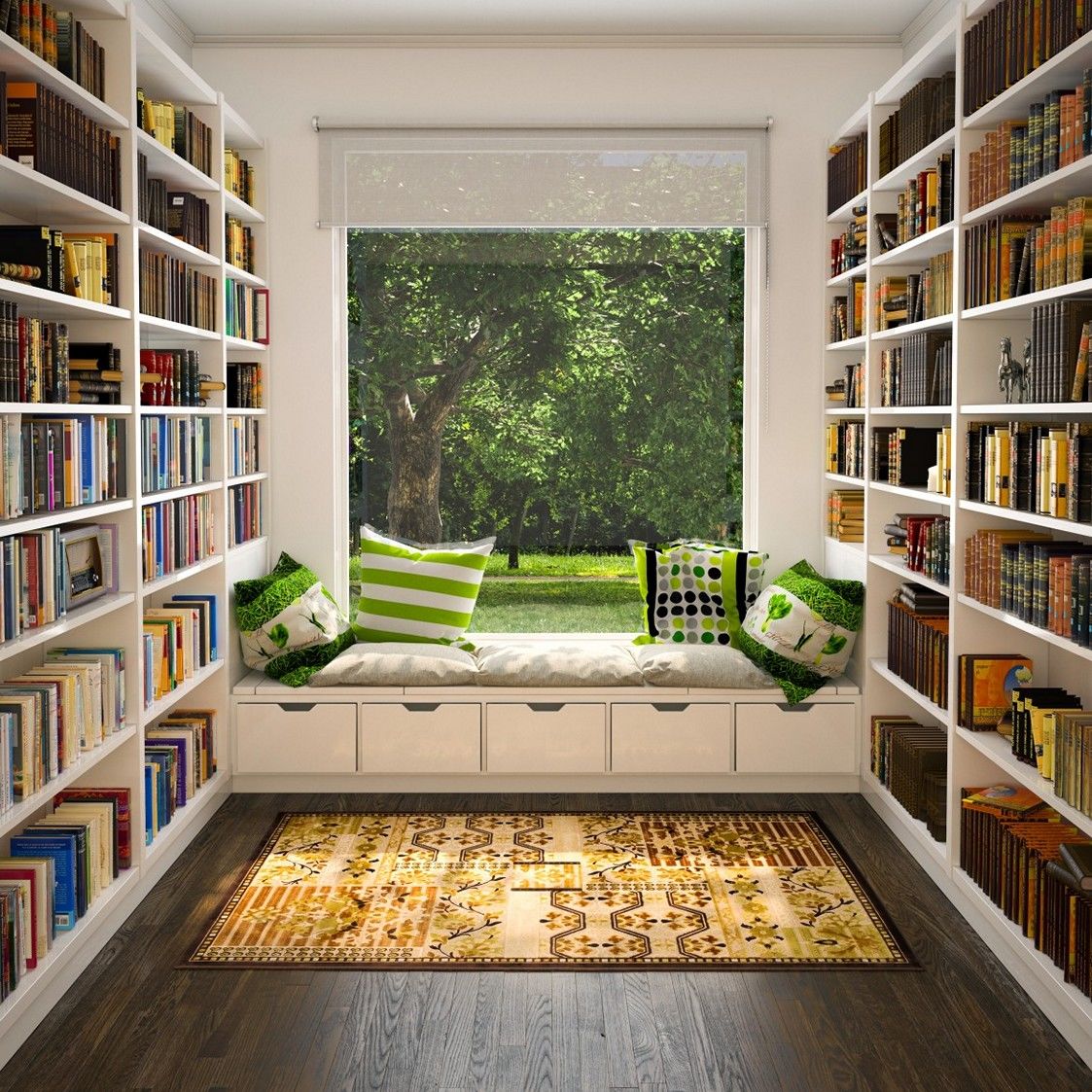 This sunny window seat reading nook incorporates the green garden view with vibrant green scatter cushions.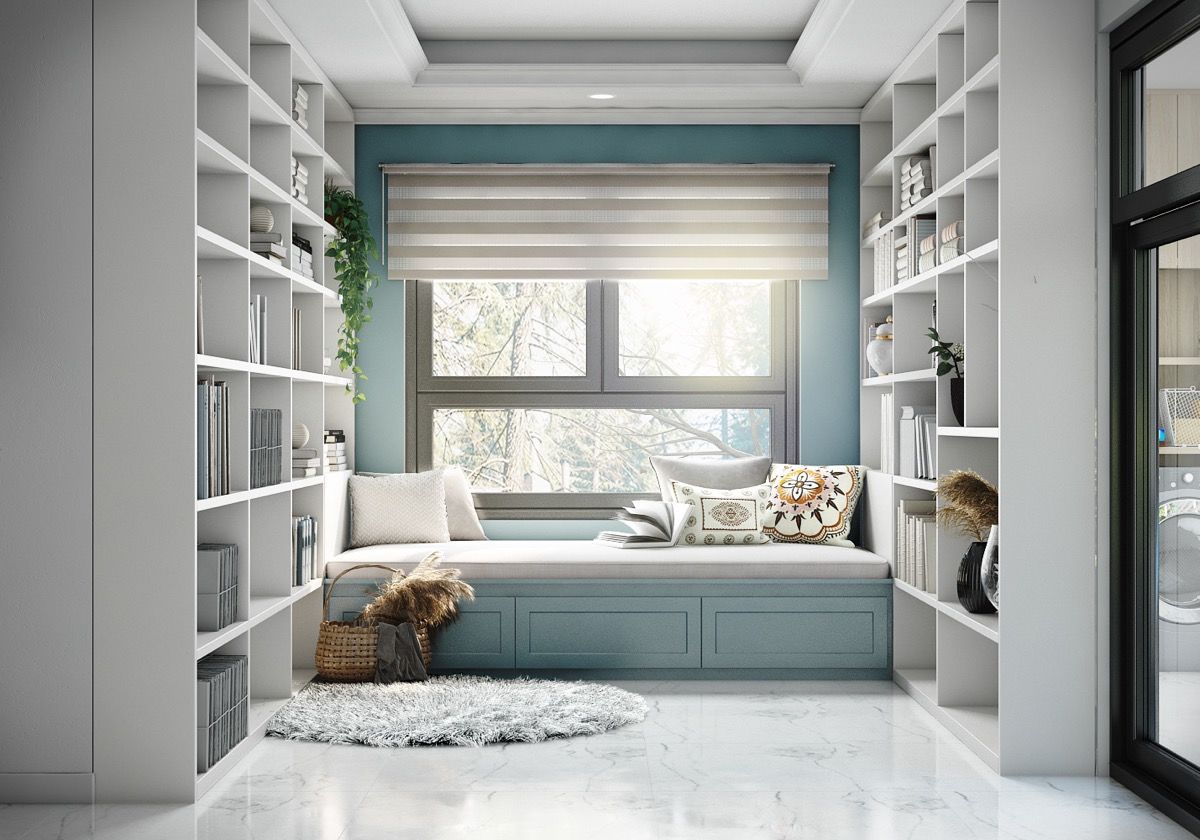 Calming blue colour palettes feel dreamy. White bookstacks fall back for a clean aesthetic.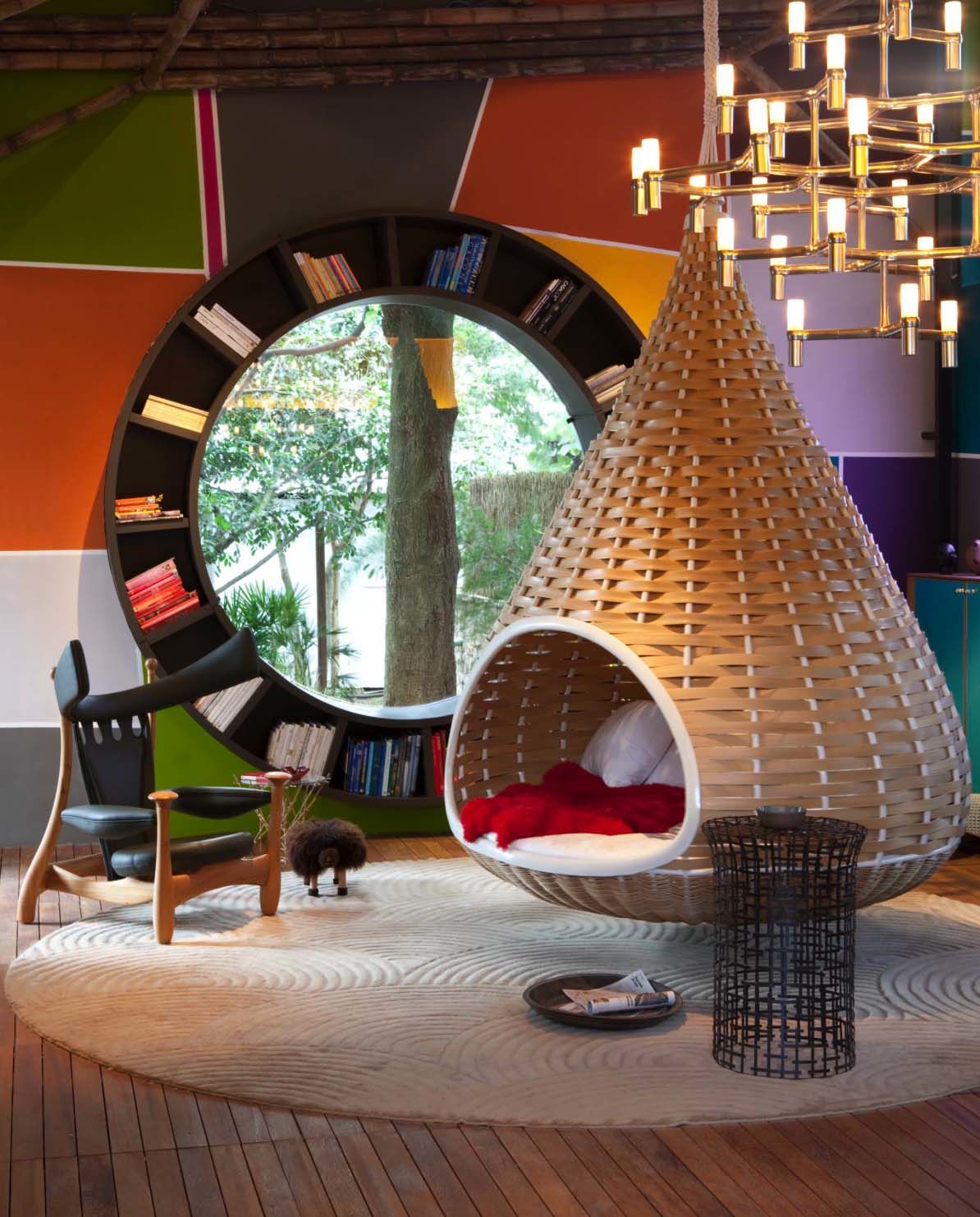 We discover our love of books as children, so why not dip back into those days with a playful scheme? Choose novelty bookcases, paint colourful walls, and dangle your legs from a hanging chair.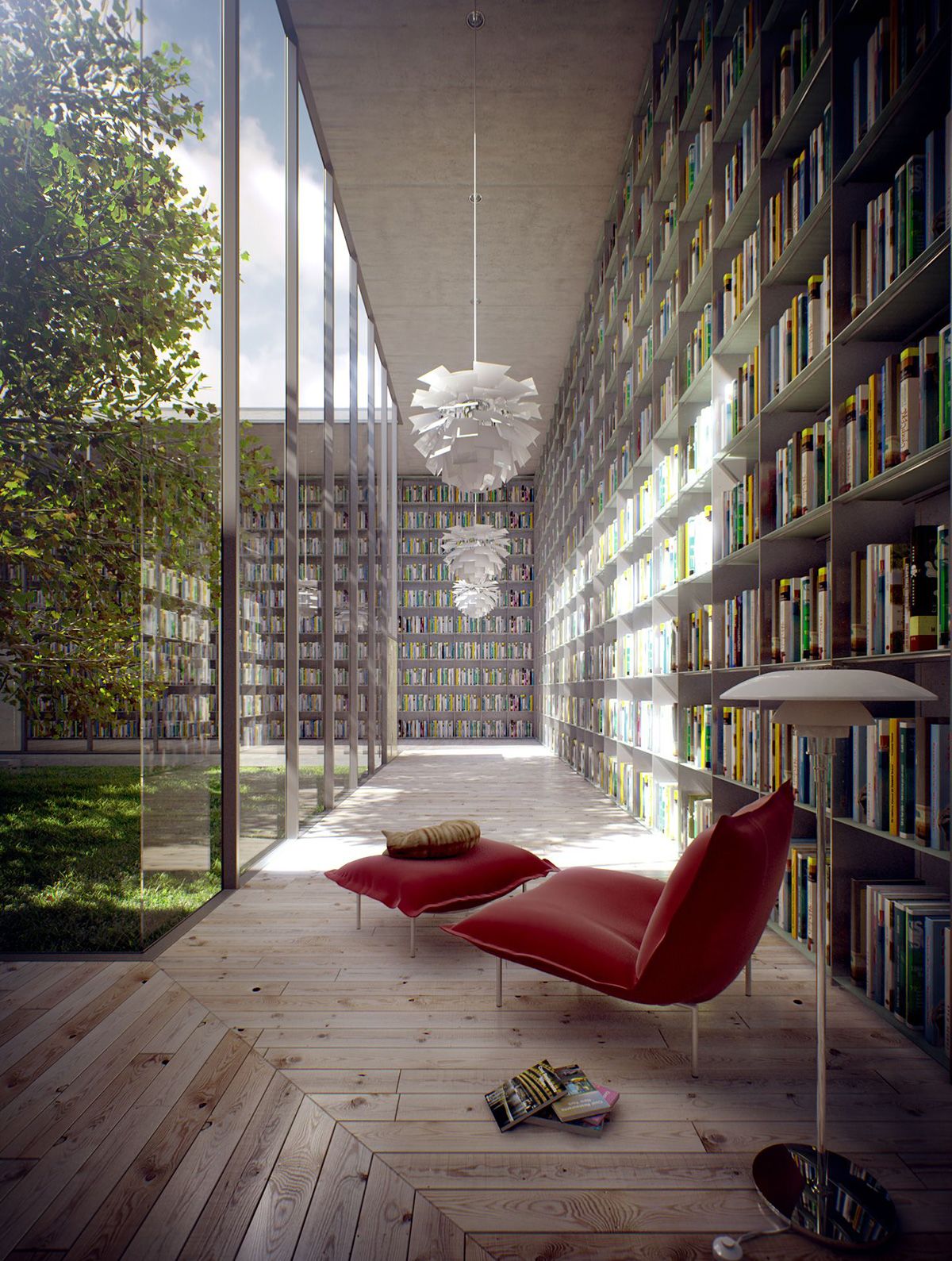 The stuff book lover's dreams are made of. A dust hater's nightmare.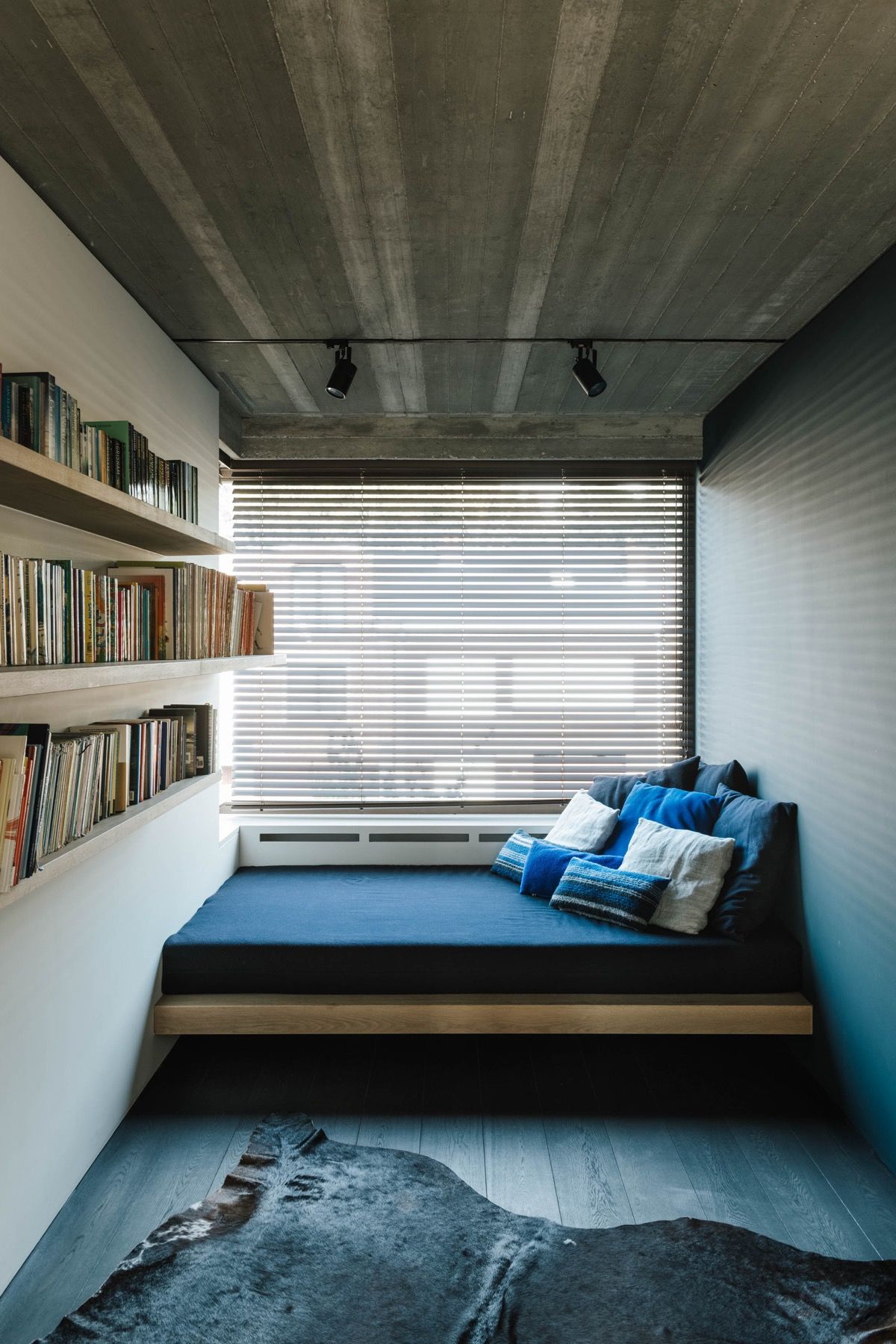 Modern and minimalist, a floating chaise and floating bookshelves make a simple and refreshing reading space. Industrial elements add dark, textural interest.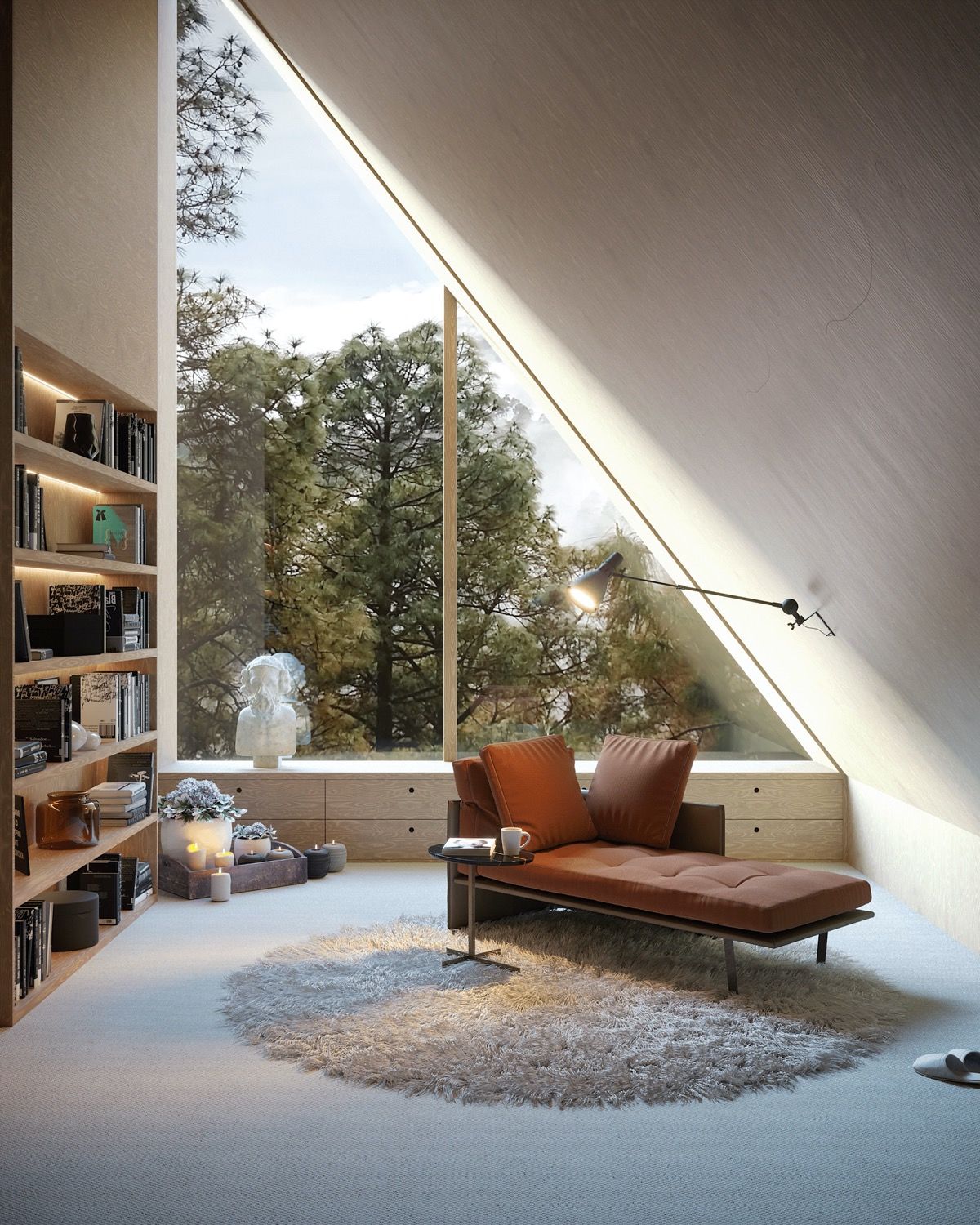 Take it to the treetops with an attic reading room. A swing arm wall lamp easily tackles the challenges around low, sloping ceilings.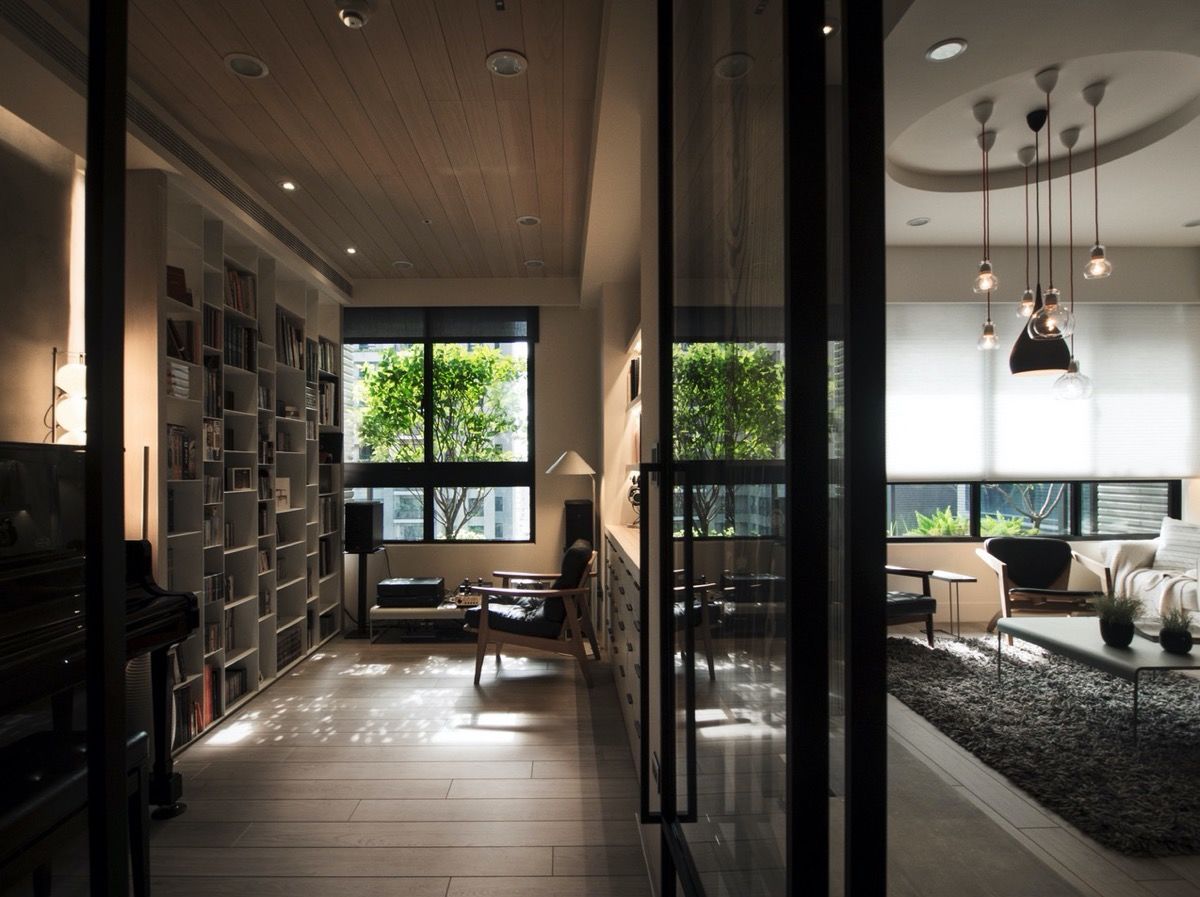 Glass doors allow your library to be a feature of your main living space whilst buffering unwanted noise.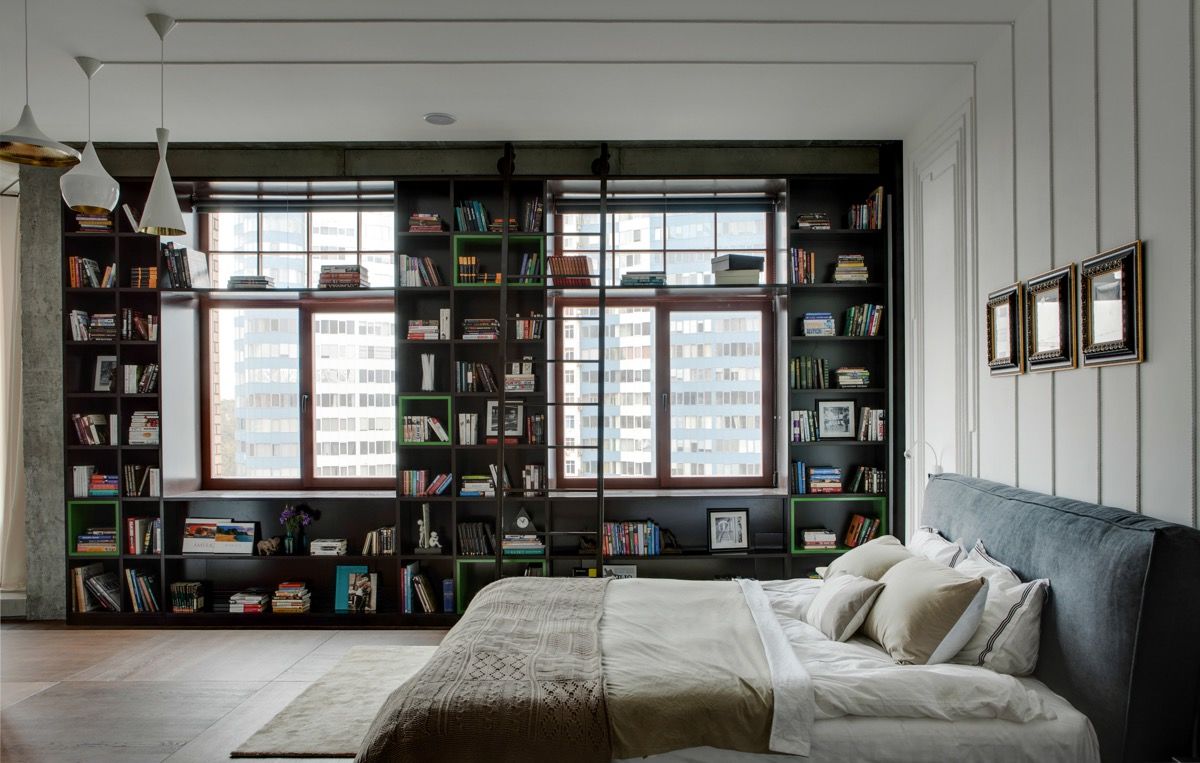 In reality, many of us don't find time to pick up a book until we hit the sheets, so the bedroom is a perfectly practical place to locate your library. See more inspiration for bedrooms libraries.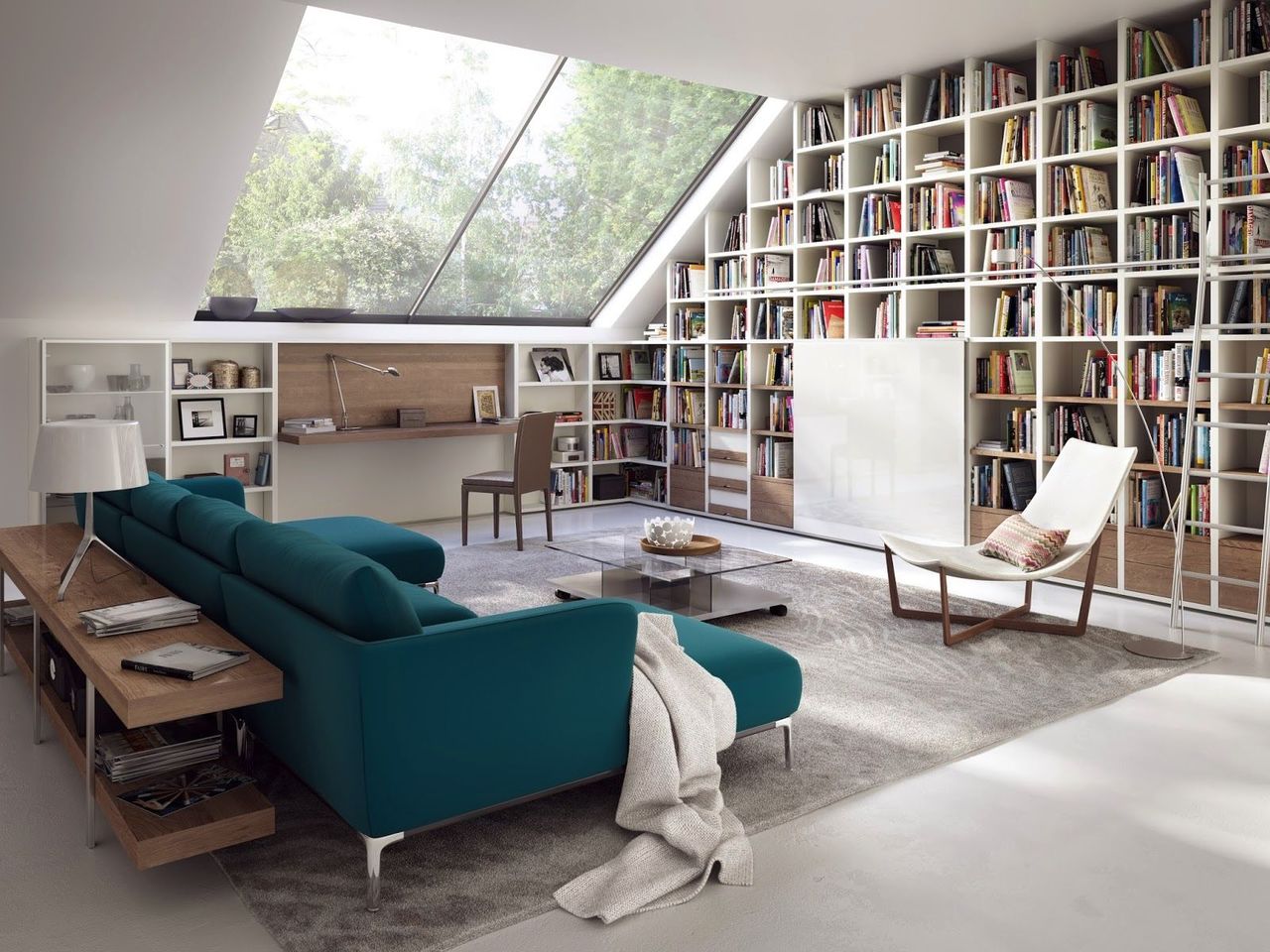 If your library is as much about study as it is about relaxation, be sure to fashion a desk in amongst the stacks to make cross referencing more comfortable and efficient.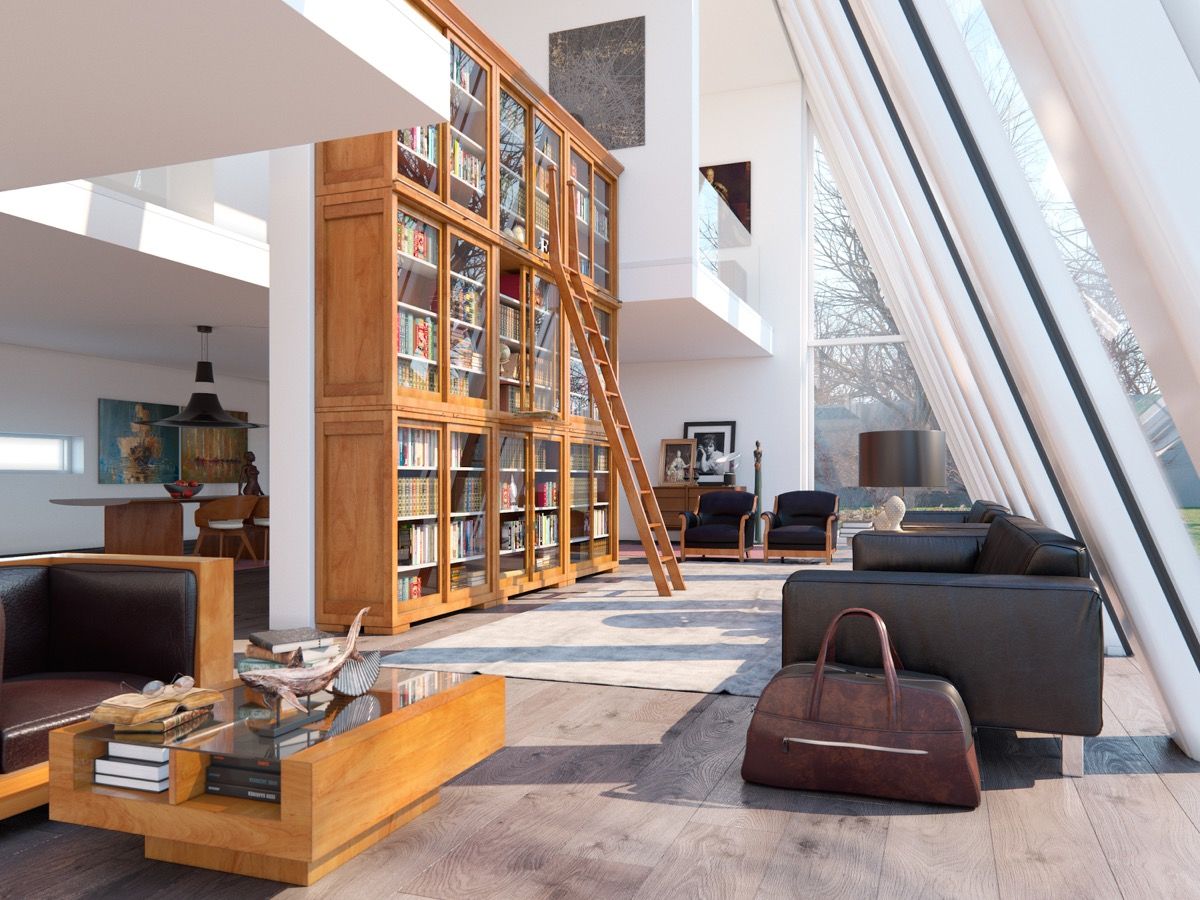 Home libraries bring extreme warmth to double height room voids. Choose oak for a golden warmth, or let your colourful collection of book covers do all the talking.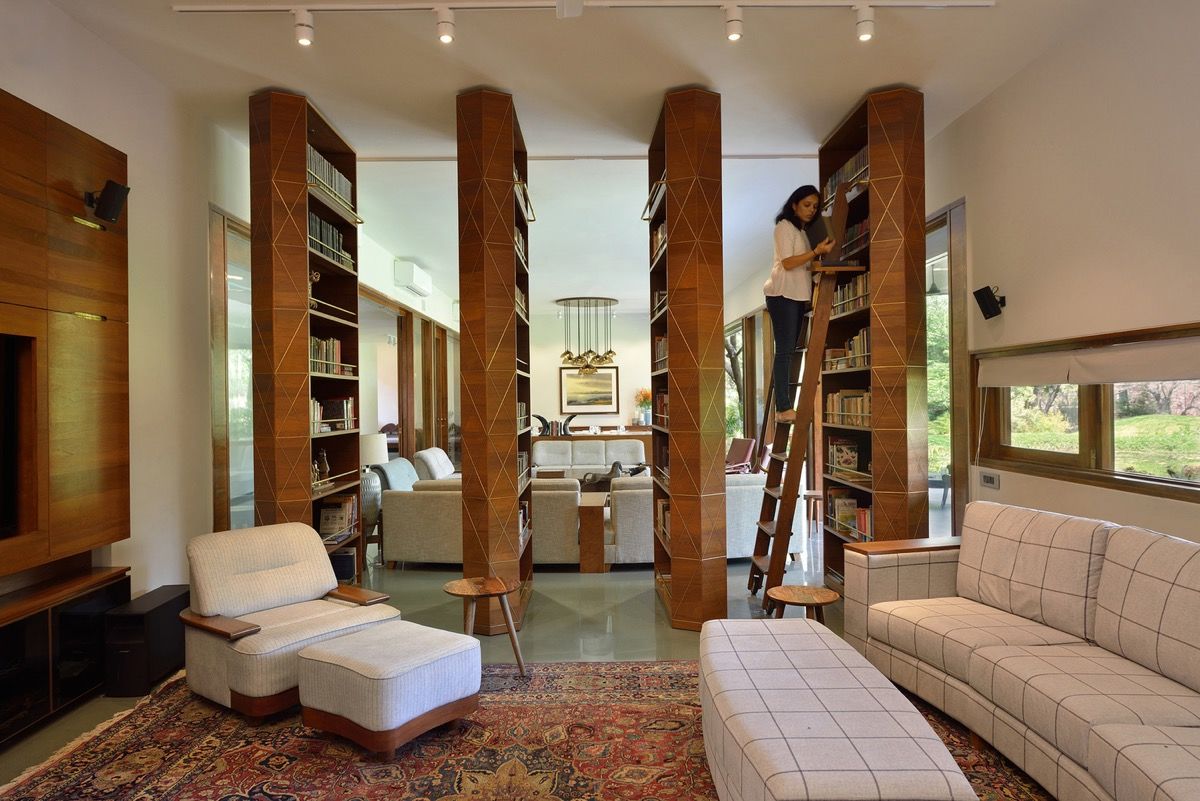 Rotating bookcases can open up, or seal off, a home library in an instant. See more of this curvilinear house here.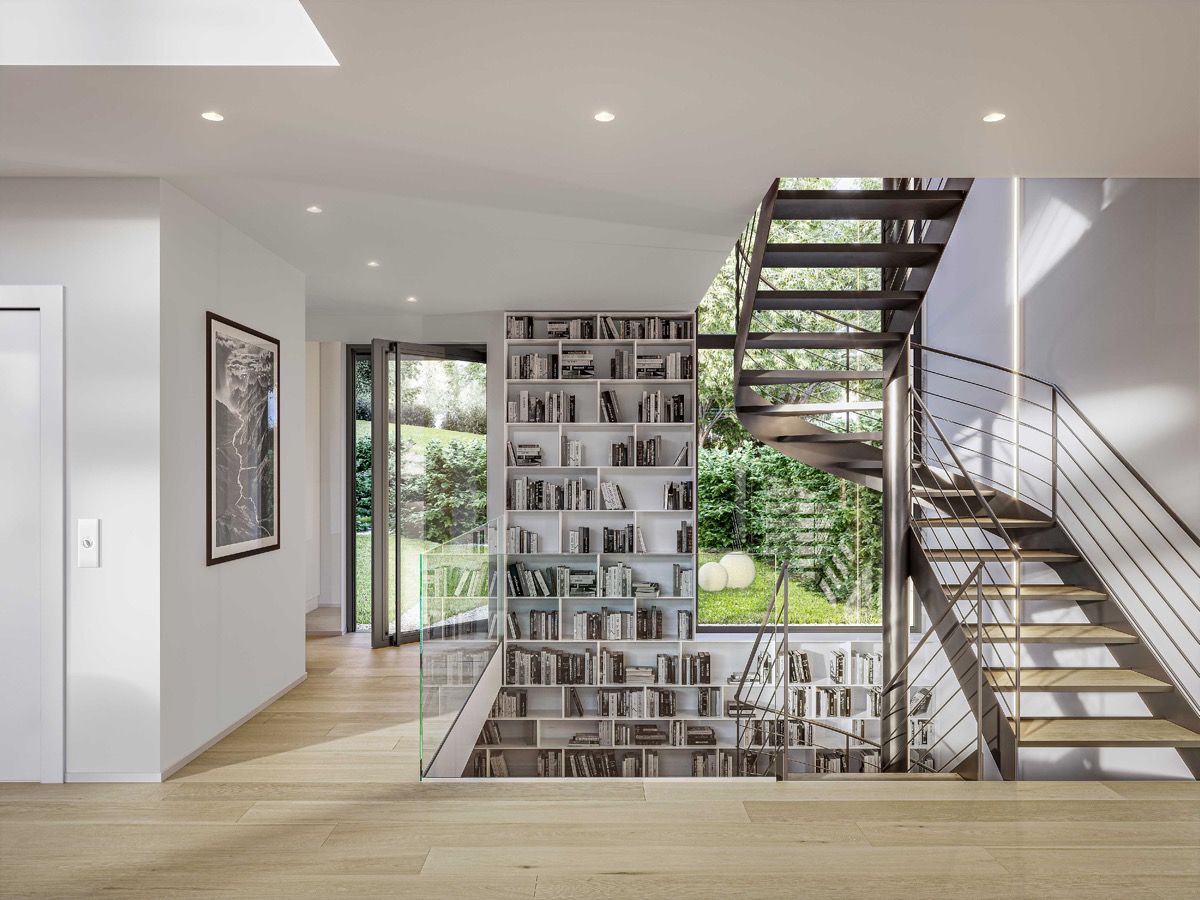 Glass balustrades leave stairwell bookcases uninterrupted and viewable in all their glory.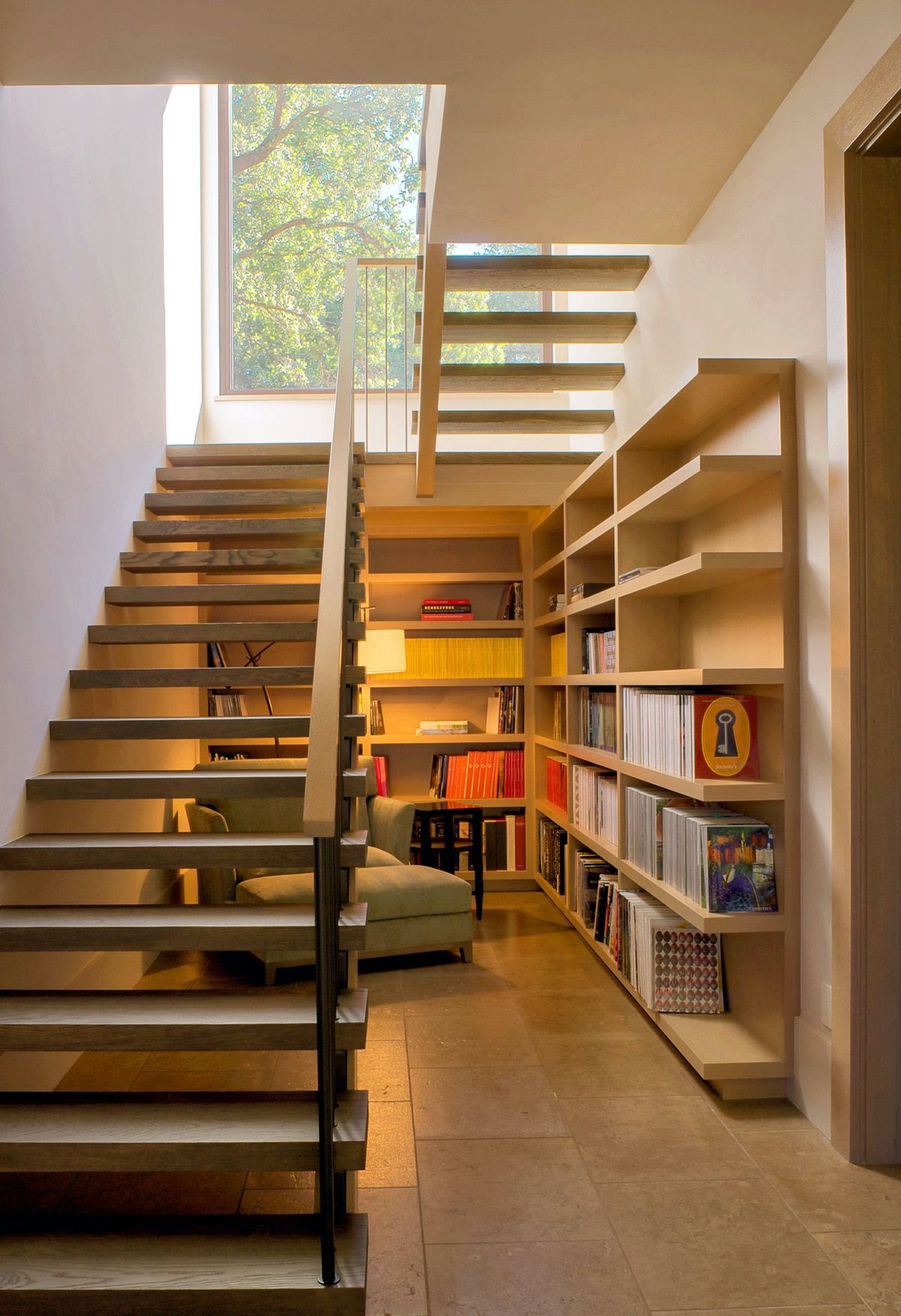 Make use of that dead space under the stairs with an L-shaped bookcase, a cosy armchair and a good lamp.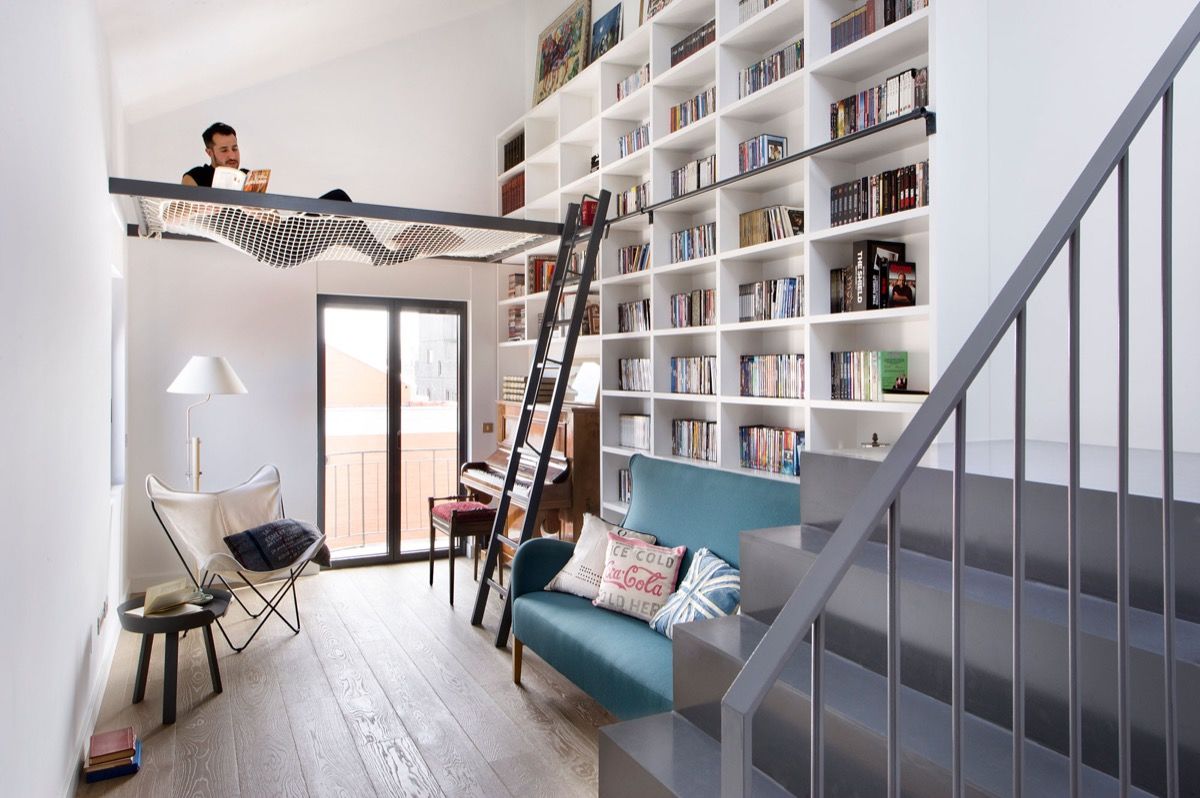 You don't need to install an expensive mezzanine to fashion an extra floor under high ceilings, a simple hammock floor/loft net provides an ideal spot for stretching out with a good book. A librarian ladder will give you a boost up there.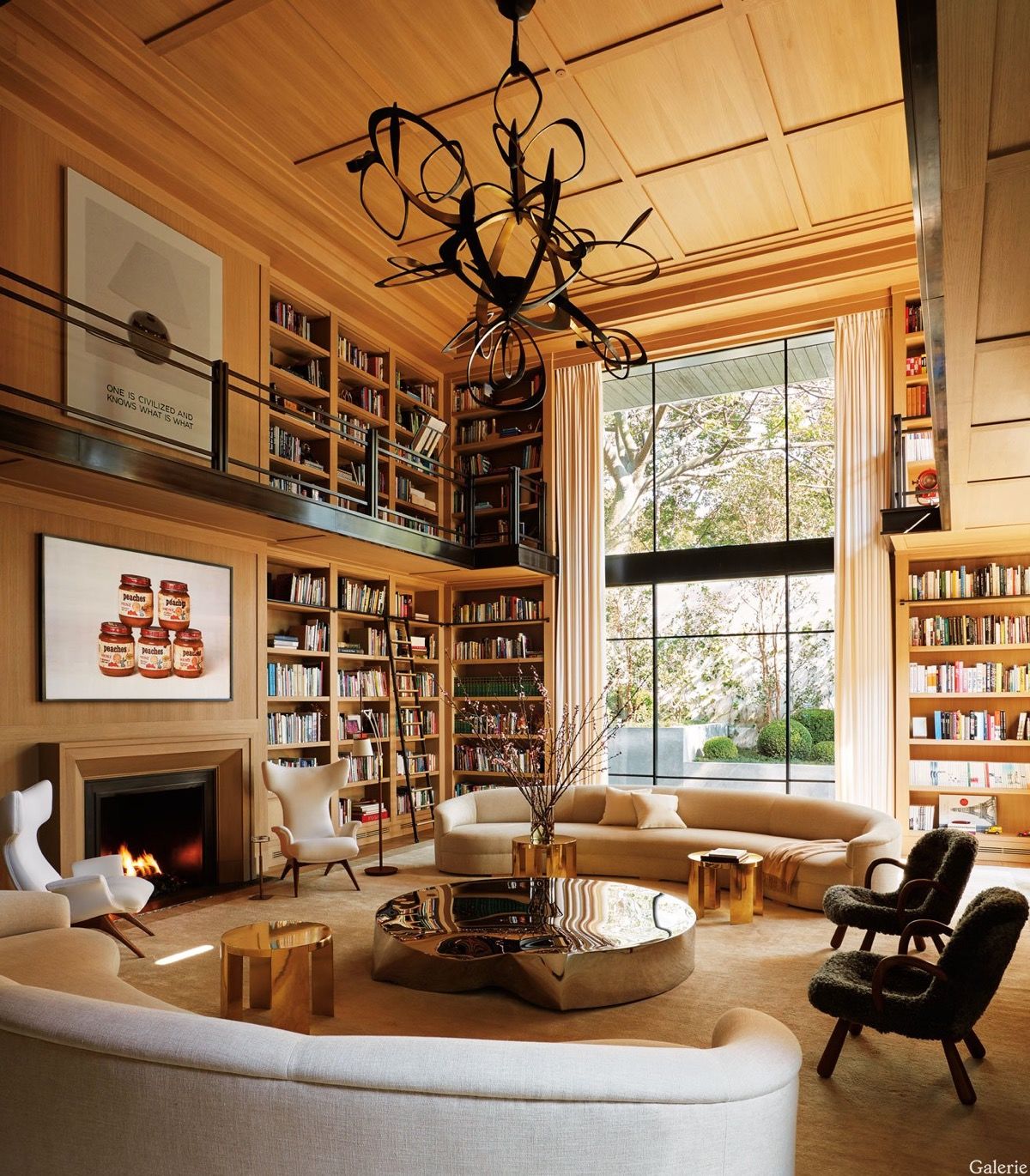 Classic meets contemporary in this handsome home library, where modern wingback chairs set out a relaxing spot by a roaring fire.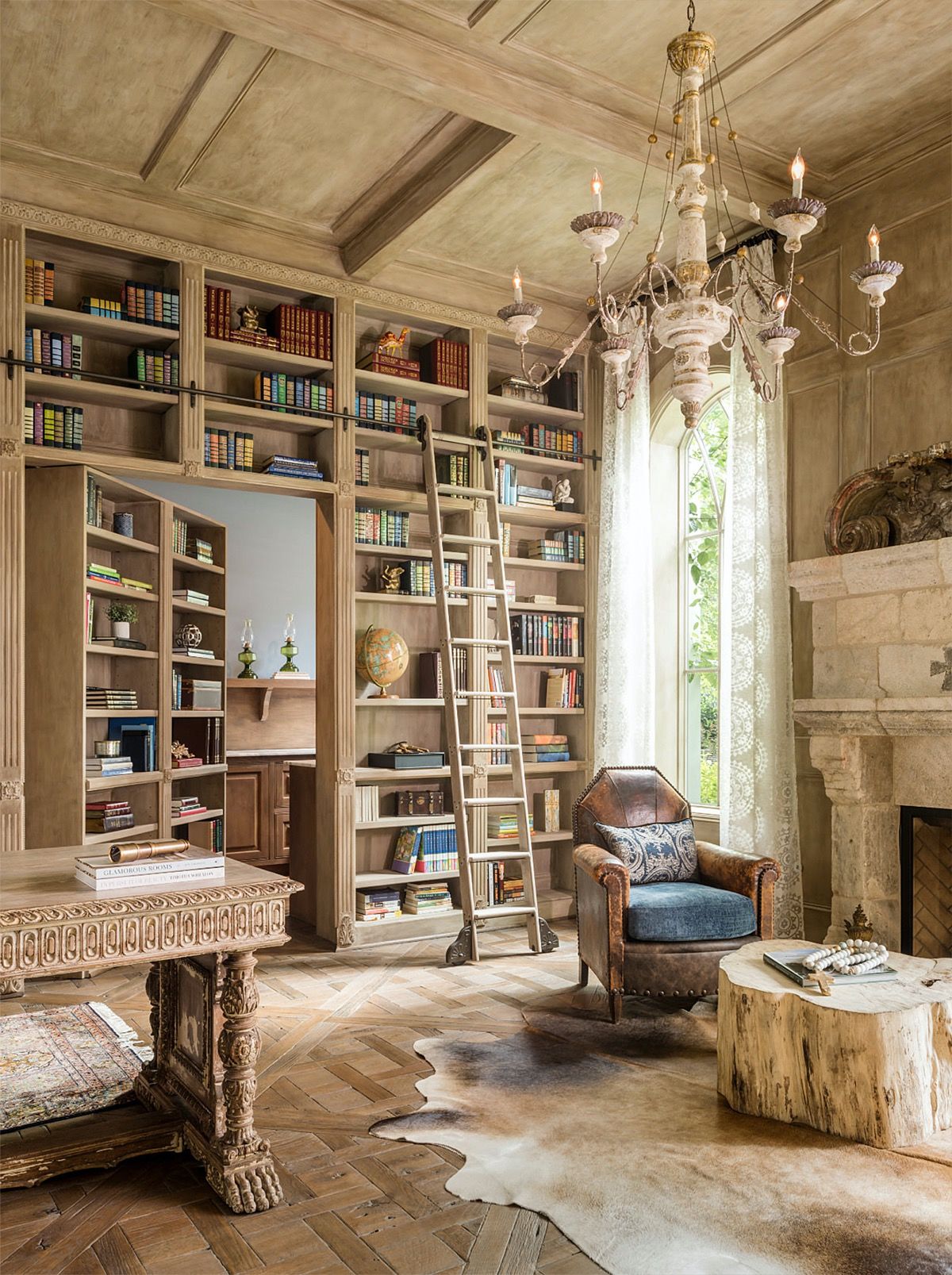 Create medieval castle vibes with a secret door in the bookcase.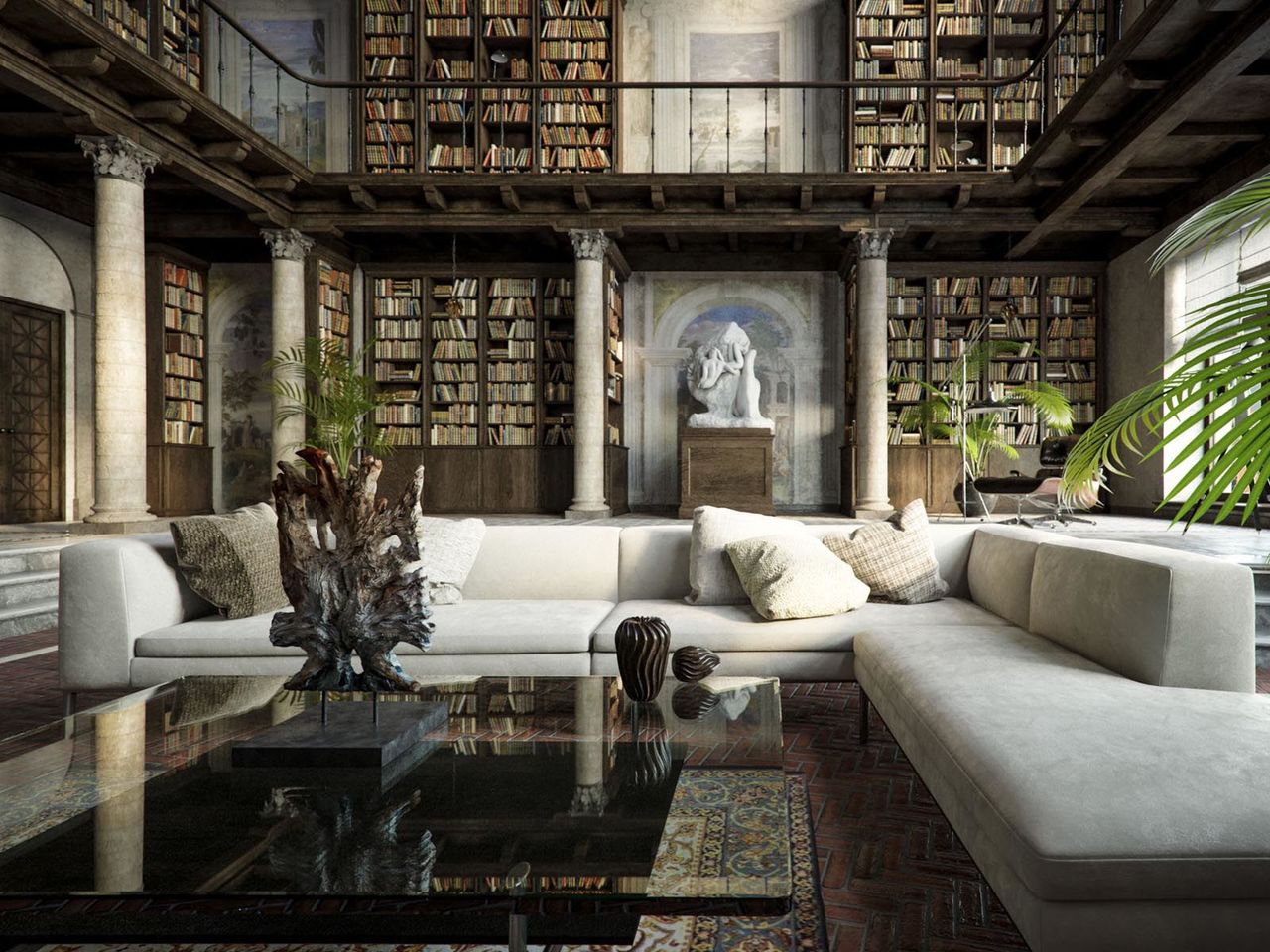 Use classic columns to bolster a magnificent mezzanine. A modern lounge area with a contemporary sofa will bring the scheme into the modern realm.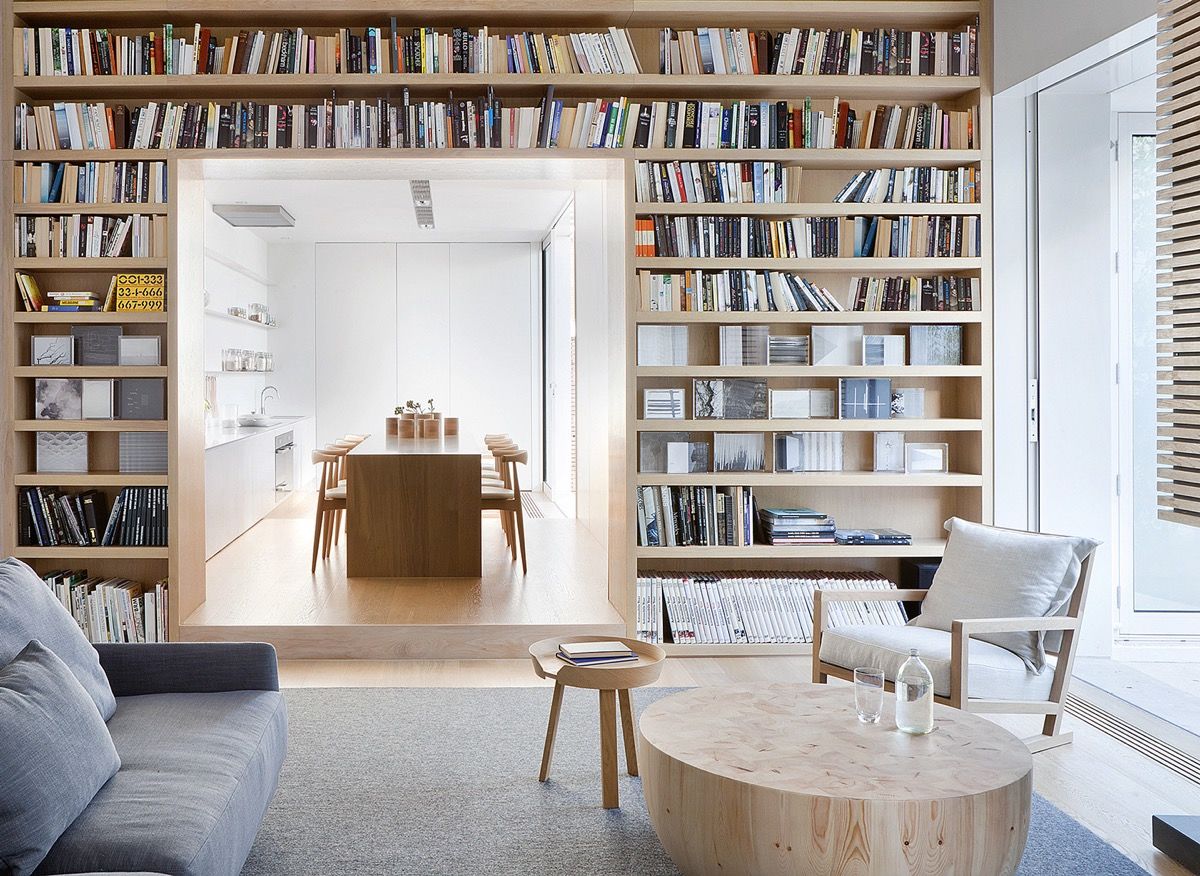 A built-in bookcase can help make sense of small room openings and unusual layouts.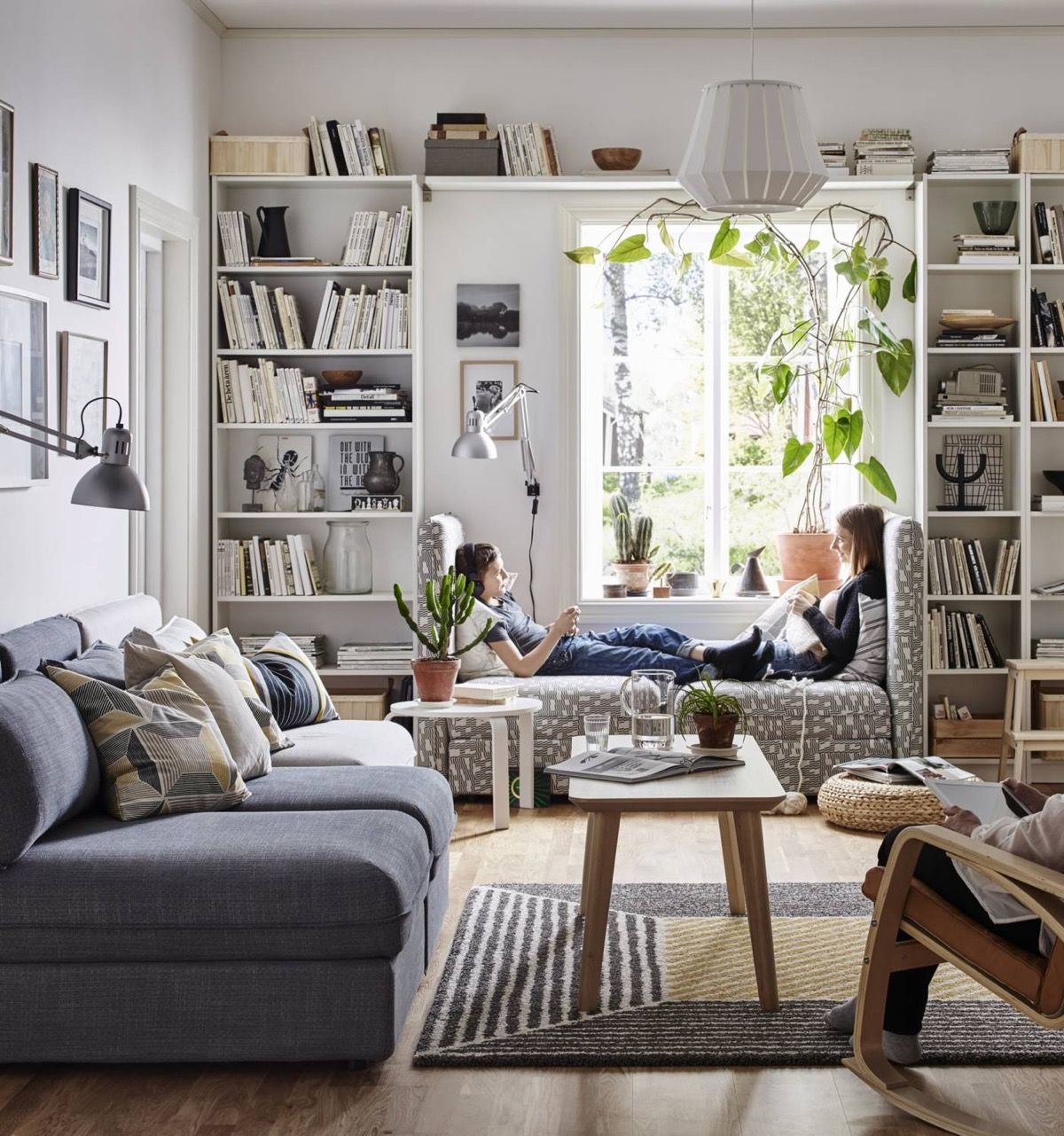 Mix, match and be modular. Adjoin flat-pack bookcases with an overhead shelf and sectional seats to create a cost effective window reading nook.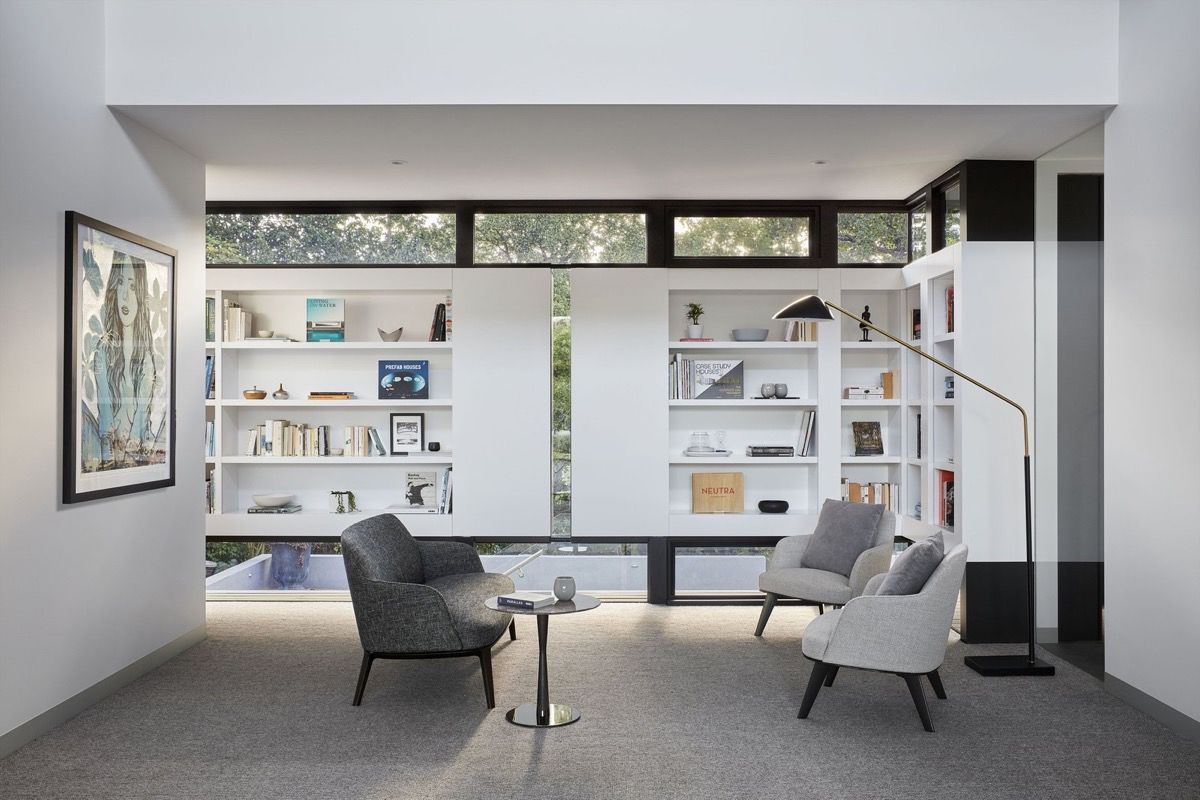 Clerestory windows will let a good amount of light into your library without the glare.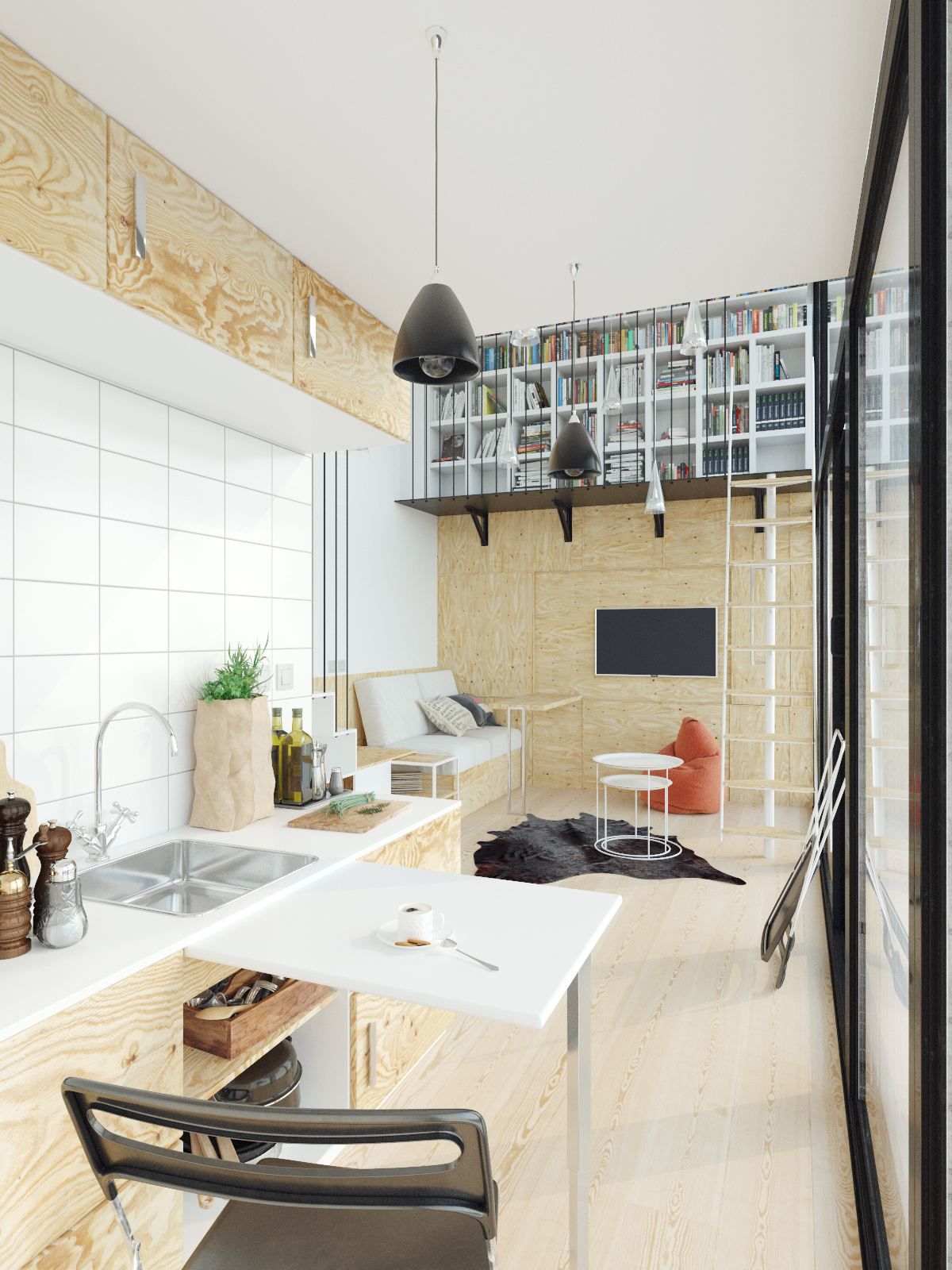 Even a tiny home can squeeze in a dedicated book nook.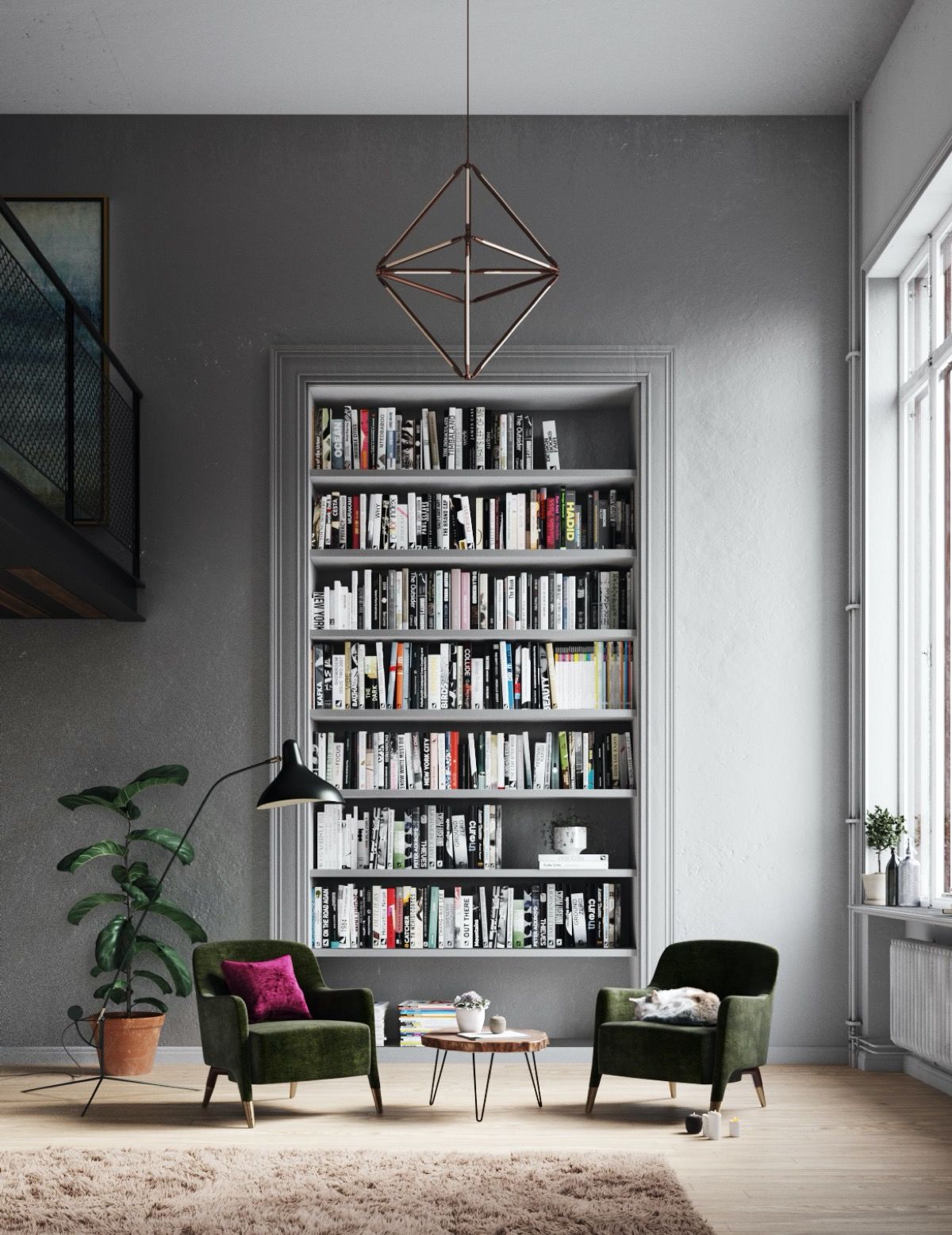 Alcoves and niches provide opportunity for building a streamlined library. Frame out the recess with wide decorative moulding to create a high-end custom-made look. Position a pair of beautiful lounge chairs and a stylish floor lamp in front to complete the ensemble.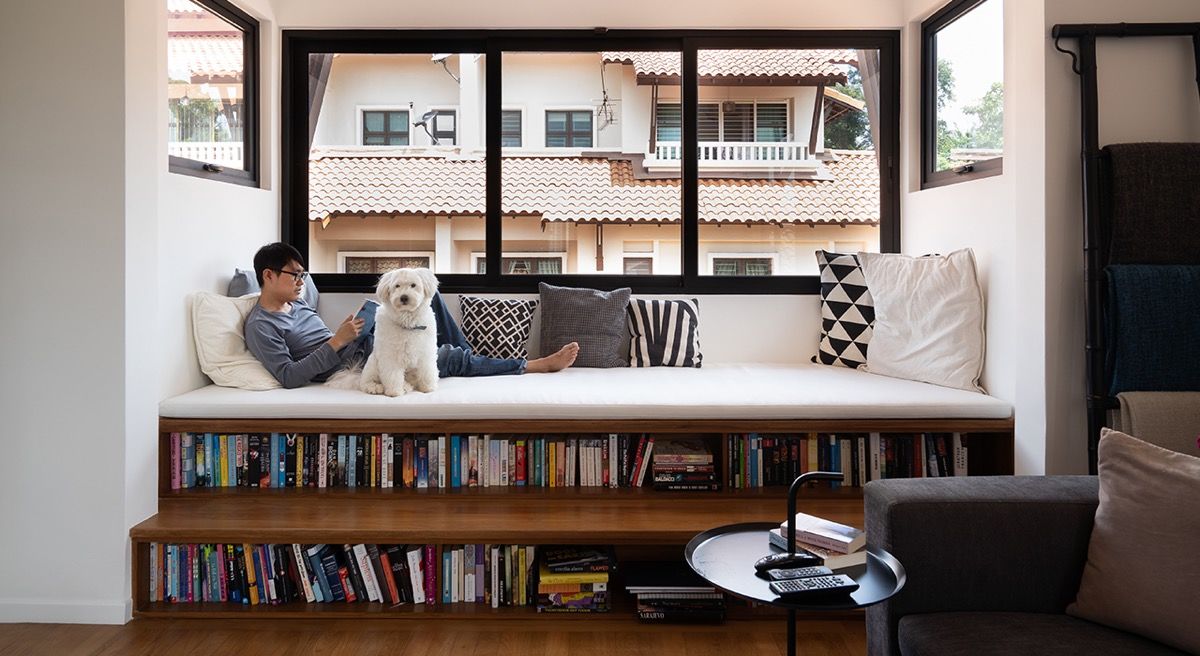 Where wall space is lacking, look to the floor. This bench seat design adds not one but two tiers of bookshelves to a compact window nook. The higher bookshelf is set back from the lower to create a comfortable step up to the elevated bench.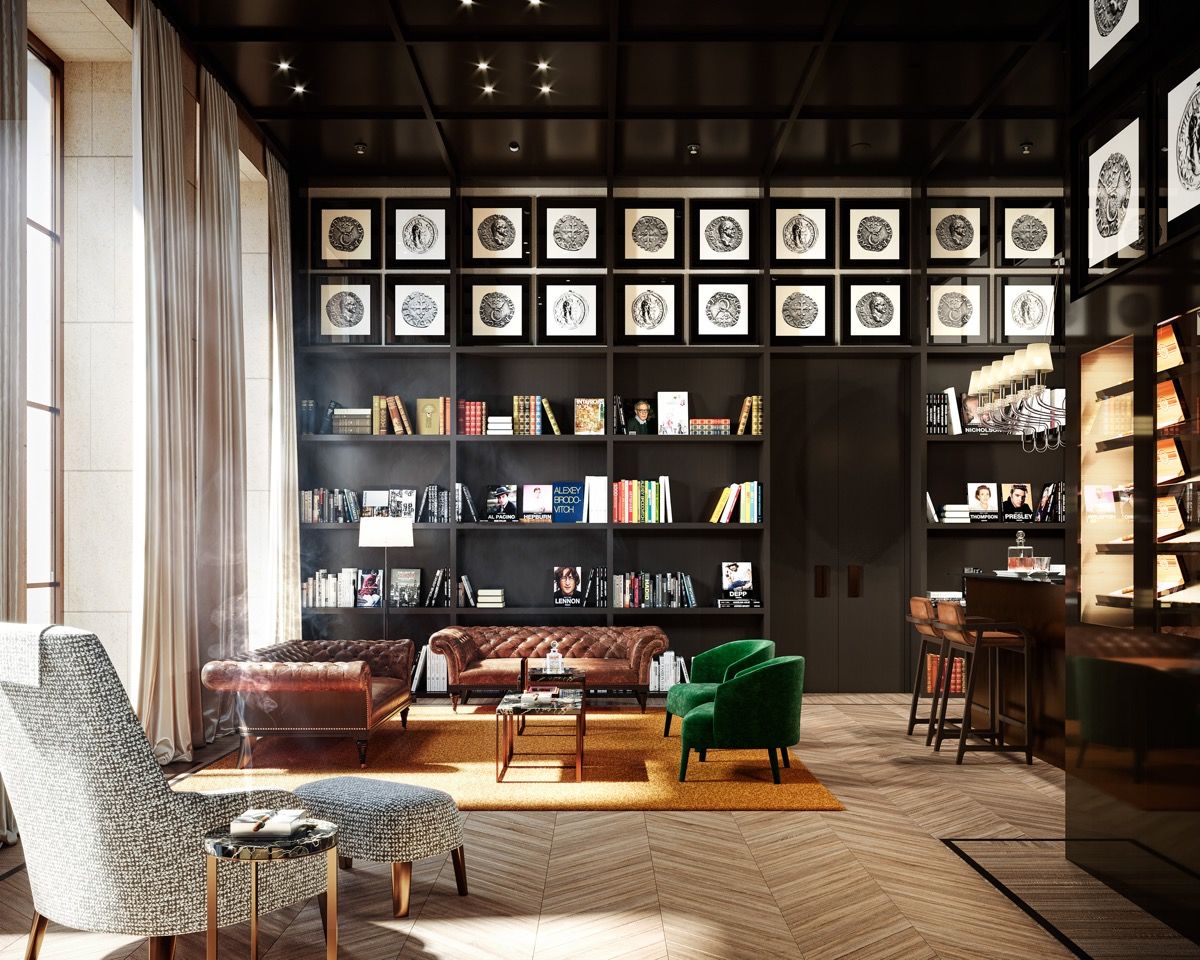 Black bookcases build dark drama behind colourful tomes. A gallery of monochrome prints accentuate the shadowy decor.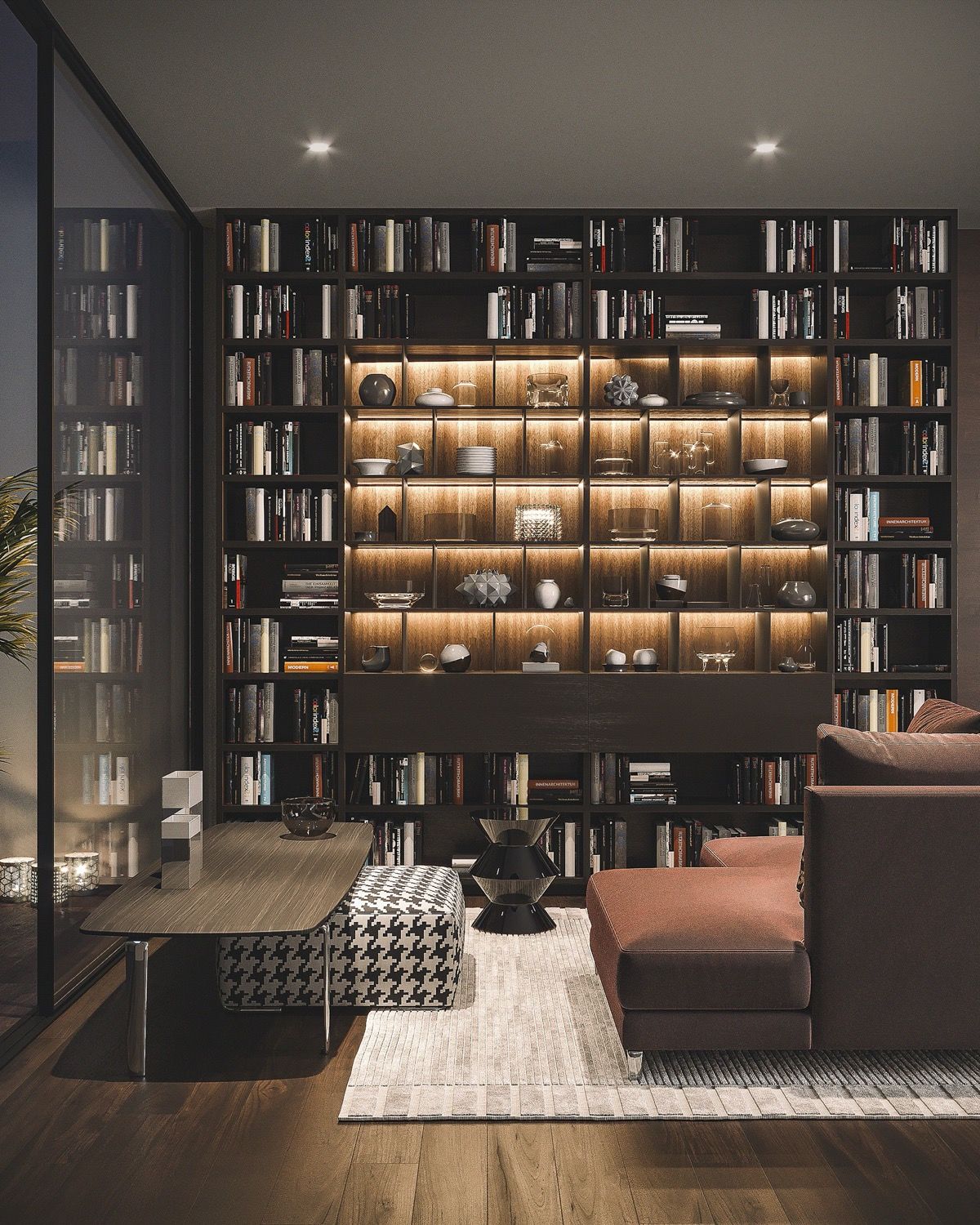 In this dark library design, a centre section of decorative items is isolated under bright LED light.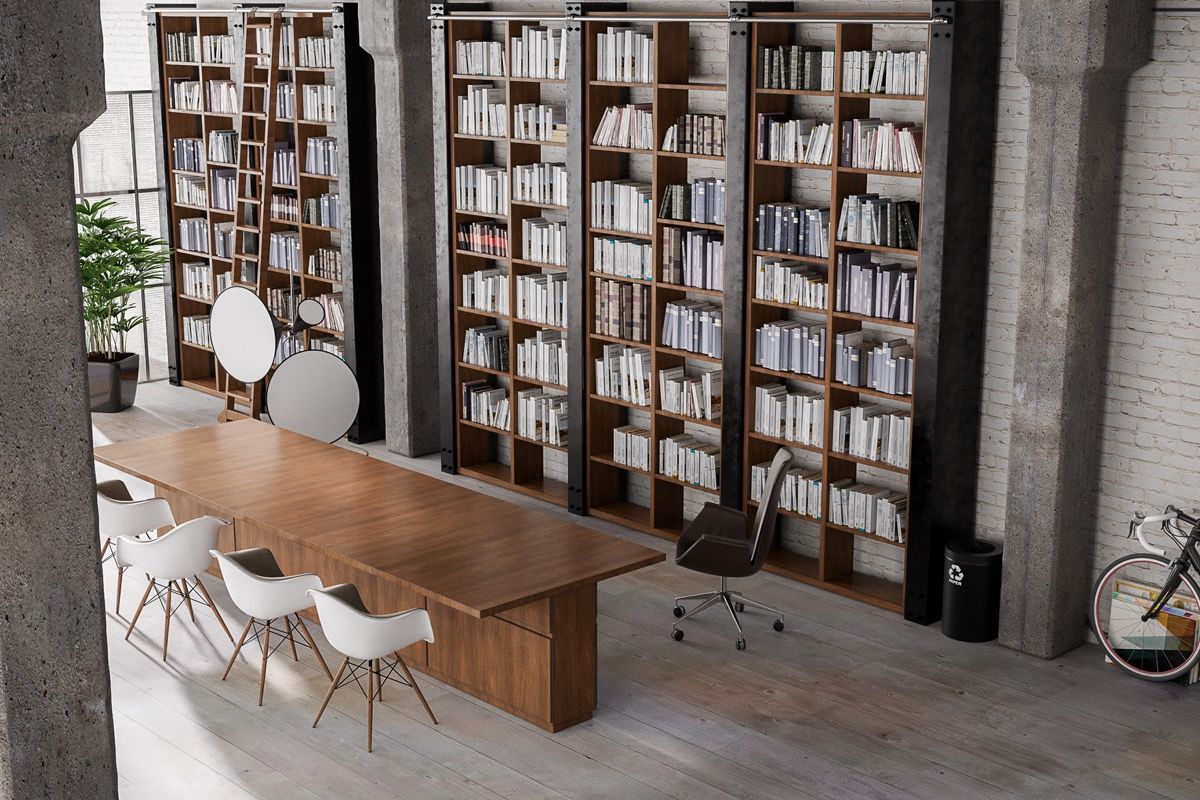 Industrial style surroundings create cool contrast against the warmth of wooden bookcases and clustered literary works.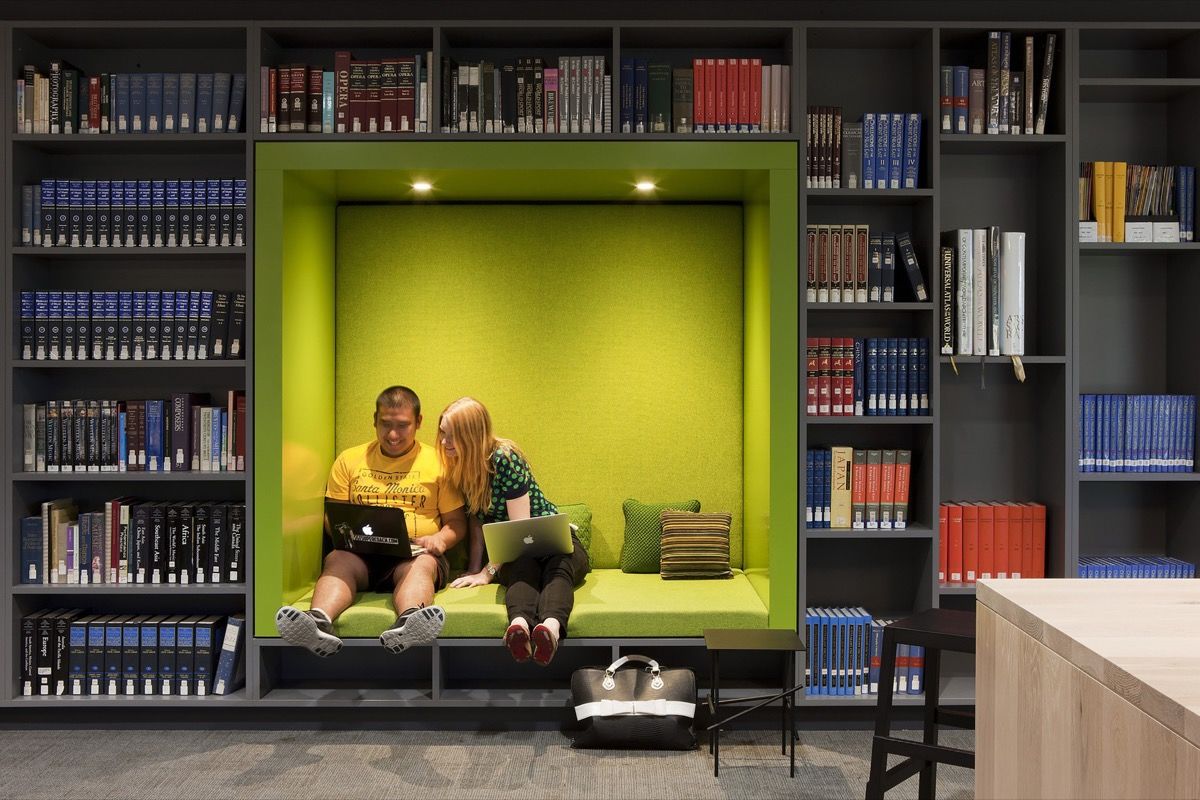 Spotlight a reading nook built in among the bookshelves with a blast of bright, unorthodox colour under a glossy finish and recessed spotlights.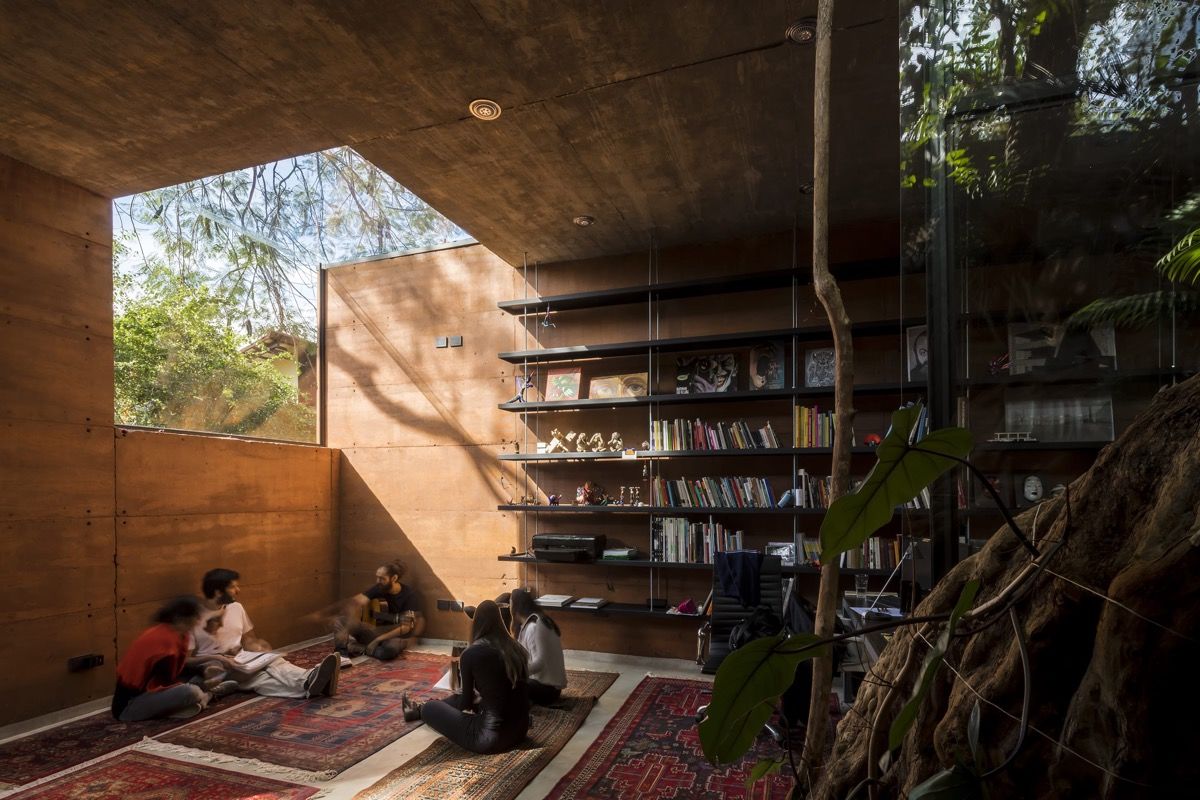 Feel like you're reading under swaying tree branches with a home library that has its own skylight.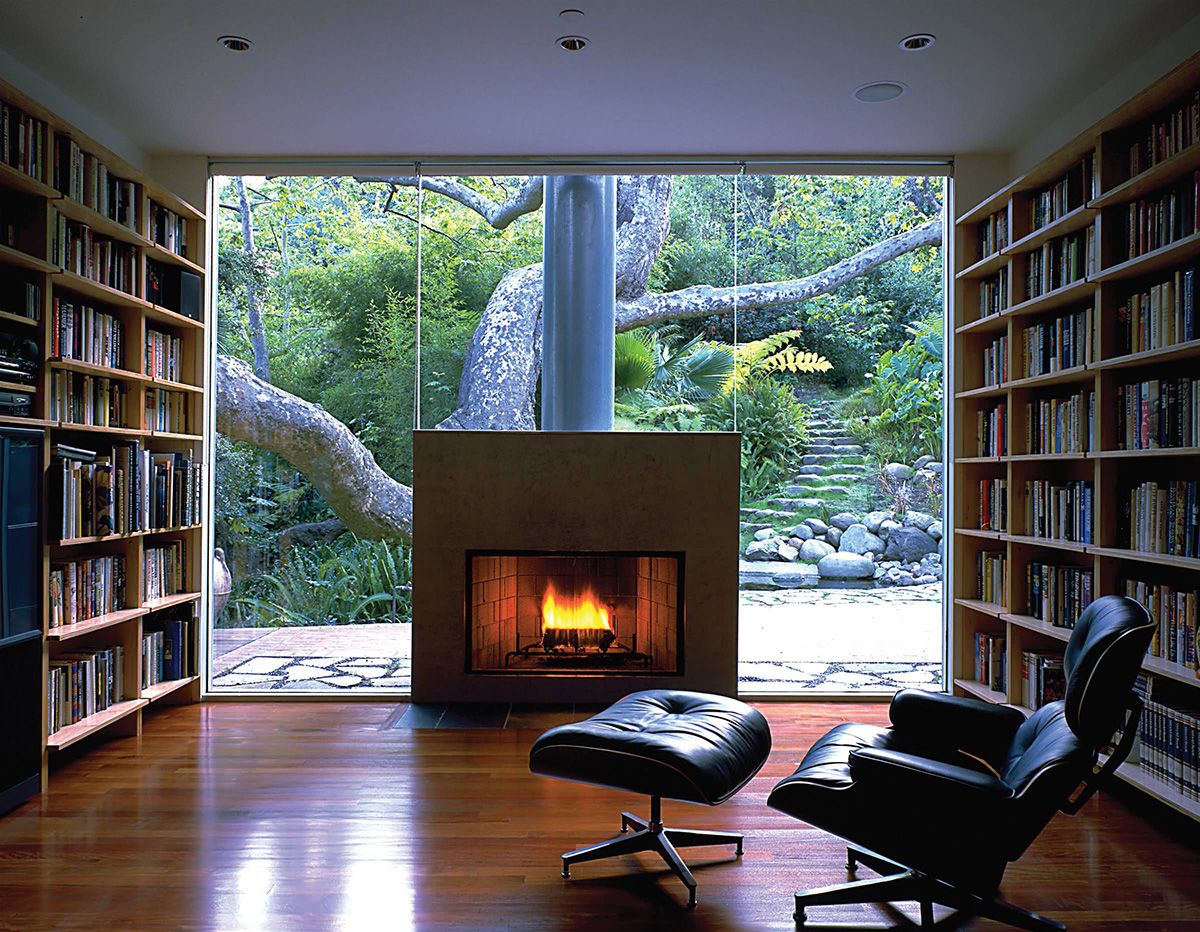 Hundreds of books, a toasty fireplace, a comfortable lounge chair and the company of Mother Nature? Yes, please.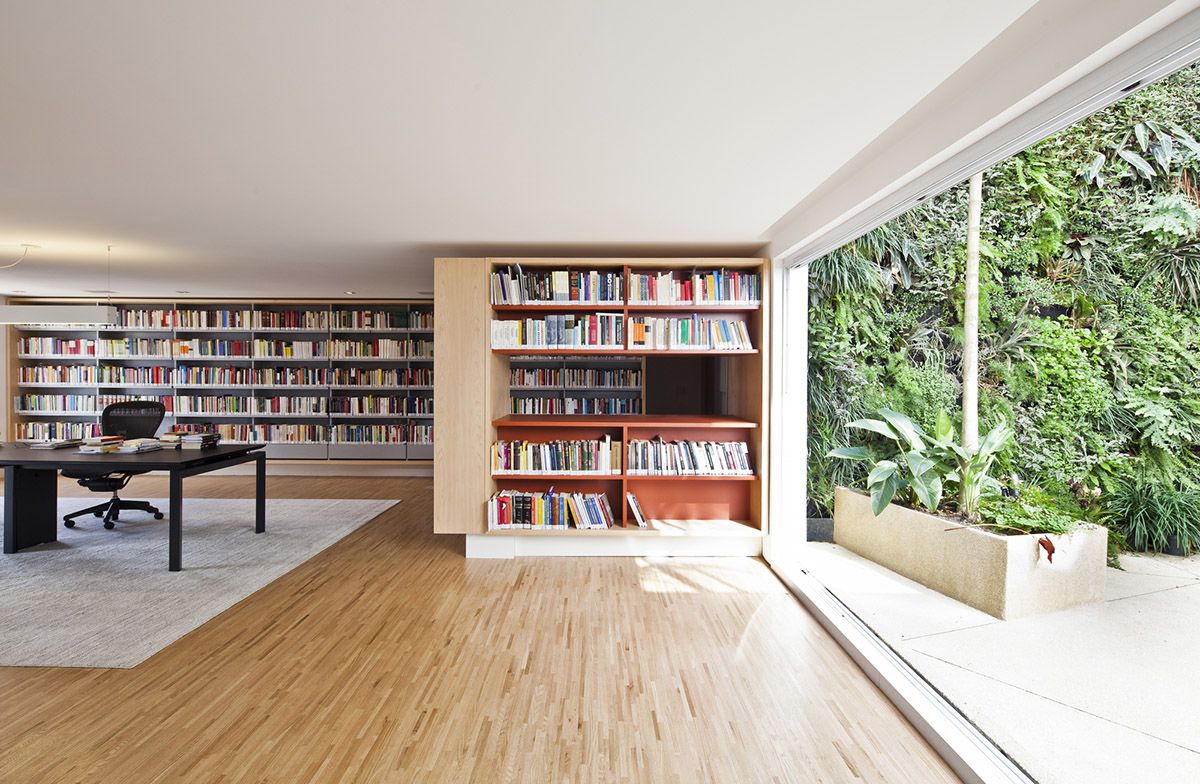 Further increase wall space within a large home library by arranging bookcases into a room divider. In this luxury home, a set of upper and lower bookcases are split apart to let light filter through from the garden.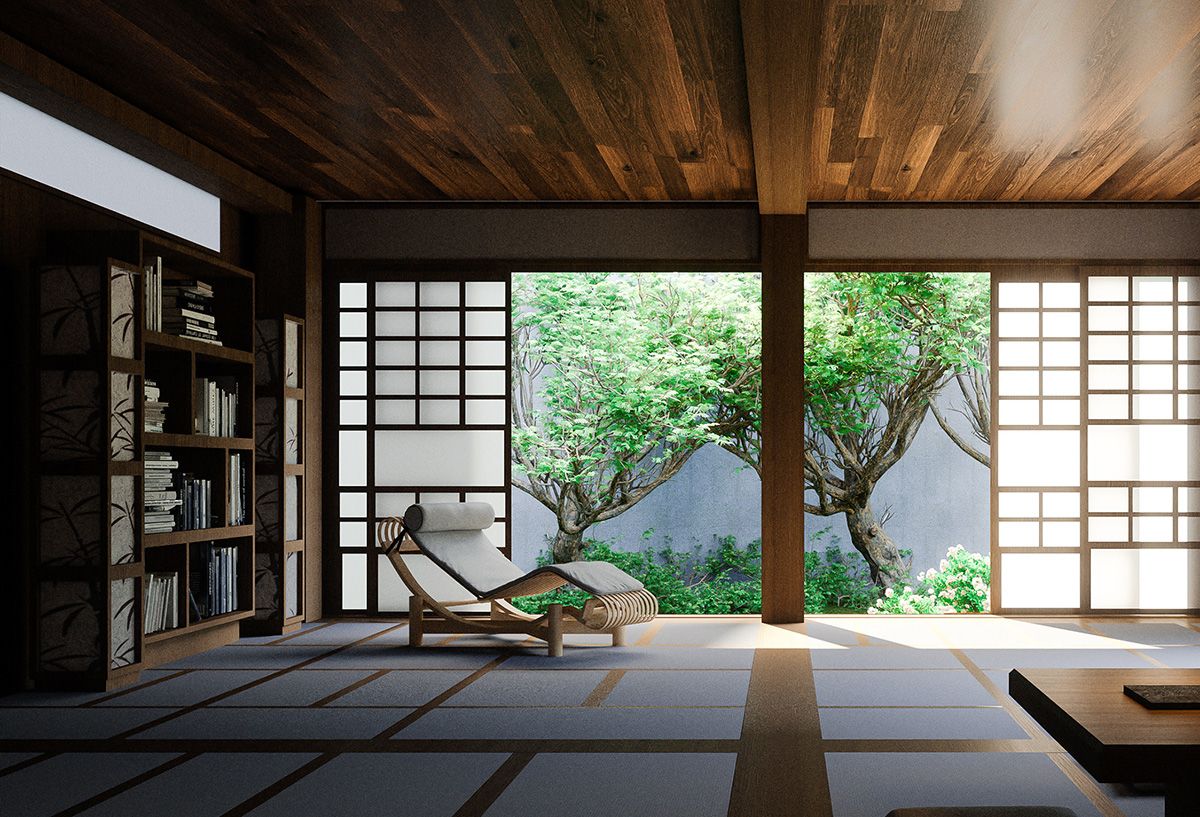 Japanese styling and Shoji doors will bring a calming sense of zen to your home library.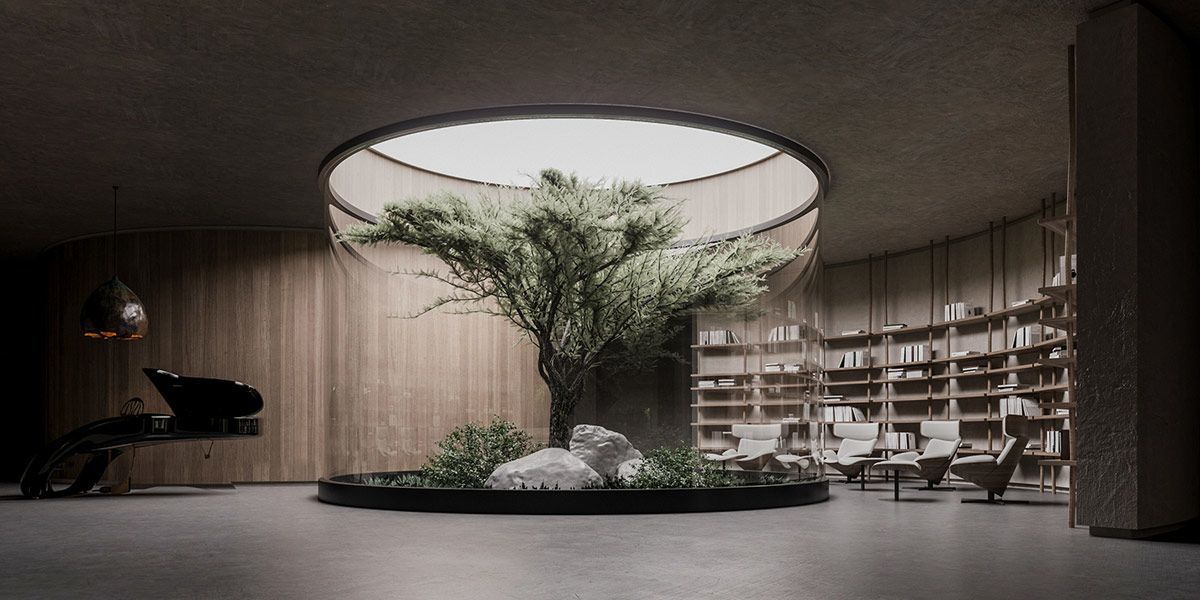 Curve bookcases around a courtyard. See more of this luxury underground bunker here.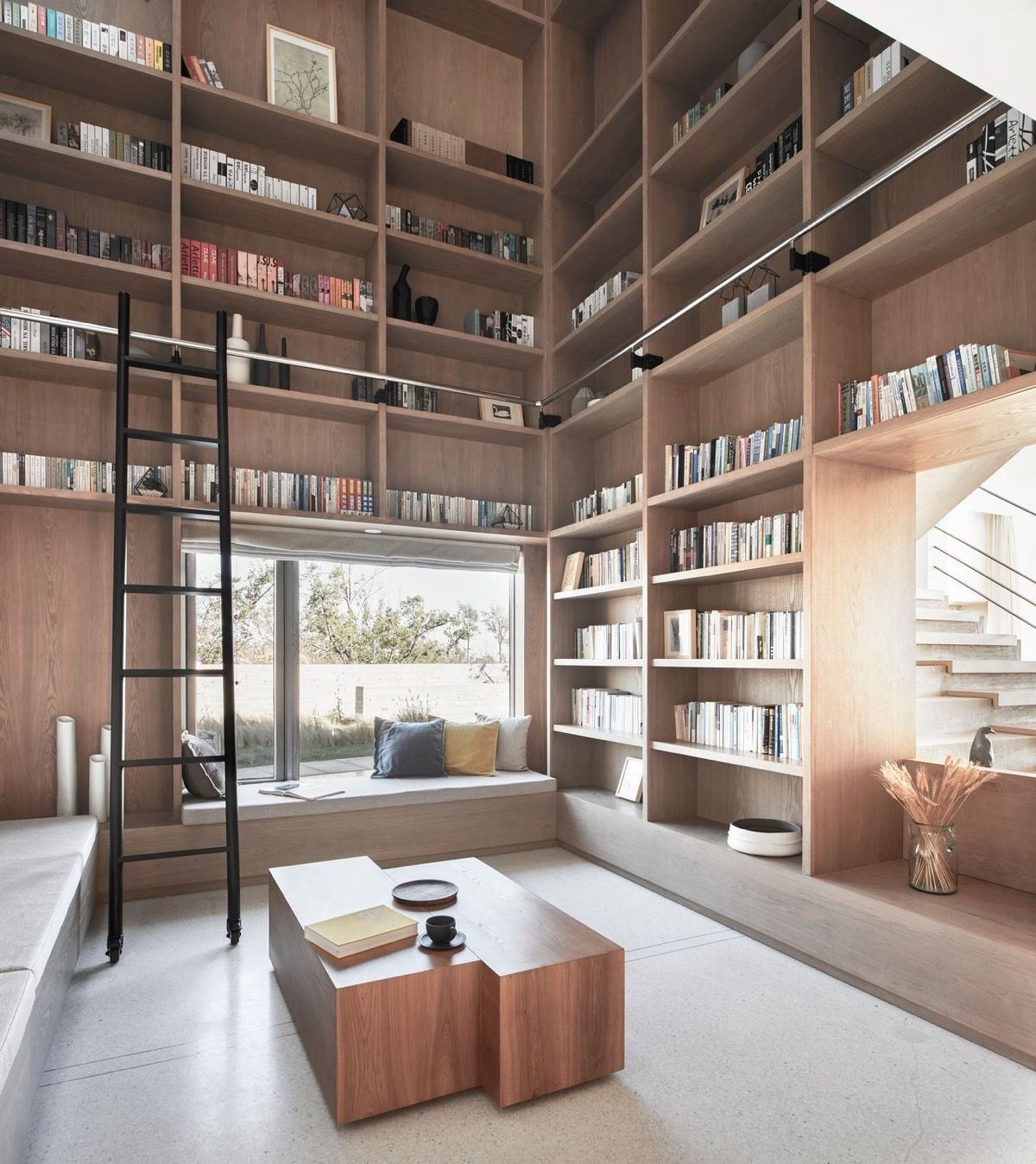 Fully-fitted furniture will give your home library a special, individual aesthetic that feels cosily tailor-made to you. Seating and stacks should flow as one seamless piece, like this serene and silky smooth wood grain volume.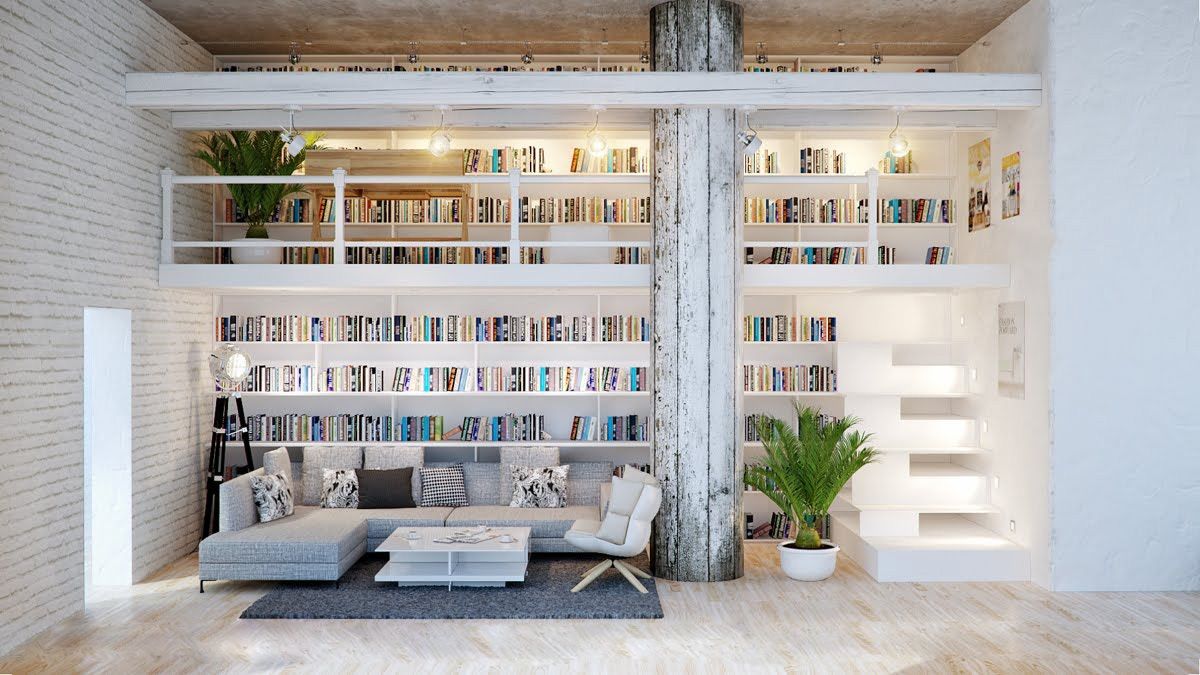 Crisp white bookshelves boost the colourful nature of a home library. Employ bright spotlights to amplify the brilliant effect.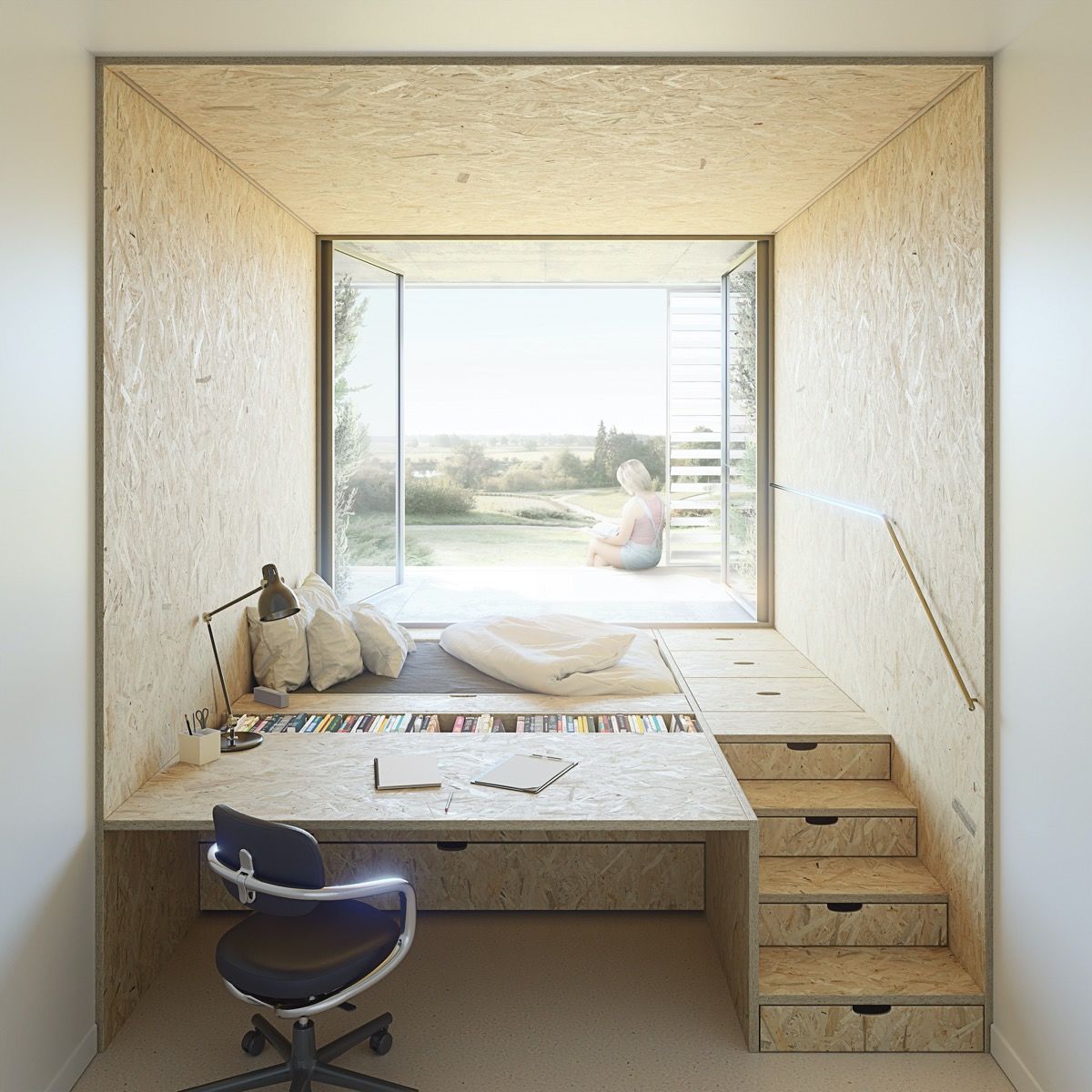 Book lover on a budget? OSB chipboard offers a remarkably cheap option for creating custom furniture, like this fused bedroom and study area with a small storage staircase, and a mini library set into the desk.