Eating and the preparation of food is primal. The places in which we partake in these tasks have come a long way but there is still something very nurturing and uplifting about a nature inspired green color kitchen. Green kitchens remind us of the great outdoors, taking us on an earthy adventure even when we're fastened indoors.
These designs show 33 ways to achieve this look via kitchen cabinets and shades of kitchen paint, and we will be recommending some cool hand picked accessories at the end of this post too. Whether it's bright lime, cool mint, olive or sage you're after, this collection has something to suit all green decor desires.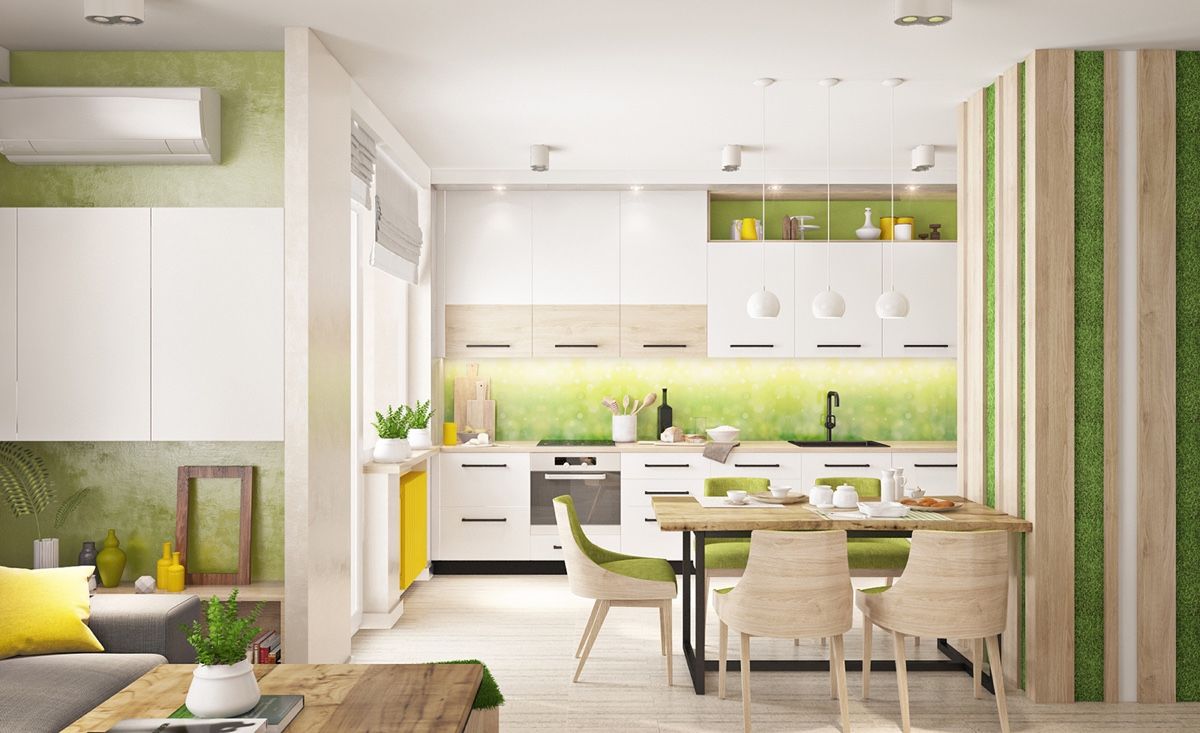 This kitchen theme is like a Springtime nature walk, where dappled sunlight sparkles over dew drop bejewelled grass. White kitchen cabinets against green walls help a scheme look crisp and airy. Light wood grain adds to the fresh outdoors feel.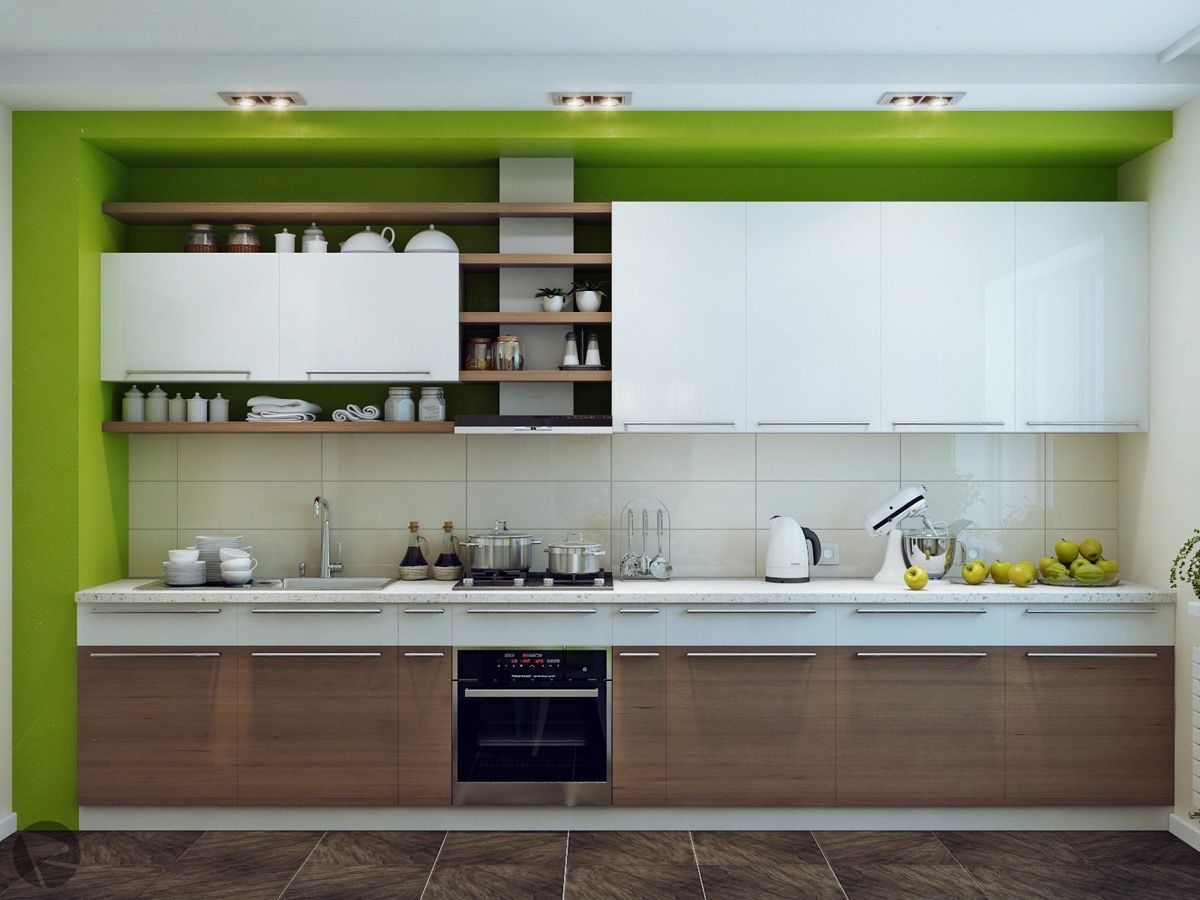 A darker woodtone underlines this white and lime green kitchen. The highly saturated lime shade is used on only a small soffit and behind open kitchen shelving so that the hue doesn't become too overwhelming.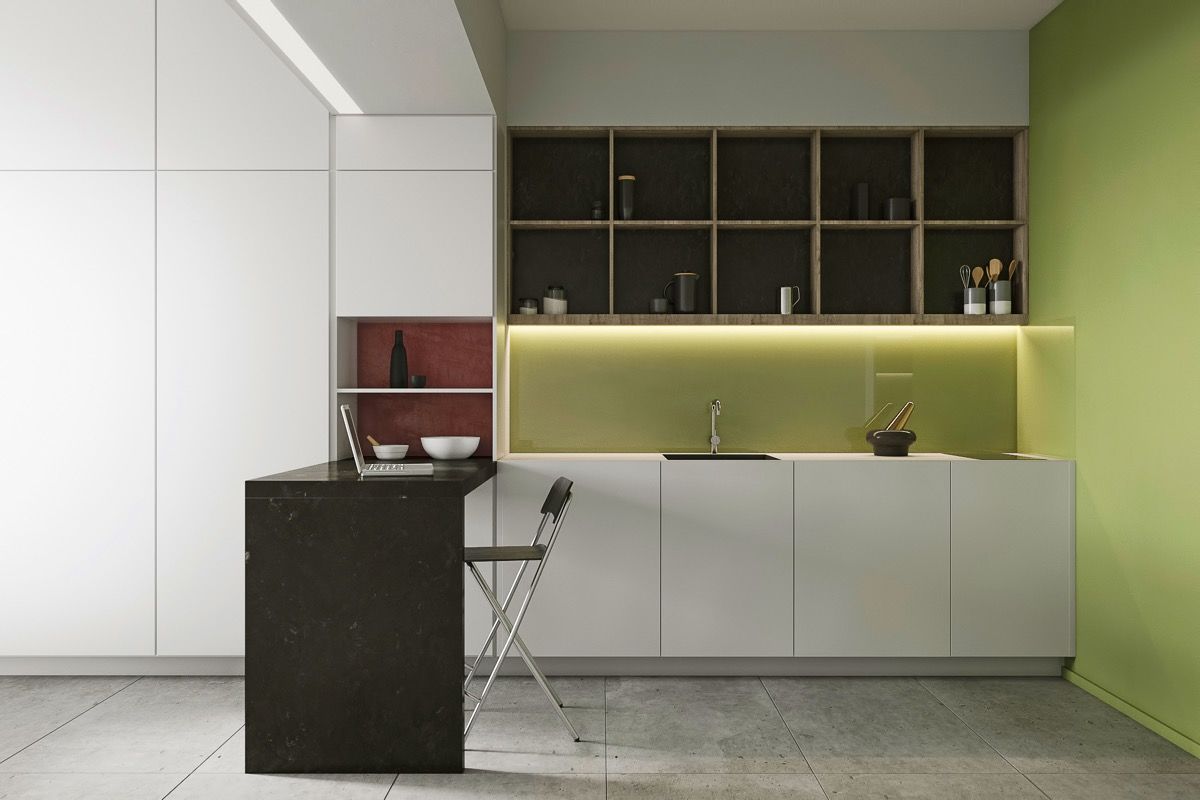 This minimalist kitchen is a good example of how a tiny area of red can achieve high contrast with olive green kitchen walls.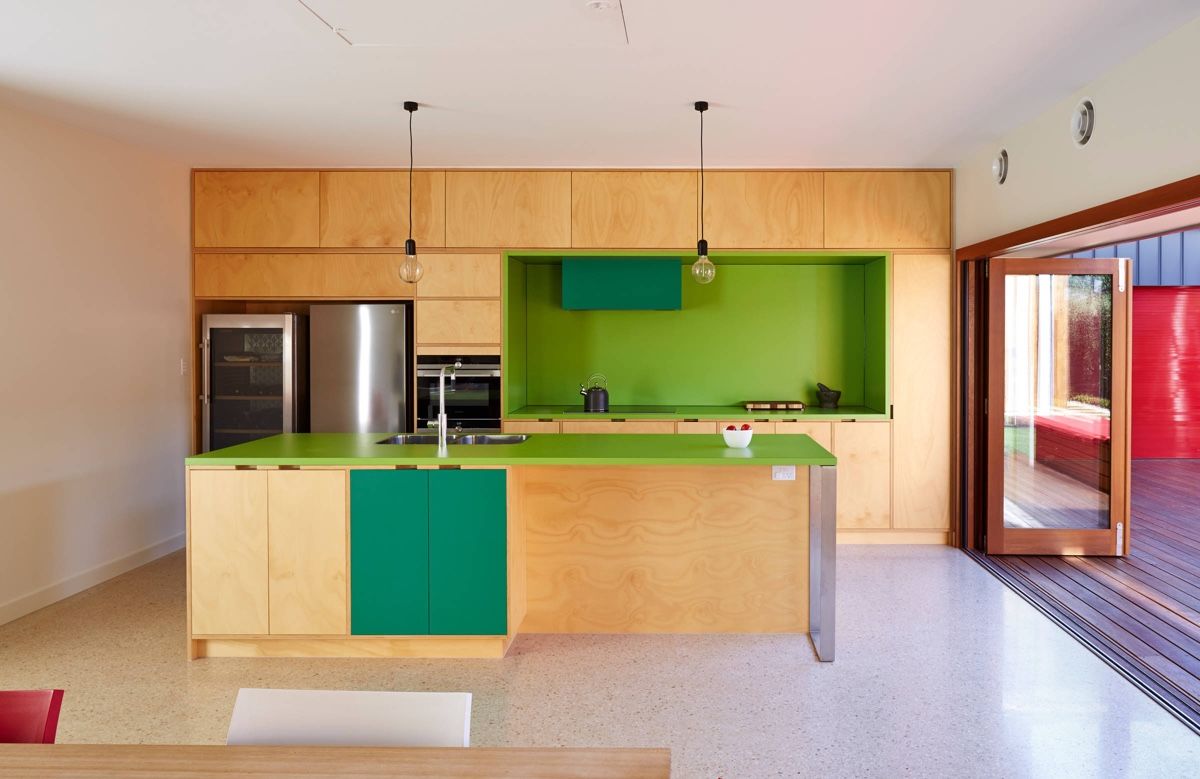 Keep pendant lights simple so as not to overcomplicate a bold scheme. This green bar and backsplash stand out against honey coloured wood. On the front of the central island, a couple of darker green painted cabinets match the extractor fan unit behind.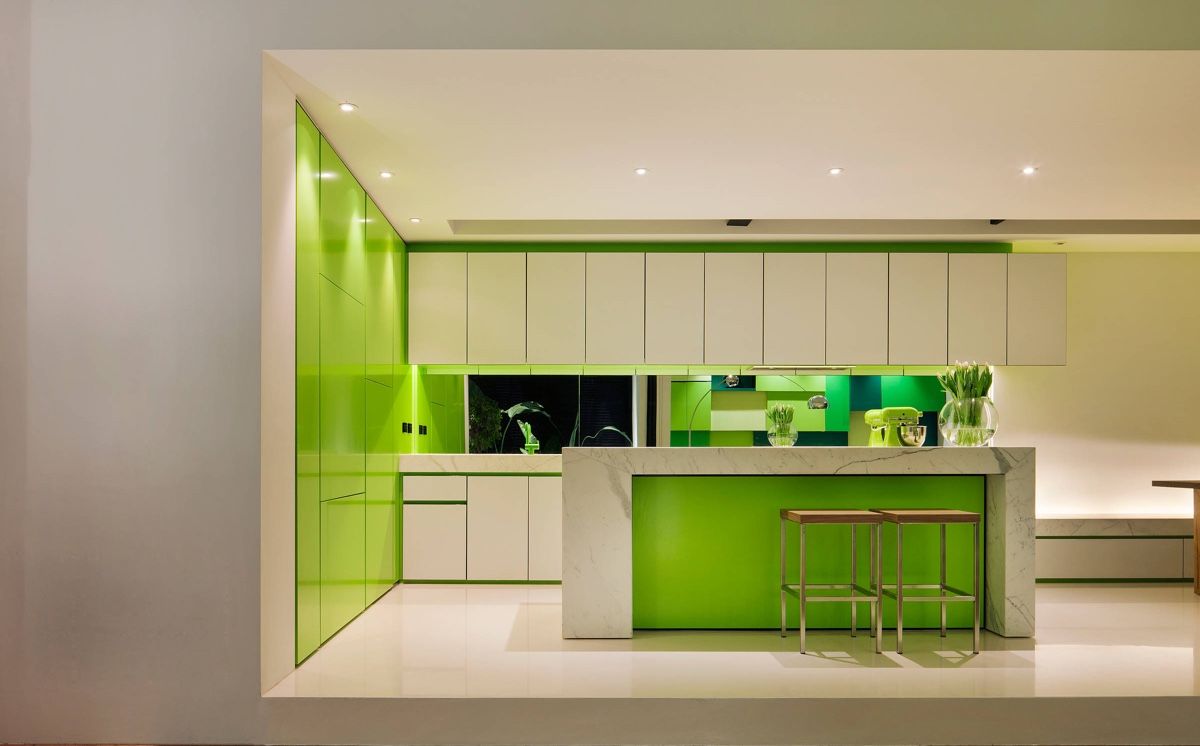 Lime green decor suits a glossy modern kitchen, where spotlights can play over high colour surfaces.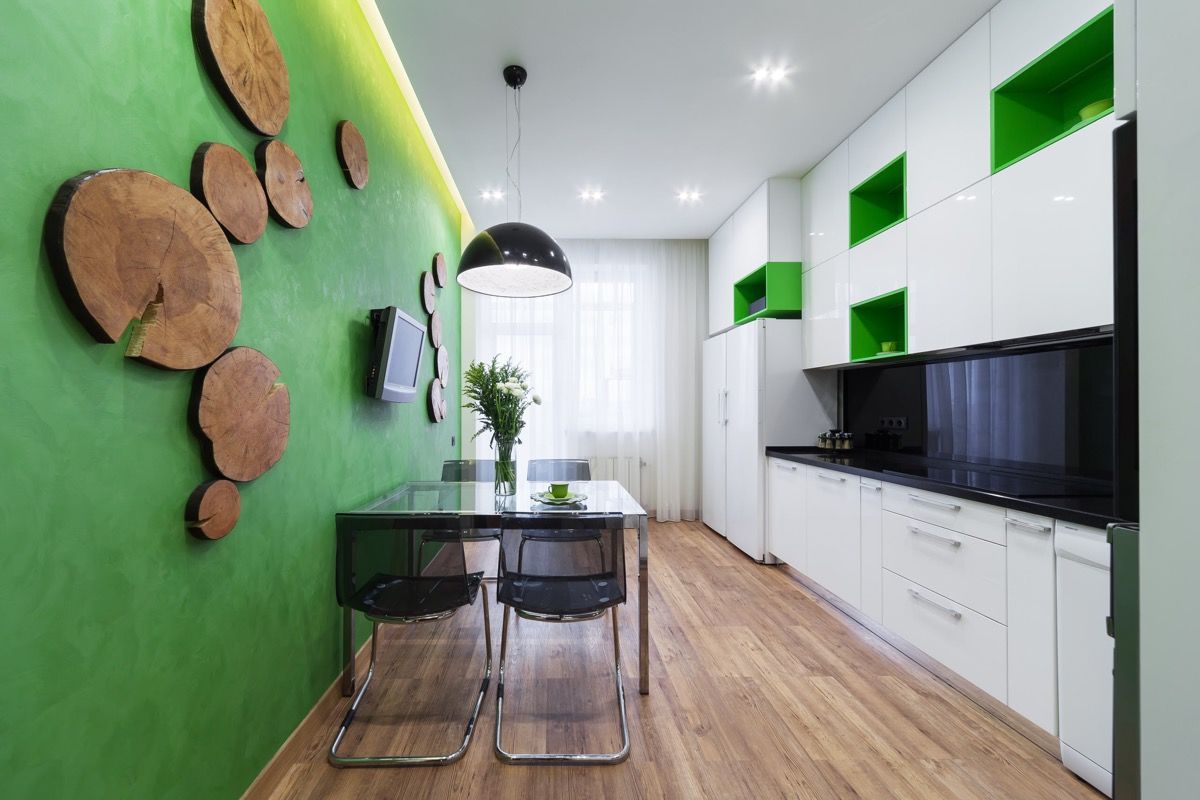 Wooden wall decor adds an earthy rustic side to an otherwise clean and contemporary composition.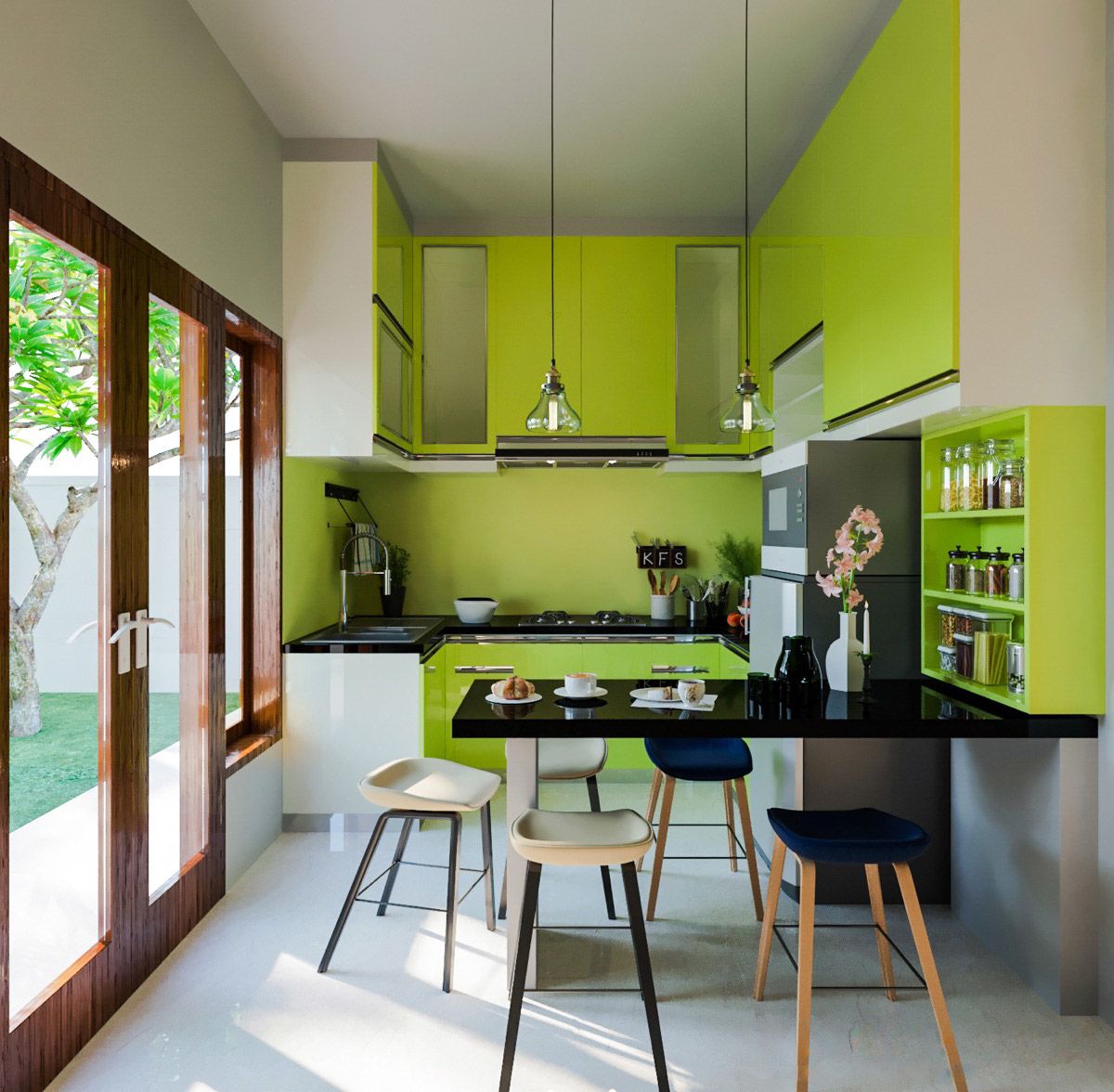 Darker notes give bright schemes more weight and depth, like the black countertop and breakfast bar that cuts across these light kitchen cabinets.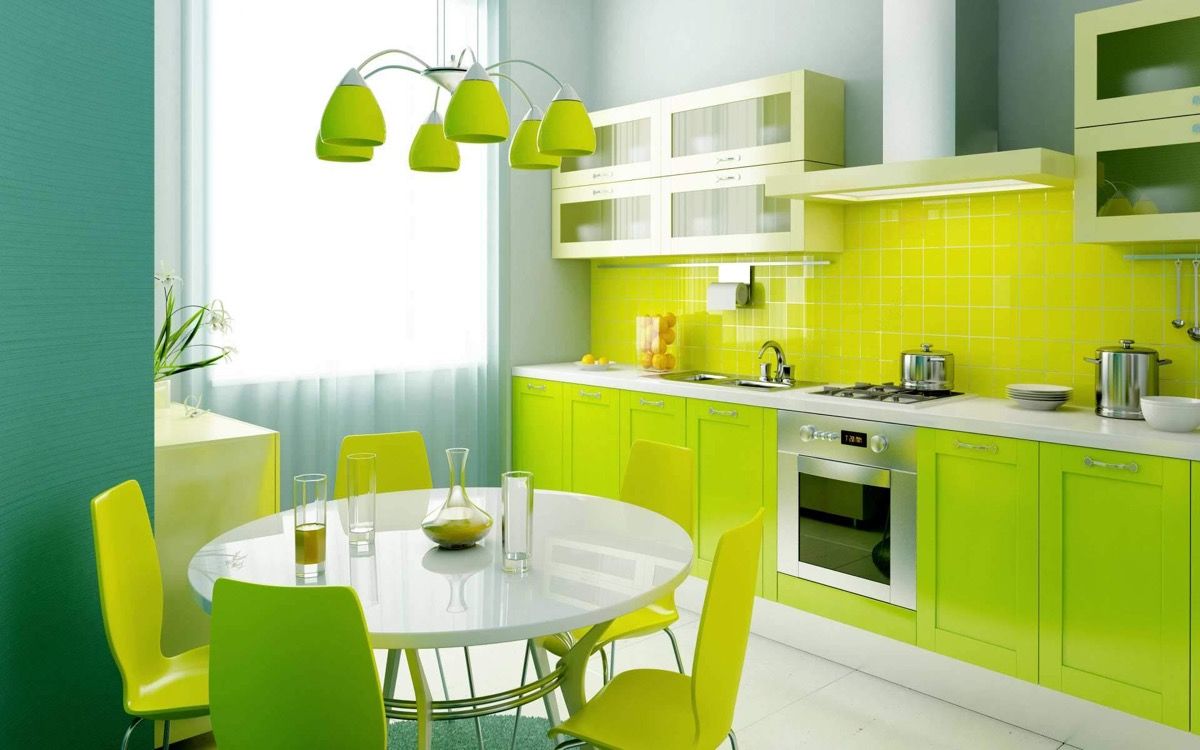 You can quite easily add a splash of colour to an existing kitchen installation by adding a bright new backsplash. A pendant light in a matching shade would work wonders in uniting an attached dining space too.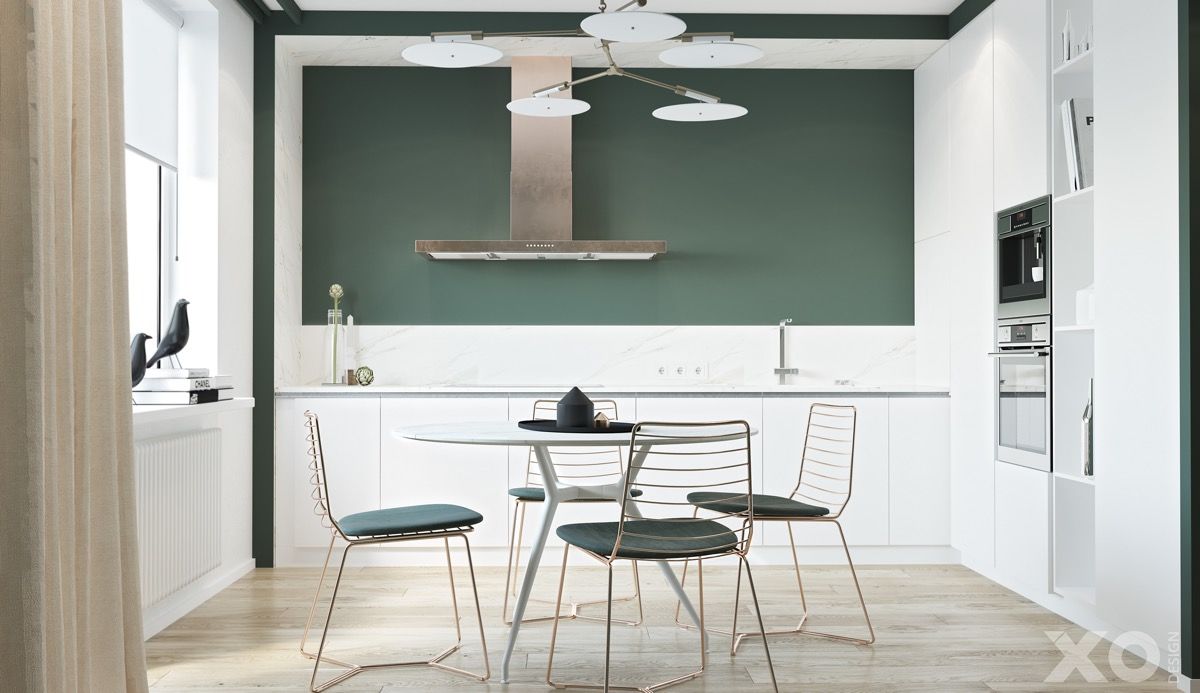 An unusual modern chandelier can add panache to a simple scheme.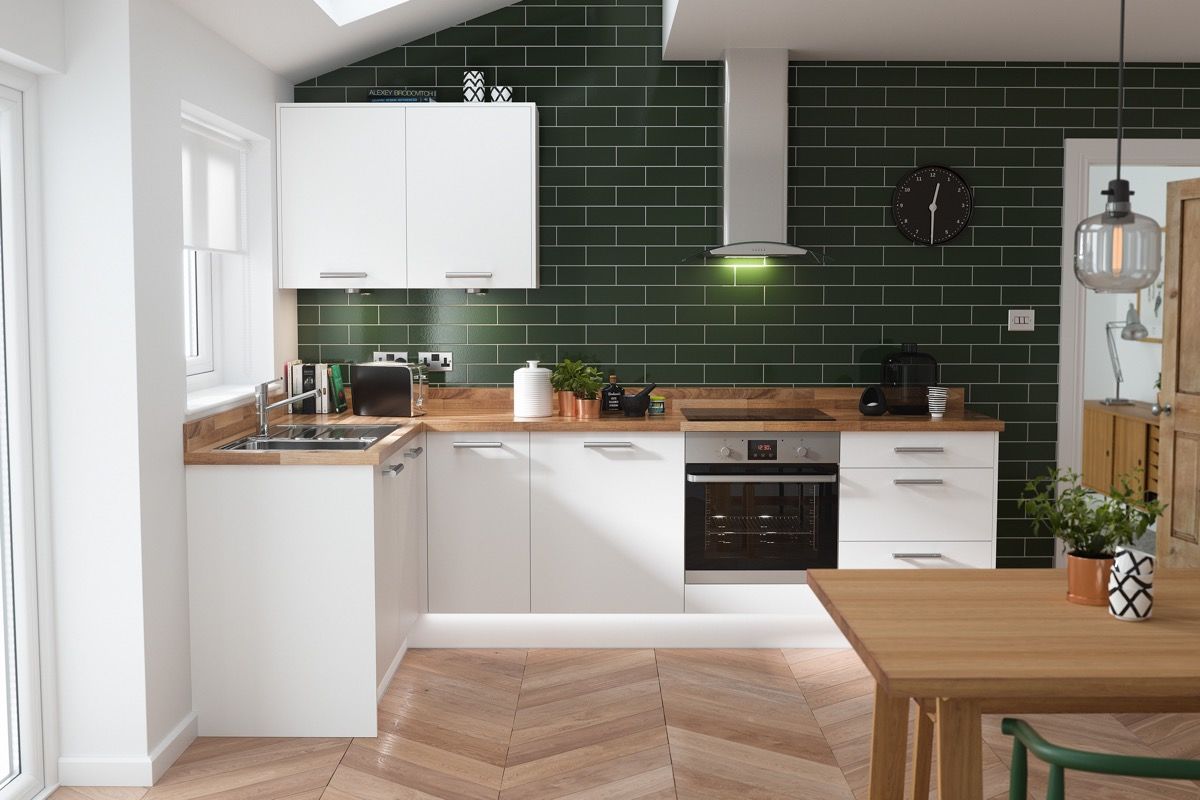 Consider expanding your tiled area to create an entire feature wall from floor to ceiling, like this tiled backsplash wall.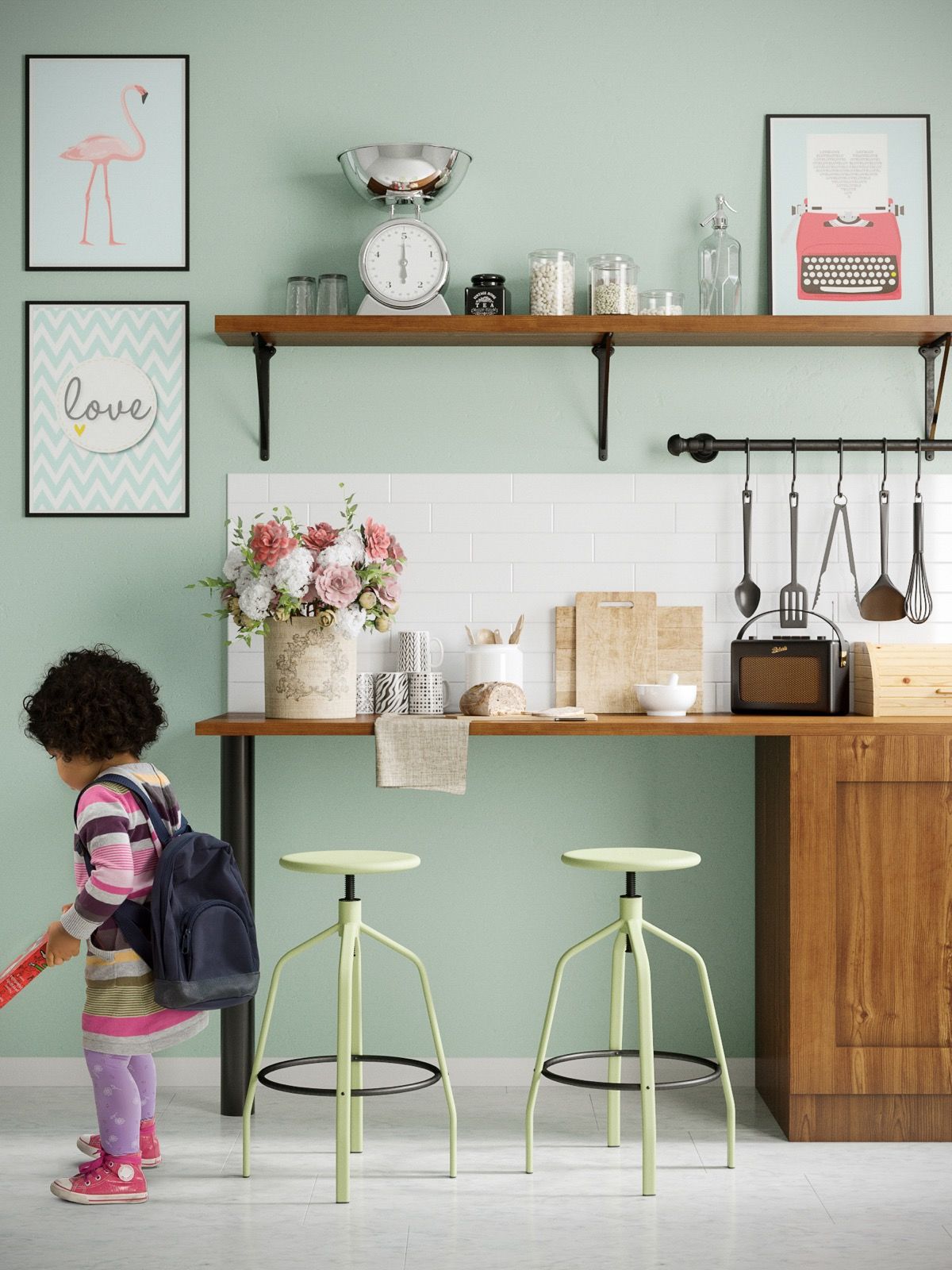 A seafoam green kitchen with coral accents makes a pretty combination. You can use kitchen bar stools and accessories to throw in a quaint retro vibe too.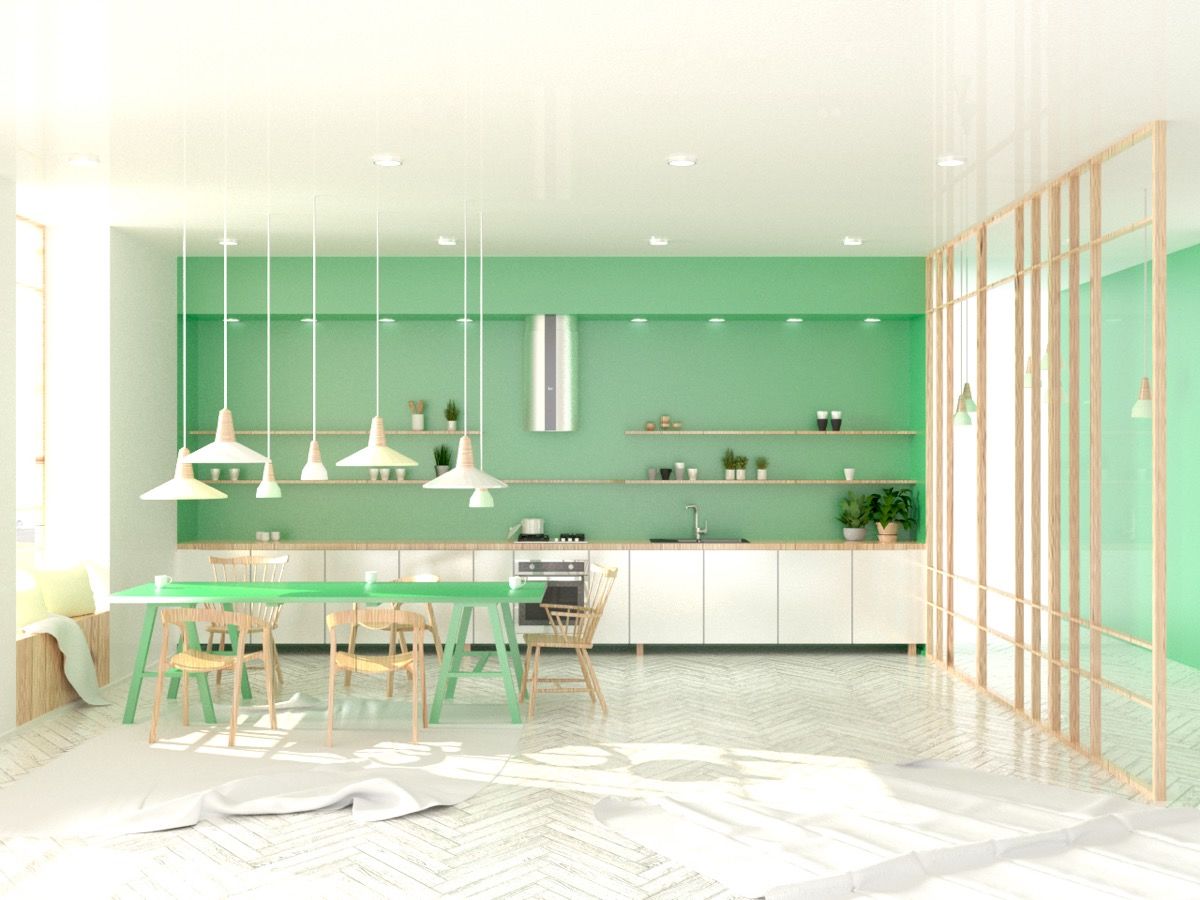 Paint your dining table to match your decor. This open plan space sees mint green wall paint spill out into the hallway decor too.

Break things up a bit: Team mint green base cabinets with white larder units. You can also add a little warmth to a pale green and white kitchen with the introduction of chic copper edging.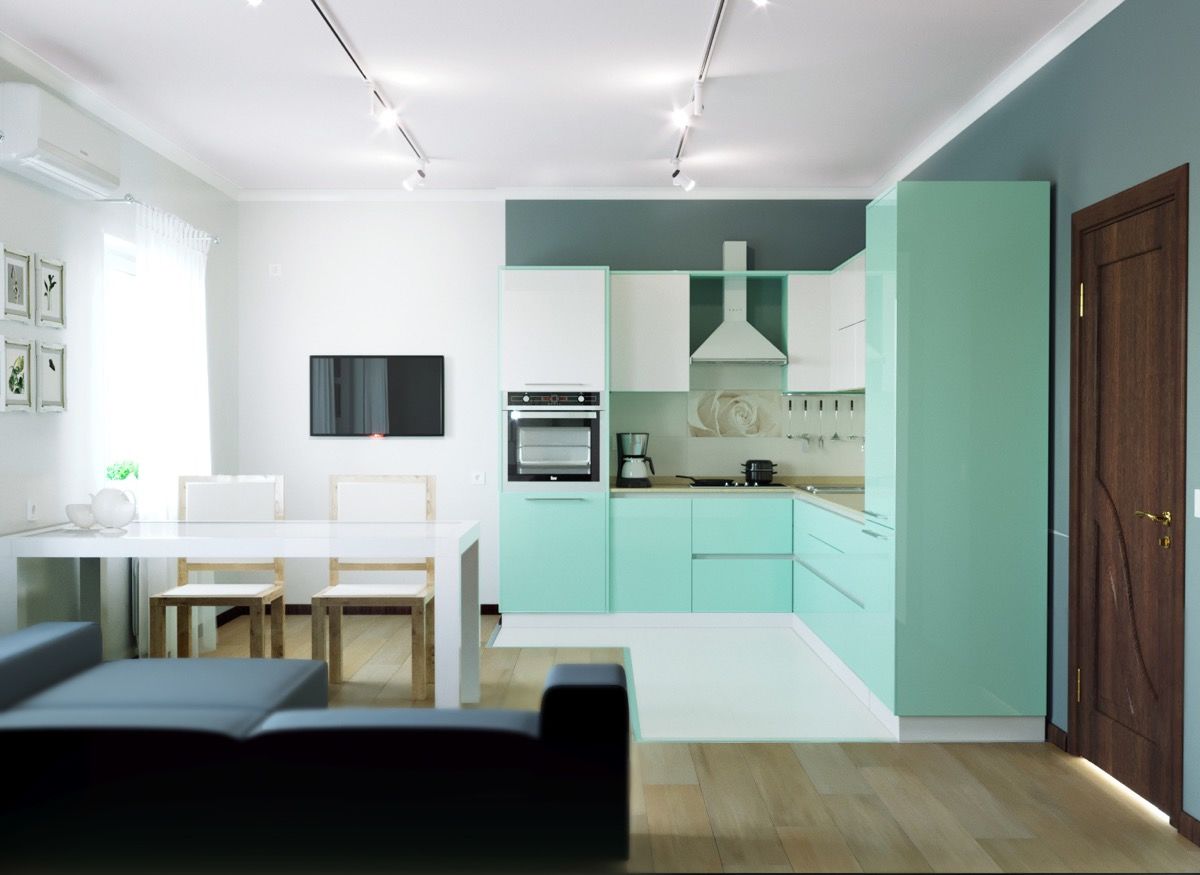 You don't have to leave walls colour-free around a colourful kitchen. Be brave and go with a darker hue around a light green kitchen.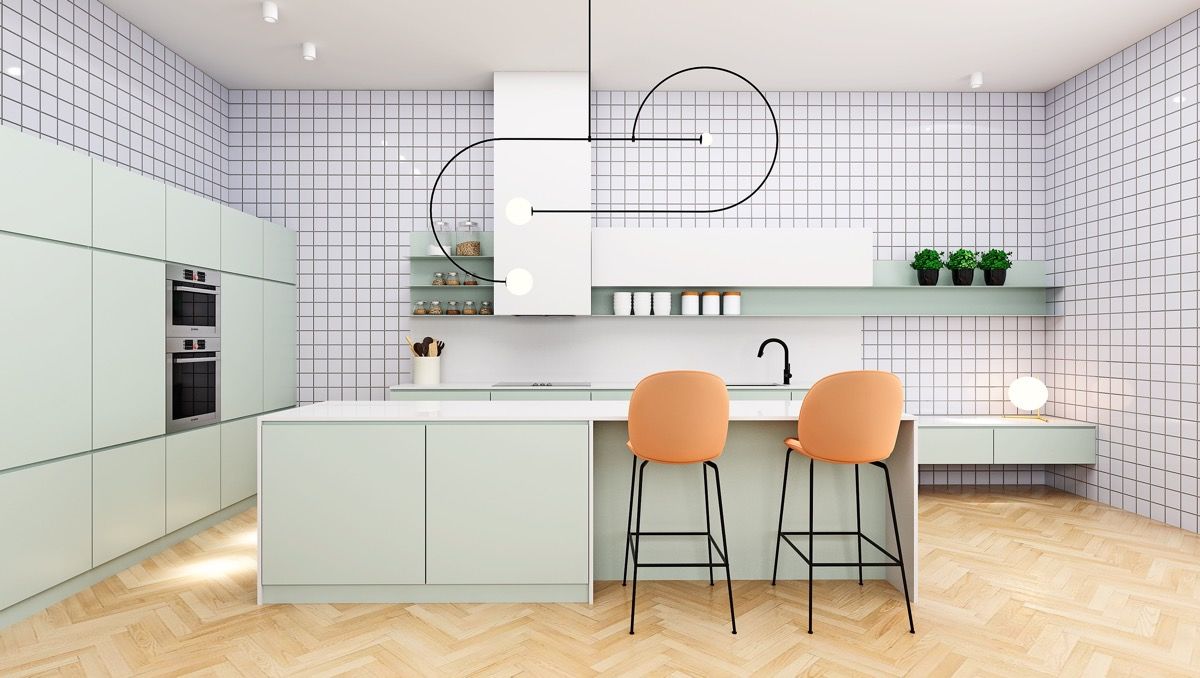 Contrasting bar stools are ideal for adding an unexpected pop of alternative colour – like these two peachy seats in this gentle green tea kitchen. A small row of leafy potted plants are an easy option for matching accessories.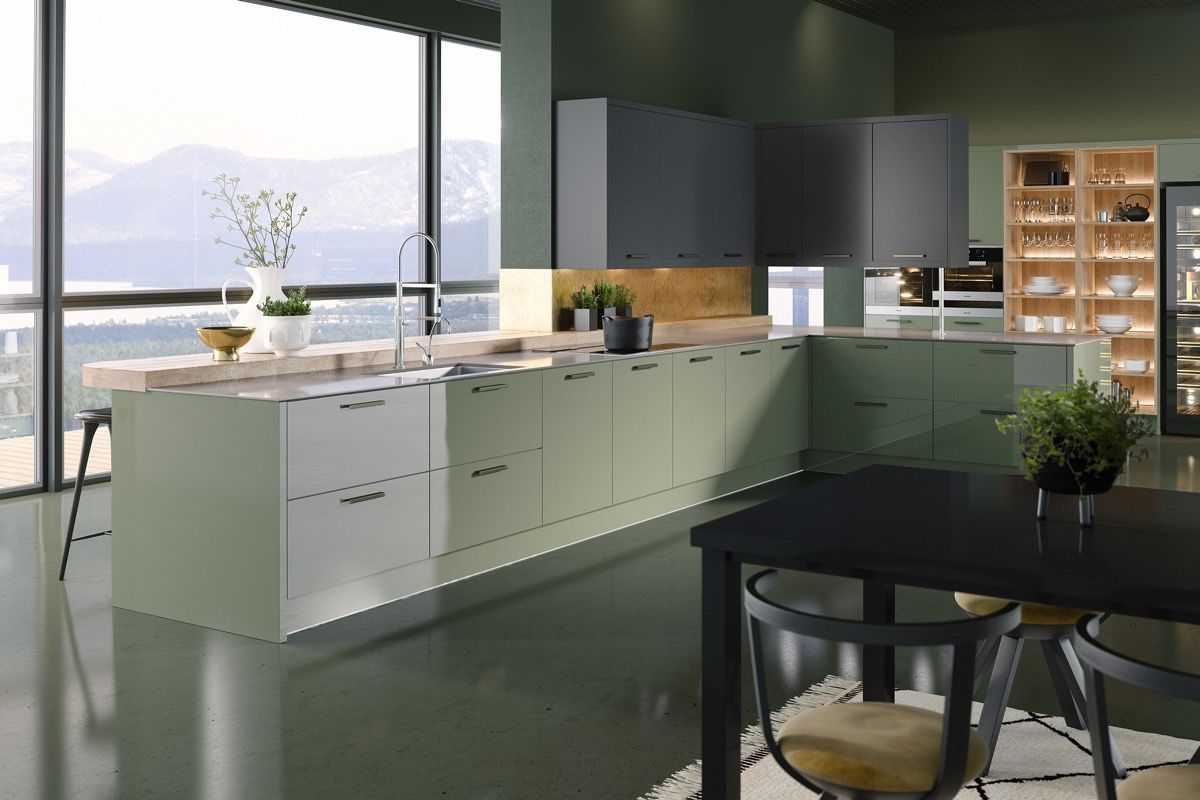 Grey and green kitchen cabinet combinations make for a sophisticated scheme.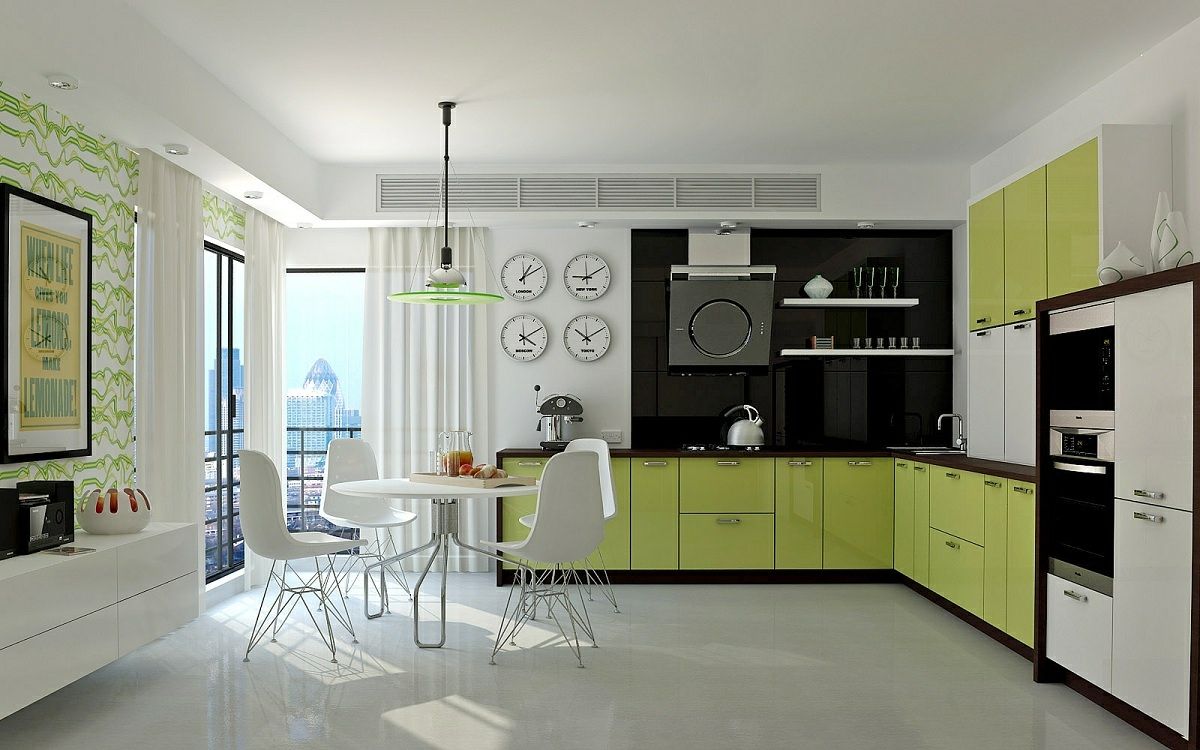 Lime green kitchen decorations can come in the form of zany wallpaper and typographical wall art.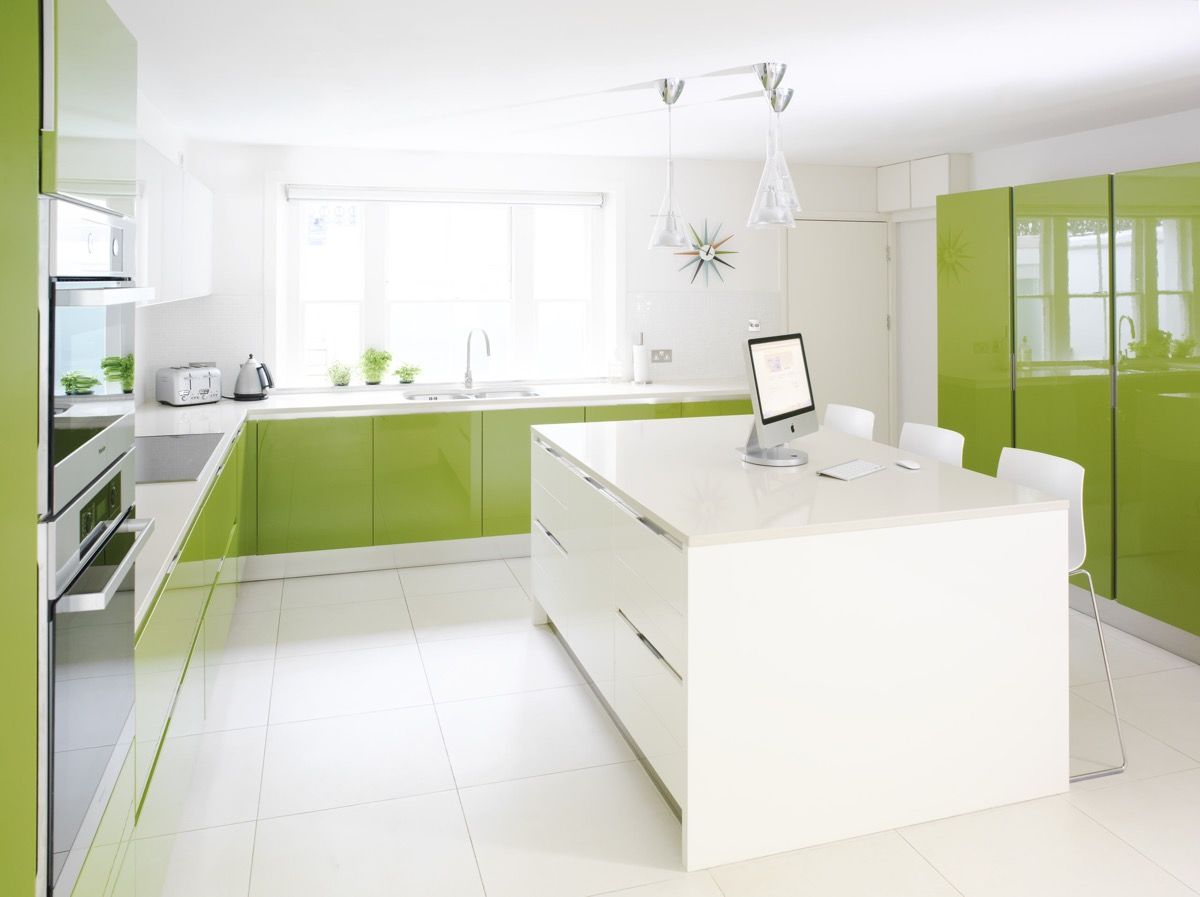 Just one colour coordinated accessory is enough in a high-colour kitchen. In this example, three walls of glossy avocado green kitchen cabinets are accessorised by the colourful spokes of a mid century modern clock. White and stainless steel kitchen gadgets keep the rest of the scheme simple.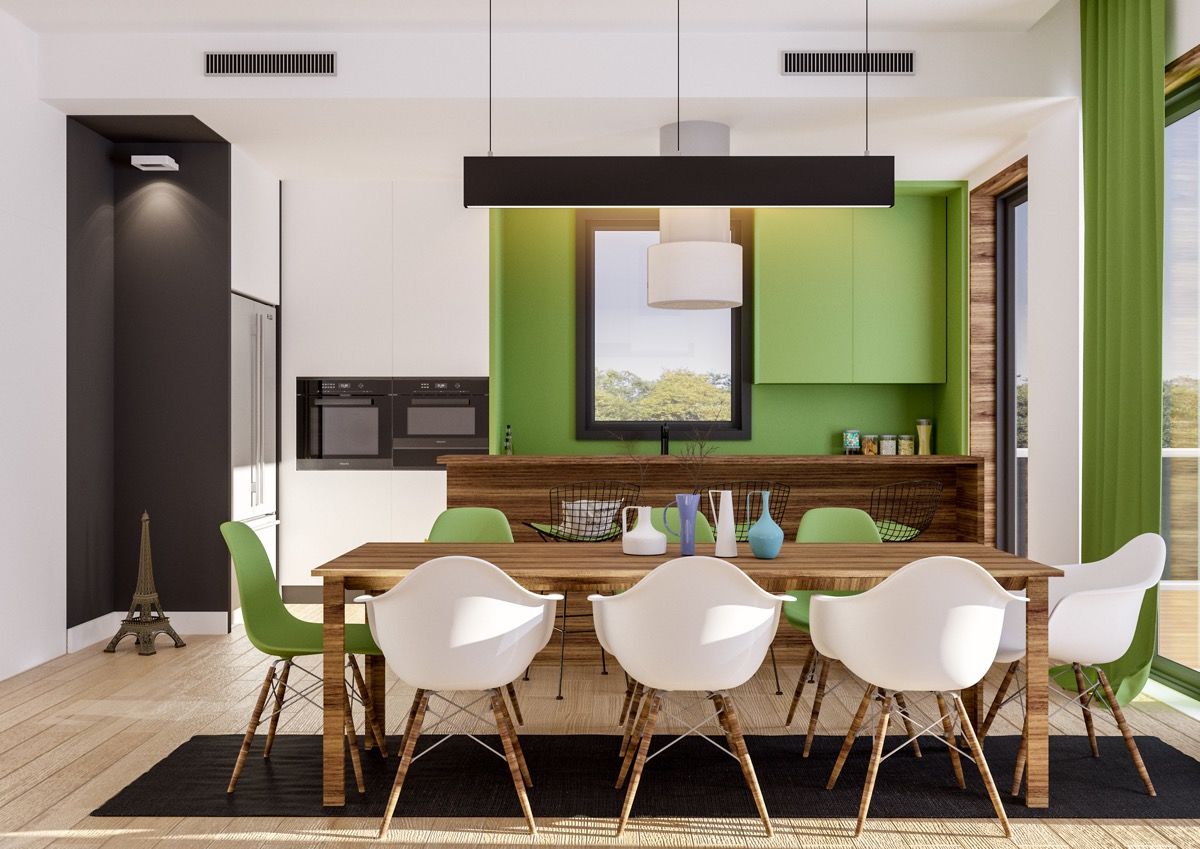 Zingy lime green kitchen curtains and dining chairs will lift a monochrome room.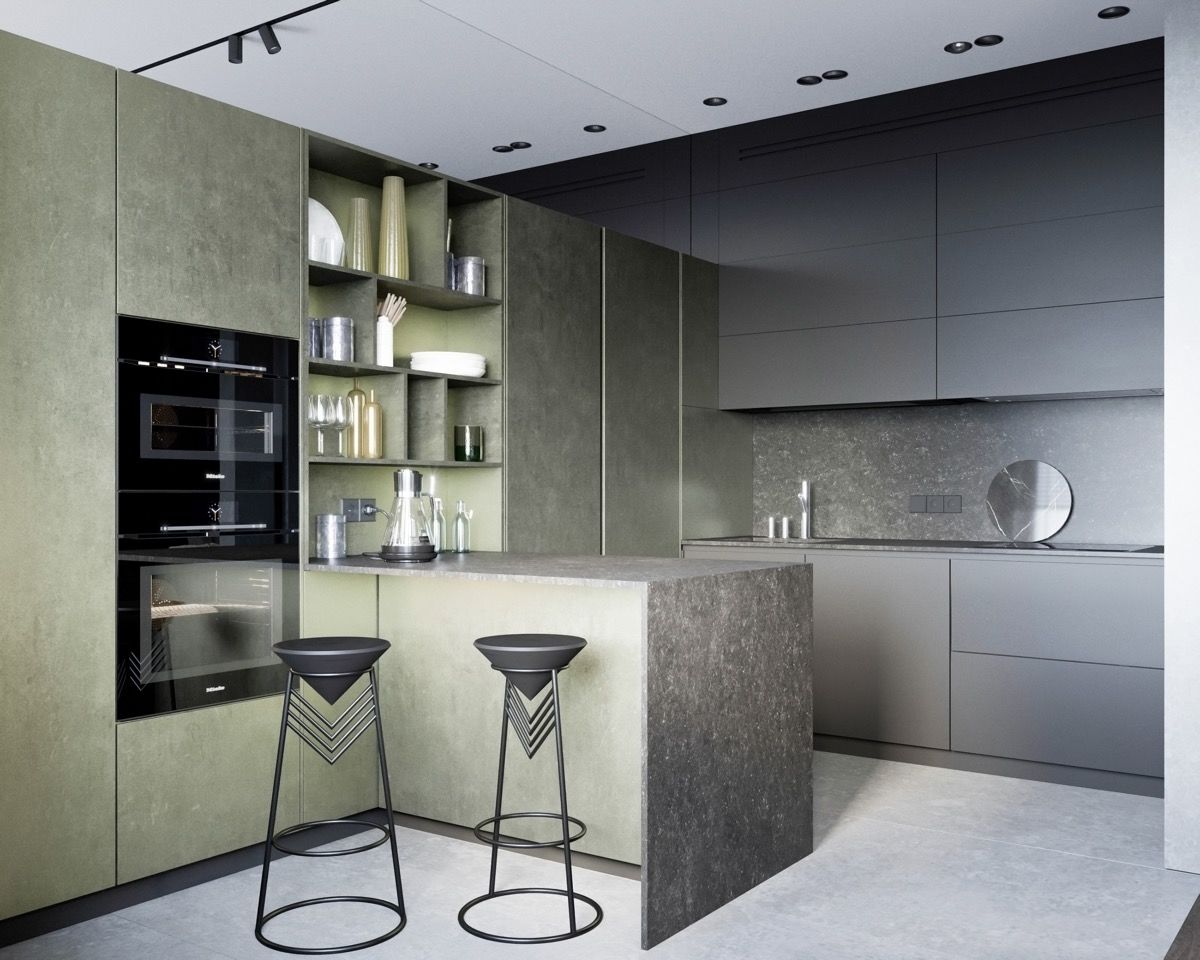 Mottled gray and green kitchen cabinets and countertops create an atmospheric culinary space. Green kitchen canisters and decorative vases add a colour coordinated finishing touch to open shelving.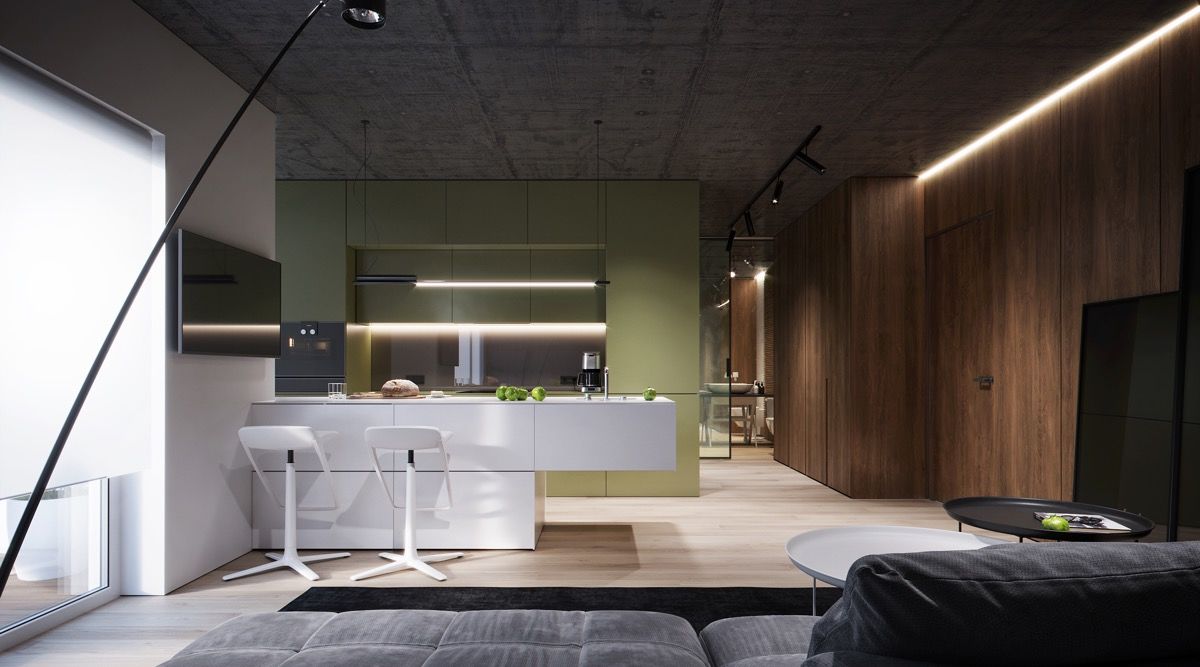 Install LED strip lighting to highlight dark green kitchen cabinets and walnut wood panelling.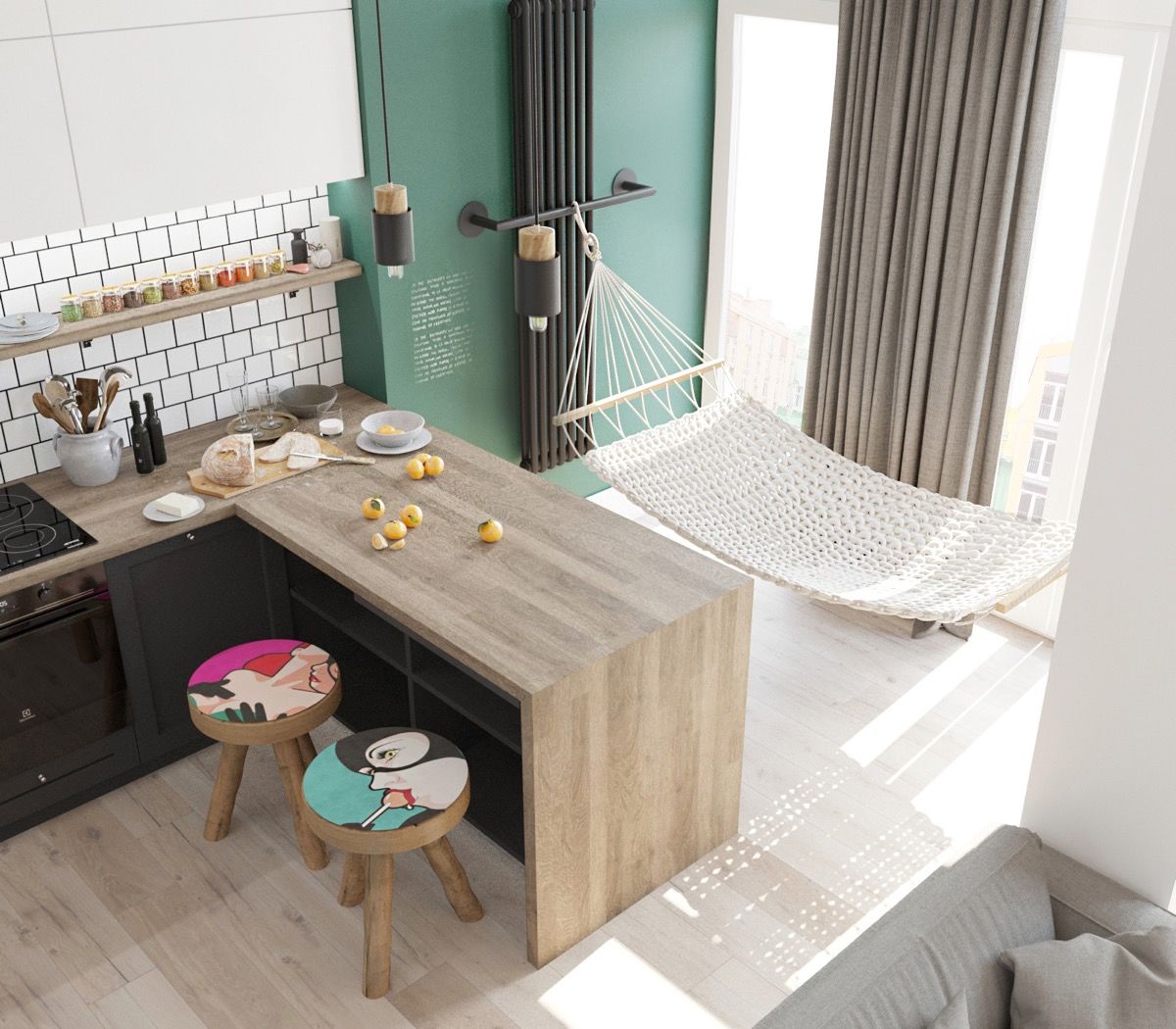 Looking for something a bit quirky? The link with the great outdoors is taken one step further here, with the introduction of a garden hammock in the kitchen!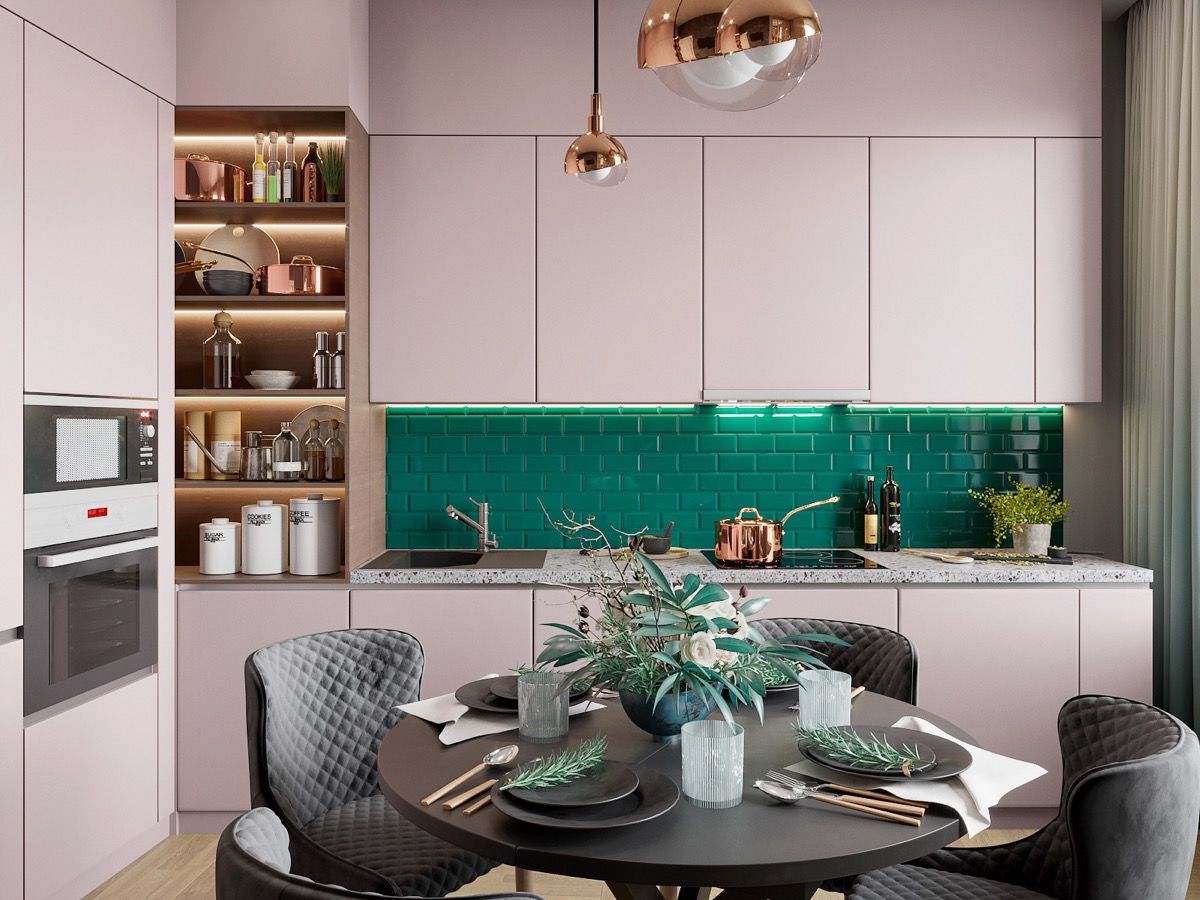 An eye-catching green kitchen backsplash looks stunning paired with copper kitchen accessories and shiny globe pendant light.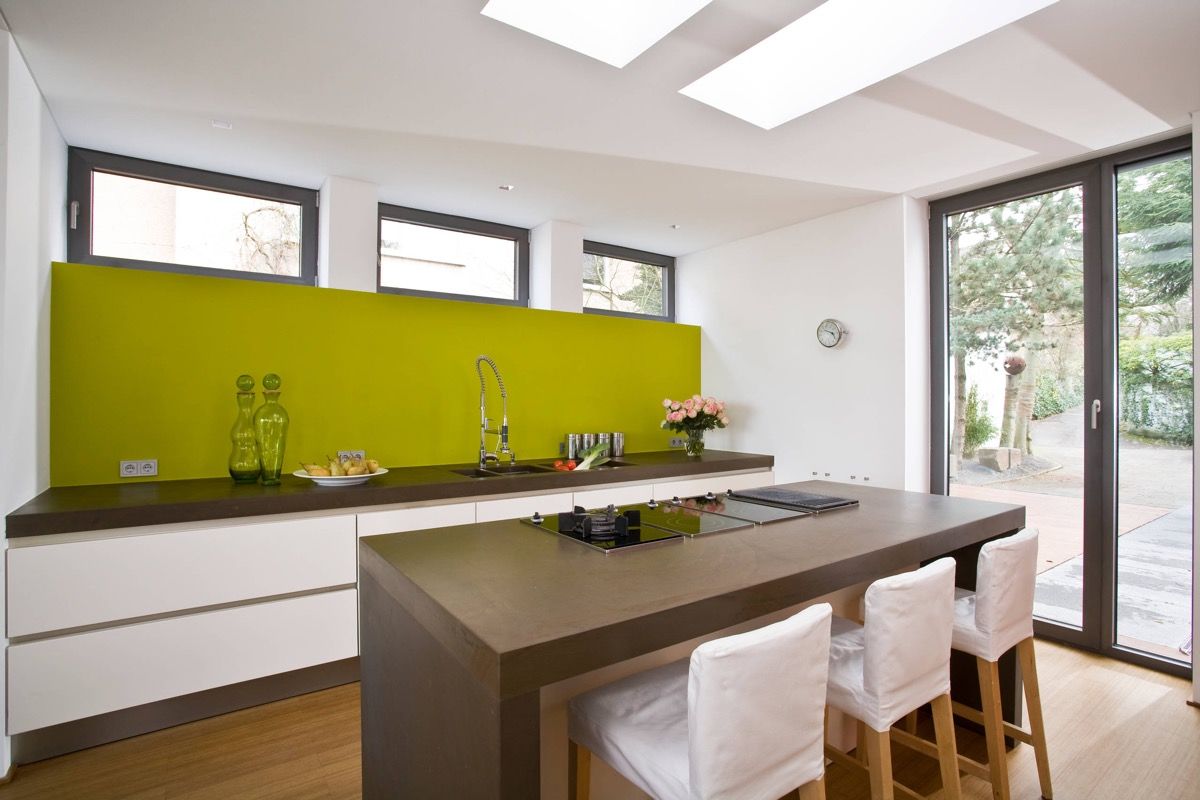 Chocolate and lime make a tasty combo.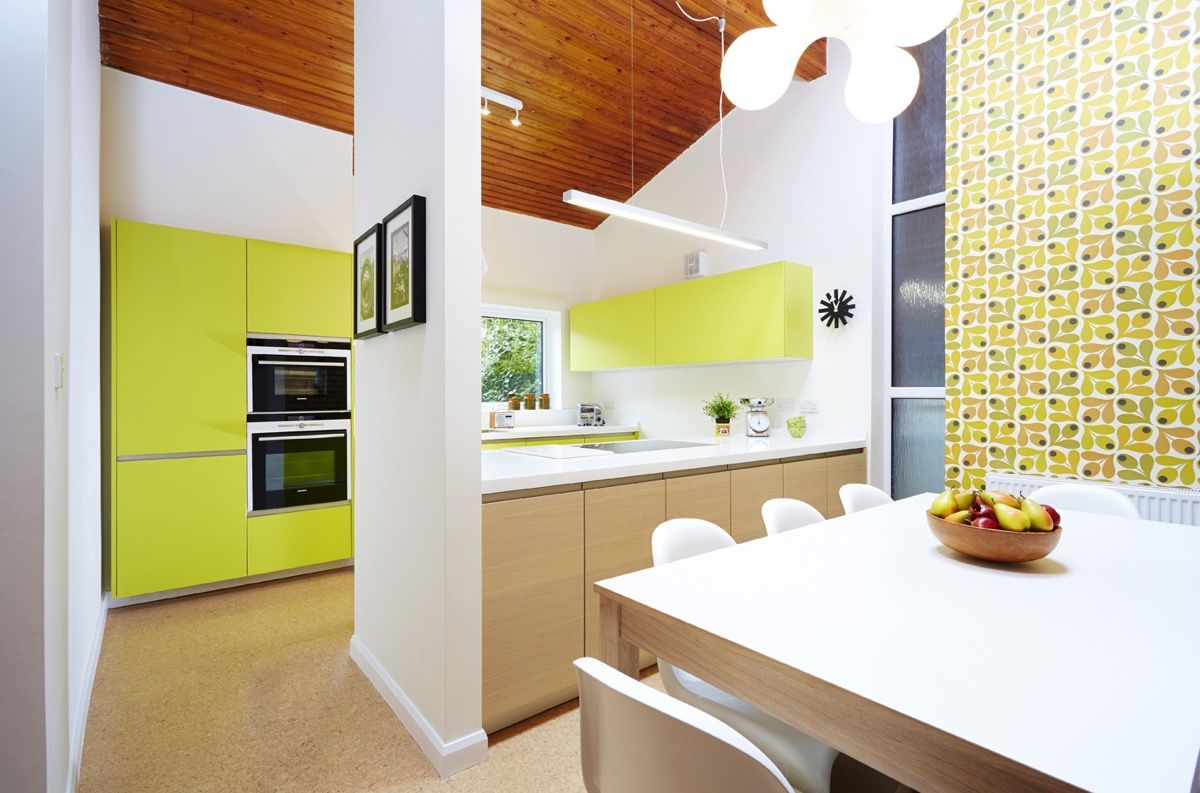 Dark accessories add edge to a bright space. Try adding some black picture frames or a statement kitchen clock.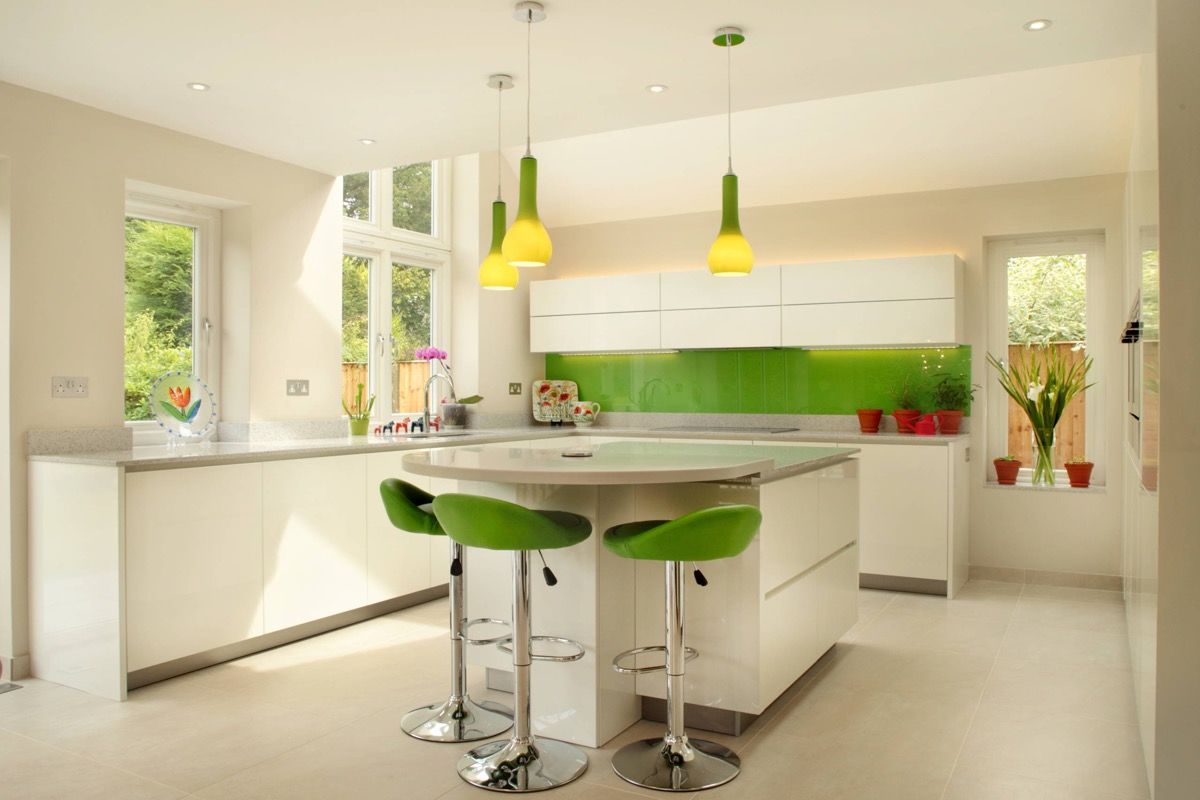 Don't ignore your kitchen island lighting. These green kitchen pendant lights look plump and ready for the chopping board.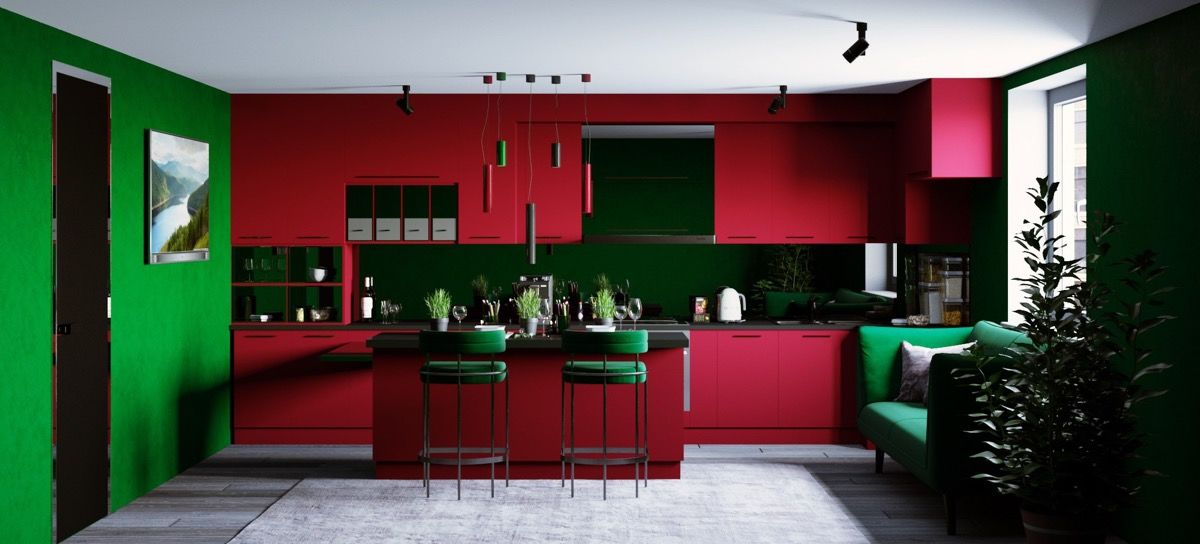 Green decor makes the ultimate contrasting colour against red cabinets.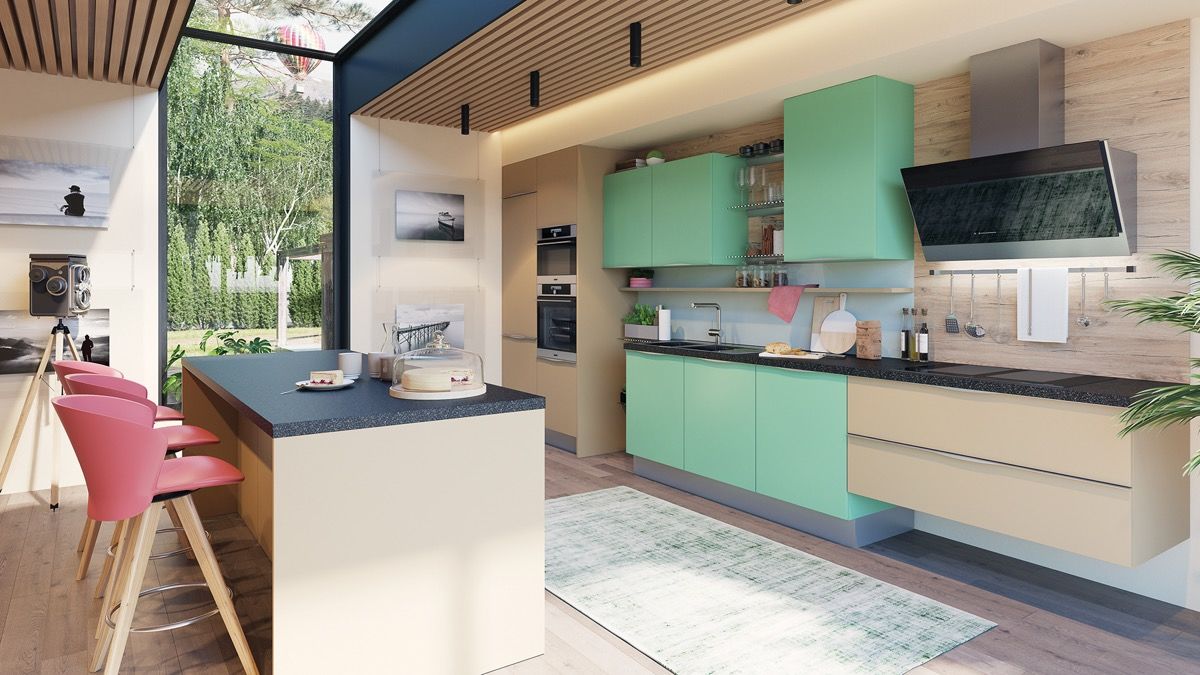 If you don't want to go the whole hog, just a few coloured cabinets can be equally effective. A small green kitchen rug can add a finishing flourish too.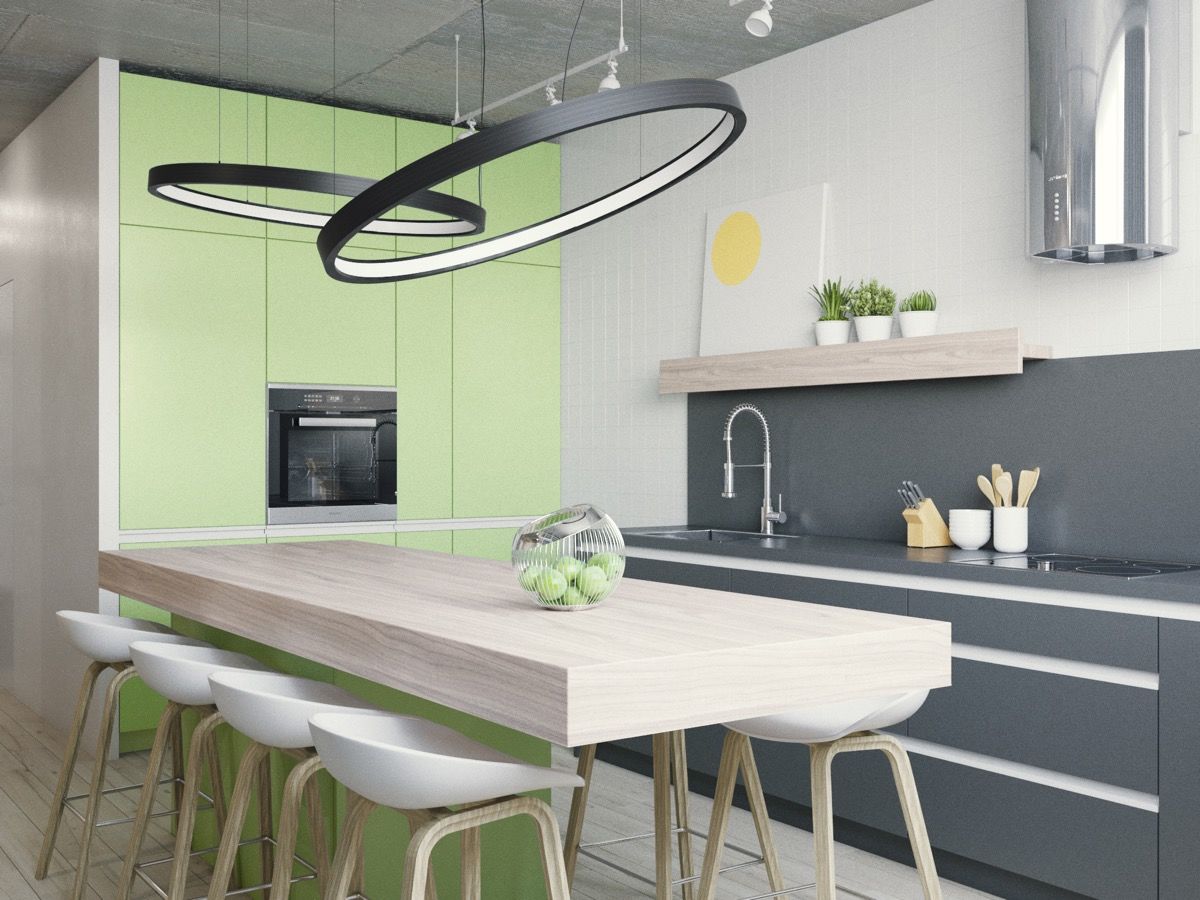 A big glass bowl of green apple kitchen decorations always make a deliciously fresh looking centrepiece. A few indoor herb planters can be rather tasty too.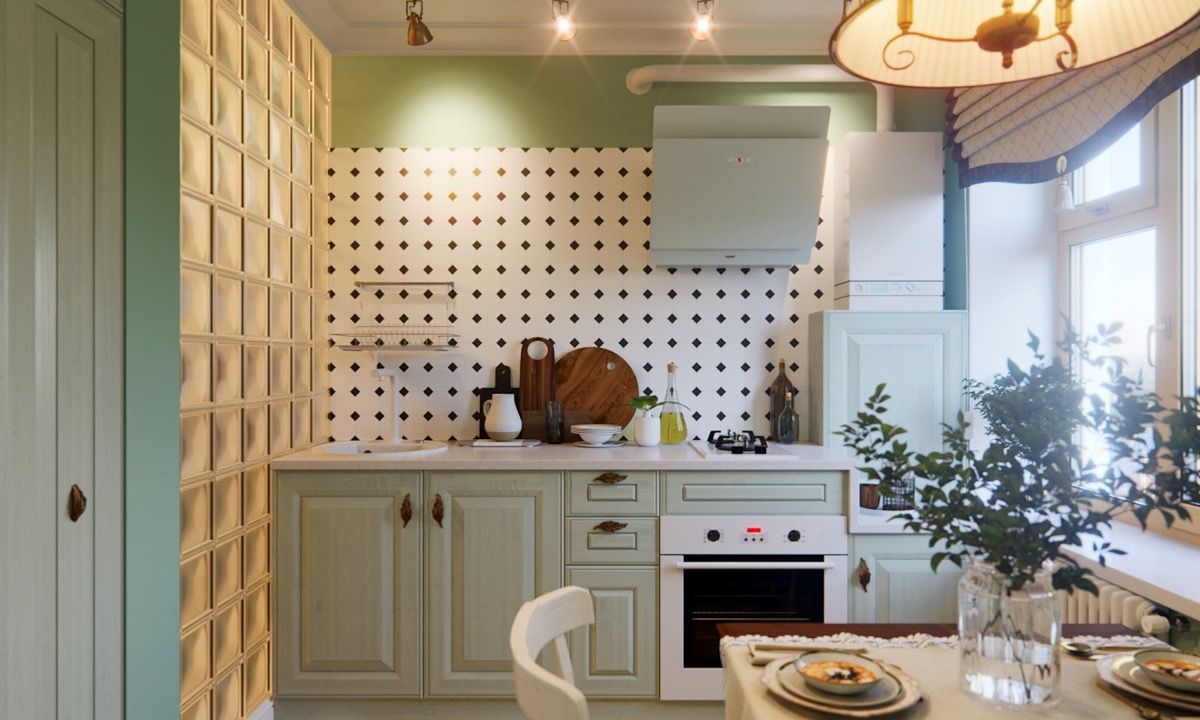 Colour coordinated kitchen appliances like this extractor unit can really pull a soft hued scheme together.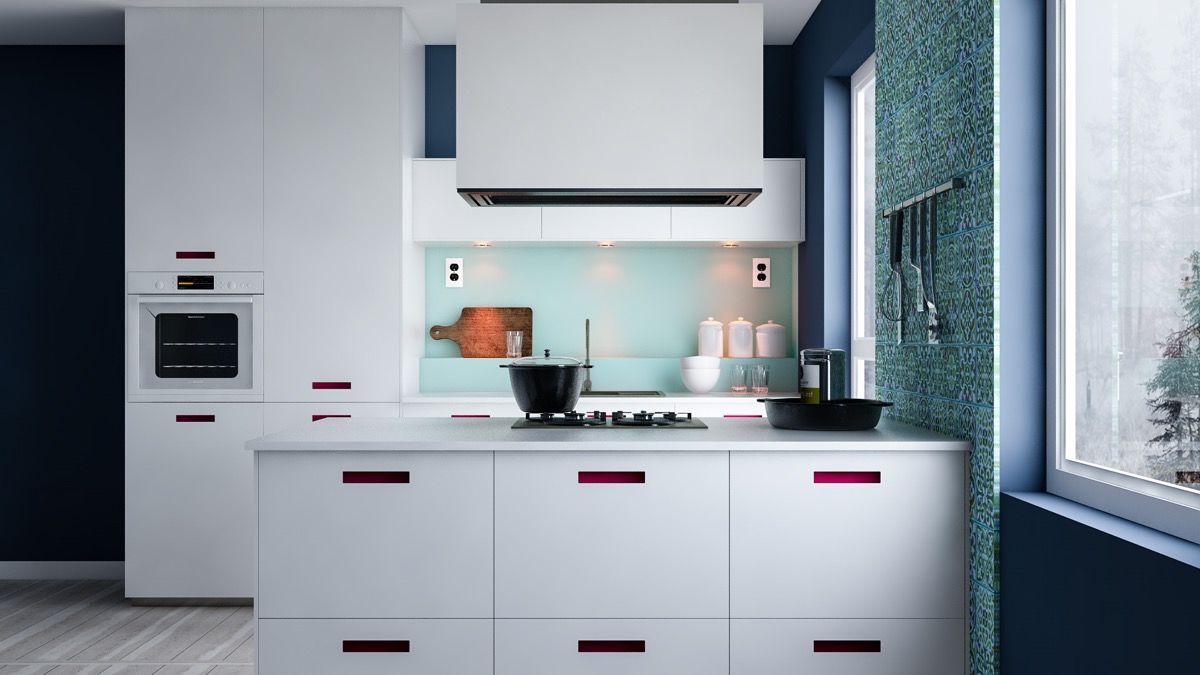 Green paint colors for kitchen walls can be tricky to choose from. Patterned wall tiles or wallpapers can offer multi-toned alternatives.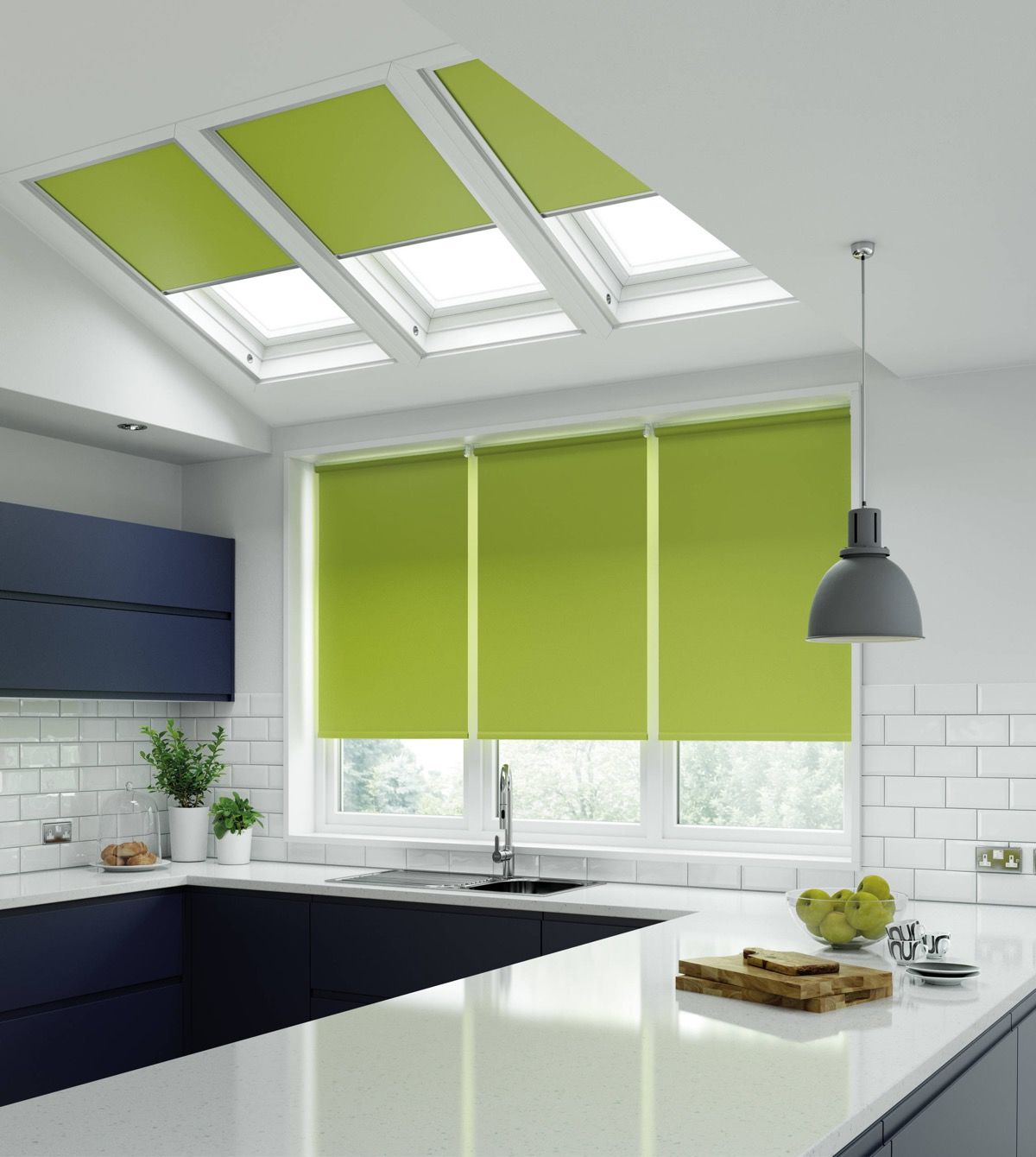 Blinds are the main play here. Another simple fruit bowl adds an effortless accent to this blue and green kitchen.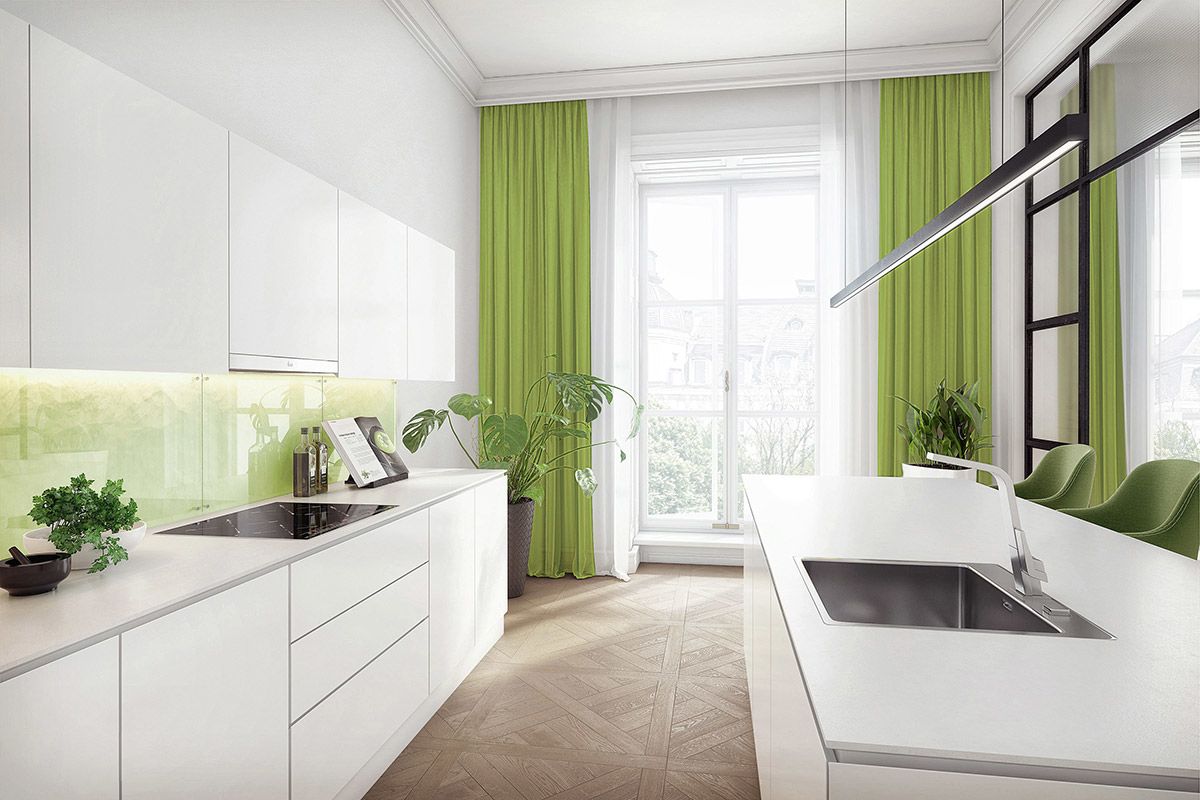 Again green window treatment hogs the limelight in this kitchen. Indoor plants greenly feather the edges of monochrome modern units, like these crisp white cabinets beneath a black linear suspension light.