We're dreaming of a white kitchen. But why? Because – quite simply – white kitchens will always be best sellers thanks to their timeless hue. The choice of white cabinetry provides a crisp, smart look for your new modern kitchen or a classic backdrop for a country kitchen.


White kitchen ideas

Choosing a white kitchen could be the best decision you'll ever make. Although white is sometimes considered to be a safe option where wall colour (or lack of it) is concerned, white cabinetry is a stylish and fashion-forward option.

Take inspiration from our white kitchen ideas, to create the kitchen of your dreams.


1. Create a contemporary vision with all-white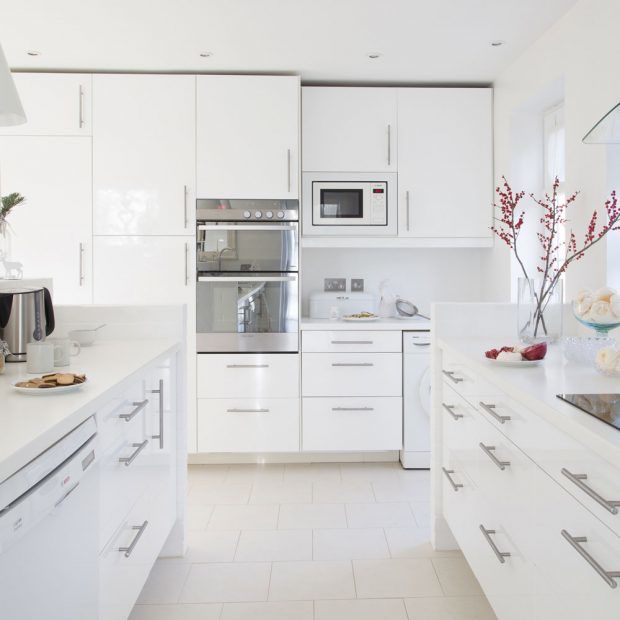 From floors to walls, to cabinets and appliances a bold all-white scheme creates a stunning contemporary look. Simple chrome handles and sockets are enough to add a hint of colour without breaking out of the 'colourless' scheme. All white everything is ideal for making the space feel bright, airy and gleamingly clean – a popular choice for the modern home.


2. Keep the look bright and airy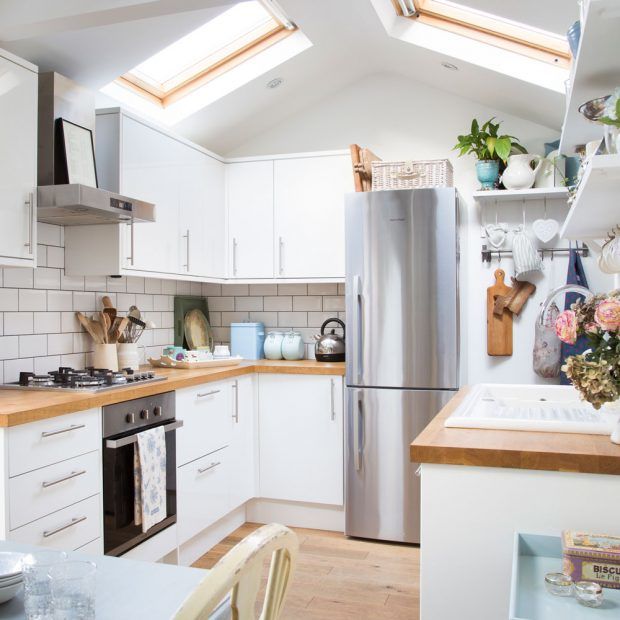 White is the ideal colour for small kitchens, especially where windows providing natural light may be sparse. An all-white colour scheme illuminates, helping to make the space feel bigger by bouncing light around. Skylights are a fabulous option to flood the room with light and enhance the white, but if you don't have the layout or budget use strong overhead lighting to help make the white walls and cabinets shine bright.


3. Mix old with new for an eclectic finish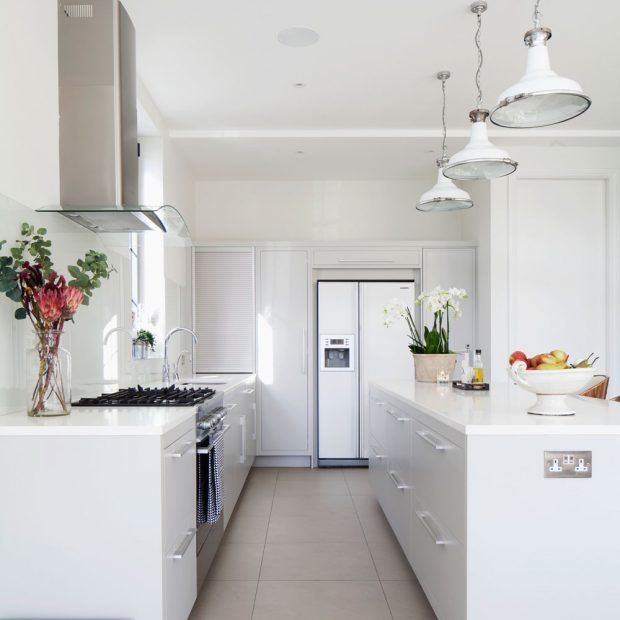 To prevent your white kitchen from looking too pristine and polished add elements of vintage design. Industrial-style lighting and distressed ceramics can help to inject a hint of timeless vintage style to a modern finish. The elements are still white, to keep the look cohesive, but thanks to the heritage feel of such pieces the space retains an air of eclecticism.


4. Take a tonal approach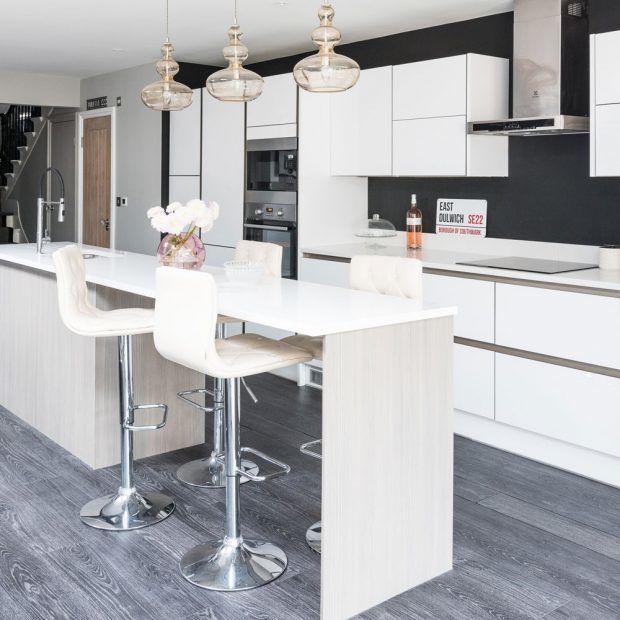 All-white units and worktops sit beautifully against alternative coloured walls and flooring. If deciding to incorporate colour options it's best to stick to a tonal colour palette, so if using greys – use varying hues of the same shade up to black to keep the look uniformed. If using a more warmer neutral, such as stone flooring consider off-whites, taupe or Dulux's Brave Ground as complimentary paint colours.


5. Integrate an alternative island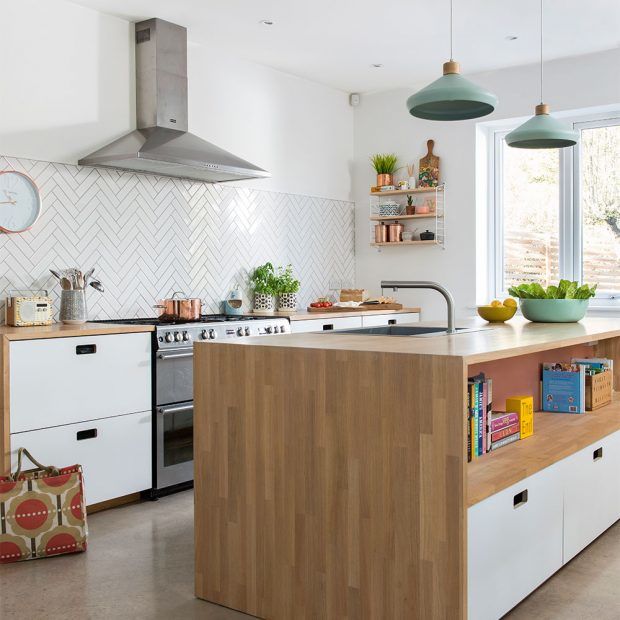 Integrate an island in an alternative finish, such as natural wood, to break up the starkness of everything being white. By using white as a reverse colour on an island, in this case used on the storage drawers, it seamlessly intertwines the two-tone finish. Using wood as the alternative finish helps to keep the look minimal – allowing for a further accent colour to add more personality.


6. Set the scene with wallpaper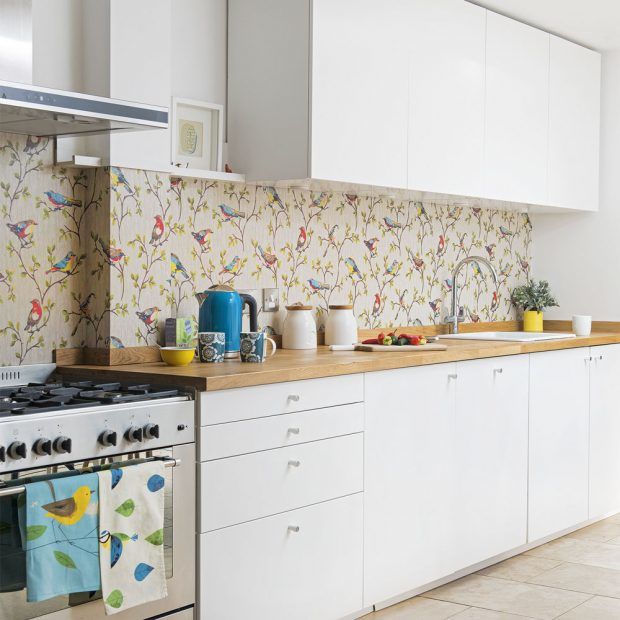 Add interest to a white kitchen with a statement wallpaper. The calming white background helps to enhance the decorative design. This characterful paper decorated with birds and branches welcomes a hint of nature indoors, which ties in the wooden worktops perfectly.

When used between the lower and head-height white cabinets a patterned wallpaper is a great way to add an alternative to a tiled splashback. Just be sure to use a hardwearing paper that can withstand the elements of a working kitchen, with heat and sink splashes etc.


7. Choose white for a timeless country look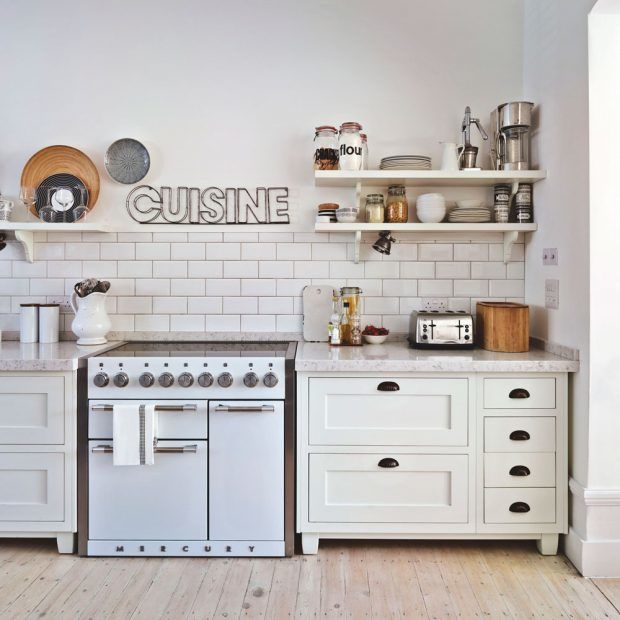 For a timeless look in the kitchen, go white country. Here, the owners have chosen white for almost everything from accessories such as ceramics to fittings. It goes to show that a white room can still feel warm and welcoming as long as you include delicate details like fresh foliage, whitewashed floorboards and brass handles. The added decorative touches help to inject a touch of personality.


8. Warm up white with brass fixtures and fittings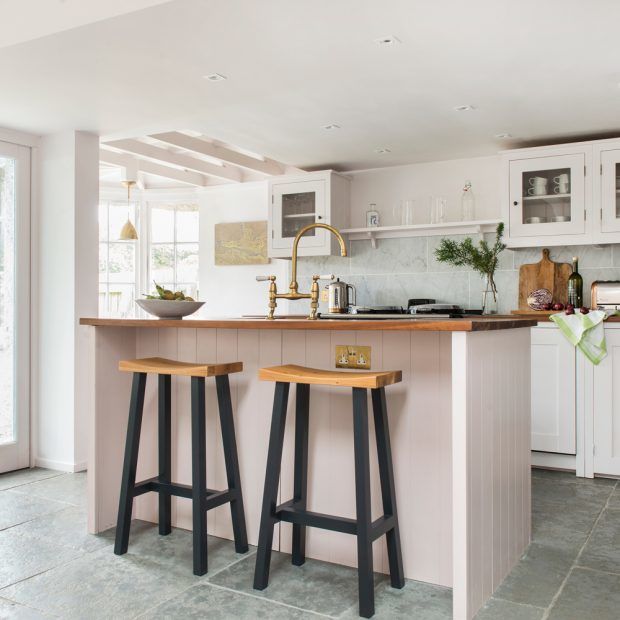 If you're sticking to an all-white colour scheme consider ingratiating brass tones to add warmth. Instead of traditional chrome taps and sockets choose fashionable brass alternatives to warm the shades of white. This richer metallic tone will avoid making the white shades feel cold and steely.


9. Stick to a classic monochrome combo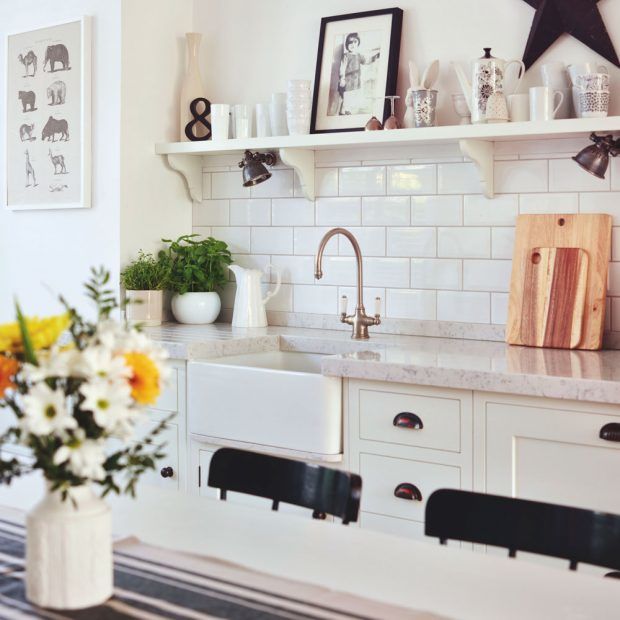 Pairing black with white isn't exactly reinventing the wheel, design wise. Yet it will always look modern, provided you pick the right little details. Team an all-white kitchen with black painted furniture and statement accessories to create an effortlessly chic look.


10. Create space with white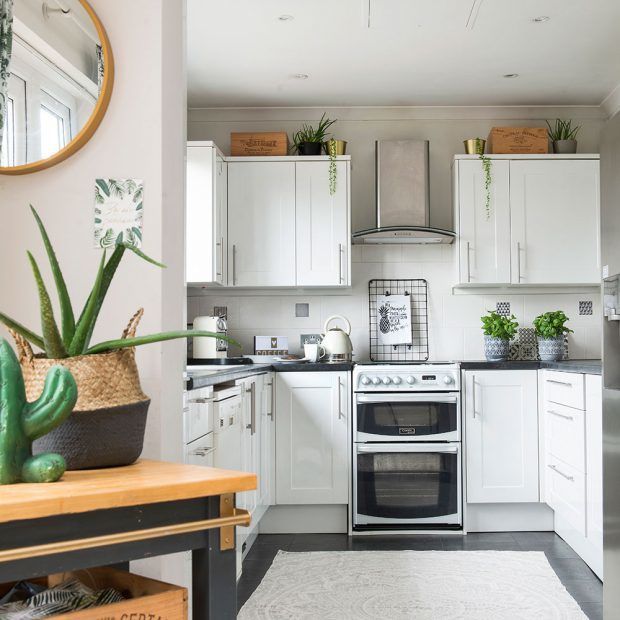 Open up a smaller kitchen space with the help of a primarily white colour scheme. The choice of white will help keep the space feel light and airy, therefore more spacious. Add a strength of character by way of black worktops, just ensure there is plenty of natural light to assure the space remains a sense of lightness.


11. Team concrete for contemporary cool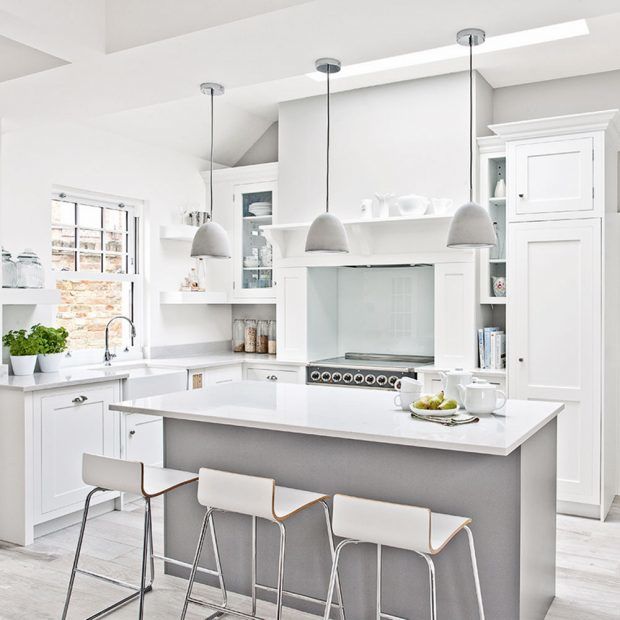 Polished concrete is a beautiful pairing for use in a contemporary white kitchen – particularly with statement lighting. Use it sparingly to create an organic/industrial look and it will lend a splash of natural colour to subtly stop the space from being an all-white scheme.


12. Warm up white with wooden touches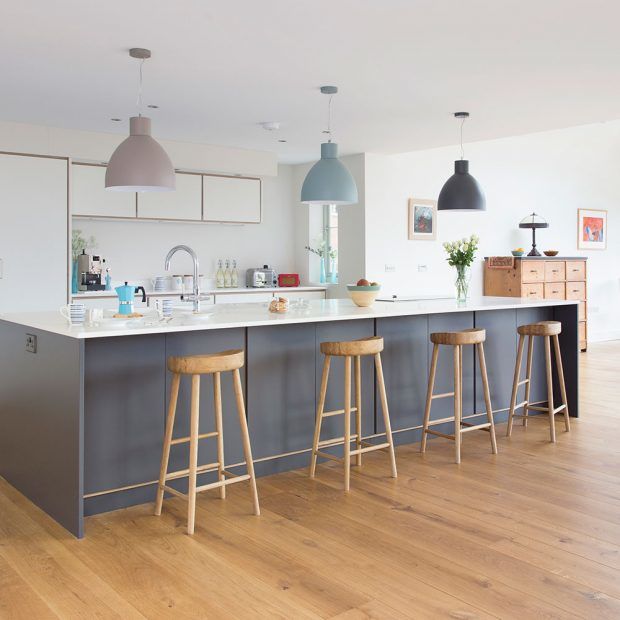 Make a feature of an engineered oak floor in an expansive room. In the kitchen area, different hardwearing flooring has been used. This is an effective trick for creating separate zones in an open-plan space. Meanwhile, wooden accents appear throughout, as the perfect complement to the flooring, and pastel-coloured pendants add a sense of fun to a grown-up scheme.