These white bedrooms prove that a simple is always in style. White color schemes are classic, and always create calming, serene space so are a fitting choice for a bedroom. Picture crisp white linen, clean white walls, and layers of slubby white fabrics. Yep, there's just something about an all-white bedroom we can't resist. But while we personally love a totally monochrome scheme, white is the perfect backdrop if you want to add color into a bedroom, so for those of you who aren't color-phobes is a great choice too.

So to provide that white bedrooms can be far from boring, we have paid homage to everyone's favorite neutral by rounding up plenty of elegant, soothing bedroom ideas that are sure to inspire...


1. Layer white and grey for a soothing bedroom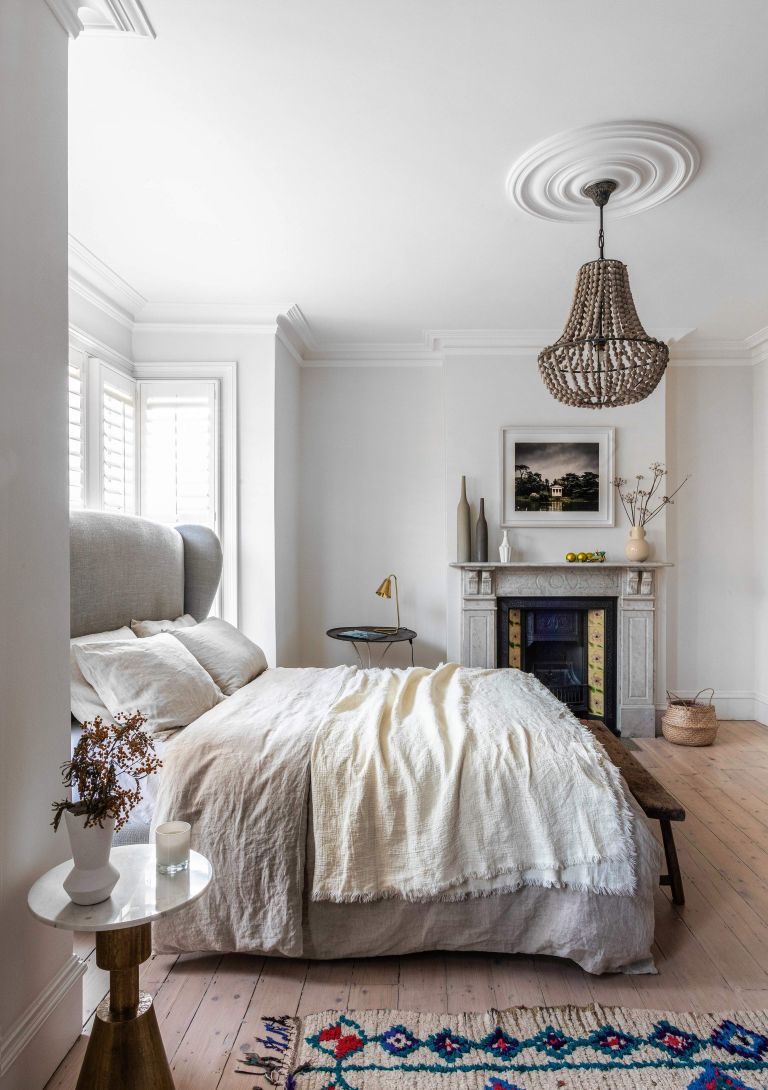 What's so gorgeous about a white bedroom is how crisp, fresh, and light they feel, however crisp, fresh, and light can quickly turn into dull, stark, and clinical if you use the wrong shade of white for your space or keep the scheme too flat and monochrome. So introduce other neutrals to combat the potential coolness of an all-white scheme. A soft grey works wonderfully in this bedroom, and all the textures and mix of materials going on makes the room feel cozy and inviting.

'Decorating with white is one of the easiest ways to create a fresh and cohesive look.' says Ben Stokes, Founder of Kagu Interiors. 'It helps to open up a space, making it appear much lighter and bigger. To avoid a room feeling washed out, incorporate different textures of linen textiles, wicker lighting or incorporating to occasional antique finds to add character and interest.'

'Layer with complementary shades of neutrals, like off-white, cream, or soft grey. Wood also works well in a white scheme, whether it's the wooden beams in the ceiling, flooring, reclaimed stools or side tables.'


2. Up the contrast with a black and white scheme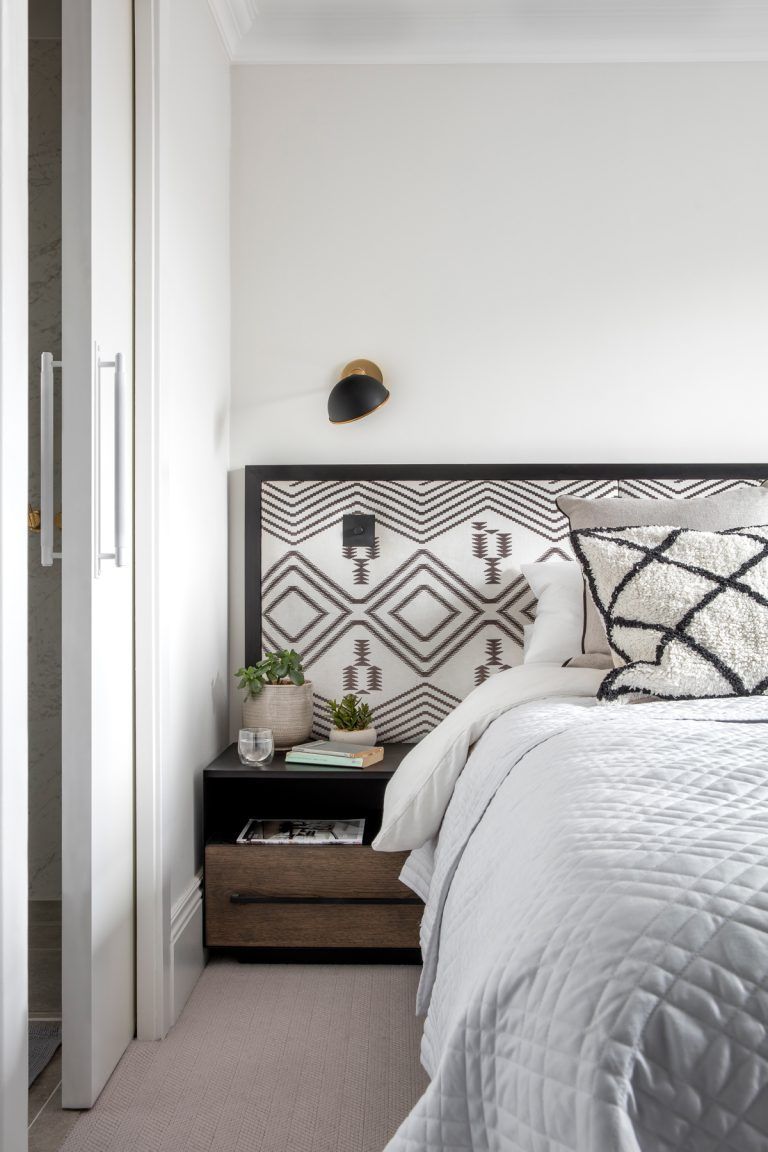 Black and white bedroom color ideas are classic, this scheme is never going to date and suits so many styles. Plus, it's not as extreme as it sounds, and you can make it as bold or as subtle as you like. A 50/50 split that really shows the contrast is going to create a much more striking space than something like this white bedroom that just has a few accents of black. You could even soften the contrast even more by adding lots of layers of tactile fabrics.


3. Bounce around light with mirrored furniture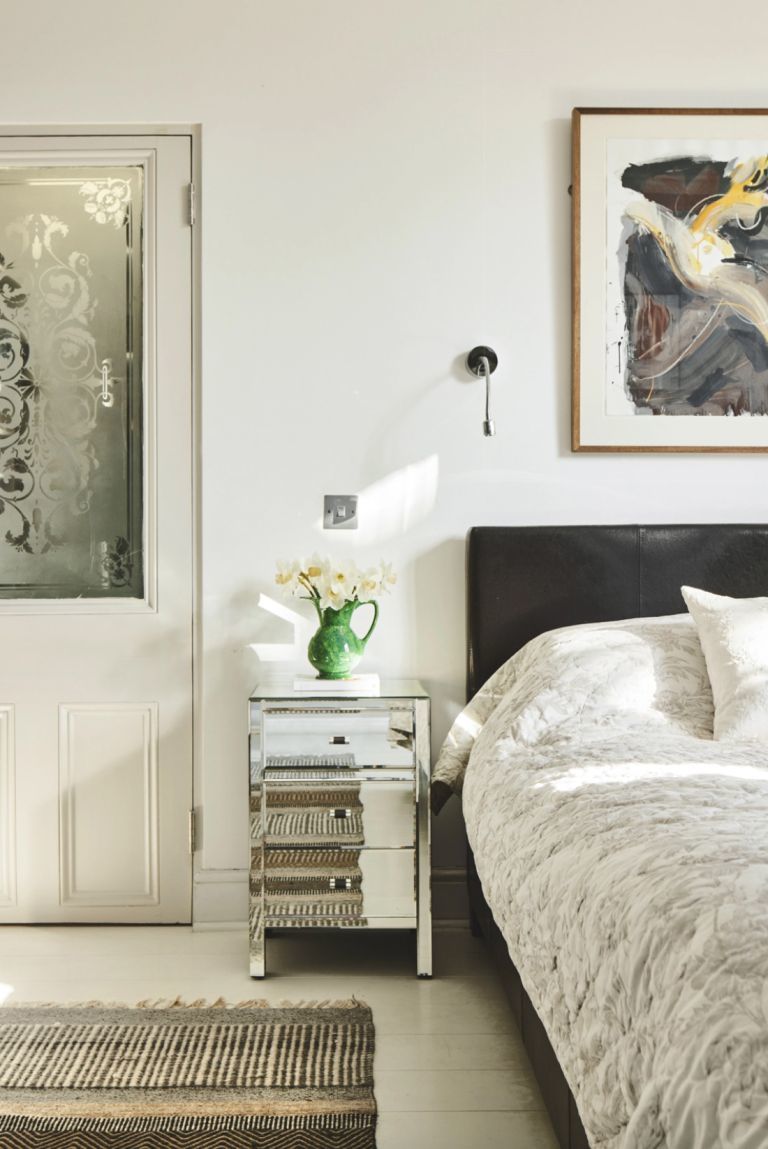 It's interior design 101 that white can really up the light in a room, making it feel bigger and brighter. But you can help a white scheme along by adding in some mirrored furniture that will reflect even more light around the room and add to the very calming, serene feel. Just a small bedside table as seen here is enough to bounce some extra light around and is a great piece for a small bedroom too as it almost totally blends into the room.


4. Go Scandi with darker hues and lots of texture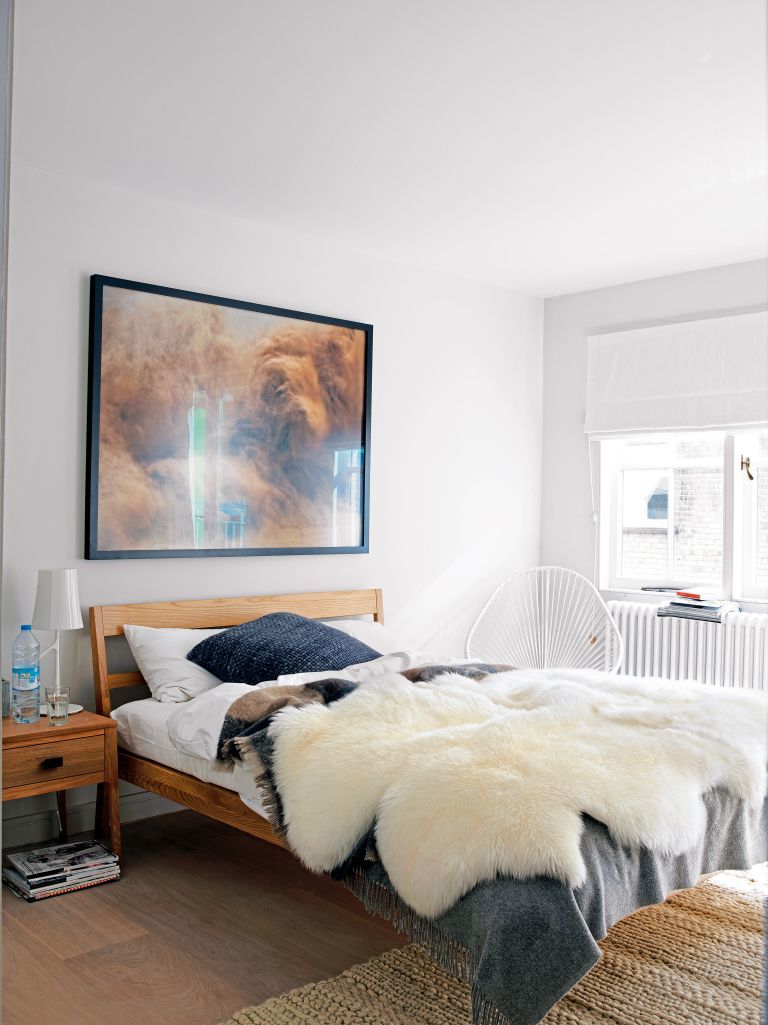 Add depth to a white bedroom by bringing in some darker, but still soft hues like this soft charcoal greys and washed deep blues used in this very Scandi inspired space. Layer up the textures too with throws, pillows and rugs to create a bedroom that feels light and minimalist but also cozy.

'My advice when decorating especially with white is that texture is key.' says Chrissie Rucker founder of The White Company. 'It is crucial to add in natural elements and pile on texture – a soft rug underfoot, or a diaphanous drape at a window can truly transform a room. Natural materials, such as weathered wood, slubby linen or marbled slate, connect us back to nature and add interest.'


5. Soften an all white bedroom with pastels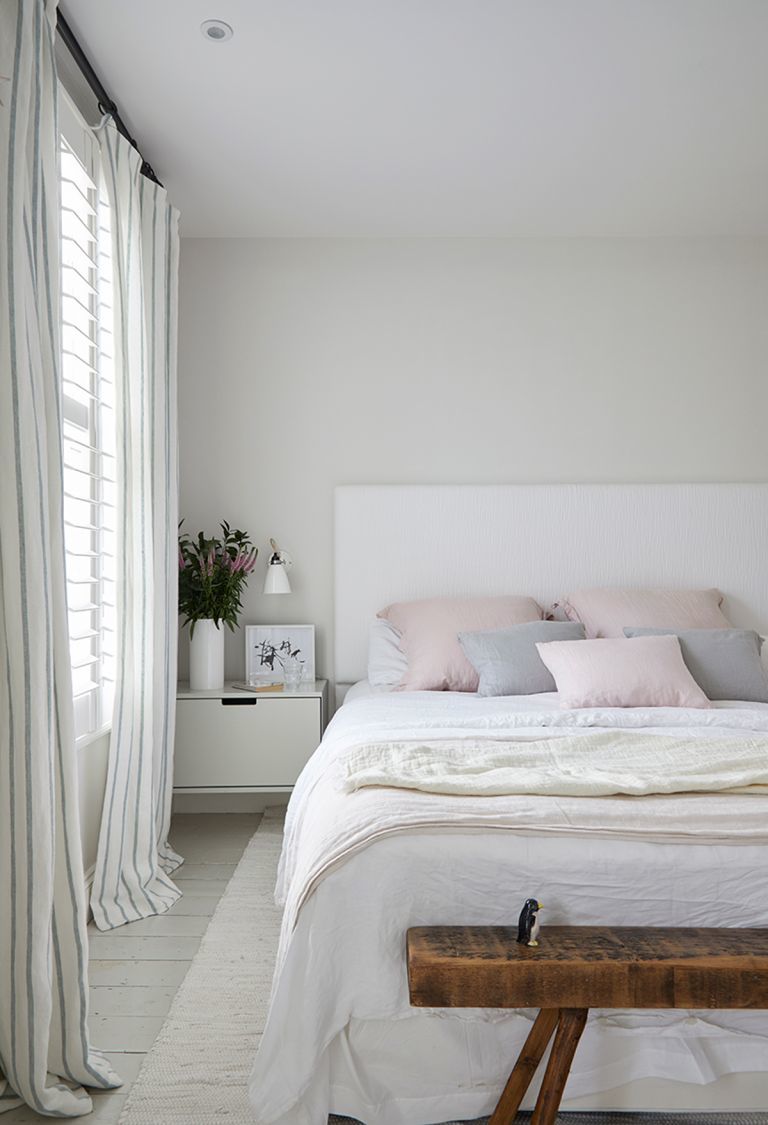 Cool-toned pastel hues like the lightest of pinks can add just the right amount of warmth to a sea of white. Just a few pink pillows mixed in with some pale grey to tone down the sweetness is all that's needed. And pick fabrics that have a nice relaxed texture to them like linen as it will give a lovely laid-back vibe to the bedroom.


6. Paint the floorboards white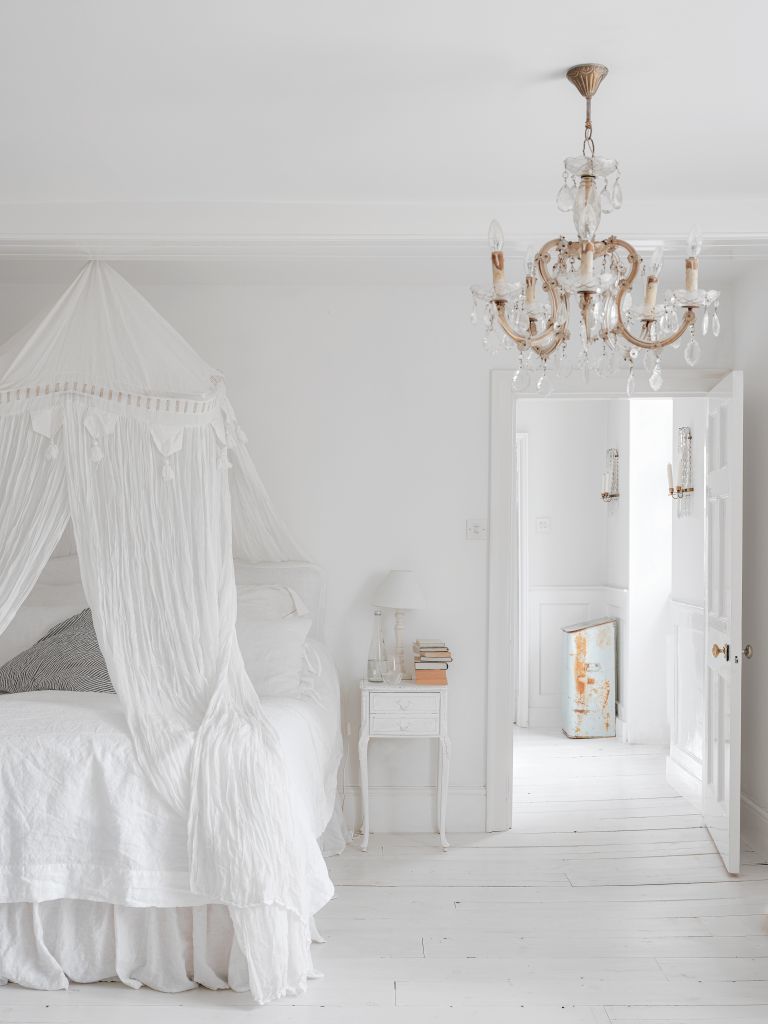 Been blessed with wooden floorboards? Be inspired by this white bedroom idea and paint them. You'll instantly get a lovely rustic, but elegant look. For a really cohesive scheme take the same white shade to the walls and ceiling and you could even paint your bedroom furniture to match. We are loving to the romantic look of this completely white aesthetic.


7. Or paint a brick wall white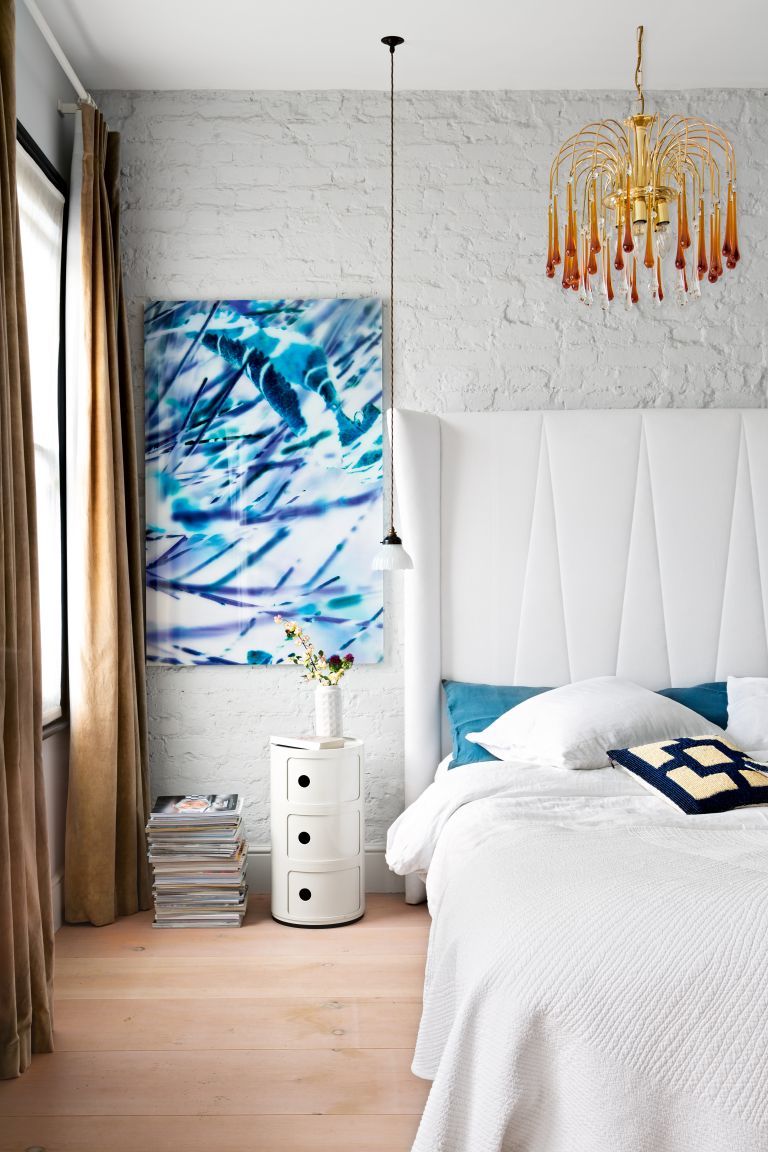 An exposed brick wall adds the perfect amount of texture to a bedroom with a minimal color scheme. Make it more of a subtle feature wall by painting it white to match the walls and ceilings and pair with modern pieces for a nice contrast between rustic and contemporary.


8. Bring in pops of vibrant colors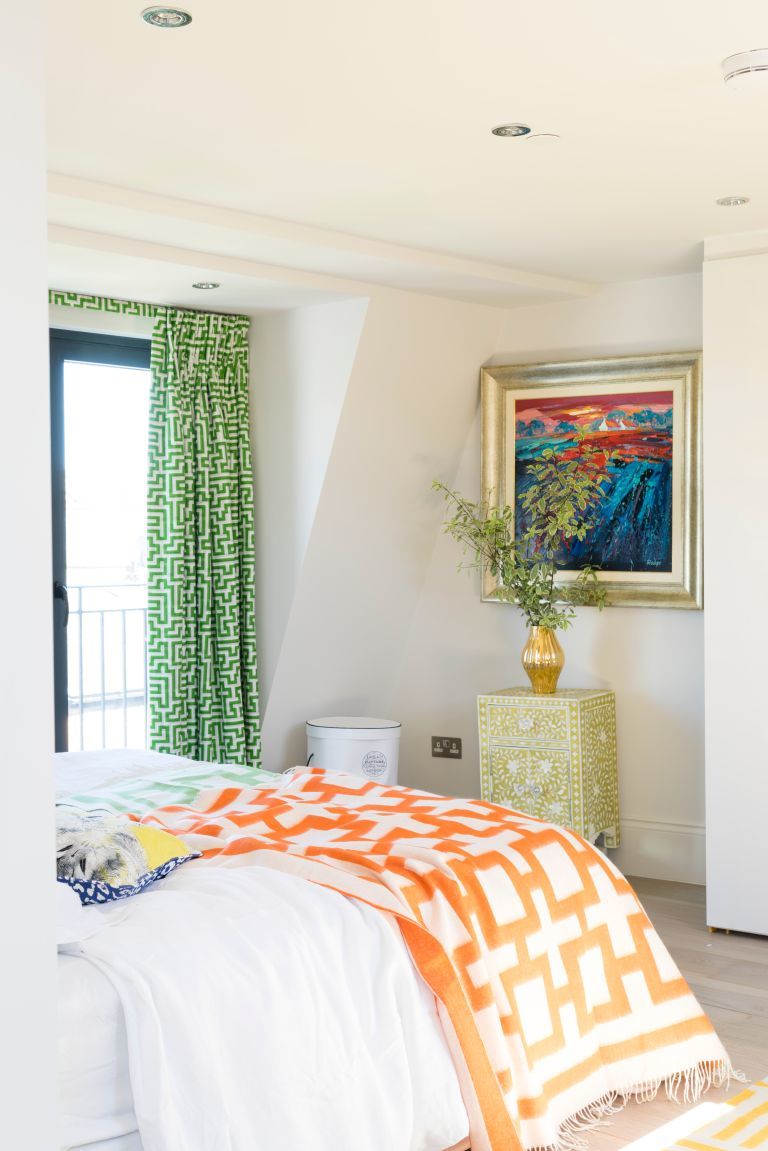 Of course, color isn't off limits in white bedrooms. White is the perfect backdrop for making colors pop, so bring in some splashes of really vibrant color like the green and orange used in this bedroom. White is still the dominant color but those fresh shades give the room a lift.


9. Go for a rustic look in a white bedroom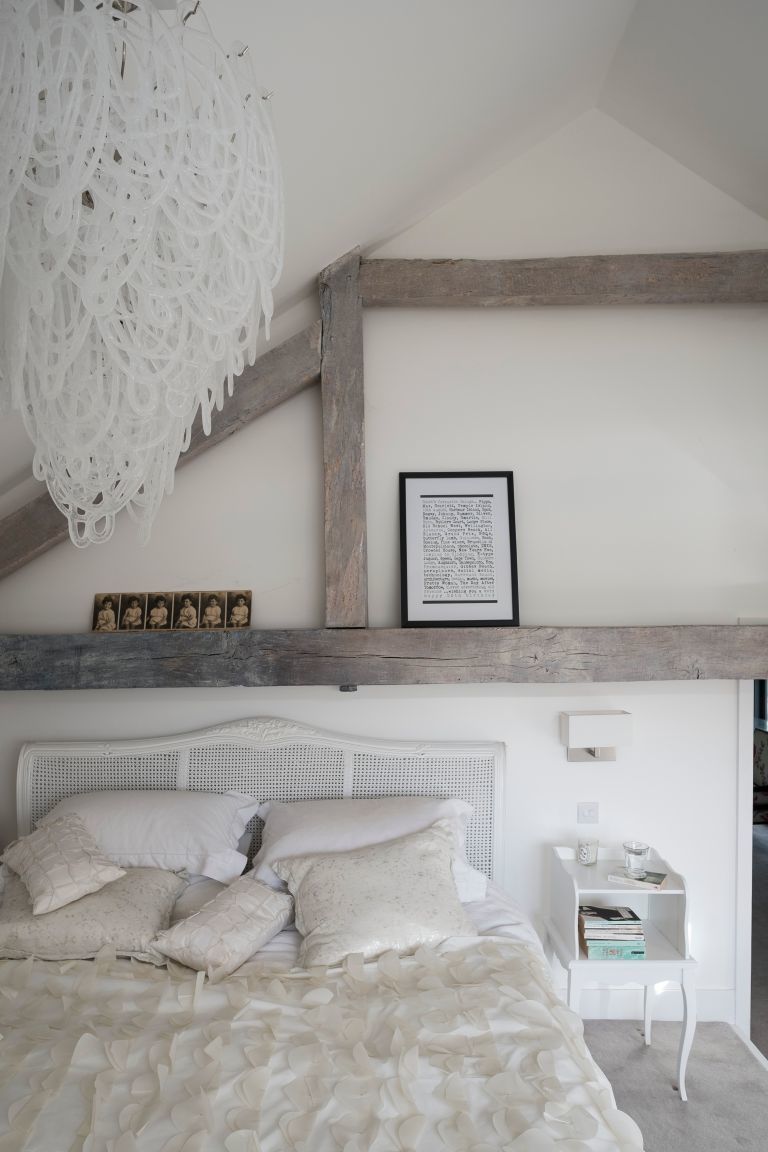 White schemes are perfect for rustic bedrooms. Choose a simple off-white that feels slightly warmer than Brilliant White and pair with plenty of wooden textures (no worries if your bedroom doesn't have beams, a vintage wooden bench or side table will work) and lots of soft layers of bedding. Painting furniture to match the walls reduces visual clutter, you still get the lovely shapes of the furniture but it doesn't become the focal point.


10. Keep it contemporary with low slung furniture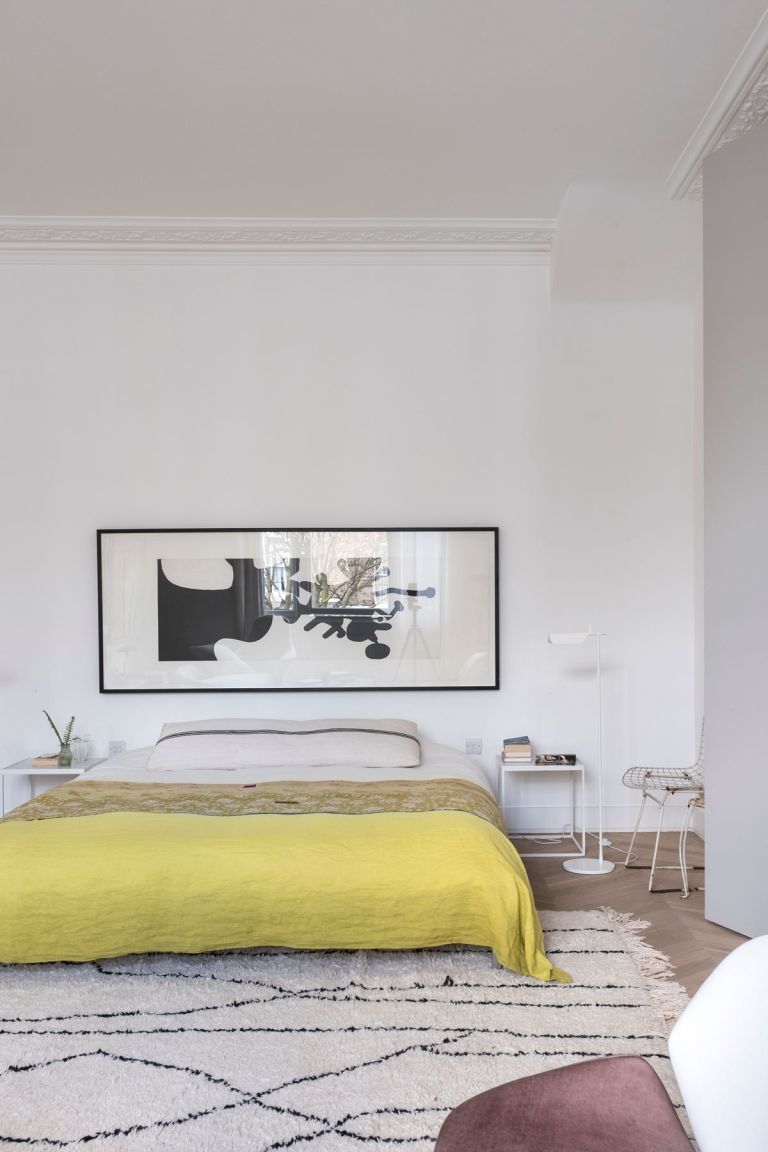 Minimalism and white are often synonymous with one another, as this chic space proves. With a mix of clean white walls, contemporary low-slung furniture, and zero clutter, this lofty bedroom makes a design statement without having to be too loud. And the pop of yellow and blush pink gives the room a more familiar, lived-in feel.