Louis Vuitton established his trunk business in Paris in 1854. In the decades immediately following, the titular LV, his son Georges Vuitton, and grandson Gaston-Louis Vuitton became famous for their ability to make a traveling case for just about anything.
A 2017 exhibition, Volez, Voguez, Voyagez, showcased the Vuitton ingenuity at work: Trunks for carriages, trunks for expeditions, trunks to hold dishes and tea sets and jewels, and entire wardrobes built to the exact specifications of buyer's garments.

One hundred and sixty-six years later, the most unexpected thing Louis Vuitton has customized to the exact specifications of its clients is not a trunk, but a traveling boutique. And with glass siding, quilted walls, creme carpeting, and a treasure trove of Louis Vuitton goodies inside, it promises to bring the delight of shopping at a Louis Vuitton boutique to your driveway.
With glass siding, quilted walls, creme carpeting, and a treasure trove of Louis Vuitton goodies inside, the souped-up trailer promises to bring the delight of shopping at a Louis Vuitton boutique to your driveway.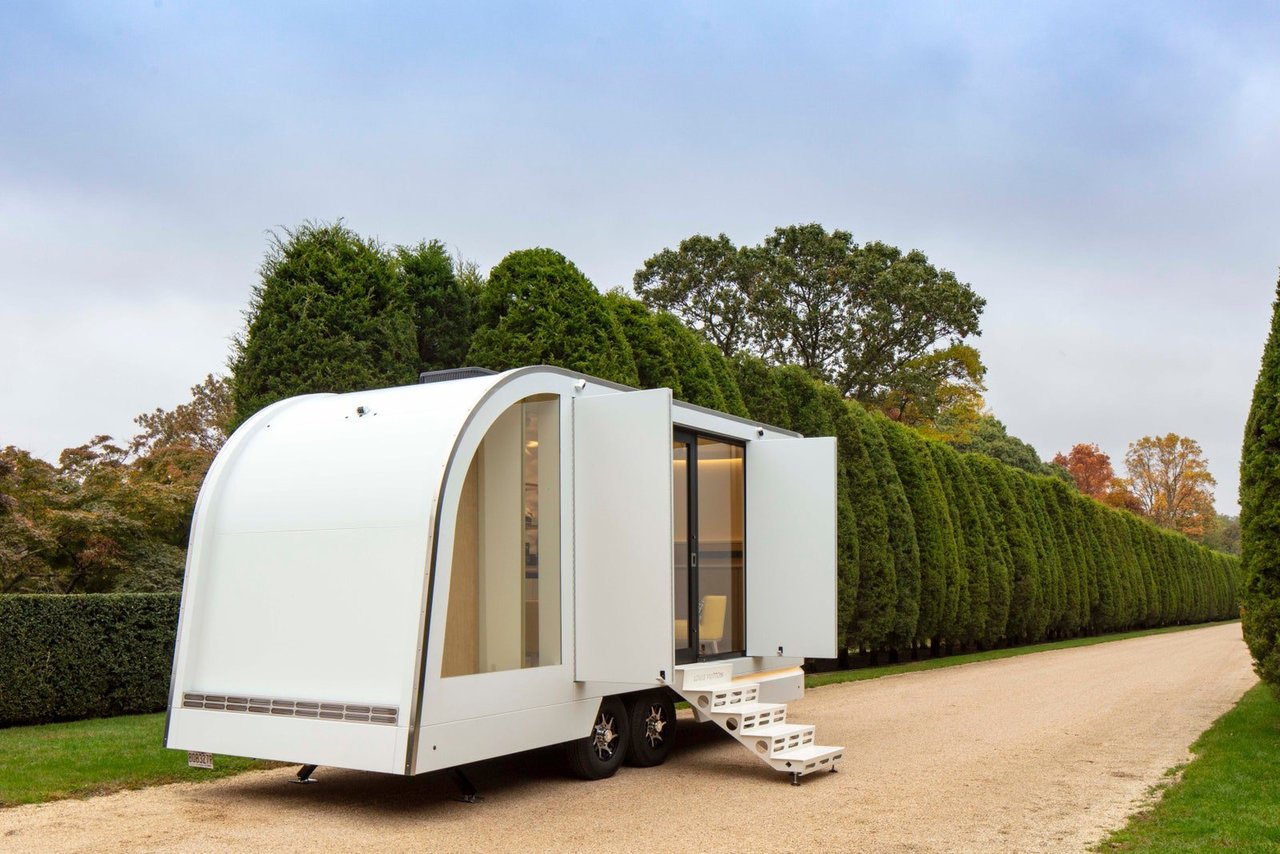 There are, of course, some stipulations, chief among them that you have a driveway sized for a small caravan—or gracious neighbors who won't mind the LV store street parking in front of their houses, as the van did when it arrived for a visit at my family's house in suburban New Jersey.
Another precondition, for now at least, is that you live in the Tri-State area: The Louis Vuitton mobile store is only available in New York, New Jersey, and Connecticut, though there seems to be a fair chance the program may expand as lockdowns continue across the United States.

Setting up an LV store on-the-go requires a small army of attendants: A driver, of course, several people to set up the logo-steps into the van and place the floral displays inside petite LV trunks—a gesture originated by the original Monsieur Vuitton—and two sales professionals to make sure that once you step into the trailer, you forget that you are, in fact, in the driveway and not in a brick-and-mortar shop.

Attention to detail is paramount, with a video screen playing the most recent spring 2021 womenswear show and items arranged with the utmost care. For repeat Louis Vuitton clients, the contents of the mobile store are selected to their taste—and in their size—providing the ultimate in customized at-home shopping.
For a millennial Vogue editor, the Vuitton staff selected a range of womenswear from the 1854 signature collection, the latest gold and diamond jewelry from Francesca Amfitheatrof's in-house collection, and an overdose of handbags, including Petite Malle bags from both Nicolas Ghesquière and Virgil Abloh.
In the window stood a dress from Ghesquière's most recent resort collection, A-line, with a graphic playing-card-inspired print, worn under a papery trench. "Do people try things on?" The answer is yes, the sales people can exit the trailer and shut the blinds, but when everything is selected in the shopper's size, well, what's the need?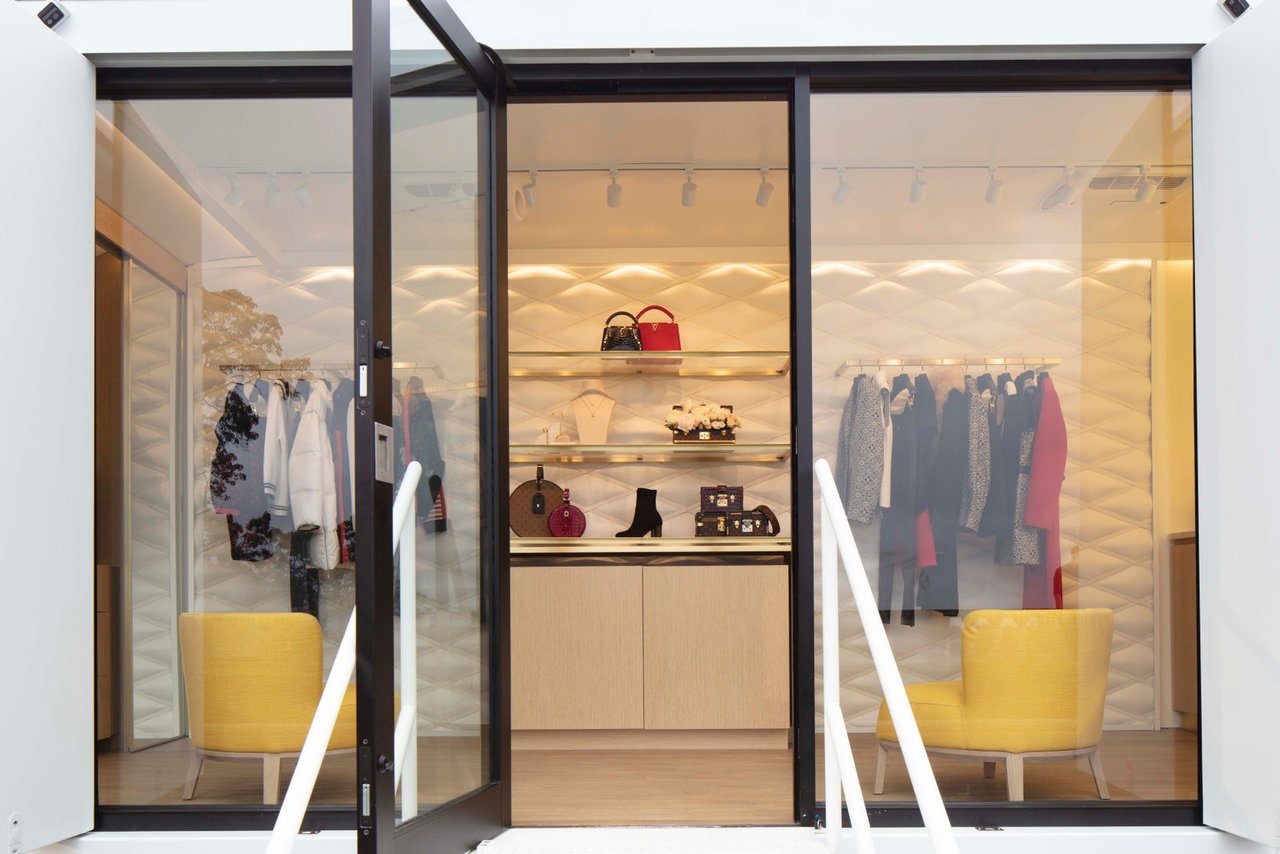 The traveling LV boutique is set up quite akin to a piece of LV luggage too, with all sorts of drawers and cabinets that expose more wonders inside. Underneath a vintage LV trunk in a cabinet, a chest of drawers revealed a whole set of fur accessories stowed away.
Despite being about 20 feet long, and holding a maximum of four people in masks, the store has enough tricks up its sleeve to keep the curious shopper occupied, trying on white leather puffas and mulling over the brand's new miniature bags, for hours.
And when you finally decide to buy, the brand has even considered driveway-to-door service: All purchases are swaddled in LV garment bags and shopping bags for a safe journey the several dozen feet to your front steps.

Those trying to get their holiday shopping done this way may want to book fast. Vogue editors in the Hamptons report regular sightings of the LV van, and with likely more regulations for in-person gatherings looming, it seems the mobile Louis Vuitton store is only going to get more popular.