On a lush green hillside in Berry, Australia, rests one of the latest designs by Casey Brown Architecture. The two-tower structure, known as Permanent Camping II, was crafted for a client seeking an off-grid refuge that promoted minimalist vibes and a simple lifestyle.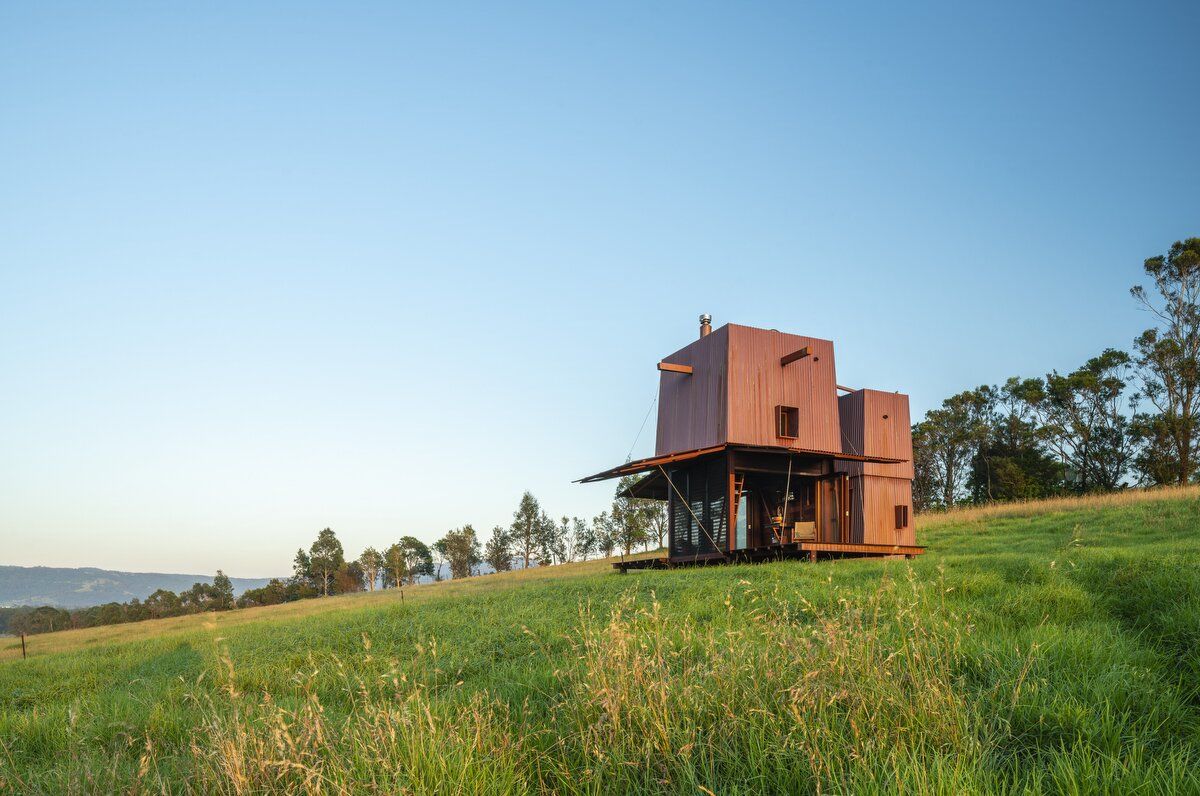 According to the firm, it is "a retreat with everything you need, the demands of living distilled to the essentials." At just around 100 square feet, the small yet well-equipped cabin offers a living space on the lower level and a sleeping area perched up above.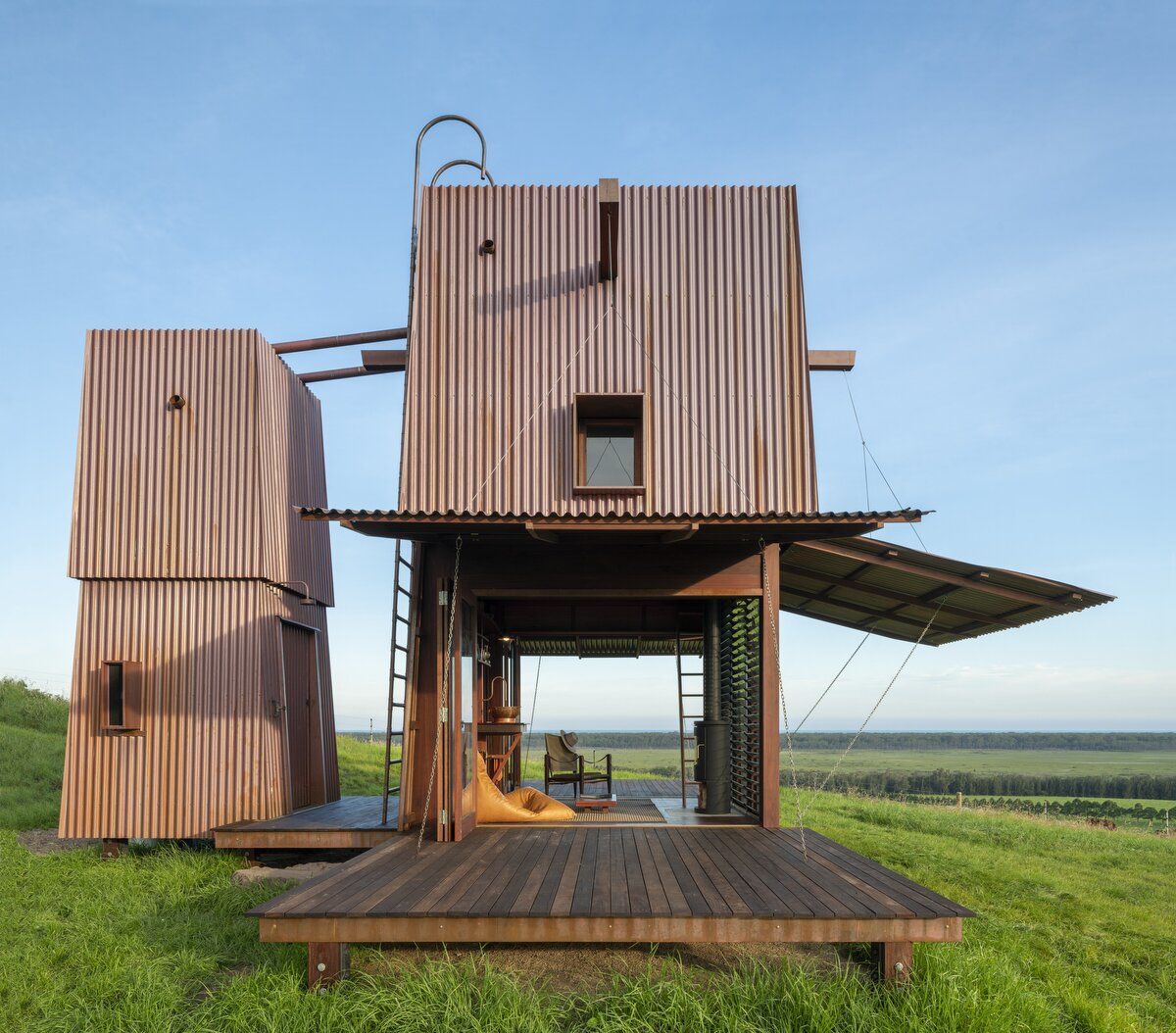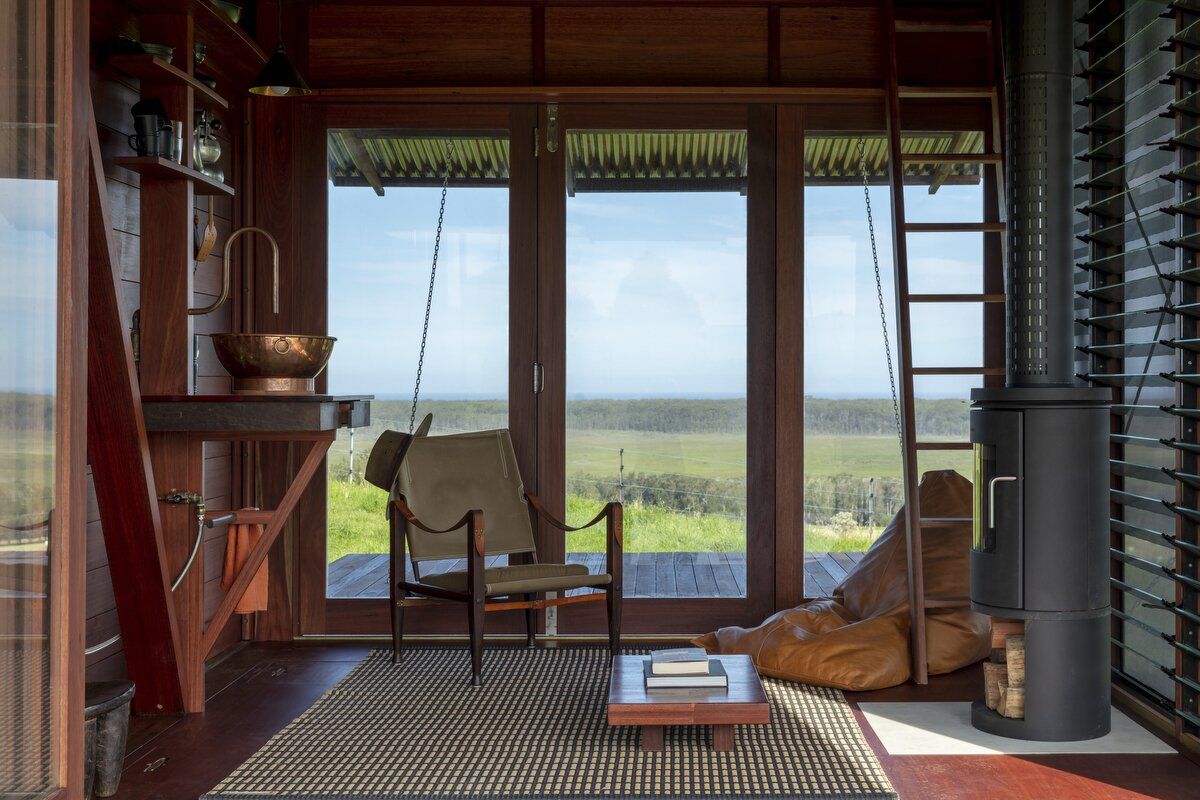 "The three-by-three-meter floor plan allows for two people to coexist in the same area without uncomfortably invading each other's personal space," explain the architects. For additional privacy, the bathroomขwhich has a composting toilet and its own water tank with rainwater-storing capabilitiesขis sited in a separate tower on the back of the structure.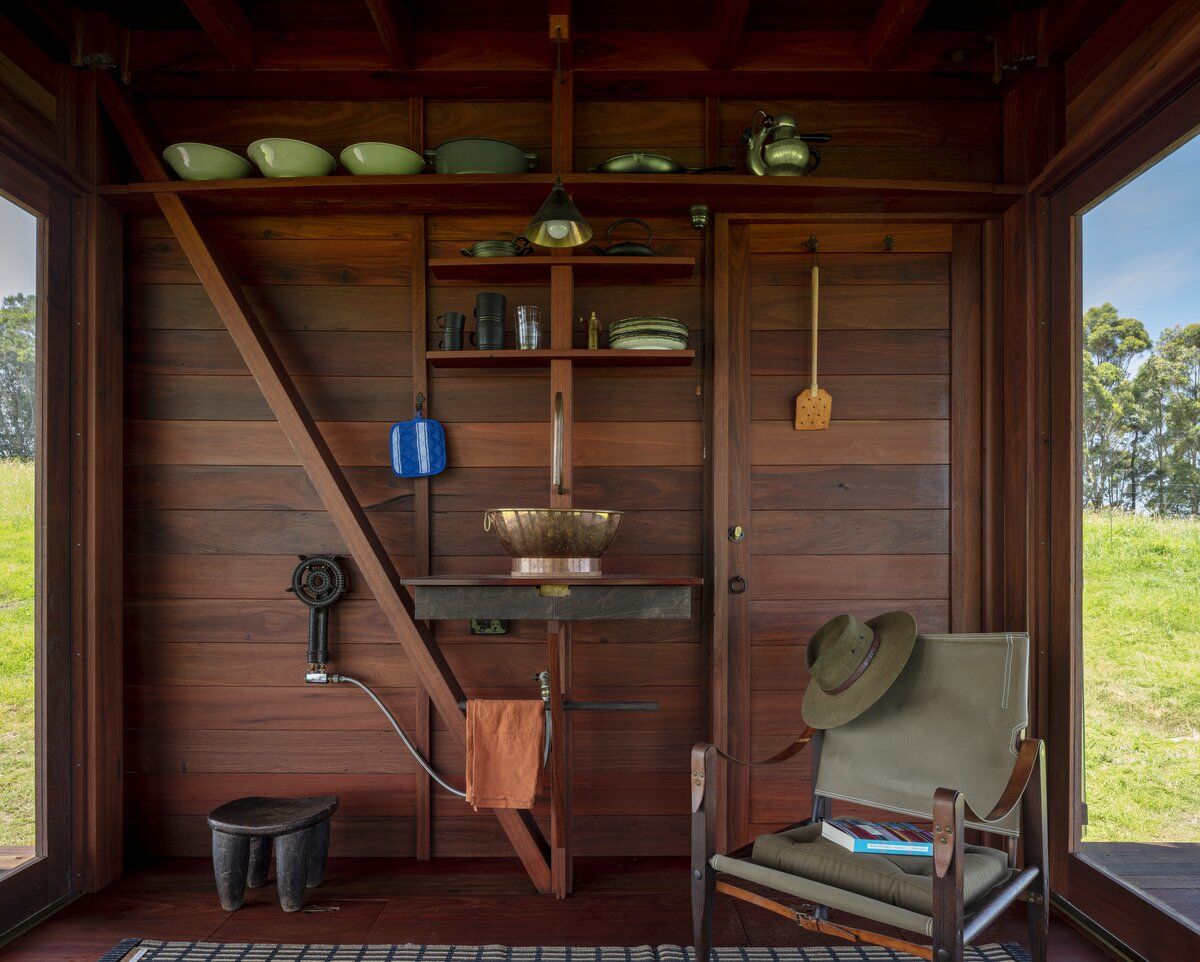 For the interior of the cabin, the firm relied on recycled ironbark, which was sourced from an unused wharf float. They then enclosed the structure with copper as a way to protect it from the area's harsh elements. Three manual winches lift and lower the copper sides, providing shade to the wraparound decks.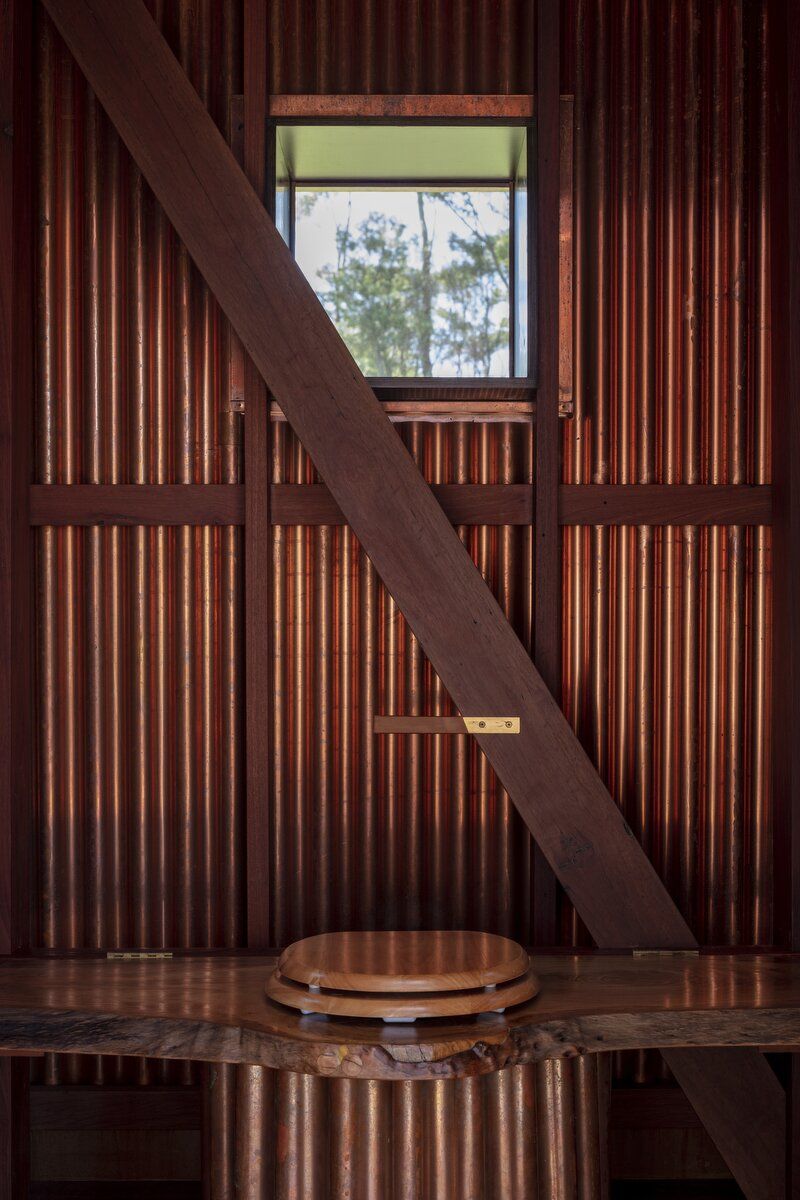 Built as an off-grid oasis, the structure comes with solar panels on its roof, and the exterior ladder doubles as a lighting conductor. It was prefabricated by master craftsman Jeffrey Broadfield and area builders Smith and Primmer in an on-site barn. As the firm notes, "Permanent Camping II represents a highly refined continuation of the tradition of PC1 in Mudgee, which was designed by Casey Brown and built by Jeffery Broadfield 12 years ago."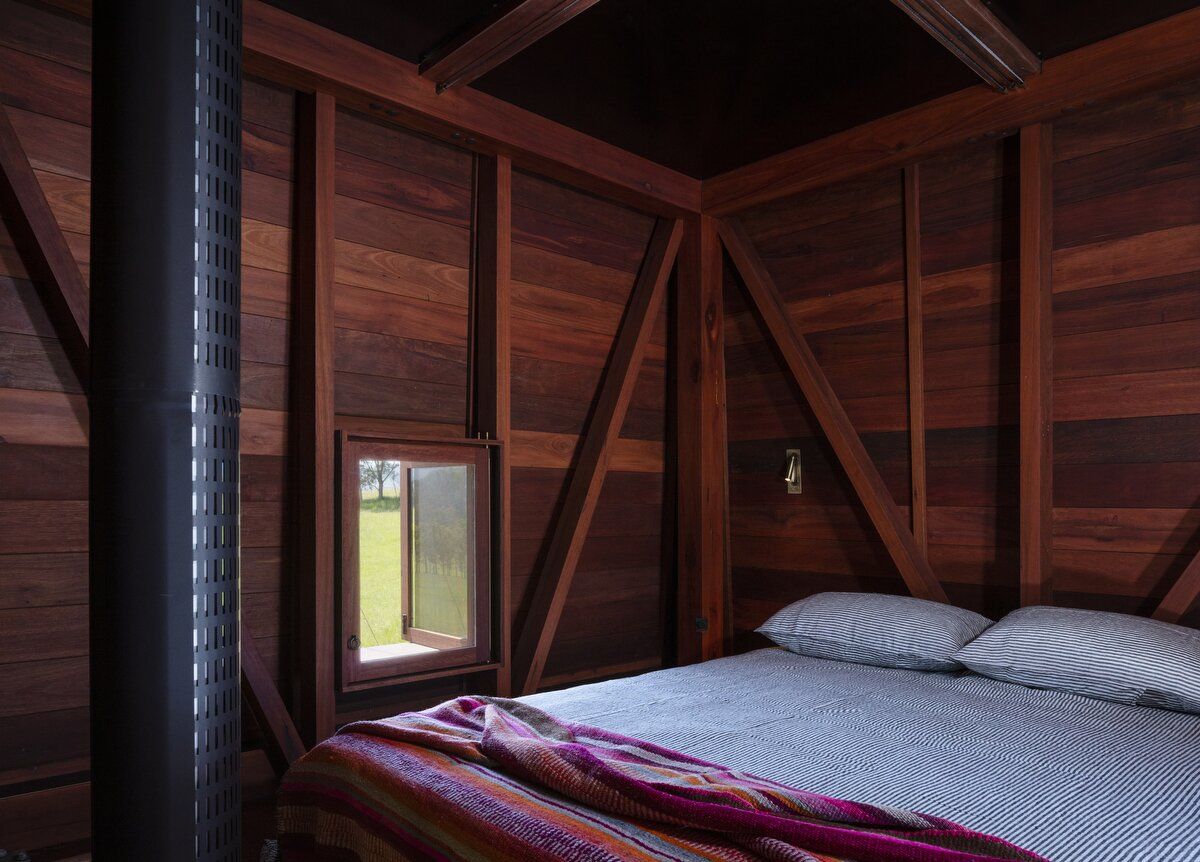 For the client, the structure is the perfect getaway. "This little building is the realization of a dream," they say. "It is a comfortable, permanent tent, a retreat, and a place with everything you need and nothing you don't. I had the opportunity in 2020 to be part of the 'making process,' watching and helping it come together, piece by piece, in our old barn before it was moved to its final site overlooking our farm. It is a building to dream in and a work of art in the landscape."