Living wall with horizontal fence panels and hanging zinc planters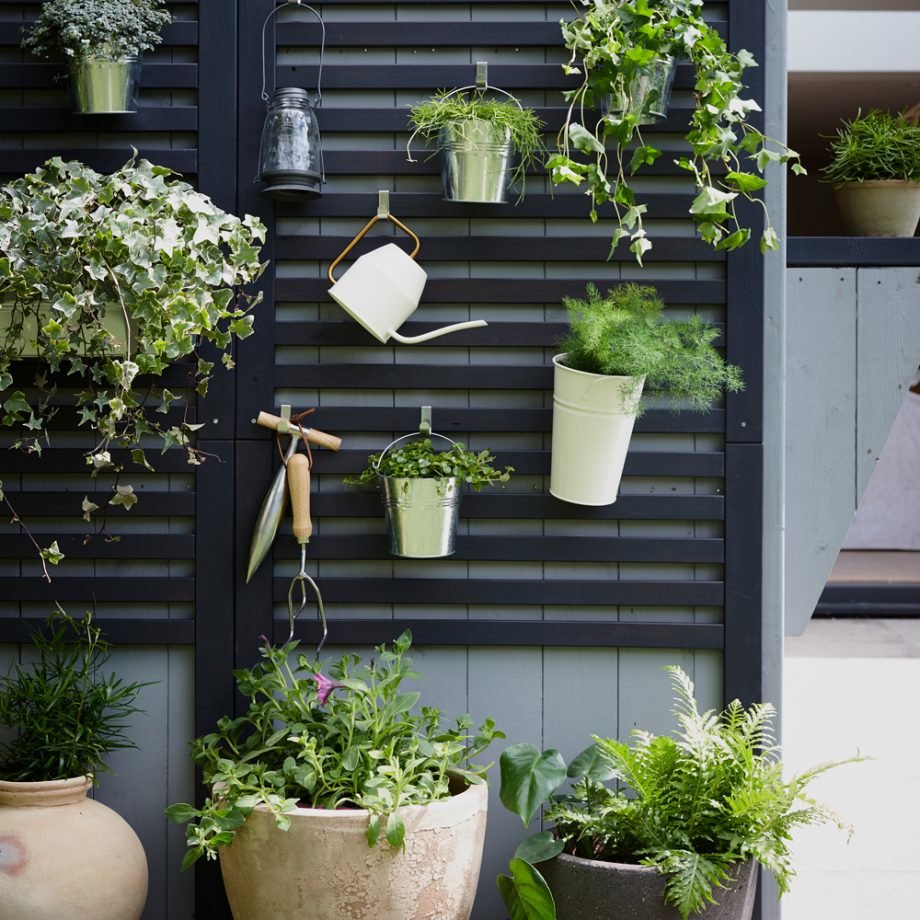 The simple addition of horizontal fence panels turn the side of the shed into a decorative living wall. This could also work on a stretch of bare fence or wall, or the side of a balcony. Any of these outdoor spaces can be transformed into a vertical garden for smaller plant pots and baskets.


Feature wall displaying shelves and garden accessories above a potting bench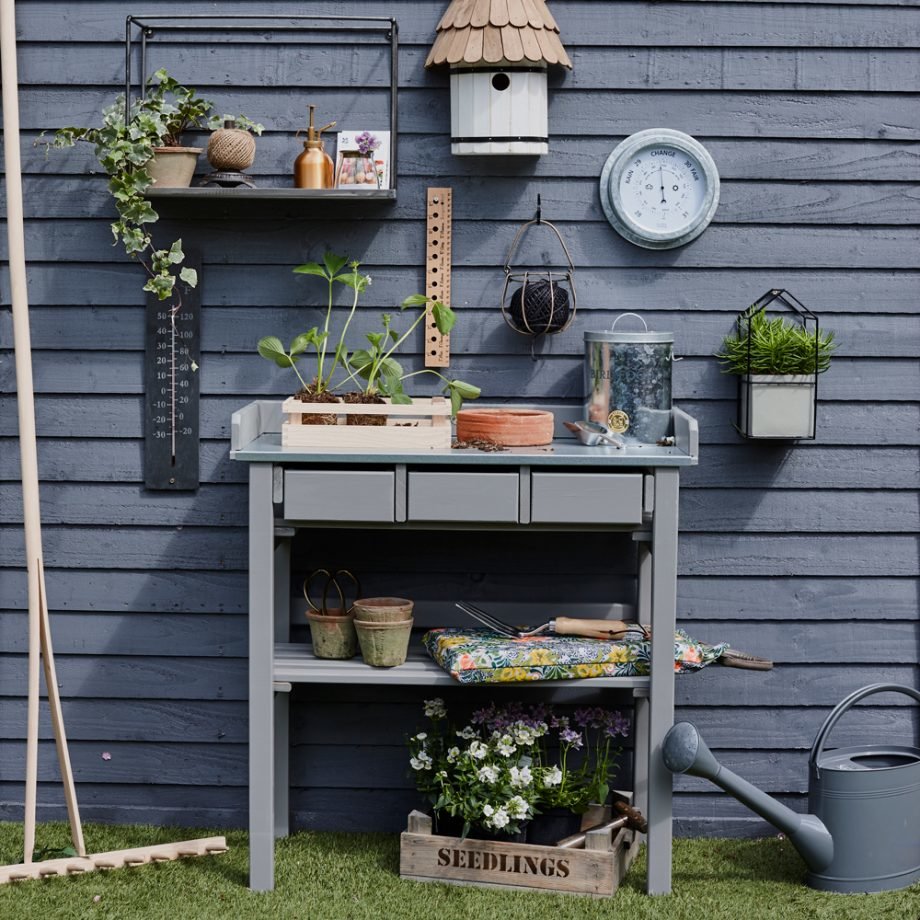 Fashion a feature wall in the garden. In the same way you'd hang photos indoors, create a display of bird boxes, barometers and wire box shelves – that leave plants open to the rain.


Garden bar shed with hanging herbs, bar trolley and bar stools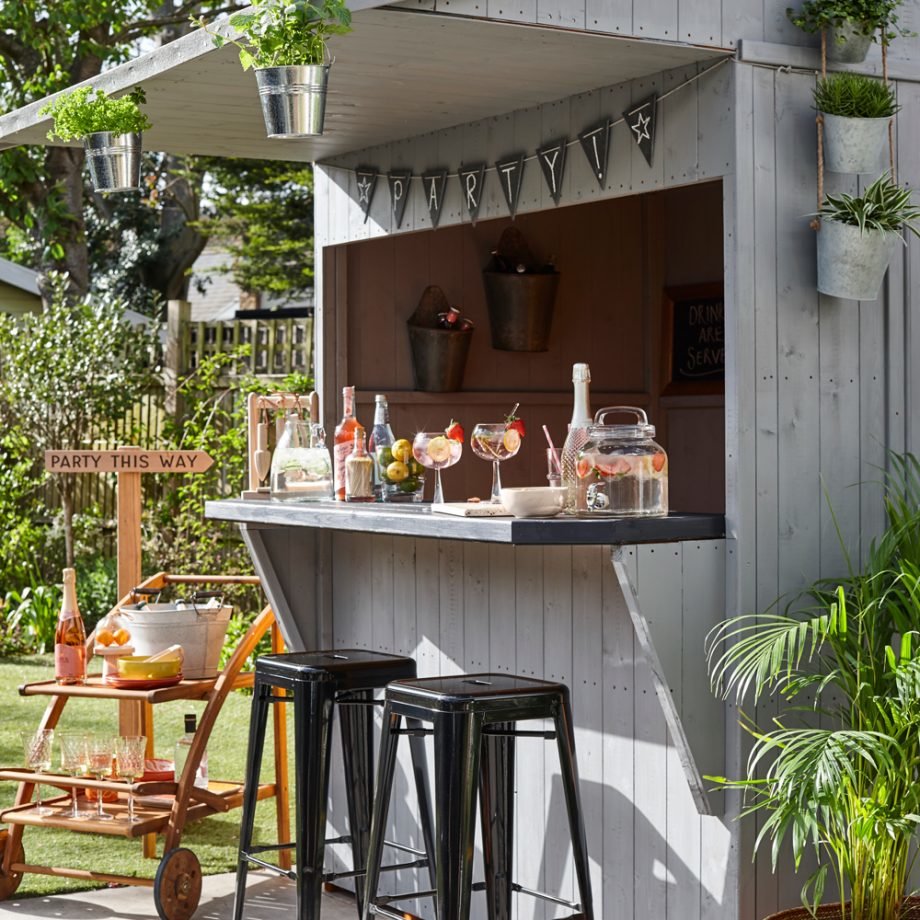 Create the perfect place to entertain by making a private bar in the garden. This Robert Dyas shed will hold your garden furniture in the winter, then open out into a bar for garden parties and alfresco sundowners in the summer months. Hang herbs from the roof, handy for cocktail hour.


Courtyard garden with container plants and woven garden chair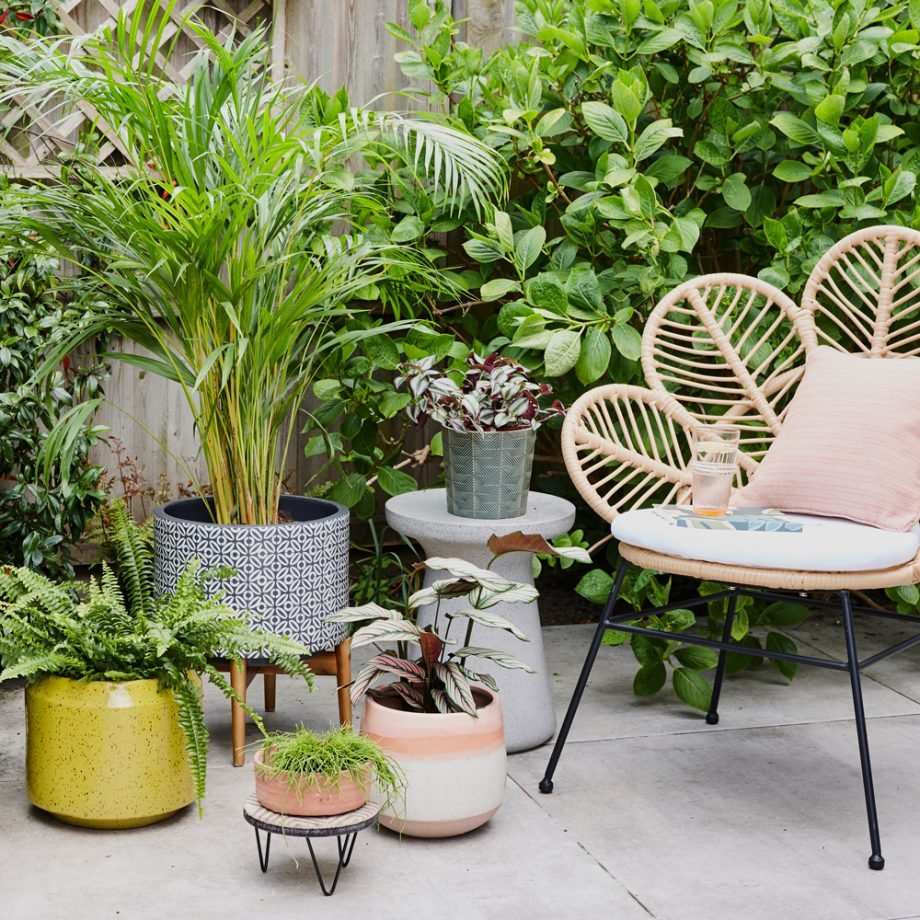 Instead of spreading out container pots, make a greater impact by clustering them into groups. Arrange them at varying heights to create pockets of greenery around a patio or courtyard area.


Outdoor seating area with modern pergola and decorative accessories


Zone a seating area with a modern wooden structure. Add a roof of rush matting or train climbers up it to provide shade. Take your indoor style out with decorative rugs and cushions.


Outdoor kitchen with tiled splashback, shelves and storage baskets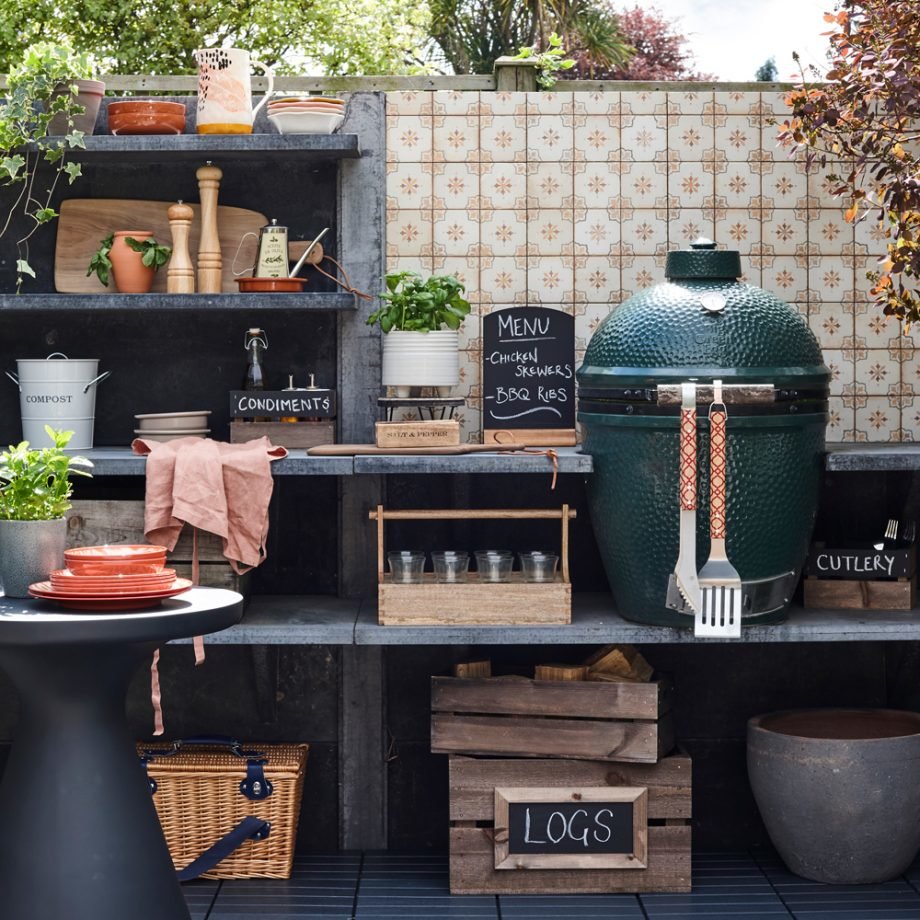 Outdoor kitchens are becoming evermore popular. Get on board with your own version. If you go in for barbecuing in a big way, adding a surface and shelves will let you prep and cook without to-ing and fro-ing indoors. Mount leftover tiles onto thick ply to create a temporary splashback for your outdoor kitchen.


Outdoor fireplace with white linen sofa and wooden coffee table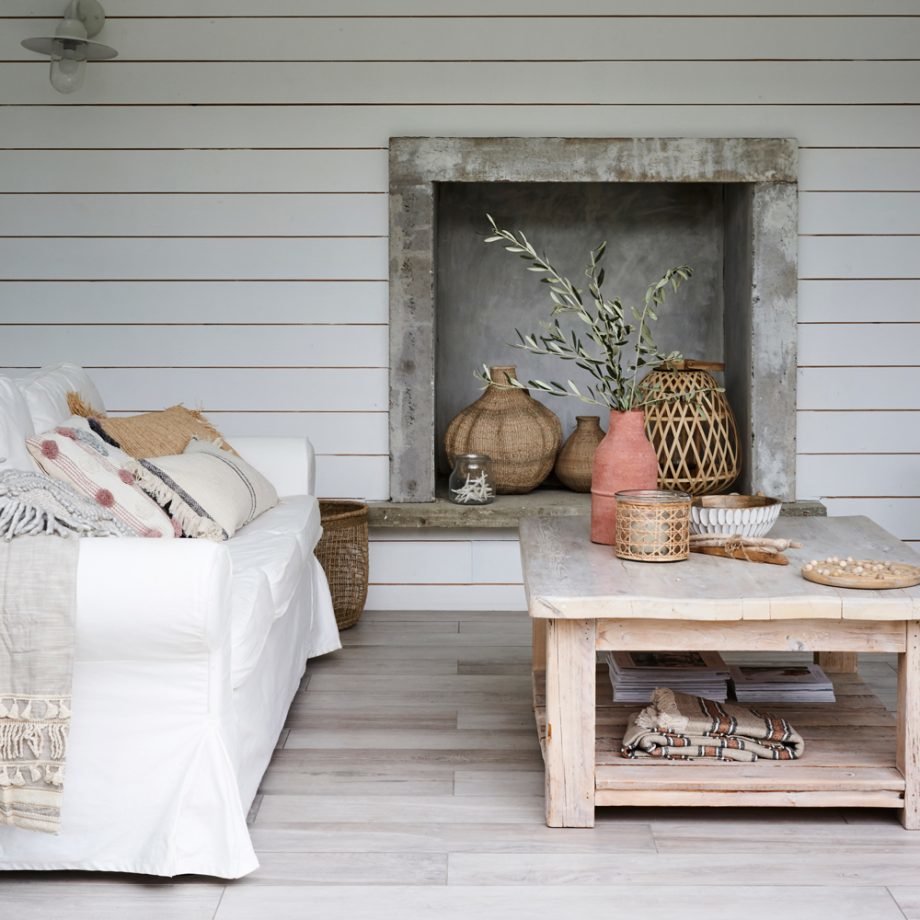 Connect interior spaces to the outdoors by styling the space in a similar manner, with a comfy sofa and practical coffee table. Use a natural colour palette of neutrals with warmer terracotta touches to create the perfect laid-back summer vibe.


Garden decking with leather chair, outdoor rug and textured accessories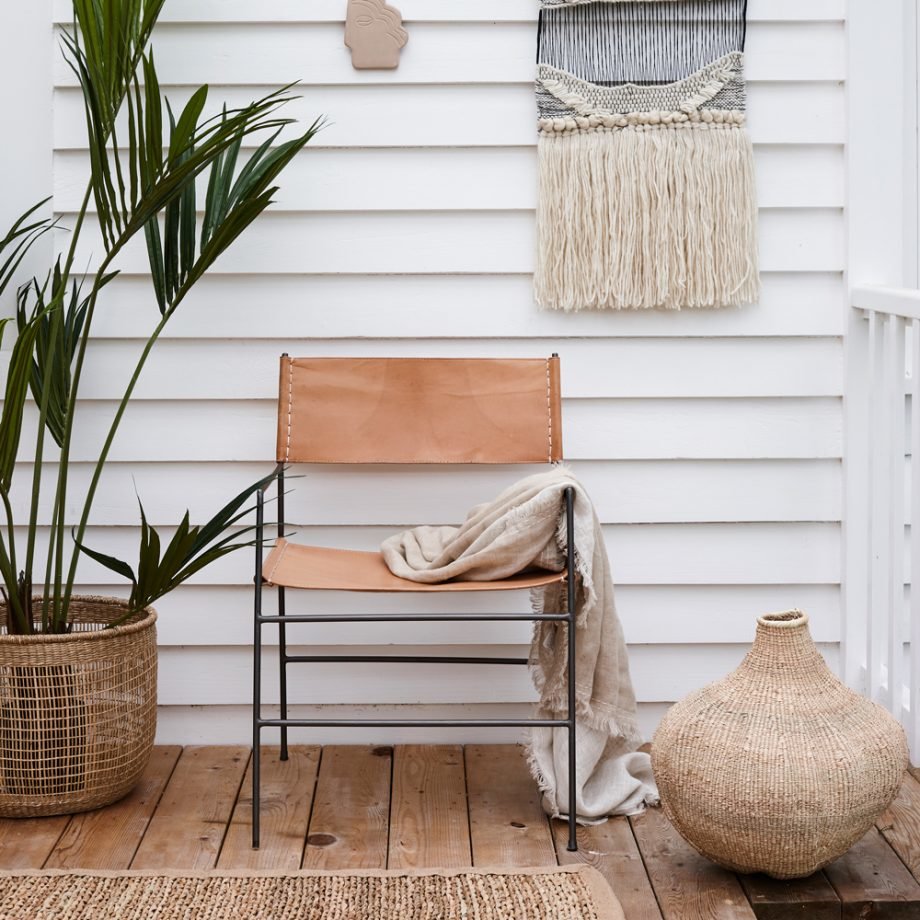 Dress garden decking with stylish textural accessories. Opt for decorative accessories that can be easily popped inside should it rain. Layering woven baskets and macramé wall hangings creates a rustic, laid-back global vibe.


Tiki-style garden bar with bar stools and paper lantern lights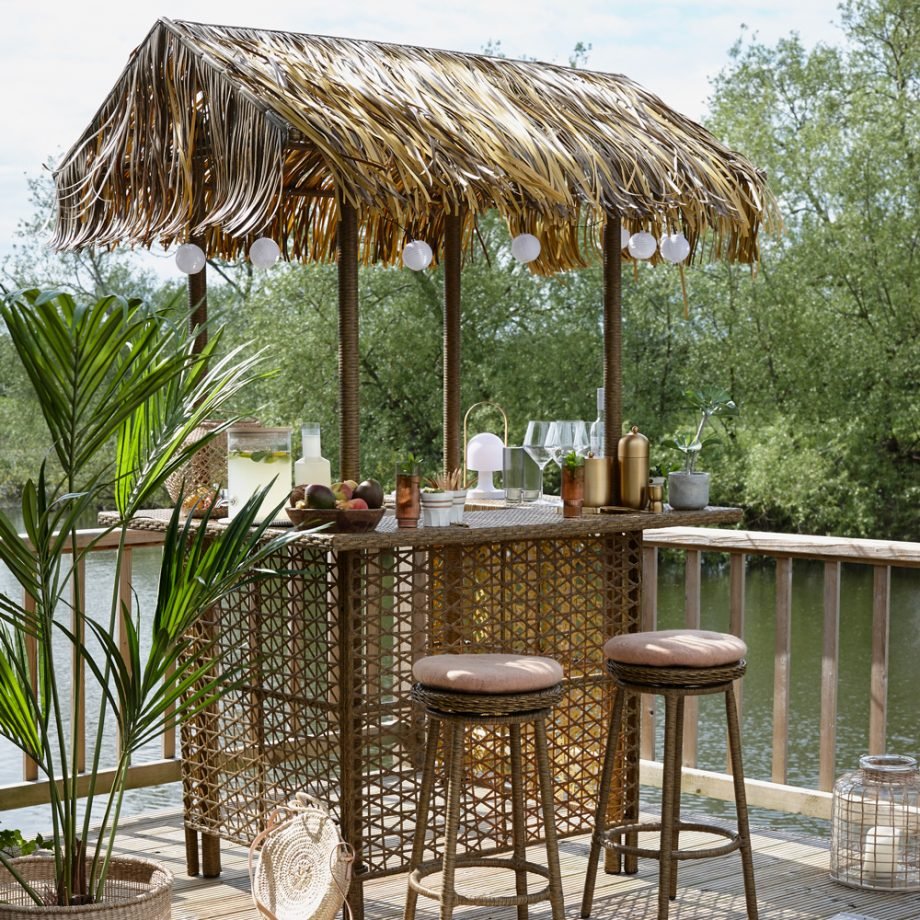 Create a serving station in your own garden. An off-the-peg bar provides a surface for food and drinks, alongside a seating area. Just add lanterns, a rug and container plants to make it more of an intimate space.


Patio with hanging chair and floor cushions for relaxing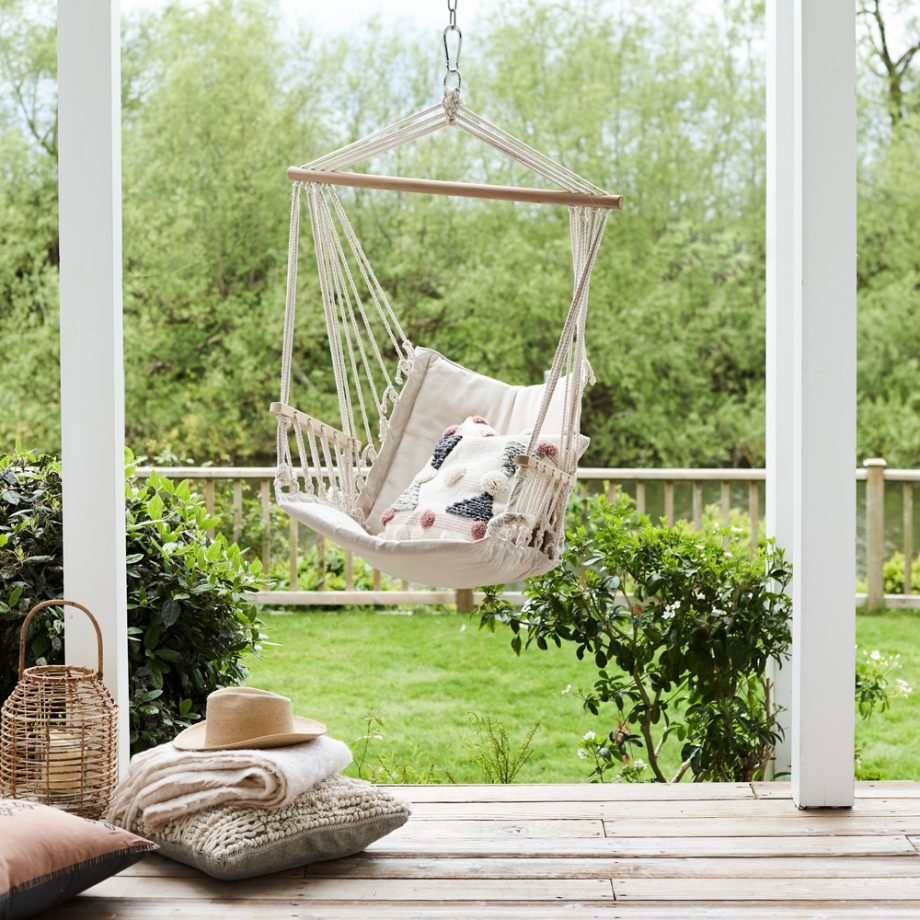 Get away from it all with an on-trend hanging chair suspended over a patio area. The swinging chair provides the perfect place to hang out for solo time with a good book. Alternatively floor cushions allow for an afternoon snooze on the deck, in the sunshine.


Courtyard garden with bench seating, garden mirror and festoon lights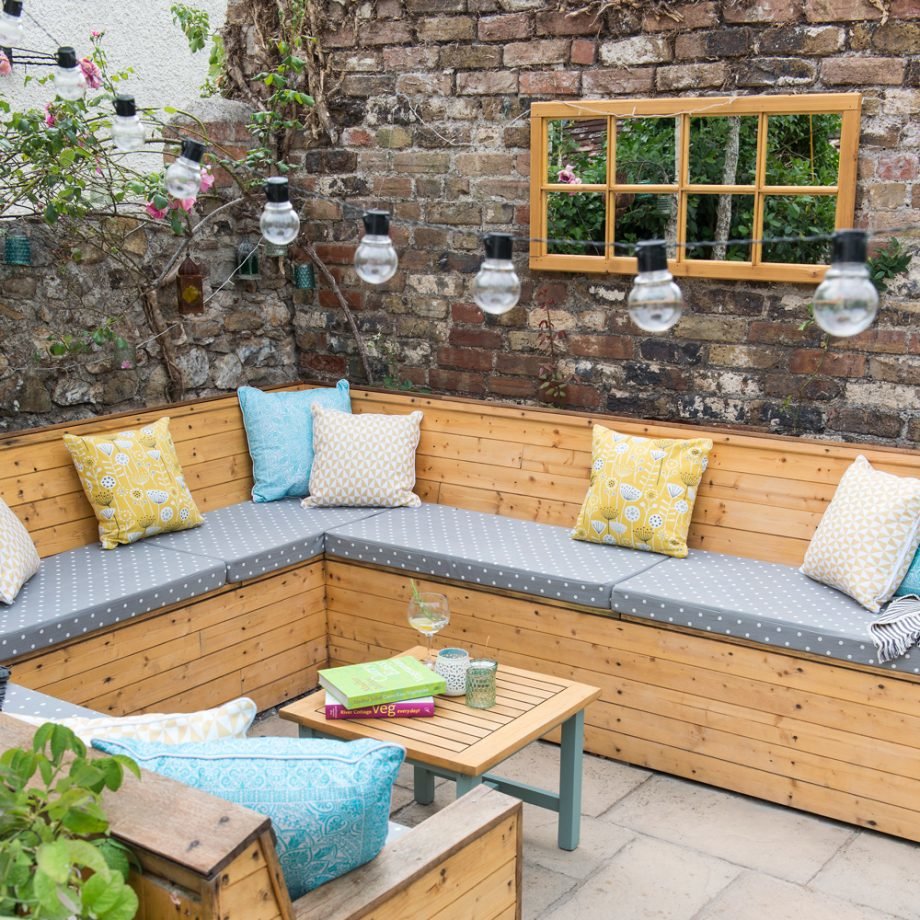 This courtyard garden features a number of decorative flourishes to make the space look its best. Those include a bench seat dressed with colourful outdoor cushions. A set of on-trend festoon bulb lights. And lastly a garden mirror. All of these help make the space more personal.


Courtyard garden with bench-style corner sofa seating and matching chair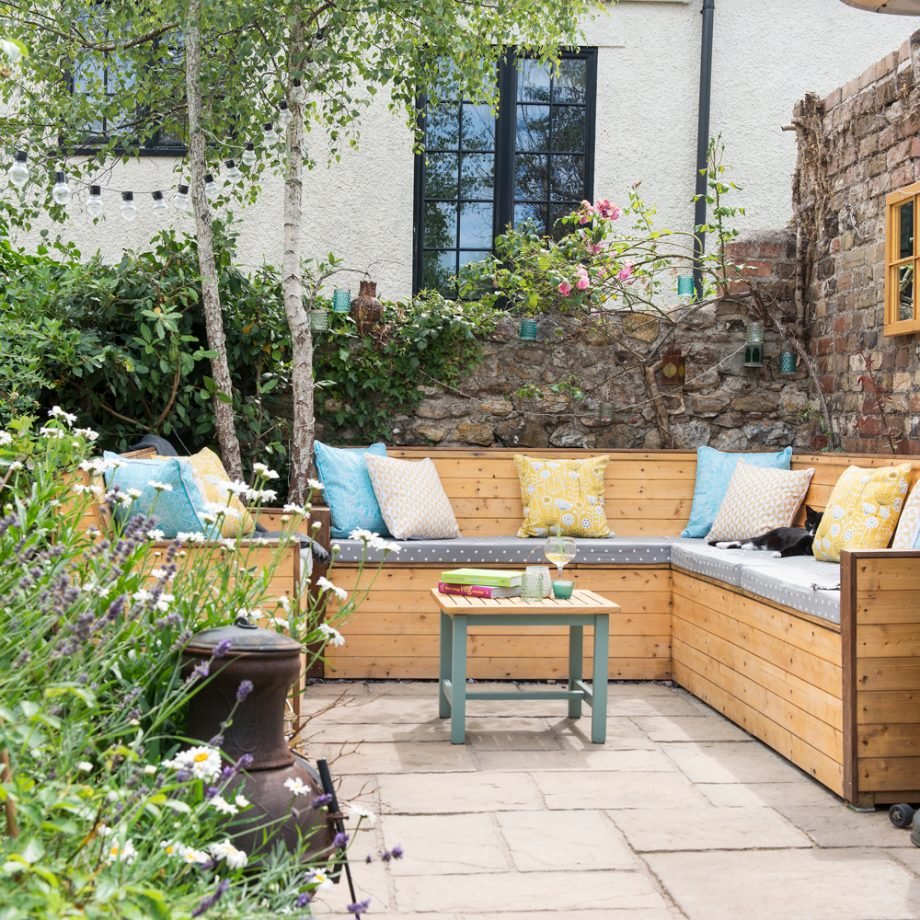 This DIY handmade bench seating has transformed this courtyard garden. The clever corner sofa design uses every inch of space wisely. Better still it's been designed to use as additional garden storage. The bench seating lifts to reveal a hidden storage box beneath. Storing cushions and other garden accessories here makes the most of small garden space.


Outdoor dining area with table and chairs set with pretty fabrics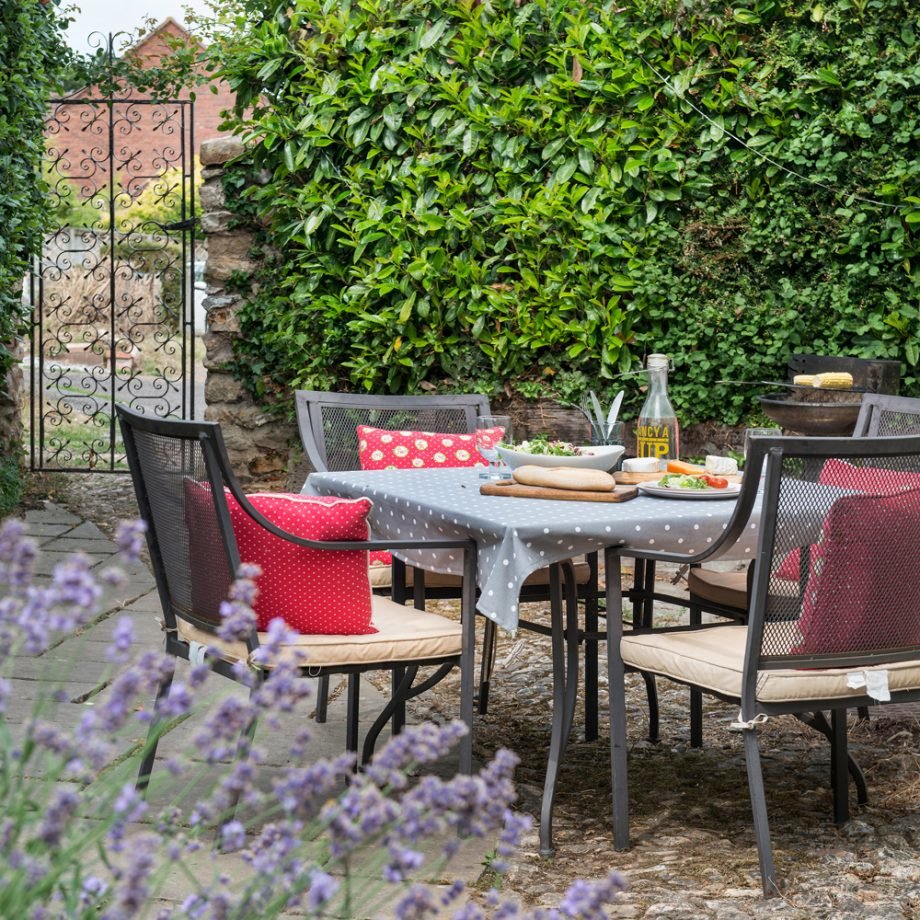 This outdoor dining area has been given a beautifully stylish finish thanks to the addition of pretty fabrics. To create a unique style the owners have used coordinating fabrics to make a tablecloth and cushions.


Garden accessory made from Kilner jar filled fairy lights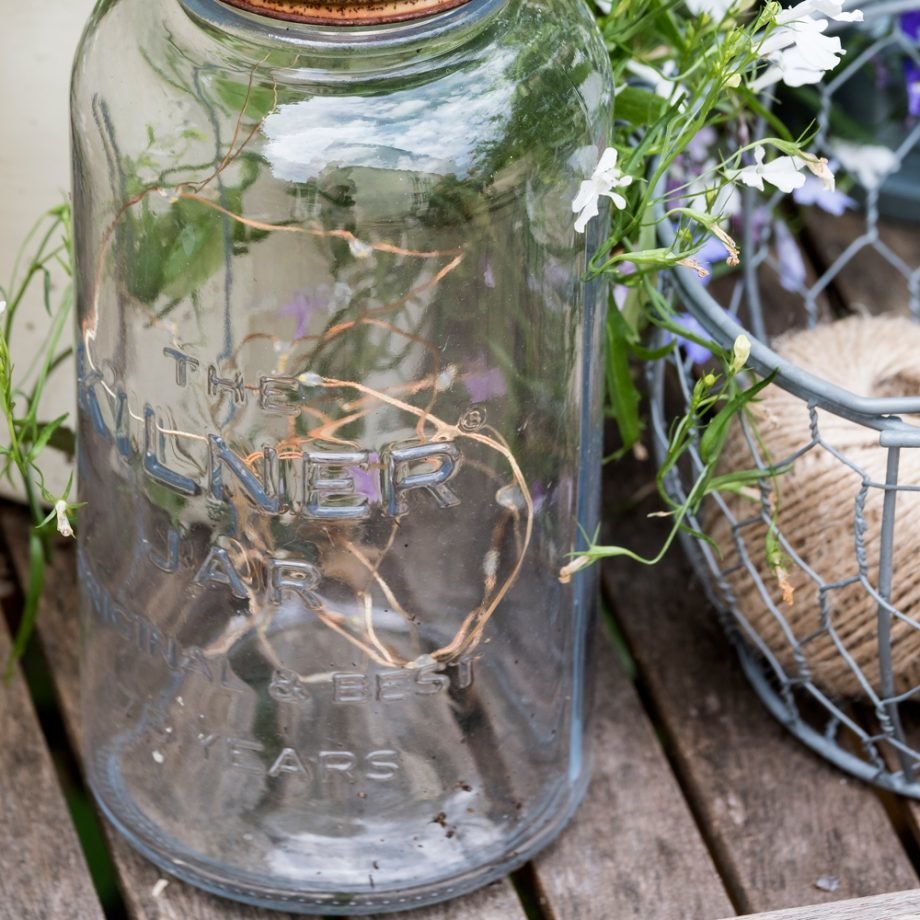 Garden lights help to add ambience. This clever idea is made using a kitchen staple, the Kilner jar, and a set of solar-powered lights. Powered by all day by the sun these dainty lights will cast a pretty glow over gardens after dark.


Evergreen garden with wooden trolley used to display plants and accessories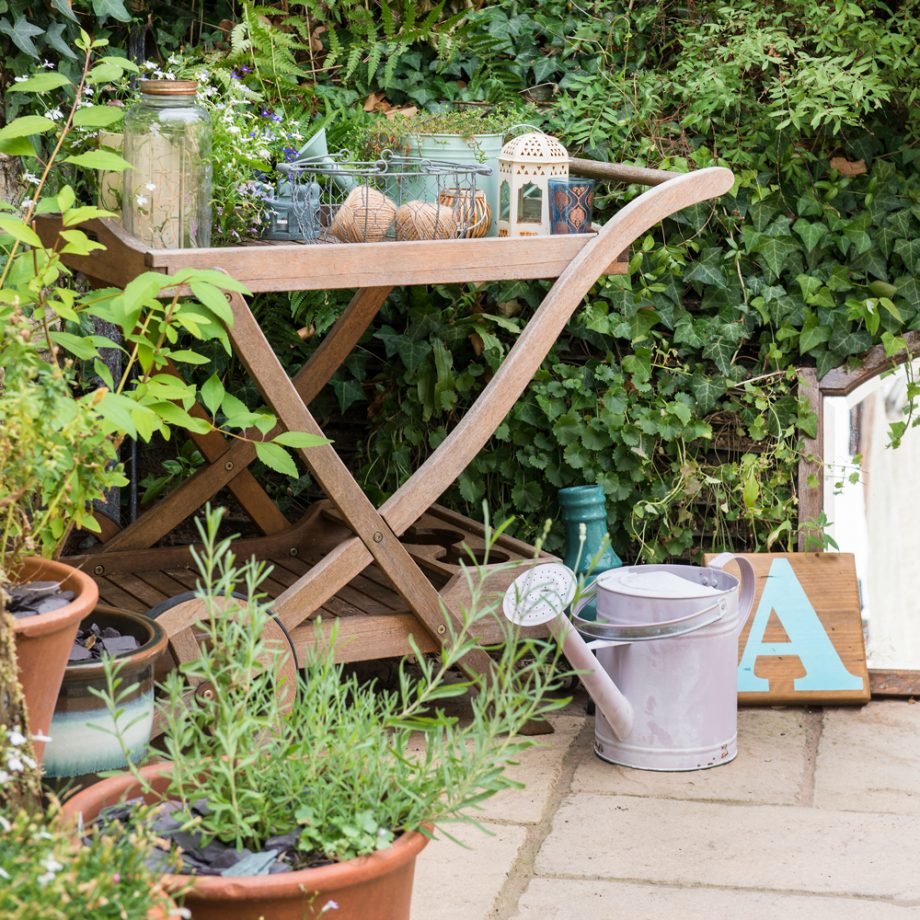 A wooden garden trolley serves up some serious style in this garden. Set against a backdrop of evergreen shrubs the weathered wooden trolley takes centre stage. Providing the perfect spot to showcase potted plants. Added trinkets and garden accessories add a further decorative touch.


Decorative ladder shelving filled with potted plants and accessories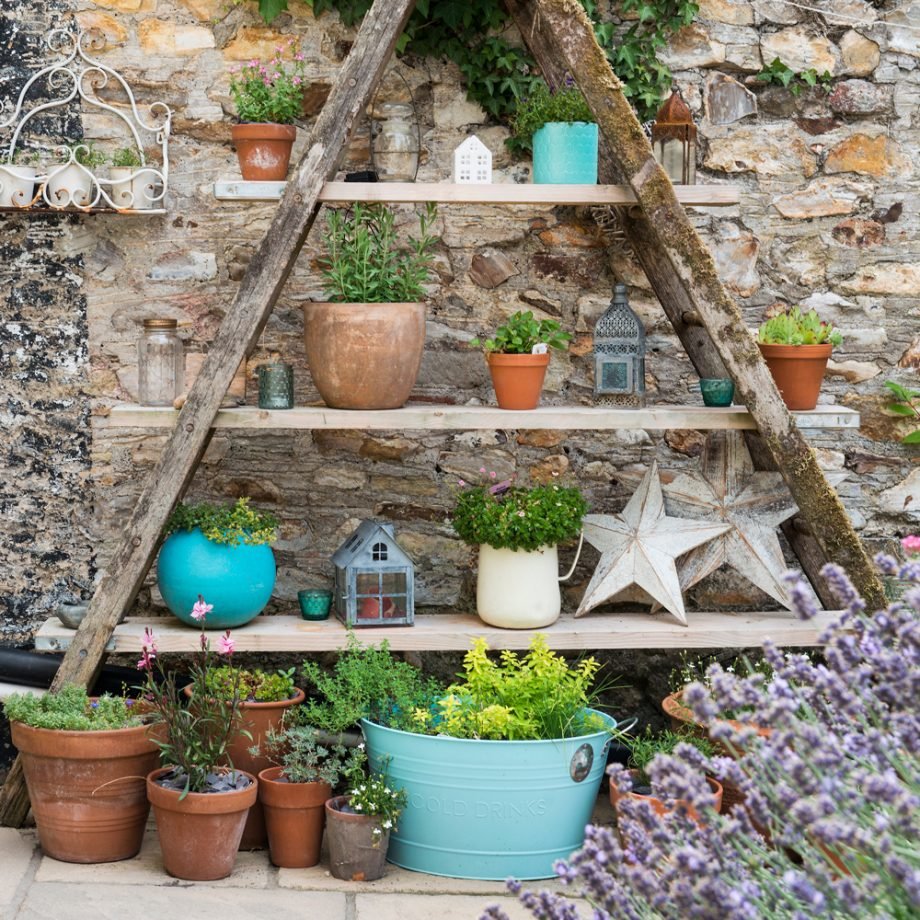 Step up your garden features with the help of decorative ladder shelving. Super easy to make and very effective. These ladder shelves are formed by tying two ladders together at the top. Wooden planks laid across the runs provide the shelves on which to display potted plants, lanterns and decorative accessories.


Country cottage-style patio garden with built-in L-Shaped seating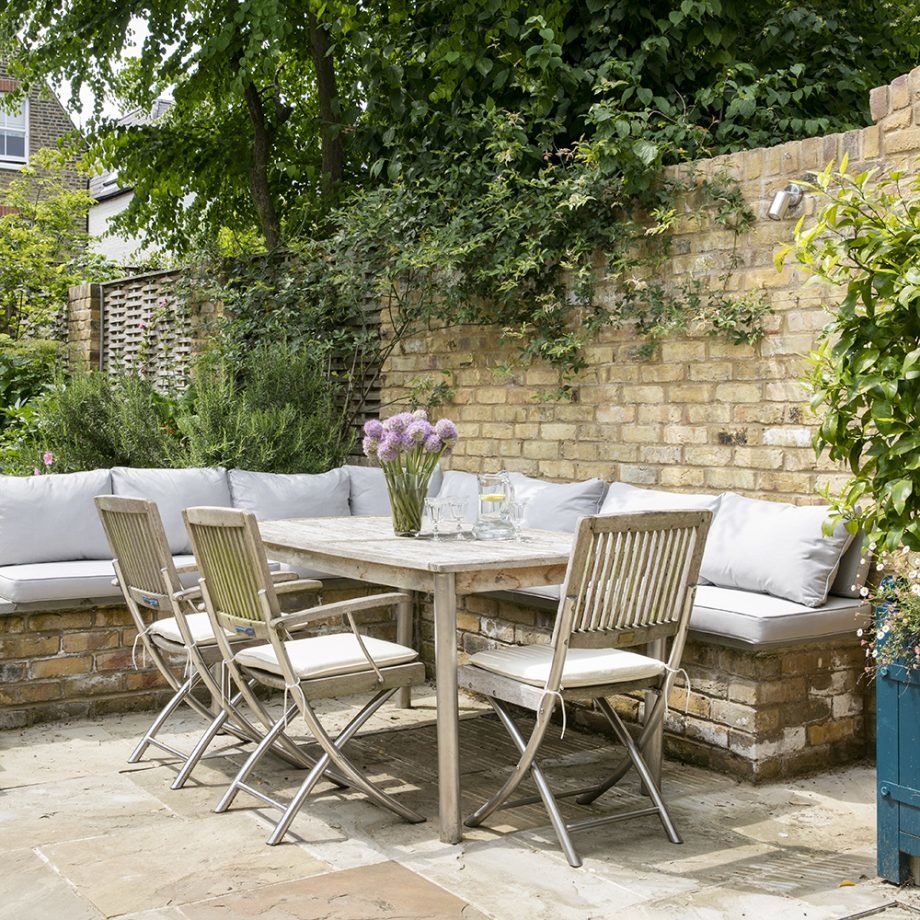 An L-shaped seating area has been built into this patio garden in a pale brick that mimics the colour of the brick wall. A pale wood and metal table and chair set complete the arrangement, with added cushions that provide comfort. A vase of flowers adds a pop of colour to the neutral scheme.


Large country garden with sweeping lawn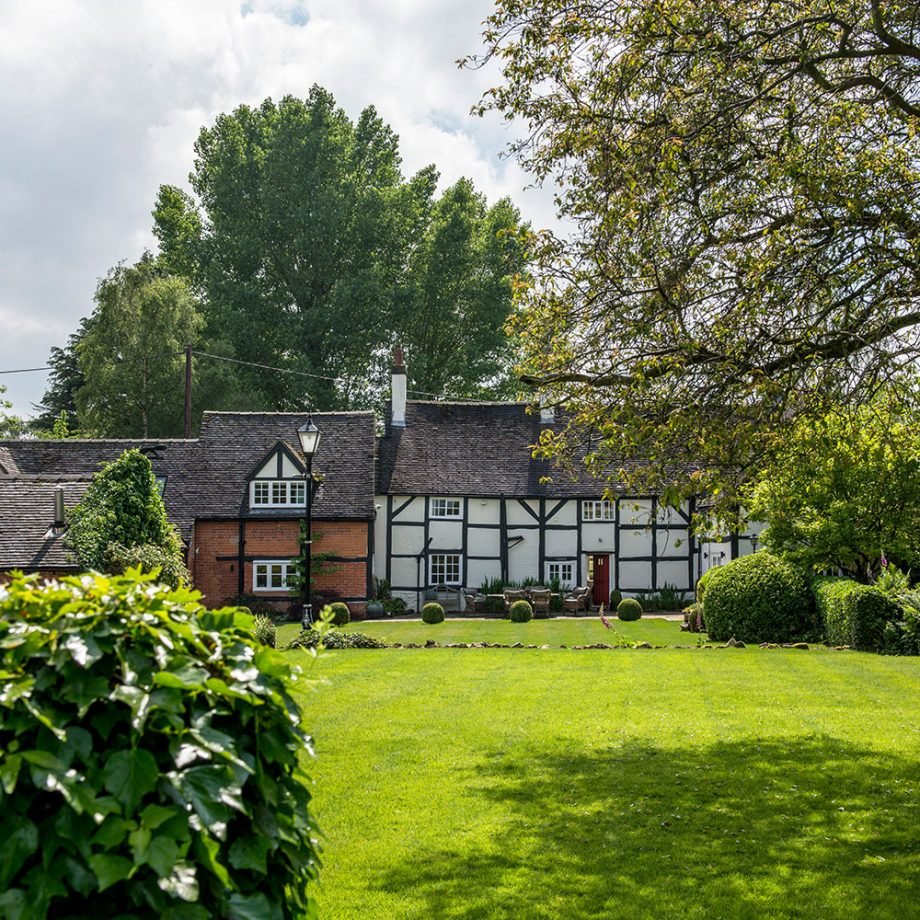 This beautiful country house benefits from a large expanse of lawn. The grass is in excellent condition, but the garden doesn't have an overly manicured look, with large trees and shrubs running along its edges. Close to the house, the owners have gone in for some topiary with small bushes carved into a neat round shape.


Garden dining area with Moroccan-inspired textiles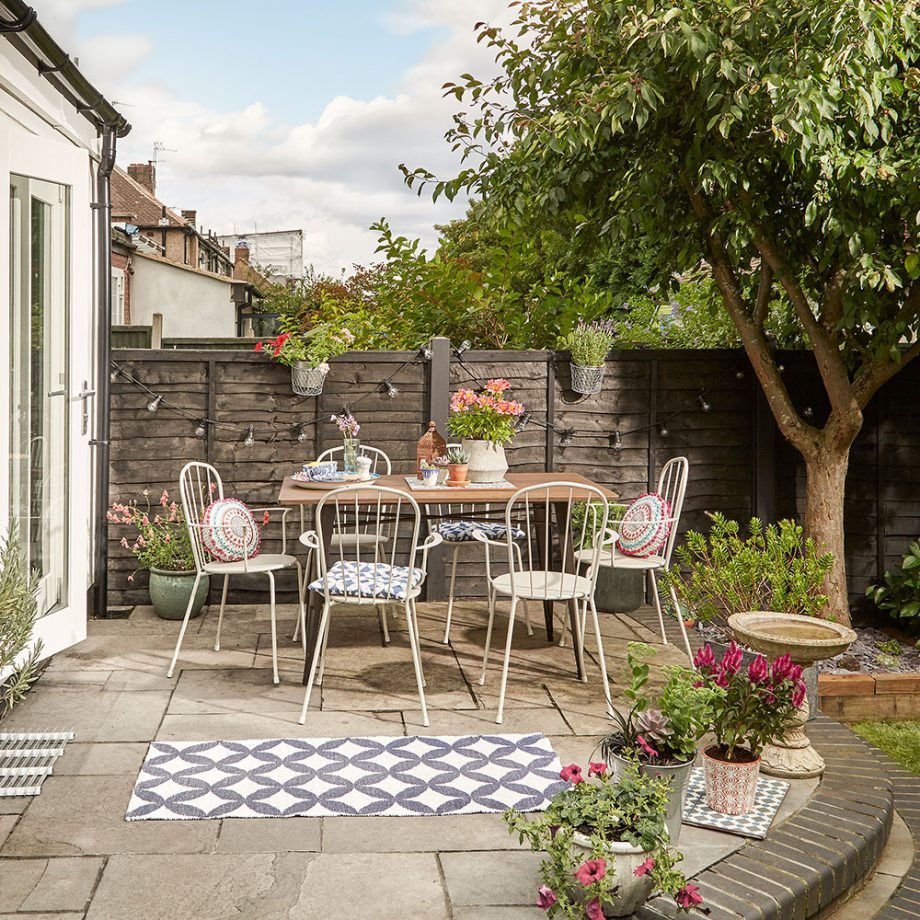 Create a vibrant outdoor dining space with accessories that work equally well indoors as outdoors. Not only will they up the comfort factor, but they will add beautiful hits of colour, too. Here, a mix of Moroccan-style prints lends an exotic feel to the space.


Classic garden with neutral painted shed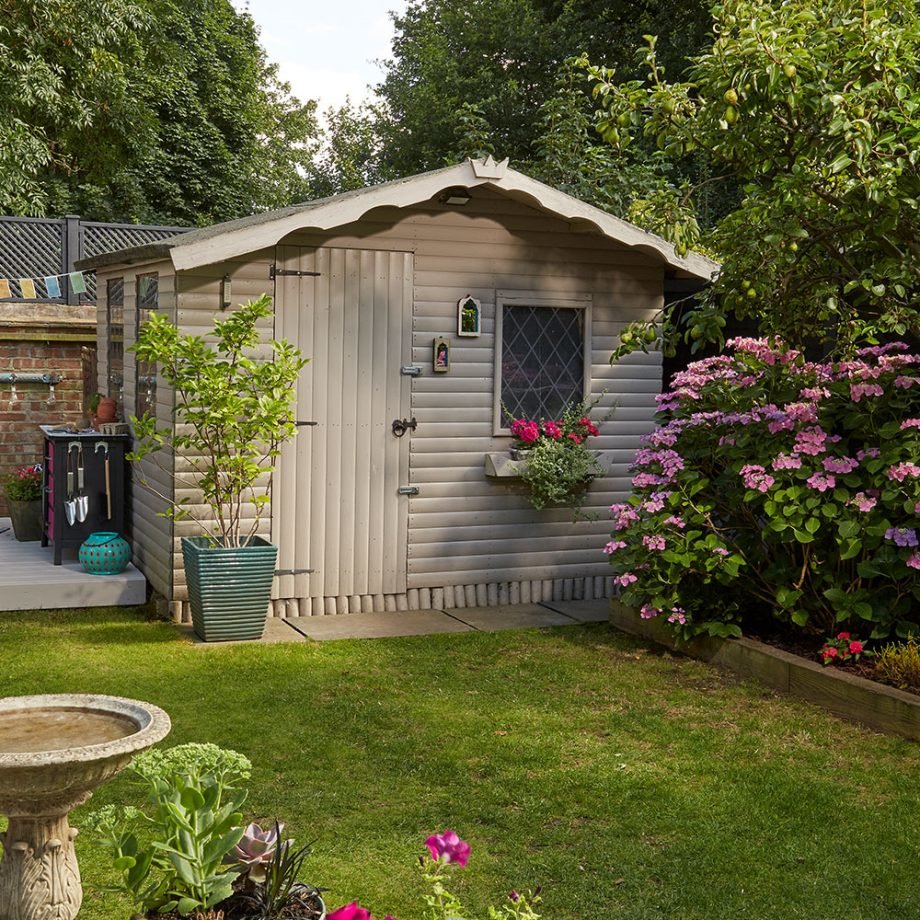 If your shed is looking a little run-down, why not give it a refresh with a coat of paint? If you want your structure to be unobtrusive but smart, choose a neutral colour for your garden. This earthy shade has a very natural look about it, which sits well with all the plant life in the garden.