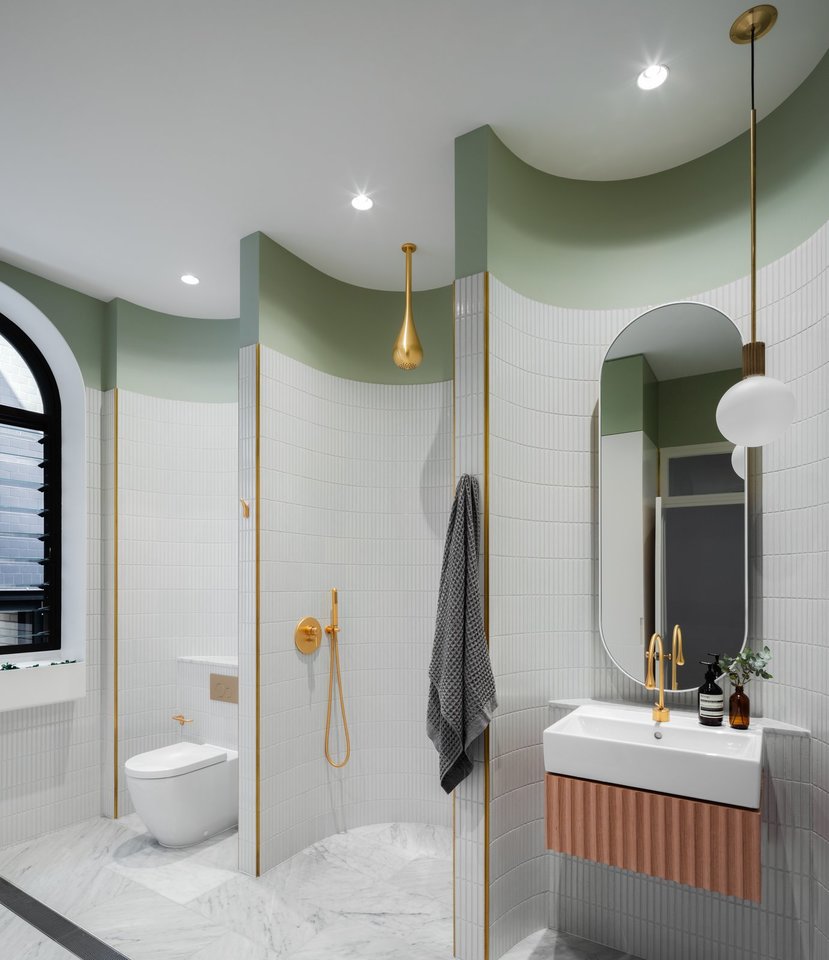 From showstopping tile work to Japanese soaking tubs, the nominees for Best Bathroom in the 2020 Dwell Design Awards make a big splash with a small footprint. Take a tour of the spaces below, and then vote for your favorite before December 16.

Humble Materials Get an Elevated Treatment in a '70s-Inspired Home in Cape Town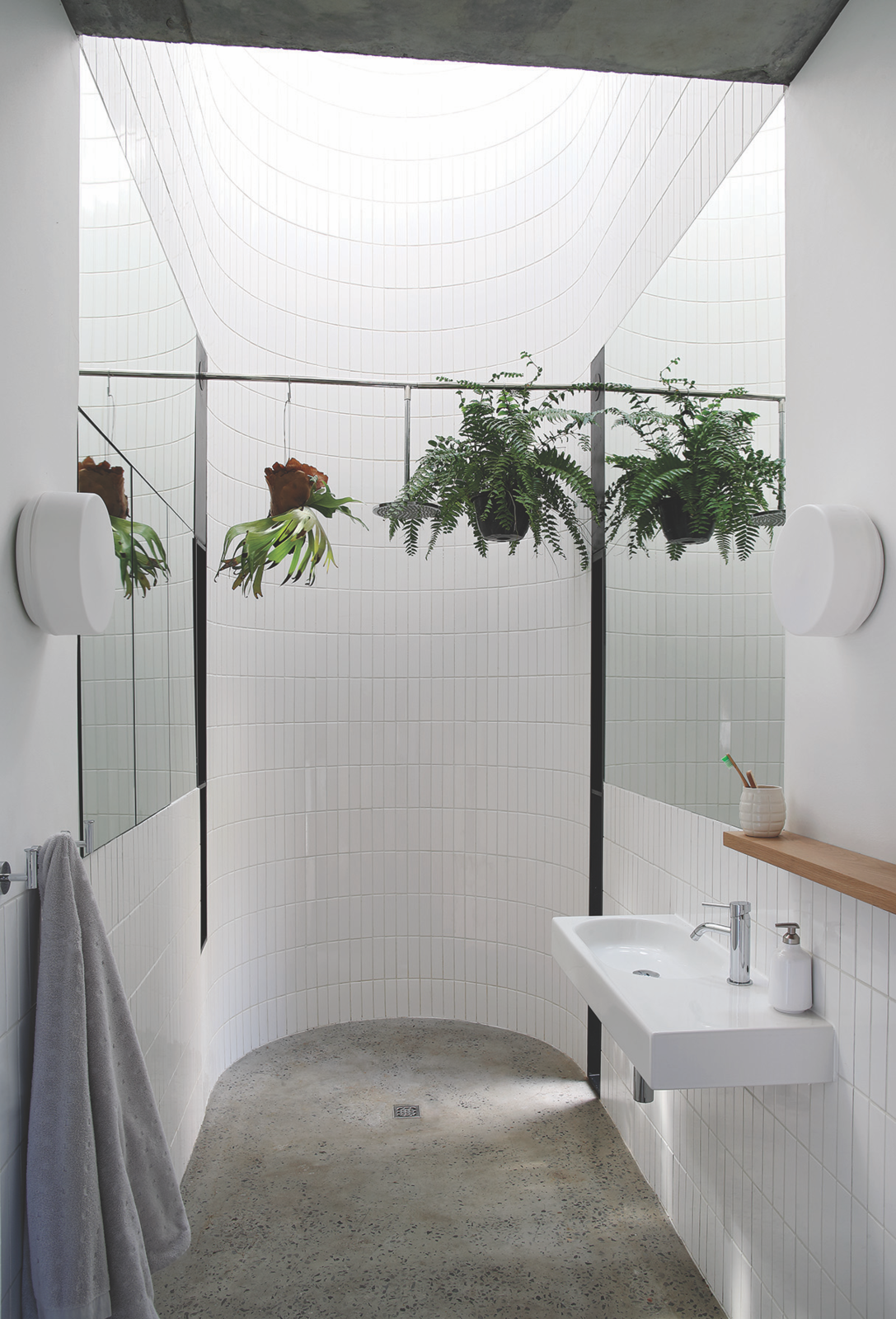 In the en suite bath on the second floor, a concrete floor gives way to a round, tiled, double-height space that culminates in a skylight. Plants hang on either side of a custom showerhead from Still Bathrooms. The faucet is from Crestial, and the pendants are from Spazio Lighting.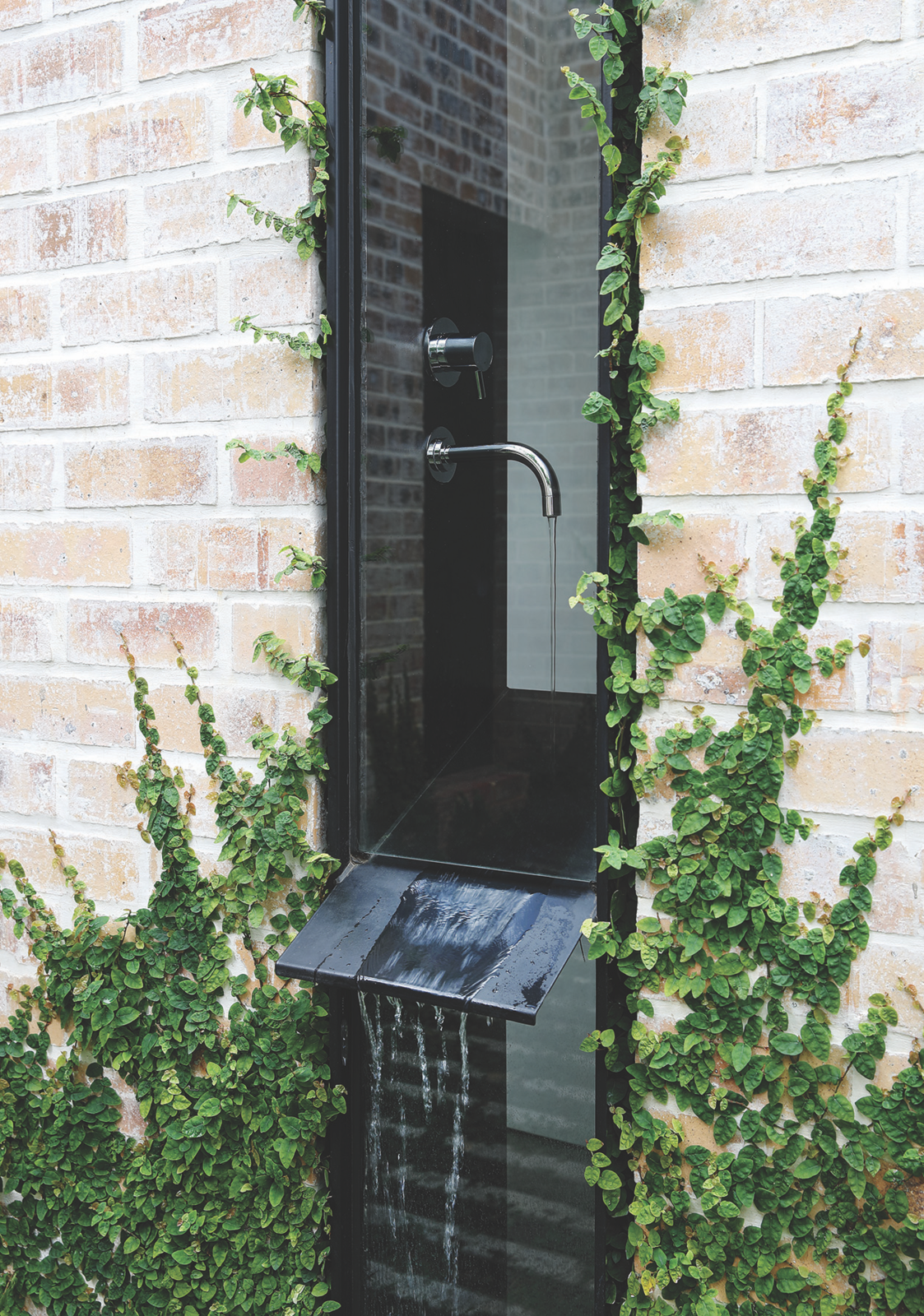 "There are so many things Michael considered that make the space quite incredible to be in," Clint says. Case in point: the bathrooms. "They're small spaces, so if you want to do something wacky, that's the place," adds Lumby. The downstairs bathroom features a sink with a Crestial faucet in the windowsill. Water runs down an angled pane and into the garden.


Delightful Curves Abound in This Revamped Cottage in Sydney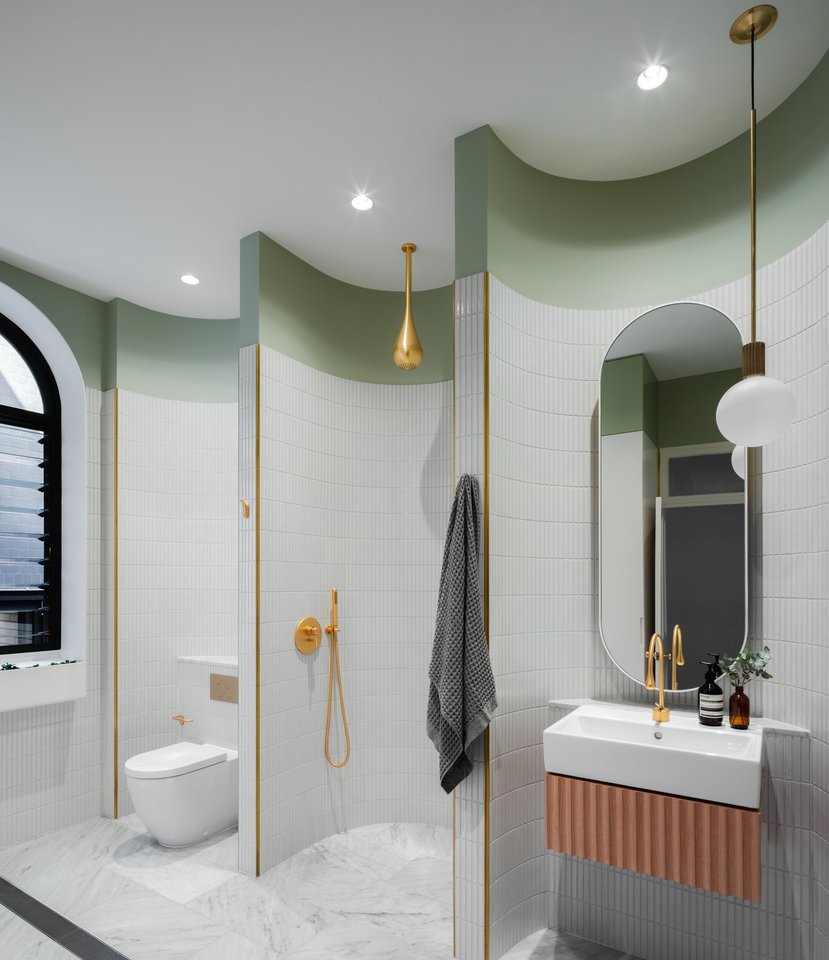 The spacious main bathroom (a former bedroom), joins marble, brass, and green elements. It is innovative for its use of "micro-spaces" that are subdivided and contained within the scalloping of the rear wall. They are meant to make each element feel special and separate, dividing a large room into smaller spaces that "hug you as you use them."


A Black-Gabled Farmhouse Harvests Its Own Electricity, Heat, and Water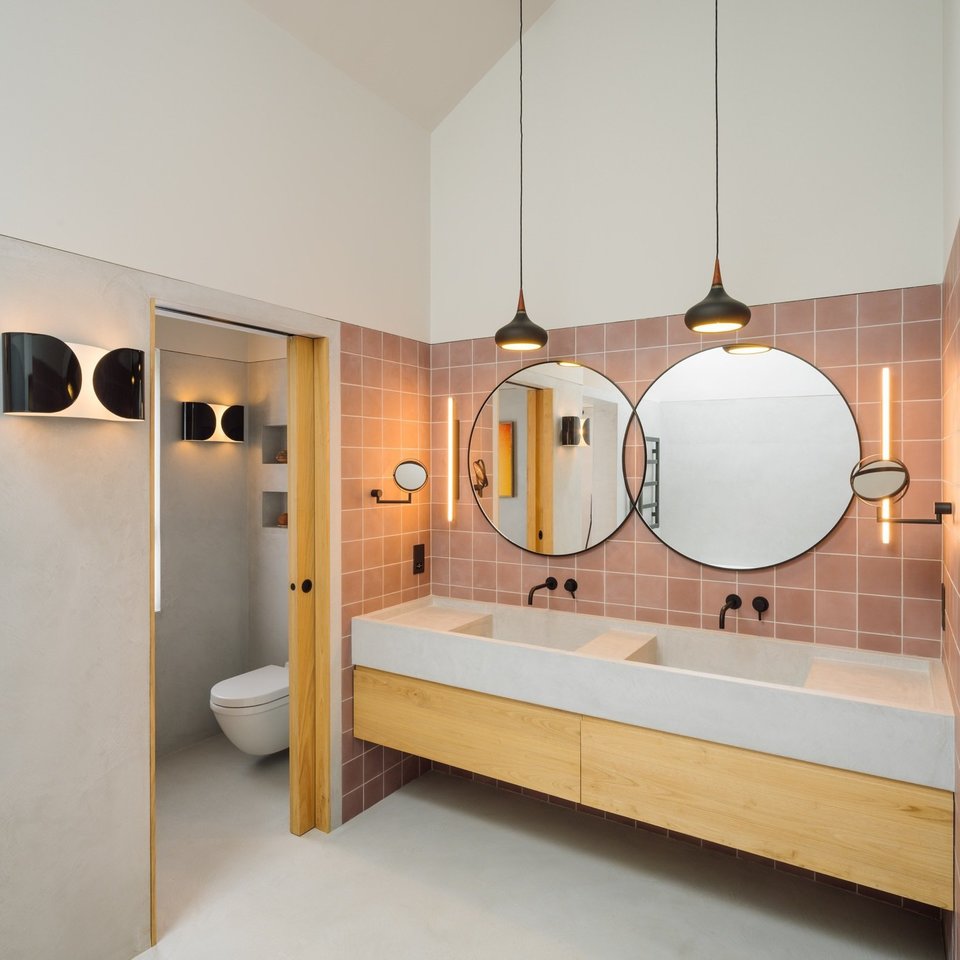 Each bathroom in the home has a different colored set of encaustic tiles from MOSAIC factory. Pictured here in the primary bath are FLOS Foglio Wall Scones in Steel by Tobia Scarpa with a custom mirror designed in memory of the great Italian architect Carlo Scarpa.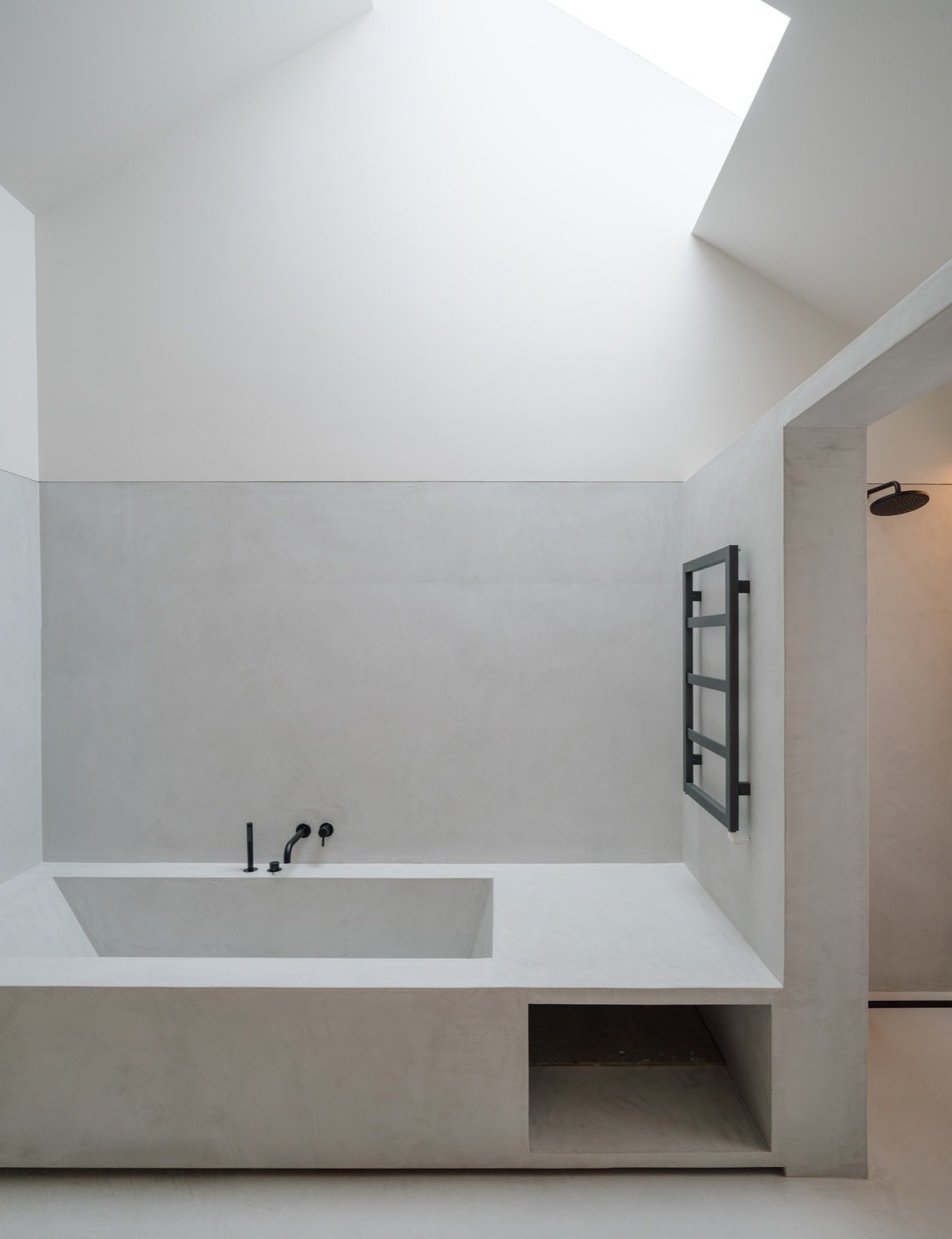 The bespoke tubs and basins are handmade and finished in light gray Mortex that matches the Pergaminho limestone floors.


An Art-Collecting Couple's L.A. Home Is a Masterpiece in Its Own Right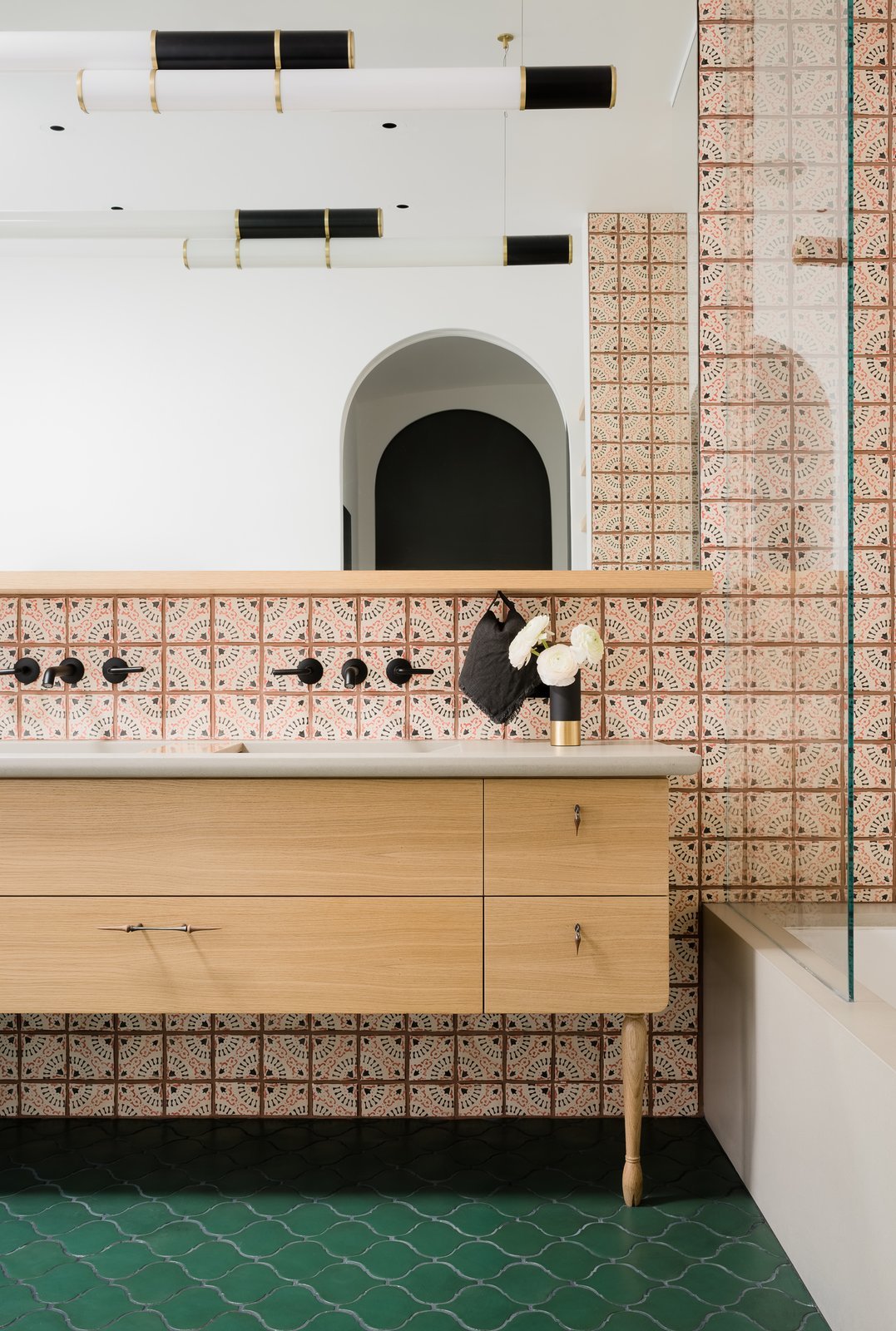 The primary bathroom features arabesque terra-cotta tiles from Tabaraka Studios in a brilliant shade of green. The custom vanity has a concrete countertop with an integrated sink from Concreteworks and hardware from Marion Cage. The playful wall tiles are also from Tabarka Studios: Paris Metro #14 in charcoal and paprika. The turned leg is based on the turned column detail by the front door.


This Eco-Friendly Home Wears the South-African Bush as Camouflage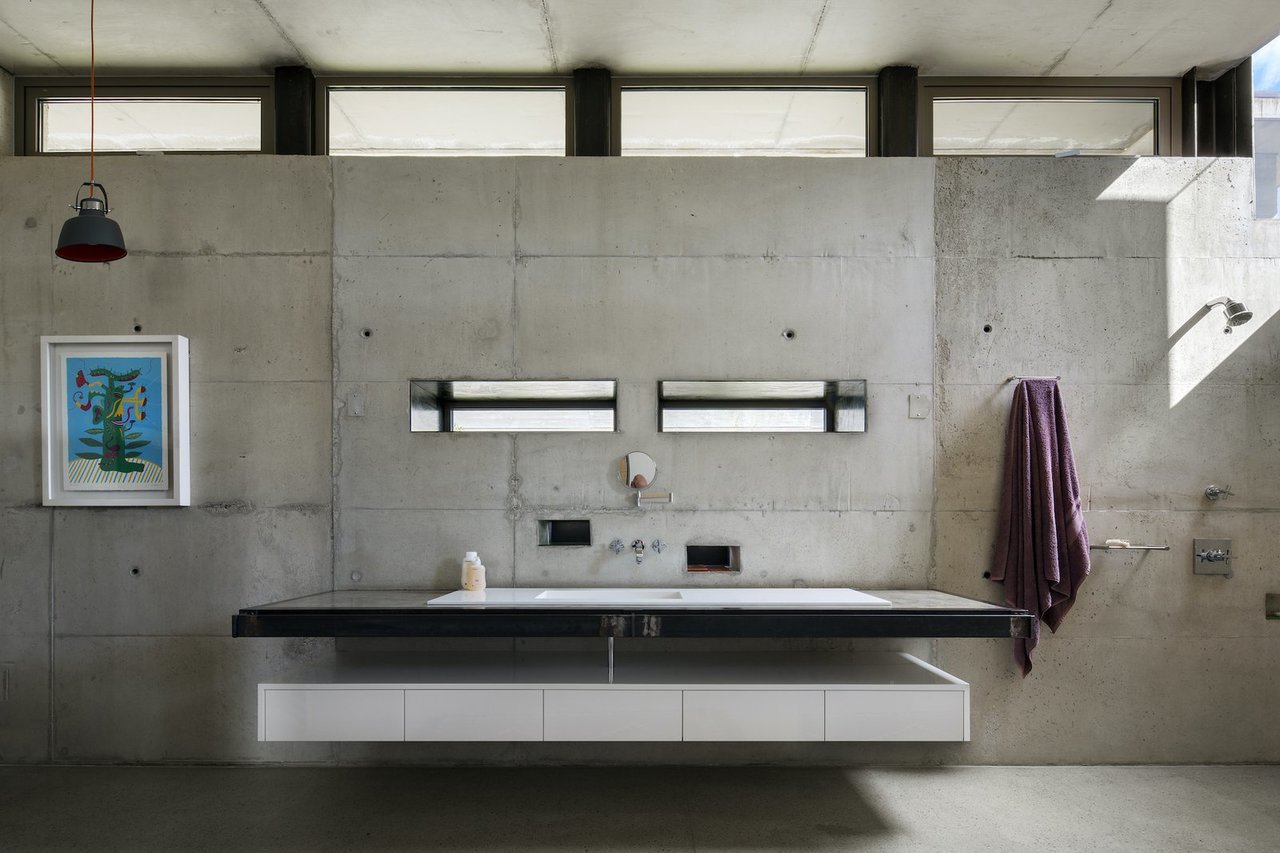 The bathroom countertops are crafted from concrete, which was cast on-site and polished.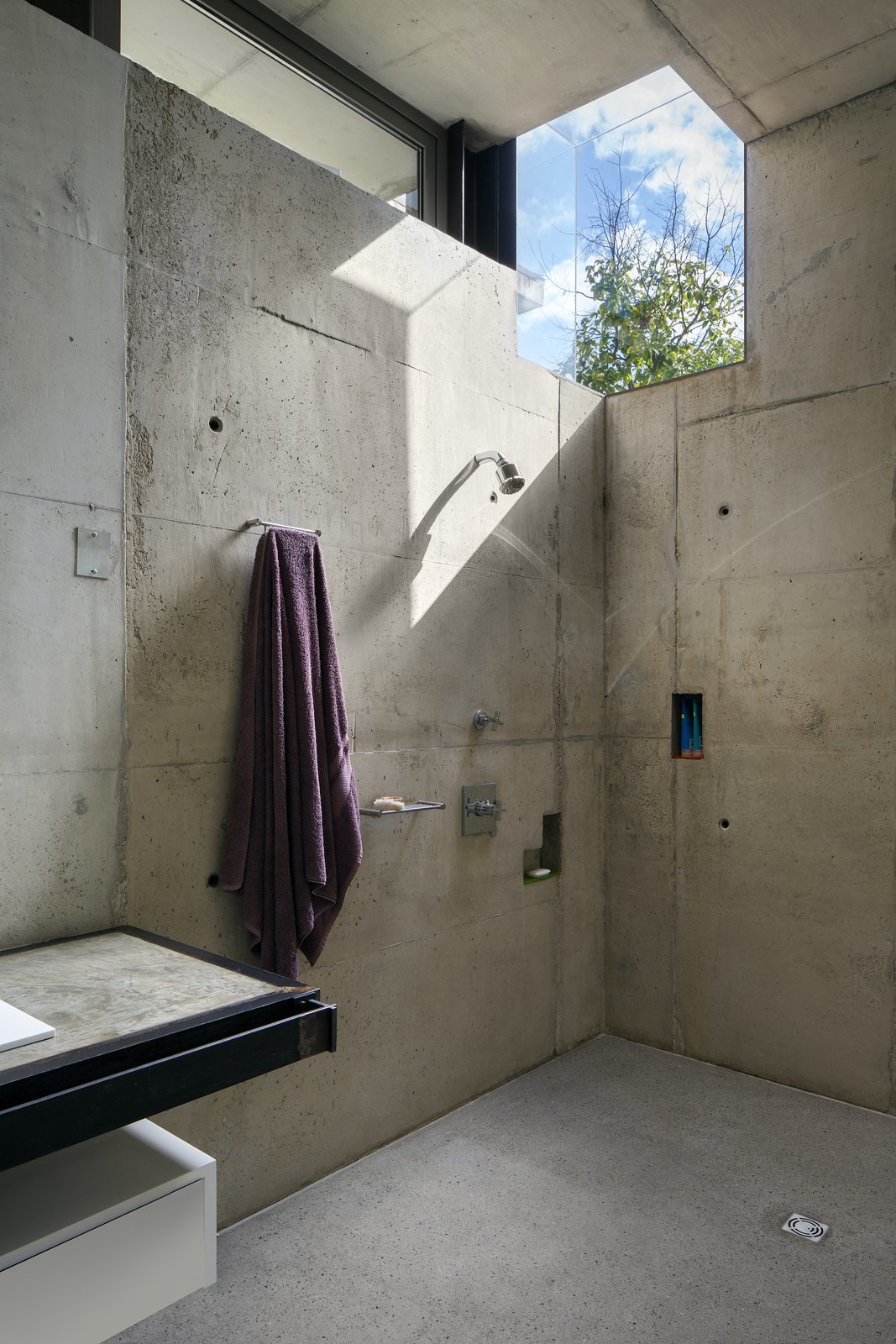 The glazed corner detail allows natural light to flood the shower in the primary bathroom.


A Pair of Filmmakers Give Their San Francisco Edwardian a Sensuous Edit


The girls share a bathroom with exquisite botanical tiles by London studio Glithero. A team of Dutch craftspeople use pressed weeds to create organic compositions that are eventually traced onto the tiles in charcoal. "I'll just stop in the hallway and find myself staring at those tiles," says the wife. "There are a couple moments in this house that are definitely art; it just happens to be functional."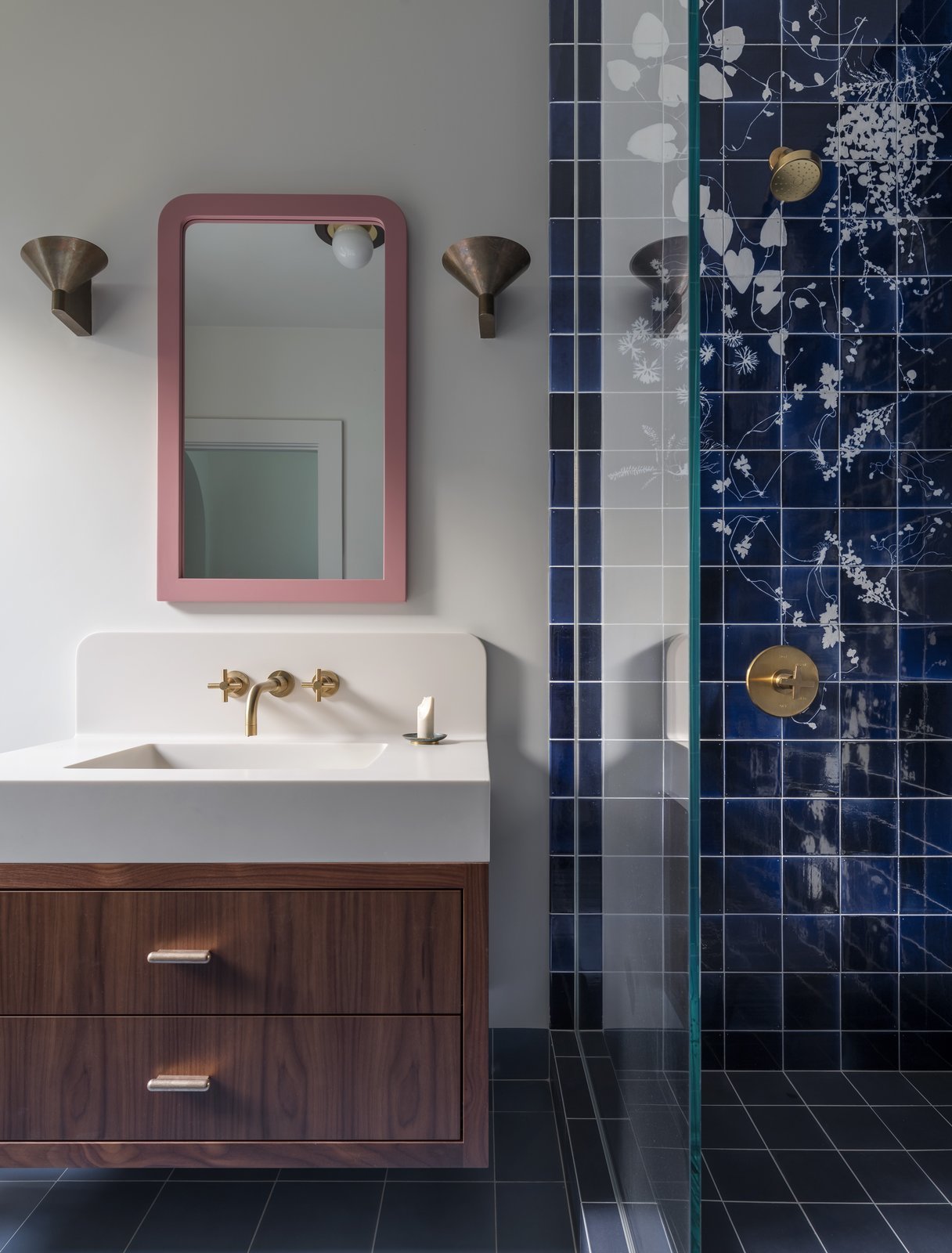 The team also custom-designed a vanity.


A Concrete Guesthouse in Upstate New York Is Decidedly "Bunker Chic"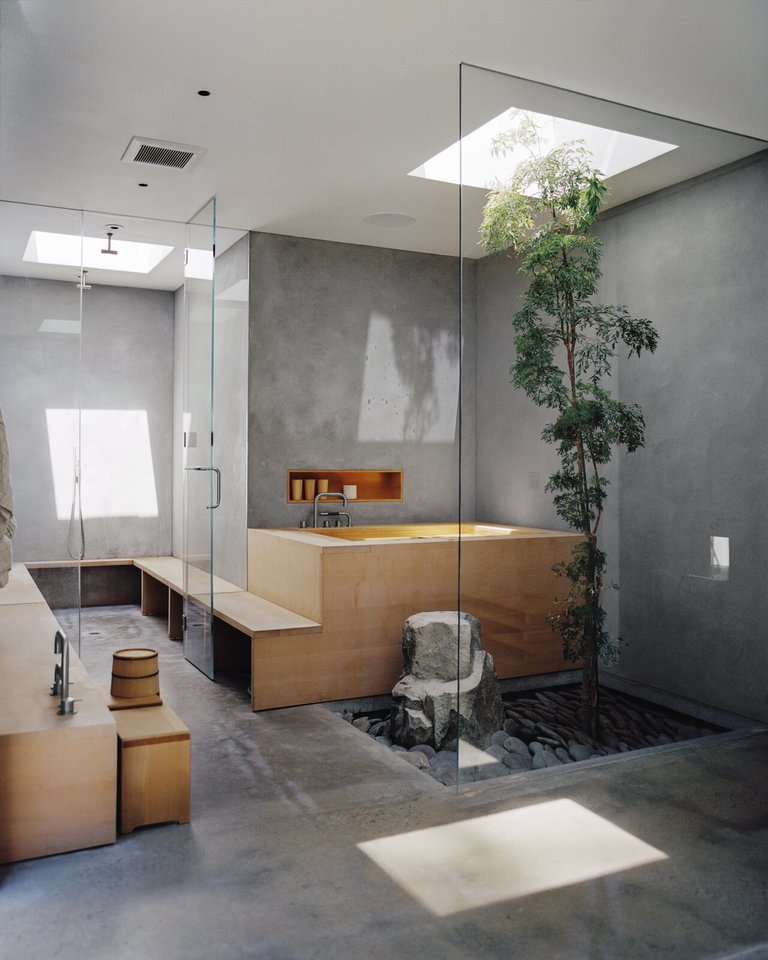 An homage to Japanese culture, the bathing area includes a steam room and a custom hinoki ofuro (soaking tub) next to a Ming aralia tree. "The house is very particular, and in some ways it's very 'designed,' but it's also really informal," says designer Stella Betts.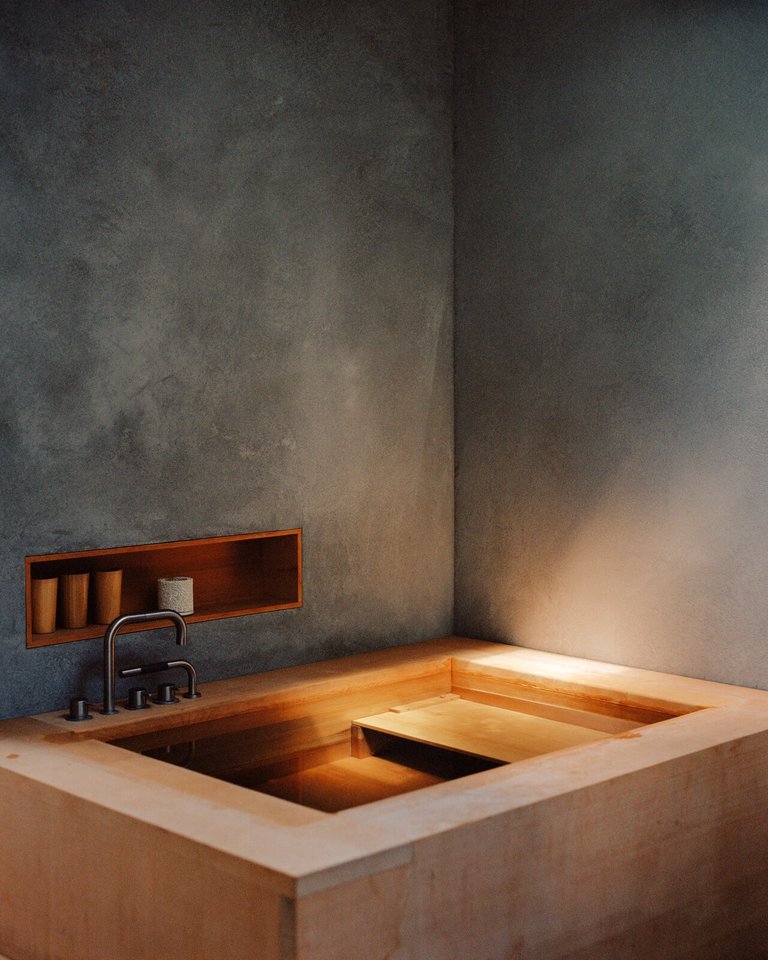 The connection between the interior and the landscape runs throughout the house.


A São Paulo Home Welcomes Guests With an Invitingly Breezy Brutalism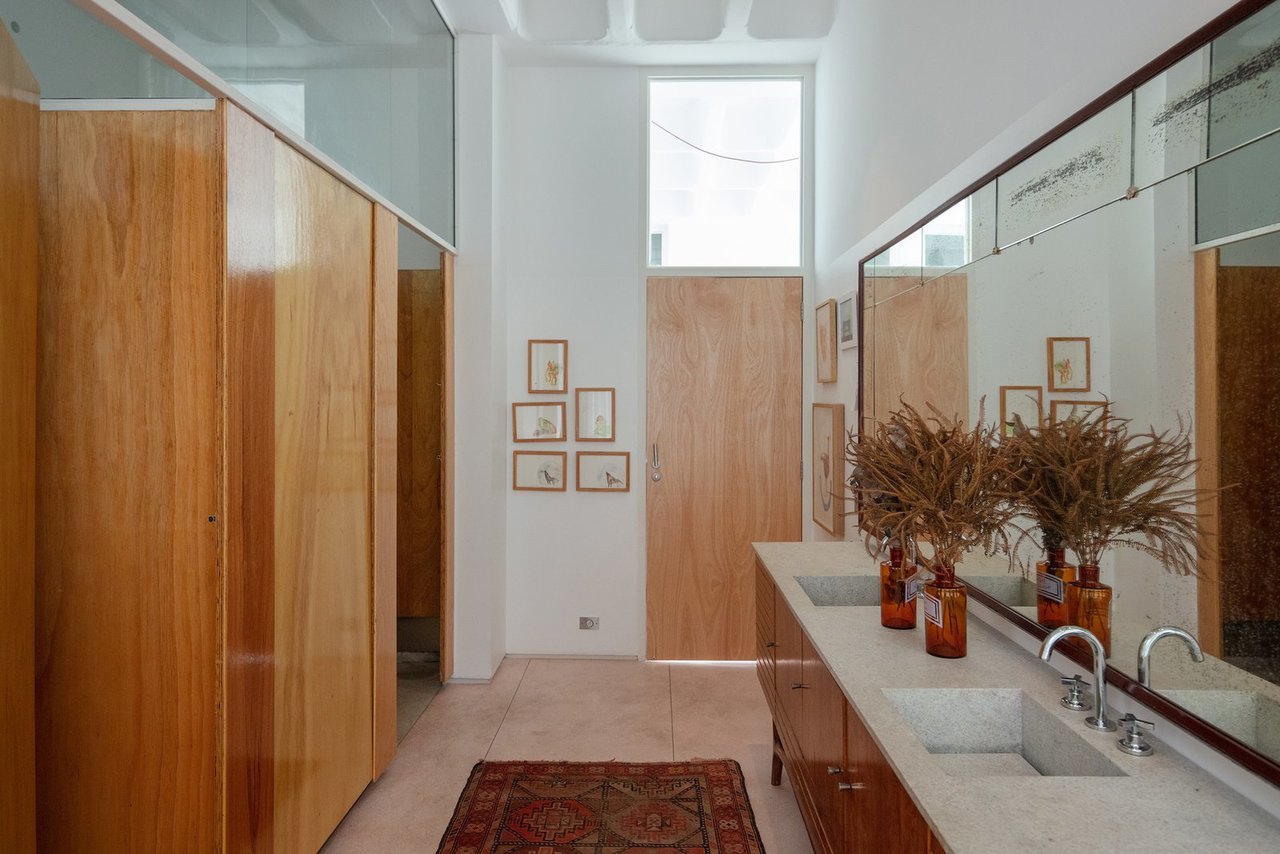 Three bedrooms-one large, one medium, and one small-sit across from a shared bathroom that Tito calls a "locker room," though with polished marine-grade plywood doors, it's far better appointed.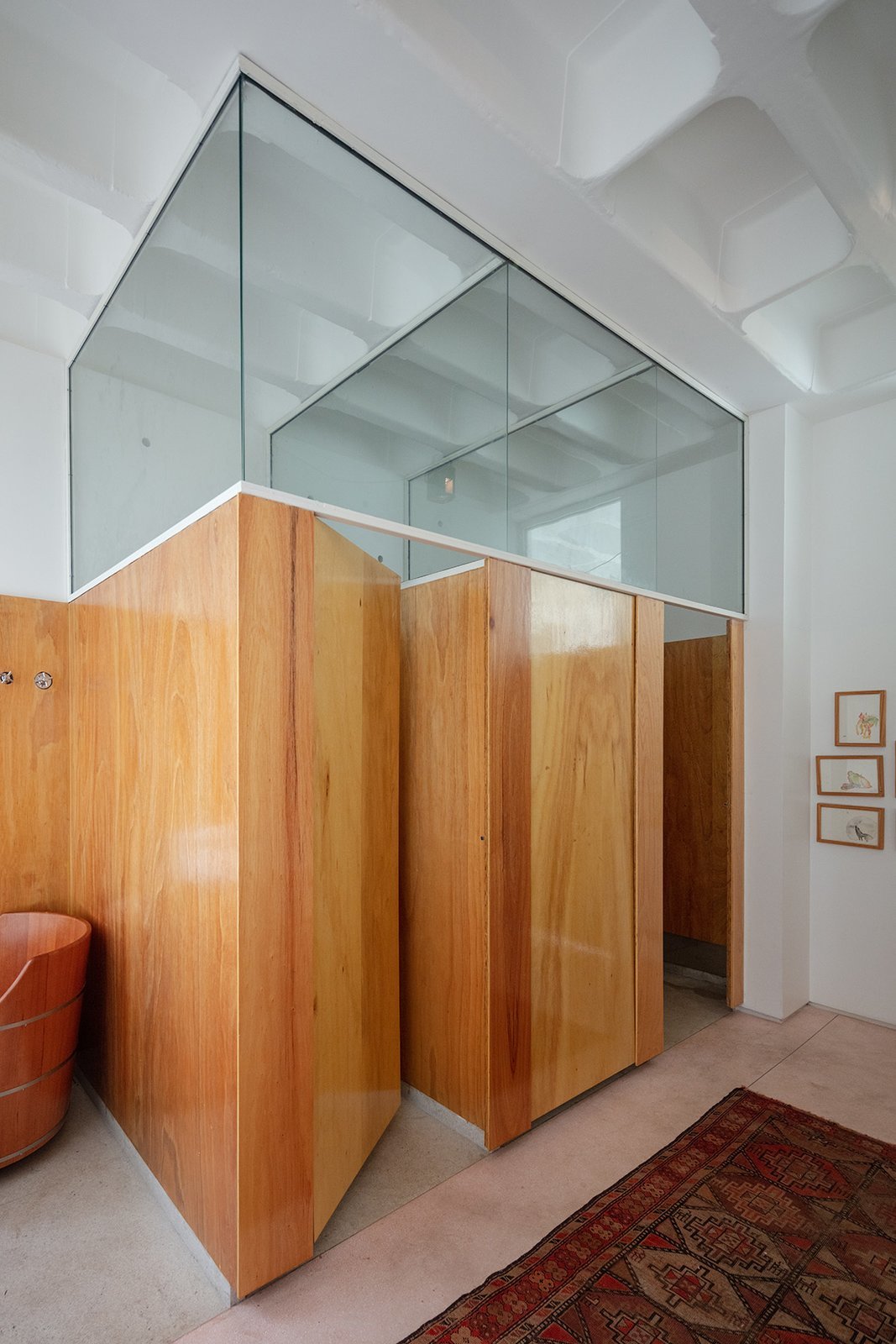 Wood-enclosed "stalls" enhance the usability of the shared space.


Expanses of Glass and Broad Trellises Bring Clarity to a Renovated Home in San Francisco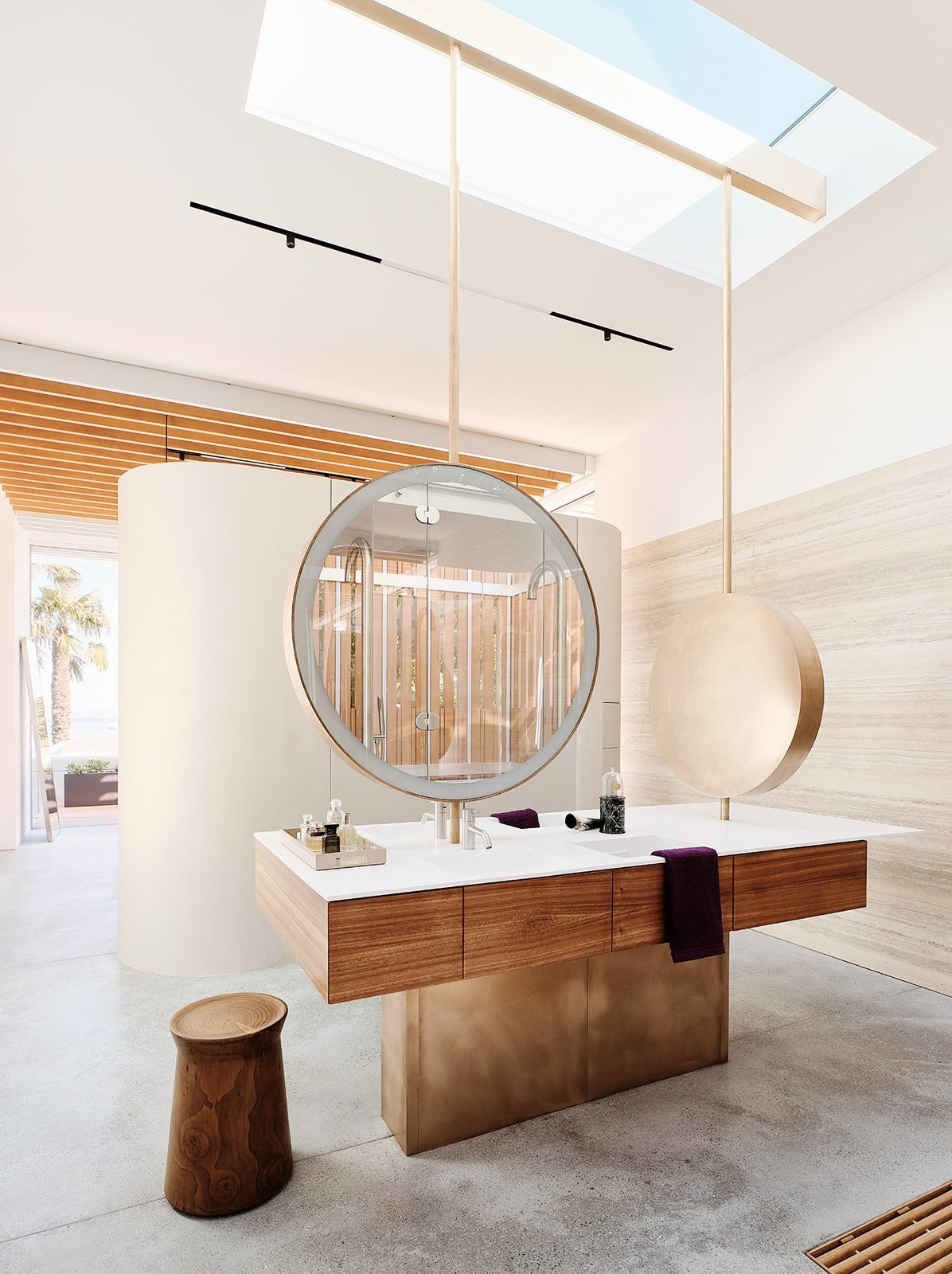 Circular mirrors by Dennis Luedeman join a custom walnut vanity with a counter and integrated sink by Corian. "The house is relentlessly linear, but we were able to add these more playful shapes," Fougeron says. The faucets are V1/150 by Vola.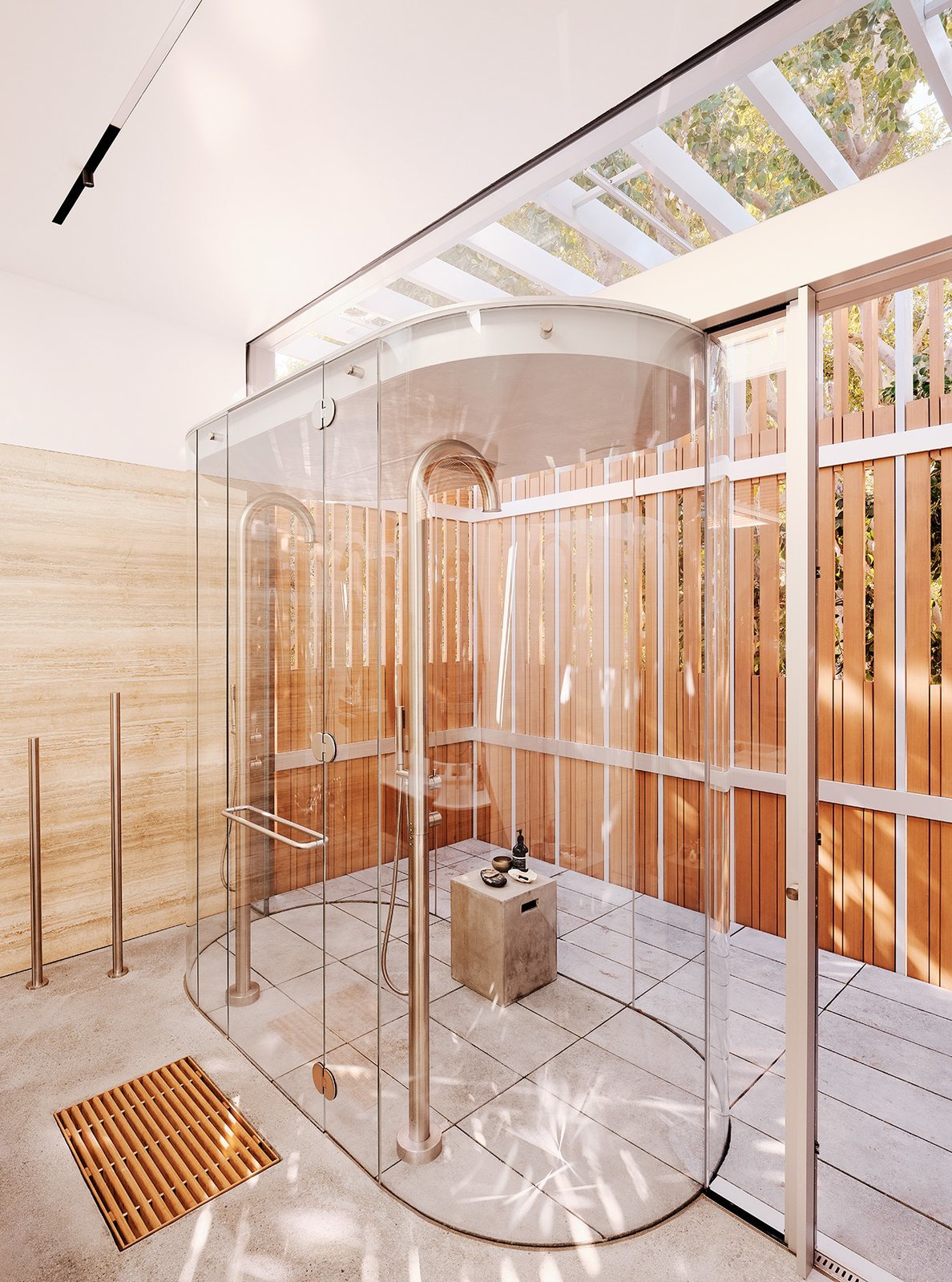 Screened by a slatted wood wall, the see-through shower in the master bathroom straddles indoors and out. The 69 Shower column in by JEE-O.