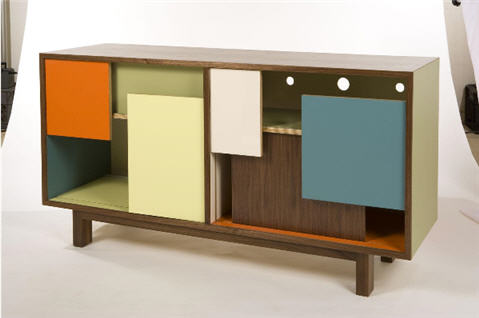 "Open bookcases can look messy when you fill them, but the Block Party pieces are designed to look better with your objects on the shelves," says Wold. Simply slide Block Party's moving panels to re-frame your belongings and change the graphic composition again and again. The Block Party series features custom-quality casework and a deluxe mix of solid woods, fine laminates, and precision hardware, as well as innovative cable-management for electronics, LP-height storage in the credenza, and other unique details. Each piece is hand-built to order by Thomas Wold's Bay Area studio, with the same attention to detail found in Wold's one-of-a-kind commission-based projects. The Block Party bookcase and credenza ship complete, with no assembly required.
More Details


Brand
Thomas Wold

Designer
Thomas Wold

Materials
●. Hello Color: Solid and veneer walnut with orange, citron, lime, slate, and antique white laminate. ●. Butter and Cream: Solid and veneer ash with antique white laminate and gold acrylic mirror.

Features
Cord management system: &#9679Access holes in back panel for in-directed cables. &#9679Exit holes for power cables at right and left bottom. &#9679Power strip channel at rear of bottom shelf. &#9679Lower level shelf dimensioned for standing bottles or LPs. &#9679Leg levelers for uneven floors.

Dimensions
60" W x 30" H x 18.5" D; Top shelf height: 8"
Bottom shelf height: 13.5"
Useable depth: 13.5" plus 2" power strip gap.