Kynttilä is a small, off-grid cabin set on a narrow arm of the Nunnanniemi peninsula in Eastern Finland. Helsinki-based ORTRAUM Architects designed the 150-square-foot structure as a prefab meditation cottage to ignite visual and spiritual focus without disruption.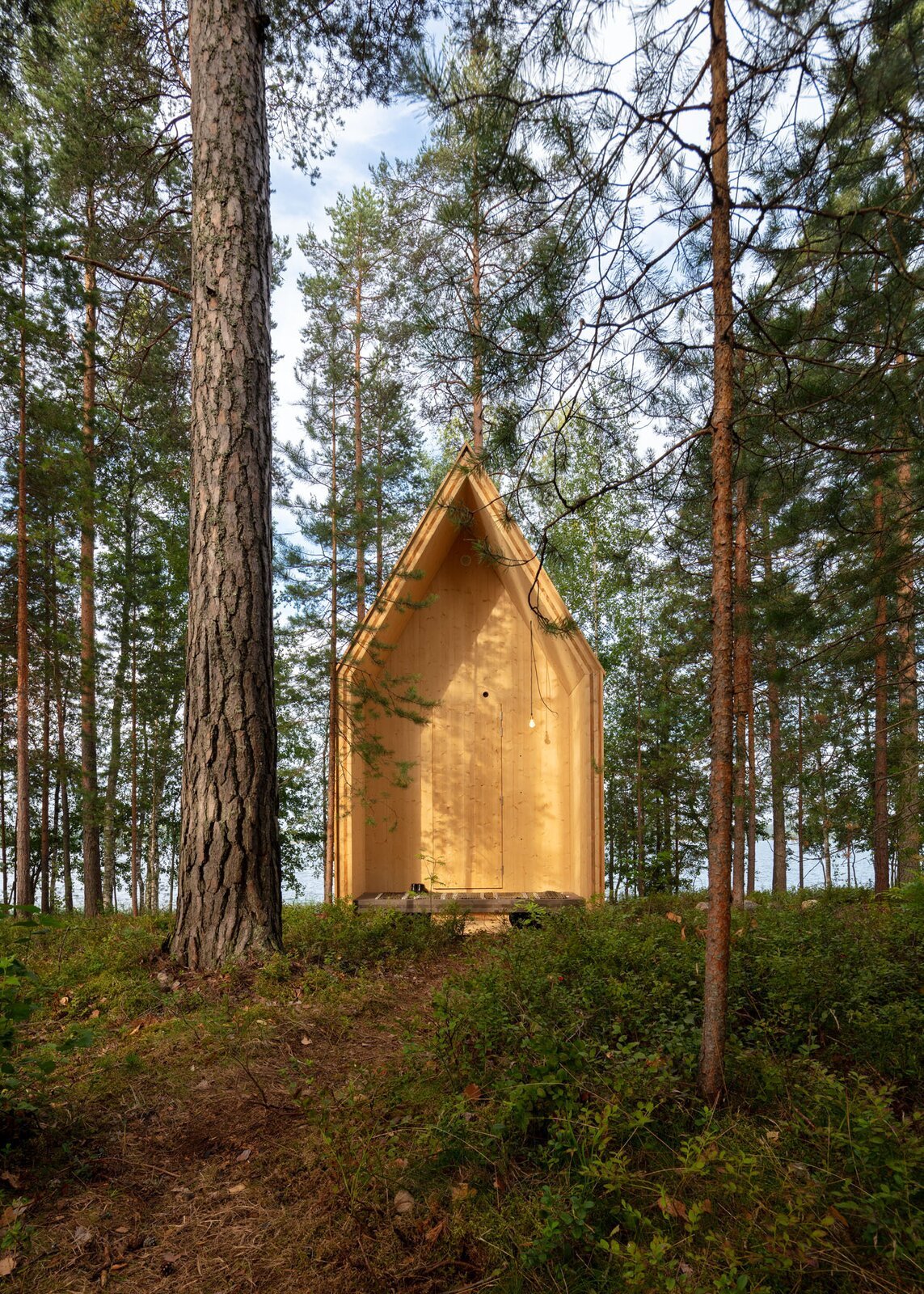 Kynttilä, which translates to "candle," is a wood-clad prefab cabin tucked away in an untouched forested area in Eastern Finland. The structure was recently built by ORTRAUM Architects.

"The concept of Kynttilä is Zen, in the definition of 'nothing,'" explain the architects. Thus, they stripped "the content and design intention to a bare minimum" and crafted the majority of the building, including the built-in furniture and front door, out of cross-laminated timber (CLT). While larch timber covers the exterior, all CLT remains visible on the inside.

"The dimensions of the five space-enveloping elements are identical, creating a calm space," notes the firm. The minimalist interior offers just enough room for a full-size bed, and a ladder leads up to a bunk bed above.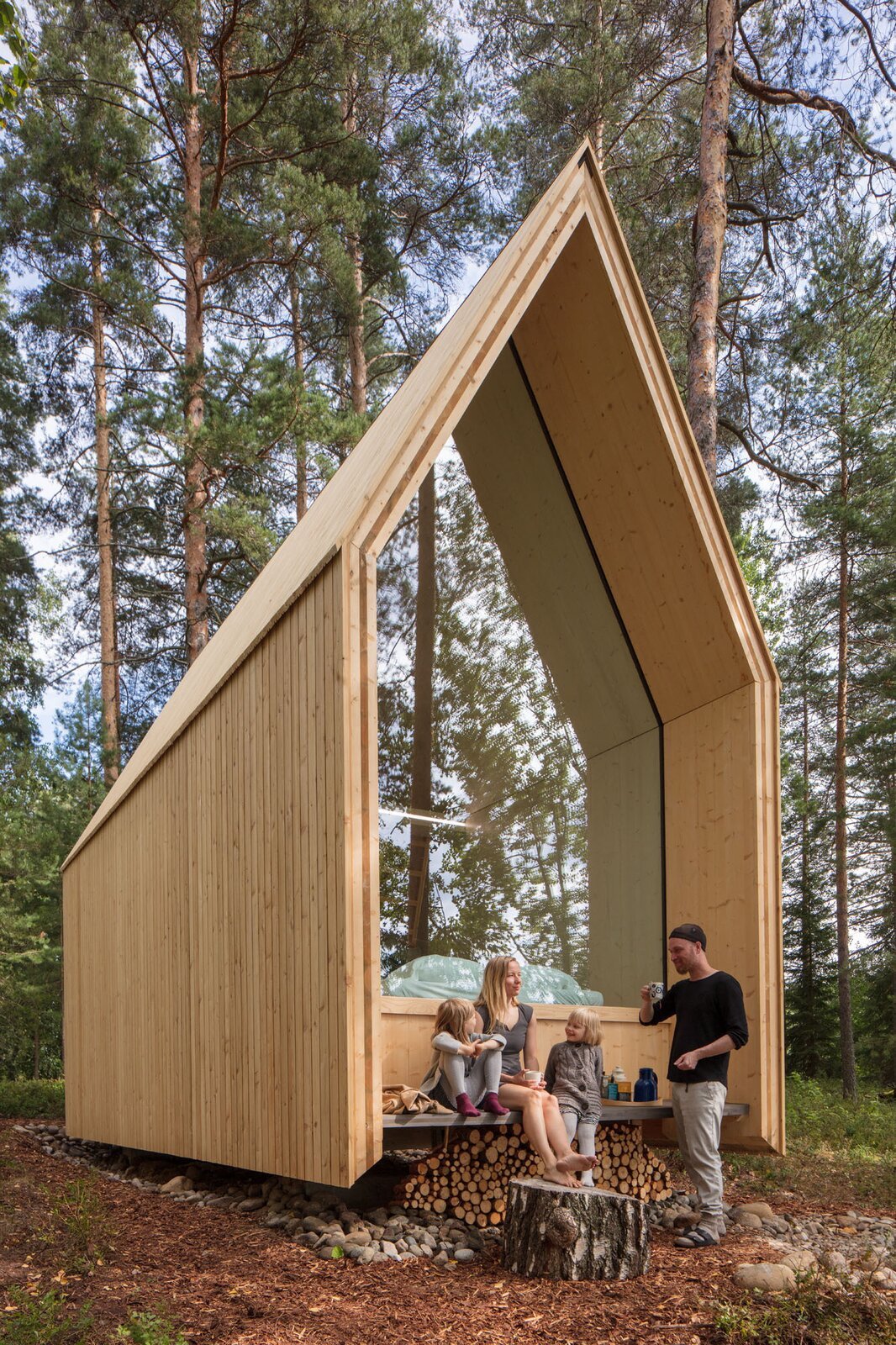 The 150-square-foot cabin is built entirely out of cross-laminated timber (CLT) elements.

Floor-to-ceiling glazing on one end strengthens the structure's connection with nature, creating "direct and intimate contact and communication with the surroundings." As the firm notes, "daylight, weather, and seasons guide the rhythm of the day."




Exposed CLT lines the ceiling and walls, and floor-to-ceiling glazing frames picturesque views of the surrounding forest and nearby waterfront.

To ensure minimal impact to the forest location, the architects designed Kynttilä to be assembled in just one day. A temporary road was created to accommodate construction, and it was carefully removed as soon as the installation work was completed. Scroll ahead to see more images of the property, which now acts as both a short-term guesthouse and a meditation retreat in the summer months.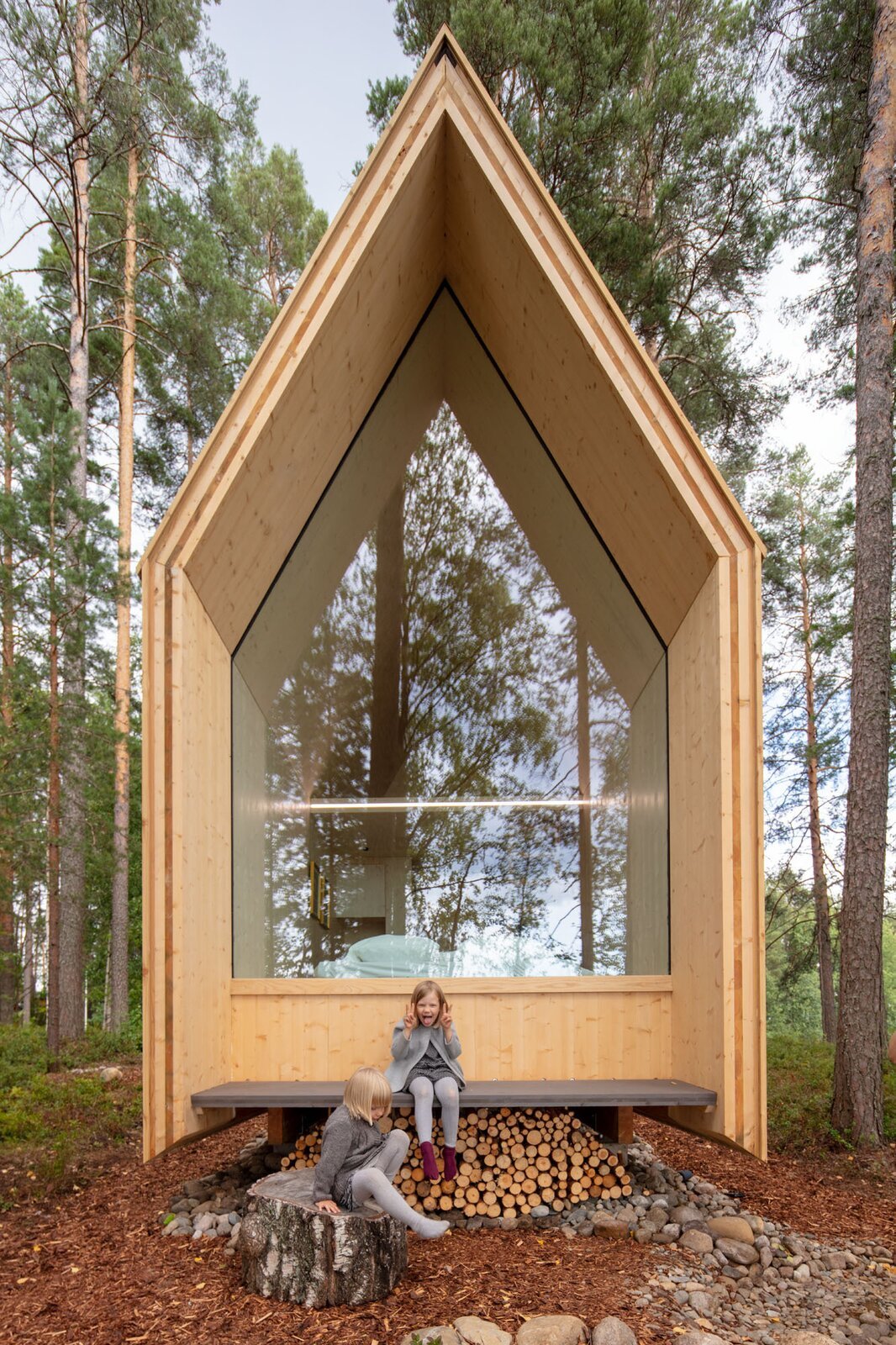 Overhanging eaves create covered areas on both ends of the cabin. At the back, a slender yet sturdy bench set on the structure's raised platform provides an intimate gathering place.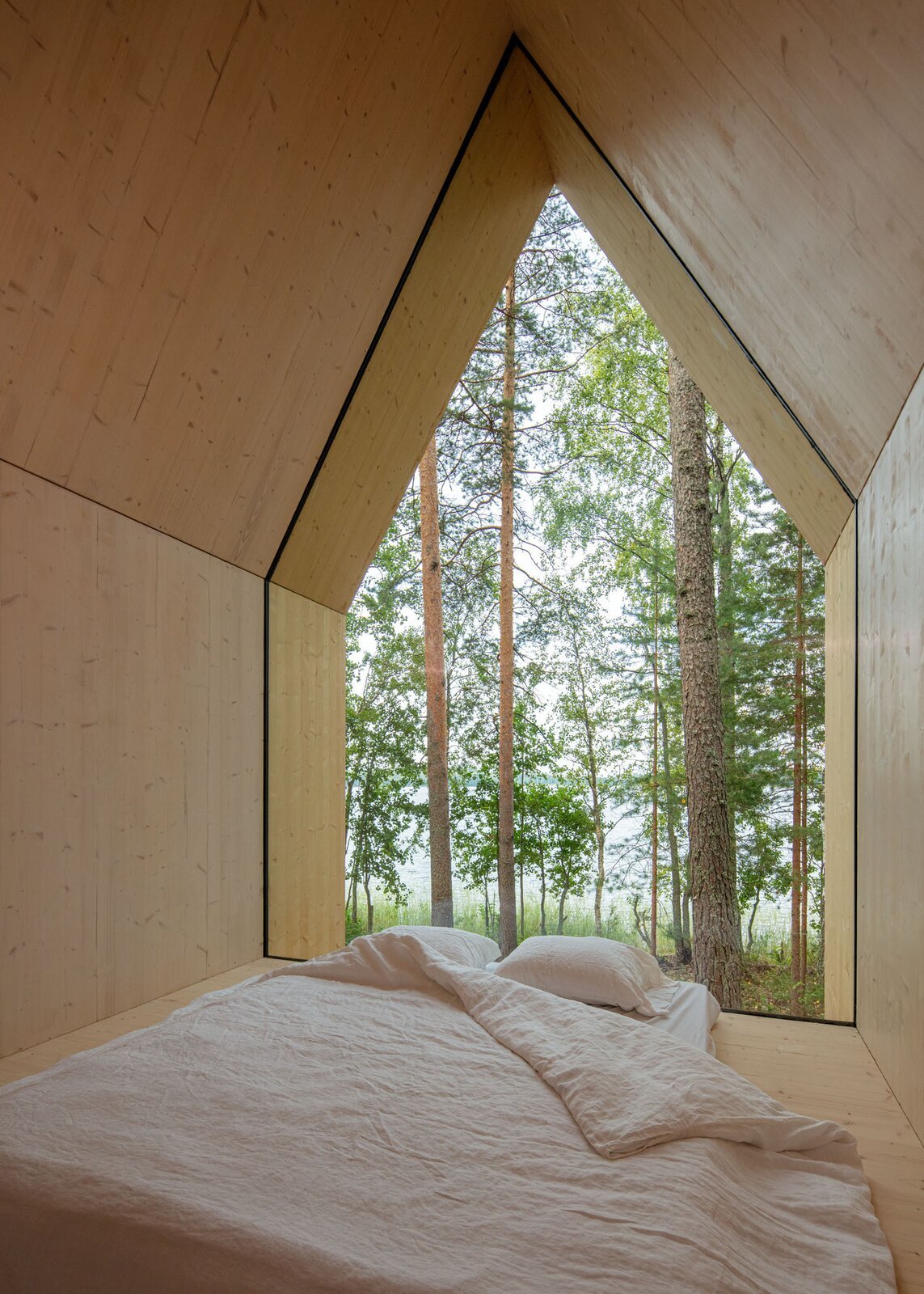 A closer look at the glazed wall in the sleeping area. "Kynttilä creates a kind of mental portal to a higher dimension," says the firm. "The framed nature image turns into an individual abstraction and projection of thoughts."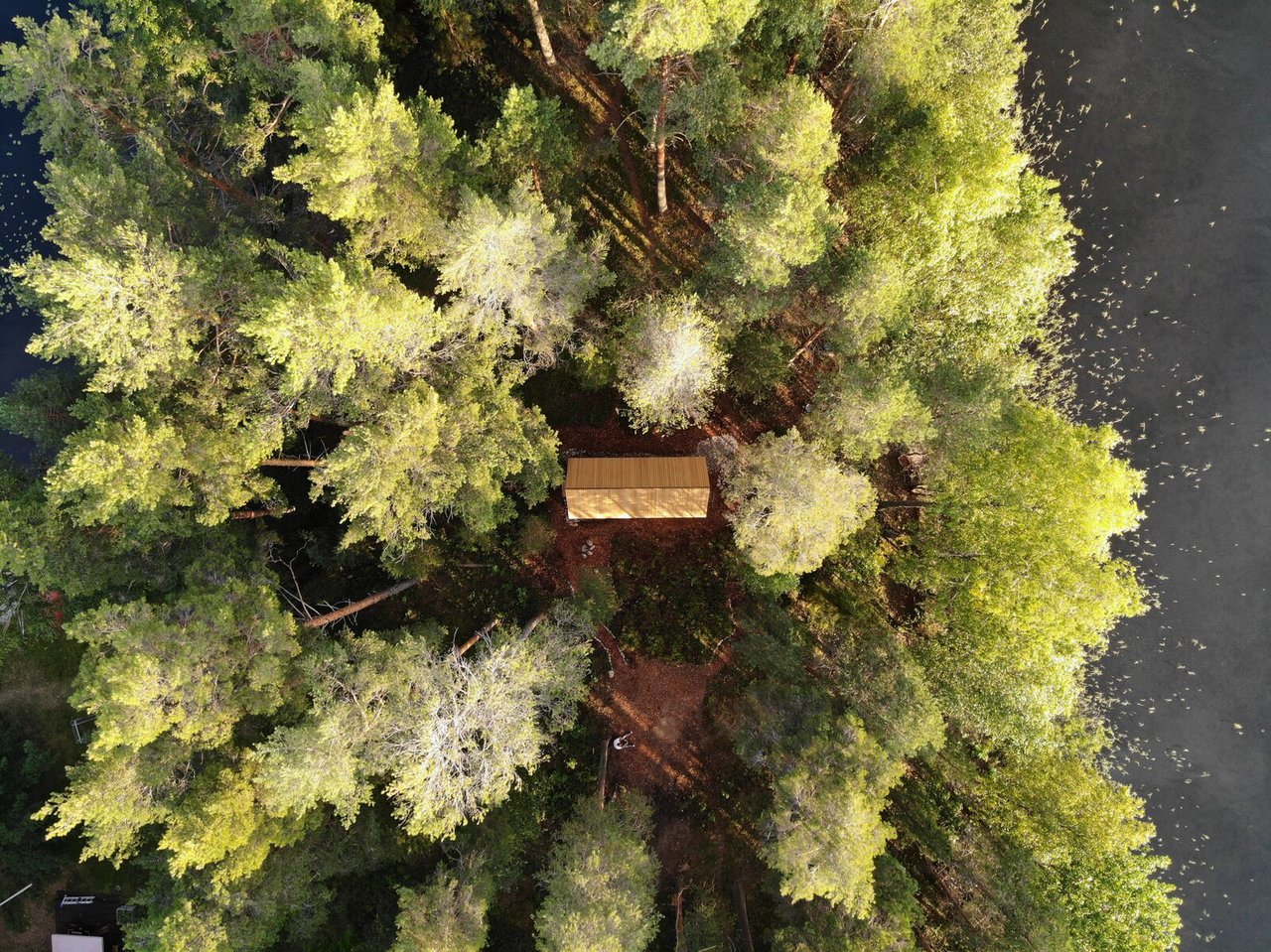 An aerial view of Kynttilä, which showcases its close proximity to the nearby lake.




As the sun goes down, the small structure's interior casts a cozy glow.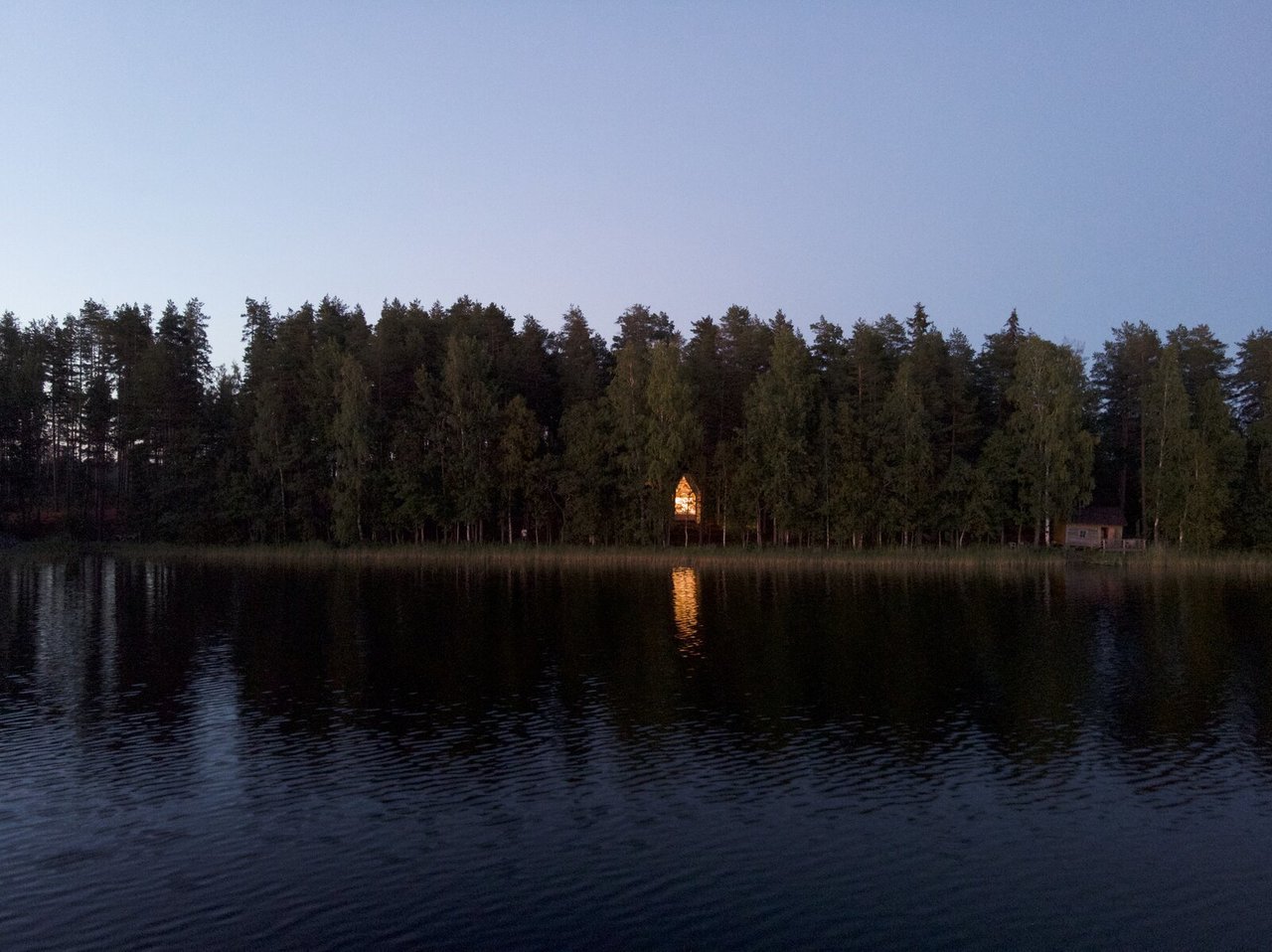 "In the nighttime, like a candle, Kynttilä shines as a warm light on the lakeshore."