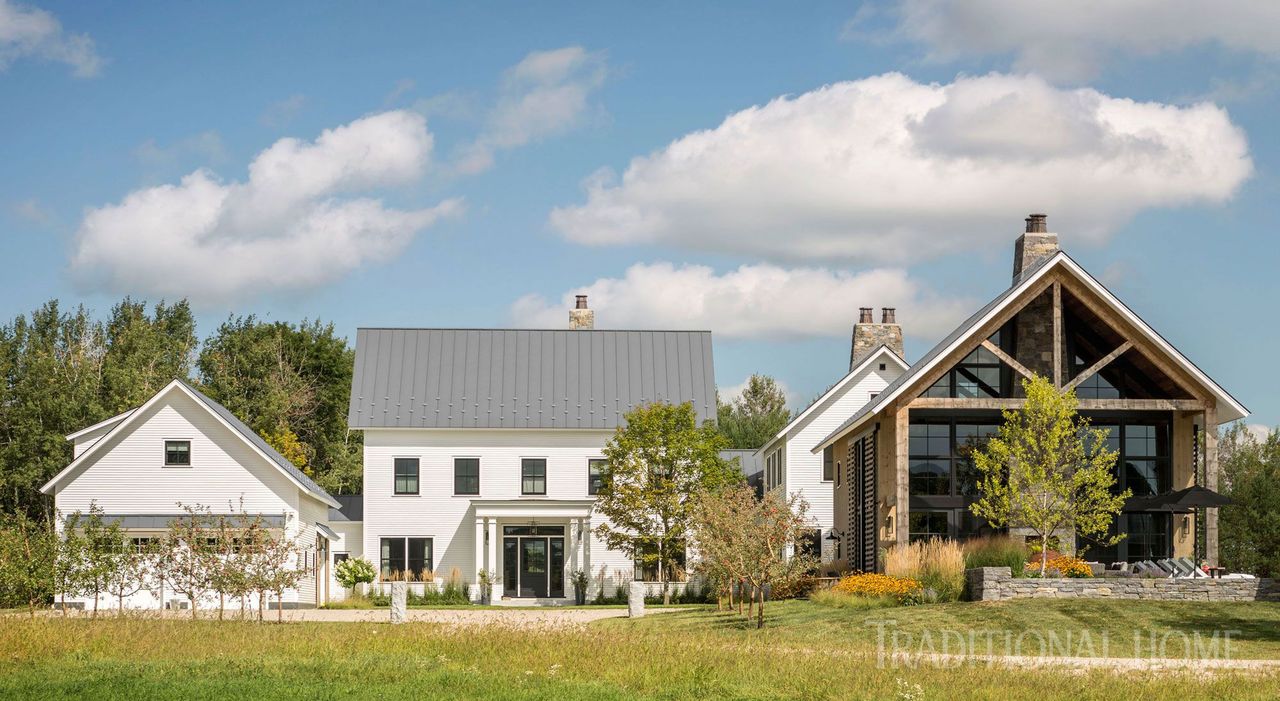 Farmhouse with Mountain Views

Kevin graduated from Middlebury College, and one of the couple's three children is now a student-athlete there. "The place has special meaning for us," Heidi says. It's the place the Darien, Connecticut, couple envisioned for their second home, where they would enjoy weekends now and retirement later.

"We looked at renovating a house, but my husband has a thing about long views," Heidi says. "When we hiked through knee-deep snow to look at this property and saw its views of the Green Mountains, we knew this was it." The couple enlisted architect Lee Grutchfield of TruexCullins to draw up their dream home, which was built by Roundtree Construction.

Following the local vernacular, Grutchfield paired the main house with outbuildings, in this case a "back house" that is actually a garage and a "barn" that is the Naughtons' guesthouse and gathering spot.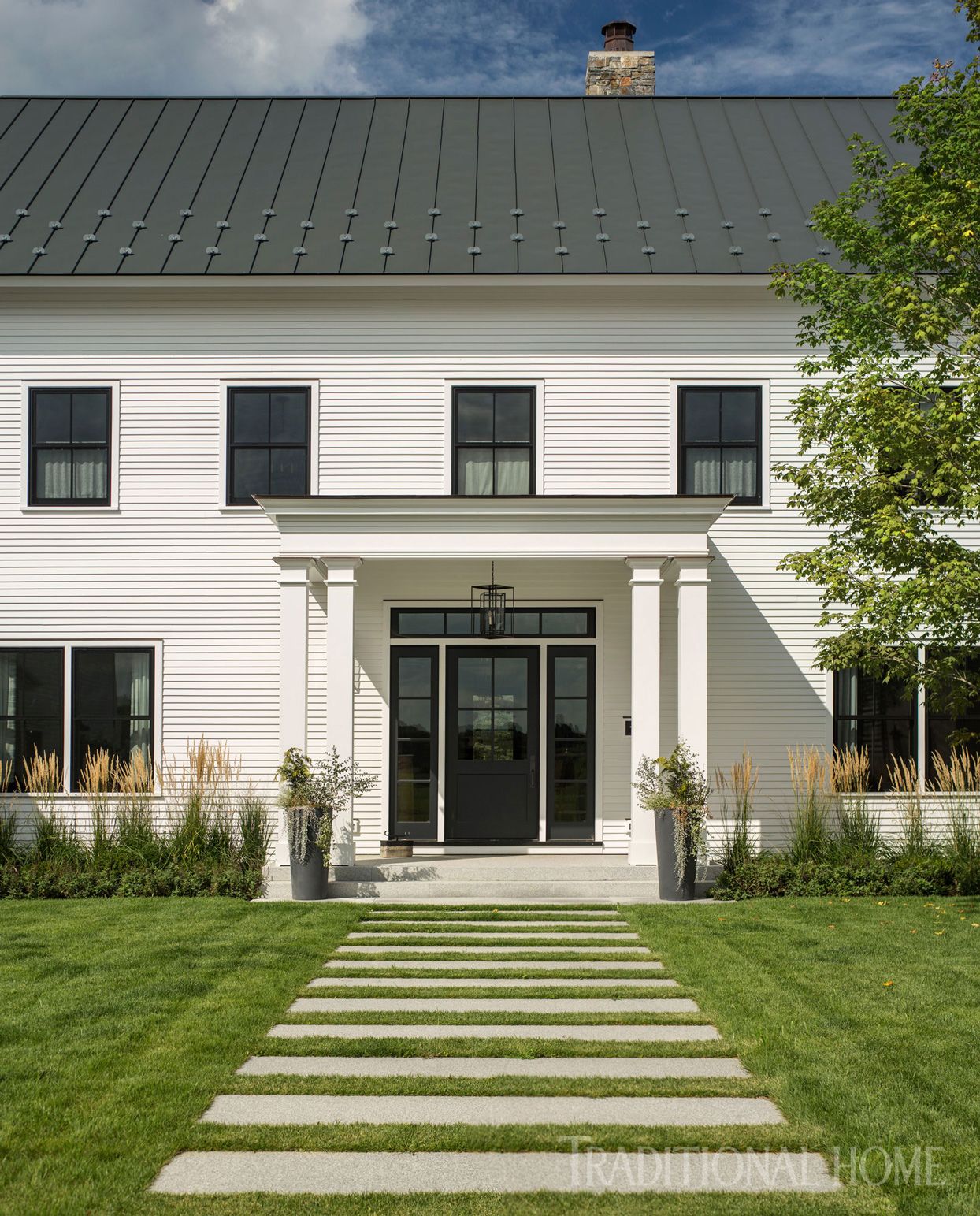 Fitting Front Entry

"We tried to make this house fit into the lineage of Vermont farmhouses and barns," Grutchfield says. "It looks like it's supposed to be here." At the same time, modern twists on the architecture match the vibe of the Naughton family, who love to hang out together and host passels of friends. Expansive windows with au courant black frames link the indoors and out, while an open floor plan keeps people connected whether they're in the living room, kitchen, or casual dining area.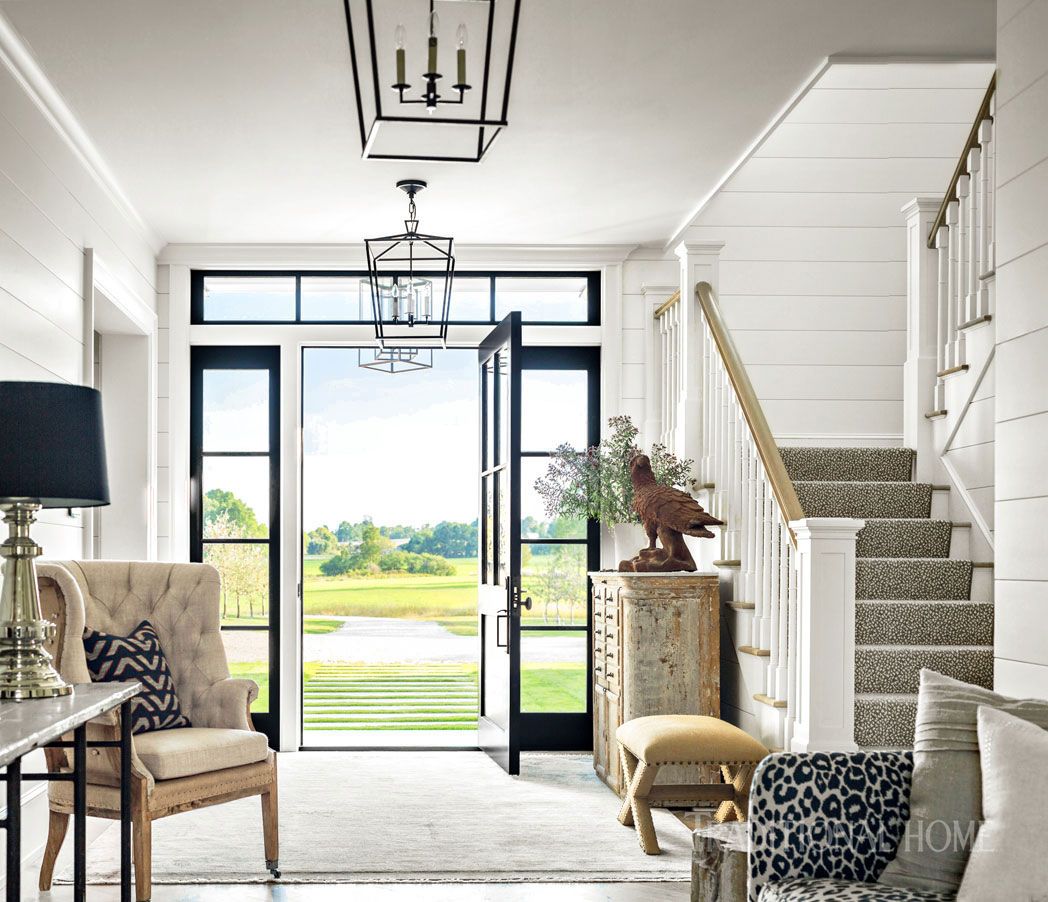 Shiplap Walls

Shiplap-sided interior walls and limed white-oak floors further the cohesive feel while nodding to farmhouse tradition. "There has to be 6 miles of shiplap planking in this house, and you won't find one corner that's not perfect," Heidi says.

Calm hues enlivened with subtle pattern let outdoor views shine. Antiques, including the eagle-topped cabinet, infuse a sense of history.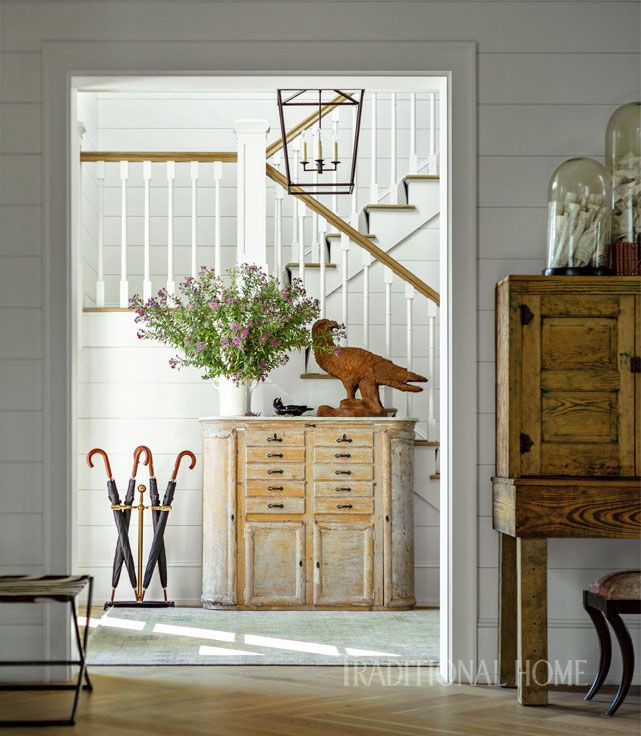 Sophisticated Country Style

Here, country shows its sophisticated side, thanks to Nancy Galasso and Richard Cerrone of Lillian August, a New York furnishings and design icon since the 1980s. They brought in a mix of new and vintage furnishings, layers of rich texture, and luxe yet durable fabrics. Starting with a base of airy whites, they layered in natural wood tones, touches of warm brass, and swaths of easy-to-live-with gray and blue. "Blue is perfect for Heidi because it's grounding yet it has some life," Cerrone says. "Other colors, bolder or brighter, would have been too much."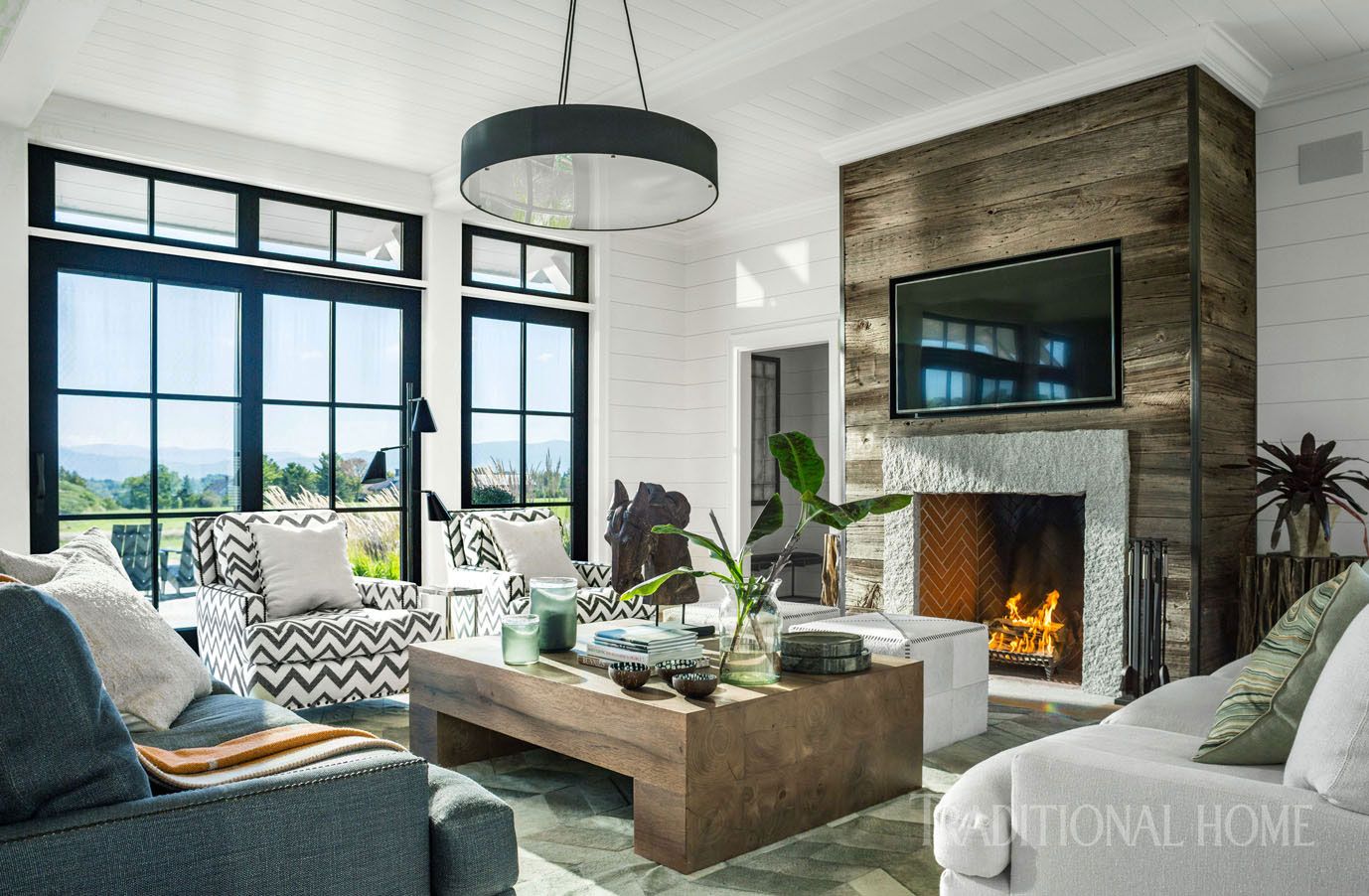 Vintage Decor

Salvaged barnwood used to clad the living room fireplace nods to the area's history, as do the found pieces that Cerrone and Galasso sprinkled throughout the rooms. "I wanted to bring in pieces with character," Heidi says. "I love going to the Brimfield antique market, and I don't know how many times I spotted something I liked, then saw it was tagged L.A.—Lillian August. John Weiss (the firm's chief operating officer) has such an eye for vintage."

Classic farmhouse elements, such as shiplap and salvaged wood, mesh with fresh elegance from textural fabrics and floor coverings.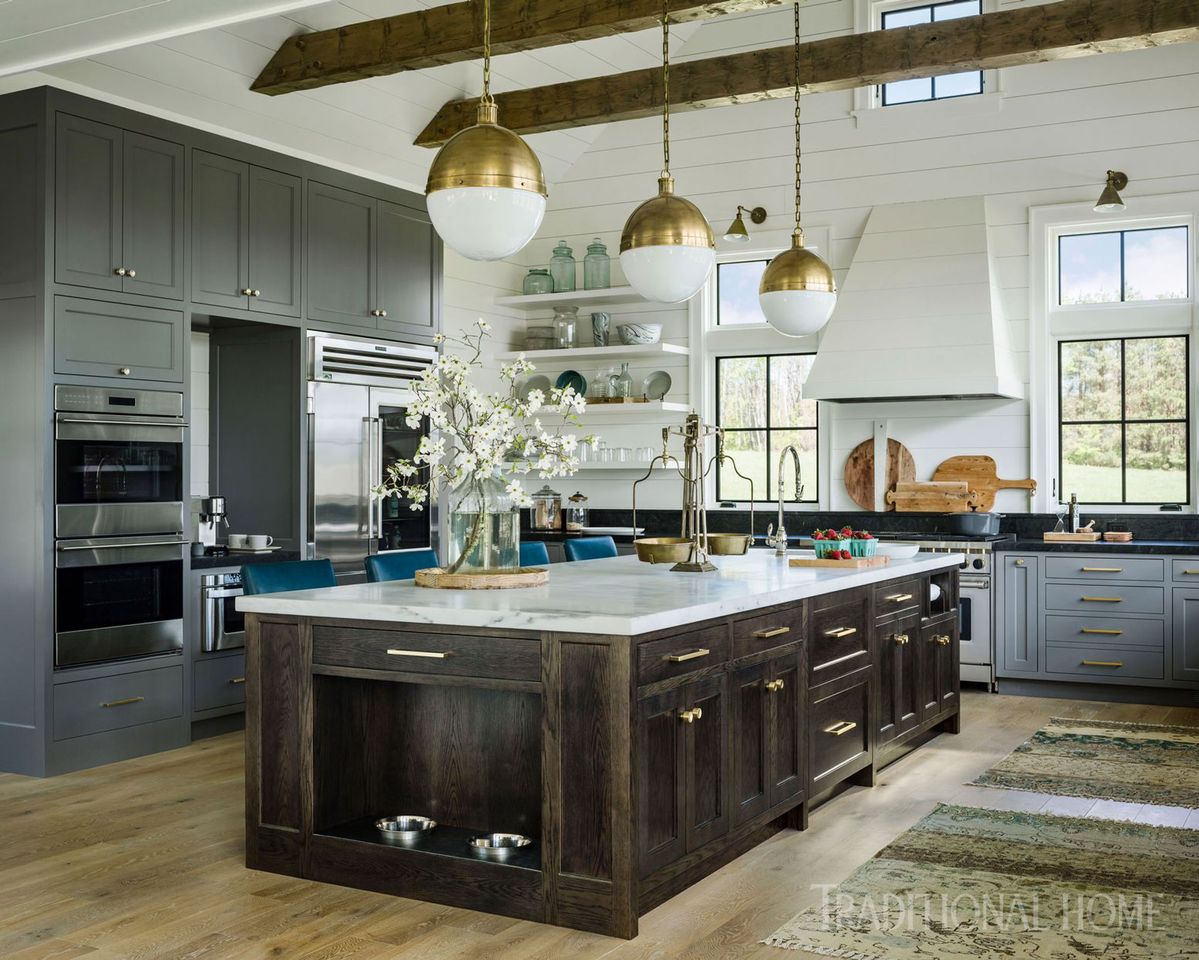 A Collected Look

An antique cabinet topped with a sculptural eagle greets guests in the foyer, a venerable hutch holds court in the kitchen, and an old chest rests at the foot of Heidi and Kevin's soaring canopy bed. "Found objects make the house feel like it's not brand-new. They give a very collected look," Galasso says.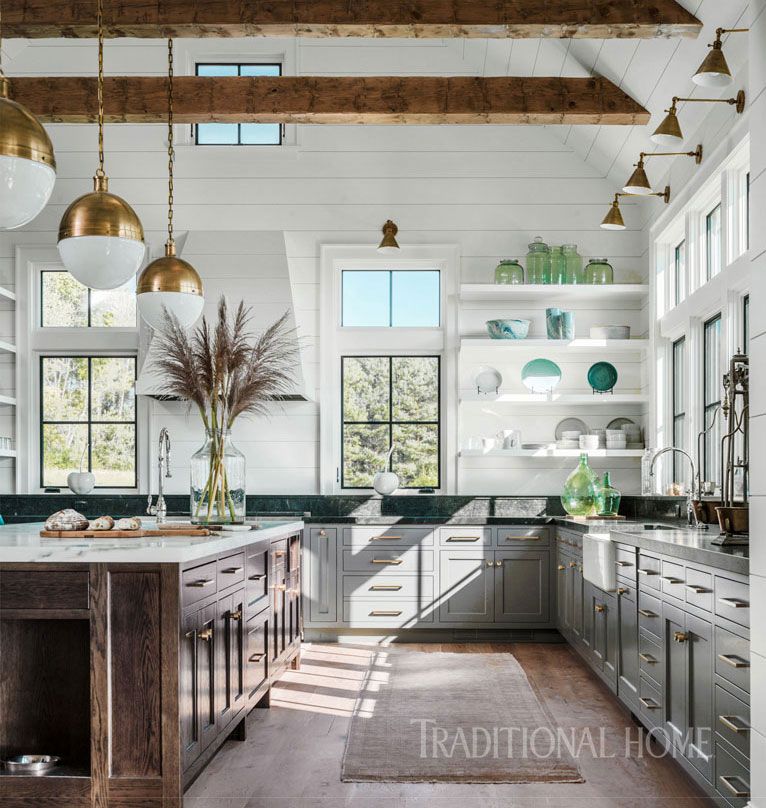 Farmhouse-Style Kitchen

Vermont marble caps the stained-wood island, an earthy contrast to the blue-gray perimeter cabinets crowned in granite. Open shelves, hemlock beams, white-oak floors, and an apron-front sink speak to true-blue farmhouse style.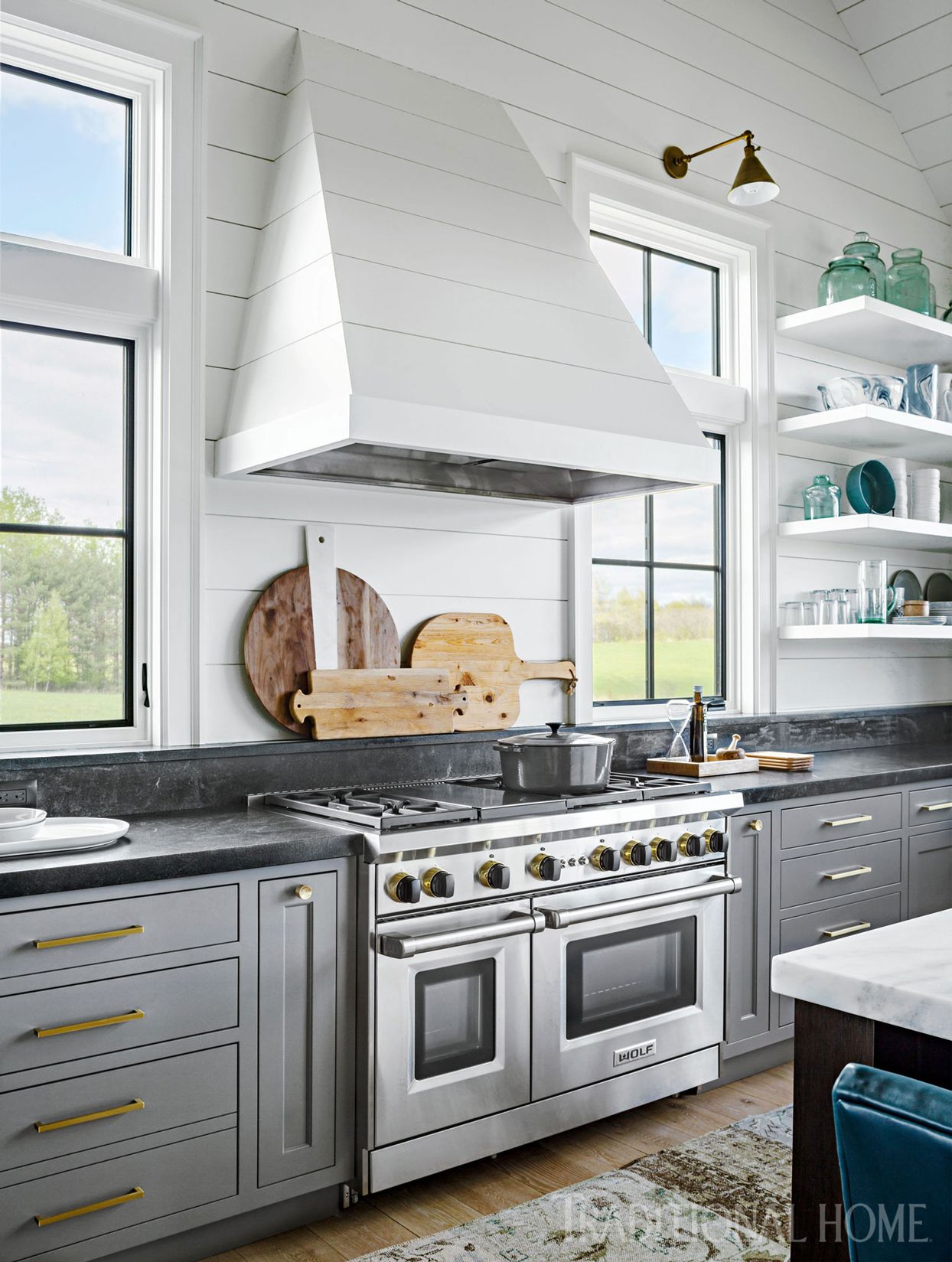 Mixing Metals

Brass elements mingle with the stainless-steel range and the chrome faucets to forge a fresh mix of metals.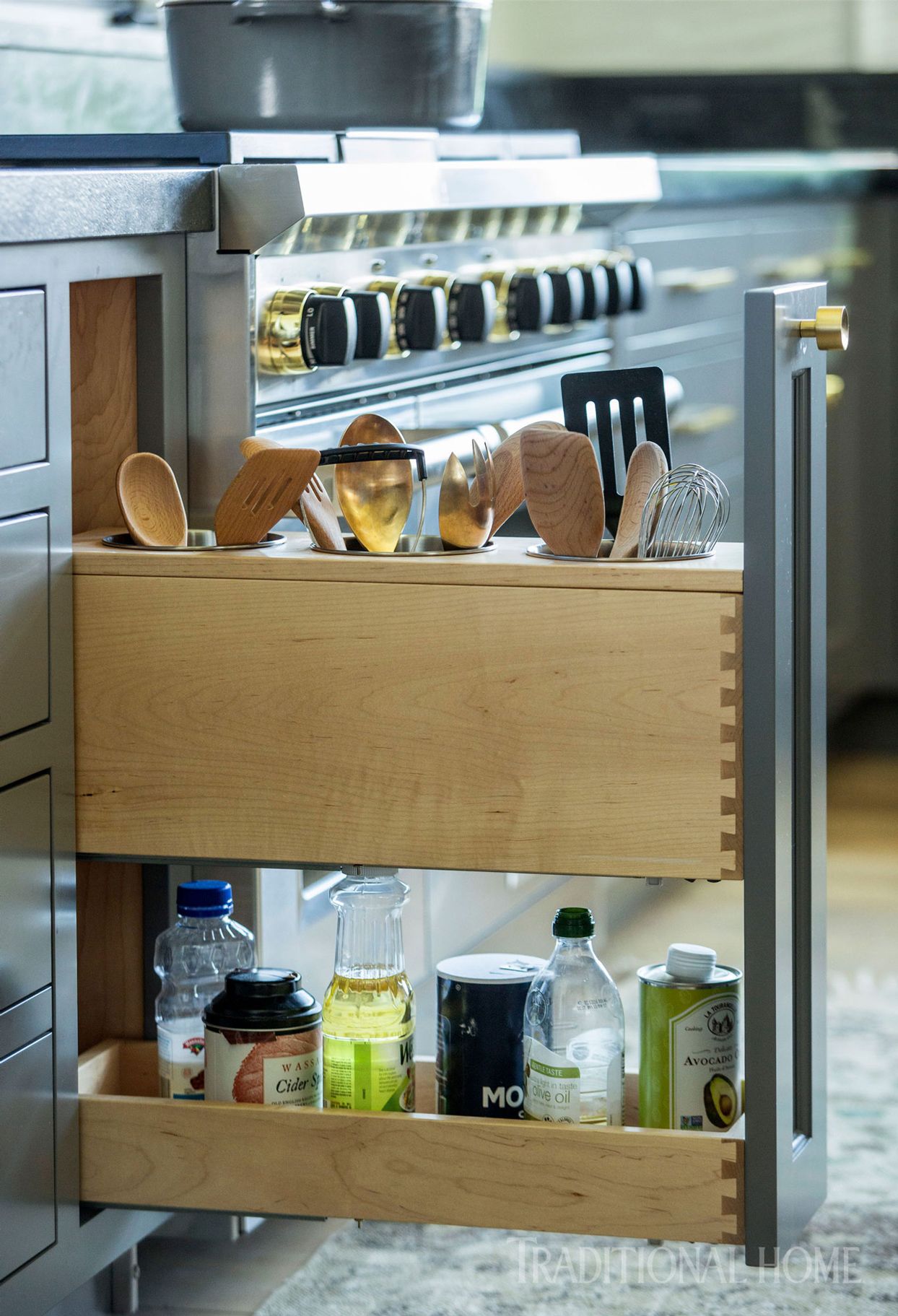 Clever Storage

A drawer next to the range opens to reveal handy storage for cooking utensils and frequently used seasonings.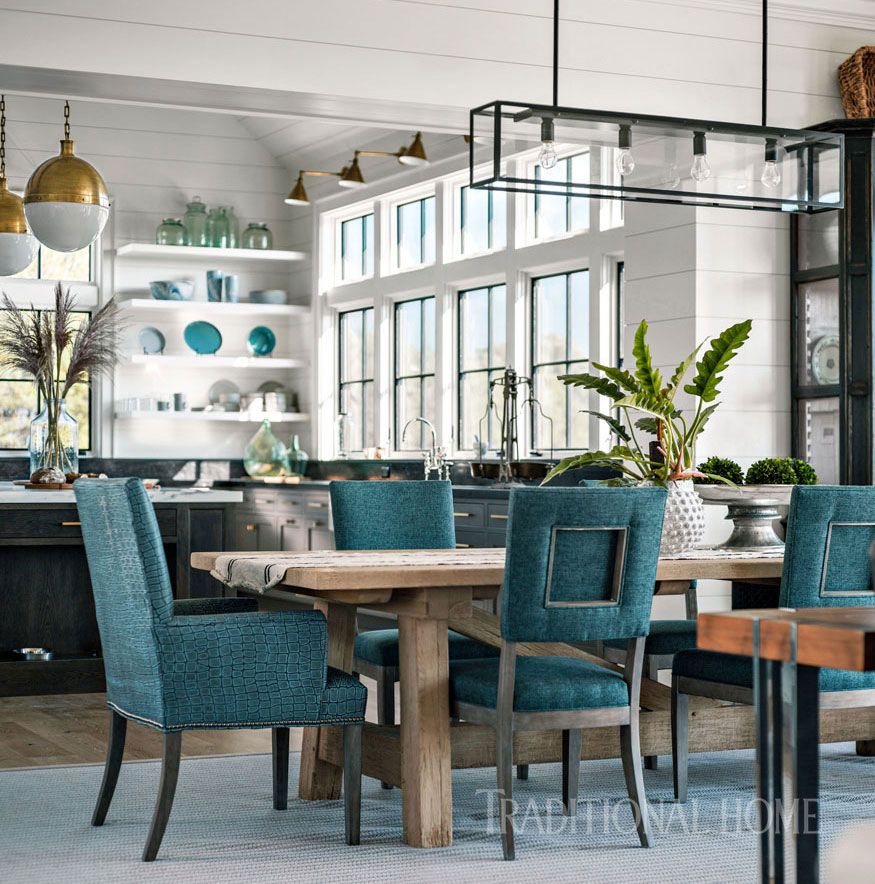 Open Dining Area

A farm table sets a casual mood in the dining area, while comfortable upholstered chairs invite lingering long after dessert.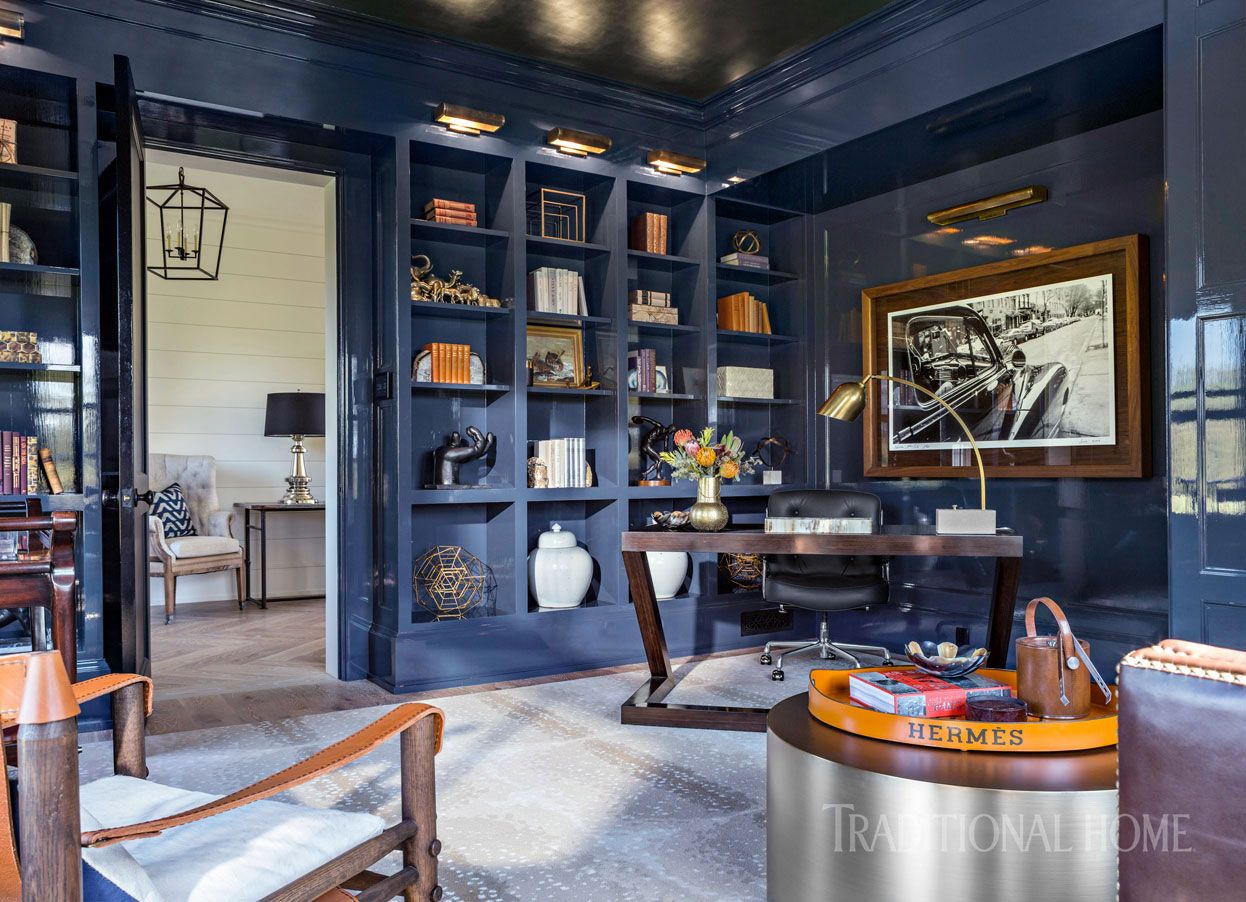 Deep Blue Library

"An old-time Vermont artisan painstakingly lacquered the walls in Kevin's office," Heidi says. "He was in there for weeks putting on coat after coat of paint." Meanwhile, the young team of decorative-painting artists from Deux Femmes in Fairfield County, Connecticut, created the shimmery ceiling.