These days, more and more of us are working from home-and while lockdowns have started to lift across the world, there's an increased interest in continued flexible working. As a result, there's also a growing desire for home offices-or just private spaces to escape to.

The Workstation Cabin by Hungarian architecture studio Hello Wood is a sculptural timber pod inspired by the design of space capsules. It's intended to sit in a garden or other outdoor area, and it can be configured as a fully powered workspace and conference room-or as a convenient guest bedroom or cozy lounge.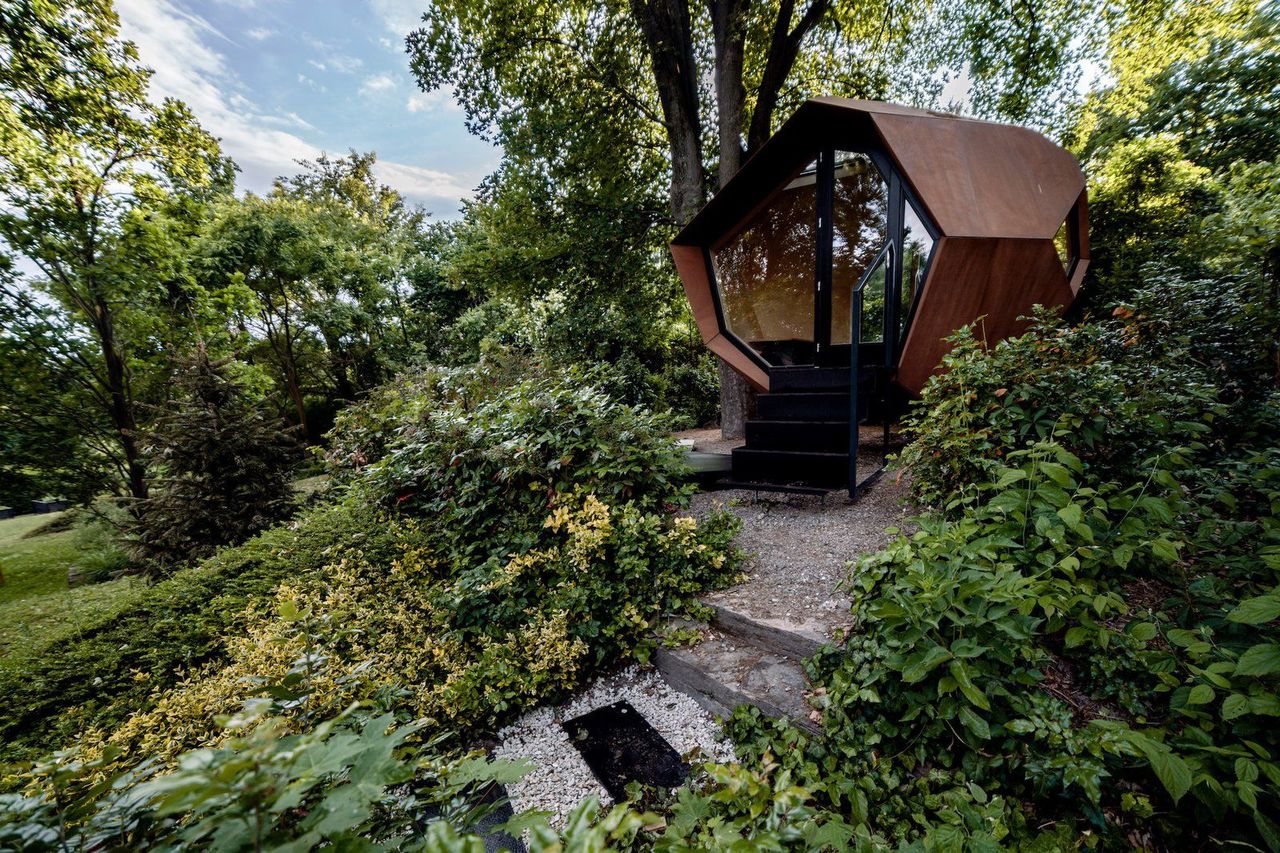 "We imagined how six people would use the space and developed the shape accordingly," says Hello Wood co-founder Dávid Ráday. "We took inspiration from the design of space capsules, and the cabin was refined step by step before reaching its final form."

"We started designing the Workstation Cabin a few months before the lockdown," says Hello Wood co-founder Dávid Ráday. "Although there had been a need for more separate meeting rooms before the pandemic, there is now a rapidly growing demand for isolated work possibilities."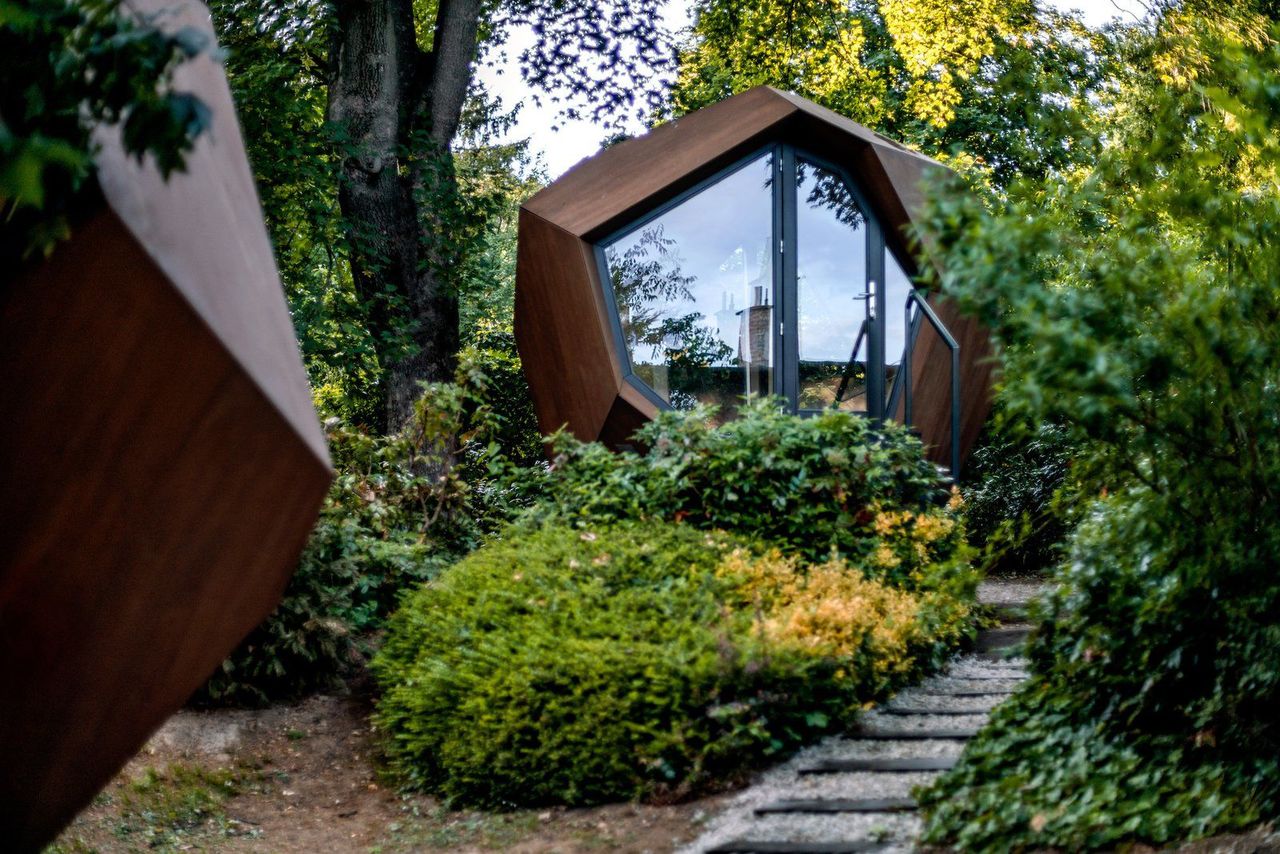 The design team wanted to create a cabin that felt connected to nature, both in the exterior and interior. The organic form sits easily in the landscape, while large windows invite garden views inside.

Hello Wood began in 2010 as an art camp for architecture and design students, before developing into an educational platform that runs a summer school and architecture festival, as well as exhibitions and conferences. The creative studio emerged in 2013, and it specializes in designing and building custom, temporary public installations and unique cabins. "Our main focus this year is to design new cabins while expanding our boundaries in wooden architecture," says Ráday-an aim that is readily met by the Workstation Cabin.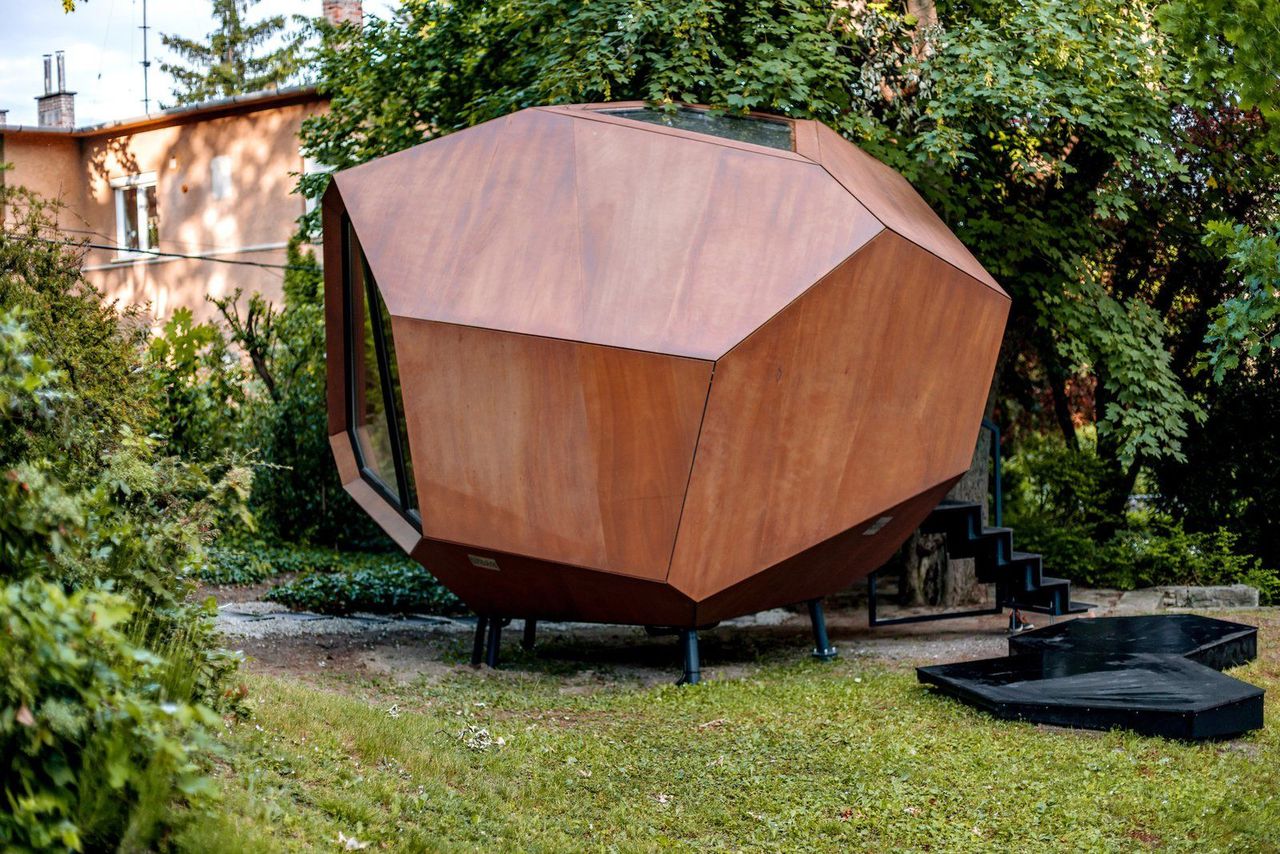 The Workstation Cabin's frame structure is composed of wooden sandwich panels, and it's clad in weatherproof timber. Depending on client wishes, the cabins can also be built using composite, aluminum, or COR-TEN steel cladding.

The 91 square foot cabin was developed over the course of two months, and it was initially intended to be a conference room that could comfortably host six people. During development, the team realized it could also easily accommodate a double mattress, enabling it to become a flexible, multipurpose space.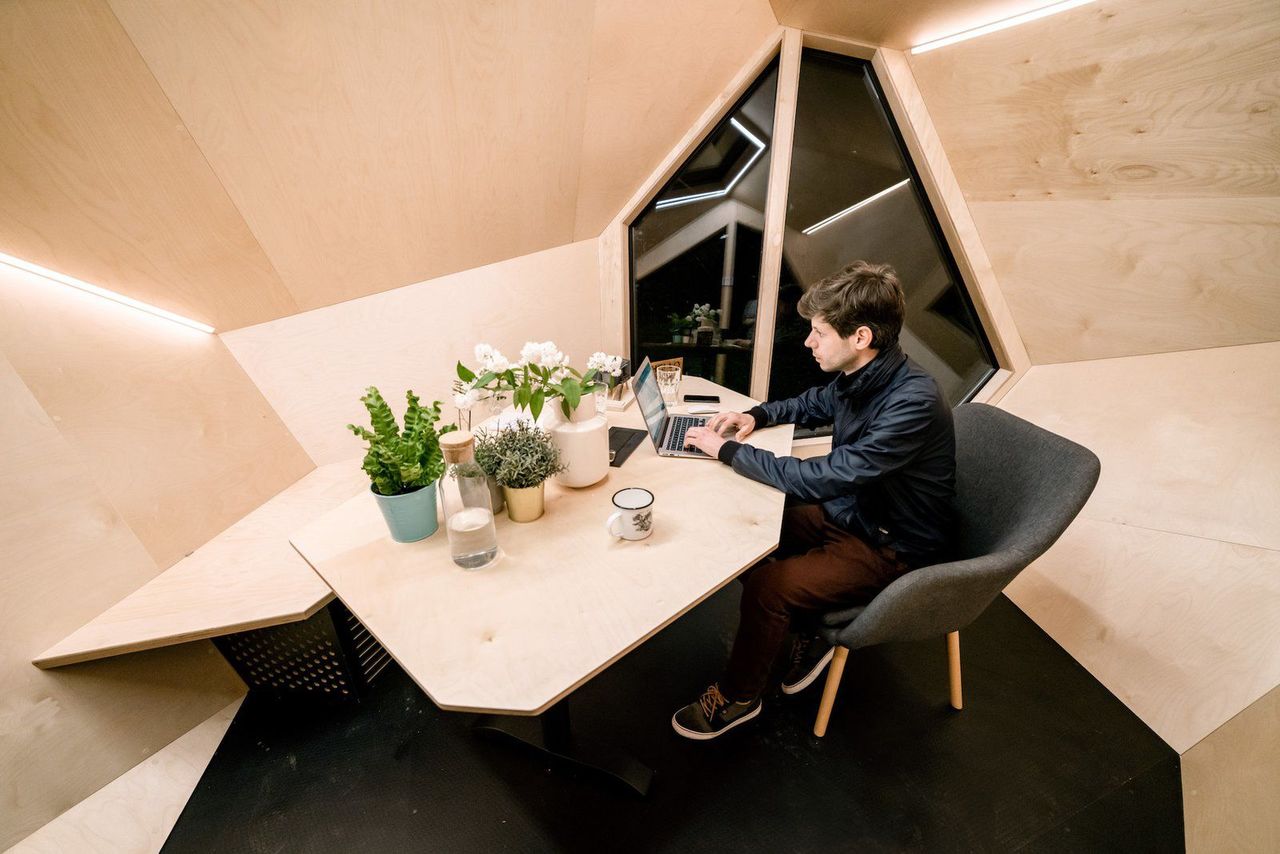 To enable a productive work environment, the cabins are fully equipped with power, air conditioning, heating, and internet connection.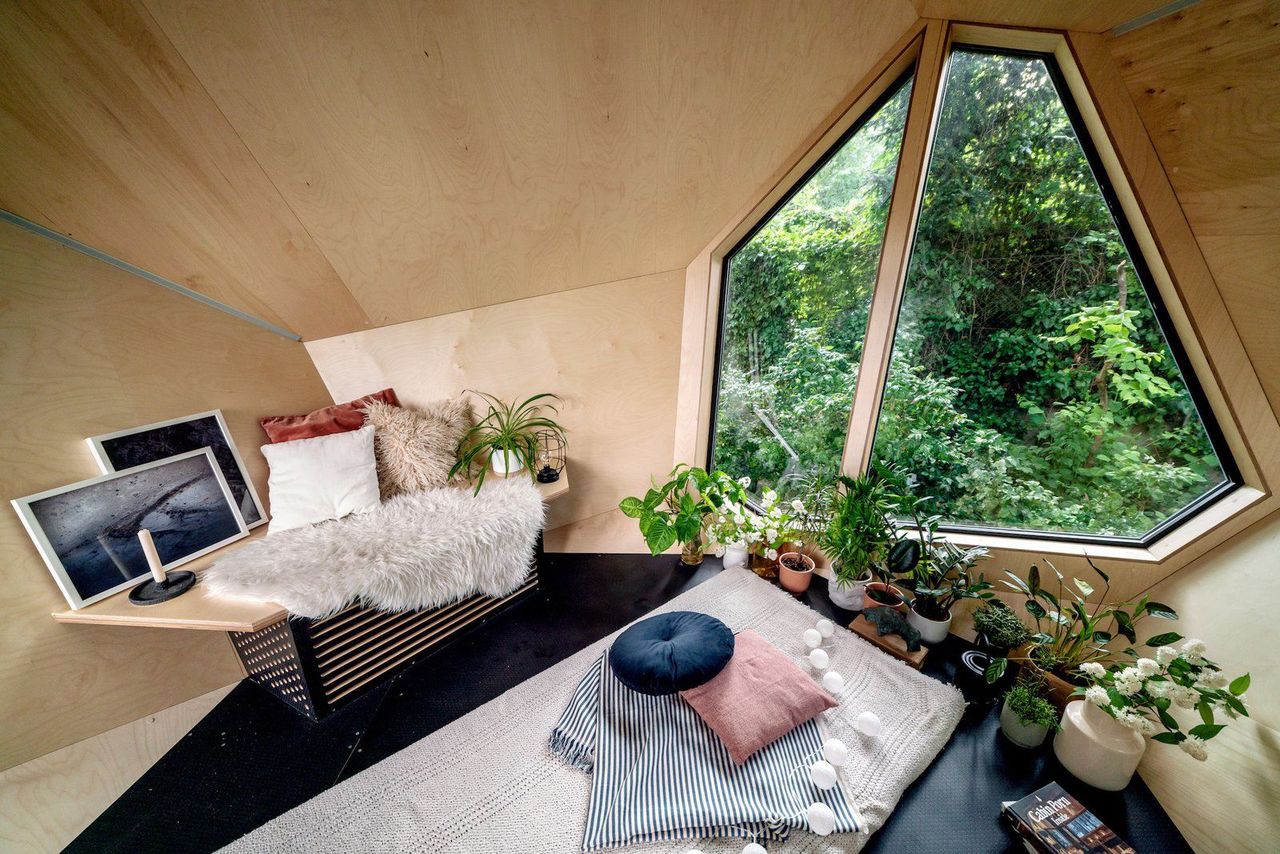 The desk can be removed to make space for a single or double mattress, transforming the interior into a guest bedroom or private lounge area.

"It was designed for two groups of people," says Ráday. "Firstly, companies seeking to offer a unique meeting room experience for clients-and to give their employees the opportunity to work in a private space, and secondly, individuals wanting a private backyard office that can double as a guest bedroom."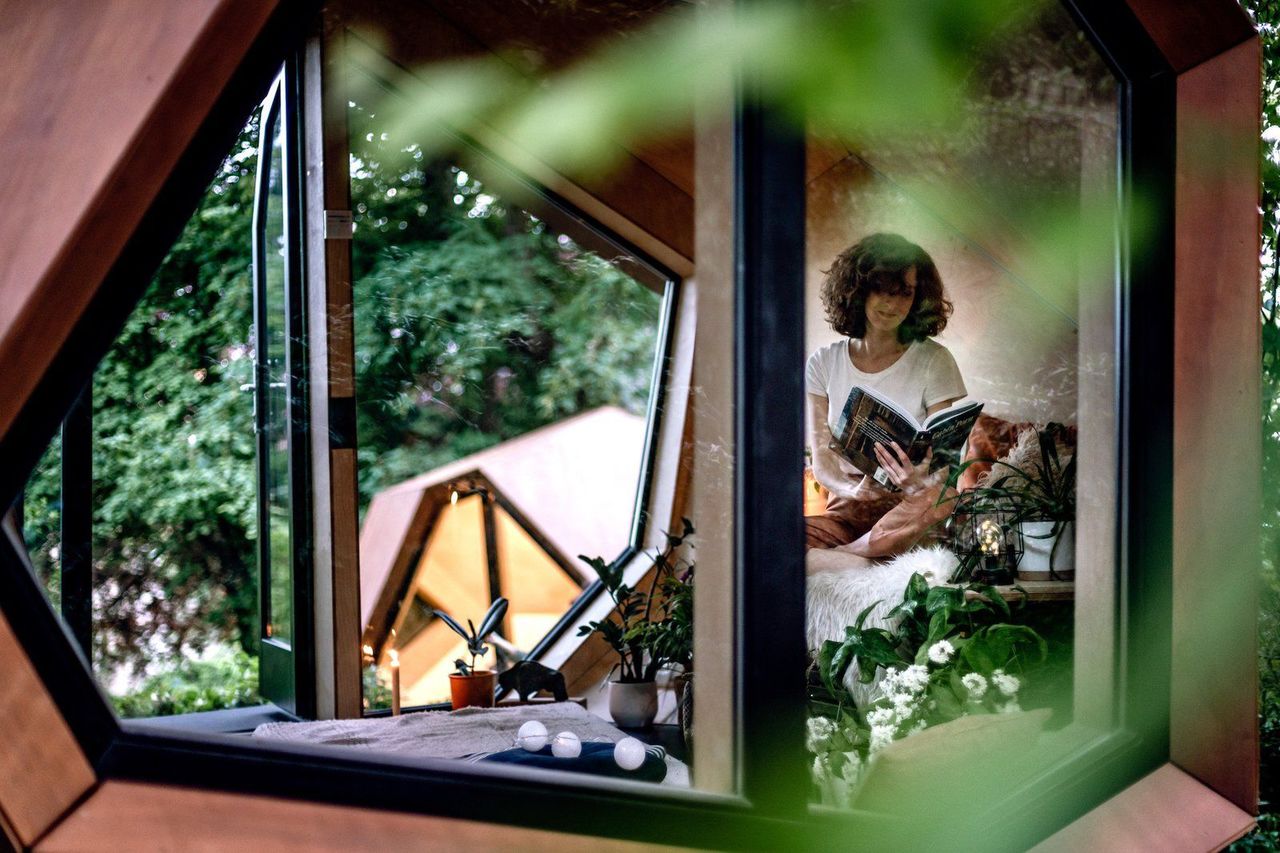 The cabin can also be used as a cozy private lounge space, away from a main house. Although the space is small, large windows and a glass door allow the cabin to visually connect to the surrounding landscape, making it feel larger than its 91-square-foot interior.

The 15-sided cabin has an outdoor "terrace" formed by two hexagonal platforms, and it's accessed via a small stair that leads to a glass door. The irregular form complements the landscape, and can be read as an intriguing sculptural installation that presents a different face from every angle.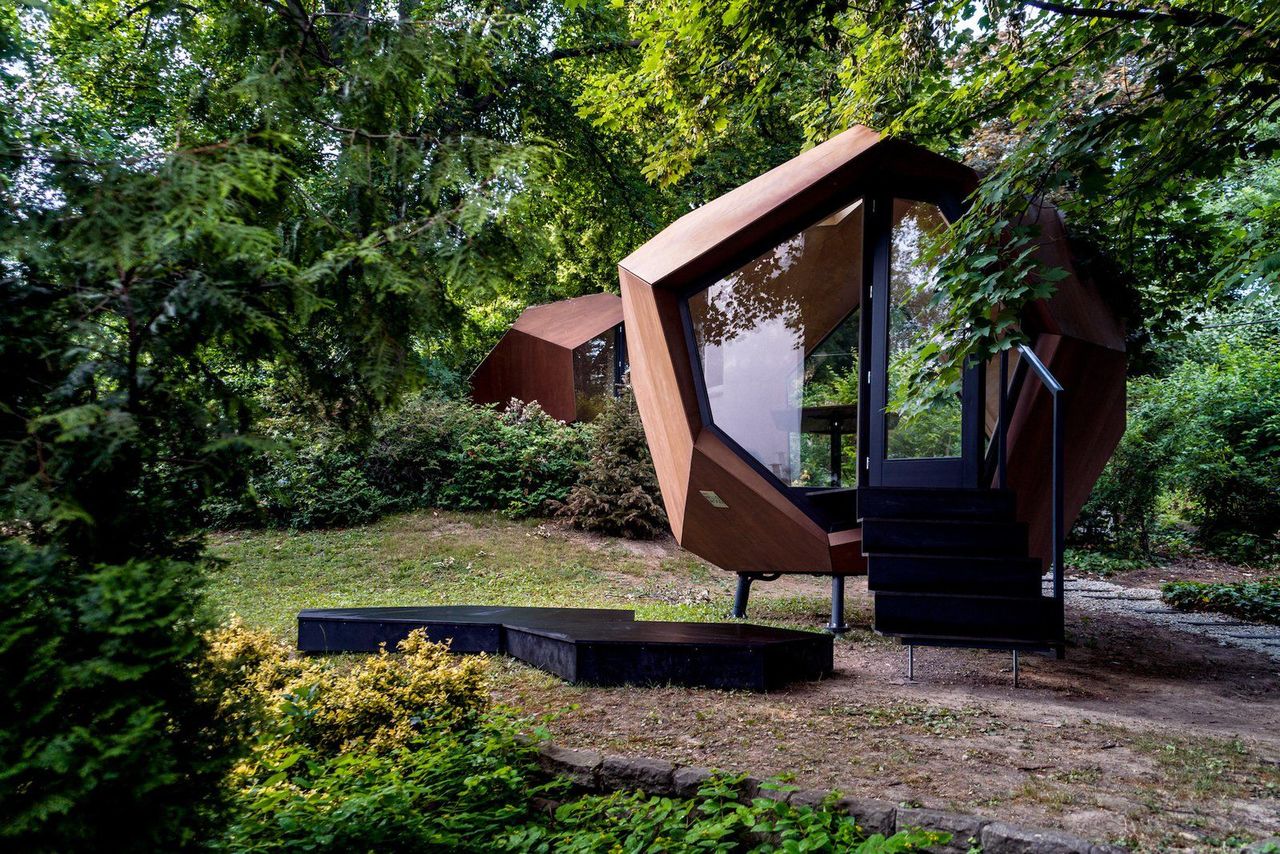 The Workstation Cabin was designed using CAD, and the elements are precision cut using a CNC machine. The pod is delivered fully assembled and lifted onto the site using a crane, so installation takes only a few days. Sitting on small stilts-that are attached to ground screws-the cabin almost appears to have touched down from outer space.

"The goal was to make the cabin communicate more with the natural environment than the built one," says Ráday. "This way, the cabins have a sculptural, installation-like feeling to them. I like to compare the cabin to the bodywork of cars, as the form is at least as important as the function."




A small exterior deck is formed from two hexagonal platforms. This creates a dry outdoor space that can be utilized in conjunction with the interior space, or as a space for entertaining in the garden.

Inside, the irregular interior volume expands out from the tiny footprint, creating a feeling of spaciousness. The interior is clad in FSC Scots pine timber, and two windows and a skylight allow natural light to fill the space. The only fixed object is the built-in bench. A simple desk allows the cabin to function as a workspace or meeting room, or the desk can be removed and replaced by a mattress or futon.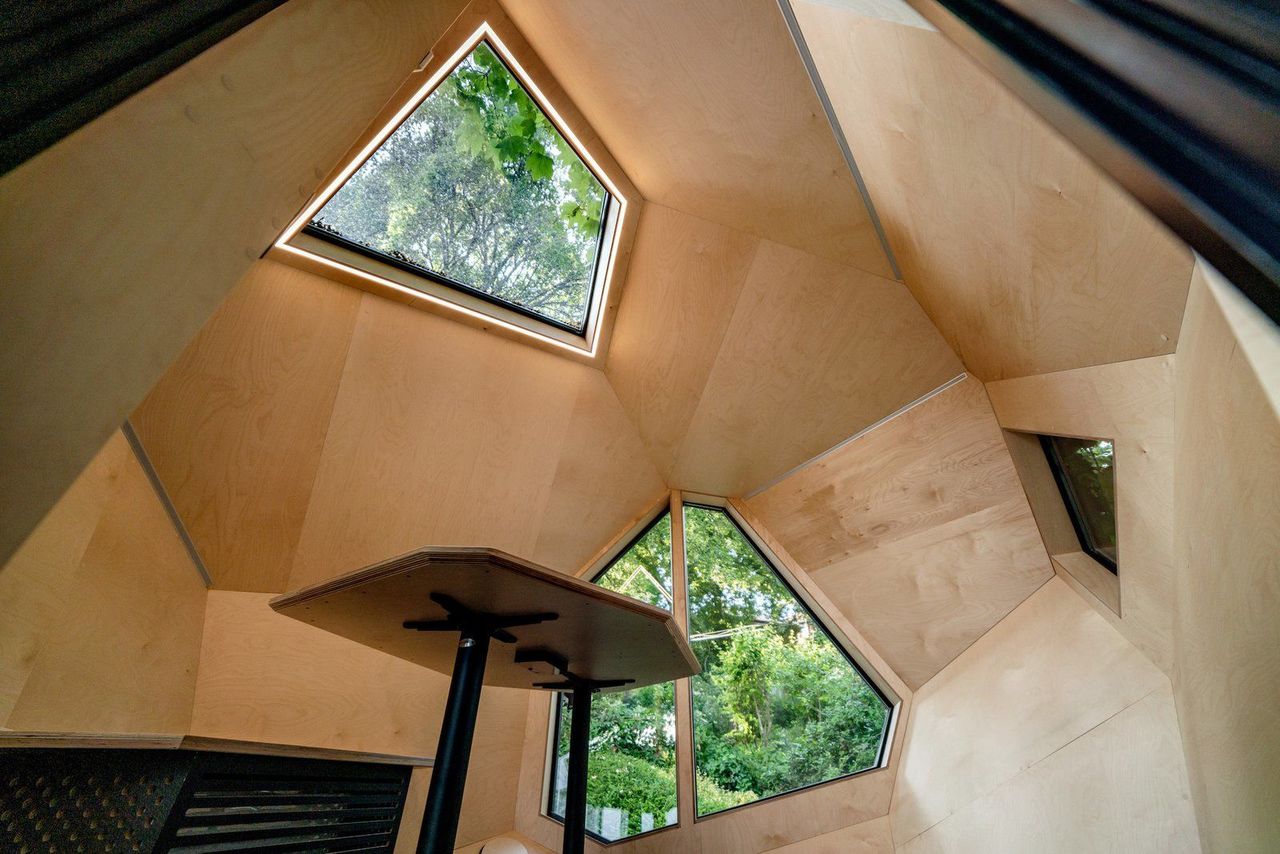 The timber interior is punctuated by three glazed panels-two windows and a skylight-that allow ample natural light into the space and avoid the interior feeling claustrophobic.

"Thanks to the huge glass windows, you feel close to nature while sitting in the cabin," says Ráday. "The unique shape of the cabin also provides an exciting experience-there are no separate walls and roof, which gives it a special feeling. It's definitely not your regular meeting room."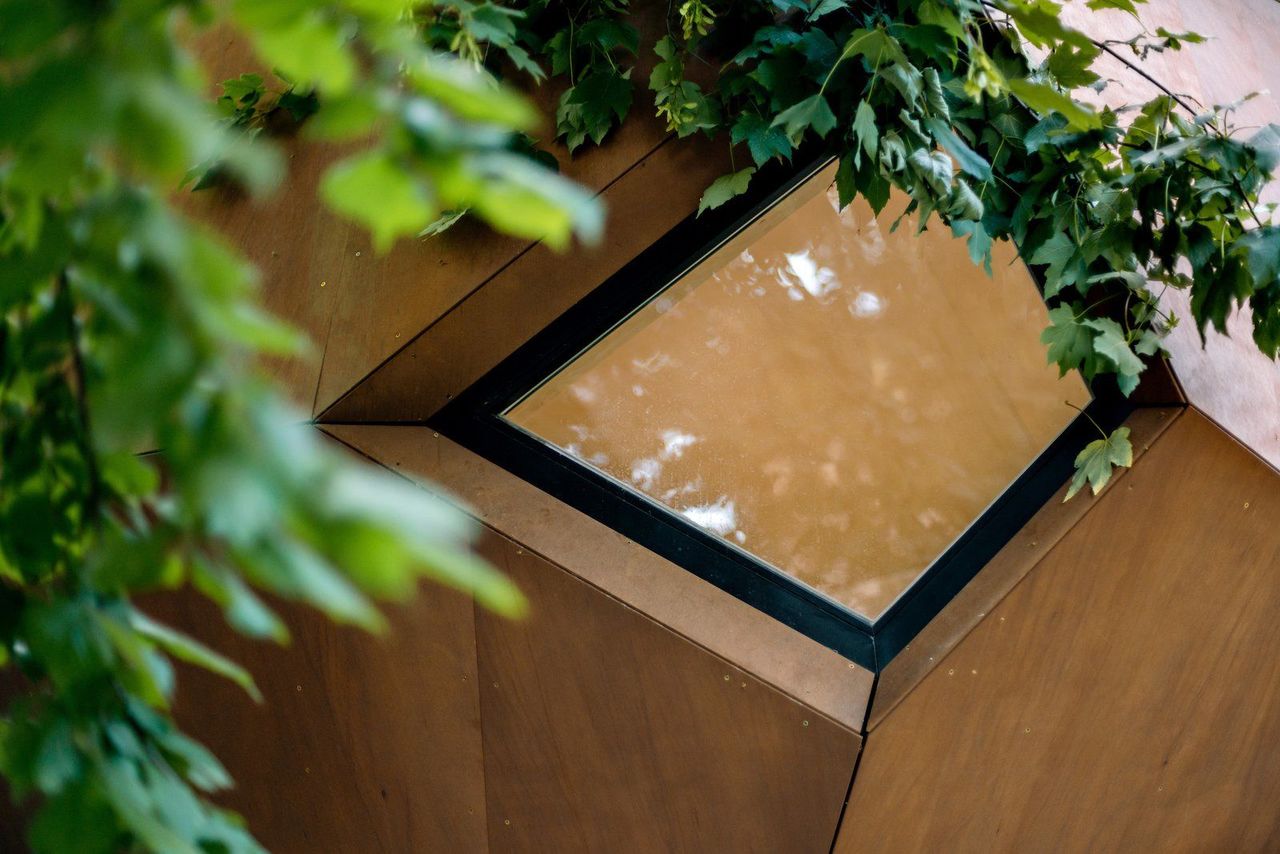 Special attention was paid to how the panels fit together to ensure the cabin is watertight and can cope with both cold winters and warm summers. The shape of the panels has been optimized to create minimal waste when cutting the material. "It was a very long, but very rewarding process," says Hello Wood co-founder Dávid Ráday.

The main challenge was creating a completely waterproof shell in such an irregular shape, reveals Ráday. As a result, special intersections had to be designed, and the material had to be treated to protect it against rain and snow. The panels have been CNC machined to ensure a precise fit. "There's no question as to whether it was worth it or not when it comes to quality in our projects," says Ráday.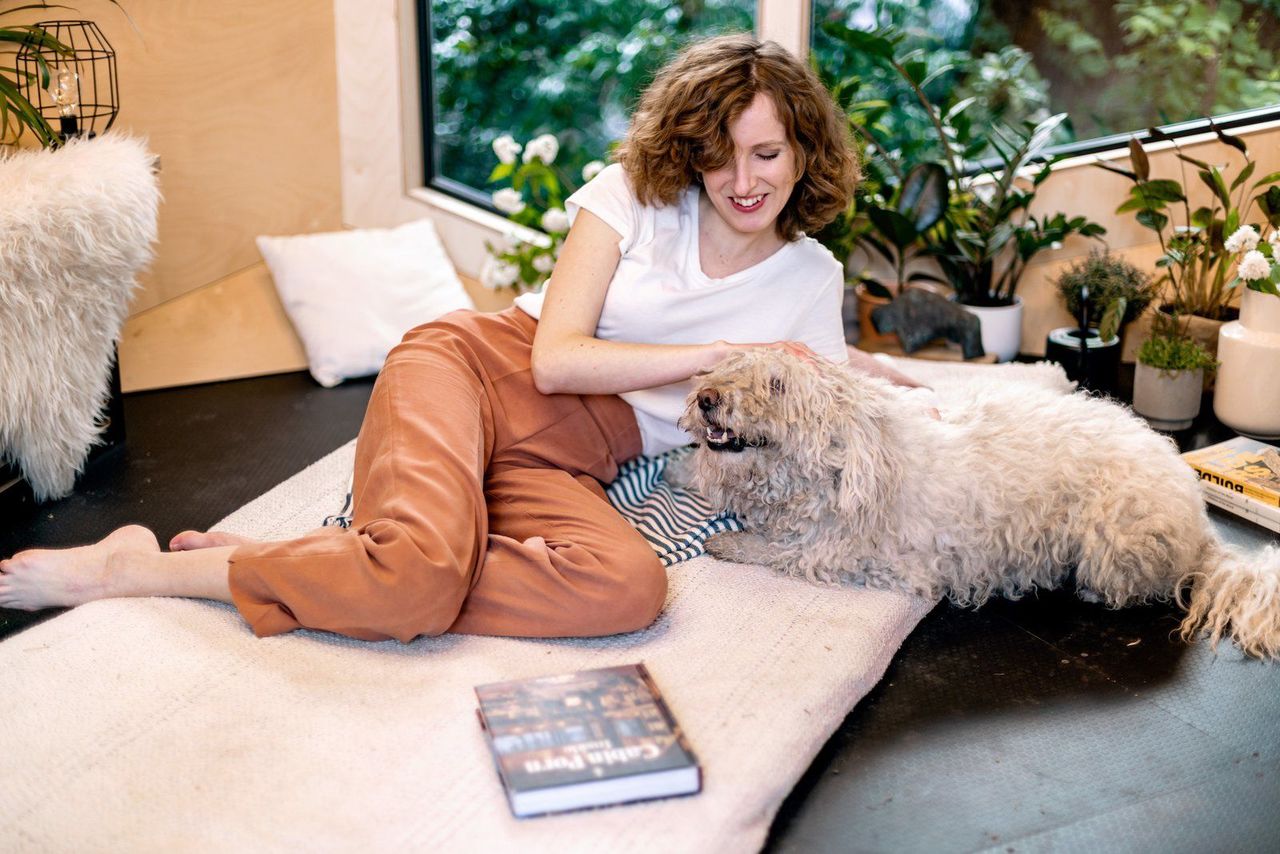 "The playful Workstation cabin is the ideal, private spot for work and meetings, but it can also function as a guest room or a playroom for the kids, and it is the perfect refuge should you need a tranquil place to relax or immerse yourself in creativity," says Hello Wood co-founder Dávid Ráday.

The team describes the process of designing and building the Workstation Cabin (and seamlessly integrating the utilities into the tiny space) as a mixture of product design and architecture. "It's the love child of design and architecture-it transcends the conventional cube shap,e and is more like a piece of art that blends into the landscape," says Ráday. "We're really proud to have created a modular, prefab cabin that can be installed almost anywhere and that functions perfectly."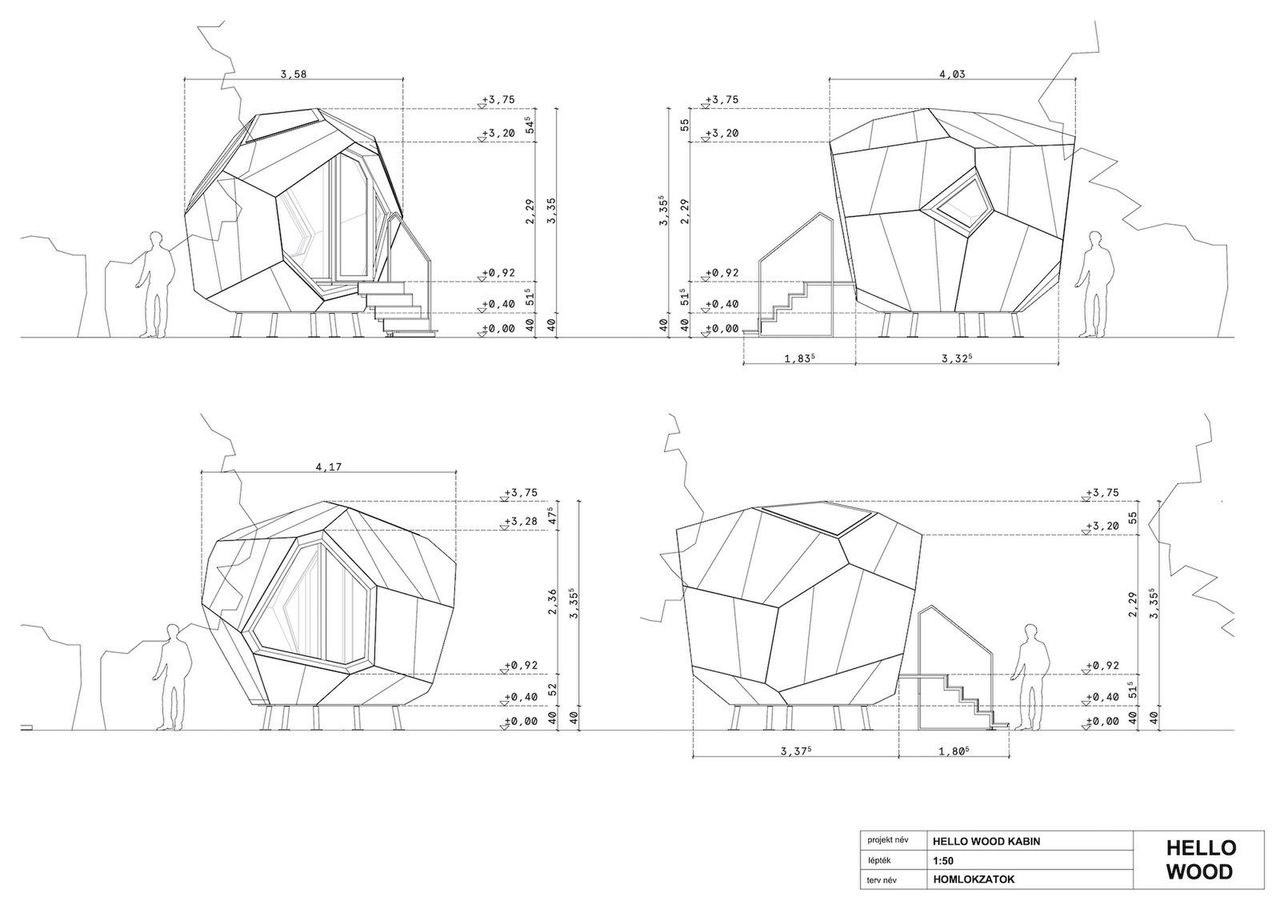 Elevations of Workstation Cabin by Hello Wood, showing how each angle presents a completely different face.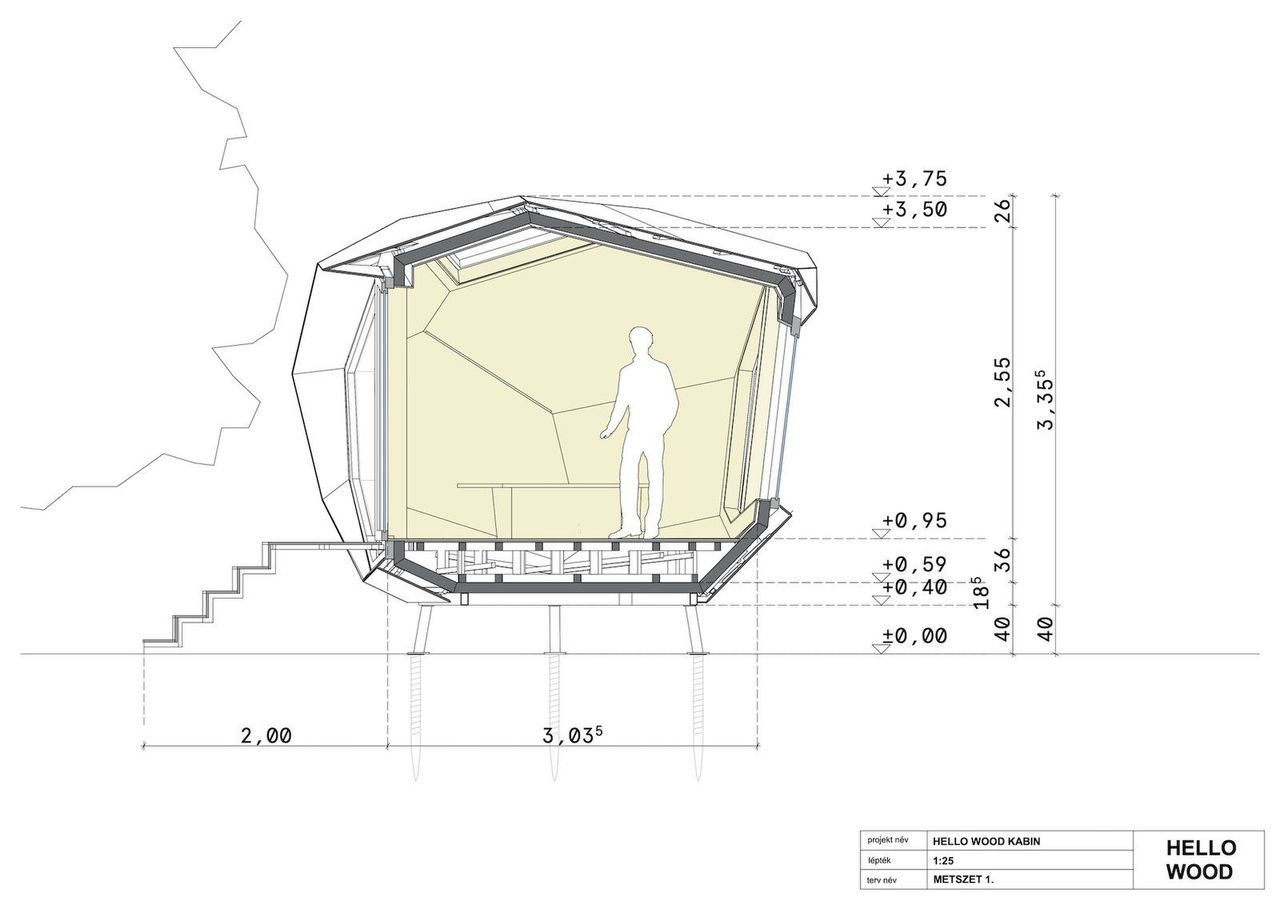 Section of Workstation Cabin by Hello Wood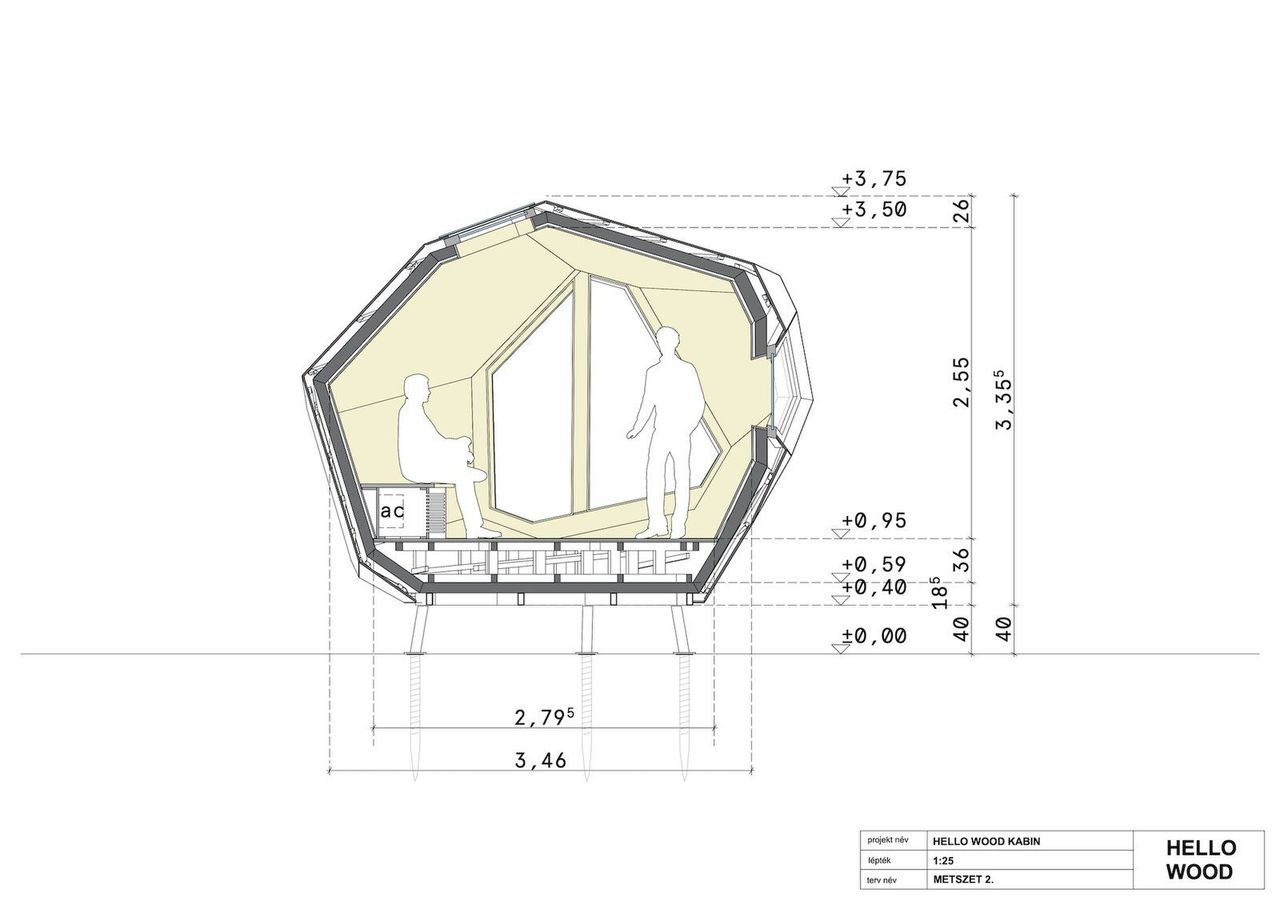 Section of Workstation Cabin by Hello Wood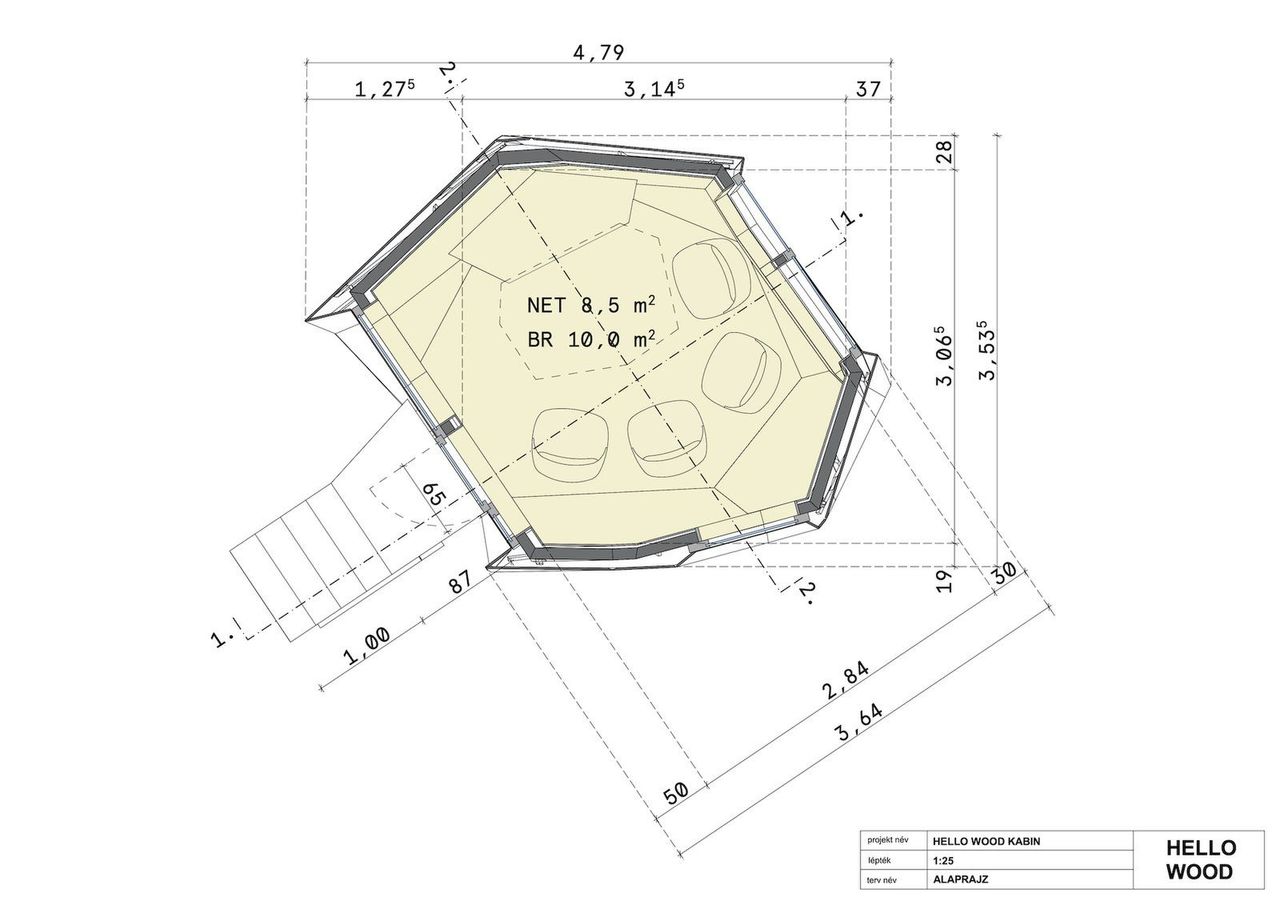 Floor plan of Workstation Cabin by Hello Wood