Justin Draplin, founder and CEO of Eclipse, a tiny home and cottage construction company in Greenville, South Carolina, often feels stressed out, and he thinks too many other people experience the same thing. "My goal is to change that," Draplin says. "I want to help people live more fulfilling lives."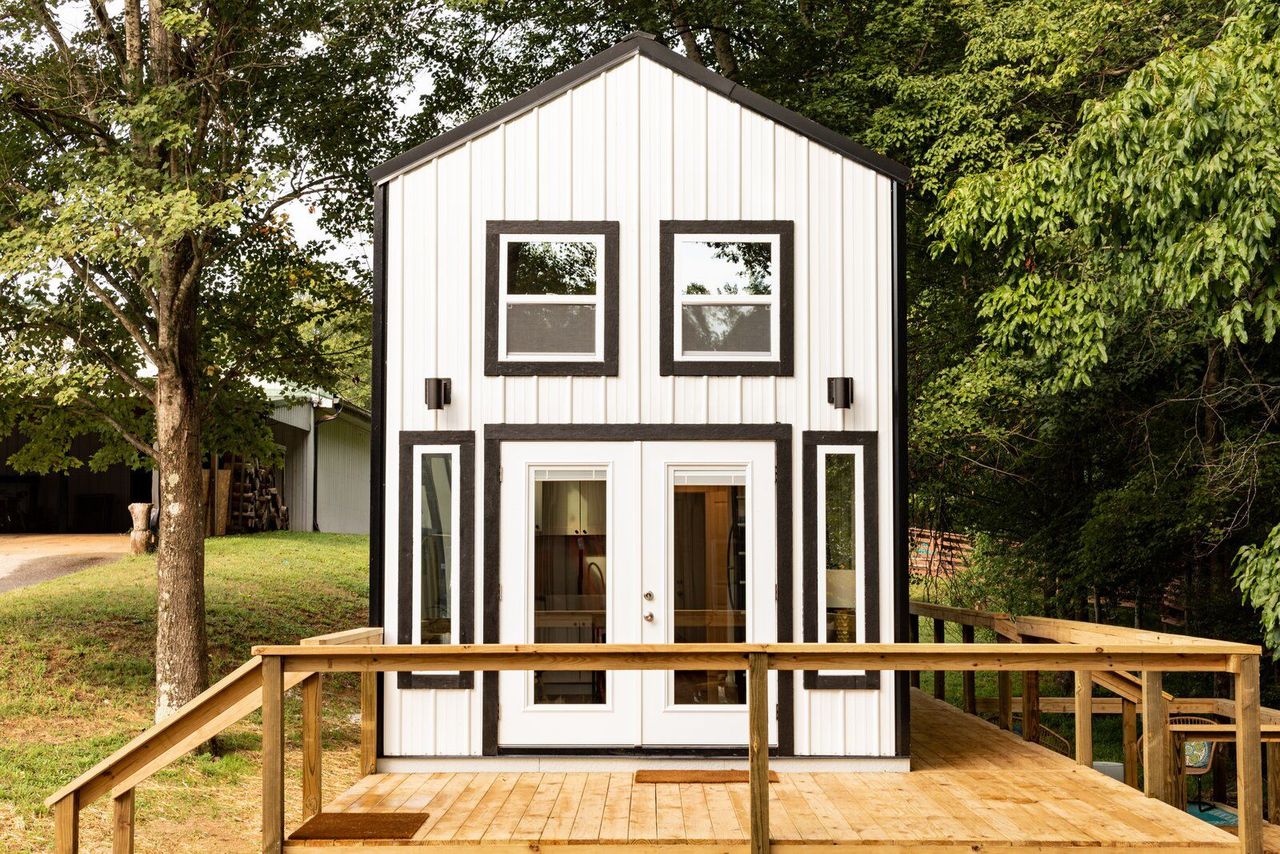 The 399-square-foot Eclipse Cottages are clad in white-painted steel siding.

For Draplin, owning and living in a big house-a commodity that has long been associated with success and the American dream-doesn't necessarily lead to a sense of fulfillment. In fact, he thinks the opposite more likely to be true. "With a large home, there's a mortgage and constant maintenance," says Draplin. Having a compact, manageable residence allows for more free time and money to spend on things like "connection to the natural environment," Draplin states, continuing: "This is what relieves stress."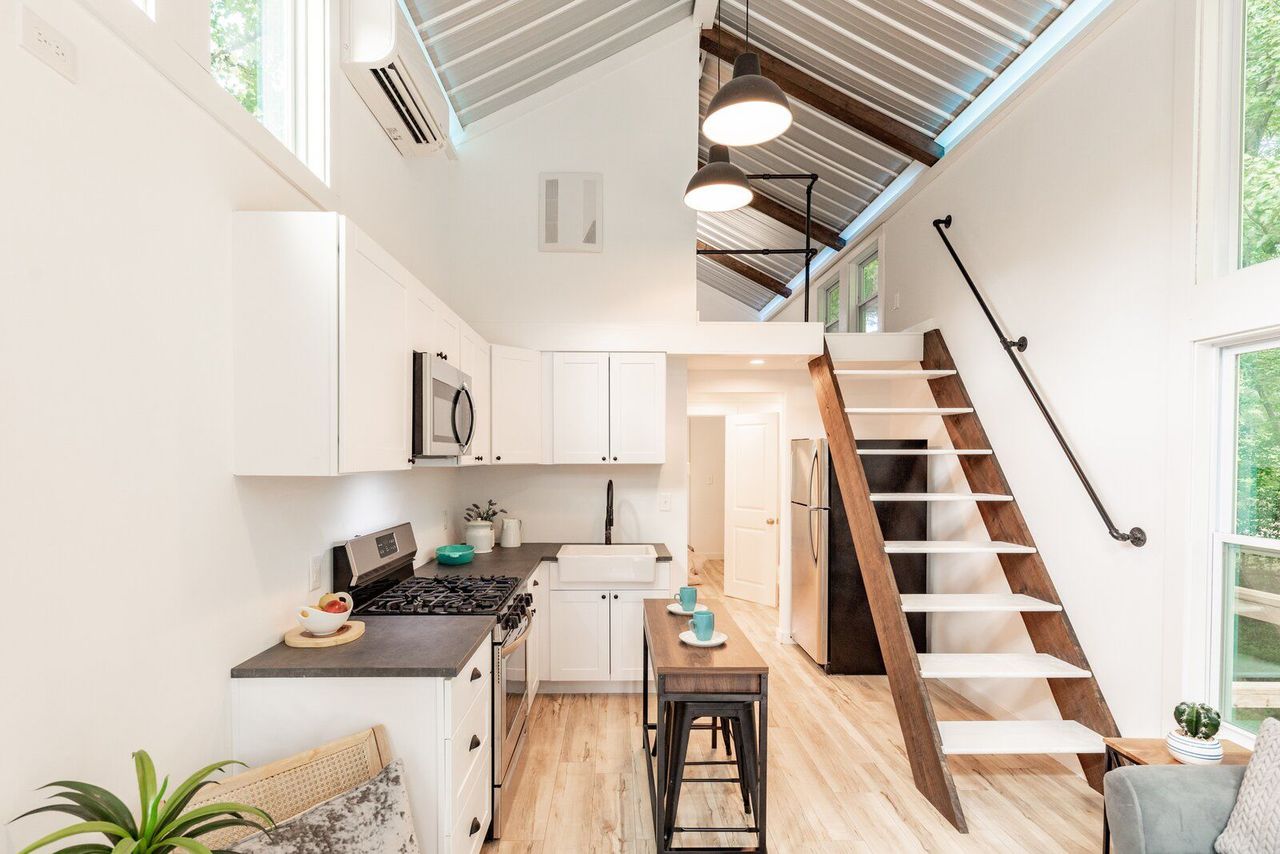 A double-height ceiling creates an open and airy aesthetic for the cottage interior.

Having grown up with a father who worked as a builder, Draplin developed an interest in construction, sustainability, and compact homes at an early age. This combination of curiosities eventually led Draplin to create Eclipse, which manufactures tiny homes and cottages with sustainable features. "The first Eclipse model was completed [at the start of] September 2021," Draplin says. "There are currently five homes in production and purchase agreements for over 40 more."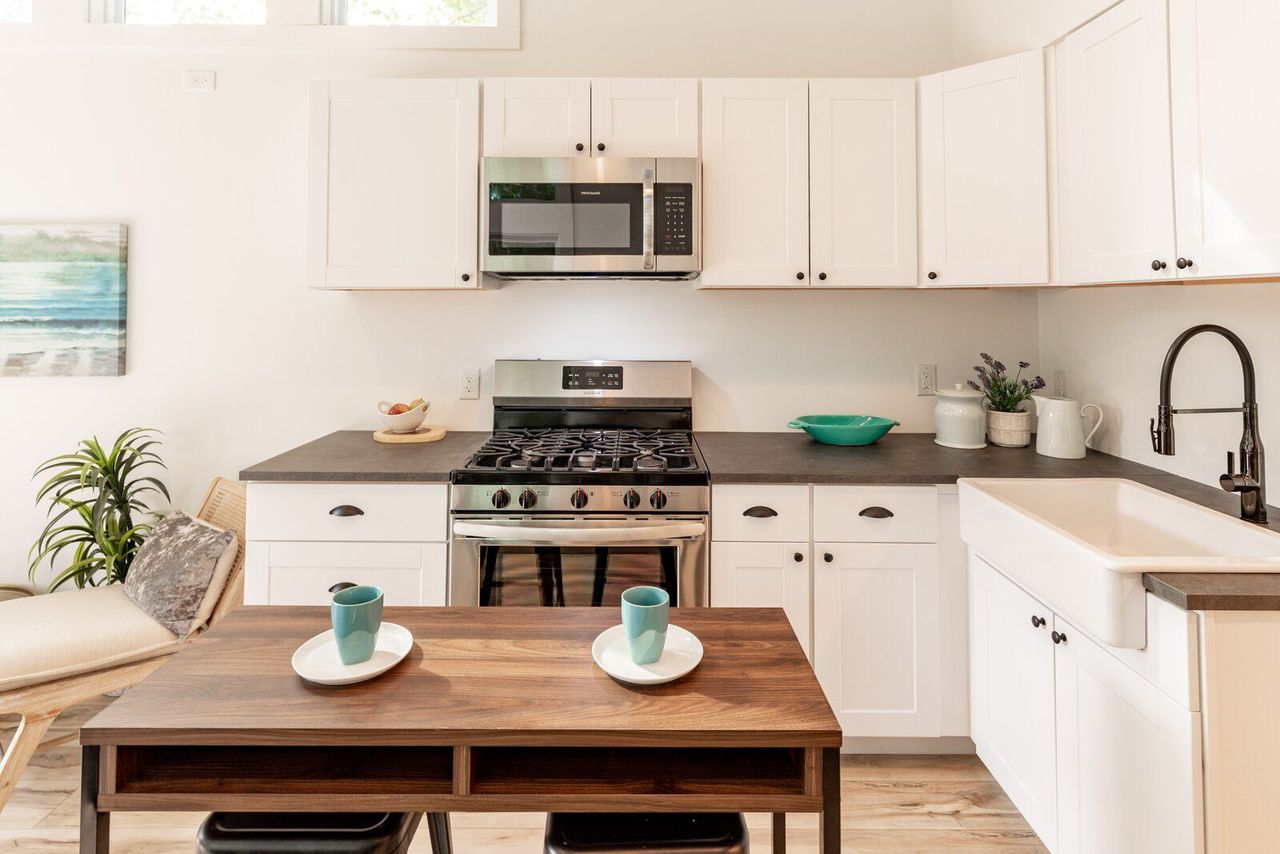 White-painted wooden cabinetry is topped with laminate counters in the kitchen, where an island with built-in storage offers a flexible dining area.

The 399-square-foot Eclipse Cottages are as charming as they are efficient. "Our tiny homes feel far from tiny," Draplin says. "We utilized every corner of space in terms of the design."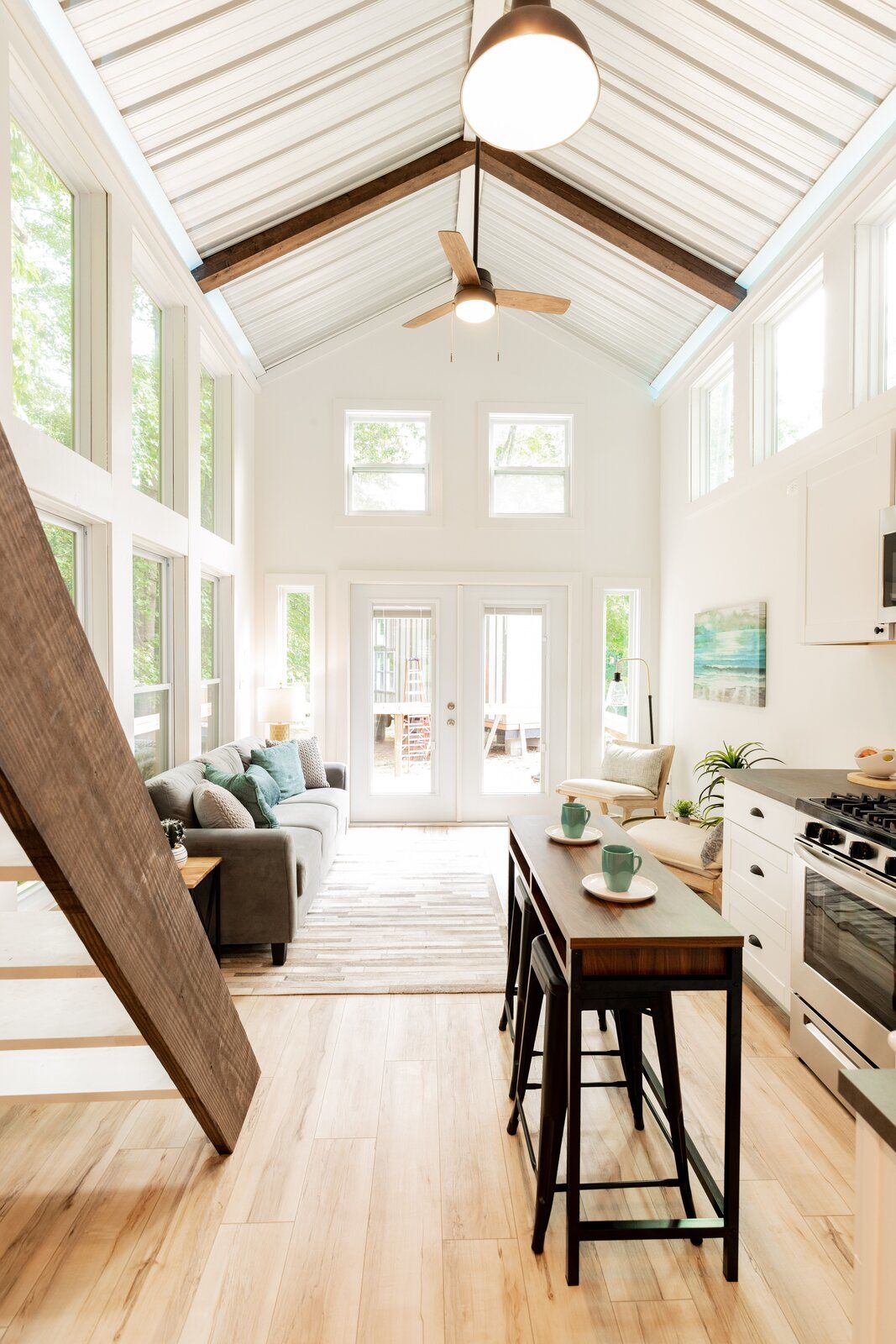 Vinyl plank flooring helps to maintain an affordable price for the cottages, which start at $100,000. Pine beams lend texture and warmth and offset the steel materiality of the ceiling.

"I chose steel for the cladding because it's recyclable and durable in all conditions," Draplin says of the siding and framing. "All of the amenities and features we've included appeal to people who may have been previously opposed to tiny living."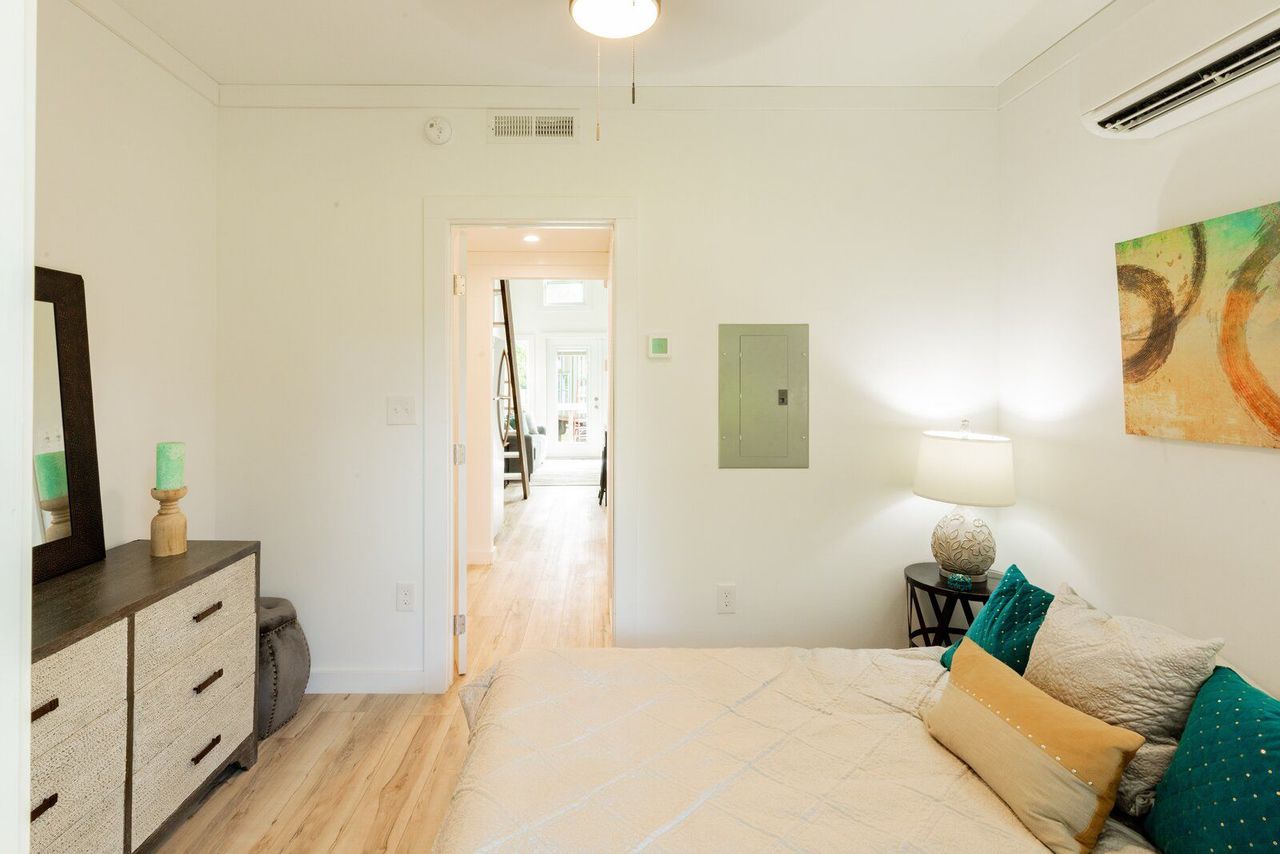 The bedroom is arranged with a large dresser, a queen-size bed, and a pair of nightstands.

Inside, sunlight bounces around the open-plan spaces, where a double-height ceiling creates an airy feel. Homeowners can select a plan with a loft area that can be used as a second bedroom or as an additional storage space; there's also an option for a half bathroom on the second story. Smart LED lighting, an optional kitchen island, a large porch, and a sizable deck offer added luxury for the compact cottages.




In the bathroom, the toilet offers a two-flush option that reduces water waste, while the off-grid package includes an incinerating toilet.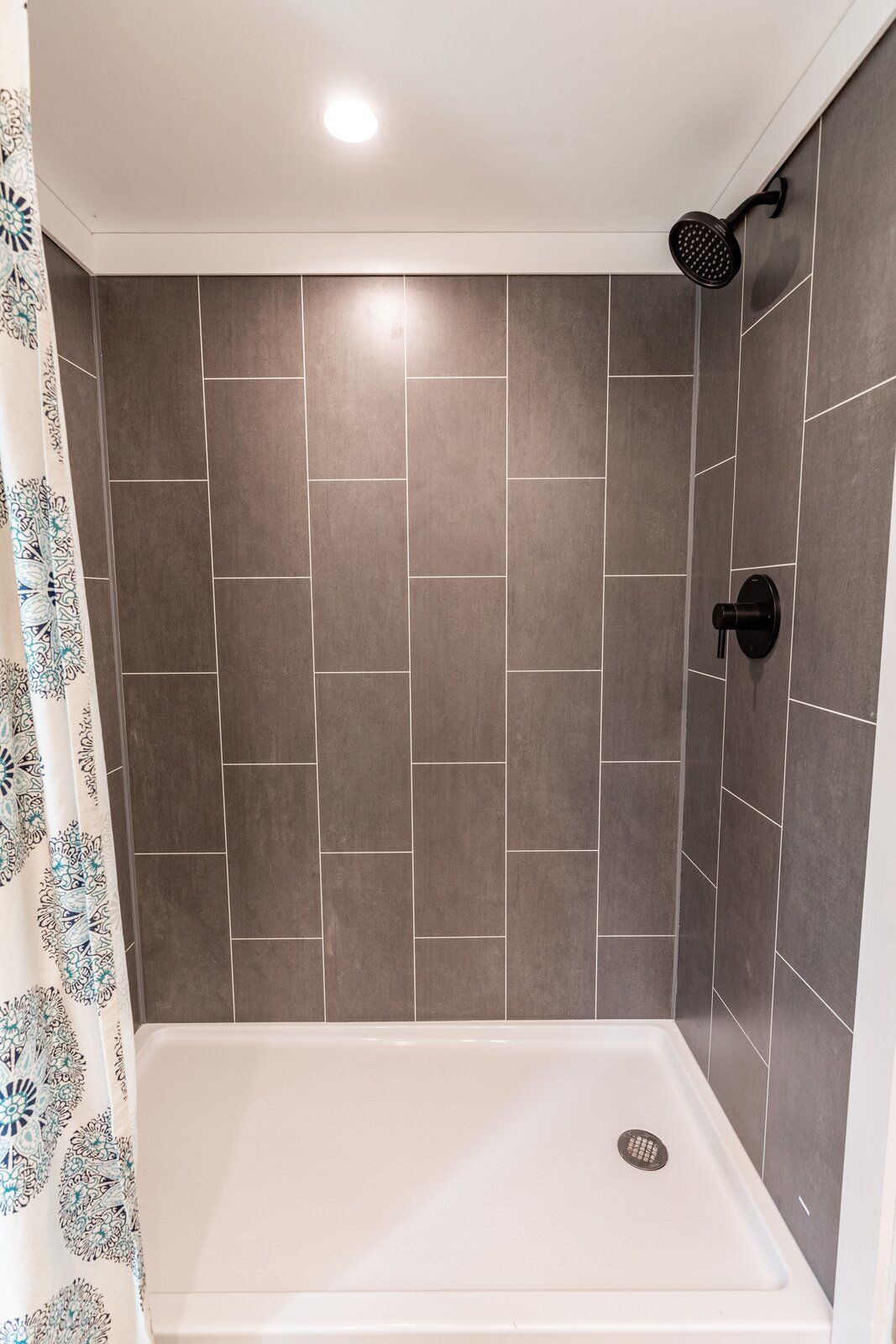 The composite wall system in the shower imitates stone tile and offers durability.

In addition to comfort, the designs also offer plenty of sustainable features and off-grid capabilities, including incinerating toilets and solar power. "There are 5.8 kilowatt solar panels available in every home," Draplin says. "The cottages also have a 35 R-value with a full thermal break and a vapor barrier to create an airtight shell, giving homeowners greater insulation quality. Our rainwater catchment and graywater renewal system options allow people to not have to rely on other water sources."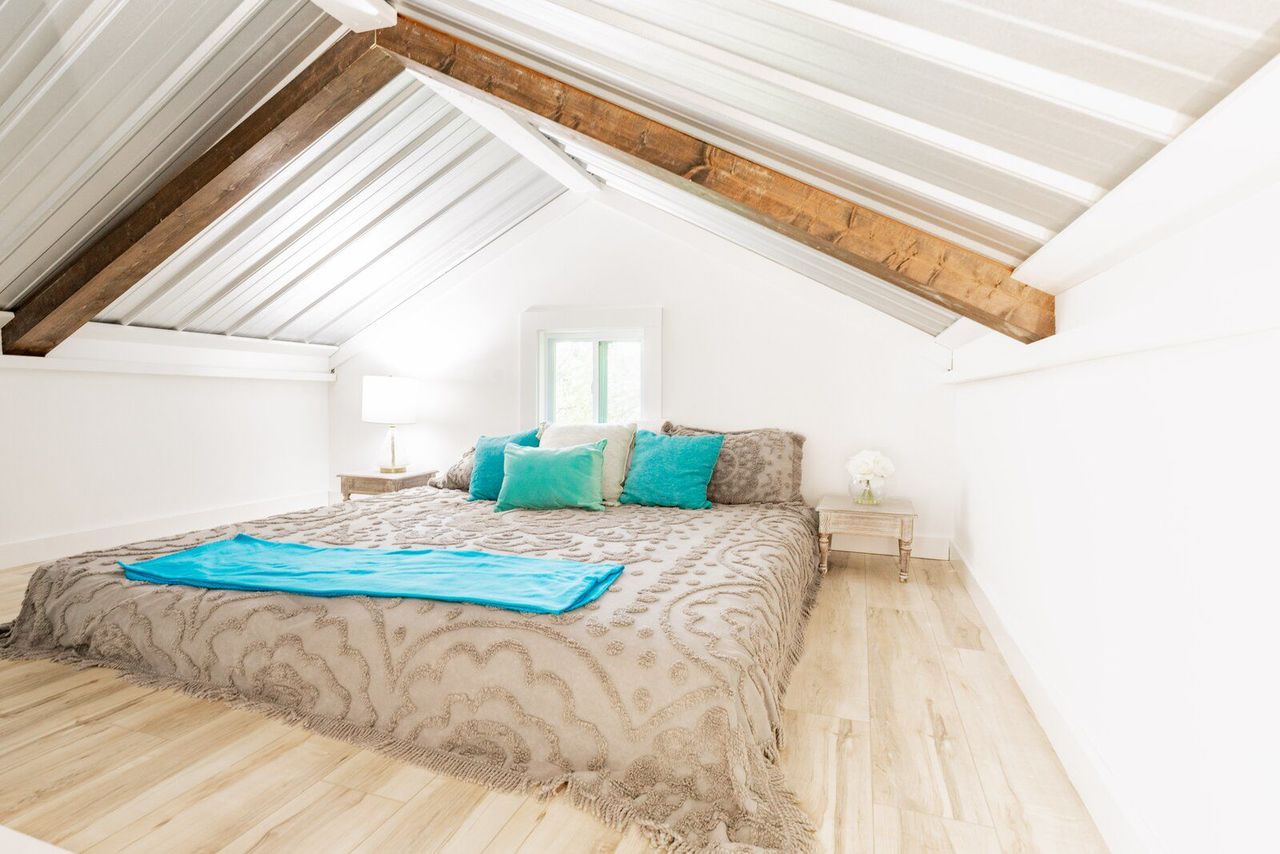 A loft area at one end of the cottage can be arranged as a bedroom or used for extra storage.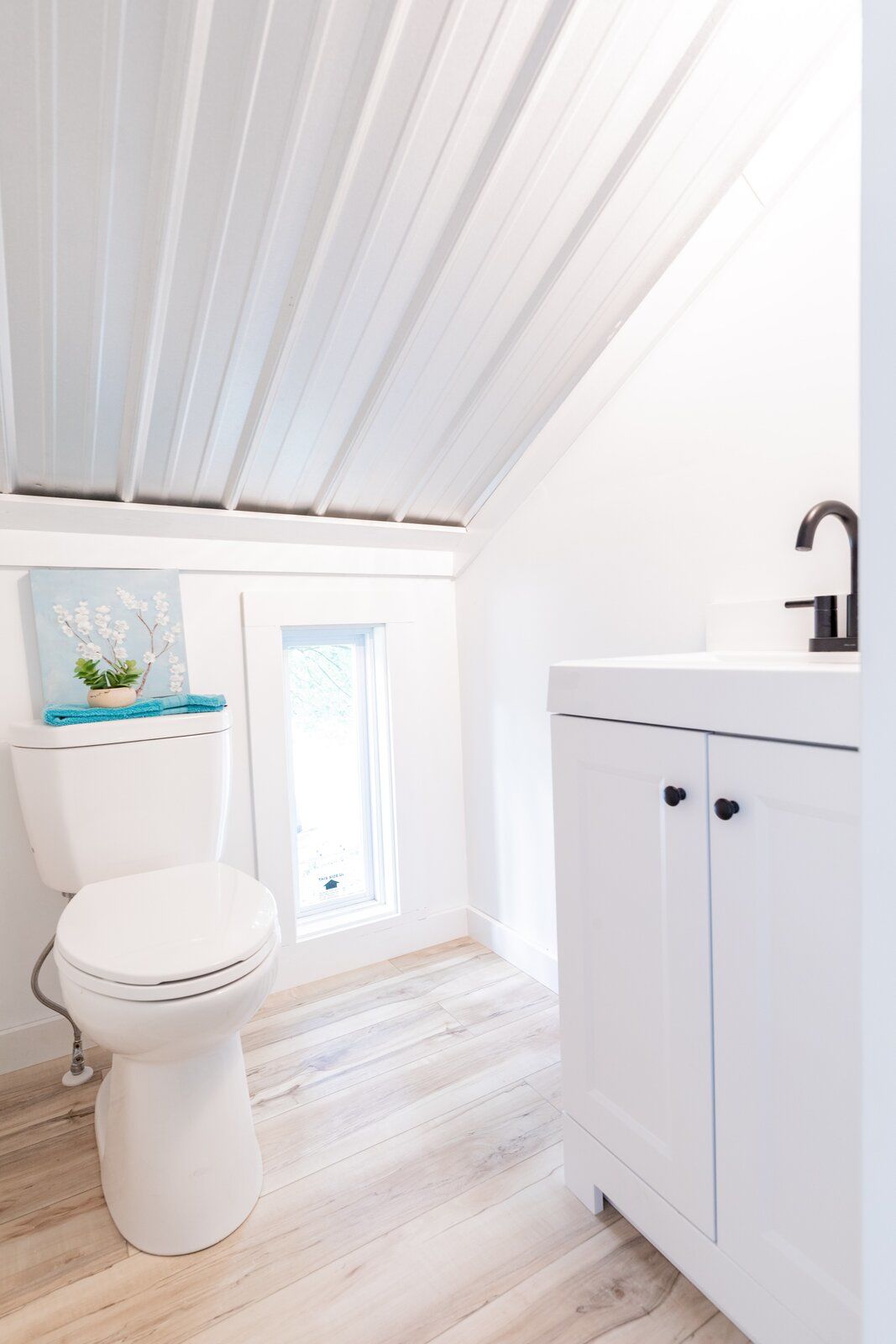 An optional half bathroom can be added on the second story.

In addition to developing Eclipse Cottages-which start from $100,000 and can be shipped anywhere in the United States-Draplin is hard at work creating Eclipse Villages, or tight-knit neighborhoods that feature a collection of Eclipse Cottages. "There are several [in-progress] communities in South Carolina, but developers are actively looking for partners in other states," he says. "The established communities have anywhere from 140 to 600 homes, and our partners are working on smaller communities that include anywhere from 14 to 18 [tiny cottages]."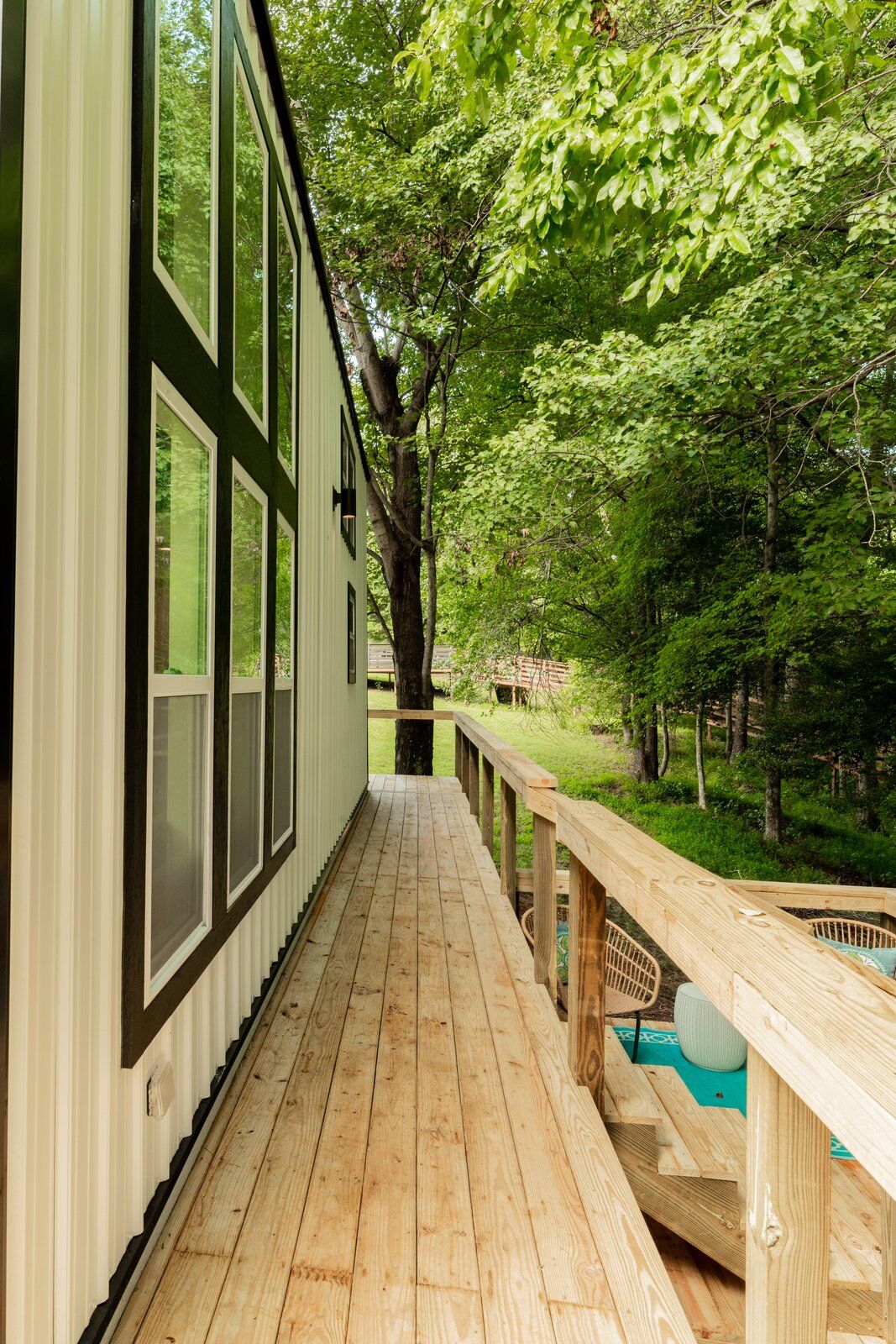 A wraparound porch provides a place to view the natural landscape, connecting the cottage to the outdoors.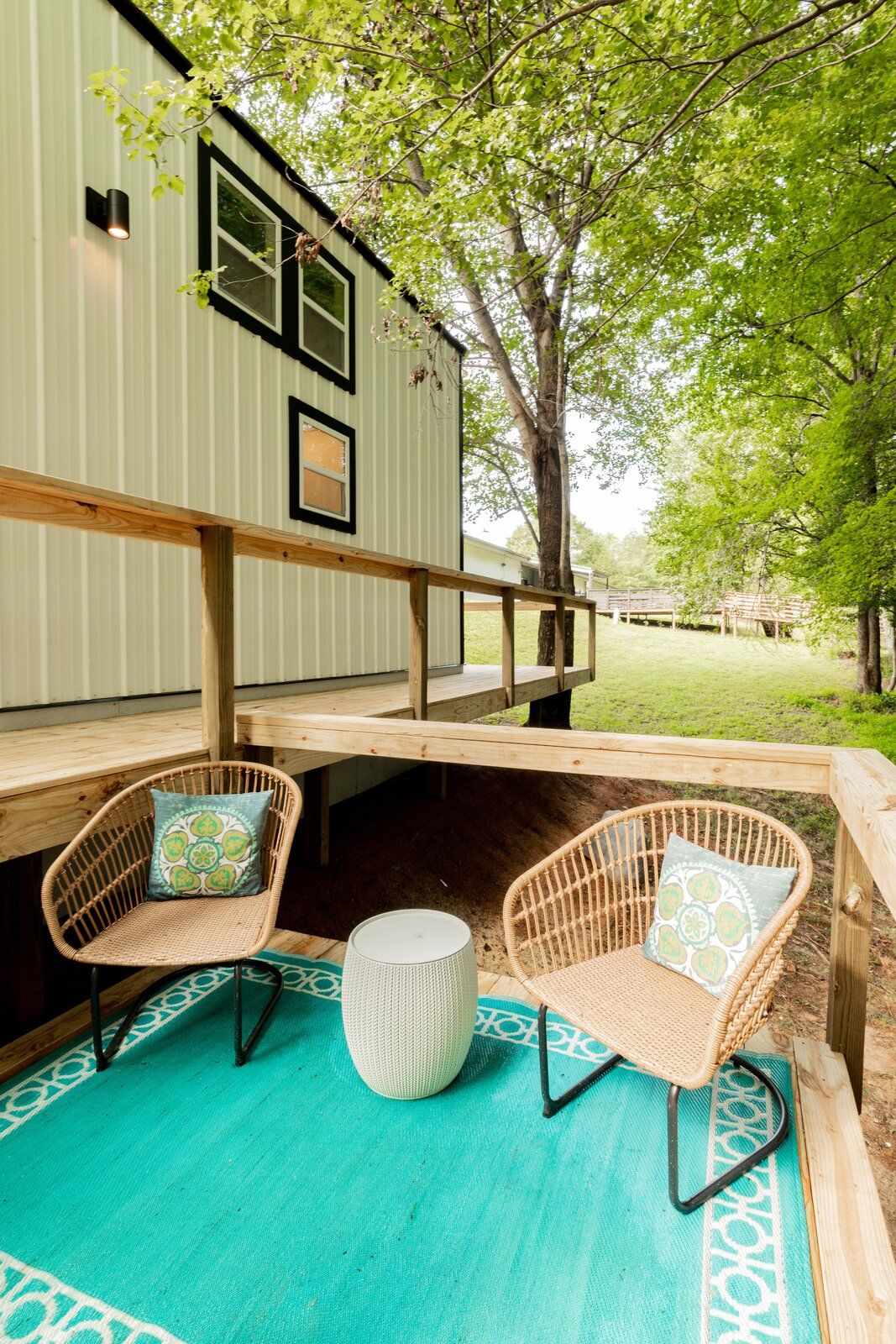 A wooden terrace with chairs and an accent table provides a place to enjoy nature. "It feels like the outdoors are part of the home," Draplin says.

The currently underway Eclipse Villages are being designed to preserve the natural features of their sites, maintaining as many trees as possible. "We're working with the land as it is and letting it direct us as to what the community should be like, instead of the other way around," Draplin says. "One community will have a farm-to-table restaurant and a brewery on-site, and others will have full-working farms, mountain views, or lakes."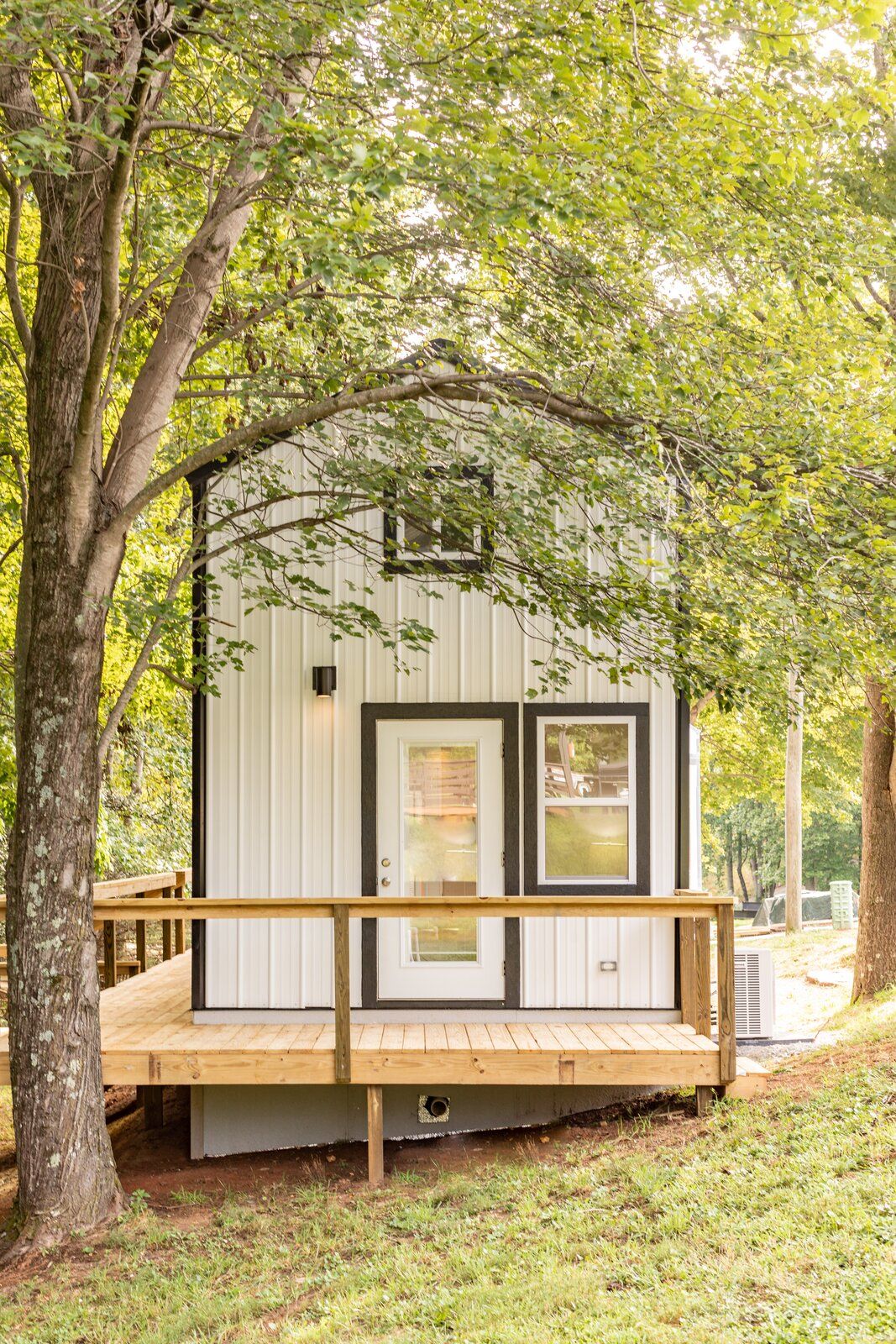 Black-painted window and door frames contrast with the white-painted steel siding and offer a crisp, clean aesthetic for the exterior.

It's important to Draplin that each of the Eclipse Villages offers an old-time neighborhood experience. "You know how when you were a kid and your neighbors knew who you were and always looked out for you? That's what I want for our communities," Draplin says. "I think it's what makes for a happier life, and maybe it can help change the world."