In California's remote Morongo Valley, situated roughly 30 minutes from both Palm Springs and Joshua Tree National Park, Merchant House High Desert is a full-on display of interior designer Denise Portmans's Europe-meets-California aesthetic. Originally from London, Portmans has spent the last three decades living on and off in Los Angeles, where she runs her design shop, Merchant Modern, in Santa Monica.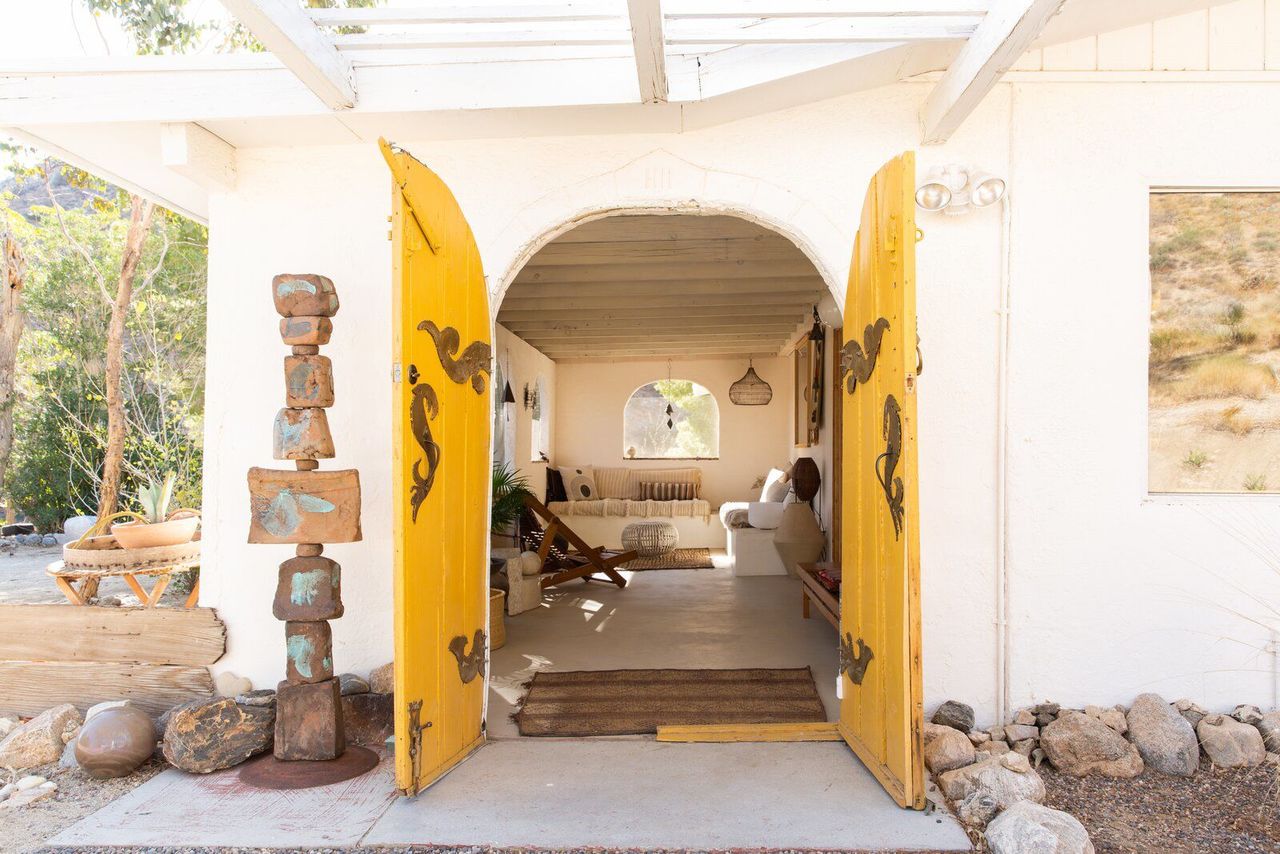 Merchant House High Desert in Morongo Valley, California, is like a showroom for interior designer Denise Portmans, who runs her design shop, Merchant Modern, in Santa Monica.

As Portmans tells it, her love affair with the desert began with an Airstream trailer that she brought back to life. After searching far and wide for a home to buy, she finally found this 1958 Morongo Valley residence with good bones in early 2019.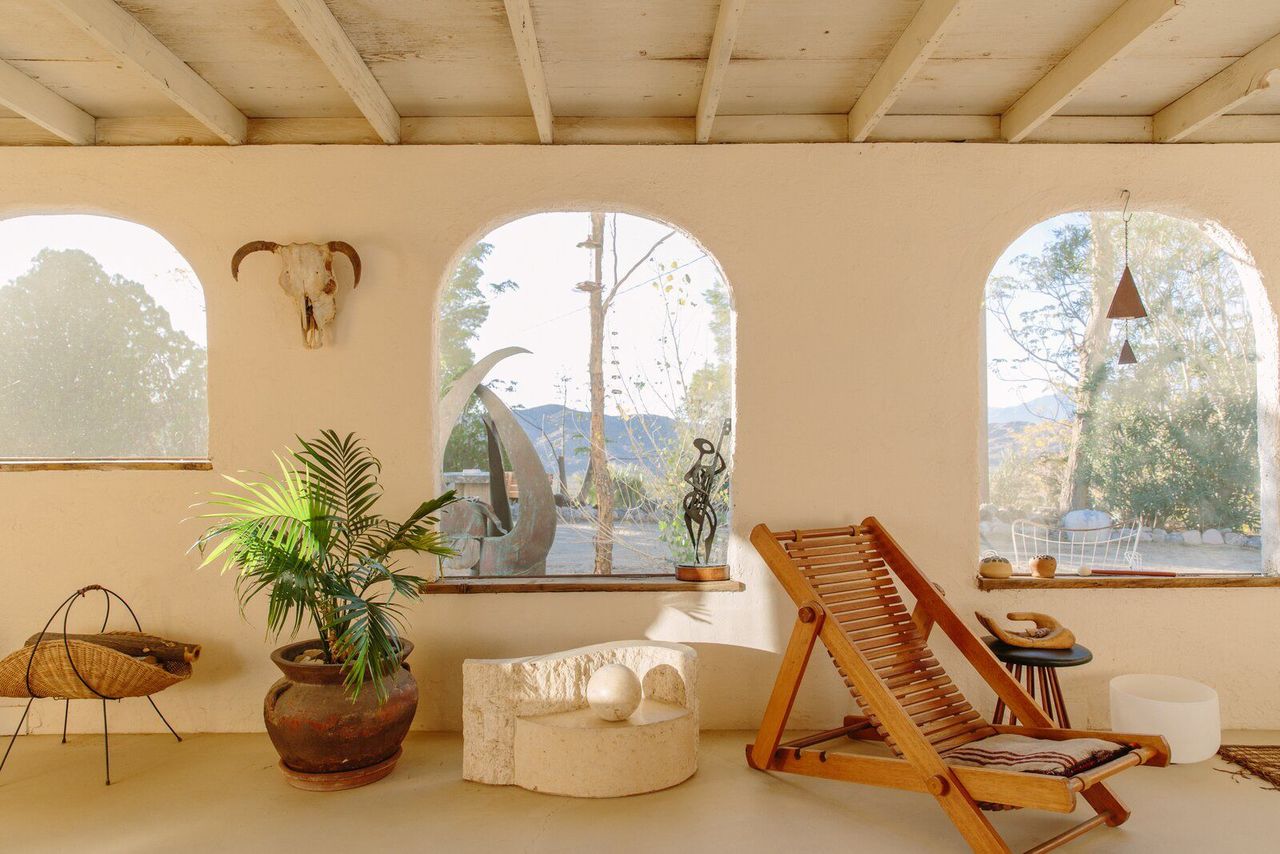 Set 30 minutes south of Joshua Tree National Park, the whitewashed adobe structure features a post-and-beam design with an open-plan living area and shaded outdoor gathering spaces.

Together with her daughter, artist Sarah Marlowe Hall, Portmans transformed the desert home into what she describes as "a living gallery, basically." Portmans coated the walls with a fresh layer of white paint and decorated the rooms with a mix of objects curated from her L.A. shop. There are midcentury pieces by Harry Bertoia, Charles and Ray Eames, and Arthur Umanoff, as well as vintage Moroccan rugs, sculptures, ceramics, and paintings by contemporary artists, including work by Sarah.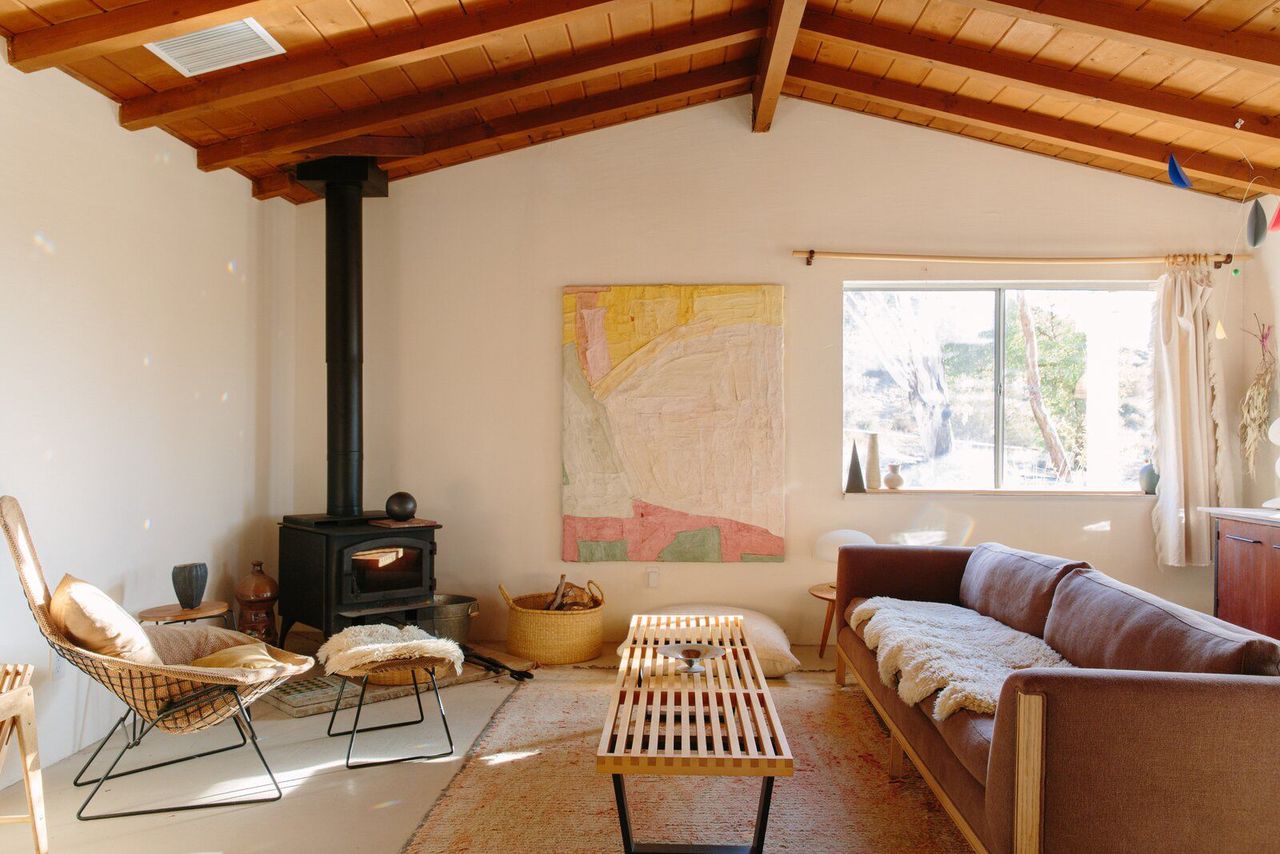 In the living room, midcentury-modern furnishings such as the Nelson Platform bench by Herman Miller and the Bertoia Bird chair sit alongside assorted vintage ceramics sourced by Portmans. A painting by Portmans's daughter, Sarah Marlowe Hall, hangs on the wall near a fireplace.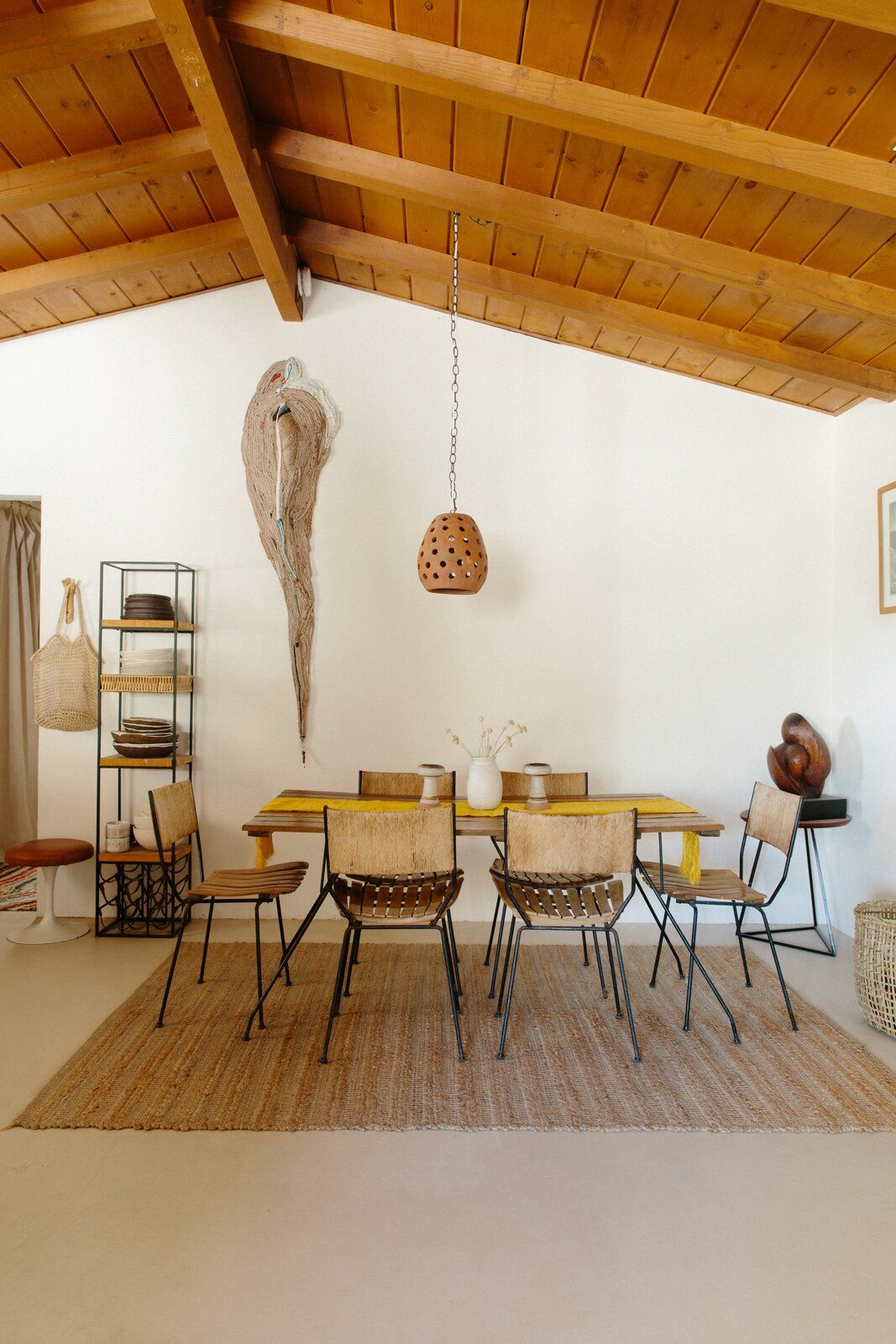 Portmans styled the dining area with a vintage table and set of chairs by Arthur Umanoff. The shelving unit, also by Umanoff, sits near a 1957 Tulip Stool by Eero Saarinen for Knoll.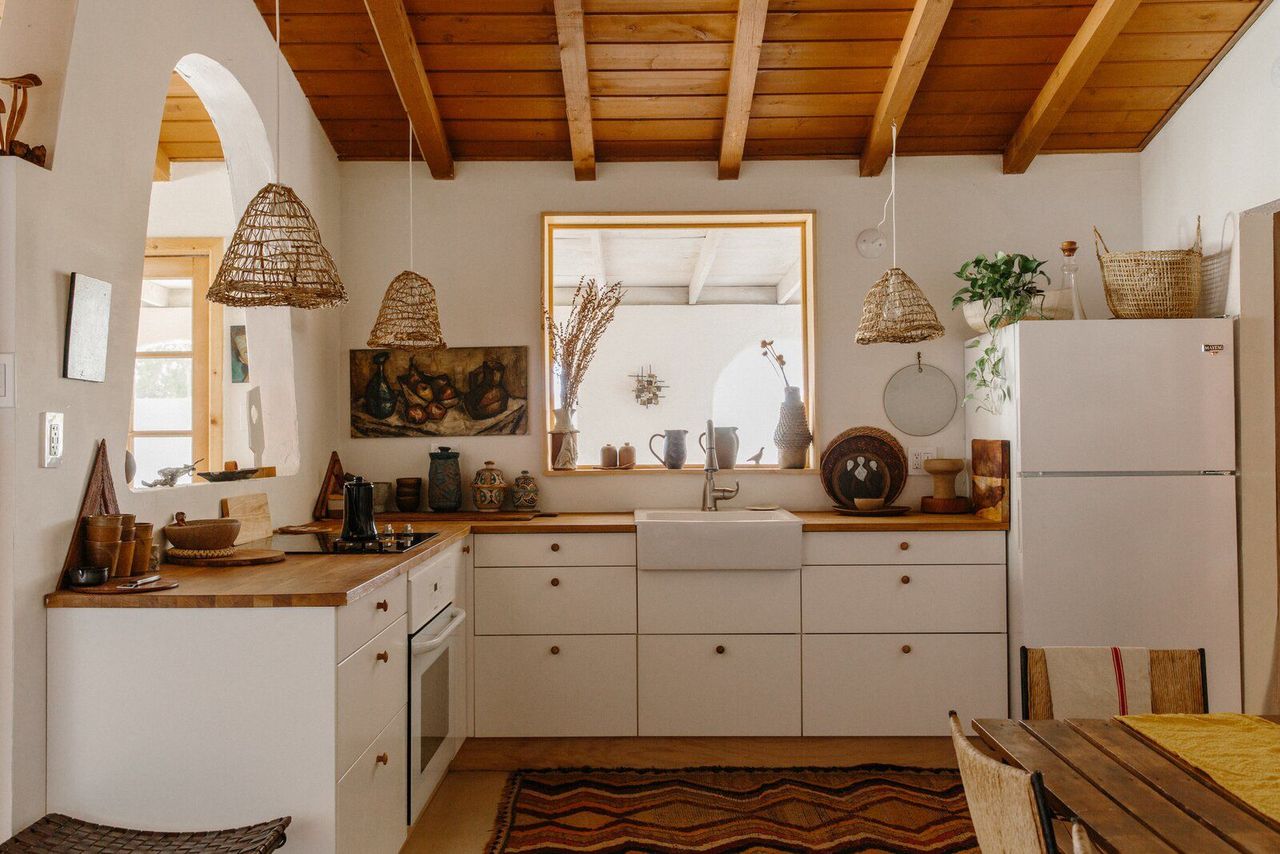 The Merchant House High Desert includes a fully equipped kitchen, as well as indoor and outdoor dining areas.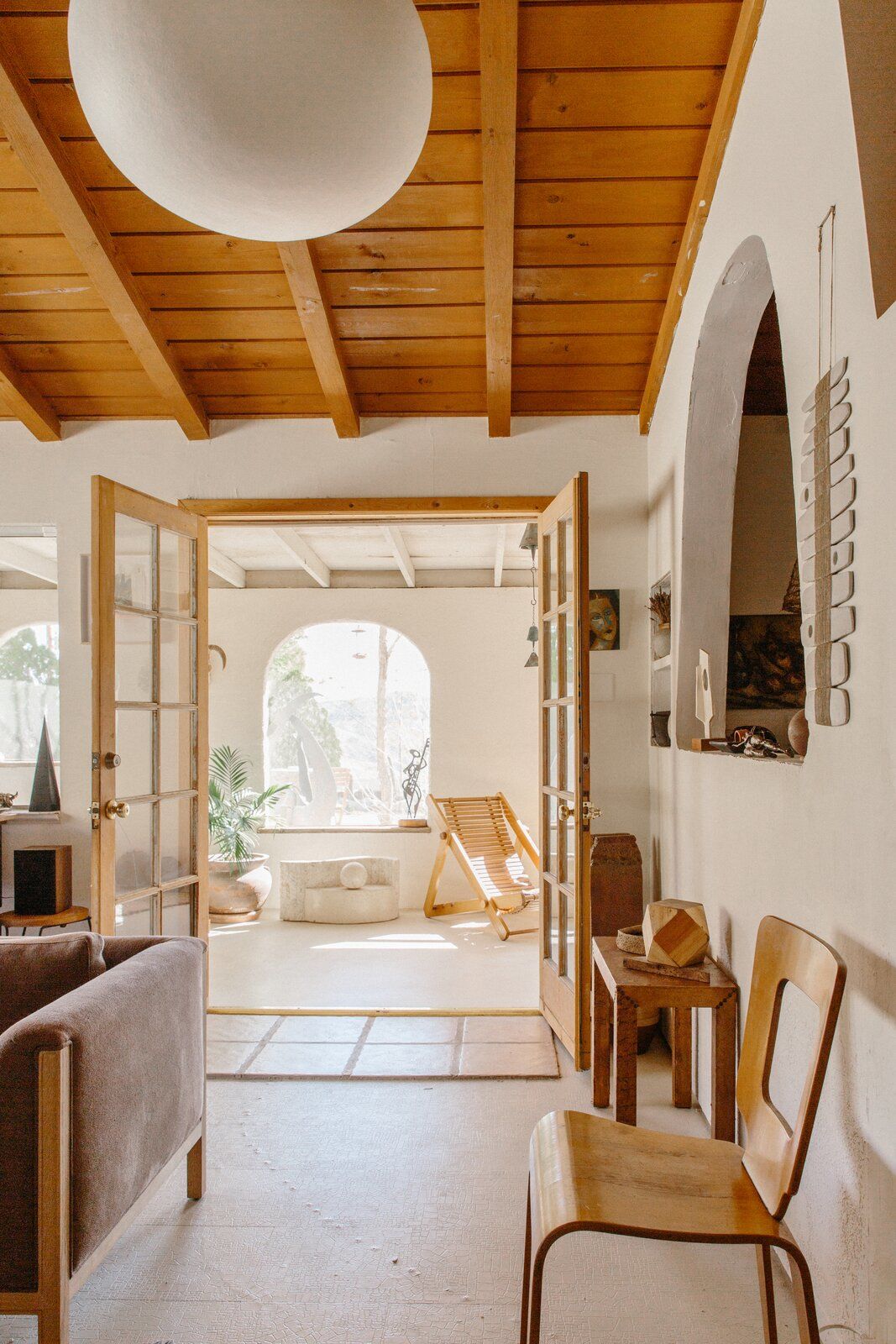 A bent plywood side chair by Thaden-Jordan sits in the primary living area, which opens up to a covered patio.

"The idea is that as you're [at the rental], you discover things," says Portmans. "It's not in your face, but it's there." The interior designer cites the kind of rustic holiday home you'd find in Spain's Balearic Islands as inspiration for the home's overall vibe, adding: "I wanted people to feel like they can get away in two hours and experience something different."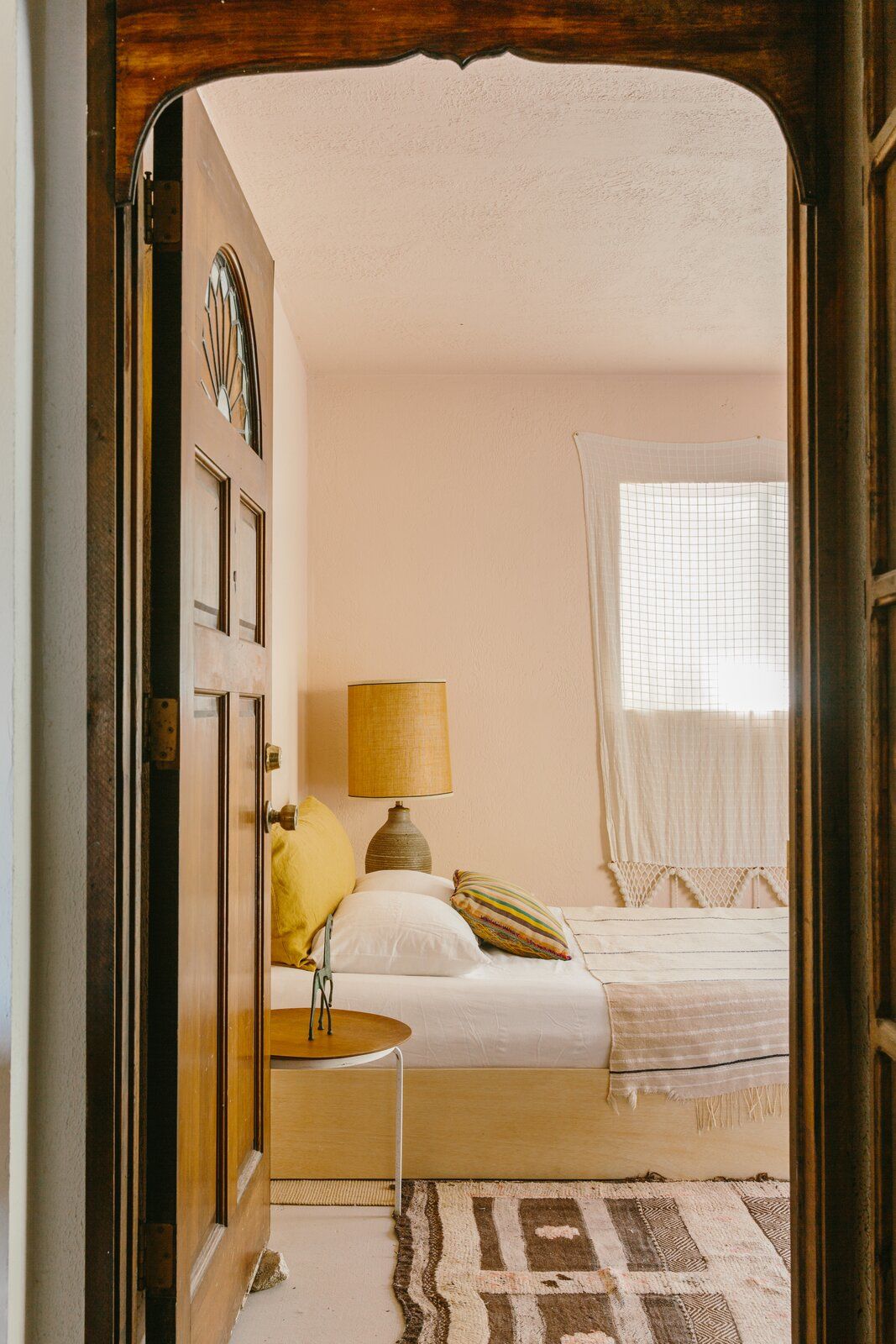 The Merchant House High Desert has a total of three bedrooms and two baths.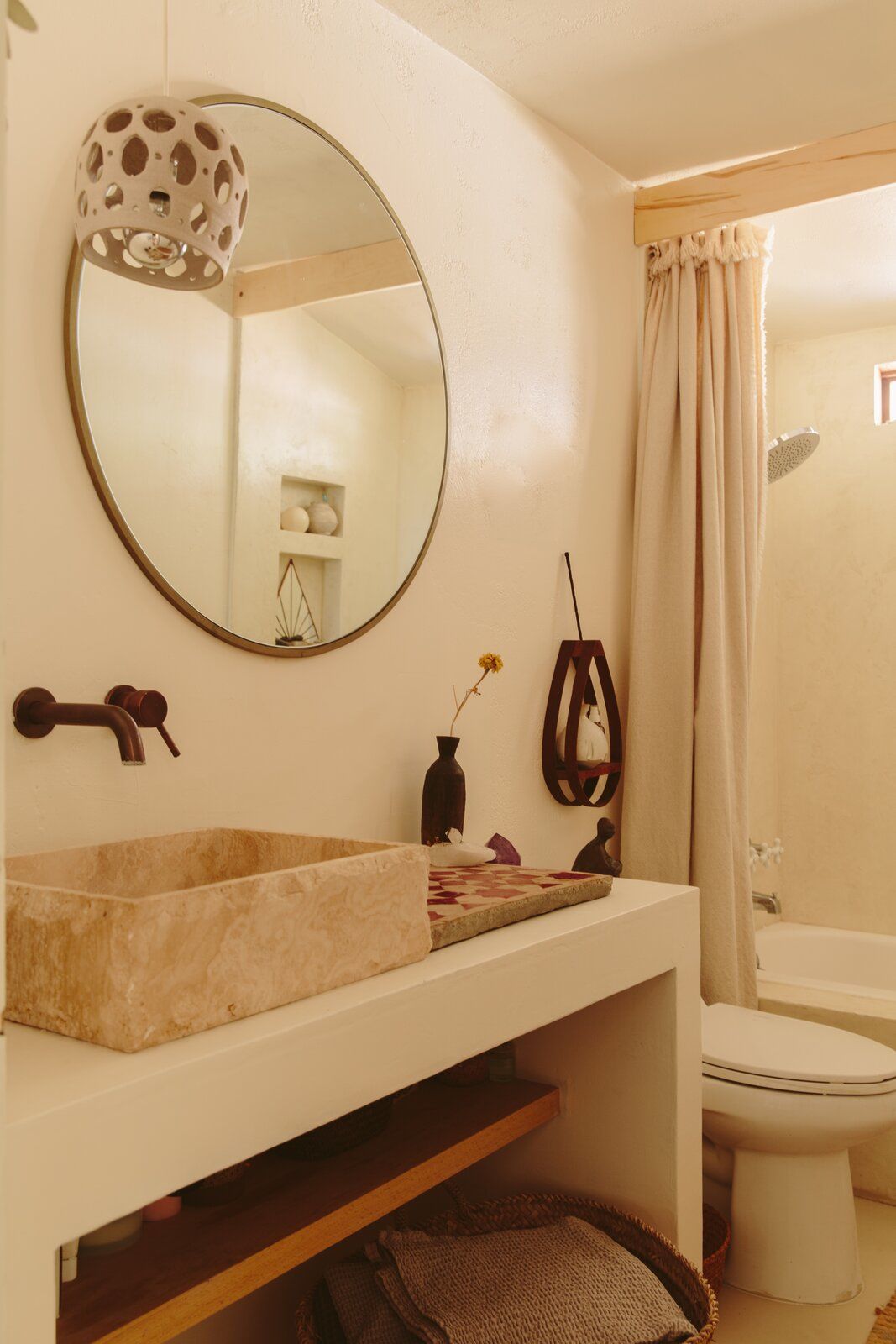 The bathroom features vintage Moroccan tile slab and assorted ceramics.

The largest intervention was on the home's exterior, which Portmans transformed into a true extension of the indoor living spaces. The interior designer installed an outdoor kitchen, shower, and bathtub, as well as a plunge pool and various seating areas so guests can relax and enjoy the desert surroundings.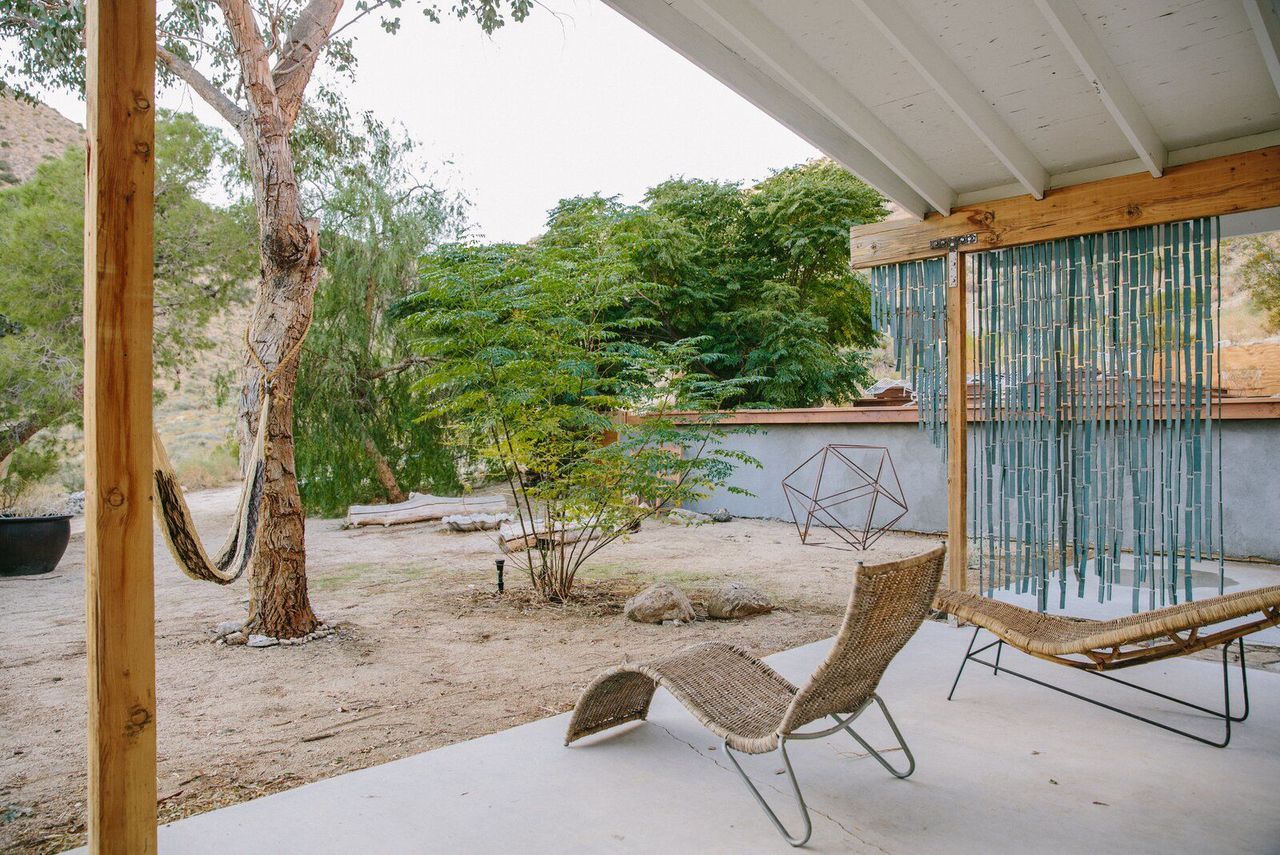 The desert rental includes an outdoor kitchen, shower, and bathtub, as well as a plunge pool and various outdoor seating areas.

"The house backs onto a mountain, so you really feel like you're in the middle of nowhere," Portmans says. "You can literally feel your body unwind."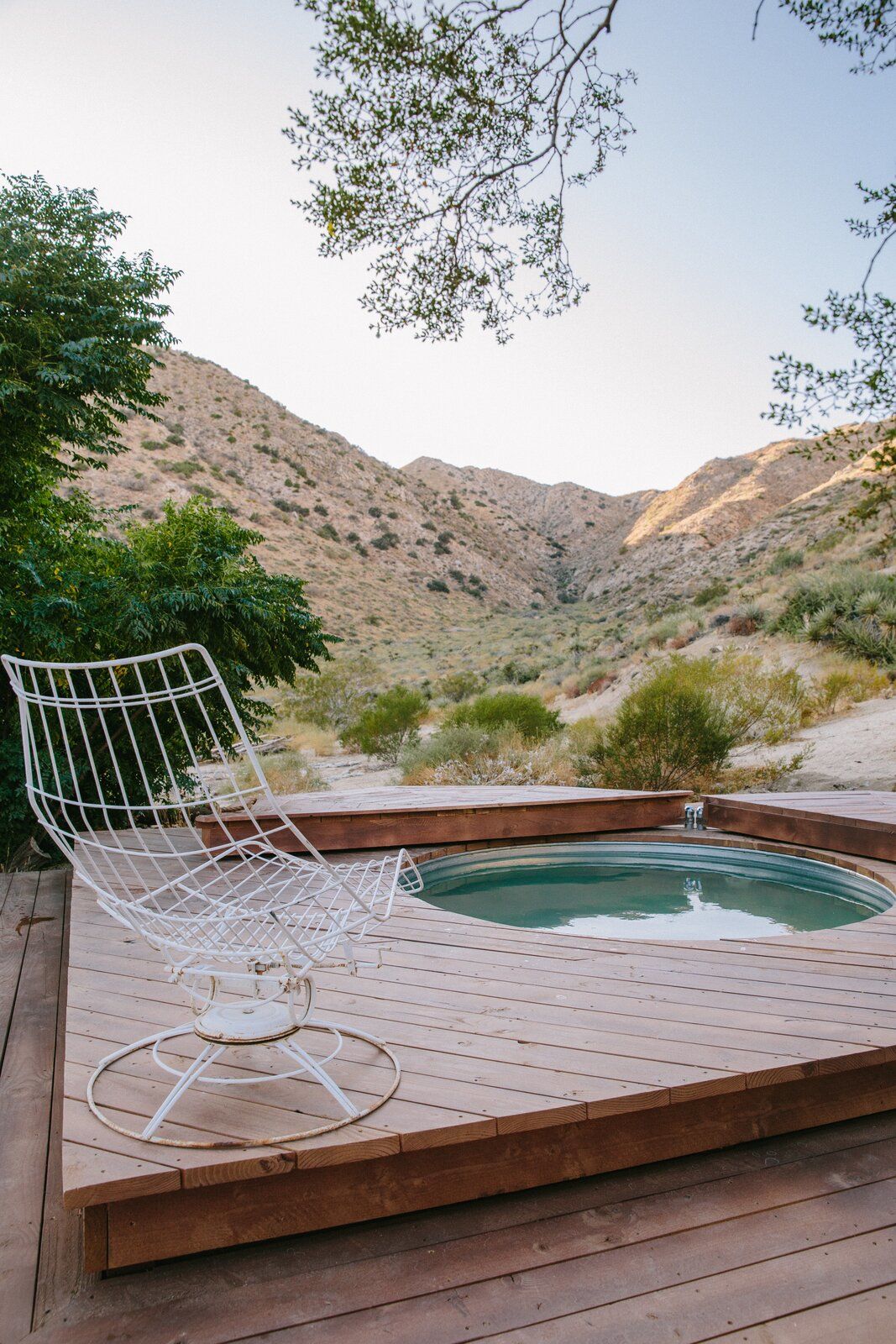 Located roughly two hours from Los Angeles, the 1,442-square-foot Merchant House High Desert is situated on five acres of mountainous desert terrain.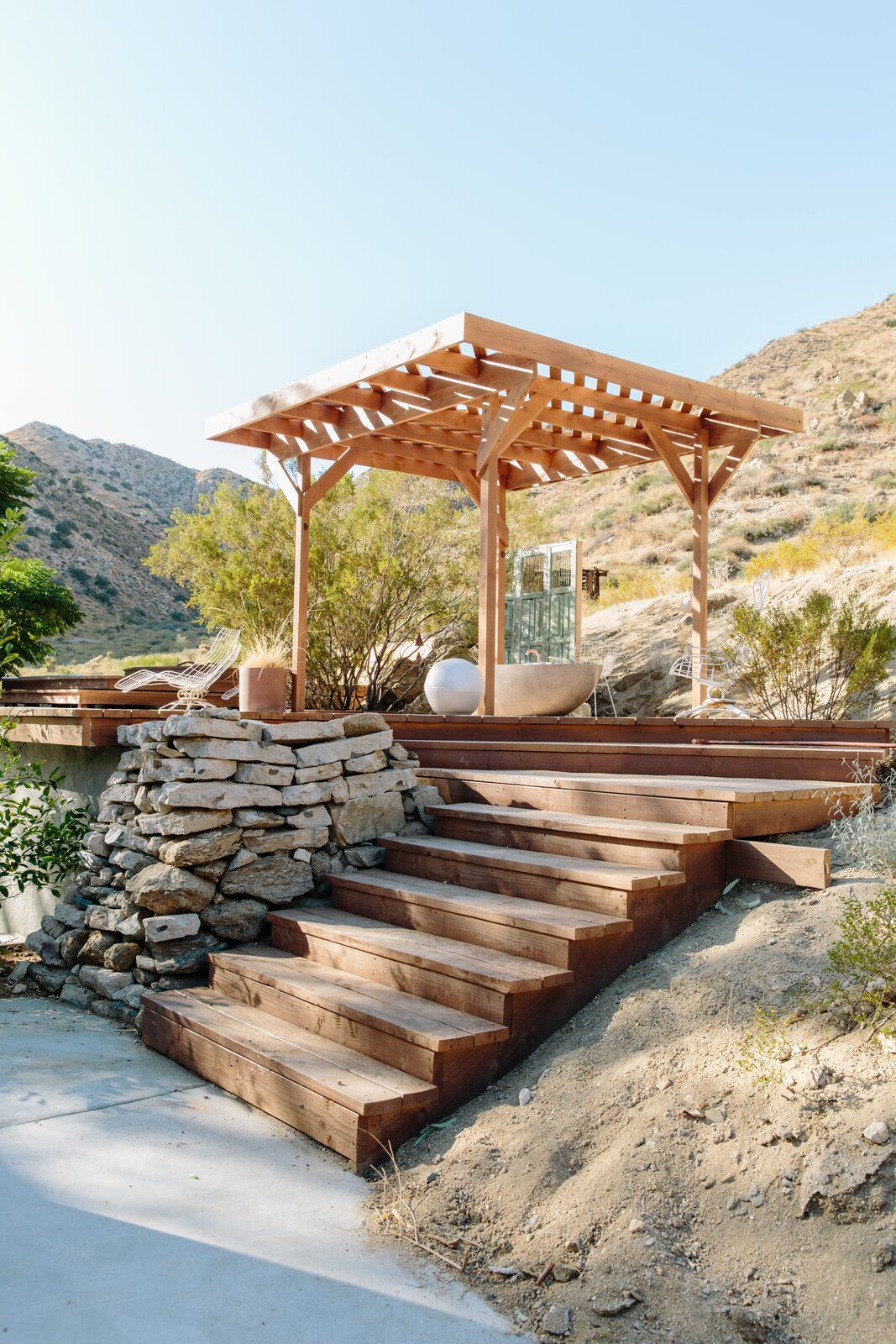 The desert rental can accommodate up to six guests for overnight stays.