A 30-minute bike ride from Helsinki's city center lands you at this off-grid cabin with uninterrupted views over the region's pristine archipelago. Majamaja Cabin, by Finnish-born architect Pekka Littow of Littow Architectes, is the first of five to be built. Along with a sauna, they will comprise Majamaja Village-an eco-retreat where visitors can soon figuratively and literally unplug from the rigors of daily life.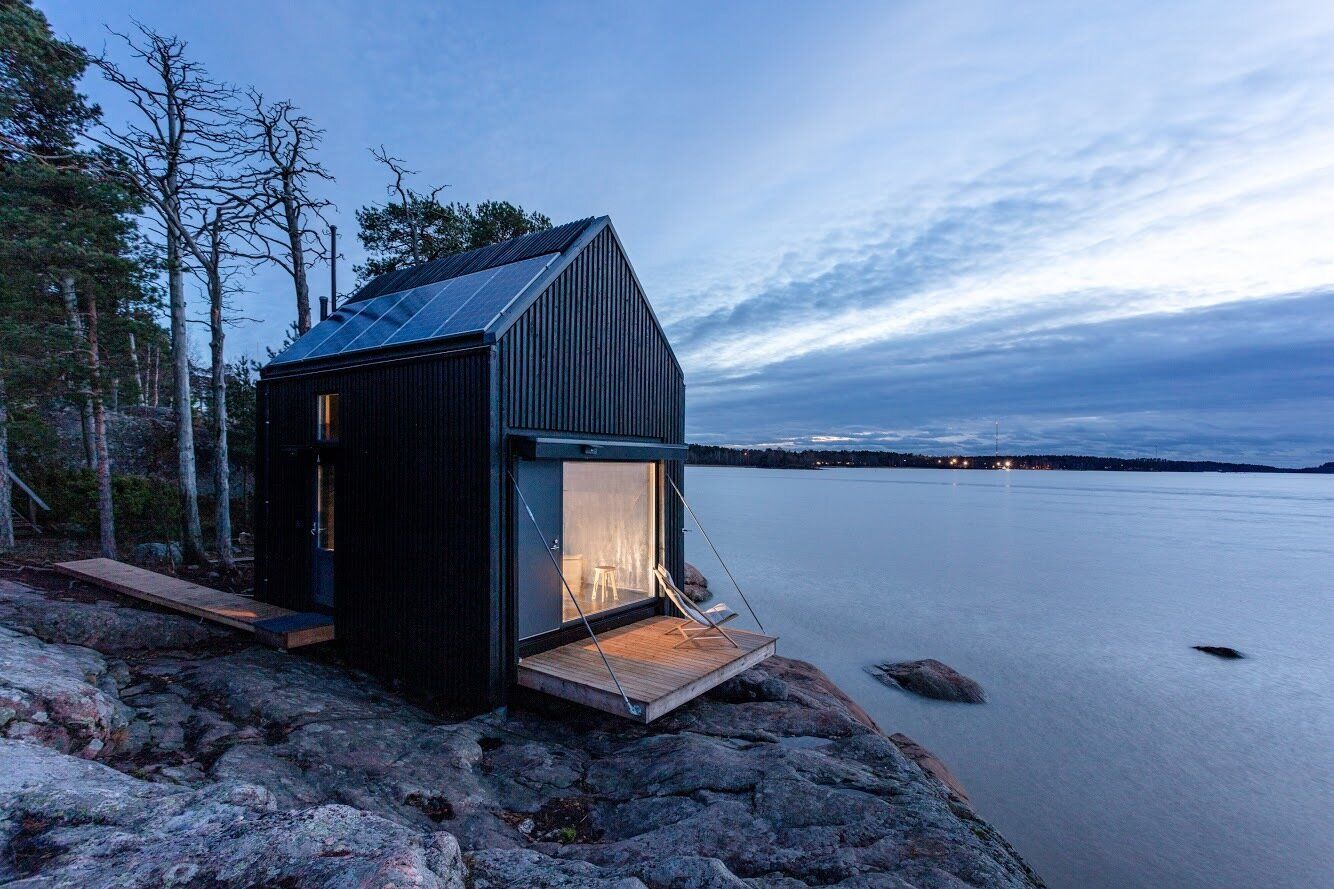 The Majamaja Cabin by Littow Architectes was constructed on-site from prefab wood panels and without the use of heavy machinery. The self-contained unit makes for a perfect eco-retreat, especially when positioned at water's edge in Finland.

The cabin grants intimate access to Finland's hallmark attraction, but attached to the experience is a higher goal. "It's driven by the need to radically rethink and to minimize our ecological impact," says Littow, who sees the design not only as a means of reconnecting with nature, but also as an example of an advanced housing solution. "It's to show how small-scale architecture, combined with green technology, can compensate for big volumes and centralized, on-grid systems."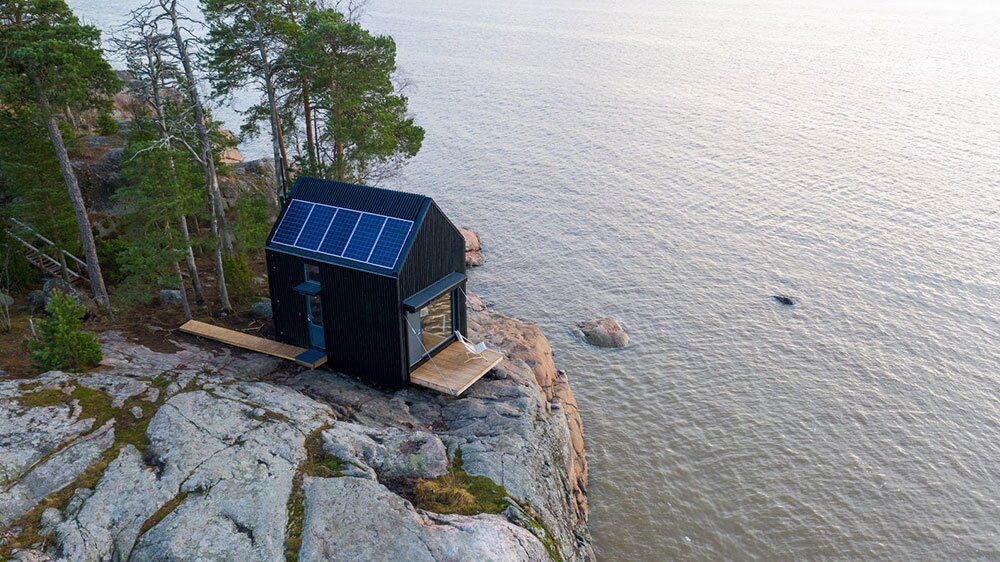 With four additional cabins and a sauna, the site will soon be home to Majamaja Village, an off-grid eco-retreat where visitors can unplug from their daily lives.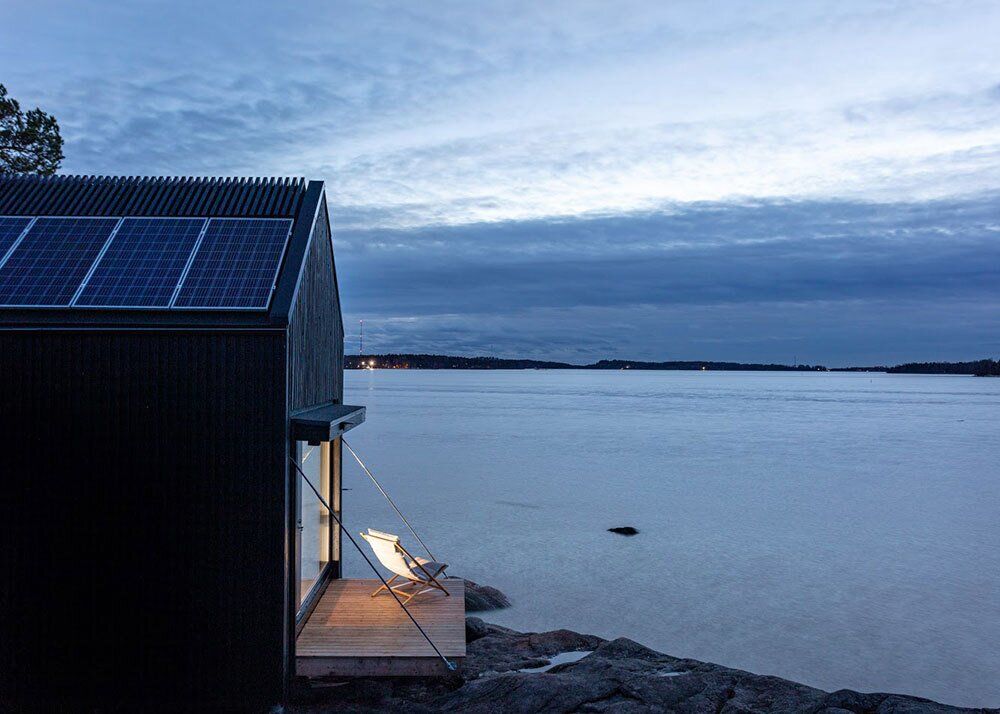 The cabin's compact design makes it easy to build in hard-to-reach places.

Gable-roofed and compact, the Majamaja Cabin represents a progression of Finnish wood architecture within a sustainable package. Its prefab panels are assembled on-site, and without the use of heavy machinery. Rooftop solar panels power lighting, appliances, and air conditioning, and a water catchment system that purifies and recycles gray water. Waste from a dry toilet is composted and reused as fertilizer, ensuring that the cabin remains fully self-contained. The two-level, minimalist cabin can be assembled nearly anywhere; when torn down and removed, there'd be little trace.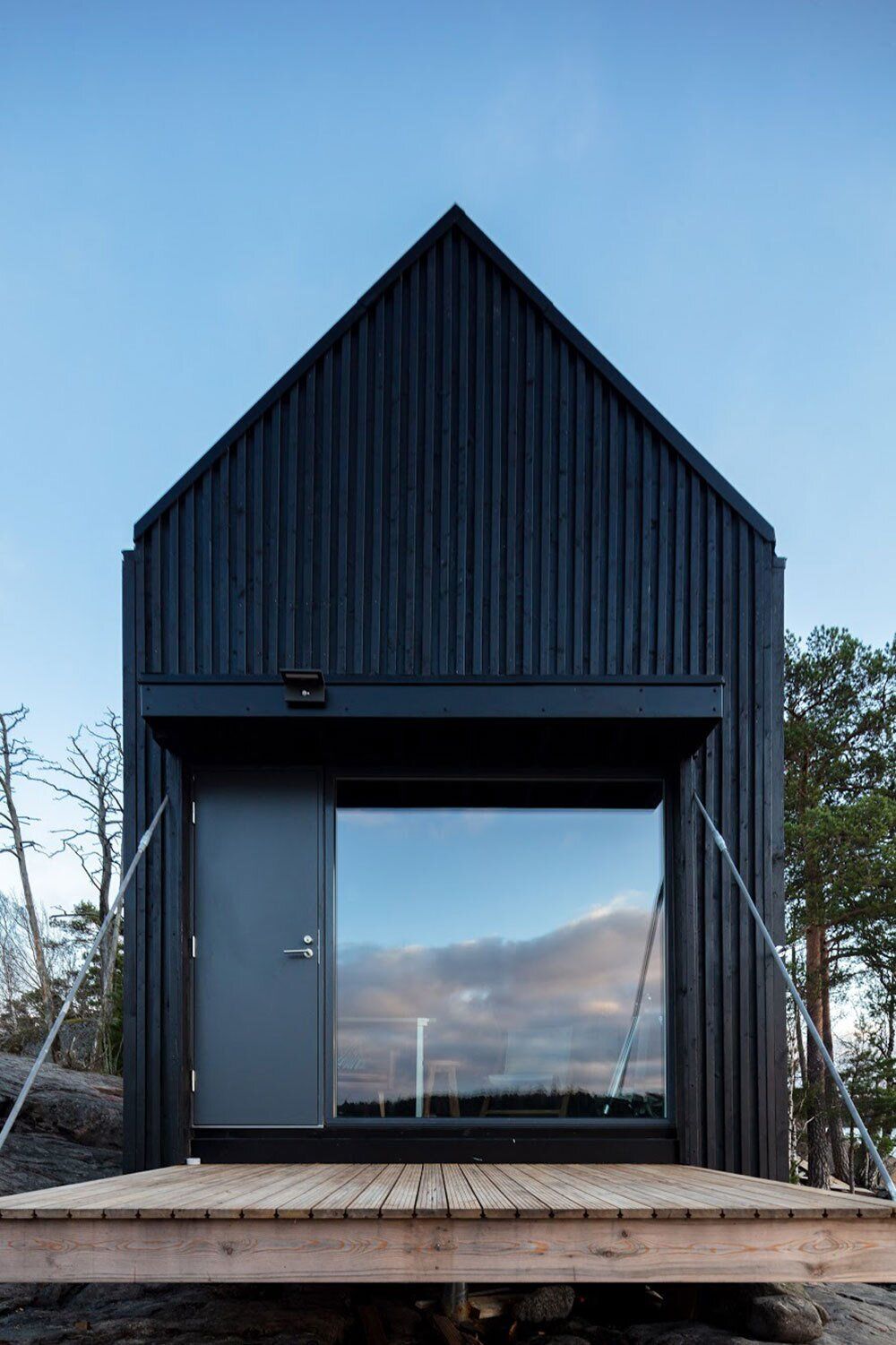 Its gable design features a floor-to-ceiling window and a front door that opens to a wooden deck.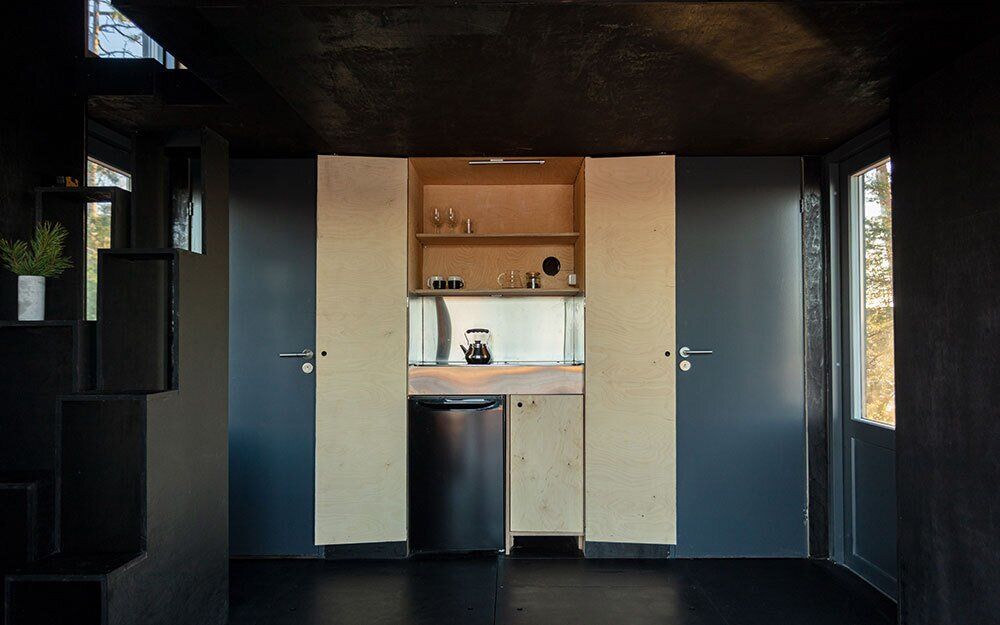 Inside, an open plan makes for a flexible living space on the ground floor. Stairs lead to a sleeping area above.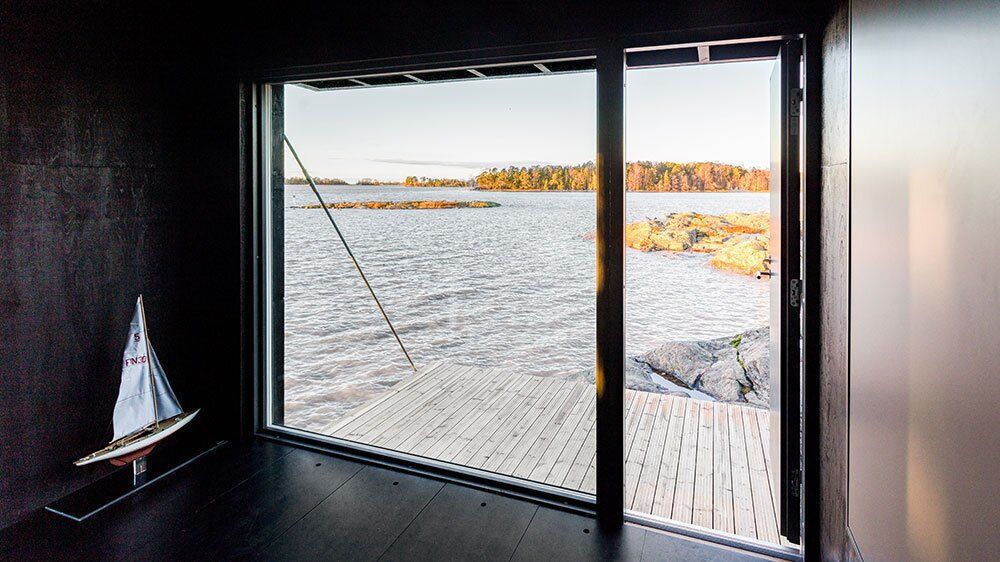 From inside the cabin, a massive window and extended deck grant views over Helsinki's scenic archipelago.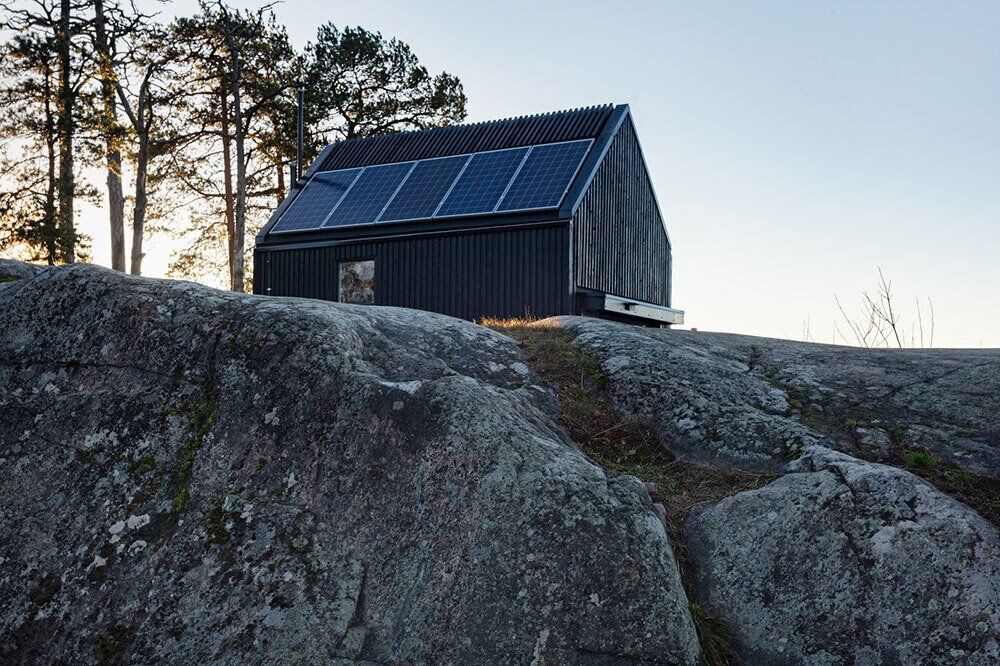 A row of rooftop solar panels powers lighting, kitchen appliances, an air-conditioning unit, and a closed-loop gray water system.
The low-impact experiment is a glove fit for a recent initiative by the city of Helsinki, a municipality that is surrounded by water on three sides. The Helsinki Maritime Strategy, introduced in 2018, aims to better control how locals and tourists alike experience the archipelago in order to preserve and honor the sea as an invaluable resource. With Majamaja Village, the city can provide visitors with a retreat that's consistent with those ongoing efforts.

The village is set to open in 2021, and those interested in visiting Finland can sign up for a waiting list. In a remote region of France, another similar village by Littow is underway. While these eco-retreats will provide visitors with a chance to disconnect temporarily from the grid, it is Littow's hope that the experience will have a lasting impact on the way we choose to live.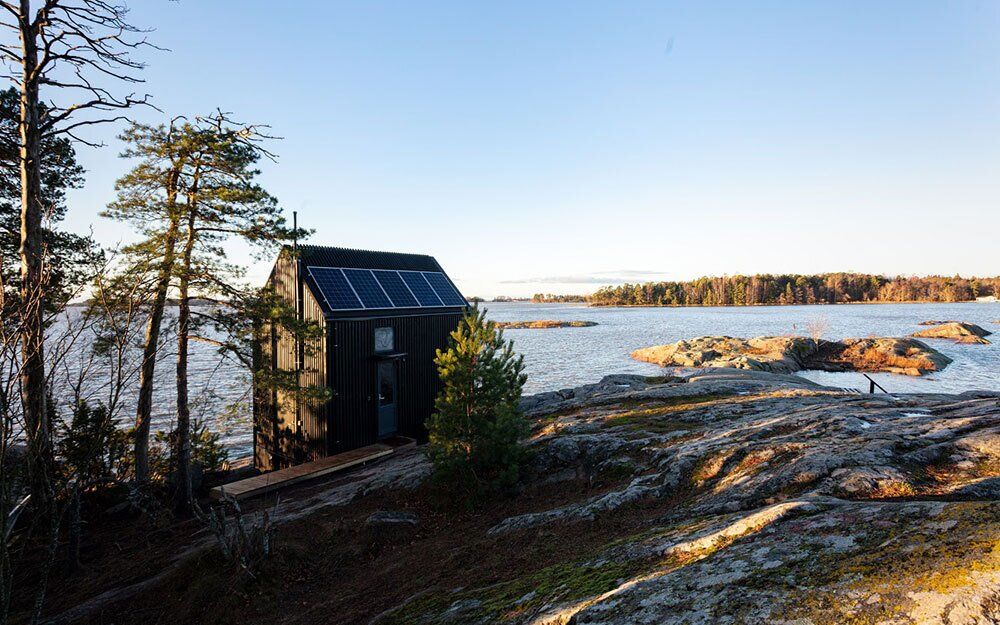 Architect Pekka Littow has partnered with Helsinki to bring it its first eco-retreat in the nearby archipelago, but his design concept more broadly represents a step forward in low-impact living.