"Our primary goal was to maximize sightlines," says Mike Close, president of Spinnaker Development, who recently completed a modern villa in Corona Del Mar, California. The 8,000-square-foot residence features extensive glazing to take advantage of views spanning from Newport Bay to the Pacific Ocean.

Mike and his team incorporated several sets of sliding glass doors, each about 20- to 30-feet long. The doors provide a seamless flow between indoors and out as they stretch along the rear facade.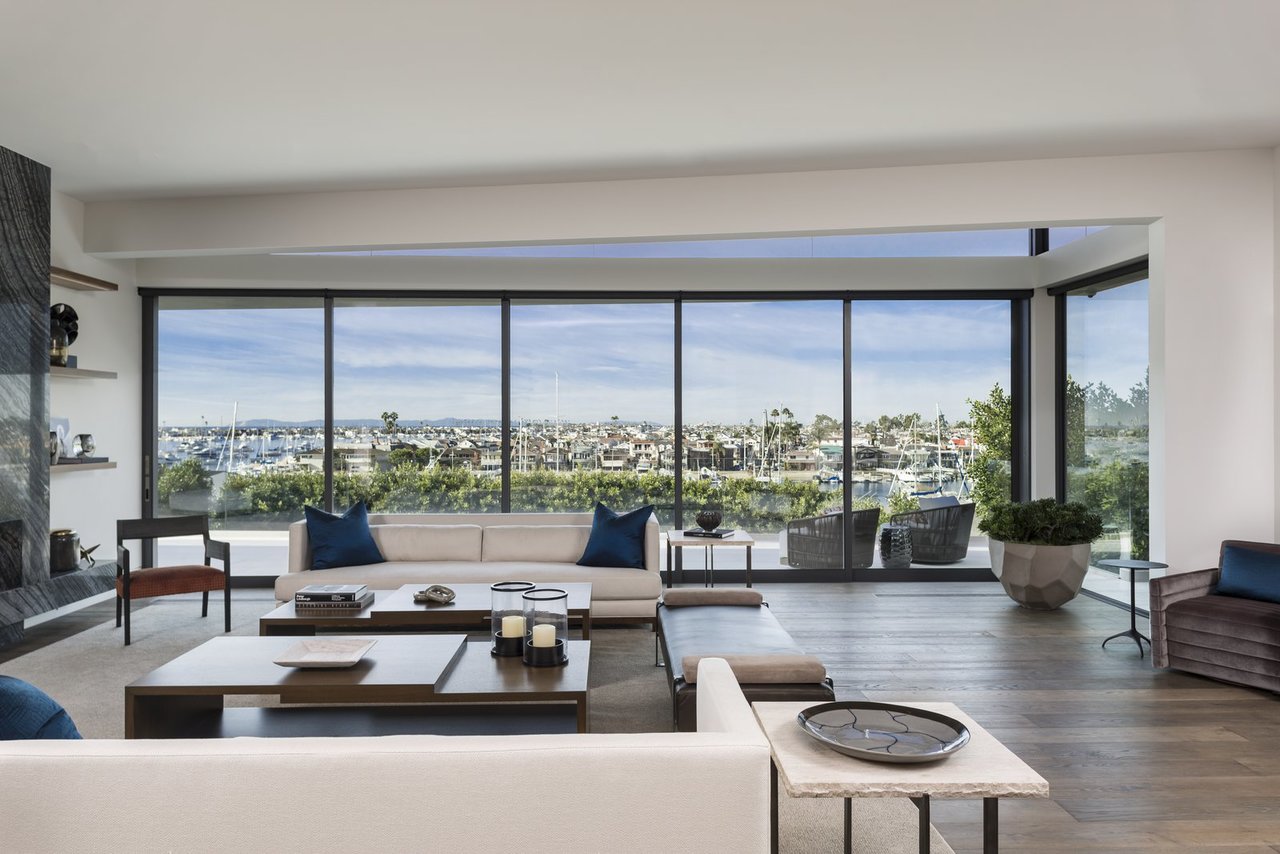 "The lot is in a unique position along Irvine Terrace, an elevated tract community that overlooks the waterfront," says Mike. An expansive wall of sliding glass doors offer unobstructed views.

Mike collaborated with Brandon Architects and Michael Fullen Design Group on the interior and exterior design, which prioritizes the lot's unique view corridors. Floor-to-ceiling windows and wall-to-wall, multi-slide door systems can be found throughout the home's two levels.

"We recognized pretty early on that applying window treatments would be a challenge," explains Mike. "We wanted the eye to go directly toward the ocean and outdoor spaces without window treatments being an obstacle. The decision to select J Geiger shades was a no-brainer."

"Traditional Roman shades or woven blinds just did not go with the aesthetic of this home," says Mike. "I was a big fan of J Geiger from a past project and liked the clean, minimal design of their shades." In different sections of the five-bedroom home Mike and his team utilized various J Geiger styles to best fit each room's needs. "It's all designed so nicely that it doesn't look like different products," he adds.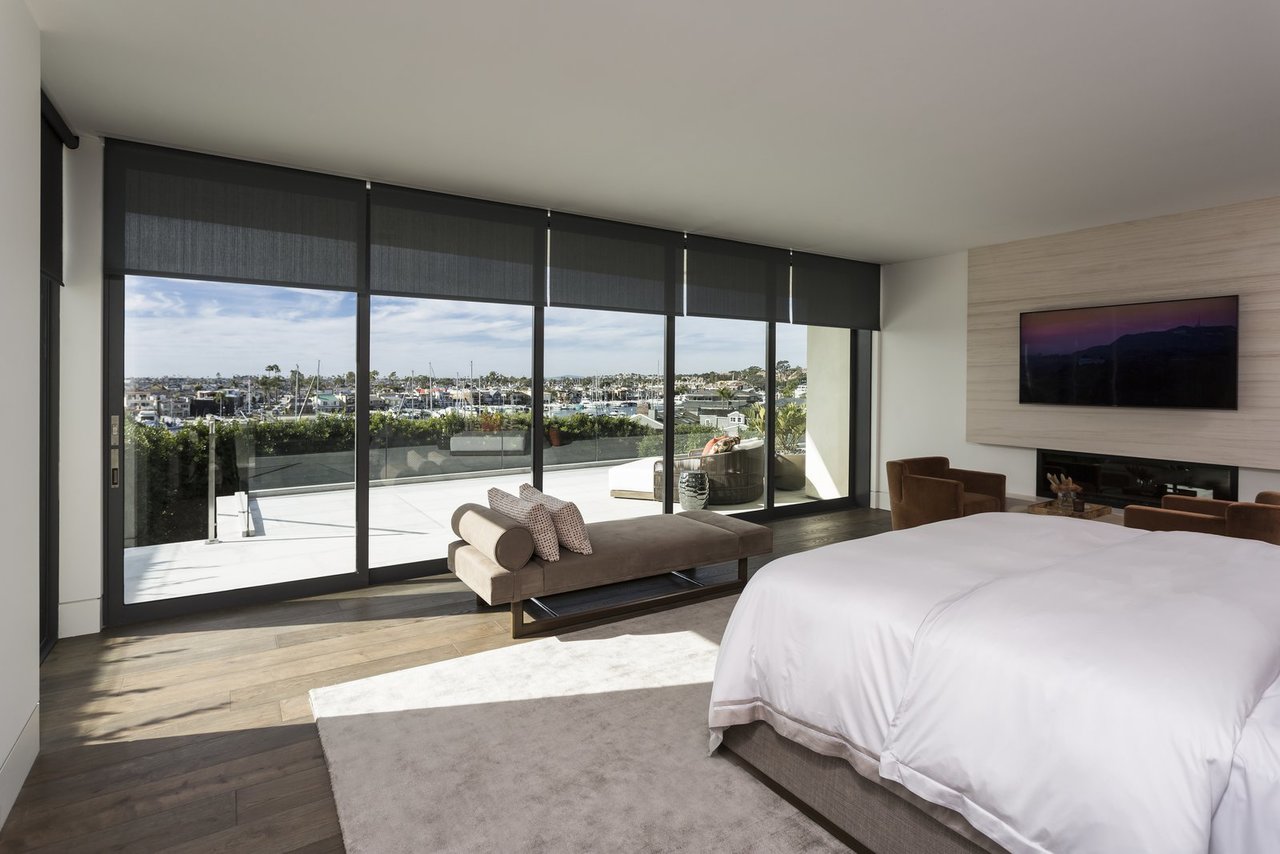 J Geiger offers exposed roller shades and pocket shade systems. Both were used in this bedroom, but the aesthetic remains consistent.




J Geiger's patented floating pocket cover minimizes visual discrepancies between the shade pocket and ceiling by embracing gaps as a design element. Pockets can accommodate multiple shade rolls-one sheer and one blackout. Here, a UV-blocking solar fabric minimizes glare.

Mike describes J Geiger as "very involved" in all aspects of design. While most manufacturers ship fully-assembled shades to simplify installation, the result can be an imperfect fit. J Geiger systems are built on-site, and the process is more akin to trim carpentry than a traditional shade install.

"Once the shades were installed, it was just a matter of programming them using the home's automation system and they were good to go," says Mike. J Geiger's adaptable system technology integrates universally with virtually any method of automation or control, allowing push button or timed operation.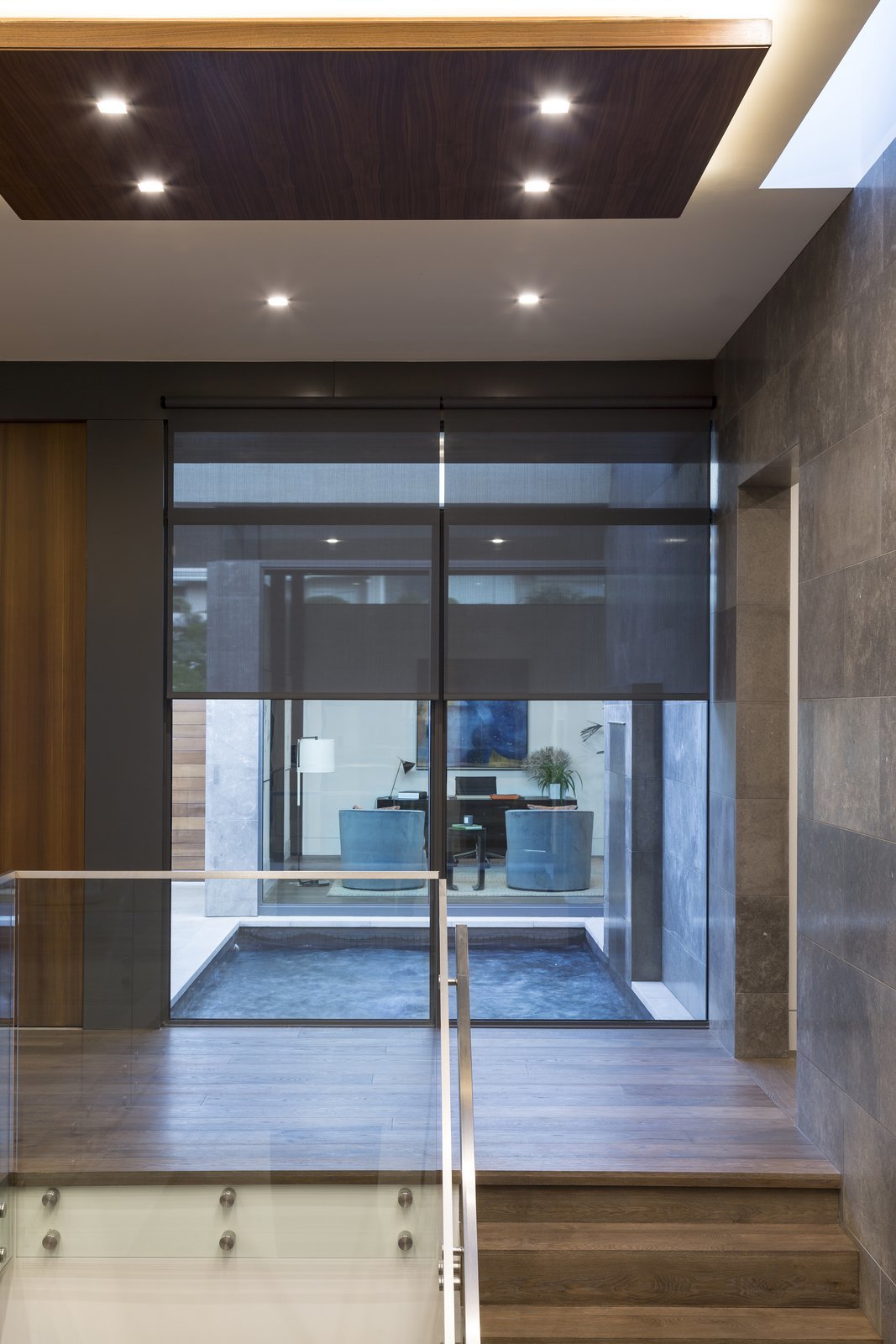 A contemporary metal and glass stairwell leads to a landing that overlooks the courtyard water feature. Large windows are outfitted with fascia-free D Series shades by J Geiger.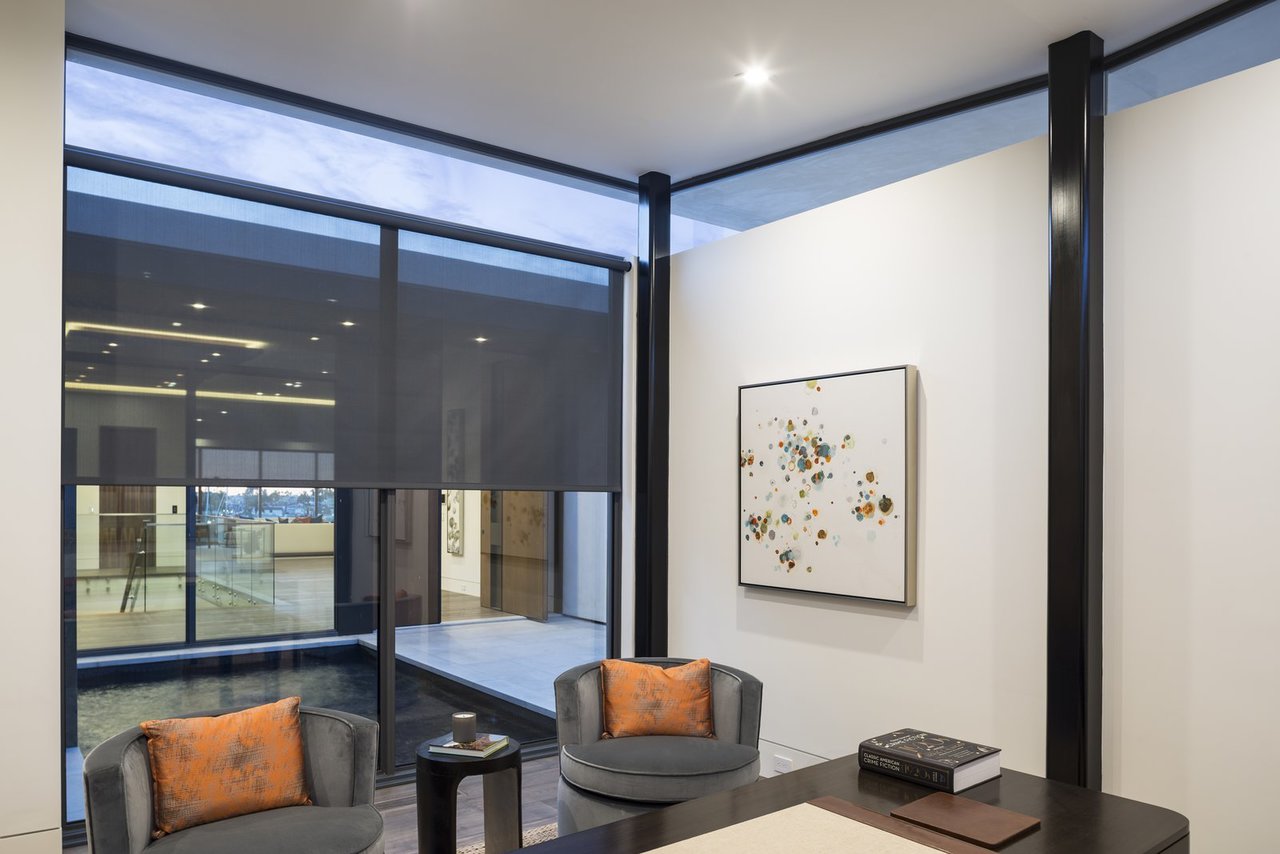 A home office shares the same courtyard view. D Series shades by J Geiger eliminate the need for a valance or ceiling pocket, which would have distracted from the clerestory windows.

This Corona Del Mar home is currently on the market and available for showings. Mike says, "When people visit the home, someone always asks, 'Will you be adding shades?' Everything is so compact, they don't even notice the shades are already installed."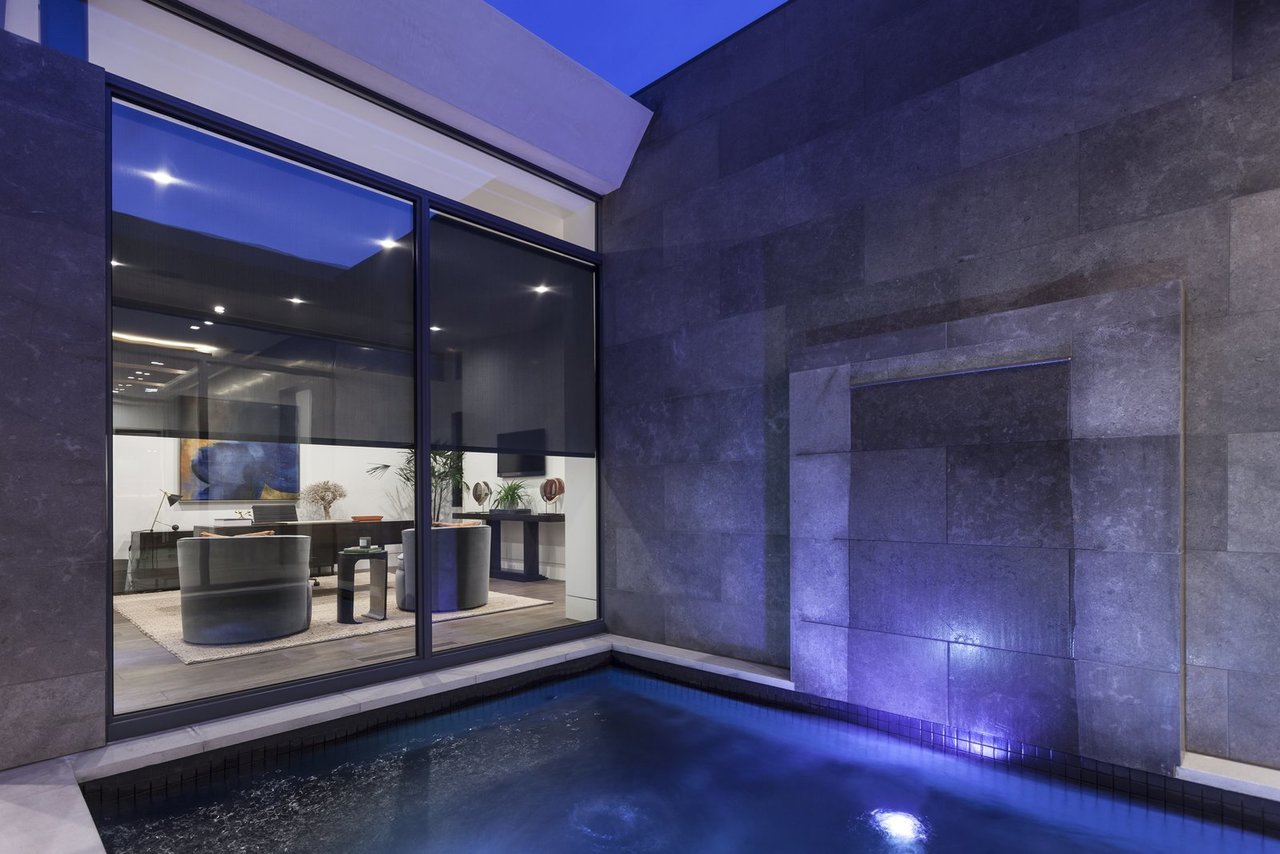 The courtyard water feature glows at night, providing a soothing backdrop for the expansive windows.

J Geiger shades are handcrafted in Charleston, South Carolina and are available for purchase nationwide.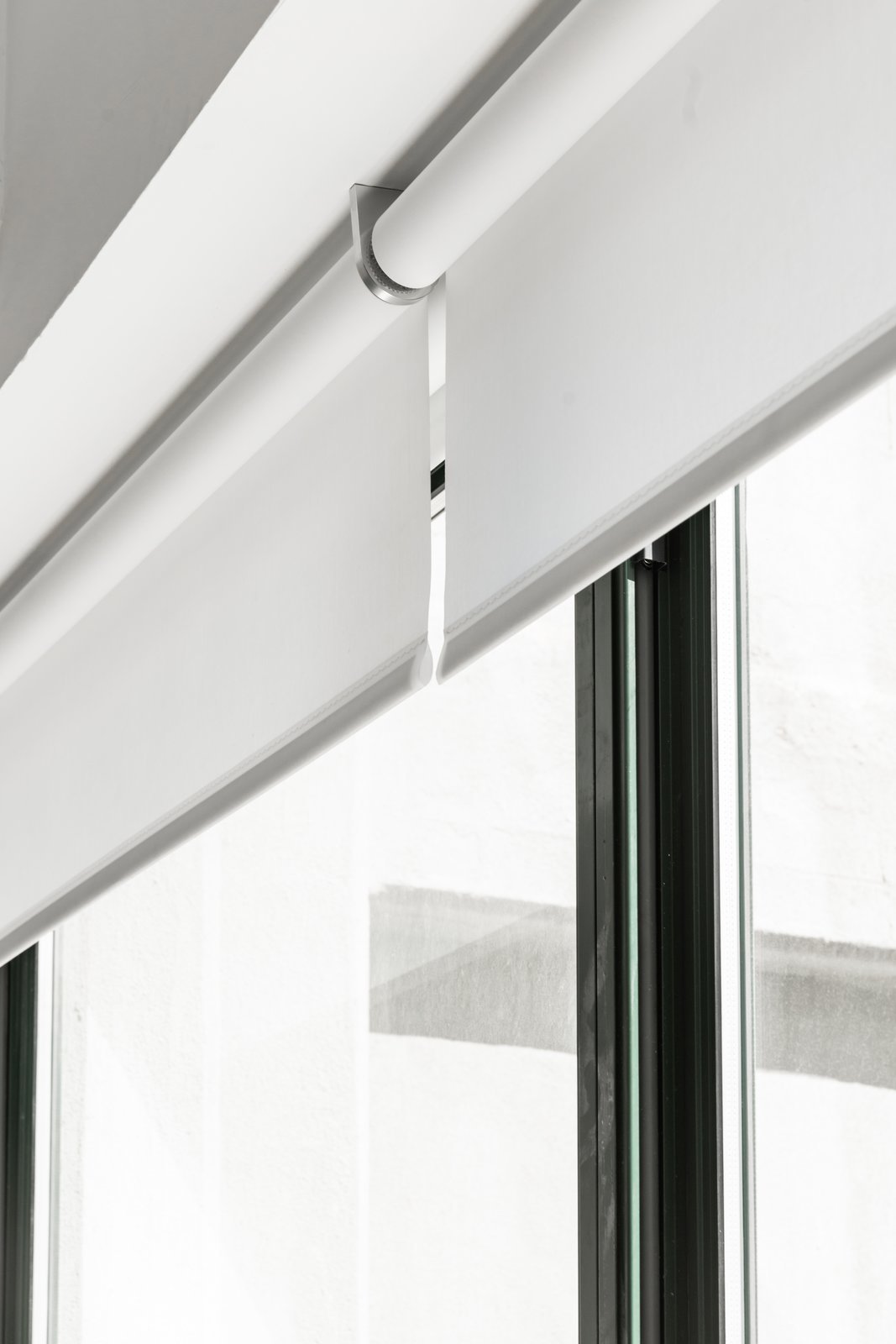 J Geiger revolutionized motorized window shades with a unique fascia-free design. Patented brackets conceal wires and screws for a streamlined look. A coupler bracket (pictured here) can be used to power multiple shades with a single shade motor. Additional hardware options can be configured in various ways to suit unique architecture.