Amber Estep and Joe King want everyone to experience tiny house living. "A few years ago, we traveled to Portugal and drove deep into the mountains in Sao Teotonio," Estep says. "We stayed in an impeccably designed eco cottage far removed from everything. It was so magical, yet so simple. It was something we thought everyone should get to experience."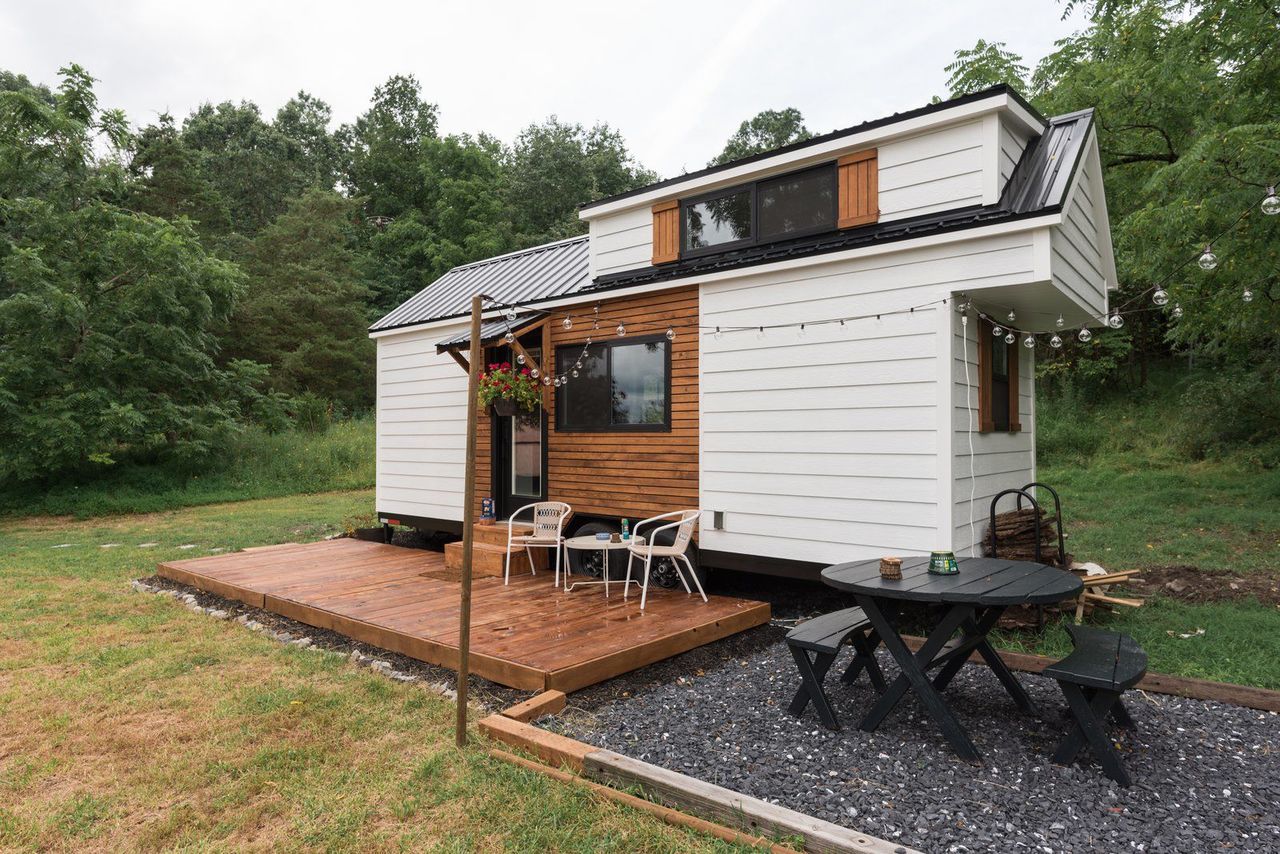 "I love the contrast of the white siding with the black metal roof and the Scandinavian-style wood accent around the door," says owner Amber Estep. "It takes the exterior of the home to the next level."

Inspired by their minimalist stay in Portugal, Estep and King returned home to Pennsylvania and hatched a plan to create a tiny house they could share with others. "We traveled around to every tiny home expo we could find within driving distance and met with a lot of different builders," Estep says.

Eventually, the couple purchased a tiny home called Rumspringa designed and built by Liberation Tiny Homes. "Liberation has the best eye for design and offers the highest quality product we could find in an affordable price range," Estep explains. "The Rumspringa looks small from the outside, but when you step inside, you're blown away by how big it feels. It's open, airy, and invokes a feeling of ease as soon as you enter."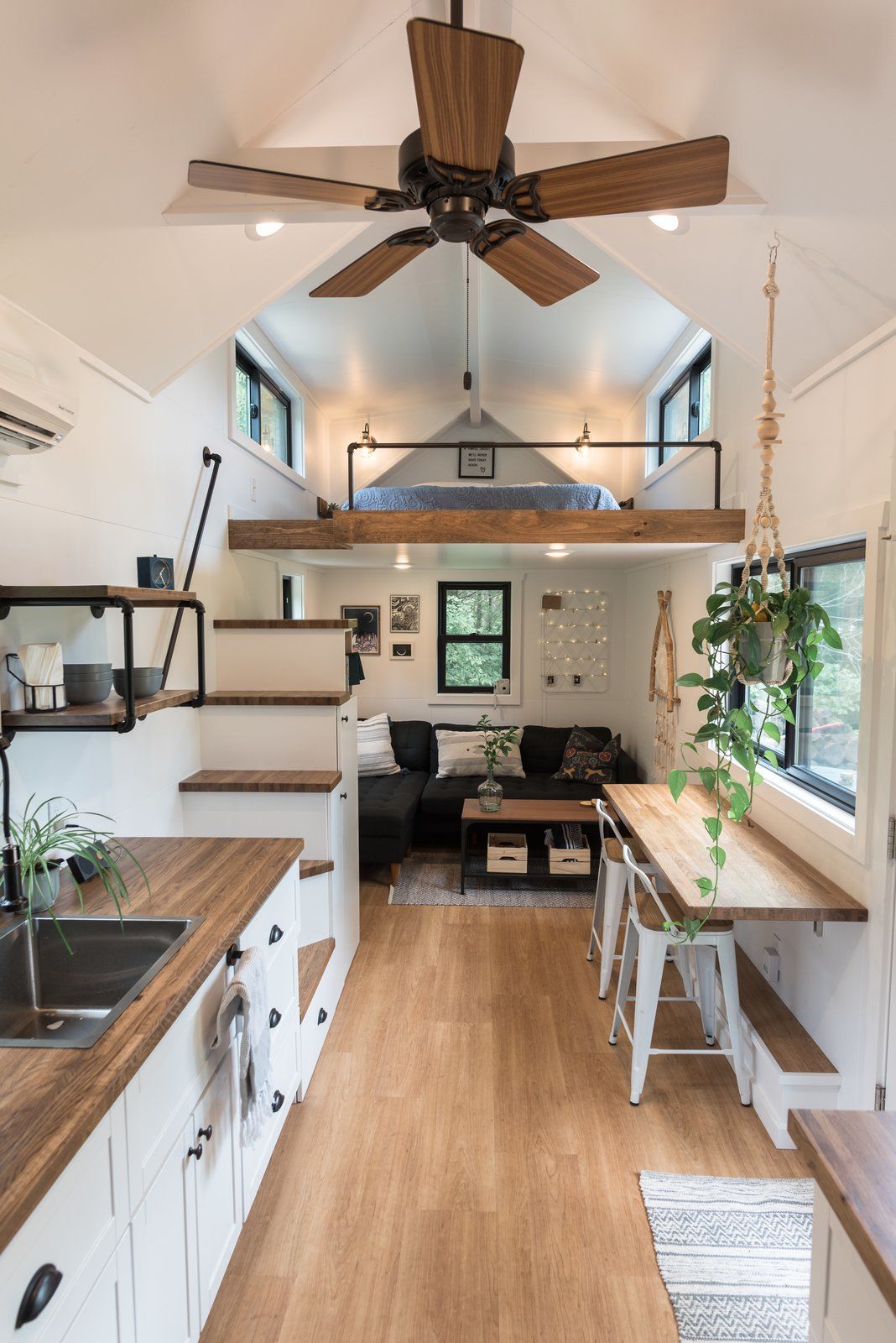 The bar chairs and the living room sofa are from Wayfair. The living room coffee table is from IKEA.

The home's airiness is just one of its many virtues. A sizable staircase leading to the loft-style bedroom incorporates storage within every step. "The stairs have built-in storage and are wide so they're easy to climb," Estep says. "A ladder would've made certain things challenging, like changing sheets or getting up at night to get a drink of water. The stairs still give that giddy feeling a kid gets when climbing into a bunkbed."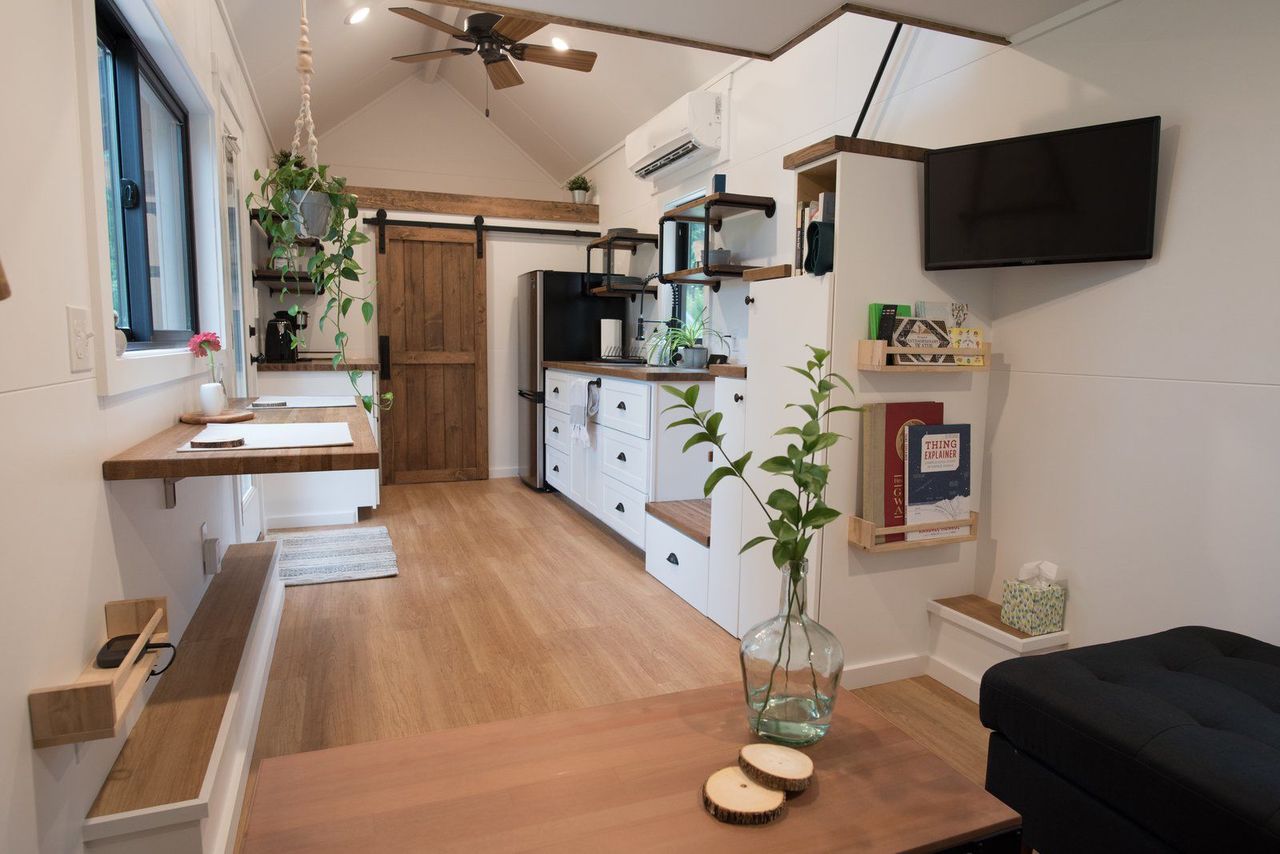 A sliding barn door accesses the bathroom and helps to preserve space in the kitchen.

Estep also appreciates the kitchen's open shelving. "It's one of my favorite features," she says. "Cabinets may have ultimately provided more room to store things, but the aesthetic of the wood shelves and the way they allow the space to feel bigger is worth the sacrifice of storage." The kitchen area's flexible dining table is another of Estep's favorite features. "It doubles as a work desk," she says. "It's beautiful, and with one click you can fold it down and have a wide-open space to practice yoga."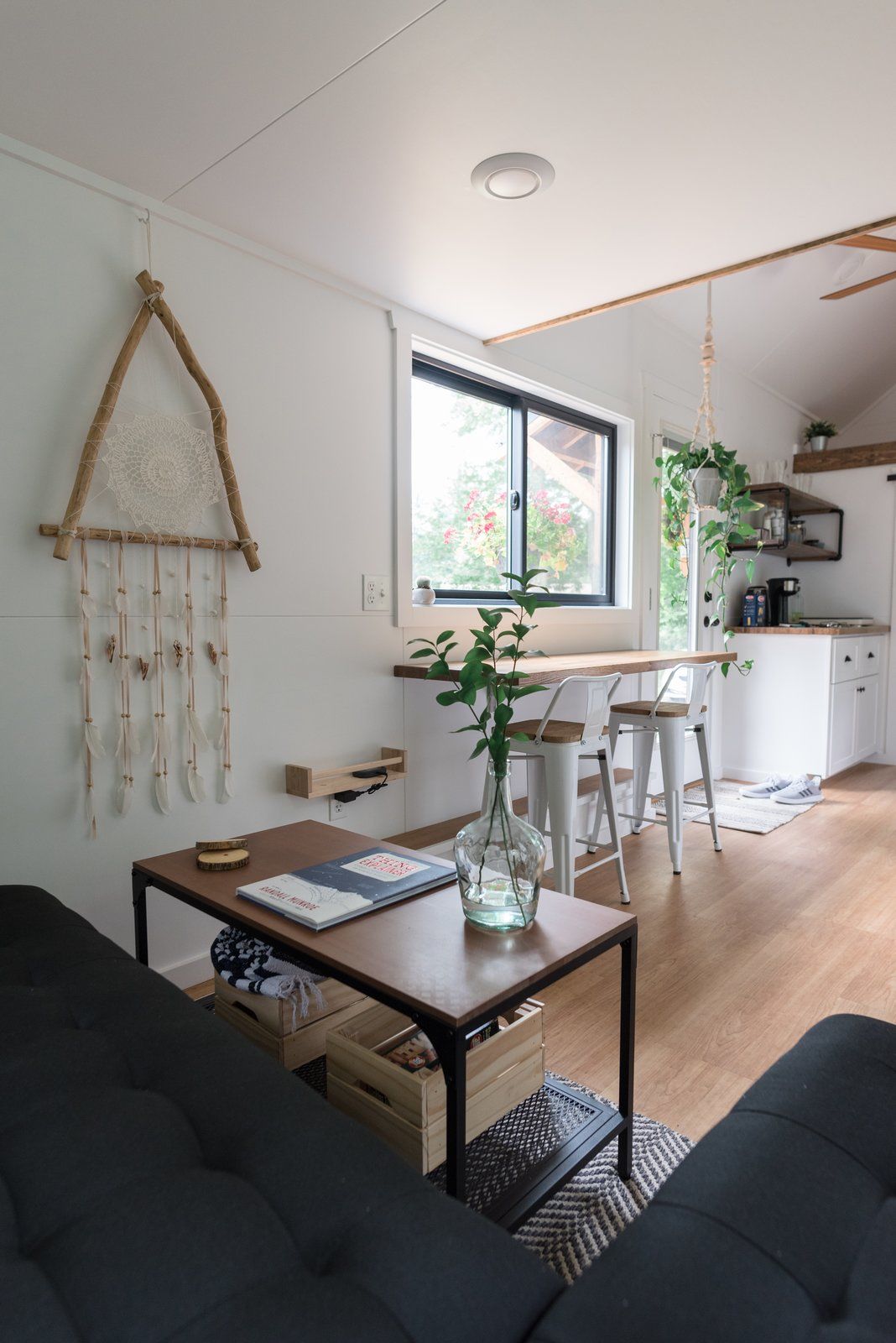 A wood-and-macrame wall sculpture from TJ Maxx hangs on the wall in the living room.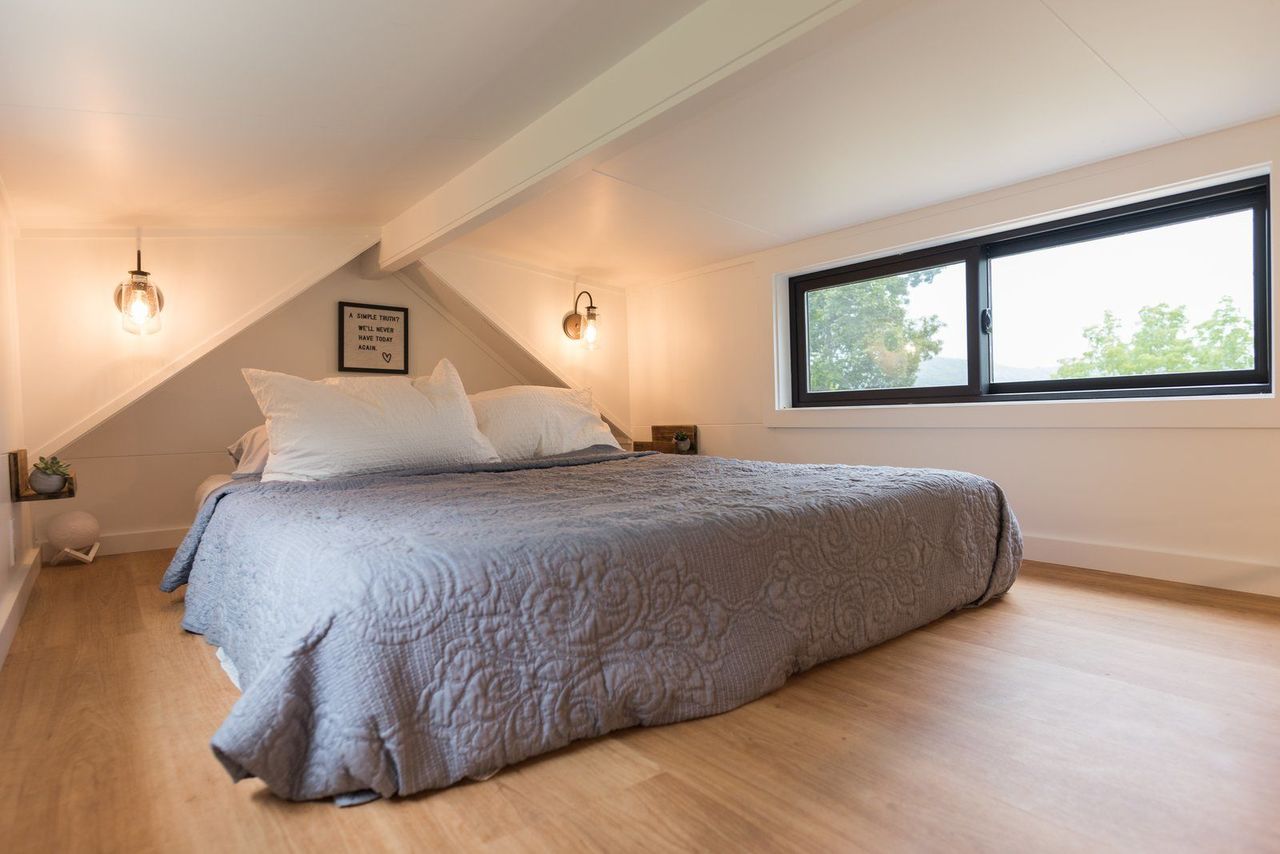 A large window in the loft-style bedroom lets in plenty of natural light.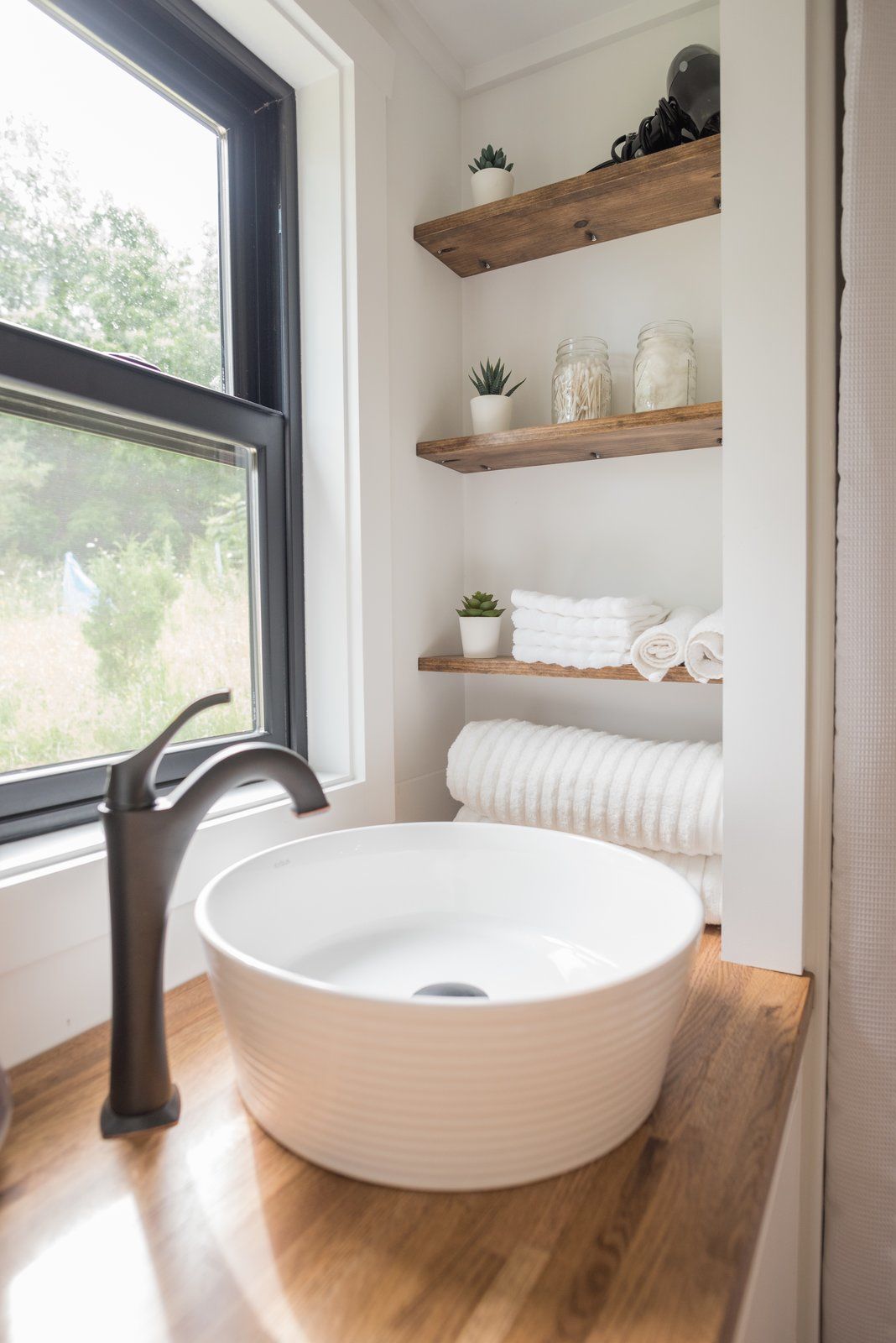 White walls and natural wood counters and shelves create a fresh aesthetic in the bathroom.

For however aesthetically pleasing the design is, the landscape that surrounds the home is perhaps its best feature. Located in Wellsville, Pennsylvania, directly across from Gifford Pinchot State Park and five miles from Roundtop Mountain, the home is situated at the highest point of a ten-acre property. "There's a fire pit and a hammock and views to the Conewago Mountains," Estep says. "In the summer, the fireflies are so abundant that you have your own personal light show, and there are herds of deer that mosey through the fields in the evenings."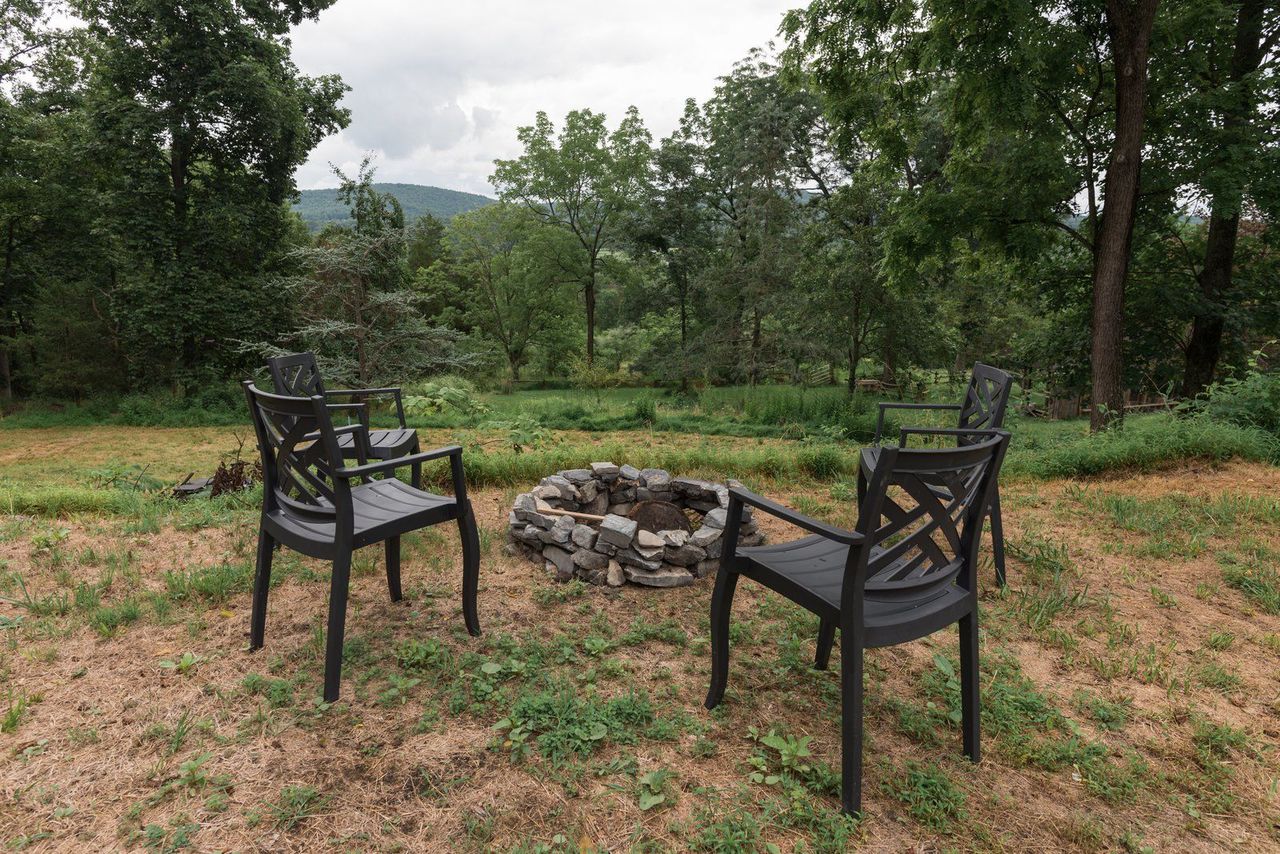 Outside, Estep and King placed chairs from HomeGoods around a stacked-stone fire pit.

Far from the normal hustle and bustle of life, Estep and King's tiny home is within walking distance to prime areas for kayaking, fishing, biking, hiking, and cookouts. "We're avid paddleboarders and offer our boards to any of our guests," Estep says.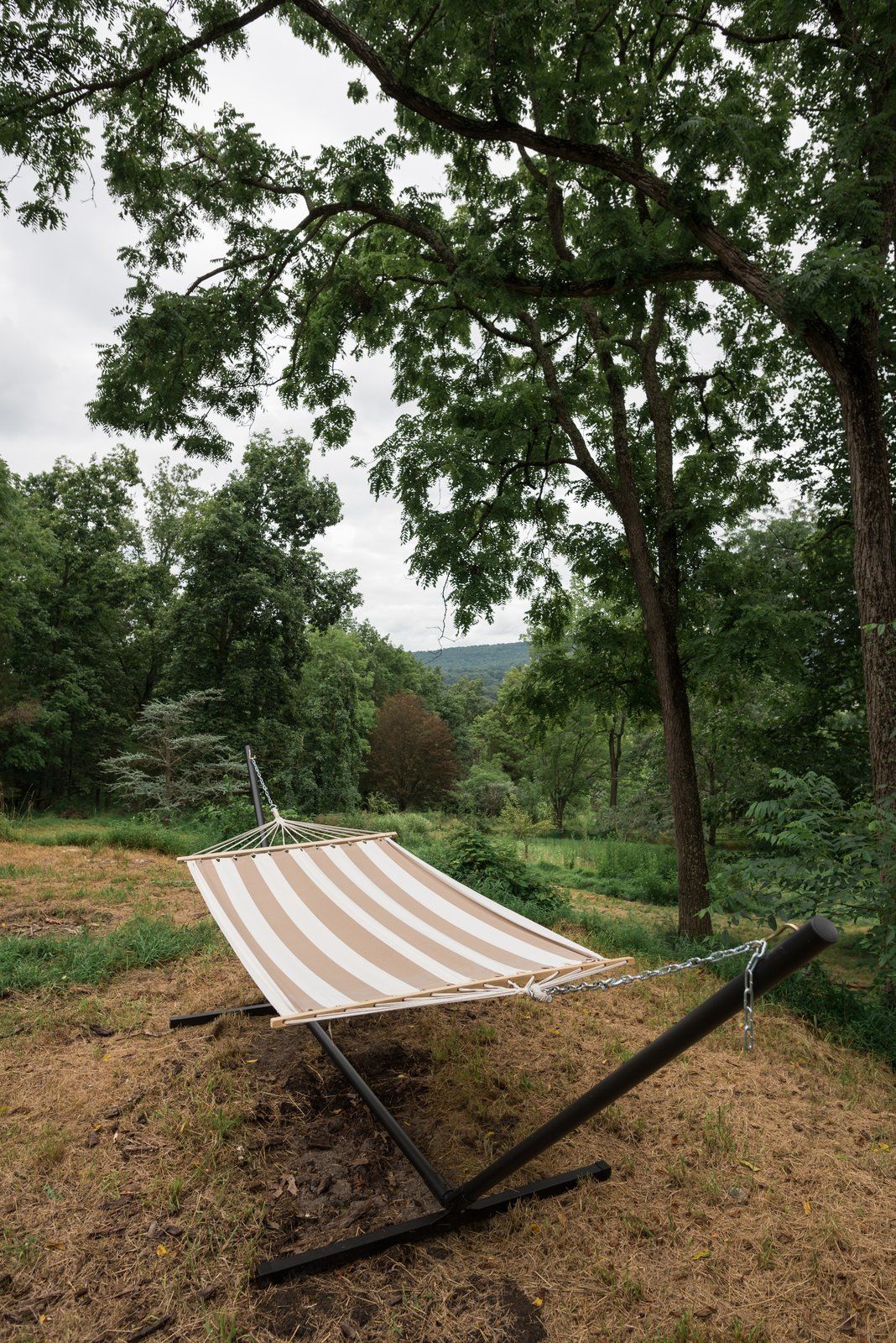 A hammock allows guests to quietly enjoy the landscape of Wellsville, Pennsylvania.

Estep and King bought the tiny house as rental property, but they are considering calling it home in the future. "We purchased the home specifically for Airbnb," Estep says. "We live in a really beautiful place and wanted to be able to share it with more people, but we also love the tiny house movement. We plan on downsizing in the future, and will possibly live in the home full-time."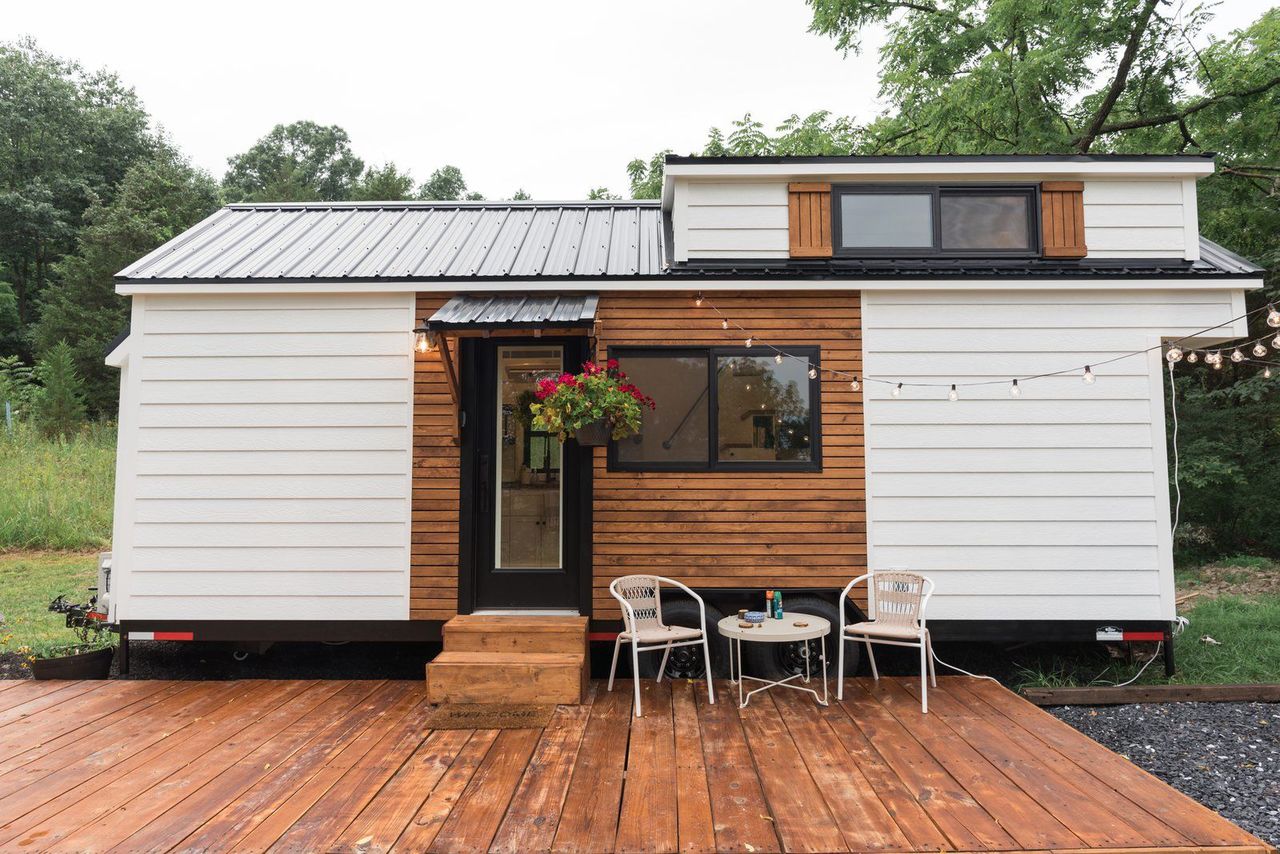 The exterior of Rumspringa, a compact dwelling designed and built by Liberation Tiny Homes.