A newly completed three-bedroom property is currently up for grabs in the Bermondsey district in London. Resting at the end of Balaclava Road on what was once an old garage site, the striking contemporary was designed and built earlier this year by local firm Satish Jassal Architects.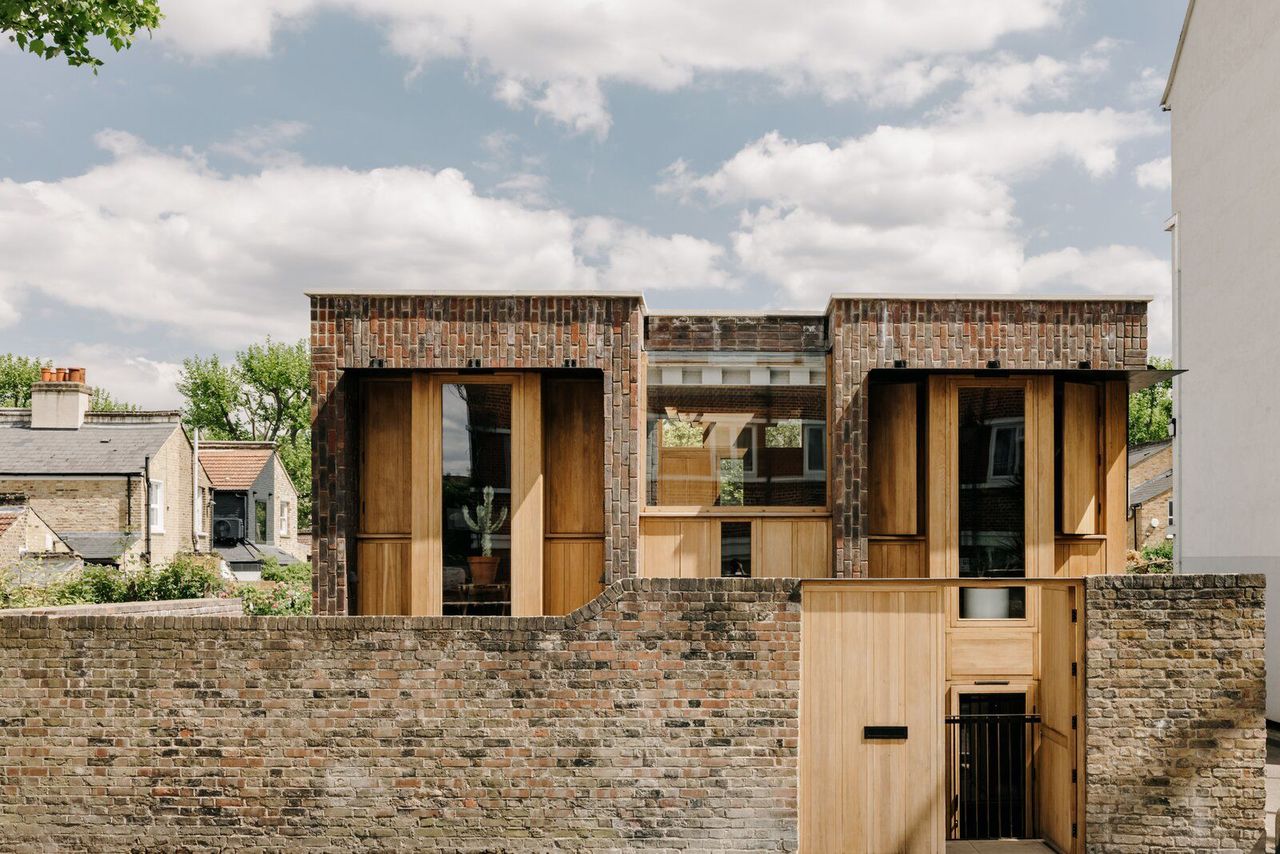 Two of the home's three levels rise from the site's original garden wall, presenting an impressive elevation from the street.

Known as the Southwark Brick House, the 1,800-square-foot home spans across three levels and is configured in two wings: public and private. A handcrafted staircase with open-tread glass connects the various spaces, while serving as a central focal point that anchors the interior.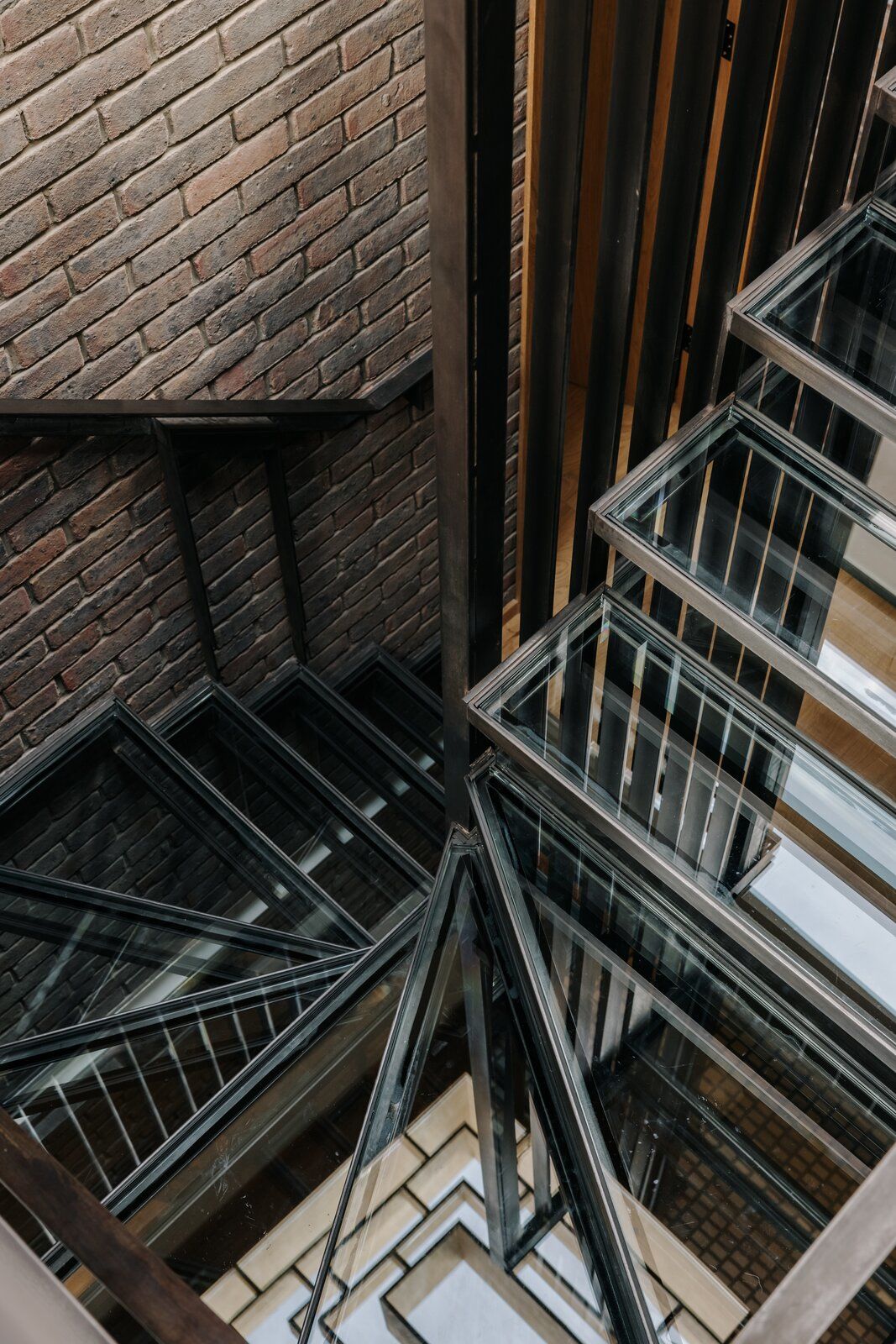 An up-close look at the sleek, winding staircase, made from black steel and glass.

Throughout the space, timeless materials including brick, oak, steel, and concrete mingle, creating seamless relationships between inside and out. Private terraces and a lush courtyard garden further encourage indoor/outdoor living.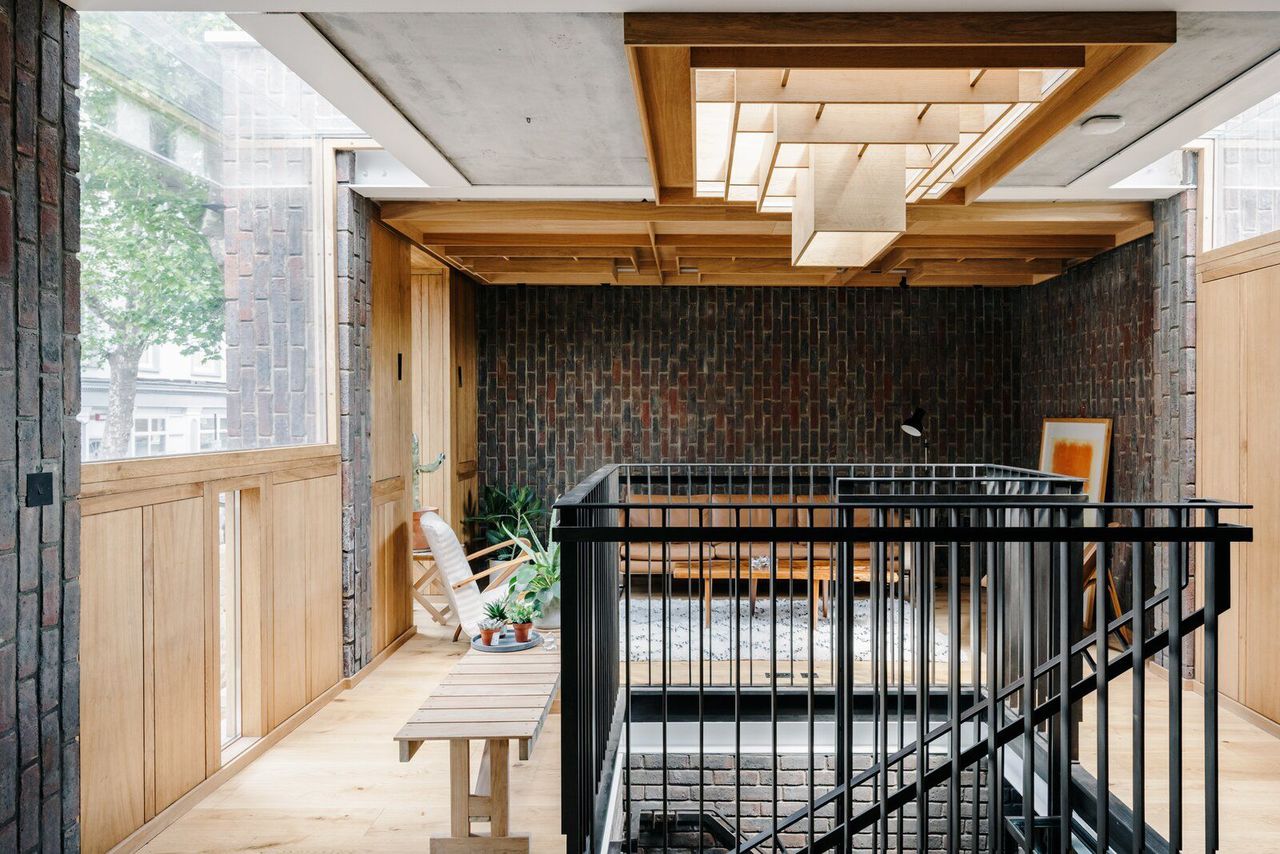 On the top level, the interlocking oak panels lining the ceiling come together to create a delicate chandelier-like structure beneath one of the skylights.

The home's three bedrooms are located on the ground floor, while the primary living areas await on the second level. Solid oak floorboards run underfoot in the kitchen-a space fitted with bespoke storage, integrated appliances, and black composite worktops.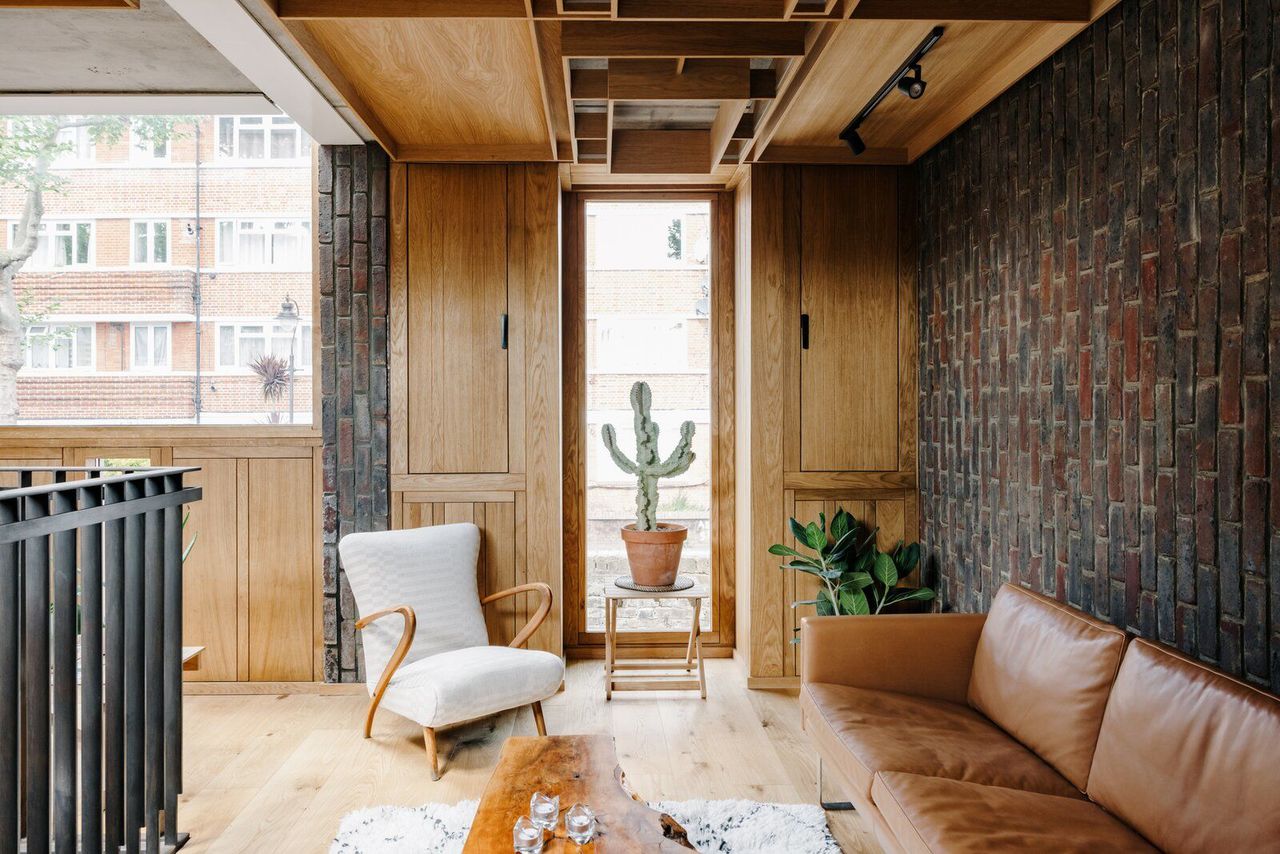 Large, oak-framed windows allow an abundance of natural light inside.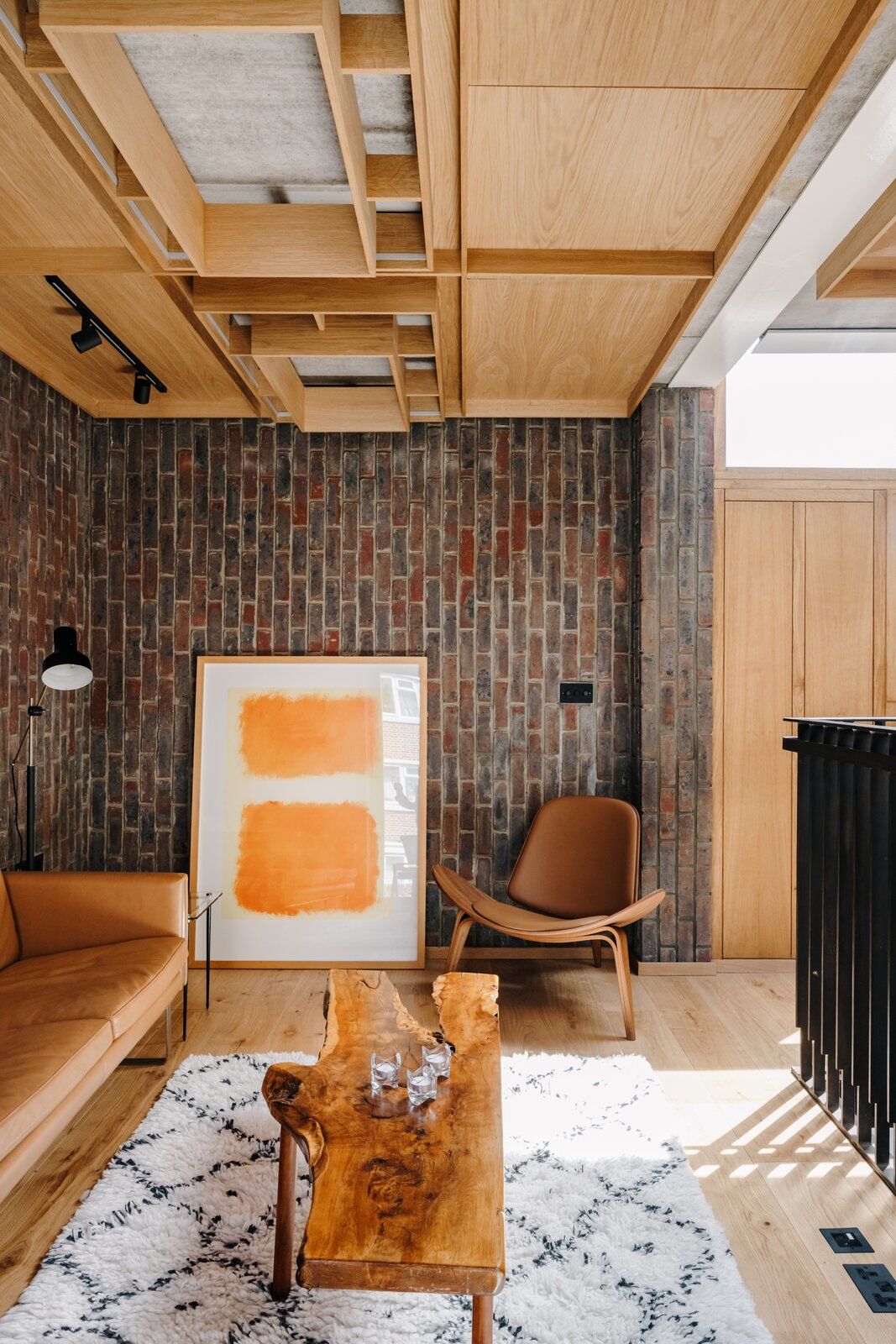 The contemporary wood panelling continues into the top-level lounge space, complementing the surrounding brick walls and oak hardwood flooring.

According to listing agency The Modern House, the home's top floor "is arguably the most impressive space" of the property. Designed as a flexible, open-plan area, the upper level boasts an exposed concrete ceiling which frames a "wonderfully intricate series of interlocking oak panels." Though the current owner uses the space as a lounge and study, the floor can also be converted into an additional bedroom or guest suite.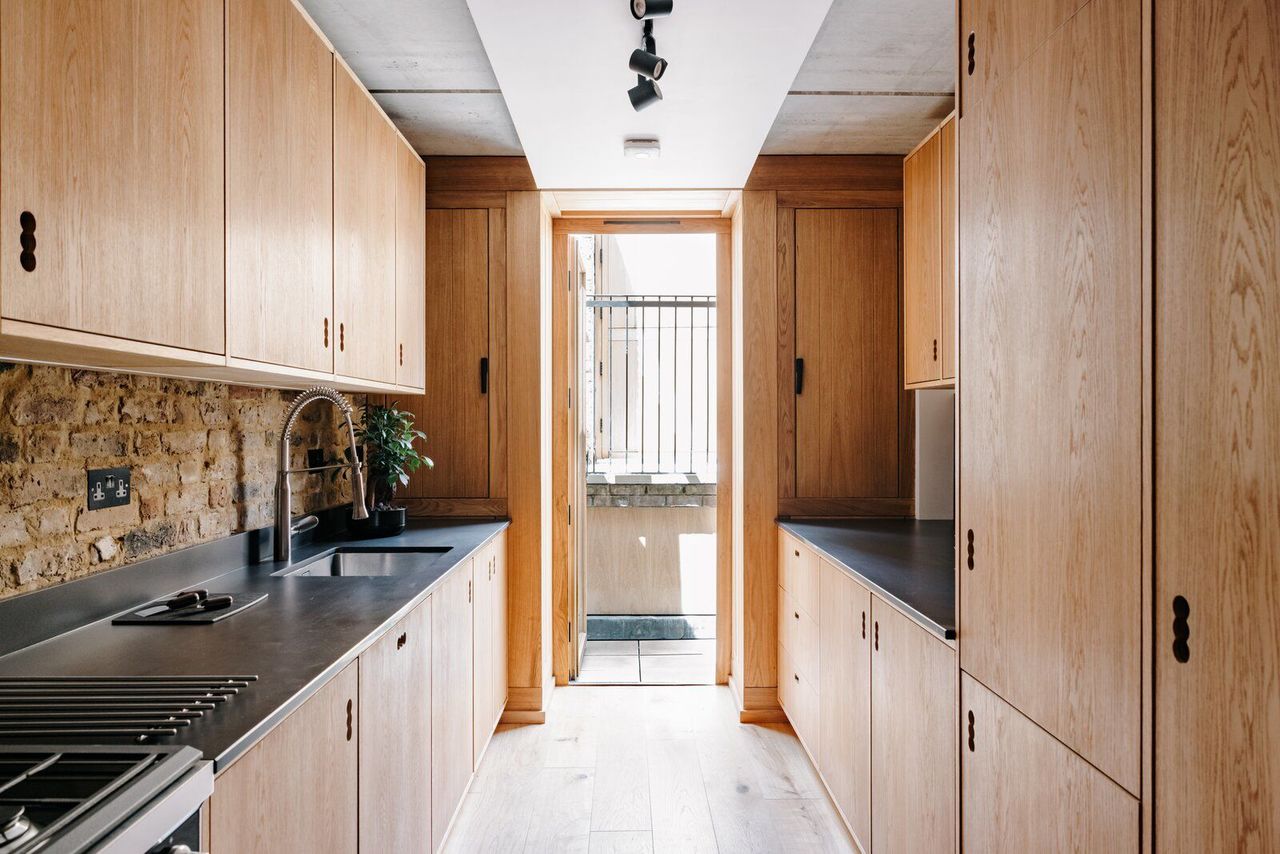 In the kitchen, the palette of brick, oak, steel, and concrete continues. At the far end, a full-height glazed door opens up to a private terrace.

In addition to being located near many of London's most popular cultural hotspots—including the Tate Modern and Shakespeare's Globe Theatre-the home is also just a short walk from the Borough Market. Scroll ahead to see more of the property, currently listed for £1,500,000.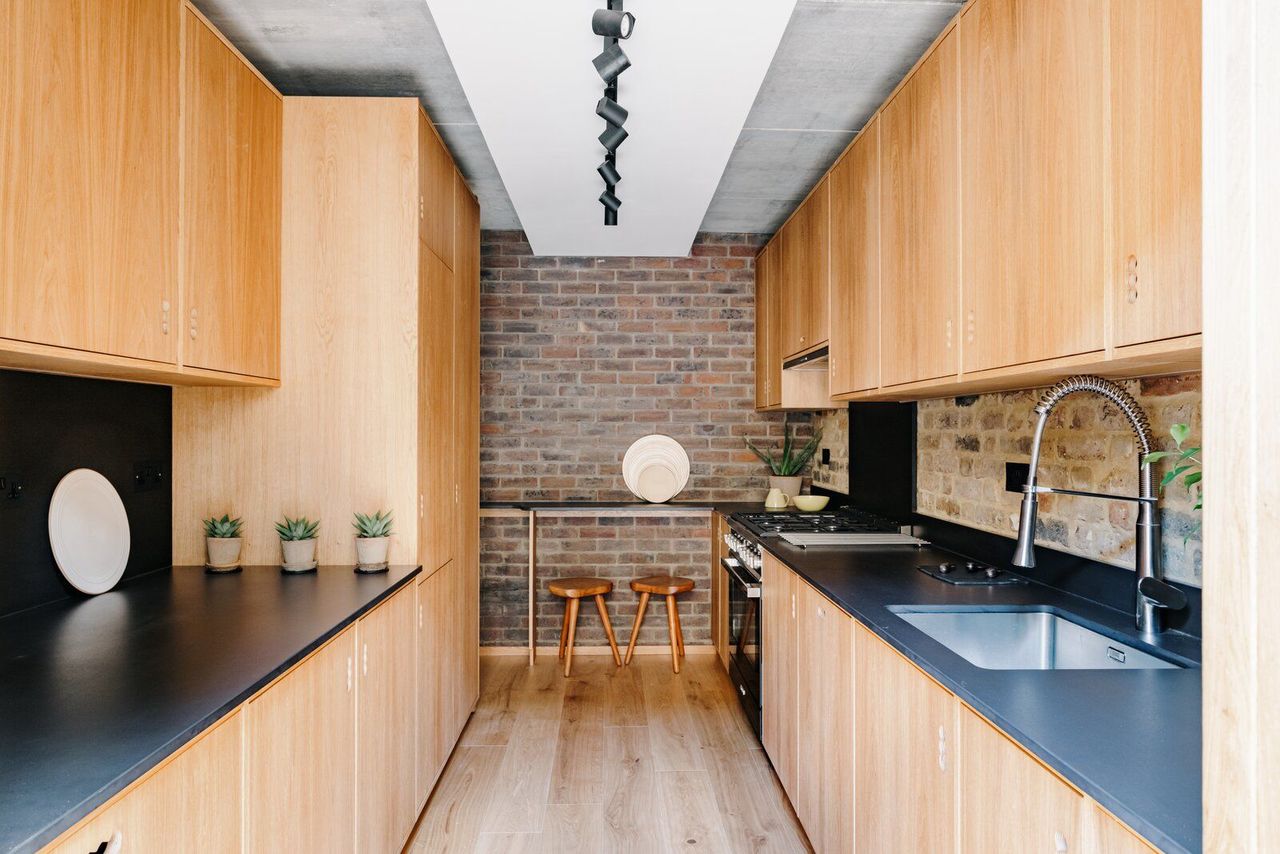 Another view of the kitchen showcases the room's bespoke oak units and cozy breakfast bar.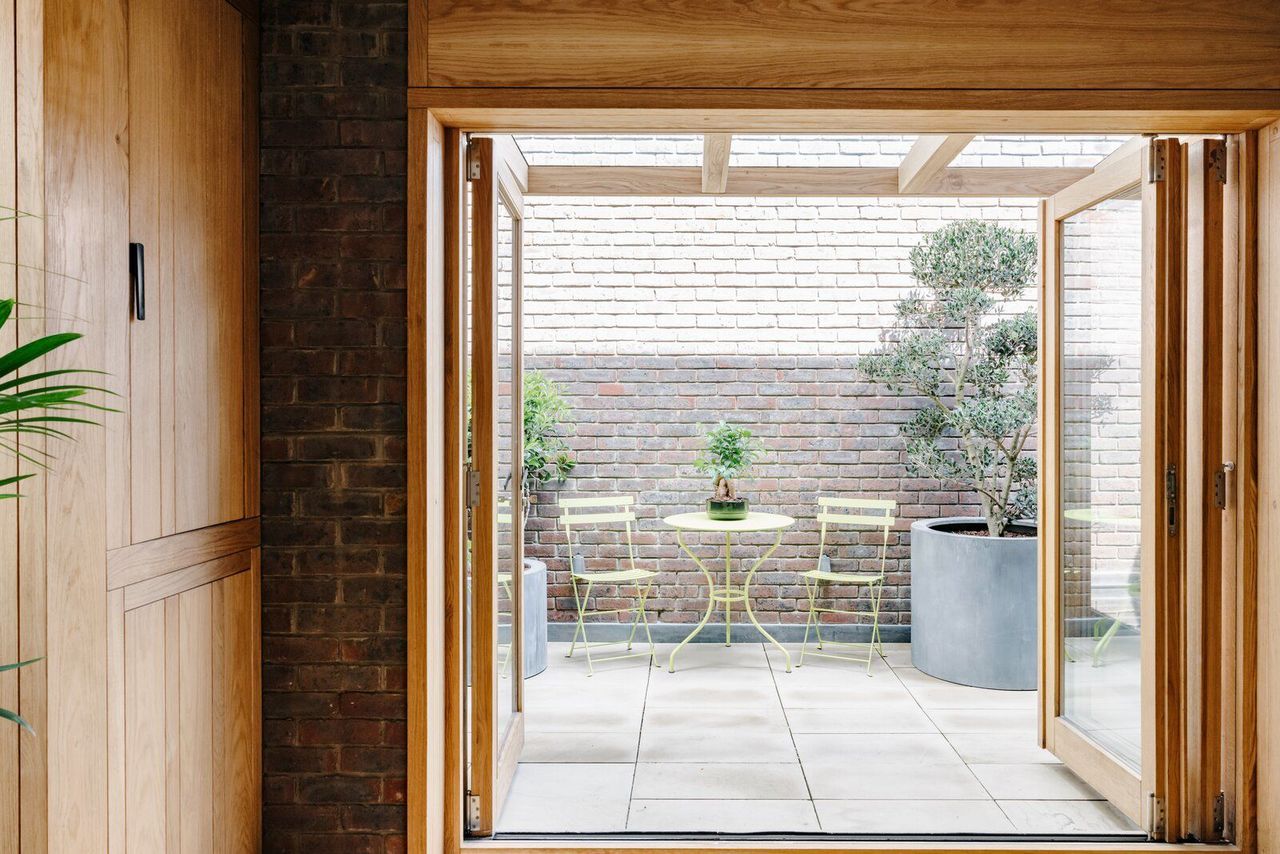 A spacious brick-enclosed courtyard awaits on the ground level and can be accessed via all three of the bedrooms.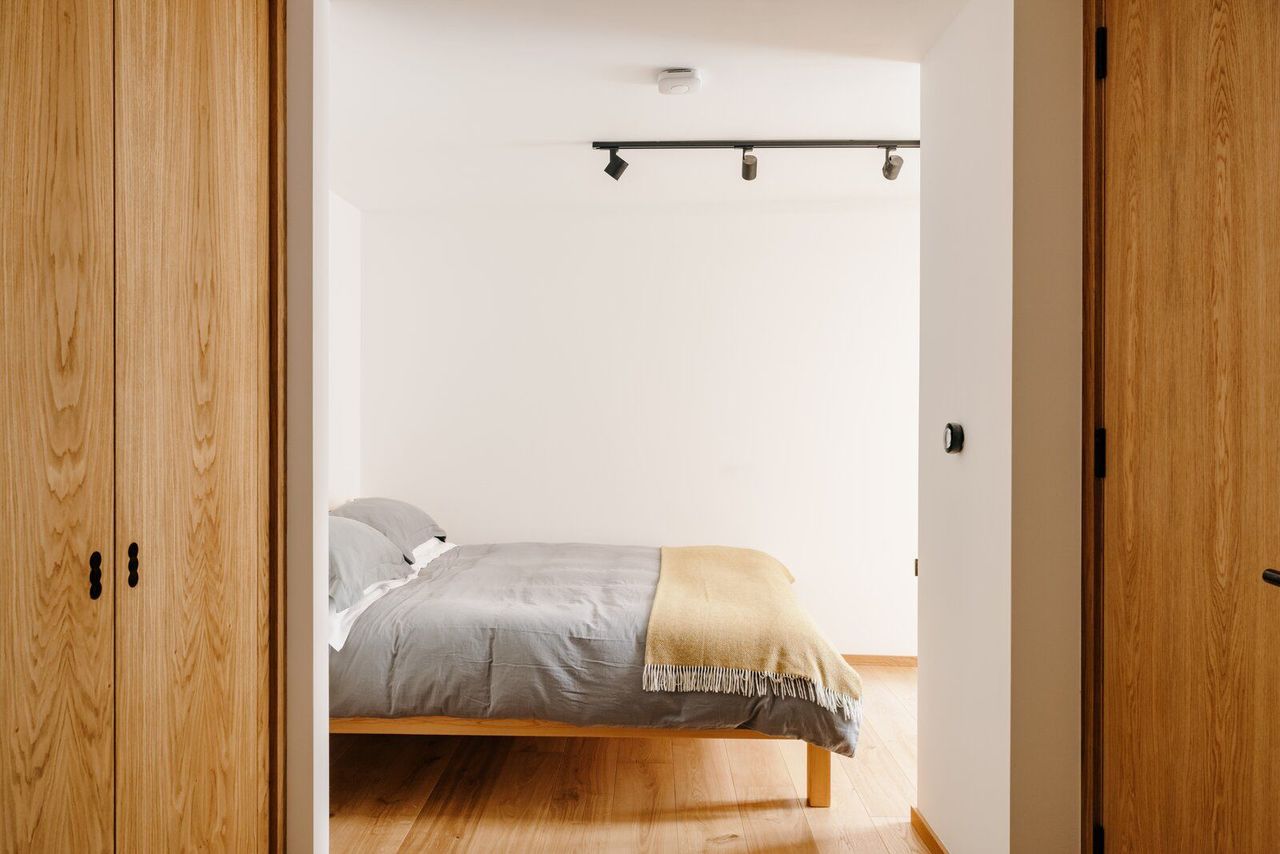 The primary bedroom offers a light-filled, serene retreat, complete with large built-in wardrobes.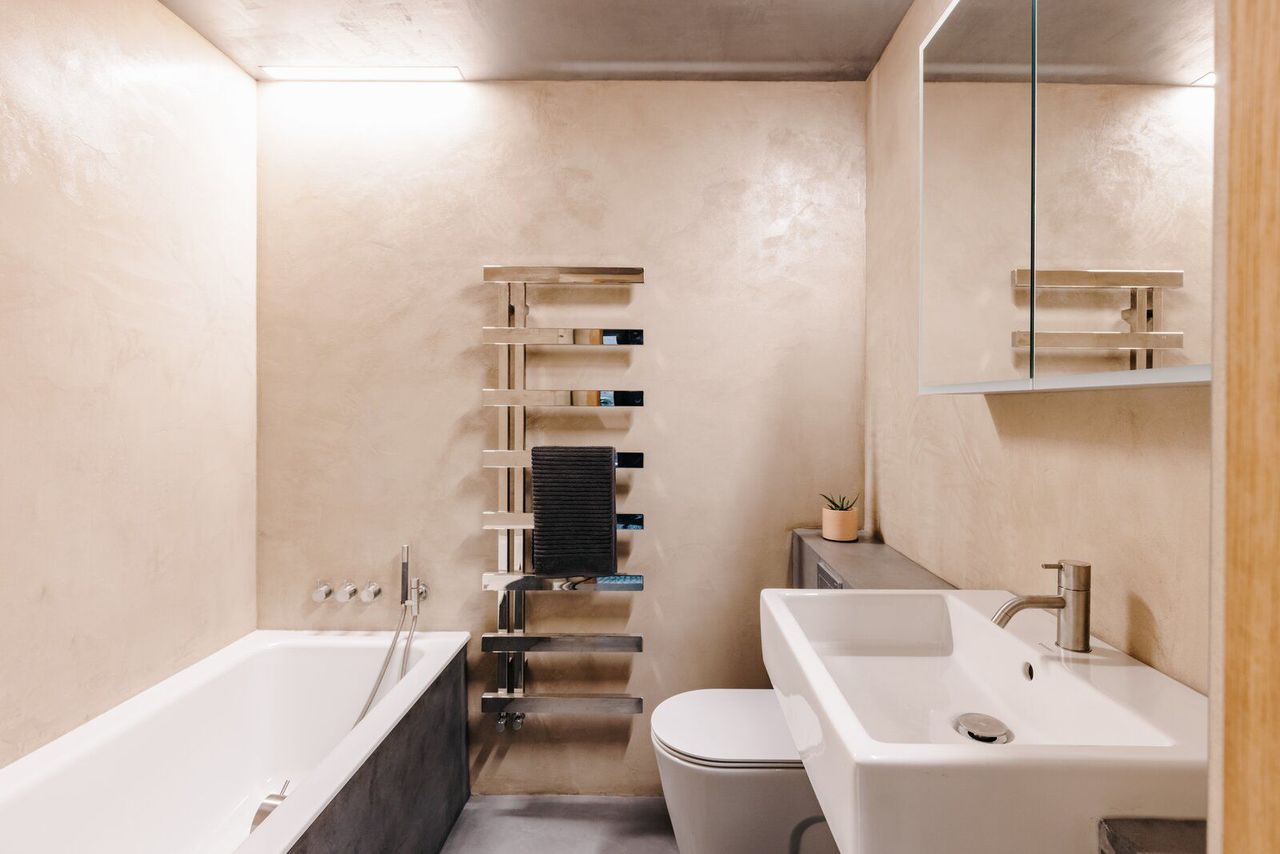 The en suite bath comes with an oversized soaking tub.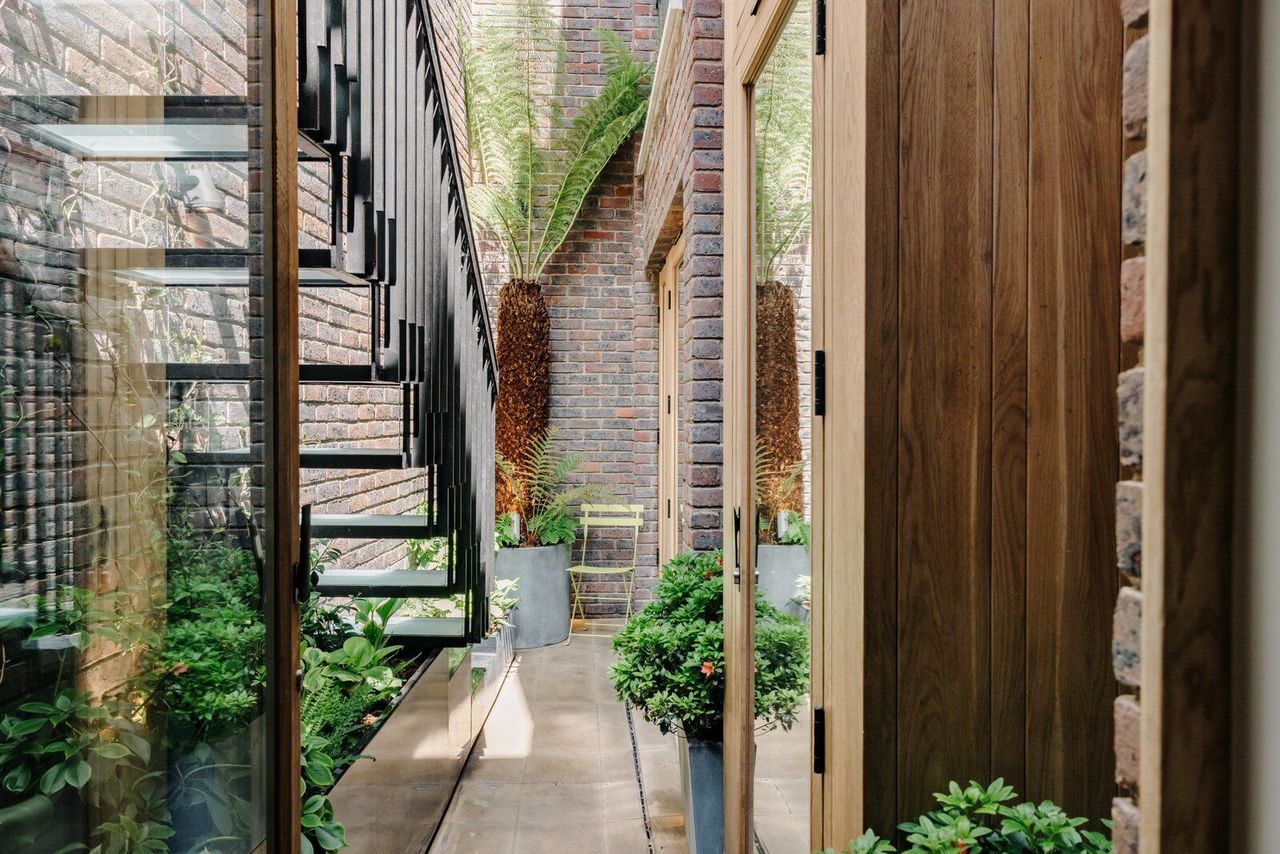 A peaceful patio garden is located on the ground level, offering soothing green accents thanks to a number of mature potted plants peppered along the brickwork.