There is no doubt Ray Kappe was a driving force in laying the foundation of the modern architecture movement that swept across Southern California. His designs-often considered to be an extension of the works of Wright, Neutra, and Kaufman-marry sustainability with innovation, and can be found all across the country. Kappe's final masterpiece, a commission by developer Ed Freeman that marks the beginning of a community of architectural gems in Palm Springs, is now up for sale.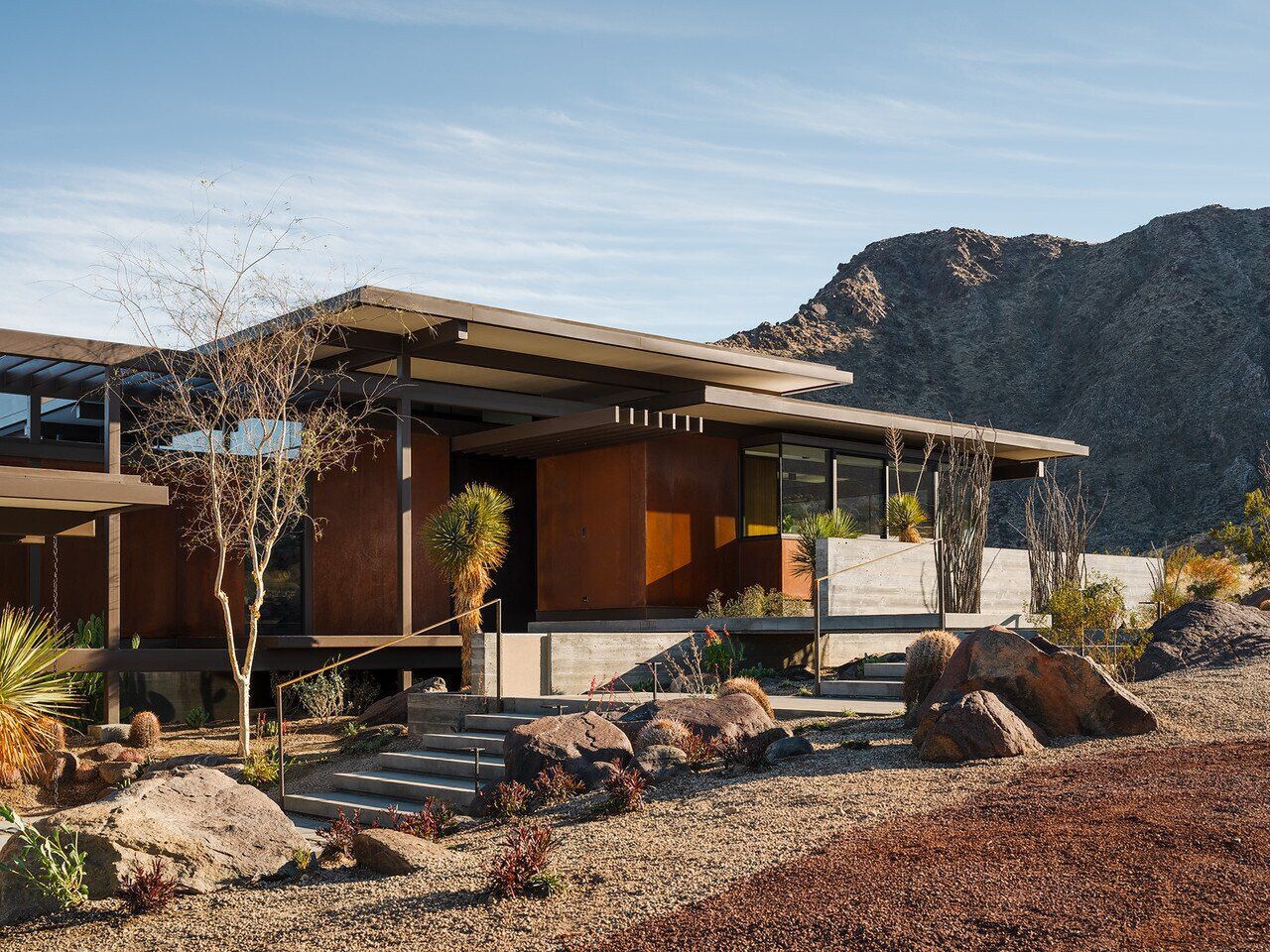 As with many previous projects, Kappe designed the home to honor the topography of the site. Steel components frame the residence, allowing parts of the abode to cantilever over the natural terrain with minimal disturbance.

The residence is nestled in the hillside enclave of Desert Palisades, and according to listing agent Marc Sanders, Kappe brought "his gifted vision for site-sensitive design to this rarified location," creating a "wholly contemporary, yet midcentury-inspired" home.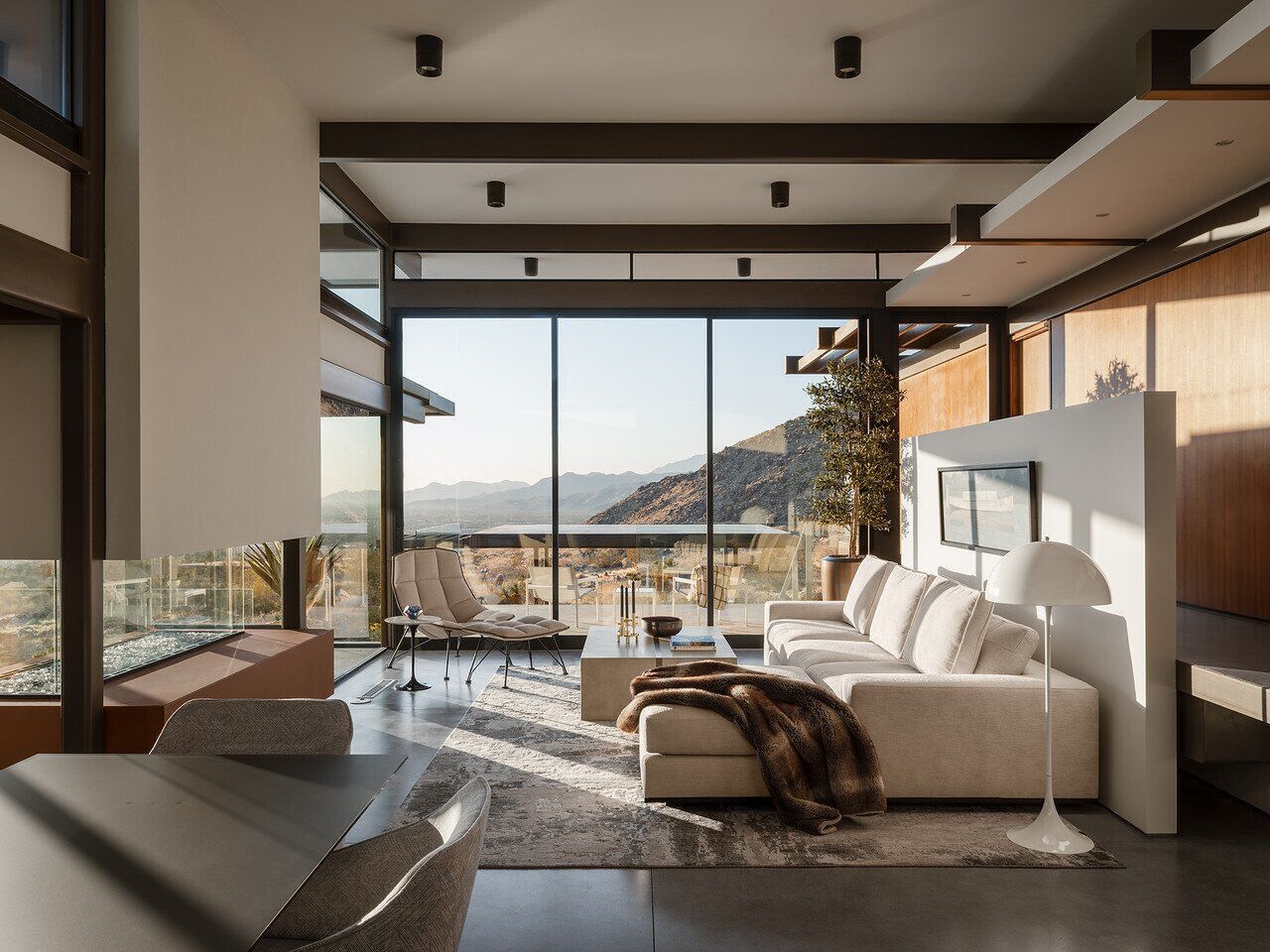 Floor-to-ceiling glazing wraps around the exterior, opening the home up to ample light and views.

Stretching over 3,100 square feet, the home comprises cantilevered, glass-enclosed volumes which appear to float over the natural terrain. An open layout offers seamless flow between the various living areas-all of which capture sweeping views of multiple mountain ranges, as well as the entire Coachella Valley.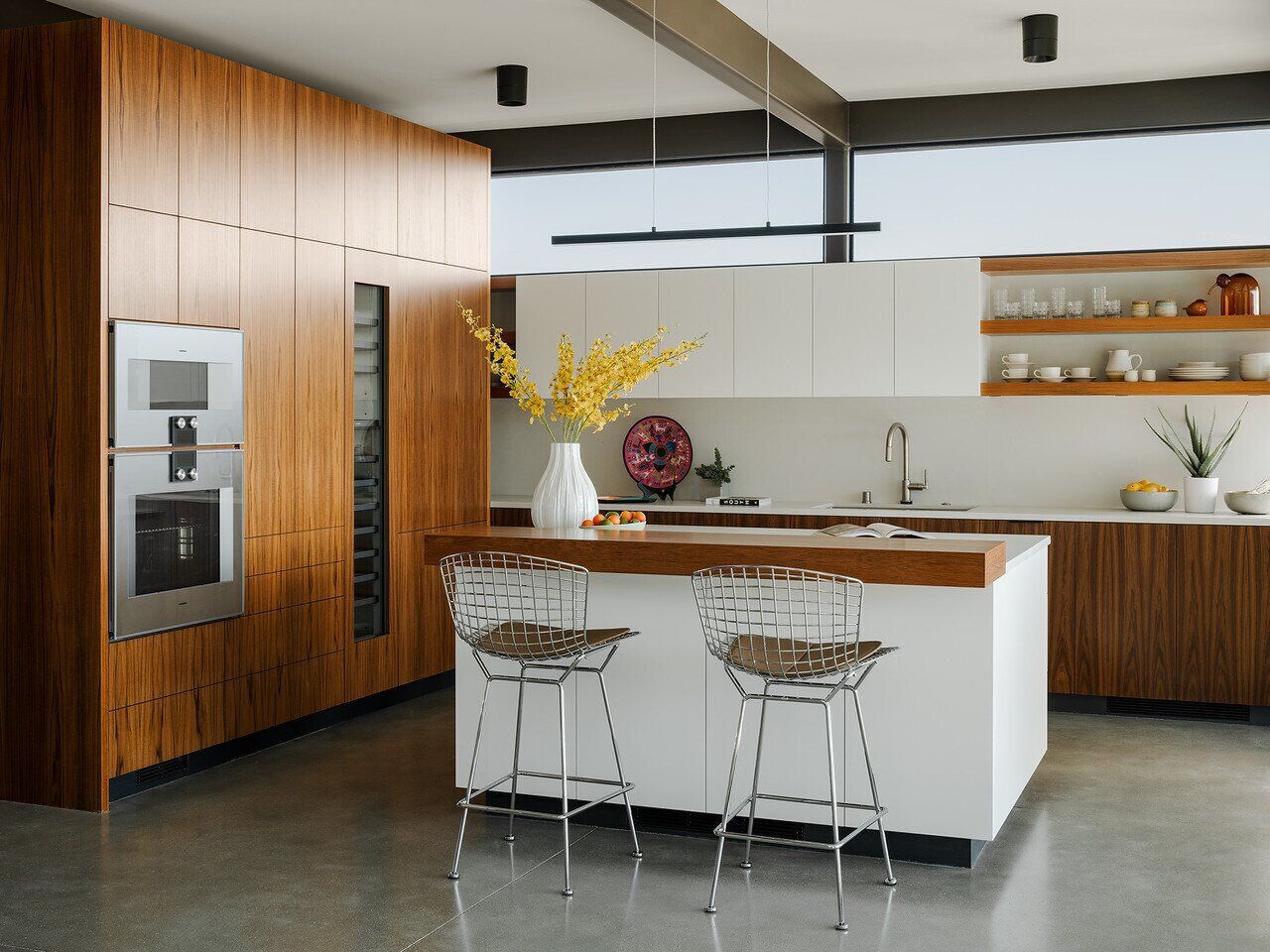 The open kitchen is fitted with top-of-the-line appliances, in addition to custom cabinetry.

"The home evokes a relaxed, but quiet elegance," notes Sanders. Polished concrete floors run throughout, blending with structural steel beams. Custom teak paneling infuses warm accents into the space, which are further illuminated by clerestory windows.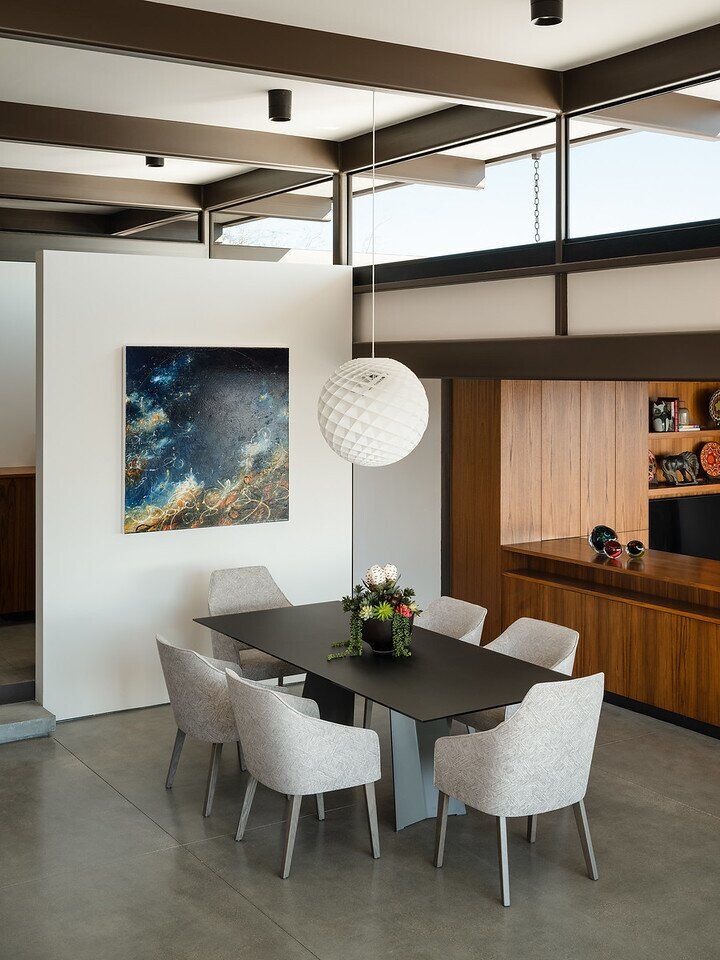 Steps from the kitchen is the main dining area. A wide, wooden pass-through connects the space to another one of the home's seating areas.

In total, the home features three bedrooms and four baths, including a bright, spacious primary suite. There is also a bonus room which can double as an office. Outside, multiple terraced areas dot the exterior, catering to easy entertaining. Additionally, the resort-like outdoor space comes with a large sparkling pool and spa, as well as a concrete fire pit. Scroll ahead to see more of the property, now seeking $6,400,000.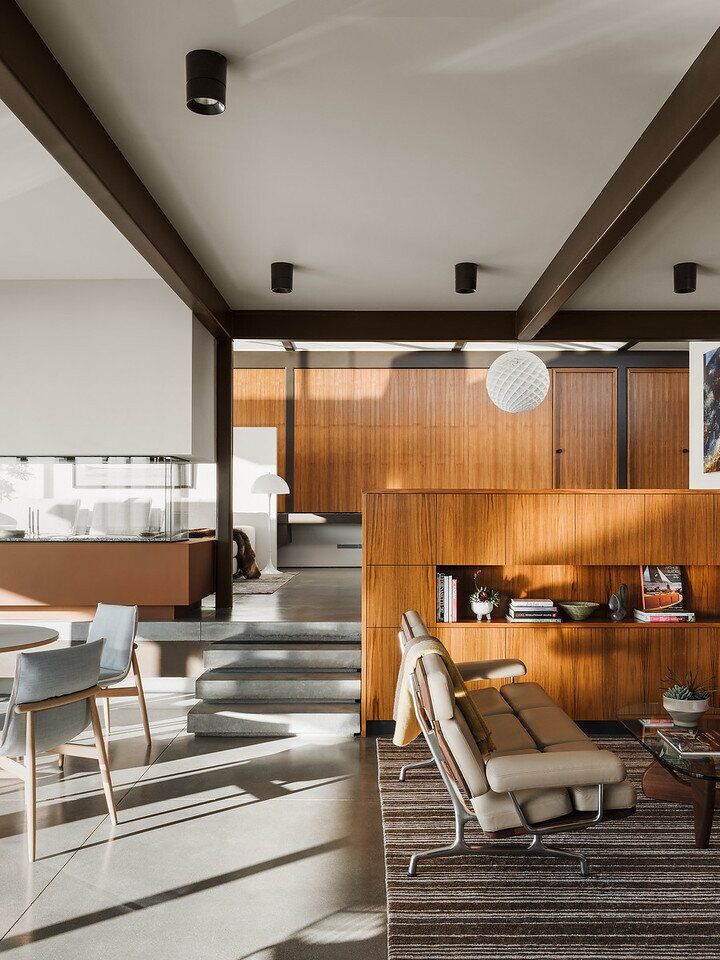 Glass, steel, concrete, and wood mingle throughout the interiors, presenting a refined aesthetic.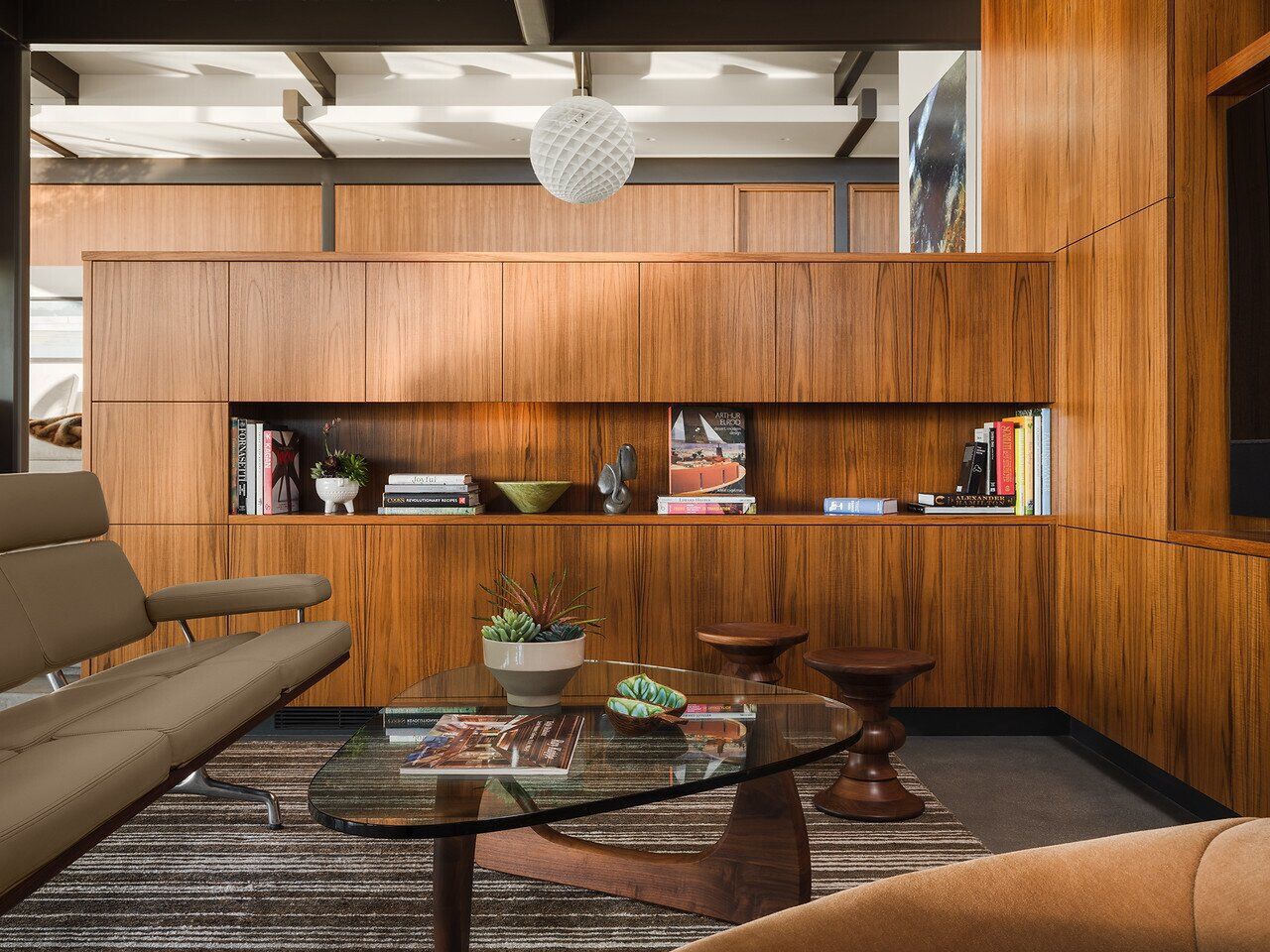 Custom built-in cabinetry cloaks the central media room, tucked away across the dining area.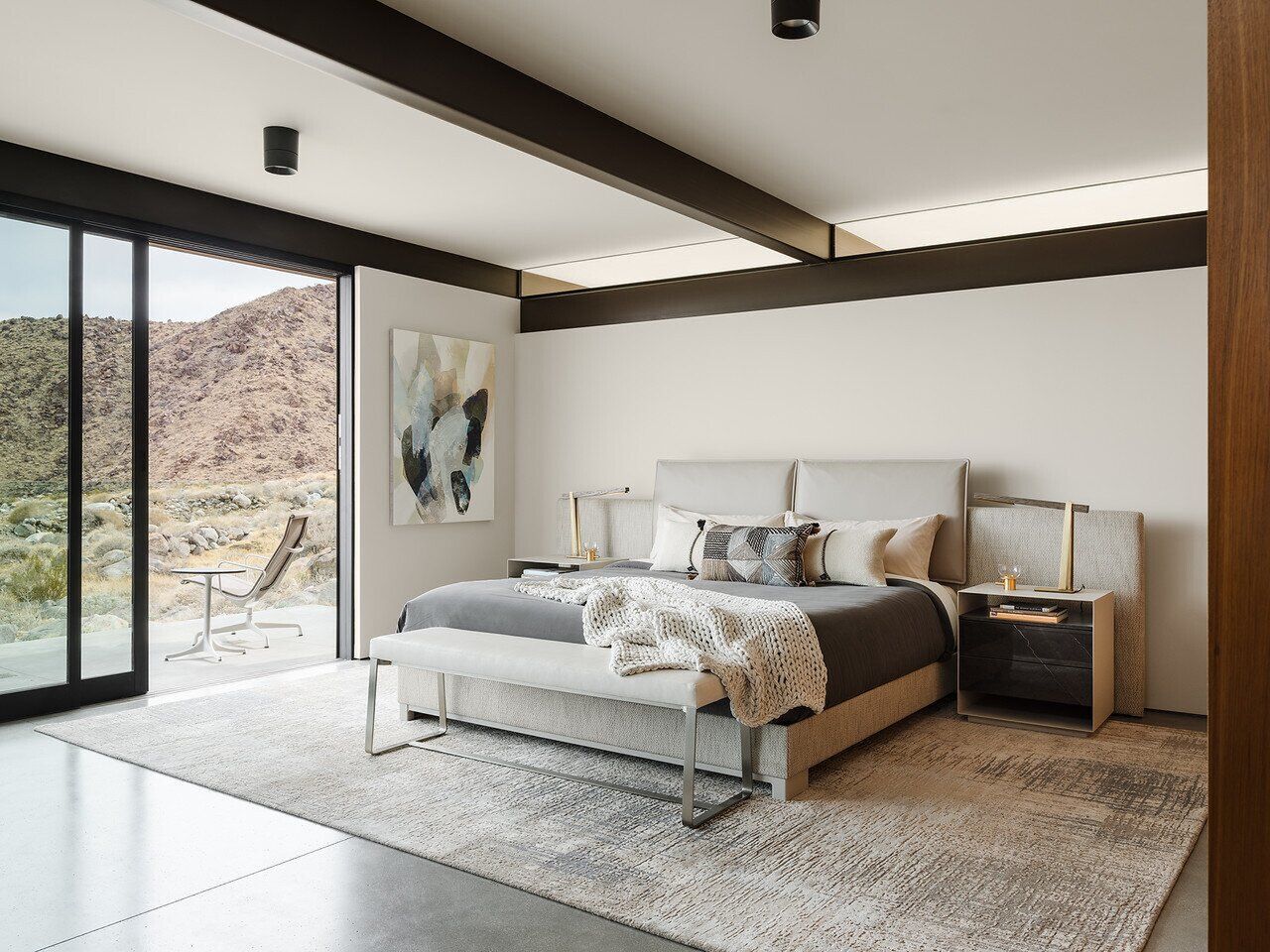 Exposed beams continue into the bedroom wing, enhancing the home's cohesive style. Broad, sliding glass doors create instant indoor/outdoor connection.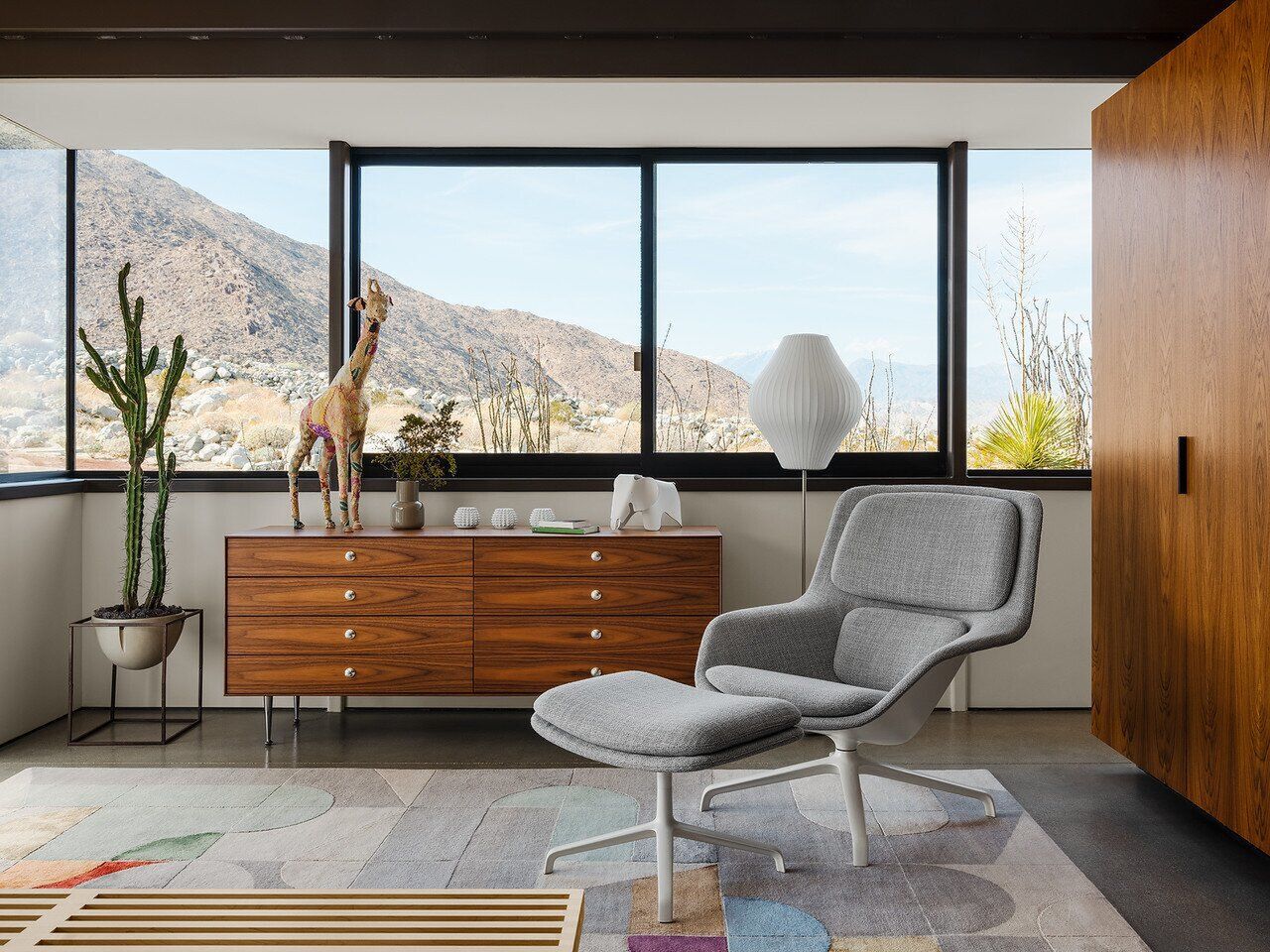 Every room of the house provides commanding mountain and valley views.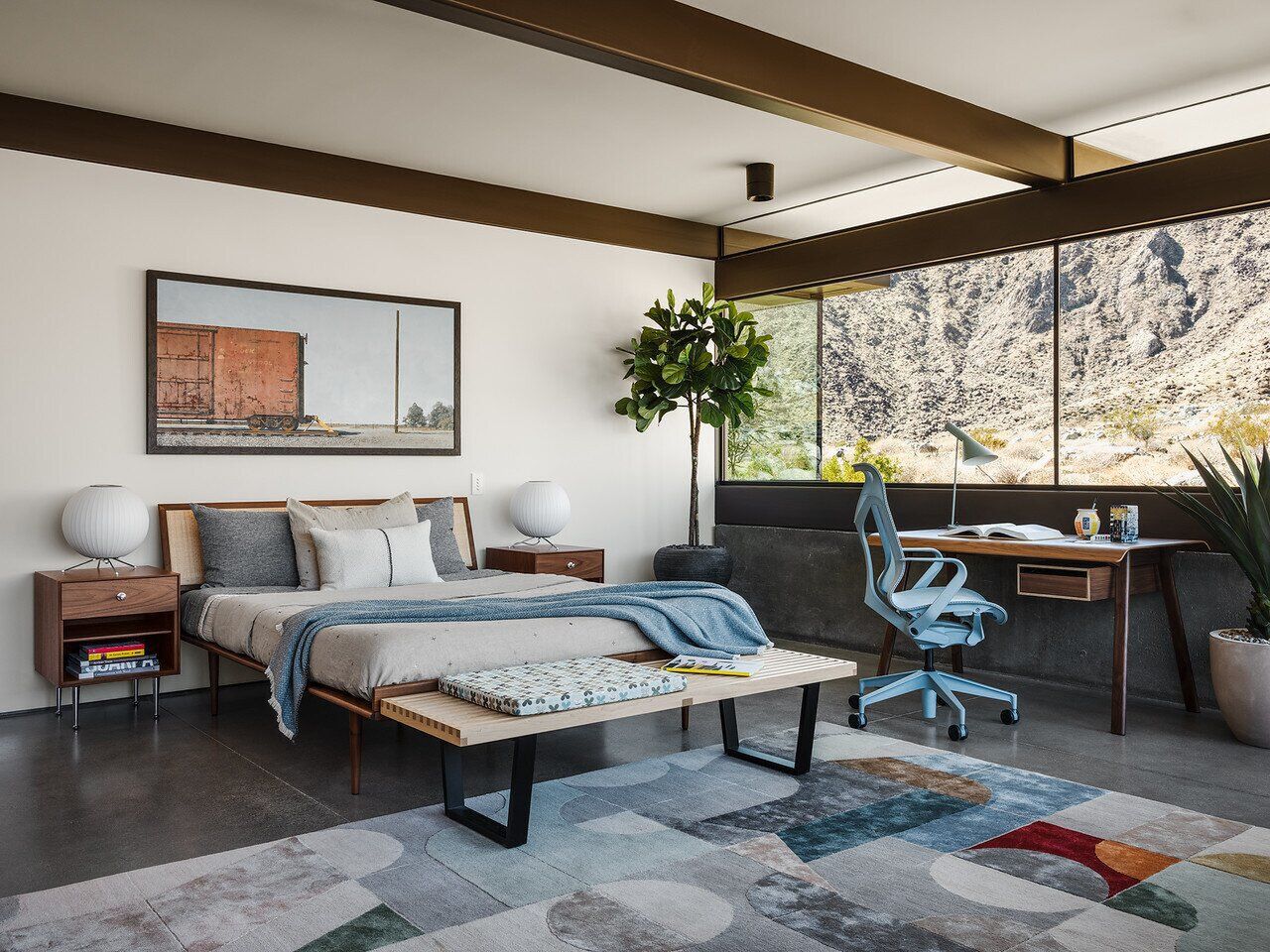 Another one of the home's three bedrooms features exposed beams, and mountain views.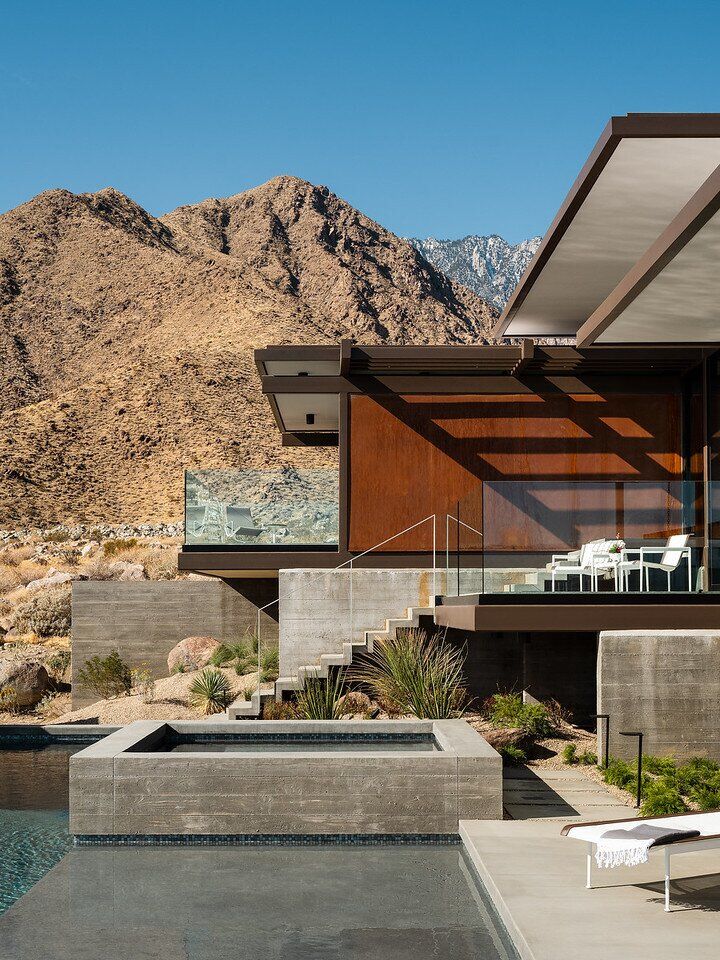 Glass-enclosed terraces overlook the backyard, which features an expansive pool and spa.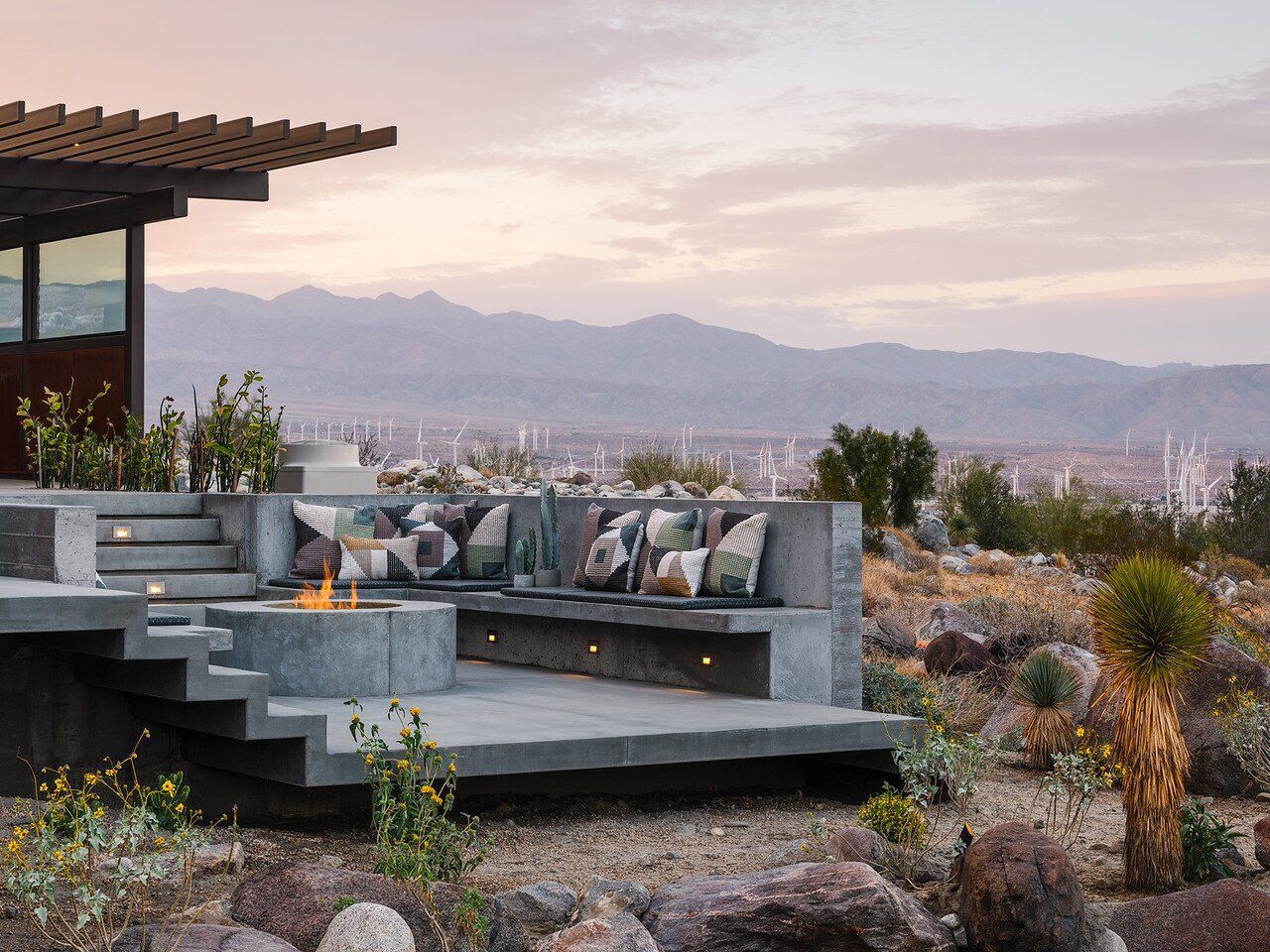 Steps descend to a large concrete fire pit-an idyllic spot to enjoy sunsets and stargazing.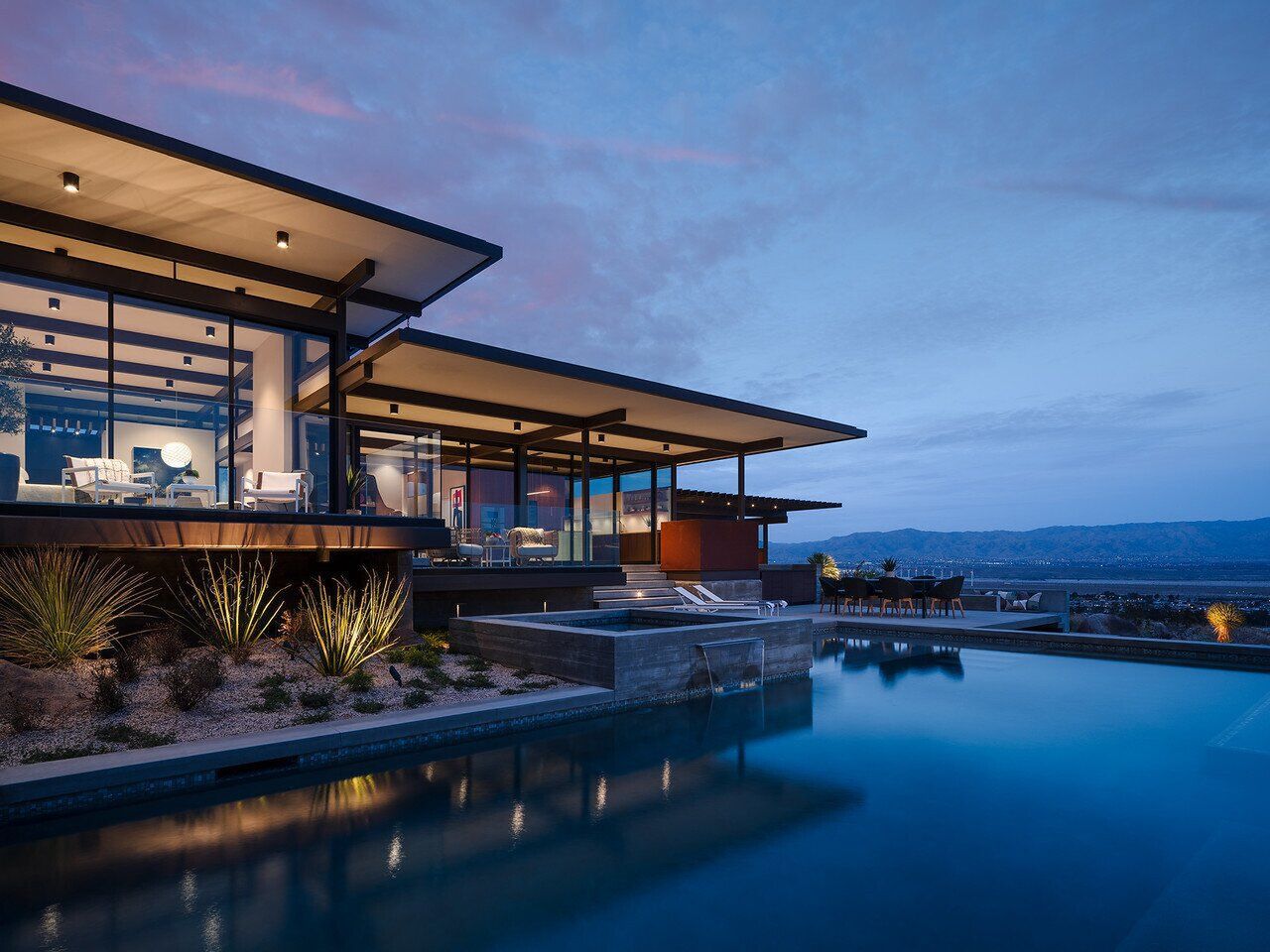 A view of the home at night showcases its expansive glass facade and secluded desert setting.