In the seaside village of Chilmark, tucked into a quiet wooded setting, a home with gracious architecture and light-filled interiors honors its owners' deep ties to the land. "My family has lived on Martha's Vineyard for ten generations," says Will Seward, a New York City–based builder by trade. When it came time to build his own home on the island, he and his partner, Michelle, knew they wanted a custom dwelling with minimalist, yet warm and approachable design that felt in harmony with its setting.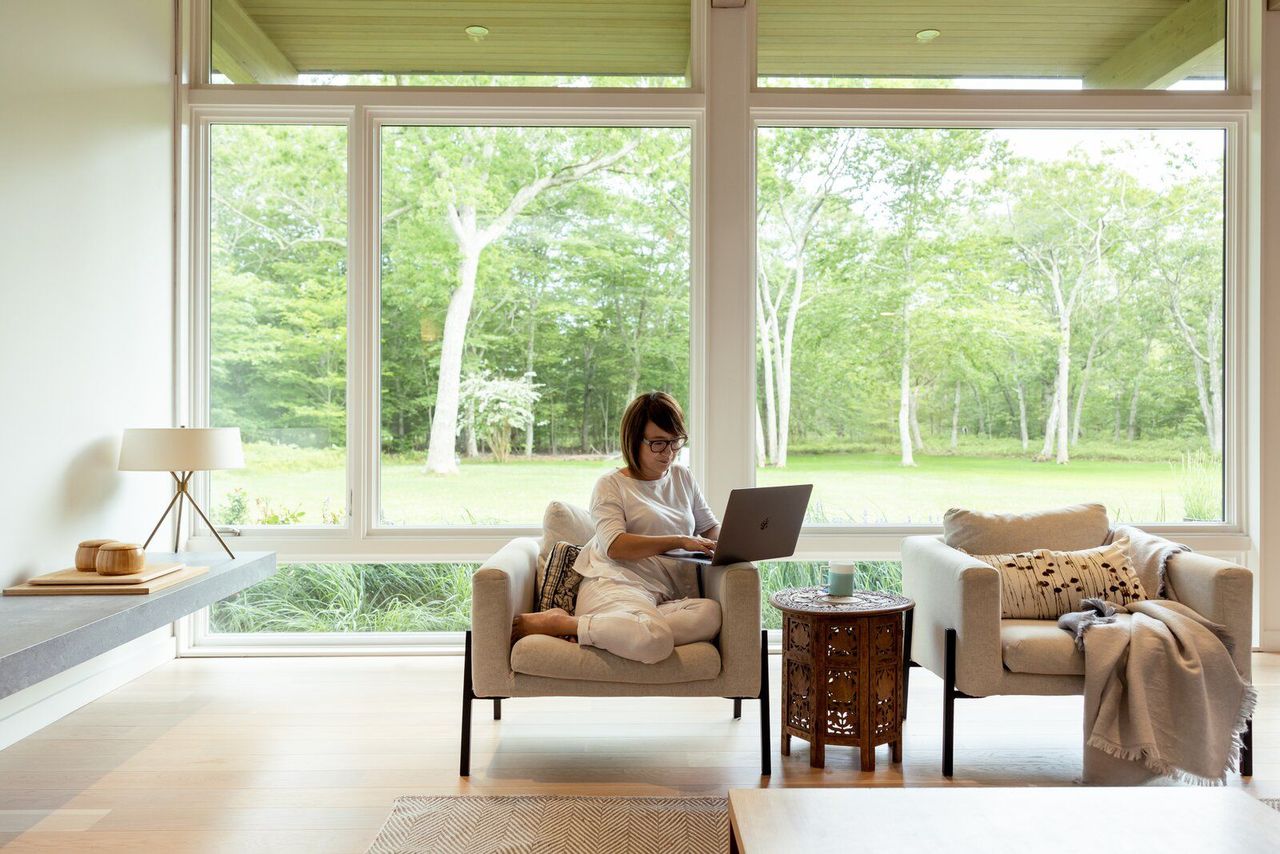 Custom windows and doors from the Marvin Signature Ultimate collection frame surrounding views throughout the home, including in Michelle's favorite spot for catching up on email.

For the couple, part of this harmony meant working within the natural constraints of their location, which-accessible only by boat and air-can quickly escalate costs both financial and environmental. "Building on an island is tricky," says Jake Wright of Turkel Design prefabricated homes, who solved the couple's problem with a customized take on the Boston-based company's Axiom 2790 model.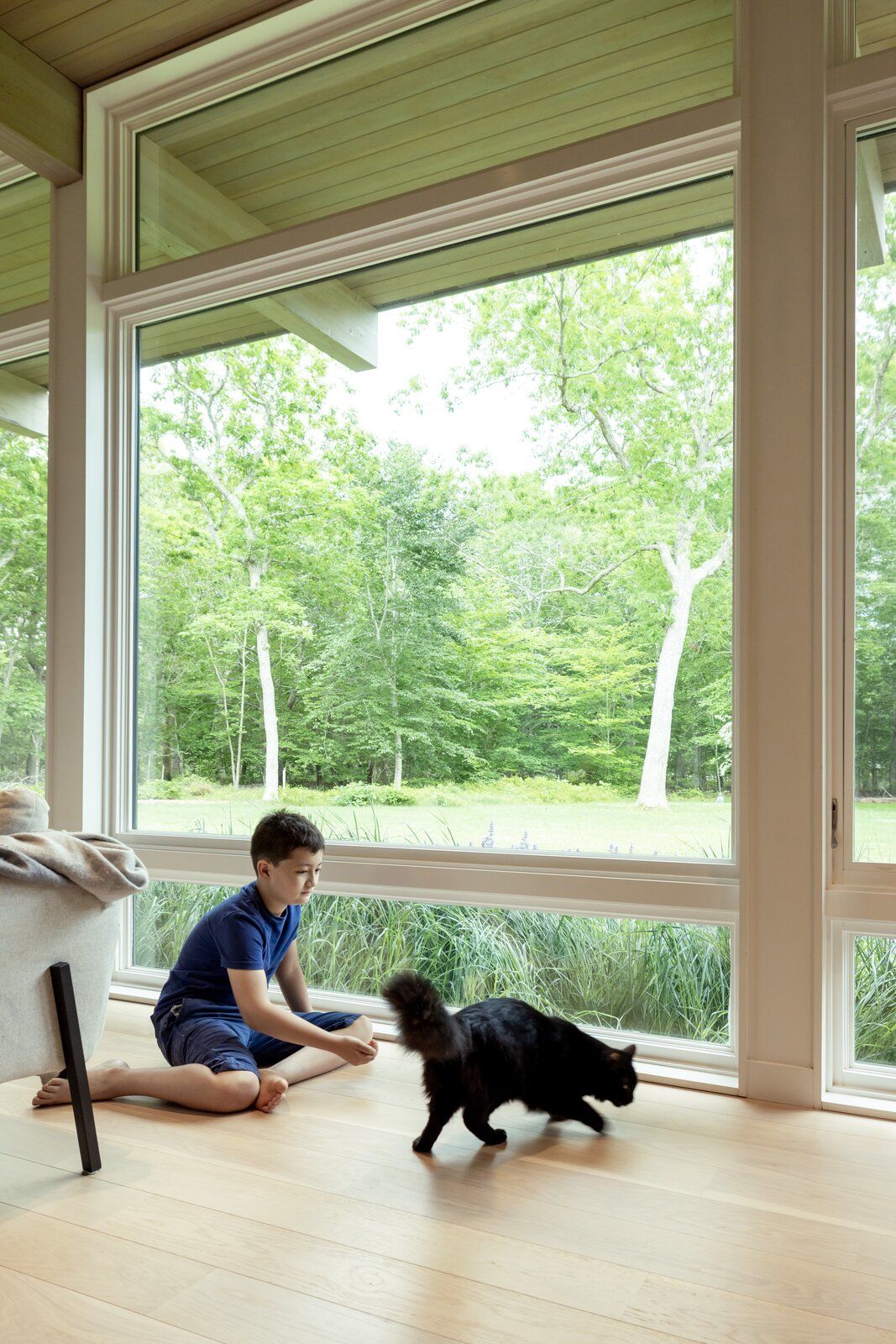 The couple's son, Spencer, and the family cat in the home's sunny living room on the lower level.

Clad in ash, the multilevel residence is a sleek, right-angled nod to the island's vernacular architecture-shingle-style exteriors that become weathered and gray over time-and it provides the welcoming, human-scaled getaway the family had hoped to create.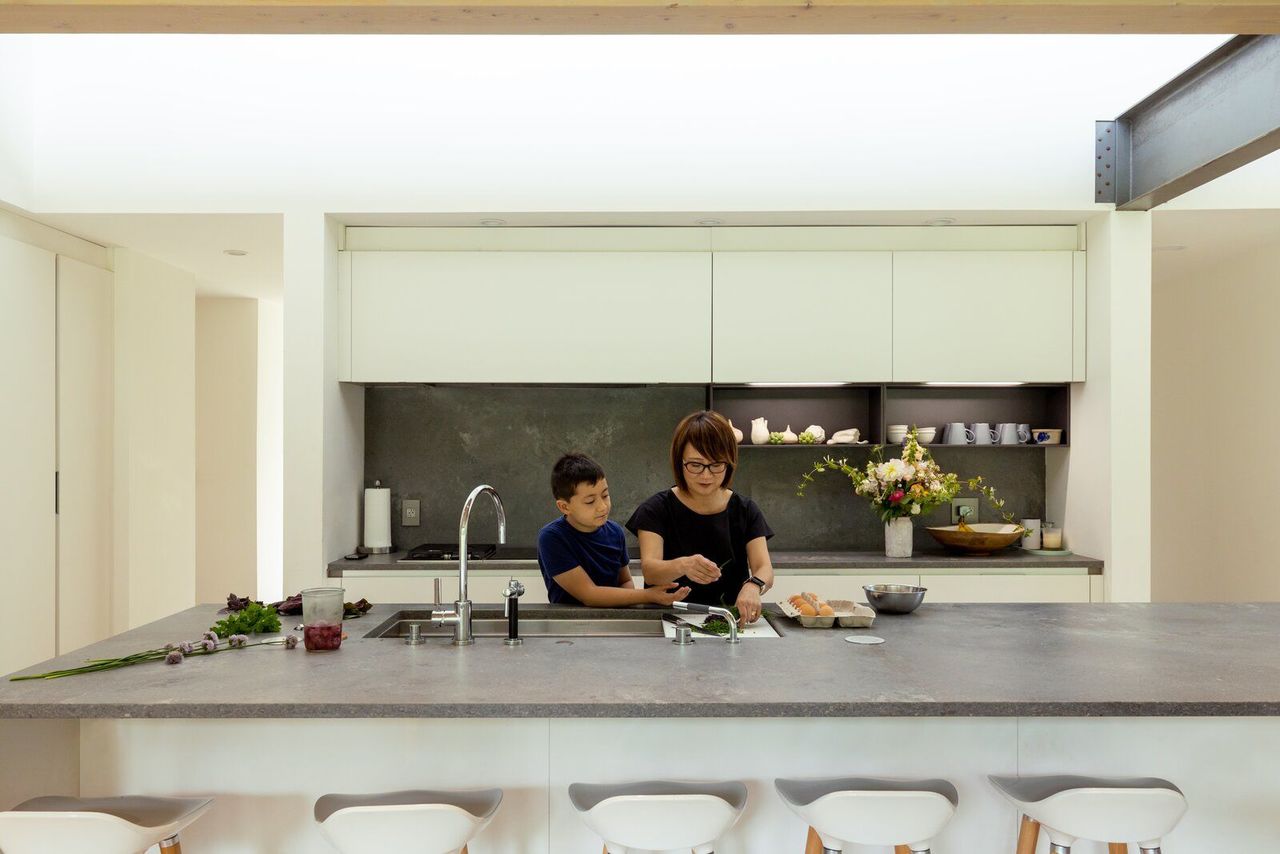 "My wife's passion is cooking," says Will. "We built everything around the kitchen and all the life that happens there."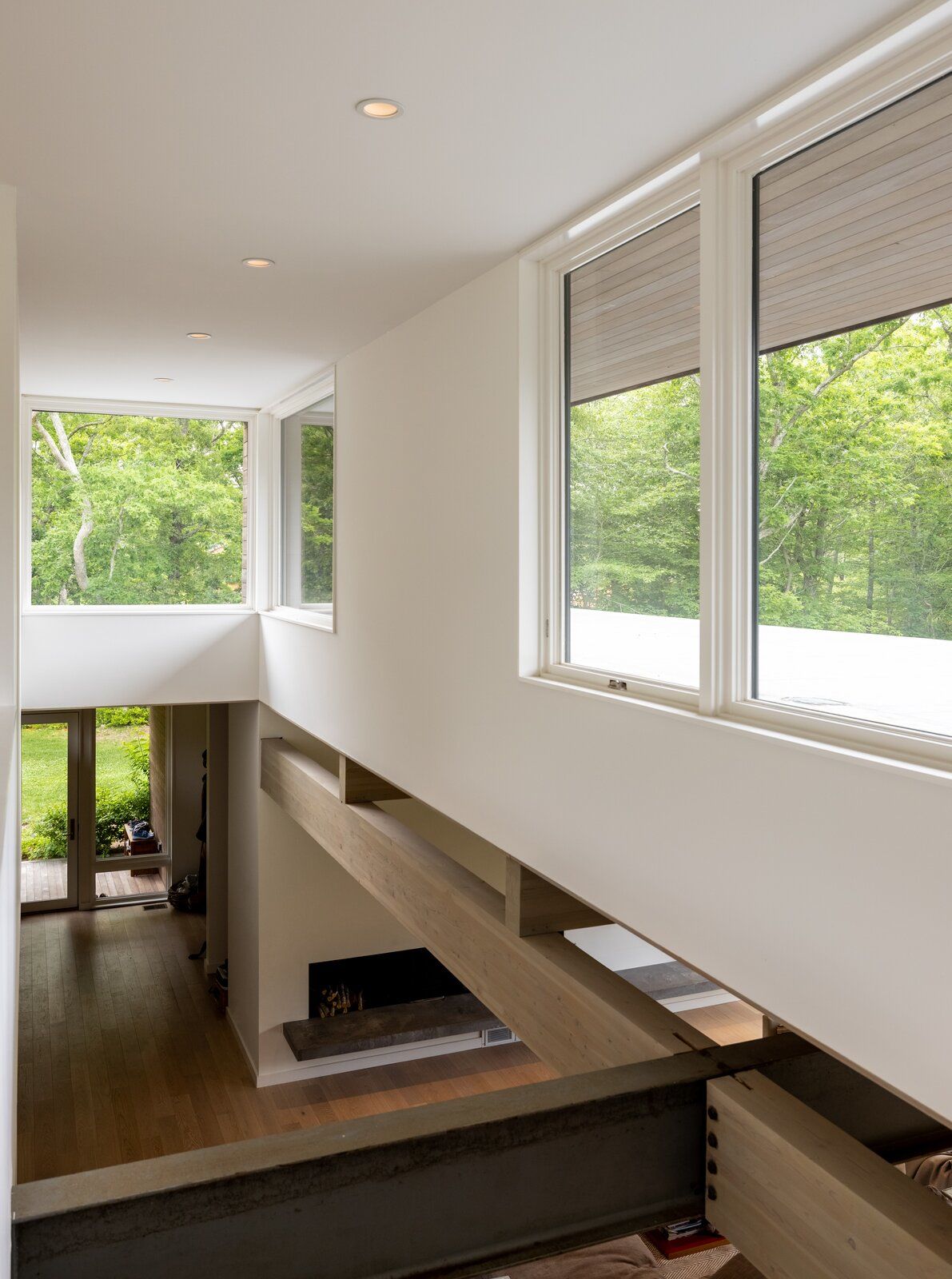 Casement windows that wrap around the double-height living areas capture natural light.

Inside, an open layout connects large gathering spaces with a double-height kitchen at the center. "It feels like one big room, which is made even bigger by windows in every direction," says Will. The Turkel designer agrees the kitchen hub works well for the busy family of three while drawing light into the home: "Sunlight streaming through the clerestory windows is one of my favorite moments in the house."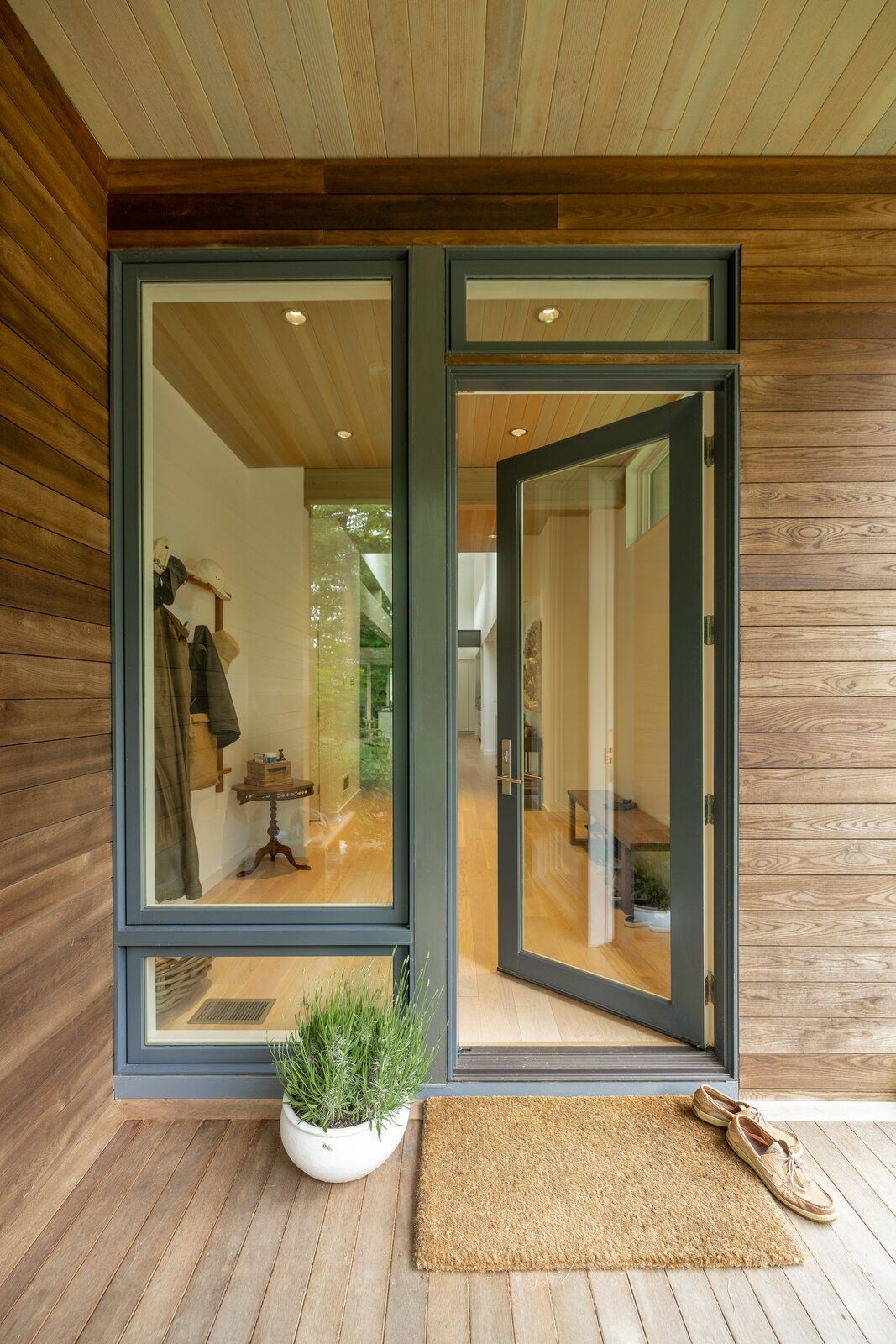 A wood-clad ceiling extends past the glass-enclosed entrance, creating material cohesion.

To achieve the family's desired indoor/outdoor lifestyle, Wright ensured plenty of openings throughout the home and fitted them with windows and doors from the Marvin Signature Ultimate collection. "Marvin understands the kind of rigor and tolerance needed for prefab designs," says Wright, "and their windows hold in heat in the winter and allow cooling in the summer, reducing energy use."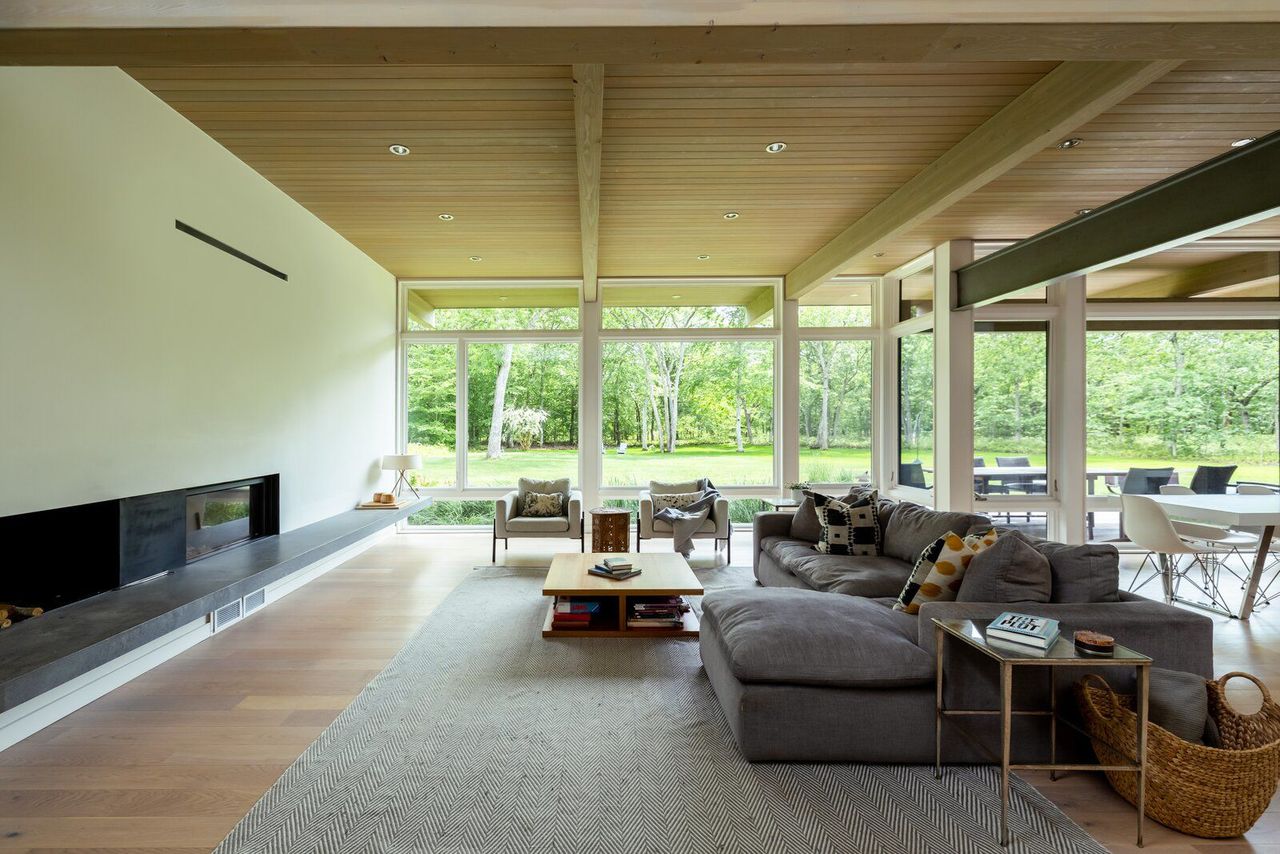 Ample glazing frames views of the landscape, further connecting the living spaces to nature.

"The entire prefab experience was miraculous," says Will. "Because the pieces were made ahead of time and in a controlled environment, everything came together very fast, yet ended up much less cookie-cutter than I expected."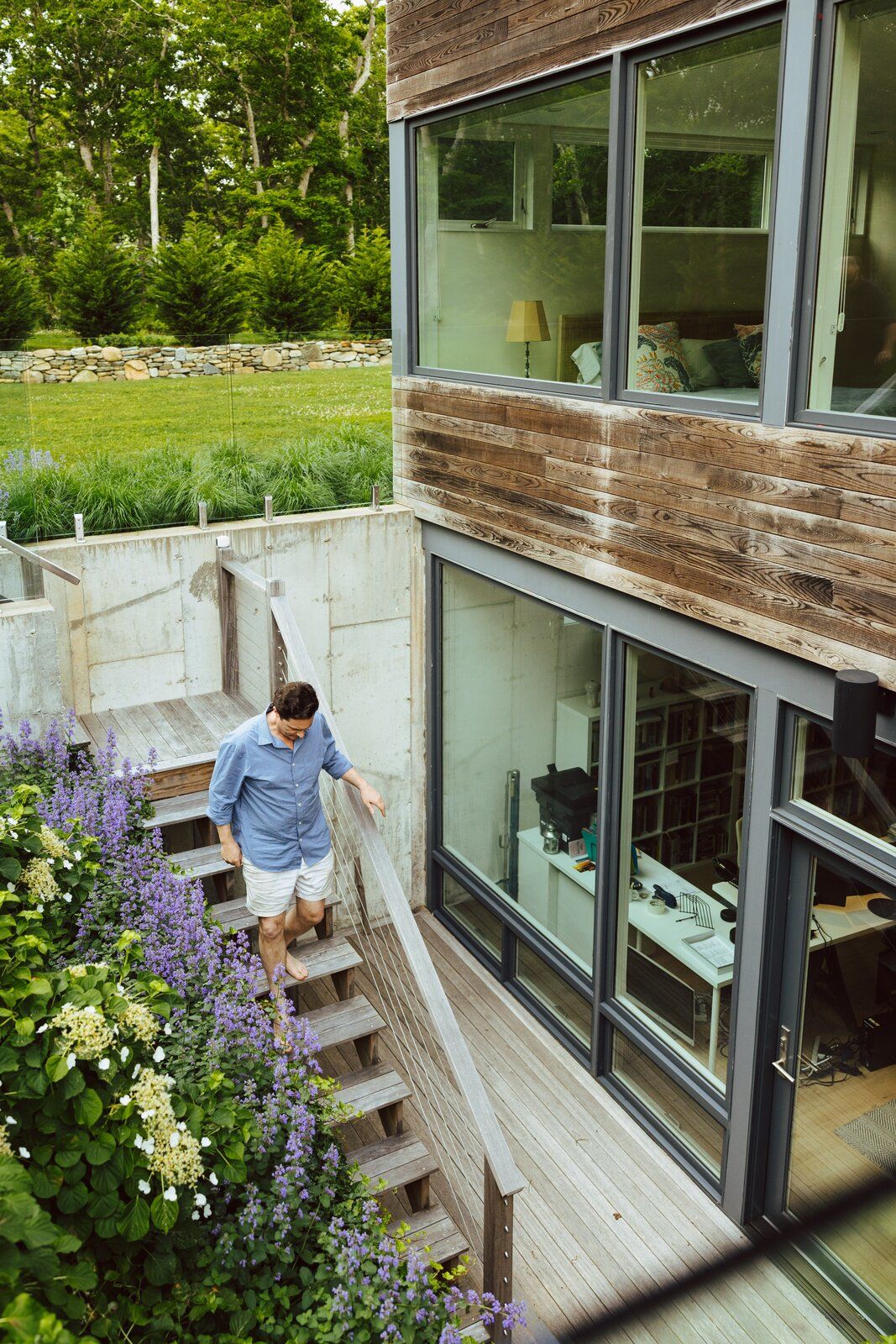 Will can access his office through a separate entrance, which is all-glass for maximum light. Ash siding on the home helps it blend into the surrounding woods.

Wright attributes this to Turkel Design's technical expertise and design process. "We create an incredibly detailed 3D digital model of the home, which allows us to resolve unforeseen problems ahead of time," he says. "That way, whatever we bring to the island, we know it will fit together efficiently and precisely, with less wastage overall."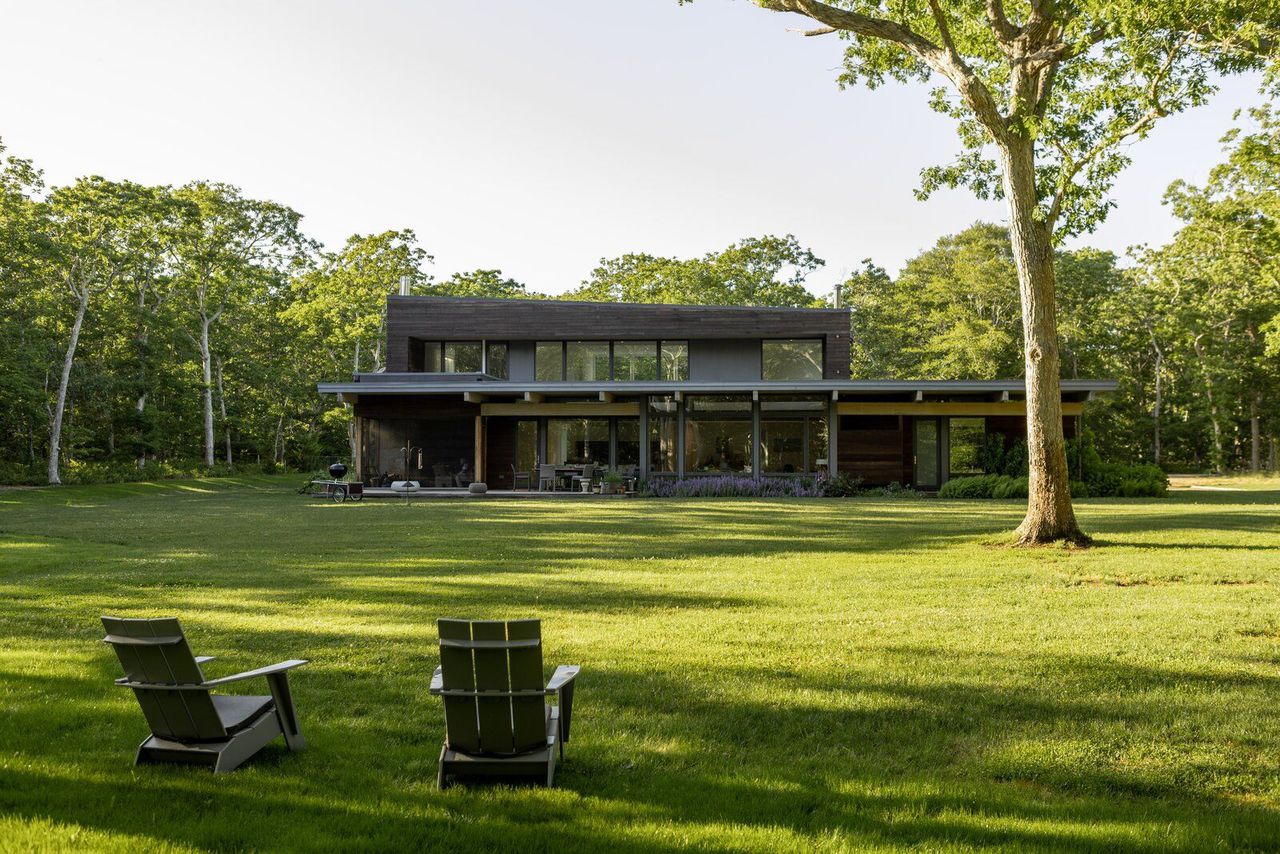 "We do a lot of entertaining, so the primary need in the design of this house was gathering friends," says Will.

Being back on his old stomping grounds makes Will nostalgic. He notes, "The Island has grown a lot. It's different than it was when I was a kid, but it's still a magical place, and I'm glad my son will get to experience it."