Establishing trust between designer and client takes time, but when Tanner Foust, a film and commercial stunt driver and motorsports competitor, bought his home in Newport Beach, he already trusted designer Chrissie Beavis with his life-so why not his house?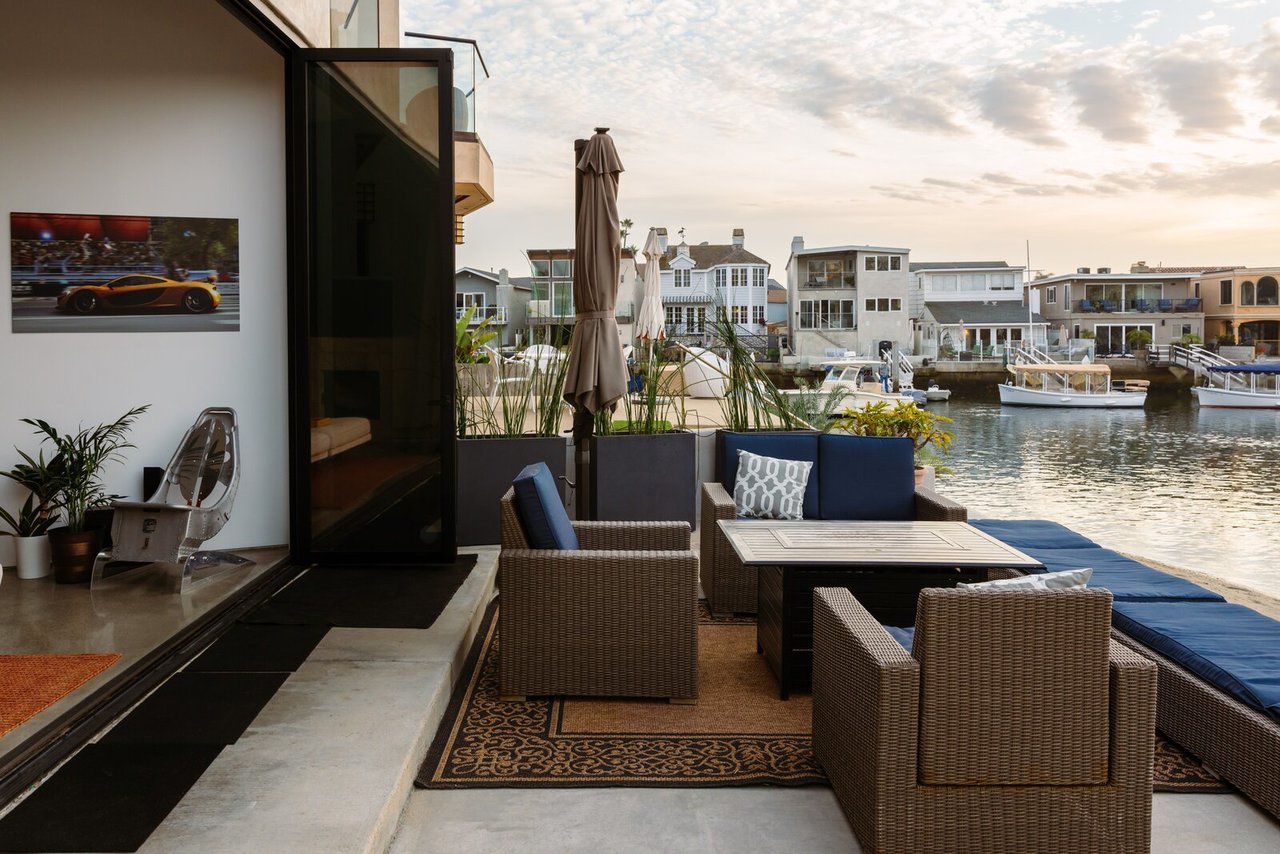 The outdoor deck is an optimal entertainment space that overlooks the Newport Beach marina.

The two met through the world of rally racing; Beavis was Tanner's co-driver, which means she navigated the route along small, twisting, remote roads while he drove. After going through dangerous experiences together like shattered wheels and cars on fire-and winning gold in the X Games-trust was built between designer and client, and that came in handy during the home's remodel.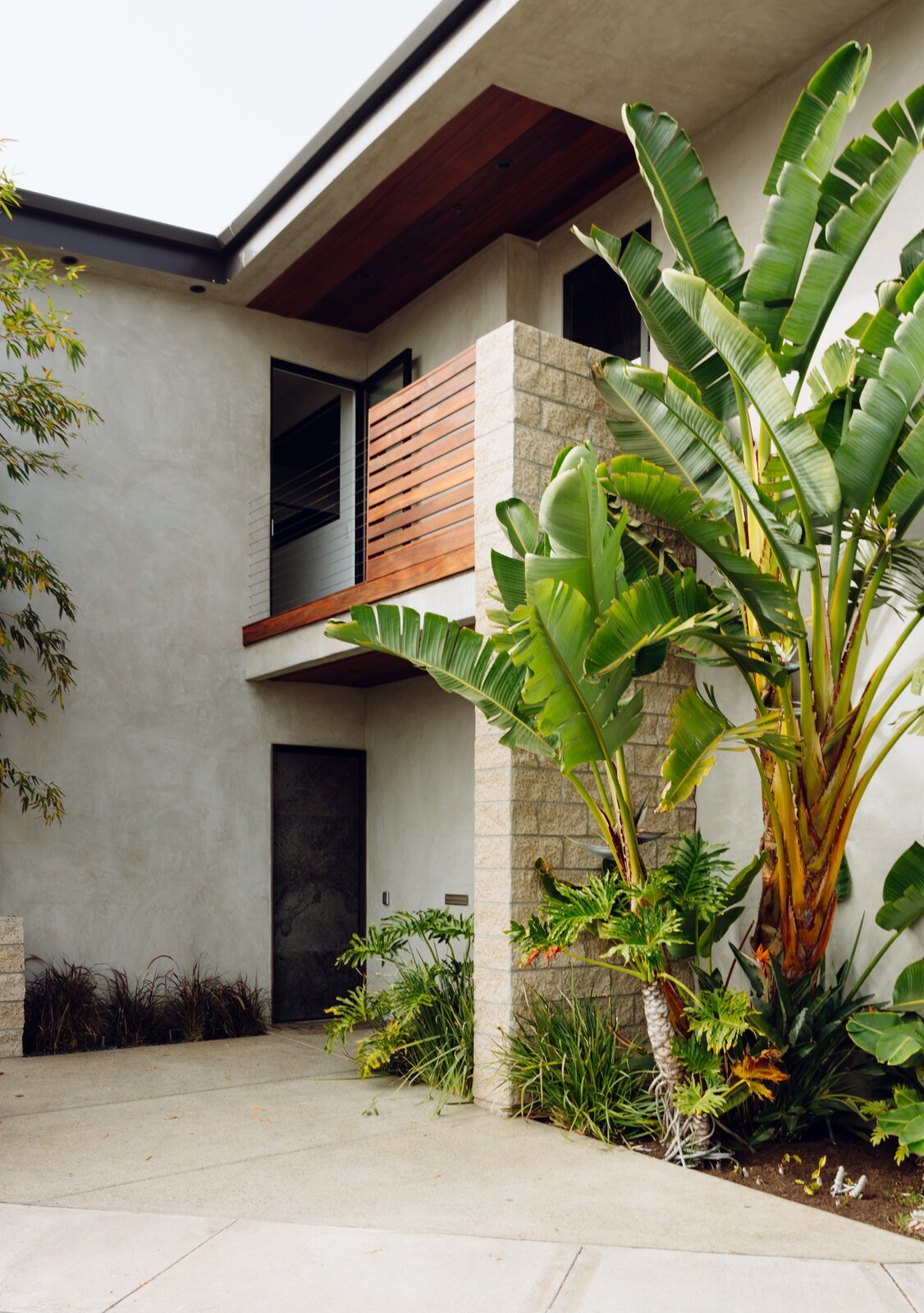 The concrete-heavy entrance is softened by the green landscaping.

"Working as Tanner's designer was probably one of the easiest projects I've done, because I already knew him so well. I knew how he worked, and the things that he needed in his life," says Beavis.

Upon seeing the three-bed, three-and-a-half bath home, Beavis had no trouble designing an elegant dwelling that exemplifies Tanner's passion for motorsports, cars, and planes.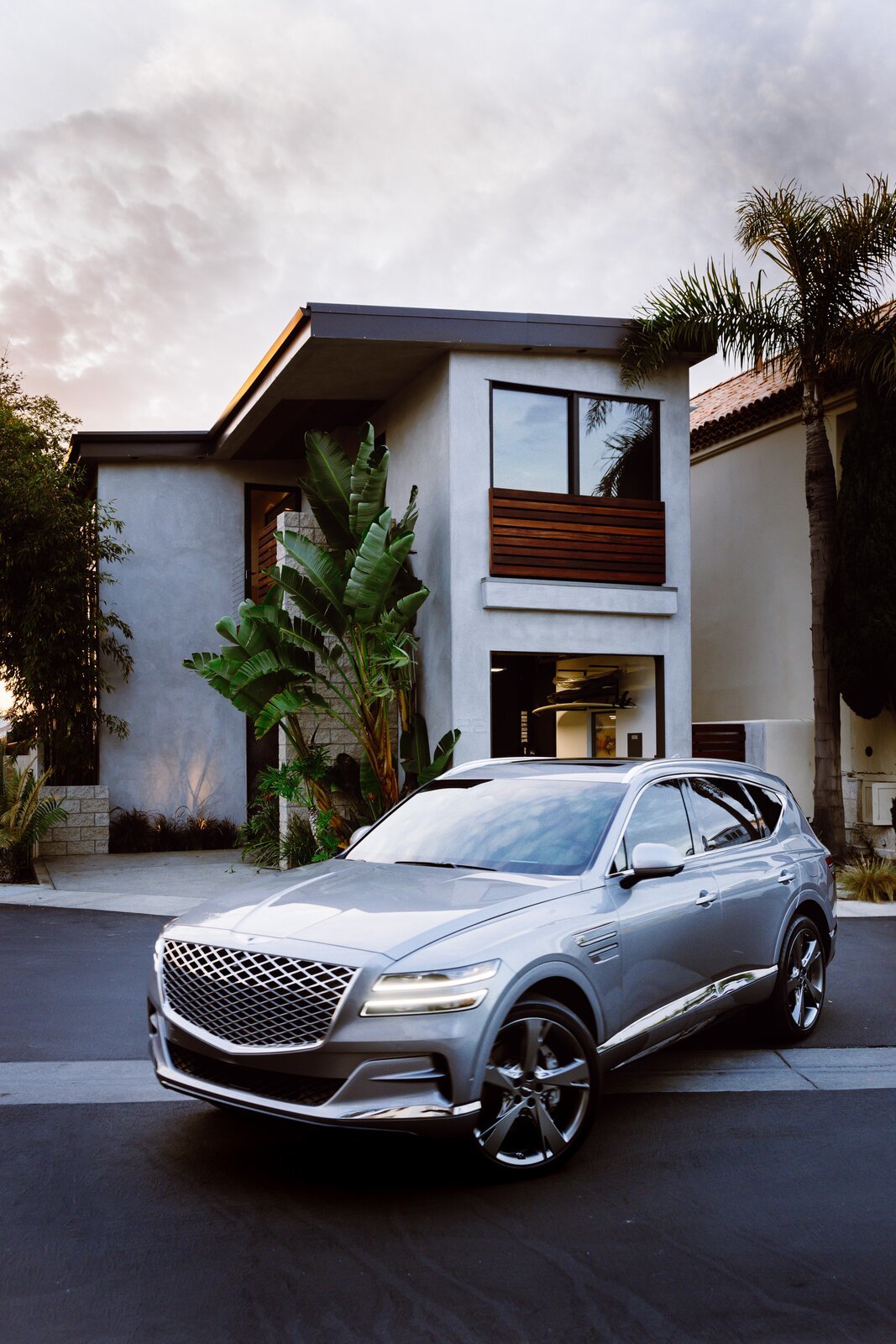 A Genesis GV80 sits in front of the deep-set, two-story garage of the Foust Residence.

"Most of the time, as a designer, you have to explain everything ahead of time. You need the client to be 100% on board for every little design aspect," she says. But that wasn't the case for this home, as Tanner entrusted her with every detail, even to the point of surprising him.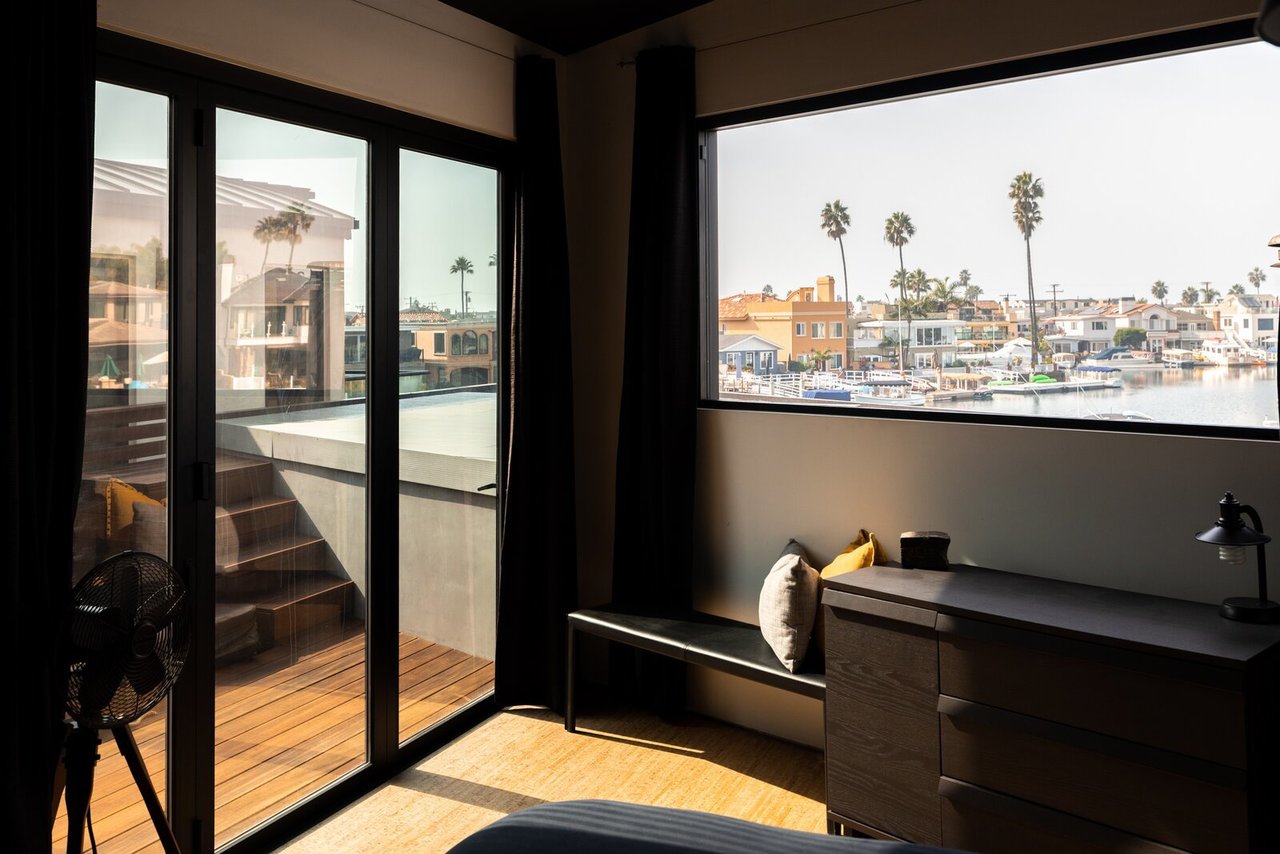 The main bedroom opens onto an outdoor deck with a Jacuzzi from which Tanner can enjoy great views of the ocean.

"Having that existing level of trust between the two of us allowed me to take on some really fun ideas without having to explain them ahead of time," says Beavis. "I did not have any pressure from Tanner about anything. Basically, he was like, 'Well, is it going to be cool?' I was like, 'Yes, it's going to be cool.' And he was like, 'Okay, great.'"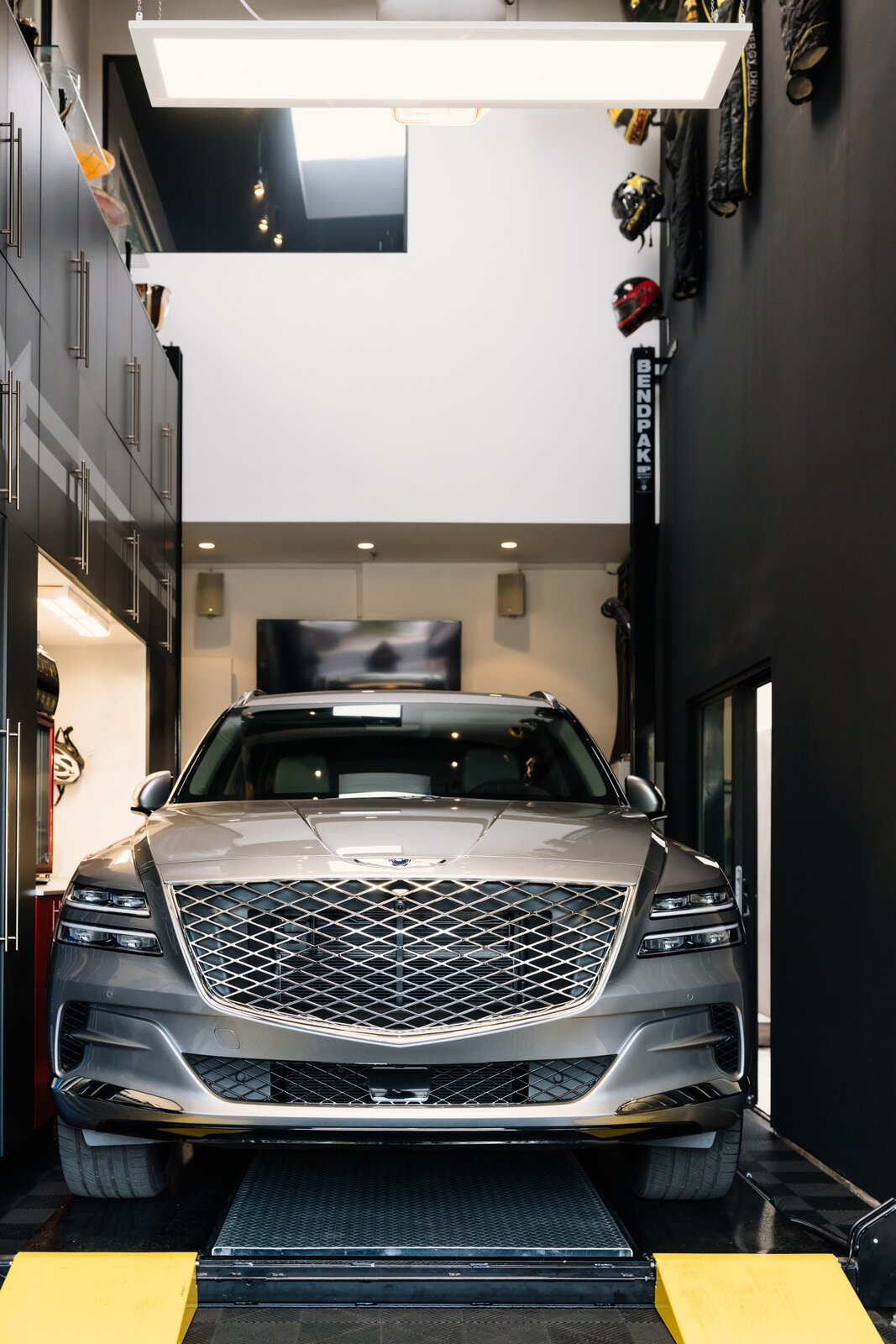 A Genesis GV80 sits on a BendPak High Bay Lift on the ground floor of the garage.

Beavis highlighted Tanner's automotive collection and trophies in a unique way. It began by installing a single-wide, double-deep garage with a BendPak High Bay lift.

"People will walk into the garage and not know that there's anything interesting about it. It looks like there's one car, some bicycles, a motorcycle," she said. "You don't even realize that there is a lift above your head until you go up the stairs in the atrium. Then you see that window."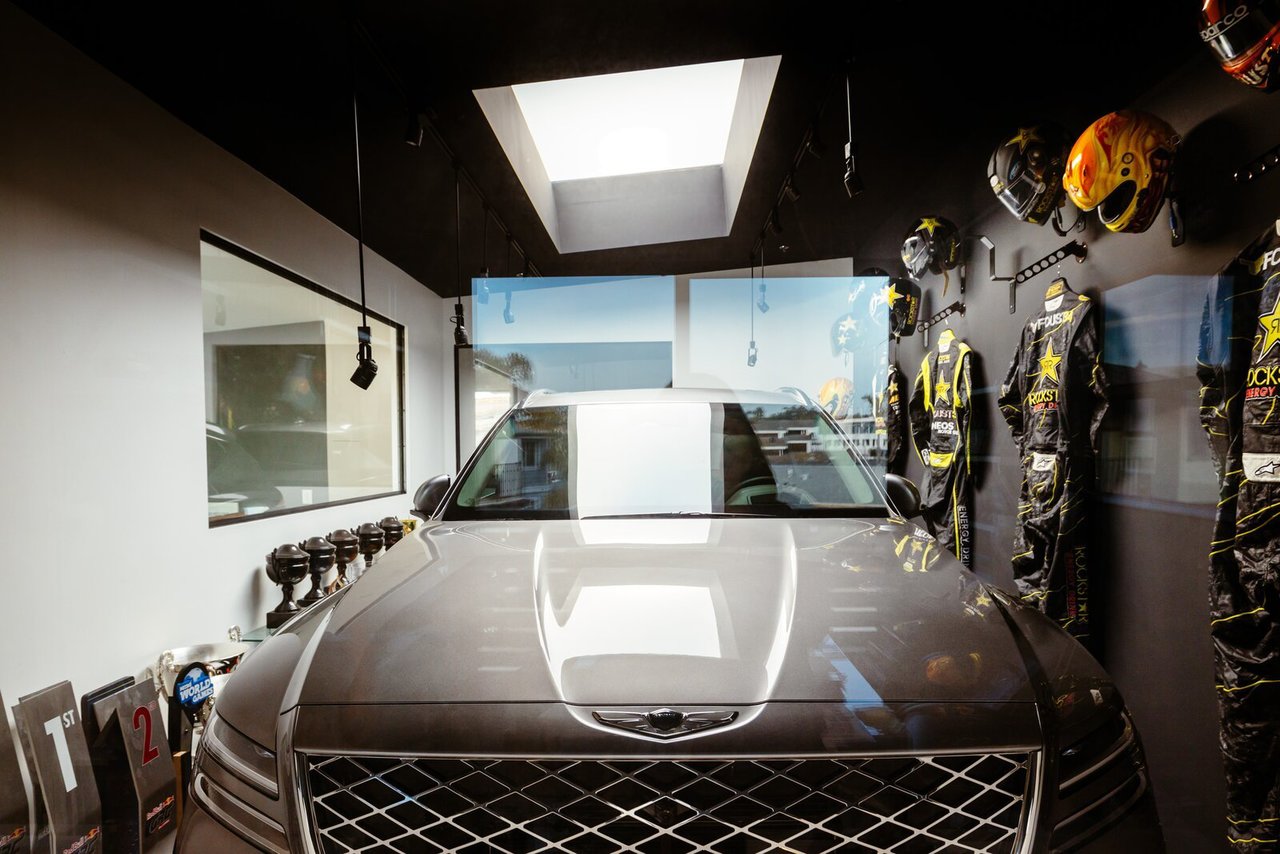 Tanner Foust delights in the surprised expressions on visitors' faces when they first look into the garage trophy room. The Genesis GV80 can be seen through the glass.

A framed atrium window displays a second car and Tanner's trophies, driving suits, and helmets. Beavis explains, "It gives the trophies importance without saying that they're taking over his life"-or the design.

There are two more windows that offer views of the trophy room: one in Tanner's outside office, and one in his own bathroom.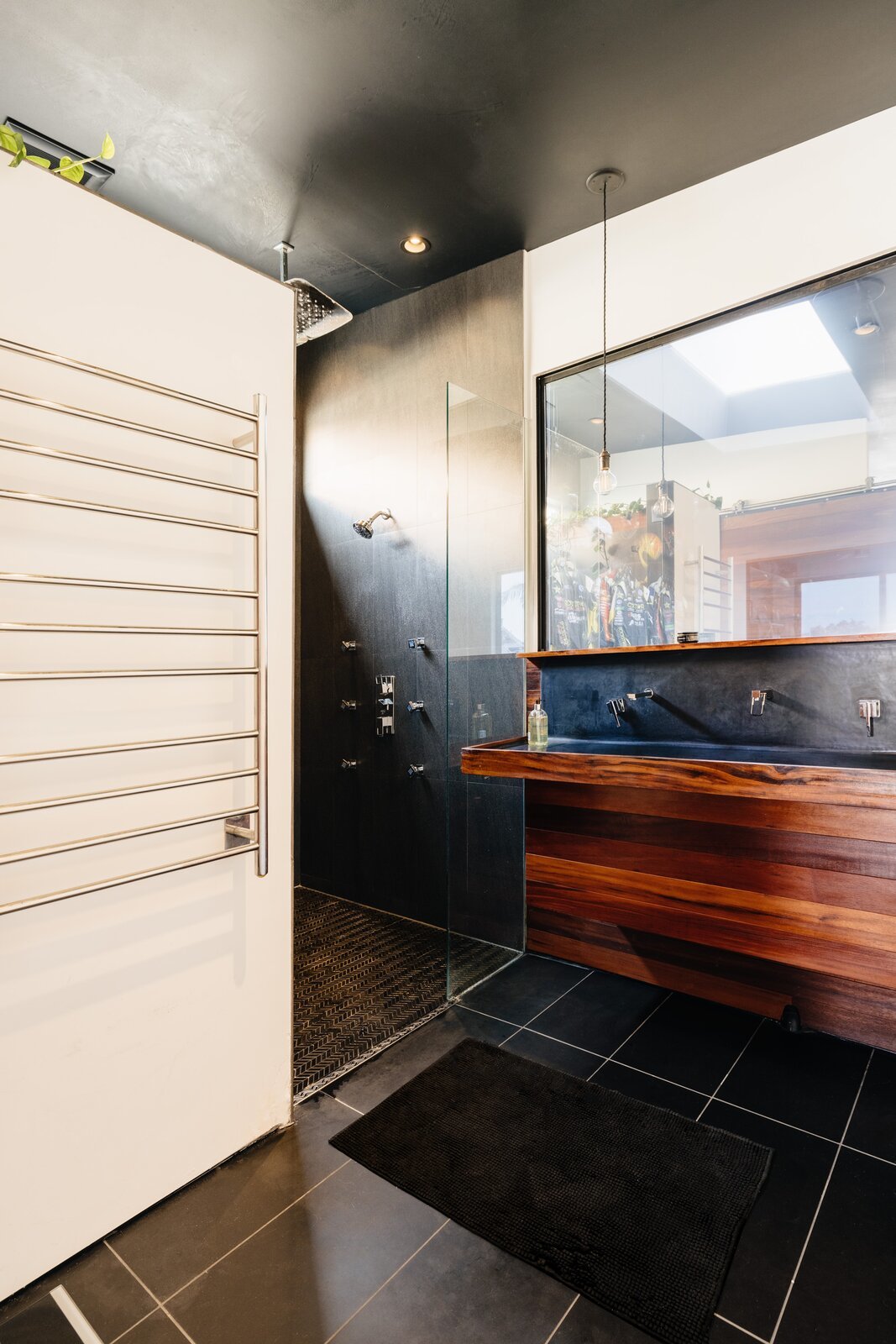 Whereas most vanities have a mirror above the sink, the Foust Residence bathroom has a window that looks into the trophy room.

"Typically, when you have your vanity and sinks, you have a mirror right in front of it. In this house, you don't have a mirror. You're looking at the vehicle, and into the trophy room," says Beavis.

A custom-made rubber sink and a black chevron-tiled shower floor tie in the motorsports theme in an artful way, while keeping with the masculine and refined design of the rest of the Foust Residence.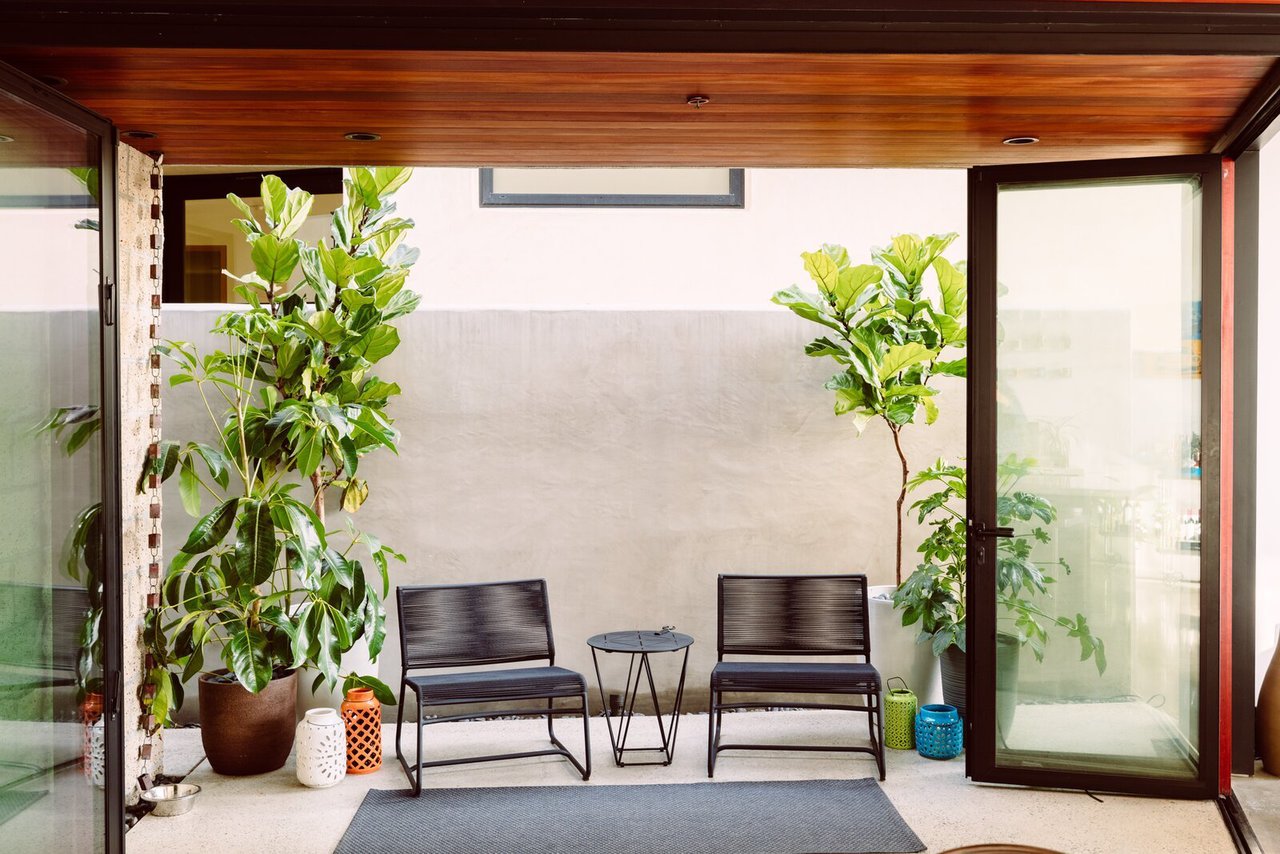 The courtyard off the kitchen is an extension of the living space and a popular spot for morning coffee.

"The house was a remodel of a fairly small, fairly closed off, very 1950s house with single rooms," says Beavis.

She used various techniques to open up the spaces, like installing a large window in the 10-by-10-foot atrium, and a staircase with see-through wire banisters. The main bedroom and living room open onto their own outdoor decks overlooking the Newport Beach marina, and there's an outdoor courtyard off the kitchen in which Beavis fabricated a custom door herself.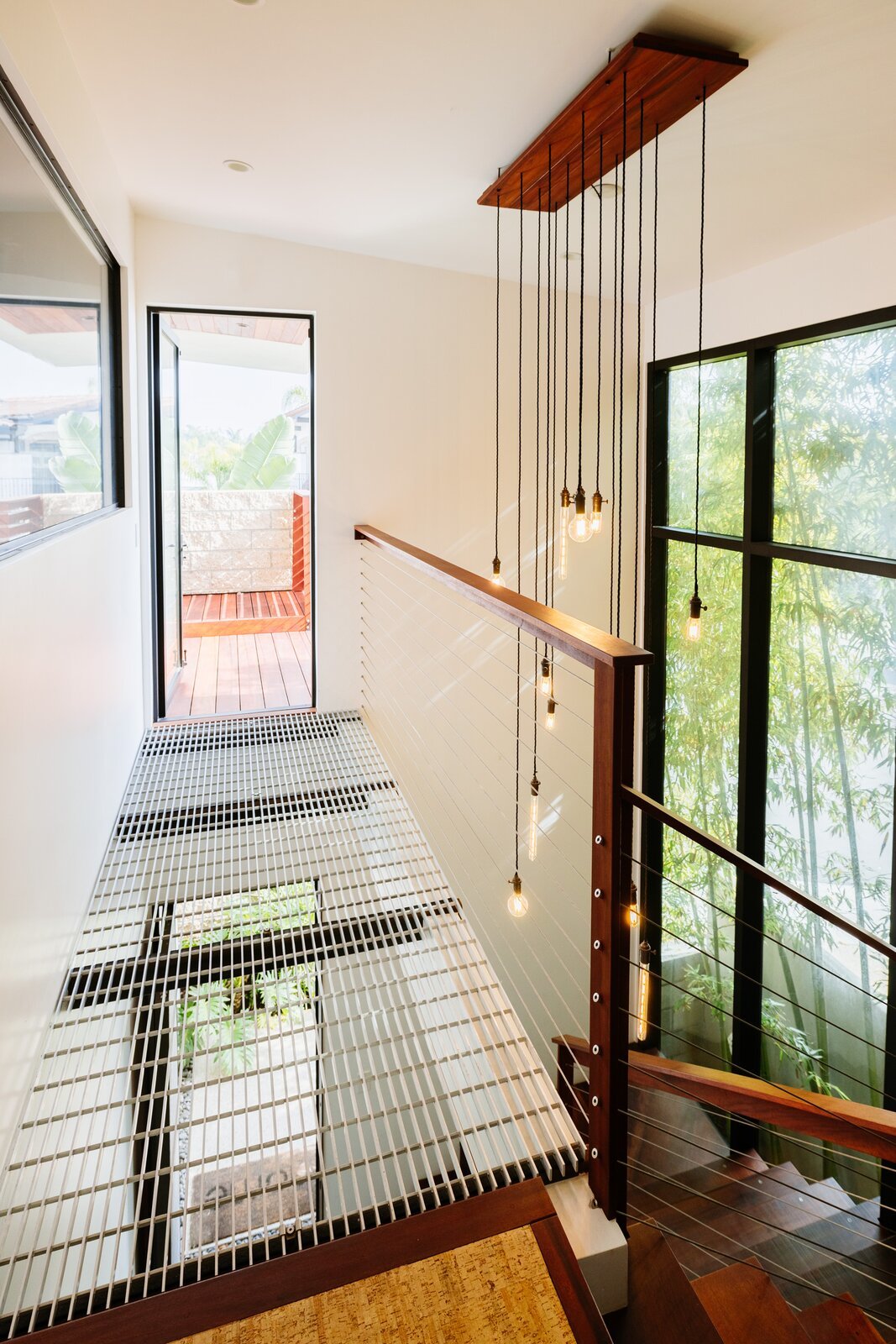 The atrium has an open feel thanks to the metal grating platform, large window along one wall, and staircase with wire banisters.

The home's interior design strikes a balance between creating "intentional displays of Tanner's passions" and a sophisticated space where the motorsport enthusiast could relax with his daughter, family, and friends between his travels.




The natural light and blonde flooring brighten the dark color palette of the bedding, chevron rug, and black curtains and ceiling.

"The materials of the house definitely harken back to the mechanical world," says Beavis, noting how a lot of the design includes stainless steel and concrete.

Above the kitchen sink, Beavis turned Tanner's mug collection into an art display that can be viewed from the living spaces, just beyond a black separation wall with built-in shelves displaying motorsports books and framed photographs. Though some of the artworks on the walls are car-centric in nature, they're polished and give a subtle nod to the motorsport theme.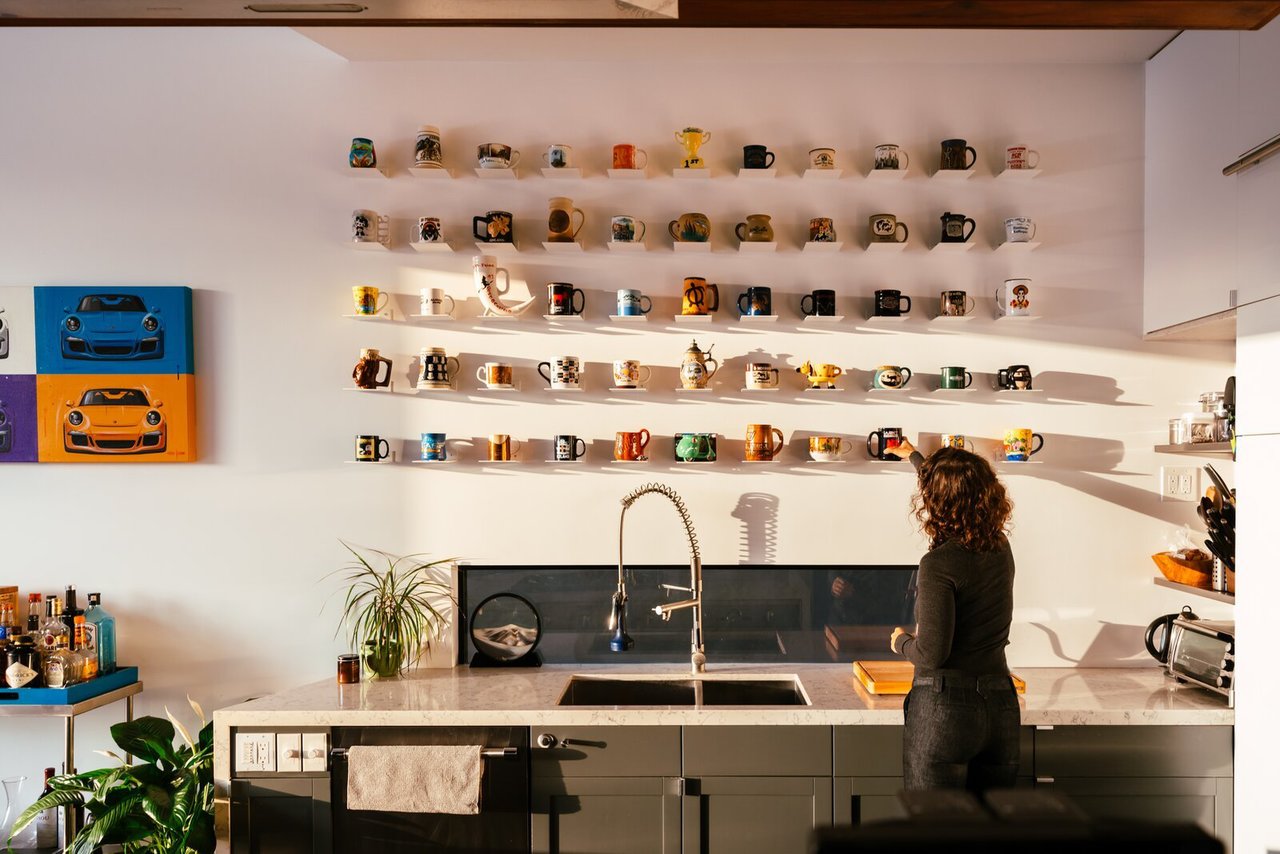 Beavis put Tanner's passions on display-including his eclectic mug collection.

"When you come into the main living space, you'll notice that things are very toned down, very organized, but also really casual…you can just open the doors, look at the water, sit out in the back, and barbecue," says Beavis.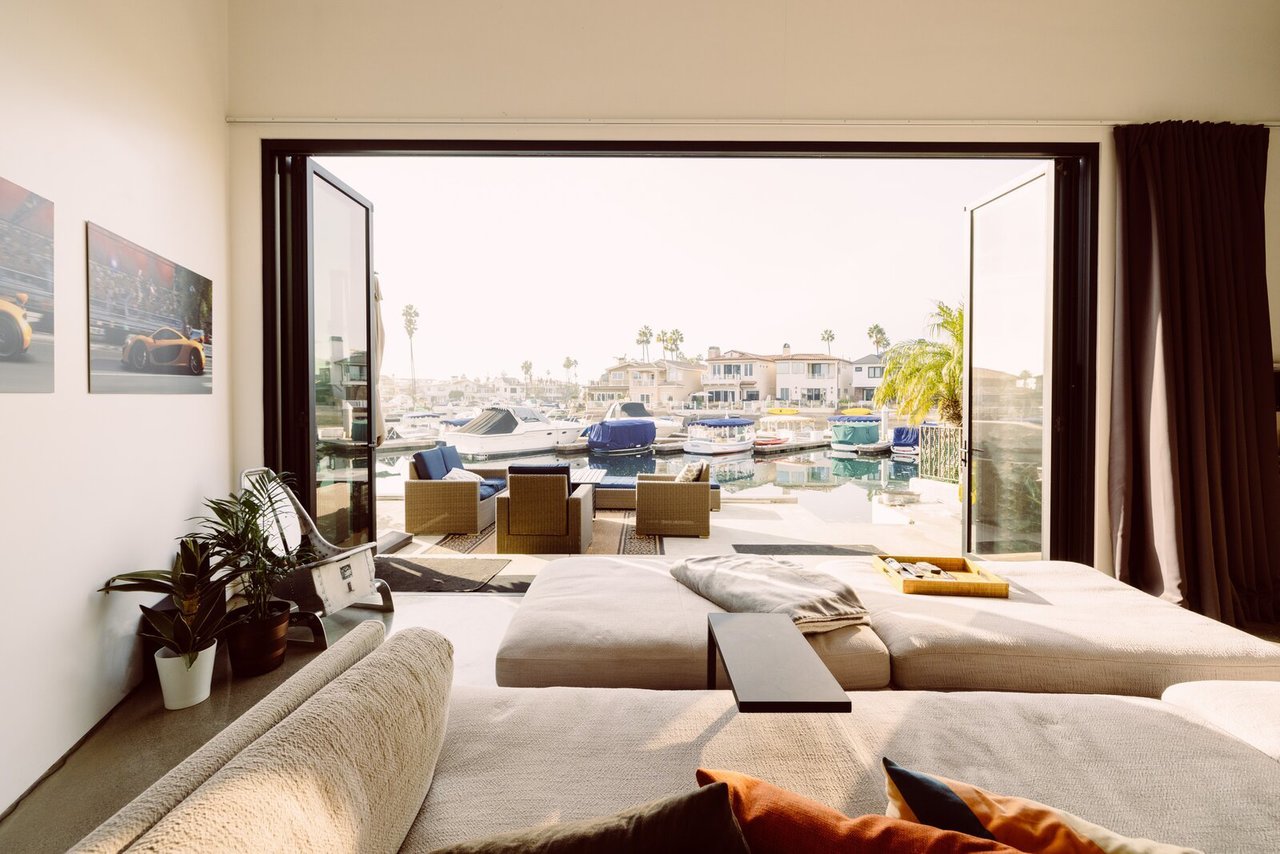 Beavis designed the living spaces to provide Tanner with a sense of escape from his fast-paced life as a stunt driver and motorsports competitor.

Thanks to the trust Beavis and Tanner built through their rally racing relationship, Beavis was able to create a home for Tanner that has a "sense of escape," while ensuring he had "places for the things that he loves." And isn't that what the best designed homes are about?