From Bernardes Arquitectura and construction company Ita Construtora is Pipa House, a prefab concept designed to meet an array of clients' needs. Its modular units allow for custom arrangements, and, as prefab, each design can be created and installed relatively quickly with minimal waste.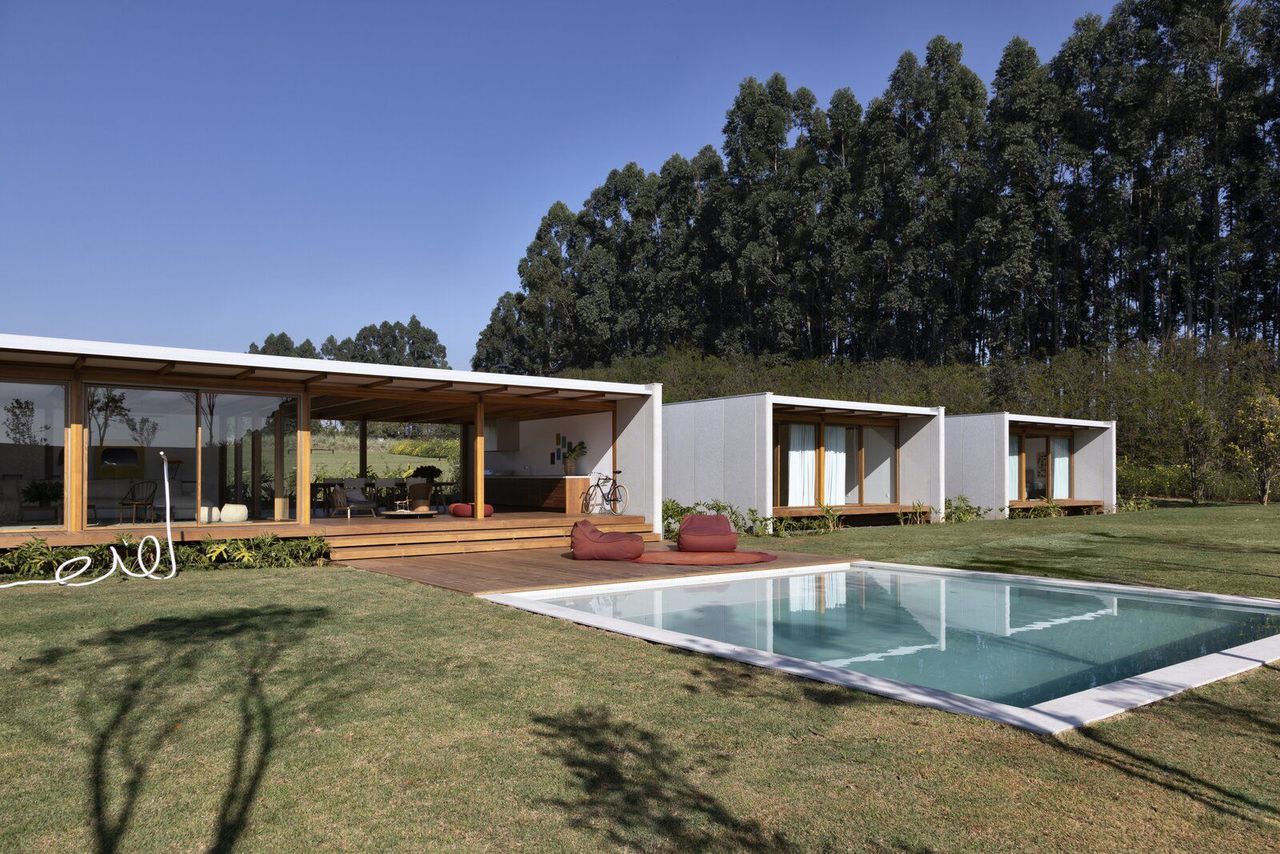 According to Bernardes Arquitetura, the key points of the design of Pipa House are modularity, quality, sustainability, adaptability, and materiality.

Here, Bernardes's prototype consists of three main volumes connected by a hallway that runs the length of the structure. The largest volume houses the kitchen and a large open-plan living/dining area, where full-height sliding glass doors open to the surroundings, making for bright and airy interiors.

Down the hallway are two smaller volumes of equal size, each containing a bedroom with sliders that open onto a deck. If more bedrooms are desired, simply add more modules.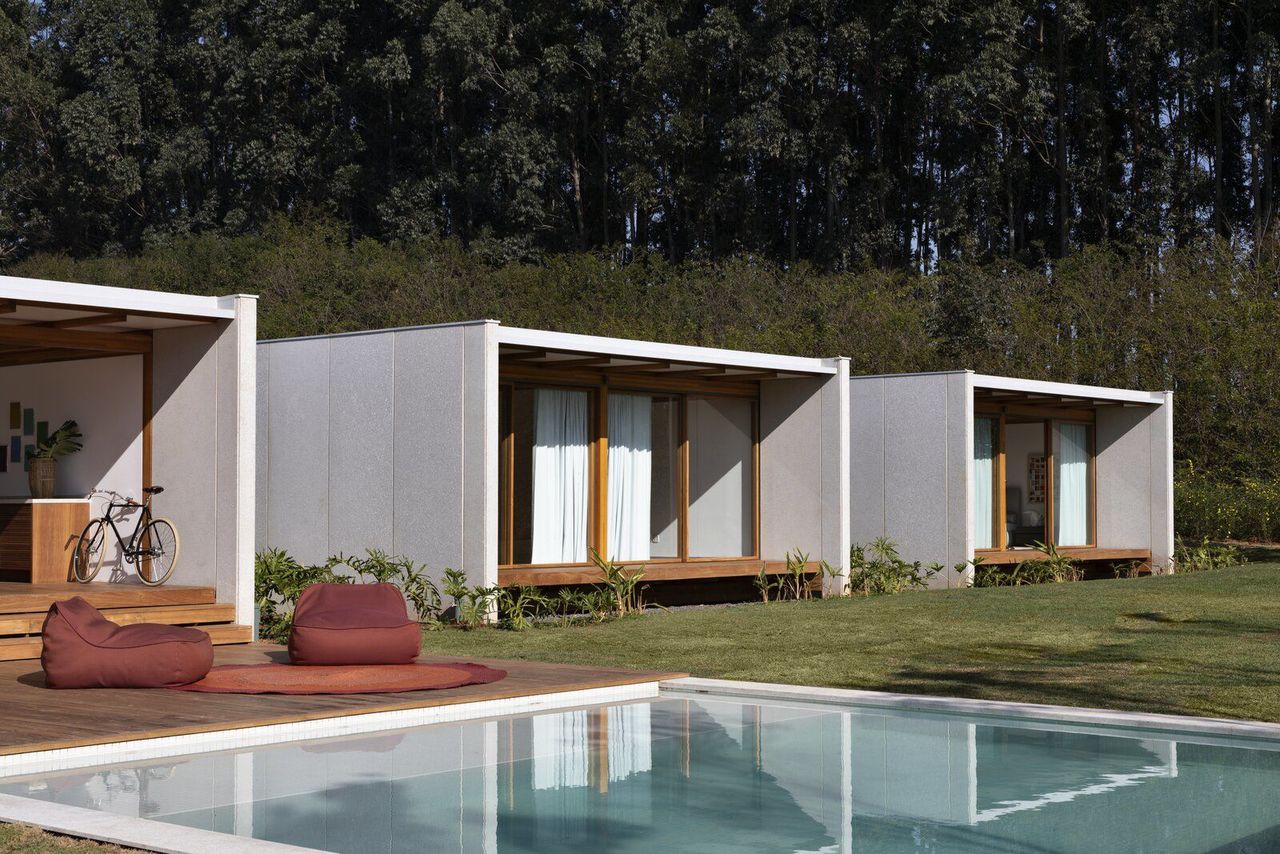 In addition to a main volume which houses the kitchen and a living/dining area, two smaller modules contain a bedroom each.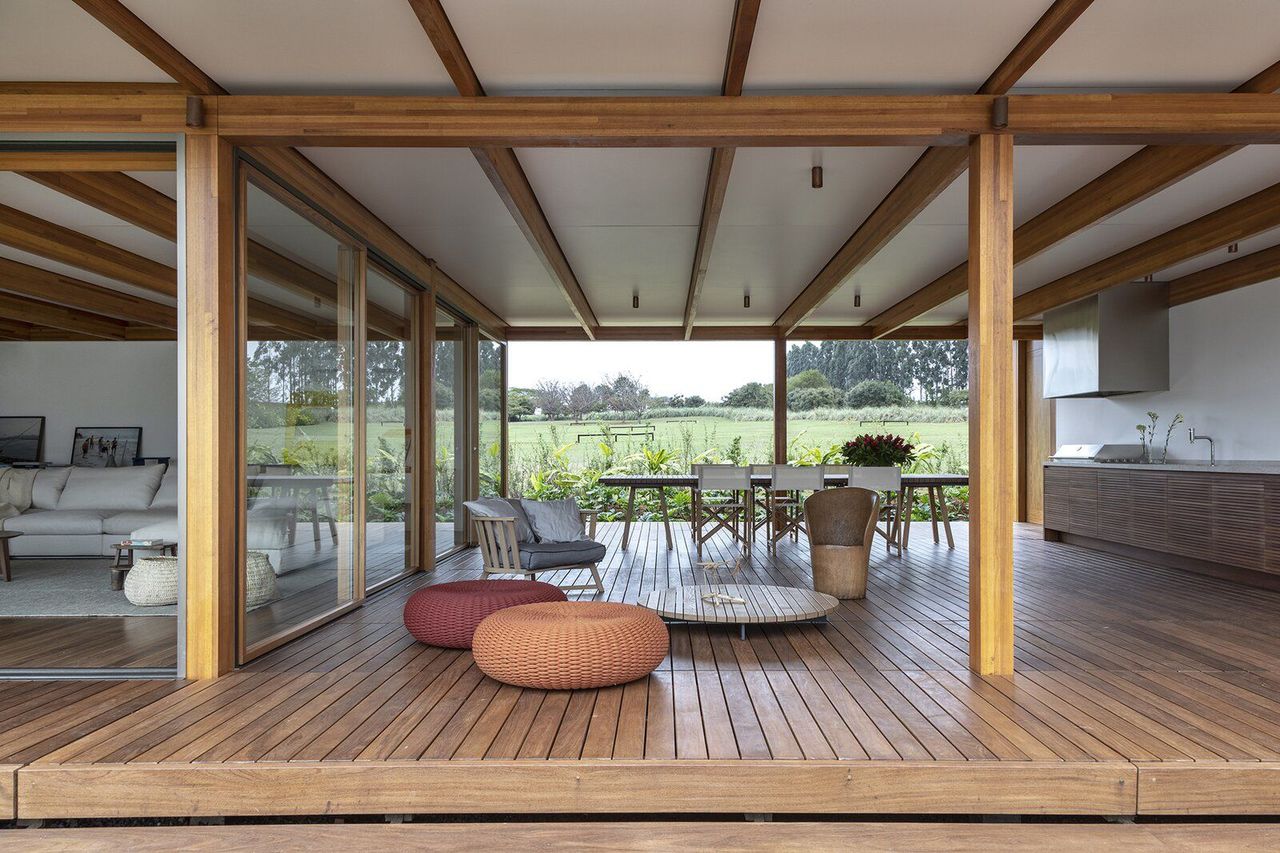 Full-height sliding doors open the home to the surrounds, flooding the space with air and natural light.

"For the design of Pipa House, it was very important for us that the final composition of all the prefab pieces created an atmosphere of home," explains architect Rafael Oliveira, one of the firm's partners. "We were seeking to enhance the use of natural materials in a way that would remind us of a more simple way of living."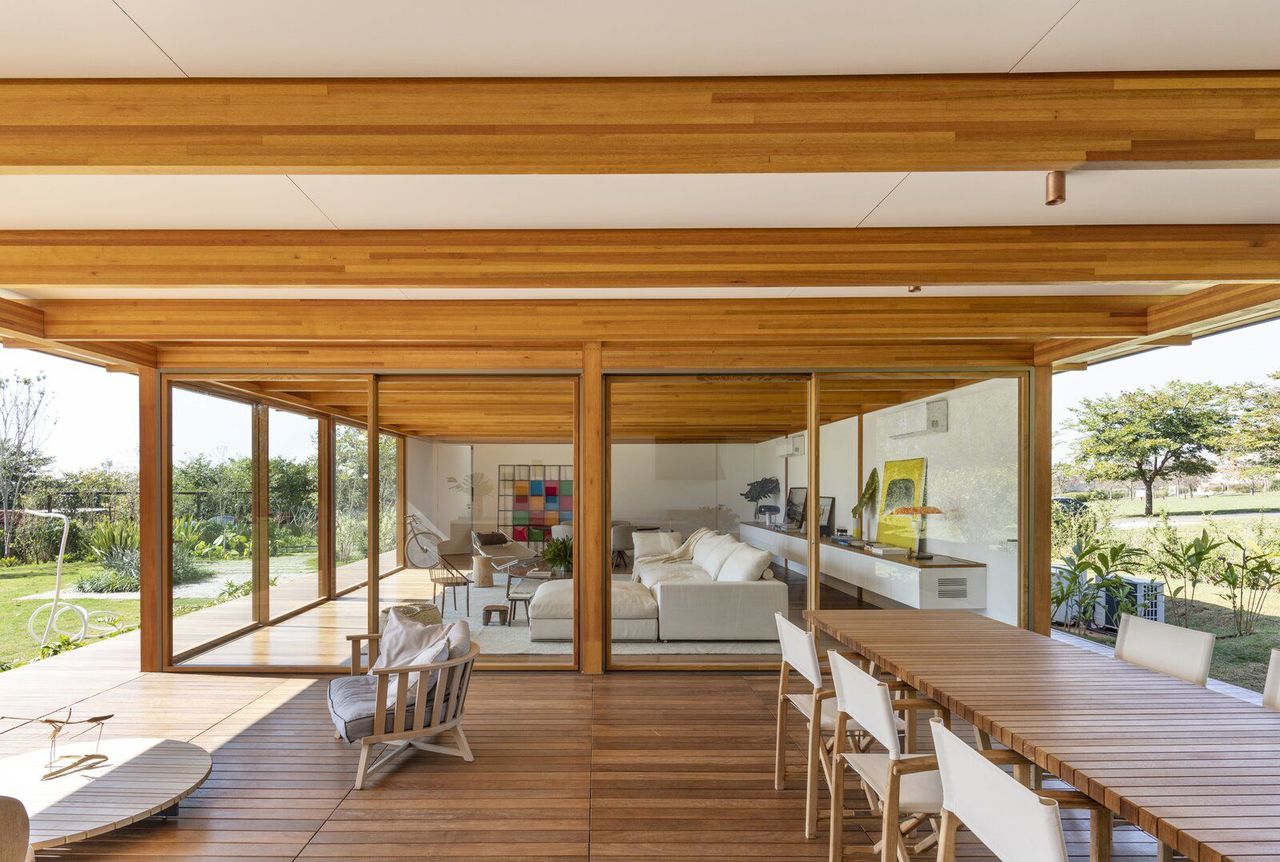 The open-plan living/dining space showcases the structure's use of locally sourced eucalyptus.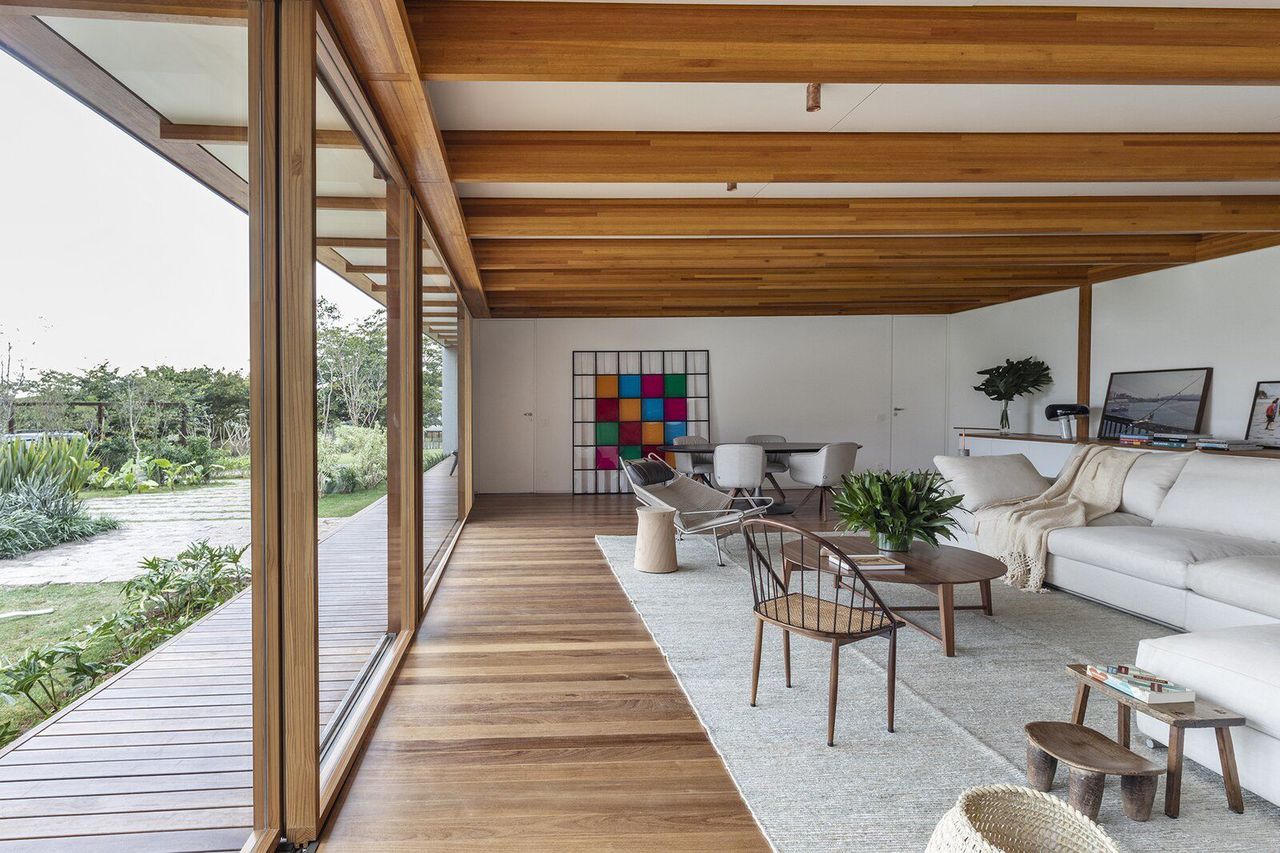 The interior consists of a neutral palette with an emphasis on natural materials.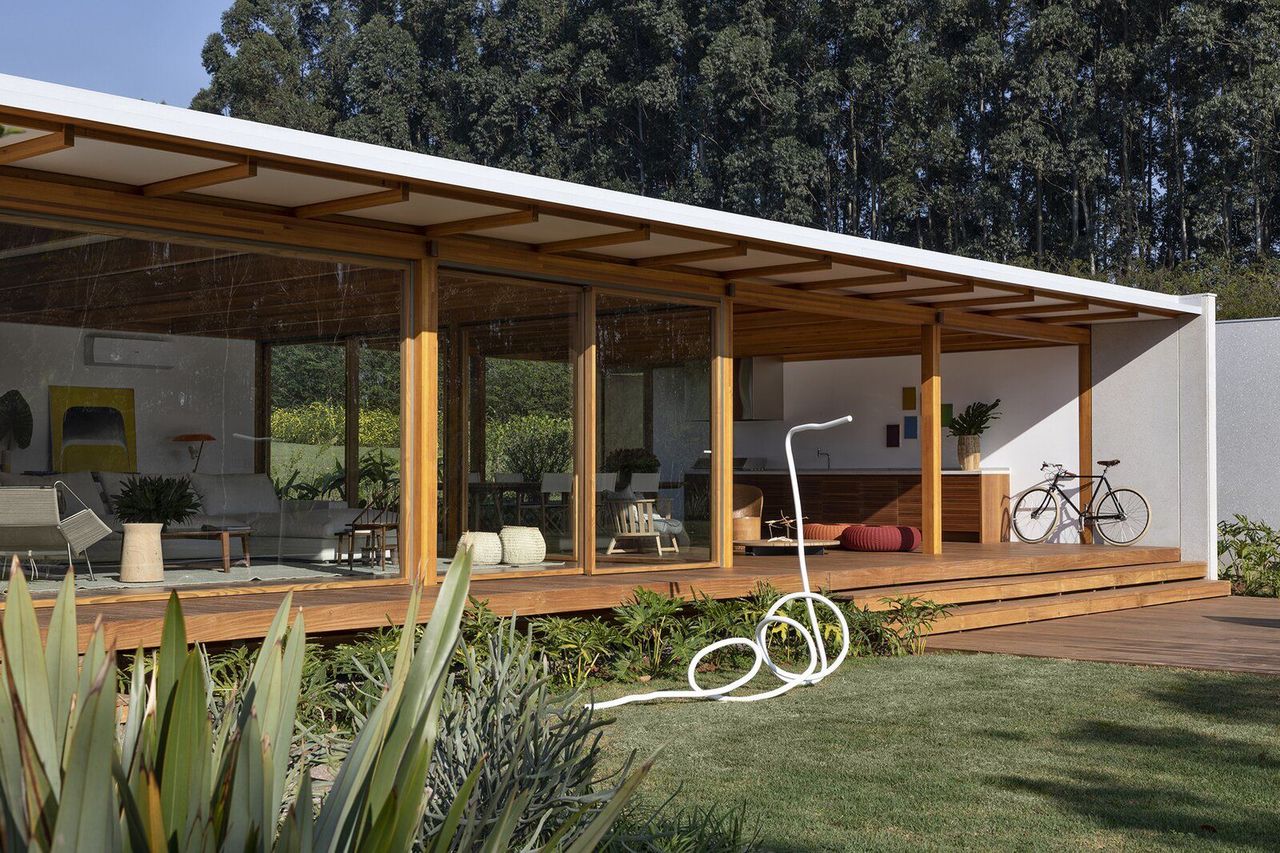 The design is elevated above the ground to ensure water tightness and provide ventilation for the floor slab.

The concept relies on a structural system of eucalyptus glulam beams that allows the design to be implemented in a variety of site conditions. With an elevated plan, the home is less prone to groundwater, and utilities distributed underneath the floor slab are more easily accessed.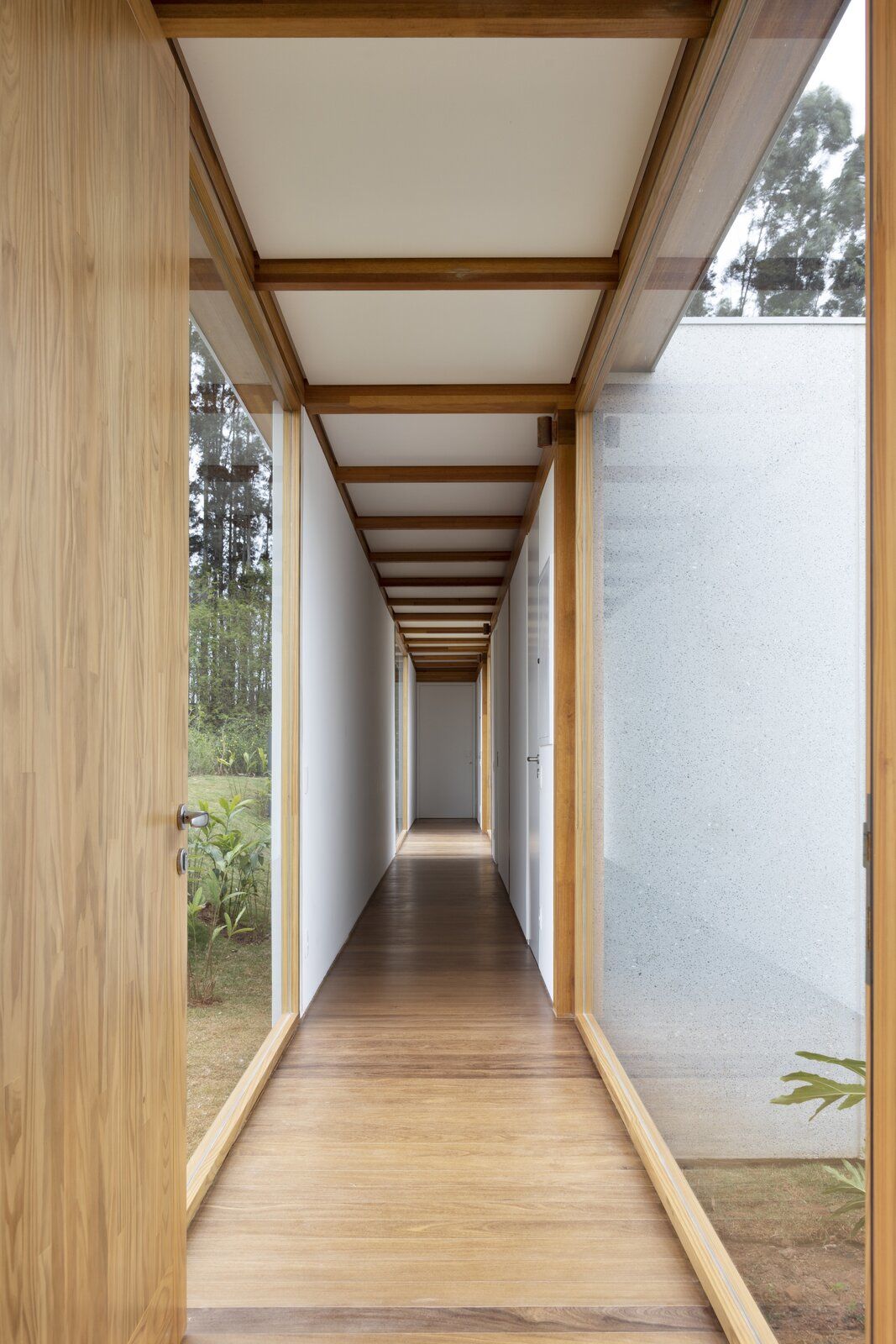 The three volumes are connected by a hallway that runs the length of the structure.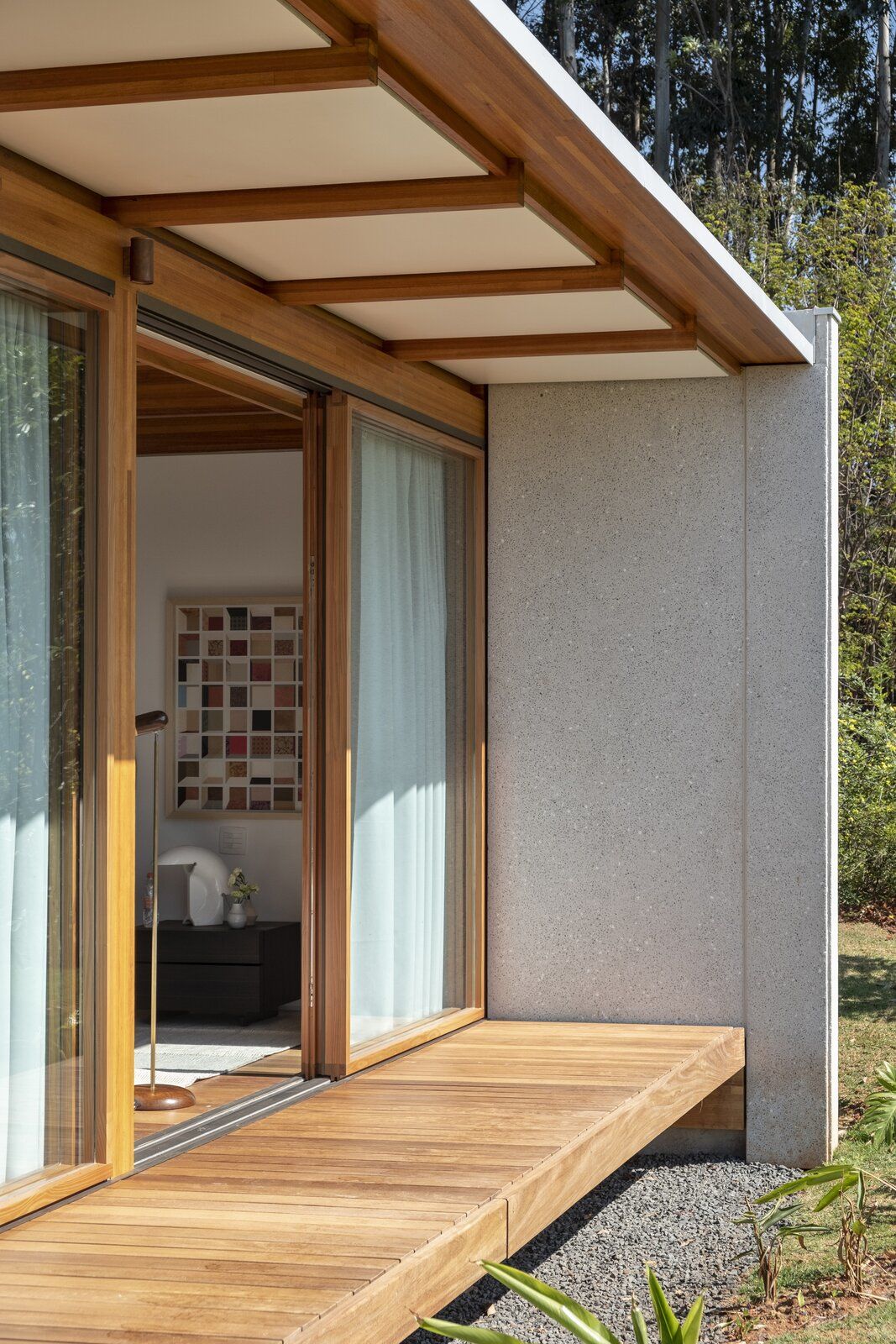 Two of the modules contain a bedroom each with full-height glass sliders that open onto a covered terrace.

Each module contains an HVAC system that can be operated independently, making the home more energy efficient. External walls are constructed from prefabricated concrete panels and full-height glass sliders, with a ventilated facade system that ensures minimal maintenance and high thermal insulation.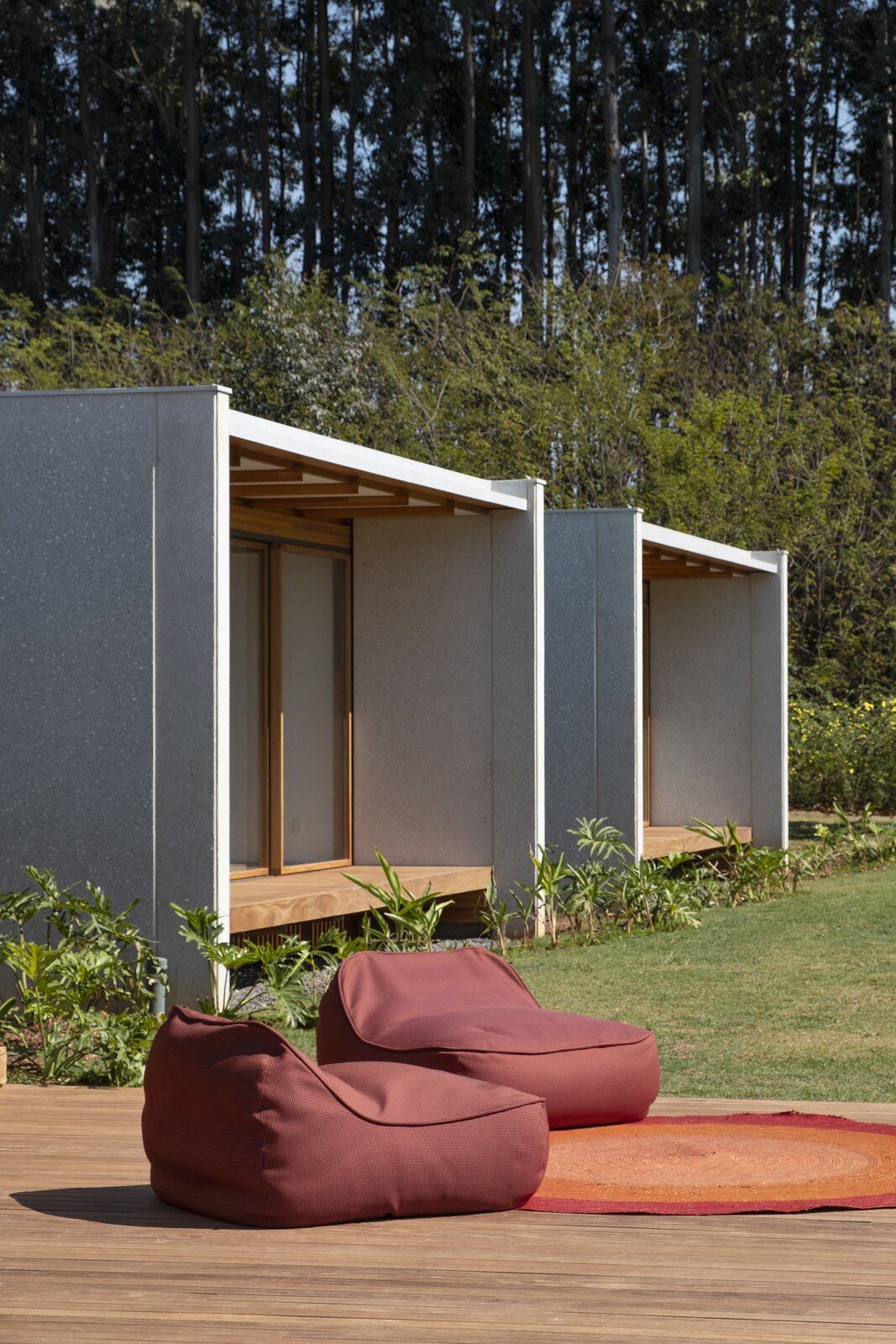 The prototype can be customized to suit homeowners' needs-for more space, simply add modules.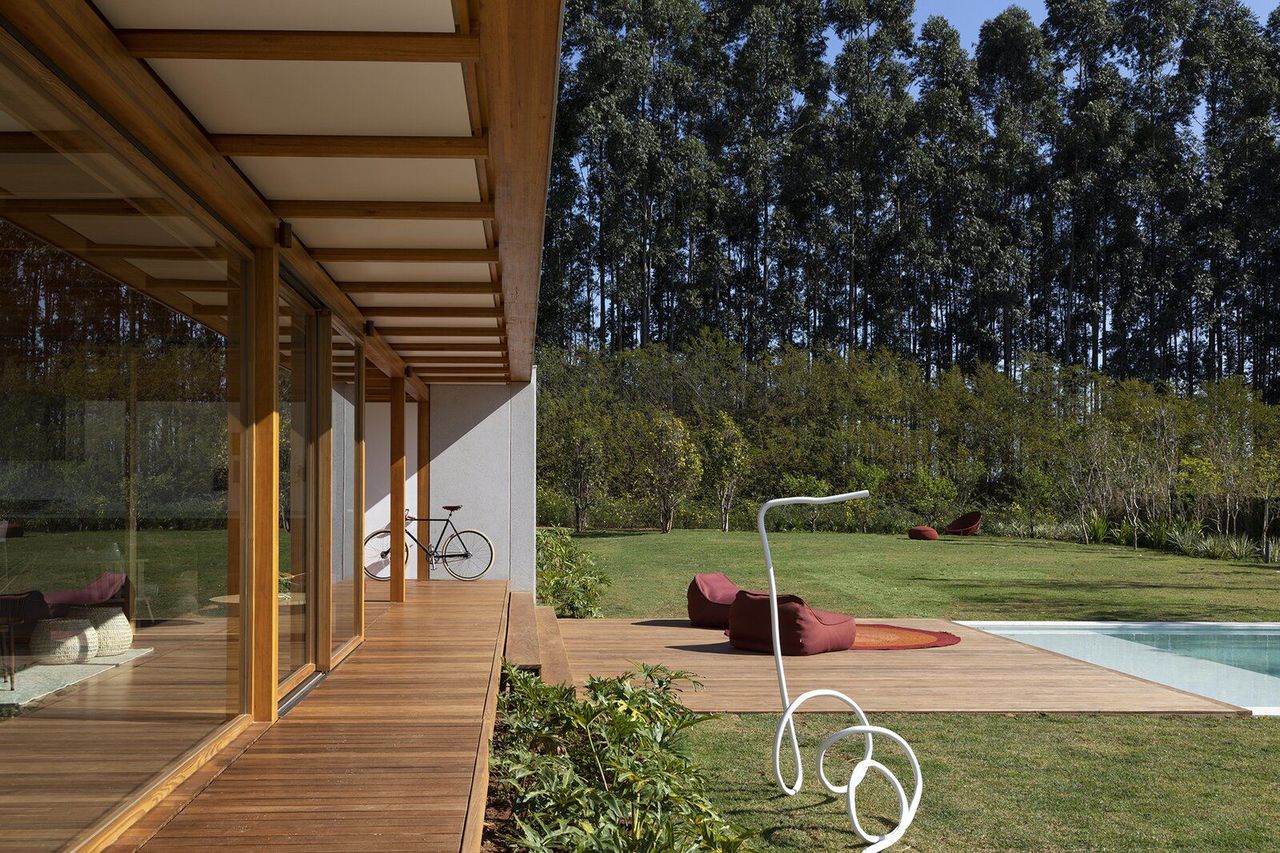 A covered porch runs the length of the main volume, providing some protection from the elements. Steps off the main living space lead to wood decking and a swimming pool.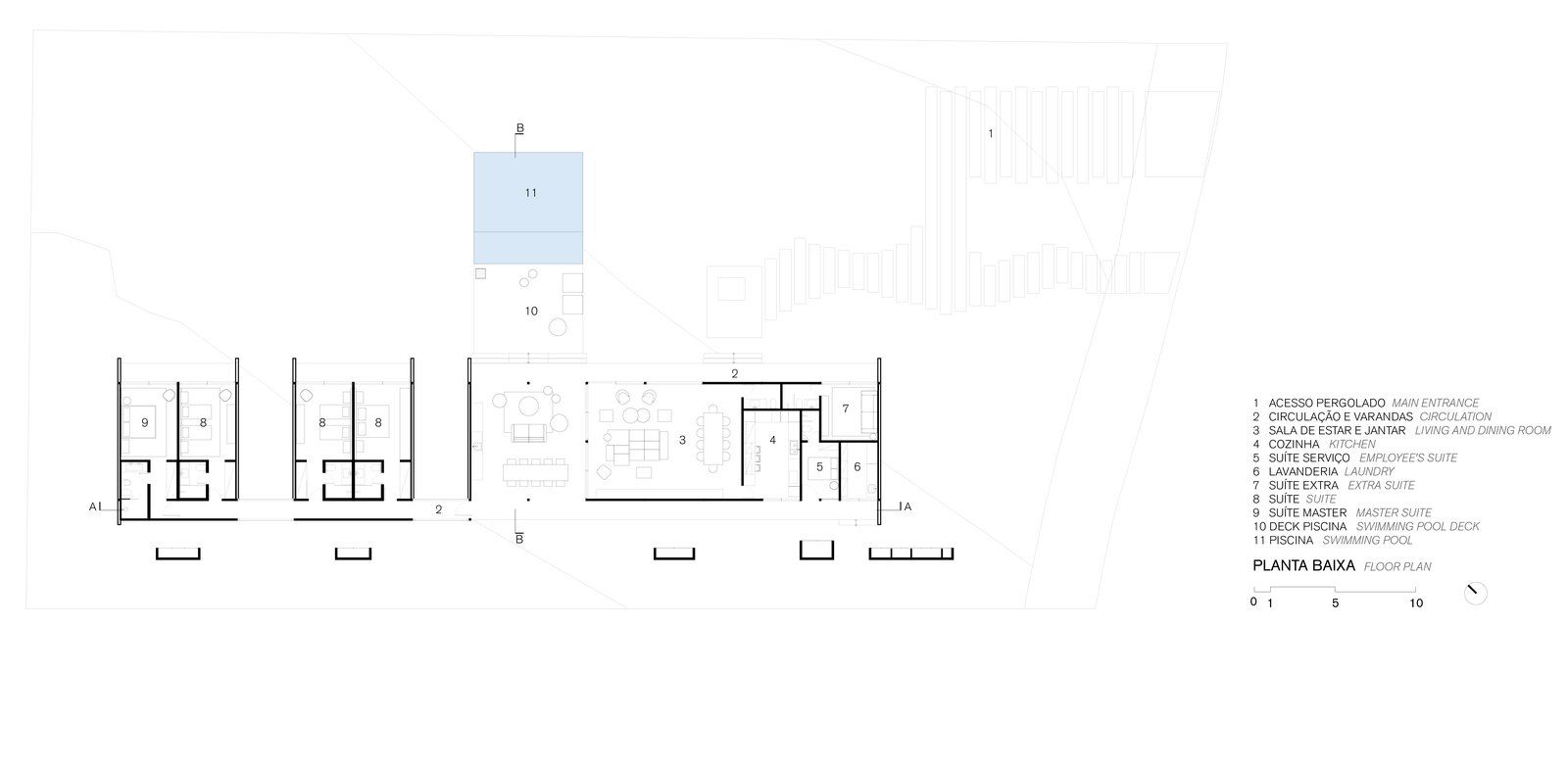 Pipa House Floor Plan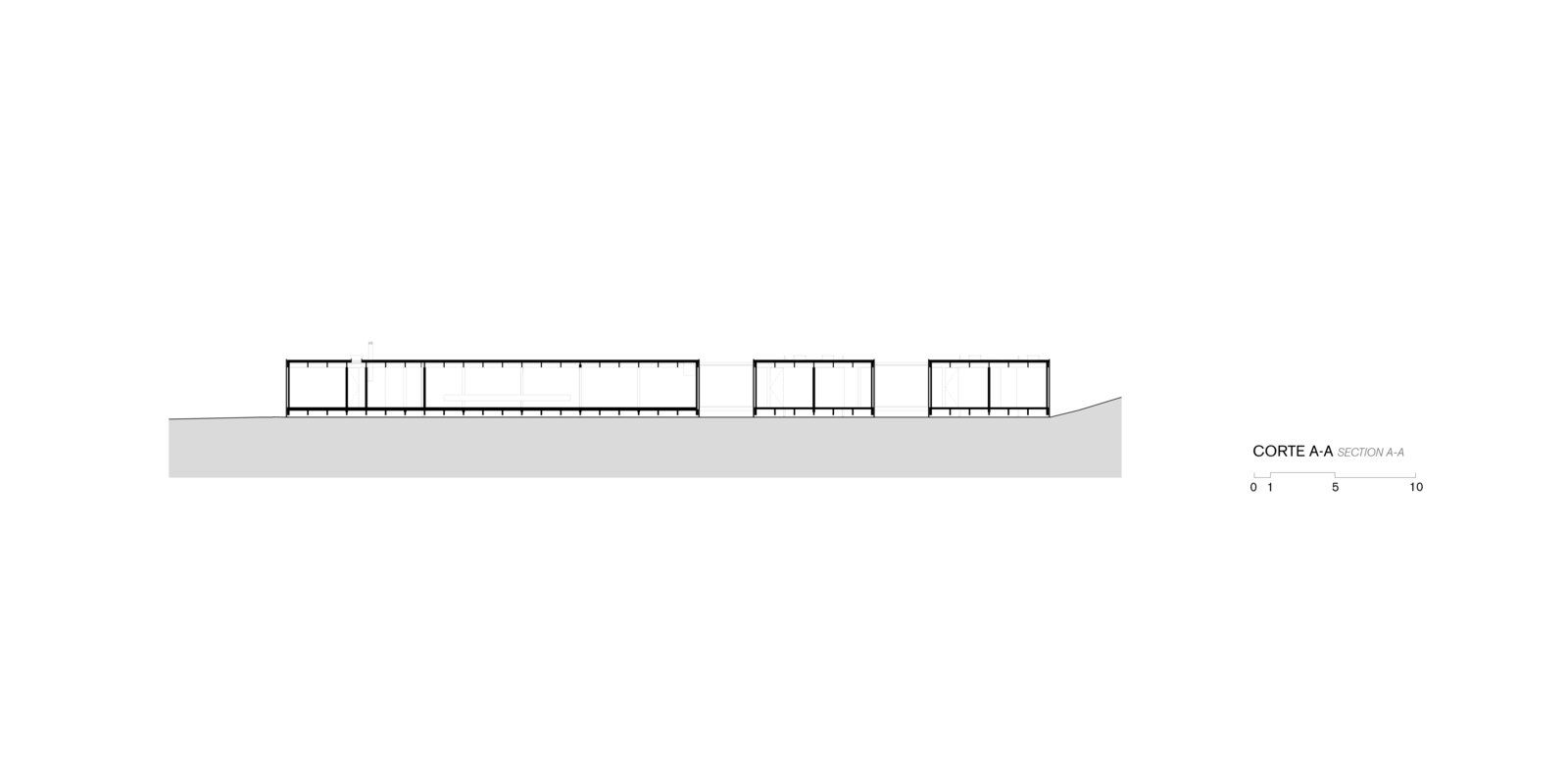 Front Elevation of Pipa House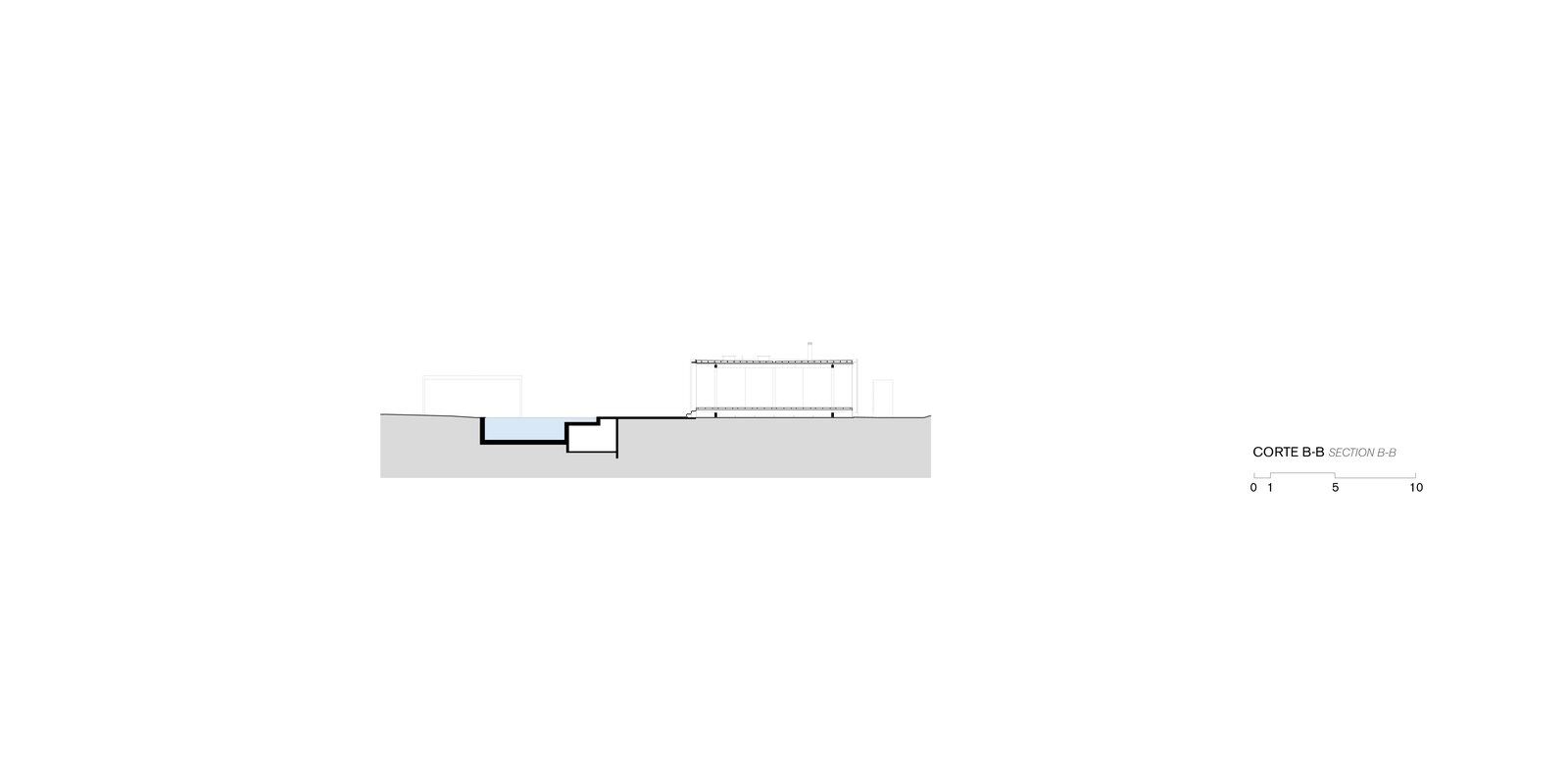 Side Elevation of Pipa House