Architectural designer Alexis Dornier of Stilt Studios prefers compact homes that tread lightly on the landscape. "I'm overwhelmed by how little one actually needs," he says. "The less you have, the less you have to worry about." Inspired by the idea of living only with what's essential, Dornier devised Tetra Pod, a 688-square-foot prefabricated home made from recycled Tetra Pak cartons in Uluwatu, Bali.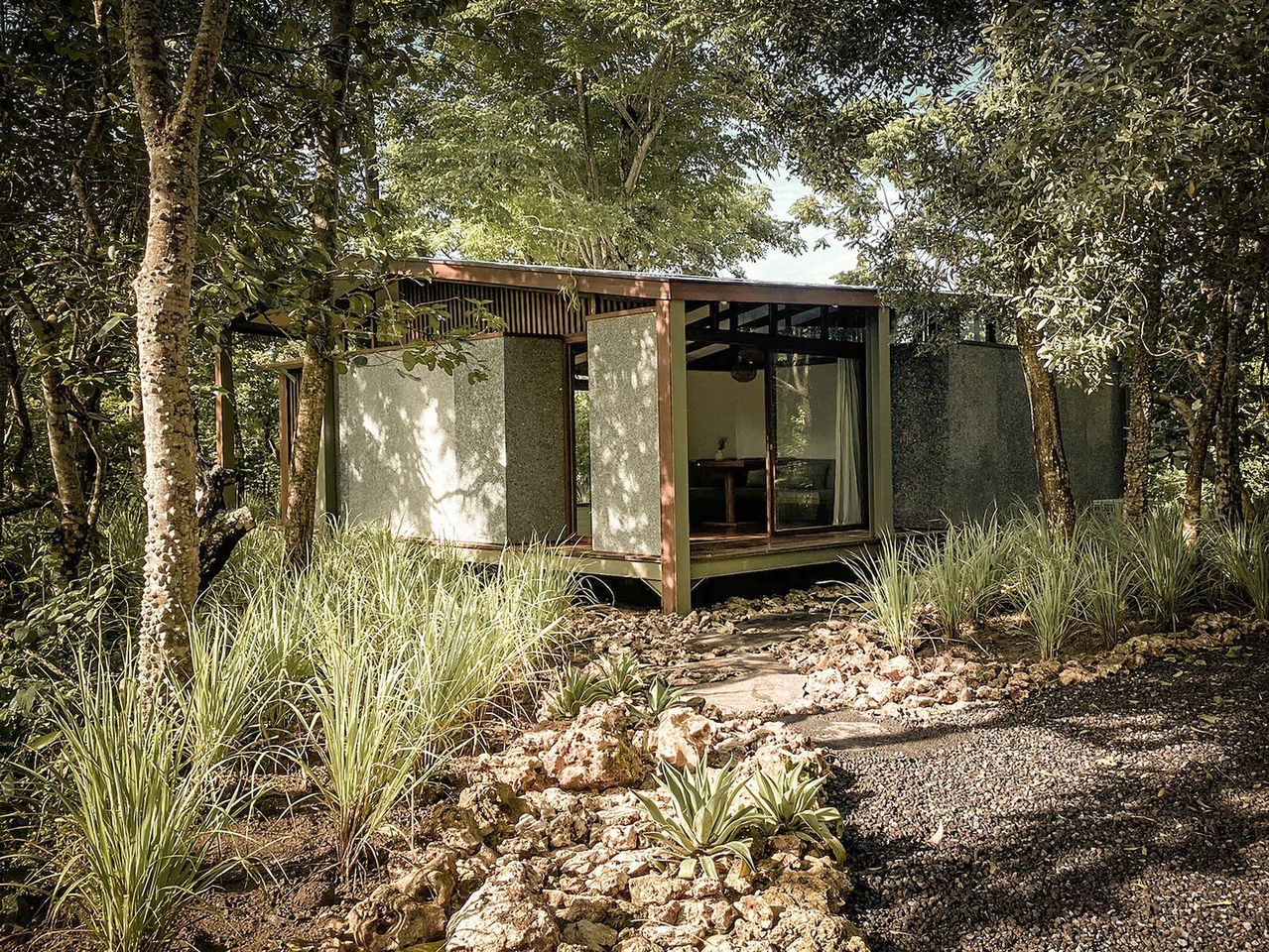 The 688-square-foot home that Alexis Dornier of Stilt Studios created in Bali is clad with recycled Tetra Pak cartons, wood, steel, and glass.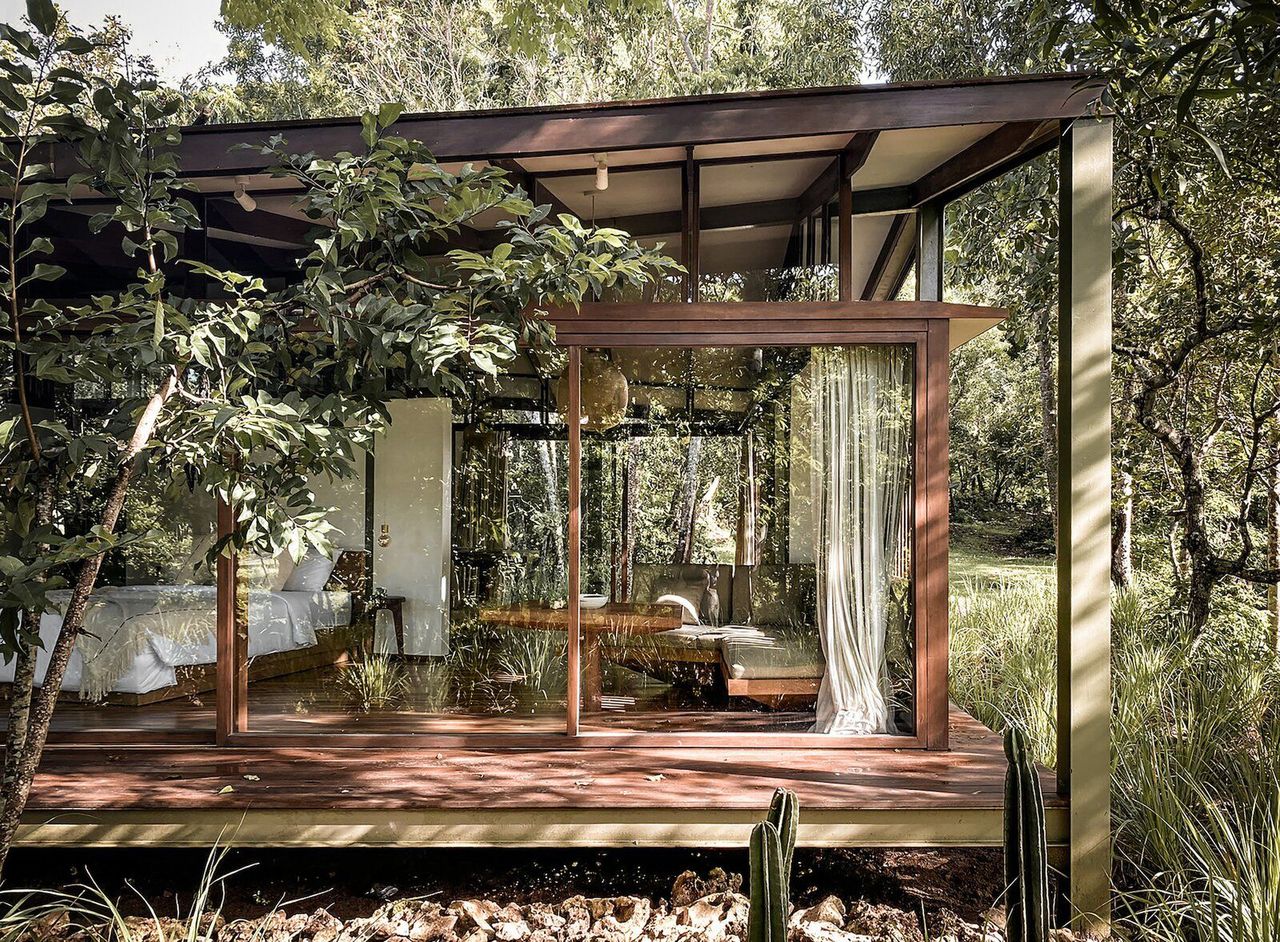 Large sliding-glass doors open the tiny home to the wooded landscape.

According to Dornier, efficiency, affordability, and sustainability go hand in hand. "I love the idea of making houses more affordable to the greater audience," he says. "In addition to keeping costs low, a prefabricated structure is practical because it can be set up or dismantled in a short amount of time."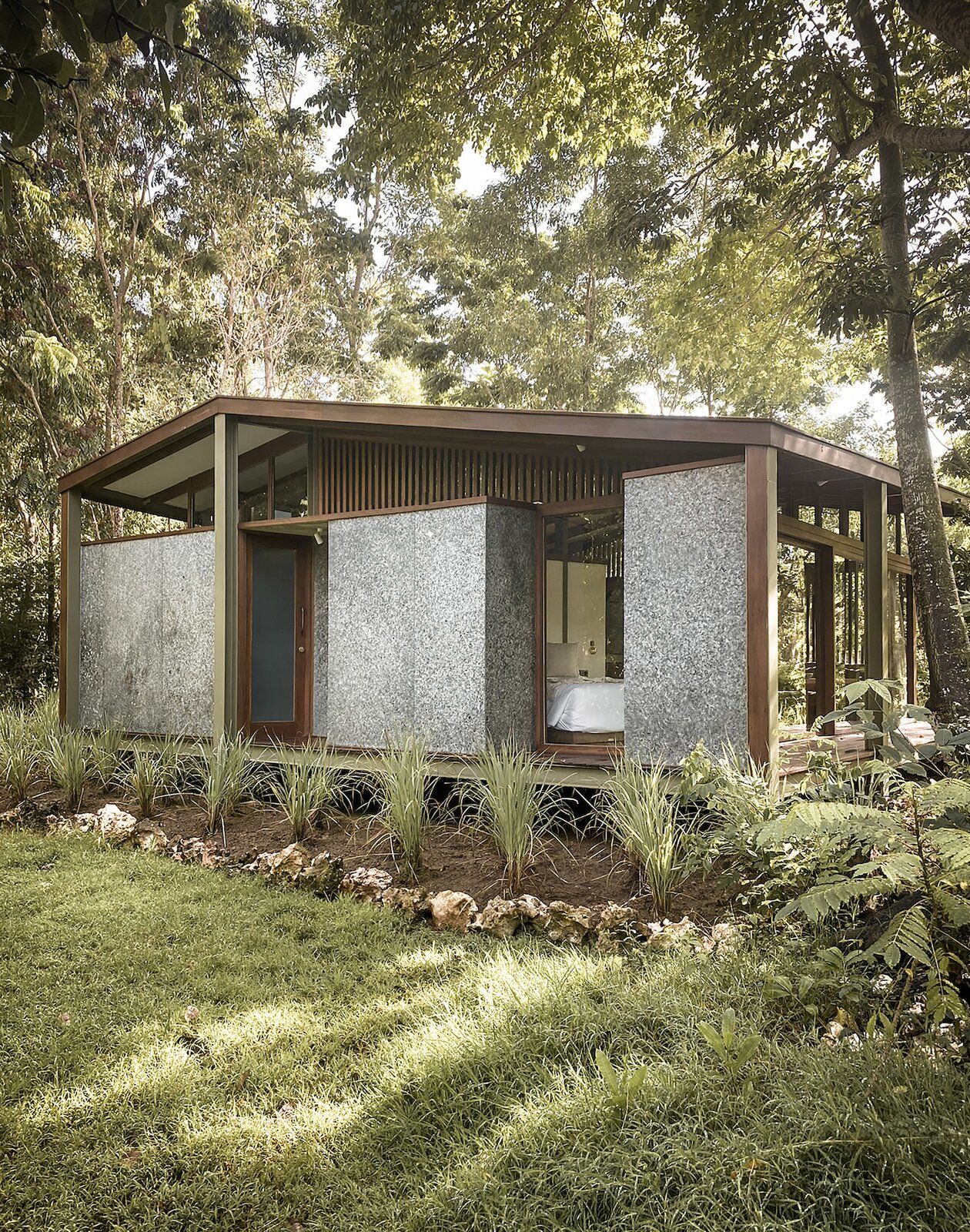 Dornier employed recycled Tetra Pak cartons as a siding material. "The reflective characteristics of the material help the architecture blend into the surroundings," he says.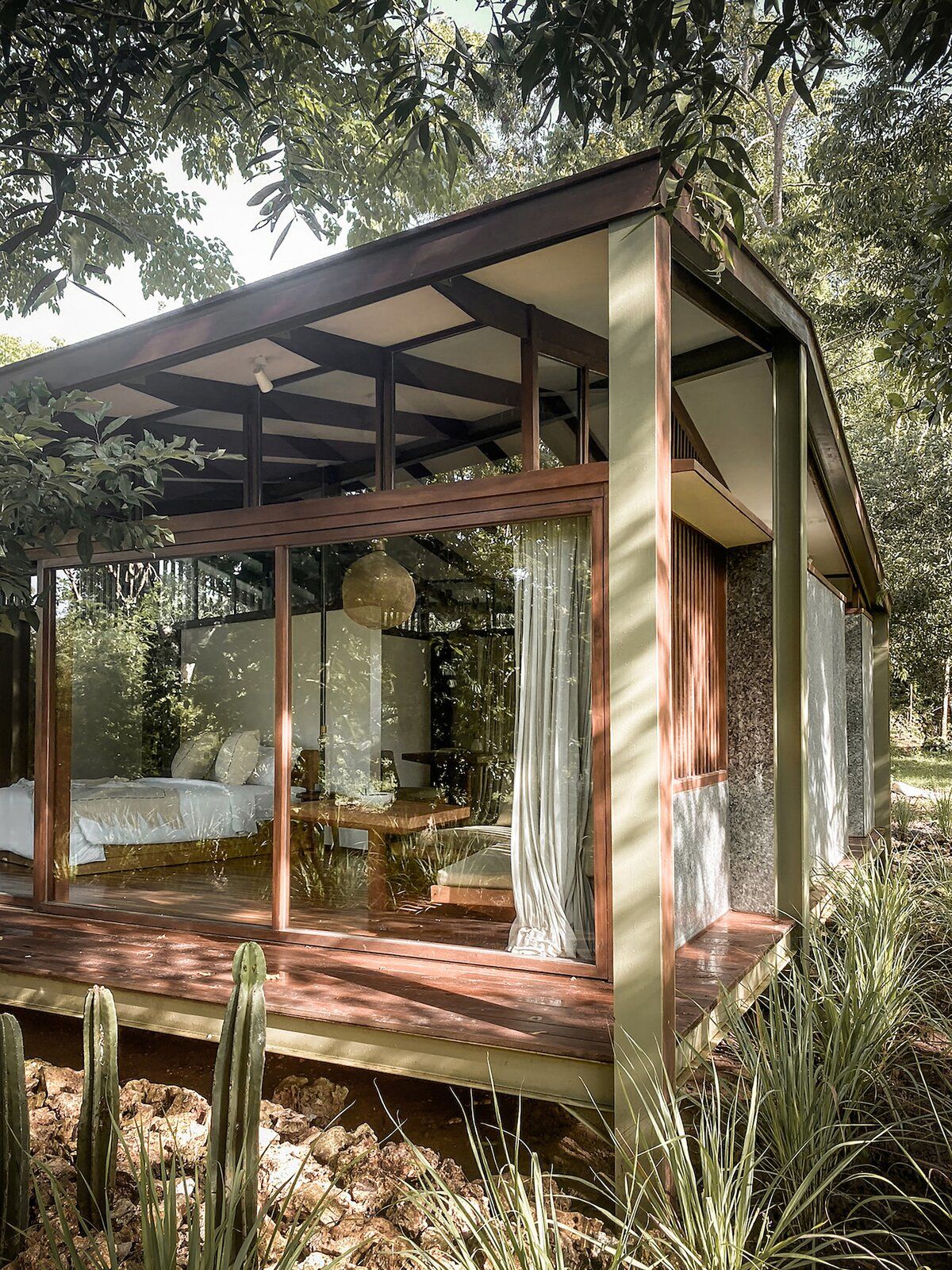 Deep exterior overhangs help to prevent solar heat gain, keeping the tiny house cool and comfortable.

That practicality is imperative in Indonesia, where the terrain is difficult and many buildings are demolished not long after they're constructed due to short-term property leases. "In order to bring sustainable development to remote areas and boost the local economy, we need knock-down structures that can be fabricated off-site and built quickly," says Dornier, who cofounded Bali-based Stilt Studios with Florian Holm, the firm's CEO.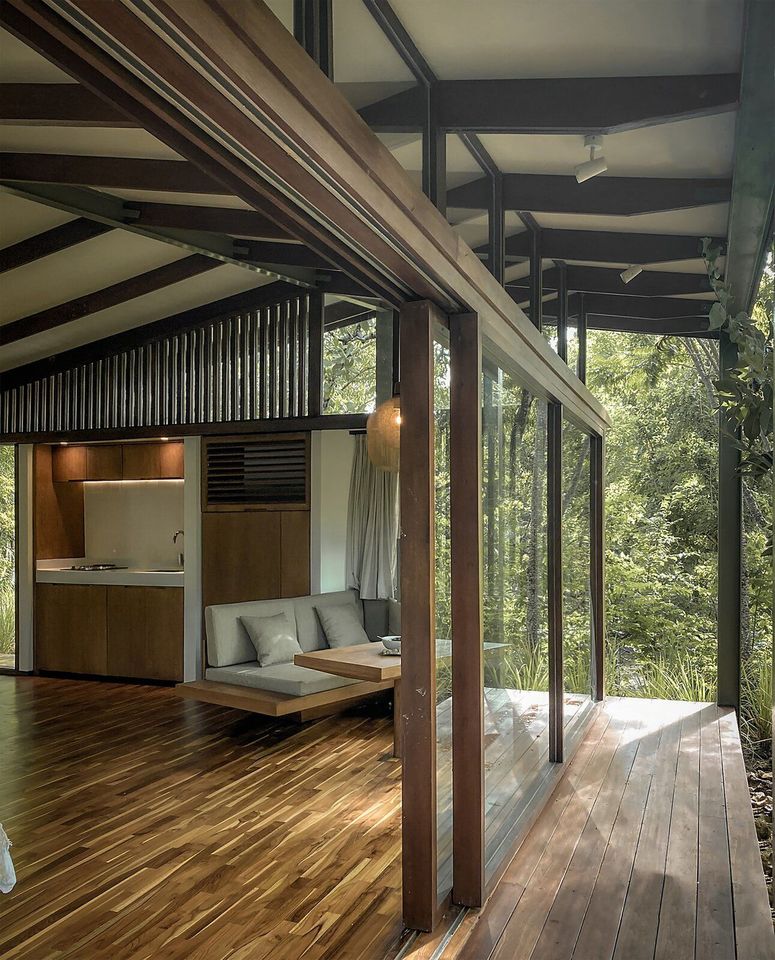 Ironwood flooring lends warmth and texture to the open-plan interior. The layout includes a small kitchen area and a living area with a built-in sofa and table crafted with teak veneer.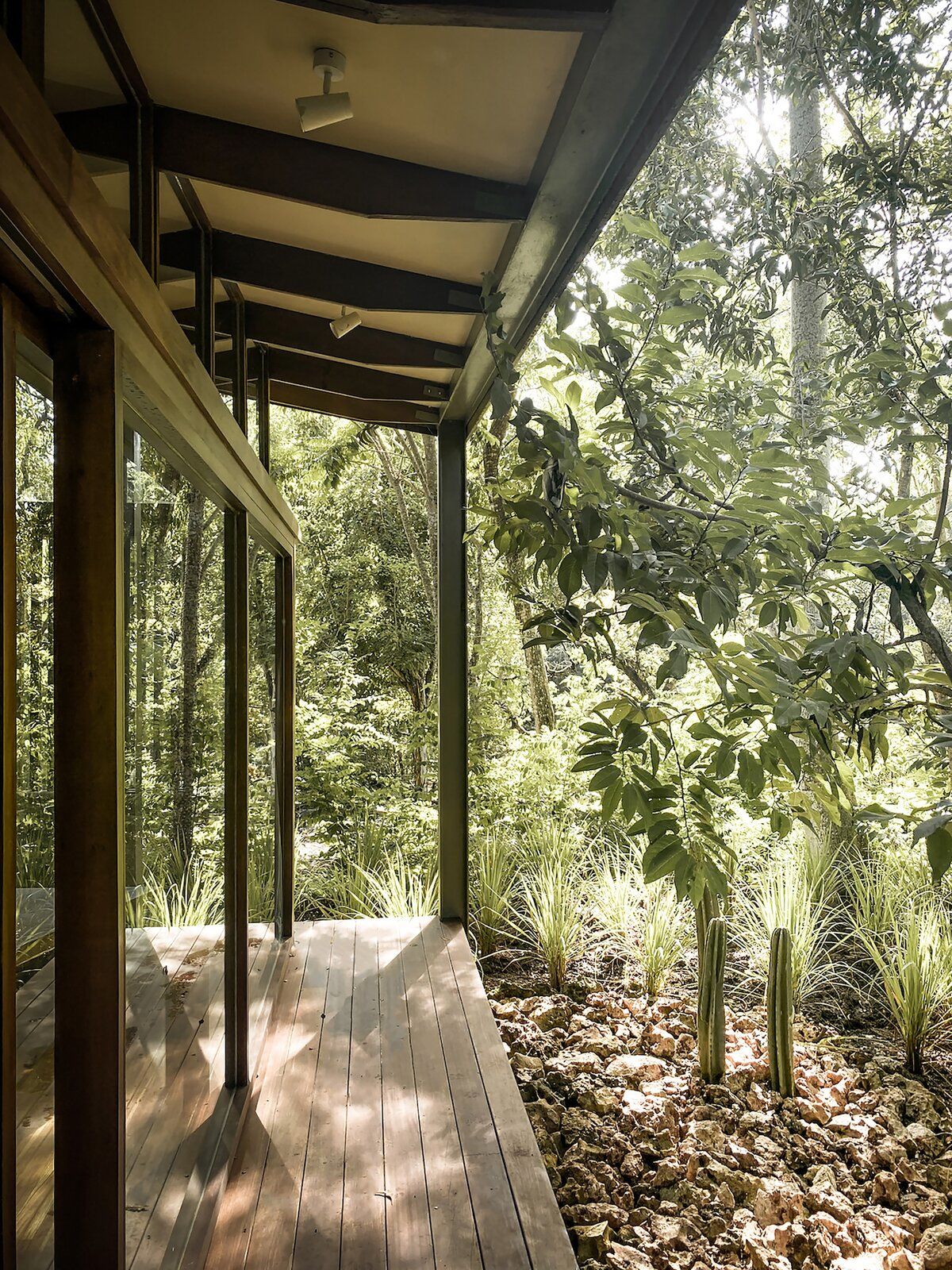 A wood deck wraps around the exterior of the home, offering a place to perch among the trees.

The Tetra Pod took just eight weeks to construct, and it can be swiftly taken down, allowing for maximum agility in Bali's rapidly changing property market. Stilts lift the compact house 40 centimeters off the ground. "Many developments in Bali use large quantities of concrete, which destroys the natural environment," Dornier says. "I wanted to challenge the status quo and create architecture that leaves behind a minimal footprint."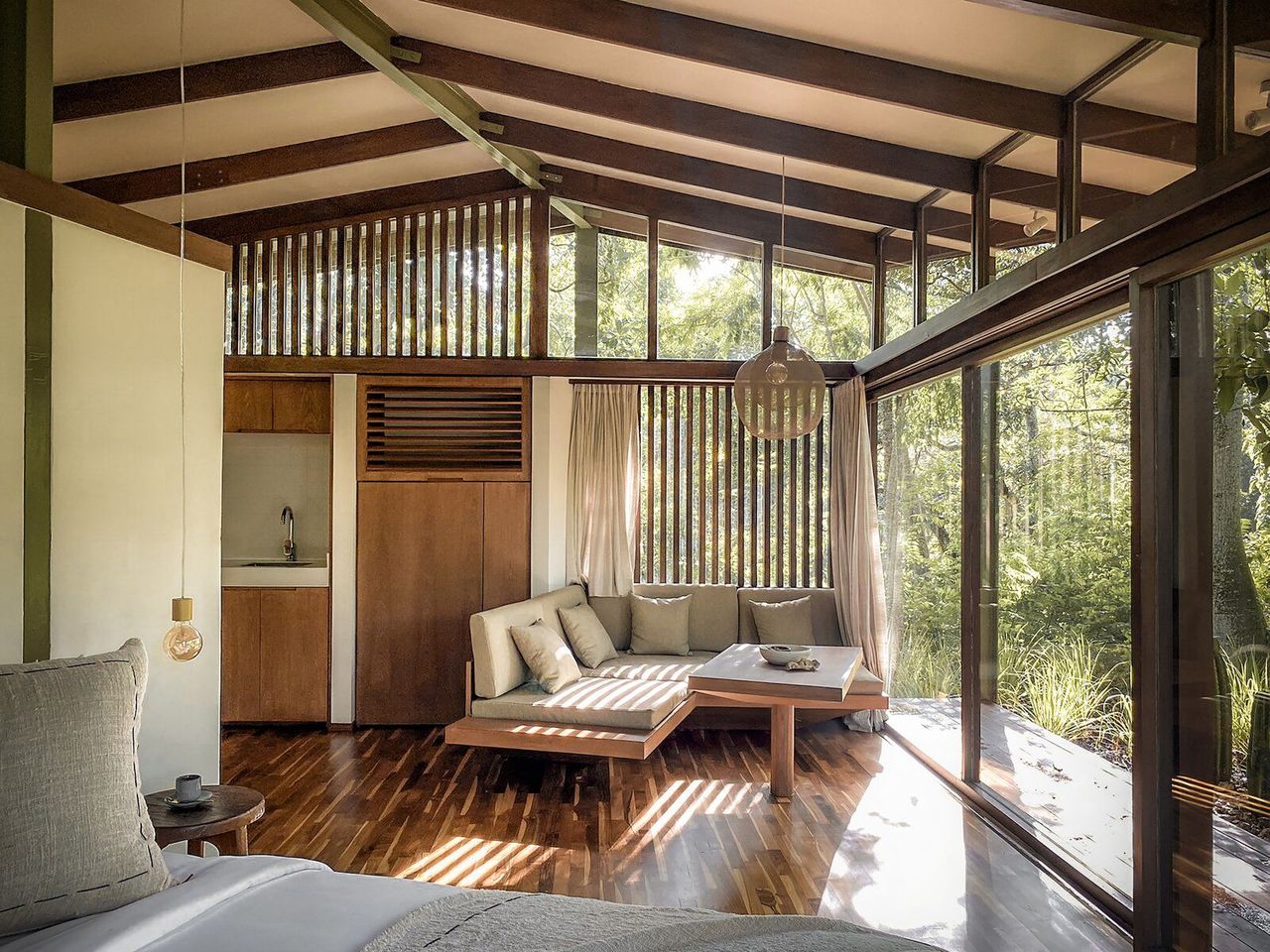 The bedroom area, adjacent to the living space, offers cinematic views of the verdant landscape. "The diagonally oriented floor plan creates exciting spaces that exude outward toward the exterior," Dornier says.

By eliminating concrete and using recycled Tetra Pak cartons as a building material-along with wood, steel, and glass-Dornier's sought to follow the principles of a circular economy. "Tetra Pak is reused, so it helps to reduce waste," he says.

The home also features large roof overhangs that help reduce solar heat gain, solar panels, a rainwater collection system, and a passive cooling system. "I also envisioned being able to grow food beneath the elevated structures," Dornier says.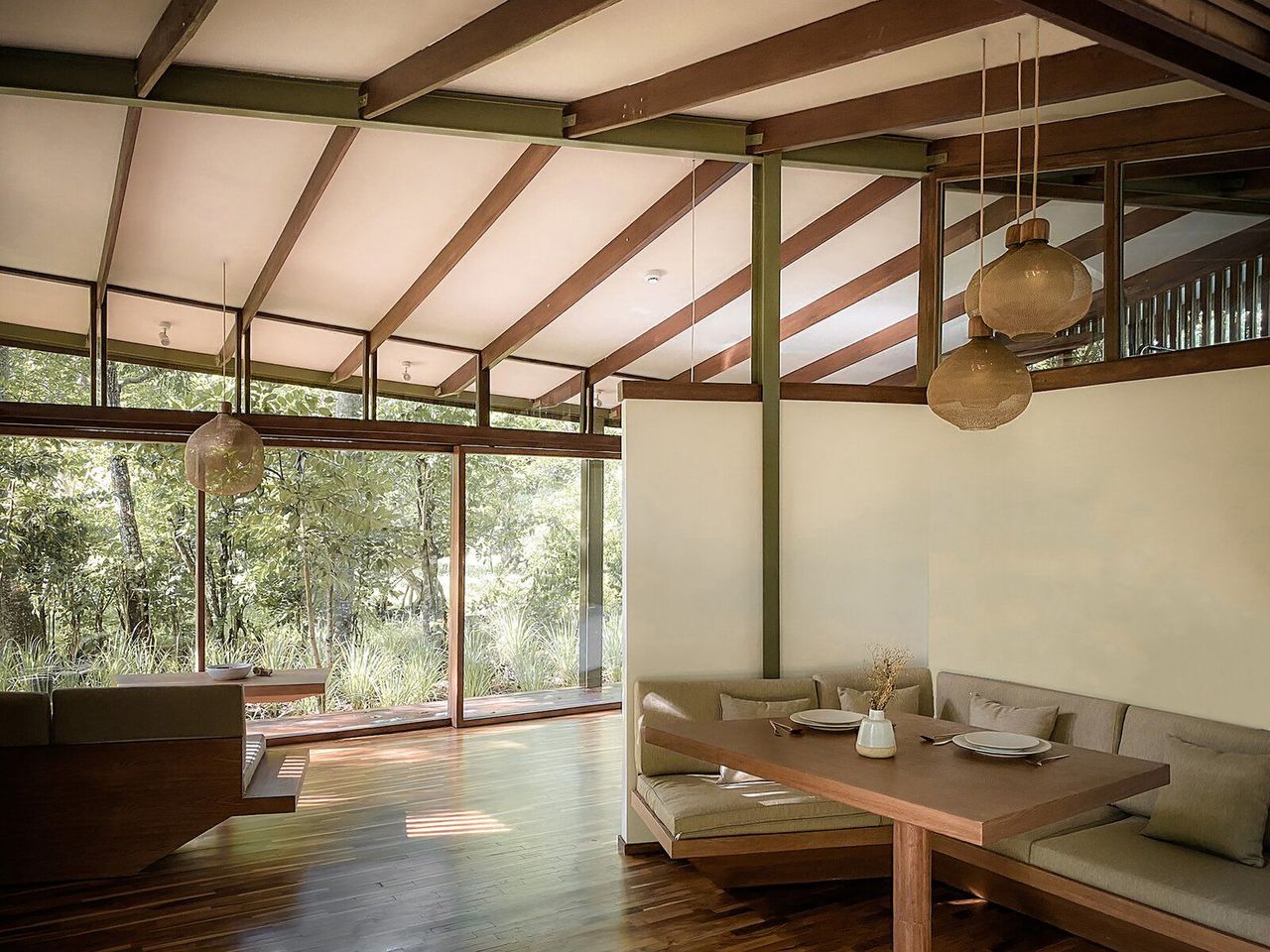 Dornier outfitted the dining area with a built-in table and seating area made from teak veneer.

Inside, the Tetra Pod features an open plan that accommodates a bedroom, a living area, a dining space, a kitchen, and a bathroom. Dornier designed furniture pieces made with teak veneer-including a bed, a built-in dining table and bench, a living-room sofa, and a coffee table-to suit each of the rooms. Large sliding-glass doors and expanses of glazed cladding wrap the bedroom and living areas in lush greenery.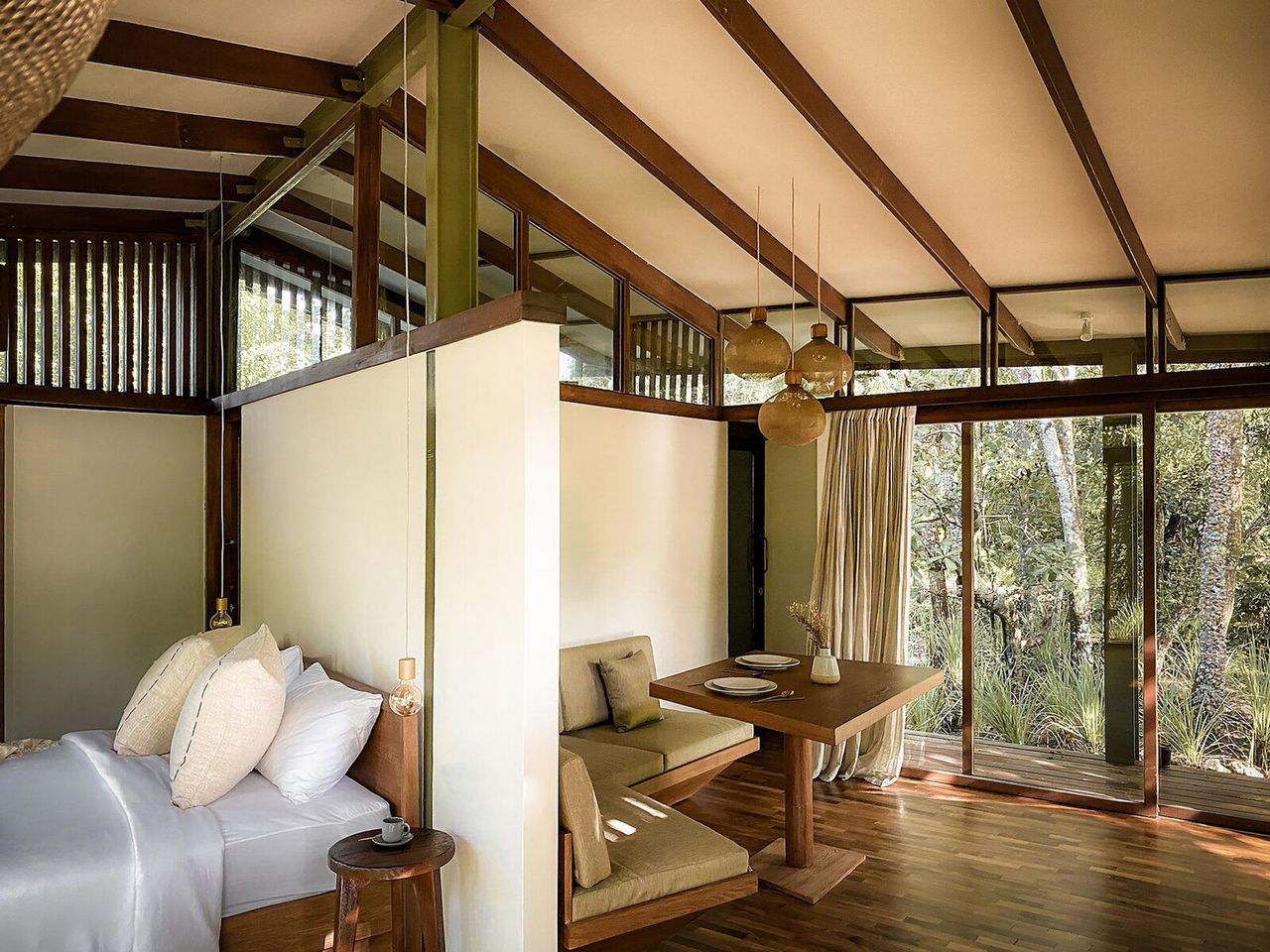 The bedroom area is situated behind a partial wall that separates it from the dining space.

The Tetra Pod is designed to be built for about $45K on almost any lot in any country, and Dornier is offering detailed plans (complete with five drawings) at a special price of $5,000 per set. "These drawings contain all required materials with sizes and finishes; structural, mechanical, electrical, and plumbing details; interior drawings; and a detailed step-by-step explanation of how to build Tetra Pod," he says.

The Tetra Pod Dornier built in Bali is a prototype that's currently available to rent for short-term stays. "The prototype is part of a development that's a place for experimentation and ongoing creative expression," says Dornier, who plans to eventually turn the development into a resort. "Our design studio is placed in one of our studios, submerged into the thick and lush surroundings."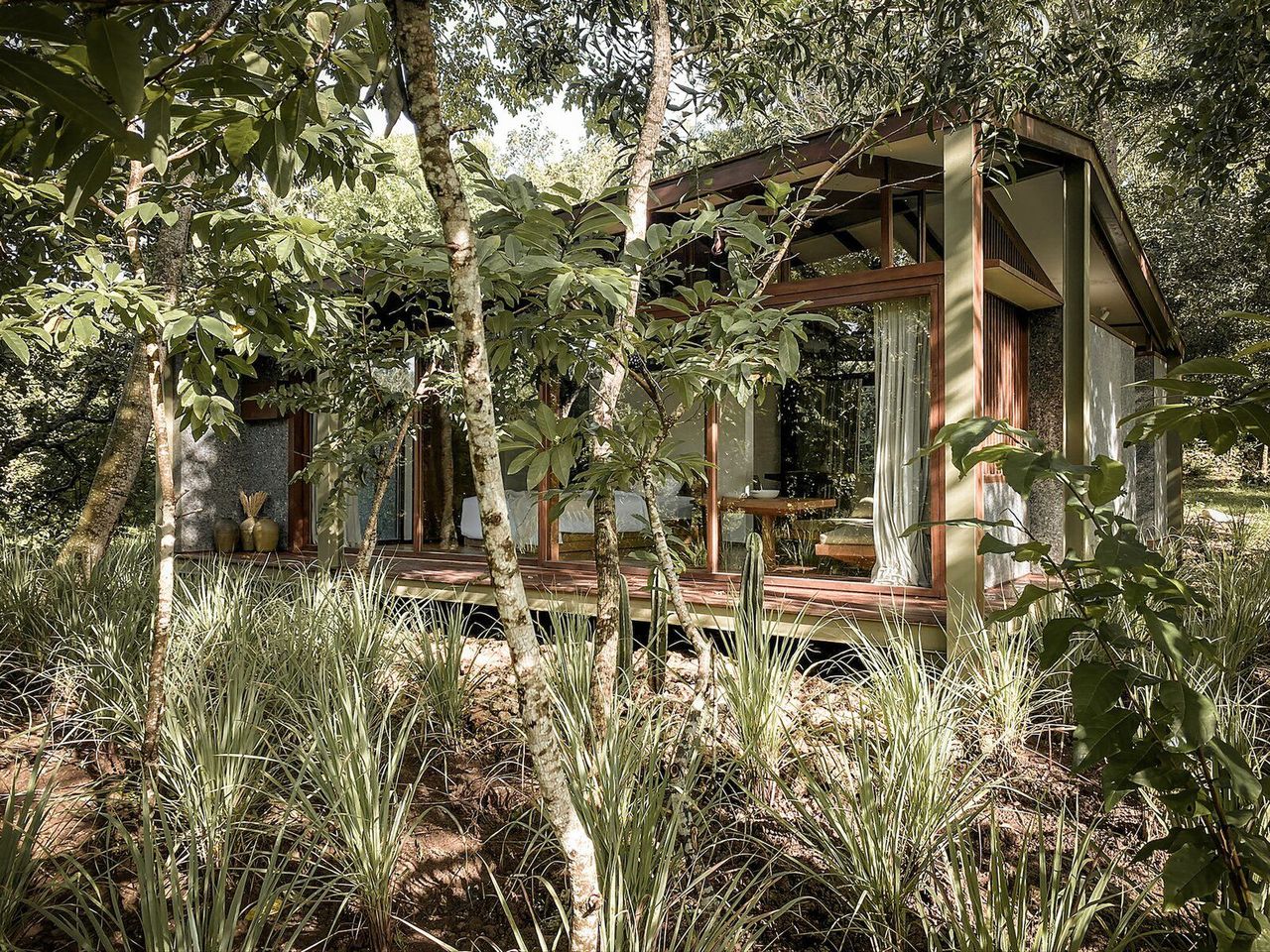 Glazed surfaces reflect the surrounding greenery, helping the tiny home blend in with its site.

Stilt Studio's long-term goal is to make each and every one of their sustainable designs available for purchase. "We want design lovers around the world to be able to build their favorite studio or home without paying a star architect's design fee," Dornier says. "Especially in times like COVID-19, people are looking for alternative living spaces. Tetra Pod can be used as a workspace or yoga pavilion in a garden, as multiple units for a hotel or resort, or as a tiny home."

To inquire about booking a stay in Tetra Pod or another of the firm's designs, visit Stilt Studios.