When Jennifer and Dave Dawson spotted a circa-1800s farmhouse on 50 lush acres in the alpine vacationland of Cashiers, North Carolina, it felt like a proverbial breath of fresh air—plus a dream getaway for their two adventurous boys, James and Jack. But, at 1,200 square feet, the house was a matchbox, with only one full bathroom and a powder room so teensy they'd taken to calling it the "chamber pot."

So the couple—the aesthetic masterminds and owners of Charleston, SC–based Urban Electric Co.—set about maximizing every square inch, while preserving the storied bones they fell in love with. To make the compact home feel bigger, they painted most walls and ceilings white, putting the focus on the verdant grounds lush with hydrangeas, peonies, and ferns beyond the windows.

They didn't let the tight quarters cramp their style either. Designer Kate Towill of Basic Projects assisted them in adding mixed-and-matched finds to create collected, but not cluttered, layers throughout. Despite the petite footprint, it turns out a modest mountain cottage filled with well-loved wares provides ample breathing— and living—room. "We feel like we have everything," says Dave.



Making Room for... Family Meals Alfresco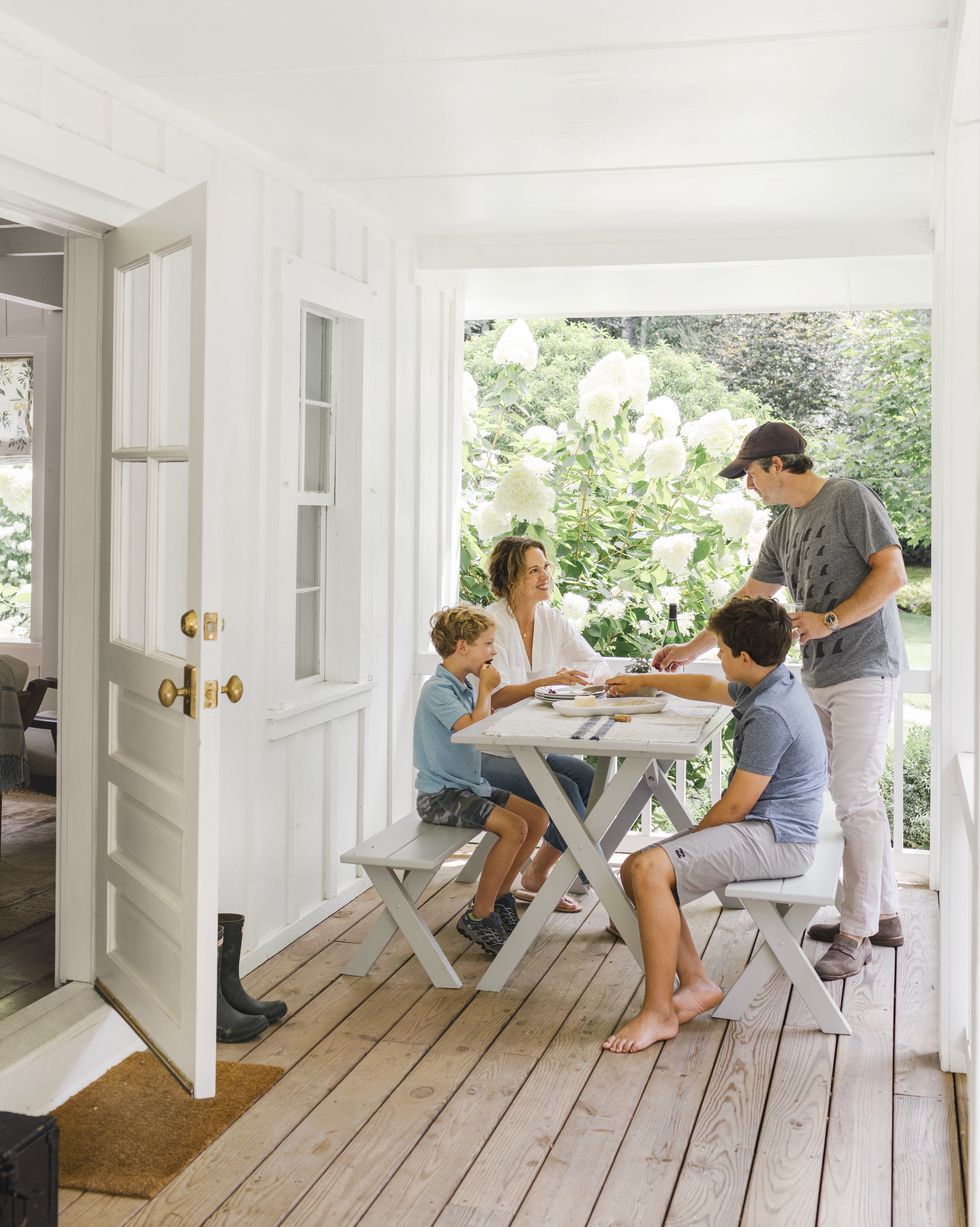 The home's long porch, with original board-and-batten siding, provides a perfect perch for a picnic table, which Jennifer and Dave Dawson (with sons James and Jack) use as their main dining space. "With the weather being what it is up there, we want to be outside anyway—it helps us to maximize the interior space," Dave says.



Making Room for... Favorite Things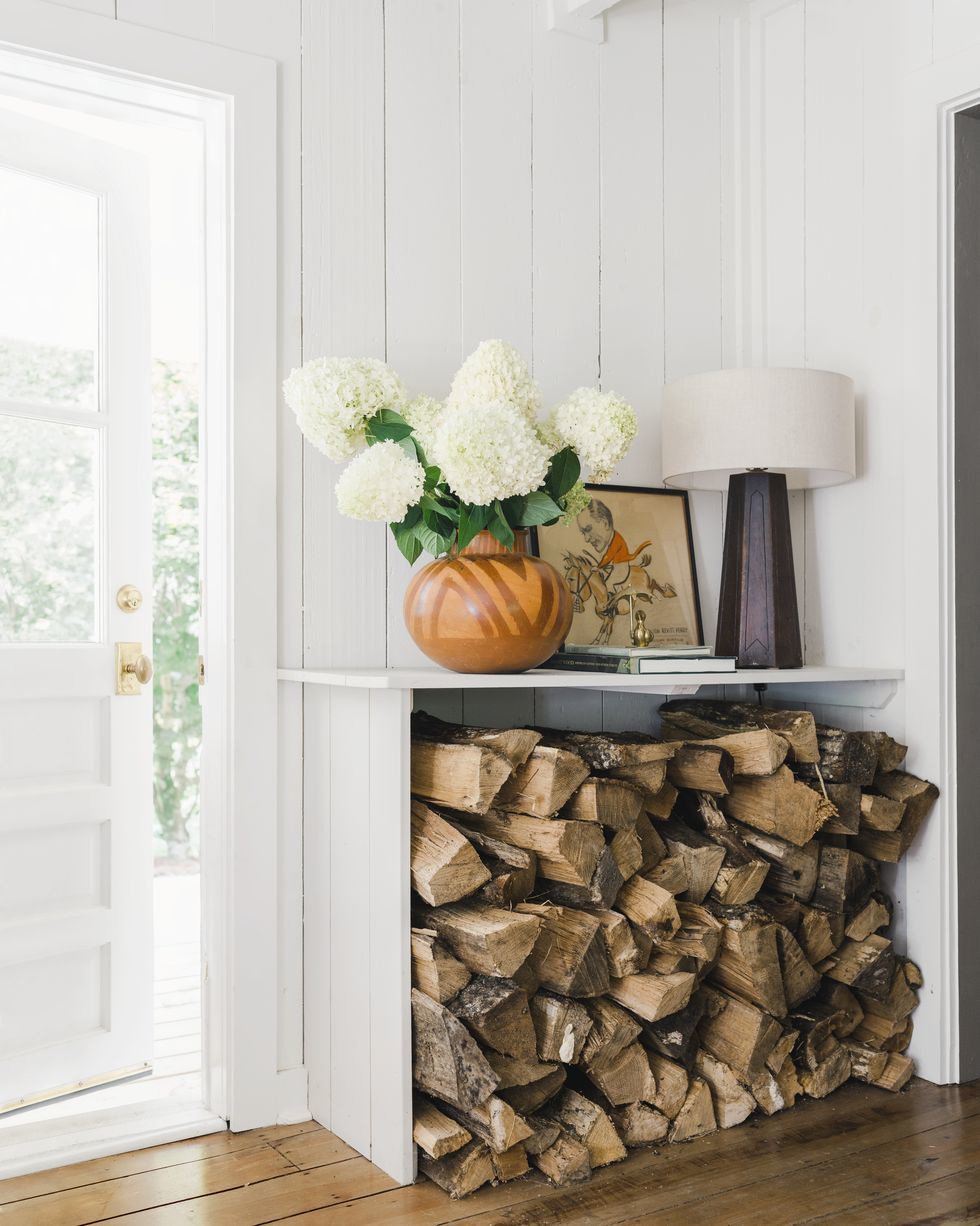 A built-in console in the living room not only serves to corral firewood but also provides a spot for a trio of favorite flea market finds.



Making Room for... Board Games & Bird Watching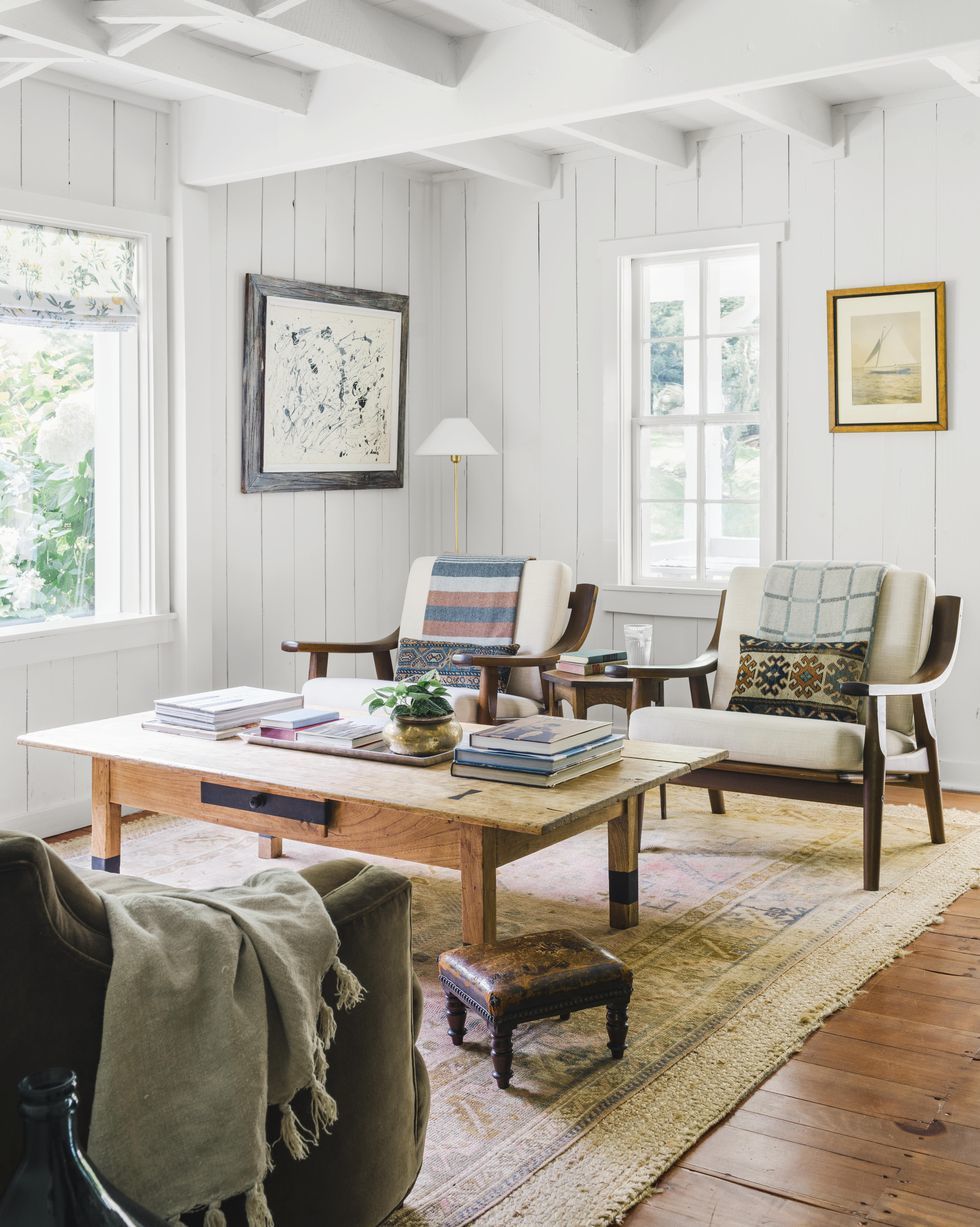 Throughout the downstairs they left the low ceiling's rafters exposed for an open feel overhead. "There was some temptation from a sound standpoint to insulate that ceiling, and there are cracks in the upstairs bedroom floor where you can see into the living room," Dave says. "But it would have crowded the room." In the living room, a pair of leggy armchairs gives flexible, pull-up-to-the- coffee-table seating and has a lighter, less cluttered sensibility than skirted options. The couple also skipped heavy draperies, which would have mucked up the view (no TV here!) and the abundant natural light. A light sealant on the original wood floors added durability while still preserving their century-old character.



Making Room for... Natural Elements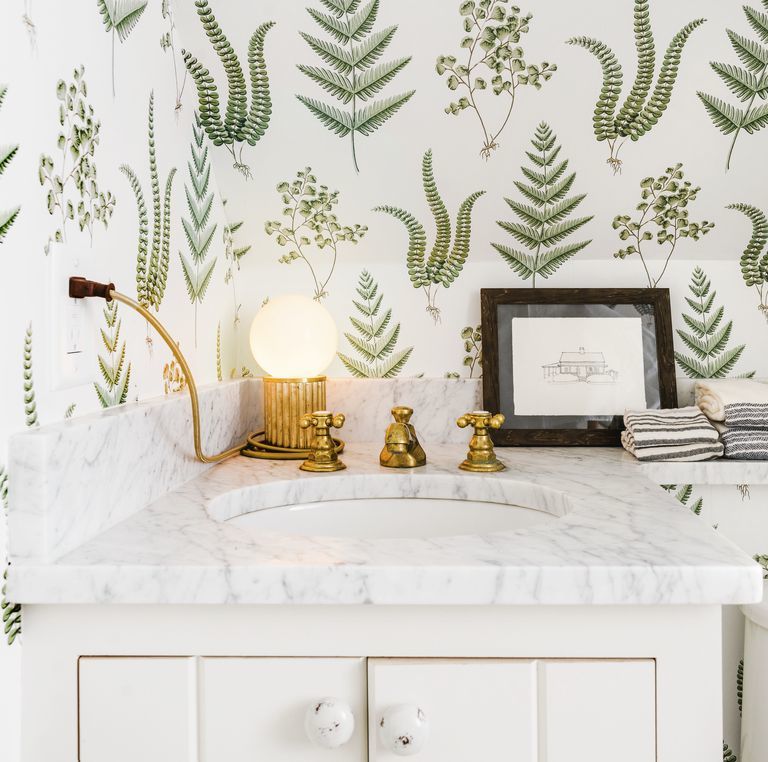 A leafy wallpaper echoes the calming effect of the outdoor gardens and adds interest to the cramped powder room under the eaves. A tiny table lamp and a small, hand-drawn illustration of their farm- house leaning against the wall compensate for the lack of vertical space.



Making Room for... Home Cooking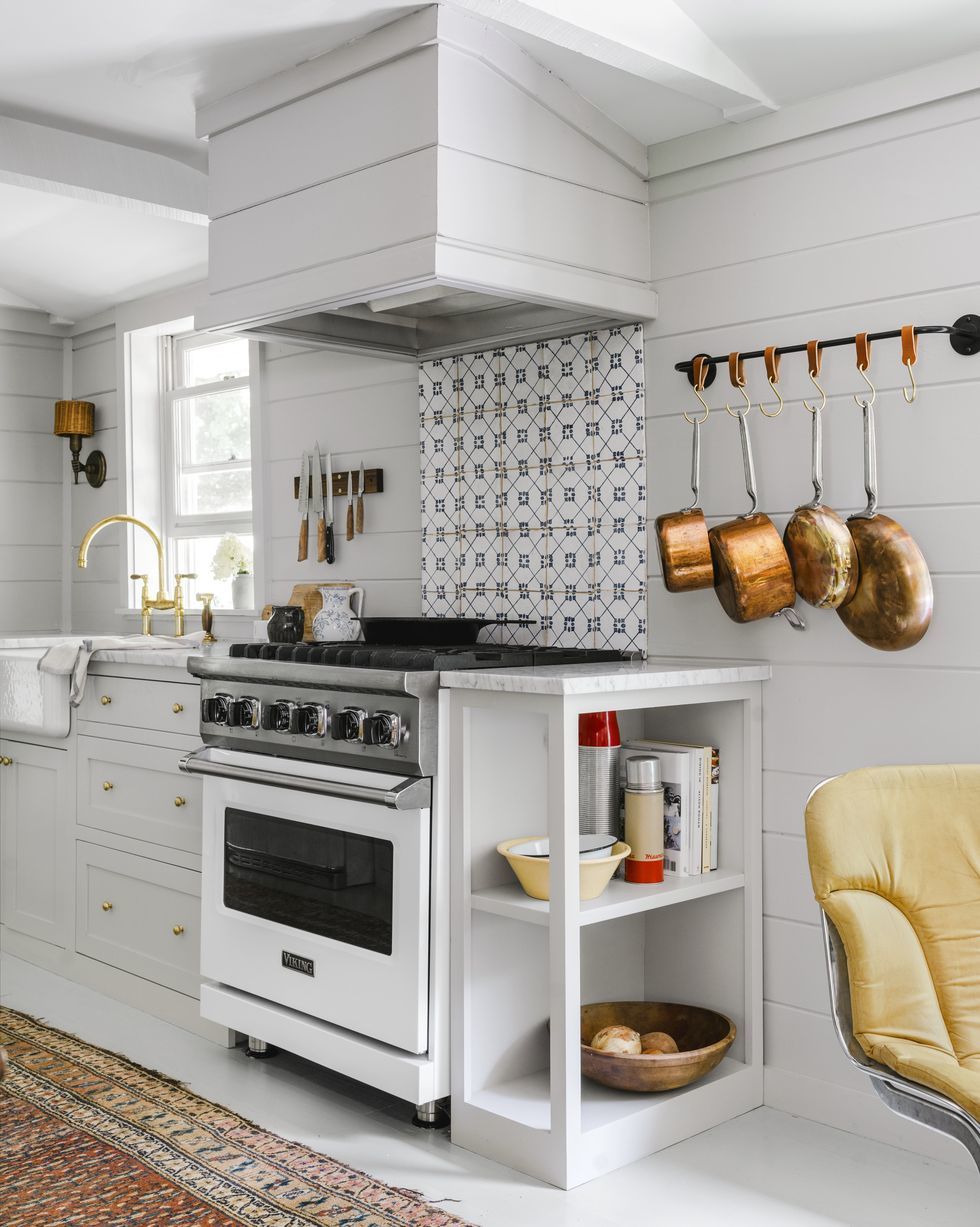 This tiny 8-by-12-foot galley kitchen is harder working than it looks, thanks to a hidden dishwasher drawer to the right of the sink and doubly decorative and dutiful copper cookware on the wall. Other drawers (Jennifer prefers them to door-front cabinets) house dishware. A hand-painted Portuguese tile backsplash serves up a fresh focal point.



Making Room for... Morning Light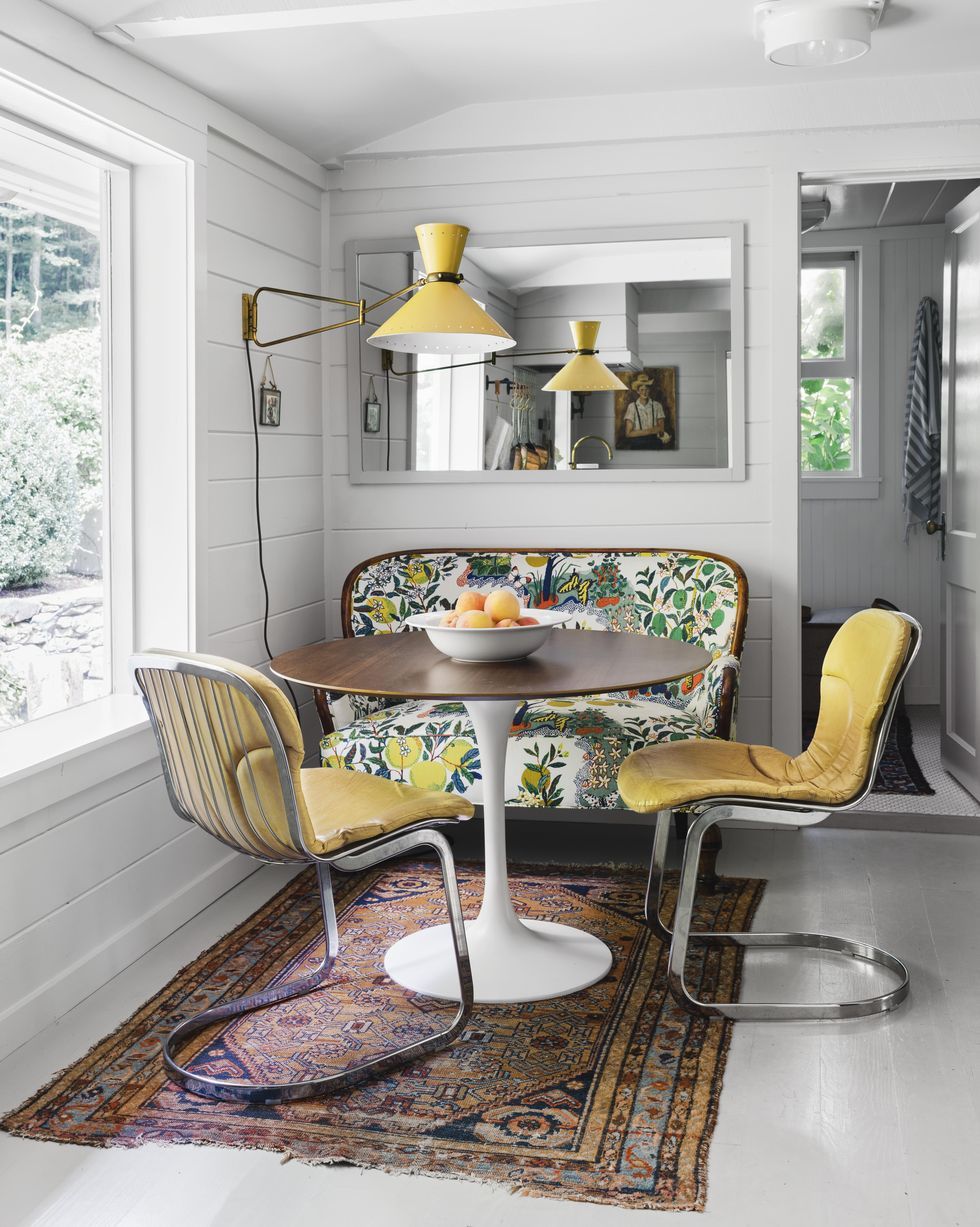 A space-saving Saarinen "Tulip" table and armless midcentury modern chairs make the most of the tucked-in dining area. A vintage settee upholstered in a bold Josef Frank botanical and the well-worn Turkish rug bring the small nook alive with peppy punches of color and pattern. The large mirror reflects light from both the picture window and the large sconce.

Bright Idea: Overhead Alternative
A vintage French swing-arm lamp can be pulled out to illuminate the dining table or pushed against the wall to free up space.



Making Room for... Good Reads & Vintage Vinyl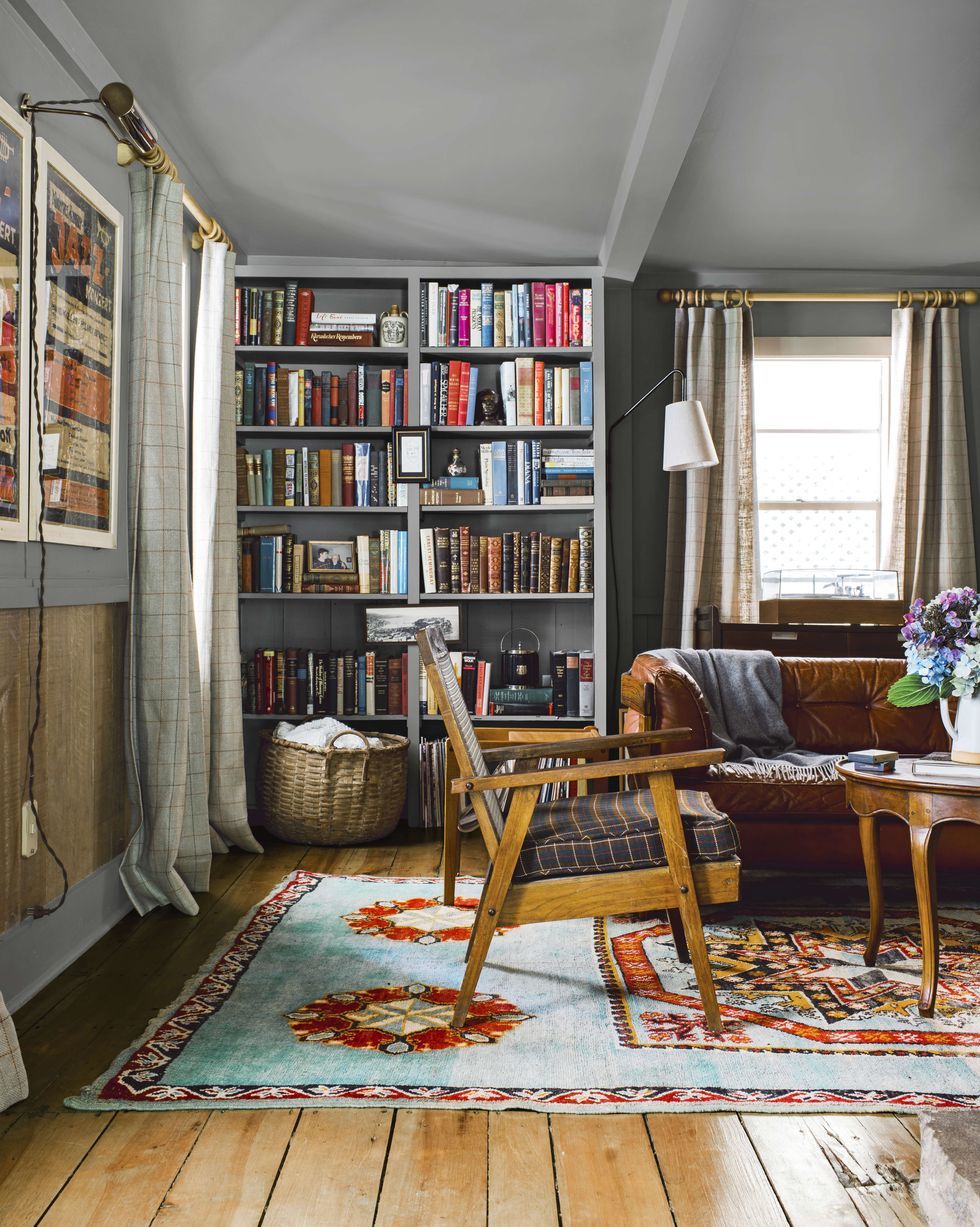 Jennifer and Dave chose to whip up a dark and moody color scheme to separate the library from the rest of the house, painting the upper walls, bookcases, and ceiling the same gray brown paint color to make it feel more spacious. Miniature pieces of art hung directly on the well-stocked bookcases add another layer of personality. The furniture is an international medley: The modernist leather sofa is Brazilian, the caned wood chair came from Japan, and the rug is 1930s Moroccan. "At nightfall, we light a fire in here, listen to records, and have a scotch," says Dave. Their playlist: anything by John Denver, Bill Withers, Gordon Lightfoot, and Dolly Parton.



Making Room for... Peace & Quiet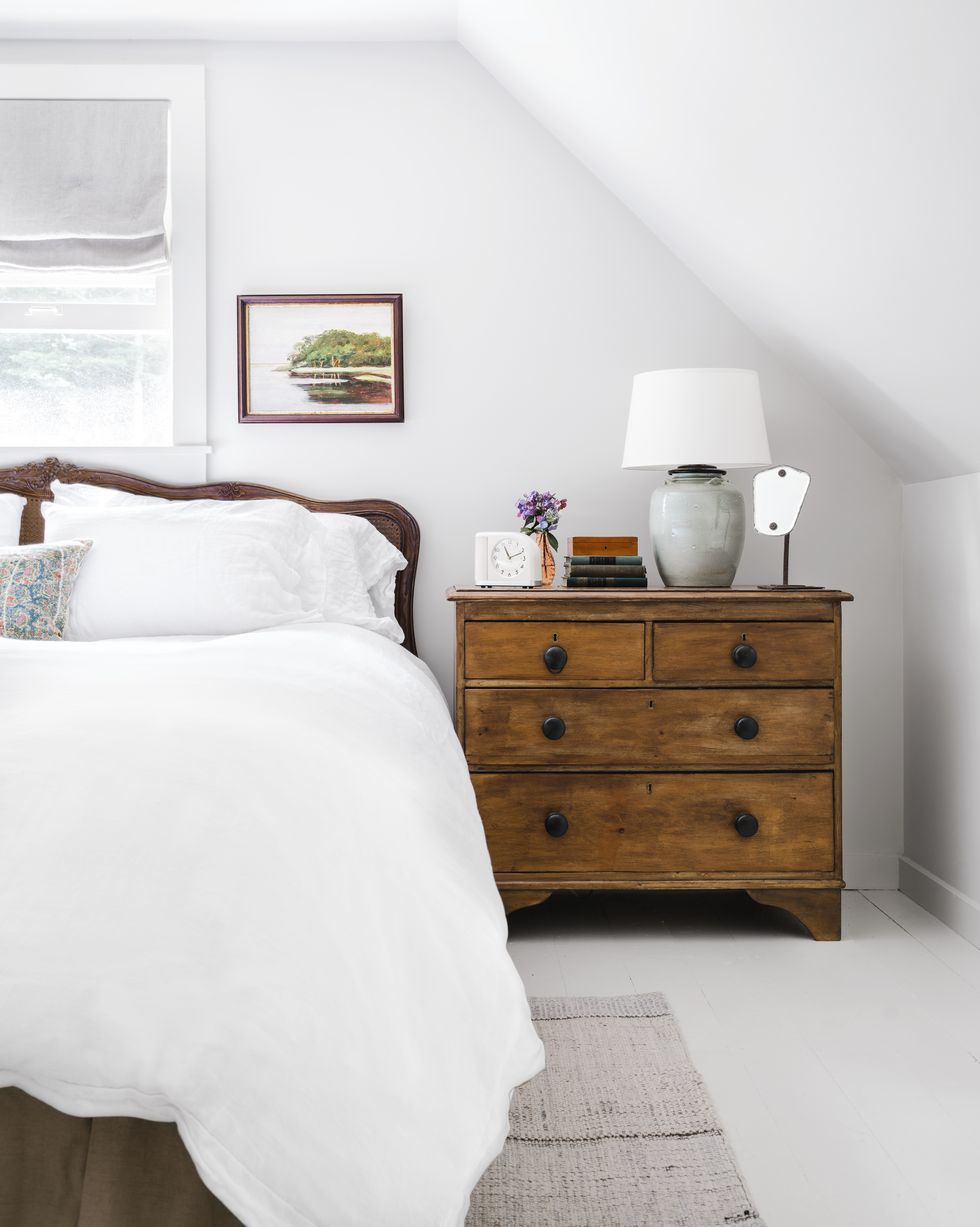 Creating an entirely whitewashed envelope in the bedroom imparts a spacious, unstuffy feel and lets the vintage furnishings stand out. The couple is always picking up little landscape paintings, like the one hung above the bed, to create a view where there isn't one. An antique makeup mirror adds "vanity" to the bedside dresser's multiple uses. "I needed a place to put on makeup, so now I can sit on the edge of the bed and do it," says Jennifer.



Making Room for... Vintage-Style Charm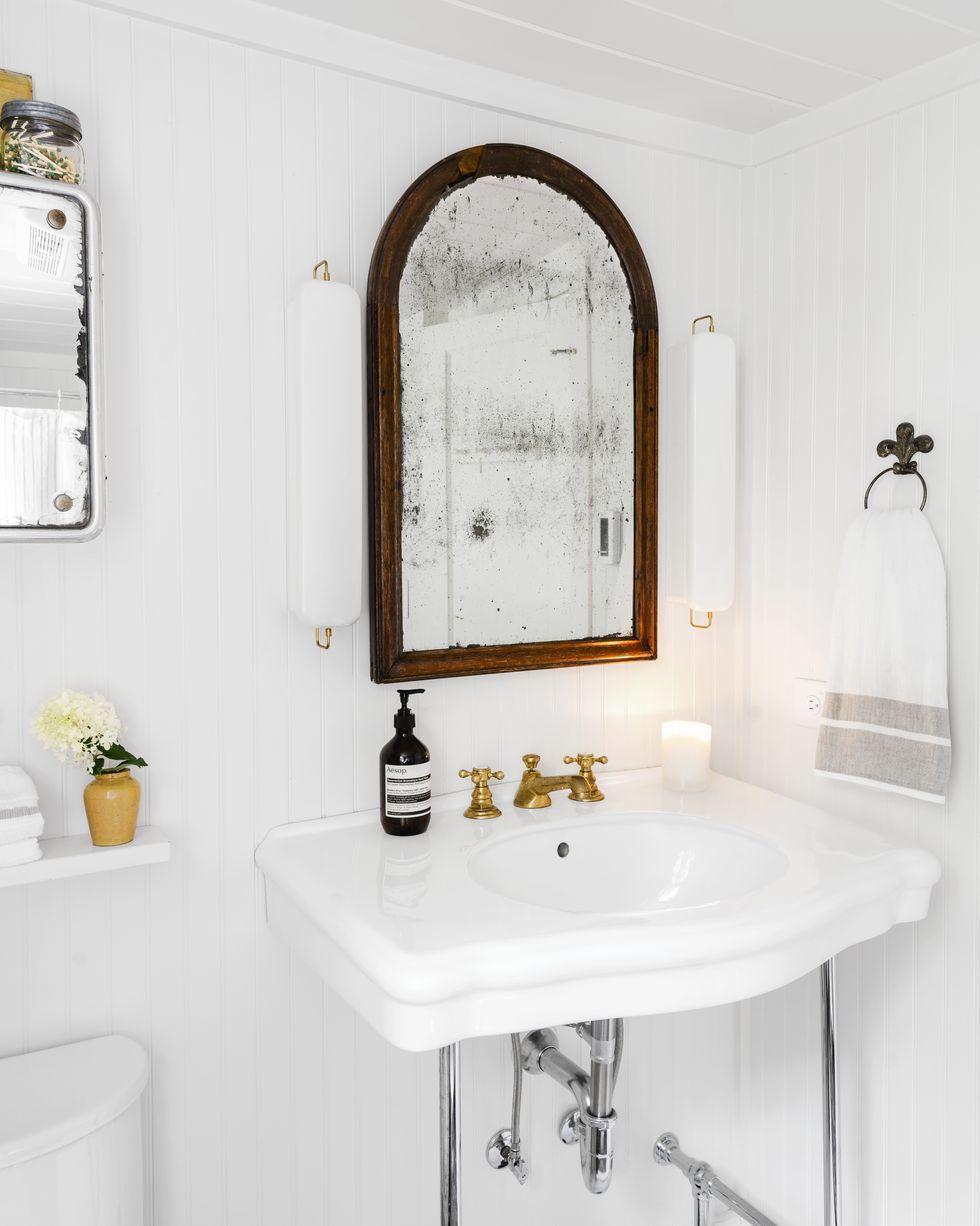 What the main bathroom lacks in space, it makes up for in charm with its mix of white wood-planked walls and ceiling, porcelain sink, and vintage mirror with just the right amount of wear to its original glass.

Bright Idea: Vertical Sconces
Because the bathroom's pocket-sized footprint didn't allow for larger lighting choices, the Dawsons opted for narrow, vertically oriented sconces. "They give a nice wash of light on either side of the mirror," Dave says.



Making Room for.. . Brotherly Bonding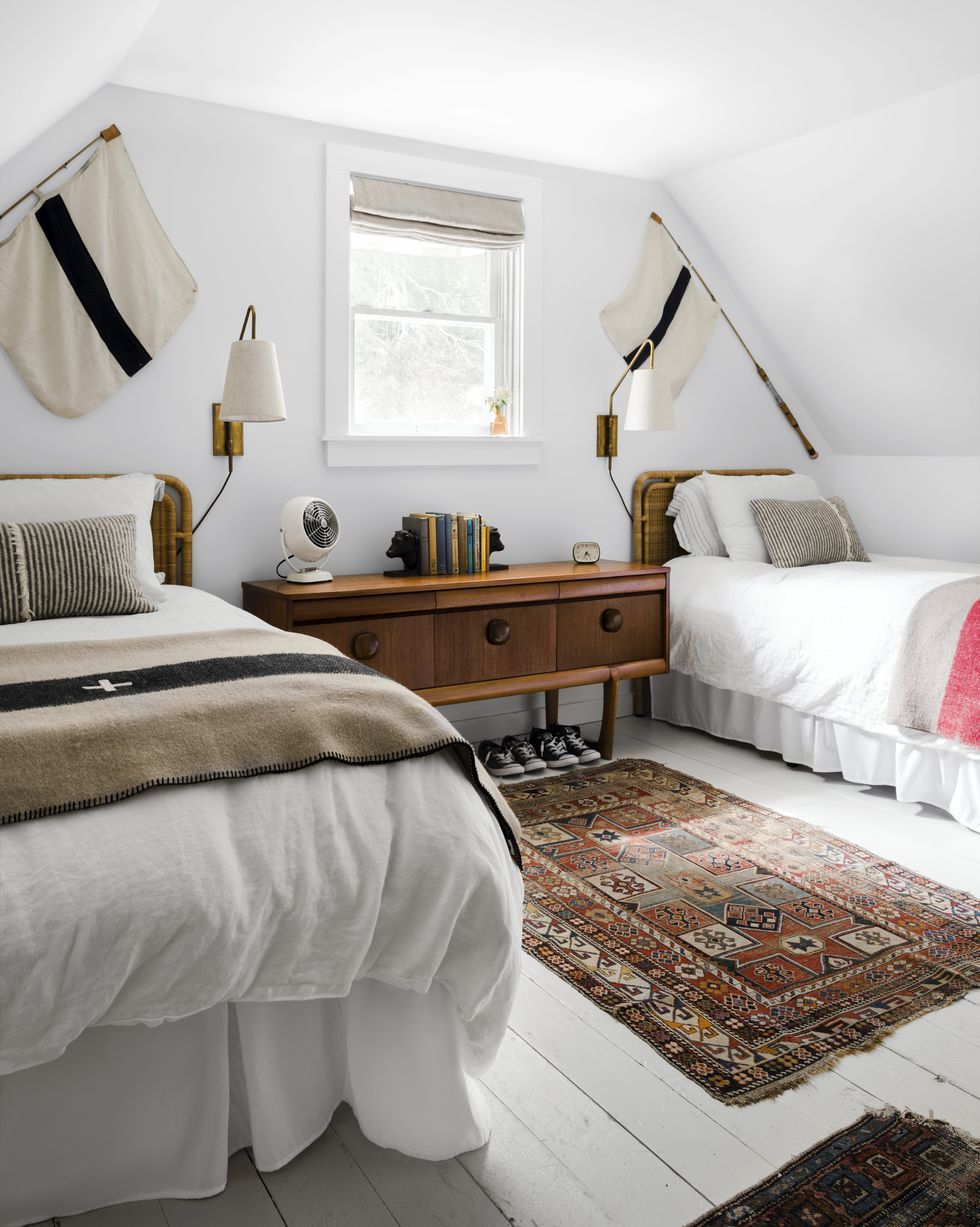 At the end of a busy day exploring the creeks and riding the zip line, James and Jack's upstairs bedroom provides the perfect crash pad, complete with wool camp blankets and a midcentury console that serves as both dresser and nightstand. Found in a Charleston, South Carolina, antiques store, the flags above the rattan headboards (a 1stDibs score) are hung from old fishing poles.

Bright idea: Fancy "Flashlights"
Swing-arm lamps make night reading easier and free up the bedside table for page-turners and treasures.



Making Room for... Recreation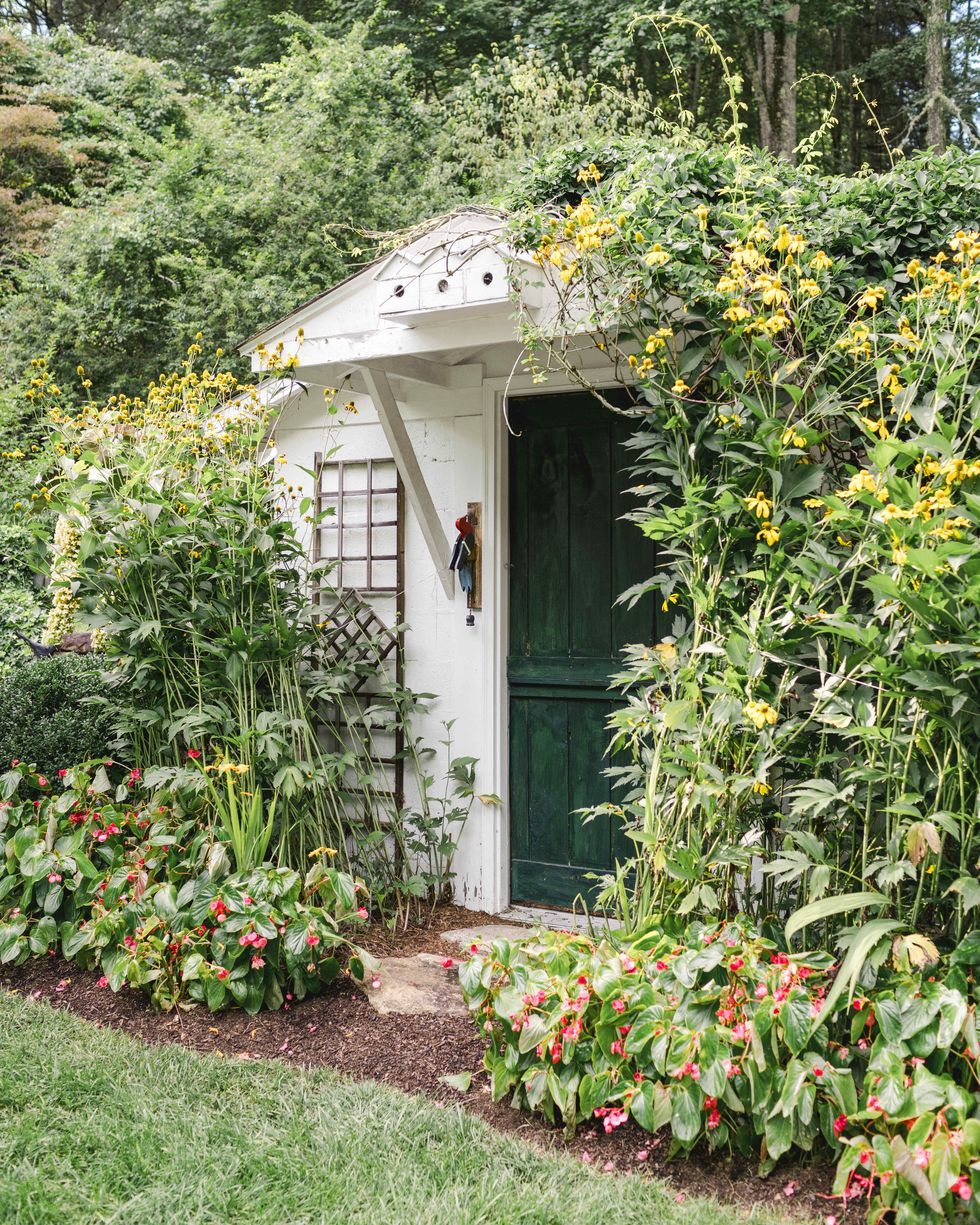 A small folly, complete with a bird door knocker left by the previous owner, provides extra storage and expands usable real estate on the property. Of course, it helps that there are acres of riotous gardens to roam, designed by Justin Mathis of Mathis Landscaping, with hydrangea, peonies, and ferns galore.



Making Room for... Sunday Drives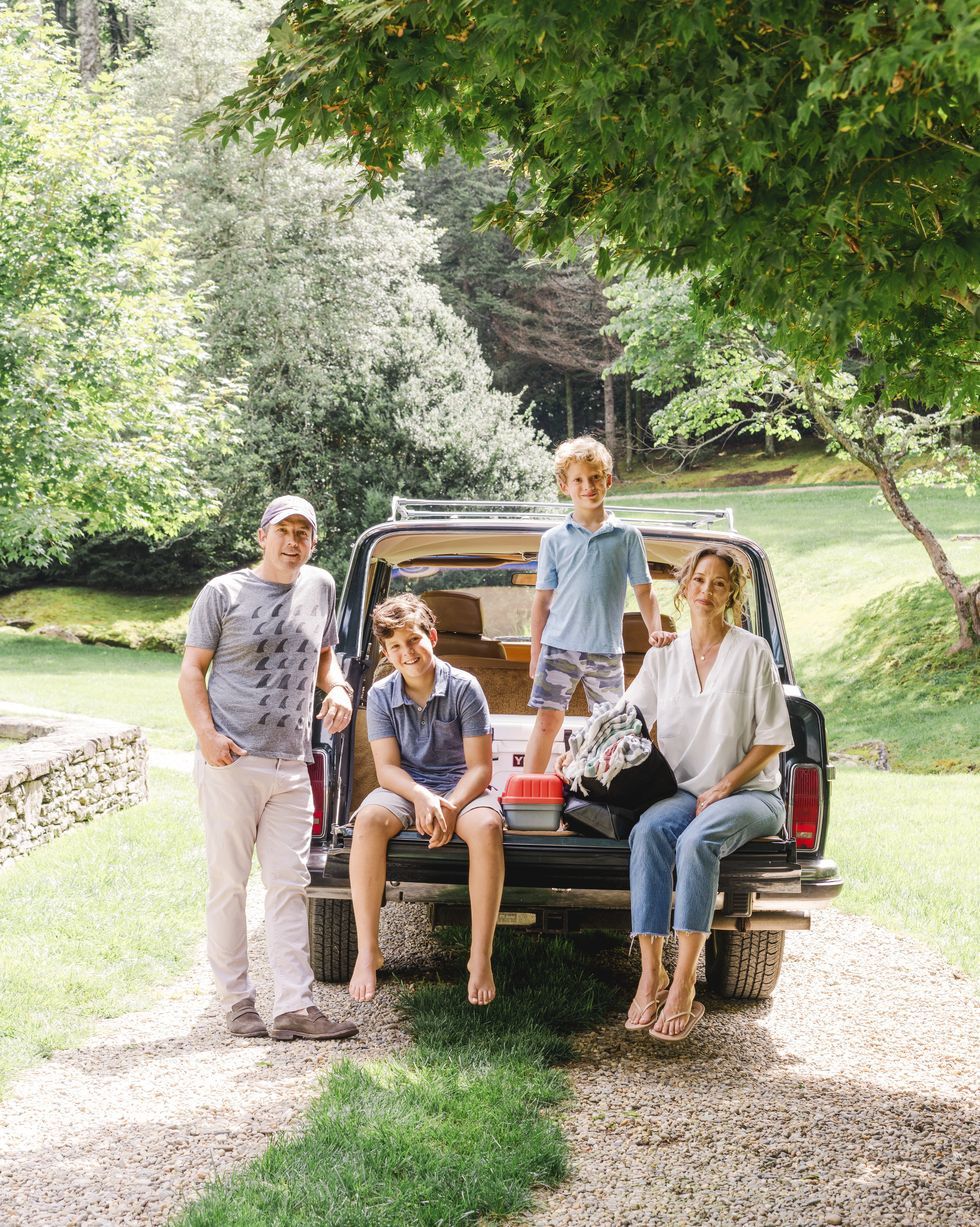 The family's 1985 Jeep Wagoneer (for cruising the mountain roads at a steady 45 mph) reinforces the slower living mindset.