Back in the early 2000s, Jamie Mackay was on a mission to buy a trailer for camping, but he struggled to find anything on the market that met his exacting standards. "My father worked in log cabin construction, which had instilled in me at a young age the value of good craftsmanship, and I developed a healthy obsession with design and architecture," he says. Unable to find what he was looking for, he founded Wheelhaus in 2006, a company that crafts tiny modular homes with a focus on design.

Mackay soon founded Fireside Resort, a tiny house resort in Wilson, Wyoming. "My intention with Wheelhaus is to provide the same quality and durability as the log cabins I grew up with, while incorporating green production and modern design," he says. "Some of our clients are young couples starting out, working remotely, and living an adventurous life. Others are retired and want less maintenance."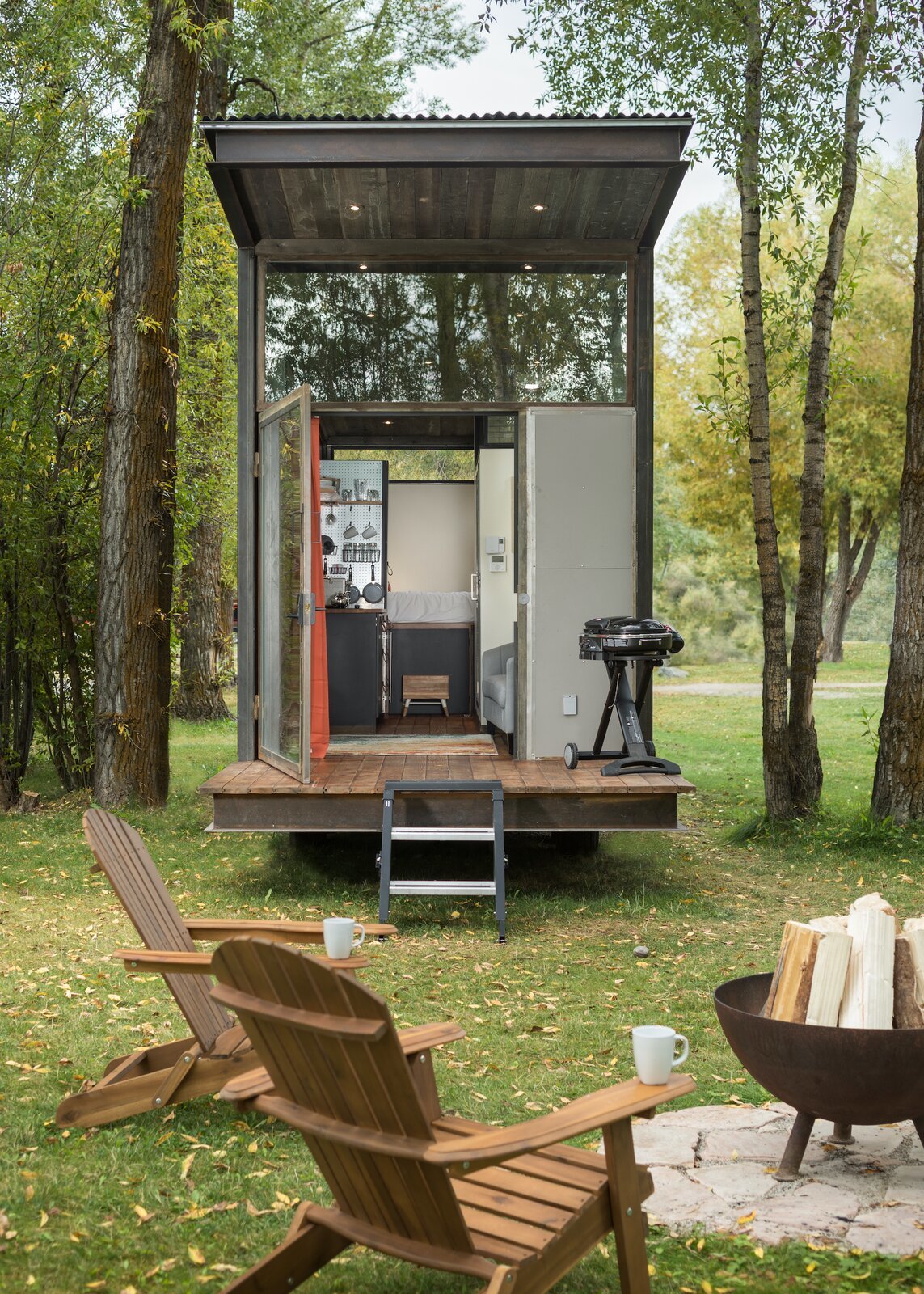 The outdoor deck seamlessly extends out from the living room, allowing residents to expand the living space outdoors in warmer months. The canopy protects the deck from sun and rain.

Today, there are nine different Wheelhaus models ranging from the 255-square-foot Flex-Haus to the relatively palatial 1,500-square-foot Hitch-Haus. Recently, the company launched their smallest model to date: the 250-square-foot Road-Haus.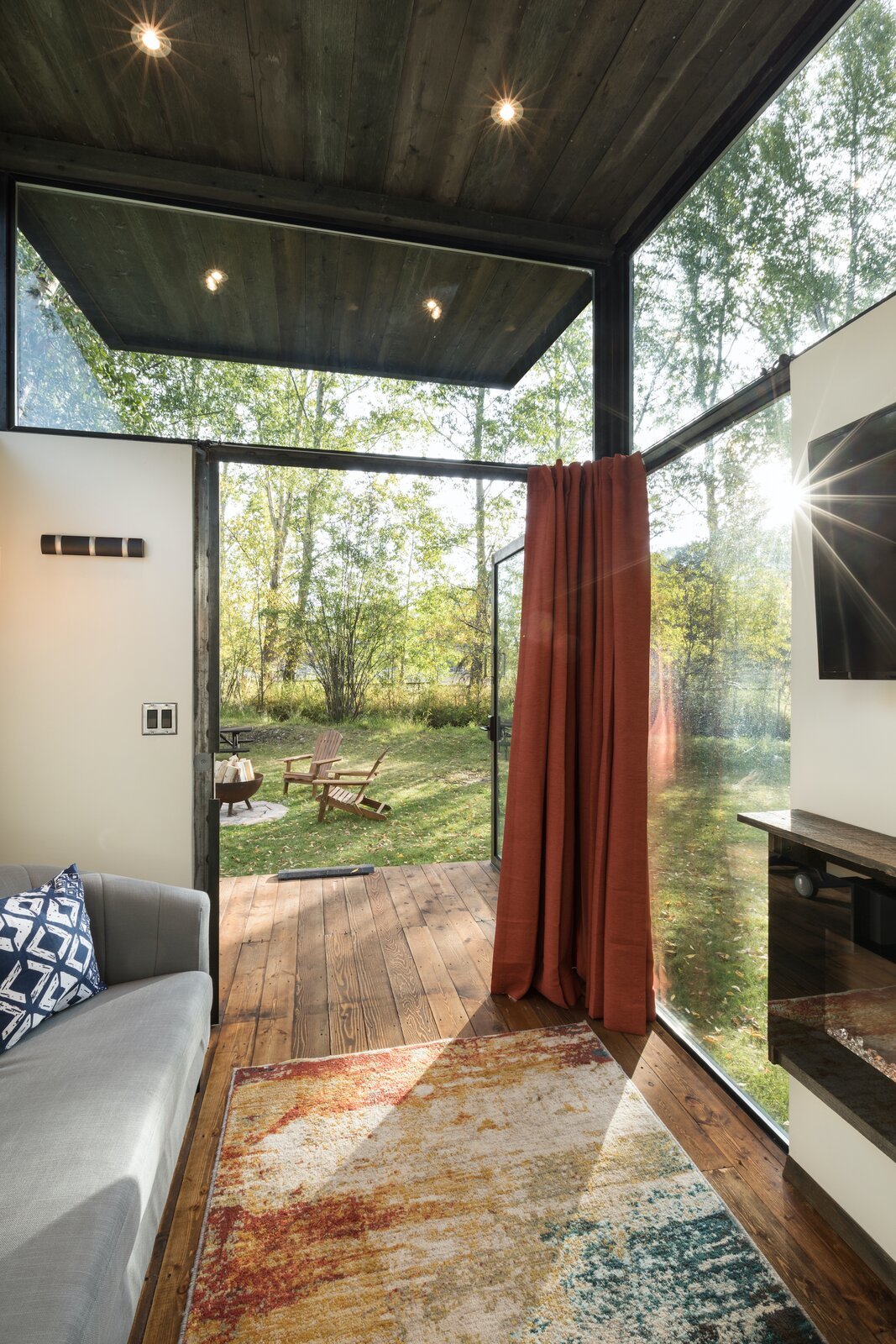 "The main challenge was making a space with a 250-square-foot footprint actually feel large," says Mackay. "The key to its success is high ceilings, eight-foot doors, and oversize windows."

"Road-Haus is a smaller version of our best-selling unit, the Wedge," reveals Mackay. "Customers loved the architecture of the Wedge model but didn't need all the space. So, Road-Haus offers a smaller footprint while still providing a bedroom and wrap-around clerestory windows."

It's also significantly less costly. While the rustic, timber-clad Wedge has a base price of $104,500 for 400 square feet of living space, Road-Haus comes in at just $89,000.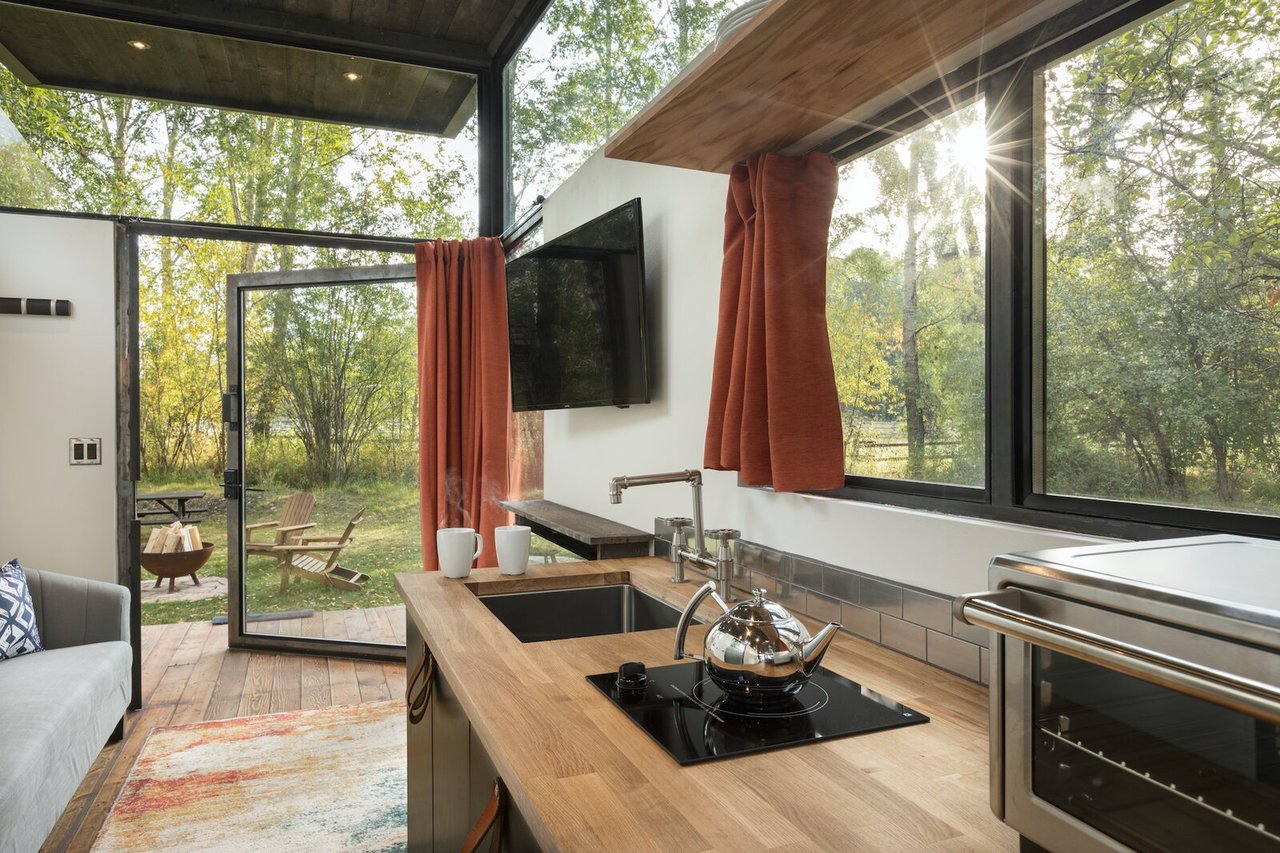 "By utilizing more windows, our homes bring the outdoors in, providing lots of natural light," says Mackay.

The new model celebrates indoor/outdoor living with a timber floor that extends out to a covered deck that is protected from sun and inclement weather by an overhang. The home is entered through a large glazed door that floods the interior with natural light. This leads directly to the living space, which is large enough for a sofa, wall-mounted television, and even a fireplace. The kitchen adjoins the living space and comes complete with plenty of cabinets, countertop space, sink, stovetop, and small refrigerator.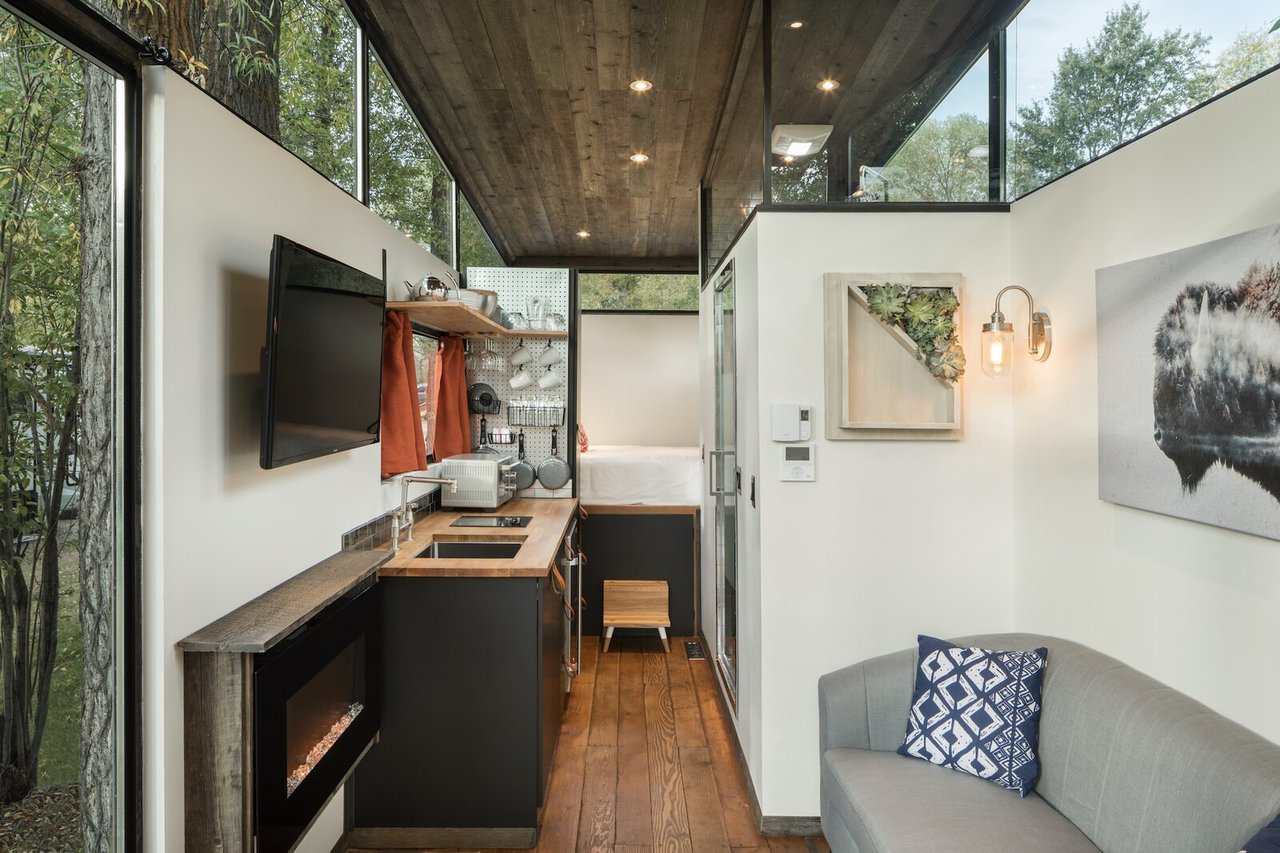 The cozy living space features a fireplace with a mantel that doubles as a shelf or coffee table. There is the option of either an electric fireplace or a more expensive gas fireplace.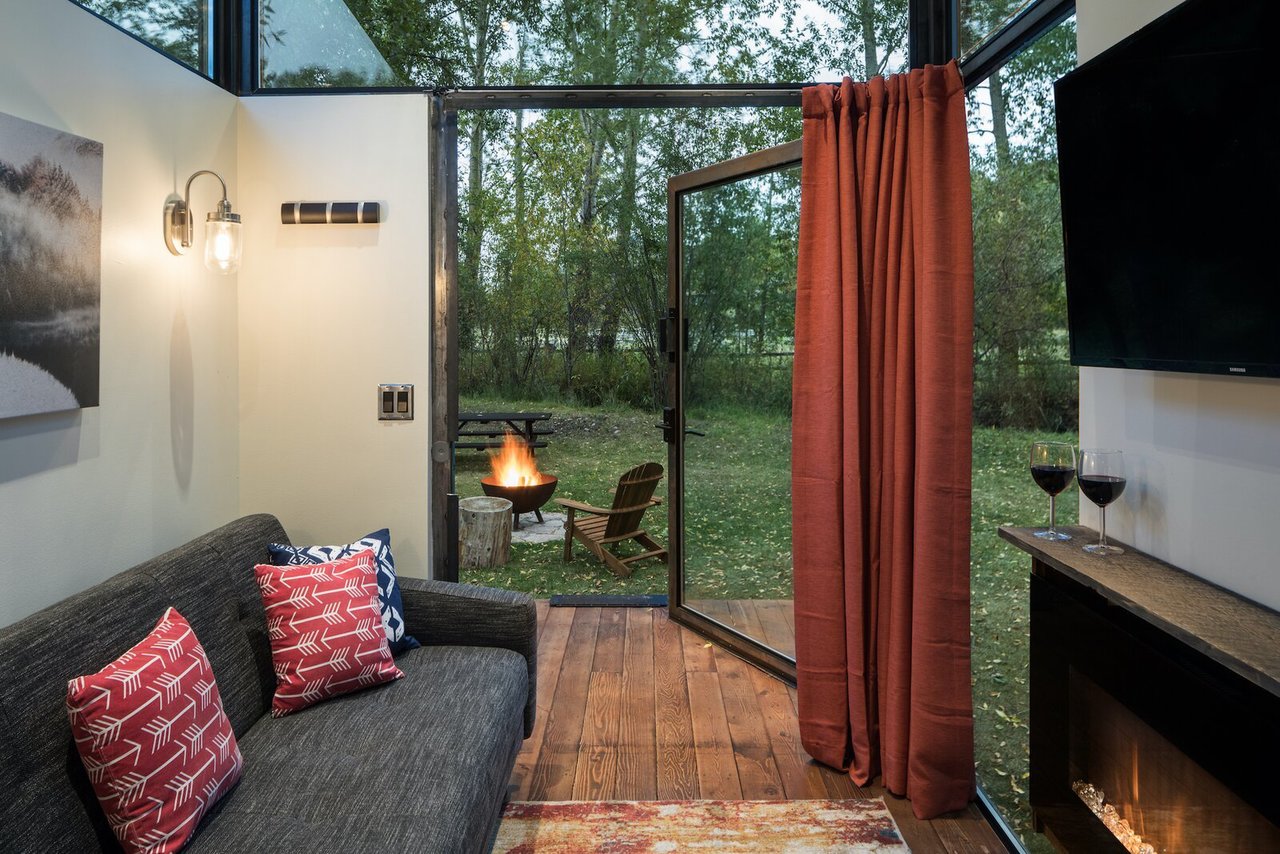 A curtain can be pulled shut over the living room windows to afford privacy when needed.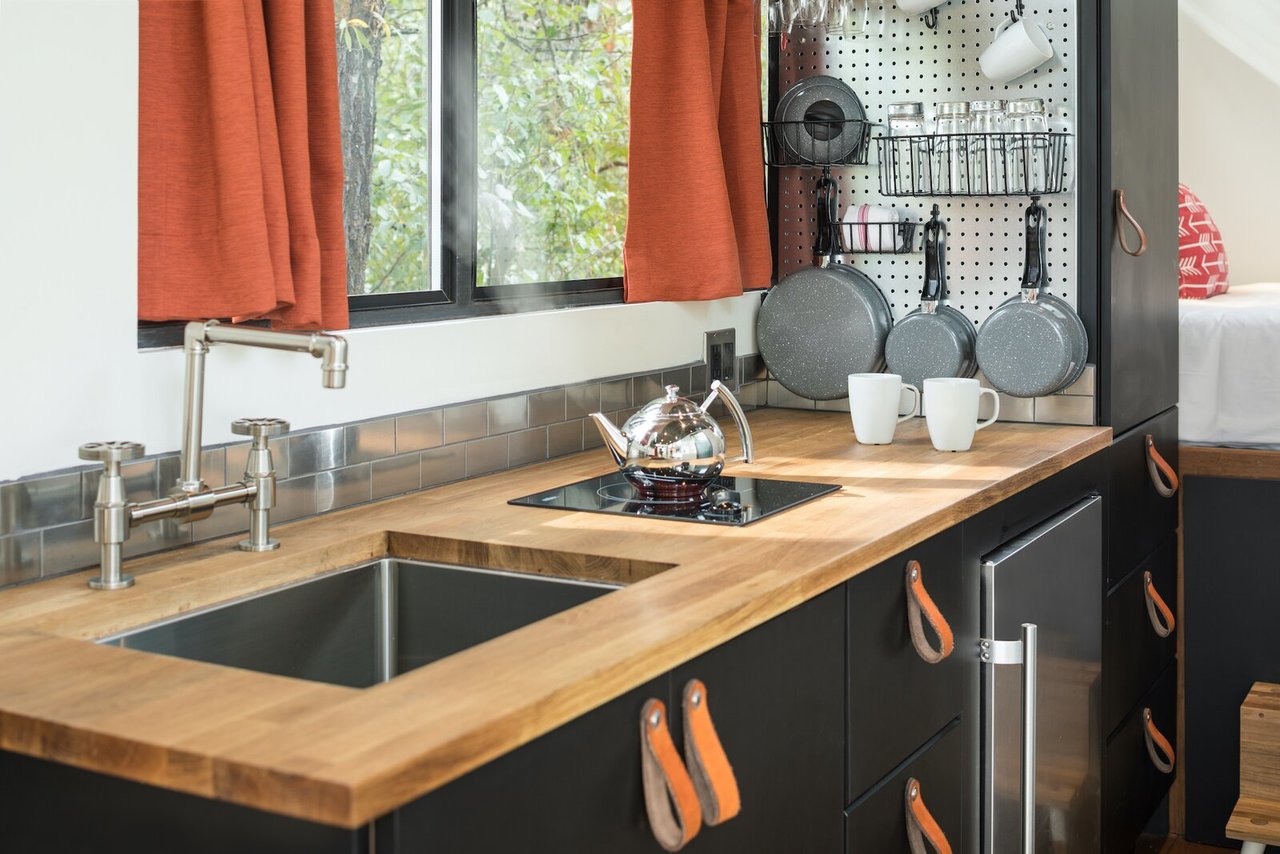 Road-Haus features thoughtfully crafted details throughout, such as the leather pulls on the kitchen cabinetry.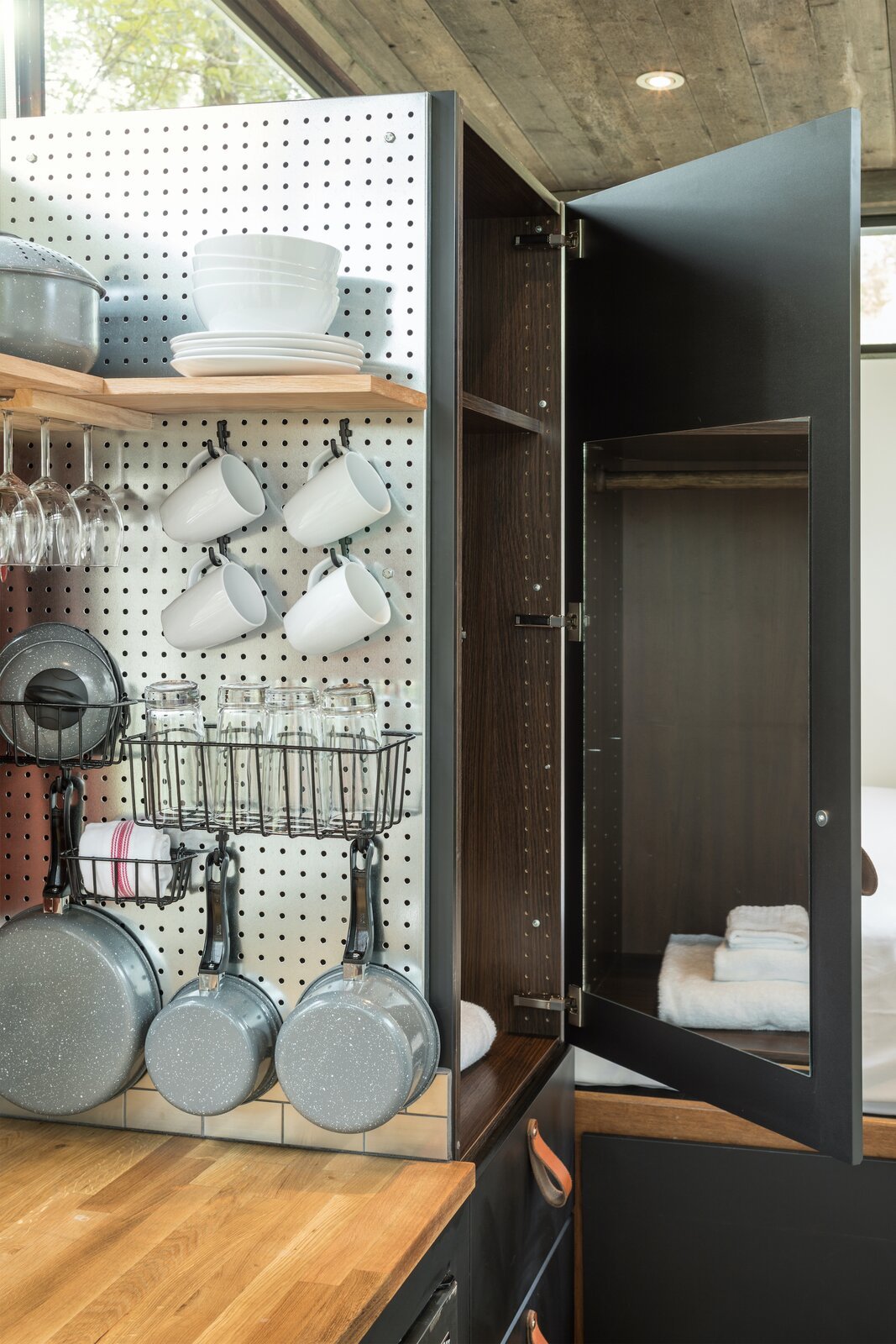 Pots, pans, cutlery, and shelves are hung on a pegboard wall in the kitchen, offering a clever way to utilize space that would be otherwise wasted.

Next to the kitchen is a full bathroom, which is fitted out with tiles to create a luxurious, spa-like experience despite the tiny space. At the rear of the space is a bedroom large enough to fit an Olympic queen bed, challenging the idea that a tiny home has to skimp on creature comforts.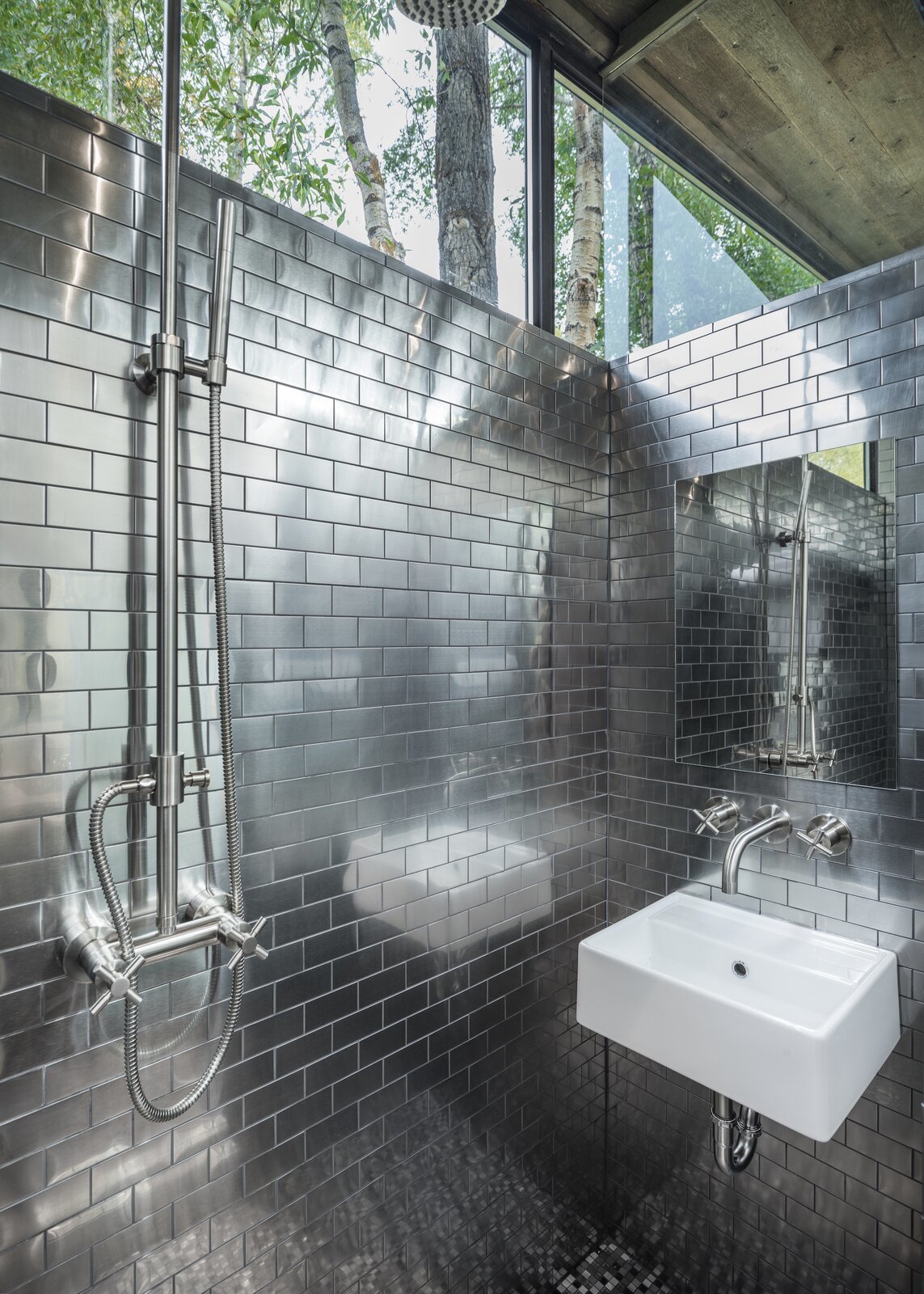 The bathroom maximizes space and efficiency with a European-style glass shower, full tile in the bathroom, and high-end fixtures. All Wheelhaus homes use shower and faucet fixtures that minimize the waste of water.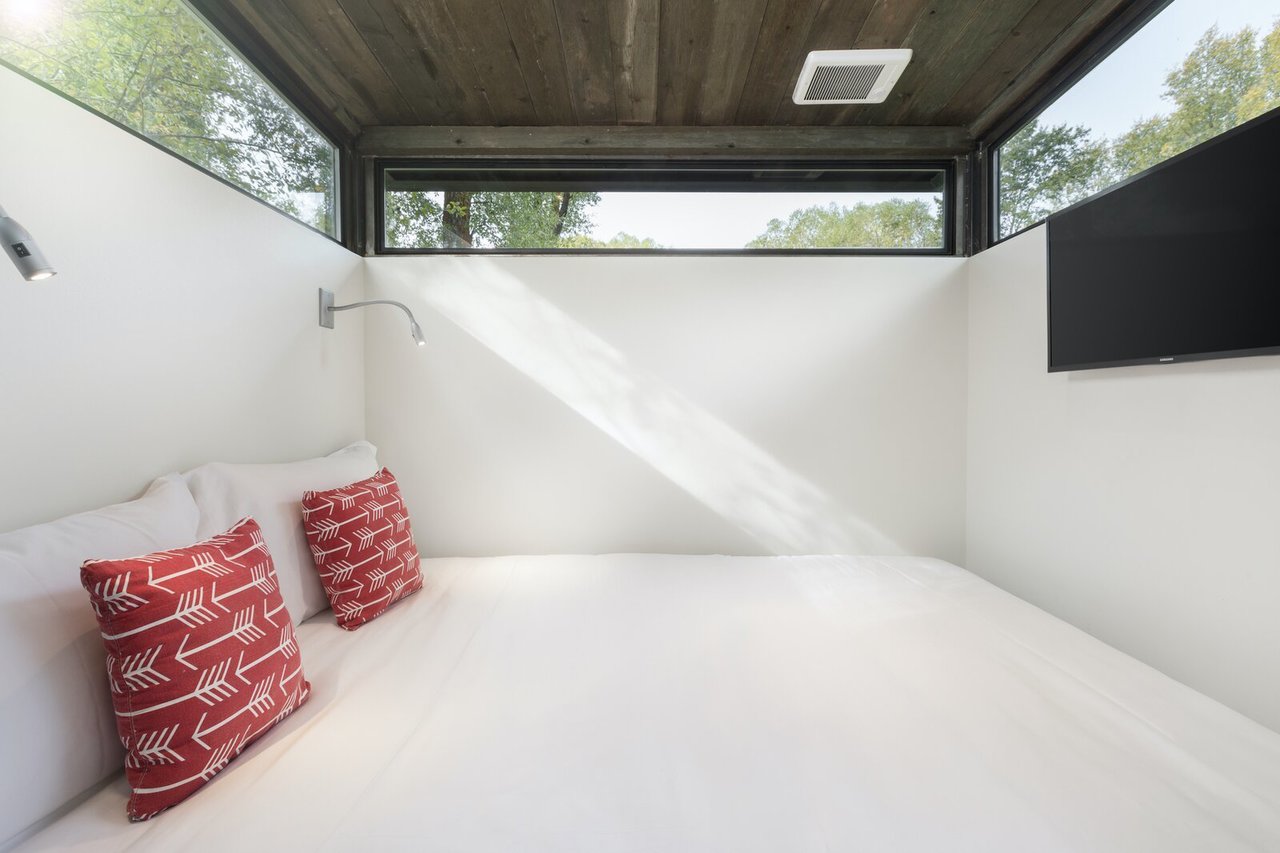 The bedroom fits an Olympic queen bed, offering residents a comfortable night's sleep.

"Wheelhaus creates an amazing sense of size and space with well-designed floor plans on a smaller footprint," says Mackay. "The high ceilings, oversize windows and eight-foot doors-which are standard to all our models-make the home feel larger. Road-Haus blends rustic and modern design, and combines the durability and quality craftsmanship of a log cabin with a focus on energy efficiency, innovative design, and progressive space management."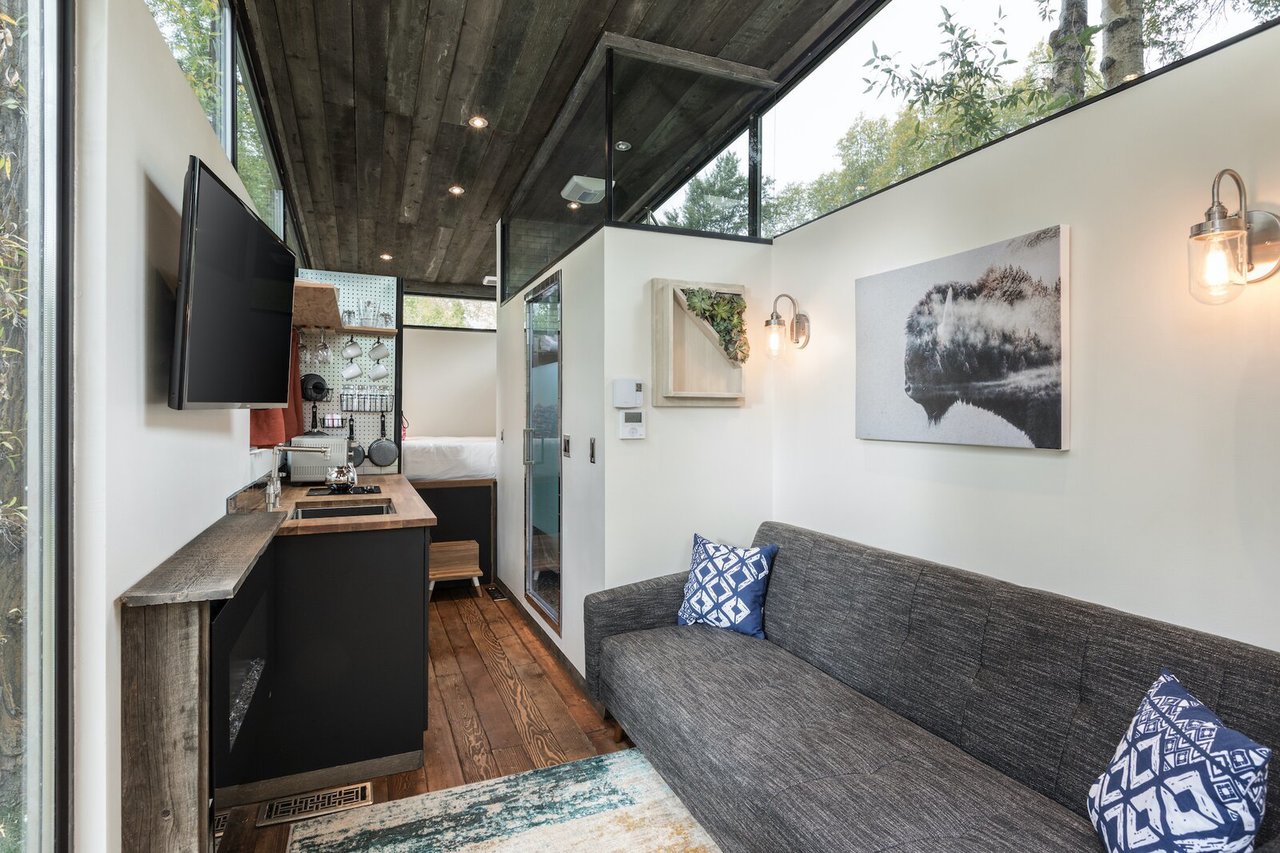 "We wrapped the roof in glass, so the interior is open, airy, and gets plenty of sunlight-something many tiny homes lack," says Mackay.

As Road-Haus is built on wheels, it can be easily transported to a site and then moved again if the need arises. This also means that its functionality can easily change over time as needed-from home office, to guest bedroom, to vacation home.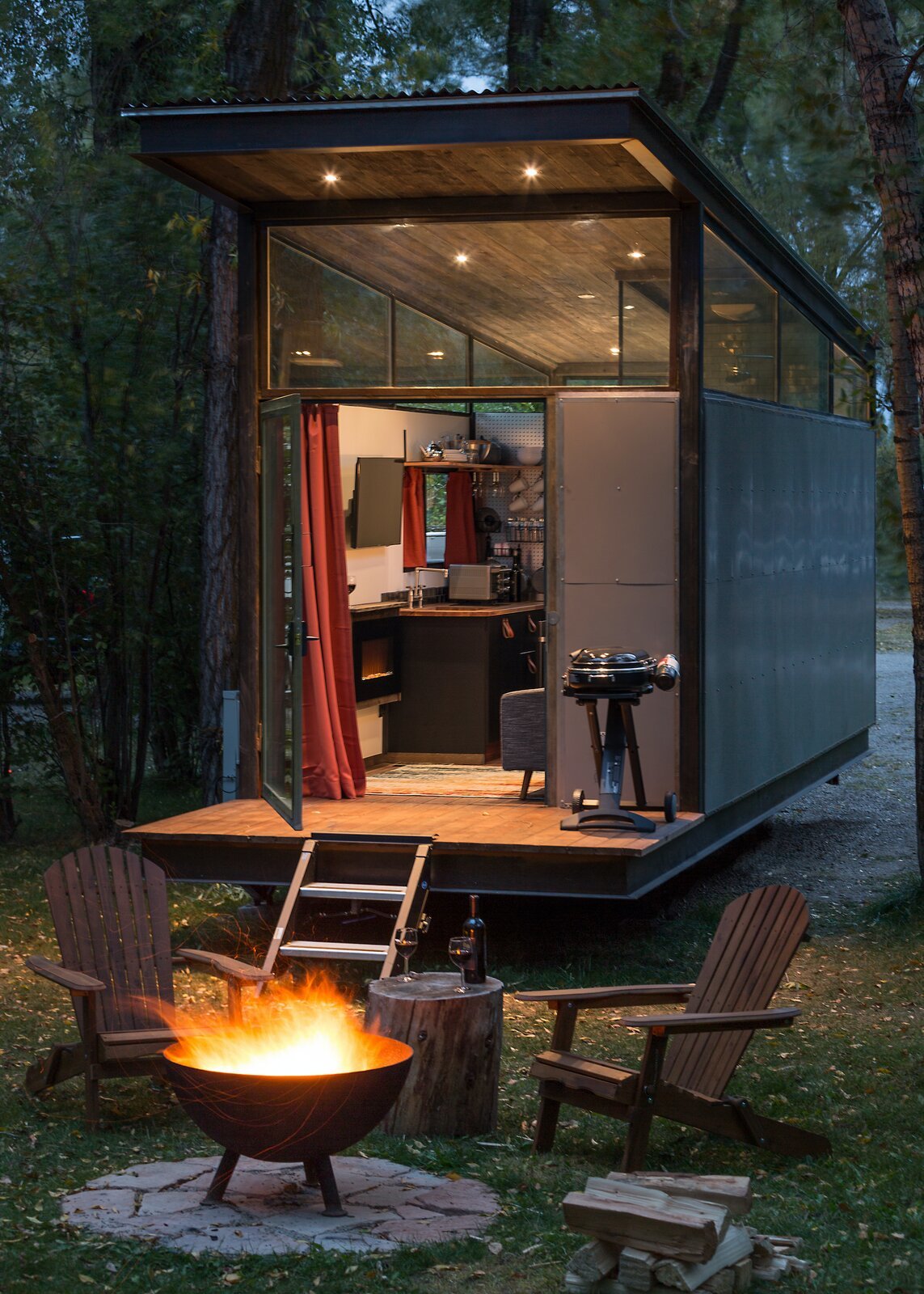 "At Wheelhaus, our priorities are durability, efficient use of space, and sustainability-and we provide all of that along with modern and innovative design," says Mackay. "We focus on energy efficiency, progressive space management, and top-of-the-line building materials."

As with all Wheelhaus models, sustainability is paramount. The tiny homes are LEED certified and use well-positioned windows and natural light to increase heating by natural resources and decrease the need for electricity. Furthermore, they have tankless, on-demand water heaters.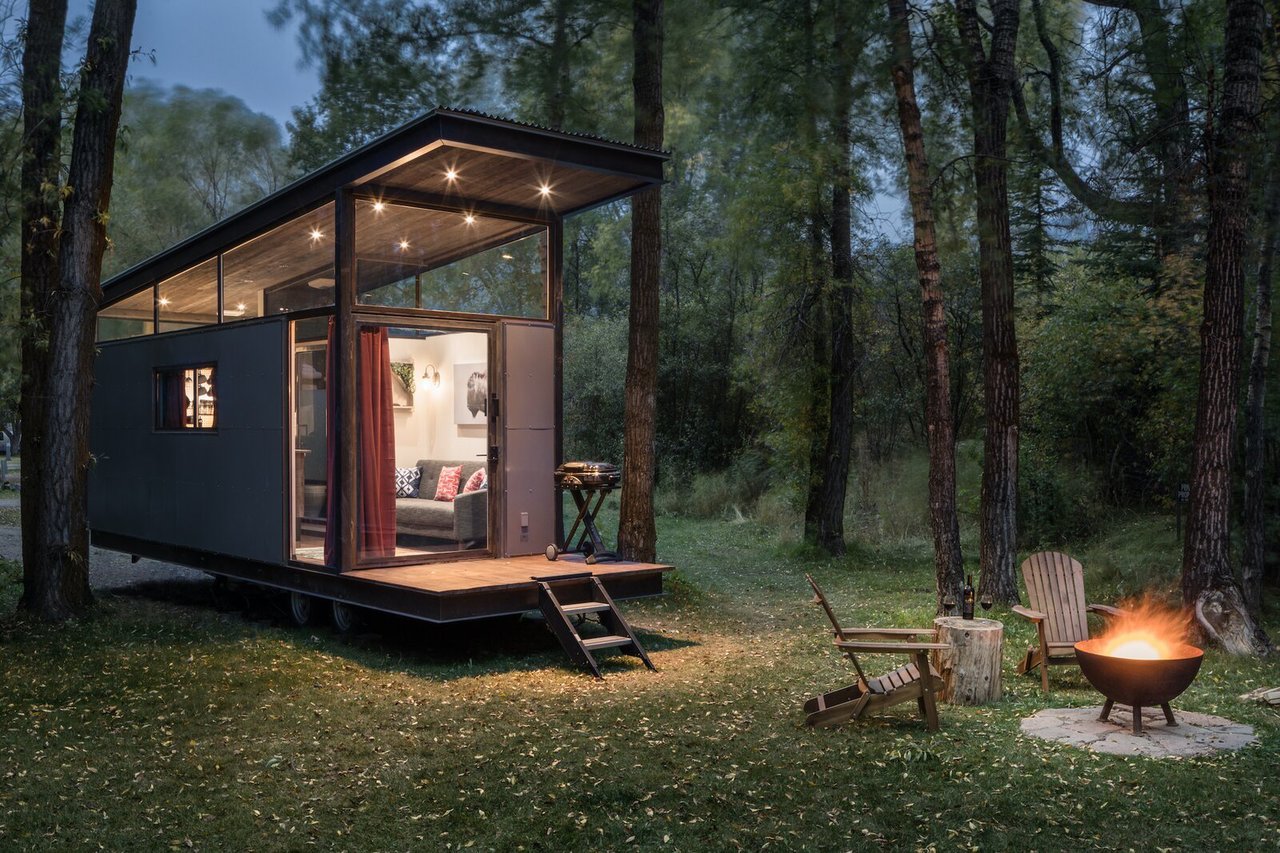 "Some of my favorite elements are the reclaimed Wyoming fence wood siding and cedar tongue and groove ceilings," reveals Mackay. "The use of reclaimed wood is pretty unique."

"Road-Haus is not only perfect for tiny living, but can also be used as a guesthouse, backyard office, or a combination of all three," says Mackay. "Since COVID, we are seeing lots of home office orders as demand is booming. 2020 has been the year of work from home and lots of executive types are looking for stylish and comfortable home offices. The Road-Haus is ideal."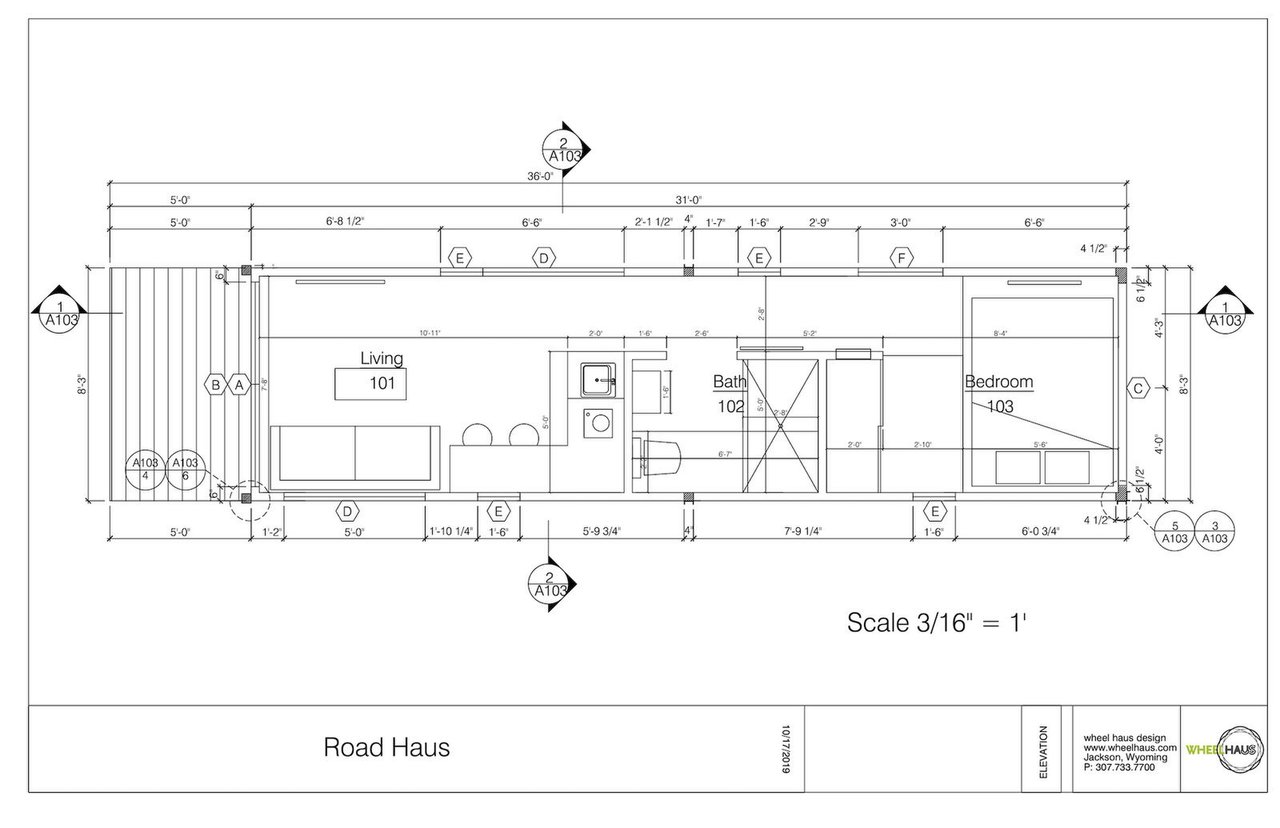 Floor plan of Road-Haus by Wheelhaus.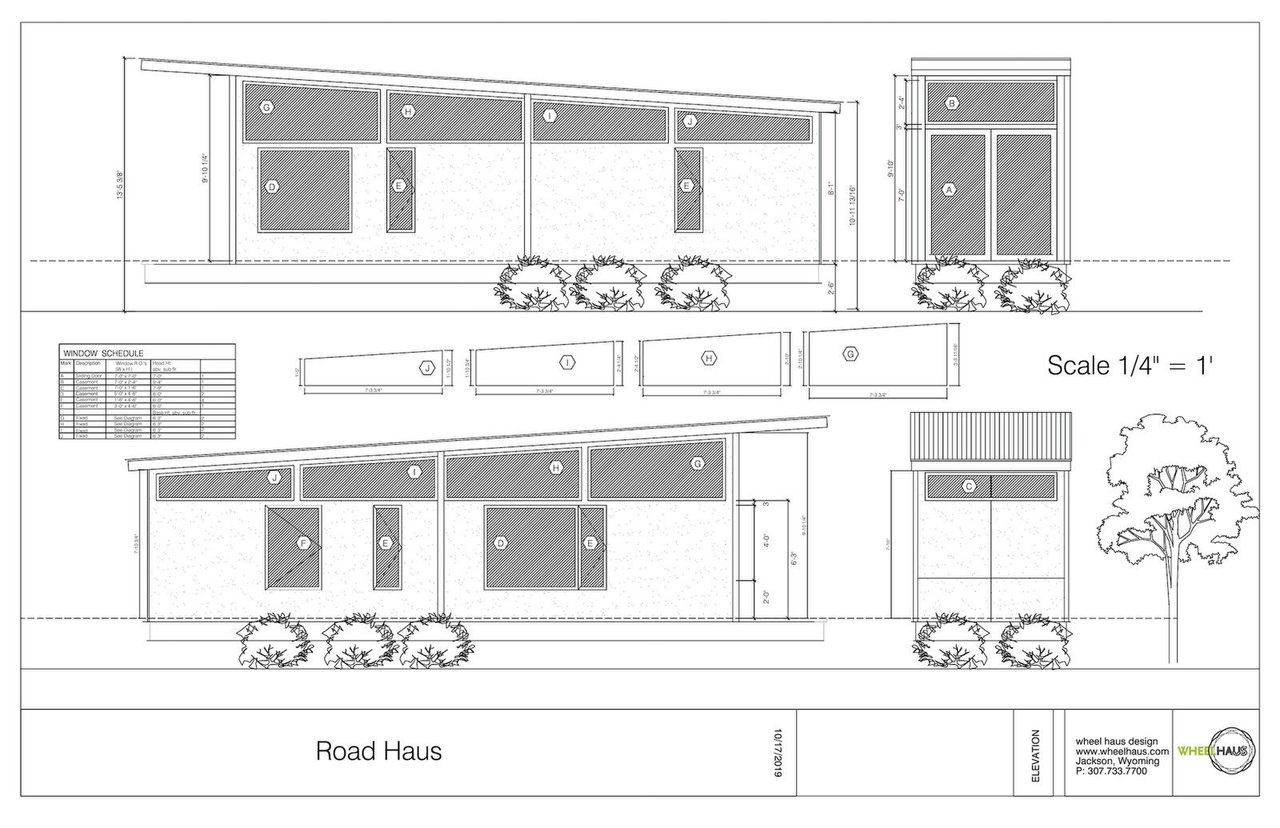 Elevations of Road-Haus by Wheelhaus.