After tinkering with pop-up workspace designs for years, architects Tomaso Boano and Jonas Prišmontas of the London-based practice Boano Prišmontas saw an opportunity to put their prefab prototypes to the test when the COVID-19 pandemic upended work/life balance worldwide.

To give Londoners reprieve from makeshift offices in cramped apartments, the young architecture firm has launched "My Room in The Garden," a prefab home office that can be easily built in less than a day with just a mallet and an Allen wrench.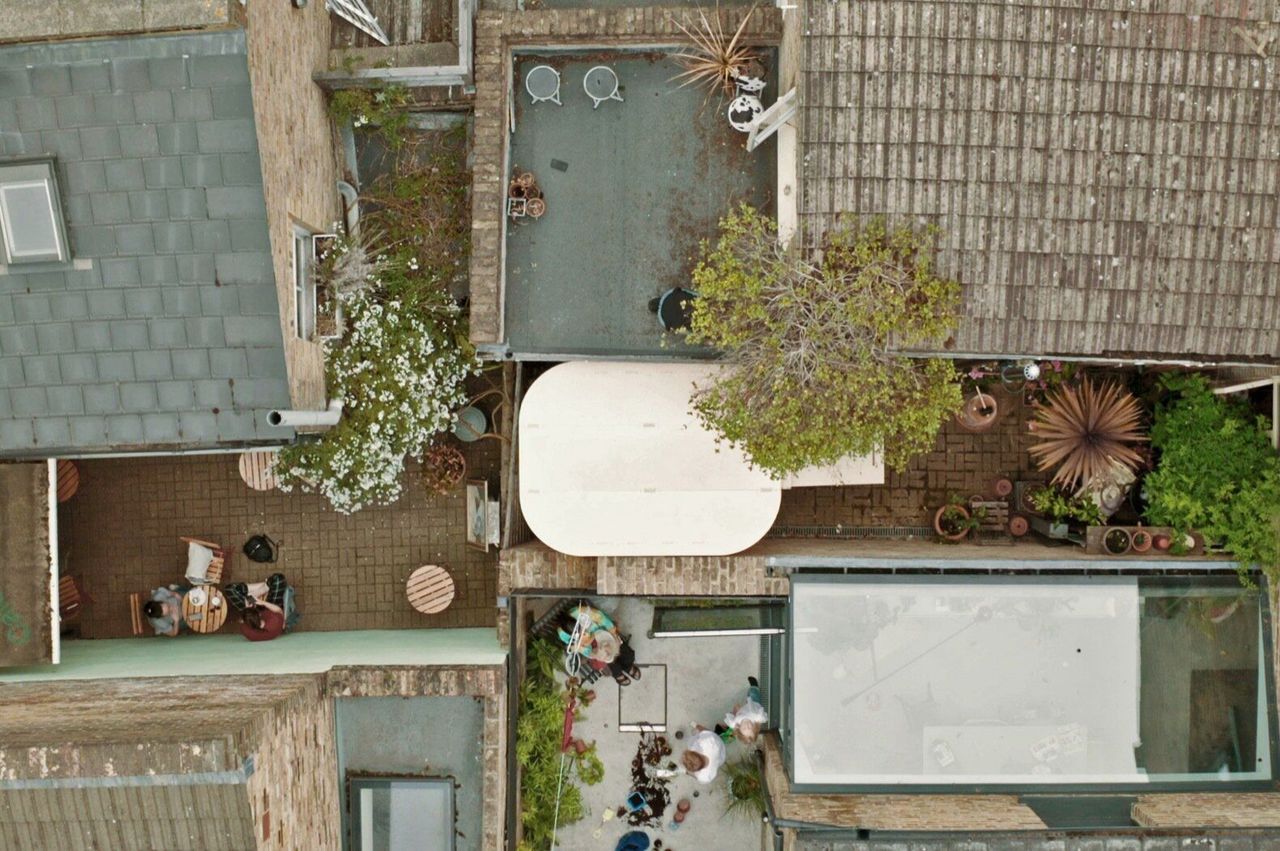 The structure is designed to be assembled in rear gardens and alleyways, and each prefabricated component is small and lightweight enough to be carried by one person through a standard doorway.

"My Room in the Garden is an answer to the future way of working. It's a cozy prefab hideout for London gardens and courtyard spaces, perfect for those working from home-or anyone looking for a pocket space tailored to their needs and comforts," explain the architects.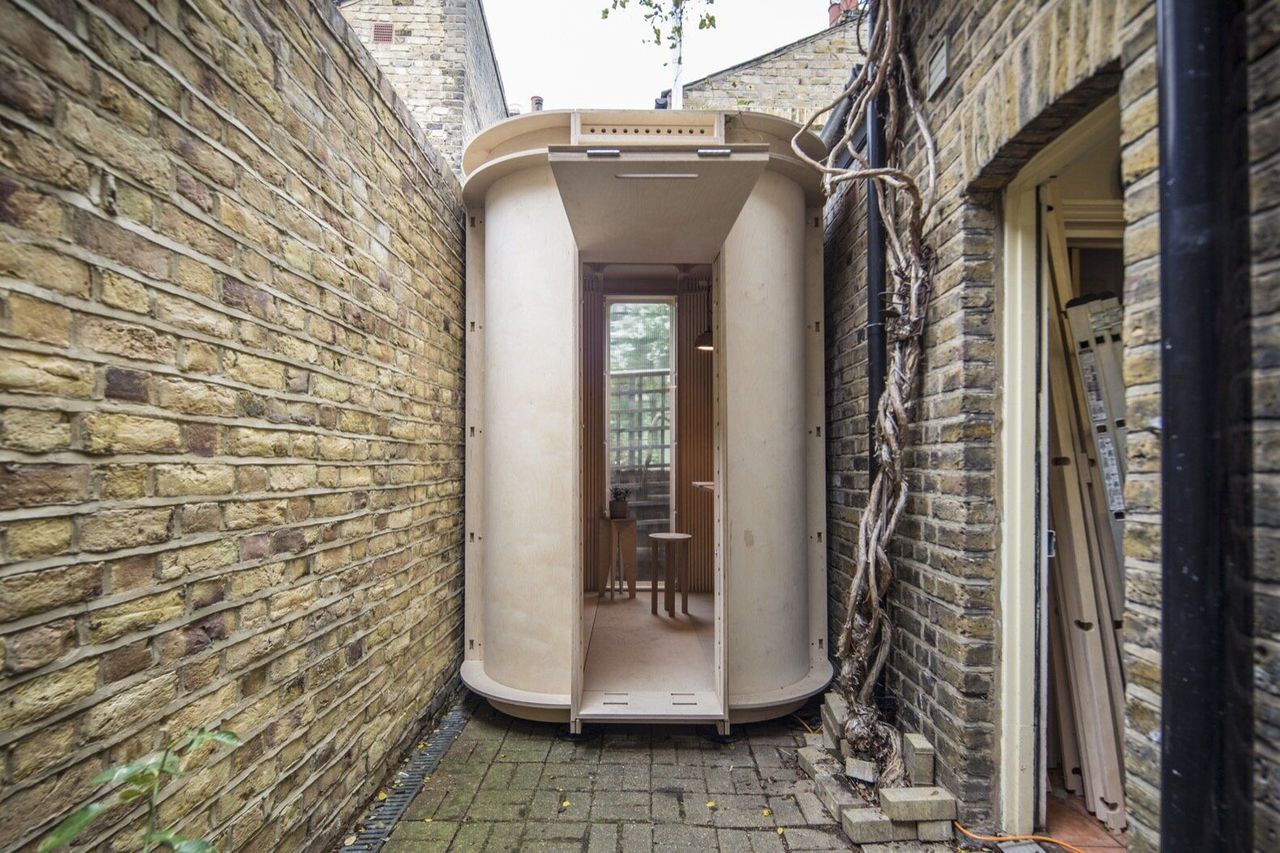 The modular design makes it easy for the home office pods to slot into backyard gardens, rooftops, and even narrow alleyways. The smallest unit is just under 50 square feet.

"Distanced desks and laptop stands have populated our living rooms and saturated shared spaces," the architects say. "London households, whose space standards have been squeezed to the minimum, are struggling. That's why we believe that it is not fair that employees have to sacrifice and compromise their domestic environment any further. The solution is not to be found inside the houses, but outside."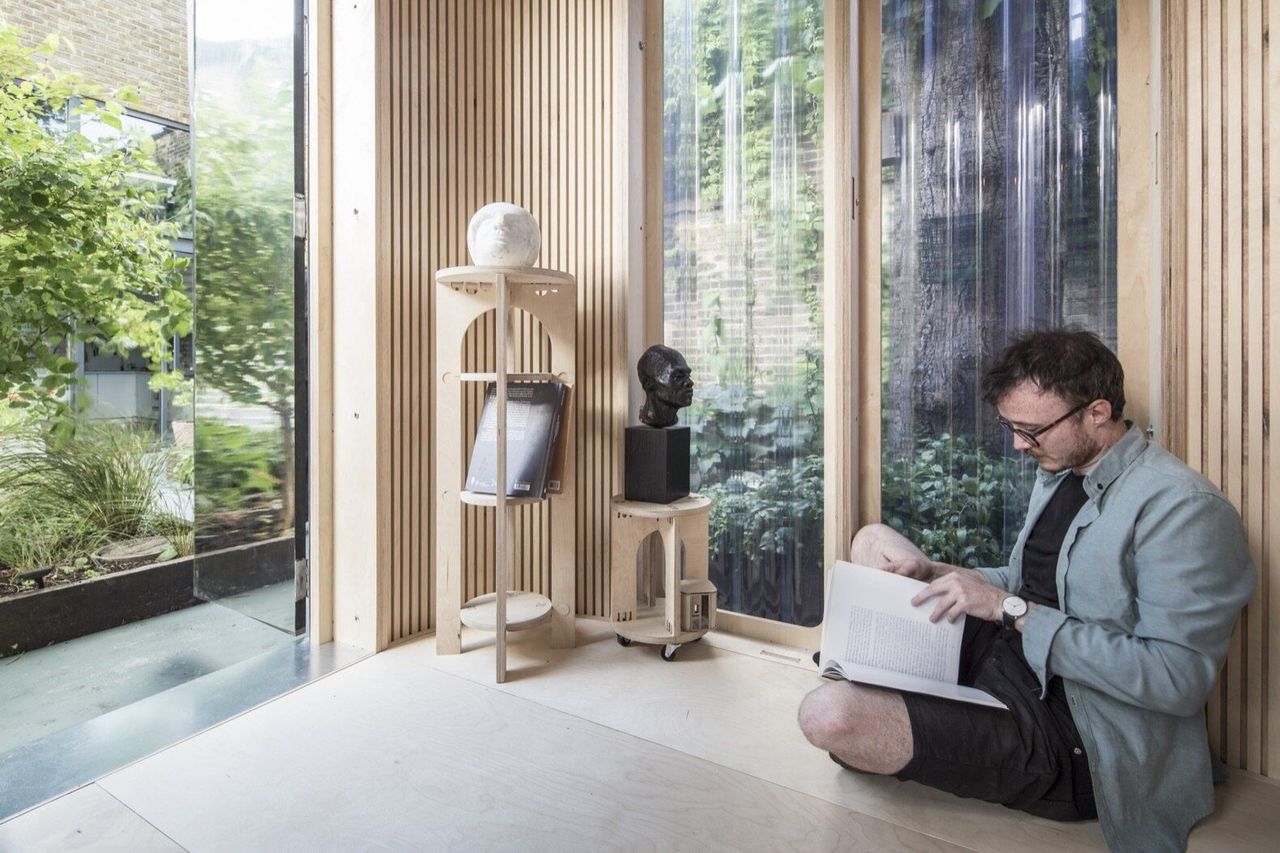 The doors can be opened up to allow for natural ventilation.

Designed for affordability and comfort, the digitally fabricated birch plywood modules can be easily expanded and customized. The modular flat-pack system also includes clear polycarbonate cladding for weatherproofing.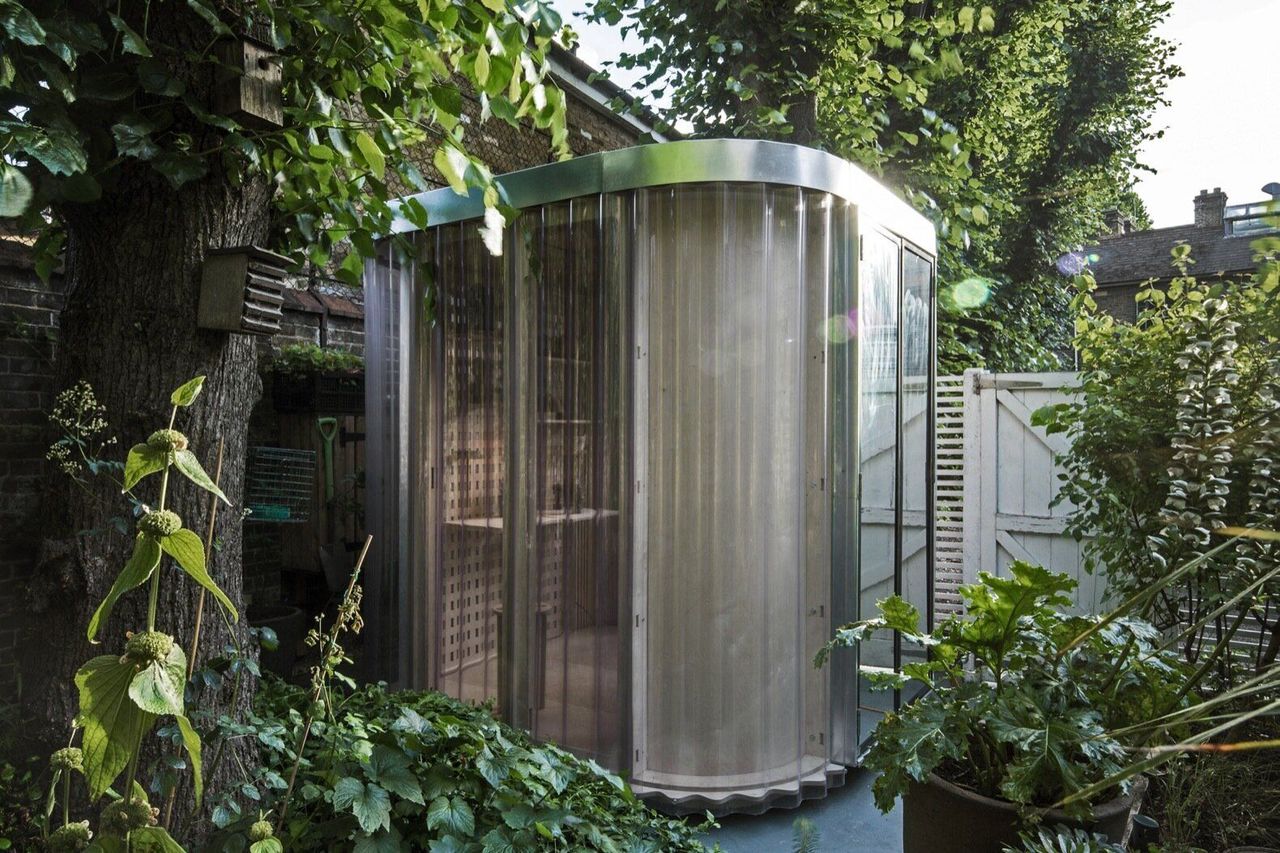 The corrugated facade wraps seamlessly around the rounded corners of the micro-office. "We very much liked the geometry of round corners, as they create a more intimate, soft, and cozy internal space," note the architects.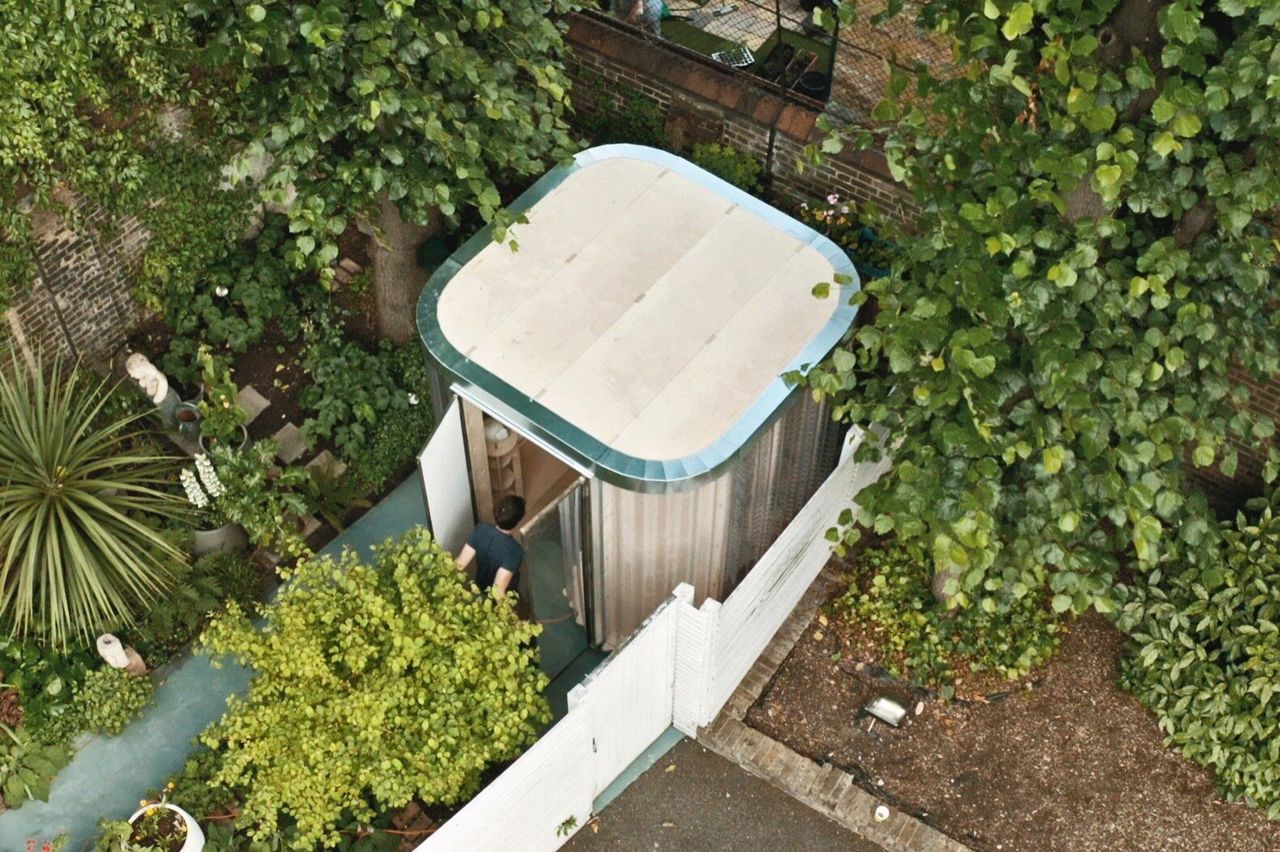 The plywood top is covered with a roofing membrane for weatherproofing.

Unveiled at this year's London Design Festival, My Room in the Garden builds on the firm's previous projects-including their 2016 Minima Moralia pop-up studio for designers and makers, as well as their more recent Arches Project, which is a digitally fabricated kit-of-parts solution for turning underutilized areas into affordable workspaces. Today, the architects have made modular architecture and flatpack solutions a focal point of their practice, and they recently opened up a manufacturing workshop where all their projects are designed and preassembled.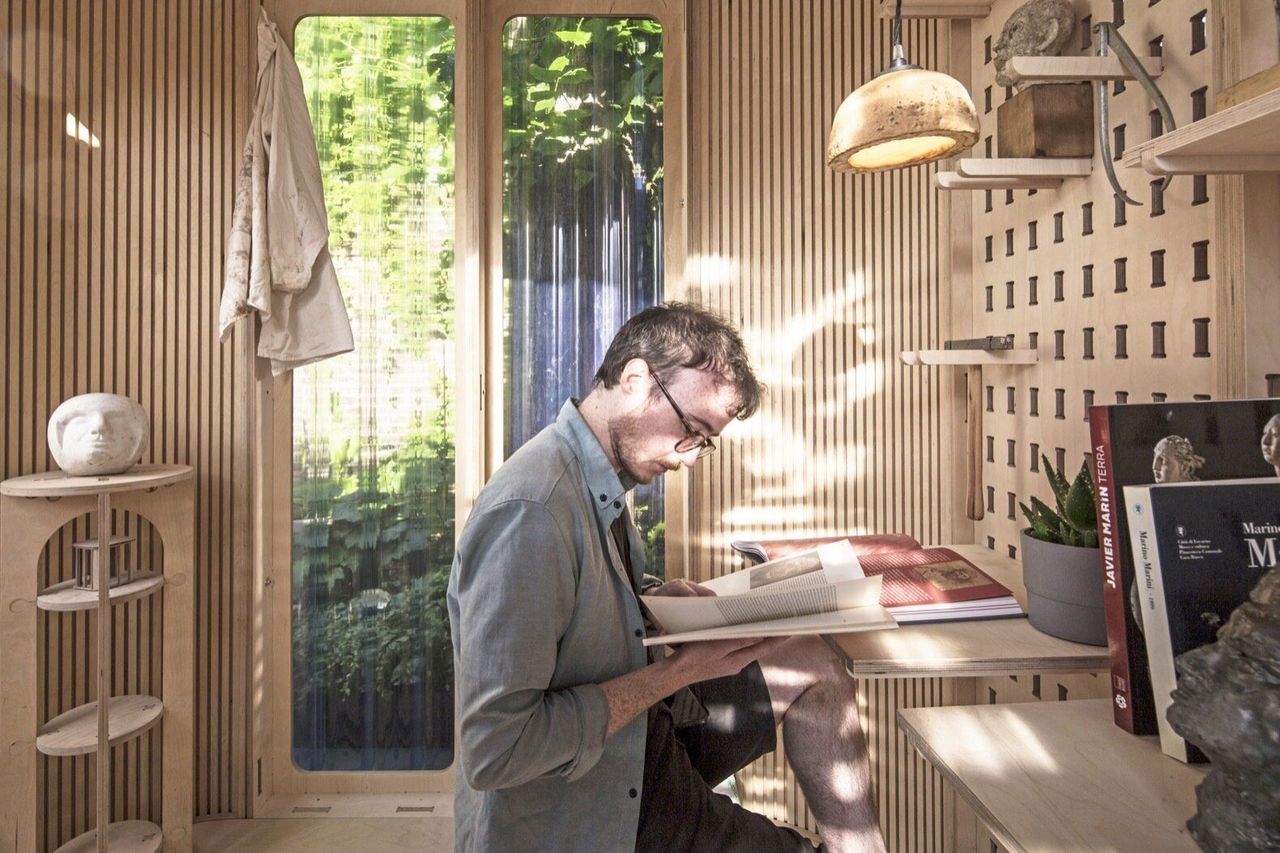 "Each component of the home office pod is geometrically efficient and minimizes any material waste," explain the architects. "The dimensions of each component are based on human dimensions and standard material dimensions. The whole project is designed, manufactured, and preassembled in the UK."

The base module begins at £5,000 (about $6,600 USD), and it can be customized with wall-mounted add-ons such as pegboard systems, mirrors, and a variety of wood finishes. Each base module measures 1.8 meters by 2.4 meters, with a fixed height of 2.5 meters-the maximum height allowable for a built structure without planning permission.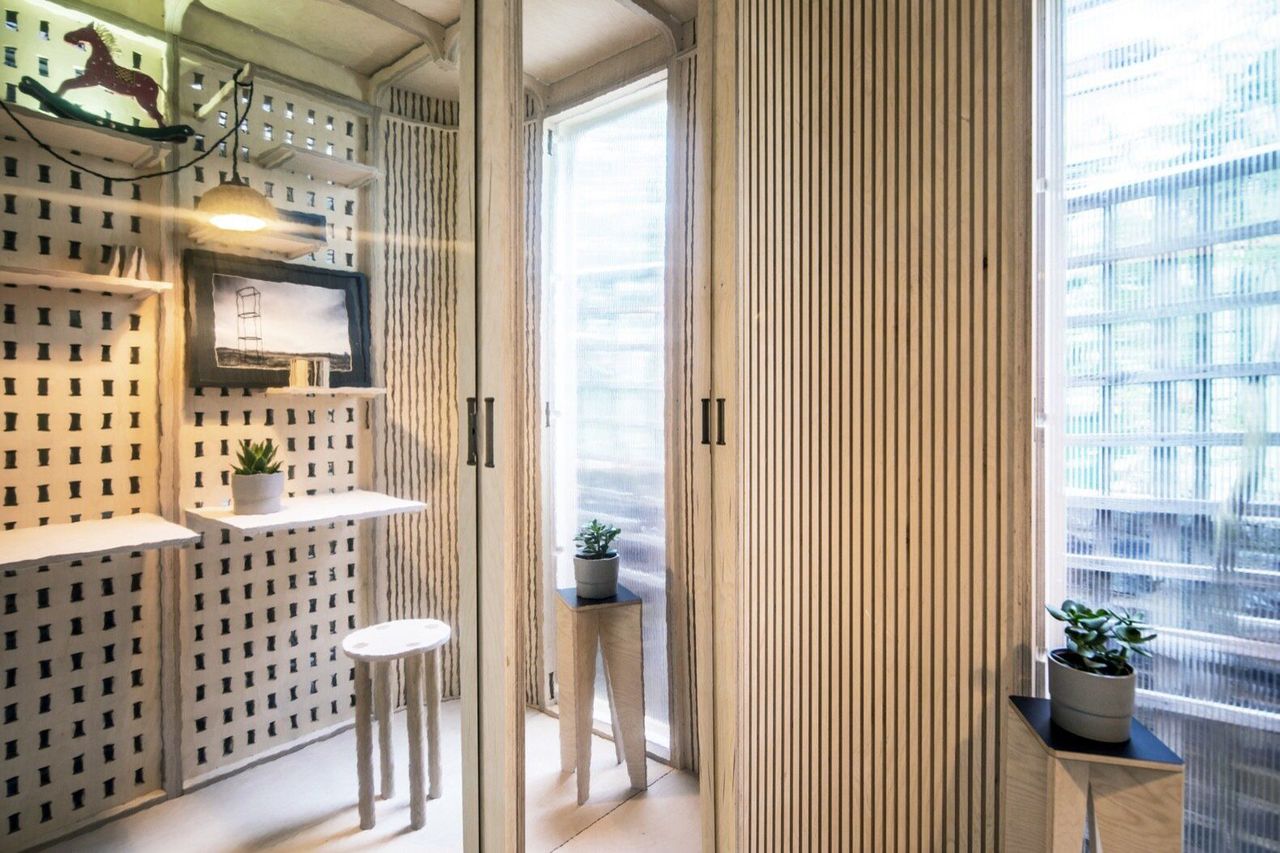 My Room in the Garden is delivered flat-packed with preassembled pieces that can be fit together with only a mallet and an Allen wrench. The firm also offers an installation service for clients in London.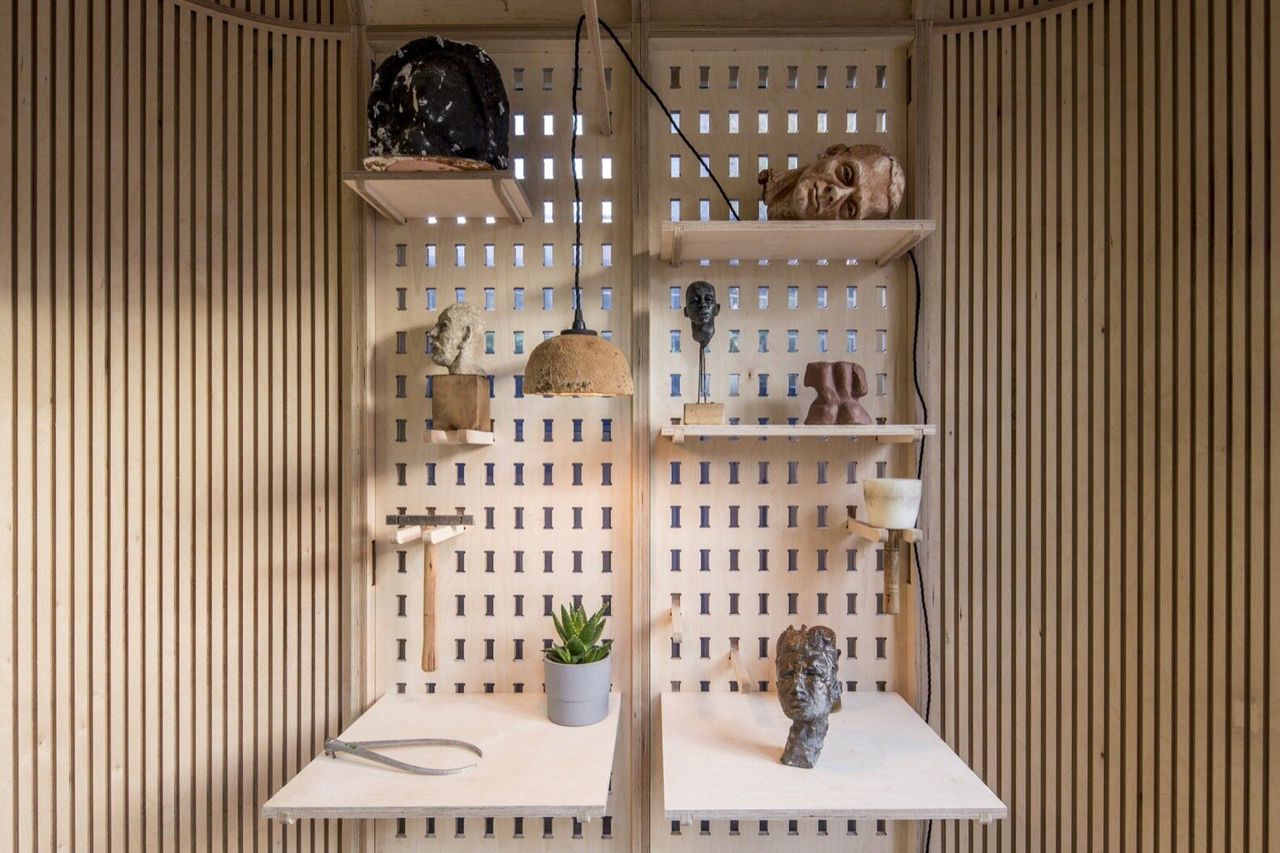 The birch plywood components are cut out with a CNC machine and slot into place when assembled.

The standard kit includes either a single or double door, corrugated polycarbonate cladding, and plain plywood walls. Insulated panels and glazing can also be added for an additional cost.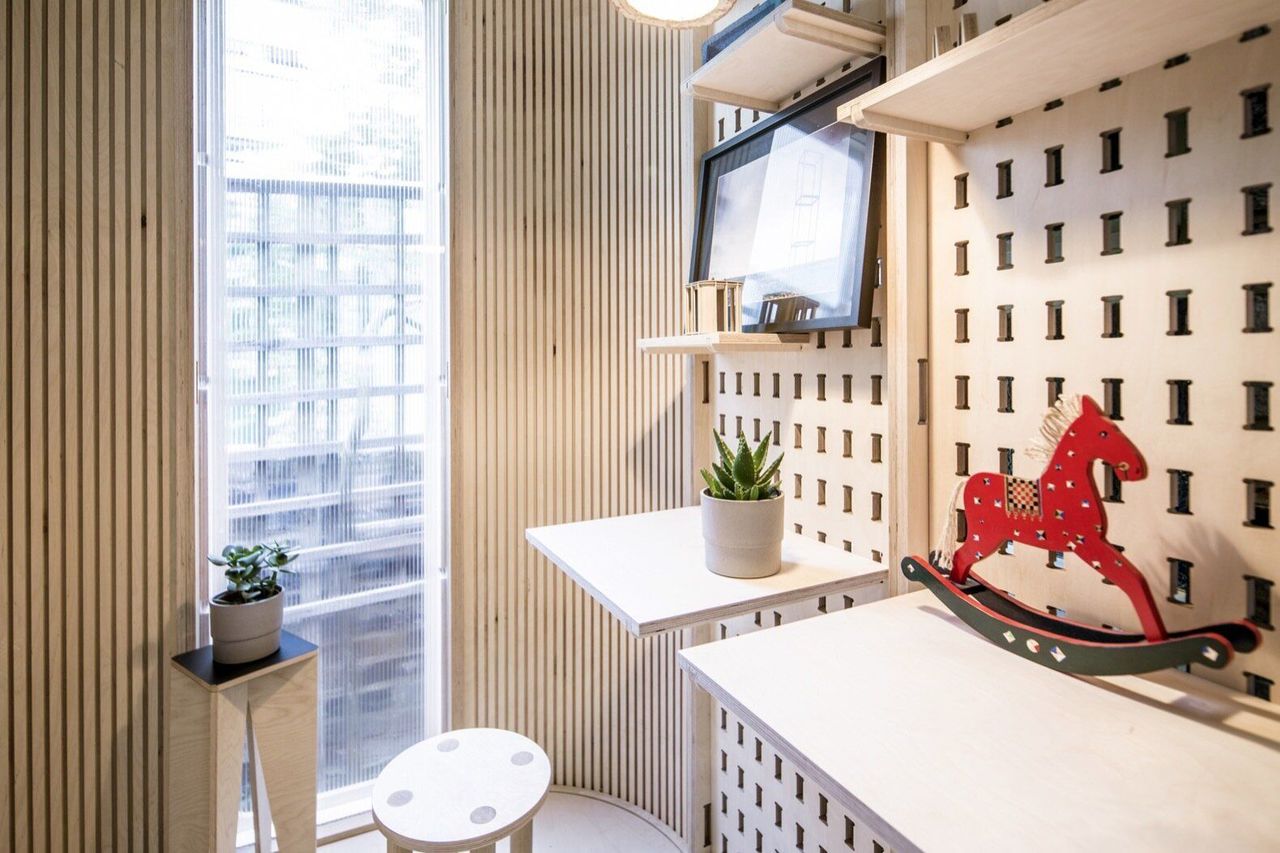 Shelves and desk units are available as part of the peg walls. The other furnishings are also available through the firm's online shop.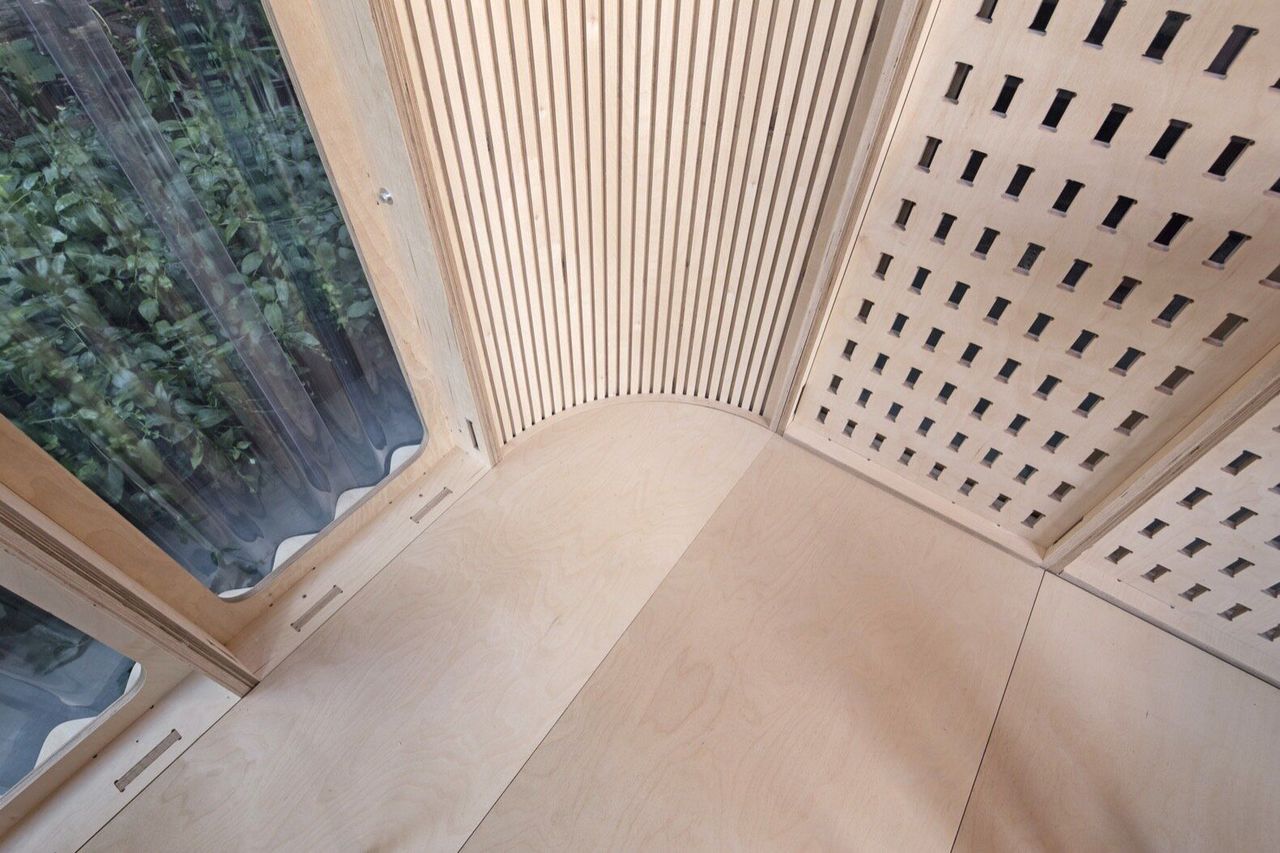 The floor contains a covered socket where a power cable from the main house can be attached to power electrical equipment such as computers and lights.

The firm has installed small and medium standard, uninsulated units in Hackney, London, and they are currently in the process of manufacturing several more pods, which have been individually tailored to each client's needs.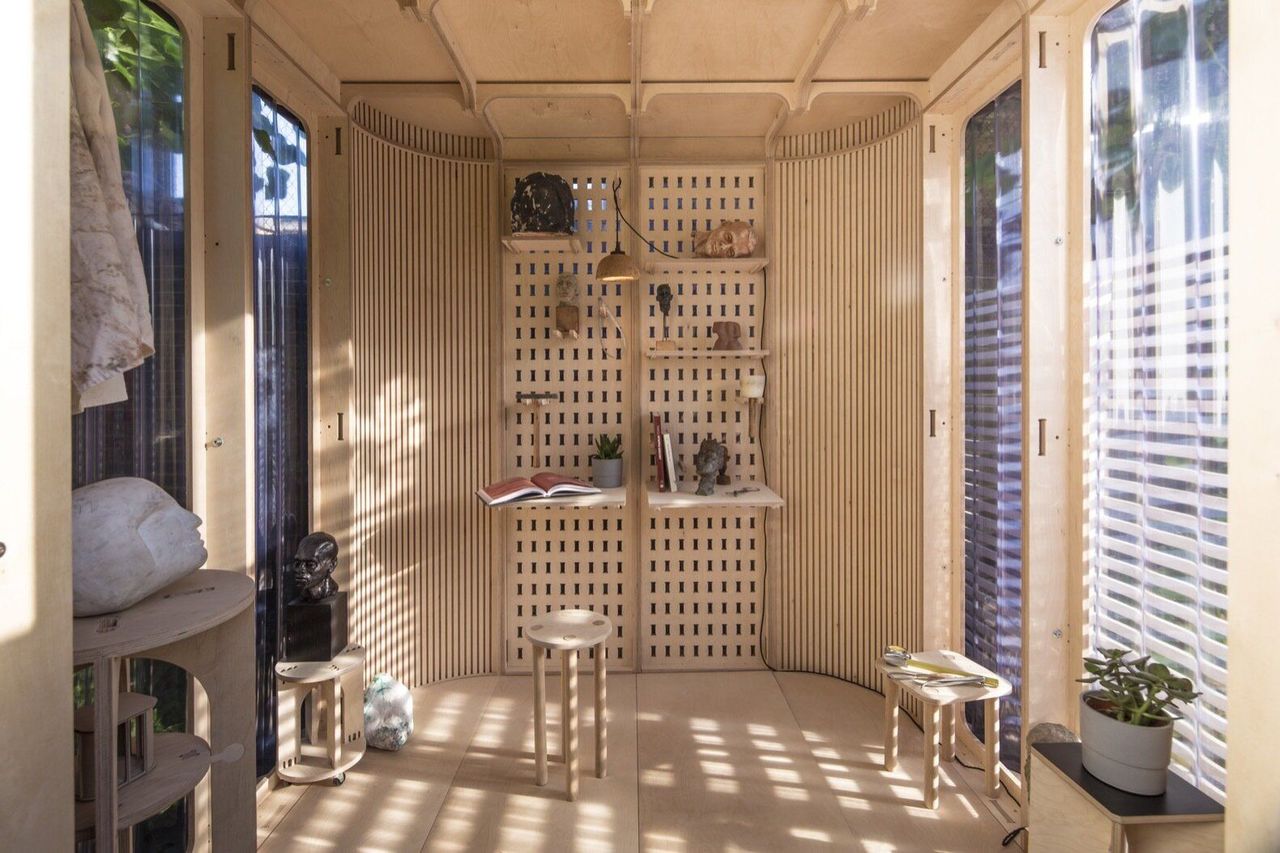 The firm is currently focusing on fulfilling orders for the UK market, and they plan to expand to the global market in the future. Four to six weeks of lead time are estimated for UK orders, however processing and shipping may be delayed due to the pandemic, note the architects.

"Like many other design businesses, we suffered the uncertainty brought by the COVID-19 pandemic," say the architects. "Instead of giving up working, waiting for the pandemic to pass, we invested our time during lockdown to prototype and manufacture this project in our workshop. We are really sad to see that many practices are deeply suffering the effect of the pandemic, and we advocate our fellow designers to blur the boundaries of their profession and dare to envision the future they want!"