In the wake of the 2018 Woolsey Fire that devastated Southern California, Malibu architect Doug Burdge and builder Nate Garnero sought to provide their clients with temporary housing by repurposing shipping containers into fire-resistant tiny homes.

Drawing upon Garnero's six years of cargotecture experience and Burdge's design expertise, the duo recently launched the Buhaus: a tiny pre-permitted container home designed for indoor/outdoor living. "People appreciate great design, and most shipping container designs seem to be more low-end," says Burdge. "We wanted to create a higher-end shipping container living unit."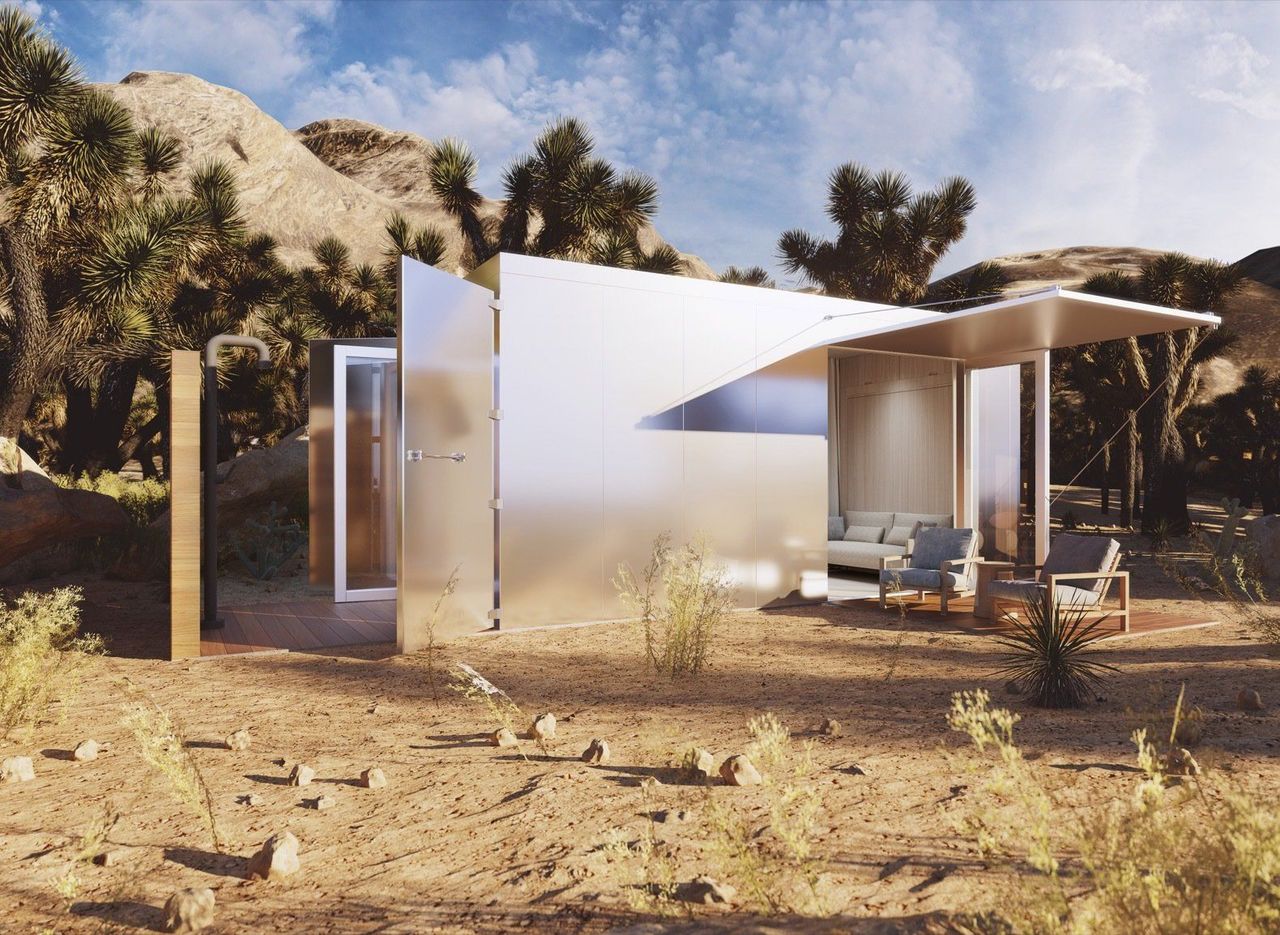 Constructed from a repurposed shipping container, the Buhaus offers 160 square feet of luxury living with off-grid capabilities.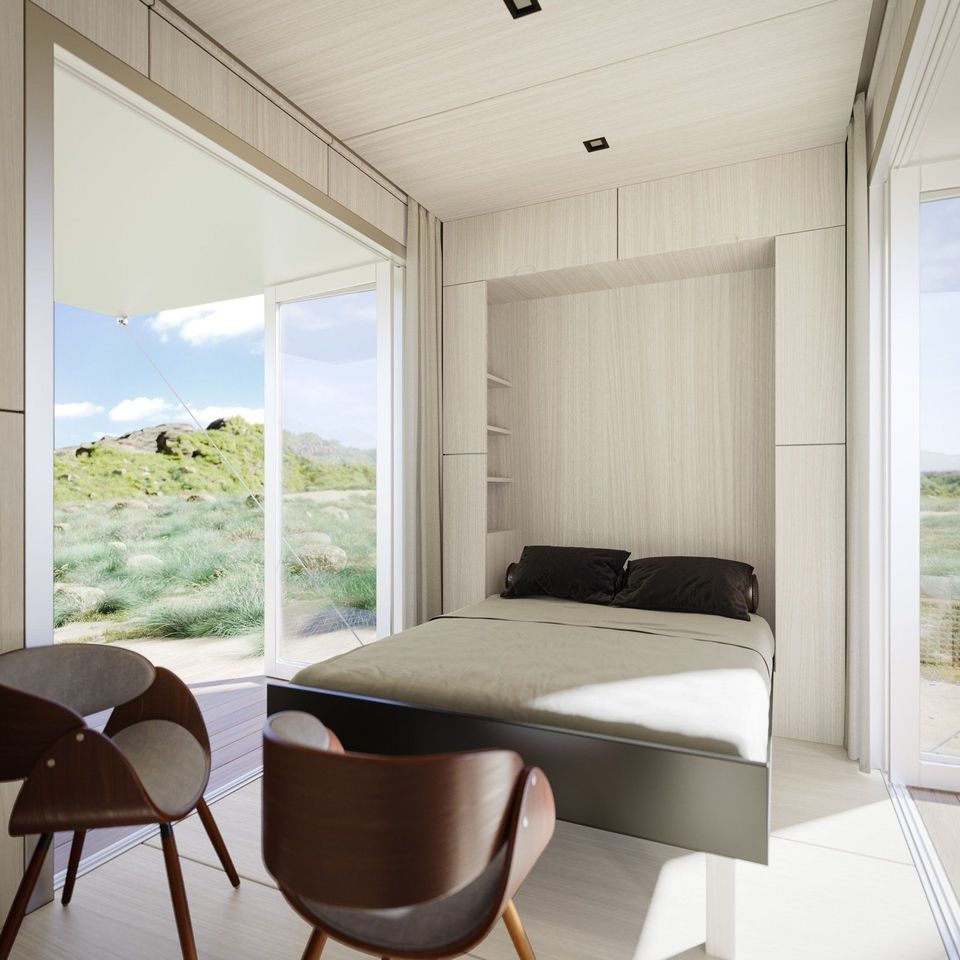 Every Buhaus unit comes with a custom Murphy bed with integrated storage on all sides to maximize space. "We look at our unit as if someone was staying in a very cool hotel room," says Burdge. "It has everything they could need: a bed, sitting area, closet, mini bar, bathroom, and an incredible outdoor shower experience."

Garnero adds that the Buhaus is particularly well-suited for boutique hoteliers and property owners looking for an extra guest suite. He also envisions institutional uses-such as university housing-due to the quick build time and small construction footprint. Since everything within the unit is inspected by California Deputy Inspectors, buyers only need to secure local site planning permits.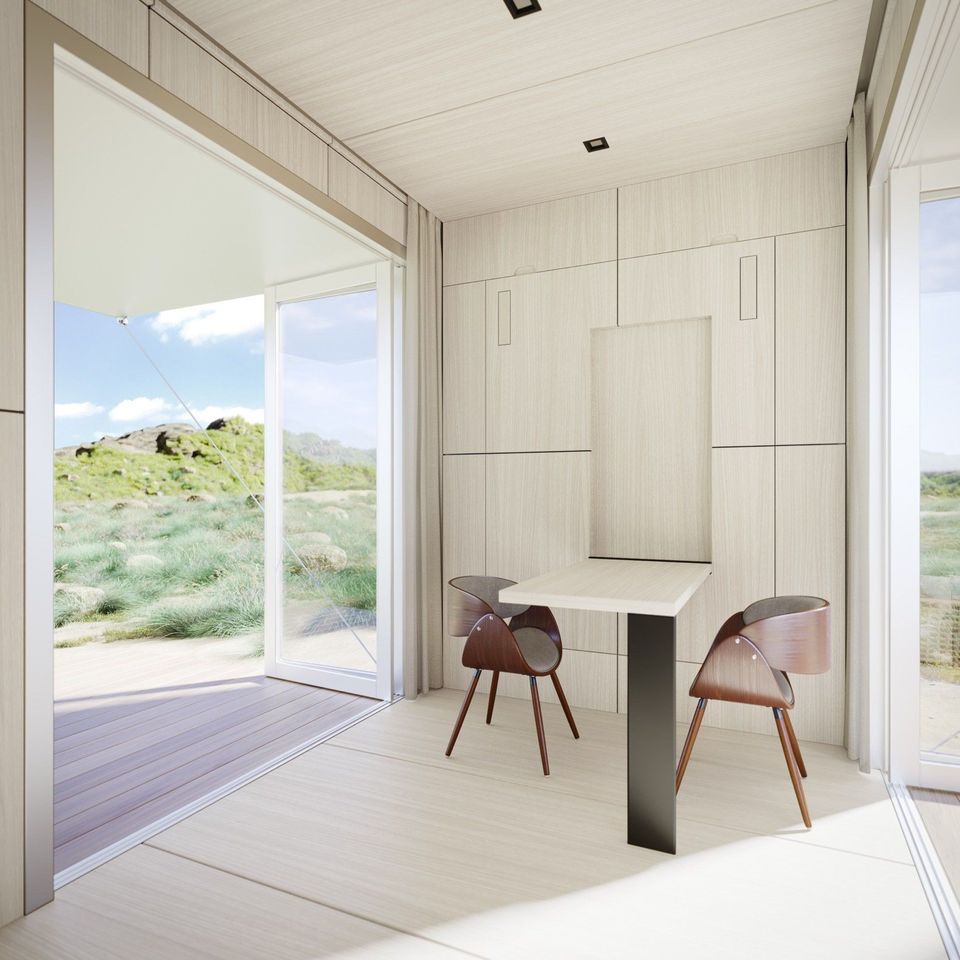 When the Murphy bed is stowed away, a small section of the wall can be lowered to create a small table. Note the fire-resistant metal panels that can be lifted up to serve as shade elements for an outdoor living area; when pulled down, the panels can be secured for privacy and during inclement weather.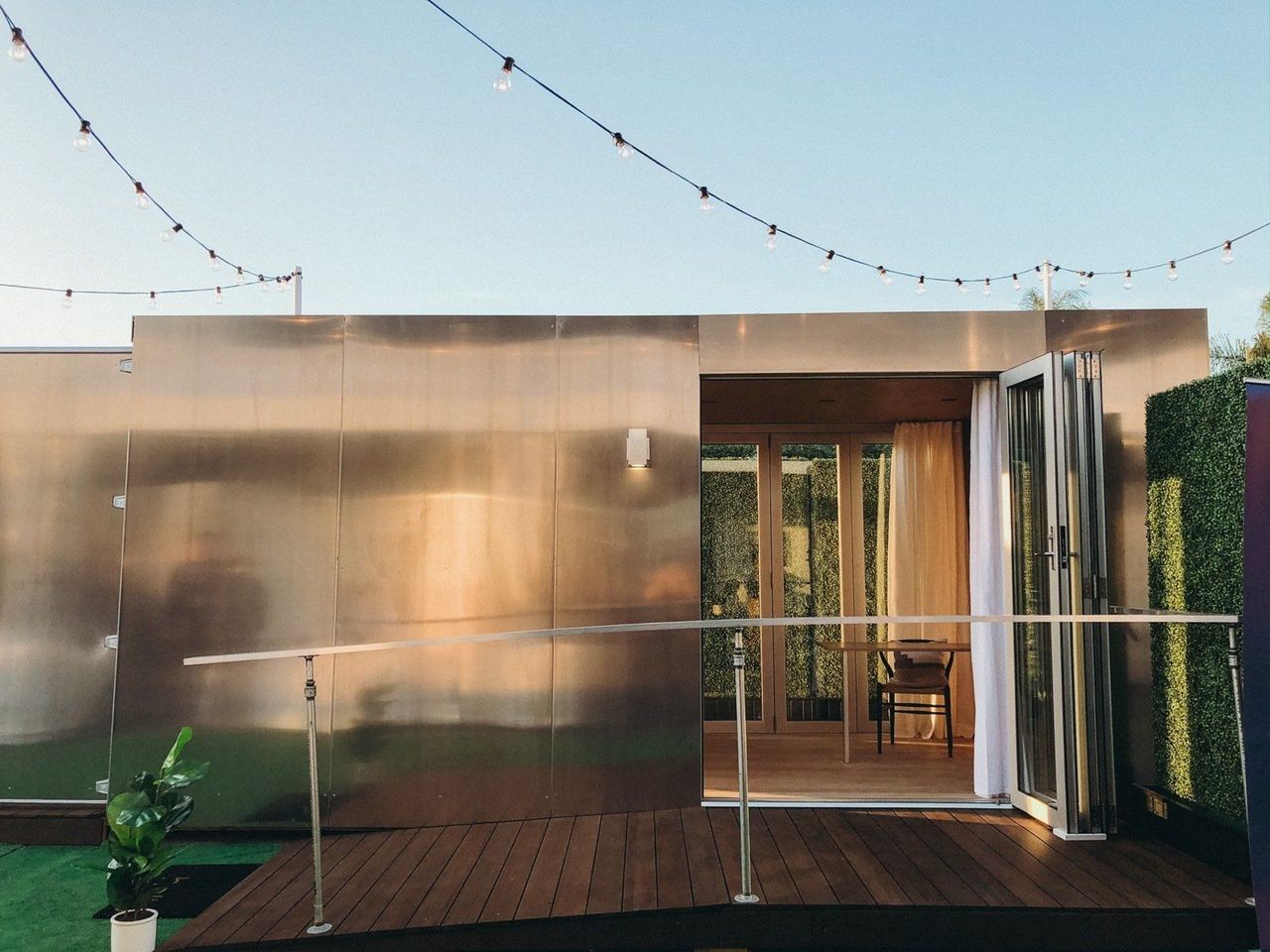 Buhaus debuted an early version of their Studio Unit at the WestEdge Design Fair in Santa Monica last year.

Buhaus-a combination of the words Bauhaus and Malibu-takes cues from the 20th-century movement with its clean, geometric form and focus on functionality. At 160 square feet, the Buhaus Studio Unit is efficiently divided into three sections: a living/sleeping area with a kitchenette, a bathroom, and an outdoor deck.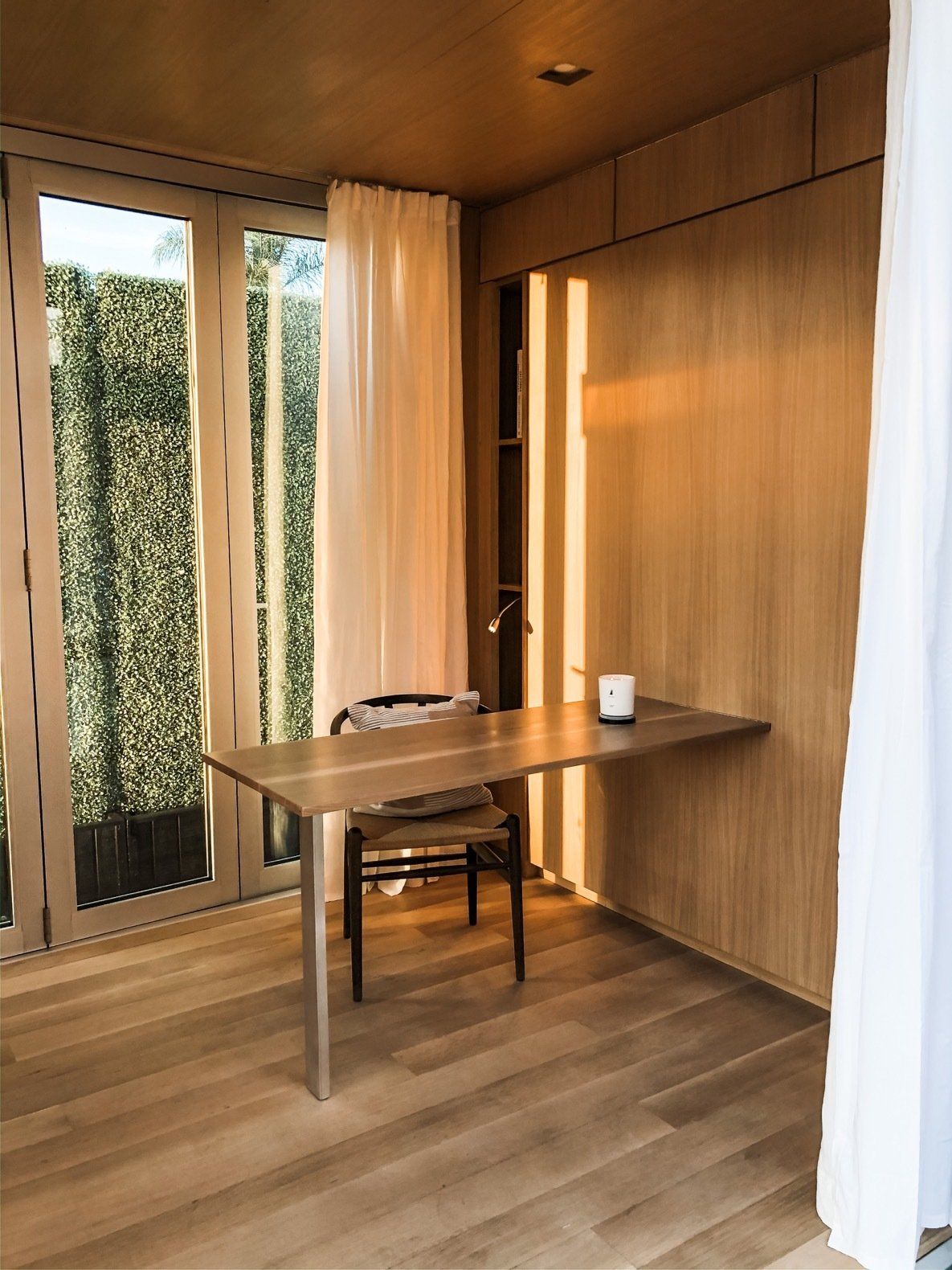 Glass folding doors on two sides fill the interior with light.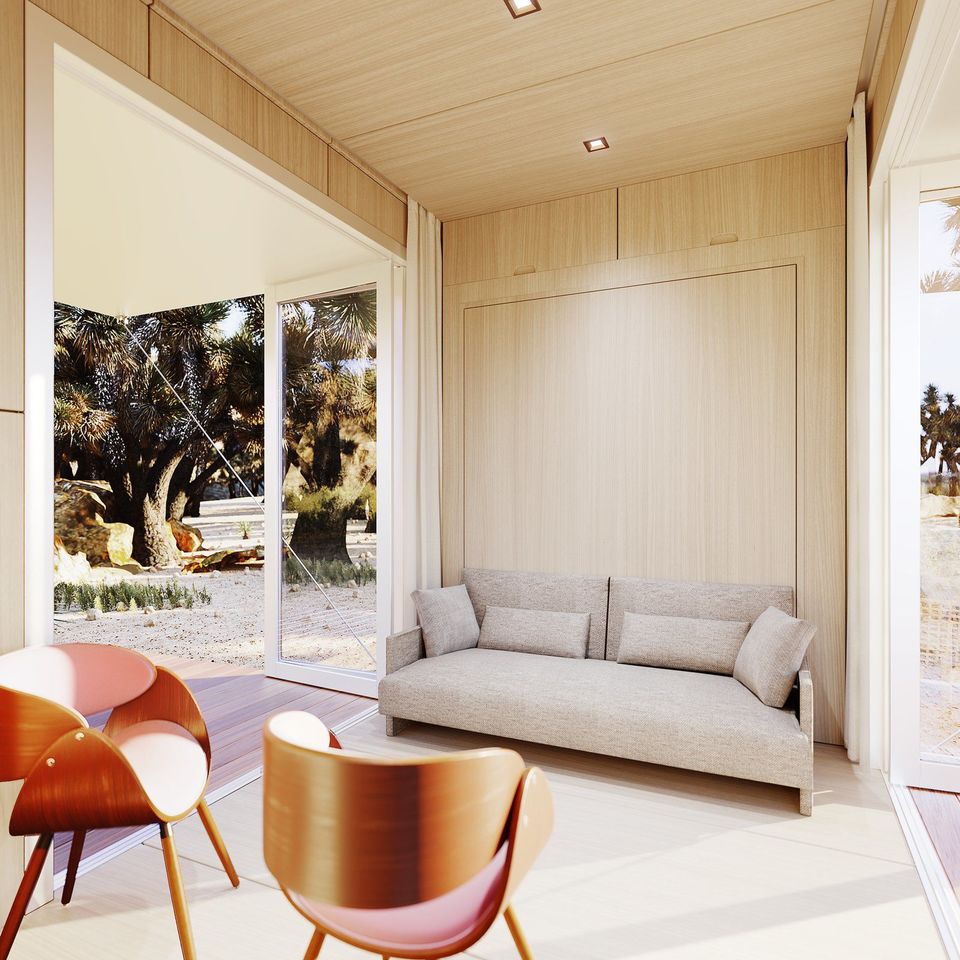 Rift oak lends warmth to the ceiling, floor, and surfaces in the dual-purpose bedroom/living space.

Custom built-ins, space-saving appliances, and a constant connection with the outdoors help the minimalist dwelling feel much larger than its size suggests. The base unit will be available for an all-inclusive price of $96,000 (not including site-related expenses), and it can be further customized with a selection of finishes and hardware options.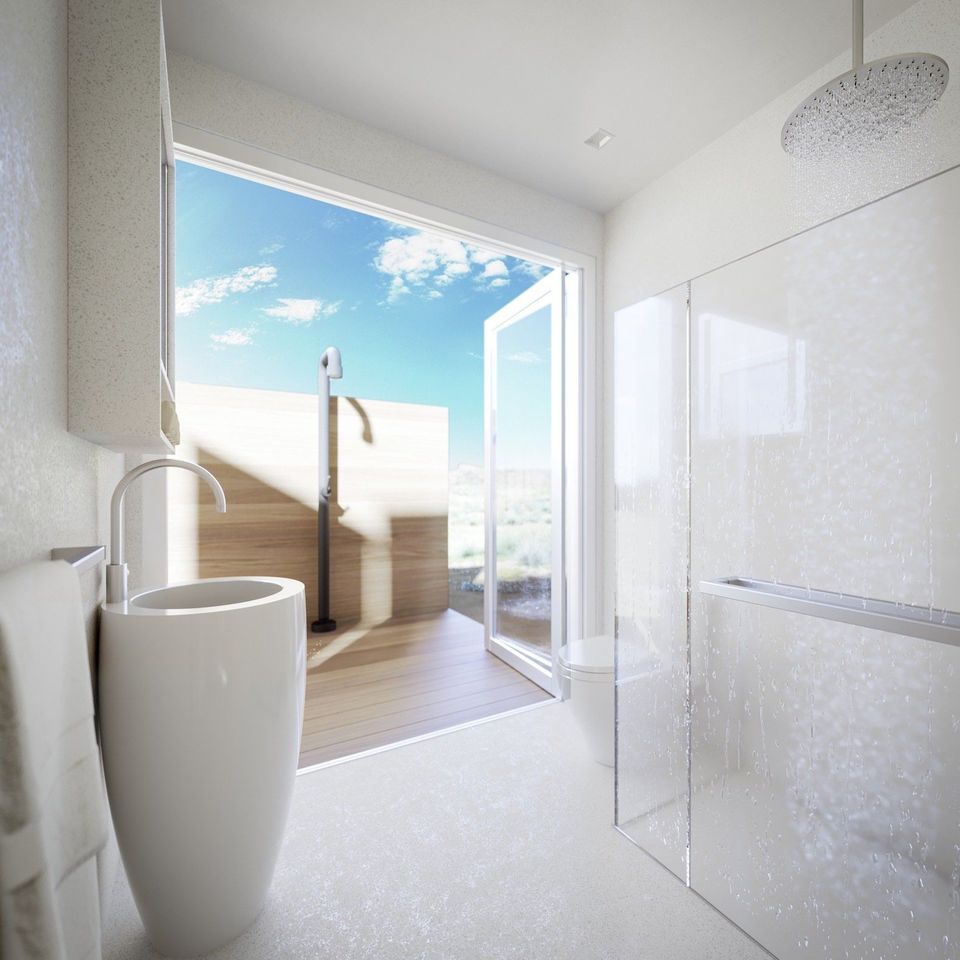 The bathroom connects seamlessly to the deck, which features a Jee-O by Purificare outdoor shower.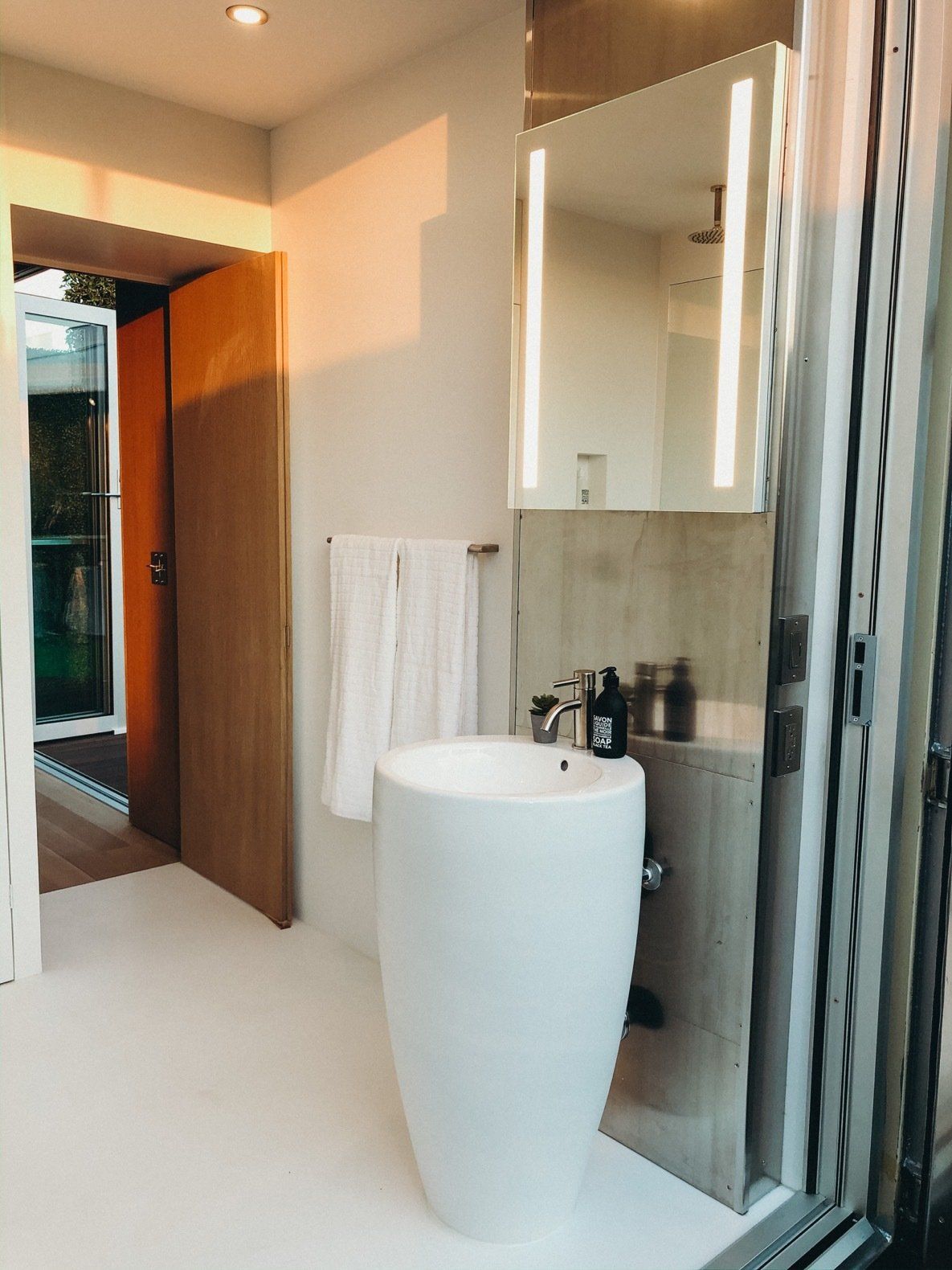 A Fine Fixtures pedestal sink is placed near a space-saving Kohler Verdera medicine cabinet and a Toto Legato toilet.

Buhaus is engineered for luxury, comfort, utility-and fire resistance. "The Buhaus meets California Wildfire Resiliency Codes, and its metal siding and insulation helps keep the heat away so it won't burn in higher temperatures," notes Burdge. "Additionally, the unit meets the California Green Code and Title 24 Energy Codes.

"This unit is unique because it is off-grid capable. It has all the hookups necessary for alternative energy."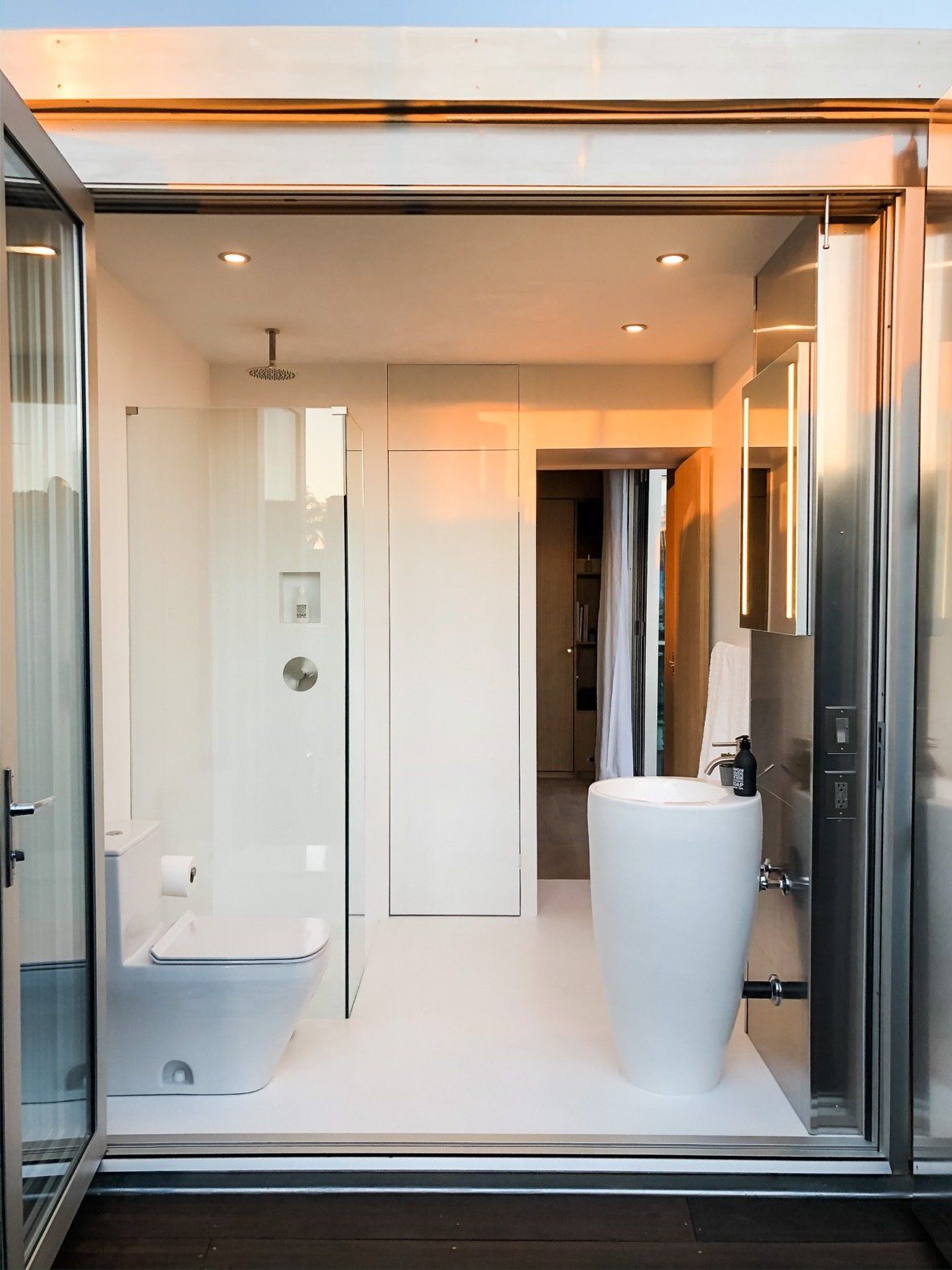 The compact bathroom is outfitted in Designer White Corian surfaces and high-end fixtures.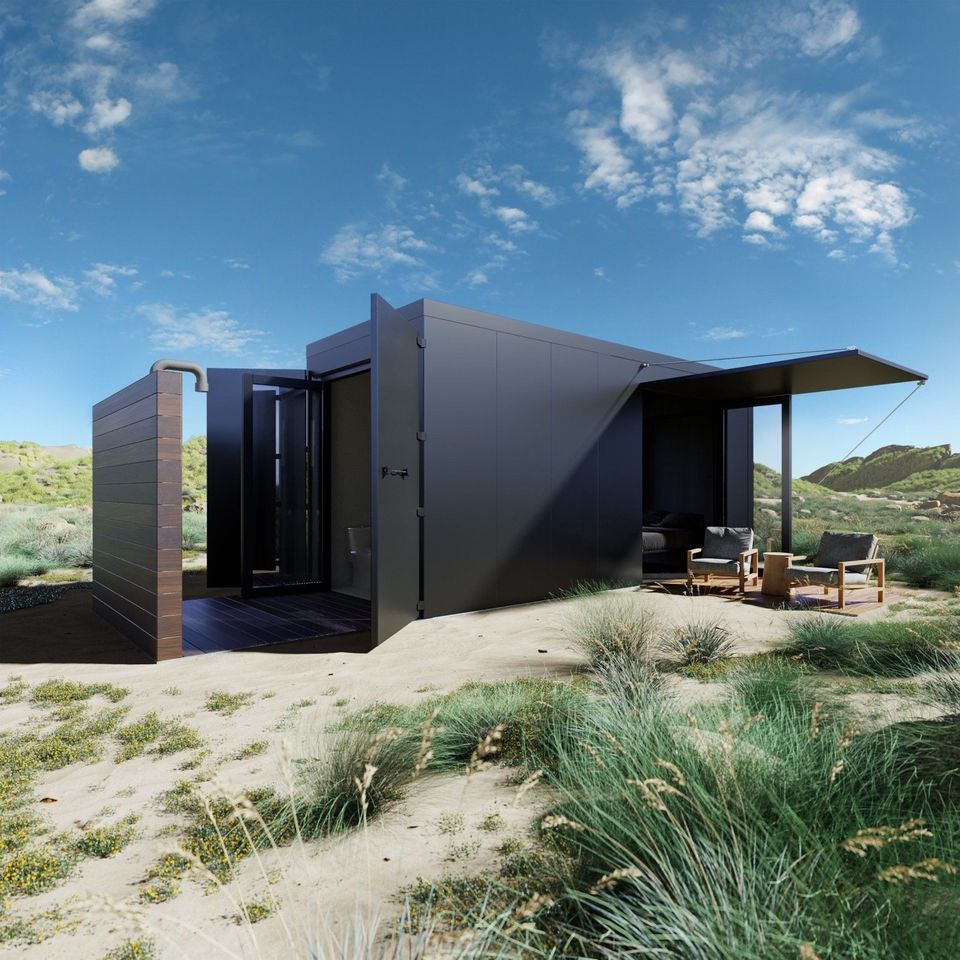 Buhaus can be customized with a variety of finishes, and buyers can choose from a range of "editions"-from standard polished aluminum to black and even camouflage exteriors. The build time is approximately three months.

The Buhaus will available for orders after it appears at Palm Spring Modernism Week in late February. The Buhaus showroom is expected to debut in the summer of 2020 in Malibu.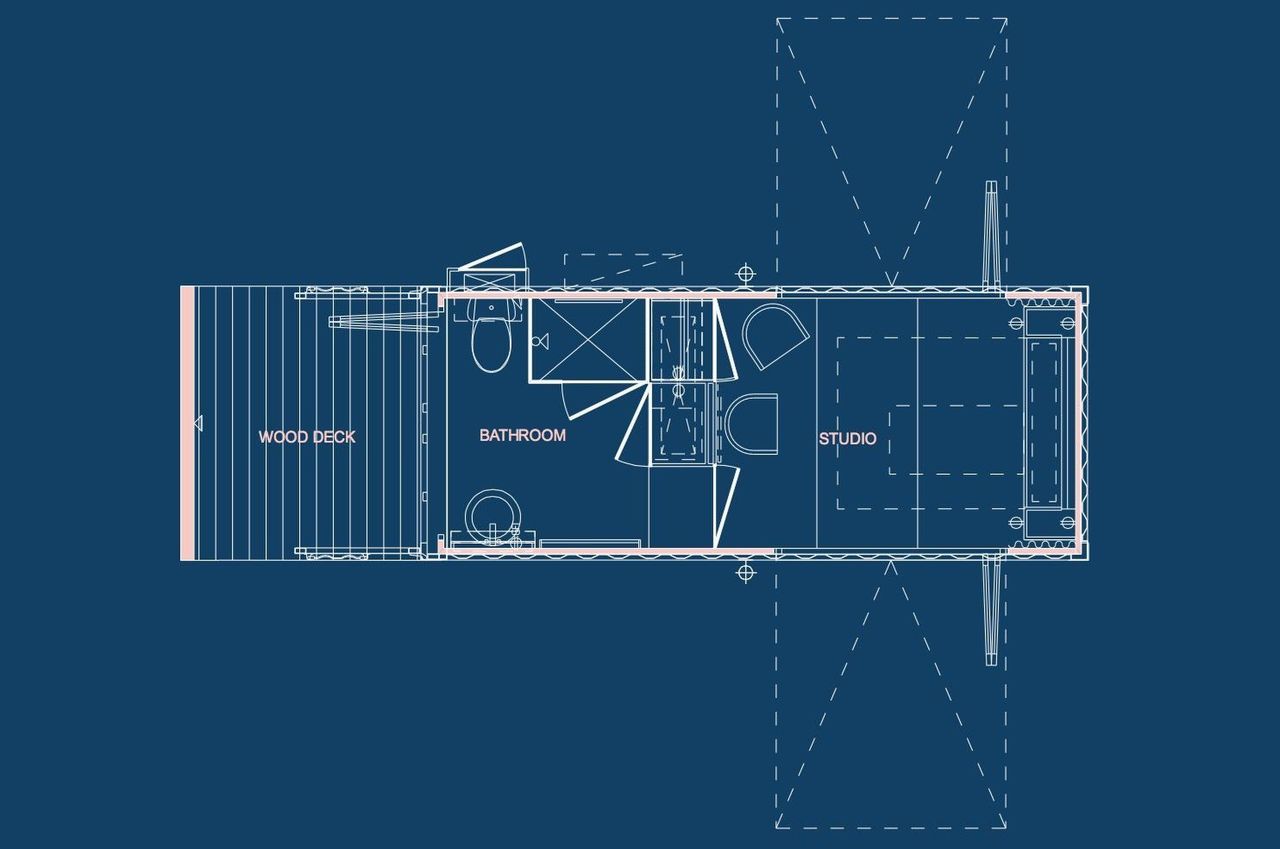 Buhaus floor plan