The Cornell Inn, a collection of historic guest buildings in the picturesque Berkshires village of Lenox, Massachusetts, dates back to the 18th century. Now, thanks to a new showhouse initiative called the Kaleidoscope Project, a group of 23 talented interior designers is reimagining the hotel and giving it a fresh new start.

But this is more than your average showhouse. Partners Amy Lynn Schwartzbard, Patti Carpenter, and Liz Nightingale enlisted 23 BIPOC designers to permanently overhaul 18 of the inn's guest rooms, plus a lobby, a dining room, and the bar. What's more, proceeds from the project will provide scholarship opportunities for young people of color interested in pursuing careers in creative fields. "It was time our industry showcased diverse talents of designers with unique points of view," Schwartzbard told ELLE DECOR in an email. The participating designers were given a theme and a corresponding color palette to work with: rest (neutrals), reflection (cool colors), or rejuvenate (warm hues). The resulting rooms have their own distinct ambience while still feeling part of a cozy, cohesive whole, from a traditional take on New England style in a bedroom by Shawna Underwood to a glitzy gold-and-velvet barroom by David Santiago. "All the designers knocked it out of the park!" Schwartzbard said. "And each of their rooms really reflect who they are."

The revamped rooms will be on view to the public through June 6 (tickets available here); the following day, you'll be able to book any of them for your own summer Berkshires getaway. Here's a preview.


Lady Cicely Room by Austin Gray Design Group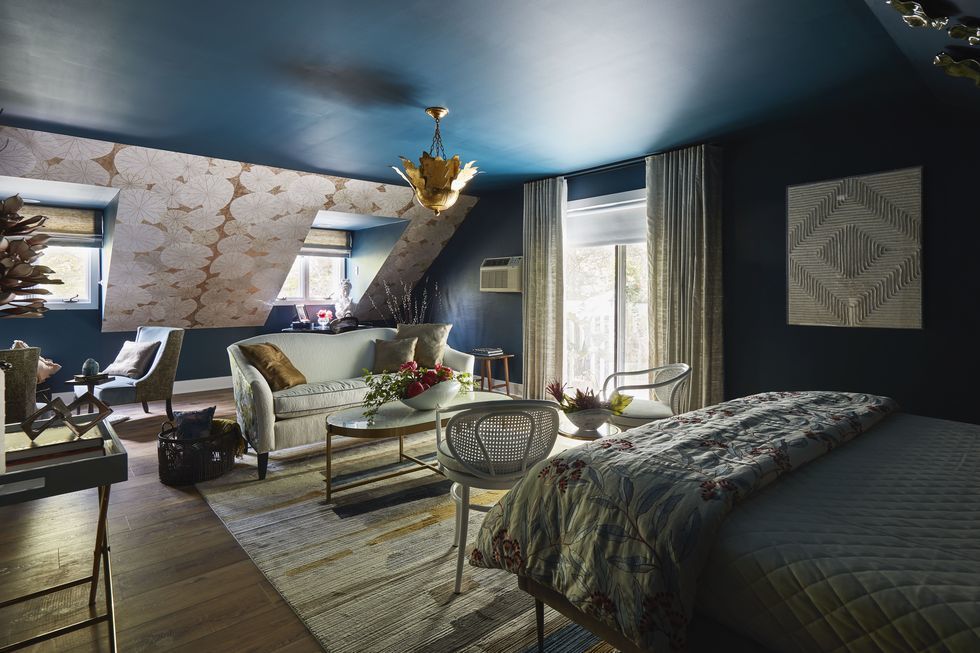 Prime views of the inn's courtyard and its koi pond aren't the only star of this suite, named for the late legend Cicely Tyson: Designers Denise Gordon, Tanya Lewis, and Marilyn Lavergne of the firm Austin Gray Design Group (AGDG) brought the colors of the winter Berkshires landscape into this garret-like space through a cool and sophisticated palette. The walls are in River Blue by Benjamin Moore, while the sloped ceiling features a pop of pattern thanks to wallpaper from Phillip Jeffries. The designers carefully curated furniture that brought to mind both femininity and strength—just like Tyson. AGDG relished not only the design process, but also working with a cohort of accomplished BIPOC designers. "The opportunity to learn and benefit from their years of diverse experience in the industry throughout the entire project made the experience for us priceless!" the group told us.


Davis Room by Christy Davis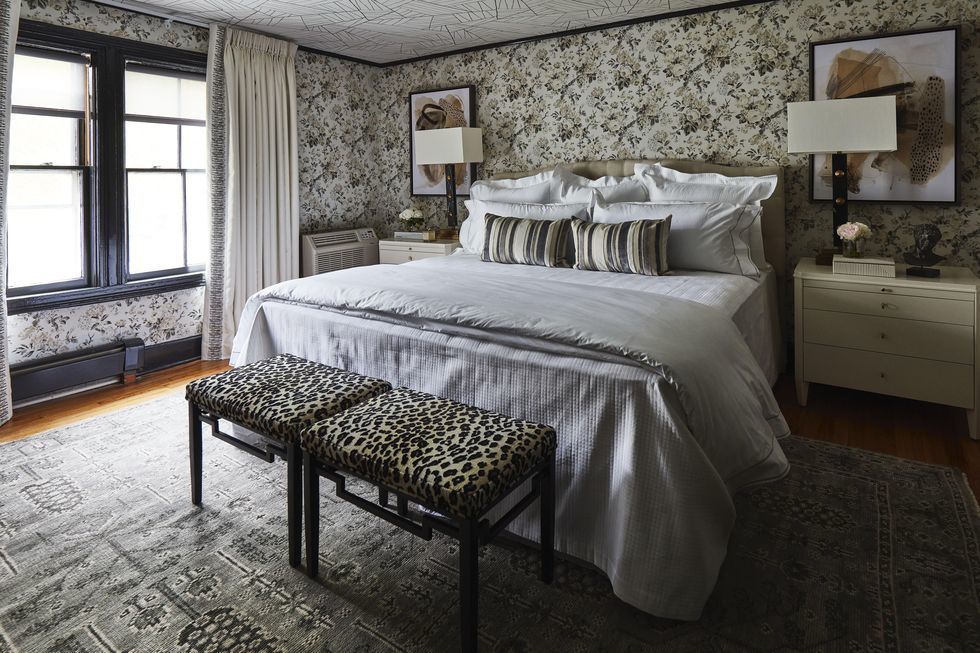 To showcase her Southern roots and her Asian heritage, designer Christy Davis leveraged the concept of yin and yang to balance traditional and modern elements as well as masculine and feminine shades and patterns. Davis cites the contrasting wallpapers-a geometric Thibaut paper on the ceiling; a Lee Jofa floral on the walls-as her favorite element, in part because flowers connote positivity in Chinese culture. The bedding is by Matouk and the curtains are from The Shade Store. The mattress in this and all the rooms in the showhouse are by Saatva.


Rasheeda Room by Rasheeda Gray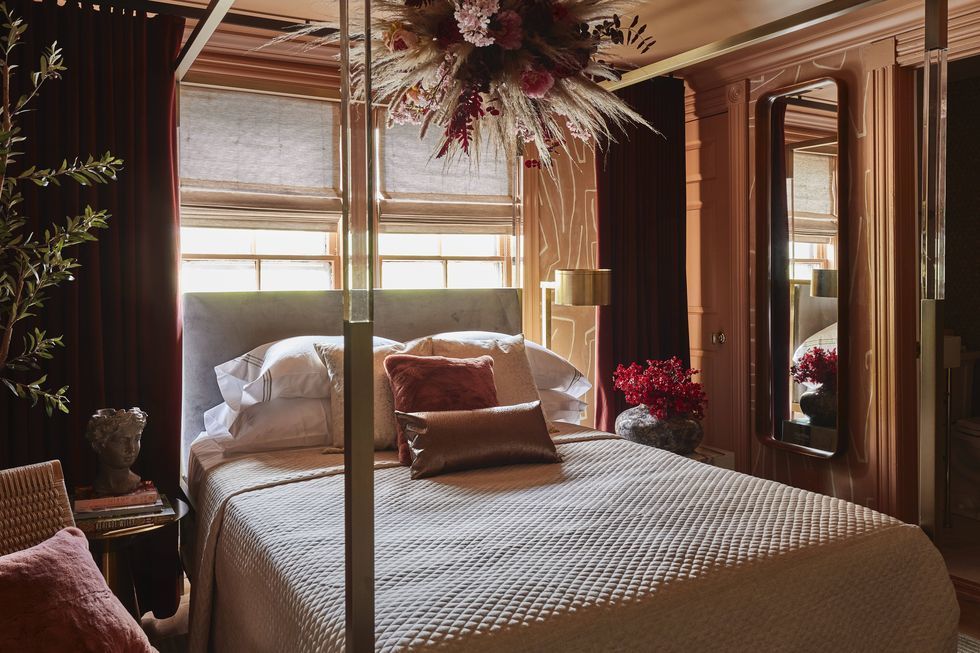 This room, dreamed up by Rasheeda Gray of Gray Space Interiors, is an homage to the designer's late grandfather, who named her. Fittingly, it's a reflection of who the designer is, she told us, and "an expression of self-love." Warm, sunny colors also played a big part in her scheme-including the orb-like bouquet of dried flowers that hangs above the Safavieh bed. "Like the sun, I would like guests in the Rasheeda Room to reset, rejuvenate, and rise," Gray added.


Rydhima's Room by Rydhima Brar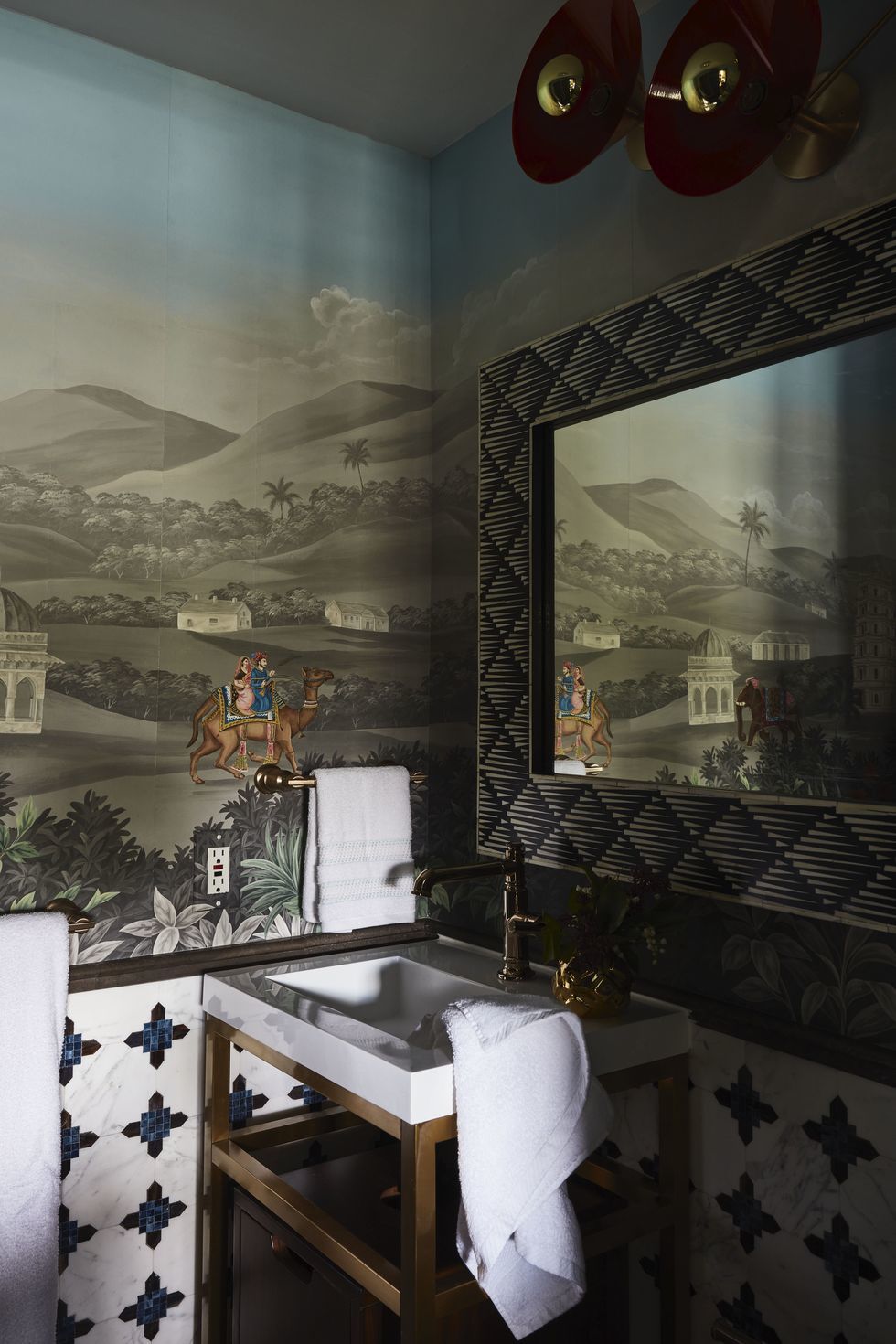 Rich jewel tones define this suite and ensuite bathroom (the so-called "Empress's Quarters") designed by Rydhima Brar of R/Terior Studio. With roots in India and Kuwait, Brar always likes to incorporate history, culture, and a unique story into her work. "I did not want to just design a room, but I wanted to create an experience that would transport guests to a magical place," she said. The bathroom's walls are covered in hand-painted panoramic wallpaper by Gracie Studio.


Acento Bar by David Santiago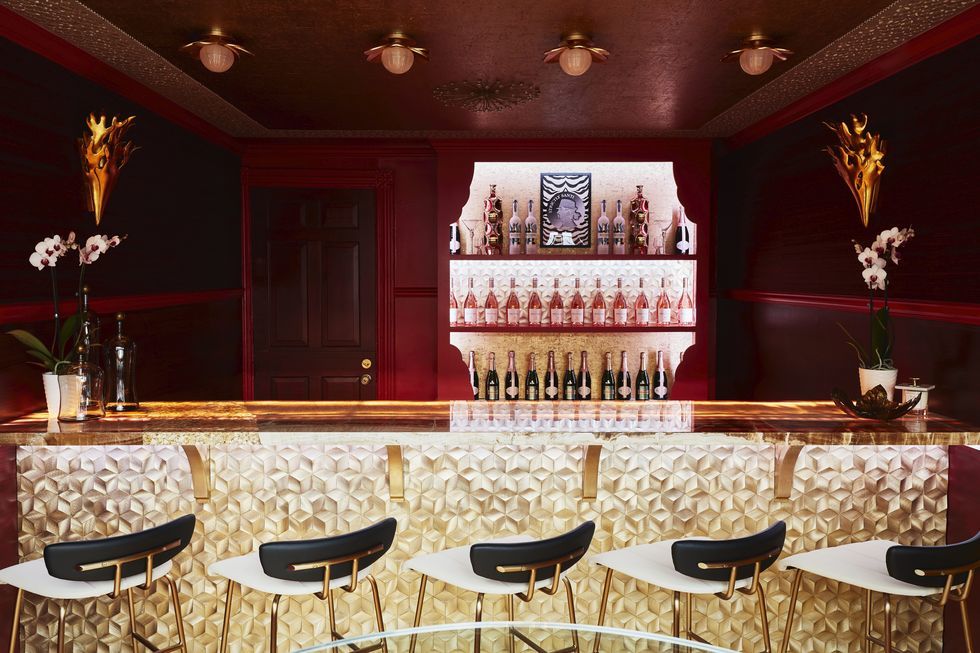 Designer David Santiago of Casa Santi Interior Design knows a thing or two about glamour: He spent his past career as an opera singer. For the inn's cocktail lounge, he brought in the theatricality of the Metropolitan Opera House with a bar covered in gold Akdo tiles, red velvet fabrics, flame-like sconces from Corbett Lighting, and an illuminated niche stocked with Möet Hennessy, Whispering Angel Rosé, and Chandon Brut Champagne. Santiago was also excited to celebrate his Spanish heritage through the project: "As an advocate and influencer of the industry, I feel a responsibility to take on the conversation about diversity and topics that are not always comfortable to discuss, especially skin color," he told us.


Kutana Room by Everick Brown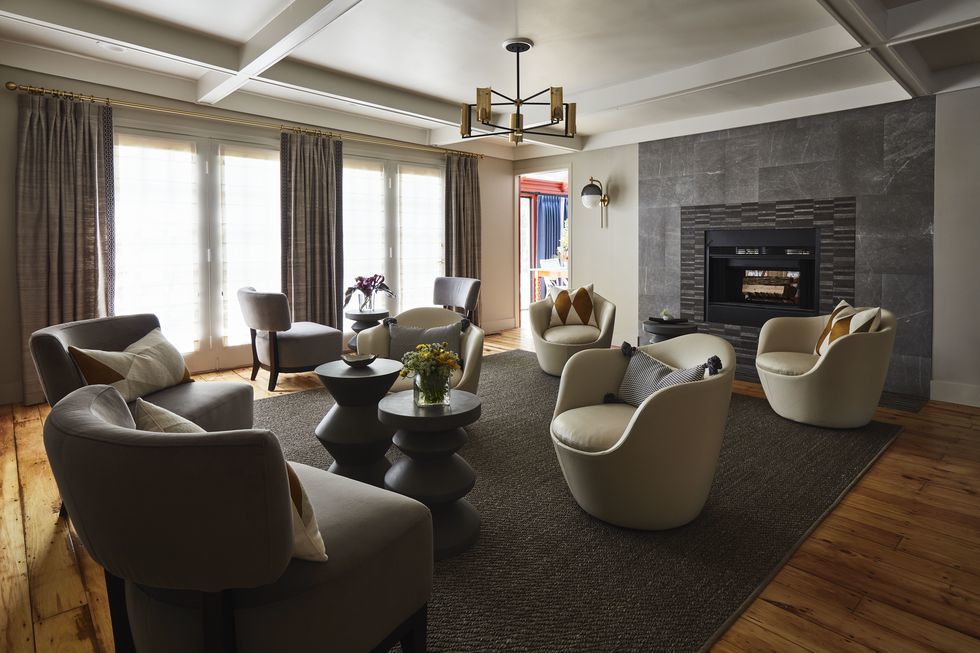 Everick Brown drew on geography, culture, and people for the inn's lounge. Kutana translates to "meet, encounter, or come upon" in Swahili-a perfect analogy for Lenox, where cultural venues like Jacob's Pillow, Tanglewood, MASS MoCA, the Clark Art Institute, and the Williamstown Theatre Festival attract audiences from all over the world. It's at the "intersection of rural meets global; modern meets rustic; and artsy meets small town," according to Brown, contrasts he incorporated into his design, with white chairs from Design Within Reach, sculptural black side tables from Sunpan, and a modern chandelier from Hudson Valley Lighting.


Bennet Room by Iantha Carley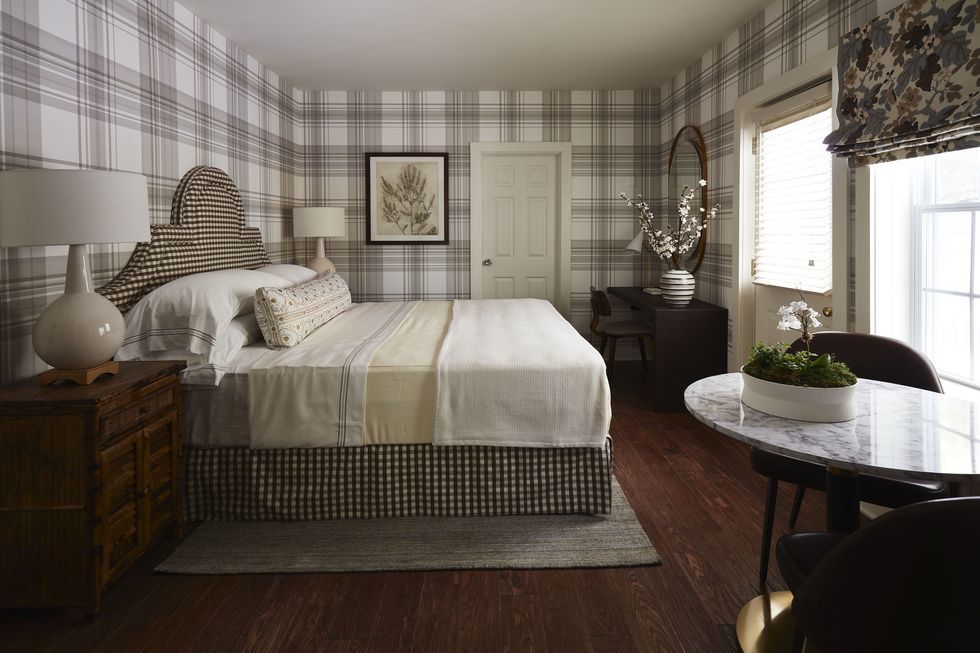 This room, named after designer Iantha Carley's favorite literary heroine-Elizabeth Bennet of Jane Austen's Pride and Prejudice-is in the carriage house of the 250-year-old inn and is a modern take on the English country house, as the Berkshires landscape reminded Carley of England's Lake District. Matouk linens cover a bed with a custom-designed headboard; the lamp is by Circa Lighting. Carley is optimistic that the showhouse will "inspire the next wave of BIPOC designers."


Doreen Suite by Dennese Guadeloupe Rojas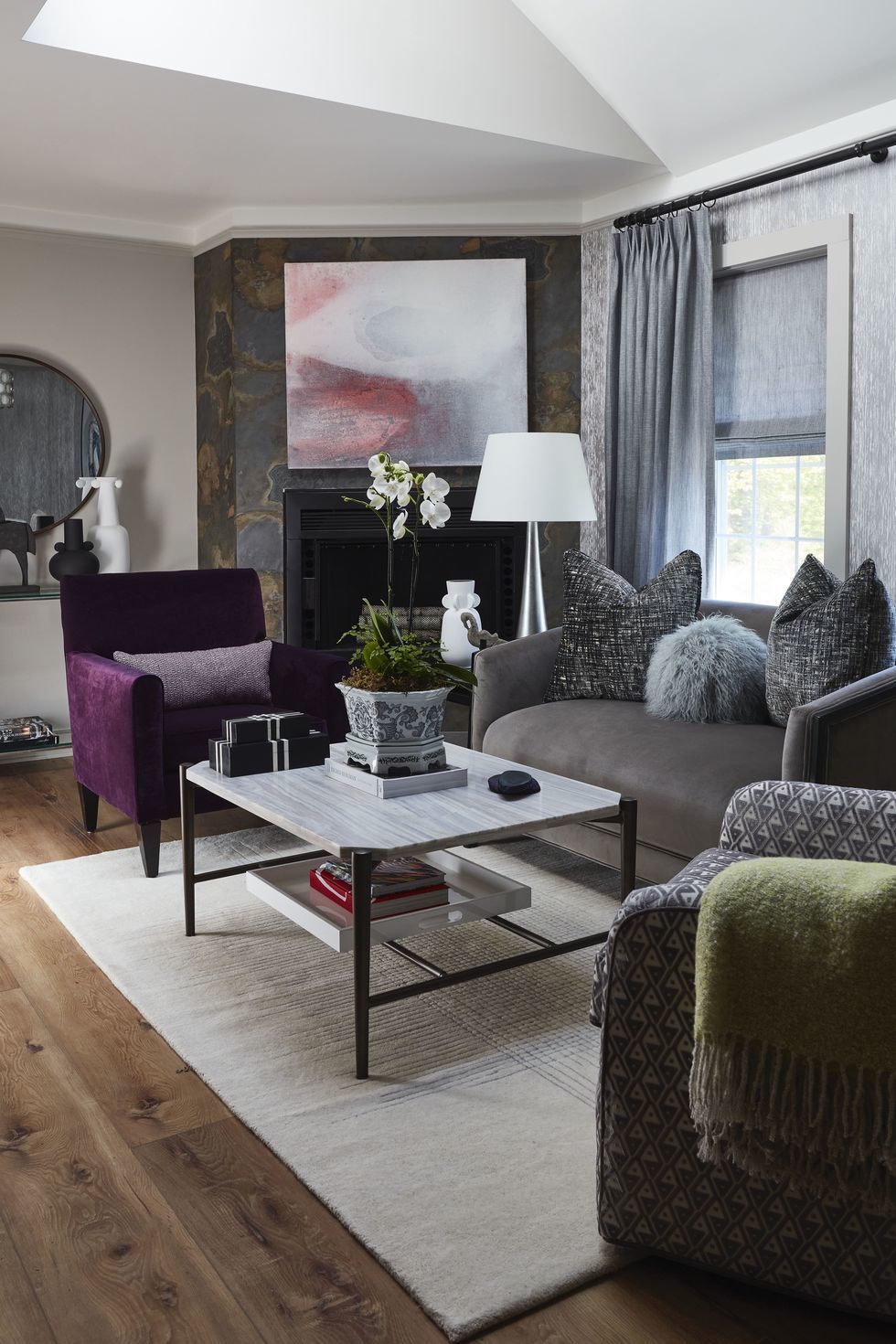 This room by Dennese Guadeloupe Rojas of Interiors by Design is an homage to her mother. "She took simple furnishings and accessories and created a luxurious yet inviting home where family and friends enjoyed gathering," Rojas told us. Similarly, the designer arranged custom-upholstered seating in jewel tones around a cocktail table from Universal Furniture. The fireplace's geode-like wallpaper is by Vahallan, and the artwork is from Iconic Pineapple. "My sincere hope is that many wonderful memories are created for all who visit the Doreen Suite at the Cornell Inn," Rojas added.


Maddi-Mia Room by Linda Hayslett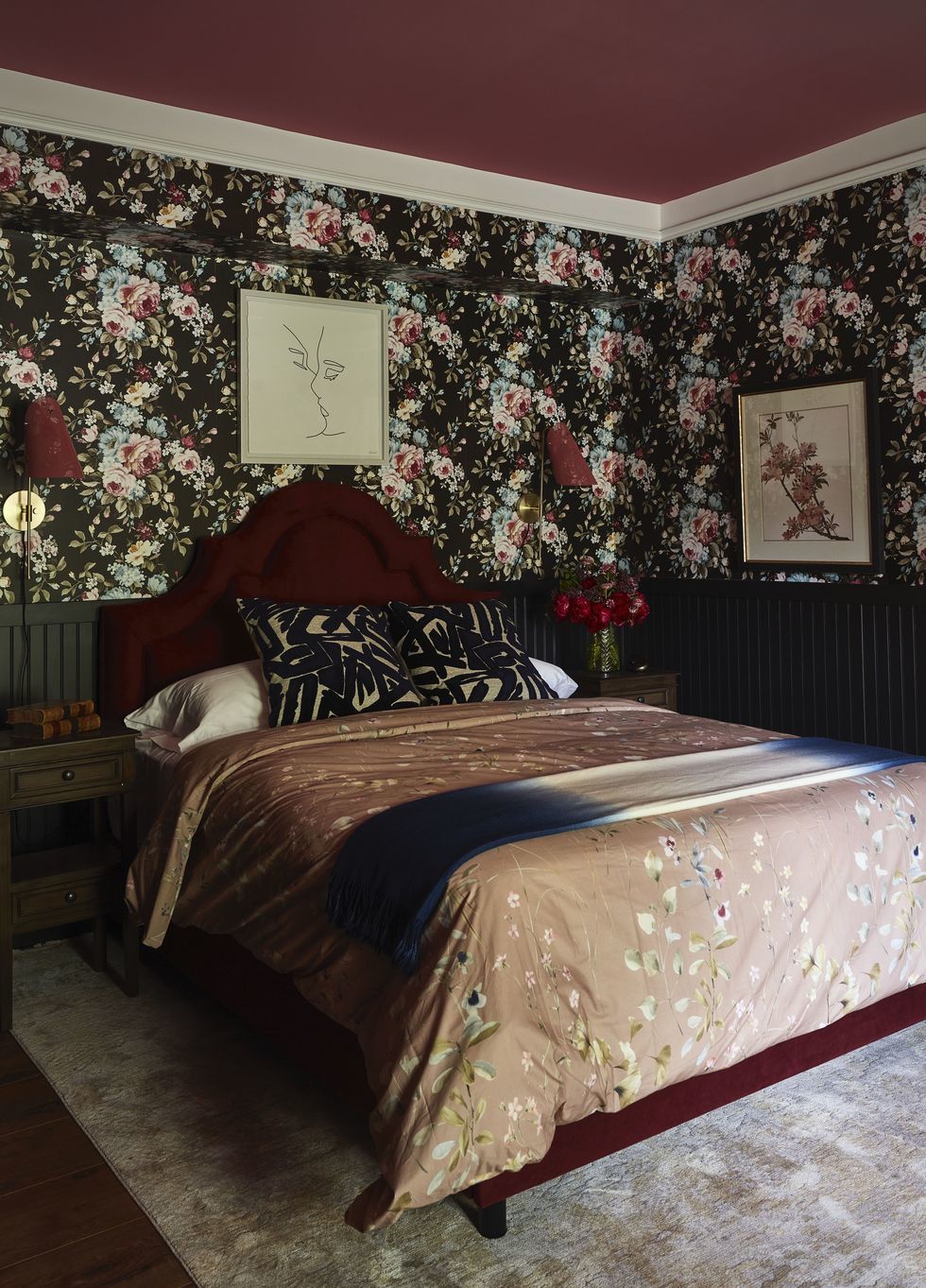 Edgy meets traditional in this statement-making room by Linda Hayslett. Called the Maddi-Mia Room after Hayslett's mother and dog, the room features a fun mixture of color and pattern thanks to the floral Clarke & Clarke wallpaper and the berry-colored platform bed from Wayfair's Kelly Clarkson Home Collection. The room offers a variety of budget-friendly finds, including bedding from Zara Home and a rug and framed print from HomeGoods. Hayslett told us: "Diversity will make the design industry flourish and give creativity the growth it needs."


Nile Johnson Room by Nile Johnson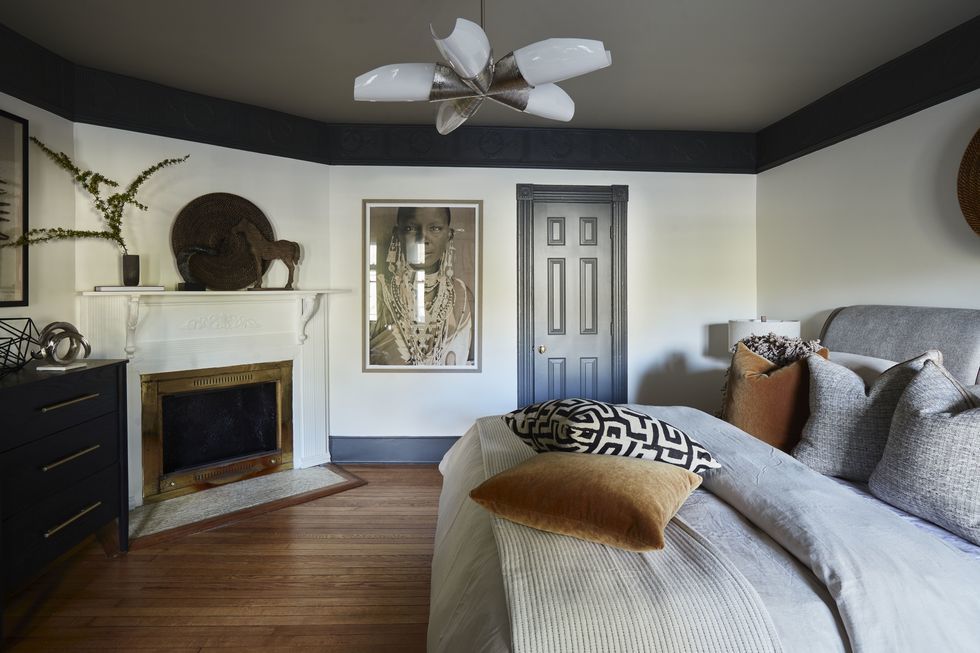 Self-care is the aim of designer Nile Johnson's eponymous bedroom. It's a simple yet welcoming space with neutral accents like the gray ceiling (Charcoal by Benjamin Moore) and the smoke-colored bed from Sunpan. "The only requirement was to come as you are, and the room would receive you that way," Johnson said. He accessorized the room with elements like the Circa Lighting chandelier, a photograph from Uttermost, and a dresser from Universal Furniture. According to Johnson, working on the inn project with such a talented cadre of BIPOC designers was "pure magic."


Lioness Room by Purvi Padia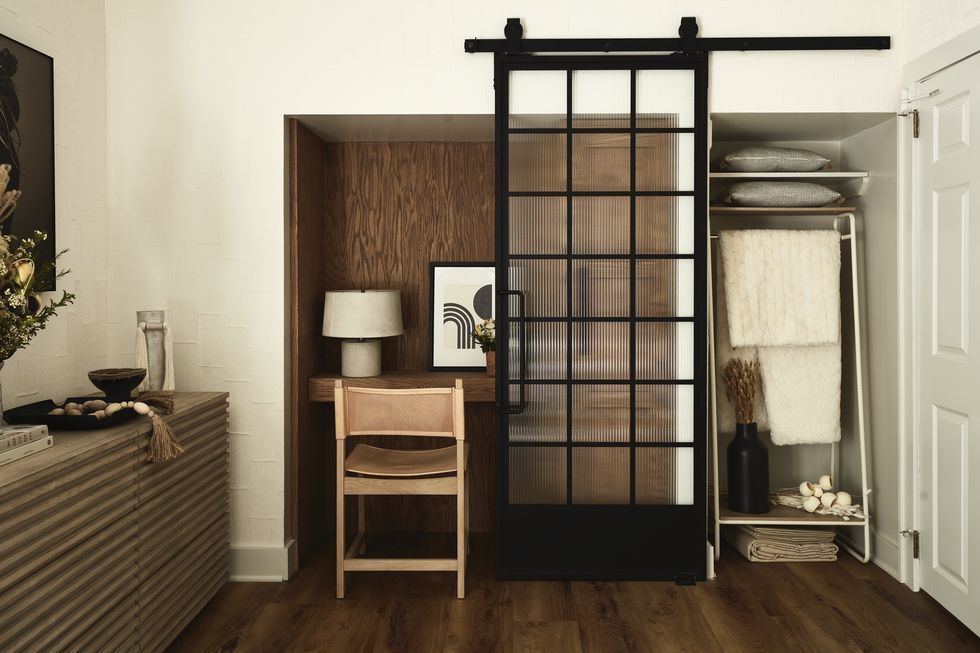 This soothing guest room by Purvi Padia was designed solely for relaxation. "It was important to me that guests feel instantly transported to a vacation state of mind upon entering the room," she said. To achieve that vibe, Padia selected textured neutrals such as the white wallcovering by Phillip Jeffries; the custom wooden nook is grounded by black accents such as the Rustica metal barn sliding door. And as in the rest of the showhouse, there is a higher purpose at work: Its name comes from Project Lion, an initiative Padia founded in partnership with UNICEF to serve children in India.


Hudson Room by Shawna Underwood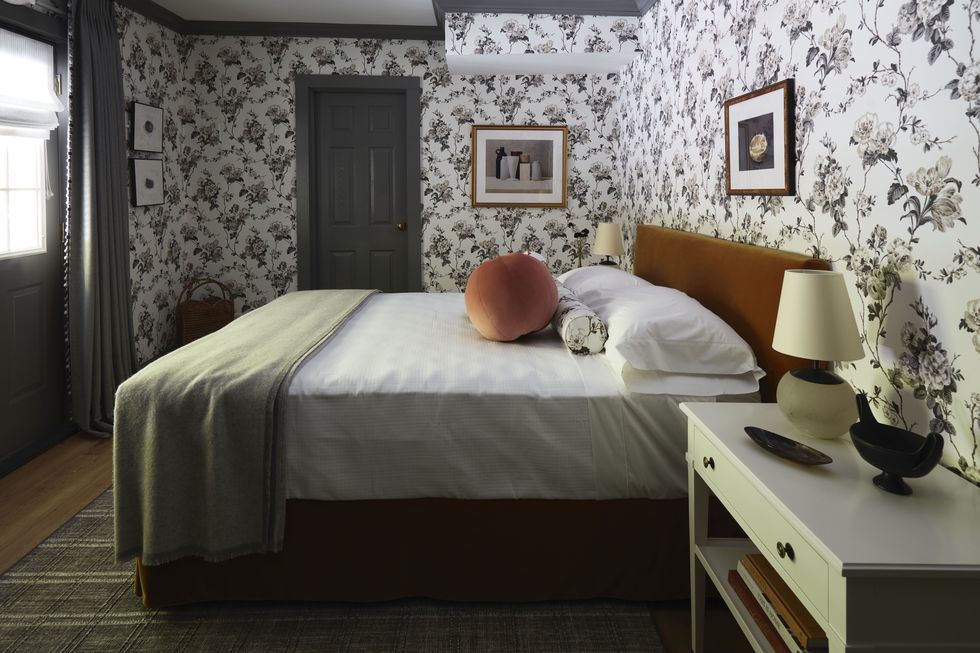 Shawna Underwood's bedroom is a fresh take on a quaint New England aesthetic. She wanted to make guests feel right at home with inviting textures, whimsical details, and a neutral floral wallpaper by Schumacher, but she also took creative license with shape, scale, and color. Underwood was thrilled to partake in the inn's transformation: "The showhouse brings comfort in knowing it is OK to have a design perspective that represents your background, culture, or interpretation of the world around you," she said.


Comparte Room by Virginia Toledo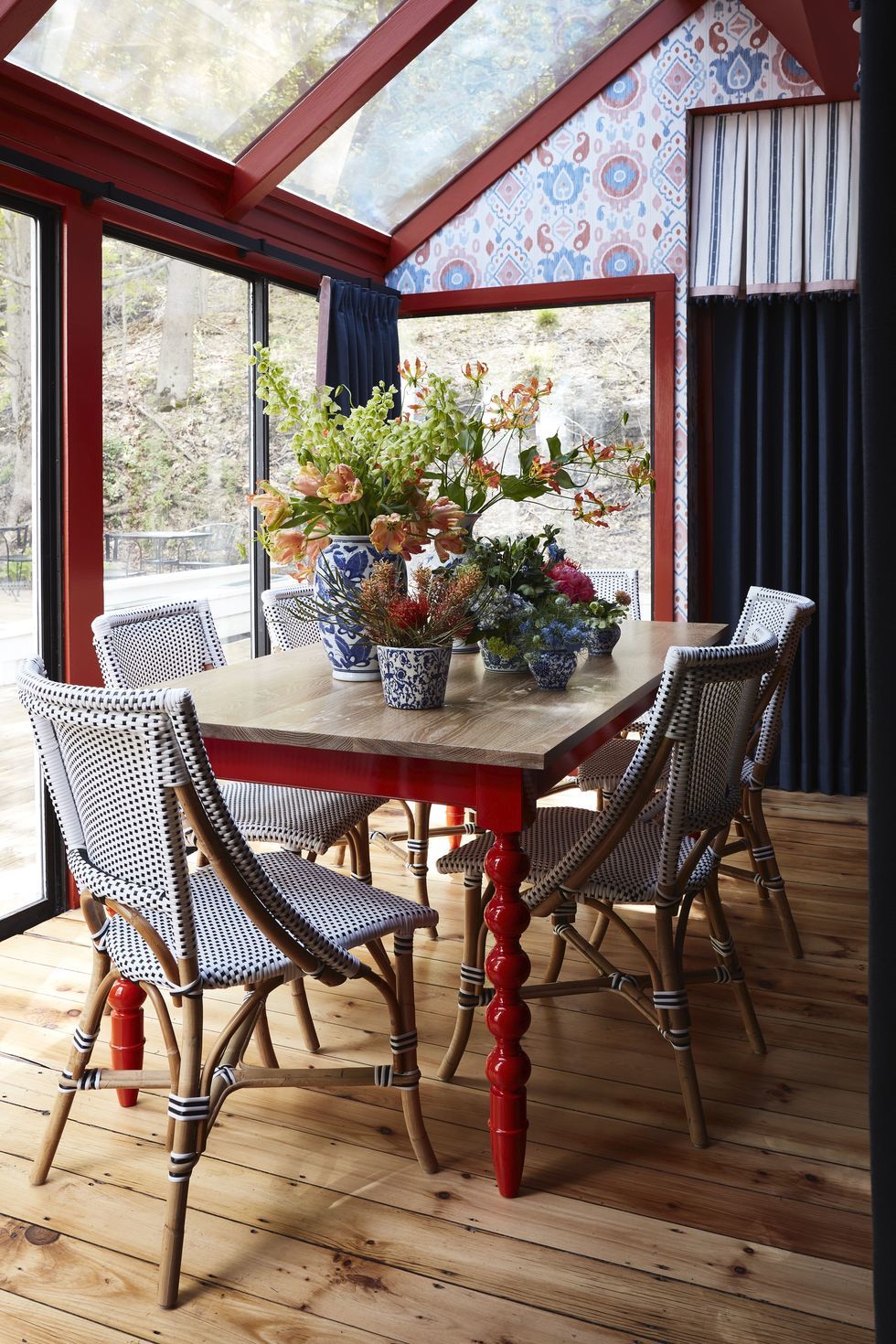 A key element in this dining room by Virginia Toledo of the firm Toledo Geller is the red-legged communal dining table-comparte means "to share" in Spanish. "I smile thinking about the friendships that might be forged between guests that decided to share a meal together in the dining room I designed," she told us. The red, white, and blue Eliza Ikat wallpaper from Schumacher is a twist on classic Americana, according to the designer: "It felt native to the inn and its New England location, but the color palette is used in a globally inspired pattern." Toledo felt it was exactly what the Kaleidoscope Project represents, the diverse backgrounds "that make up the fabric of America."