In east London's artsy Shoreditch neighborhood, a handsome three-story building dressed in yellow stock brick serves as a spirited live/work space for celebrated designer Morag Myerscough and her artist partner Luke Morgan. The Victorian structure was used as a pub until the 1970s, after which it became a car designer's workshop. While the building sports a fairly modest facade, its reimagined interiors present a truly vivacious color palette.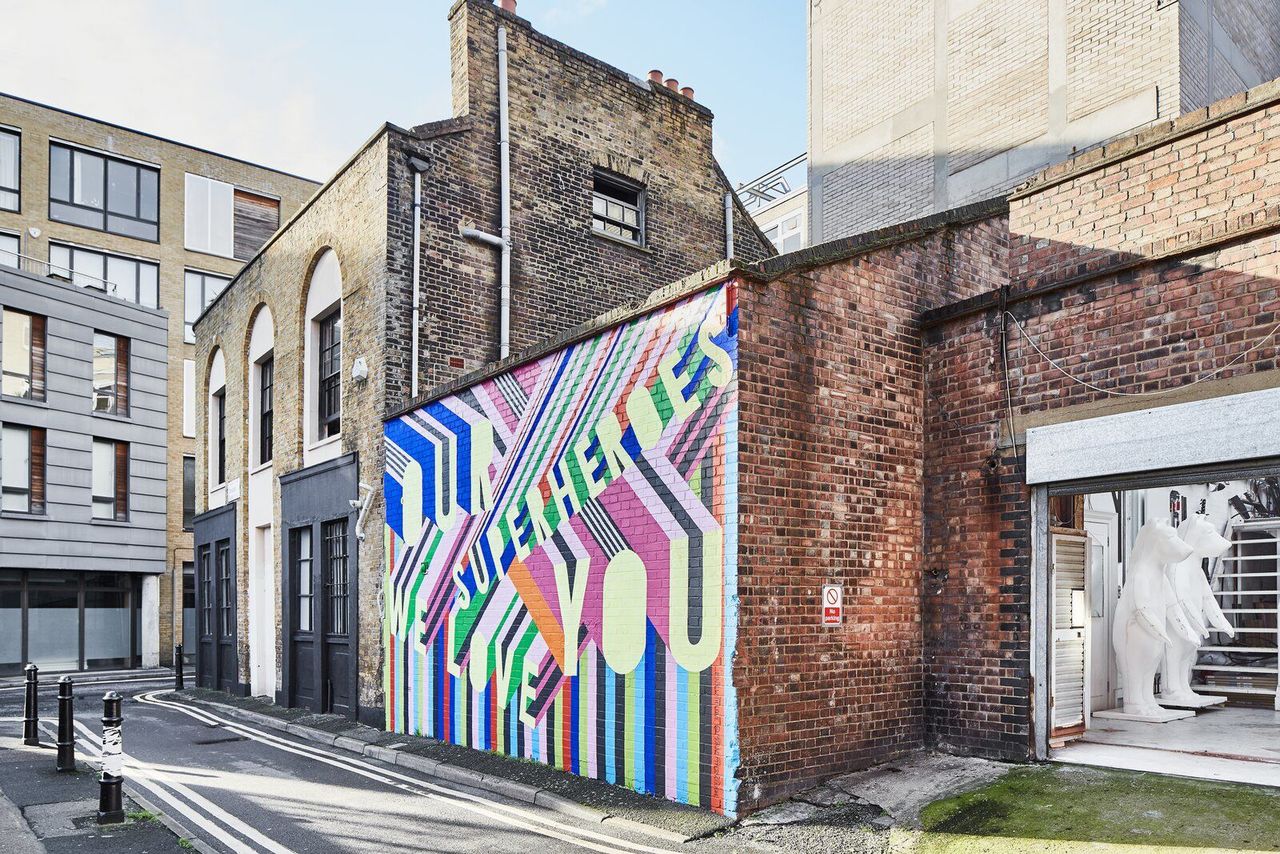 Since buying the property in 2005, the New London Fabulous artist and designer has enlivened the home with her typically bold stamp-as evidenced by a cheerful mural near the entrance to one of the building's studio spaces.

Measuring close to 4,500 square feet, the multipurpose building features two light-filled studios, a basement, and a large roof terrace. It also offers two separate entrances-one to the residence, the other to the commercial space-which allows for a distinction between the live/work areas. Perhaps unsurprisingly, the New London Fabulous artist and designer infused the dwelling with a brilliant array of bold colors and patterns after she acquired the building in 2005.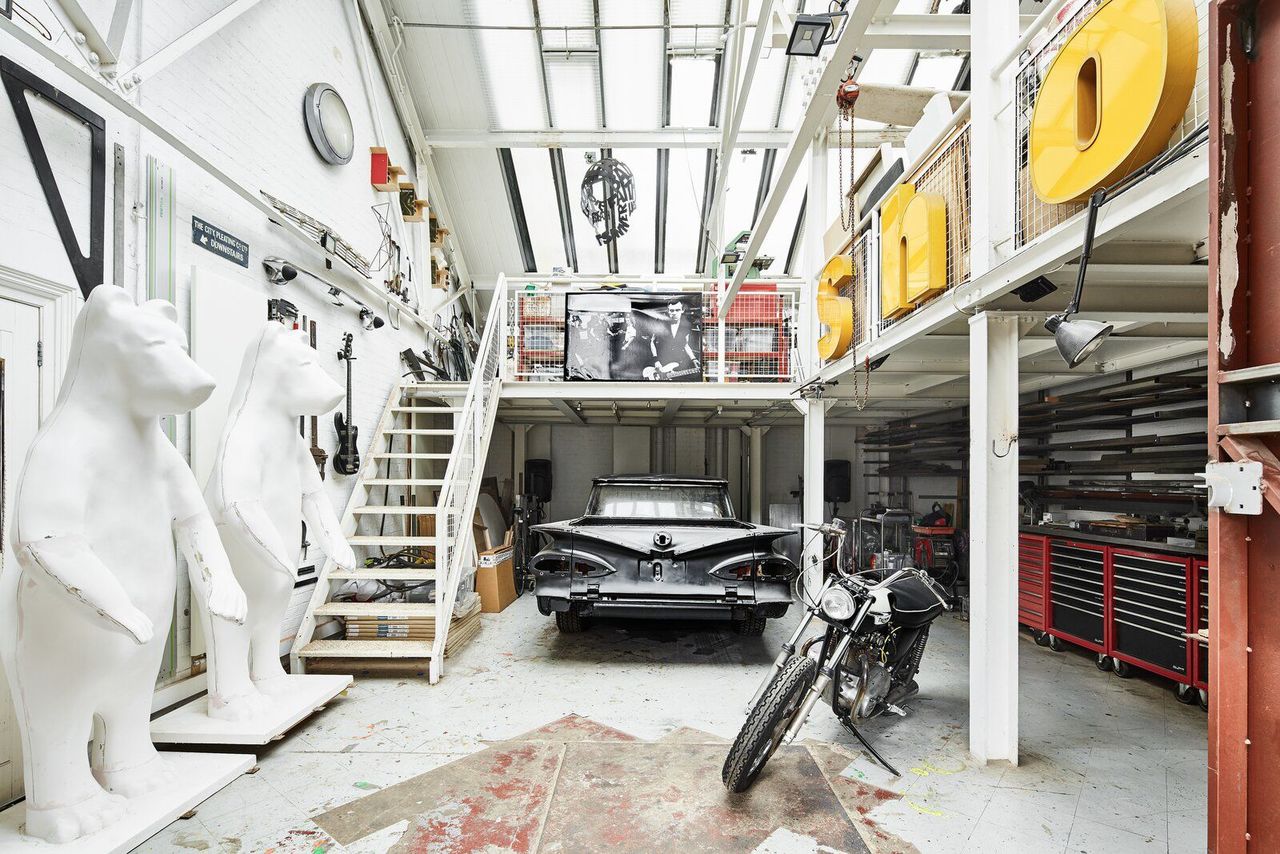 The rear studio currently serves as a work space for Morag's partner, artist Luke Morgan. It features a pitched roof with glazing that sweeps in natural light.

"I walked inside and it was total love," recalls Morag, who notes that the building was empty-and quite a bit beyond her budget. "Although it required quite a lot of imagination to make it work, it was my absolute dream home. I wanted the building so much that I managed to stretch myself to buy it almost a year after I first saw it."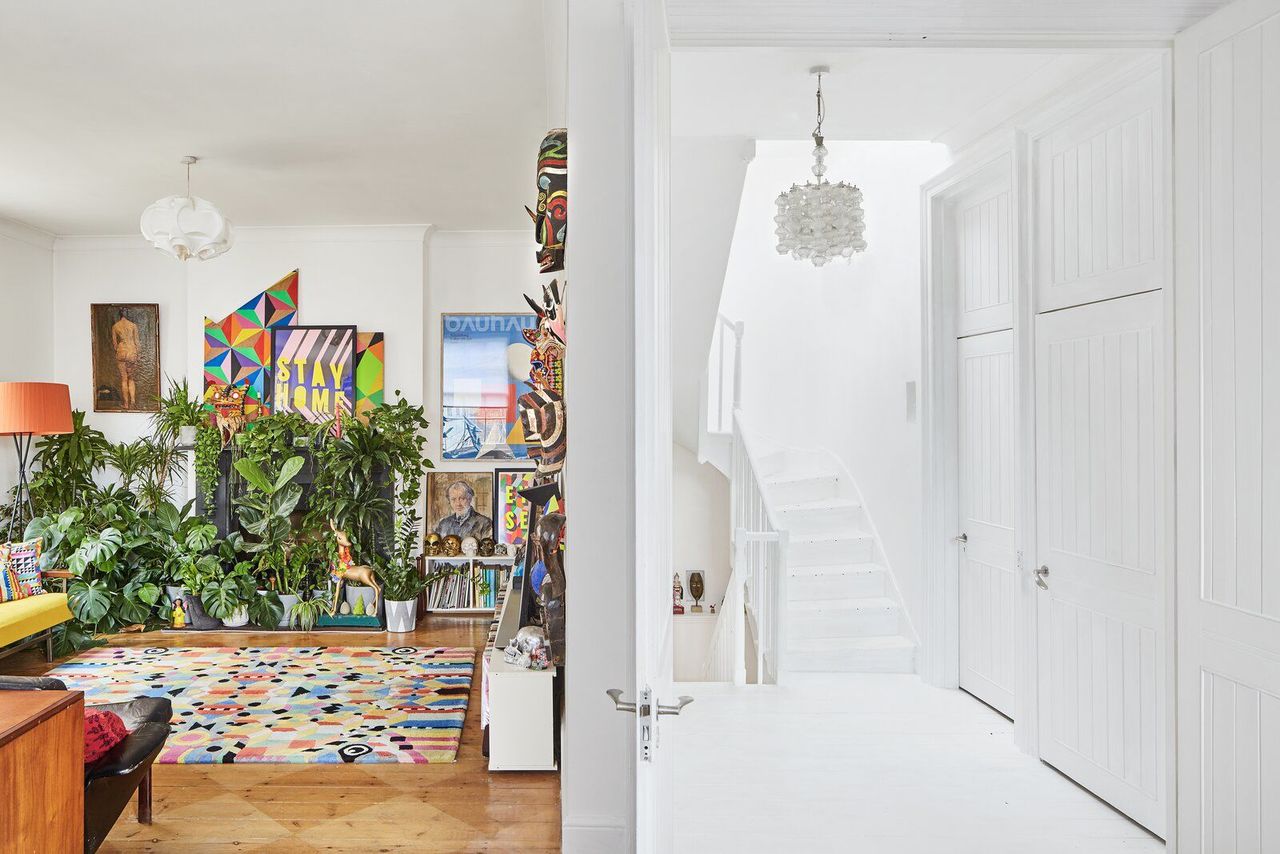 An all-white hallway opens to the main living areas, which presents a stark contrast to the rest of the colorful home. "I like white space and modernist furniture, which I've been collecting for years," says Morag.

In the residential section, a rainbow-colored library with an open fireplace and painted built-ins extends a warm welcome to the home. A stark white staircase leads to the first floor, where the primary gathering spaces include an open-plan living room, dining area, and kitchen.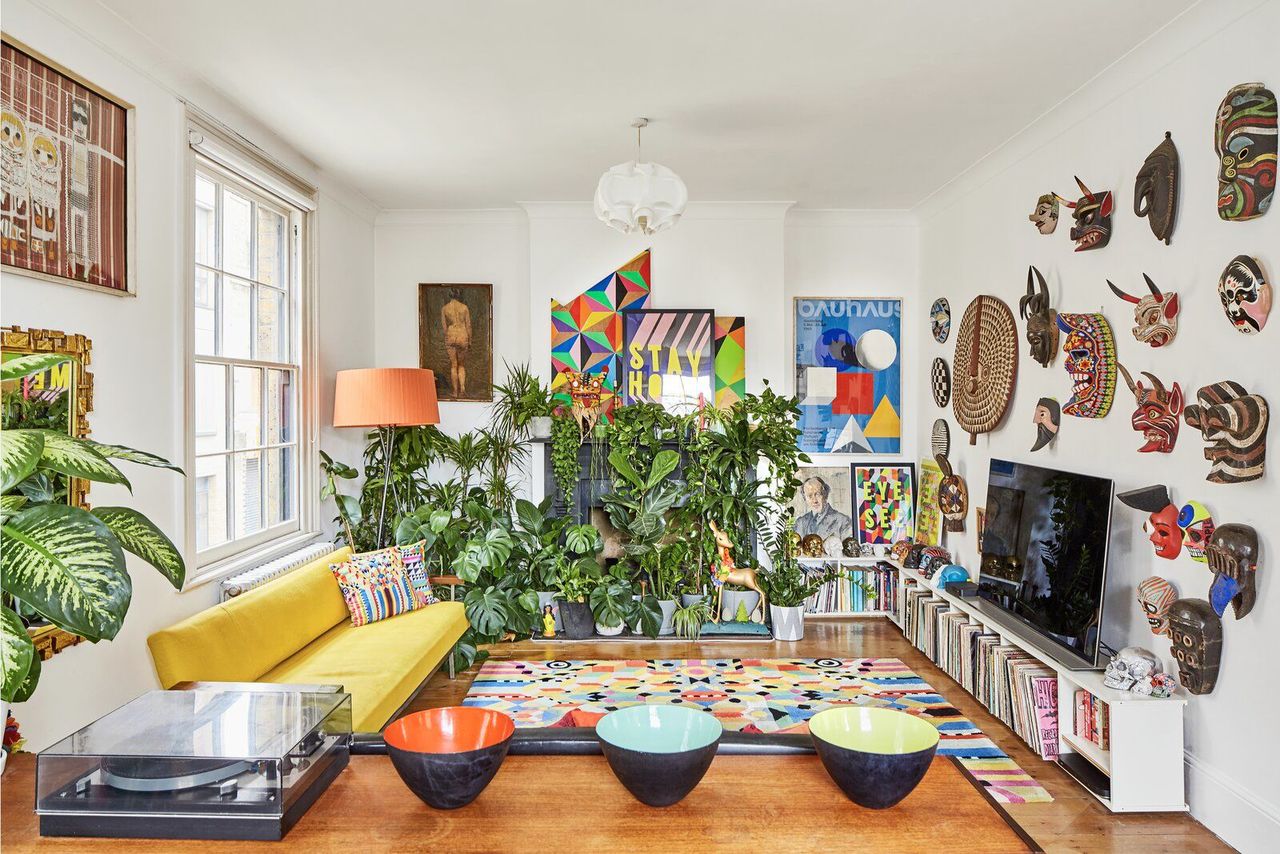 "My most treasured possession is a Danish sofa in the living area that pulls out into a single bed, which I bought from Twentytwentyone about 20 years ago," Morag says. "For years, I kept it in the original fabric, but it then got quite horrible so I covered it in a yellow cloth."

Stripped pine floors run throughout the home, contrasting with the white walls and vibrant pops of decorative color. Large windows span the south- and east-facing facades of the building, infusing the interior spaces with natural light. "Each bit of the house has a different language, which makes every corner feel interesting," Morag says. "The house could work for one person living alone or for a family; nothing about it feels unmanageable."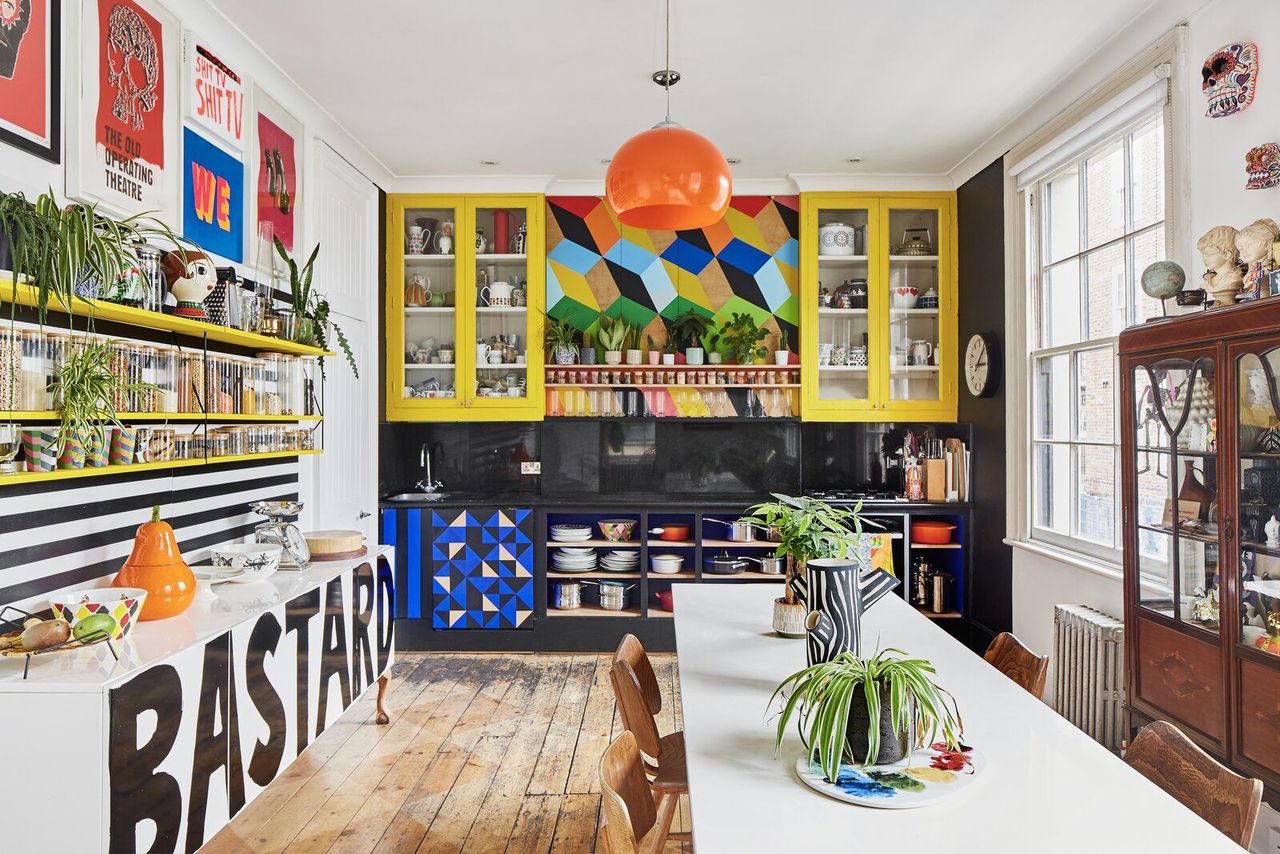 The living room, dining area, and kitchen are positioned in an L-shape with windows wrapped around each space.

The top floor, which houses the private bedroom wing, is arranged "as a series of texture-filled, interconnecting spaces that rise above the house like a permanent Bedouin tent," Morag explains. The principal bedroom features a cozy seating area with bespoke furniture, and also provides access to the decked terrace-another space that Morag brought to life.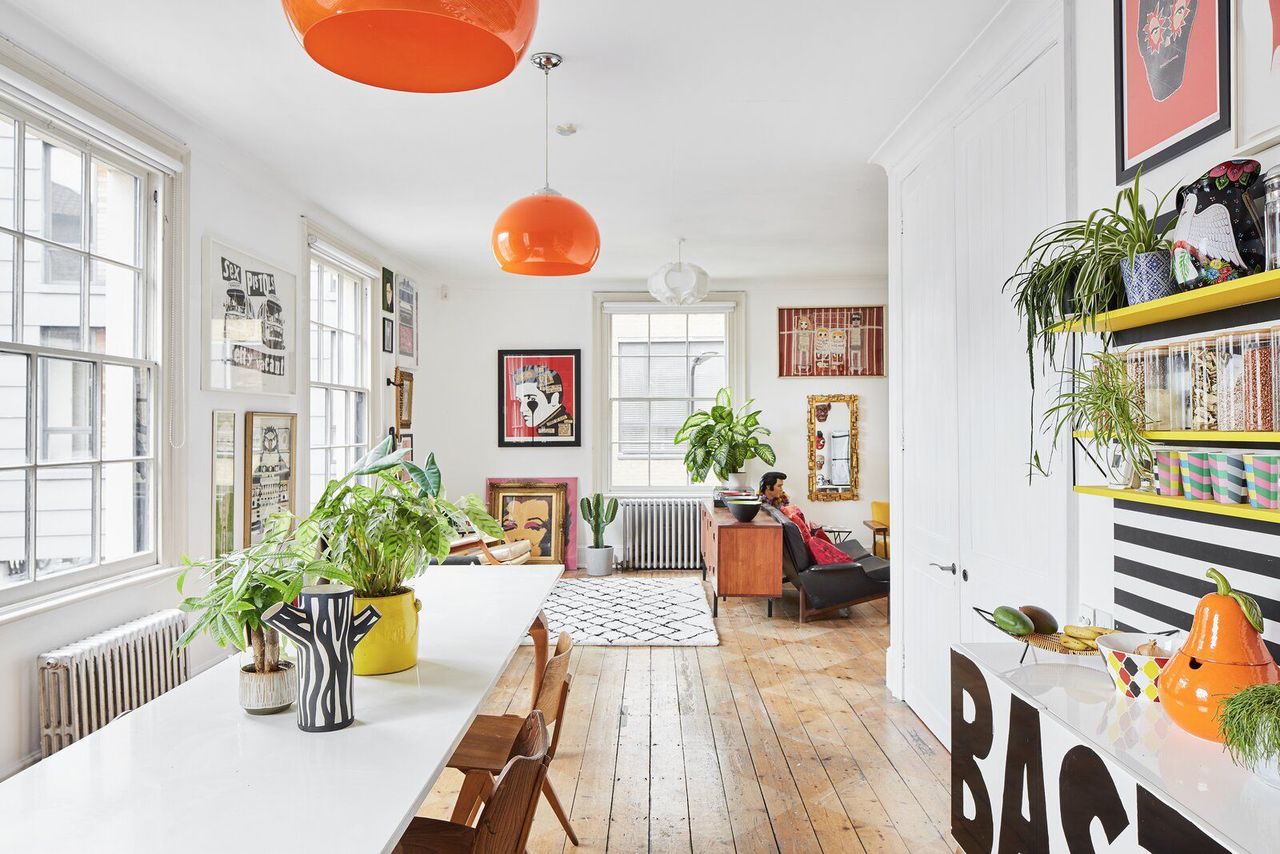 On the first floor, the kitchen looks out toward the dining and living areas.

The commercial portion of the home is comprised of two spacious studios that are arranged in an L-shape at the building's rear. "One of the spaces has a large roller door that you can drive into-which is presumably a remnant from the building's days as a car workshop-but that's been very useful for us when we move our artworks around," says Morag. "There's also a big basement, which is excellent for storage."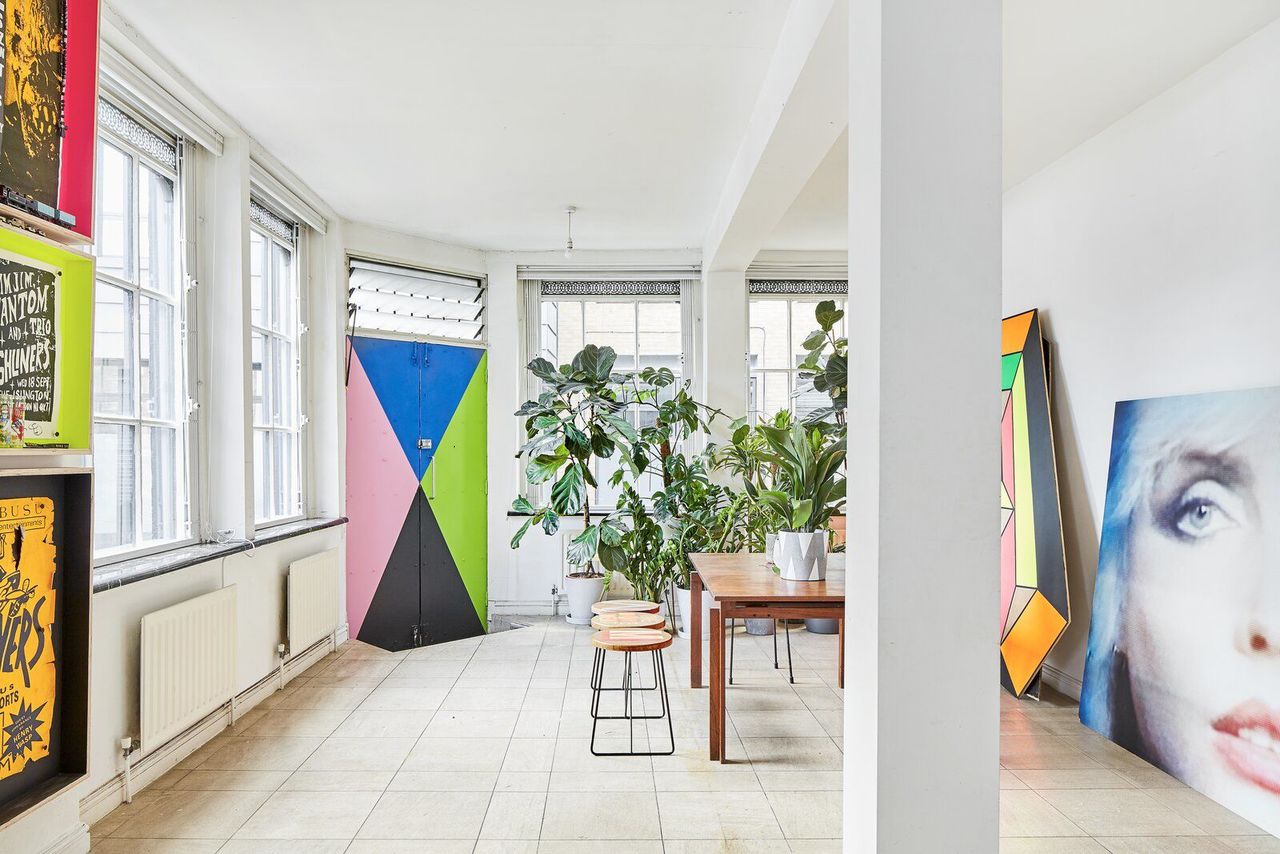 The home office can also be used as a gym or extra bedroom.

"I've loved working in my studio and having natural light throughout the whole year," Morag continues. "Luke's studio has a mezzanine level, which offers great light for his screen printing, too."




"We built the colorful library during lockdown in what is a very decent-size entrance hallway," Morag says. "I'd originally kept my books in the back studio space, but when Luke moved into it in 2017, I decided this would be the perfect place to keep them all."

After owning the converted Shoreditch building for more than 15 years, the creative couple are now looking for a new buyer to appreciate the space. "I never thought I'd sell this place, but if we don't do it now we'll end up staying here forever," says Morag. "We want to pass this on to someone who will make it their own and love it as much as we have."

"We're not precious about it though," the designer continues. "The building offers so many possibilities-the front could be turned into a shop, restaurant, or gallery. It's just ready for another layer now." Scroll ahead to see more of the vibrant east London home.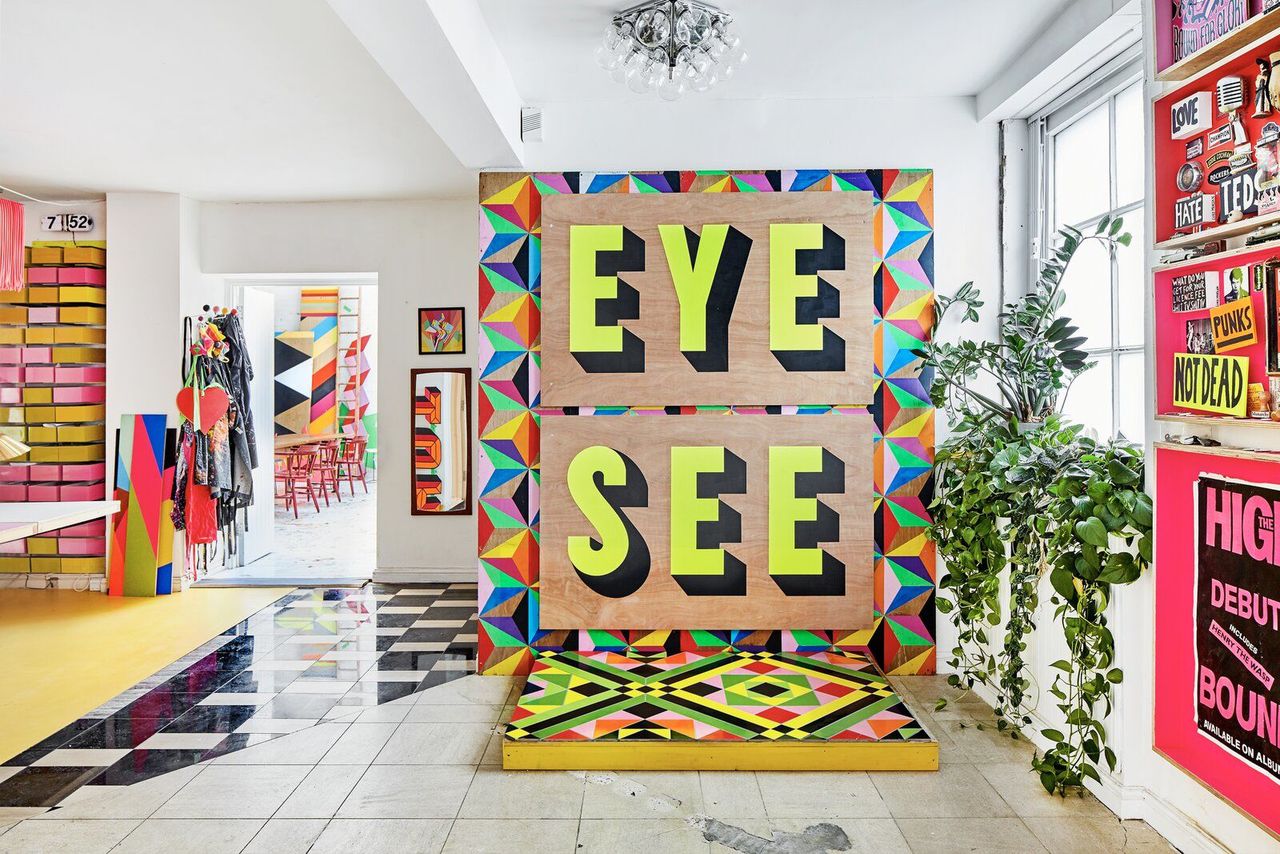 For more than 15 years, the London-based designer has used the converted building as a canvas to create her "own little world." Throughout the home, "there are pockets that reflect my identity as an artist," explains Morag.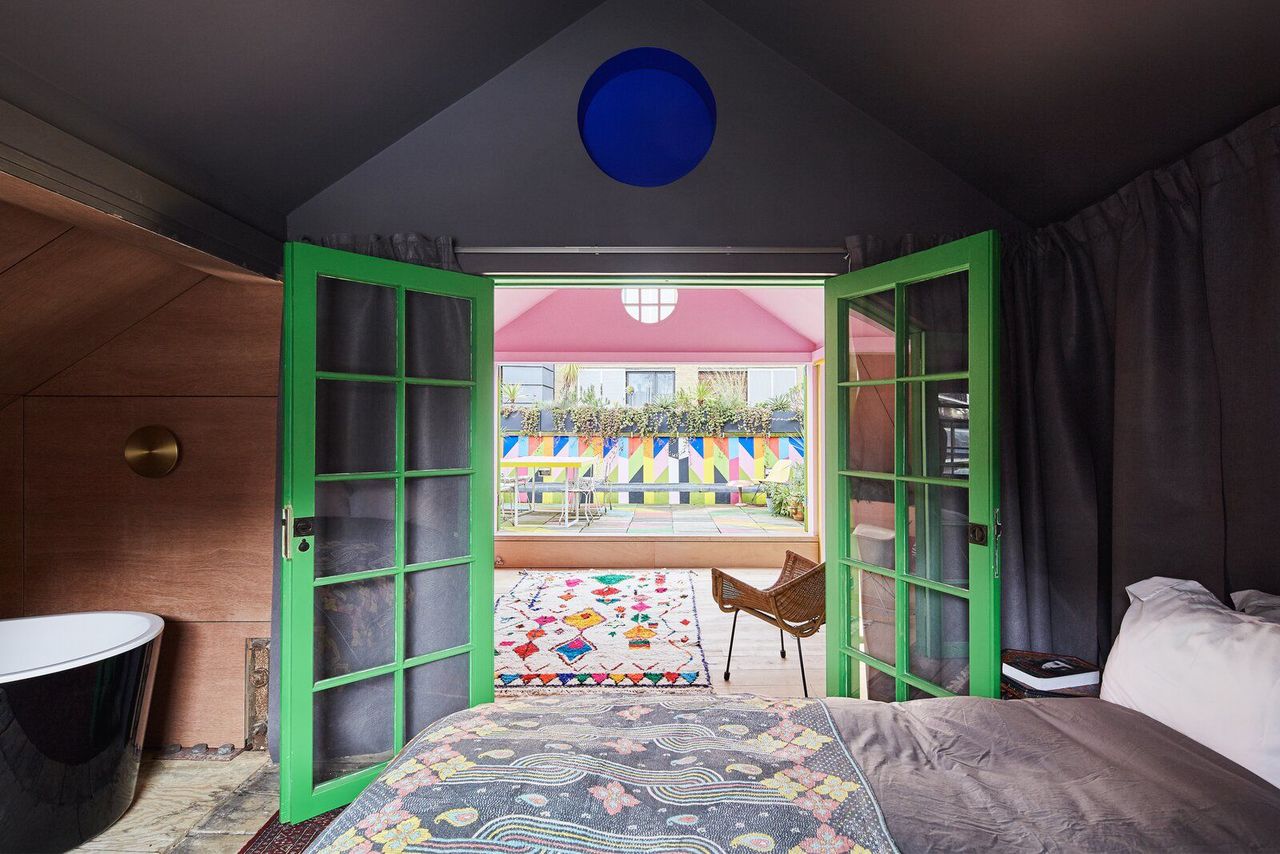 The principal bedroom presents a largely muted, gray palette. "Luke is a big believer that you should sleep in dark rooms," Morag says. "It's incredibly calming and quiet."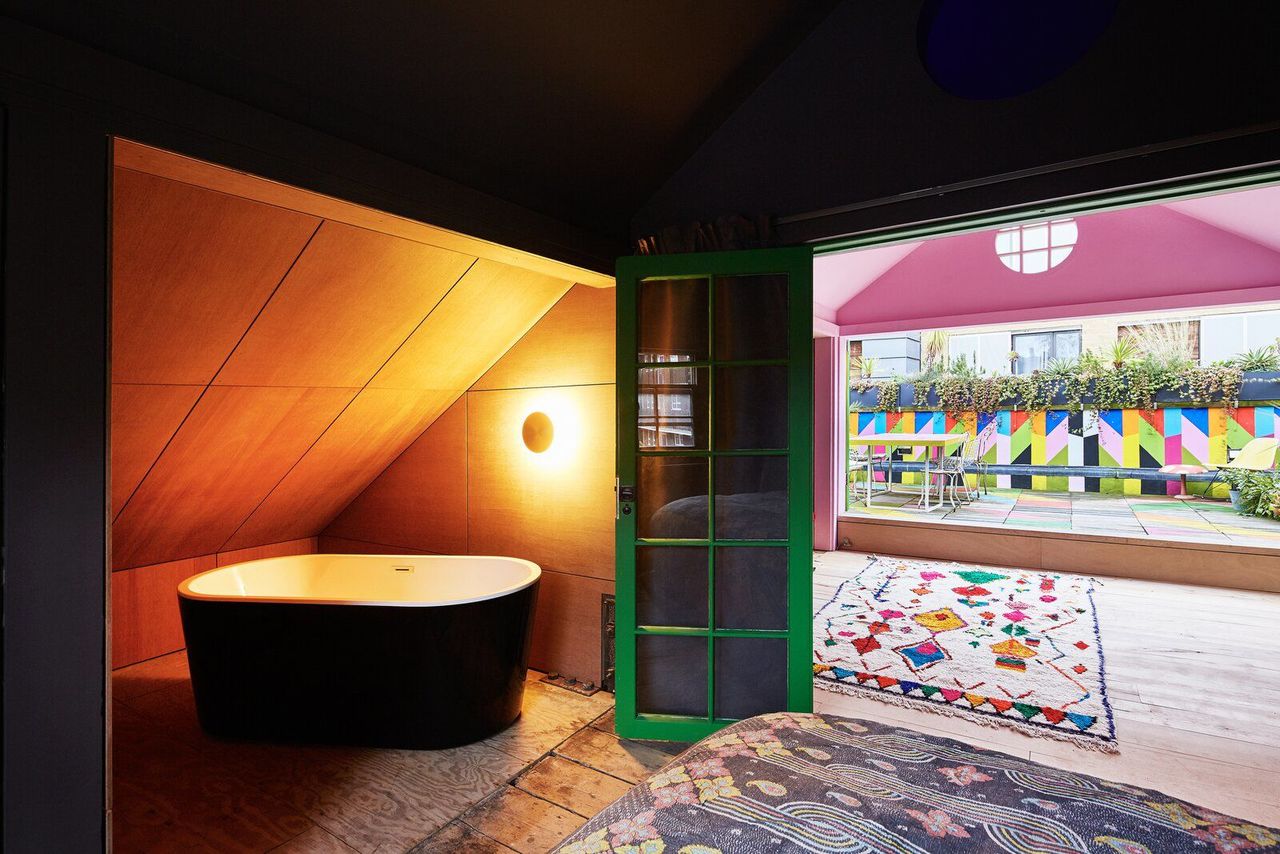 A large soaking tub sits in the corner of the principal bedroom.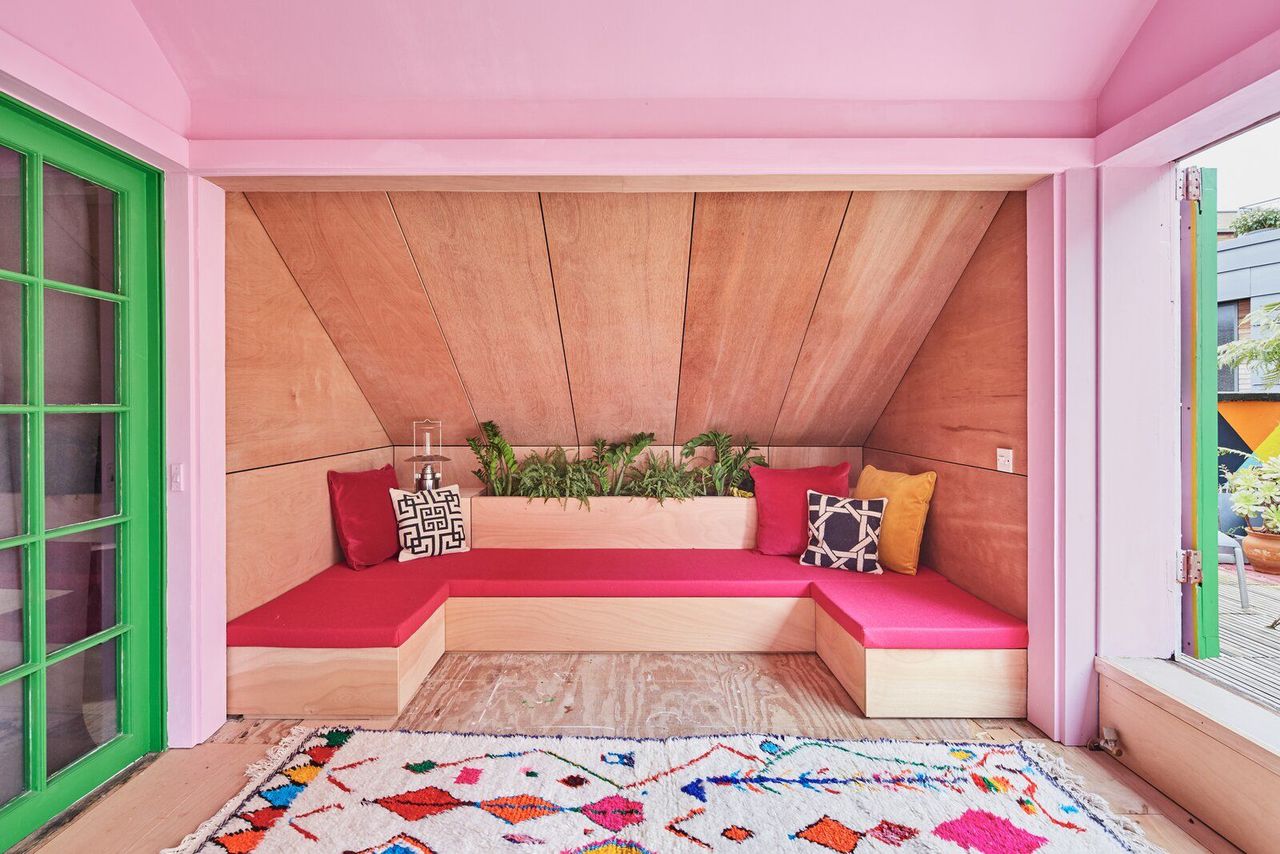 Sandwiched between the bedroom and terrace is a vibrant reading nook, which the creative duo call the Summer Room. The artists designed the built-in seating to include a bespoke planter.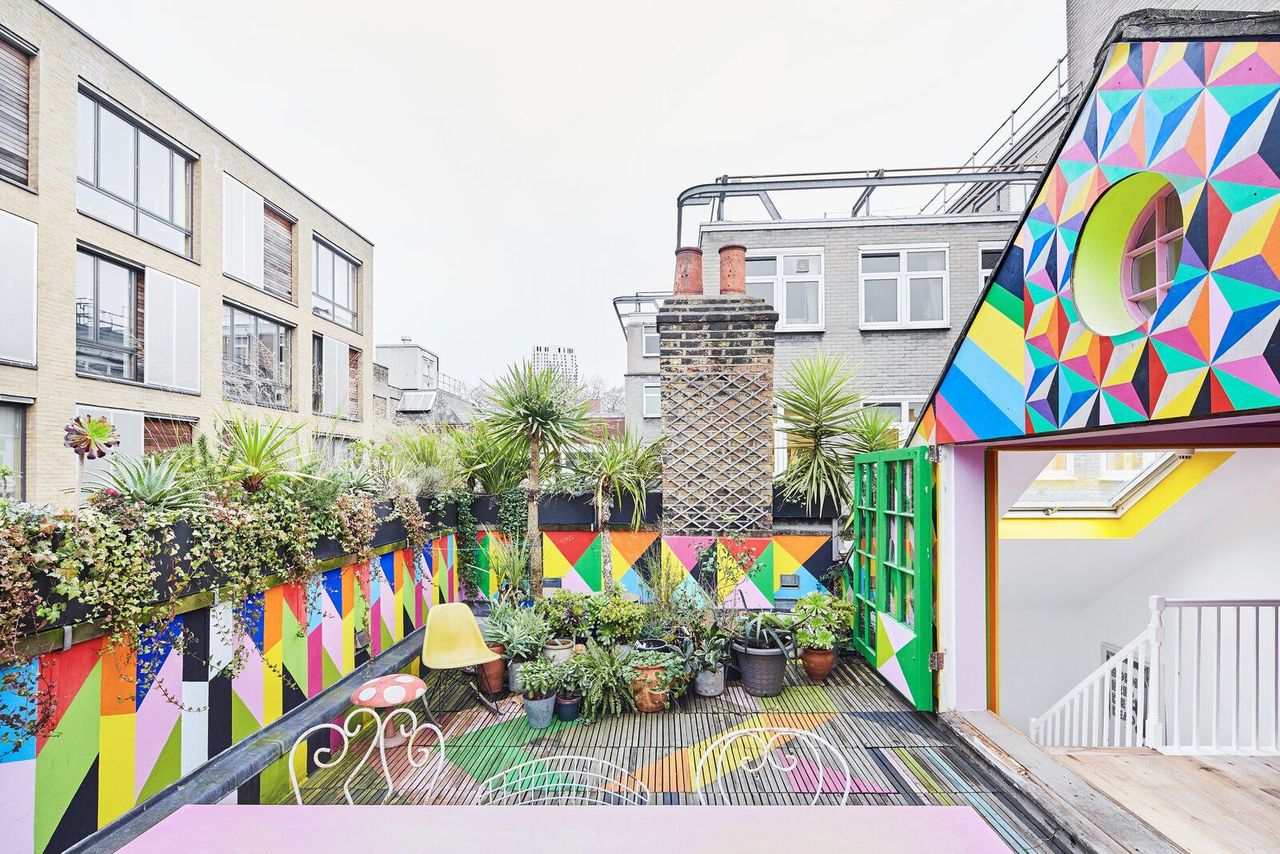 "I painted the terrace during lockdown with bold, geometric patterns and colors," adds Morag. "I love being out there. It's an absolute sun trap."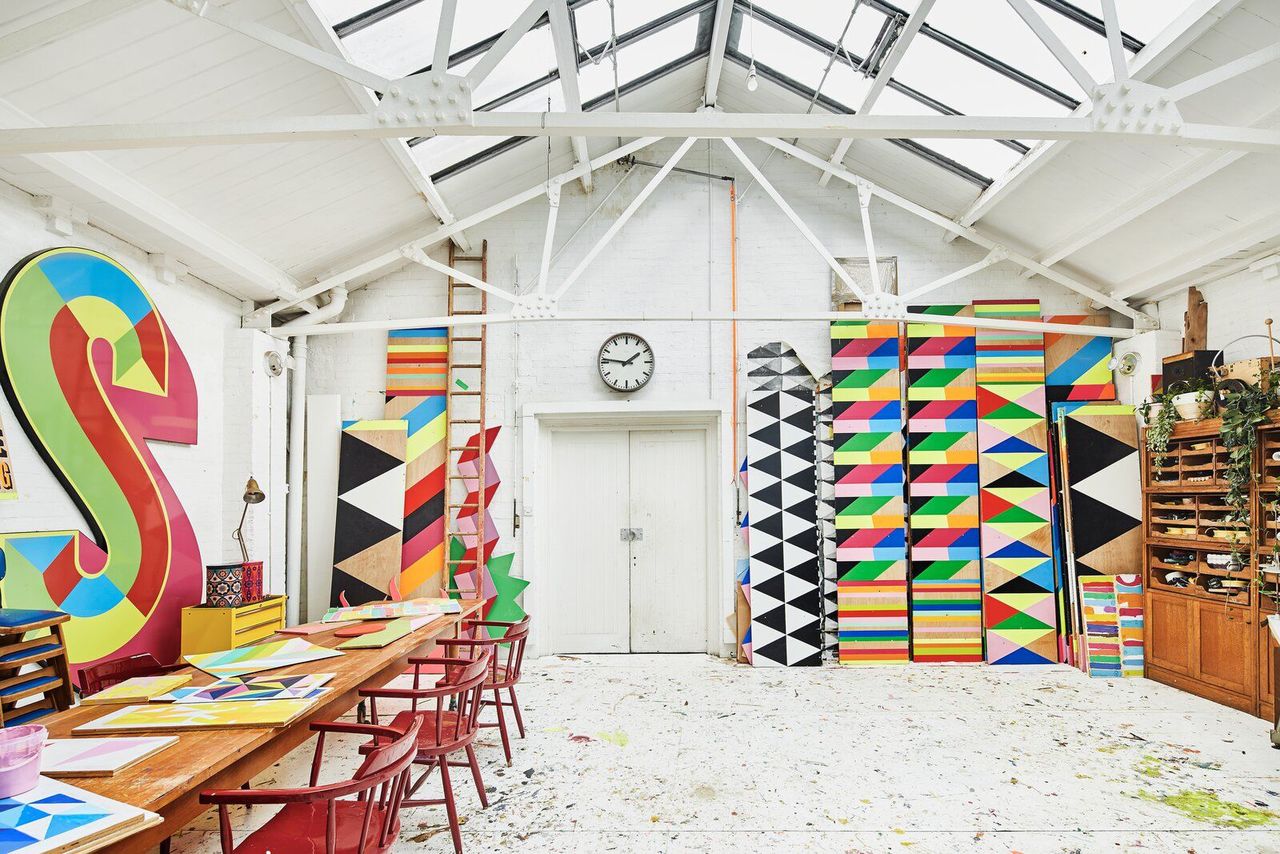 Another one of the large studios also features a soaring pitched roof.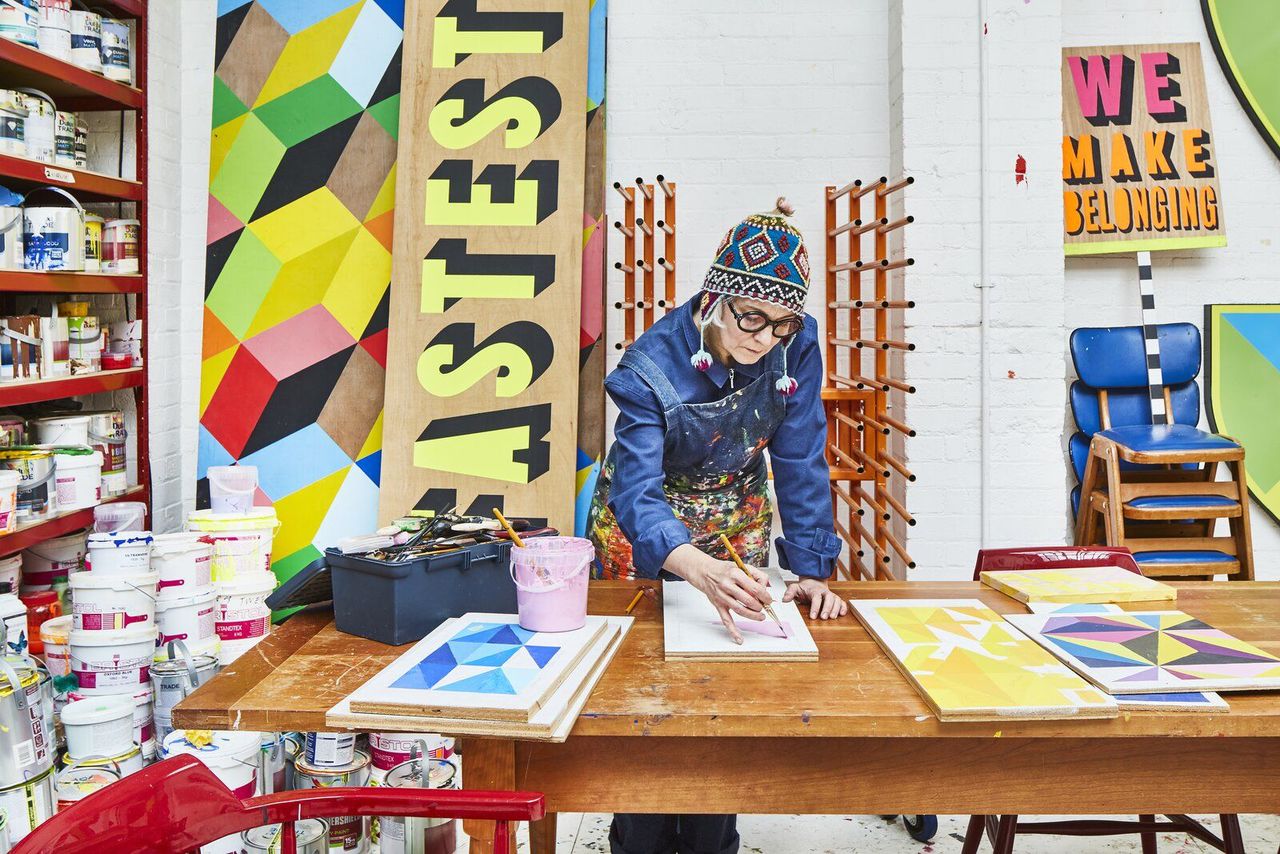 "I've always been able to separate my work from the surroundings in which I live, and it's been amazingly easy to keep the two quite distinct here," Morag says. "But this is the longest I've ever lived anywhere, and it feels like the right time to find a new environment."