Designed by Santa Barbara–based Matthew and Joanna Hofmann, the 2022 Living Vehicle travel trailer is an eco-conscious adventurer's dream. "Our company is about getting off-grid and living your best life," Joanna says. "The 2022 model has a completely new energy system. The ability to capture natural energy from the sun and turn it into raw power that's stored in a large energy pack for use later is what makes Living Vehicle so capable."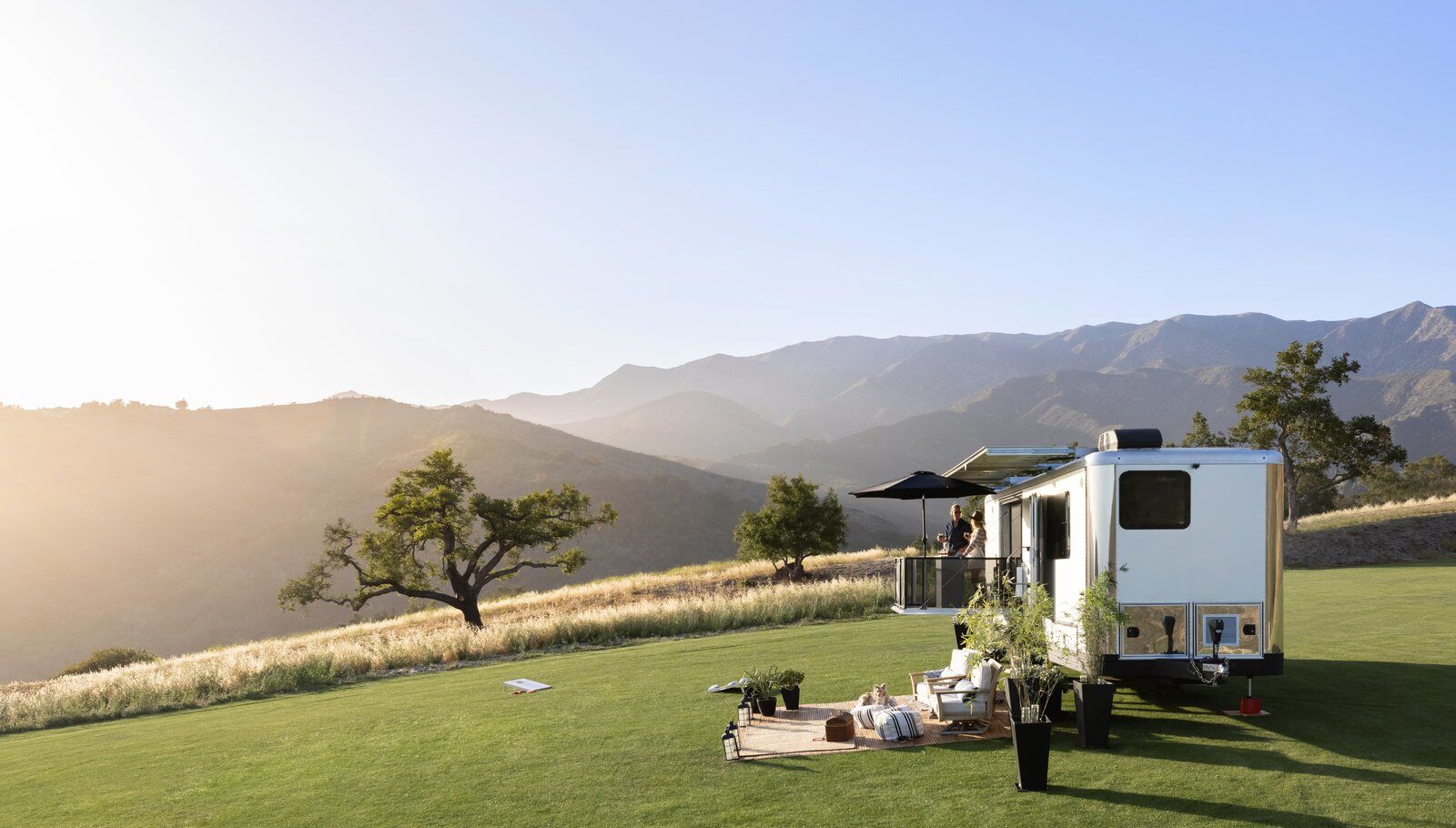 Living Vehicle enables nomadic homeowners to live sustainably while working and traveling.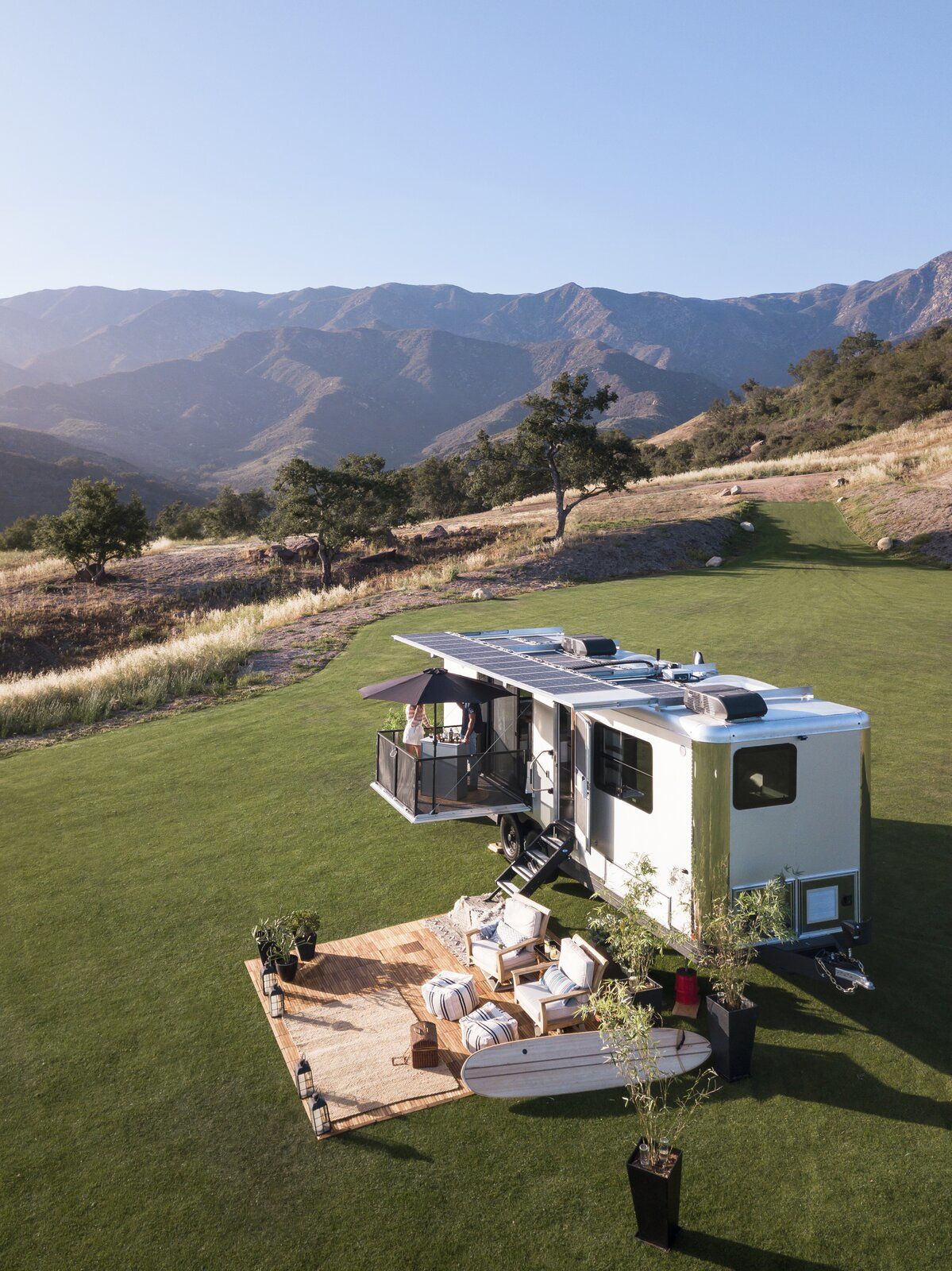 The home on wheels is clad with aluminum, which is durable, low-maintenance, and long-lasting.

The Hofmanns, who call their own Living Vehicle home, started their company in 2017 after Matthew, a LEED-accredited architect, designed and built an Airstream as his office. "The Airstream eventually became my permanent home on a piece of land in Santa Barbara with a gorgeous view of the Pacific Ocean," he says. "I grew up in the rugged mountains of Mammoth Lakes, California, and so I have a fierce passion for the outdoors and creating indoor spaces that seamlessly connect people with the outdoor world."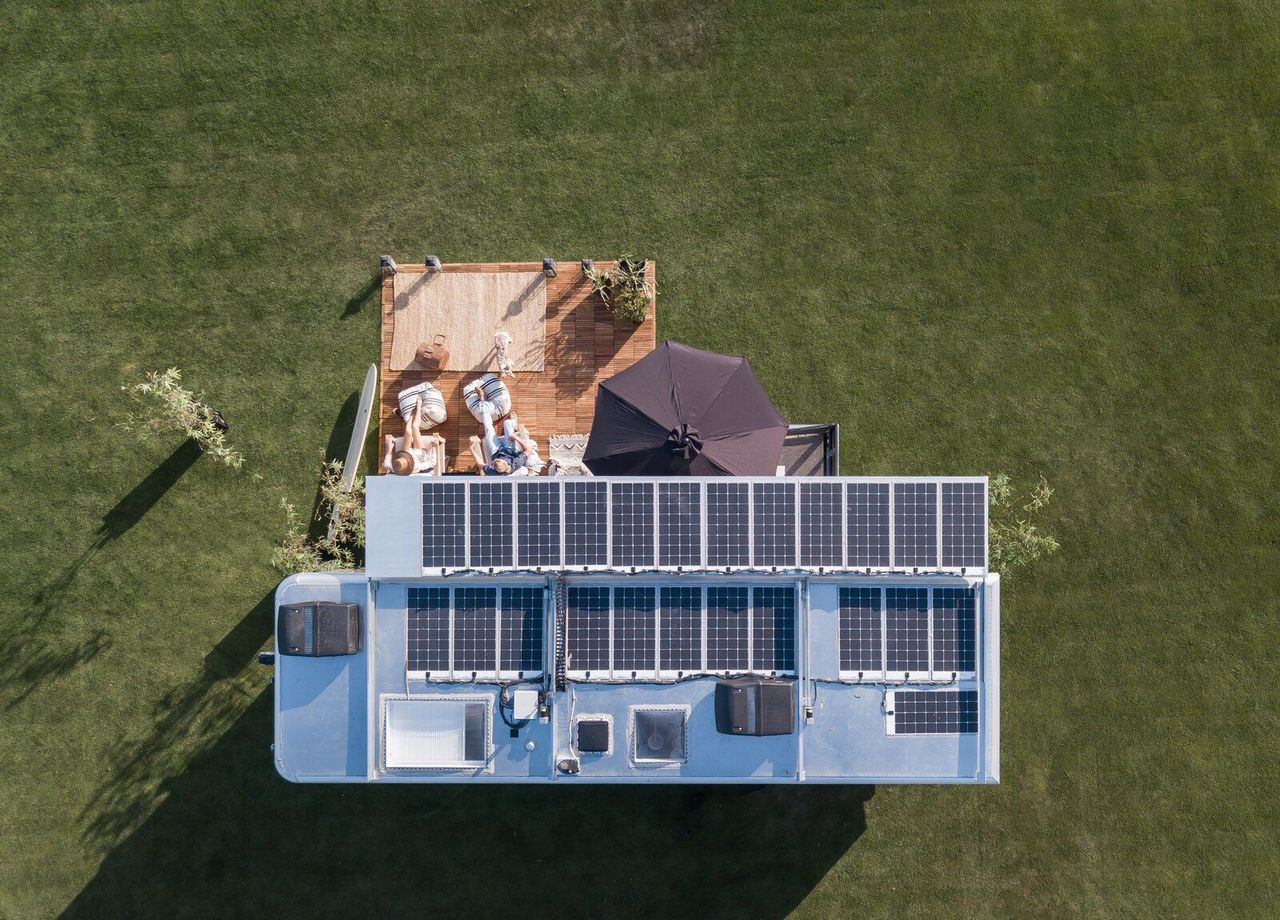 Rooftop solar panels help to power the home's major appliances and its heating and cooling.

Joanna, who has a background in nutrition, holistic health, and business, is the company's chief marketing officer-and her contributions to the small-space design process are invaluable. "One thing I bring to the table is how to make the trailers functional and comfortable enough for everyday living," she says. "There's a big difference between camping for a weekend and making this your full-time home."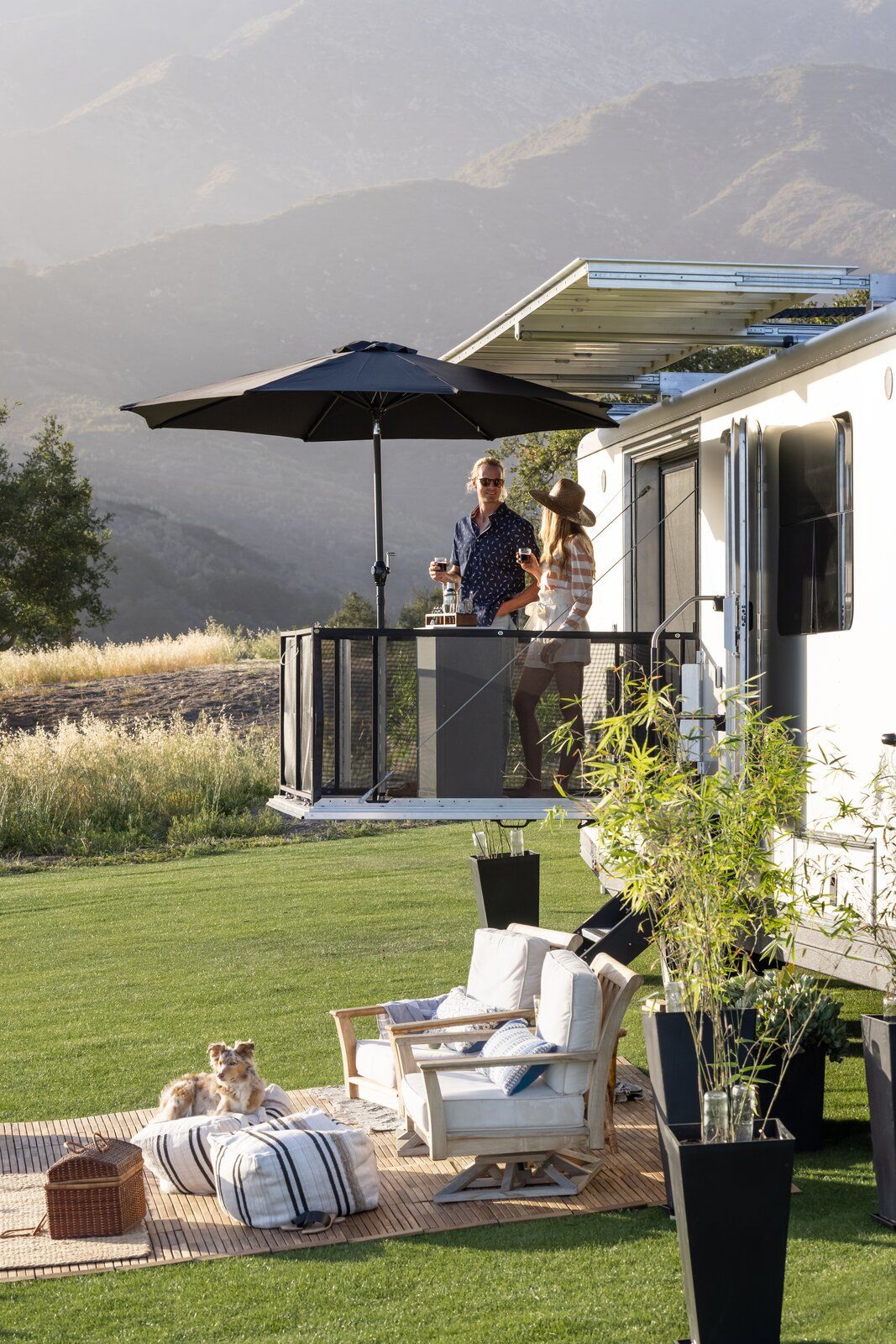 "Living Vehicle was designed to connect people with nature-and its 60-square-foot outdoor deck allows owners to get even closer to it," Joanna says. "Owners can use the deck as an outdoor kitchen, a yoga studio, a place to relax without being bothered by ground bugs, or as a stargazing platform."

Joanna considers elements she found difficult while living in previous micro homes, and she works with Matthew to create solutions. "It's one of the best things about creating a product that serves real-life, everyday needs," she says. "We've lived in so many small spaces together, and I know that if something annoys me, it must be an issue for others. After I found out Matthew worked in the trailer world and wanted to pursue the lifestyle with me, I had a long list of non-negotiables before I'd commit."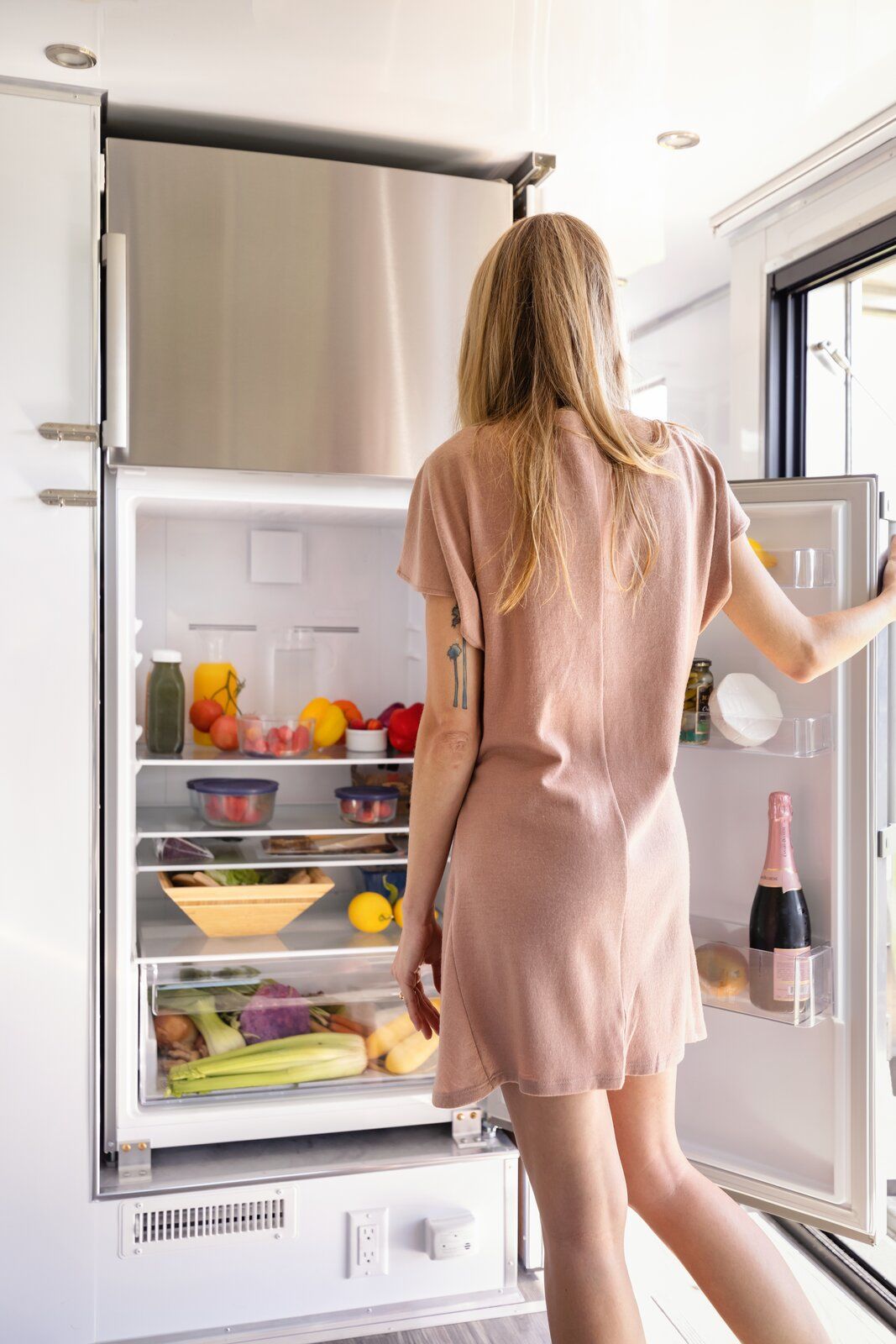 The flexible kitchen is equipped with a full-size refrigerator.

A sizable kitchen with plenty of storage was on Joanna's list of must-haves for the tiny home on wheels-as was a comfortable bathroom. "Making healthy and delicious meals in a small space is possible with the right design," she says. "And above all, I needed a nice bathroom-bathrooms in trailers are notoriously terrible. I wanted a space that felt great when I took my morning shower...a space that connected me to nature."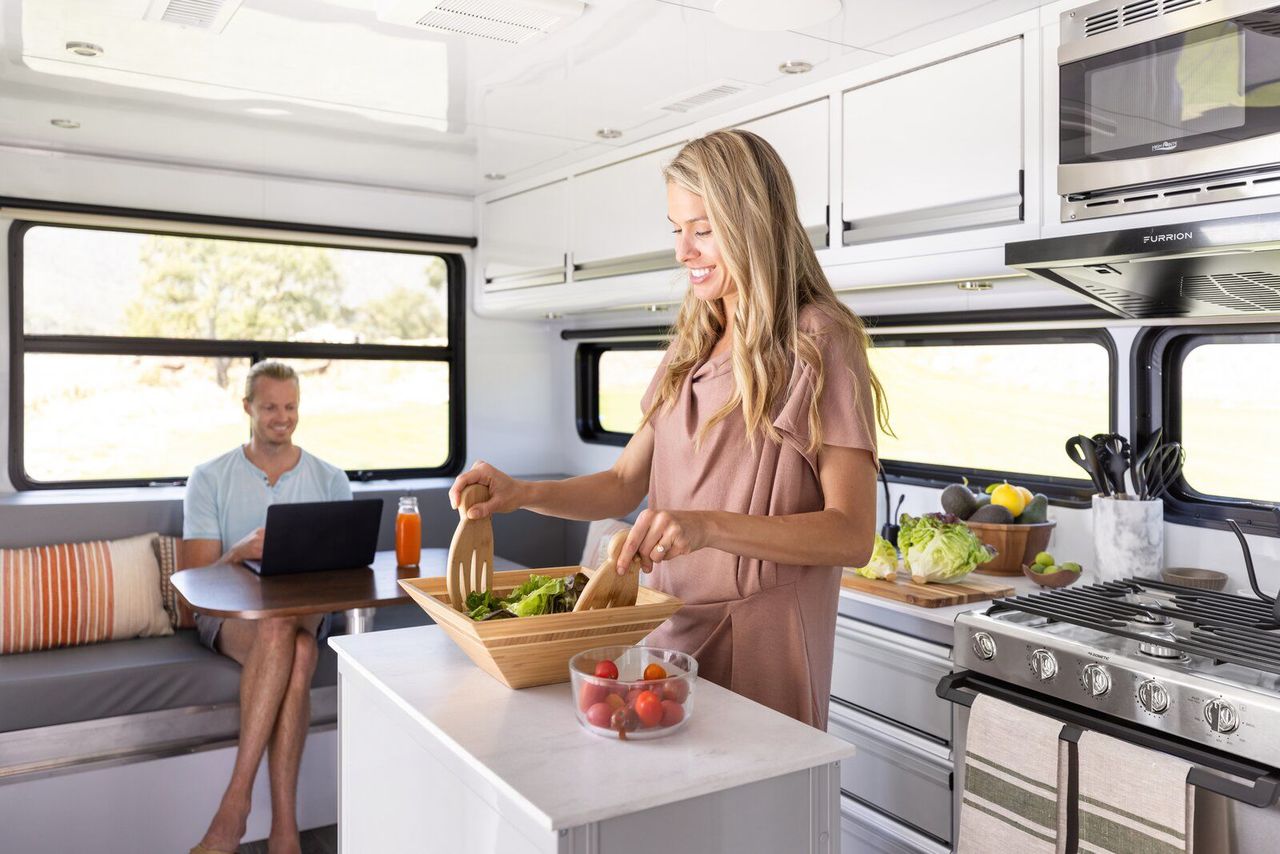 A removable island provides space for food preparation in the open-plan kitchen.

The new Living Vehicle starts at $250K, and it comes equipped with a kitchen and an ample pantry, extra storage for hobby and exercise gear, a tall closet that accommodates hanging clothes, a spa-like bathroom that connects to the outdoors, and a 60-square-foot outdoor deck. "We found that most small spaces weren't able to go off-grid for very long, so we wanted to design a full-time off-grid residence with as few limitations as possible," Matthew says.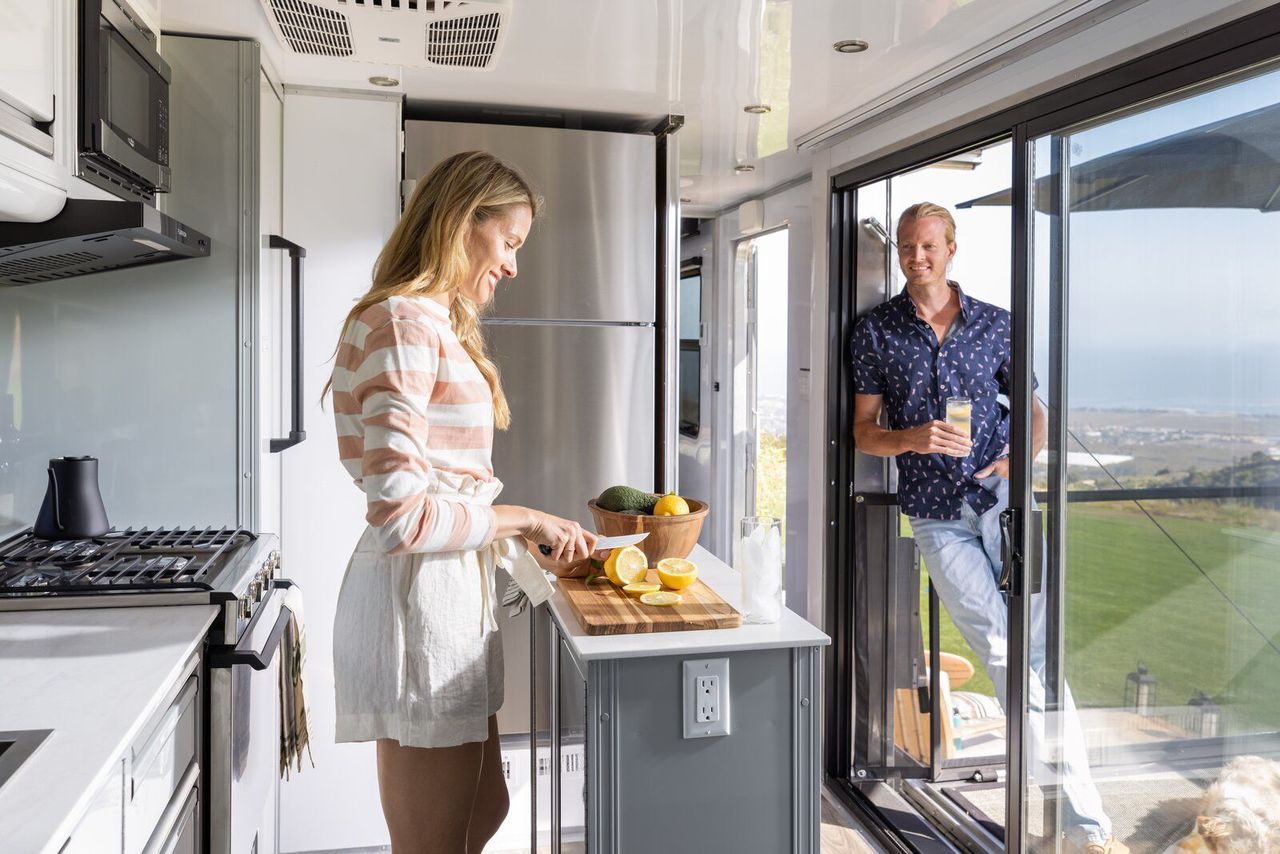 Sliding glass doors connect the kitchen to the outdoor deck and the landscape beyond.

The four-season residence is designed with an array of flexible spaces-a built-in sectional in the living/dining area converts to a bed for overnight guests, and in the bedroom the queen-size bed turns into an 80-inch desk. "When the bed is put away, some of our customers also use this extra floor space as a children's play area," Joanna says.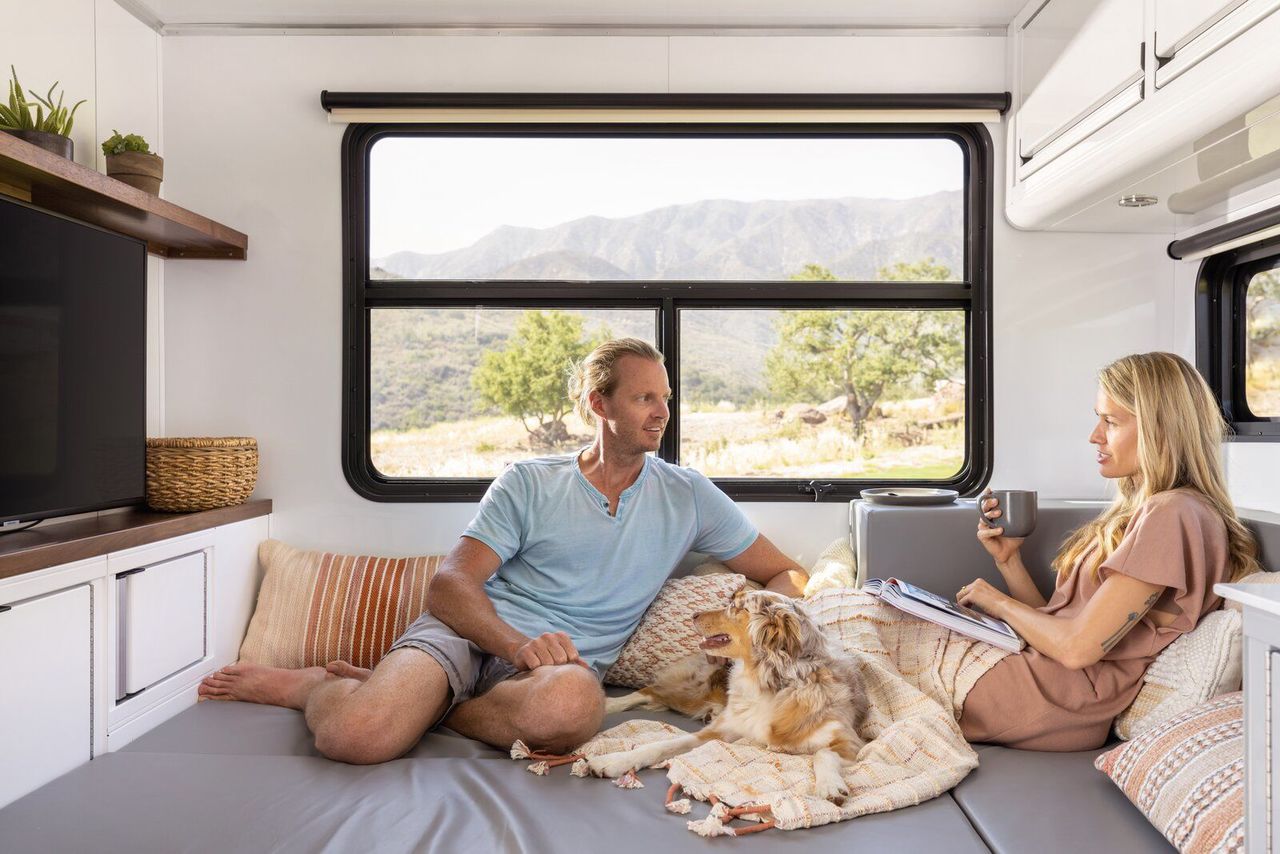 The dining area features a removable table, and it can convert into a lounge or living area.

Clad with aluminum, the tiny home is as durable as it is efficient. "Aluminum is one of the most common natural elements, and it's a fully recyclable resource," Matthew says. "It's lightweight, low-maintenance, strong, and will last a lifetime."

The Hofmanns were also drawn to the way aluminum takes on a patina. "It's an honest material that gets better with daily use and the passing of time," Matthew says. "The oxidation process forms a naturally occurring protective layer that prevents corrosion."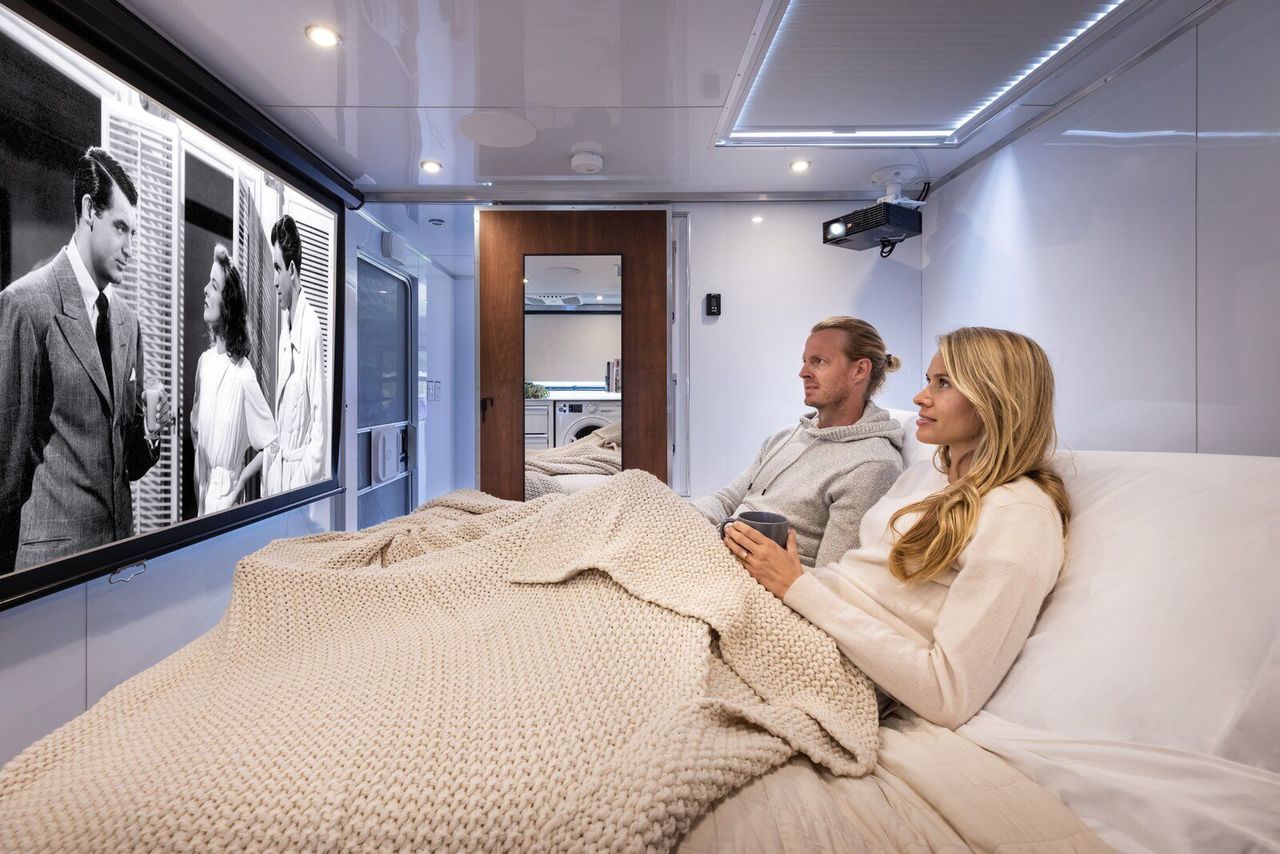 The bedroom has a large viewing screen, a projector, and a queen-size bed.

Sustainability was also an important design consideration for the Hofmanns. According to Joanna, the Living Vehicle has more solar power than most homes. Every year, the couple aims improve on the previous year's model with the ultimate goal of creating an all-electric, net-zero product. "The 2022 model brings us one step close to that vision," Joanna says.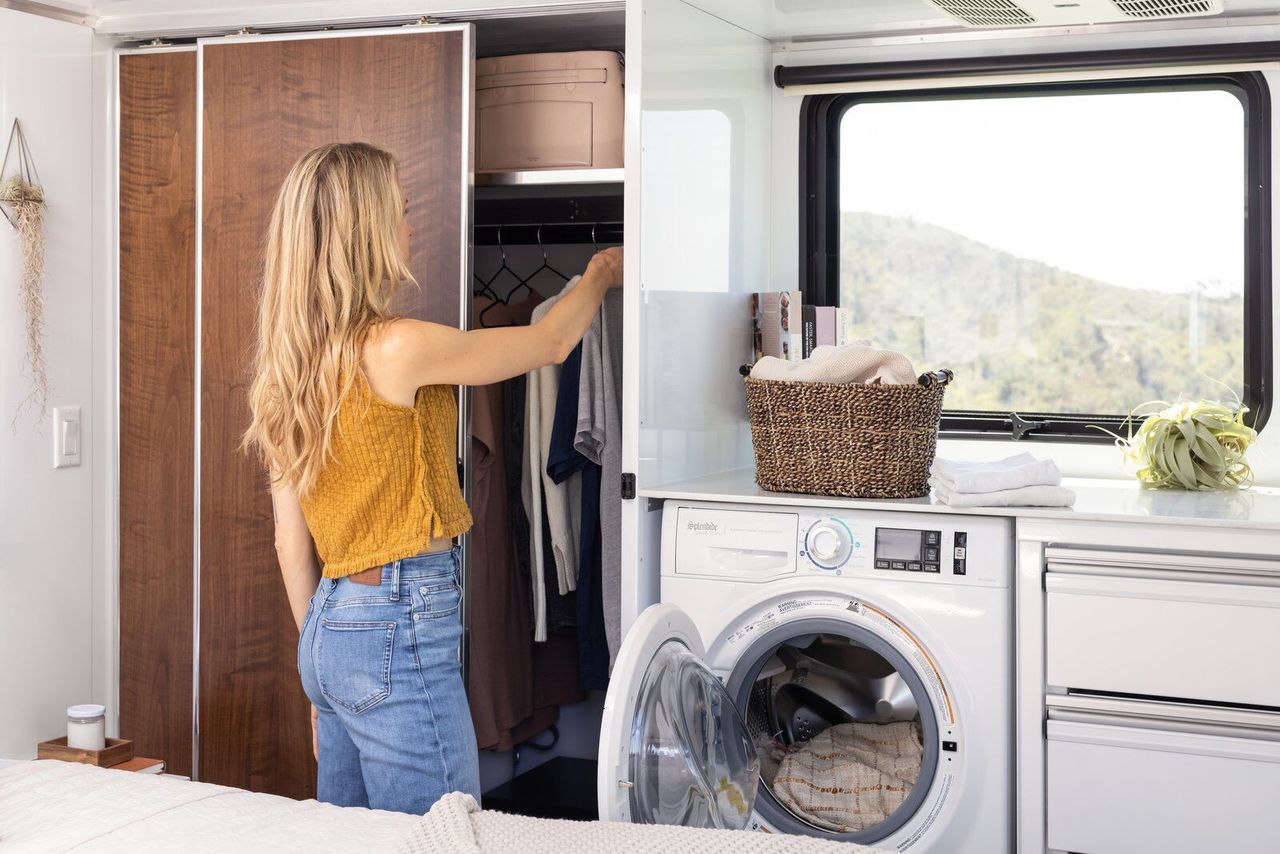 A laundry area and a tall closet that accommodates hanging clothes are located in the bedroom.

Solar energy can be used to power all of the Living Vehicle's major appliances, heating, and cooling systems. "With the advent of electric tow vehicles, the near-term vision is to store solar energy and then charge the same truck that pulls the trailer, bringing the concept of a fuel-free world one step closer," Joanna explains.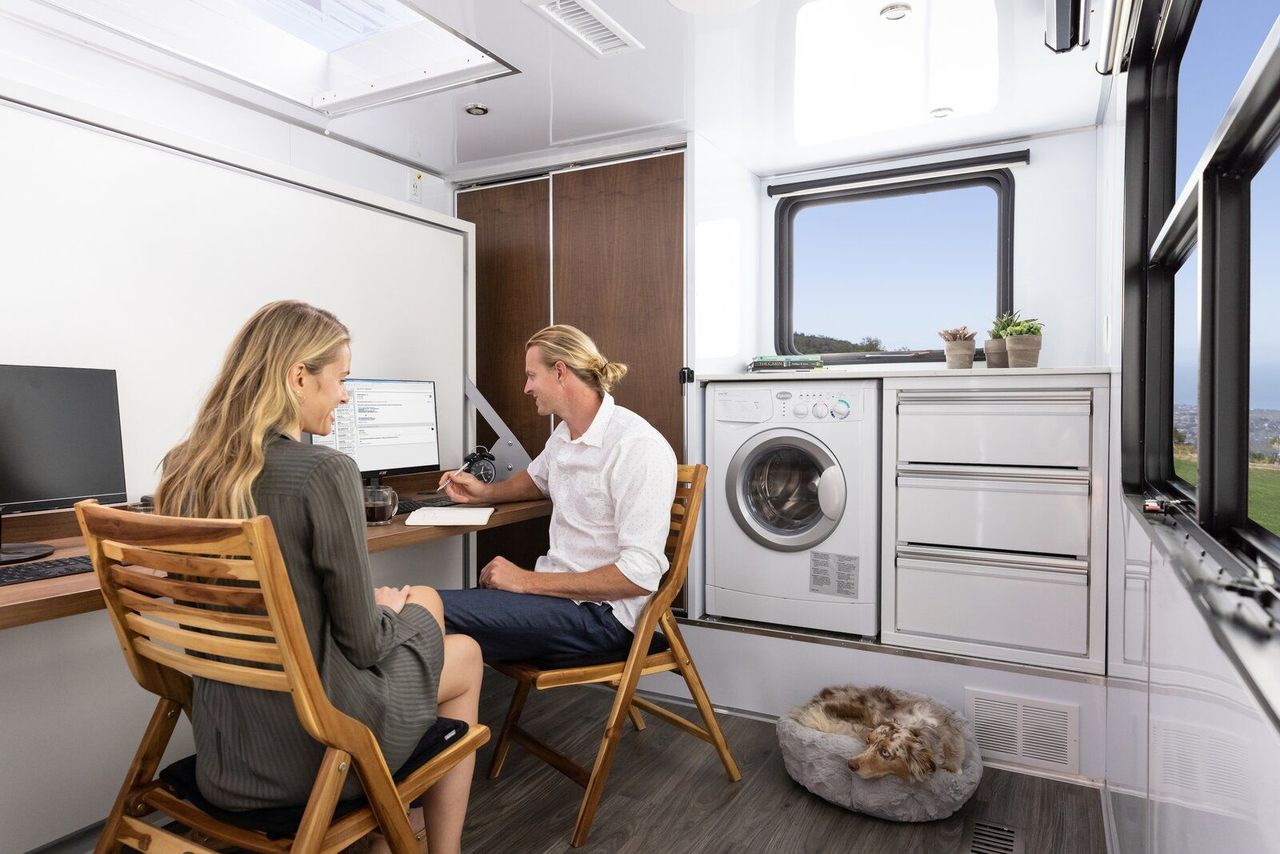 The bedroom's queen-size bed folds into the wall and converts into a desk so that the room can be used as an office space.

The company currently delivers to Canada and within the United States-and lately, they're shipping more models than ever. "One of the effects of the pandemic was an increase in housing prices," Matthew says. "As a result of the pandemic, the 2020 California wildfires, and Texas power outages, Living Vehicle has become a solution for homeowners looking to live simply and freely. People are choosing not to depend on big utility provider corporations that are becoming increasingly unreliable."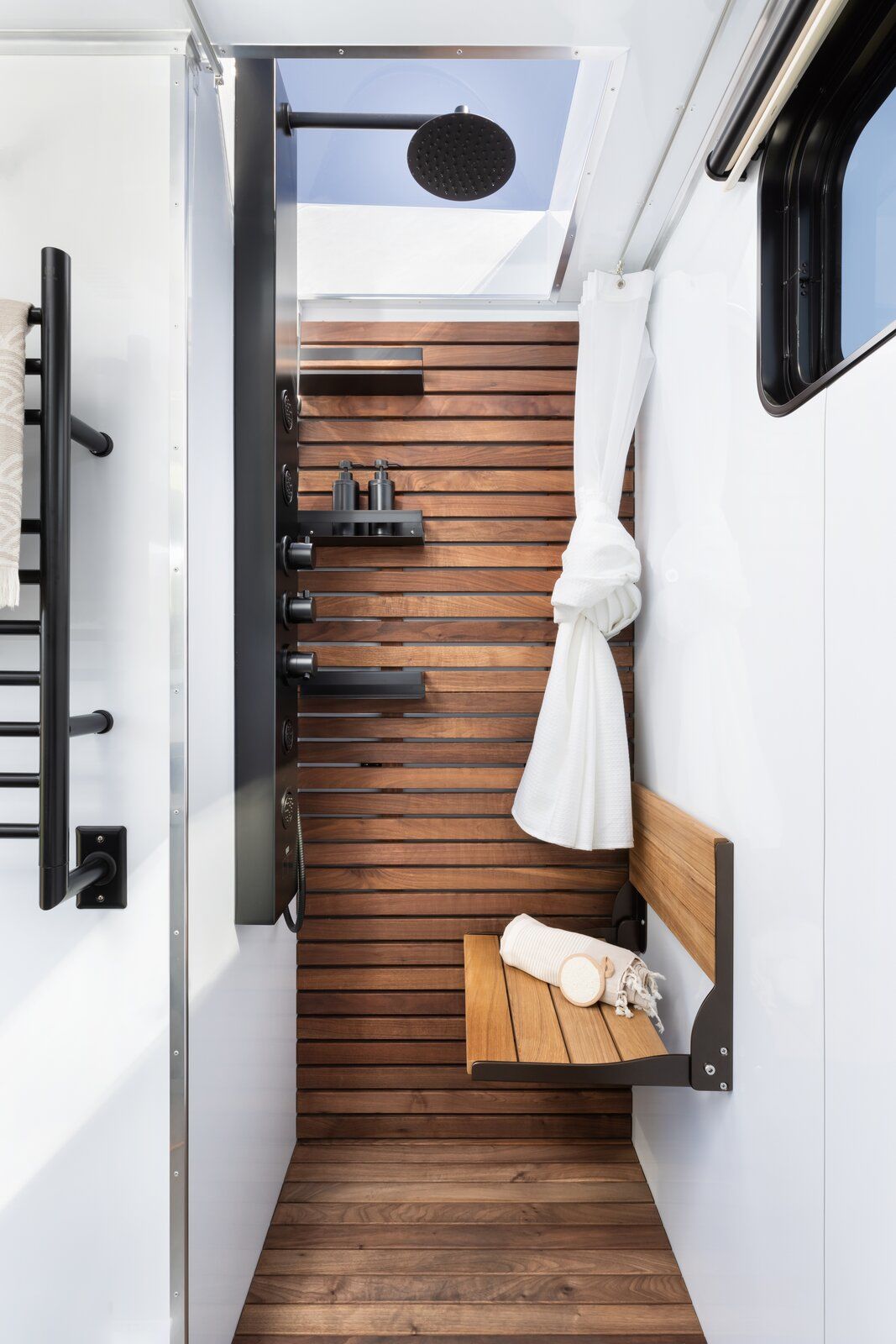 A skylight in the spa-like bathroom provides the feeling of showering outdoors.

The couple has also learned that customers simply want a different way of life. "Our typical client is the nomadic homeowner," Joanna says. "If 2020 taught us anything, it's that commuting to work to grind away at a desk is not the only way to live and be successful. In the last year, professionals have thrived in remote environments, and they are now finding creative ways to be productive while traveling and exploring."