It's the color of the sky and of the ocean, which is likely why there's something innately tranquil about the color blue-and why it's such a natural hue for the heart and hearth of the home. Navy cabinets feel sophisticated paired with marble counters, while periwinkle appliances have a playful edge. Or you could upholster a banquette in azure, or tile your floors in ultramarine. In each of these 40 blue kitchens, the shade is used in smart, innovative and deeply comforting ways. It's a blue mood, but in a good way.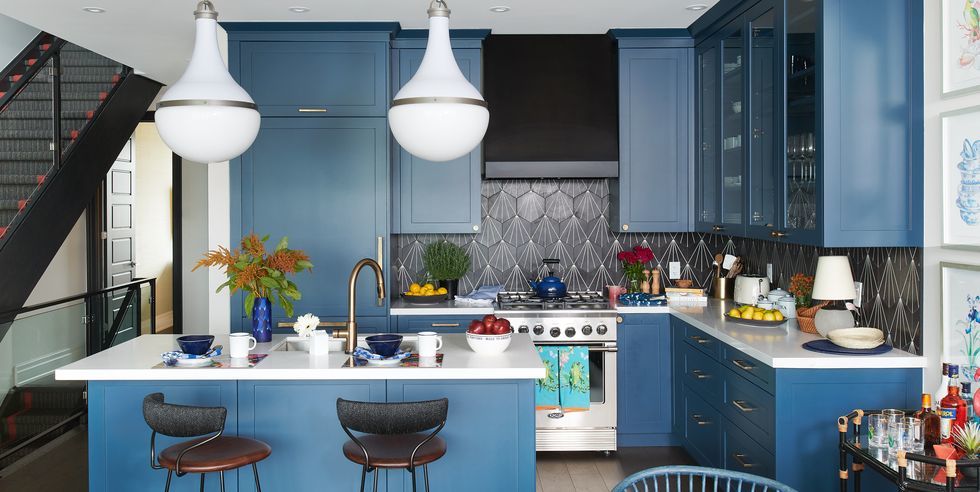 Blue Paint, Black Tile

In a Canadian lake house, the kitchen is painted in Benjamin Moore's Van Deusen Blue, the pendant lights are by Urban Electric Co., the backsplash is in Saltillo Tile, and the counters are Caeserstone in London Grey.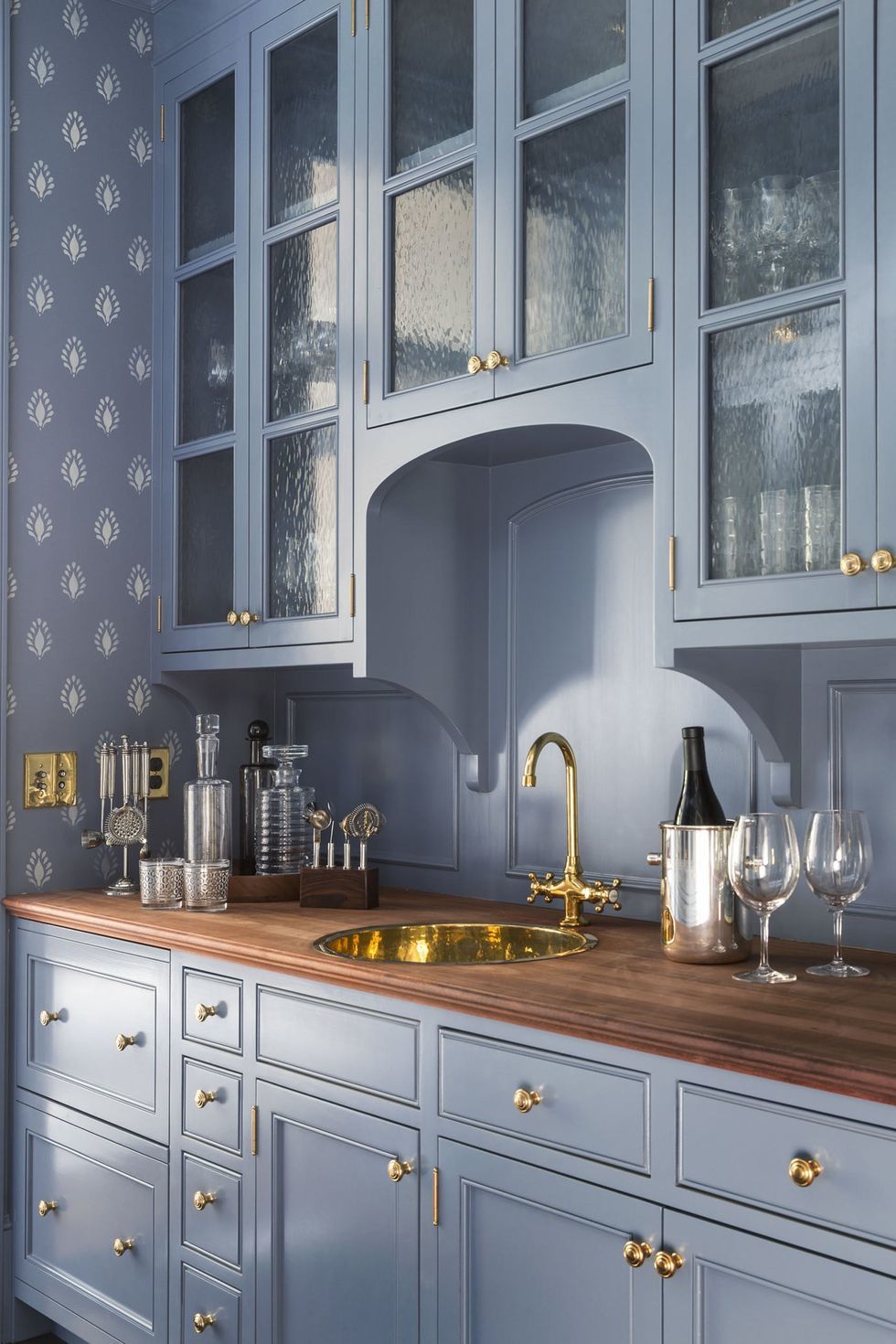 Blue Wallpaper and Cabinet Kitchen

A Tennessee-style butler's pantry by Tim Barber Ltd. warms up cornflower blue cabinets with gold accents; a paisley wallpaper in a nearly the exact same shade matches just so.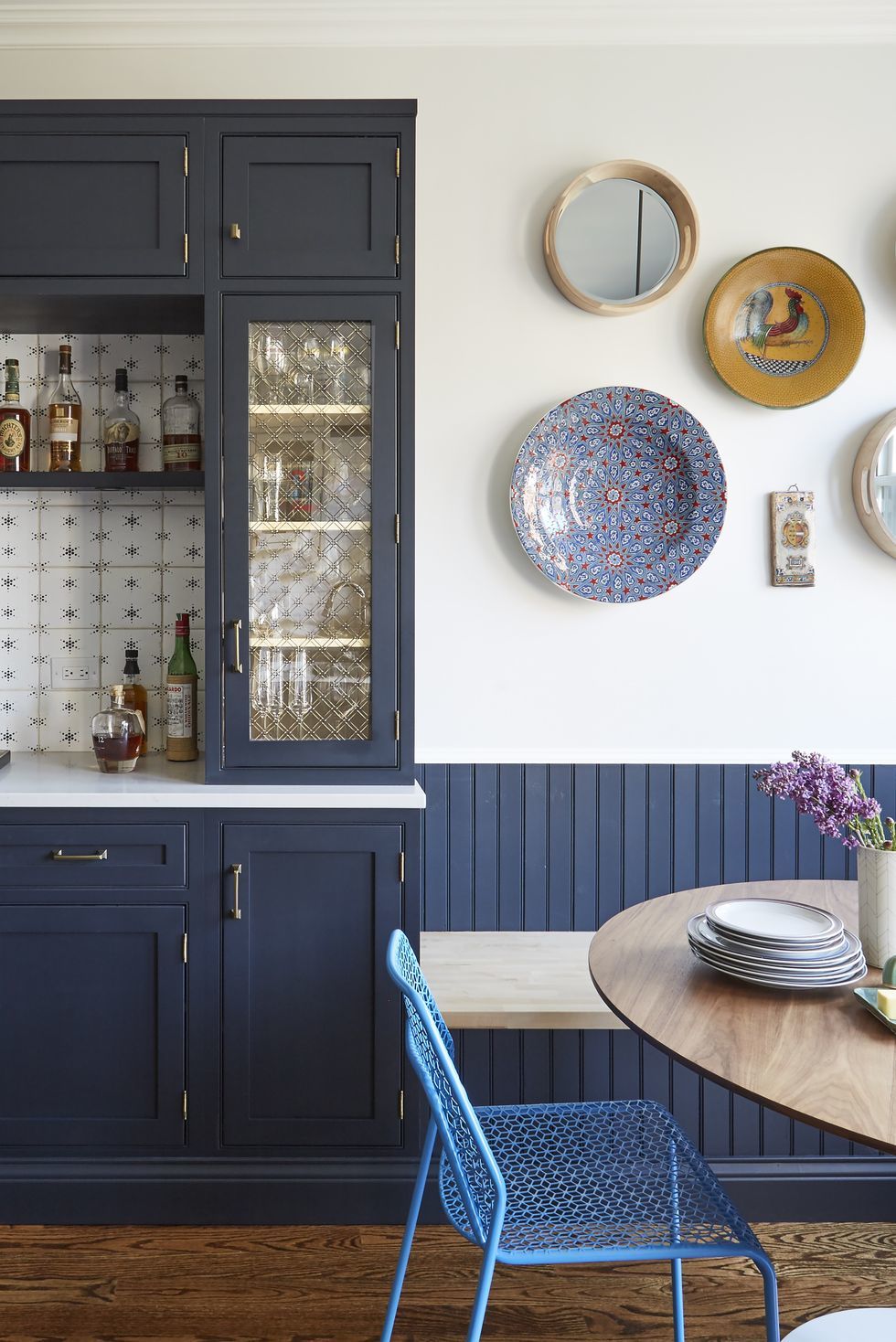 Blue Wainscoting Kitchen

KitchenLab Design | Rebekah Zaveloff Interiors created this deep navy kitchen bar inspired by the night sky (note the star-patterned backsplash). By carrying the cabinet shade to the wainscoting, a seamless transition is made to the breakfast nook. Blue accents (chair, plate) are variations on a theme.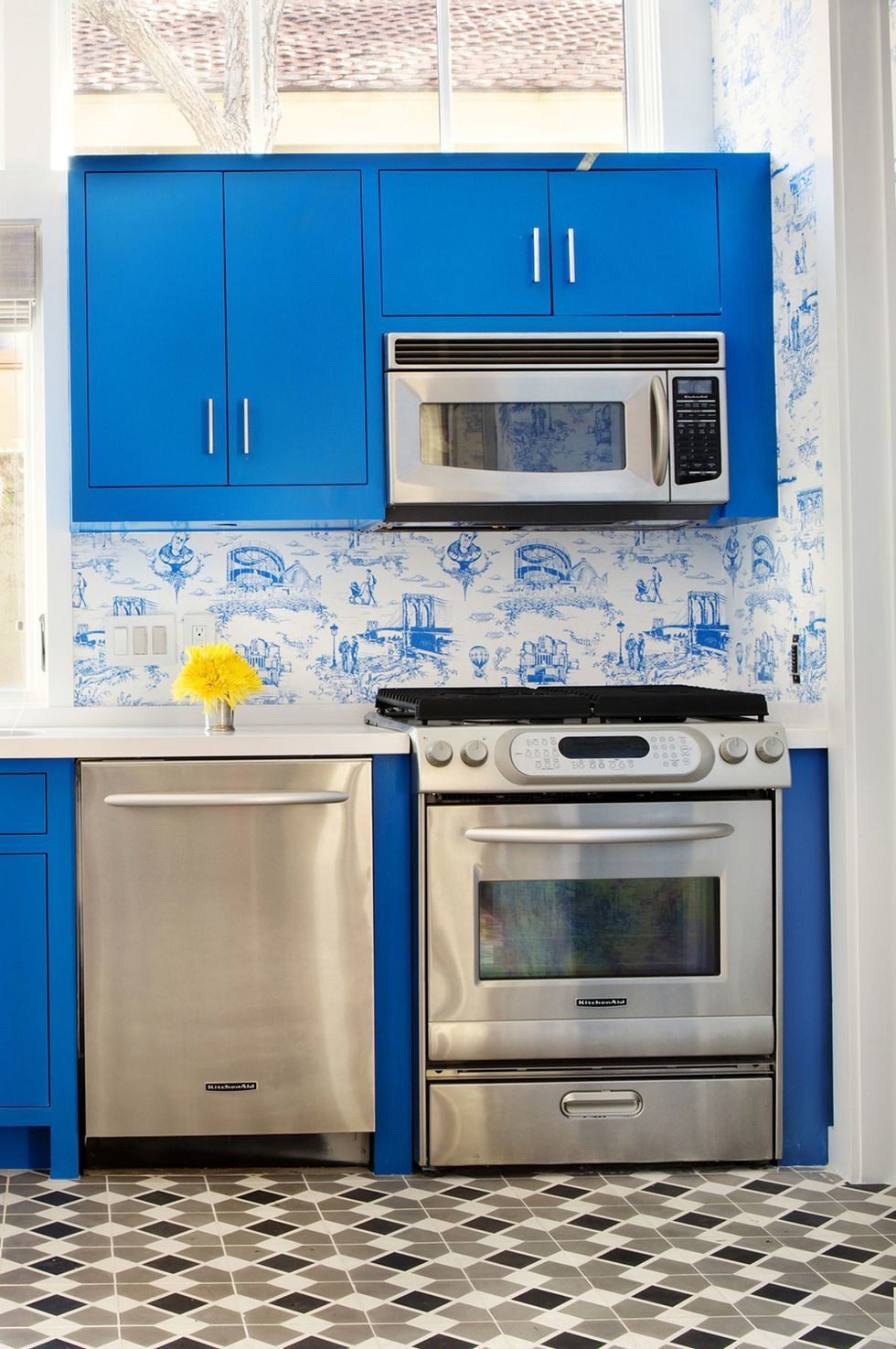 Toile Blue Wallpaper Kitchen

This kitchen by Sarah Wittenbraker is in a poolhouse, so it makes good sense to make a splash. (Ba dum dum...) Glossy blue cabinetry is a playful contrast to sometimes stodgy toile.


Blue Upholstered Nook

If the surfaces in your kitchen are already accounted for-and they're not yet blue-take a look at your seating. The breakfast nook banquette in a Brooklyn townhouse is upholstered in a smart Zak+Fox patterned fabric.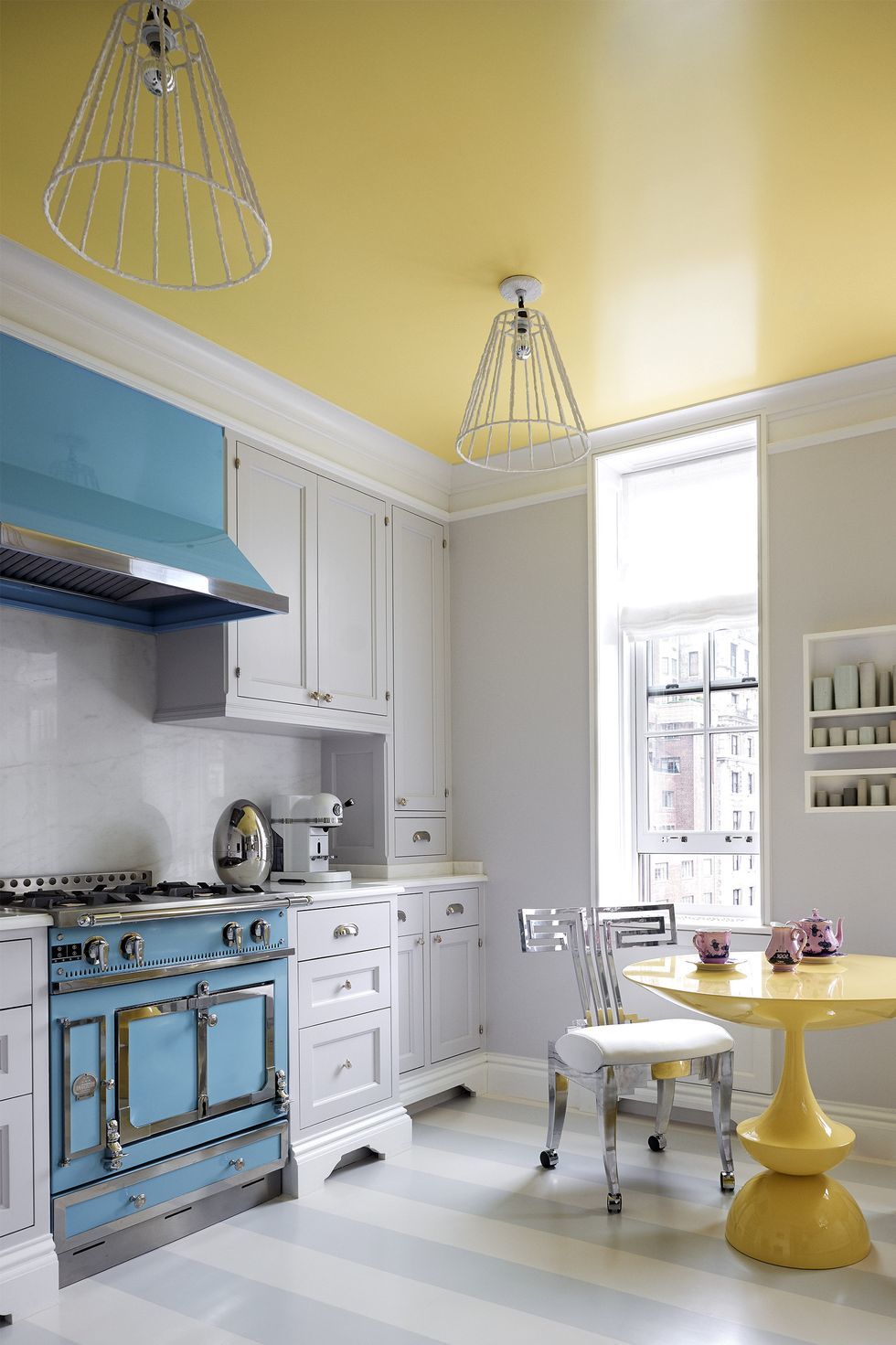 Blue Vintage Range Kitchen

In Designer Brian J. McCarthy's New York City apartment, an all-white kitchen makes use of a few blue elements: A stove and hood by La Cornue, and the wide swaths of pale blue stripes on the floor.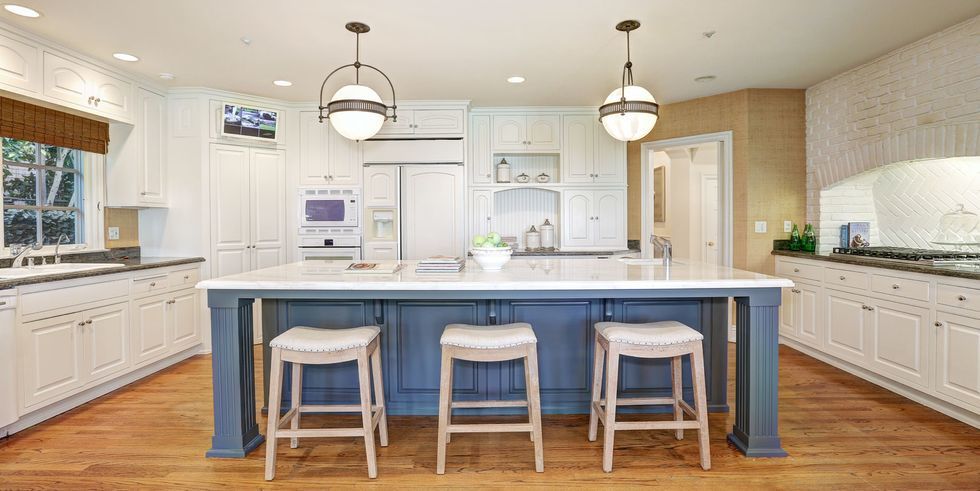 Blue Island Kitchen

Rather than paint her whole kitchen blue, Melissa Rivers just dipped in a toe, or rather an island. Just the underside of the marble center island is painted a creamy sea blue.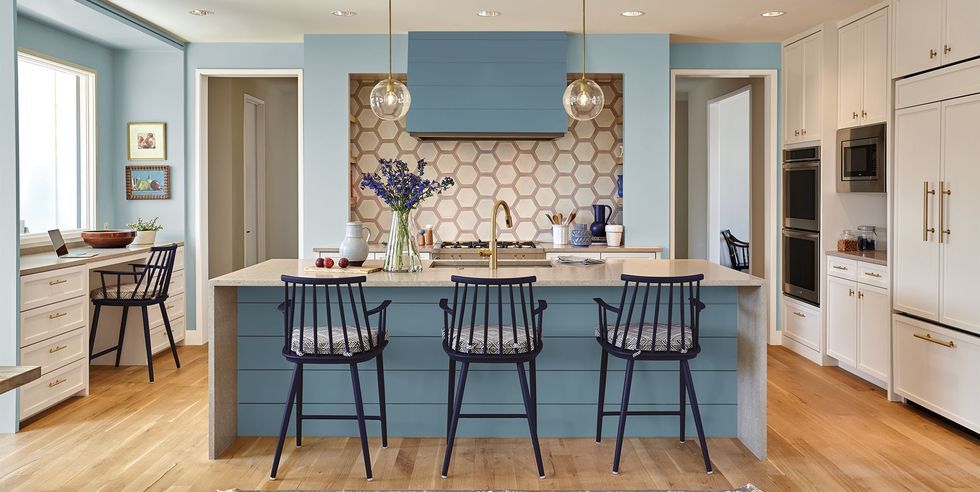 Denim Blue Kitchen

Behr Paint's 2019 Color of the Year is Blueprint, and the mid-tone blue goes with just about everything—exactly like your favorite pair of jeans. It's an ideal shade to consider if you're working around existing elements like wood floors, detailed tile, or a patterned backsplash.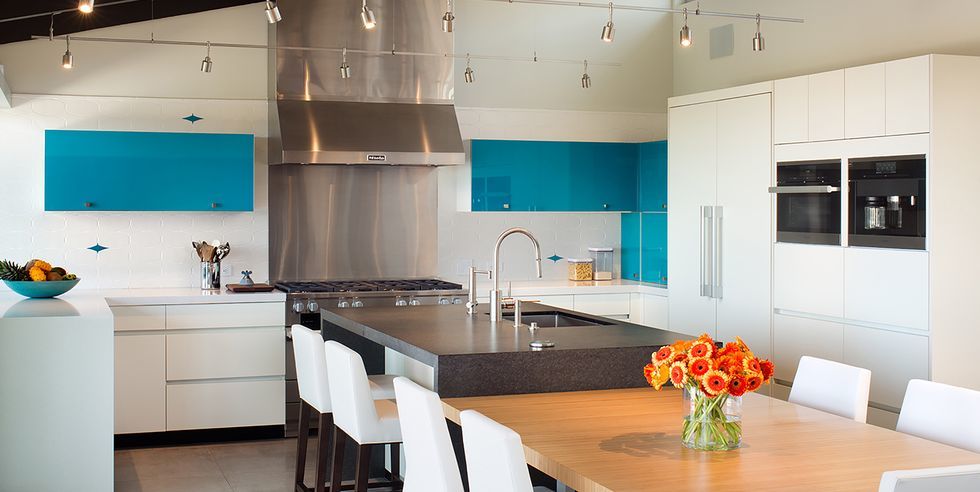 Blue Top Cabinets

In this kitchen by the Dawson Design Group, just the top cabinets ar rendered in a glossy aqua blue, creating a pop-art flash in an otherwise completely streamlined space.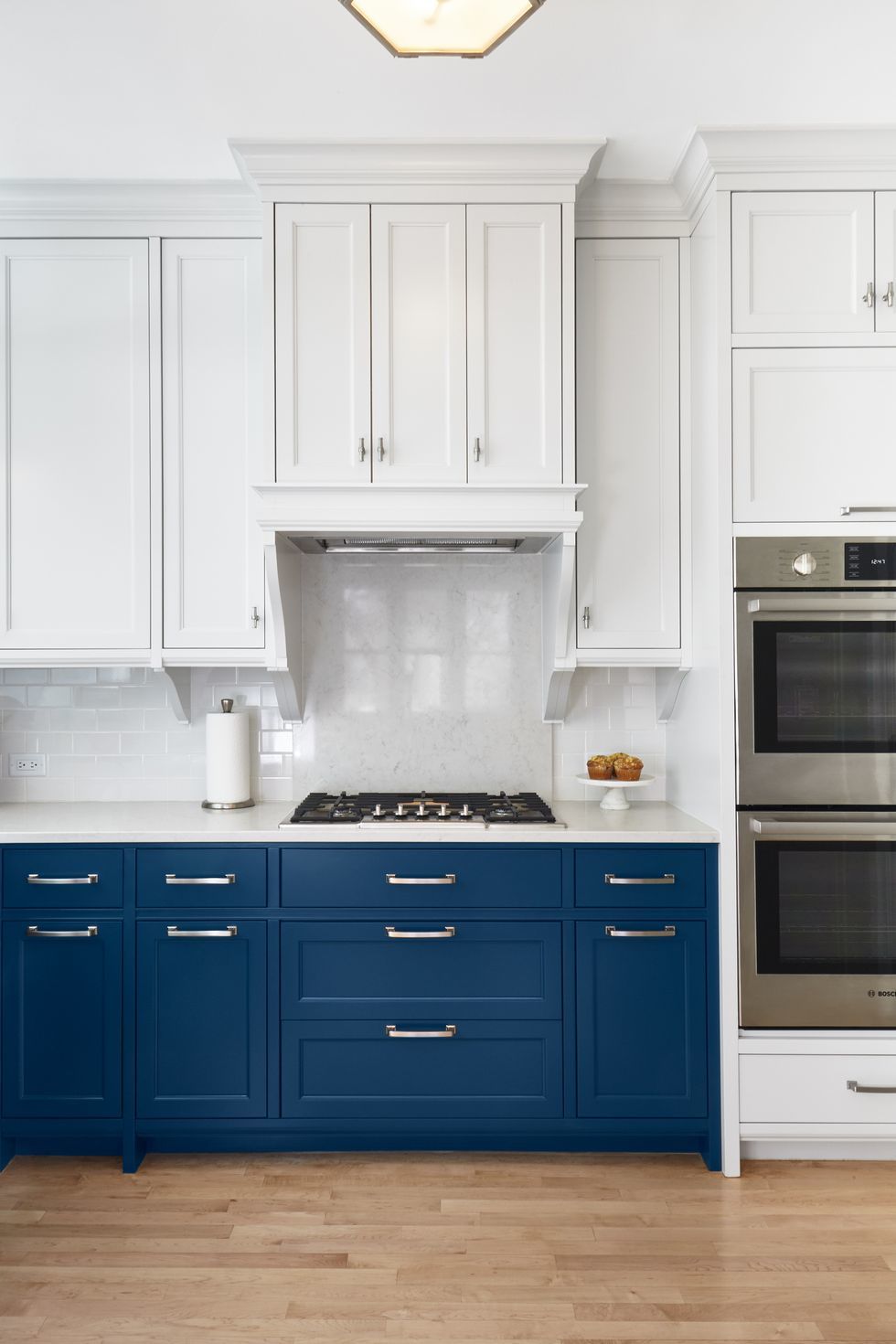 Blue Bottom Cabinets

And now the reverse, in this classic kitchen with blue lower and white upper cabinets and a custom hood by Randall Architects, Inc. If your kitchen is already all-white, just painting the lower cabinets can add mood but still allow the room to feel airy and light.