Want to know the latest bathroom trends? We've found some of the best looks and designs for your space – from contemporary shower room ideas to chic, marble styles and plush, luxurious designs.

Refreshing a bathroom doesn't always require a total overhaul: it can be as simple as swapping the sink, the taps or bathroom lighting.

Designers are moving away from hard, angular lines and instead leaning towards furniture and fittings in more flowing shapes.

Whatever your style – whether you're after an on-trend brass bathroom, raw and natural space or a patterned look with tiles – if you're planning to refresh your bathroom, we've got it covered.

These are the latest bathroom trends and luscious looks you'll love for years to come.


IMITATION GAME

Today's cleverest bathroom surfaces mimic more luxurious materials at a fraction of the cost. Mandarin Stone's Onyx Nouveau, for example, is a porcelain tile with a gloss finish that offers the translucent look of natural onyx in a wide variety of shades, from £58.80 per sq m.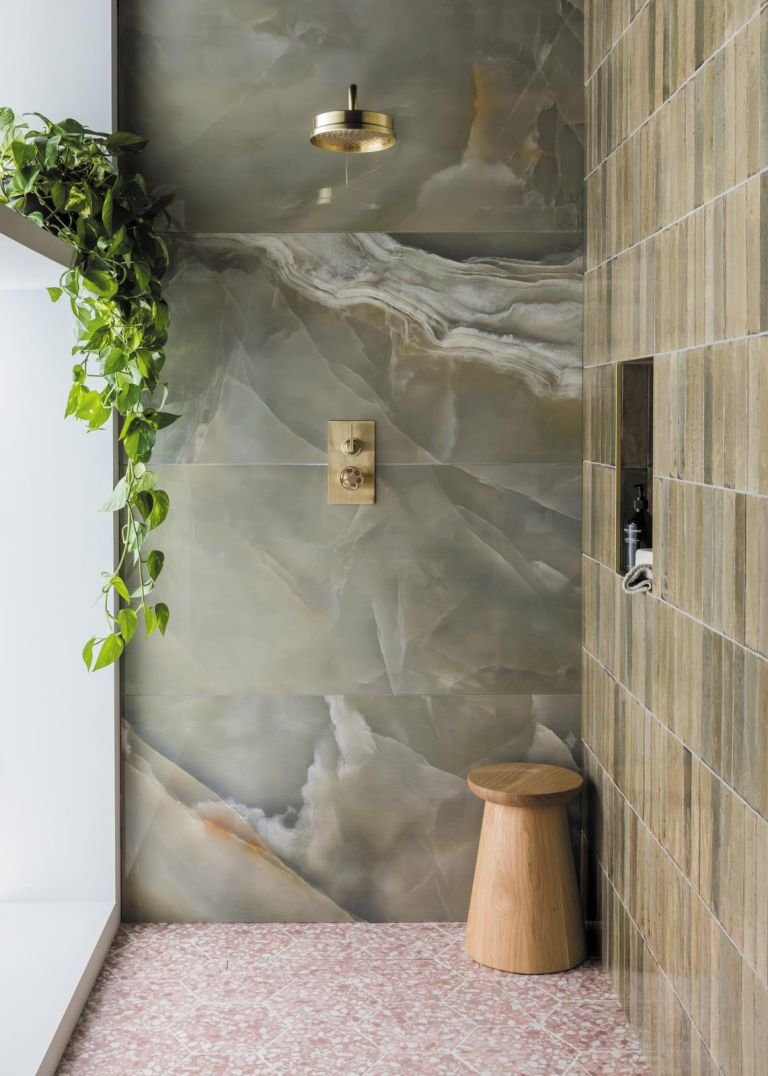 FLUTED SURFACES

We've seen fluted finishes in other parts of the home. Now Italian brand Artelina - best known for its glass wall tiles - is expanding its repertoire with a new fluted finish on its Kimono and Monolite collections. Artilea Monolite vanity from £1,279.50, C. P. Hart.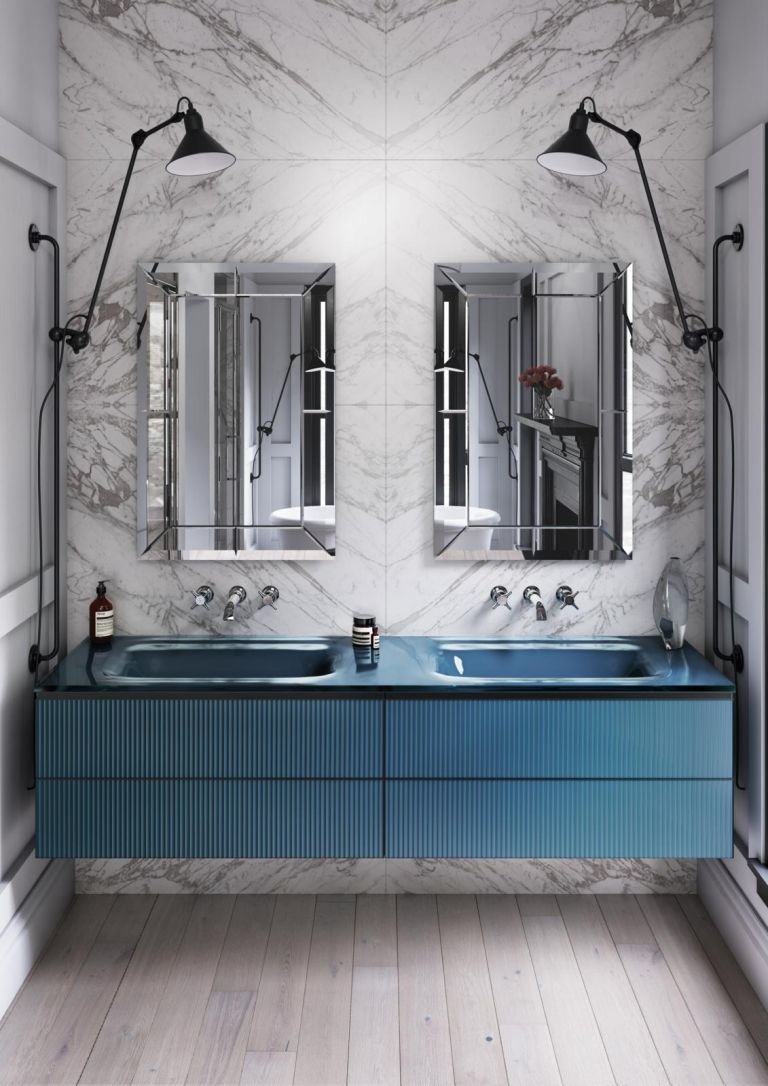 VINTAGE VIBES

Classic blue and white tile designs celebrate the beauty of European ceramics. This generously proportioned shower room has all the glamour and faded grandeur of an Italian palazzo. Many manufacturers now offer 'aged' ceramics for a vintage look; or if it's authenticity you're after, try tracking down original ceramics from specialist dealers. Either way the heritage style of this freestanding shower cubicle from Drummonds fits right in, from £26,300.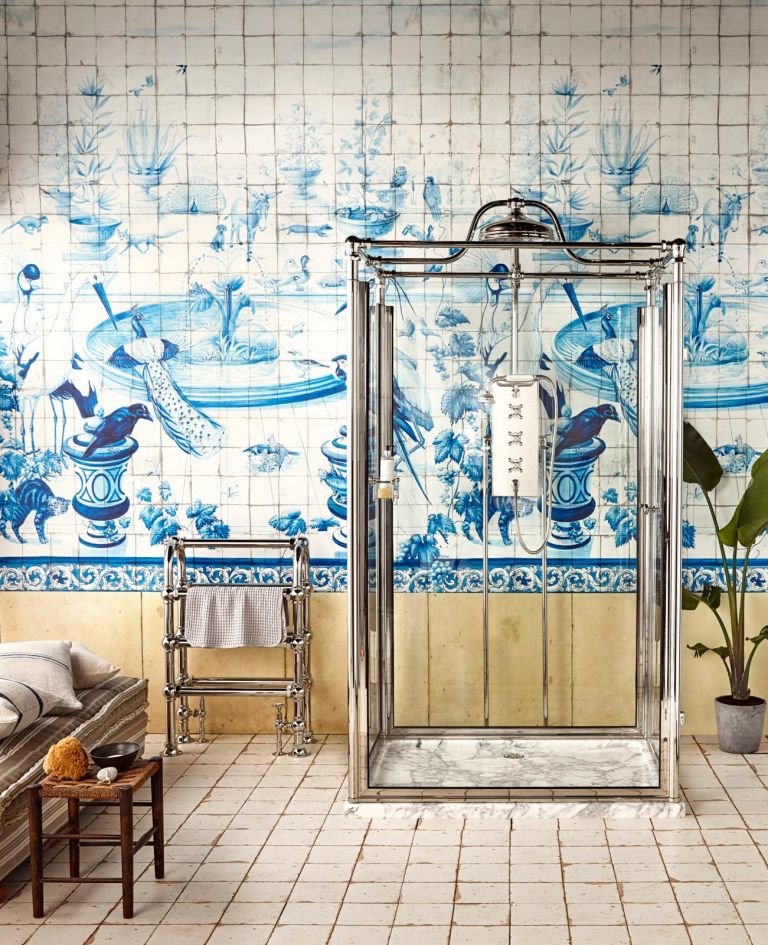 FLOWING SHAPES

Curves are also a return in furniture and interior detailing,' says Haley Robson at Day True. 'I suspect it's a rebellion against the harsh minimal lines of late, reacting to this with the need for softness.'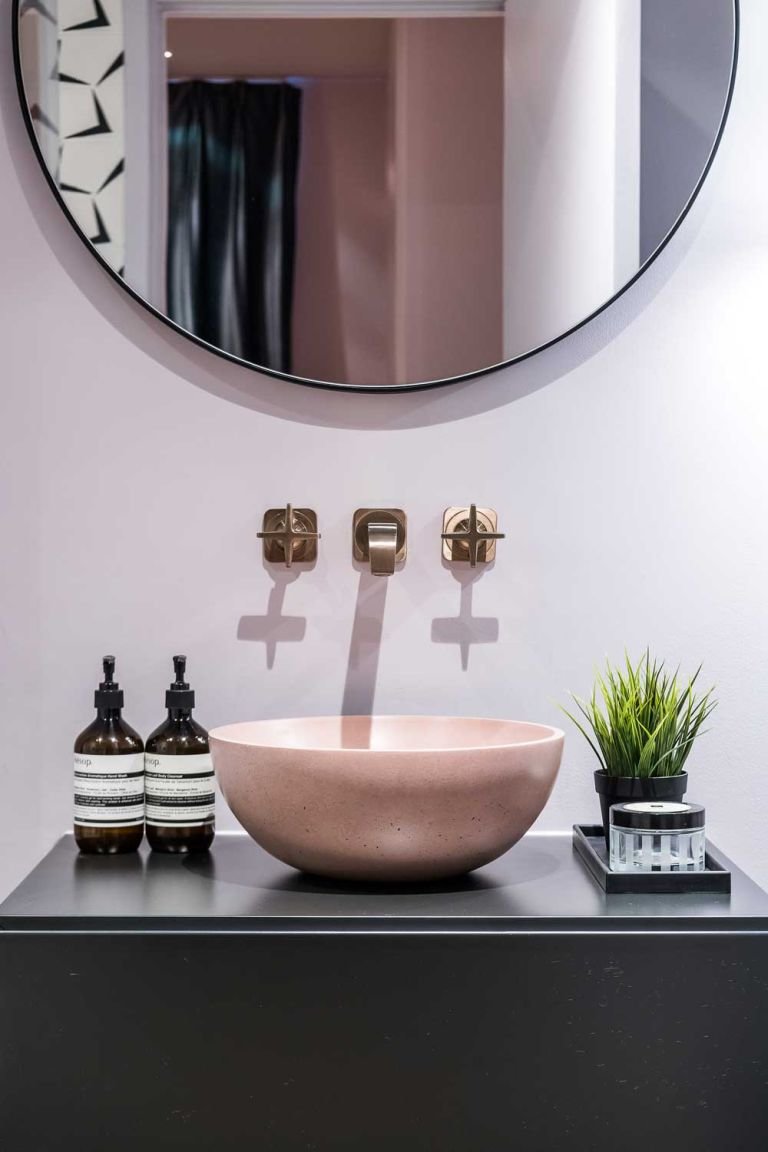 TOP-TO-TOE TERRAZZO

Dzek's trailblazing terrazzo arguably led the way in the material's current revival. While others may opt for smaller chips of stone, Dzek didn't hold back and the bold pattern of of its Marmoreal tiles packs a punch in this L.A. bathroom. Terrazzo tiles are an easy way to get this distinctive look without the hassle of the original application (a cement-type material poured on-site with chips mixed in).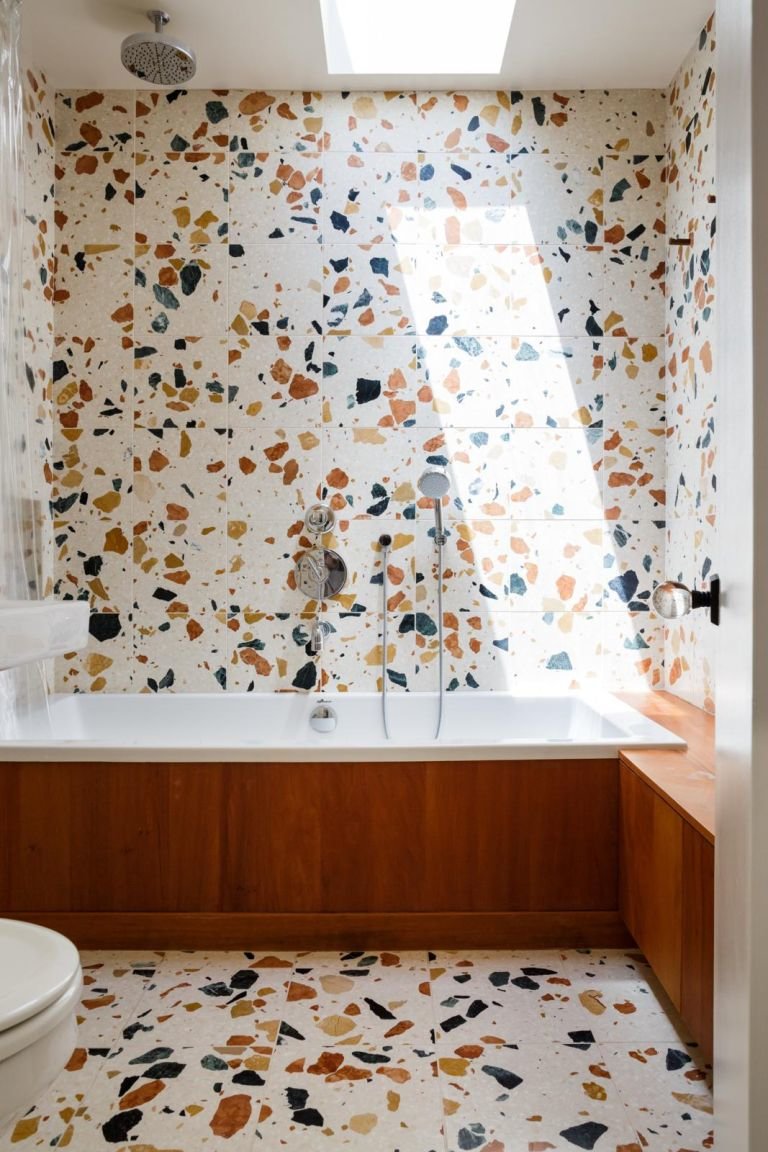 GRAPHIC LINES

Serene yet sexy, dusky pinks and 3D monochrome features transform this chic Parisian bathroom into a sanctuary. Designed by New York-based Crosby Studios, it has strong geometric shapes that ooze a post-modern vibe. Versatile black-and-white bathroom products can be mixed with almost any other colours, while painting the back wall a lighter shade creates a sense of depth and perspective.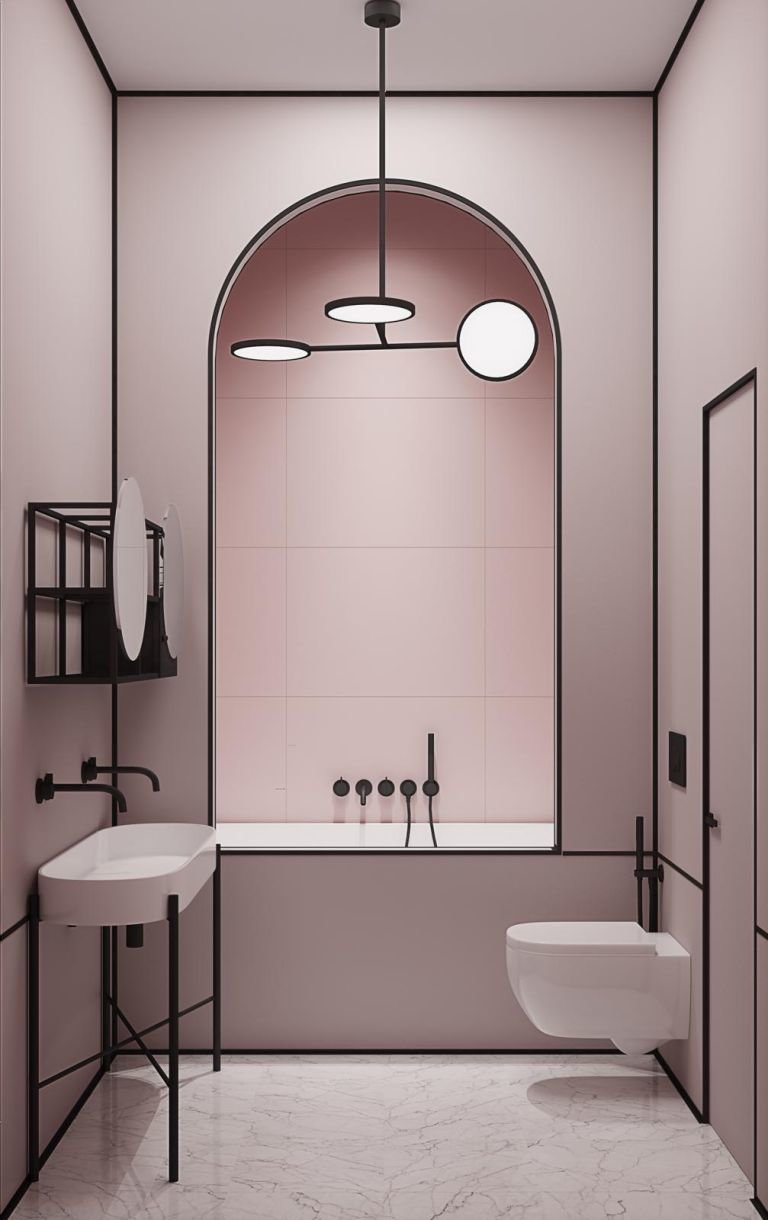 HOME SPAS

Bathrooms have long been a space to escape to after a tough day, but according to Hayley Robson, co-founder, Day True, we will now start see the importance of home spas to allow us to fully relax and de-stress. Adding a steam function to a shower area, or removing the shower all together and opting for a large luxurious bath can provide different ways to relax with water.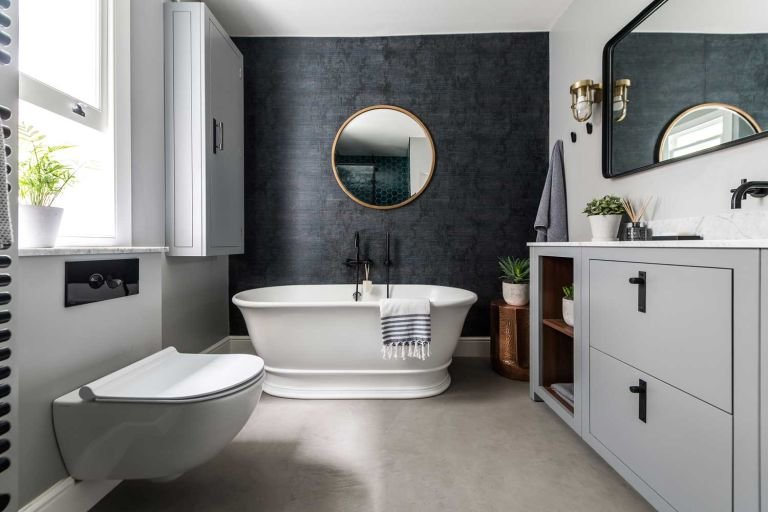 JAPANDI

An amalgamation of Japanese minimalism and Scandi cool, Japandi has been around for a while but has soared in popularity this year, likely due to its calming zen vibes.

The bathroom design team from Victorian Plumbing advise, 'When it comes to choosing materials, Japandi looks to nature for inspiration. Bamboo and rattan furniture, linen soft furnishing, and accessories with a natural finish will achieve the perfect foundation, whilst Japanese features such as tatami mats and origami shades complete the look.

Try using a mix of wood tones and begin to incorporate pieces with both curved and straight lines to add a unique sense of texture to the bathroom.'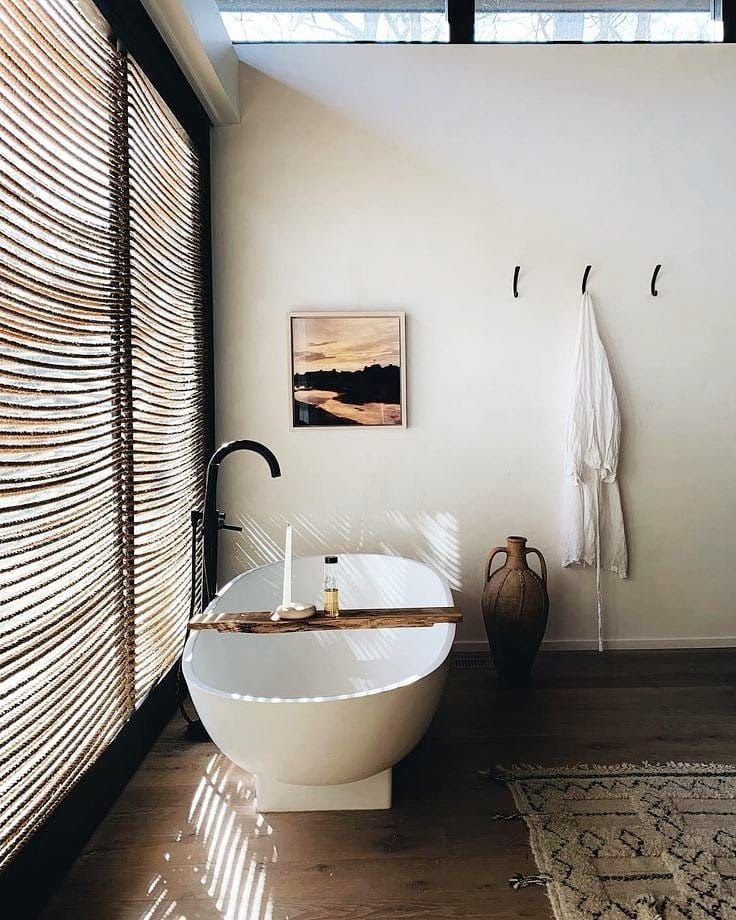 GREEN MARBLE

The latest modern bathroom trend for 2020 and beyond? Green marble is making a name for itself in bathrooms, where you'll need little more to achieve spa-like serenity. The best applications we've seen include a powder room by Flack Studio and Alternative Bathroom's so-convincing-you-might-think-it's-real Aqualunae wallcovering…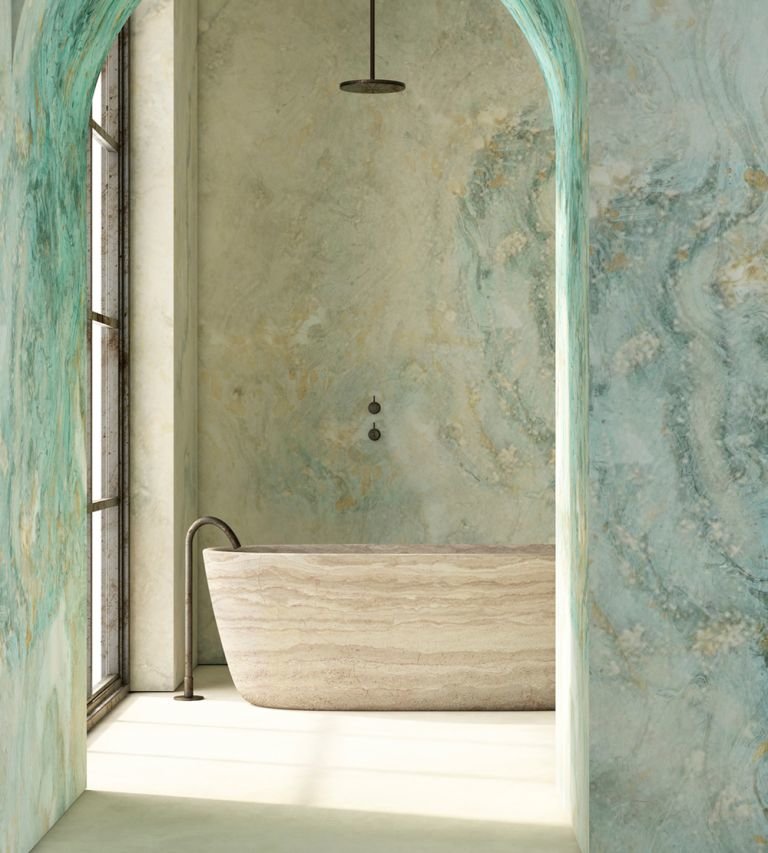 WATERPROOF WALLPAPER

Wallpaper continues to weave its magic through our homes, but things are dialling up a notch, with bold patterned designs stealing into the wettest parts of our bathrooms. Previously a limited option best kept well away from water, the advent of new materials and printing techniques is seeing the glory of wallpaper patterns translated on more robust surfaces.

Wall & Deco's transformative Wet Systems Domestic Cathedral wallpaper is particularly eye-catching, from £155 per sq m.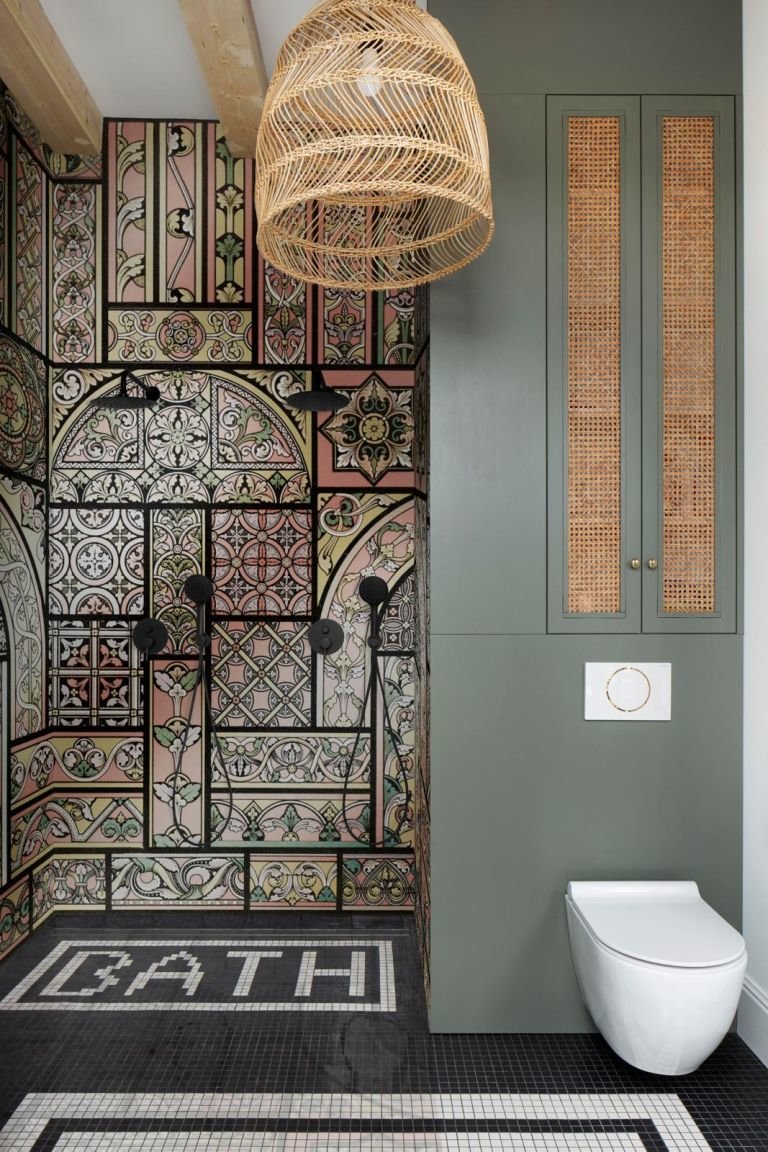 MULTI PURPOSE

What if you could fit a workout in every morning without even leaving the bathroom? Such is the idea of Mattia Pareschi's Gym Space concept for Scavolini – a wall-mounted structure dedicated to exercise, blended with bathroom fittings – helping you squeeze in leg lifts while you wait for the shower to warm up.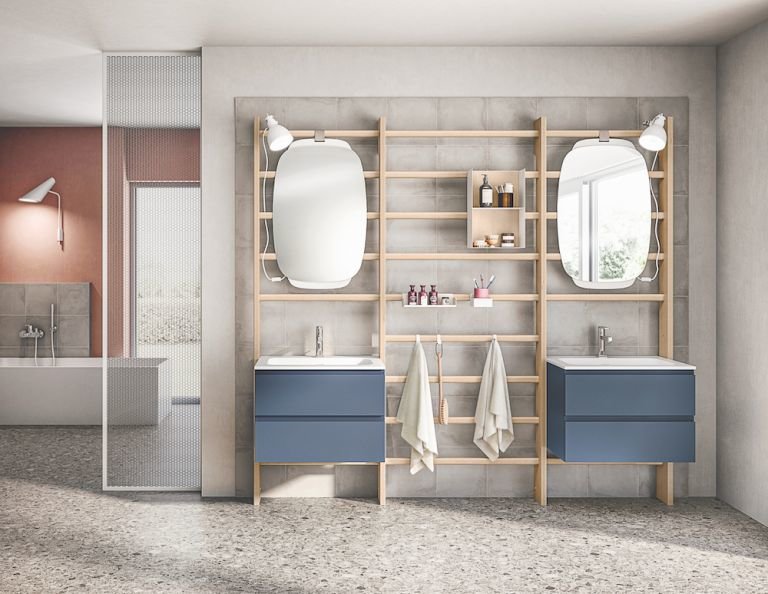 CONSIDERED CLASSICISM

The focus here is on refined elegance, luxury features and balanced proportions. Classical fittings with beautiful shapes and soft, elegant colours that will harmonise. For a sense of grandeur, introduce at least one show-stopping feature – a dramatic floor mosaic or a huge mirror are especially pleasing in a Renaissance-inspired setting.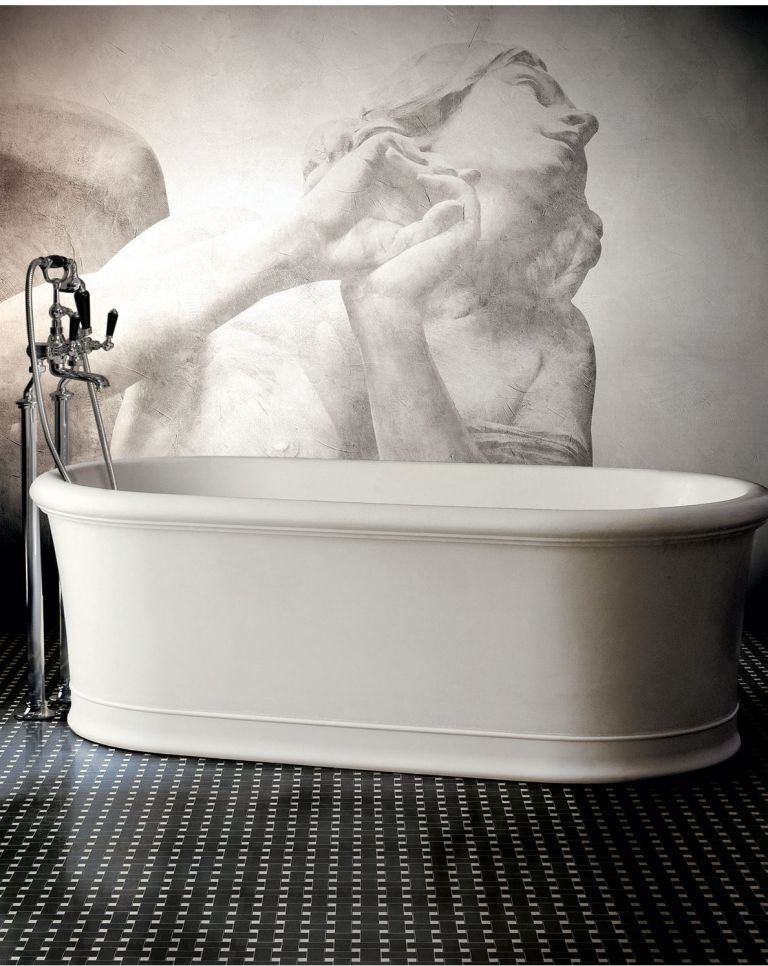 1.WHAT ARE THE BIGGEST TRENDS IN BATHROOMS?

George Holland, interiors specialist at Victorian Plumbing.'Monochrome tiles and black fixtures and fittings continue to dominate in bathroom interior trends but are now being matched with forest green and navy blue tones for a retro-modern feel,' says George.

'Rectangular metro tiles have been used extensively in bathrooms as a fun way to add a flat finish to walls - white fixtures anchor the trend when paired with contrasting flooring.'

Emma Joyce, Brand Manager at Victoria + Albert Baths, adds: 'Bathrooms are a constant, private space that are more personal; an escape from the everyday trials and tribulations of life. Storage is key to any sanctuary. Freestanding furniture acts in a similar way to that of a spa where you cannot see the fixtures and fittings behind the scenes, instead allowing you to rest and escape the mundane. Decorative lighting is also good for bathrooms and can add drama and flair, creating a sense of luxury and offering that sense of escapism we hanker after.'


2. WHAT COLOUR BATHROOM FIXTURES ARE IN STYLE?

George says: 'We've seen a big shift from chrome fittings to brass this year - the trend is very popular and surprisingly easy to introduce into bathrooms by simply replacing existing fittingsand complementing your new ones with a sleek navy blue colour scheme.This can add an effortless luxury vibe to your home

'In addition to brass, there is an abundance of alternative bathroom finishes that can completely transform a space. These include black, anthracite, bronze, and rose gold.'

Emma Joyce agrees, saying: "Brass is back. A great material for bathroom fixtures, brass brings a luxury feel to the space and contributes to creating that all important sanctuary. It is not only a timeless finish but it is also durable and weathers well.'


3. WHAT ARE THE BEST COLOURS FOR BATHROOMS IN GENERAL?

'White colour schemes are timeless and effective - white is a great colour for making a bathroom feel bigger, as it can give the illusion of space,' says George. For a hint of colour, pastel and neutral tones will bring warmth to a bathroom without overpowering it.'

Fancy more colour? Emma Joyce says go for it, adding: 'Colours like electric blue and pink are on the rise; they add energy and act as a powerful wake-up call. Again think about when you use the bathroom – if in the morning you want bright, energising colours, while in the evening more calming tones may be better. Simple touches like painting the ceiling can change the feeling of a space without a total renovation project.'