For some potential buyers, it's probably enough that this four-bedroom, four-bathroom house for sale near Princeton in Hopewell, New Jersey, comes with 76 acres (including a picturesque creek), draws energy from its own solar panels (enough to achieve net-zero in summer months), and features a striking blend of wide-open, contemporary architecture with traditional natural materials.

Yet that's only the beginning of the story-perhaps appropriately, given the seller is longtime New Yorker writer and best-selling author Richard Preston. The tale involves classical antiquity, Frank Lloyd Wright, an abandoned factory in Duluth, Minnesota, and flying squirrels.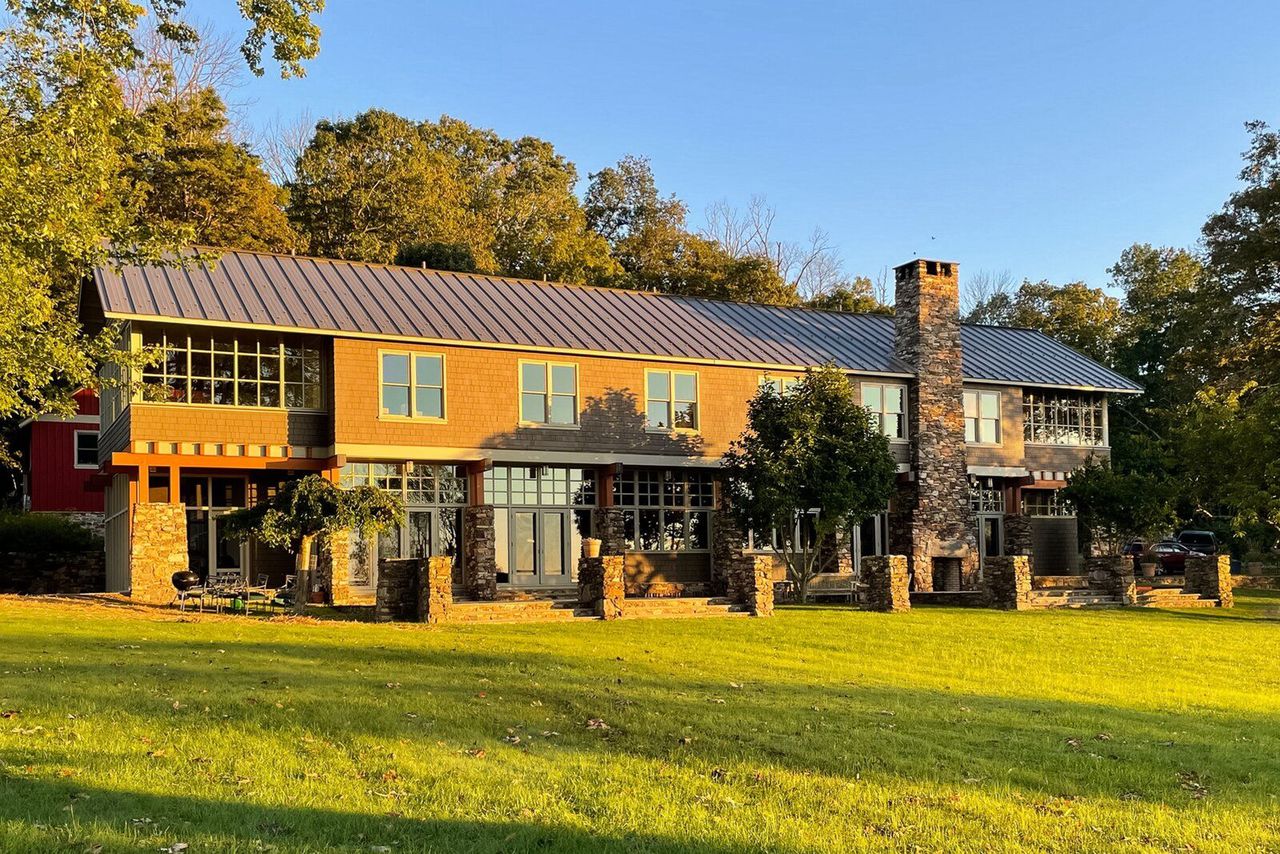 The main house at Freestone Farm is built on the footprint of a 19th-century barn that previously stood on the site.

Richard, who with his wife Michelle commissioned Cutler's design in 2001, has made a career writing about outbreaks-real and fictional. His 1994 bestseller The Hot Zone explored the danger of ebola virus long before the term was familiar (the book was adapted into the 1995 movie Outbreak). His 2002 book Demon in the Freezer chronicled the eradication of smallpox.

During the real-life Covid-19 pandemic, Richard's house-with its ample grounds and outdoor gathering spaces—made an ideal nesting spot.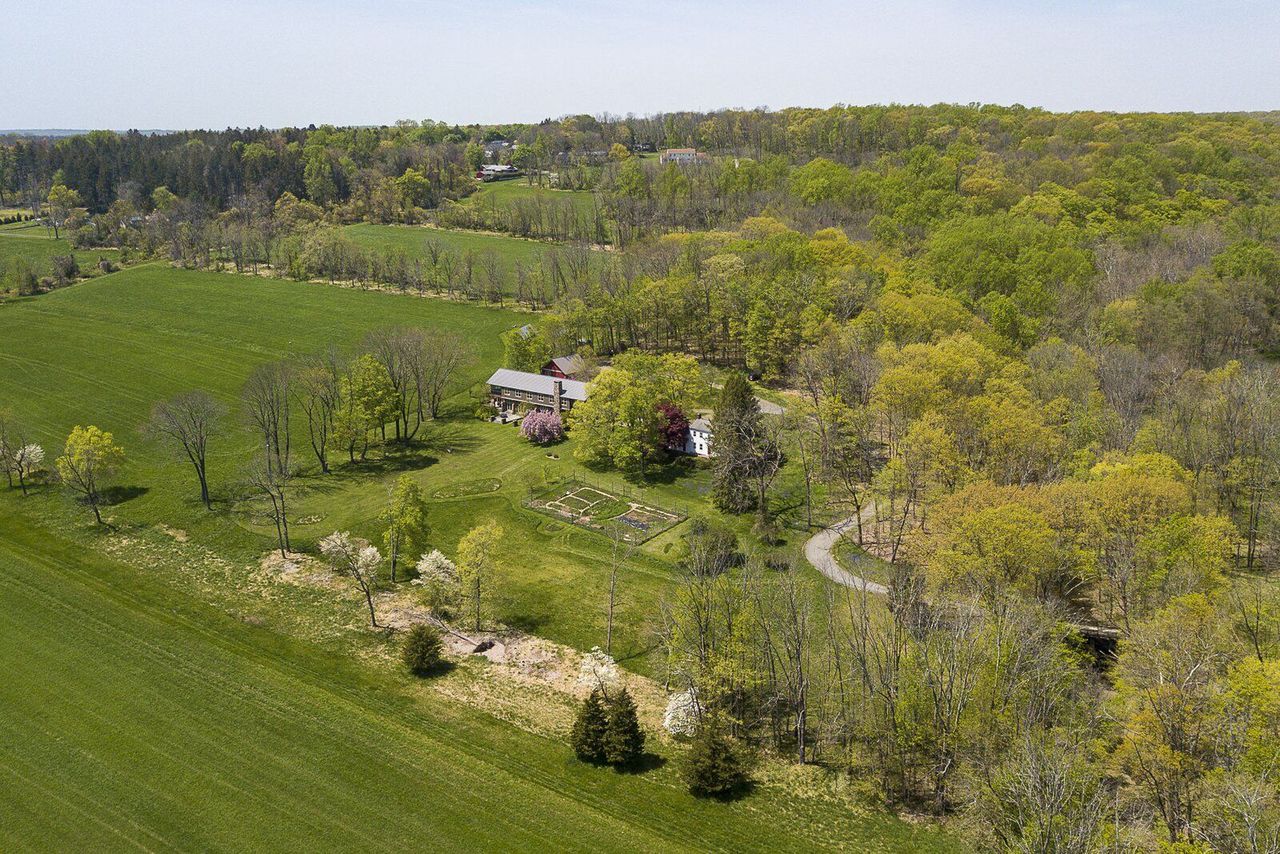 The home sits on 76 acres, and includes an adjacent original farmhouse that long held author Richard Preston's office.

Cutler, long based in Bainbridge Island, Washington, is perhaps best known for designing the Seattle mega-mansion of Microsoft founder Bill Gates in 2005. But he's also a Pennsylvania native who studied under iconic midcentury modernist Louis Kahn (who made a career of utilizing masonry to poetic effect)-and this semirural house was a chance for him to return to his roots.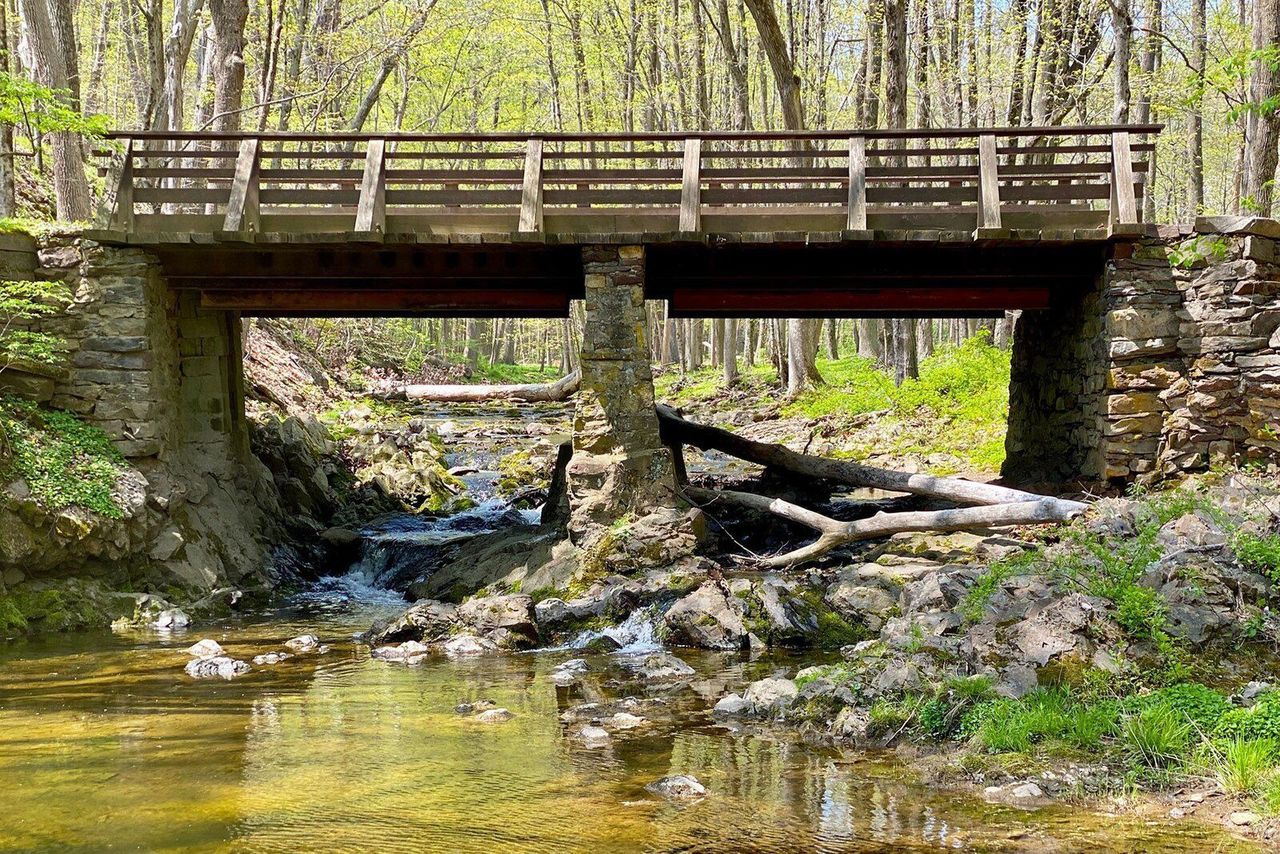 A small creek and bridge mark the entrance to the property.

While this is unmistakably a contemporary house, with wide-open spaces that flow into each other and a plethora of natural light coming from walls of glass, the materials and forms unmistakably draw from the vernacular of local farmhouses, with their stone foundations and fireplaces, pitched roofs and timber ceiling beams. In fact, Cutler was so enamored with the existing on-site structures-a 19th-century farmhouse and the ruined foundation of a barn built into a hillside-that it became the basis, and even the footprint, for the design.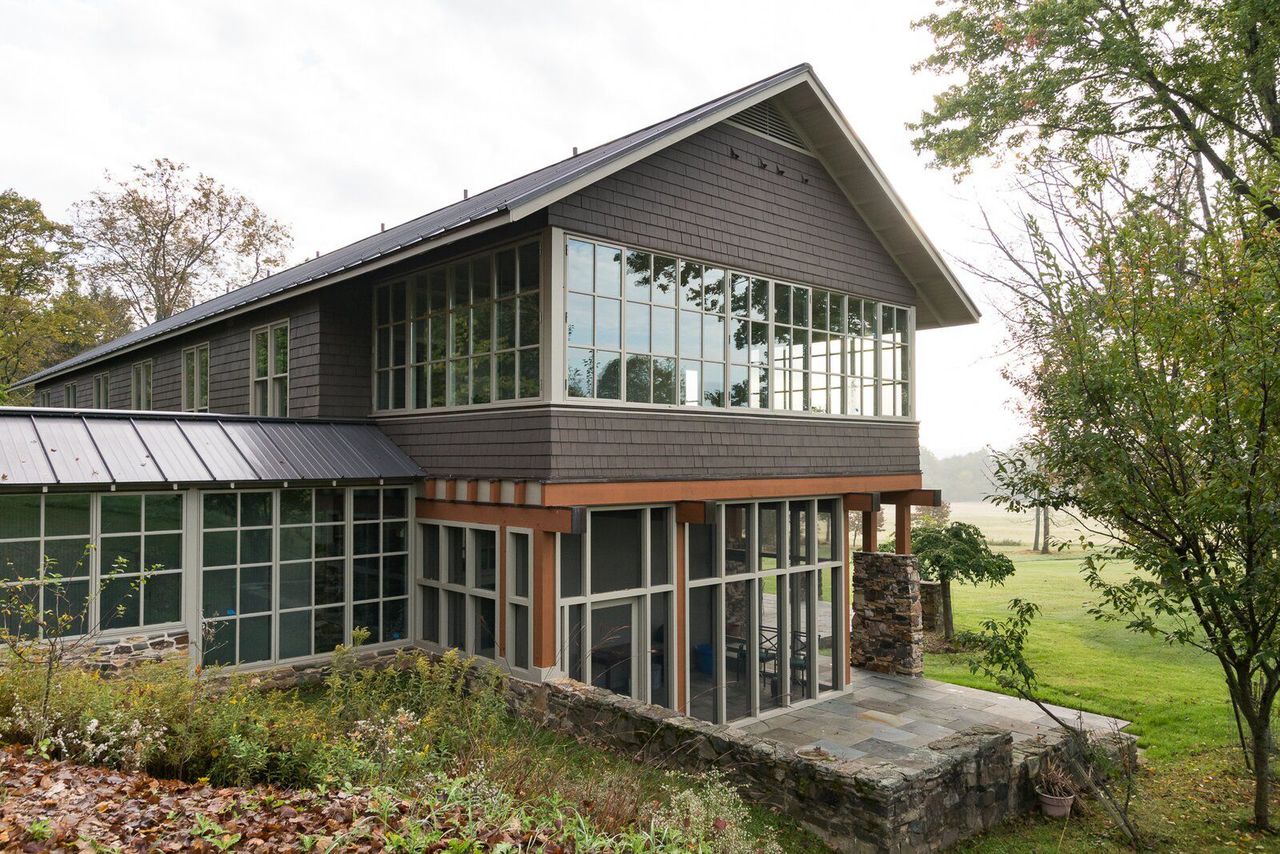 The house, like the bank-barn it replaced, is partially nestled into a small hillside.

"Jim looked at this and he said, 'Well, you have the ghost of a barn, and I'm going to try to bring that ghost to life as a house," Richard recalls.

While the old farmhouse became Richard's office (he's written five books from there), a long, perpendicularly-placed addition became the main house, on the footprint of the old stone barn. Its long, rectangular form, Cutler notes, was not unlike that of Frank Lloyd Wright's Graycliff estate near Buffalo, New York.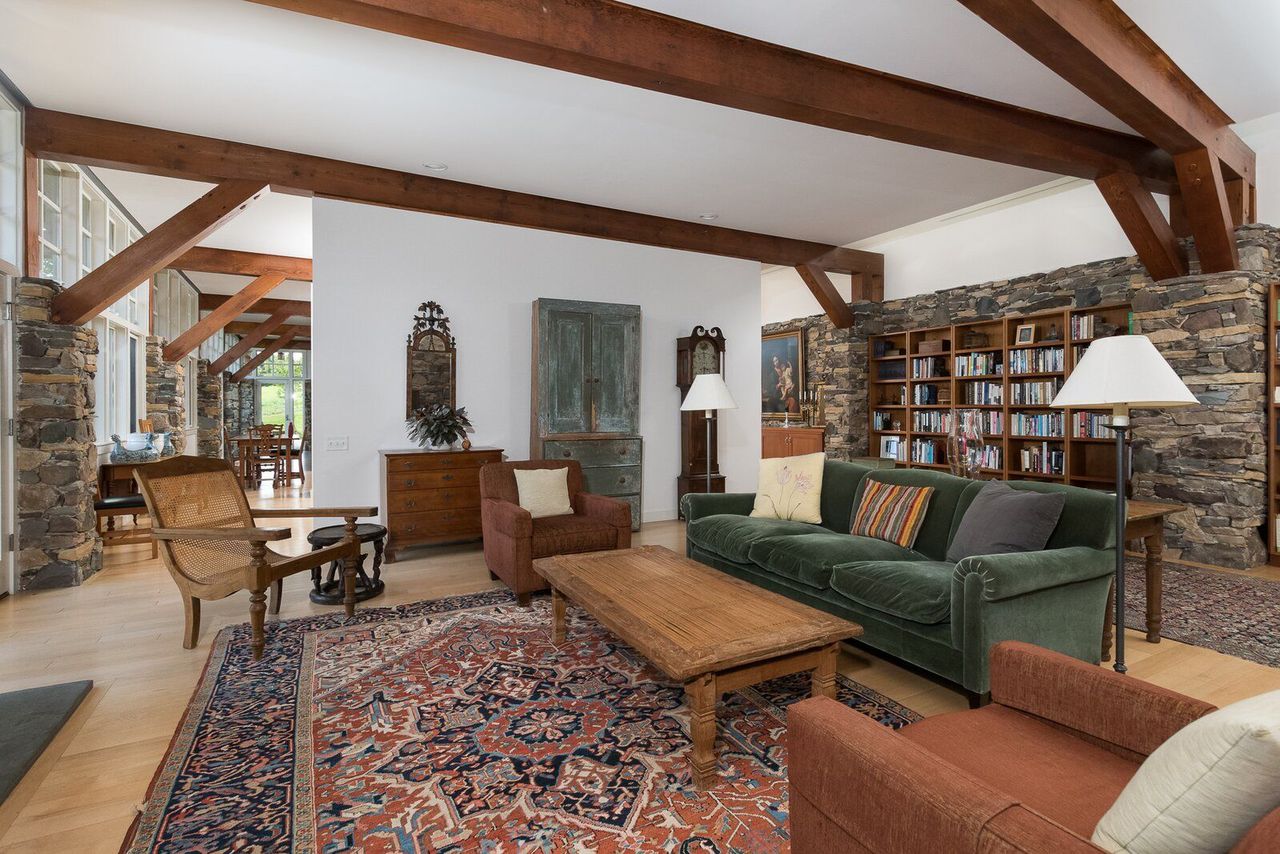 The wide-open interior is broken down into a series of bays based on the rhythm of the original barn.

At the Preston residence, known as Freestone Farm, rooms are divided in a simple grid based on the original bays of the barn. Each of their three children's rooms, for example, occupy a single bay-while the principal bathroom takes two bays. Downstairs, the living and dining rooms are two bays and one bay, respectively, with the kitchen and family room taking another three bays.

That rhythm of bays is repeated outside the house, in what Richard describes as a kind of architectural folly: a series of stone piers that draw inspiration not only from the barn itself, but from Wright's original Taliesin home and studio in Wisconsin-specifically the stone piers of a now-dismantled shed at Taliesen's Midway Barn. "Jim he said he basically incorporated the ghost of Taliesin into the ghost of the barn that we had," Richard says.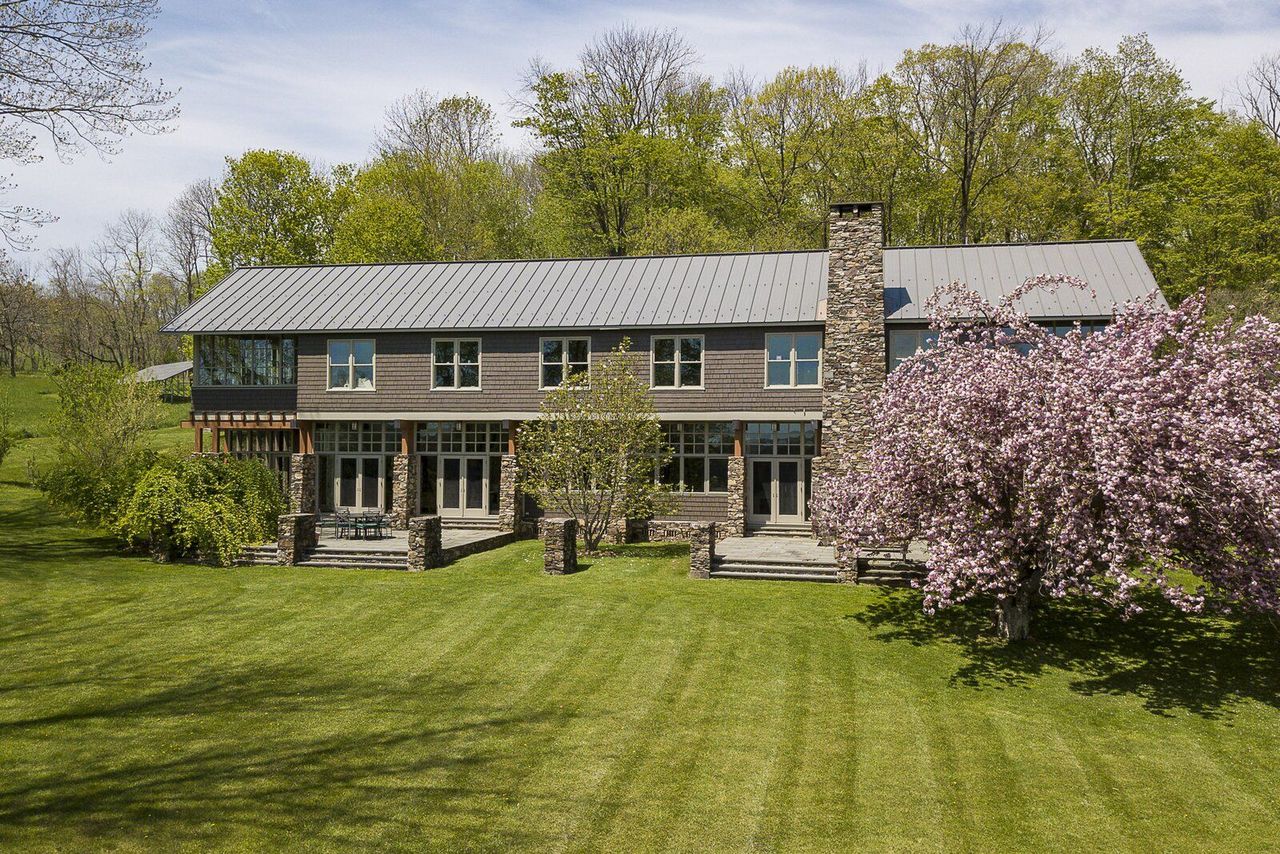 Stone piers at the edge of the Prestons' outdoor porch take inspiration from Frank Lloyd Wright's Taliesin in Wisconsin.

For the Prestons' Freestone Farm house, Cutler added one subtle touch that wasn't part of Taliesin. It's a nod to classical Greco-Roman architecture: a subtle convex curve. "All the stonework has a bulge," the author explains. "There's a kind of a swelling. The technical term for that is entasis. You see it in Greek Doric columns. It gives the stone a muscularity and a quality of aliveness, as if it's alive, and muscular, and it's holding up the structure."

That's not the only classical inspiration at Freestone Farm. What you and I might call the outdoor fireplace, Cutler and Richard affectionately call the megaron.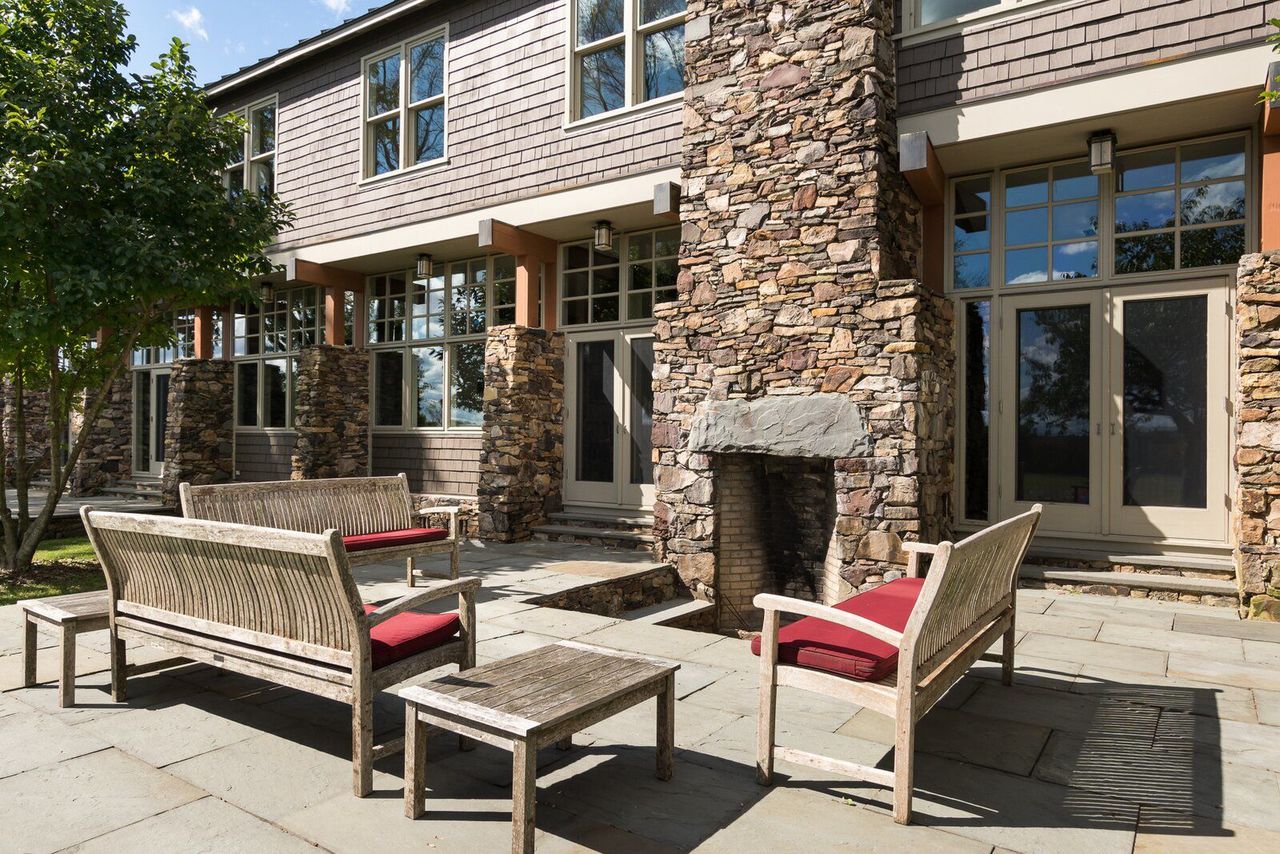 The outdoor fireplace was inspired by Richard Preston's readings of Homer.

Shortly before the house was designed, Richard had been reading The Iliad and The Odyssey, which were actually oral stories before becoming hallmarks of ancient Greek literature.

"The person we now call Homer was actually speaking The Odyssey," Richard explains. "The poet would arrive at the house of a royal or a noble family, and there was a room with a fire pit in the center of it called the megaron. The poet would stand in front of the fire with a lyre and chant the lines. So I told Jim, 'I conceive of this fireplace as a megaron, where we would be telling stories to each other, sitting by the fire at night.'"

During the pandemic, that's just what happened when Richard's grown children would visit. "We all got together as a family, and we decided to eat outdoors to be safe," the author recalls. "We built a big fire in the Megaron, and we sat around the fire and told stories."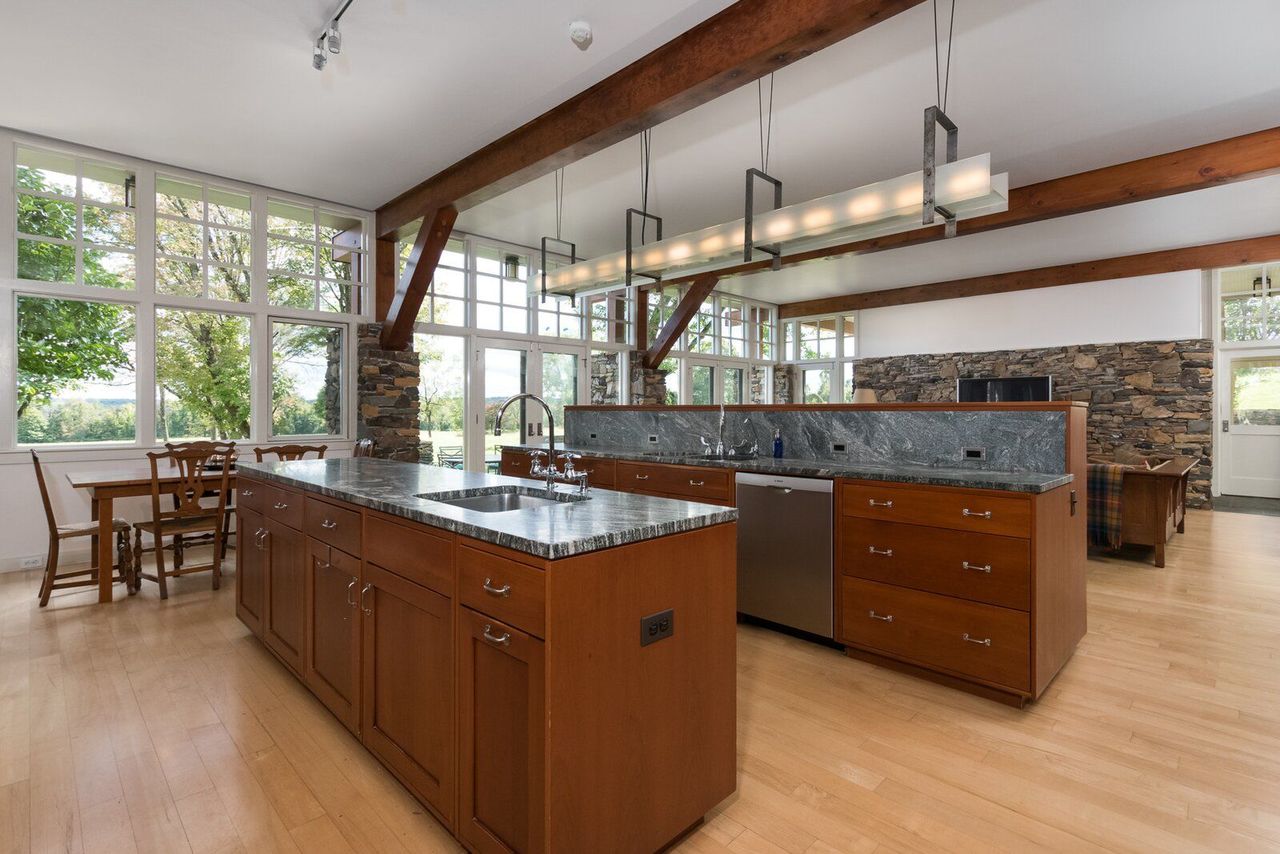 The open kitchen sits under massive old-growth Douglas fir ceiling beams.

Freestone Farm is tied to the Bill Gates residence by more than Cutler's designs. The ceiling beams are made from old-growth Douglas fir that was sourced for the Gates project.

"These Douglas firs were cut sometime around the year 1900, and they were used to construct a factory building in Duluth, Minnesota. Neither Jim nor Bill Gates wanted to cut any virgin timber for these very large beams, so they looked around and they found this abandoned building in Duluth, which Gates purchased," Richard explains. "There was a lot more timber that was actually needed for the Gates residence, so we in effect piggybacked on Bill Gates and got all these timbers."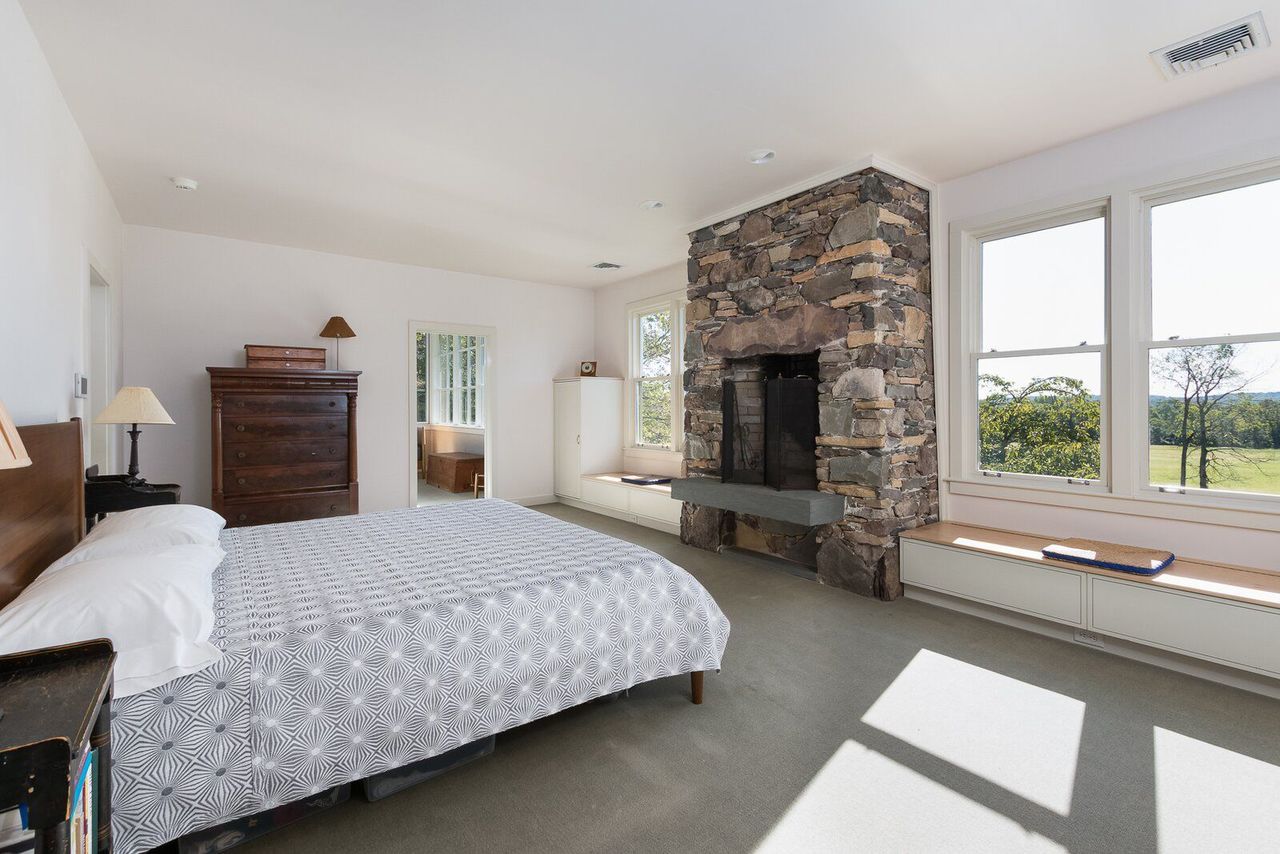 The principal suite comes with its own fireplace, and built-in window seats with expansive views over the treetops.

The Prestons are already looking forward to their next home, off-grid in Maine, but leaving Freestone Farm is bittersweet. "We've all been in tears," Richard says. Even besides the house itself, the property is where the family indulged Richard's secret passion: climbing trees, and even camping out in their branches with hammocks—and a few unexpected friends that come with the sale.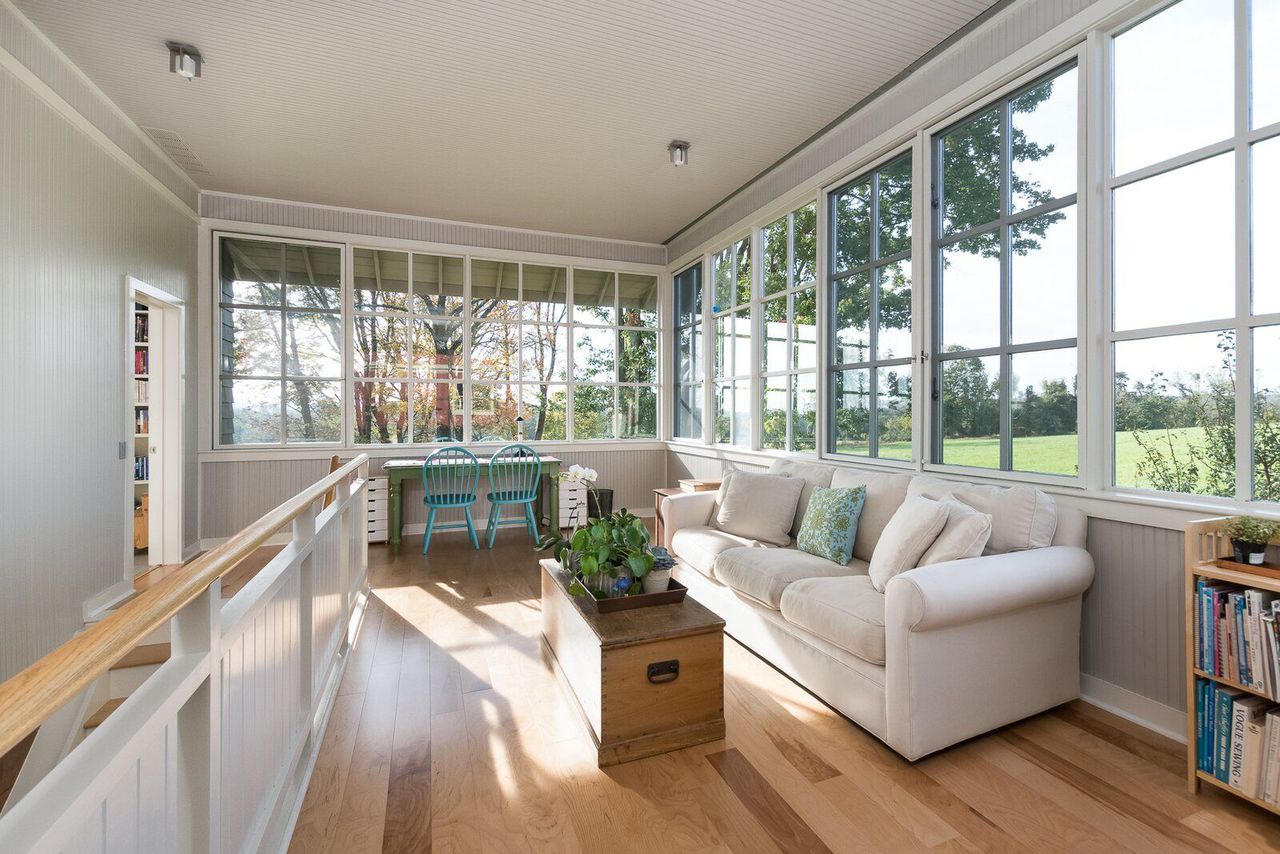 Large banks of windows spread natural light throughout the home.

"It turns out that the forest canopy in New Jersey is full of flying squirrels, but you never see them unless you climb into the trees," the author explains. "They're very gentle creatures, and surprisingly tame. You can stroke them on the head, and they close their eyes like a cat. Several of them landed on our son, Oliver one morning. He had been eating potato chips, and it turns out that flying squirrels like potato chips. He was lying in his hammock, and he sat up-and there was a flying squirrel on his head."