Having your favourite morning brew on tap is a comforting reality with our best coffee machine buys.

With the change in seasons, the weather will be getting crisper and dawn will be getting later so a warm (and awakening) drink will be welcomed. So step away from the kettle: a coffee machine can do all the grinding, brewing and pouring for you.

Coffee makers come in varying shapes, sizes and functionalities and which one you choose will be down to your own personal preferences. An espresso coffee maker, for example, uses ground coffee instead of beans and can make you a tailor-made coffee in a matter of seconds. A bean-to-cup coffee maker, on the other hand, will grind the beans for you and will often make you a coffee of your choice with the added benefit of a steam wand on hand so you can get creative.

Our edit of the best coffee machines, below, look at all the options available to suit your lifestyle and home.

Want to get healthy too? Take a look at our guide to the best blenders on the market and make yourself a smoothie as well.


The best coffee machine buys for 2020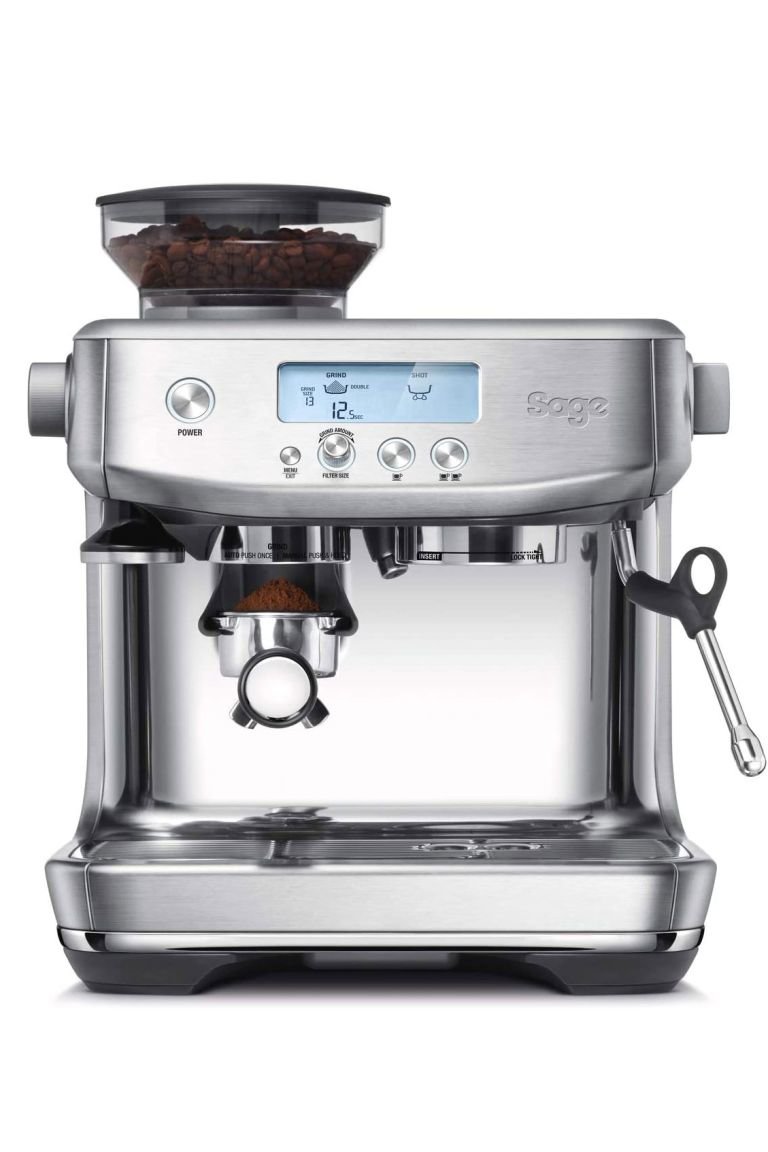 1 Sage The Barista Pro SES878 Coffee Machine

Best coffee machine 2020: it will make you a coffee just how you like it, with barista-style, in a matter of seconds

Specifications
Best for:: Barista-style coffee
Type: : Beans
Pressure:: 15 bar
Cups:: Up to 10

Reasons to buy
+Top coffee+Quick heat up+Super steam wand

Reasons to avoid
-If cleaning stainless steel is not for you

This coffee machine is an impressive piece of kit which will make you a delicious coffee, just as you would expert from a barista. It's pricey, yep, but it could be just what you have been looking for…

What we like?

We LOVE that this machine has a burr grinder which means that it will give consistently delicious results. The grinders size and dose can also be adjusted so you can get into the nitty-gritty of barista perfection.

We also like the fact that it can heat up in three seconds so you wont have long to wait for coffee time.

What we don't like?

Getting Stainless Steel shinny is no mean feat BUT this one is brushed so it could be worse. The machine is available in black, however, so you could avoid having to deploy some elbow grease all together.

Anything else?

The steam wand is fab. It'll enable you to get creative and make some impressive latte art which will have all your friends and family gathering round to sample the wonders (and coffee!)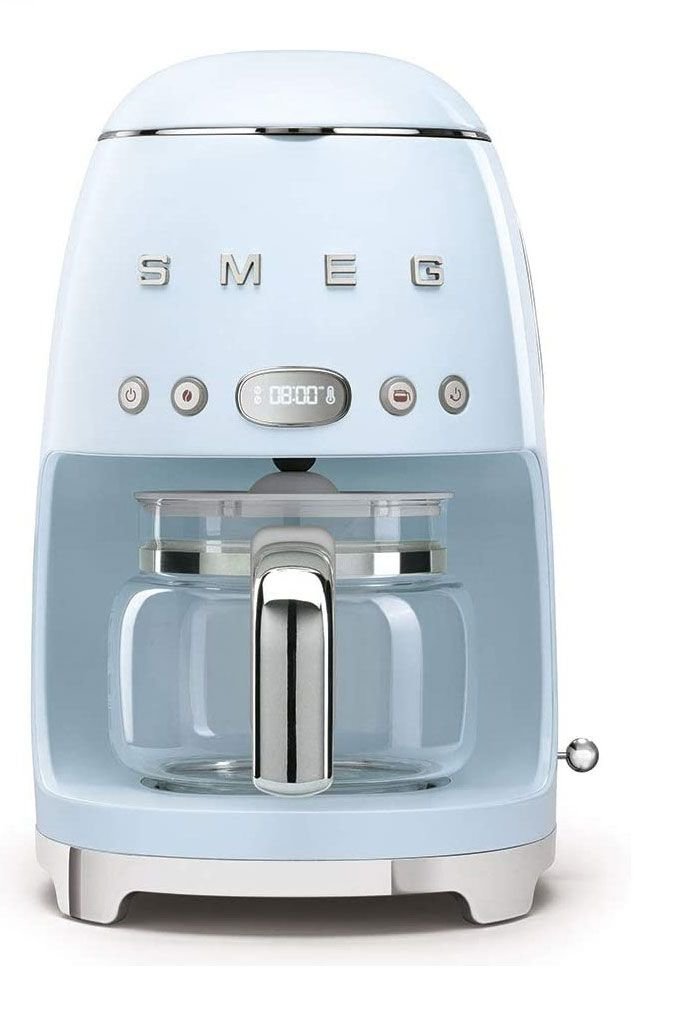 2. Smeg DCF02 Drip Filter Coffee Machine

Best coffee machine for matching with other Smeg appliances: it looks lovely and makes a decent cup of coffee, too

Specifications
Best for: : Making a really good filter coffee
Type:: Filter coffee
Pressue:: N/A
Cups: Up to 10

Reasons to buy
+Makes a good coffee+Excellent filter+Six colours available

Reasons to avoid
-Bulky design-A little tricky to fill up the water tank

A fine example of retro-styling, this coffee machine will freshly brew up to ten cups of coffee and will keep warm all the drips and drops left over.

What we like?

It does exactly what one would expect from using it: it makes a really lovely coffee. Once you've made your coffee, the machine is really easy to keep clean and maintain too.

We're also big fans of the colours available; blue, pastel green, red, black, cream and white.

What we don't like?

There's nothing which we don't especially like, but perhaps the set up could be a little easier. There's a few settings to work through before you can make a satisfying brew, and the water tank can be slightly awkward to fill up if the machine is under a cupboard.

Anything else?

The price is a little steep compared to the other coffee machines in our guide but it's an investment, and well worth it.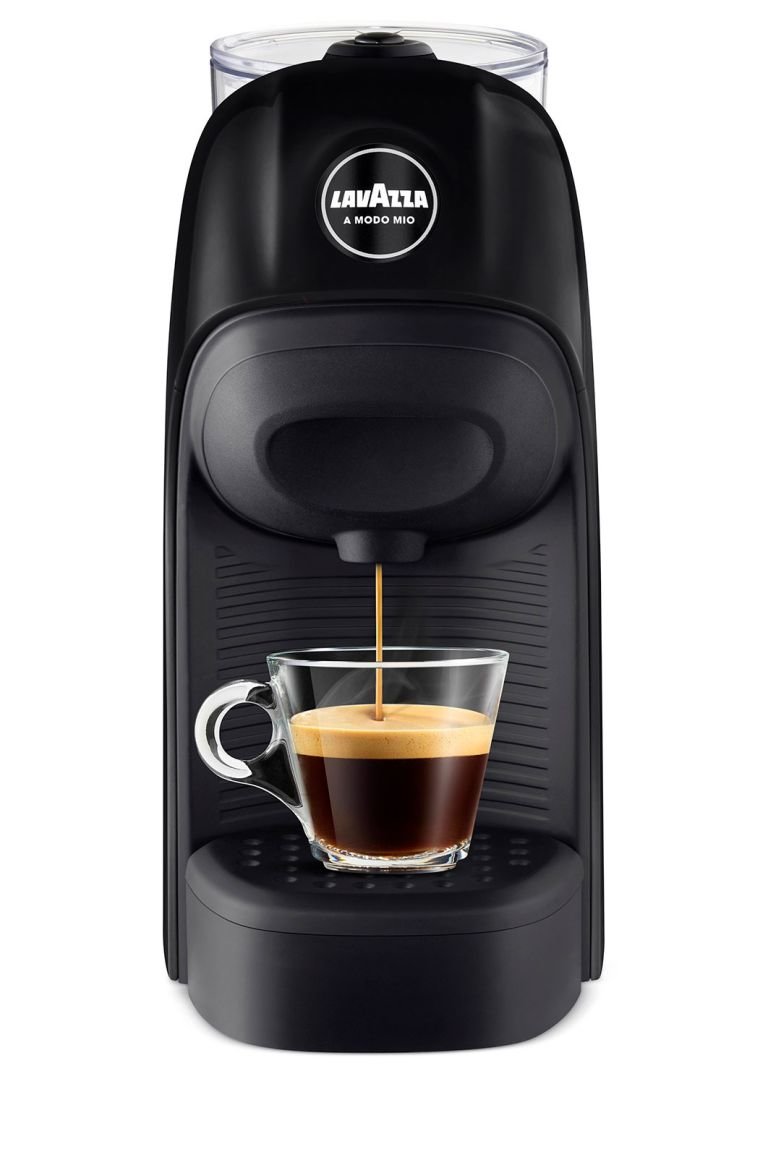 3. Lavazza A Modo Mio Tiny Espresso Coffee Machine

Best coffee machine for small spaces: it may be 'tiny' but the coffee packs a punch

Specifications
Best for: : Space saving
Type:: Espresso
Pressue:: 15 bar
Cups: 1

Reasons to buy
+Easy to use+Compact design

Reasons to avoid
-Limited to espressos-If you prefer ground beans

This no frills, no fuss pod coffee machine is ideal for compact (tiny) spaces if you need a shot of espresso in a hurry.

What we like?

It's mega quick and easy to use. You'll have a shot of caffeine to sip within 25 seconds, and all you'll need to do after is remove the used pod.

The design is also easy on the eye which will look good in any compact spaces; from the kitchen to the 'home office'.

What we don't like?

It's not very flexible in terms of what drink you can make. The machine is an espresso machine, only, which means that not only is your choice of drink to be an espresso but it means that you can't have a big mug of the stuff.

Anything else?

The pods are now biodegradable (hurrah) so there's no need to feel guilt when throwing away the empty capsules.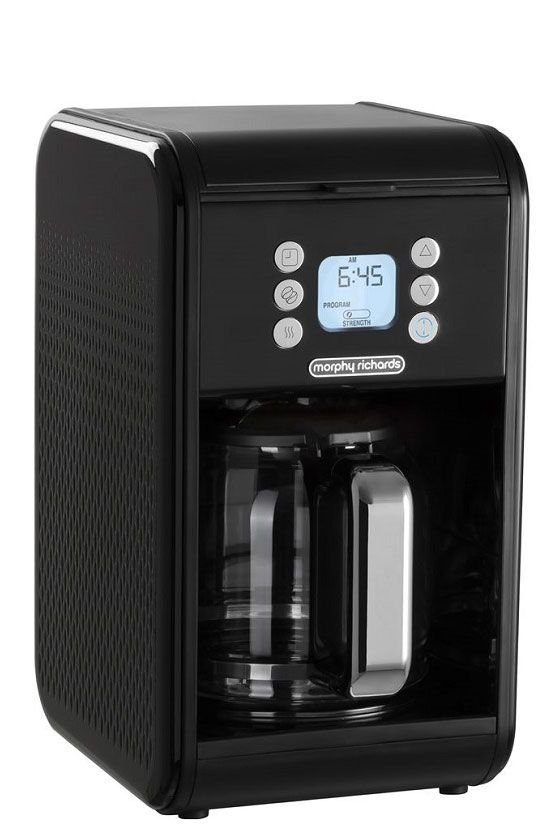 4. Morphy Richards 163005 Verve Pour Over Filter Coffee Maker

Best coffee machine for filter coffee: the pour over tech will create a fuller flavour and it's so reasonably priced, too

Specifications
Best for: : Making a filter coffee
Type:: Ground coffee
Pressure: : N/A
Cups:: Up to 12

Reasons to buy
+Makes a good coffee+Easy to set up

Reasons to avoid
-Hot plate doesn't stay on for long-Clock is difficult to read in low light

Wake up to fresh coffee with this pour over filter coffee machine which features a 'cupcake' filter and a specifically adapted brewing process to produce a fuller, smoother, less bitter tasting coffee.

What we like?

The coffee is full flavoured (which reviewers rave about) which is down to the pour over shower head and cupcake filters which evenly disperses water over the coffee grounds to release all those lovely rich flavours and aromas.

It's also really easy to use with a coffee strength selector and programmable timer, so you also have total control over exactly how you want your coffee.

What we don't like?

The hotplate which the carafe sits on suggests that it will be kept warm for up to 25 minutes. However reviewers have said that it stays on for less time and starts to go cold.

The clock is also a little tricky to read in reduced light so it's probably best to avoid the clock on this machine for telling the time.

Anything else?

The coffee machine is available in three colours - red, brushed stainless steel and black - so you can choose a hue which suits your style.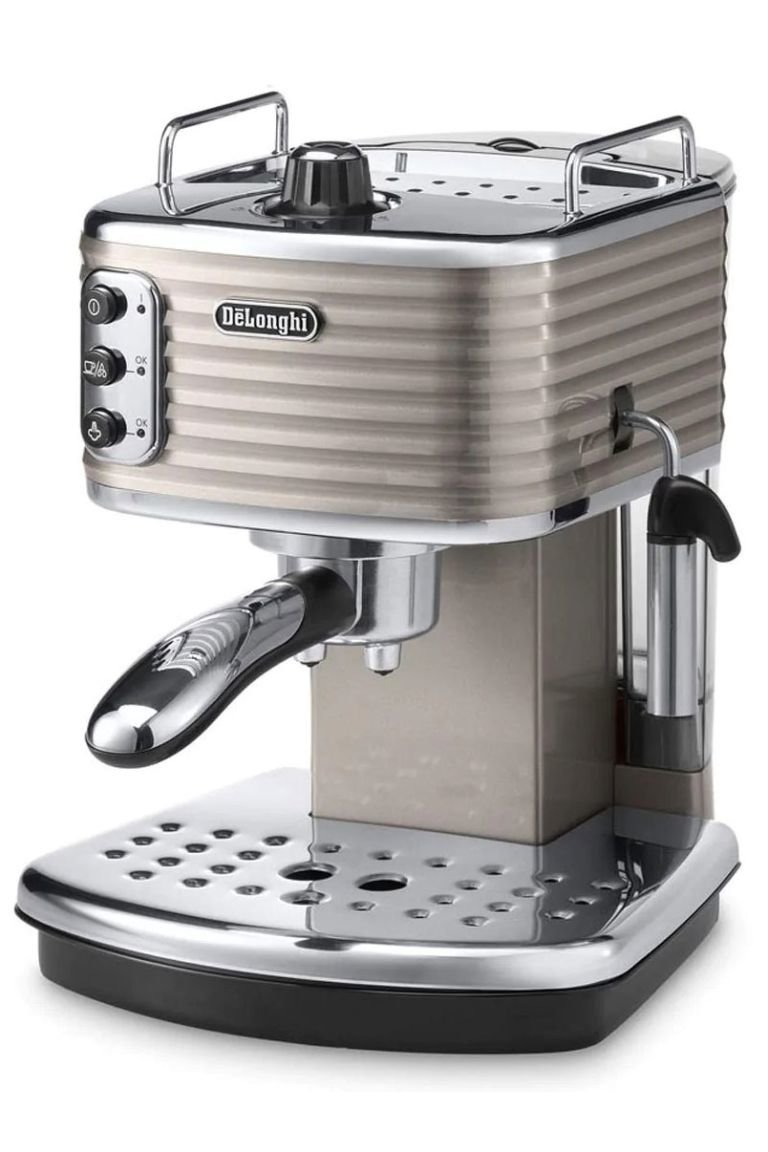 5. De'Longhi Scultura ECZ351 Traditional Barista Pump Espresso Machine

Best coffee machine for variety: you can make all your fave coffees with this handsome machine

Specifications
Best for:: All-round performance
Type:: Ground coffee or pods
Pressure: : 15 bar
Cups:: 2

Reasons to buy
+Good variety of coffee +Always ready to go

Reasons to avoid
-Water stop is manual so requires more user input than some

and latte, as well as your favourite espresso.

The machine also looks really good. It's available in a range of finishes, including grey, white, Champagne and black (we love the white).

What we don't like?

The water doesn't automatically stop with this one like it does with the others, so you'll need to get involved to switch it off.

Anything else?

The machine has an auto-switch off so if you forget to turn it off, it will switch off for you. The time it is left on for can be adjusted by you, too, so you can make a conscious effort to save energy.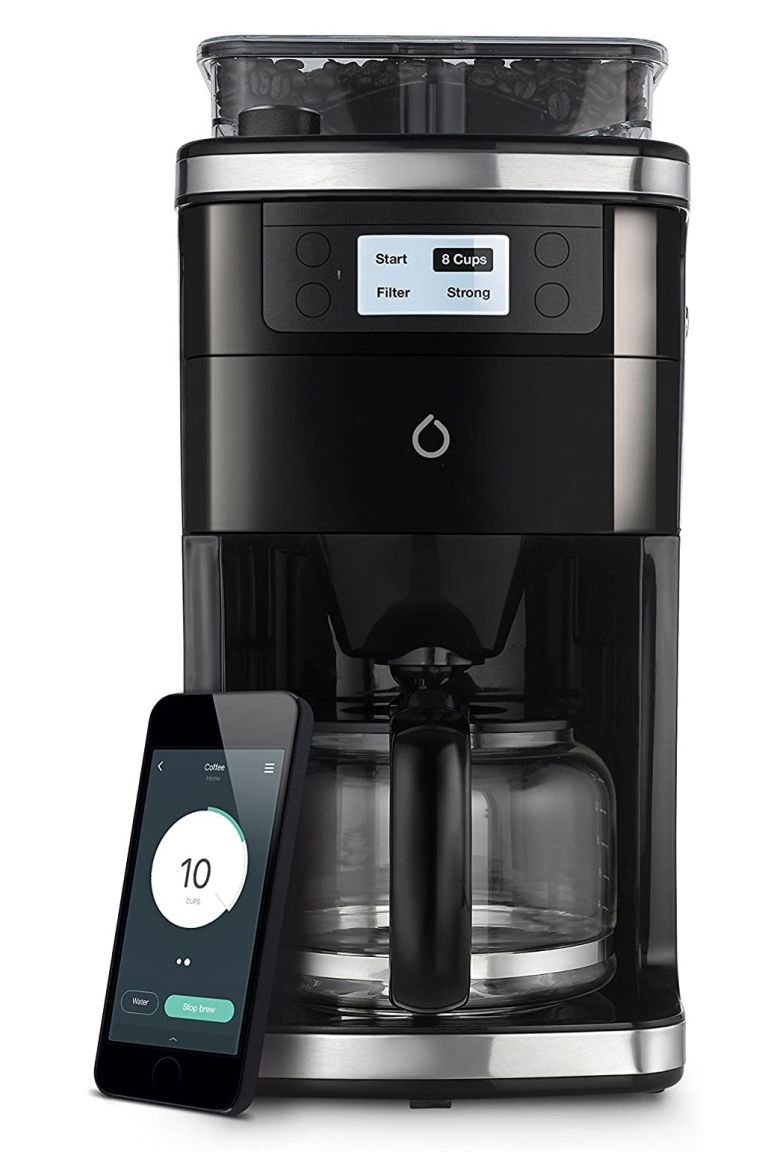 6. Smarter Bean-to-cup Filter Coffee Machine (2nd Generation)

Best coffee machine with smart features: you can make a brew with voice control

Specifications
Best for: : Smart functionalities
Type: : Ground coffee
Pressure: : N/A
Cups: : Up to 10

Reasons to buy
+Smart capabilities+Interchangeable colour panels

Reasons to avoid
-If you prefer a more 'hands on' machine

A Wi-Fi and Alexa enabled option which allows you to remotely grind beans and brew enough coffee for up to 12 people, from wherever you are, using the Smarter app.

What we like?

There's a lot of things we like about this coffee machine. It can grind whole beans for you AND be connected to Amazon Alexa, Google Home and Siri enabled devices for voice control.

You can also control the strength and grind coarseness so you can perfect your brews and make them just how you like them.

What we don't like?

Although we like it, we appreciate that not everyone likes 'smart' appliances. This one is pretty smart which means that really you don't need to do all that much to make it work for you. But if you would prefer to control it with dials and manually adjust it then this may not be the coffee machine for you.

Anything else?

The colour panels can be swapped around to change up how it looks. It comes with a choice of red, cream and black which you can alternate as and when it suits.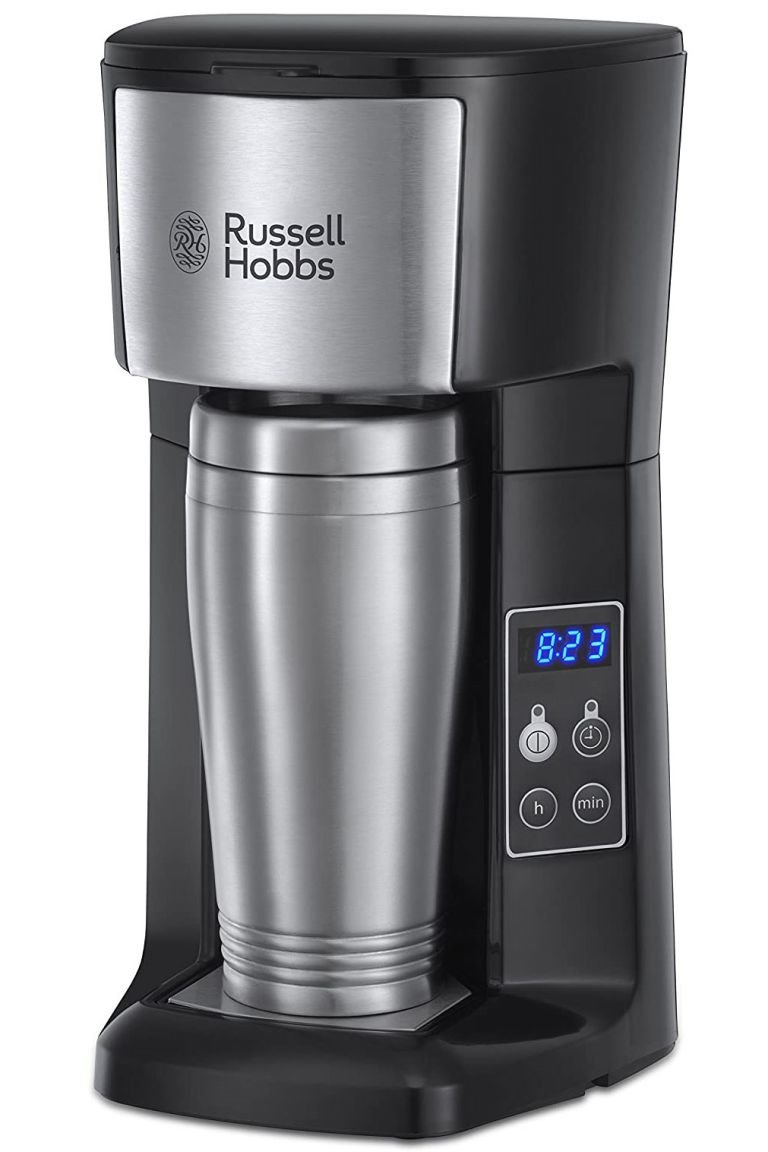 7. Russell Hobbs 22630 Brew and Go Filter Coffee Machine and Mug

Best coffee machine for travelling: a top choice for busy lifestyles

Specifications
Best for: : On-the-go
Type:: Ground coffee
Pressure: : N/A
Cups:: 1

Reasons to buy
+Pours into a travel mug for you +24 hour programmable timer +Comes with a travel mug

Reasons to avoid
-Only makes enough for 1 -Mug is not insulated

If you're always on the go, this filter coffee machine is a handy device which will make real coffee from fresh grounds and filter it into a stainless steel travel mug (included) for you.

What we like?

For around £30, we think this coffee machine is very reasonable for the money. It can make you a filter coffee or a coffee from pods so we like the versatility of it. And the fact that it comes with a mug means that it really is 'good-to-go' as soon as it arrives.

What we don't like?

There's a blue indicator light which seems to be on all the time when the machine is switched on. Reviewers have remarked how annoying this is and, to be fair, we can see that could be annoying so it would probably be best to keep this machine in the kitchen so it doesn't disturb you, too much. Or just switch it off to also save energy.

Anything else?

This already pretty handy machine also has a 24-hour programmable timer so you can schedule when you want your coffee ready for you to pick up as you fly out the door - just don't over sleep and forget about it!

What is the best coffee machine?

To recap.. if you want to buy a coffee machine, we wouldn't hesitate to buy the Sage The Barista Pro SES878 Coffee Machine. In our opinion, it has everything you could possibly need from a coffee machine; it grinders the whole beans, makes a delicious coffee and has a steam wand, so the possibilities are endless.

It is an investment appliance though, so if you would like to spend a fraction of the price on another good coffee machine then we would recommend you buy the Smeg DCF02 Drip Filter Coffee Machine. It's mega easy to use, makes a lovely filter coffee and is available in a selection of pleasing colours.