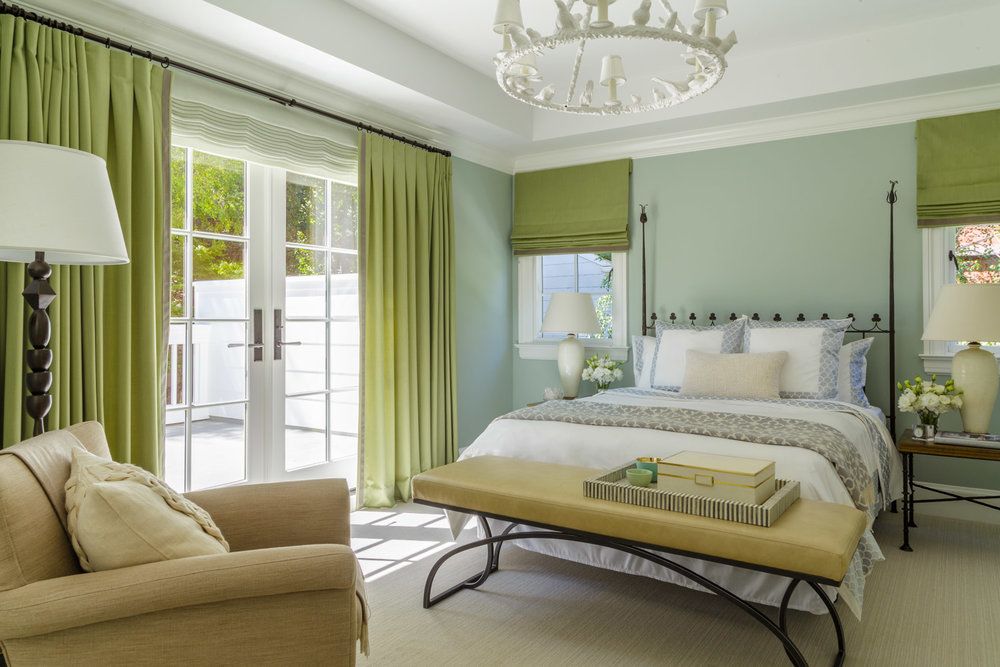 Instead of bright exciting colors, we want our bedrooms to make us feel relaxed. After all, when the world out there is such a crazy place, it's nice to have a calm space to wake up to and lay your head at the end of the day. The paint color for your bedroom is a very important decision to achieve this goal. There are ten colors in particular which are great choices for creating a soft relaxing space to sleep. Take a look at the ten best bedroom paint colors and decide which works best in yours.


Ten Color Options for Your Next Bedroom Makeover
No. 1: Blue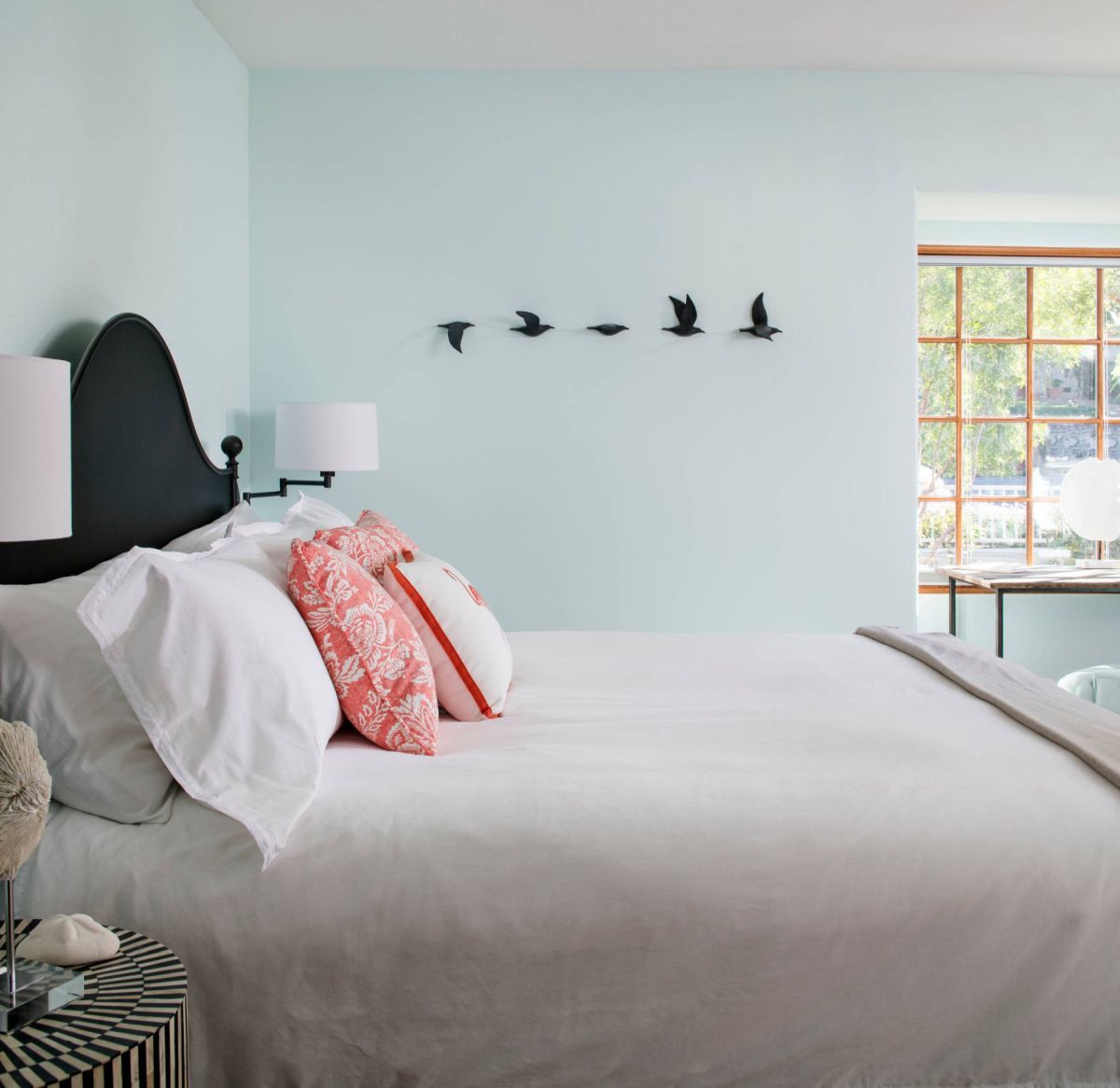 When you think of bedroom paint colors, blue is probably the first to come to mind. And you're not wrong. Blue is one of the most relaxing colors on the spectrum so head to the blue swatches in the paint aisle. You might find that a pale cool blue is just what your bedroom needs.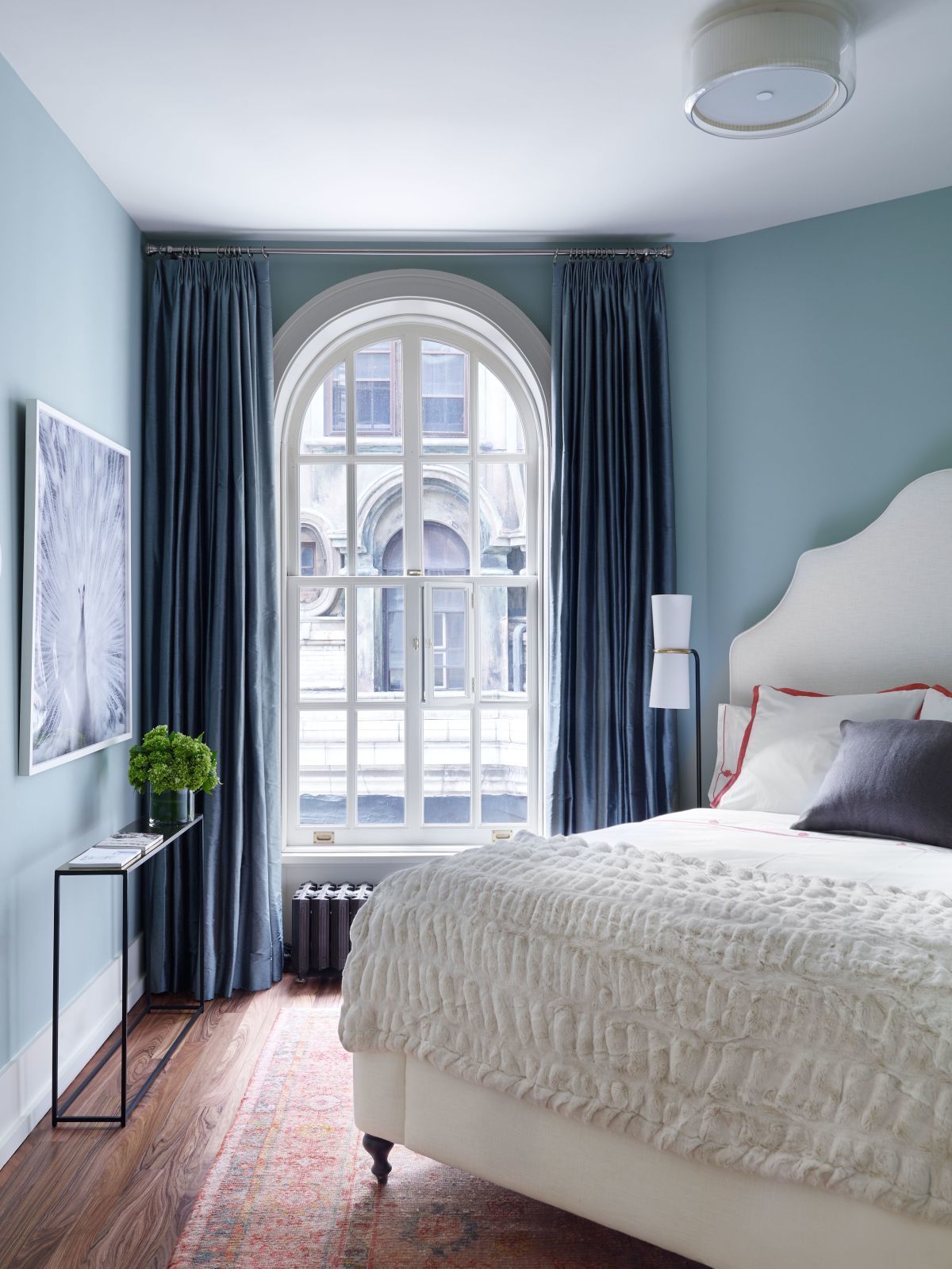 How about a dusky blue to really show off your bedrooms other features? If you have any white furniture or even white trim, a blue that's just a shade darker than pastel will help you set off those creamy tones.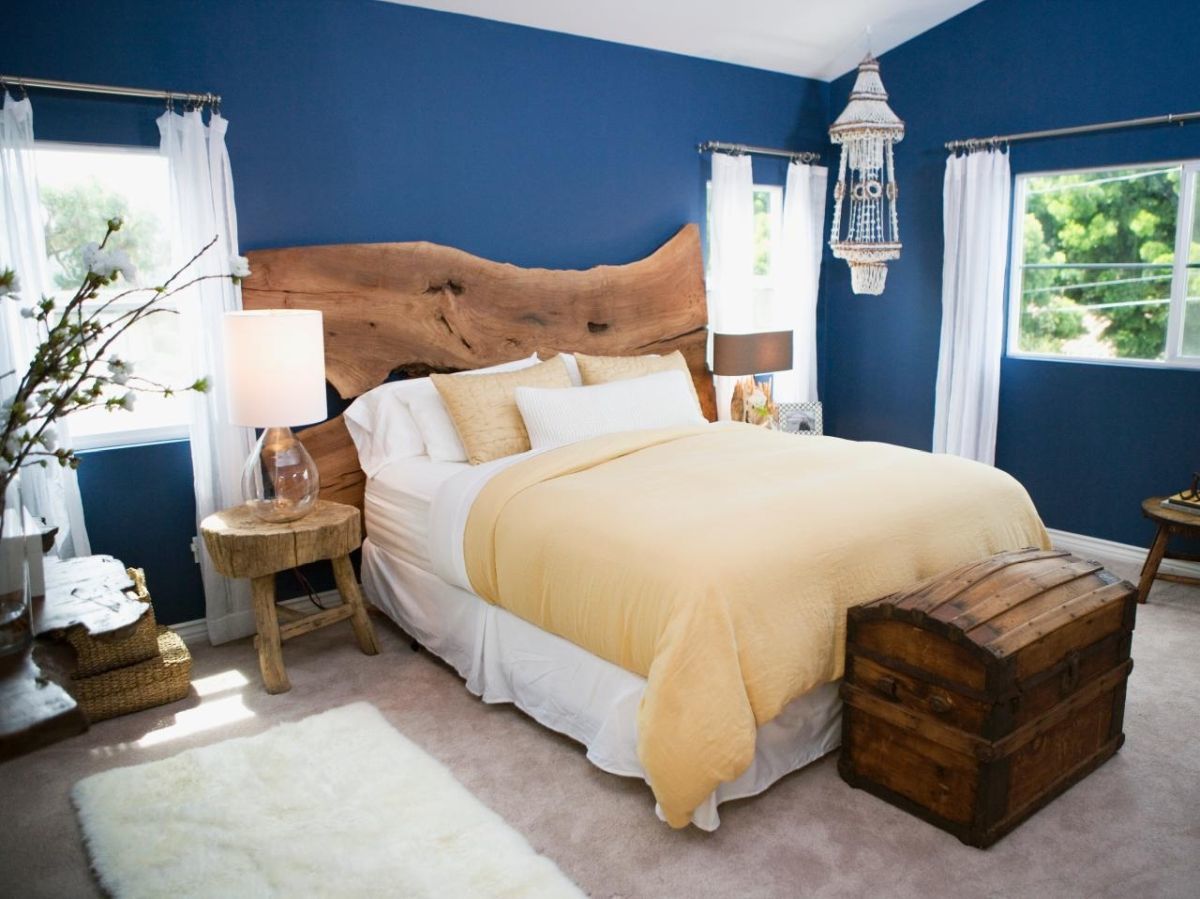 Whether your bedroom is rustic or country or even modern, a royal blue on the walls can help tie all your extra colors together. You have to admit that it's the perfect choice for a beachy bedroom too.

Yes, we can go even darker than that and still have a winner. Navy blue is almost a neutral in today's decor trends so you won't go wrong by painting your bedroom with it. It will make your space feel a bit cave like and definitely cozy.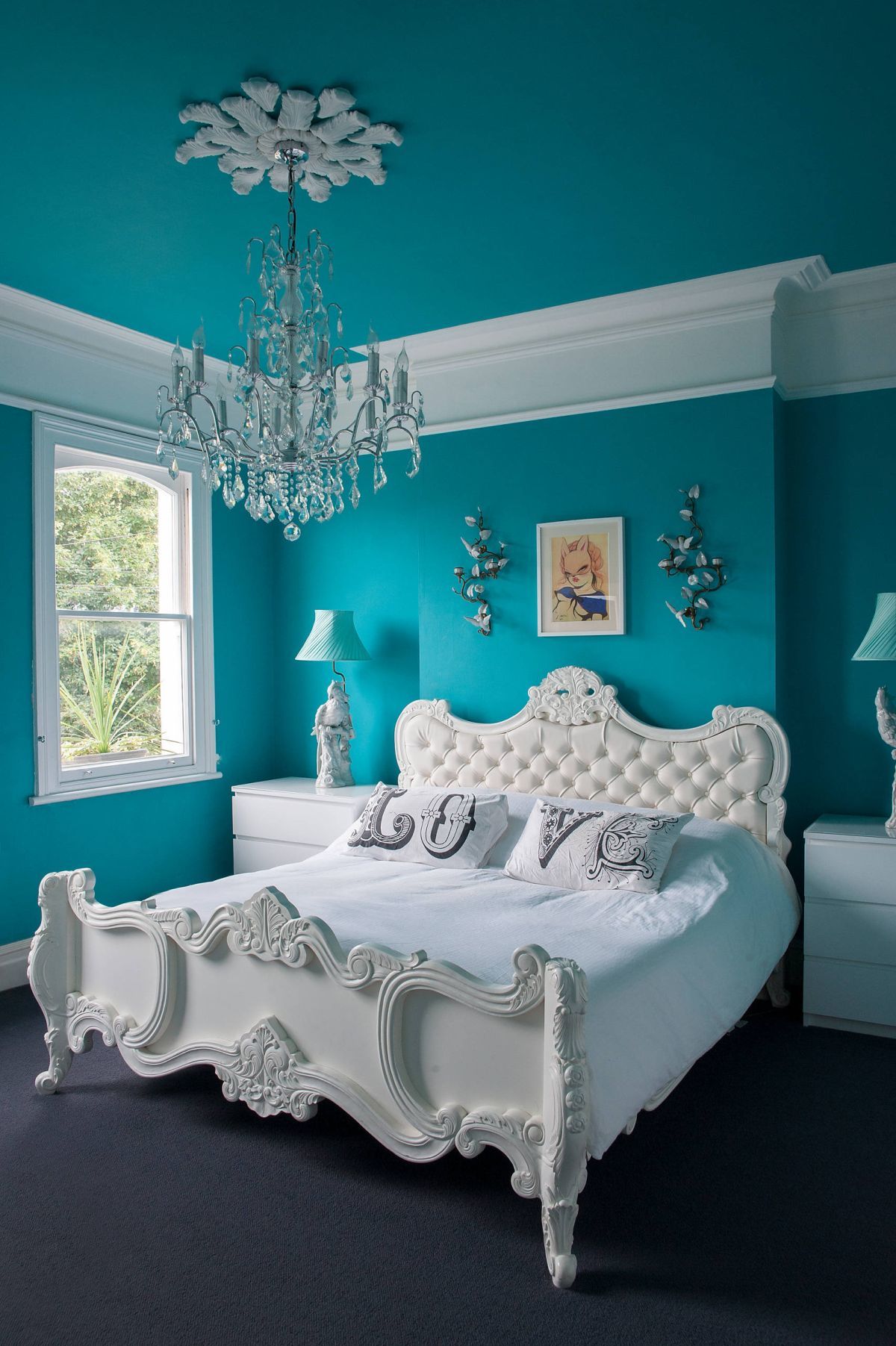 If you're still drawn to bright colors, then by all means, take the plunge. Paint your bedroom a bright turquoise that makes your heart happy each time you wake up or go to bed. Following your design tastes will make you happier than following any rules.


No. 2: Green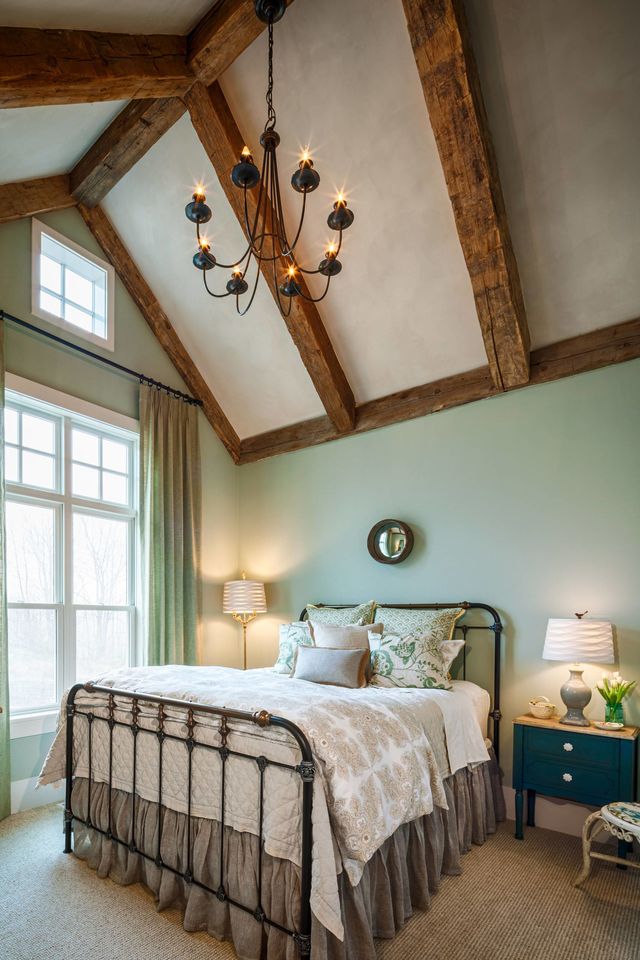 You've probably heard before that green is a relaxing color. So it just makes sense to paint your bedroom in the shade. A pastel green is perfect for a country bedroom with it's wood elements and floral prints.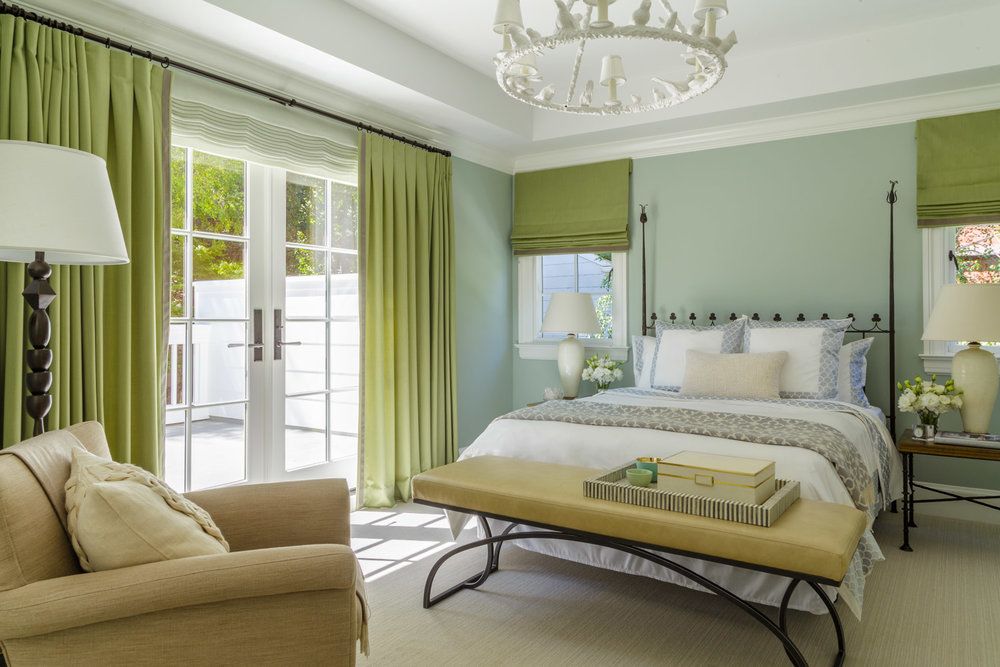 The soft shade is also perfect for more traditional bedrooms. It's dark enough to show off your crown molding and other elements that you find in an old home, but light enough to make you sigh with happiness when you turn in for the night.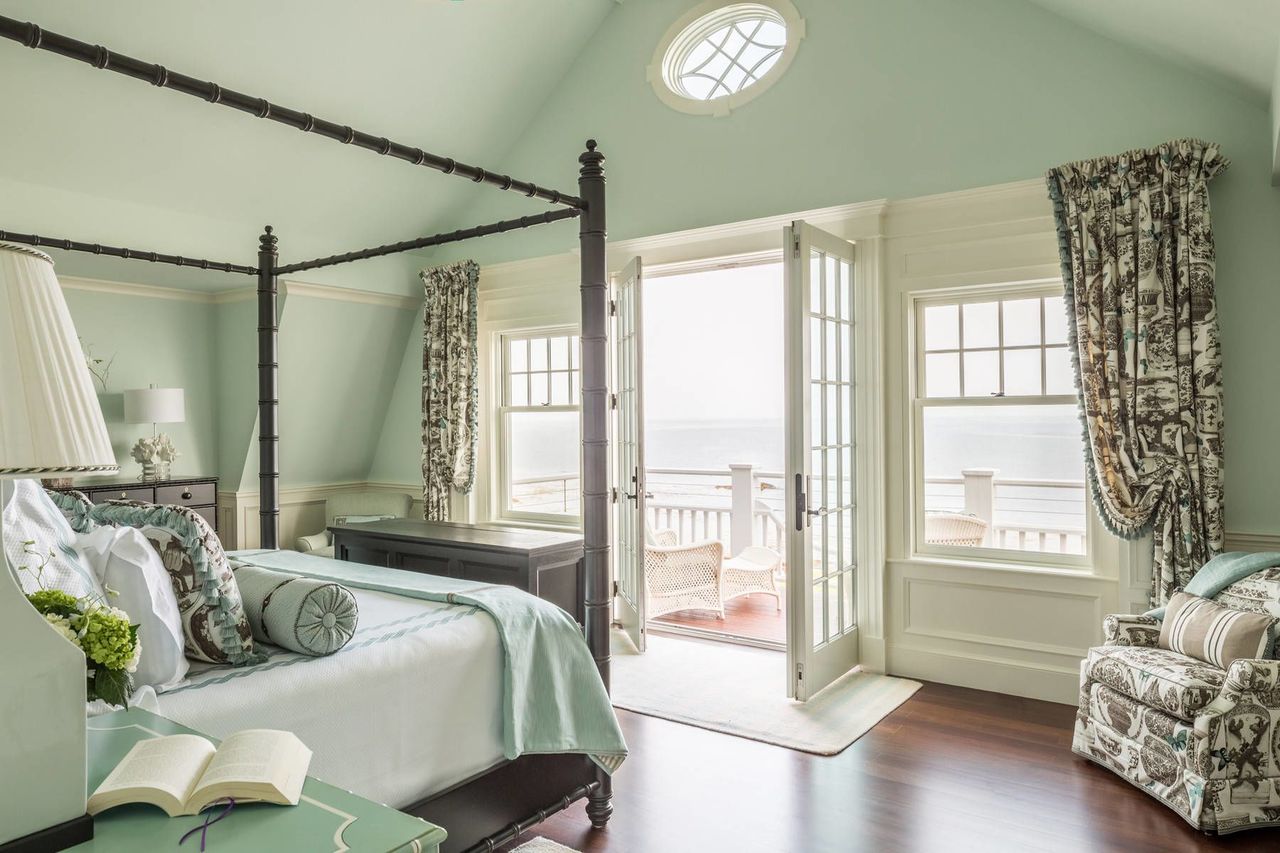 How about a master bedroom in mint green? It will definitely be trendy enough to flow with the rest of your home. And you can choose whatever patterns you like because most of them have green in them anyway.

When you're in love with green but wanting an option that's a bit more playful than the pastel choice, you need to consider the light apple green shade. It's the perfect mix of bright and calm to make your bedroom the happiest room in the house.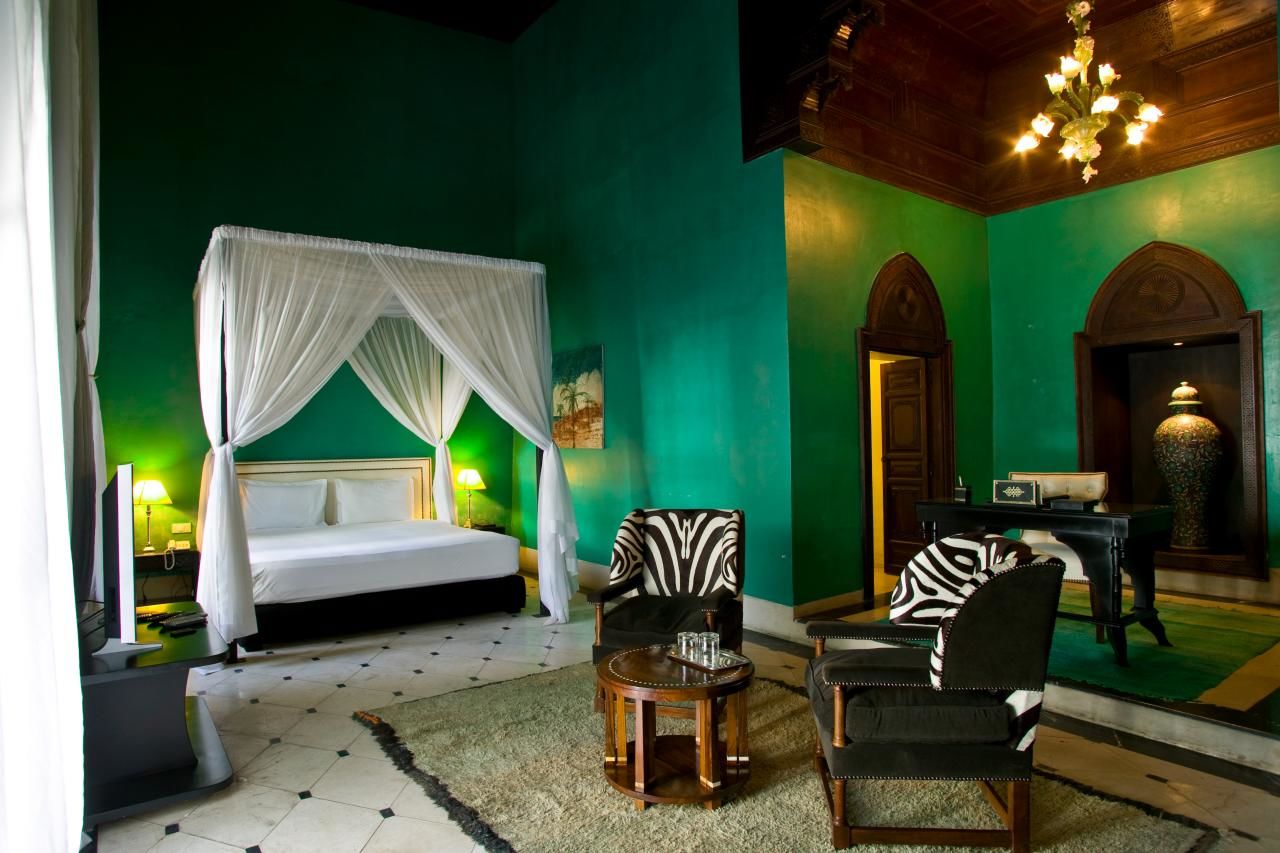 Of course green doesn't need to be nursery worthy. Go for an emerald green to make a lasting impression. Your bedroom will suddenly seem exotic and far away, almost like you went on vacation each time you go to bed.


No. 3: Gray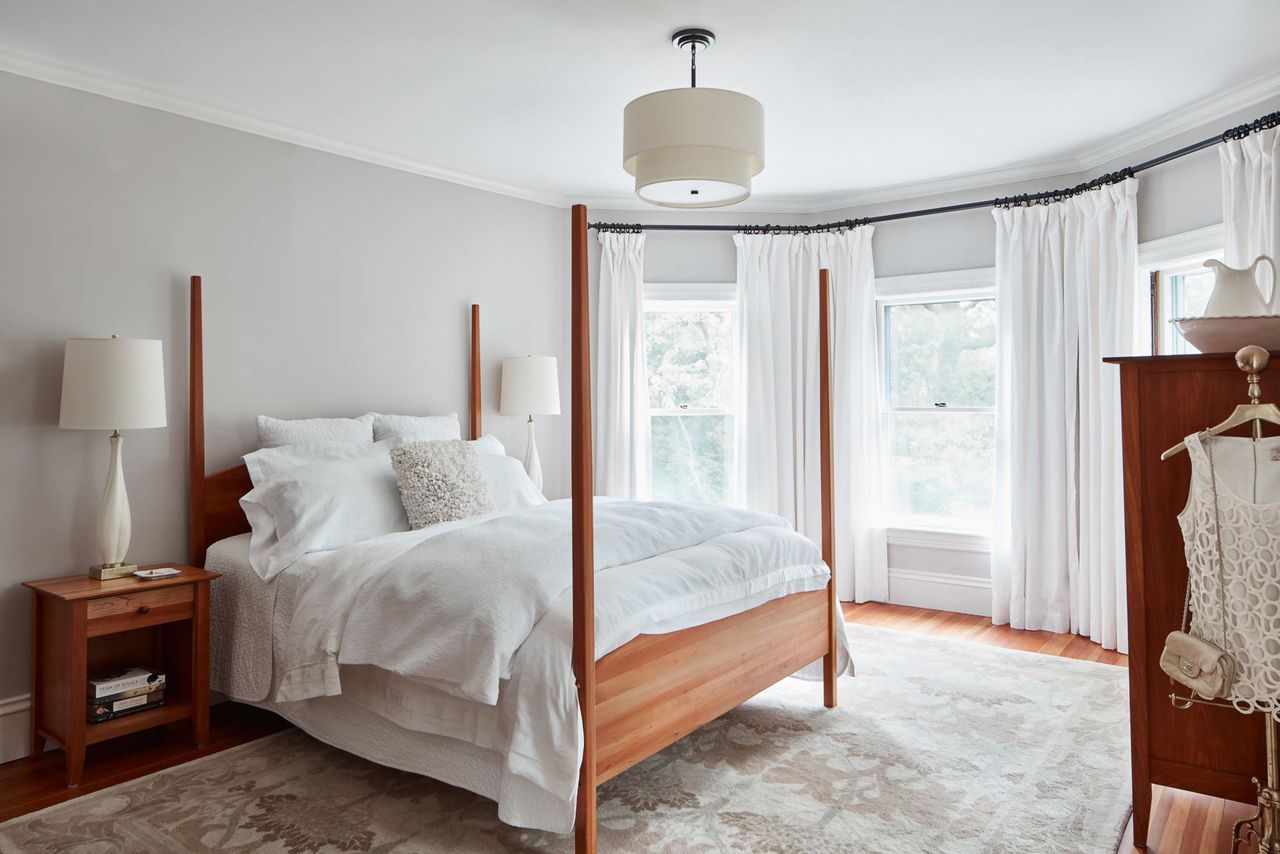 Gray is a lovely color that is extremely calming. Being a neutral color, it gently lulls you to sleep in it's warmth like being wrapped in a fuzzy blanket. But it also lets the rest of the room speak for itself which is helpful when you like to focus on your wall decor rather than the wall.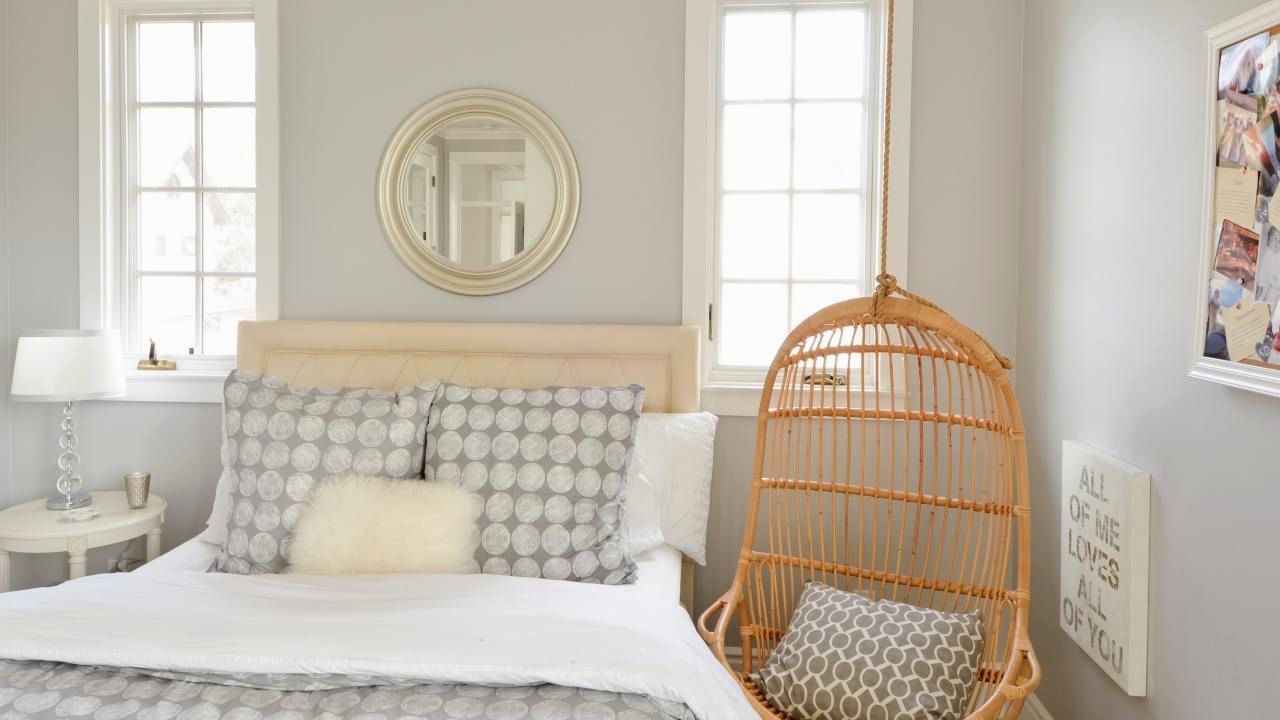 The light shades of gray are a great option for all kinds of rooms. Even your kids can benefit from the neutral tone as they grow and experiment with styles in their own bedrooms. You won't have to repaint every few years which is a bonus.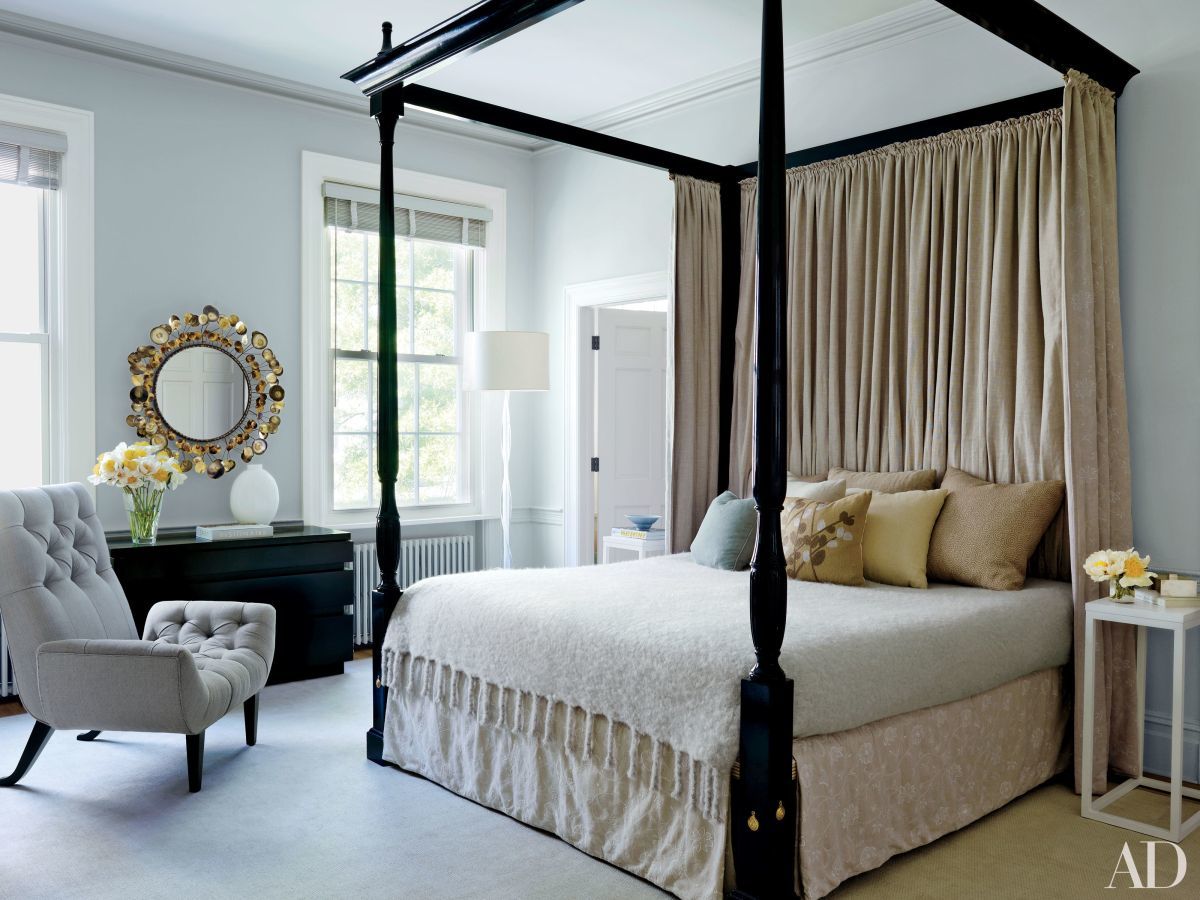 If you prefer the cooler grays, a blue gray bedroom is for you. Let your comforter bring you warmth, your space will love the cool and calm feeling of a blueish neutral. Especially in the summertime when you're showering twice a day.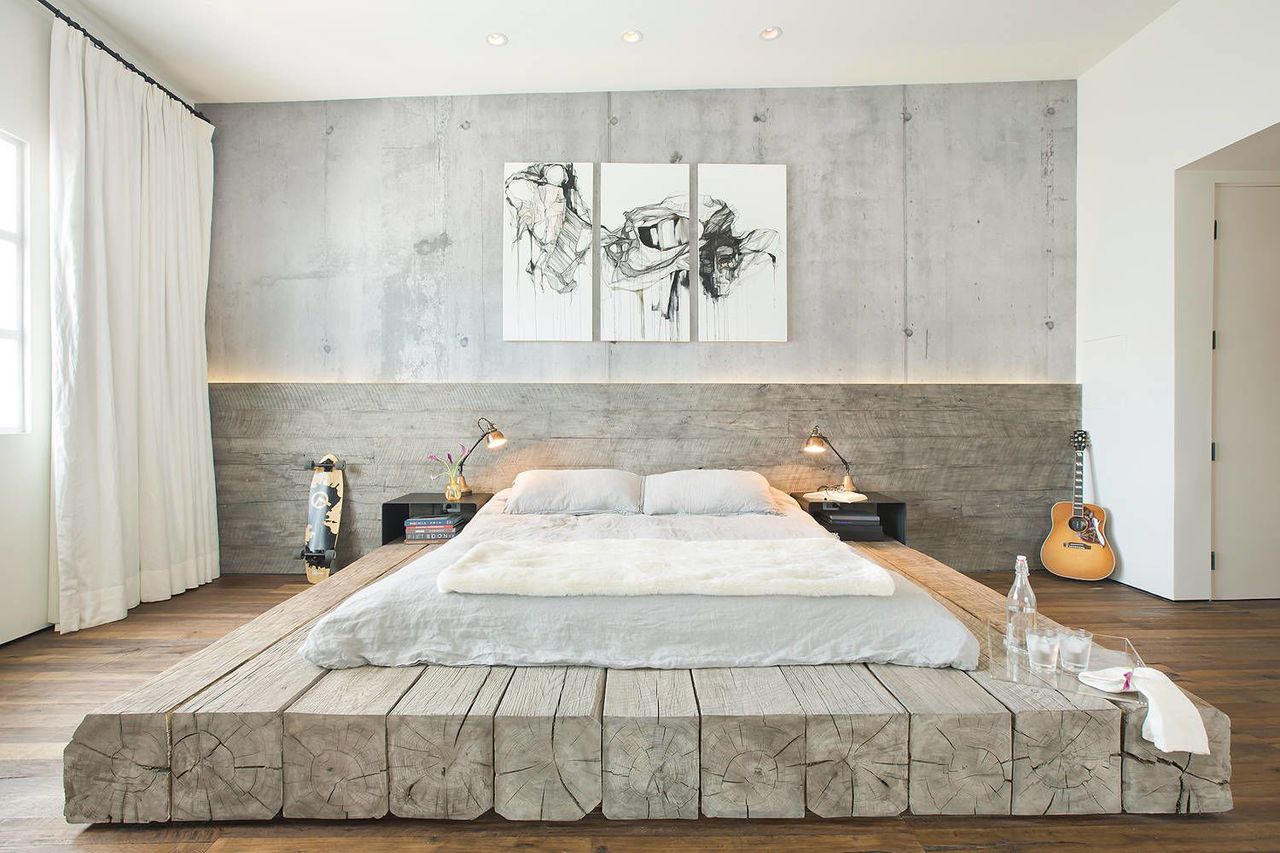 Modern decor lovers, gray paint solves your bedroom problem. It provides enough change from the white walls in the rest of your home to help your body wind down at the end of the day without breaking from your modern vibes.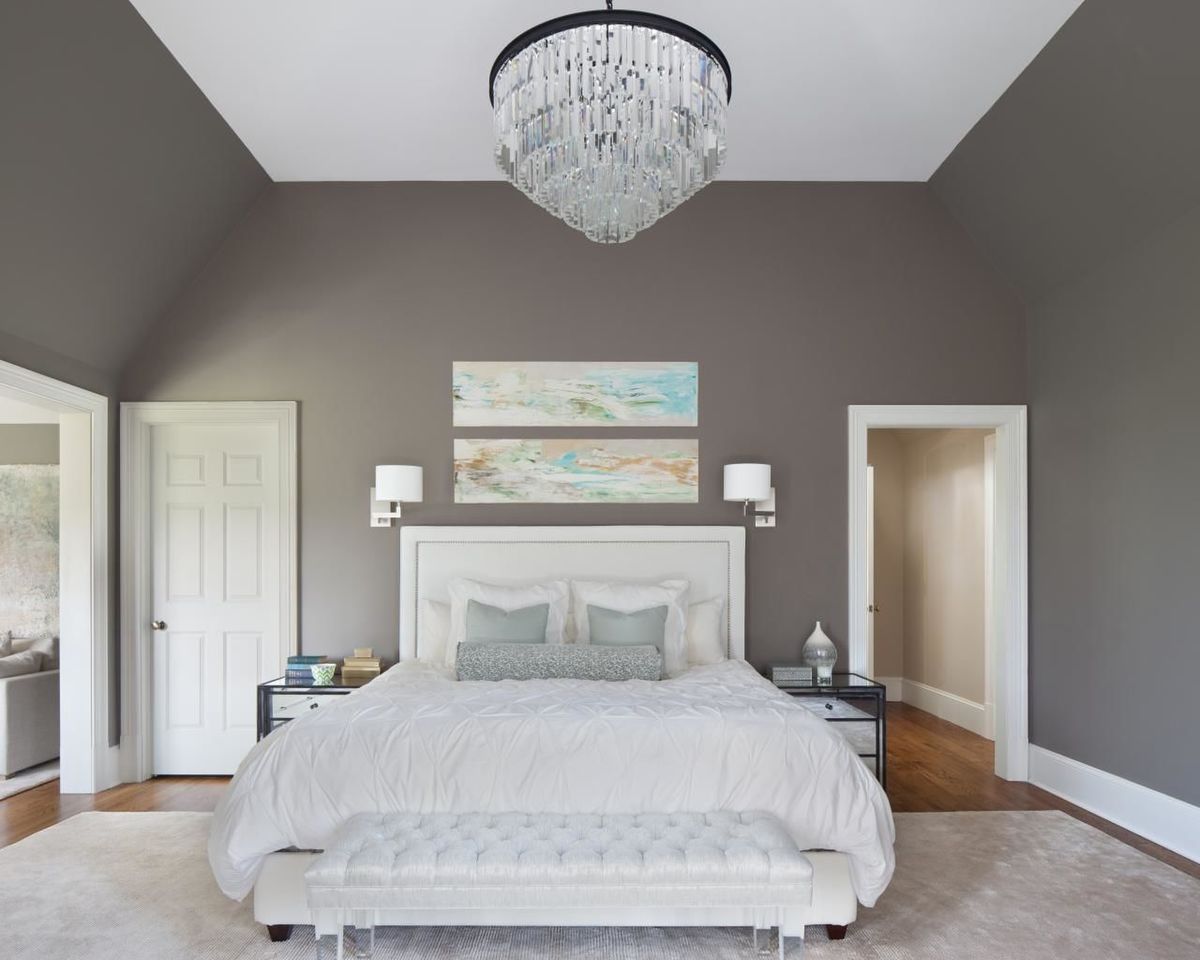 Let's talk about dark gray. While you might be hesitant at first, you'll find it's a smokey moody shade that you can easily fall in love with. And still being in the neutral family makes it simple to switch up your decor accents whenever you're ready.


No. 4: White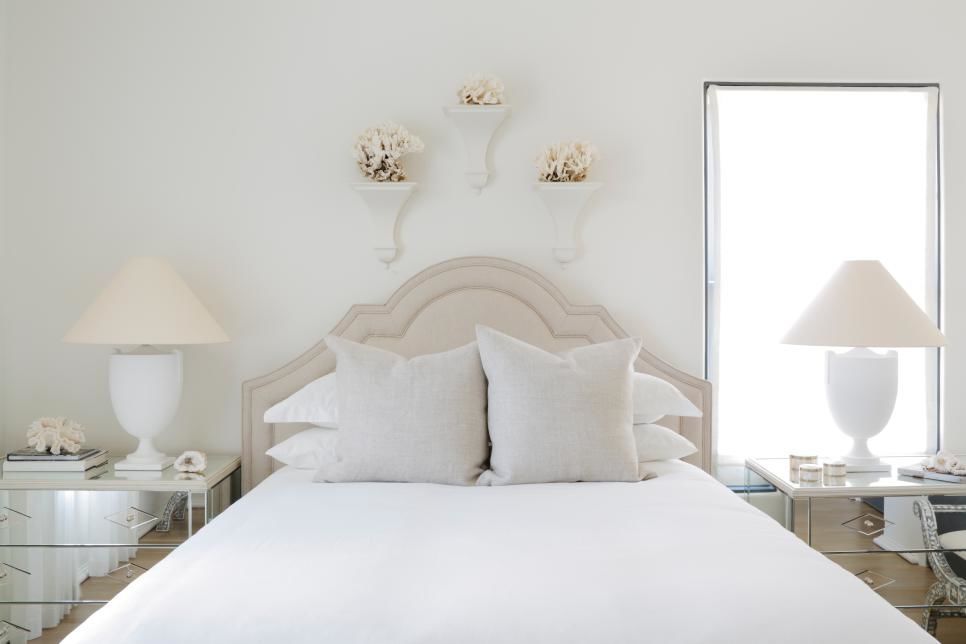 White is a great color for the bedroom, believe it or not. It's so fresh and invigorating in the morning and at night, soft and relaxing. The natural light of day makes your space feel airy while the accent lamplight at night gives off a warm glow.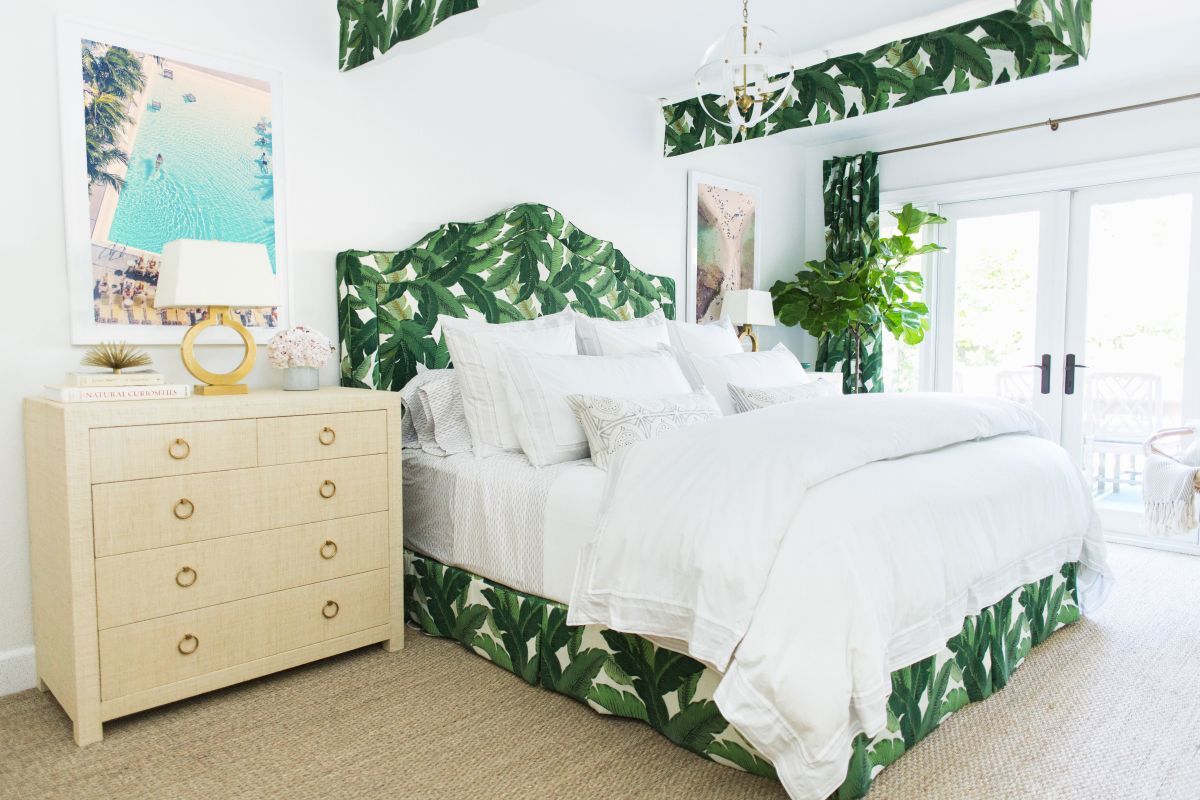 Maybe you have a fun accent piece you'd like to have in your bedroom but you need to decide on a wall color. White is the answer. No matter what colors or patterns you add, it will always match and you will never need to repaint.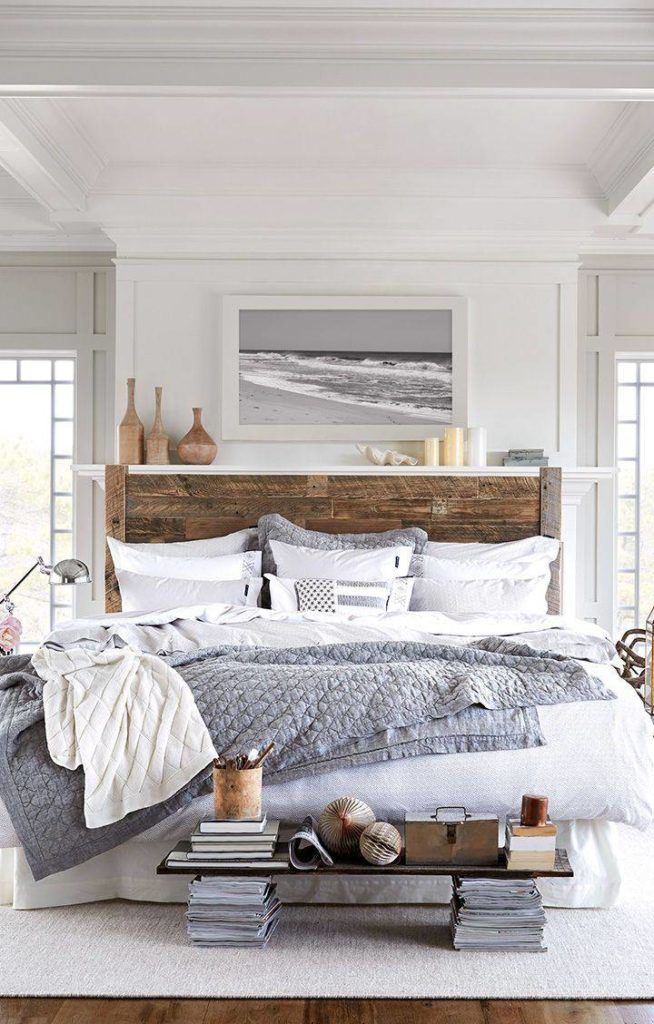 Sometimes the wooden pieces that accompany rustic decor can make your room feel heavy and cluttered. However when you have white walls, you achieve a balance that you wouldn't be able to find otherwise.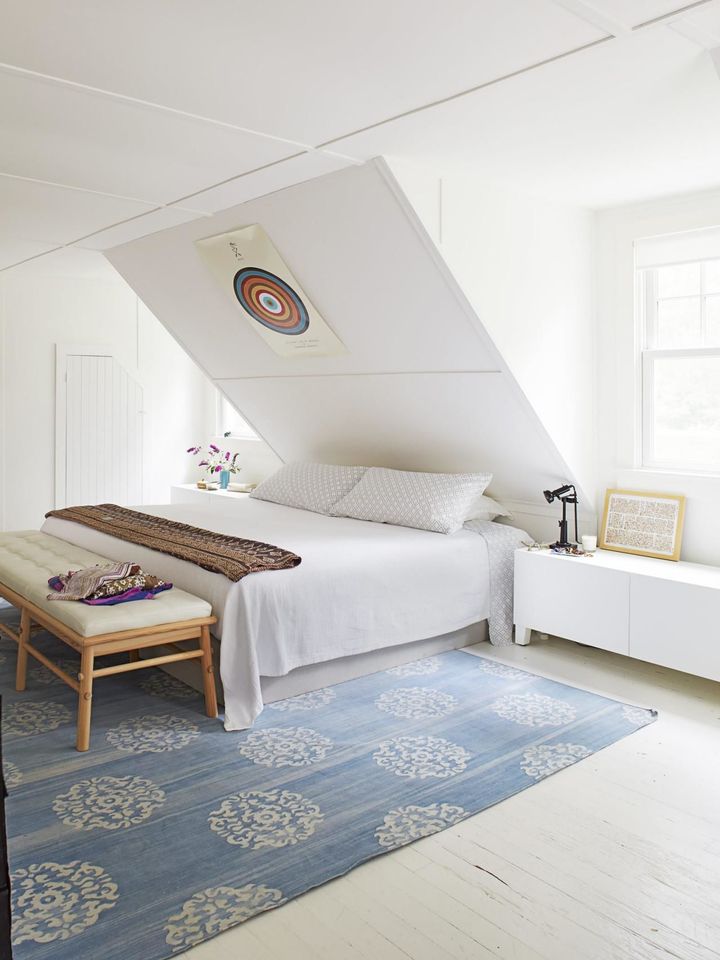 Small bedrooms also receive great benefits from white walls. Since it bounces light better than any other shade, it will easily illuminate all your dark corners that even the chandelier light won't reach.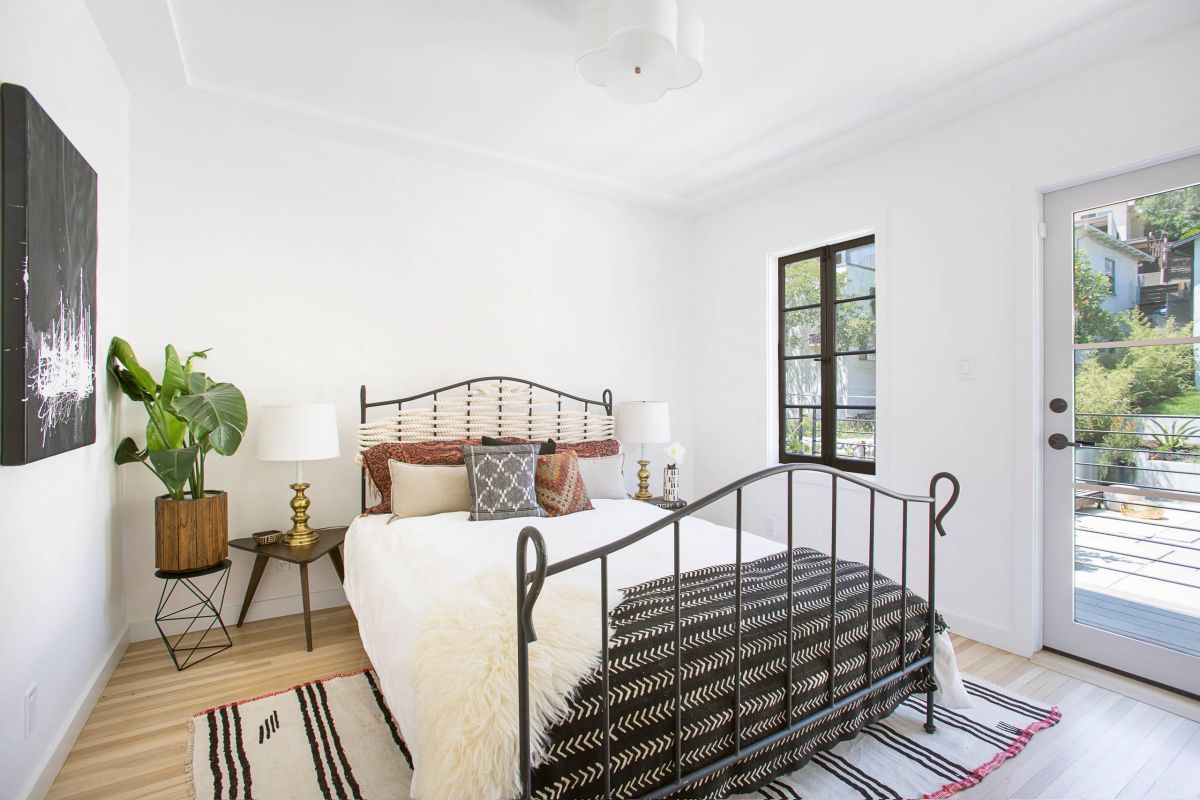 You might not have thought about guest room paint colors as in depth as this, but if your guest doesn't have a taste for green, your green guest room will not be as relaxing as possible. Better safe than sorry because no one can dislike white.


No. 5: Black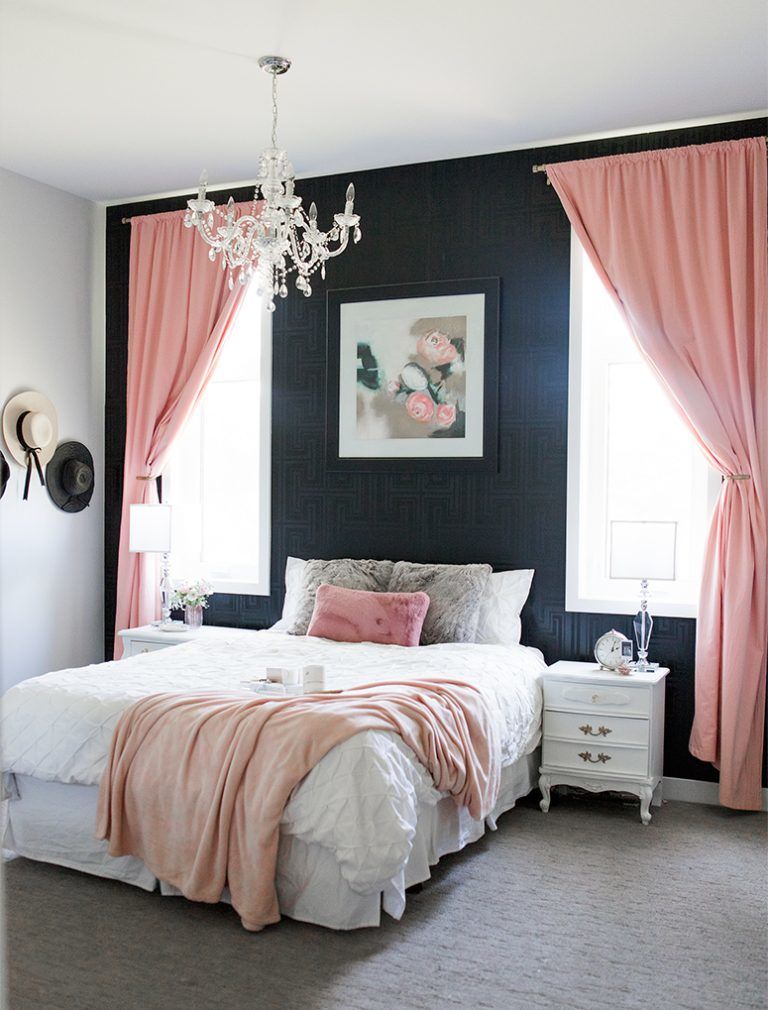 For a stylish bachelor pad makeover, we think black is a great color option. When using black paint, you'll need to be careful to add natural light into the space, or alternatively, you can go for a black and white theme. Pretty Little Details shares this sophisticated bedroom makeover that combines black, white, and pink. You'll find that the pink and white colors add some much-needed lightness to the room, so the black doesn't feel too overpowering.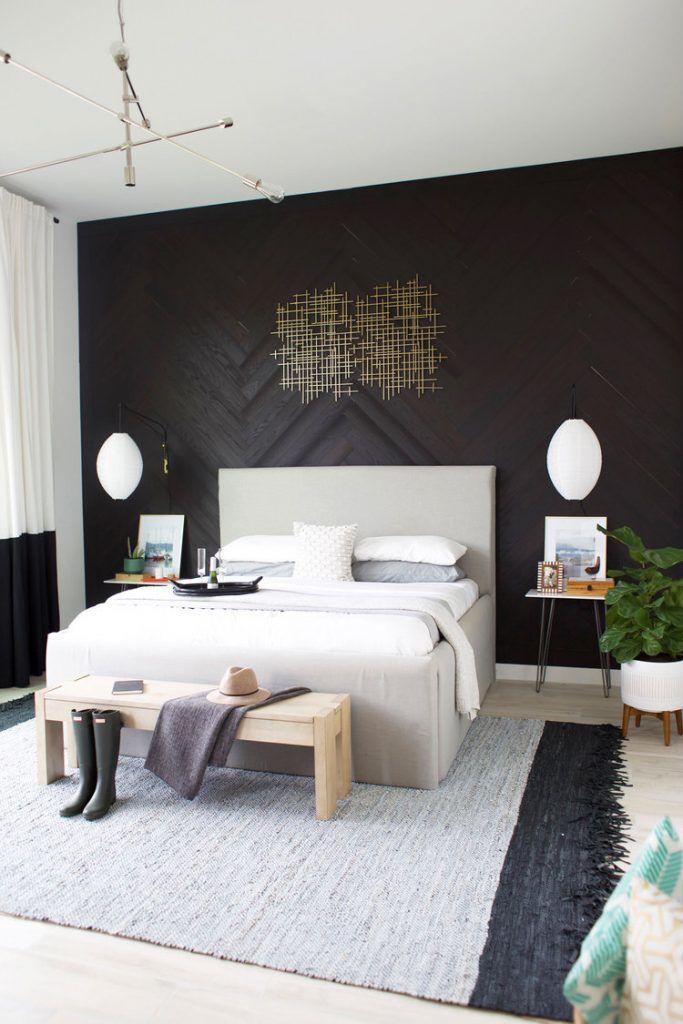 An easy way to try out black in your bedroom is with a feature wall, as shown in this bedroom makeover from Kristi Murphy. This DIY herringbone wall is then painted black, and it adds a little more texture to your space. If you find you love the black feature wall, you can then consider painting the whole room black in the future.


No. 6: Pink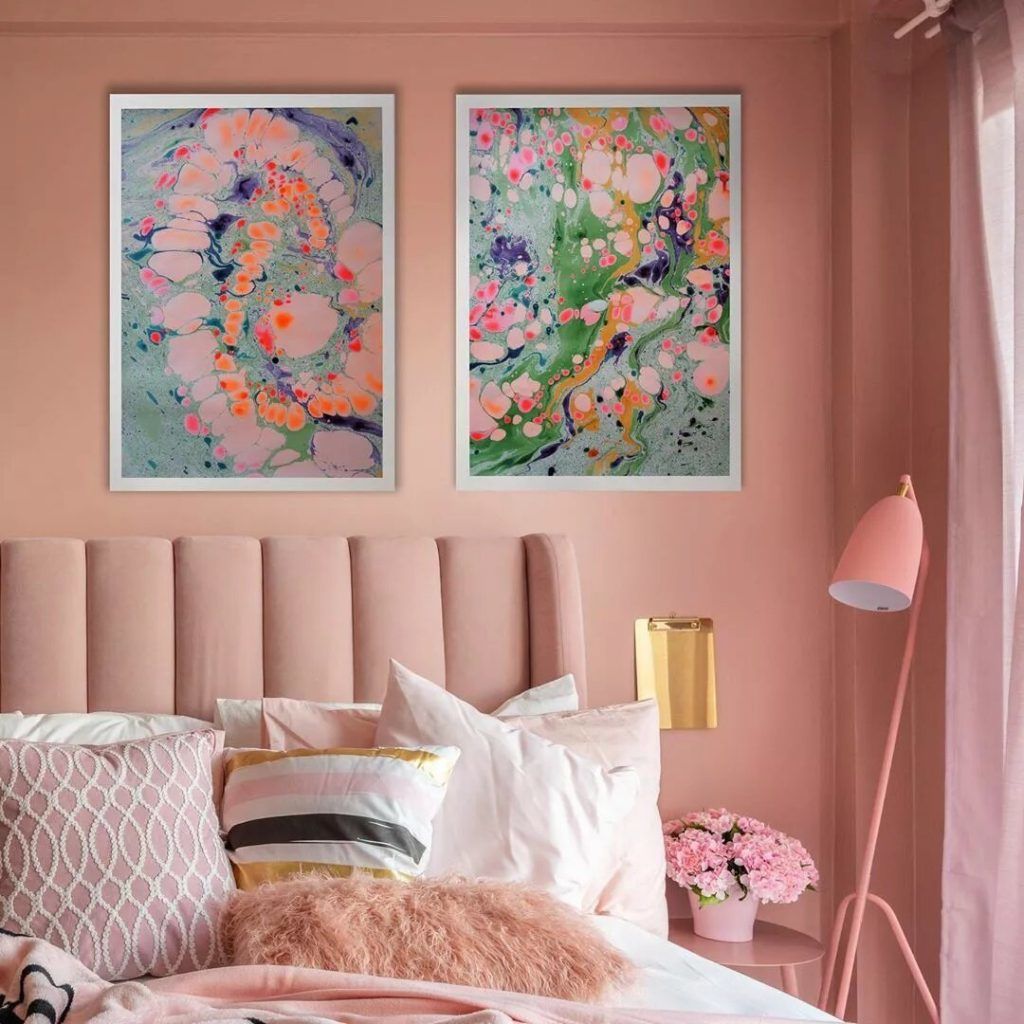 Pink isn't just reserved for young girl's bedrooms and can still look chic in a grown-up bedroom. The Nordroom shares these stunning pink makeover ideas, which would look great in any home. Even men will appreciate the relaxing and romantic atmosphere of a pink bedroom. Of course, with dozens of shades of pink available to choose from, you could go for anything from a pastel pink room to a fluorescent color. Mix and match various shades to create the perfect design for your room. You'll find it easy to purchase cushions and throws for your bed to add more pink into your space, which you could also just add to a white room for a splash of color.


No. 7: Yellow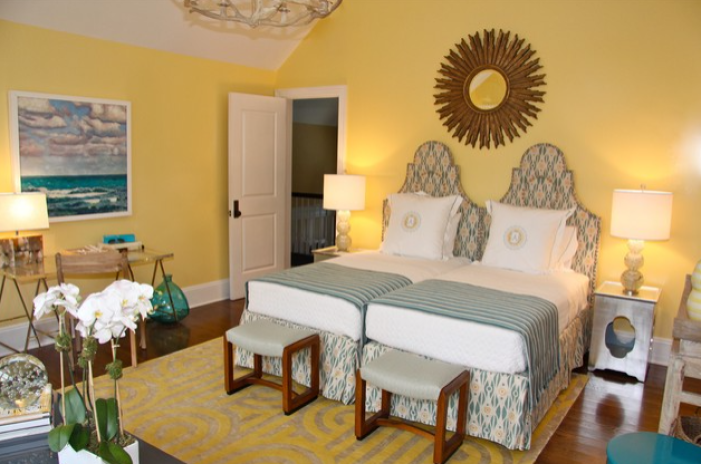 For anyone looking for ideas to redecorate their guest bedroom, take a look at this fun yellow makeover from ARDEN Interior Architecture & Design. It will create a sunny and bright space that your guests will love spending time in, and it's ideal for smaller rooms. You'll find that yellow helps to make even the tiniest room look brighter and bigger. However, if you don't feel brave enough to try a full yellow room yet, consider just adding a yellow feature wall. It will add a sunny splash of color to any room without having to commit to the full yellow makeover. Otherwise, we recommend just adding a throw to your bed or a pair of cushions, which will add a little color to even the dullest of bedrooms.


No. 8: Orange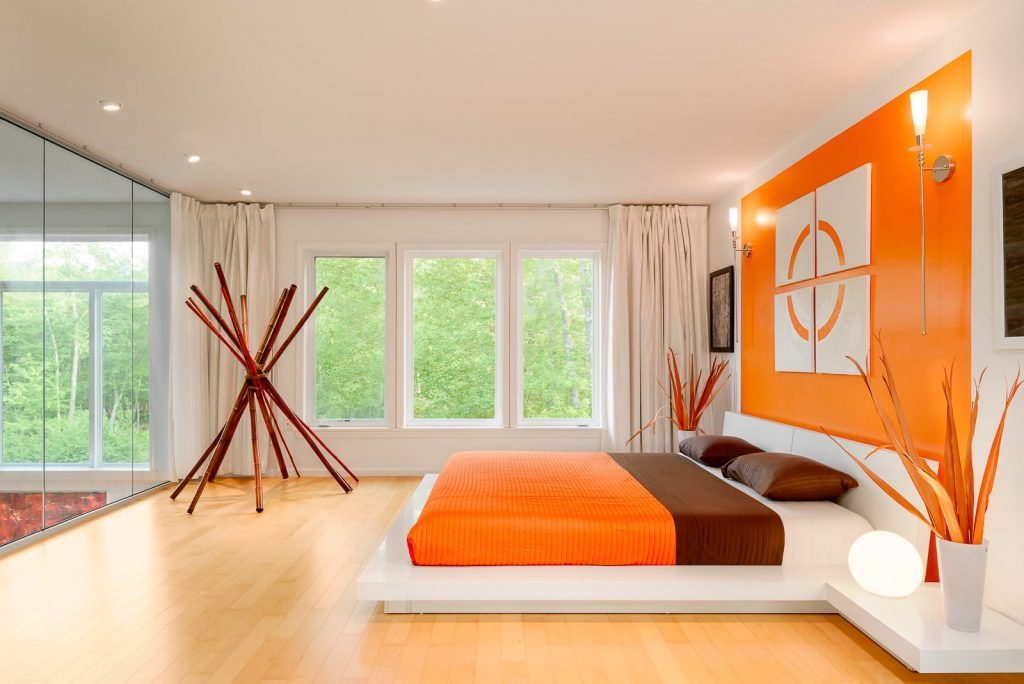 Orange might seem like an unusual color to add to a bedroom, but you'll be surprised by how incredible it can look in any room. Greg Moine shares this stunning orange bedroom, which features a single orange wall and a bold bedspread. Orange on every wall would likely be a little much unless you are feeling extremely brave, so try one wall at a time, to begin with. Other easy ways to add orange to a bedroom are with cushions, flowers, and rugs. Orange would go well with yellow or red, and you could create a room inspired by the colors of fire.

A surprising combination for modern bedrooms is orange and gray, which work together to create a more subdued look. Remember, orange doesn't always have to be bright and bold, and you could go for a shade that's closer to terracotta. This would create a warmer look that could be paired with browns and yellows on your bed with cushions and throws.


No. 9: Purple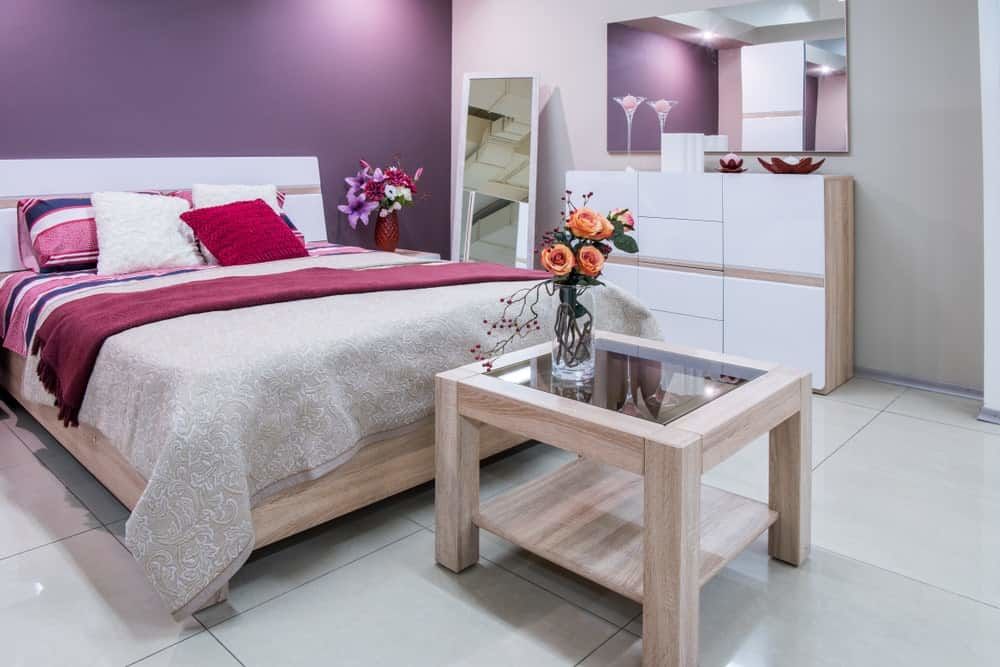 Purple is another color that you may associate with young girl's bedrooms, but the deeper shades of purple can make any room look like it's fit for a princess or prince. Play it safe by adding a lilac shade to your bedroom doors, but you can then accessorize your room with darker shades of purple. However, we love a dark feature wall in a dark purple color, and this high contrast palette can create a more contemporary look. Dark walls can be added to rooms with any type of lighting, and even dim rooms look great with the saturated color.

Purple is known for its soothing feeling, and we recommend using a soft purple for a more romantic room. You'll find that this cool color is naturally very calming, so it's ideal for anyone looking to create a stress-free environment when they return home from work. You can even add curtains in purple to your room, which would add a splash of color to a neutral room.


No. 10: Caramel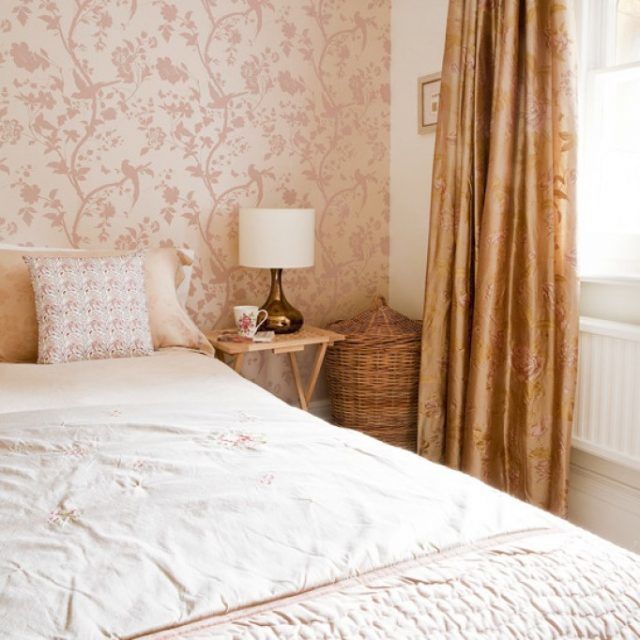 For a more traditional color option for your bedroom, we highly recommend considering caramel paint and decorations for your bedroom. Caramel is a much prettier shade than brown for a bedroom but still adds a subtle touch of color to any space. It's a good option for both traditional and contemporary homes and would also be a great option for your guest bedrooms. You can find a wide selection of different colors of caramel available for both paints and bedsheets today, so you can add as much or as little as you like to the room. This is a great option for anyone looking to make a small change from a white bedroom and add a hint of color to their space.

As you can see, there are so many different bedroom paint colors to consider when redecorating a bedroom this year. Whether you are giving your master bedroom a full makeover or just adding a new color to your child's bedroom, any of these options will help to give your home a new lease of life. Of course, when it comes to your color choices, you'll want to mix and match various colors in each room to add more texture and interest to your space. The great thing about redecorating is that there are plenty of accessories you can add temporarily to your home, allowing you to try out a new color each time you fancy or for a new season.