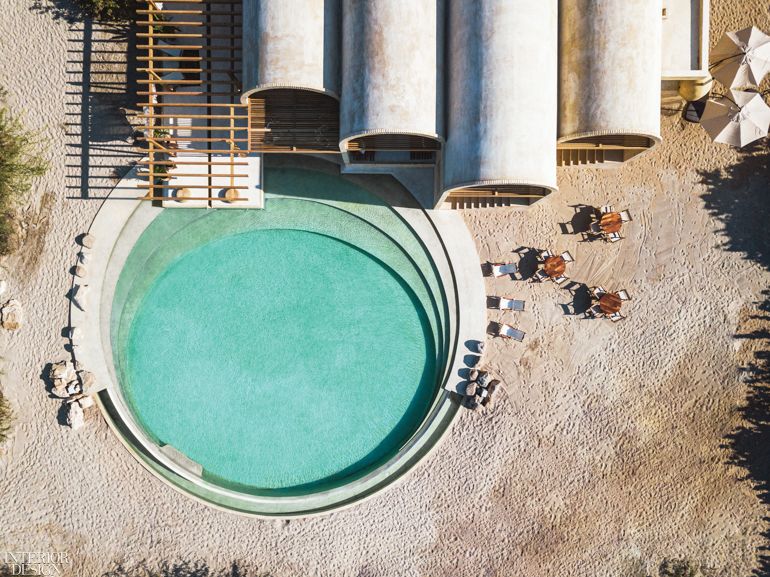 At Casona Sforza, an 11-key boutique hotel in Puerto Escondido, Mexico, by Taller de Arquitectura X, a long terrace and the brick barrel-vaulted roofs of guest suites intersect the salt-chlorinated pool's concentric circular forms. Photography by Alex Krotkov.

Even before opening its doors to guests this winter, Casona Sforza was already onto its second act. The 11-suite beachfront hotel in Puerto Escondido, on Mexico's Pacific coast, was originally com­missioned by Ezequiel Ayarza Sforza as a private beach house. But midway through conceiving the project with Mexico City architect and Taller de Arquitectura X founder Alberto Kalach, Ayarza Sforza switched gears. His casa became the eco-luxe Casona bearing his name. "It just made more sense as a hotel than a house," the Argentina-born entrepreneur begins. "It's such a special place-I realized it should be shared with others."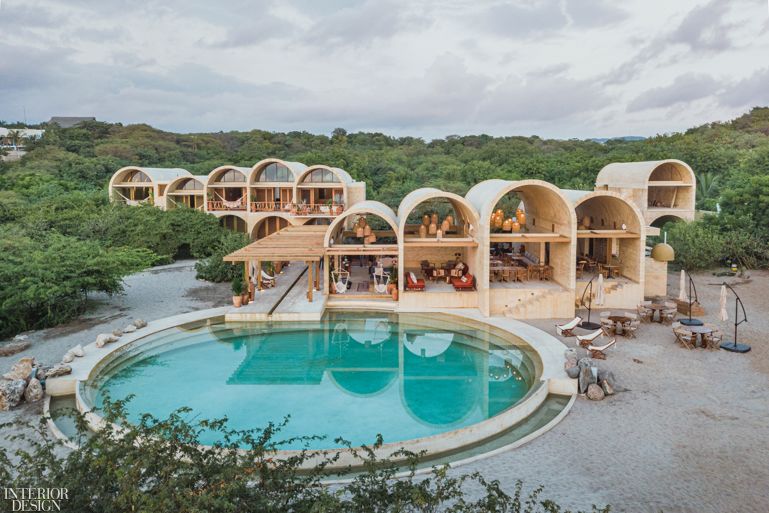 The property's public spaces, at right, are completely open to the elements, while guest suites, behind, feature clerestories and louvered doors in Macuili and oak for privacy. Photography by Alex Krotkov.

It's not the first time Ayarza Sforza has had a change of heart like that. He transformed what was originally meant to be a vacation home on a remote Caribbean beach near Tulum into a small boutique property known as Casa Bautista. That experience served Ayarza Sforza well in learning about service and the hospitality trade. "I always wanted to have a hotel," he enthuses.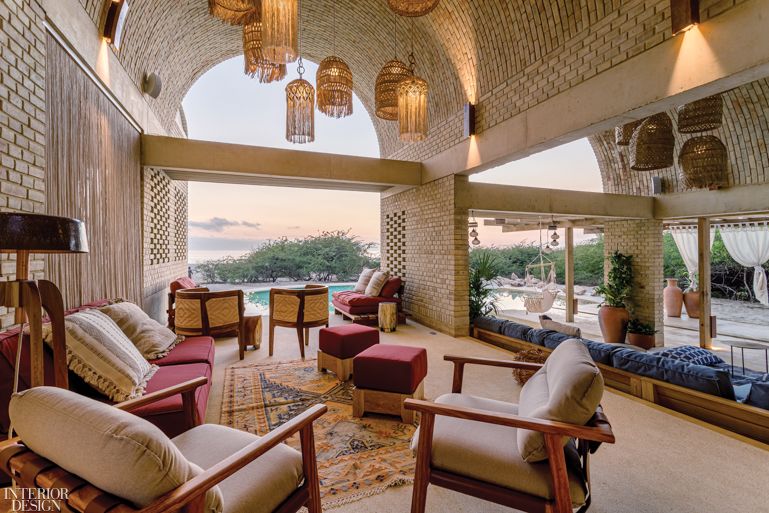 In the double-height lounge, wood-and-rattan armchairs and a daybed, all custom, gather beneath palm-frond pendant fixtures handwoven in Jalisco. Photography by Alex Krotkov.

An hour flight from Mexico City, the site of Casona Sforza is equally tranquil, located on a stretch of coastline known for small inns catering to surfers drawn to Puerto Escondido's world-class rip curls rather than large resorts. "It's very authentic, with a lot of culture and history, a place where you really feel the presence of Oaxaca," Ayarza Sforza says of the Mexican state, known for its rich artisanal and culinary traditions. He and Kalach master-planned the property to keep much of the 1-acre site intact: They cleared less than 30 percent of the natural landscape of mangroves, oaks, and cypress. "We sited the buildings to cause the least amount of intrusion and to take advantage of the views, ocean breezes, and offshore winds," notes Kalach, pointing out that the rooms remain comfortably cool without much or any mechanical air-conditioning. Considered one of the most versatile and prolific architectural voices in Mexico City, Kalach has focused his career on site-specific projects that blend into the natural environment and underscore his concern for the environment. In fact, Casona Sforza's tagline is a "planet-conscious casa boutique."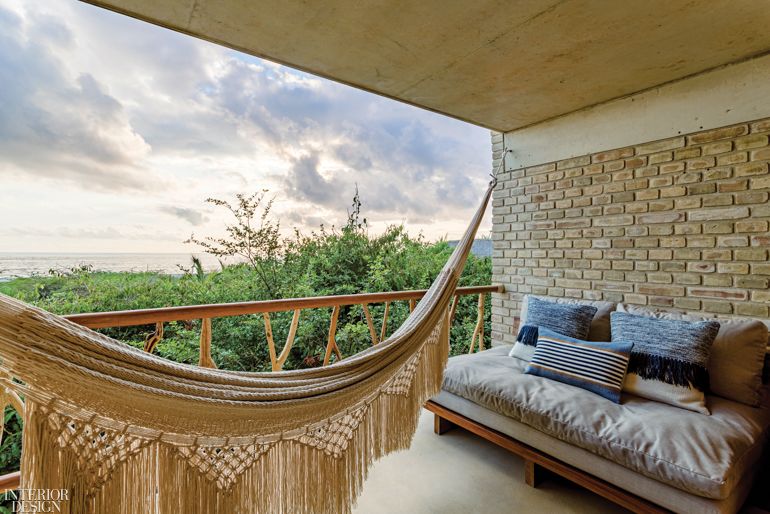 An upper-level suite's terrace, outfitted with a rope hammock made by Yucatán artisans and another custom, daybed, looks out to the Pacific Ocean. Photography by Alex Krotkov.

In converting his design from home to hotel, the architect maintained the project's overall footprint-staggered volumes nestled into the gentle hillsides and fronting a large circular pool-but tweaked the position of openings and partitions to define public lounges and dining areas, as well as the private suites. Kalach also maintained the distinctive brick arches and vaults that his client initially suggested but got cold feet for during the design process. "When Alberto delivered the final concept with flat roofs, I told him, 'We have to go back to the vaults,'" Ayarza Sforza recalls. "He said, 'Are you crazy?' But at the end of the day, he really wanted them, too."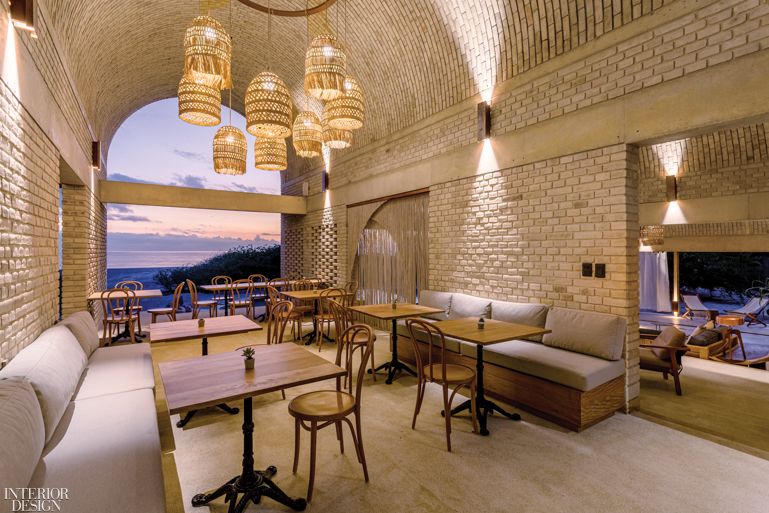 The restaurant showcases offerings from hotel owner Ezequiel Ayarza Sforza's philanthropic organization, Pueblo del Sol, which helps support Indigenous Oaxacan com­munities-from ceramic dinnerware to homegrown coffee, greens, and honey. Photography by Alex Krotkov.

An unusual typology for beachside villas, the vaulted brick shed has a precedent elsewhere in Mexico's vernacular architecture. "There's a long and important tradition of vaulted construction here, especially in the interior of the country," Kalach explains. "Plus the vaults have lots of benefits. They are seismically stable and help with air circulation, and the curves allow positive energy to flow better." Ayarza Sforza adds that they help "vibrations bounce around and create a sense of peacefulness." More pragmatically, the thermal mass of the brick walls and ceilings help cool the naturally ventilated interiors.




A suite bedroom showcases the work of local artisans, who crafted the sand-colored bricks in two sizes-large modules stacked horizontally along the walls and smaller ones arching up the vaulted ceiling-plus the wool rug and bedcover. Photography by Alex Krotkov.

Simple and timeless, the architecture is, as Kalach describes, "austere but powerful." Hand-crafted by local artisans, the sandy-hued bricks represent the Casona's imperative to build with locally produced materials and avoid synthetic products wherever possible. Other sustainable features include a wastewater treatment plant operated with activated charcoal (in lieu of septic tanks that might damage the local aquifer) and a forthcoming solar-generated electrical system (its installation delayed by pandemic-related protocols). The furnishings, which Kalach says his client oversaw with "great tact and great style," also draw on the talents of weavers from Oaxaca and makers of woven-palm lamps and rope hammocks in Veracruz, Jalisco, and the Yucatán.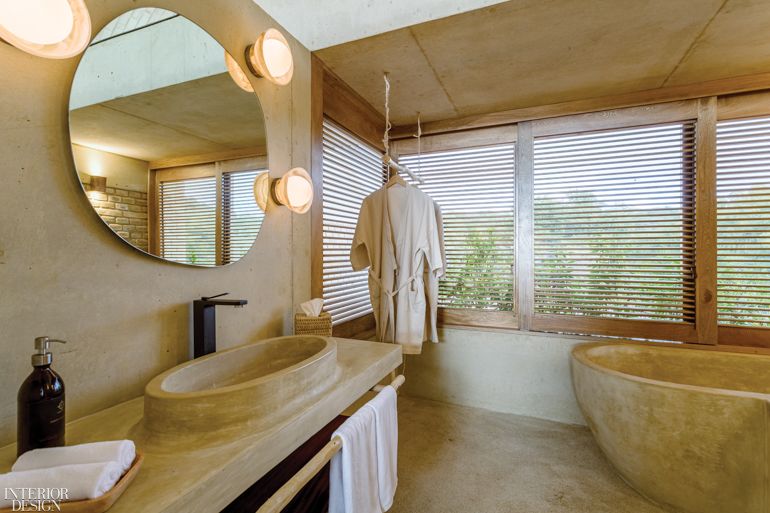 In a bathroom, the sink and soaking tub are cast concrete. Photography by Alex Krotkov.

For Casona's custom furniture and millwork, including wardrobes and louvered windows in such local hardwoods as Macuili, Ayarza Sforza turned to the carpenters of Pueblo del Sol, a philanthropic organization he created to support Indigenous communities of the Oaxacan highlands. Workers in the village, located about an hour's drive from Casona, craft the hotel's bath and beauty products from honey they produce on-site and they cultivate the organic coffee served to guests, while ceramic artisans make the dinnerware for Casona's restaurant. "Our guiding principle is that everything we do at the hotel helps support Pueblo del Sol," Ayarza Sforza says. Pueblo del Sol also provides yoga, meditation, and healing arts classes to guests of Casona, and upcoming plans for the organization include a new textile studio, a preschool, and cabins where guests can expand their vacation beyond the beach to include organic farming and beekeeping workshops. Ayarza Sforza is headed to Africa later this year to explore a Pueblo outpost; another location, possibly in Argentina, is on the radar as well. More reasons for Ayarza Sforza-and the fellow Latinxs he champions-to be proud that what he'd planned to be his beach house now serves a much higher purpose.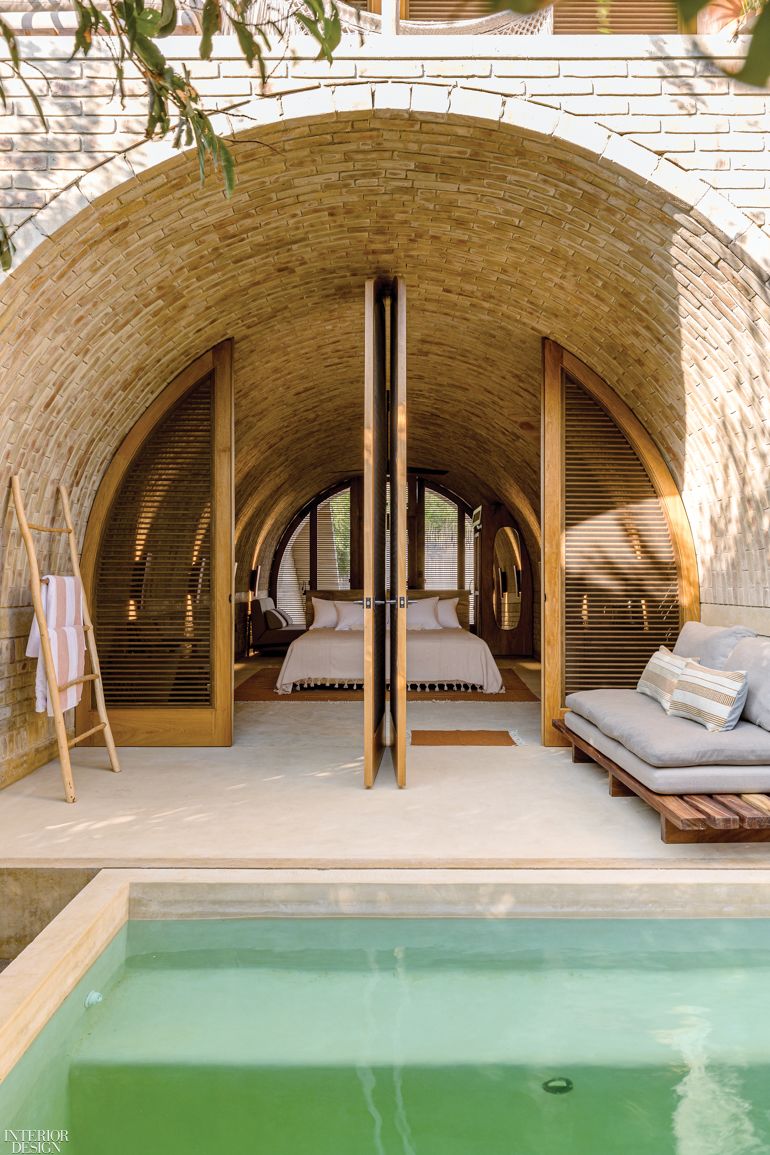 A ground-floor suite has its own private pool. Photography by Alex Krotkov.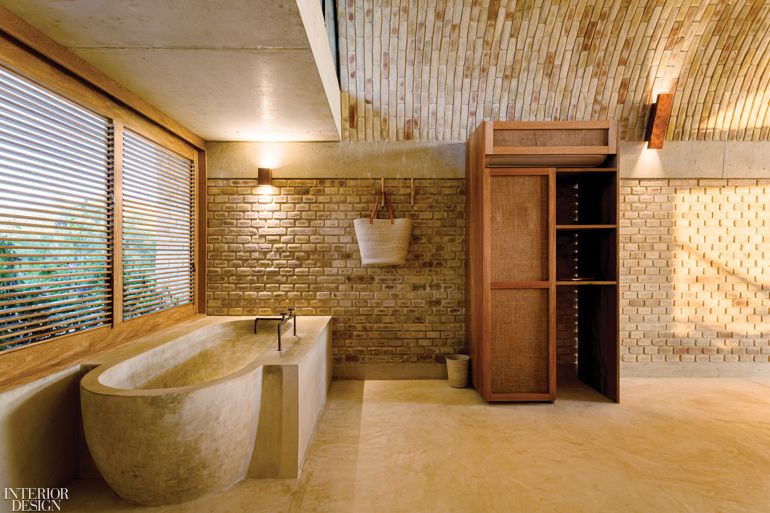 Wardrobes are custom-made of wood and rattan, and the brick surfaces help maintain cool temperatures. Photography by Alex Krotkov.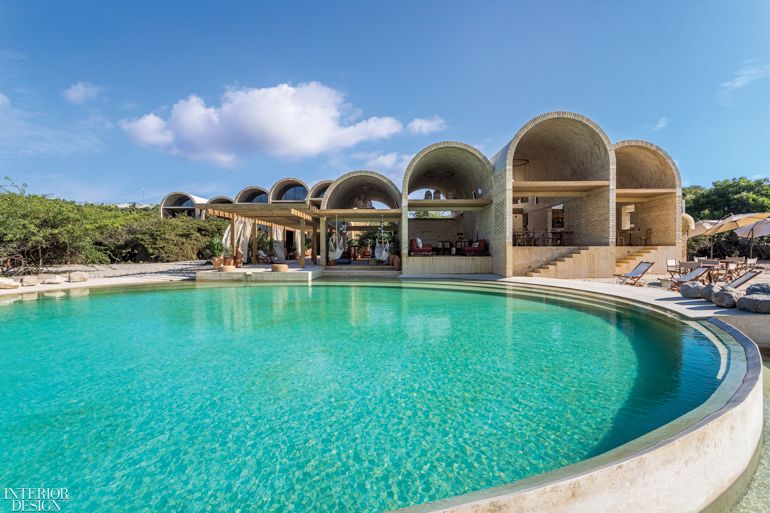 The curves of the concrete pool echo the arches of the hotel's roofline. Photography by Alex Krotkov.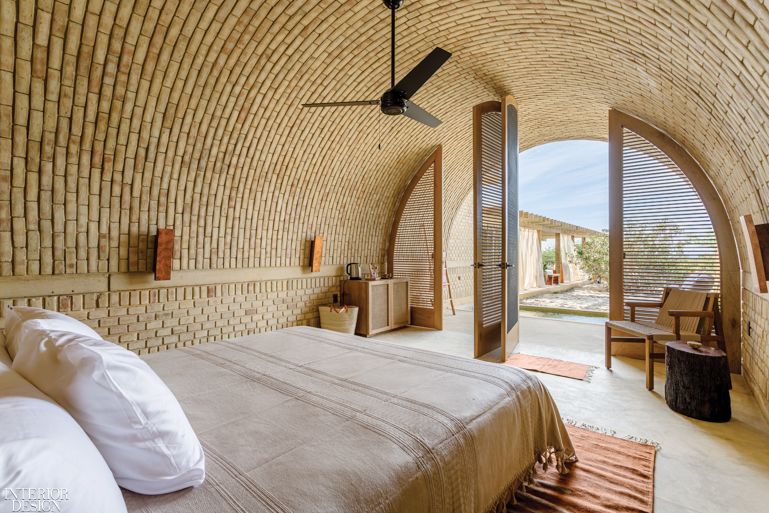 Beside a chair designed by La Metropolitana, louvered windows and doors allow for natural cross-ventilation, drawing in sea breezes and minimizing reliance on air-conditioning. Photography by Alex Krotkov.