After selling a successful car parking app (called ParkMe), Los Angeles-based tech developer Sam Friedman craved an absorbing, hands-on experience somewhere far away from the California city's infamous car culture. When he discovered a neglected but sprawling property of 112 acres in the Yucca Valley, a short drive from Joshua Tree National Park, he boldly snatched it up. Its centerpiece was a run-down, poorly designed, 1,600-square-foot geodesic dome. Armed solely with determination, Friedman, with the help of his pals, gut-renovated the skylight-topped structure in 2017, renaming it Hawkeye House.

Now, Friedman has enlivened the property with a petite new cabin.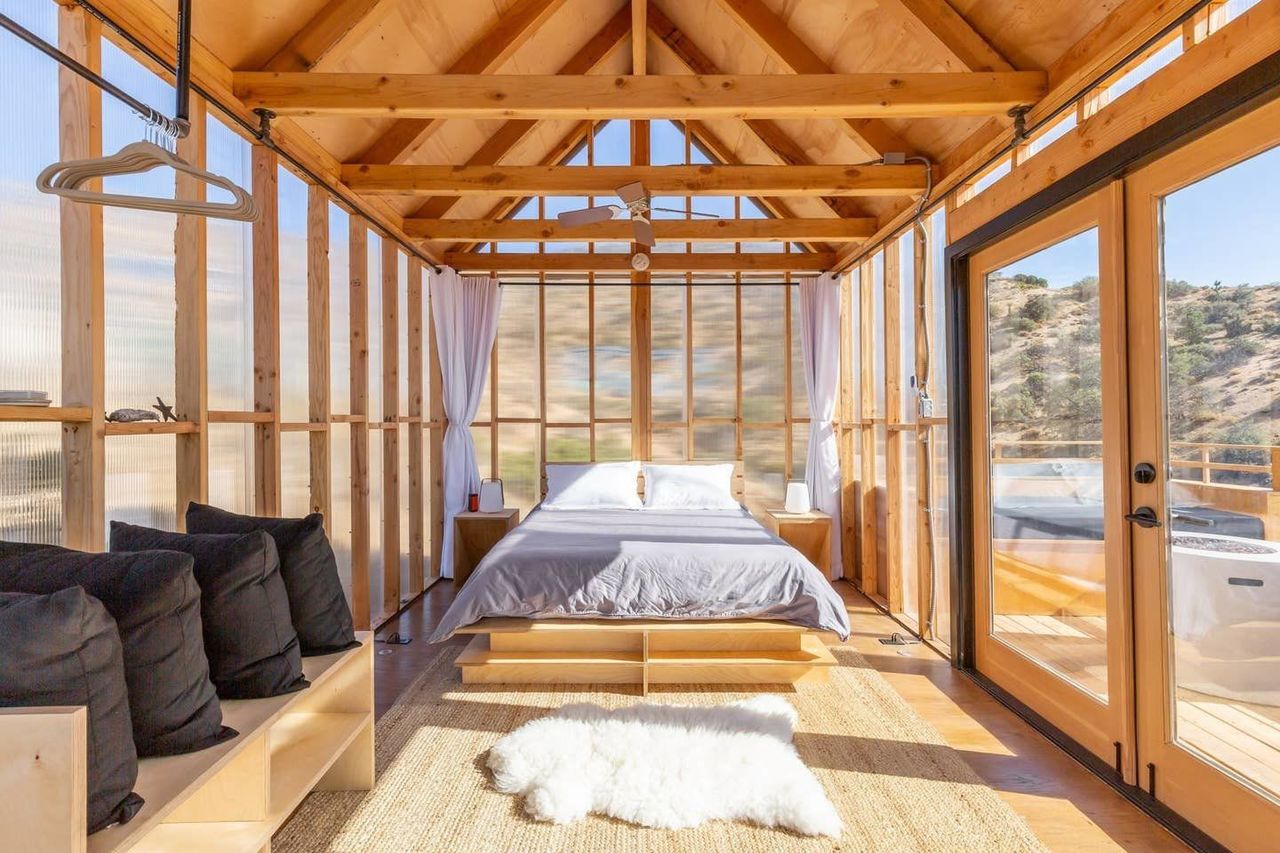 The walls of this contemporary one-room cabin are covered in insulating polycarbonate siding.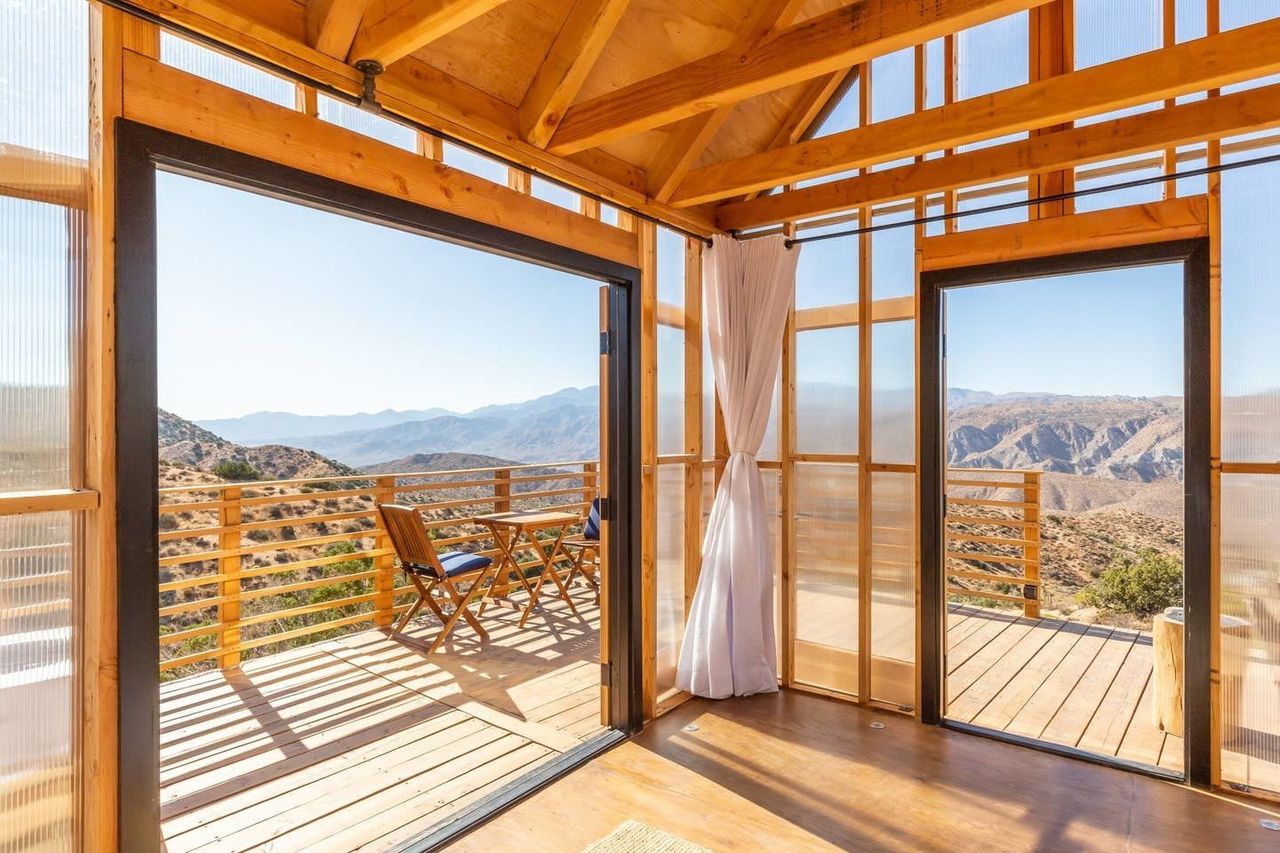 Large expanses of glass lead to the deck and panoramic desert views.

With the help of Venice, California-based Stephen Vitalich Architects, Friedman spent three months building a 160-square-foot cabin. The final scheme was designed to appeal to sustainability-minded, outdoor adventure enthusiasts. Myriad hiking trails can be found just mere steps from the cabin's wrap around deck.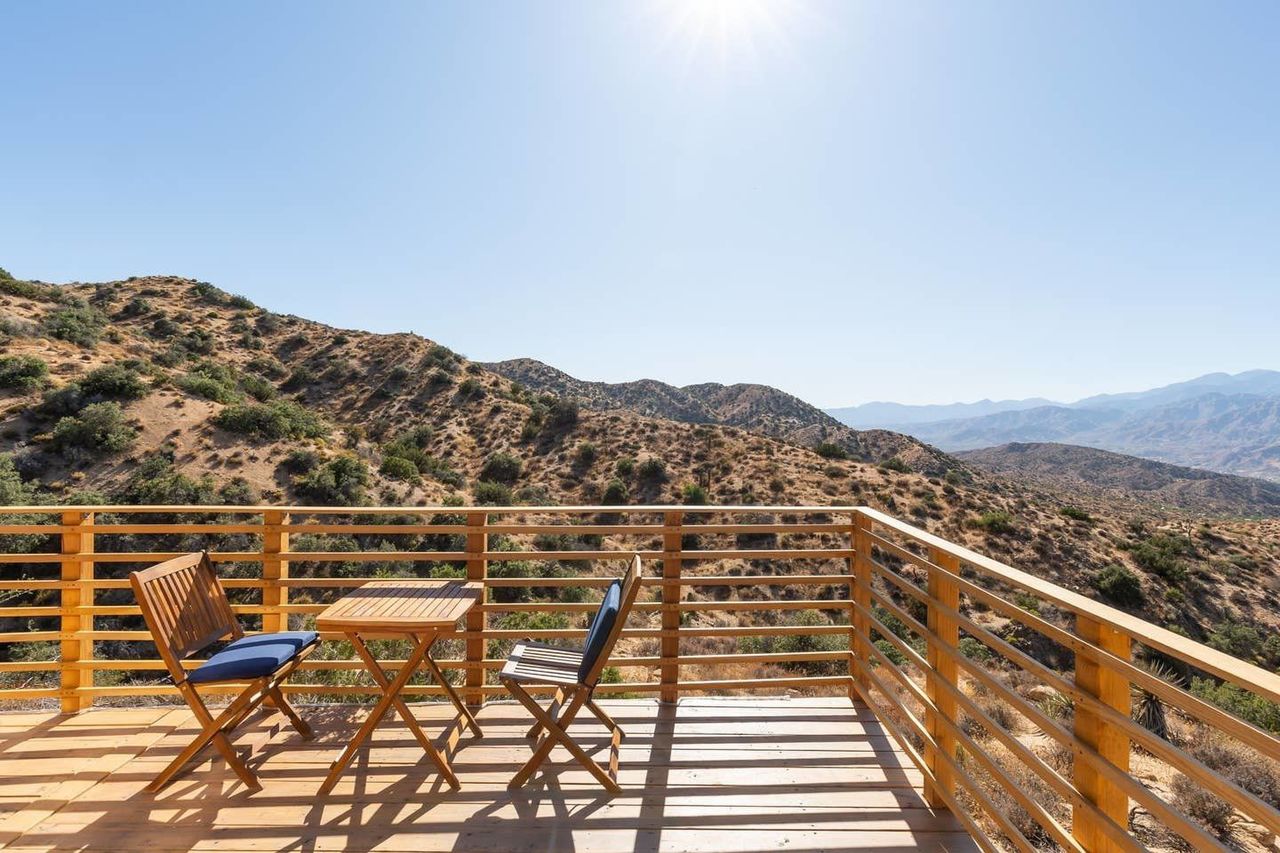 A table and chairs encourage alfresco dining on the deck.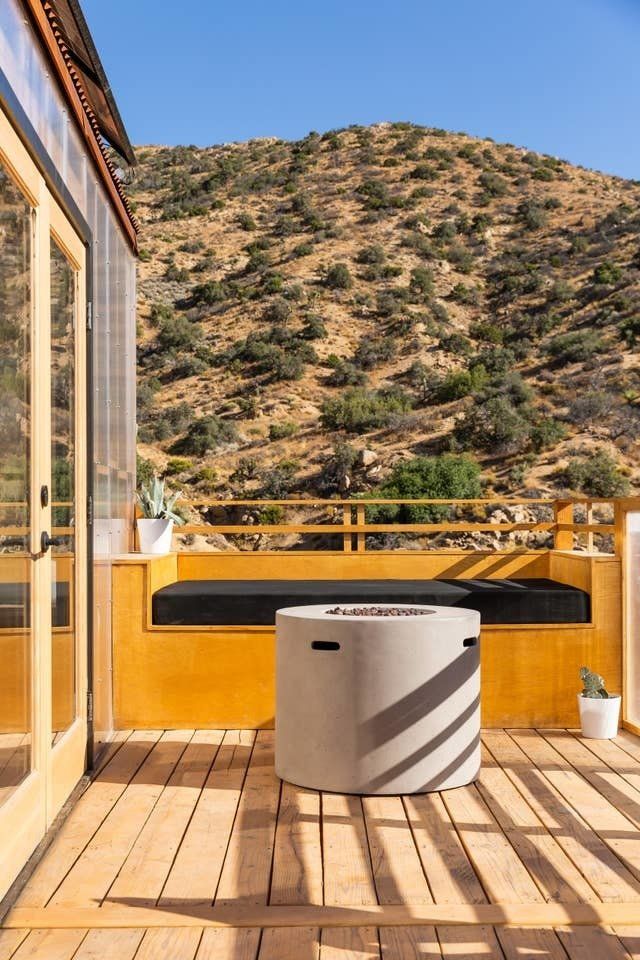 Even in the chilly evenings, guests spend ample time on the deck thanks to a warming fire pit.

Originally, Friedman planned to build a group of these cabins on site, "but before I do that, I wanted to see how guests would enjoy it, how it held up in the elements, and if it was a good idea in reality," he says. "So far the feedback has been wonderful and it has had an occupancy rate of close to 100 percent every day for the last two months."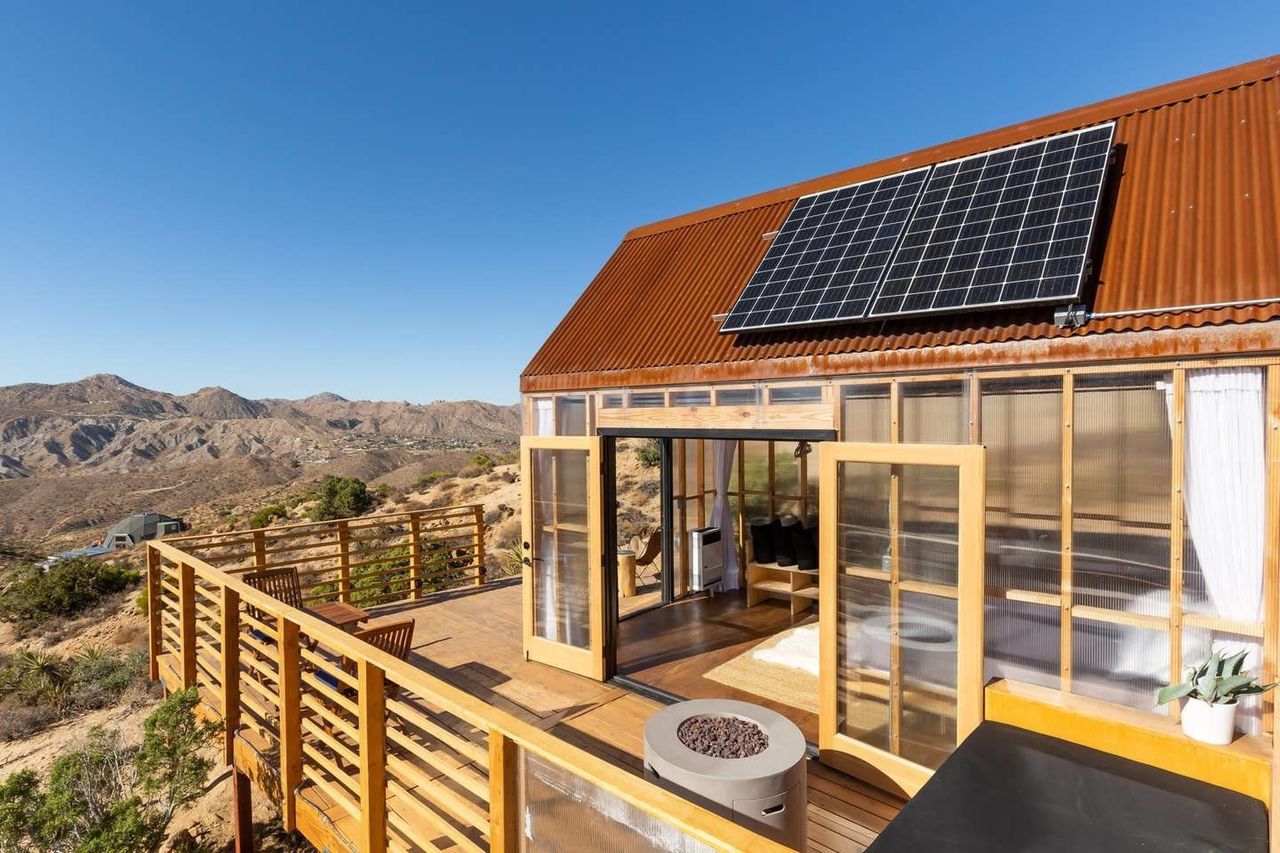 Like the Hawkeye House geodesic dome, the cabin is fully off the grid, powered by a small 12-volt system.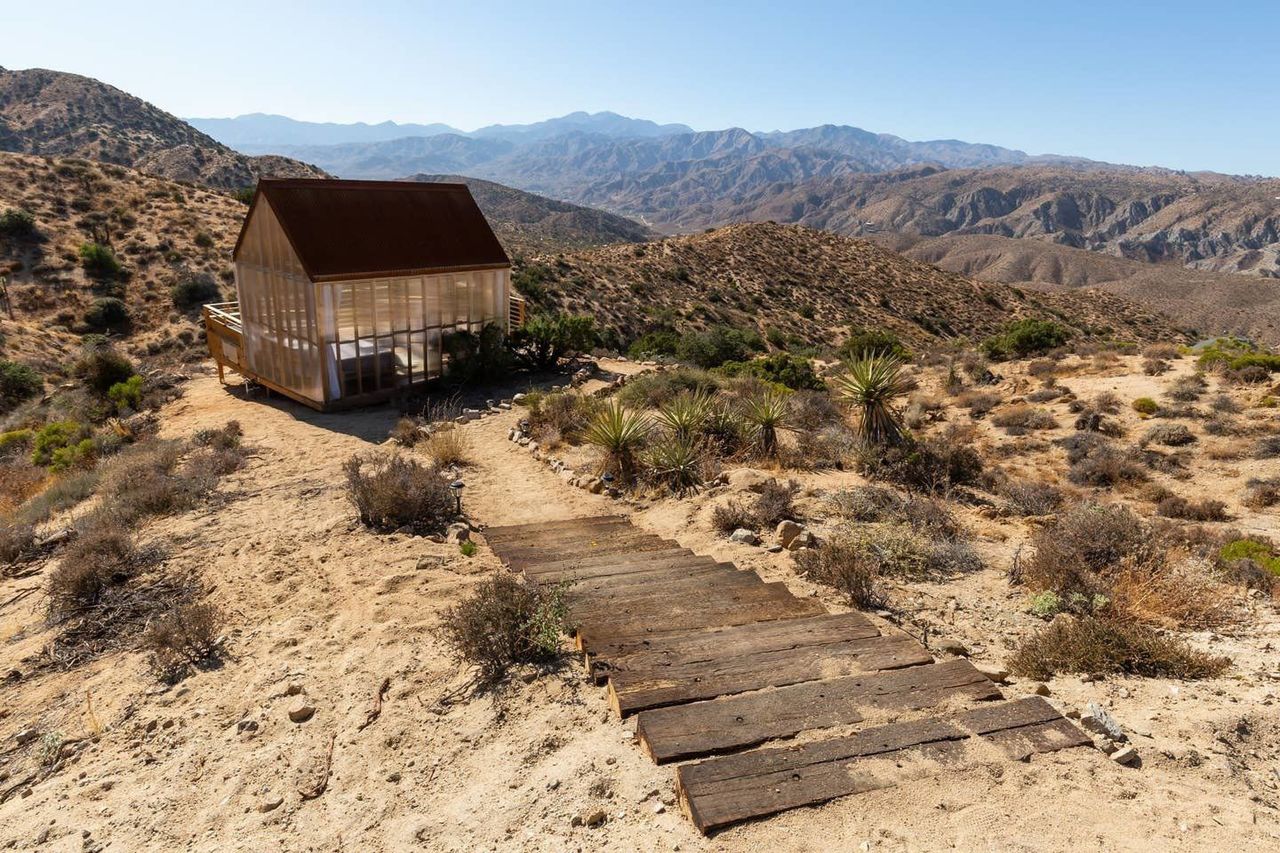 As a construction rookie, Friedman learned a number of lessons while putting together Hawkeye House, and although he describes the cabin as a more seamless experience, it came with its own set of challenges. As a new build instead of a renovation, foundation needed to be poured, for example, and a pier and girder system put into place. Reminiscent of a greenhouse, the cabin also flaunts open framing, so nothing could be hidden in the walls.

High on the desert, the cabin's greatest draw is its environs.

Hawkeye House runs on a full solar system with an inverter and the cabin, equally green, is fueled by a smaller, alternative 12-volt power system, including a duo of 300-watt solar panels and USB chargers. "Finding the right fixtures, lights, heating elements, and fans-that also looked okay-was somewhat difficult. We are basically running the same system as an RV," Friedman explains.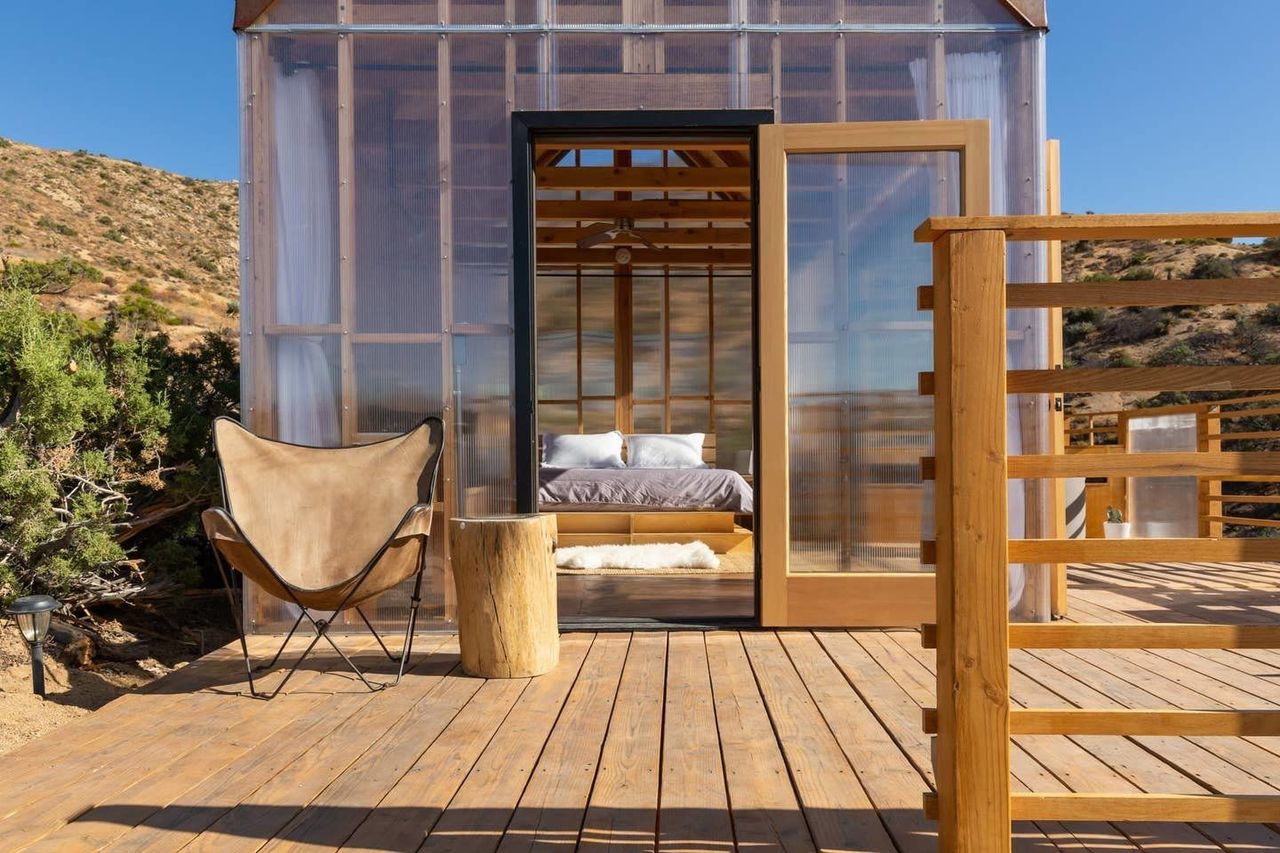 Natural light fills the white-and-wood cabin.

Although the structure is simply framed with wood easily sourced from any local home-building warehouse, the multi-wall polycarbonate siding creates a distinctive contrast. "It's a unique choice to provide an indoor/outdoor feeling while also offering some insulation," Friedman explains. A Cor-ten steel roof, he adds, was chosen because of its significant weathering capabilities: "It rusts quickly and stays at a certain level without going beyond and sacrificing any structural integrity. We thought by choosing a rusting steel it would look like the cabin has been there for years. It blends in with the natural environment."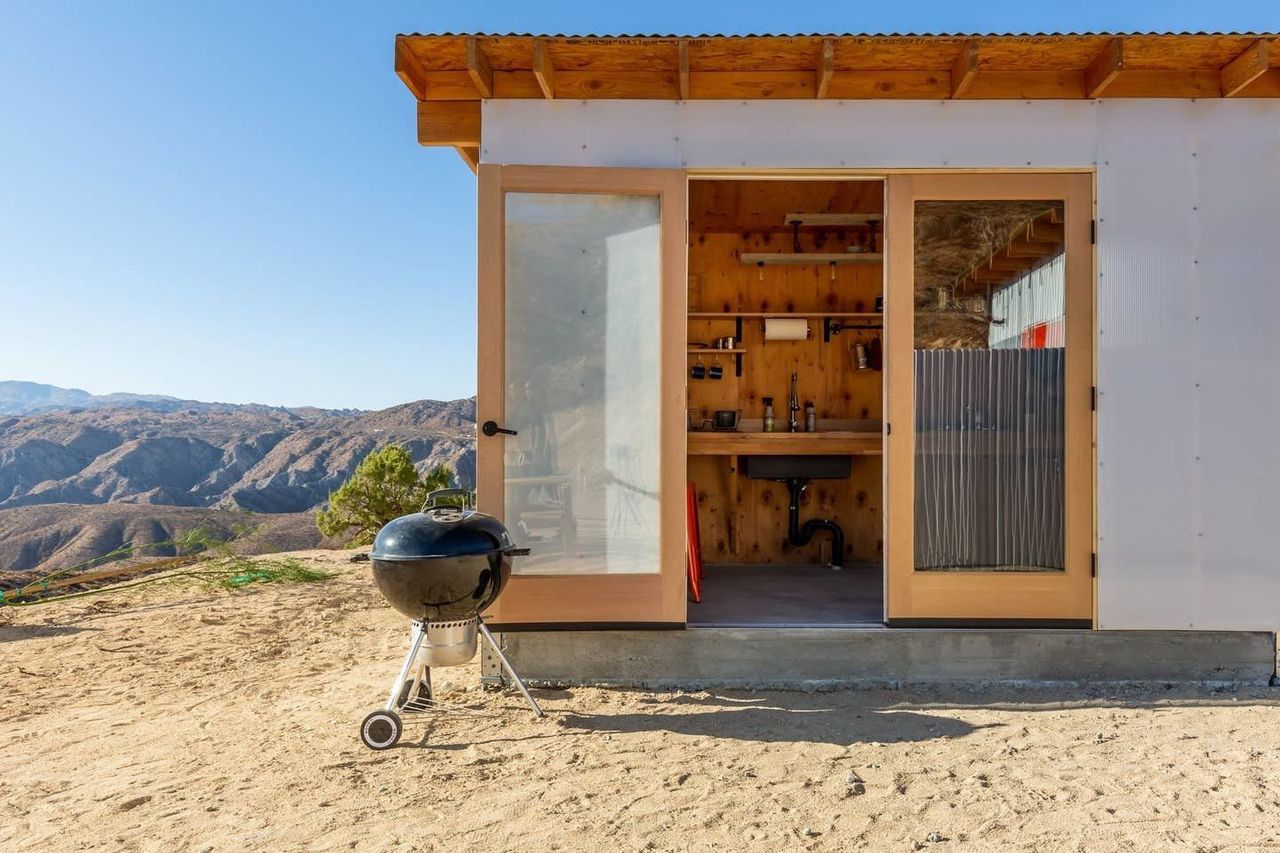 With a well-stocked kitchen and grill, there is little incentive to leave the property.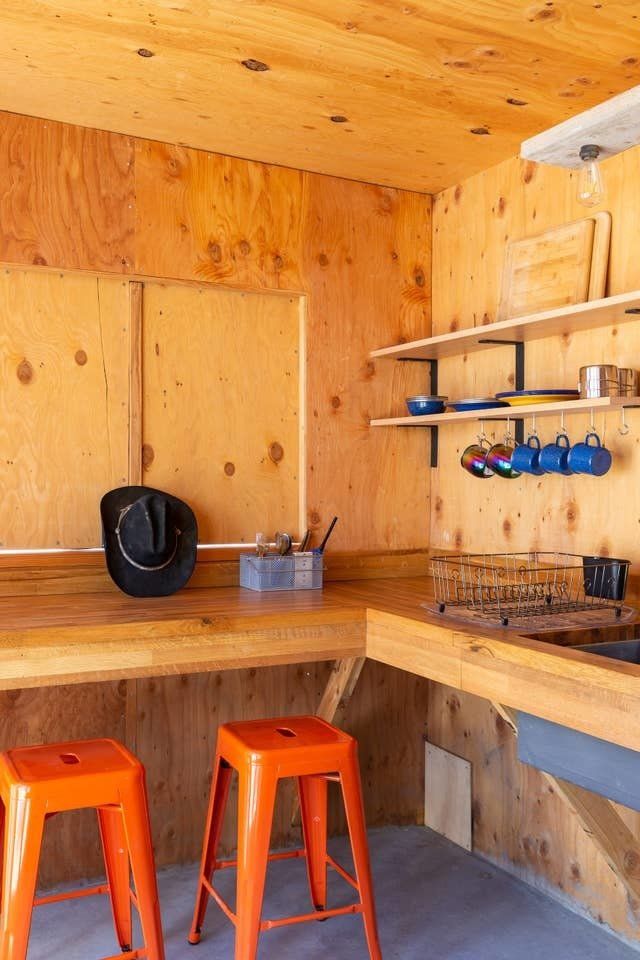 For a change of scenery, guests can enjoy the warm, rustic kitchen.

It is this landscape, remote and mystical, that bolsters the cabin's personality. Solely comprised of an airy bedroom with pops of black and peekaboo views, it magnifies the mighty surroundings with a wraparound deck, where guests can sit down to breakfast, unwind on a cushioned bench by the fire pit, or just spend the afternoon with a book and cup of coffee planted down on the tree-stump table. A kitchen and bathroom, complete with outdoor shower, are contained in separate buildings.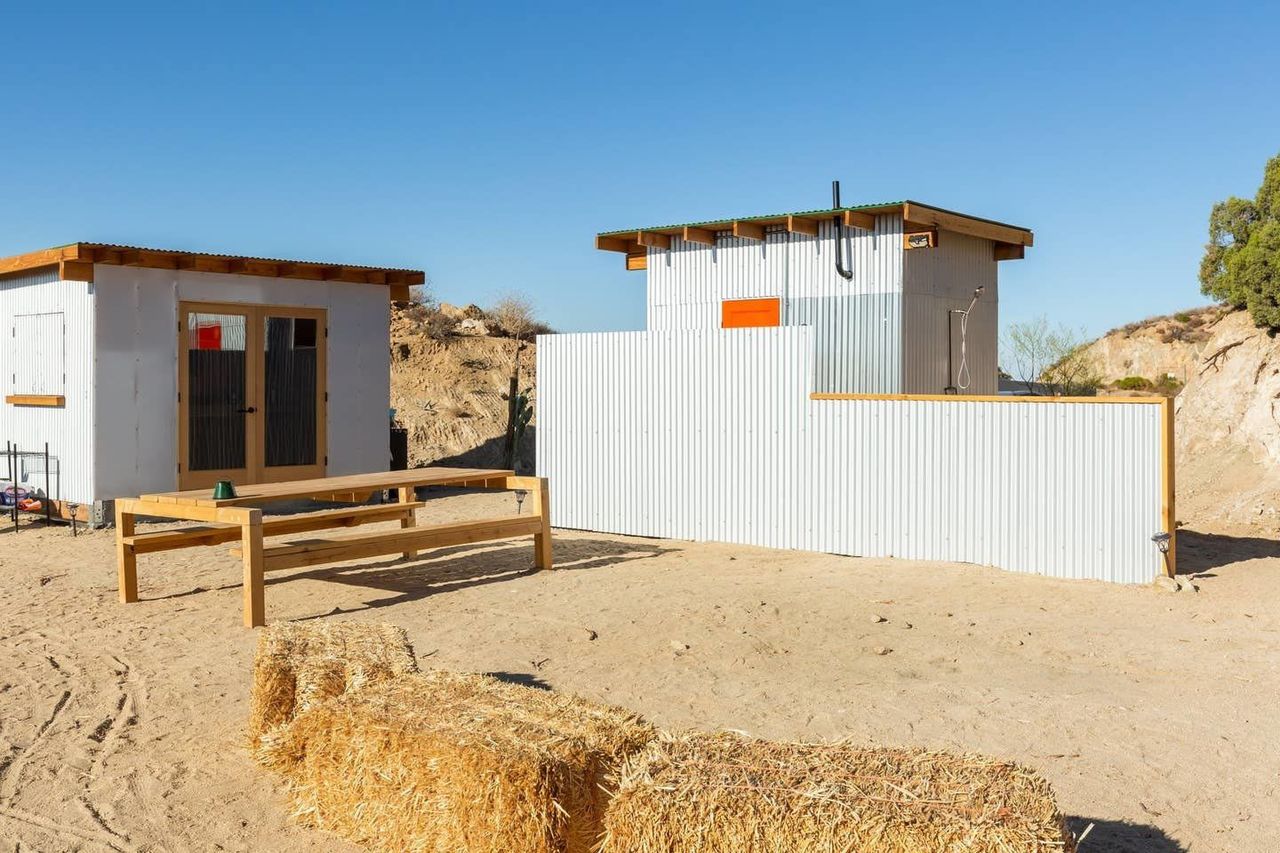 An outdoor shower lets guests fully connect with nature.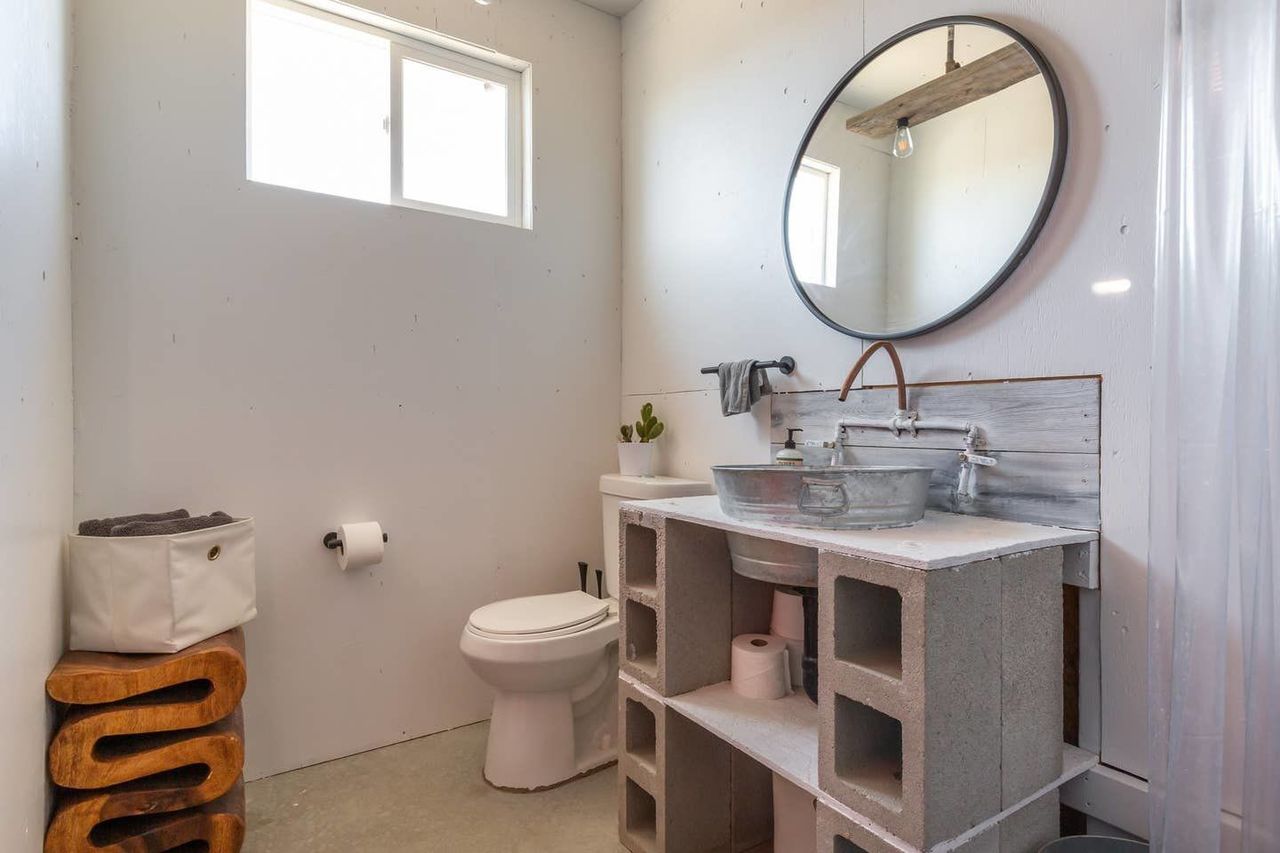 Lovely woodworking even graces the bathroom.

Julia Ehrlich, a stylist friend of Friedman's, handled the interiors of the dome, but for this contemporary cabin, the dedicated Friedman and his friend Nick Stolz made all the furniture by hand. Fittingly, says Friedman of the wood pieces, "We got a lot of inspiration from Donald Judd."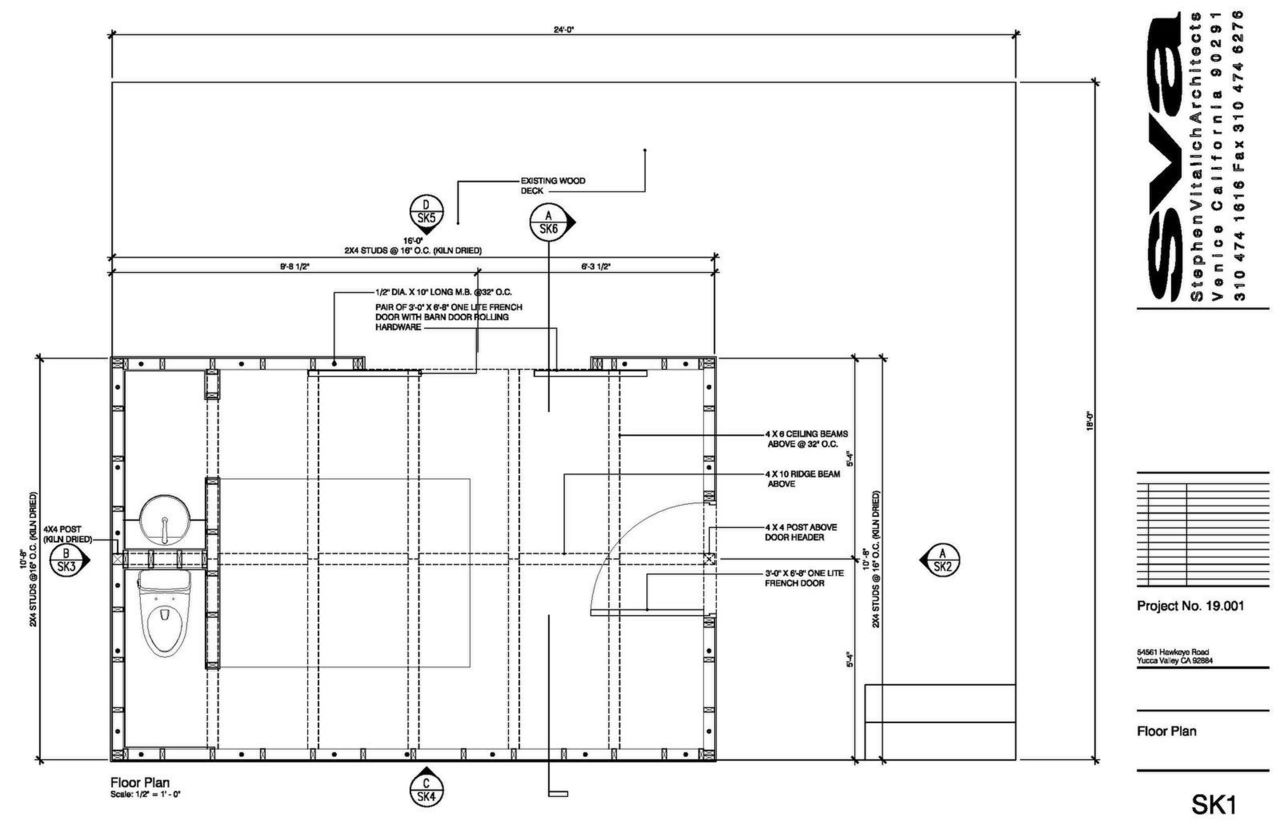 The cabin's floor plan.