TABLE IDEAS FOR CHRISTMAS

Looking for some table ideas for Christmas? With the office party and other indoor festive gatherings off the agenda at least for a while, it's time to get inventive at home, as it becomes more important as a social hub.

Not just for Christmas Day, these table ideas will work throughout the festive season.

Whether you're a fan of 'tablescaping' or not, most of us like to dine at a well dressed table, particularly on special occasions, or even to elevate the everyday.

So get creative and keep the vibes fun and festive with these table ideas for the Christmas season.

Want to dress your mantlepiece too? Check these ideas out.


PILE ON THE PATTERN

There's no need to stick to tradition when it comes to Christmas. This gorgeous green ikat tablecloth, napkins and velvet napkin rings from Setting Pretty set a festive mood when mixed with these 'snow dusted' pine cones, pillar candles and dried limes.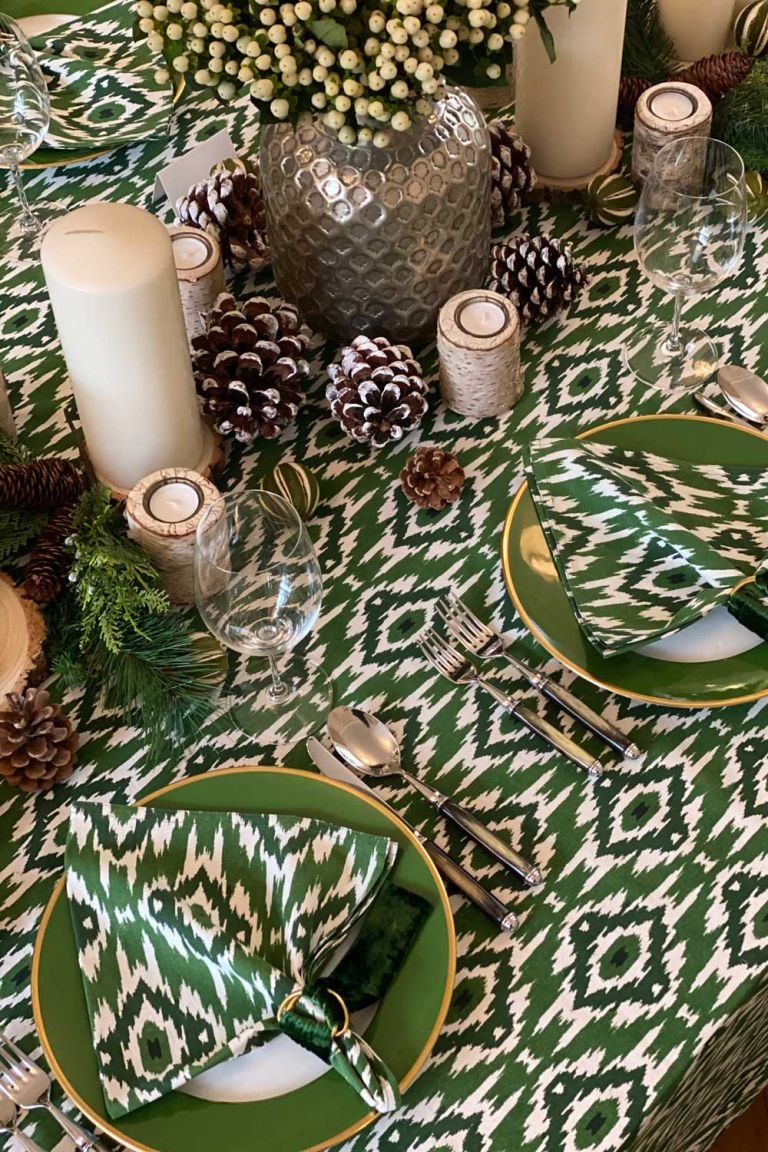 COTTAGECORE

Queen of cottagecore dreams, Paula Sutton of Hill House Vintage, has teamed up with Wayfair to create a Christmas table.

Paula says, 'Each year I tend to work with a certain colour combination or a particular theme that I use throughout the house during the festive period. This look was inspired by the 1950's - all out glamour with red, green and gold. My advice would be to decide on your colour scheme first and once you have this the accessories can follow.'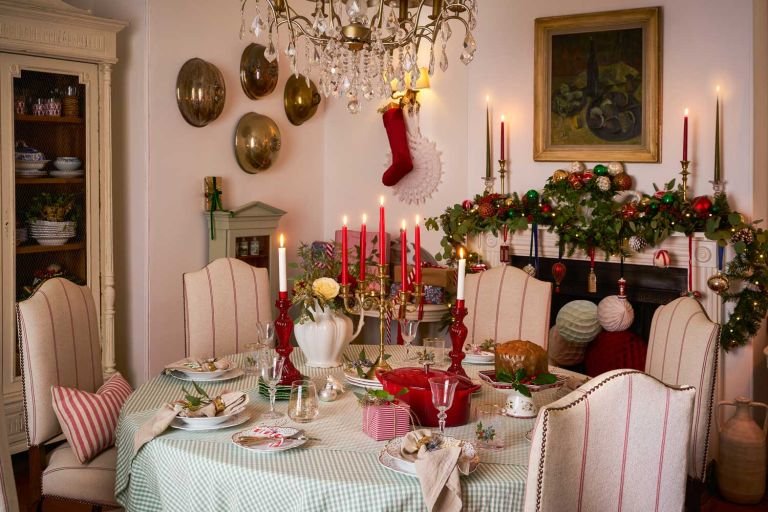 COTTAGECORE CLOSE UP

Paula continues, 'Napkins, plates, glassware and decorations can all be chosen with your palette of choice in mind; I advise sticking to a three colour combination so that it doesn't feel too overwhelming. Also don't forget that you don't have to be too strict; the important thing is to be surrounded by treasures that you love and that bring you joy, after all it's meant to be the happiest time of the year!'.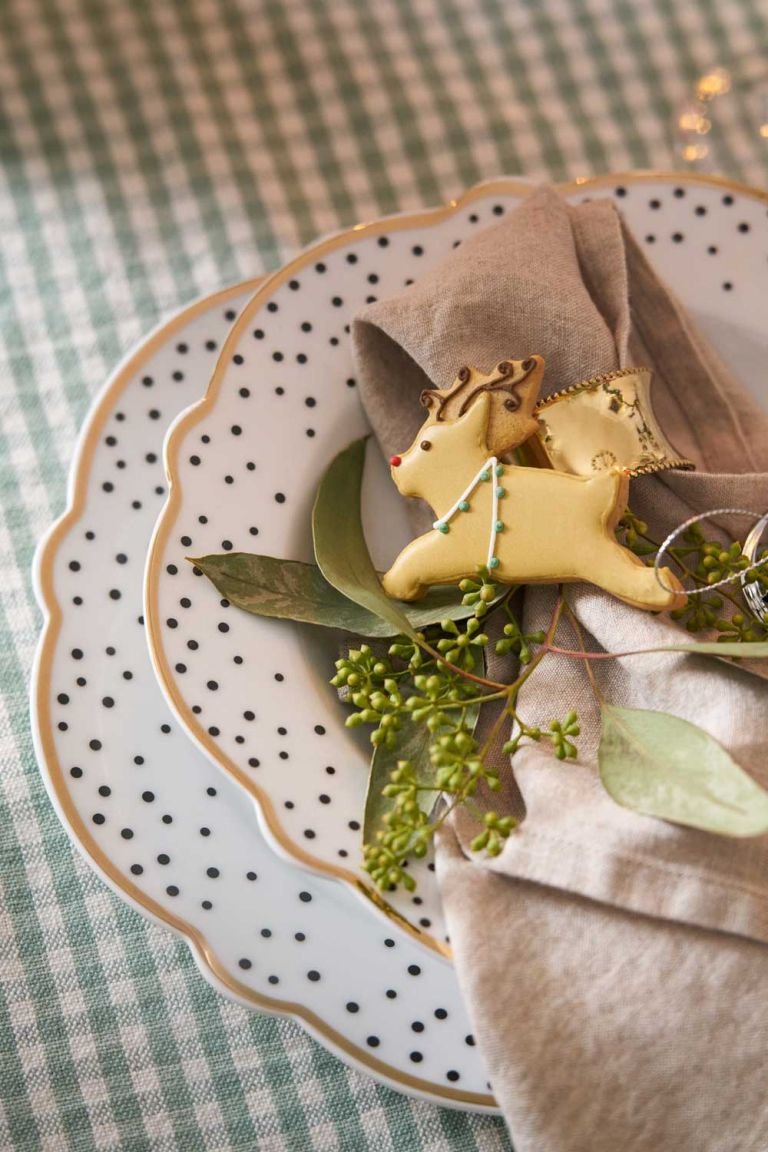 GET FRUITY

Natural is the theme that's standing out for Christmas this year, so as well as foraged foliage from the garden or local woods, decorating with fruit is a big trend. So out go shiny baubles as table decorations and in come rosy pomegranates, which look lush against this white tableware from Neptune.

Even better, instead of gathering dust in the loft, you get to cook with them, Ottolenghi style, after the big day.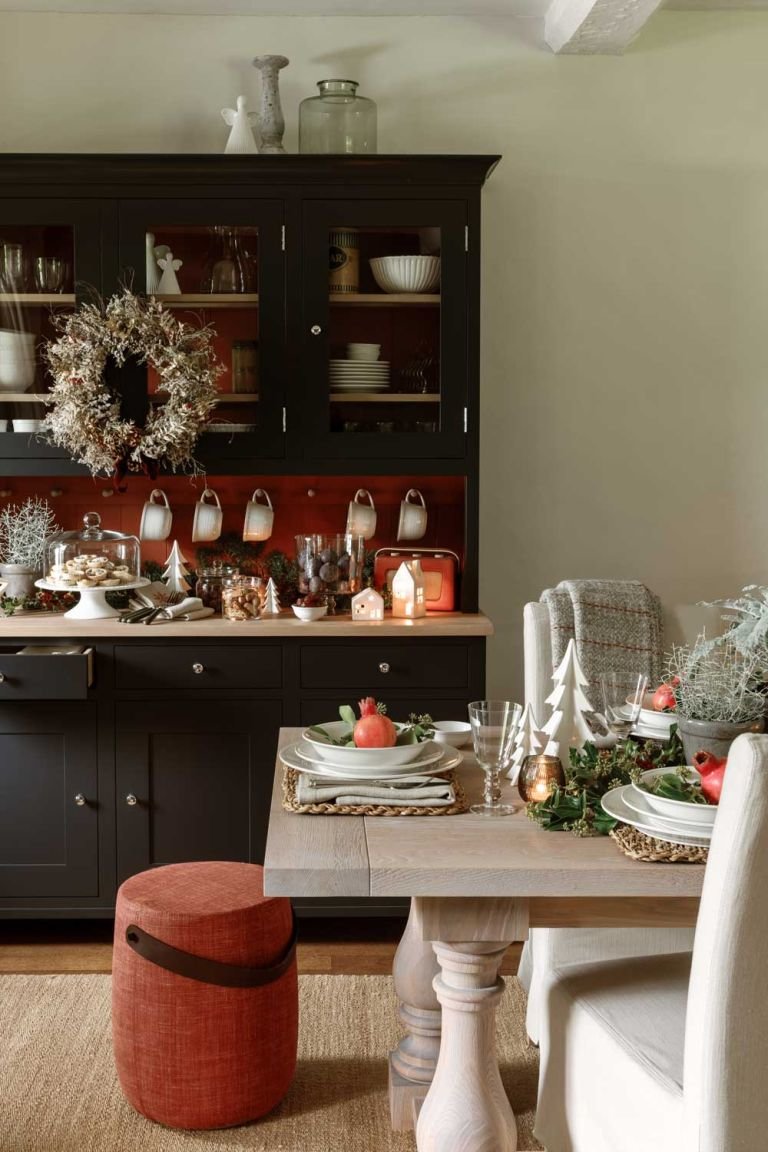 AU NATURALE

The relaxed look and feel of linen lends itself well to fun and convivial gatherings, rather than stiff and stuffy formal dining, so a simple setting with an oatmeal linen tablecloth and napkins like these from Piglet, pared with olive coloured tableware, fresh holly and soft candlelight is all you need for Boxing Day lunch.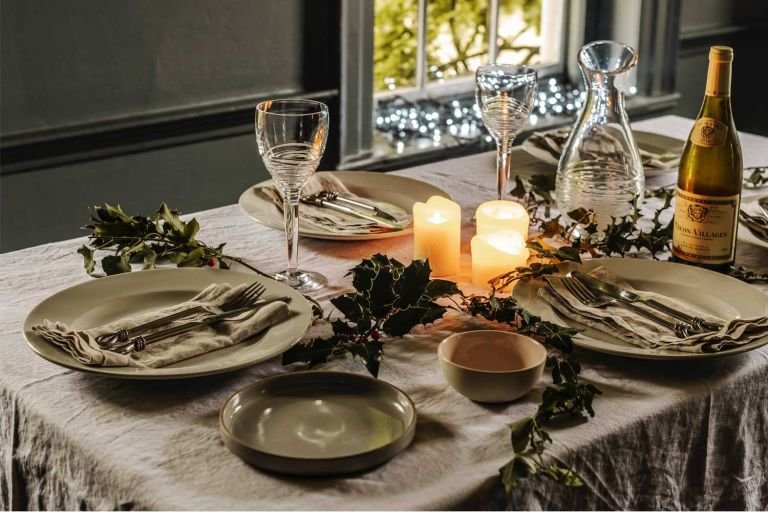 TWEAK THE TRADITIONAL

Love red and gold at Christmas? This pretty wild child berry tablecloth and napkins from Setting Pretty are given a glamorous flourish with the gold coloured cutlery and velvet and diamante napkin rings.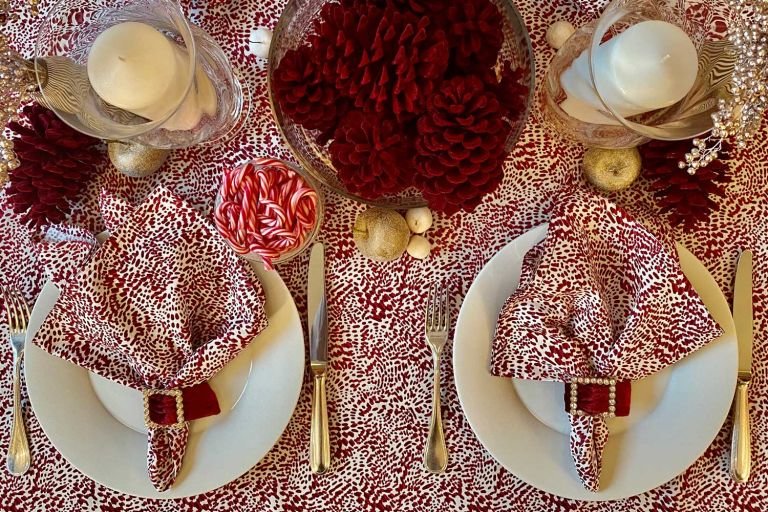 HONE YOUR HUES

Safia Shakarchi and Katie Brigstock, the duo behind on-point pop-up supper club, Cook & Baker, say. "First things first: choose your perfect colour scheme as this will serve to tie your whole table together. Are you going for whites and silvers, opulent golds or something less traditional, such as dusky pinks or bluey greys? During planning, we collate inspiration images so we have something to work towards."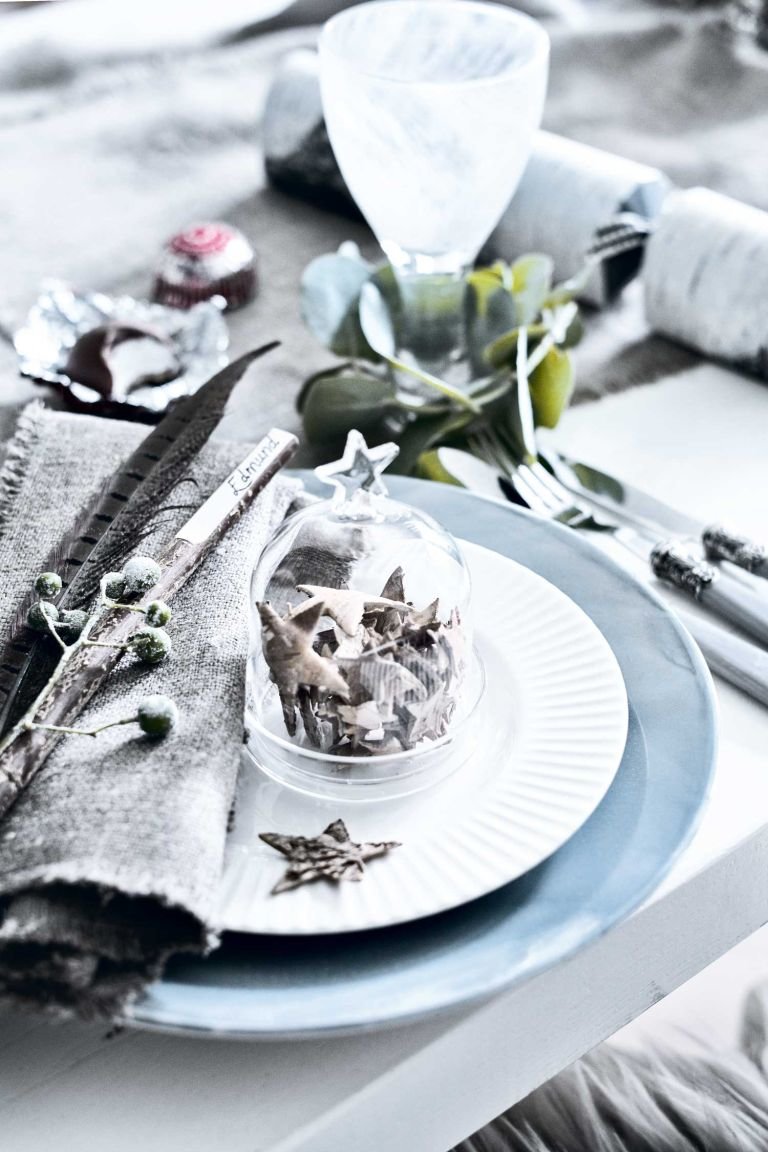 HANG 'EM HIGH

The Supper-club duo add "A centrepiece gives a table impact, and you can have a lot of fun with it. You can't go wrong with a beautiful flower arrangement or a classic runner, but what about hanging flowers or baubles above the dinner table? You'll appreciate the extra space for food. Try using dried flowers to keep the cost down. Another idea is to create a "runner" out of candles.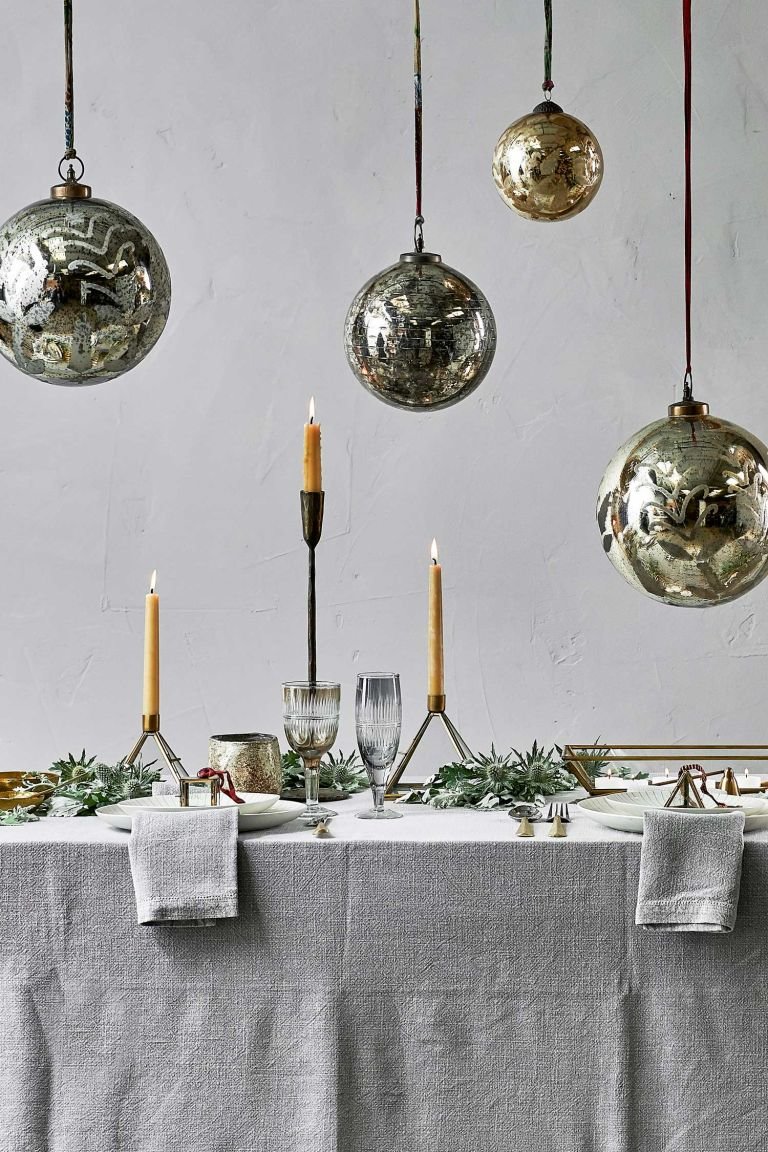 FABULOUS FABRIC

Safia and Katie also say, "Beautiful linens are the perfect foundation, and you don't have to spend a fortune. We go to our local fabric shop and buy a couple of metres of the colour we want. To make napkins, we divide the fabric up into the right measurements for the amount we need and simply cut."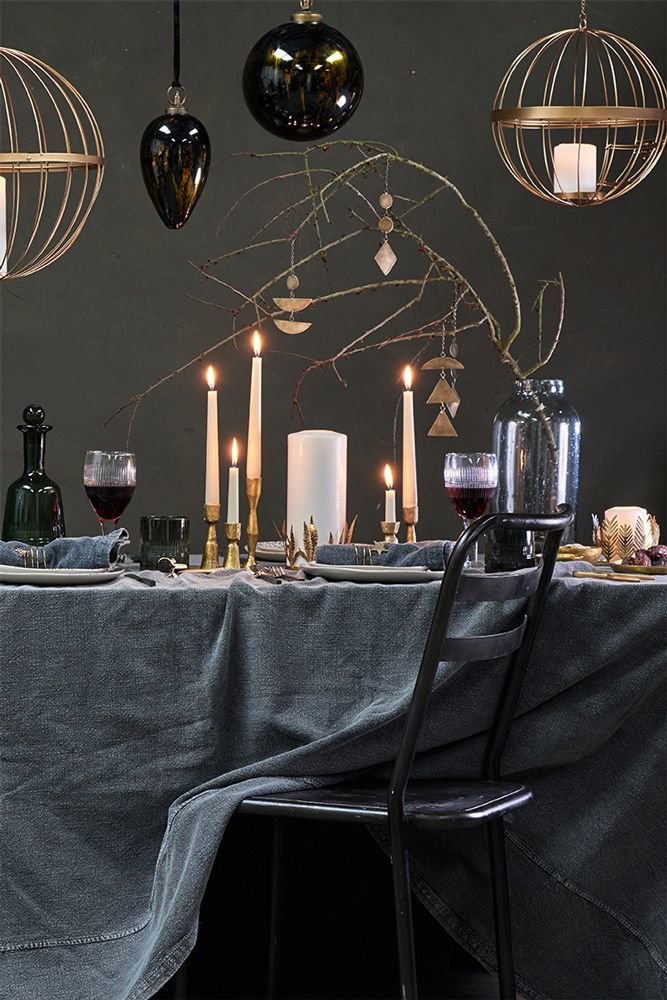 LAYERS OF TEXTURE

You've got to hand it to The White Company. Its festive table retains the neutral-hued simplicity the brand is known for, while being fittingly OTT for the Christmas season. The trickery at work? Texture. Think etched glass, burnished metal and lightly frosted accessories, all offset with casually thrown sheepskins and plumes of pampas grass.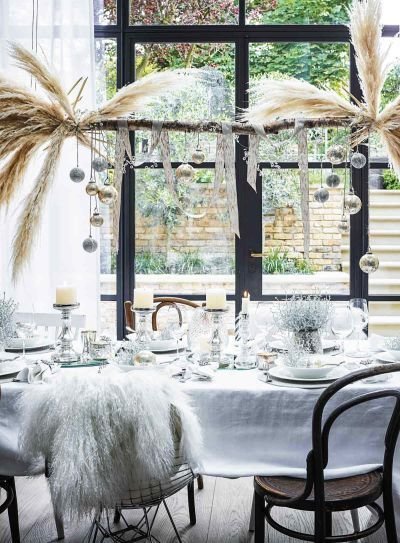 GOLD AND GREEN

Take your influence from an enchanting winter wonderland. Go for a decadent touch with deep glamorous greens, beautiful peacock blues and splashes of gorgeous gold for a head turning table that dares to be different.