Recently listed in Williamsburg, Virginia, a modernist-style home is a stark contrast to other homes in the area-although the secluded location mostly hides it from view. The concrete block structure, which is sited on nearly ten wooded acres overlooking a small waterway and marshland, was designed by W.G. Clark, a renowned local architect and professor at the University of Virginia School of Architecture. After purchasing the property in 2018, the home's current owner set out to renovate the interior in a way that both honors Clark's vision, as well as the ideas of modernist icons such as Pierre Chareau and Le Corbusier.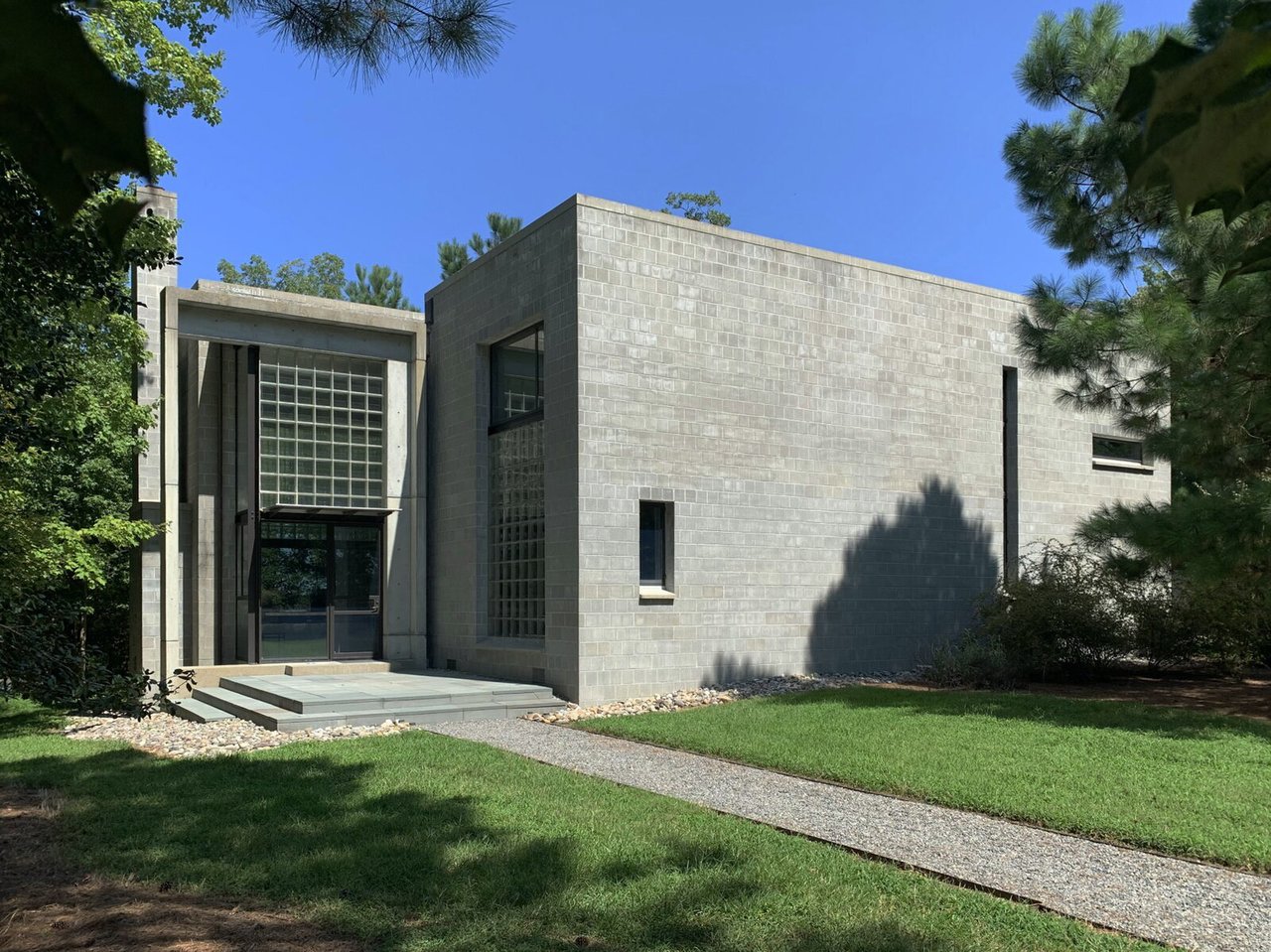 Built in 2005, this modernist concrete block home just outside of Williamsburg, Virginia, was recently listed for sale. The property's mostly wooded, waterfront location is about two-and-a-half hours by car from Washington, D.C., and about an hour from Richmond, Virginia.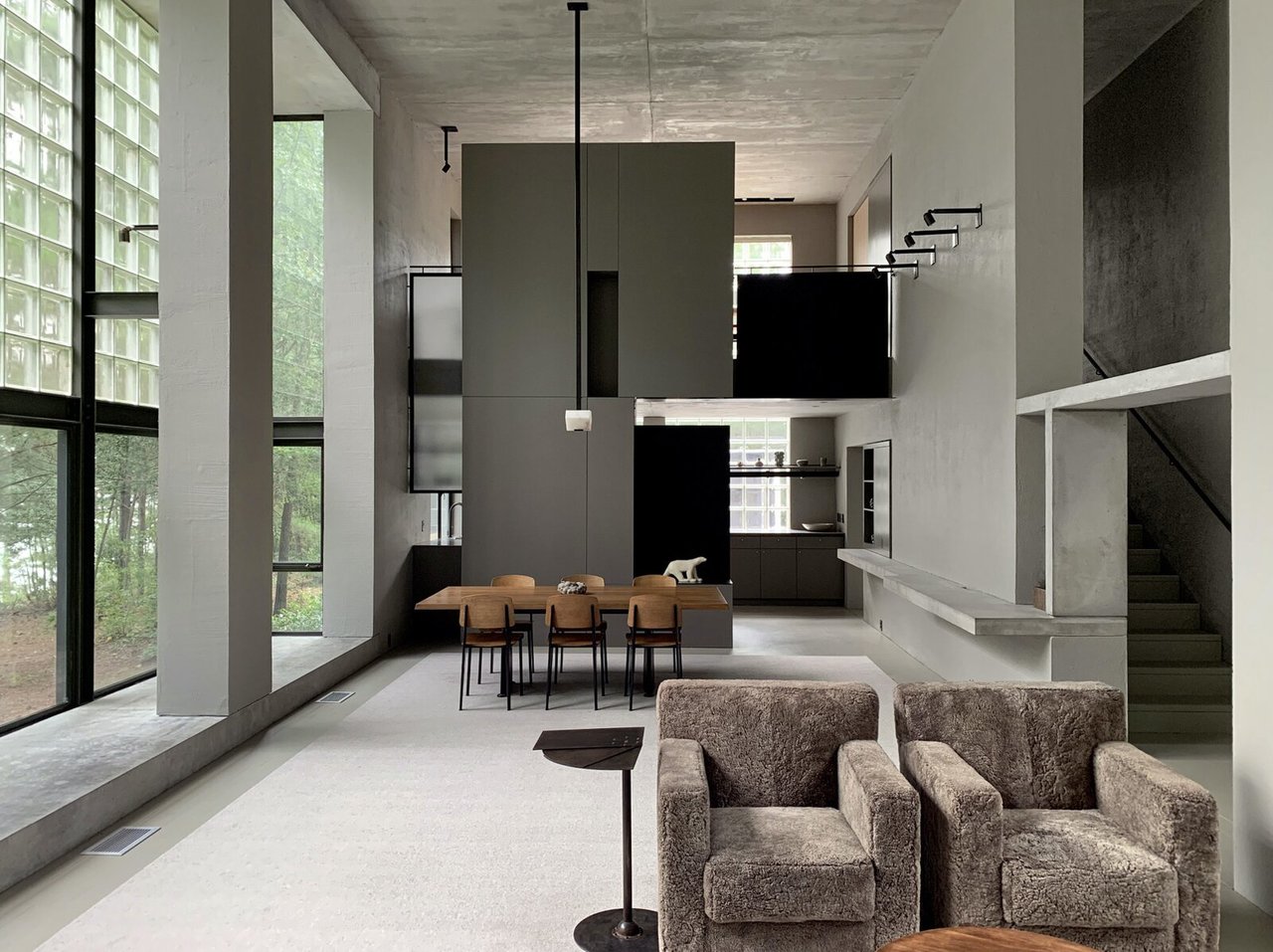 The current homeowner recently completed an extensive interior renovation that updated finishes while retaining many of Clark's original details-including a dramatic 17-foot-tall room divider that separates the kitchen and dining area, as well as expansive glass-block windows.

The owner, Mark Segal, initially found the home after searching for a quieter place to spend time away from Los Angeles. "I am a huge fan of European modernism from the 1930s and was shocked to find a contemporary home that so strongly reflected the designs I loved," he says. "The interior was in desperate need of updating, but the design was perfect, and the hidden, waterfront lot provided the privacy I was after."

The two-story home's 17-inch-thick concrete walls, constructed with an air gap for insulation, create an imposing exterior facade that is balanced by expansive glass block windows that flood the interior with natural light and provide views of the scenic property.

Throughout the renovation, Segal updated interior finishes while retaining many of Clark's custom features, including built-in cabinetry and workspaces. "The beauty of the materials mixing with the light throughout day create a feeling of warmth and, in my opinion, make it a home," he adds.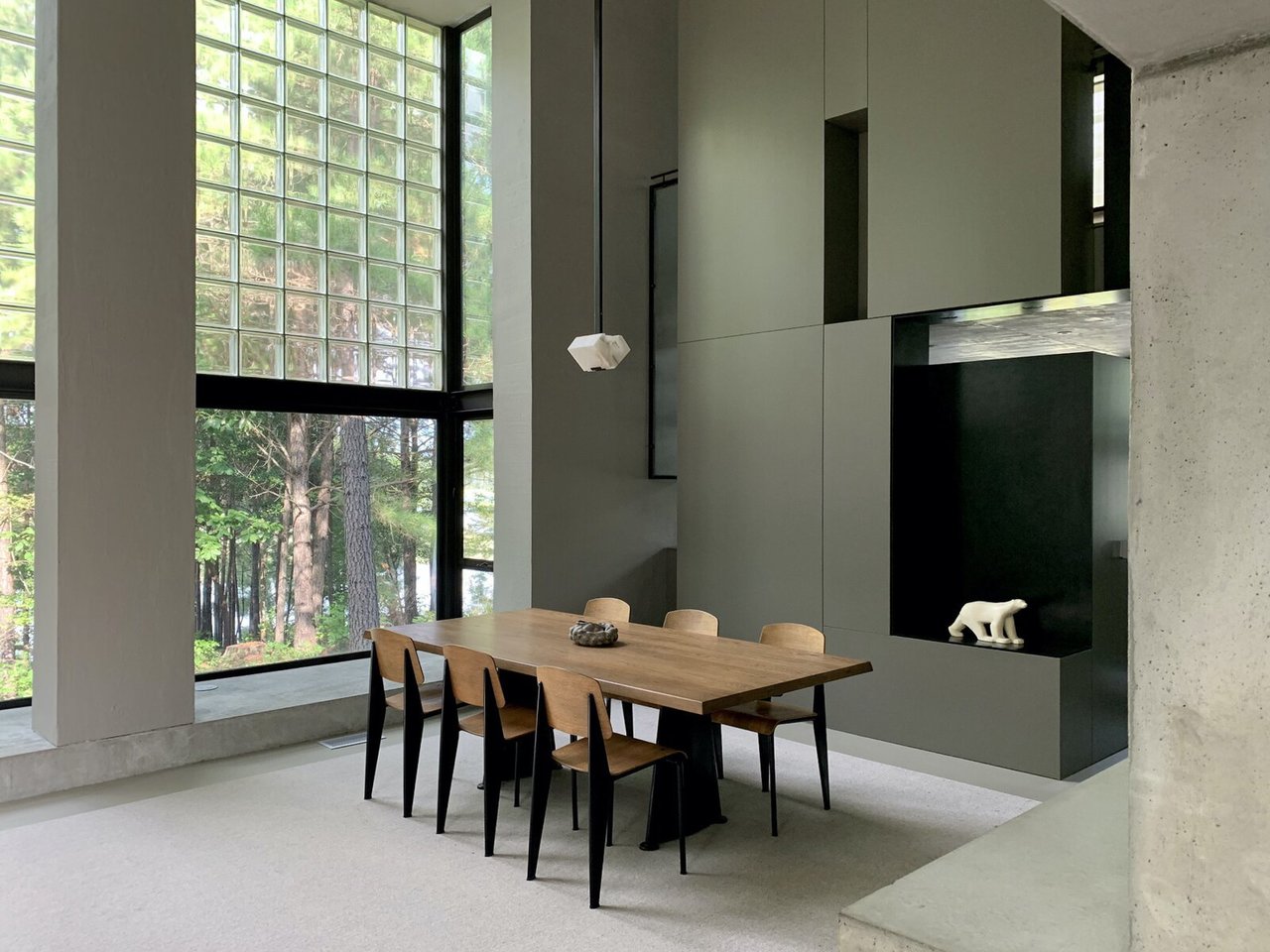 The double-height living and dining area basks in natural light thanks to custom Hope's steel windows, partially inset with 12-inch Corning glass blocks. Segal updated features such as the massive room divider, which was previously finished in a lighter, natural-colored stain.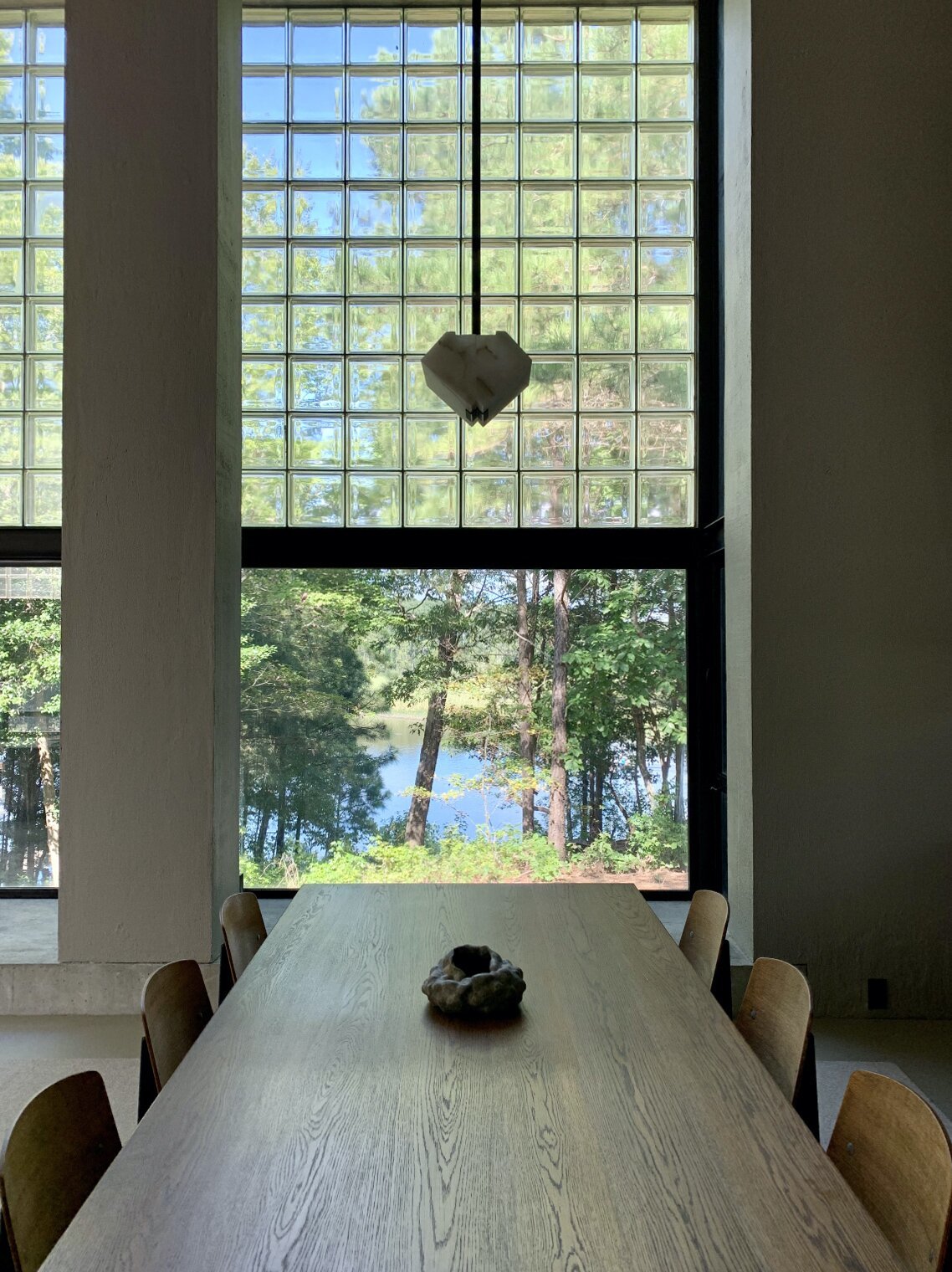 The dining area looks out onto views of the creek and marshland across the water.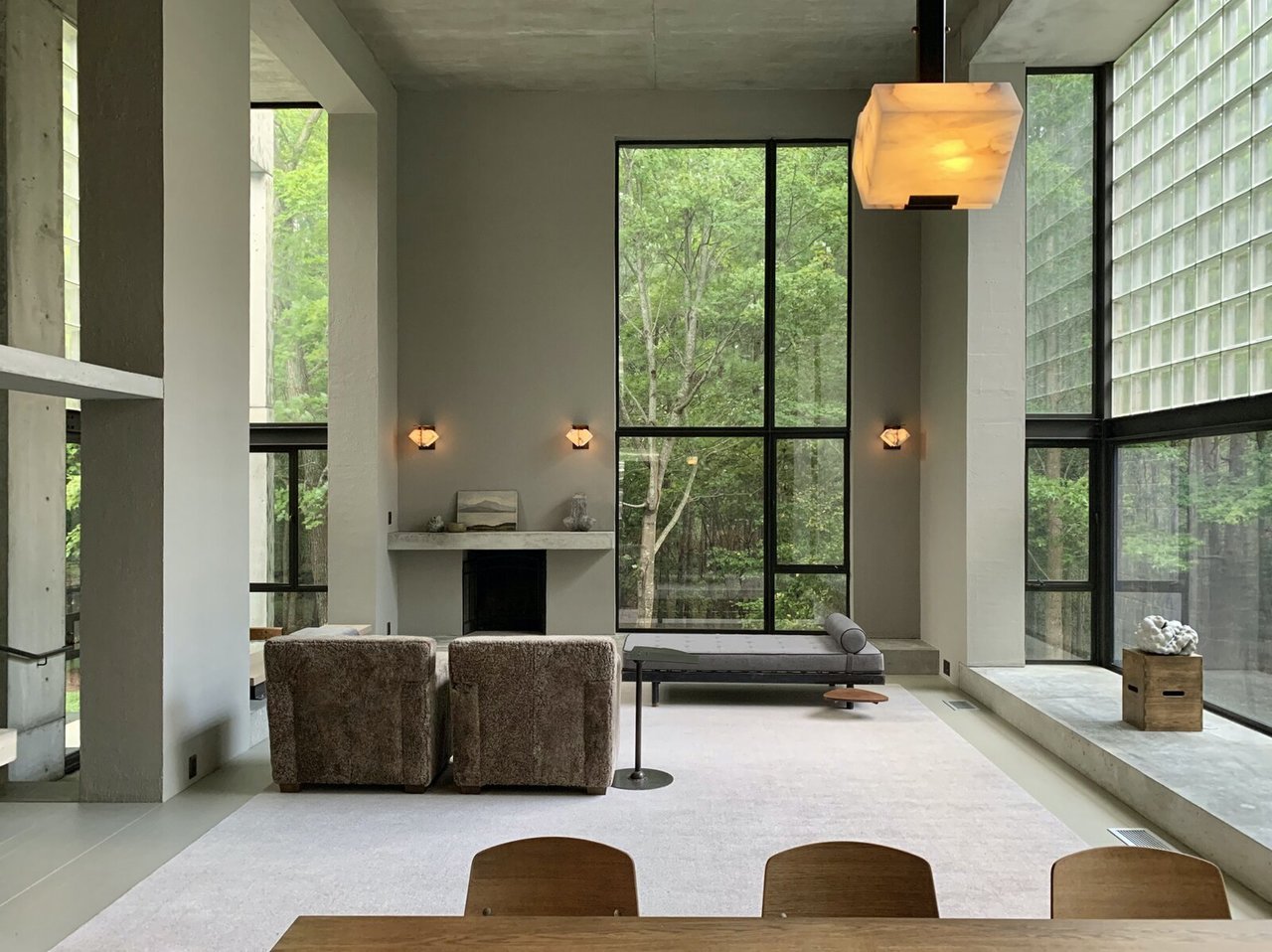 A look back at the living area shows massive windows that frame views of the forest. The space also features custom Pierre Chareau alabaster lighting and a wood-burning fireplace.

The spacious, 3,000-square-foot residence comes with two bedrooms and two full bathrooms, one of which features Clark's interpretation of a modernist vanity made with repurposed steel girders. A mezzanine level overlooking the dining area could potentially serve as a third bedroom.

The home is currently for sale by the owner with an asking price of $1,700,000, and most of the furnishings-including designs by Jean Prouvé, Charlotte Perriand, Jean-Michel Frank, Pierre Chareau, and Marcel Breuer-are also available for purchase as a separate transaction. Keep scrolling to see more.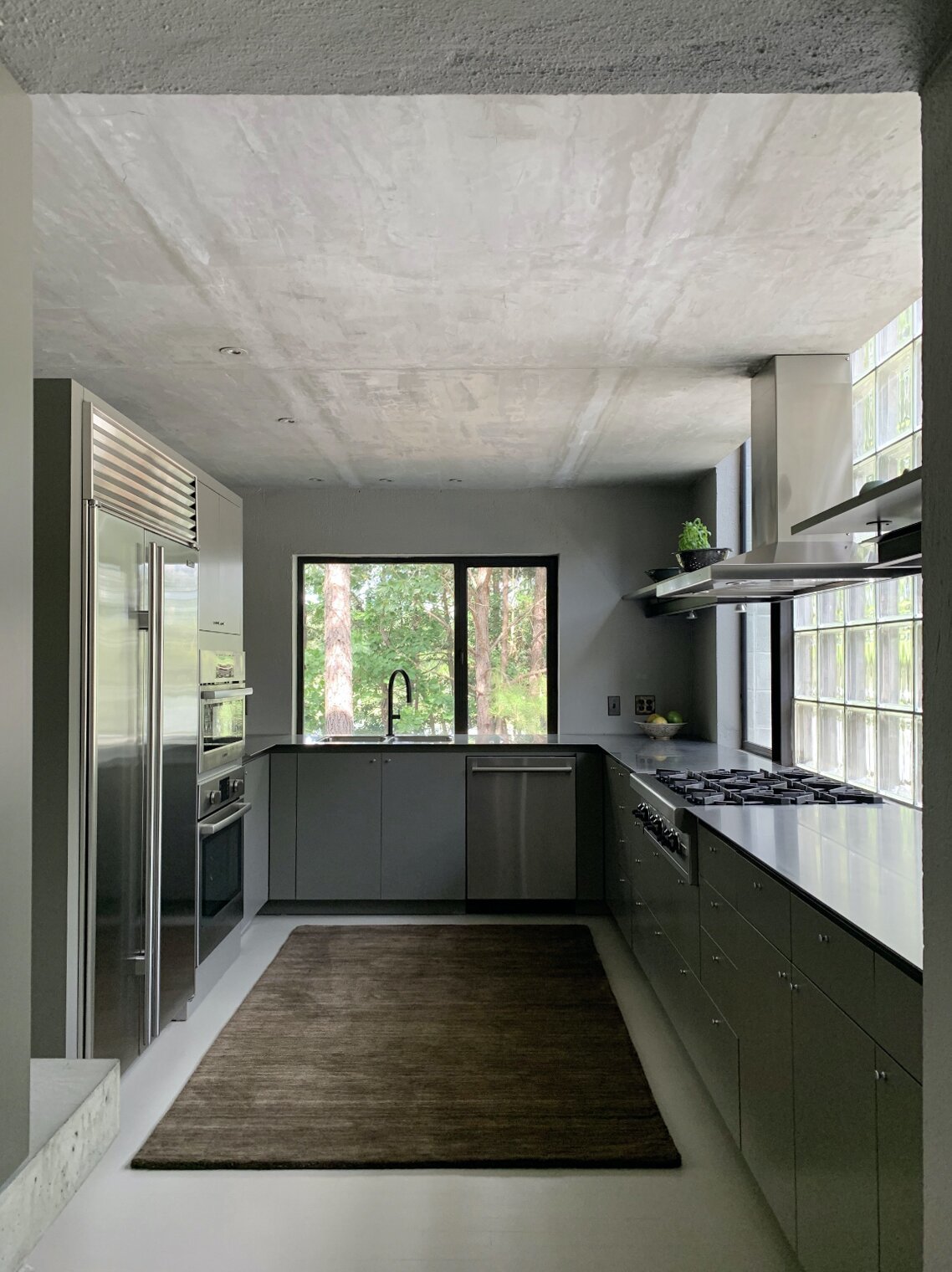 The kitchen features Clark's original cabinetry and stainless steel countertops, as well as updated appliances and a walk-in pantry.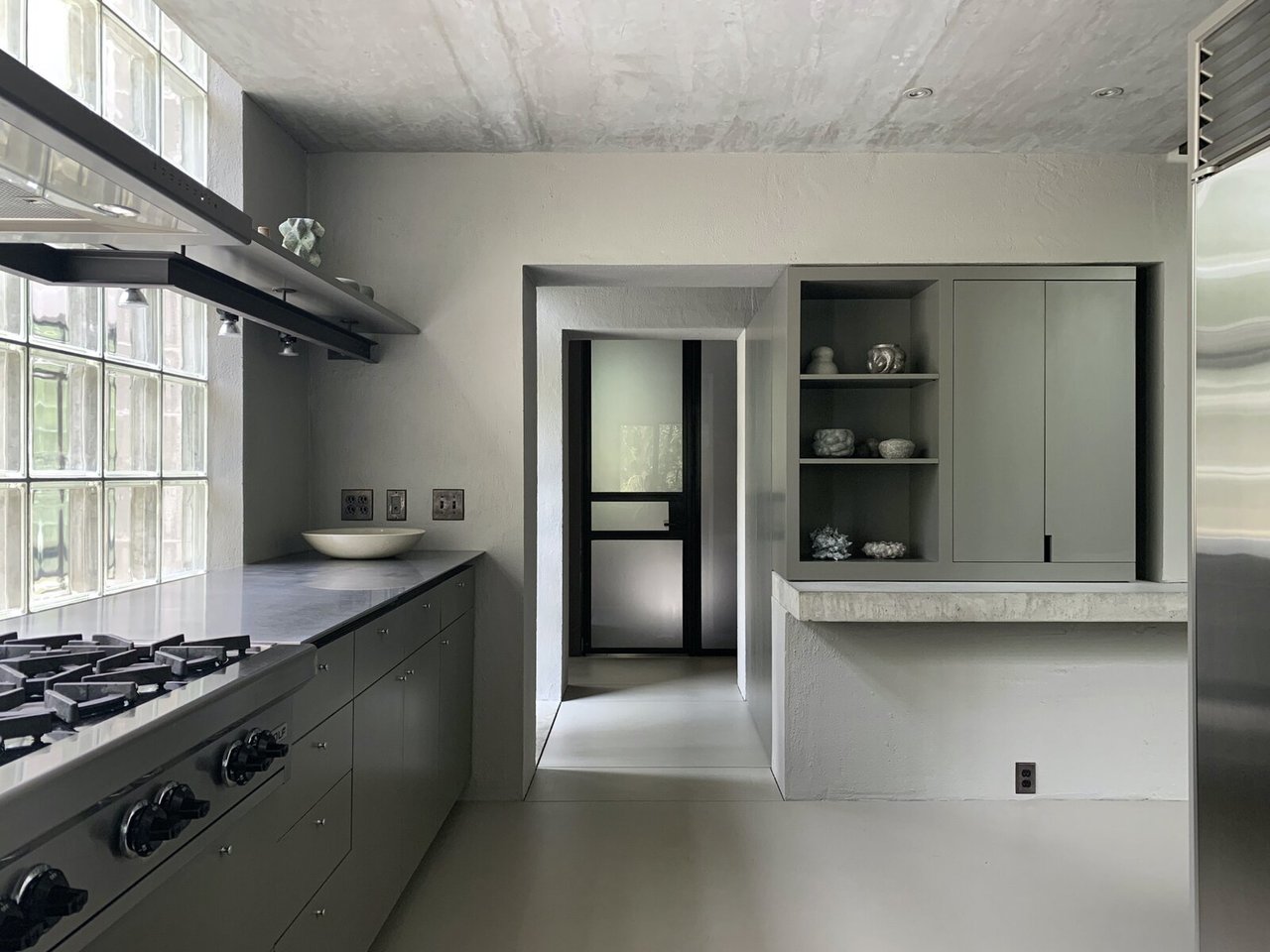 The space is brightly illuminated by several large windows, including one running nearly the full length of the countertop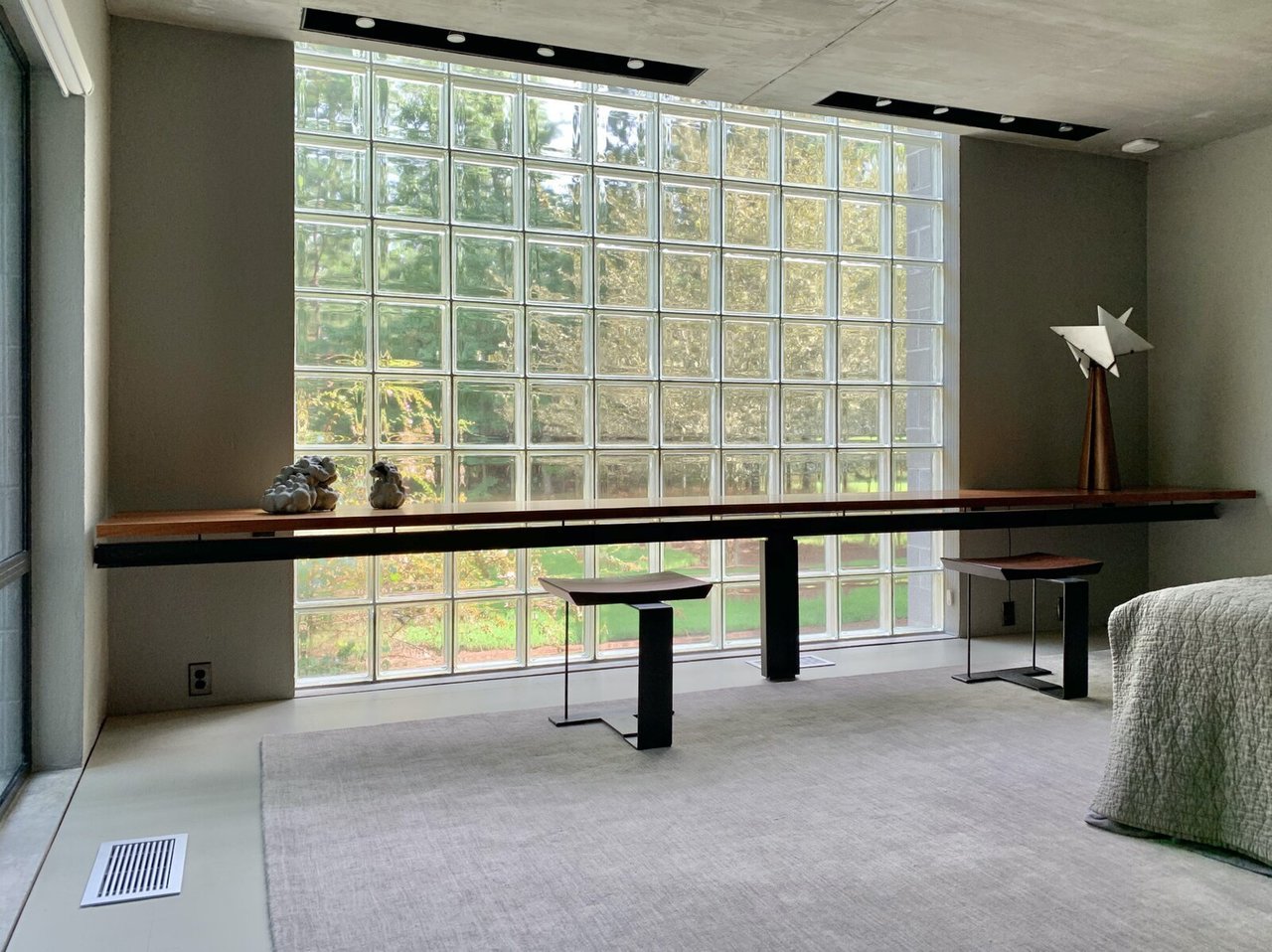 One of the home's two bedrooms features a 16-foot-long solid mahogany work station that is original to the home. A glass-block window provides natural light and views the backyard.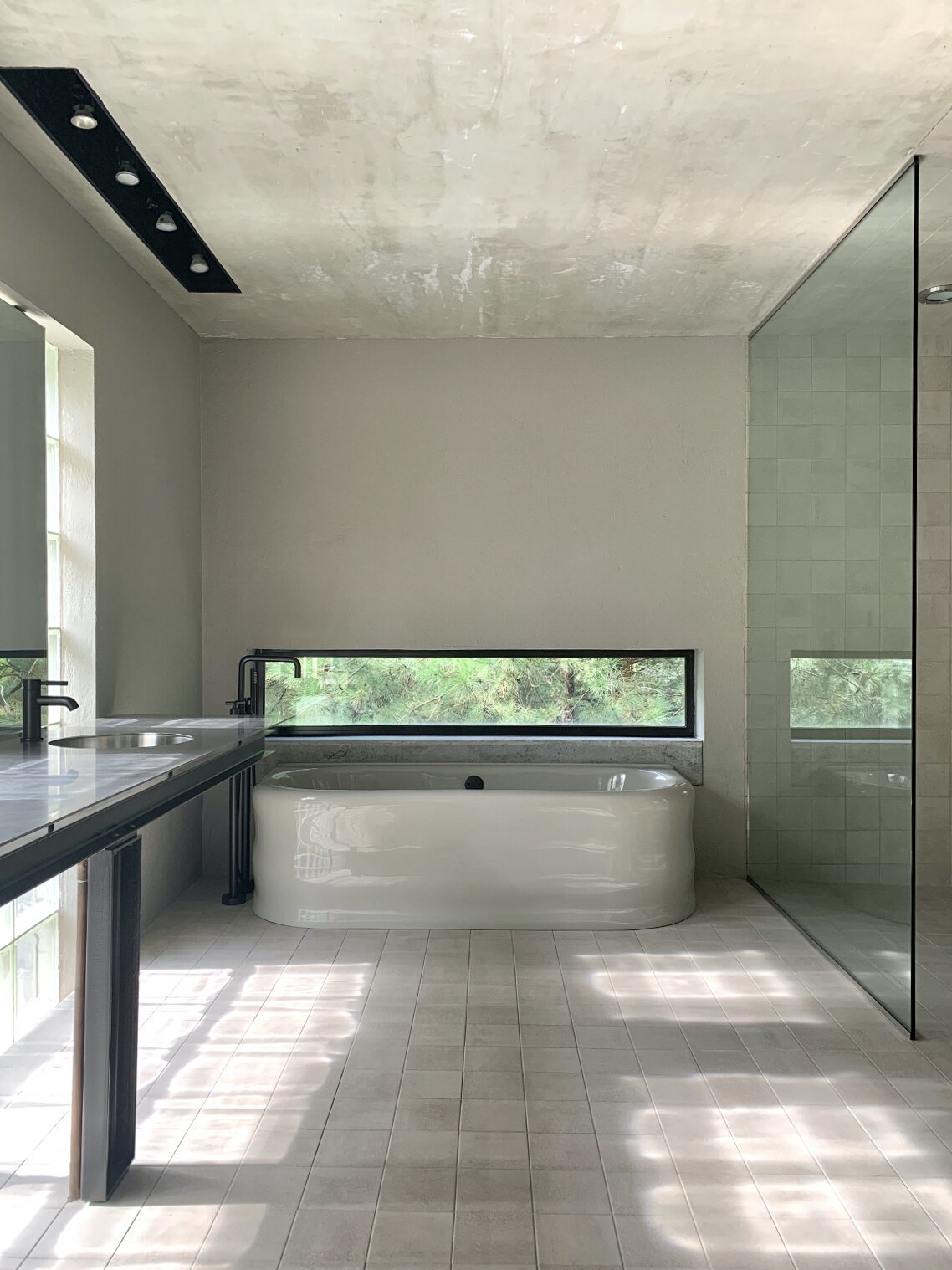 A look at one of the home's two full bathrooms-this one featuring Dutch ceramic tile, Clark's custom vanity design supported by steel girders, and a reproduction of a 1930s bathtub that was custom cast in England.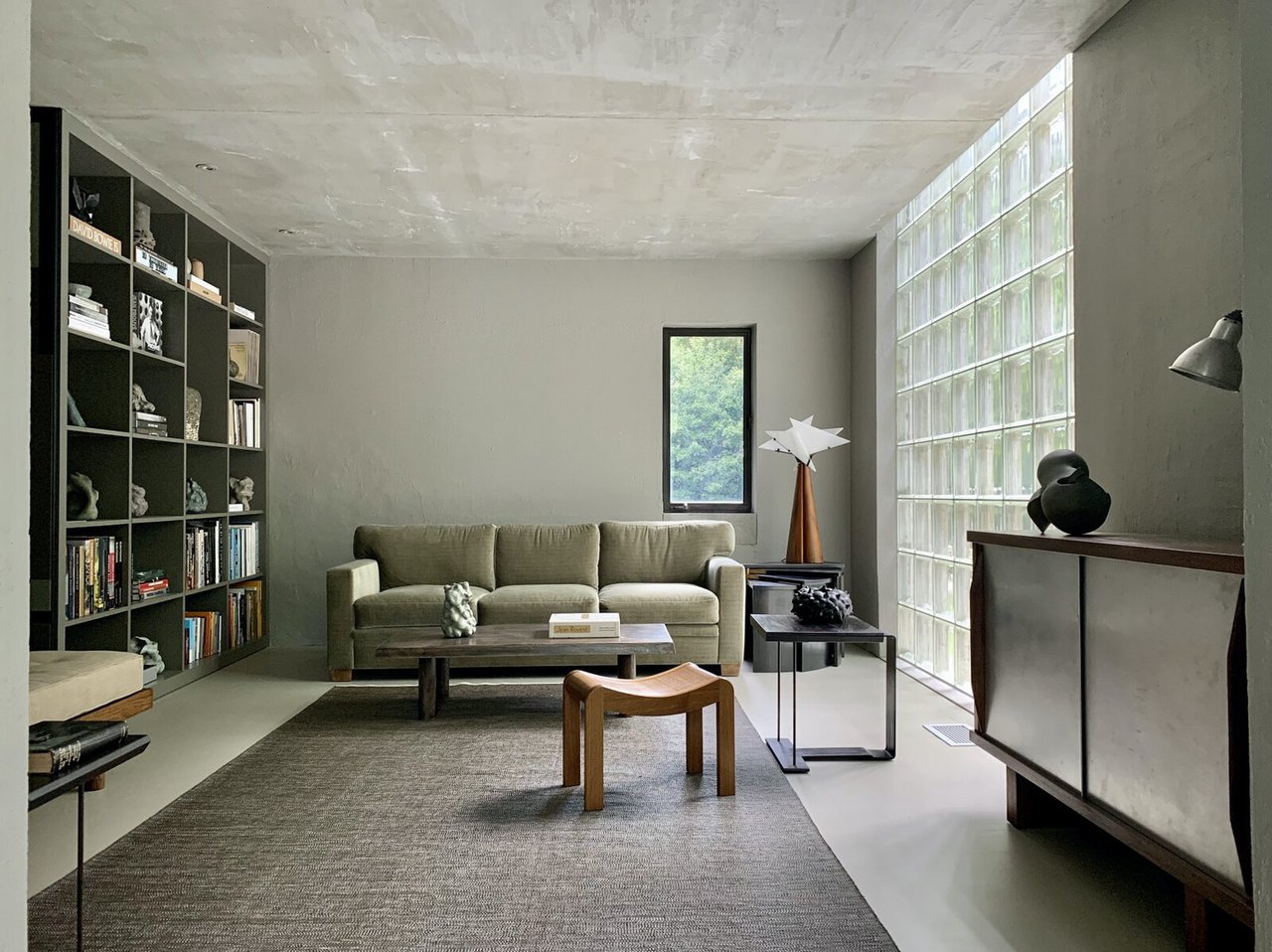 In another part of the home, a library/den is also warmly illuminated by a full-height, glass-block window.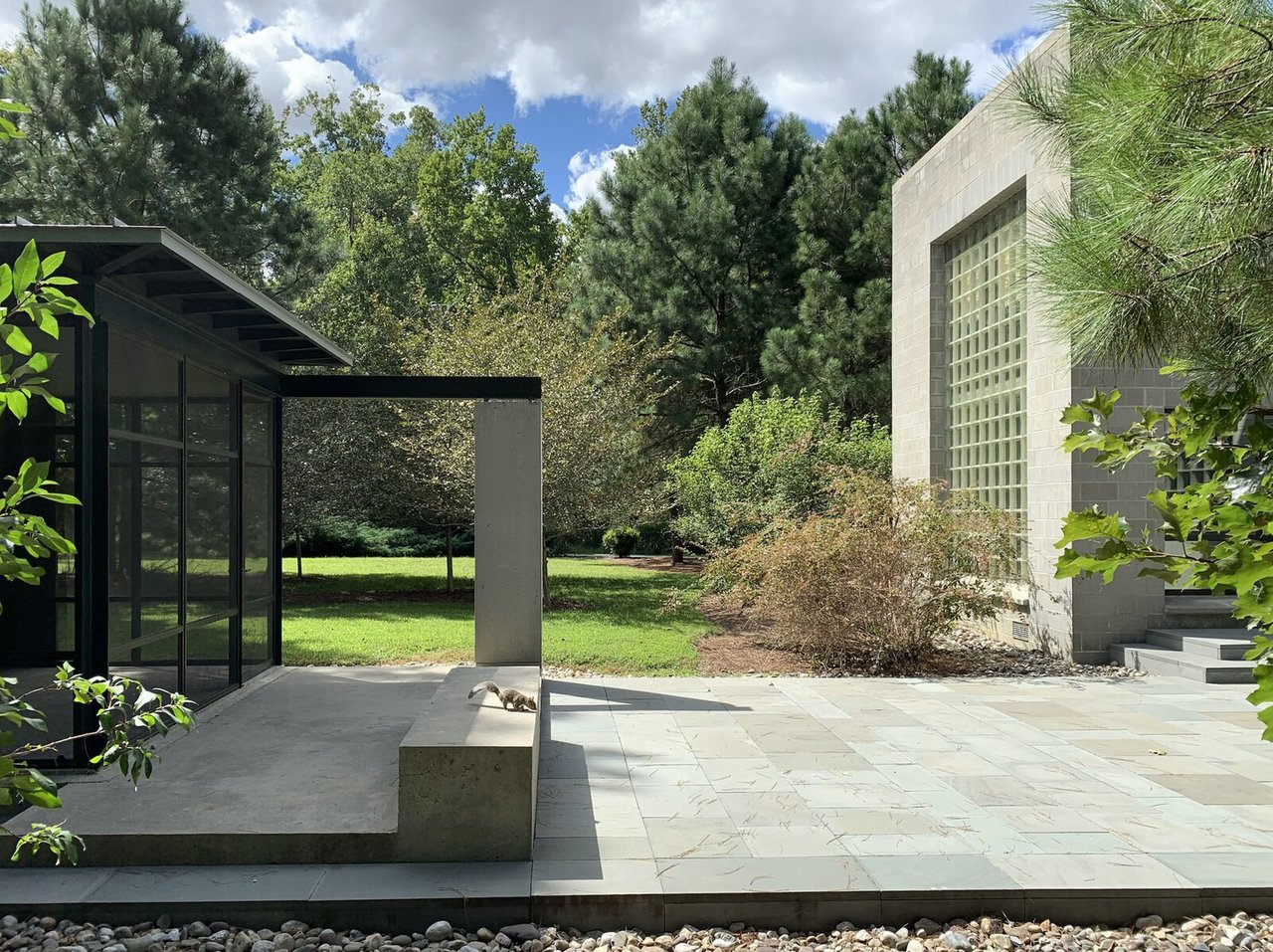 Outside, a blue stone patio connects the main house to a screened pavilion and storage area that was also designed by W.G. Clark in 2010. The surrounding 9.98-acre lot includes a large lawn, a fenced area for pets or gardening, and large sections of natural forest.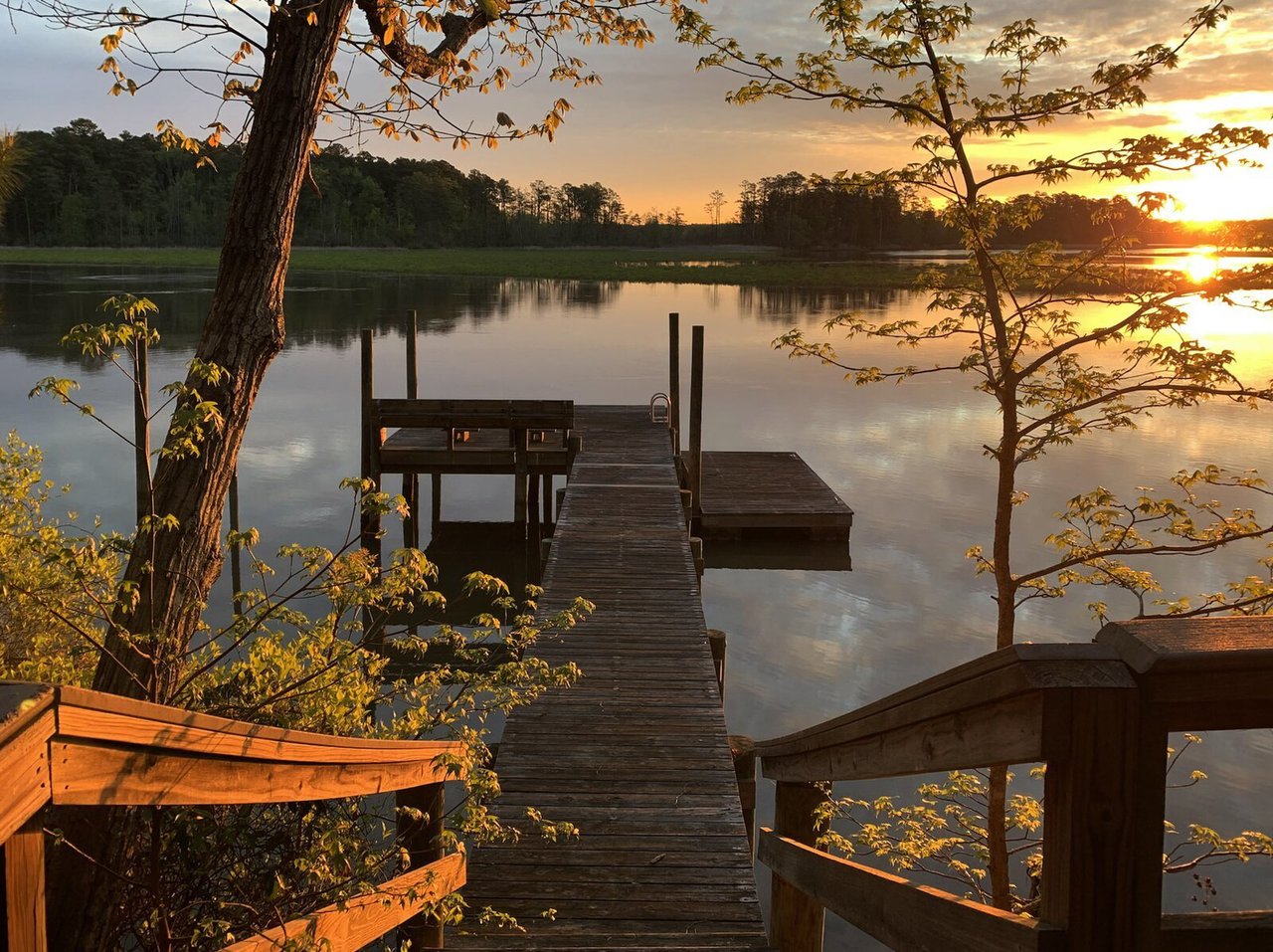 The property also includes 600 feet of water frontage along Gordon's Creek, a brackish waterway that connects to the larger James River. Although sited on a waterfront lot, the property is not within the FEMA 100-year floodplain and thus, flood insurance is not mandatory.