"Much of my inspiration comes from nature," says award-winning interior designer Sue Moss, ASID, IIDA. "Here in the Islands, just going outside to walk your dog, you can enjoy great vistas of water and mountains."
A 27-year member of the American Society of Interior Design (and former president of the organization's Hawai'i chapter), Moss founded Trans-Pacific Design on the Big Island in 1991. The staff -- two designers, two support staff and a part-time librarian -- divide their time equally between residential and commercial projects with custom designs that convey their locale, while withstanding the demands of Hawai'i's varied climates. The Trans-Pacific team is fluent in many design vernaculars including tropical, country, contemporary, Asian, and ethnic styles; they also work with clients to create personalized, one-of-a-kind design approaches.
Prestigious commercial clients include Hilton Waikoloa, Mauna Lani Resort, Mauna Kea Resort, a variety of real estate companies, and boutique shops in upscale hotel arcades. Trans-Pacific designs everything from a hotel's front desk to its salon or chapel, and from cruise ships to cafeterias. Trans-Pacific also provides interior design for residential homes in resort areas up and down the Kohala Coast and in the communities of Waimea and Kona. Moss and her team have also created designs for residences on O'ahu and timeshares for the Hanalei Bay Resort on Kaua'i.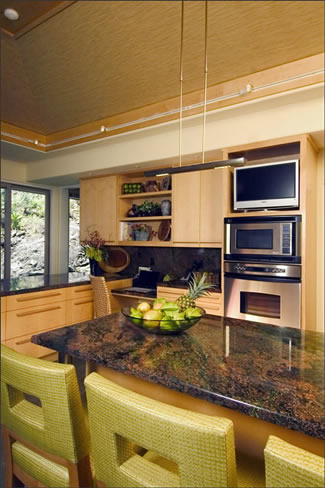 "In residential design, we enjoy working closely with our client, offering insights into Hawai'i and its' cultures," said Moss. "We seek to bring a level of design awareness that captures the feeling of Hawai'i, yet is not like everyone else's house. We encourage the use of traditional tropical materials, employed in a fresh, contemporary way."
Moss received her degree in interior design from Iowa State, moving to Hawai'i in 1974. She worked with that era's premier design firm, Richard Crowell & Associates, prior to founding Trans-Pacific. Today her designs reflect an eclectic range of influences from Greece to Thailand as she travels the globe in search of ideas and materials.
Currently on the boards at Trans-Pacific are several new private residences plus the health club, beauty salon, and elevators for the Mauna Lani Resort, for which Trans-Pacific earlier designed the new spa. Moss said she's looking for a "green" project that will enable her to feature sustainable, non-toxic, locally harvested materials. "Environmentally friendly design is a huge, hot issue right now," she says.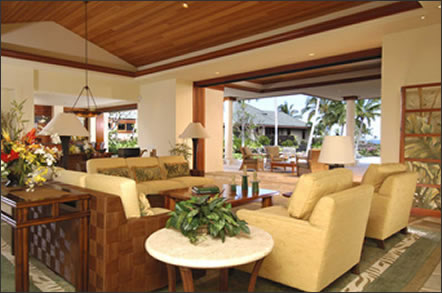 Trans-Pacific Design
http://www.trans-pacificdesign.com
808/ 885-5587