THE PROPERTY

Surrounded by palm trees, bougainvillea and ocean views, this early 1900s Spanish colonial-style house in Palm Beach, owned by fashion designer and entrepreneur Liz Lange, boasts the most idyllic setting. 'Palm Beach has always felt like a fantasy island to me – somewhere far away like Capri, almost too good to be true,' she says. 'My shoulders drop as soon as we touch down - it sounds like a cliché, but it's true here.'

Liz bought the property in 2019 and had clear ideas about its look from the get-go. 'I didn't want one of those all-white beach houses or a "serious" city-style décor,' she says. 'It needed to be decorated with real glamour and confidence,' she adds. Which made her old friend Jonathan Adler a natural choice as her collaborator. 'I have my own strong opinions on matters of taste and style, so this house was very much a collaboration,' she smiles.

Set over two floors, there is an entrance area, living room, family room, dining area, kitchen-diner/breakfast nook and cloakroom on the ground floor. Upstairs there are four bedroom suites with a further one in an annexe. The garden has a tented living room, a dining area and a pool. Let's take a tour...


Living room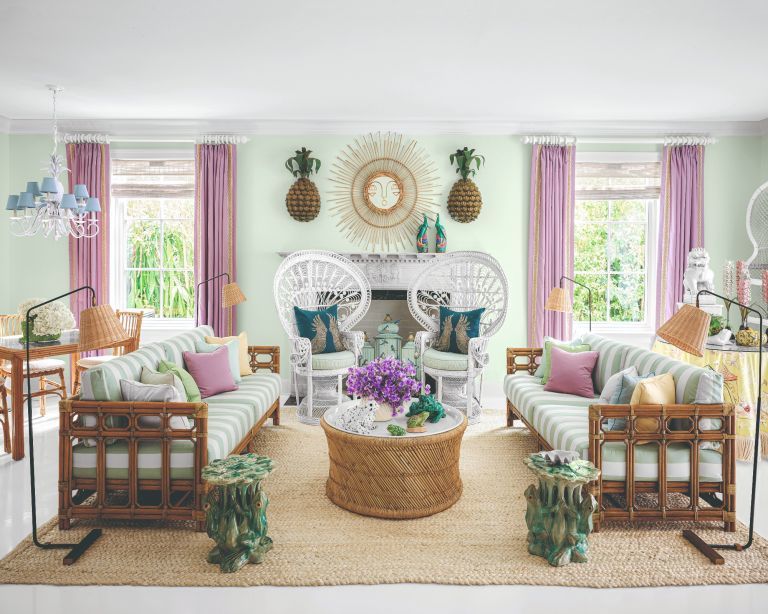 Their starting point was a set of stripped out plain white spaces – but they didn't stay looking like that for long. 'I wanted lots of color, prints and patterns, and Jonathan is a master at that. He wrote the book on color.'

The family's living room features a true medley of colors - softest lilac, mint-choc-chip green, nursery yellow and powder blue. But, Liz points out, because these sorbet shades are all in same pale tone, they work alongside each other. The floor is a plainer glossy white: 'We just laid down soft jute rugs – this is no place for wall-to-wall carpets,' she smiles.

Throughout the house are dotted the type of witty, cute-clever touches that are associated with JA style: here a woven alligator, there a pineapple sconce. There are vintage cockatoo lamps, side tables in the shape of elephants and frogs and more palm leaves (real and faux) than Kew Gardens could rustle up.


Dining room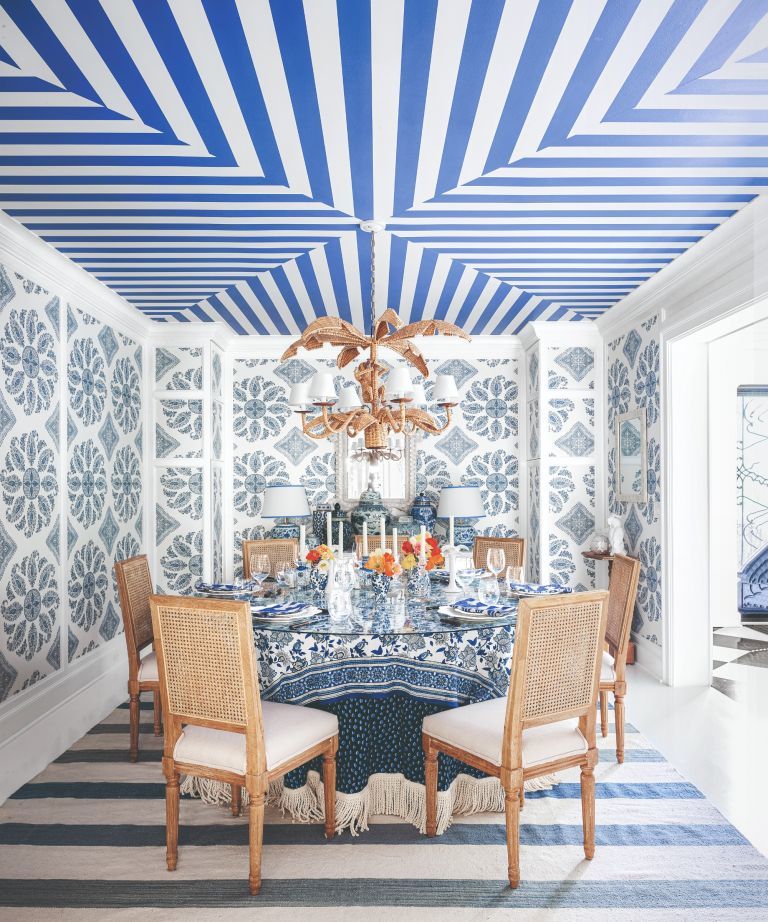 The dining area close to the entrance of the house is a blast of stripes and paisley prints that lets visitors know they are in for some fun. 'I think Jonathan and I are of the same opinion that there's no such thing as color clashes. I think you can treat any color as a neutral – in clothes as well as interiors,' explains Liz.

The ceiling is wallpapered in stripes to resemble a canopy, combined with paisley walls and a double-whammy of tablecloth patterns. 'It's a beautiful "pow" that greets you as you enter the house,' says Liz.


Breakfast nook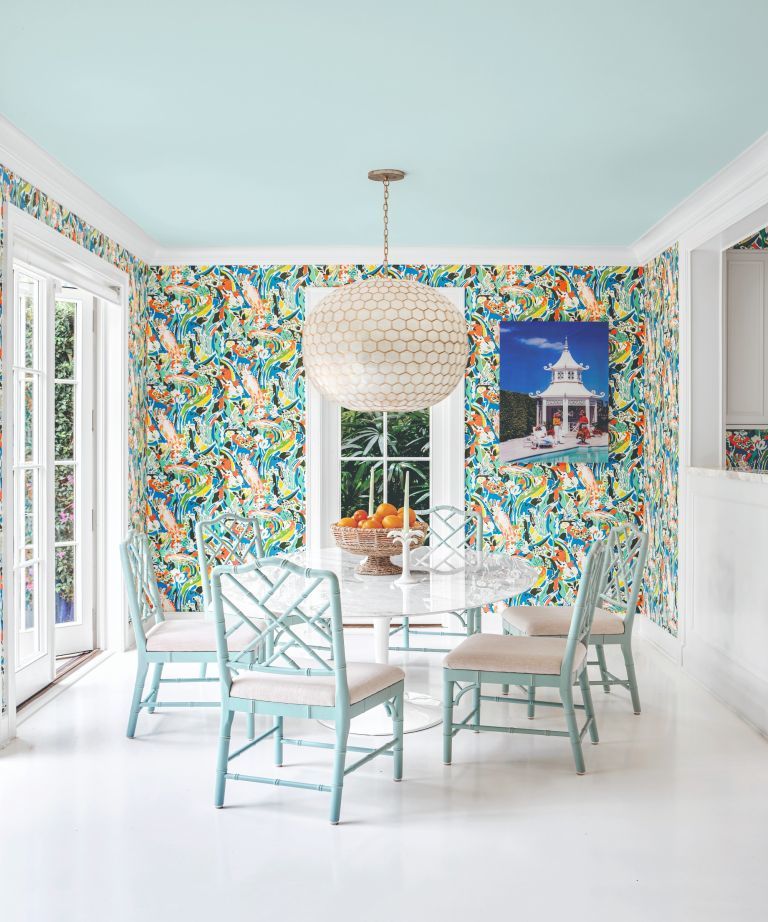 The tropical décor tunes into the indoor-outdoor lifestyle.


Main bedroom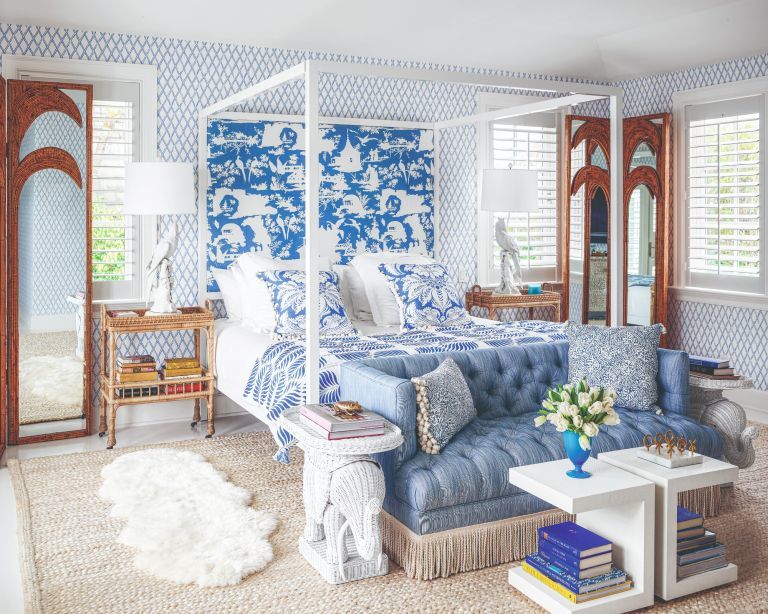 'Our bedroom encapsulates my favorite combinations: blue and white and new and vintage,' says Liz. The simple four-poster is customized with an upholstered headboard. Opposite the bed, French doors open onto a balcony with waterfront views.


Main bathroom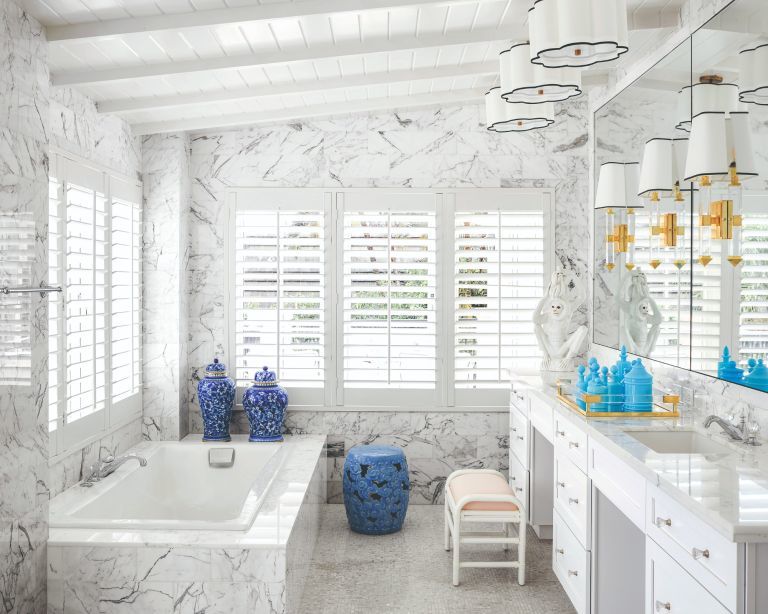 The mood is fabulous resort spa bathroom, with a double shower, double basins and a balcony with waterfront views. 'It's an incredible place to bathe and Jonathan's light fixtures are perfect above my collection of Portieux Vallerysthal blue milk glassware,' says Liz. Luxe marble walls butt up against more rustic roof beams.


Garden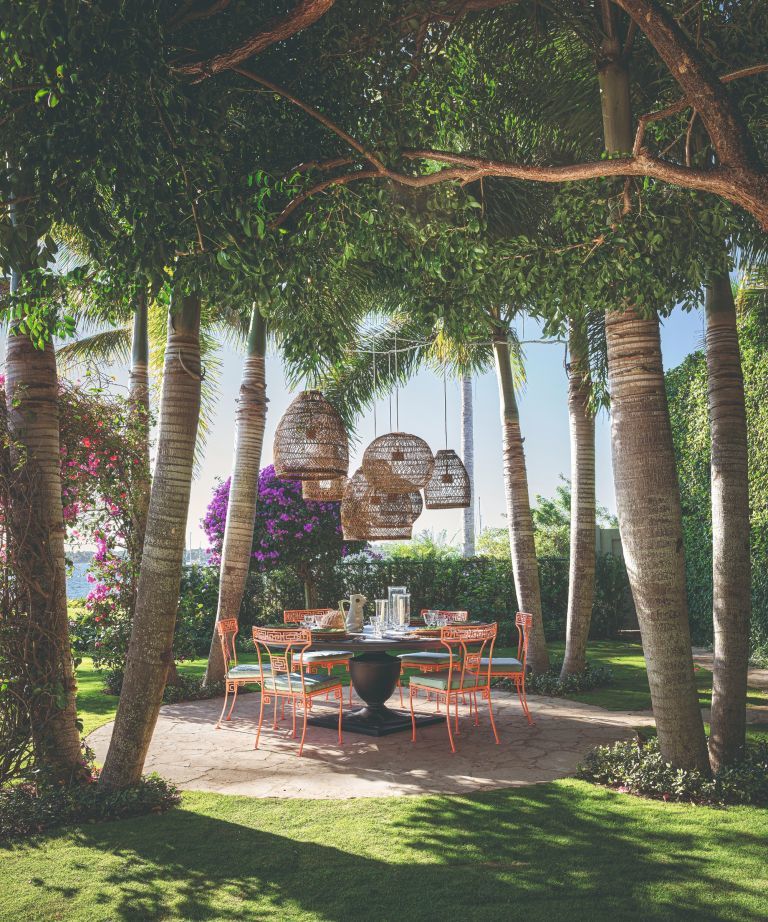 An archway of pink Bougainvillea leads to an outdoor dining area. 'We always have dinner under the canopy of the palm trees, lit by lanterns and plenty of candles. In normal times, lots of friends come over to share meals, conversation and good times,' says Liz.

With its Mediterranean architecture and the tumbling Bougainvillea, the result is a joyfully escapist home that suits the Florida setting.