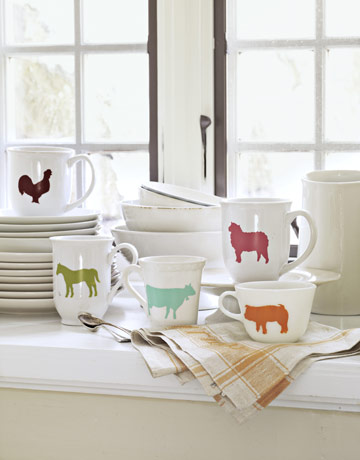 Stenciled Animal Mugs
Look no further than the nearest pasture for inspiration to dress up plain dishware. To duplicate these mugs, print and cut out the animal shapes. Use these templates for Cow, Sheep, and Pig shapes. Place each shape atop a small piece of contact paper and outline it in pencil. Cut out with a craft knife; then discard the paper inside the outline. Peel away the backing and affix the stencil to a clean, dry mug, making sure to center the image. Following the package directions, use a soft brush to fill in the outline with dishwasher-safe PermEnamel paint ($3.49 for two ounces, joann.com); let set for a few minutes. Carefully remove the contact paper, clean up any edges with a damp cotton swab, and allow the paint to cure for 10 days.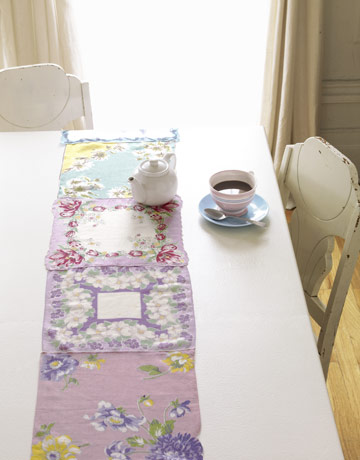 Create A Hankie Table Runner



Inspired by Amy Barickman's latest book, Hankie Style ($24.99; Indygo Junction), this craft breathes new life into old-fashioned linens. To make a table runner, measure the length of your table (plus overhang) to determine how many hankies you'll need (we used ten 12-inch squares for an 82-inch-long table). To connect the first two, flip them pattern side down, overlapping the edges by about ⅜ inch; pin, then stitch together. Continue attaching handkerchiefs in this manner until the runner is complete.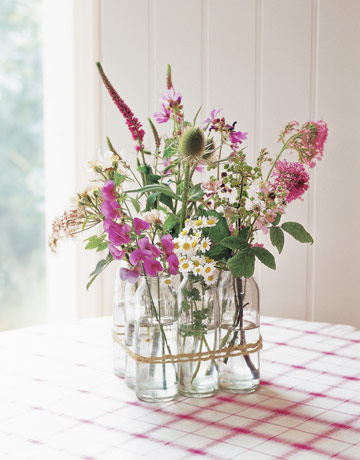 DIY Vase



Floral foam and glass marbles aren't the only ways to hold flowers aloft. Instead, a bunch of vintage milk bottles gives this arrangement—featured in Decorating with Flowers ($24.95; Rizzoli)—its structure. Simply line up nine same-size vessels in three rows of three. Then wrap gardener's twine around the grouping twice and tie the ends. Finish the blooming display by placing two to three stems in each container.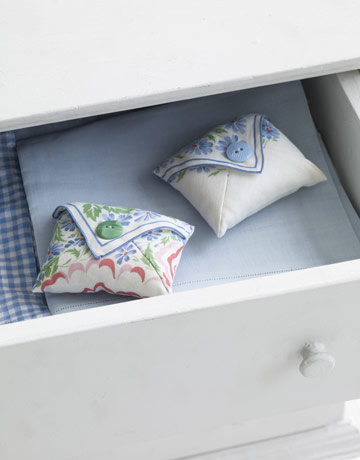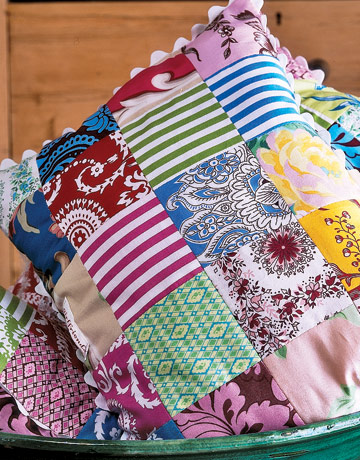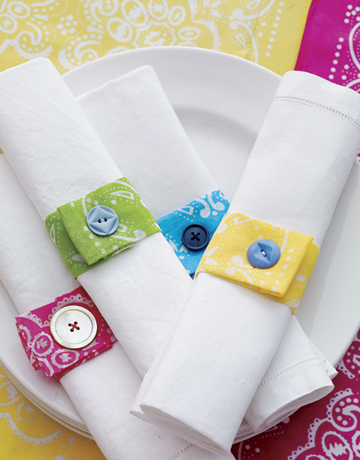 Bandanna Napkin Ring
To fit standard dinner napkins, cut a bandanna into 6- by 9-inch strips. Fold each strip in thirds lengthwise, then fold in thirds widthwise. Sew a button on one end, about 1 inch from the edge. (Choose any colorful loose buttons you may have on hand; they don't need to match.) Then cut a corresponding buttonhole on the opposite end of the strip.