- Chromotherapy – Chromotherapy, sometimes called color therapy or colorology, is the term for a branch of holistic healing that use color and light to improve and balance one's health. If you think you can take advantage of colors' healing power only via the wall and furniture colors, you're wrong (although this is also an option). There are numerous wash-basins, bathtubs and sinks with chromotherapy options available, that enhance the bathing experience – just with a single push of a button you can dive into a sea of color, depending on the effect you want to achieve – from tranquillization to refreshment.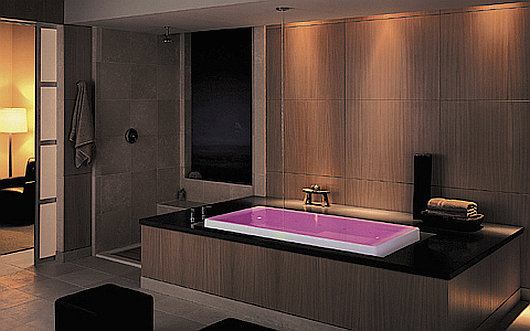 Chromotherapy bathtub by Kohler - http://www.us.kohler.com
- Technology's little pleasures – They are there, but do not hit us in the eye: various components with intelligent functions - multifunctional showers, recreating realistically the sensation of running water in nature, towel warmers, built-in TVs and CD players present unnoticeably in the bathroom, but make the bathing experience much more pleasant.



bathroom indulgences by Kohler - http://www.us.kohler.com