Small living room TV ideas may sound niche, but let's be honest TV's can be a bit of an eyesore, and even more so in smaller spaces where they can totally take over. So to us, a gallery of lovely living rooms that prove a TV didn't be the dominating feature makes sense. Because even we wouldn't want to give up our Sunday afternoon binge-watching sessions just to make our living rooms more aesthetically pleasing.

So we've pulled together plenty of creative solutions to get that TV hidden, whether that be behind some stylish artwork, disguised within a gallery wall, or blending into a dark background.


1. Hide a TV behind a bookcase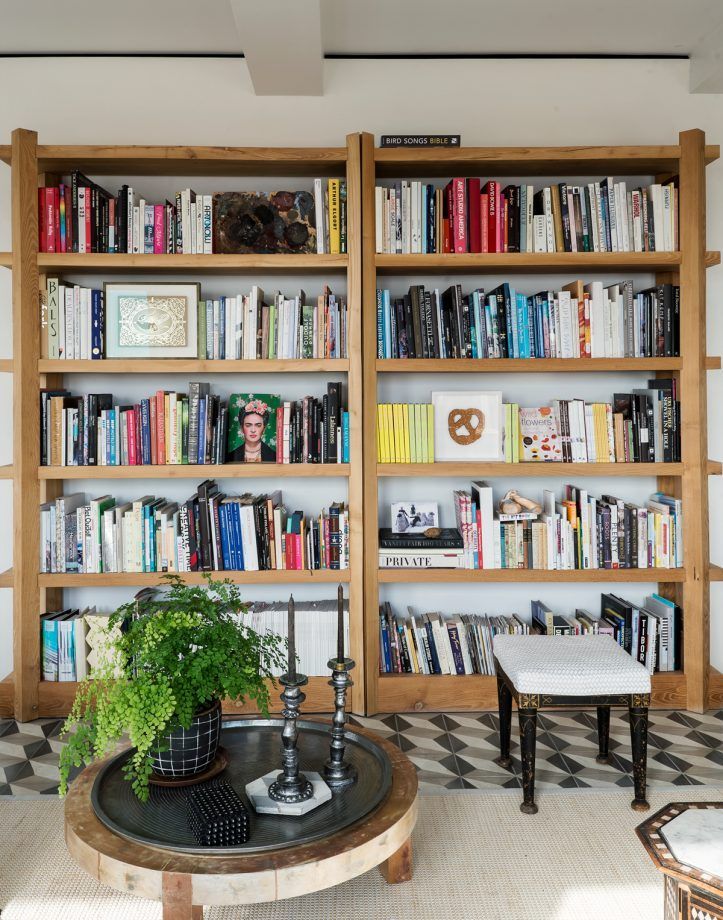 Oh, what's this a lovely bookshelf adding some color and texture to a small living room?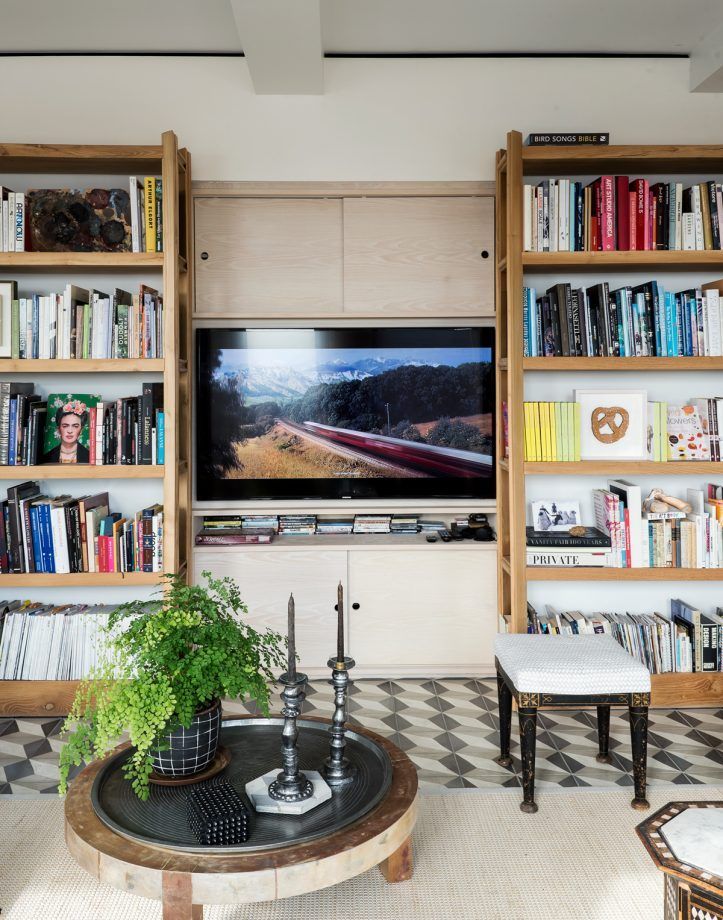 Well yes, it is that, but it's also a clever way to hide the TV that would otherwise take over this small space. The shelving units just easily slide to each side revealing the TV plus even more handy storage. Very clever.


2. Add a discrete panel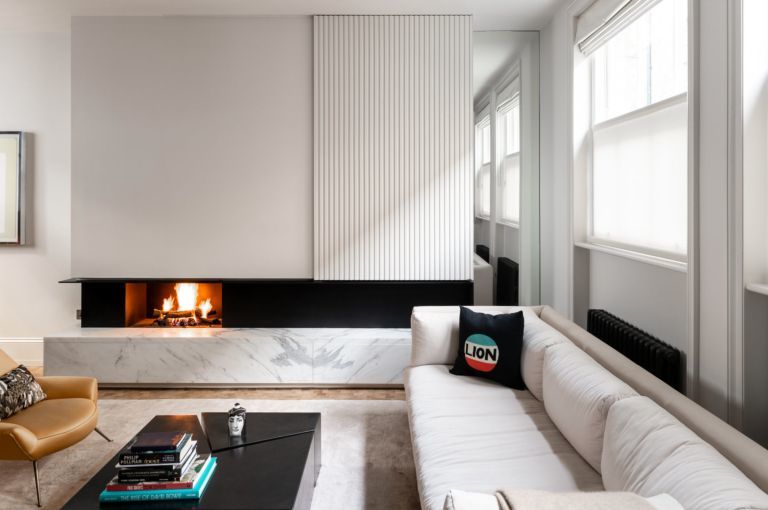 A similar concept is used in this diddy (but perfectly formed) white living room. The space doubles up as both a kitchen and dining room too so to have a huge TV out in the open would dominate the open-plan space.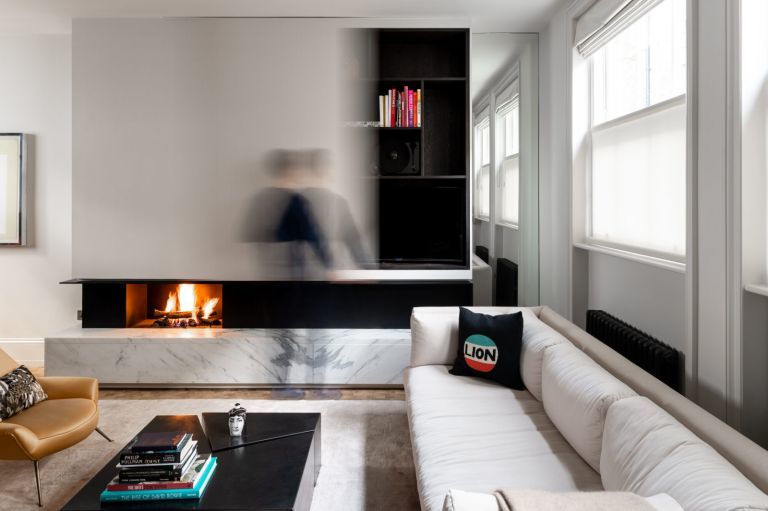 Instead of wall mounting the TV above the fireplace, a narrow panel slides to the side the reveal the TV and impressive speaker system. And that's one of the very nifty hidden storage pieces going on in this tiny London mews house, take a tour to see more clever solutions (including an invisible kitchen).


3. Use sliding doors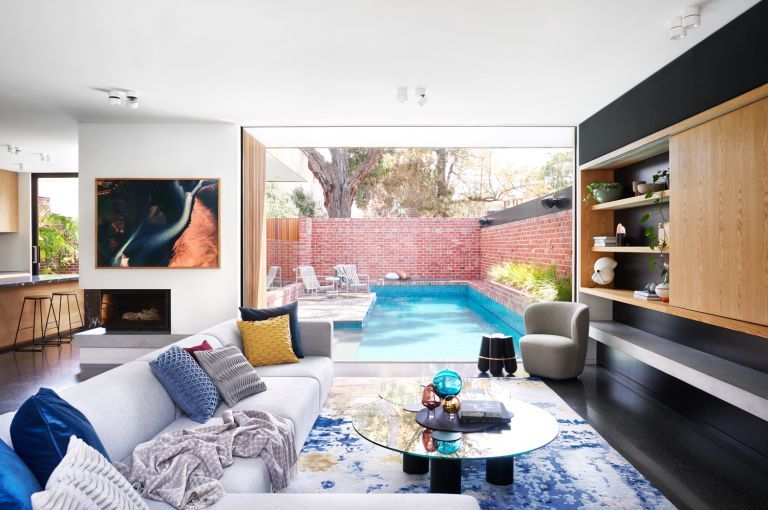 Again, this small snug living room is part of an open-plan space, so it makes sense that the TV can be hidden away at mealtimes or when guests are over. The unit is a simple design with shelving on one side and the TV on the other, a minimal oak door can slide between the two.


4. Blend a TV into the walls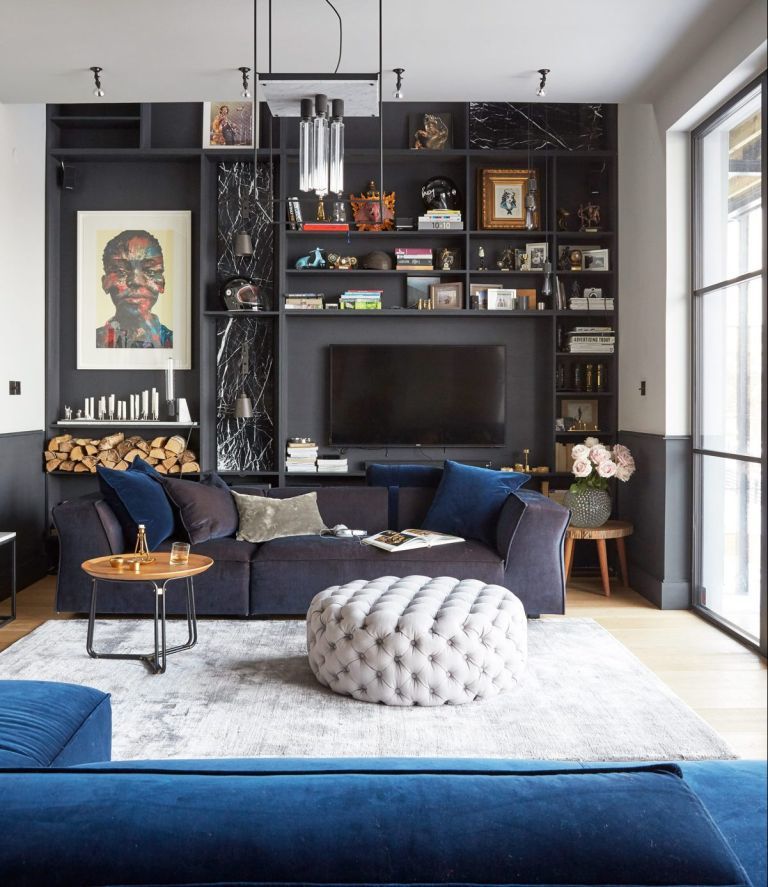 A super easy small living room TV idea is just to paint the wall the TV is mounted on in a dark shade. A deep navy or velvety black will blend your TV into the background so it's no so much of a focal point. Distract from it even further by adding shelving or built-in storage around the TV so you can add color, texture, and decor.


5. Float a slimline a TV unit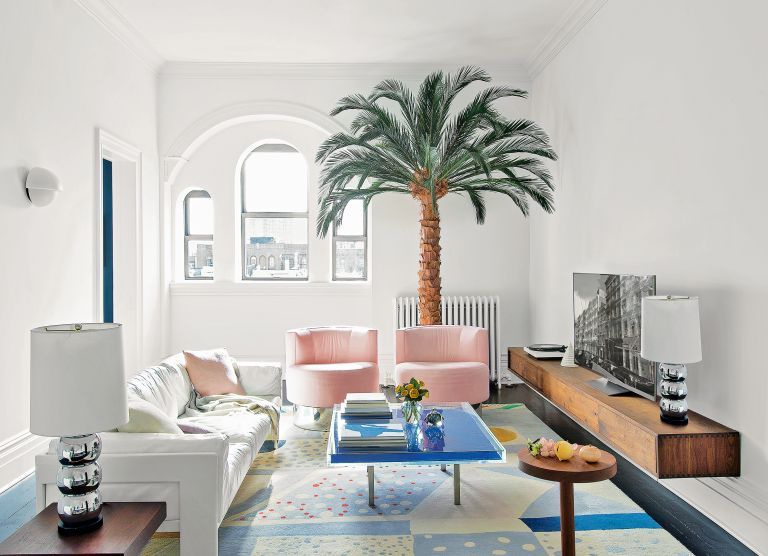 You barely notice the TV in the living room of this fabulous Williamsburg apartment, mostly because that huge fake palm is doing all the talking, but also because the unit on which it's sat is so subtle. Slimline and up off the floor it just floats at the edge of the room adding zero visual bulk.


6. Put it behind doors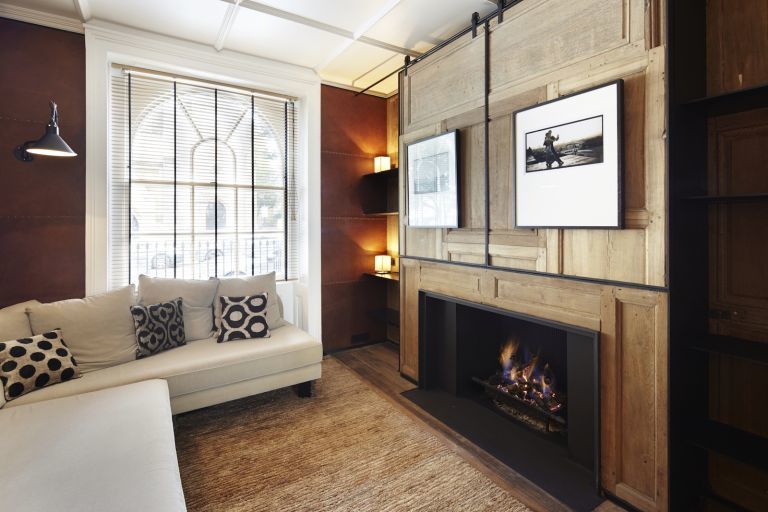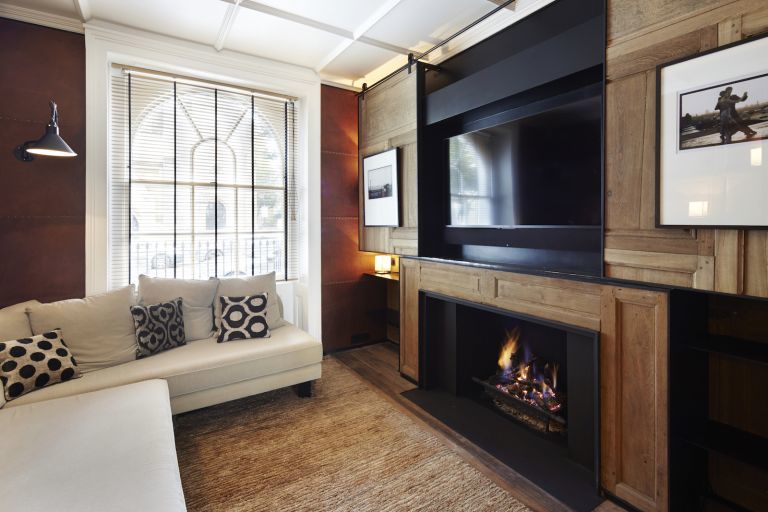 Give a small living room a rustic, modern farmhouse vibe and disguise a TV behind barn doors. When closed they just look like wall paneling. In this listed Georgian townhouse salvaged oak paneling was used to create a very cocooning snug TV room, but you could opt for a more minimalist look with just white doors, or go just slightly rustic with a shiplap finish.


7. Distract from the TV with color and texture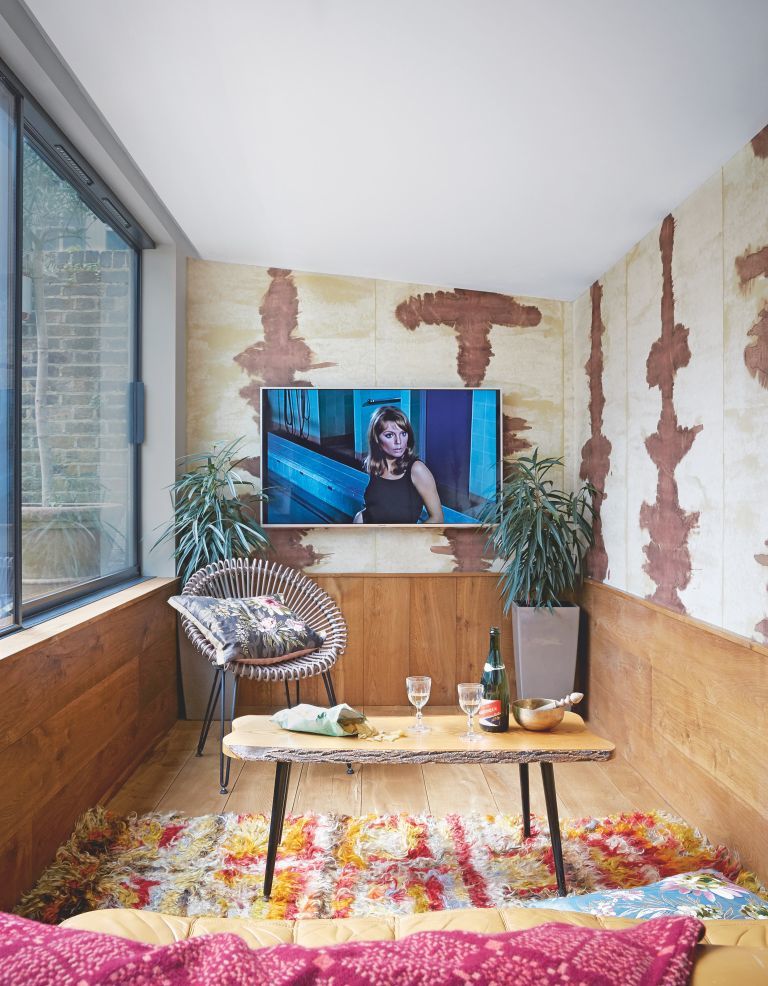 How fun is this small colorful living room? Sure, the TV isn't hidden in a secret bookcase or behind a trap door, but the subtle design and the lack of any wires on show means that TV doesn't really impact on the room at all. In fact, it could just be a piece of artwork since the rest of the walls are kept bare. The lovely bold hues, lots of textures plus the bleach wood walls help too as it distracts from the TV.


8. Add it into your built in storage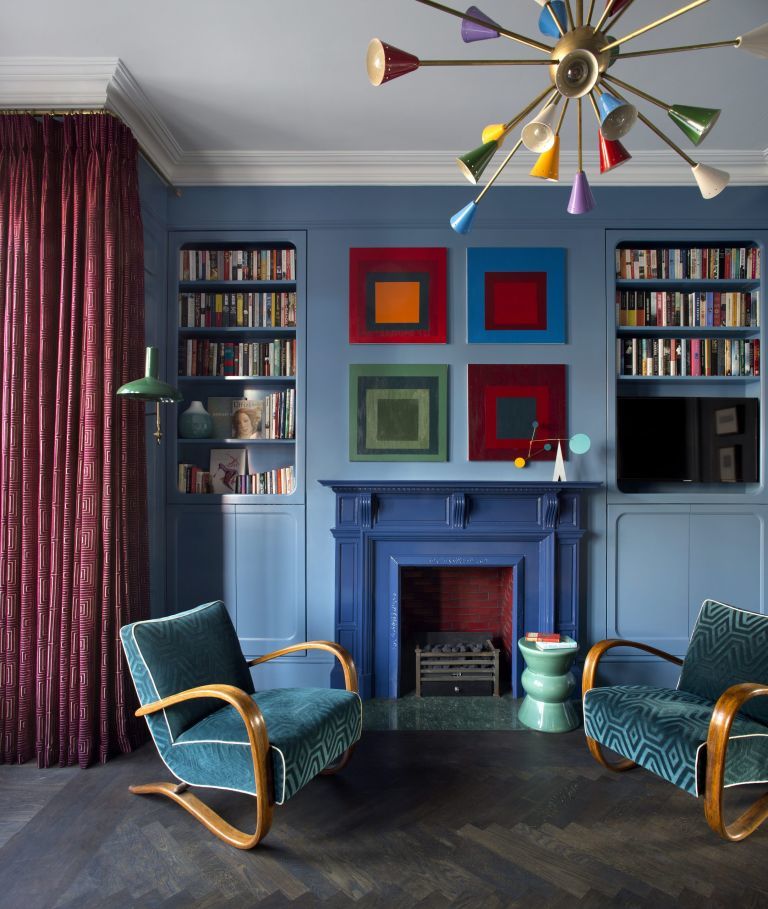 Don't want your TV to be front and center in your living room? Keep it to one of the alcoves instead and blend it in with a wall of built-in shelving. Again, as this blue living room proves, sticking to a slightly darker shade means the TV won't stand out like a black box in the middle of your books.


9. Build a library around your TV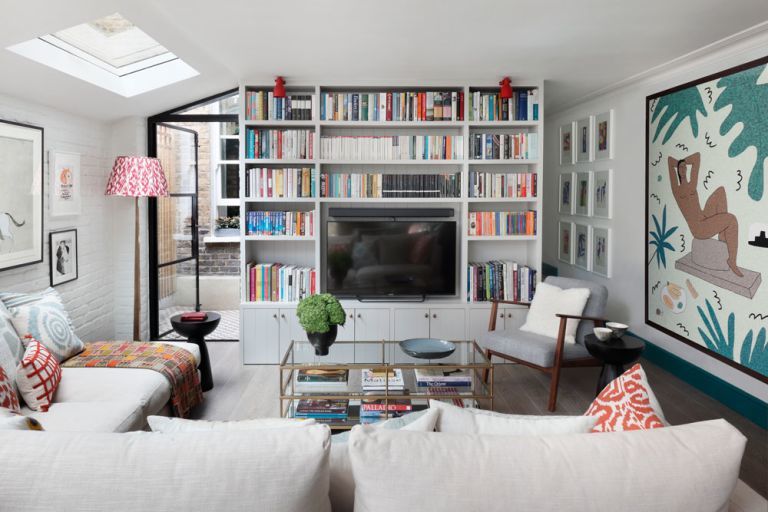 And if you don't have alcoves, go bespoke and create a storage unit that will house your TV but also your entire book collection. By surrounding the TV with color it is a focal point of the room but instead of seeing just the TV, you focus on the stylish shelving that surrounds it.


10. Hide a TV in plain sight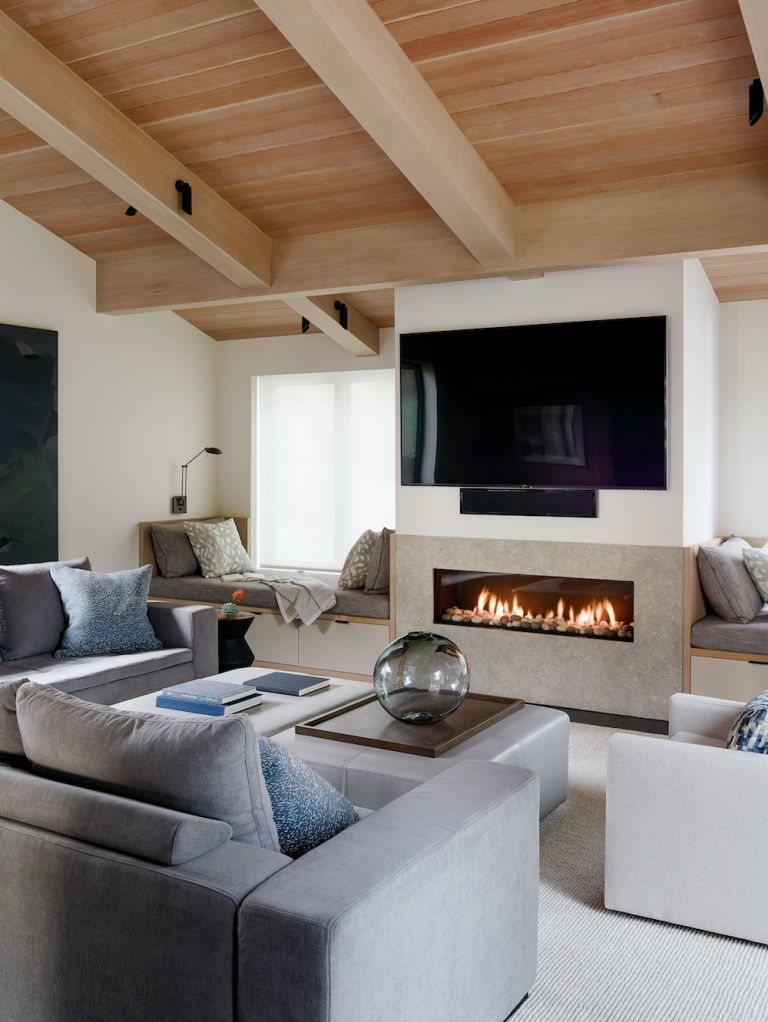 Sometimes the best way to hide a TV is in plain sight. Above a fireplace is always the obvious place to position a TV but sometimes it can be such an eyesore, floating in the middle of the center wall. However, if you get the size right it can work.

See how in this living room the large TV lines up perfectly with the wall on which it's mounted, so there's no sea of white space surrounding it. It also almost sits flush with the wall so doesn't protrude into the room. The fact the whole room is very symmetrical makes the TV feel like a key part of the layout, bringing the space together just as a piece of artwork would do. Plus the fireplace below fills that dead space, again making the TV feel like more of a natural fit.


How can you make a TV look good in a living room?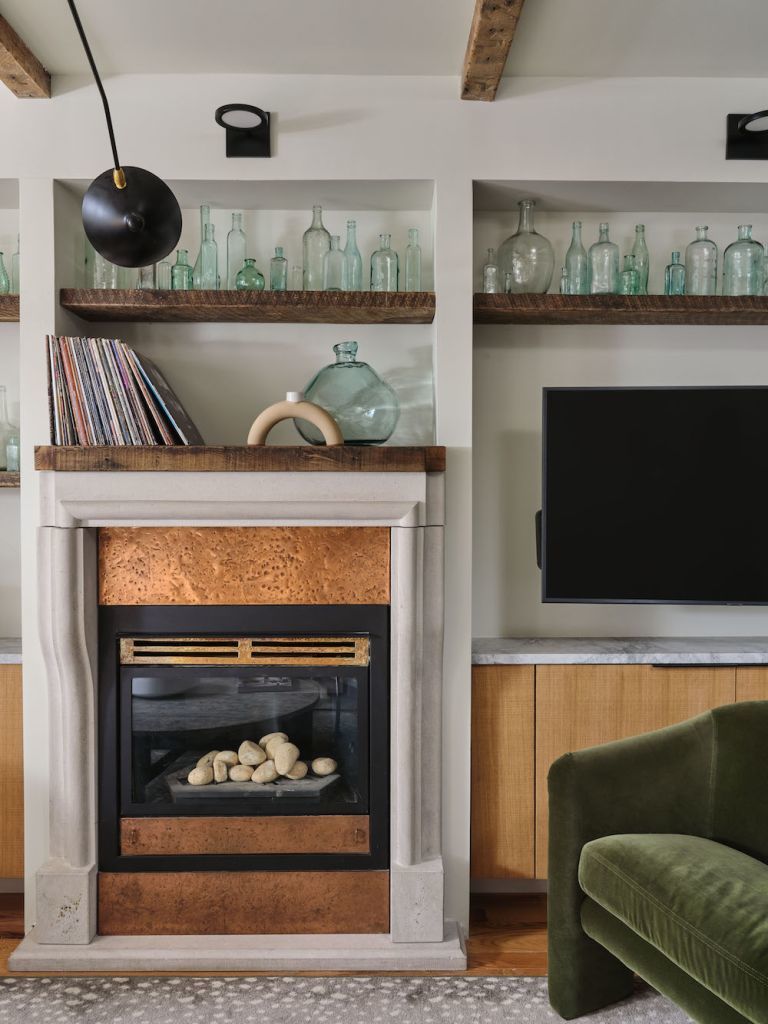 The best way to make a TV look good in a living room is to first pick the right TV. Look out for models that have very slim frames, or in some cases no frame at all and you want to be able to wall mount so they can sit flush to the wall. The Samsung Frame and Samsung Serif are both great TVs that are also very aesthetically pleasing.

Then your first option to make a TV look good, is to hide it completely. Behind barn doors, artwork, a sliding panel, shutters, etc. If you don't mind the look of your TV, then just try and make it a bit less obvious, less of a focal point in the space. This could mean making it part of a gallery wall or blending it into a dark wall. You could also go for a built-in unit to house your TV and then you can add decor around it to distract from the big piece of tech sat in your living room.