Most people loo for small kitchen extension ideas because of a lack of space, or because it's dark or the existing kitchen is an awkward shape. Getting an architect and designer involved at an early stage is essential, before you go off on a tangent then realise you can't have all the things you wanted. An architect, designer or sometimes a clever builder can even create the best kitchen extensions, spaces you hadn't even thought about.Howard Miller, Architect and Owner of bespoke kitchen designers H. Miller Bros. says "Think of a kitchen extension as adding quality not quantity, by adding the things the existing room is missing - such as natural light, ceiling height, an interesting view, access to the garden etc. You can transform an existing room by adding just 3m2 if that space has a nice tall ceiling with a skylight, places to hang lighting or plants, a big picture window with a window seat or a beautiful view through a set of doors to the garden." Yanic Simard of Toronto Interior Design Group says "In a small extension/addition, rather than a typical cabinet-based island, try using a cart-style island with open sides. Island carts give a barely-there look that makes the kitchen appear more open while still giving useful storage you can access from all sides. If the island is moveable, it will also allow you to pull it up to the back counters or push it away when convenient, or even roll it over to another area of the home to serve as a buffet station or drink cart."

Yanic adds: "Upper kitchen cabinets typically start about 20 inches above the counter, but starting them a little higher (24 to 30 inches) can help you feel a lot less boxed in as you work at the counter below. If you're tall or don't mind using a step stool, the extra elbow room below and visual break can mean a world of difference."


1 Add Light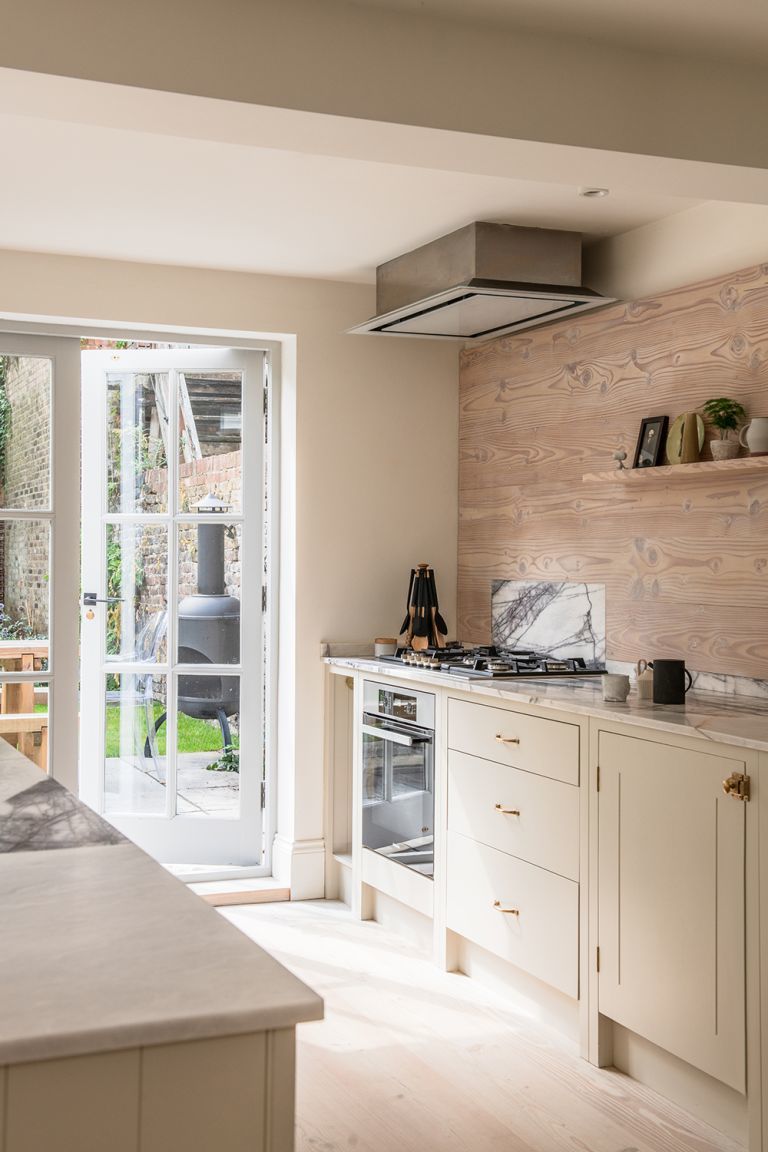 A galley kitchen is commonly extended as it's narrow and there is really only space for one person to work at a time. By extending this room and fitting glazed doors to the garden, it immediately feels lighter and less confined. Not having wall cabinets also helps the airier feel, along with a light colour scheme with cream for the cabinets and an interesting wood grain becoming a dynamic kitchen splashback idea.


2 Think Laterally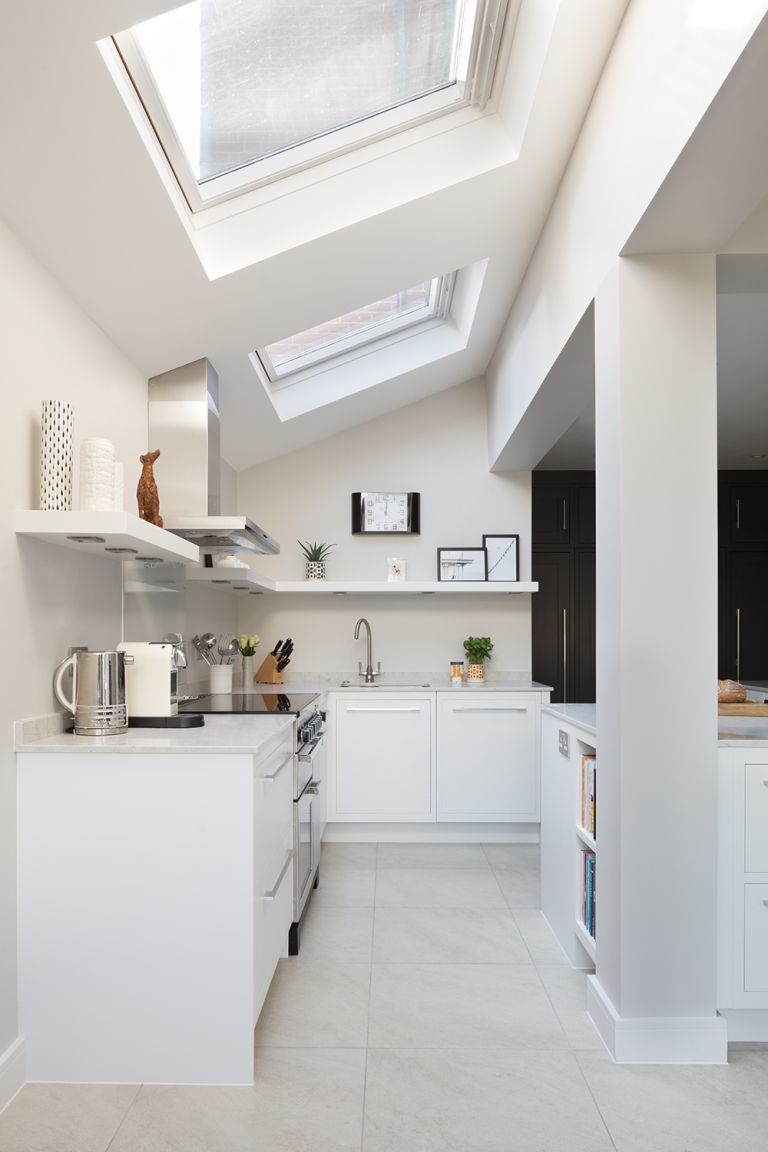 If you are short on space, utilise the side return, common in Victorian houses. It's not a huge space but look what can be fitted into it - an L-shaped cooking and preparation zone with roof lights to bring in added light. It makes a huge difference.


3 All The Angles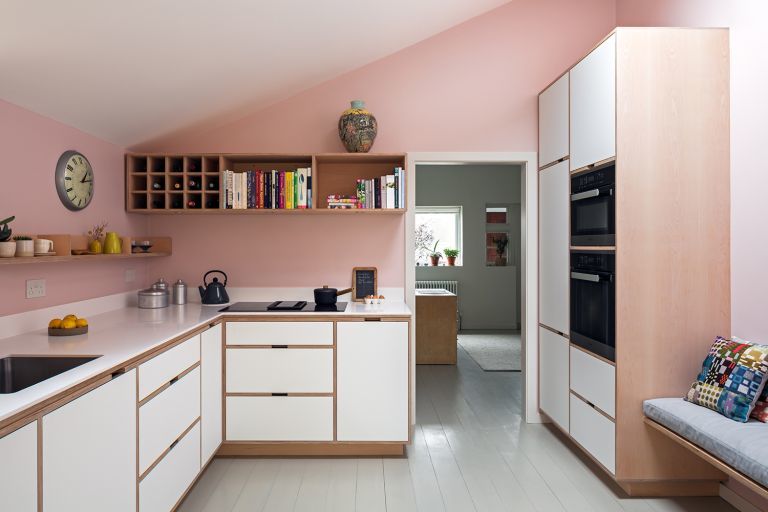 If there is a sloping ceiling, the best small kitchen extension ideas would make a feature of it. Place all of the tall cabinets on the right- hand side where there is the most height then place the sink and hob on the left in the lower section, a downdraft extractor is the best choice in a situation like this. Use visual tricks like a narrow shelf unit placed in the corner where the roof meets the wall and ties up to the door frame on the other side. Painting the wall a different colour accentuates the angle and makes it a design feature.

"Keep your materials to a minimum to make the room look larger and less cluttered - architects generally limit this to 3," says Andy Ramus of AR Design Studio. "Simplify things further by avoiding obstructive extractor fans, a flush ceiling extractor or downdraught keeps things out of sight. To bounce light around, use a reflective splashback or mirror."


4 Light From Above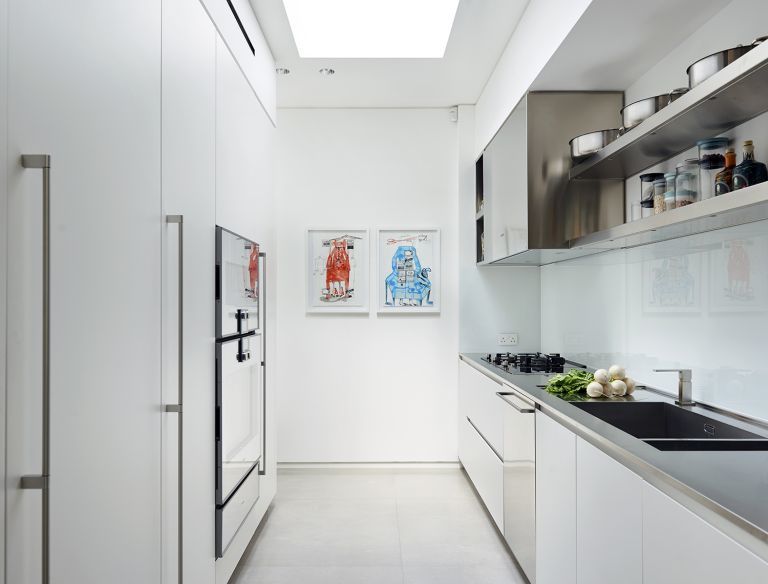 This 'back' kitchen is in an extension at the rear of a Victorian house. The main space is used for dining and entertaining then this fully functional family kitchen leads off. A big skylight was incorporated to bring light in and a large extraction system to vent out cooking smells.

Senior Interior Designer, Ashley Baker at Vesta Interior Design has shared her tips for small kitchen extensions ideas. "Add skylights where possible to bring light in, it'll give the illusion of a more spacious area," Ashley says. "Think about what configuration works best for your room layout. Don't try and squeeze in an island if it won't fit, work with the space you have." She has some suggestions for placement, too. "Always try and keep the fridge, oven, hob, and sink no more than a few steps away from each other; it's better for functionality," Ashley says. "Plan your lighting carefully. Utilise spotlights, wall lights and pendant lights that work independently so you can create different moods, for example add spotlights in the kitchen but use pendant lighting above the dining area."


5 Keep it light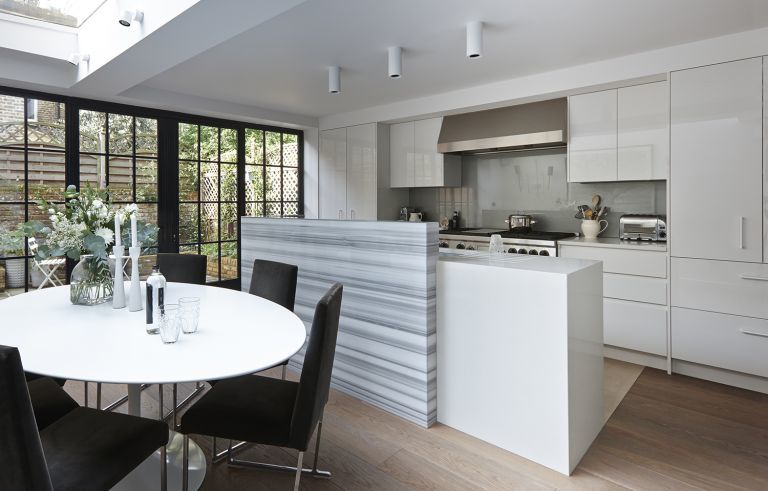 This stylish fascia/upstand made from Marmara marble creates a high impact design statement and is one of the best small kitchen extension ideas because it separates the kitchen from the dining space, but whoever is cooking still feels part of the action. Crittall style doors bring much needed light in and a large skylight does too. Keeping to a white colour scheme keeps everything bright.


6 Old Meets New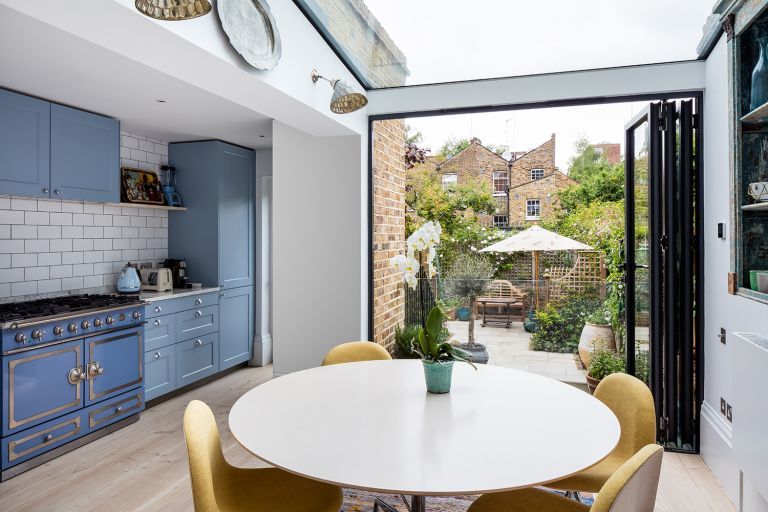 Although this home is in a conservation area and is Grade II listed, architect and designer Gemma McCloskey of Studio Indigo wanted to maximise the use of space, and obtained permission to open up and extend a hallway at the back creating a new kitchen with a glazed wall and roof. The glass allows the houses' original architectural style to still be a feature in the design.


7 Make the most of an L - SHAPE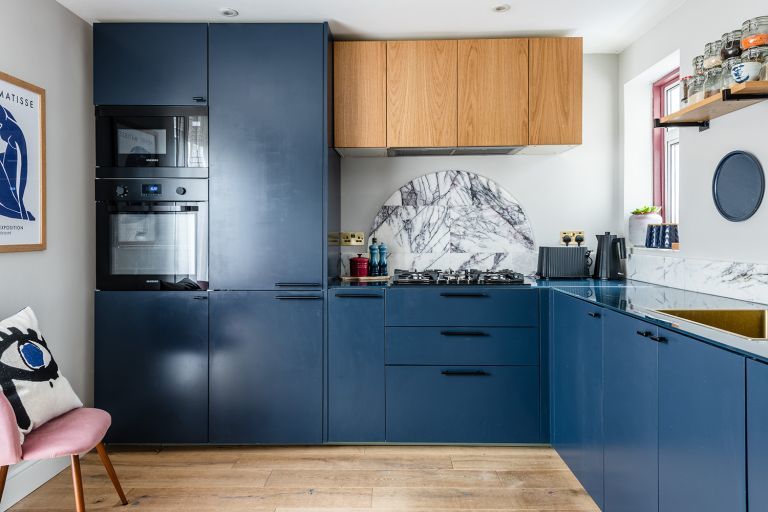 As far as smart small kitchen extension ideas go, this kitchen was re-configured into an L-shape as it was the only suitable layout to allow enough useable workspace whilst leaving room for a dining table. The narrow window is the only one in the room, so Barbara of Barbara Cortesi Interiors designed semi-circular marble splashbacks to add a stylish focal point and painted the cabinets in gloss paint so the available light bounces around.


8 TALL ORDER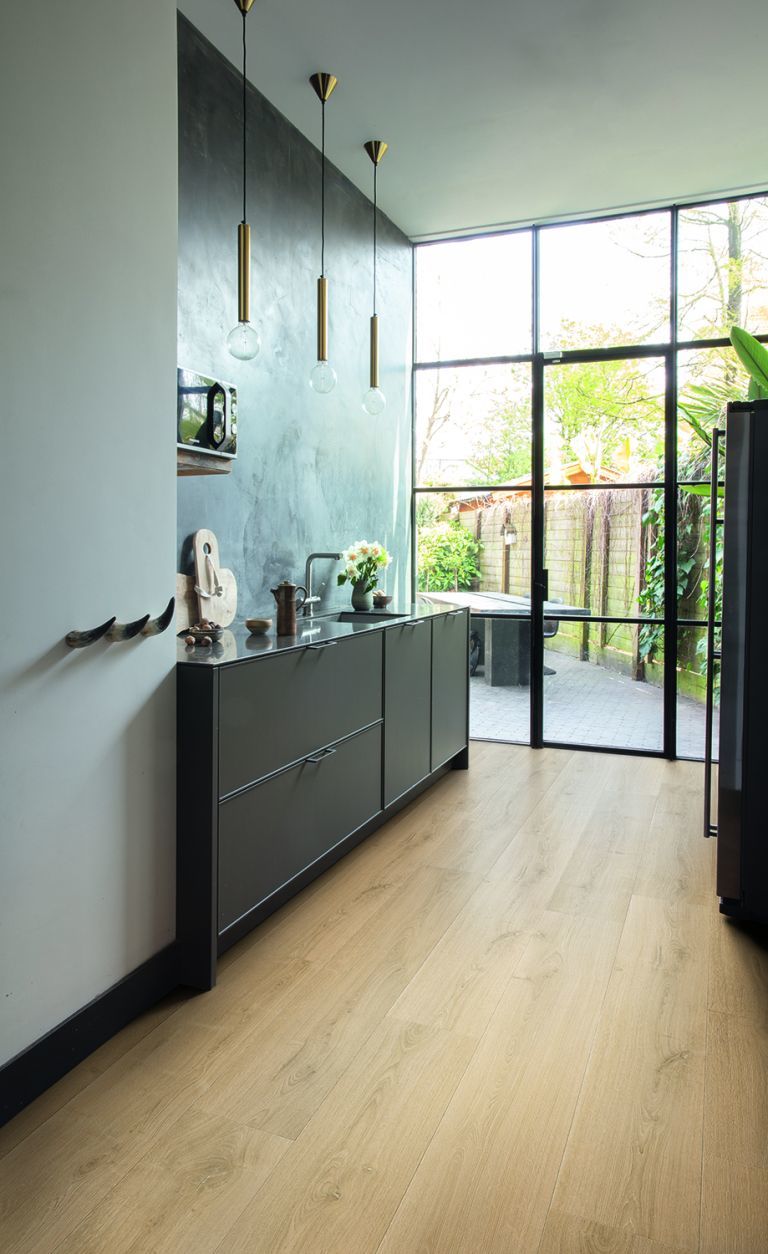 This narrow but tall extension lends itself to the kitchen being placed on just one wall. A microwave has been set on a high shelf so it doesn't take up valuable space on the work surface. There is storage, a sink and faucet and a large fridge freezer on the opposite wall. The tall Crittall-style doors allow in lots of light so it's possible to have a dark polished concrete wall, which sets off the elegant brass and glass pendants perfectly.

Rob Lessman, founder and head designer of interior content design agency, Design'd Living says "When it comes to small kitchen extensions, it's all about storage. When you're planning the space, you need to think about how your kitchen extension can maximise on storage, without being too overpowering." Rob also has some ideas for lighting. "Lighting is also really important," he says. "Make sure you consider placement of task lighting such as overhead spotlights where you will be cooking, mood-lighting such as dimmed LED strips on cupboards and secondary mood lighting such as pendants over a breakfast bar/dining table."

Lastly, he has invaluable advice for the palette. "Keep colour tones neutral as it makes the space look larger," Rob says. "And go for a glossy finish, as the reflection and shine will create more light."


9 VIEW THROUGH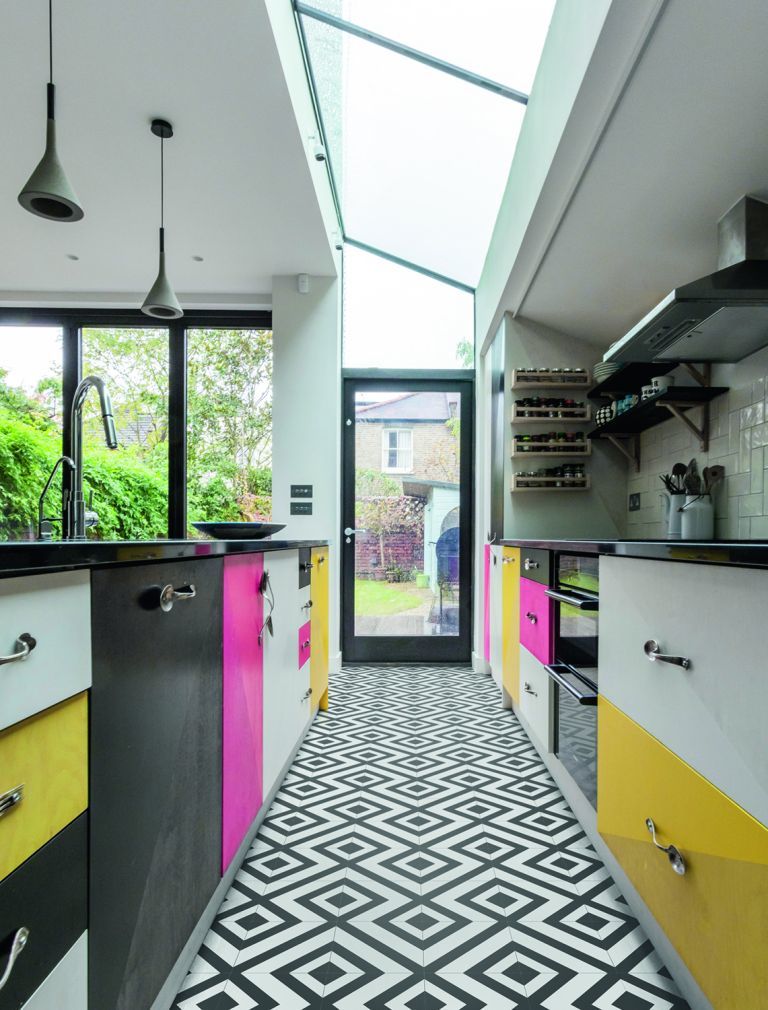 This colourful kitchen has been created in one side of a kitchen extension. A galley kitchen with a glass roof has a glazed door at the far end as a focal point. The bold geometric flooring seems to lead your eye to it. Check out the funky spoon door handles as well.


10 GO DOWN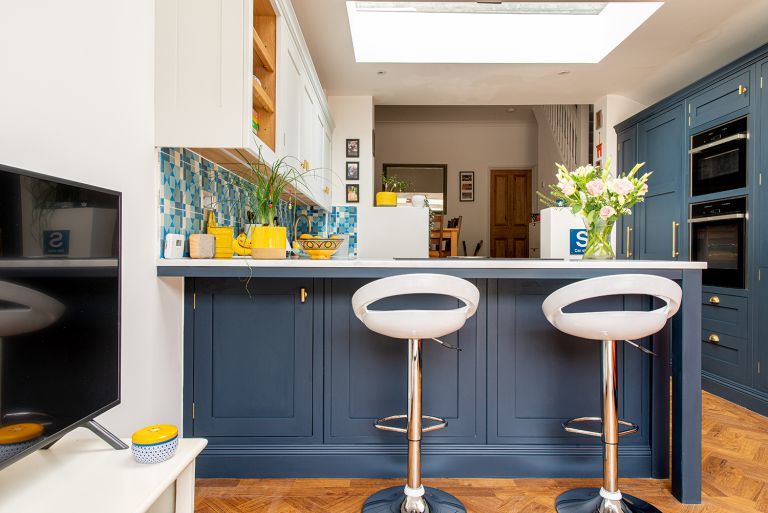 This basement conversion is one of the smartest small kitchen extension ideas because it wasn't without its problem. Obviously it was dark, so a large roof light was put in, and the floor was on different levels, there was also the staircase to take into consideration. But this clever design has made the most of the space available, with tall cabinets tucked under a recess on the left hand side with the main cooking zone on the left. It's compact but has everything you need including a breakfast bar. There is a half wall separating the dining area which is on a raised level.