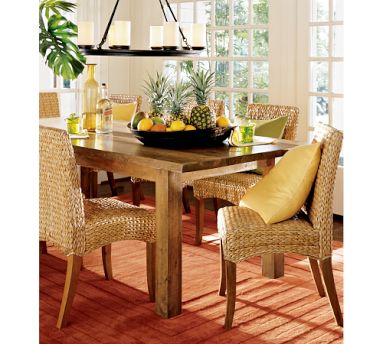 More Details

19" wide x 20" deep x 35" high
Features the subtle variations in tone and texture unique to natural plant fibers.
Beautifully built with handwoven natural fiber over a solid beech frame.
Features a comfortable, reinforced foam-padded seat.
Honey has honey-stained legs and is woven of seagrass.
Havana Dark has mahogany-stained legs and is woven of abaca.
Sealed with two coats of clear lacquer for moisture resistance.
Select items are Catalog / Internet only.
Features
Solidly constructed with a beech frame and handwoven natural fiber over a spring-reinforced seat and backrest.
Sealed with lacquer for a smooth, semi-gloss finish.
Details
Overall: 19" wide x 20" deep x 35" high
Seat height from floor: 17" high
Delivery Information
For standard delivery of items in stock, UPS will deliver as quickly as 5 business days. Items shipped to Alaska, Hawaii and US Territories will take longer, and are delivered by UPS or USPS at our regular fees, with an additional charge of $10. Some heavy or oversized items cannot be shipped outside the contiguous 48 states. For these addresses or APO or FPO addresses, call our Sales Department at 1.888.779.5176.
Standard Delivery and Processing Charges
Order Total:
Up to $15.00 = $4.95 charge
$15.01 to $25.00 = $6.00 charge
$25.01 to $45.00 = $8.00 charge
$45.01 to $65.00 = $11.00 charge
$65.01 to $90.00 = $14.00 charge
$90.01 to $125.00 = $17.00 charge
$125.01 to $200.00 = $21.00 charge
$200.01 & over = 10% charge
$3,000.01 & over = 5% charge
Add $4.25 for each gift wrap.
For rush delivery, add $15.00 per address
Return Policy
At Pottery Barn, we take great pride in the quality and craftsmanship of our products. Attention to design, materials, safety and construction is our priority. We carefully inspect your order prior to shipment. Upon receipt, please inspect your purchase and notify us of any damage; we will arrange for a prompt replacement. If, within 7 days for Quick Ship upholstery and 30 days for all other products, you are dissatisfied for any reason, you may return your purchase for a refund of the merchandise value.
We cannot accept returns on monogrammed, personalized, special-order items, or on items damaged through normal wear and tear. We also cannot accept returns of final-sale items which are identified by a price which ends in .99.
For returns of items purchased from your Pottery Barn registry, we will gladly provide a refund or exchange for the merchandise within 90 days of your event or within 90 days of purchase, whichever date is later.
You may return merchandise through the mail for a refund or replacement. For detailed procedures for returning items through the mail, please contact Customer Service at 1.888.779.5176, 7 days a week, 5:00am - 9:00pm (PT).