The Scandinavian aesthetic can be applied to many different spaces. Its love of simplicity, natural elements, and functionality is especially ideal for a living room. Take a glimpse inside some lovely, organized and comfortable living rooms that their inspiration from Scandinavian design and get inspiration for yourself.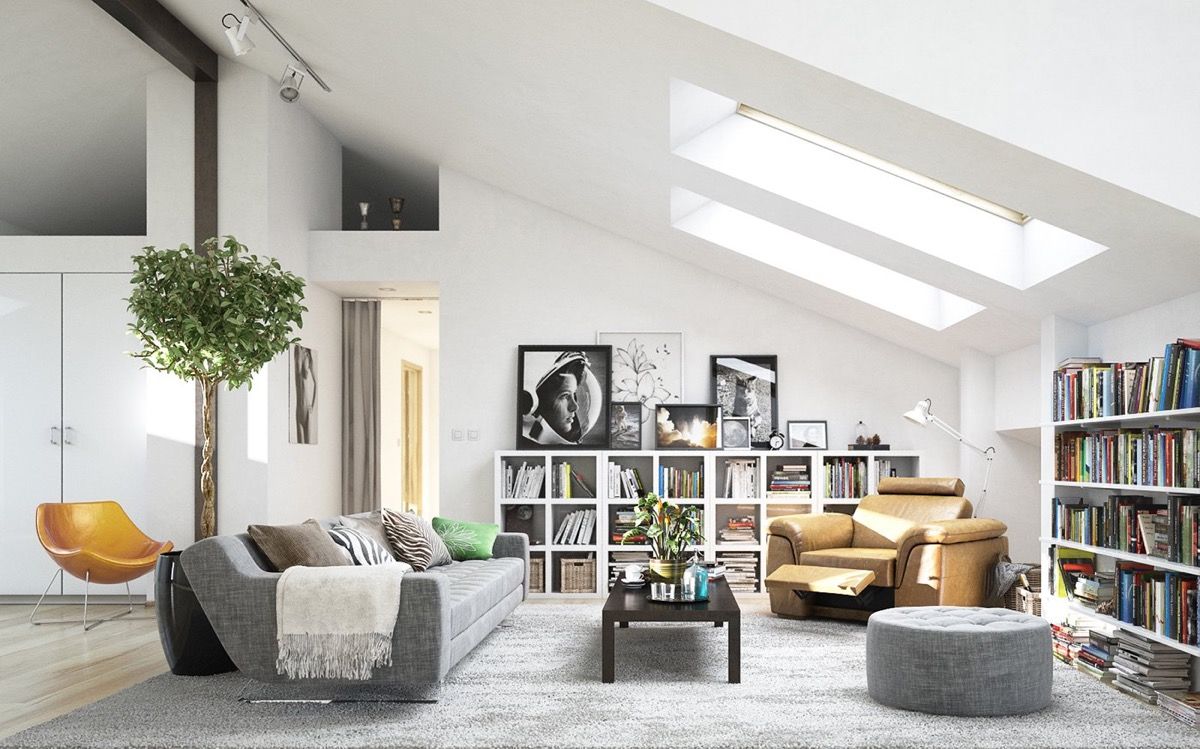 As sunlight streams in from overhead skylights, it illuminates the clean lines and carefully chosen furnishings in this lovely top level apartment.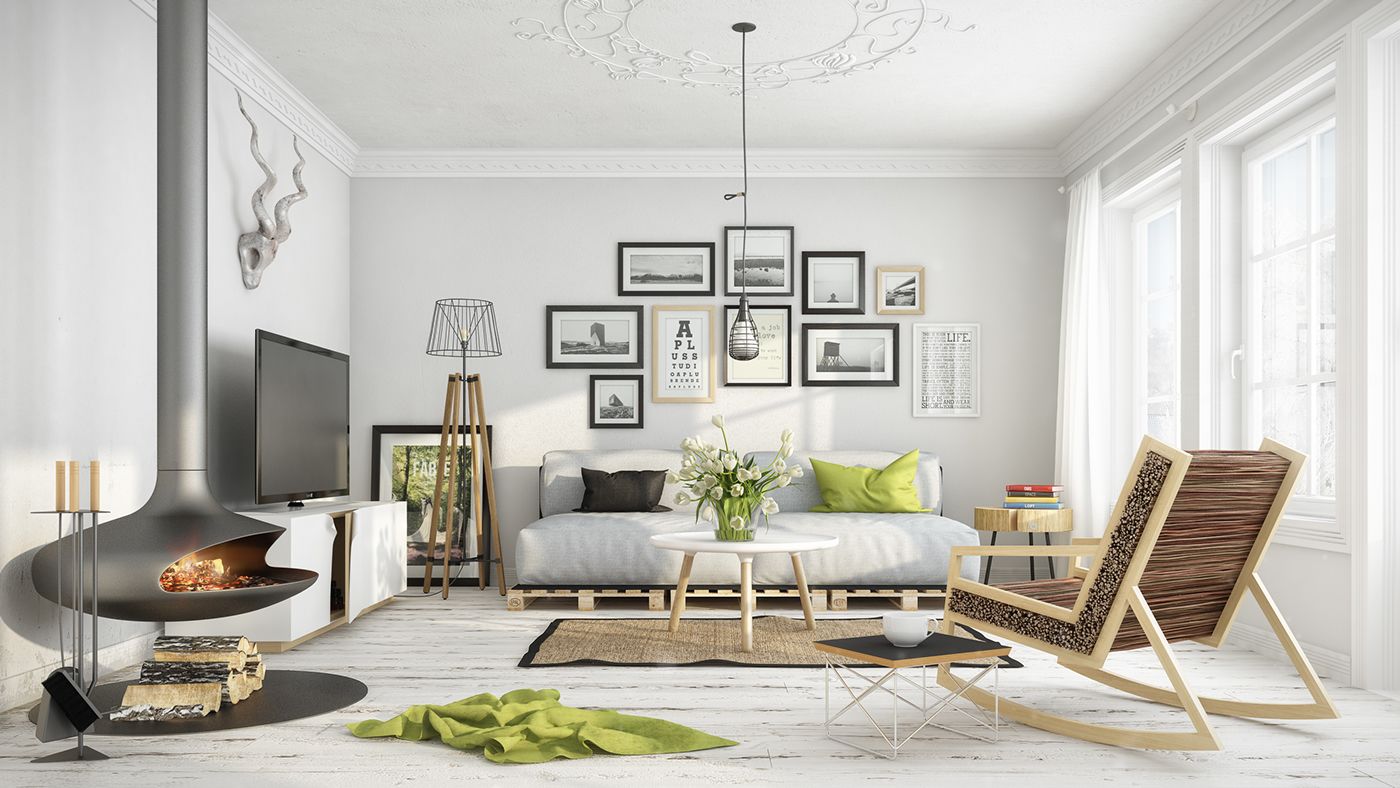 A gallery wall is a great way to add personality to an otherwise minimal design.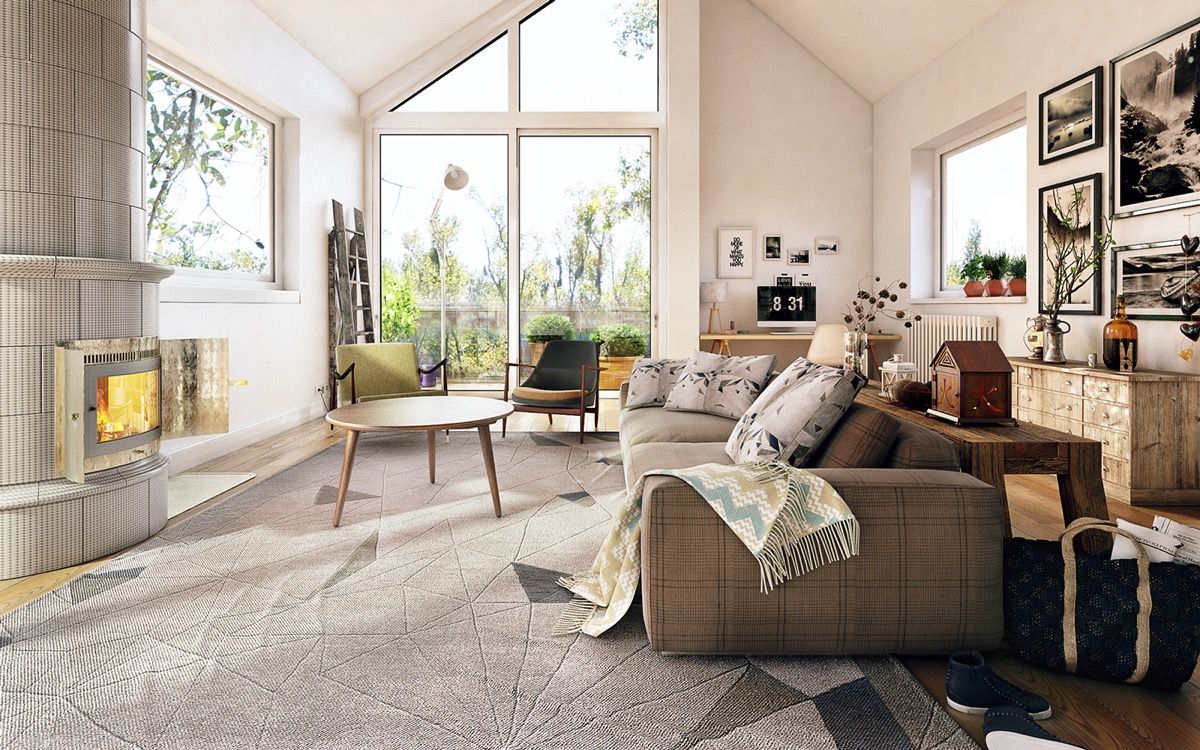 Mismatched patterns like plaid and chevron are not exactly a hallmark of Scandinavian design but the subtle colors here make them work together.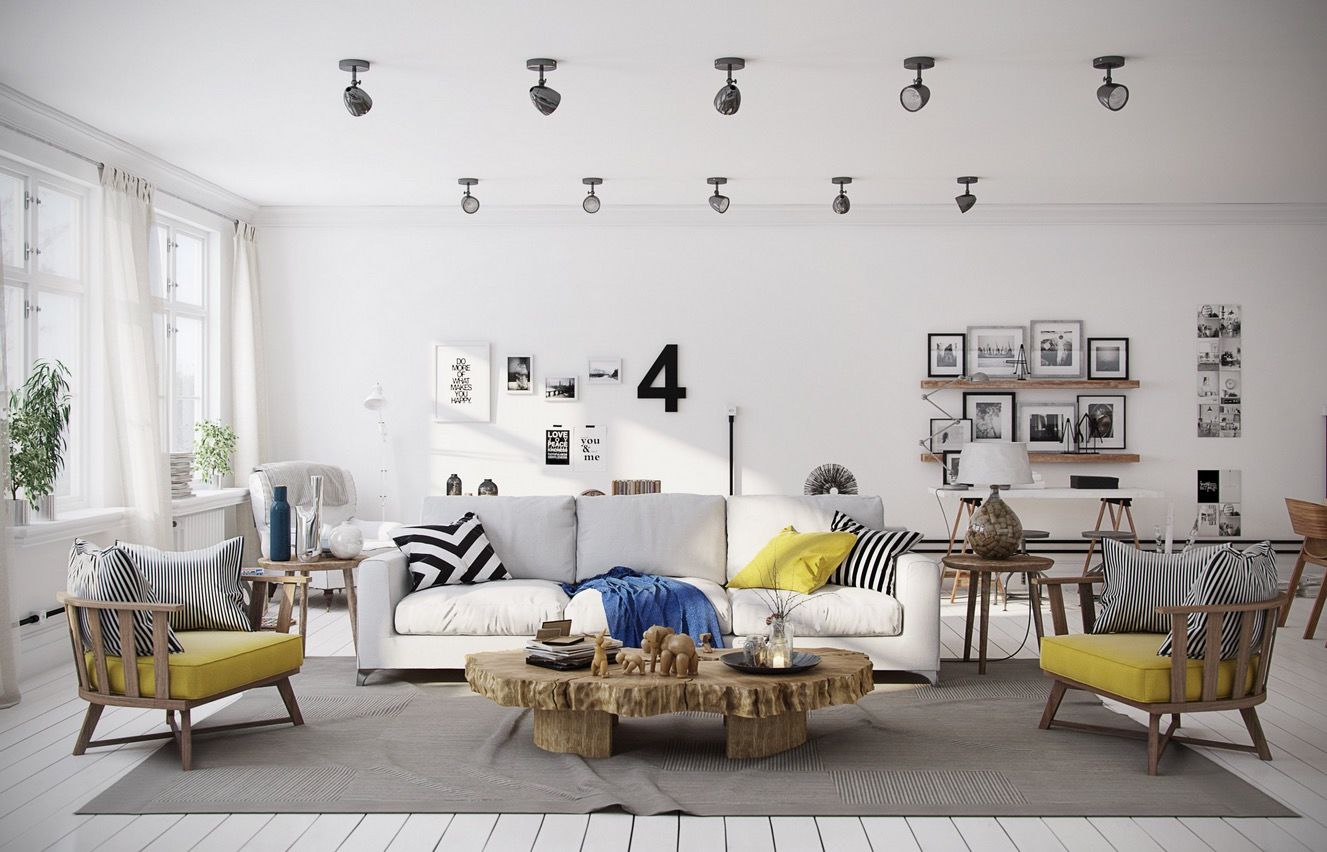 On the other hand, yellow accents against black and white, as we'll see, is quite common. The rustic and unique coffee table here is a nice touch.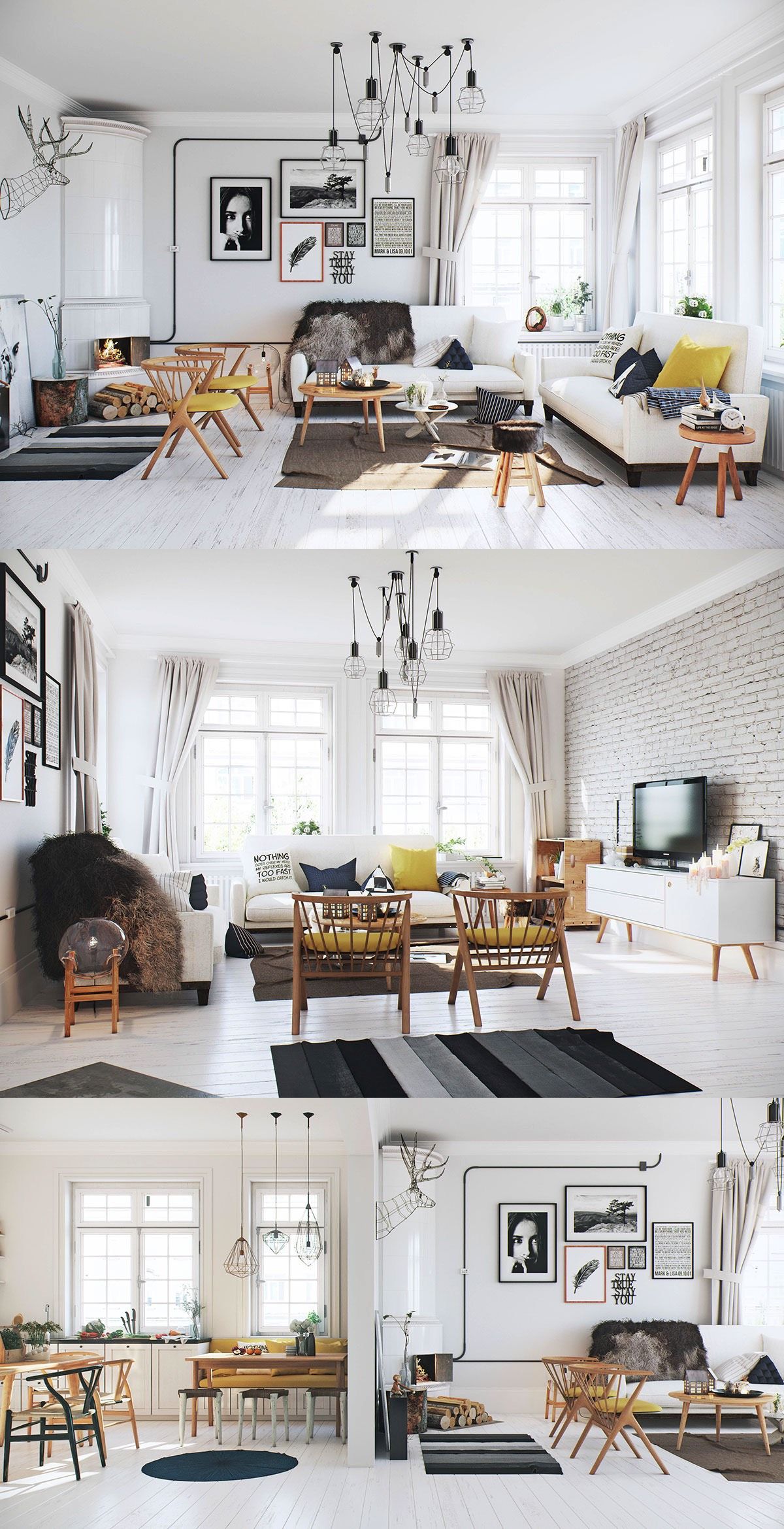 Dangling caged lightbulbs are a creative alternative to a chandelier or typical track lighting. Yellow bursts, like these accent chairs, can add more interest to an all white room.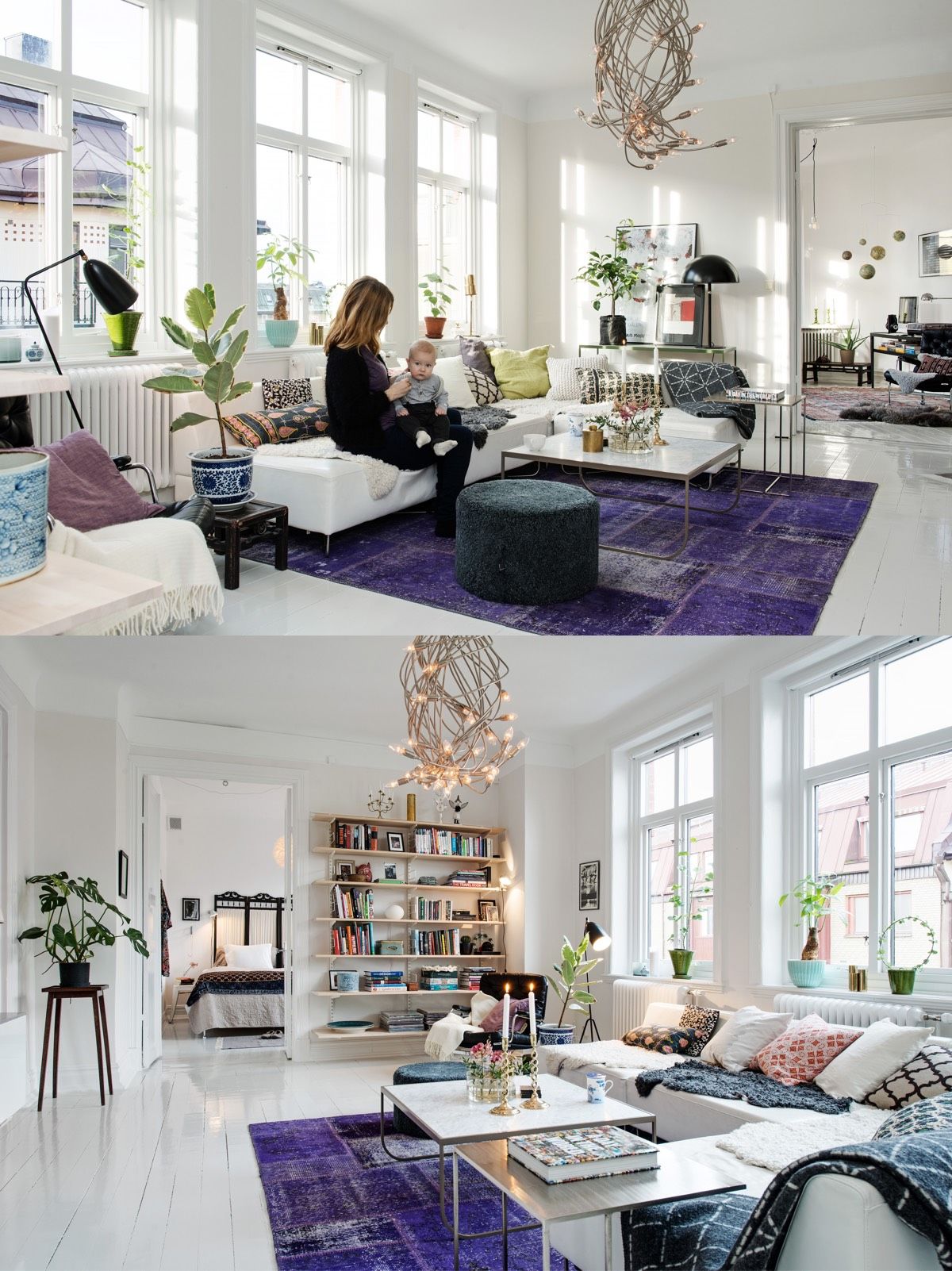 A lovely purple rug brings a pop of color and texture to this bright white living room.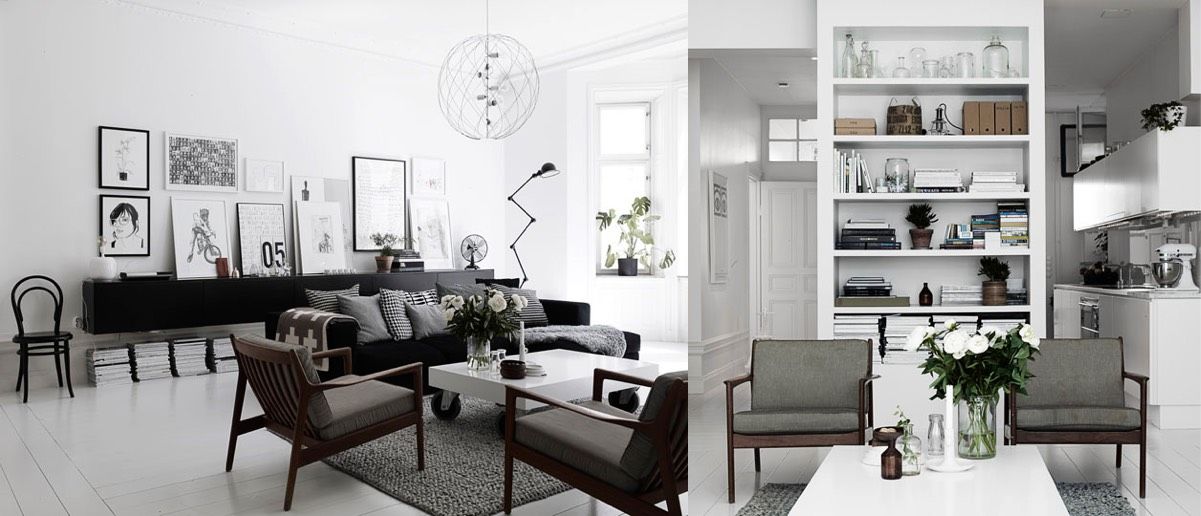 Black, white, gray, and natural wood give this living room a sophisticated air that could be straight out of another era.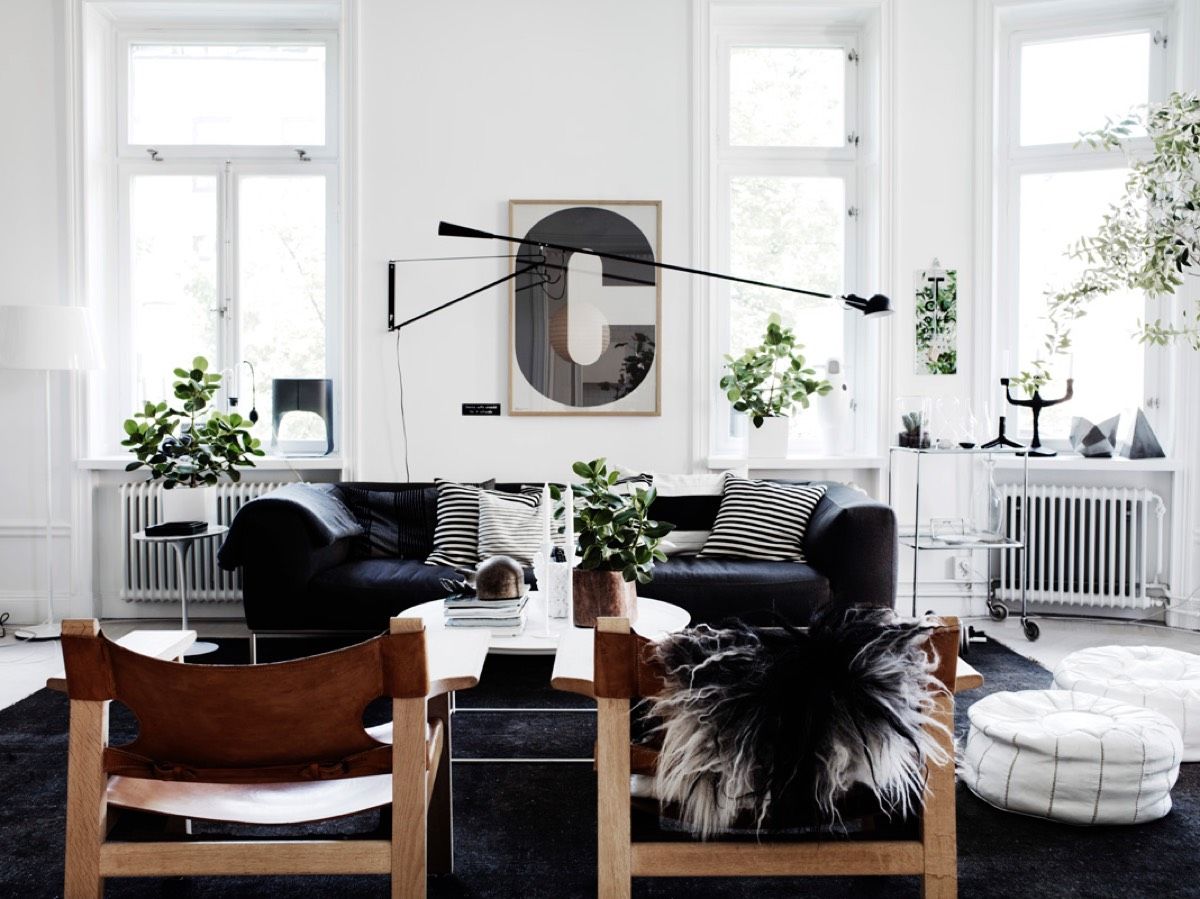 Wood and brick are quite common but luxe leather is another way to bring in the idea of natural materials and interesting textures. The indoor plants help bring in green as an accent. The imposing swing arm wall lampyou see here is the Flos Model 265.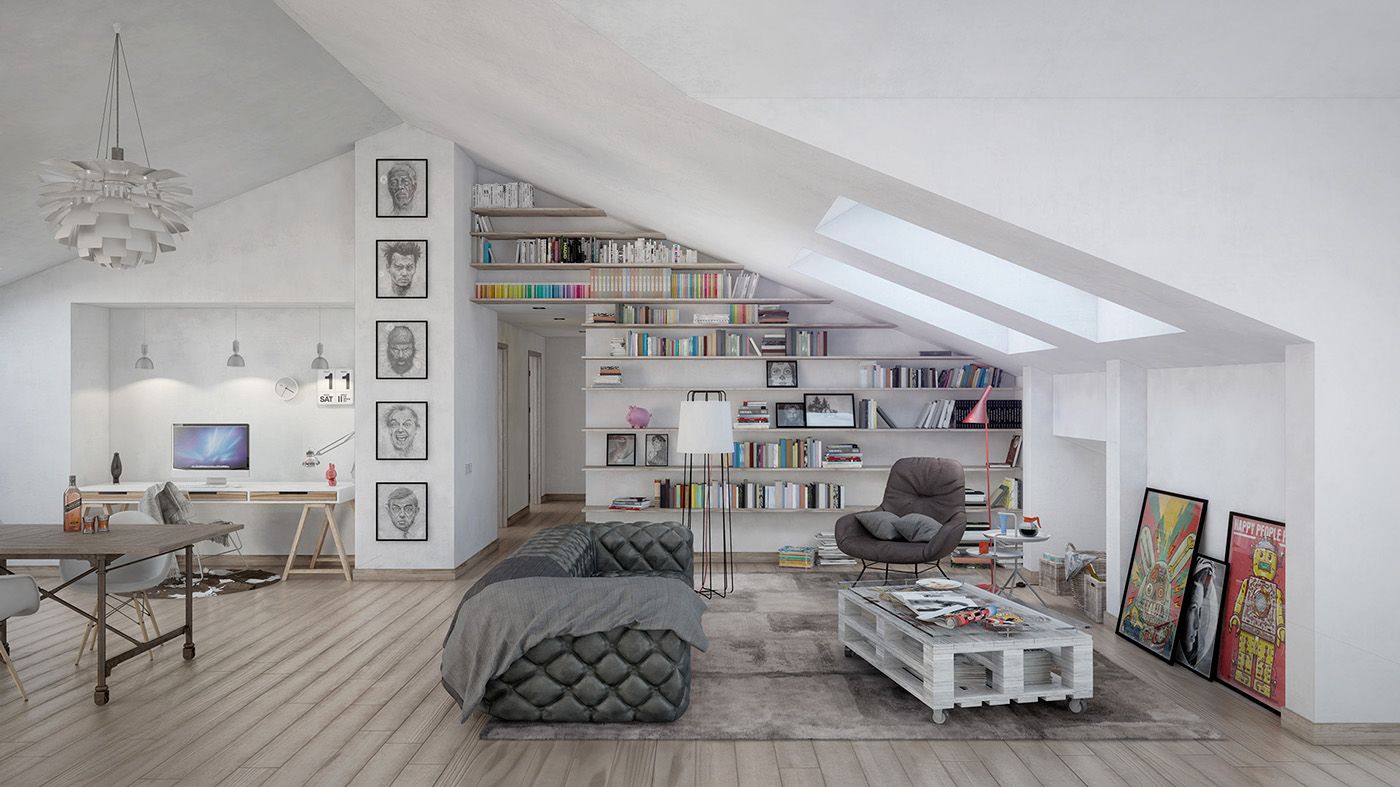 A tufted sofa with a smooth throw flips a traditional style on its head.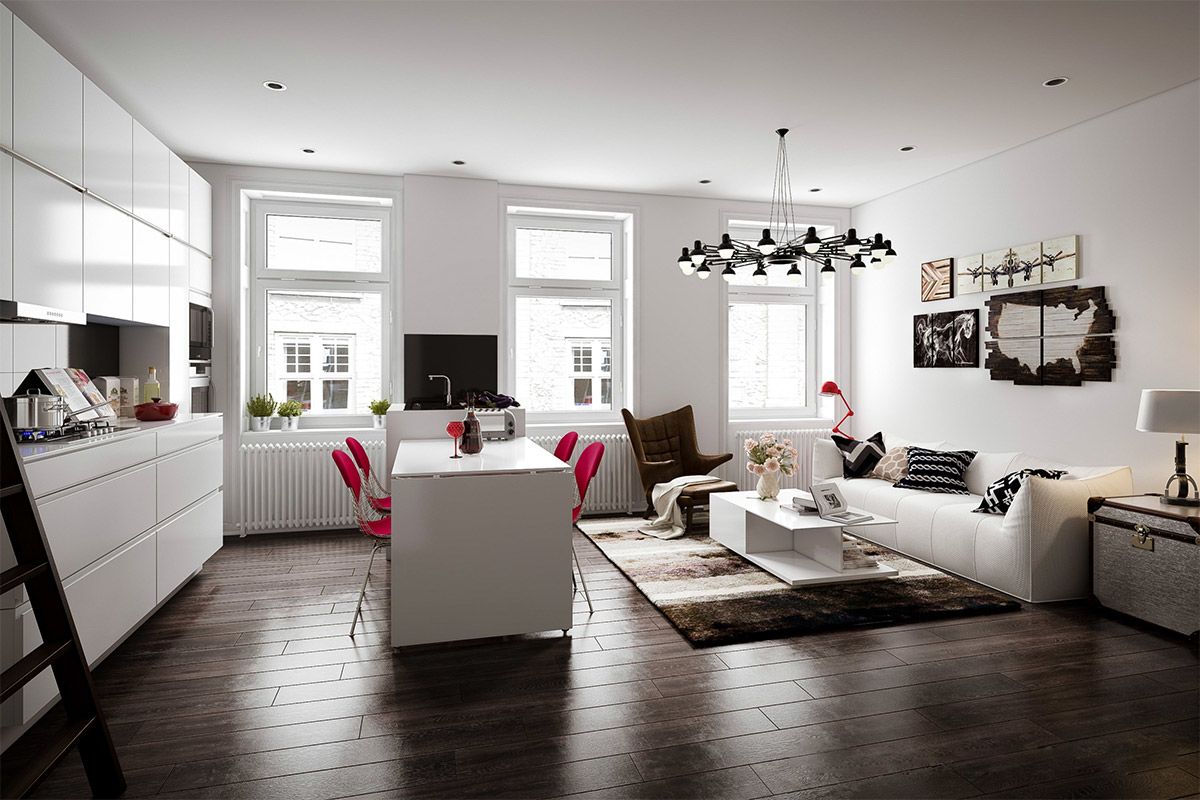 Scandinavian styling works particularly well with gorgeous wood flooring, whether new or vintage.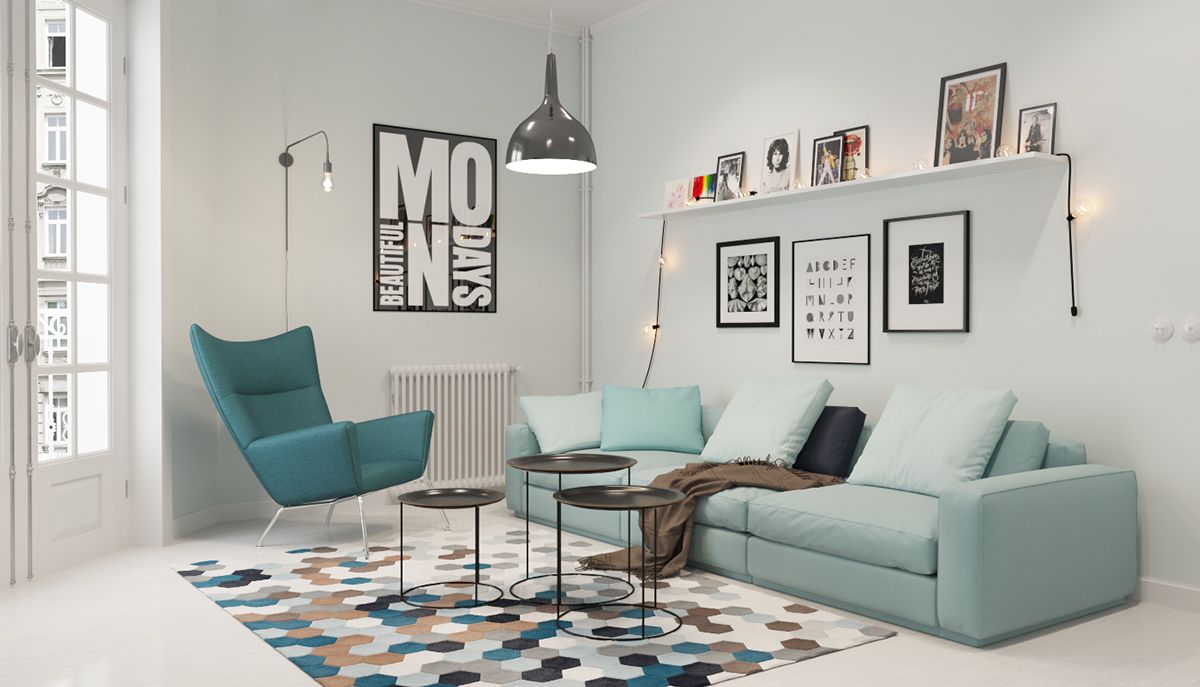 You don't need a ton of space to execute on these ideas. Complementary shades of teal(in the lounge chair & modern sofa) and ultra smooth lines are perfect here.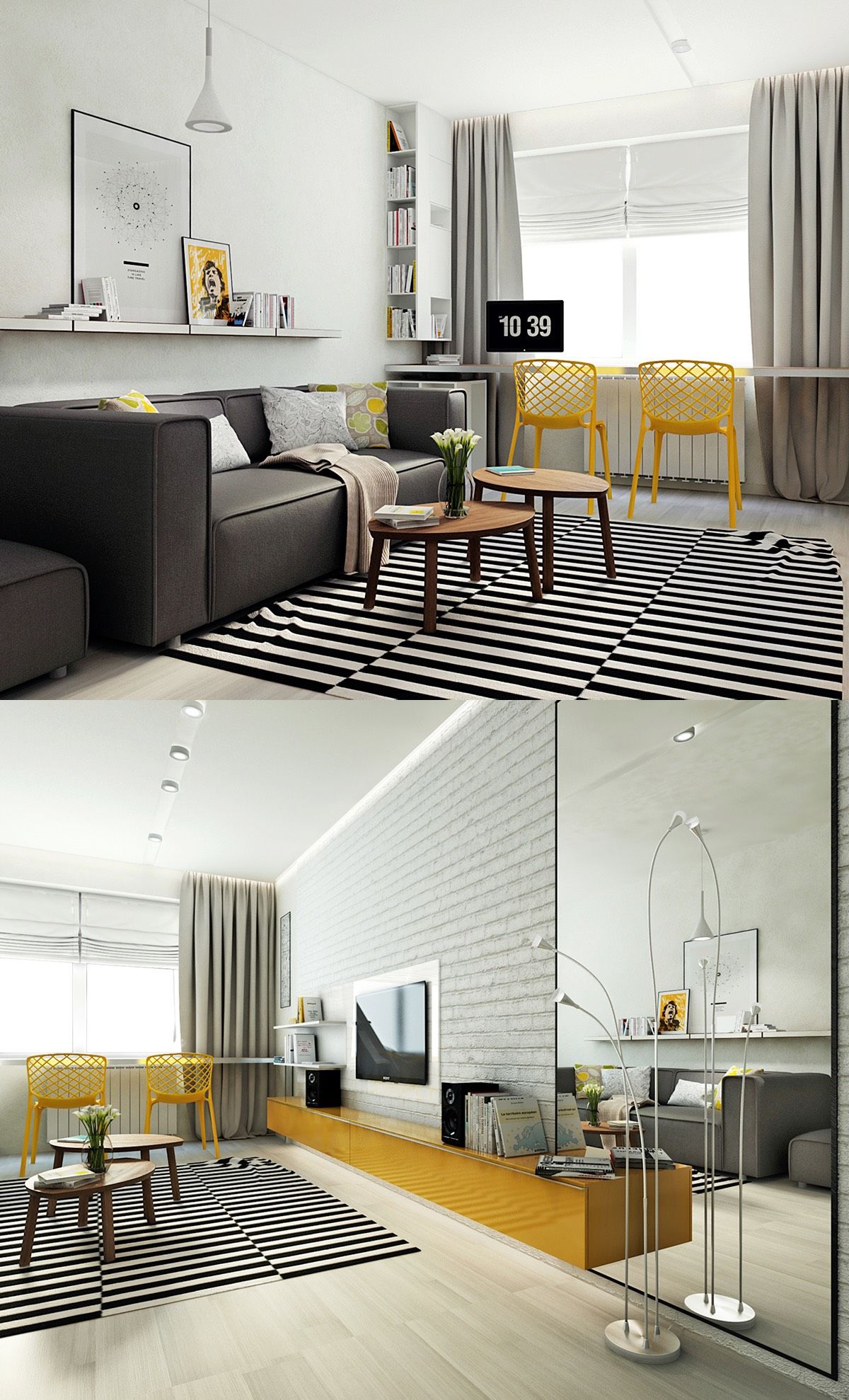 Here's another way to use that trendy bright yellow color, giving this living room a mod feel.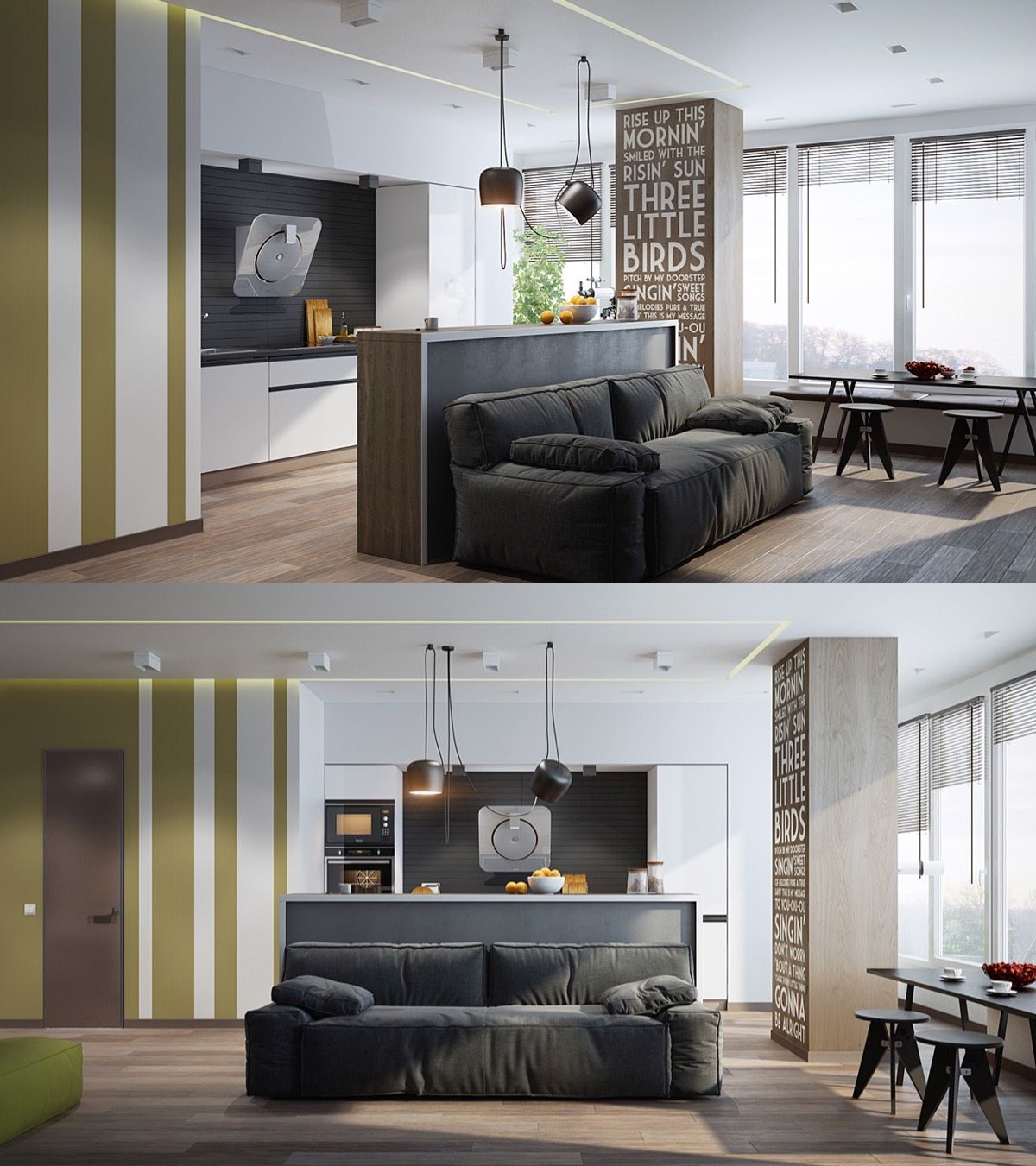 Use your sofa as a room divider in smaller, open space as seen here.
Light colored wood helps to open up a space on the floor as well as in furnishings like chairs and coffee tables.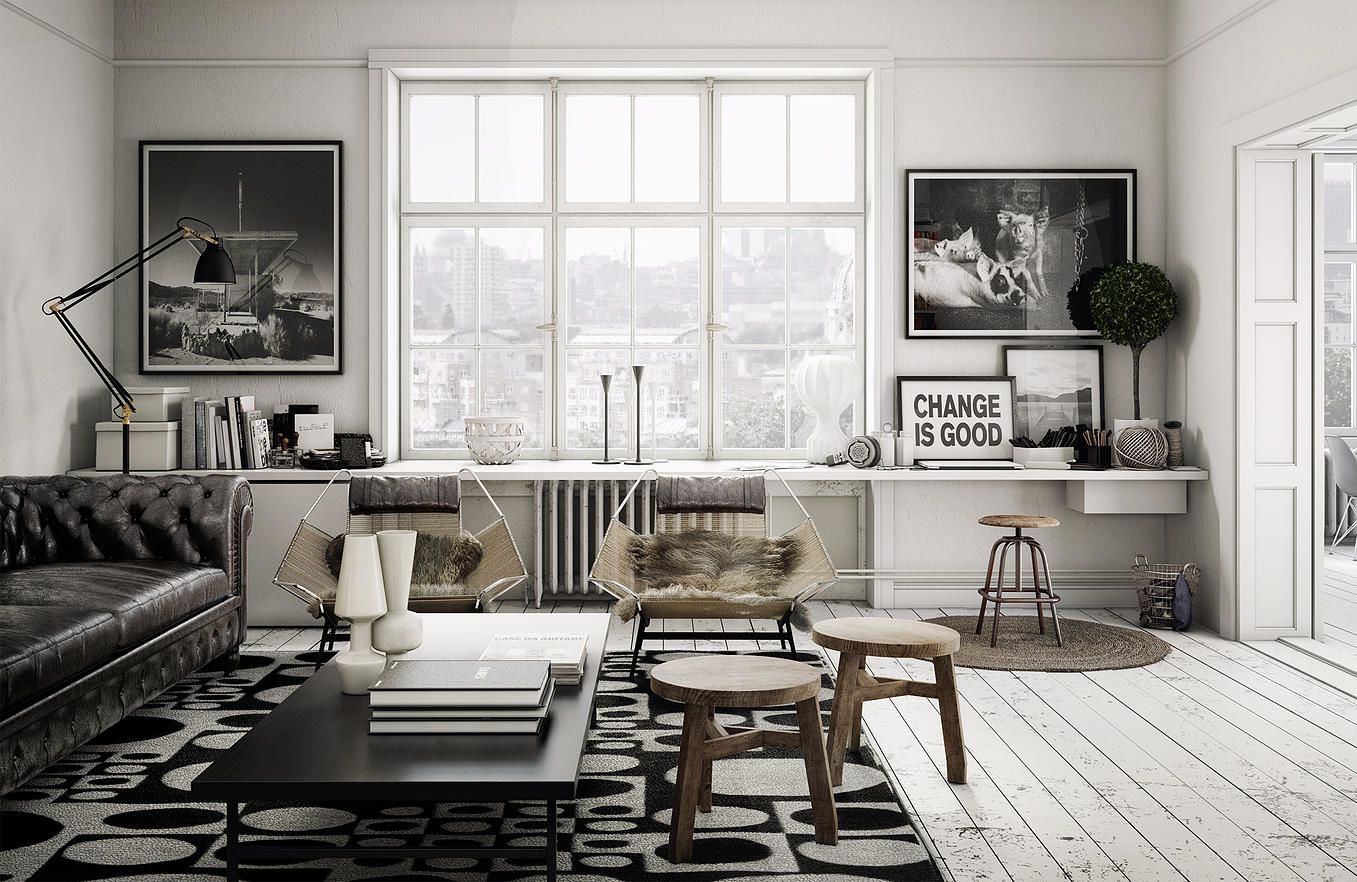 If you don't have gorgeous deep wood floors, consider painting them in whitewash for an artsy loft effect.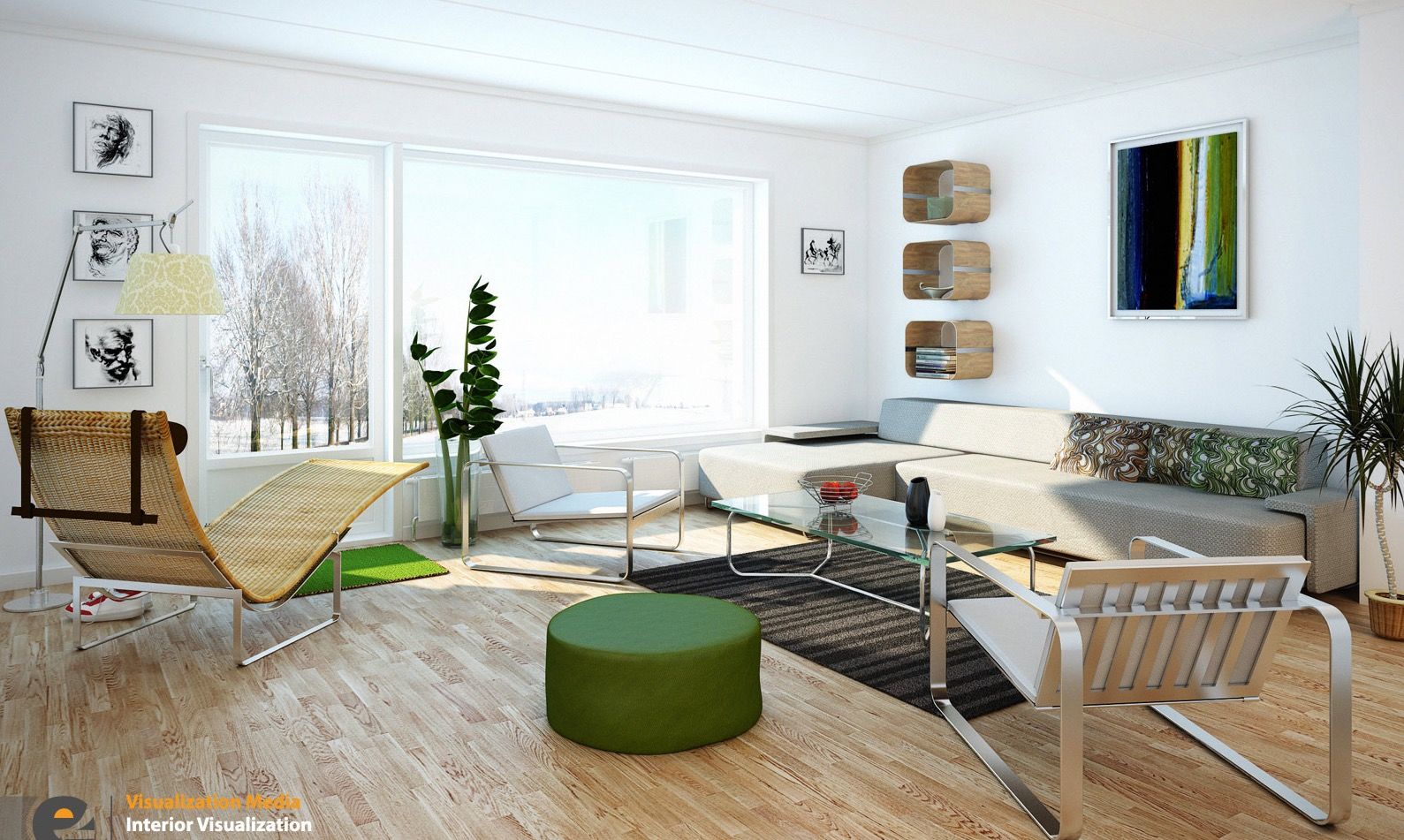 Indoor plants are one of the best ways to bring nature inside and warm up a space. Do check out our list of 32 Beautiful Indoor House Plants That Are Also Easy To Maintain if you would like to try it at your home.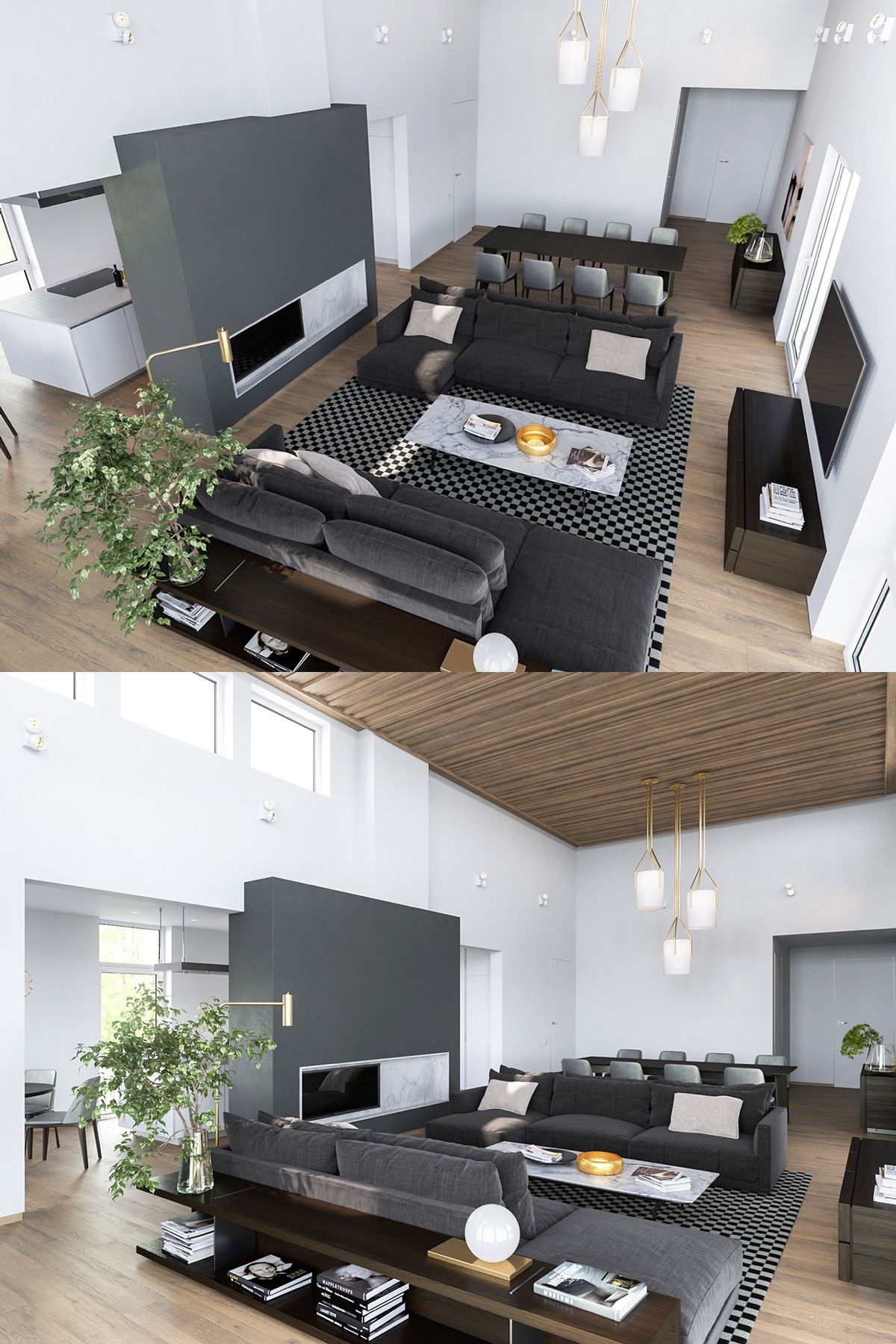 A bare wood ceiling gives this otherwise sleek living room a more rustic feel — not everything has to be exactly the same tone to work together.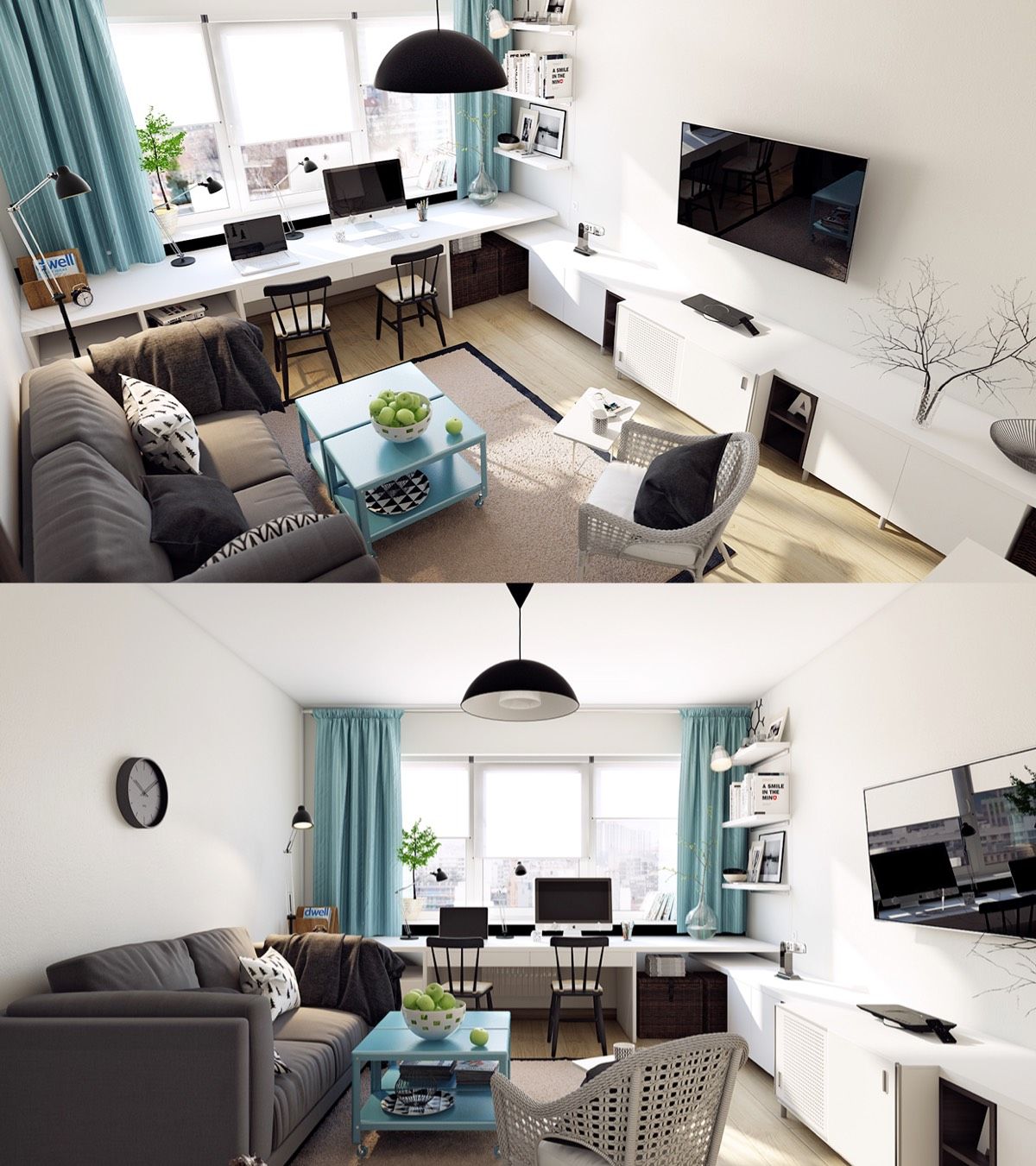 This small space doesn't have a lot of room to spare, but a few small pieces keep it cozy and comfortable.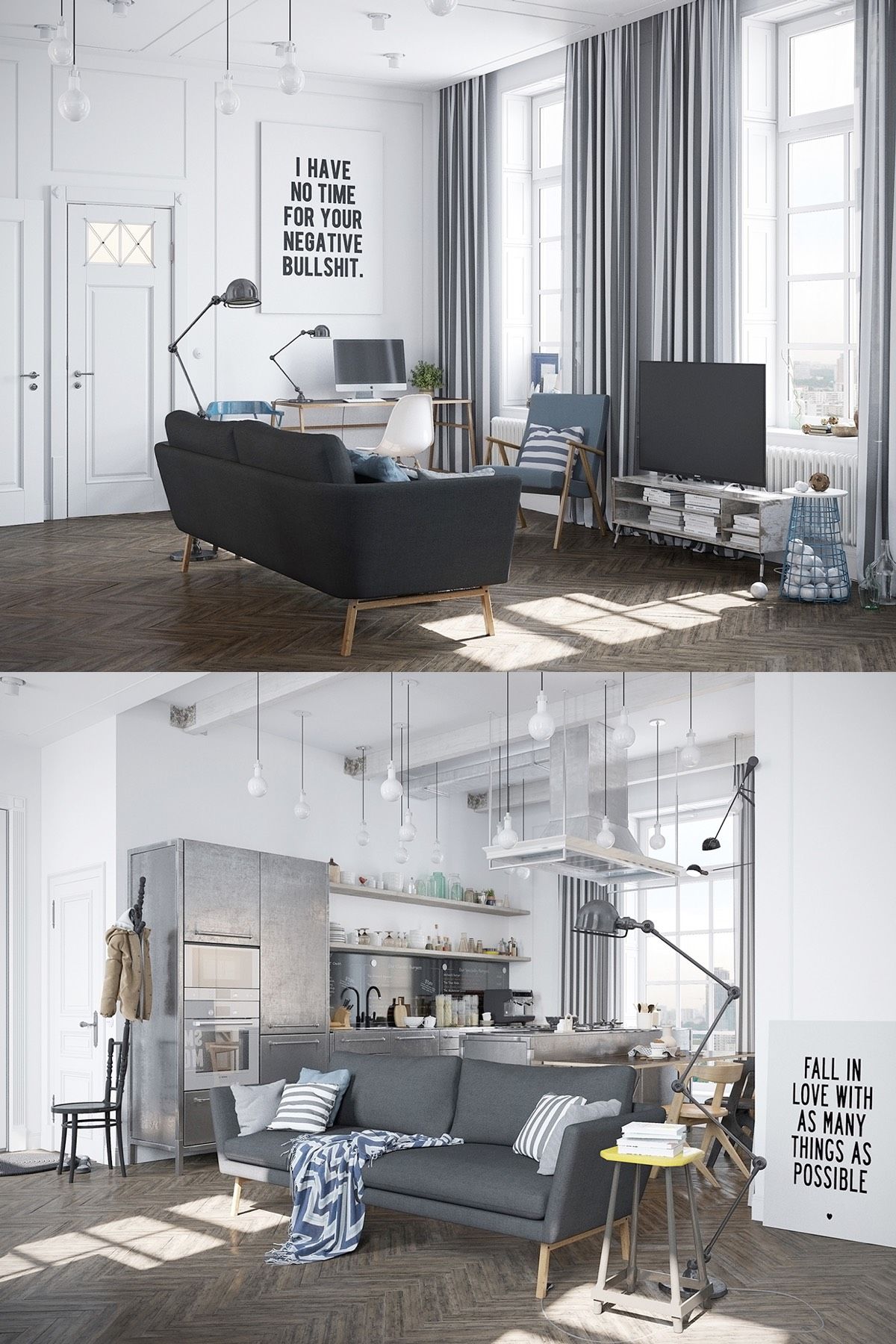 Chevron patterned flooring is one way to bring some creativity to hardwood. Motivational posters are yet another mood booster.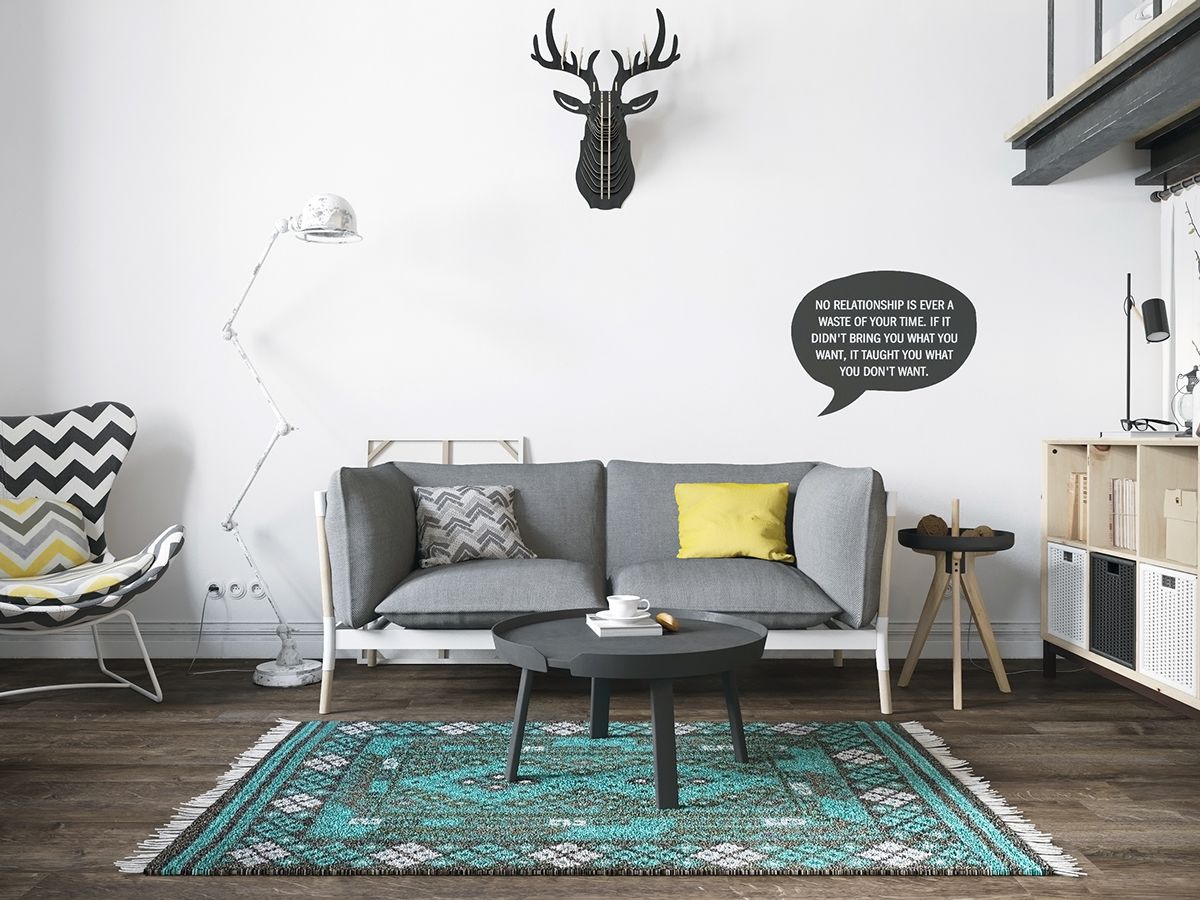 And don't think you can't experiment with color combinations if you're tending towards Scandinavian design. Black, white, yellow, and bright teal might be a surprising set but they work together here.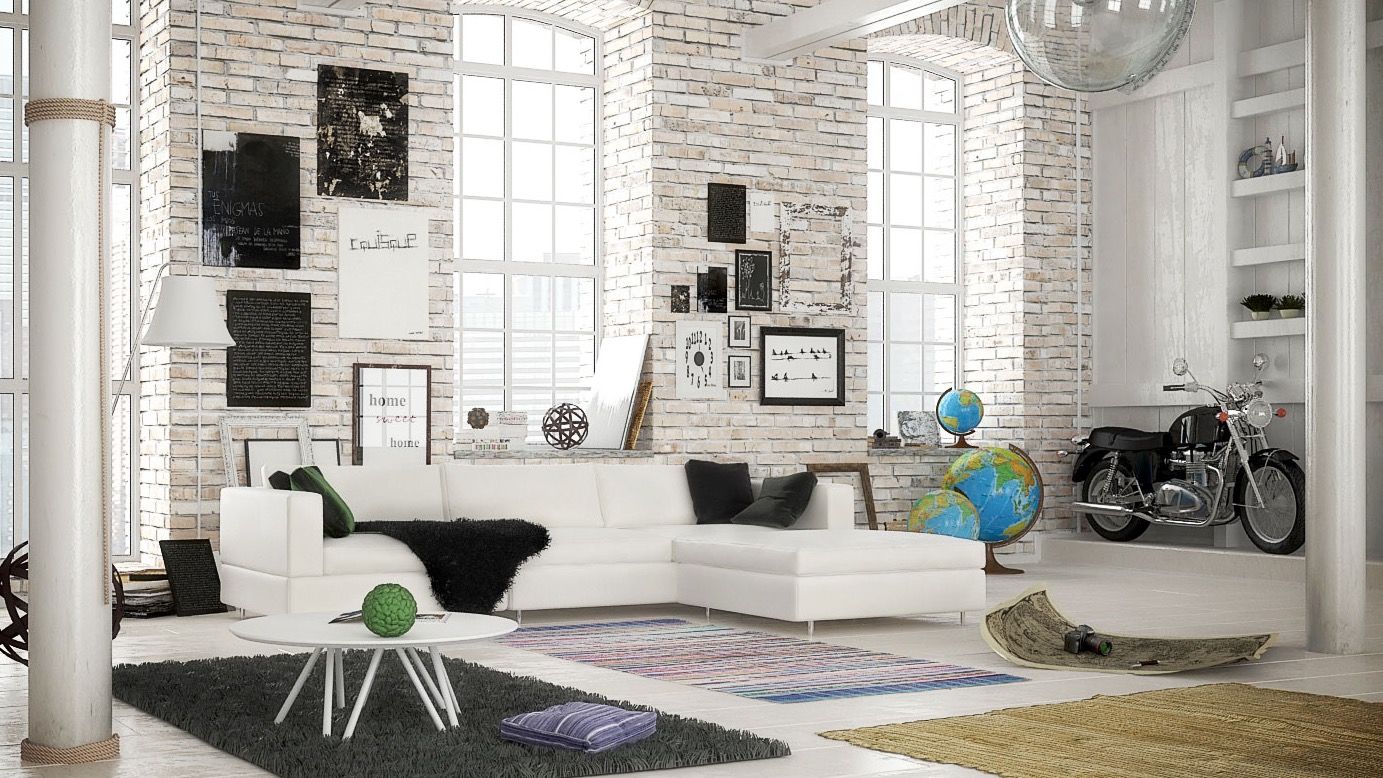 White painted brick gives this industrial loft a lot more warmth than a bare red option would.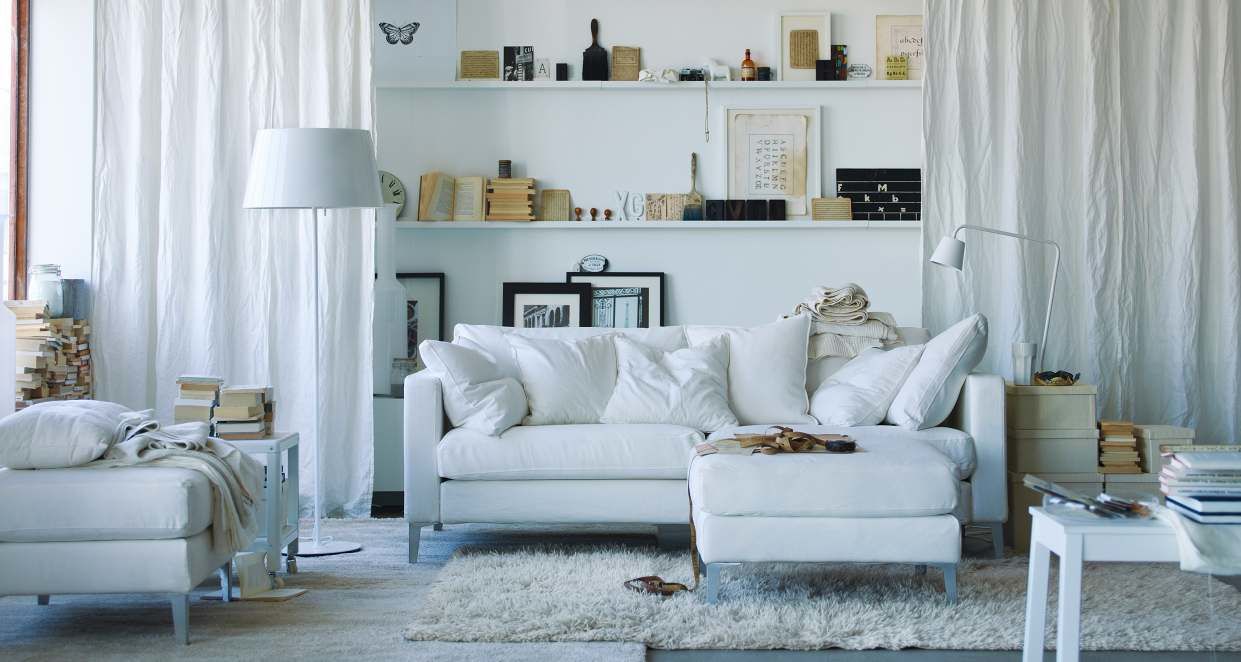 This white living room from IKEA might not be ideal for small children or Merlot, but it sure is gorgeous.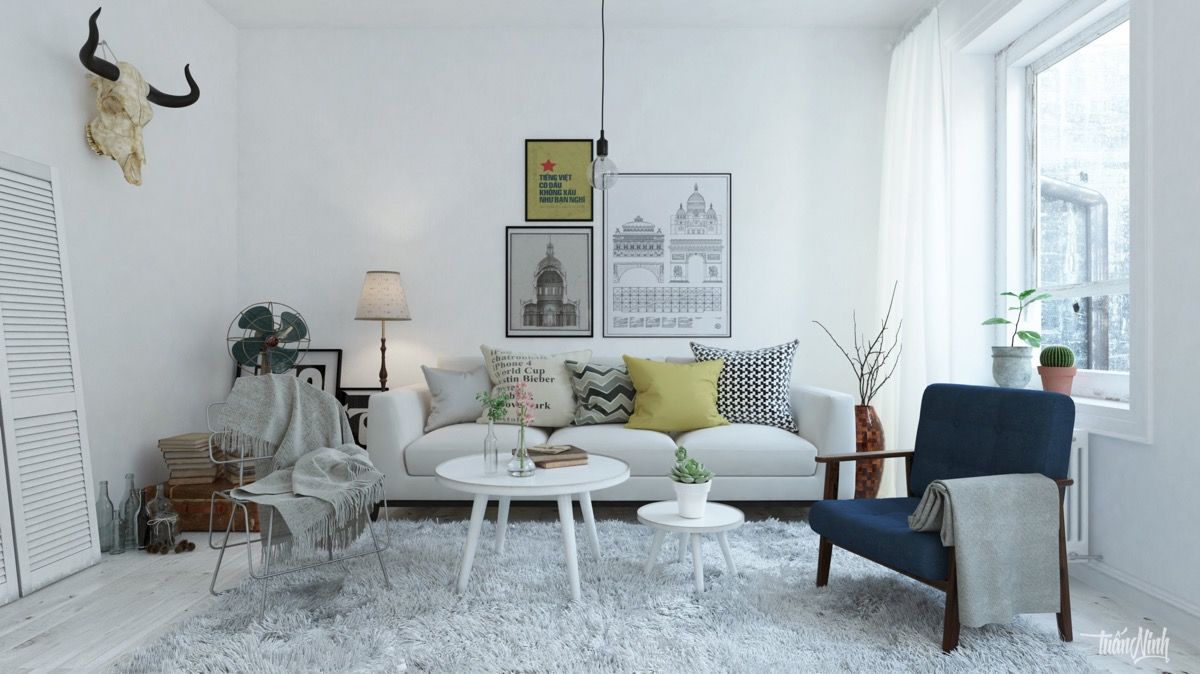 Scandinavian style can still be a bit eclectic when you add something like a real cow skull against a pristine white wall.
Storage is always an issue when it comes to minimalist. Long low shelving is particularly popular.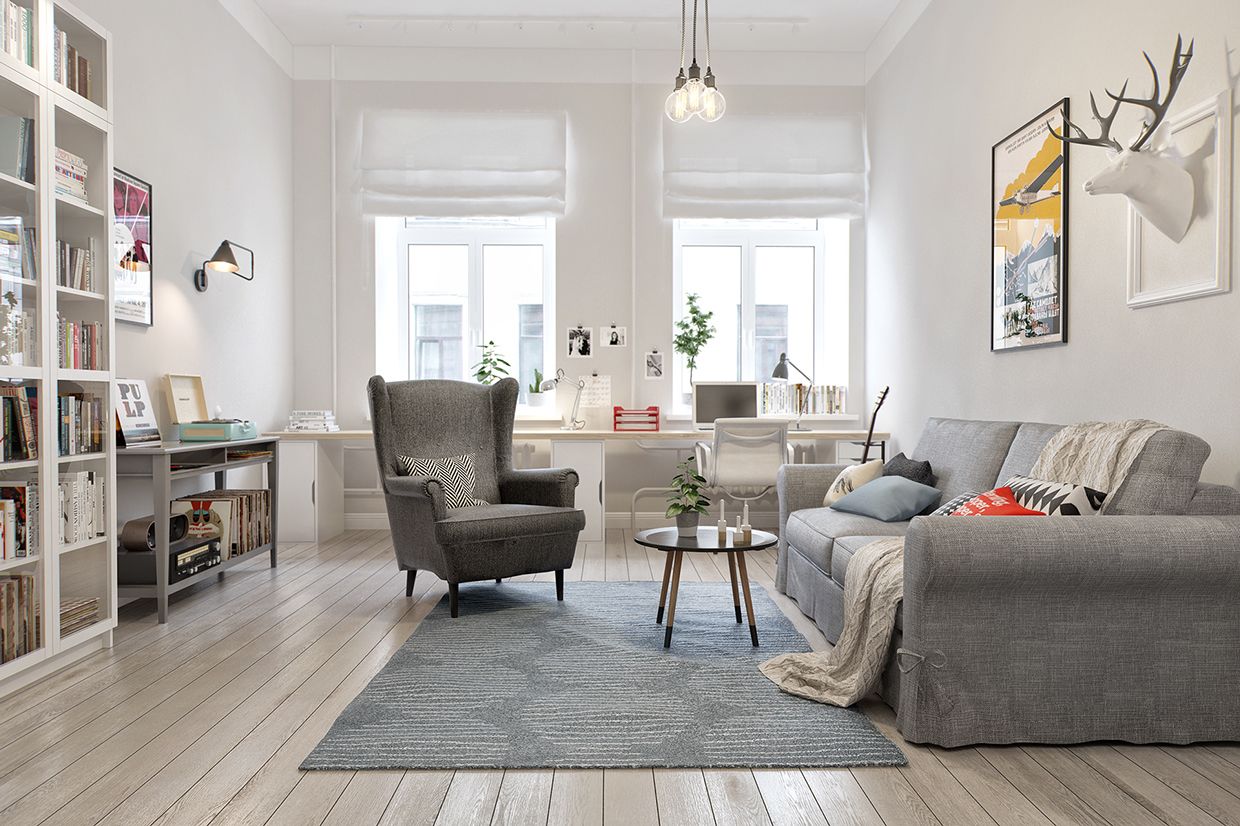 Tall shelving that displays your personality is another option.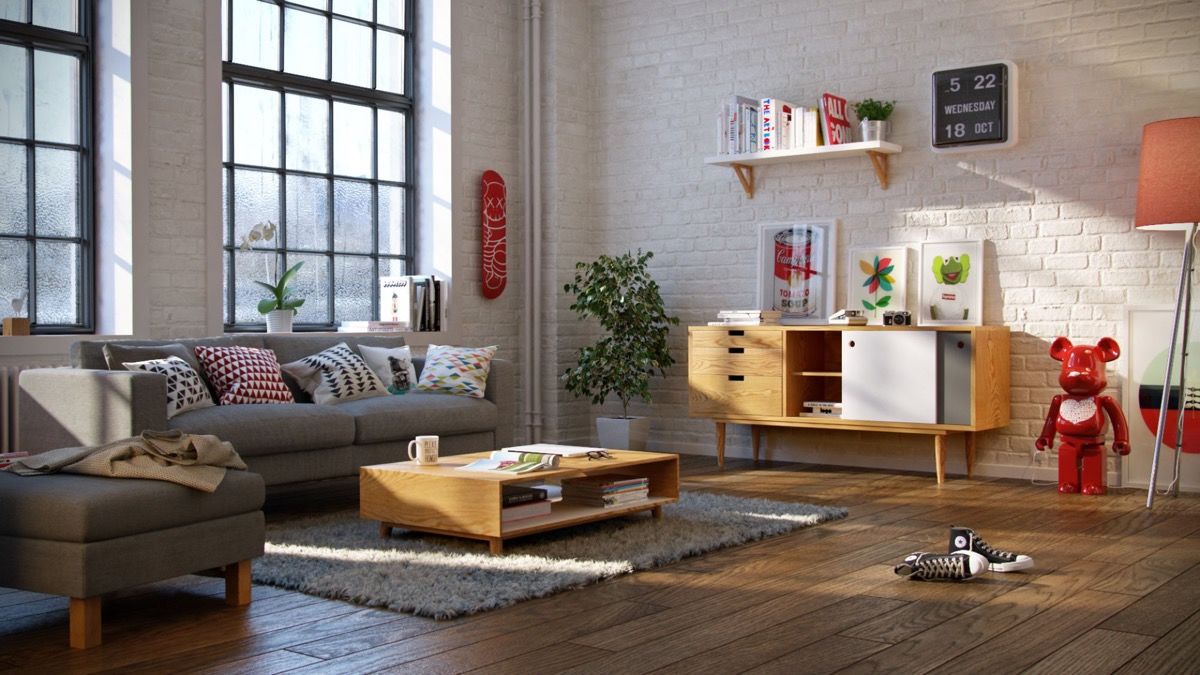 Or store your favorite stories directly inside your coffee table as well as a mid-century credenza.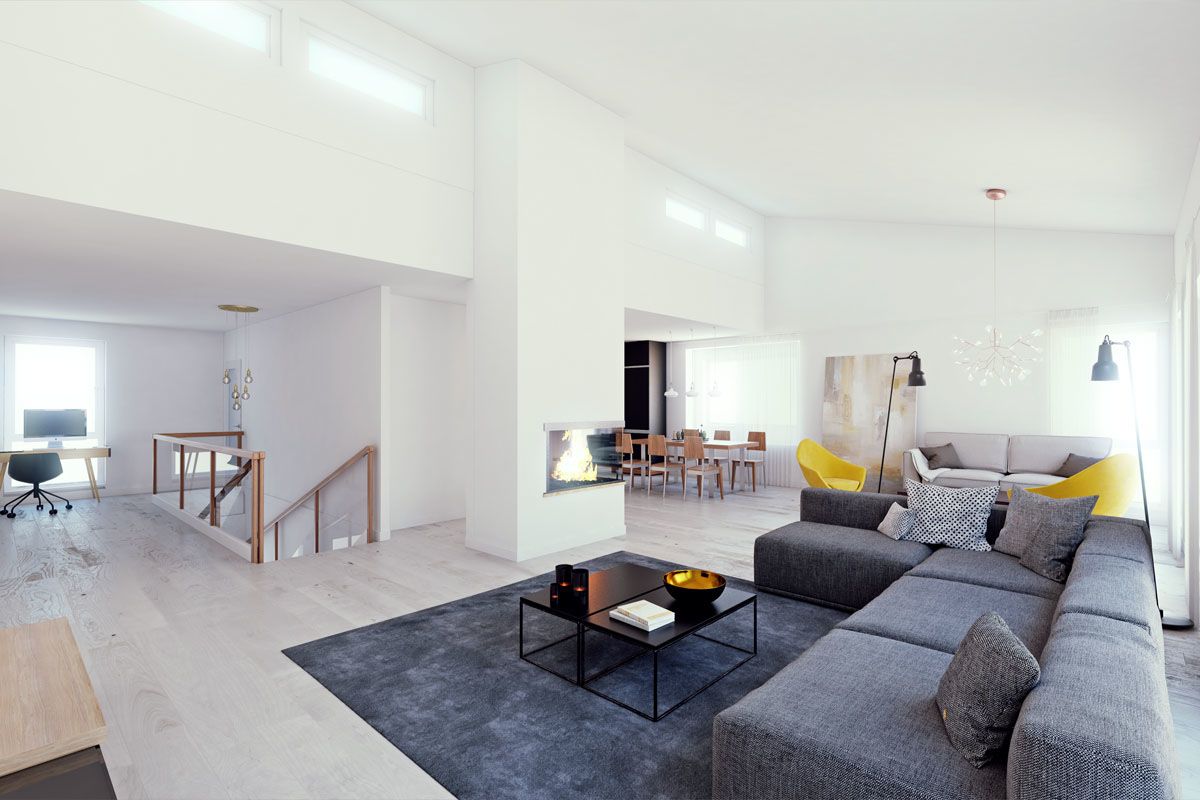 The low angles of this oversized sofa emphasize the space of this living room.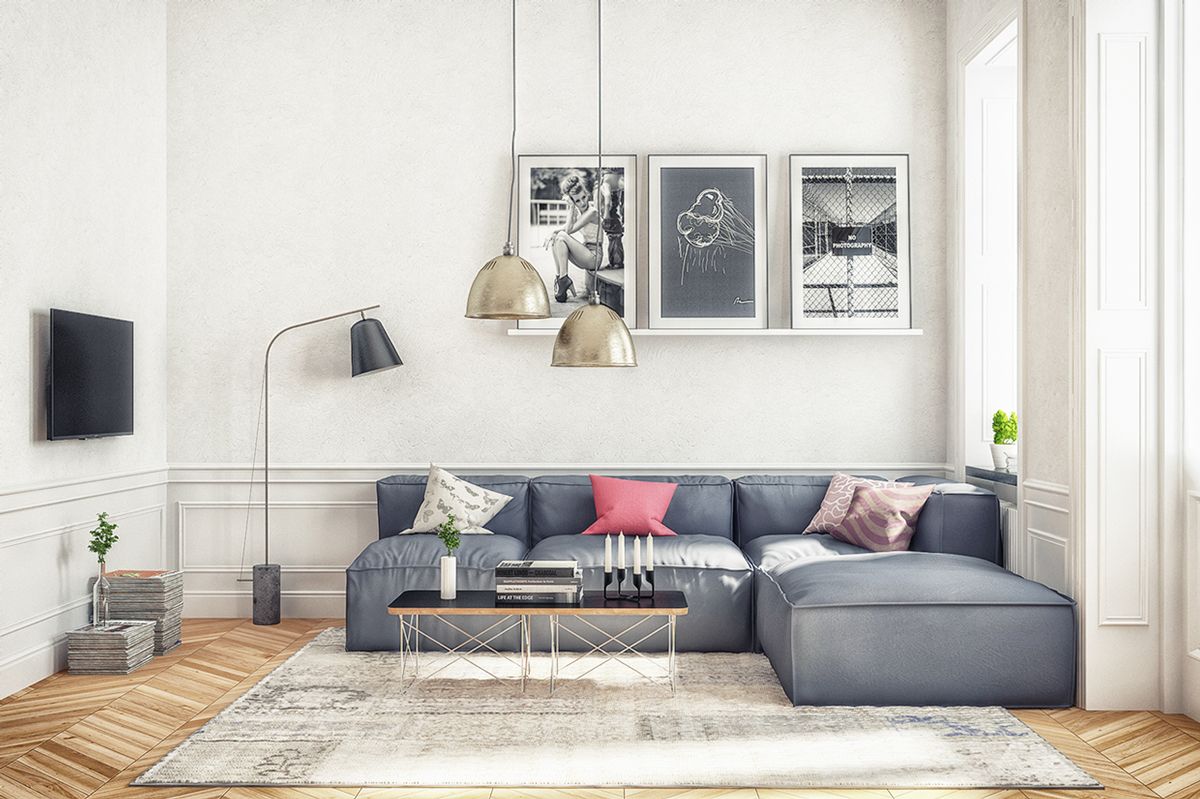 A single pop of pink (or whatever your favorite color is) can change the whole personality of a room.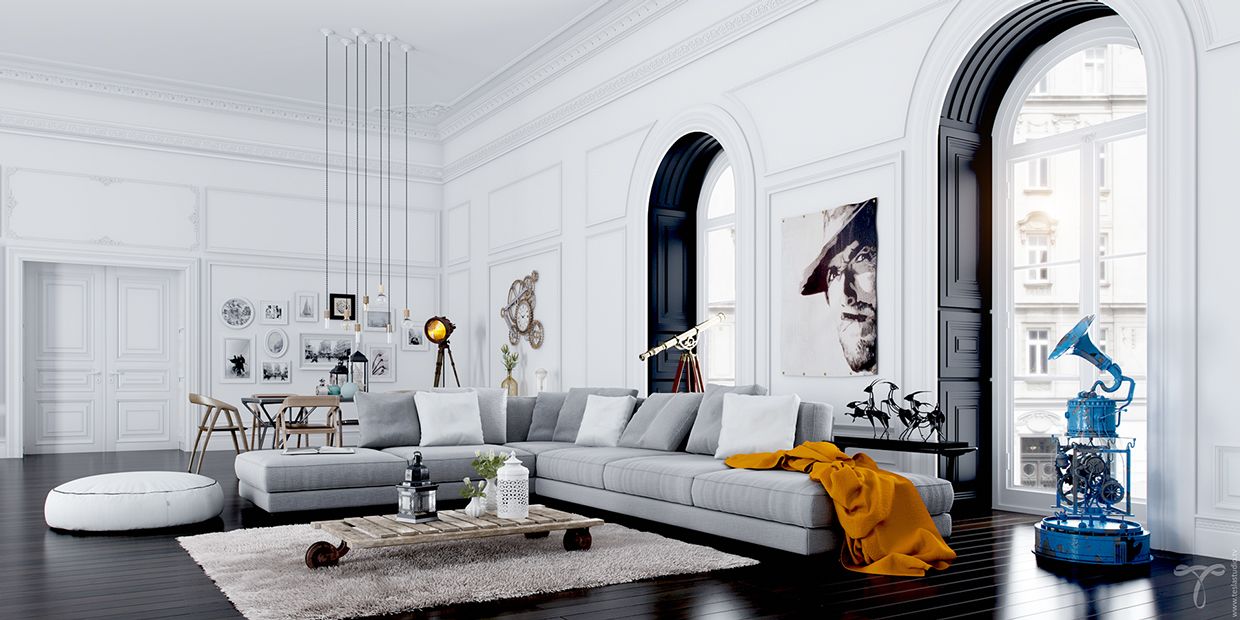 Classical elements like arched windows and crown molding can provide a cool contrast to minimalist furniture and other simple design elements.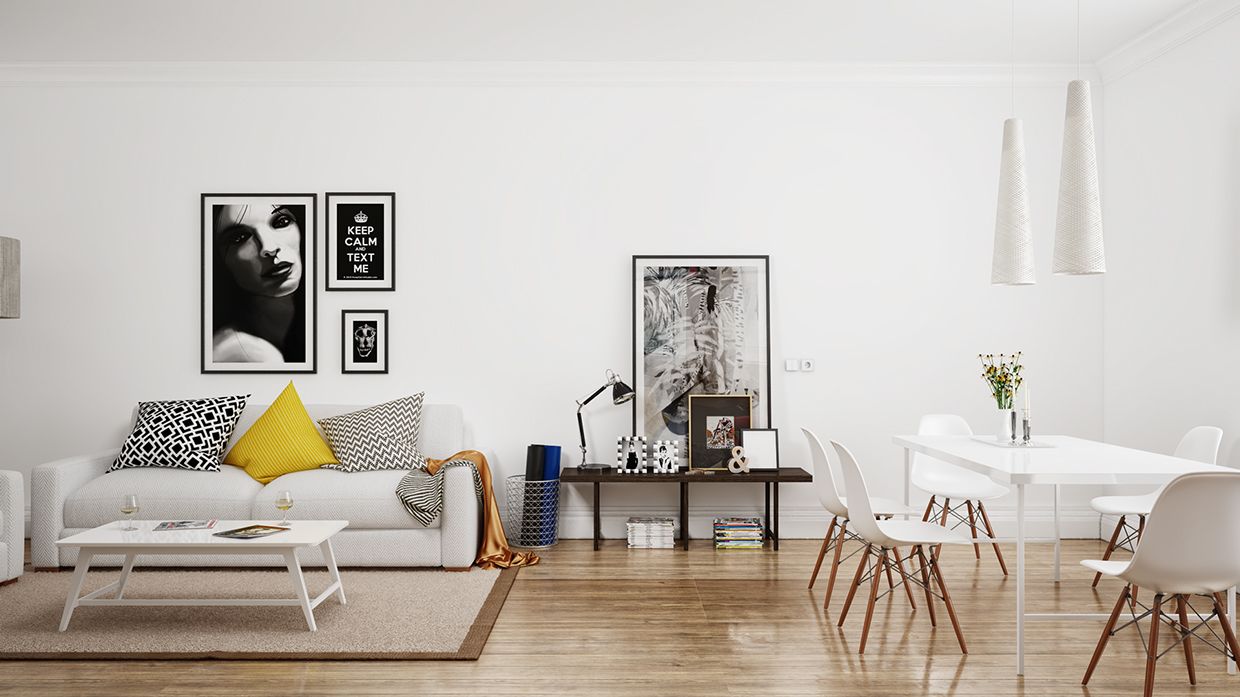 In a space like this, living room and dining room must be separate but still work together.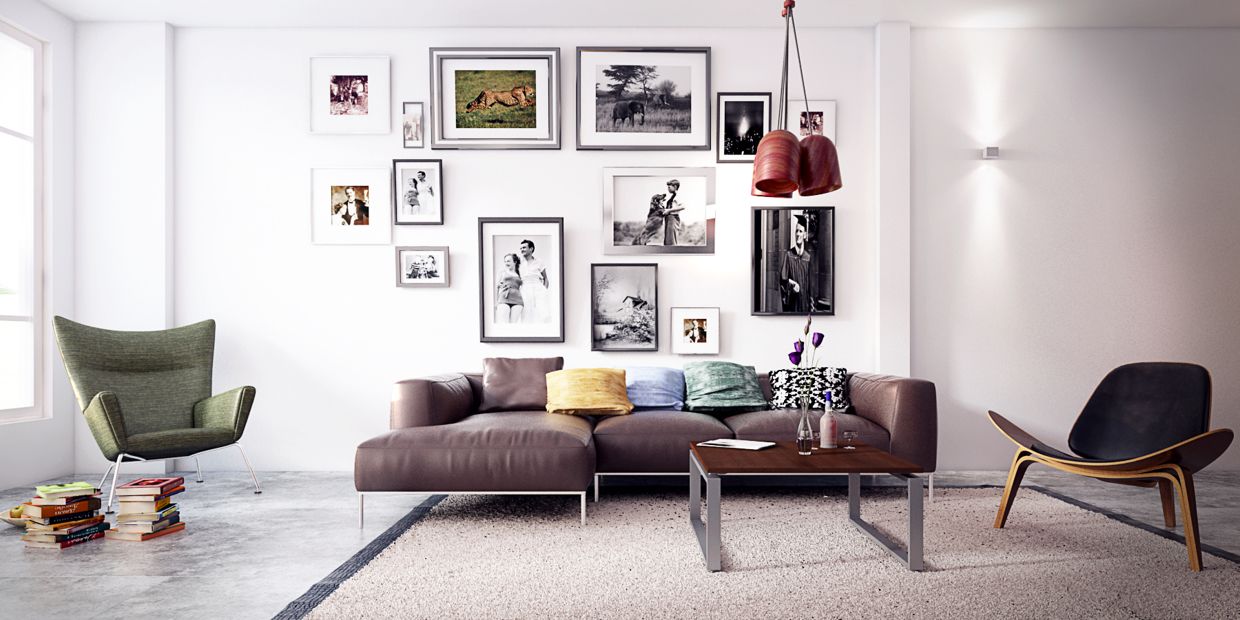 Dark colors like maroon and moss can still work as neutrals when done correctly.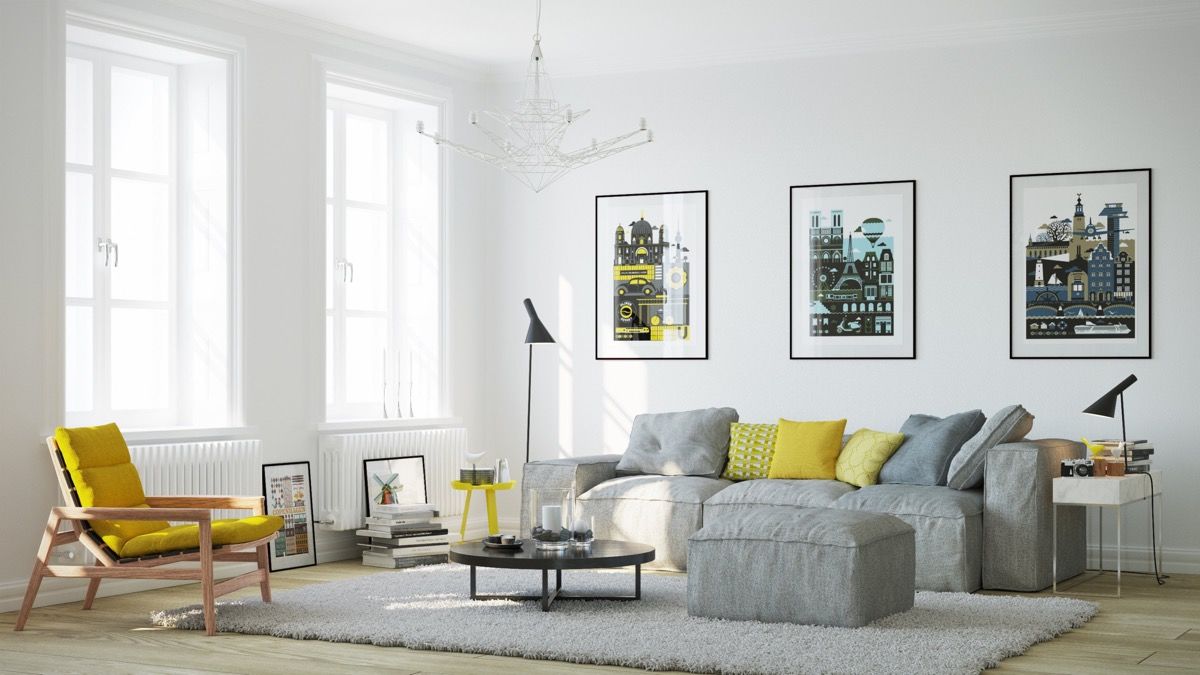 An accent chair in that same sunny yellow – or any other bright color – can serve to add a lot of interest to an otherwise neutral space.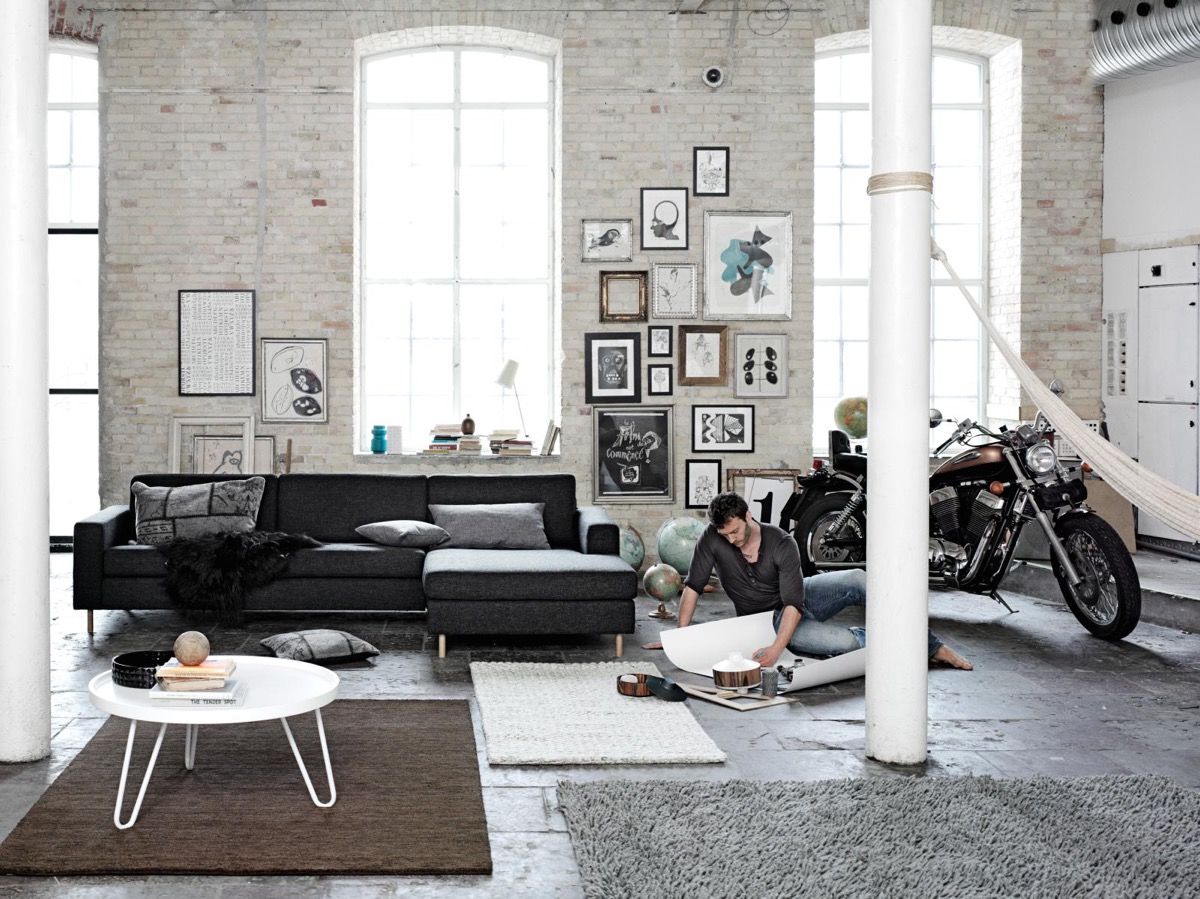 Different floor textures from multiple rugs adds both comfort and style in this loft.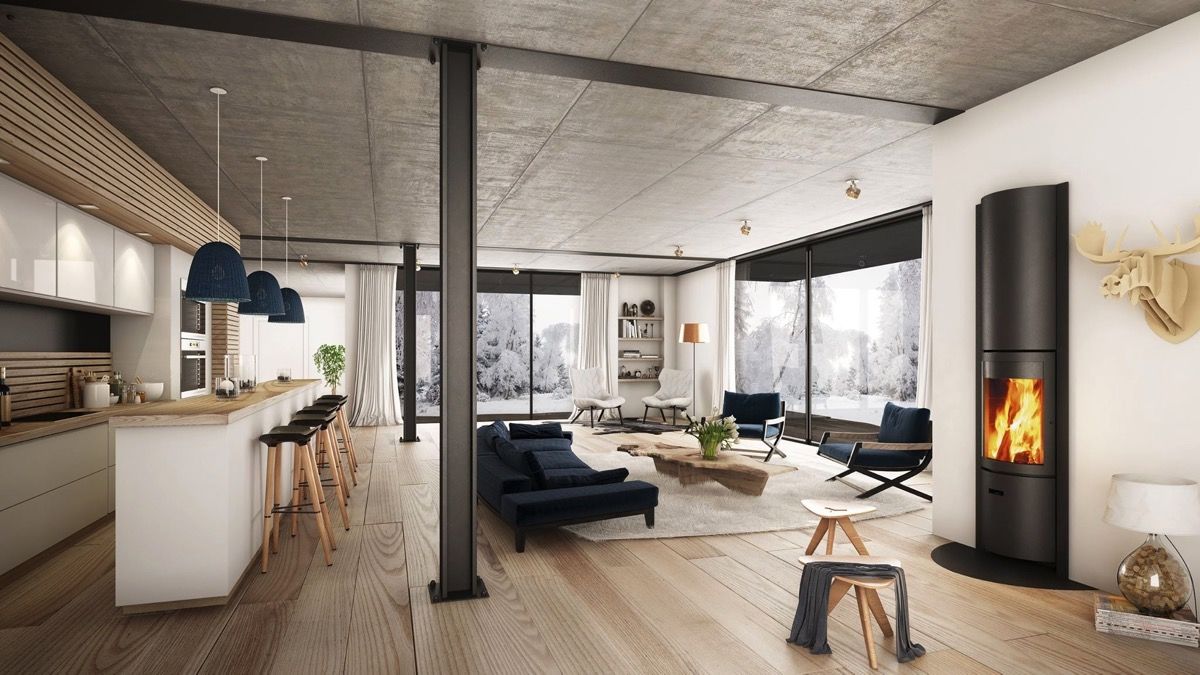 Natural wood against concrete is the epitome of warm industrial.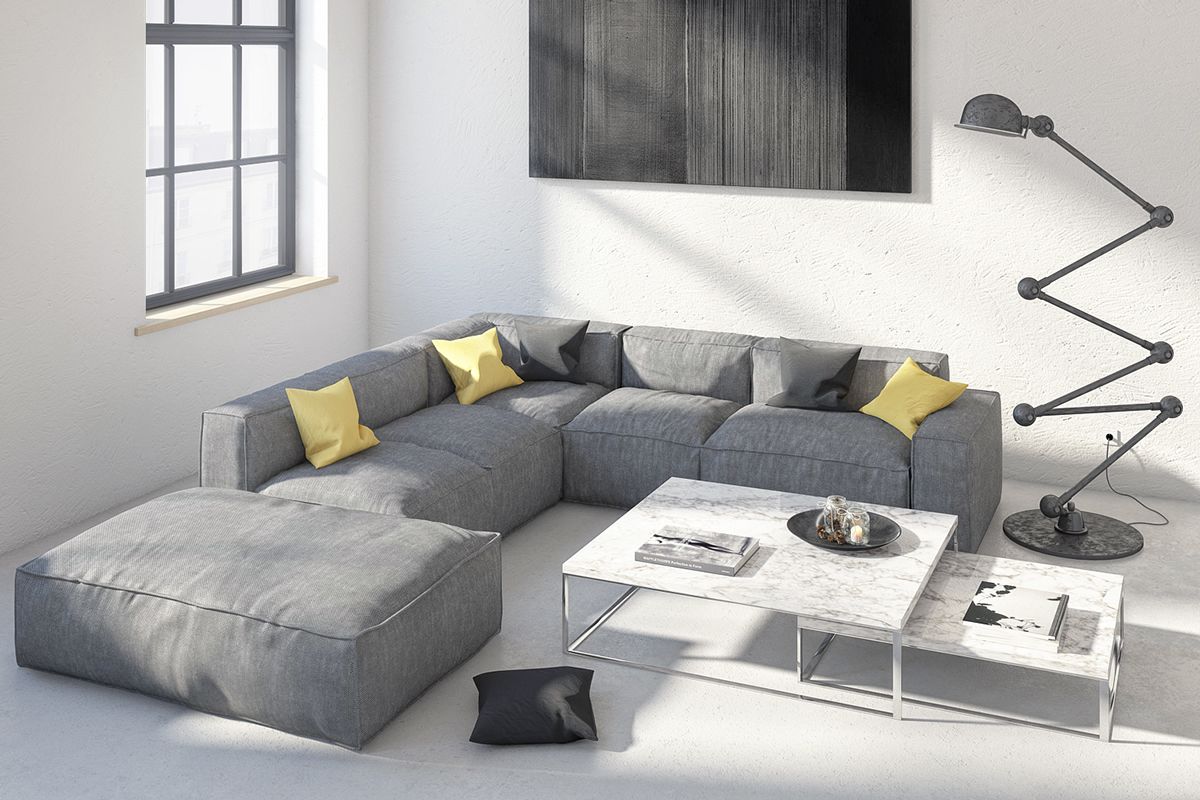 And if bright sunny yellow is a little much for you, tone it down a bit.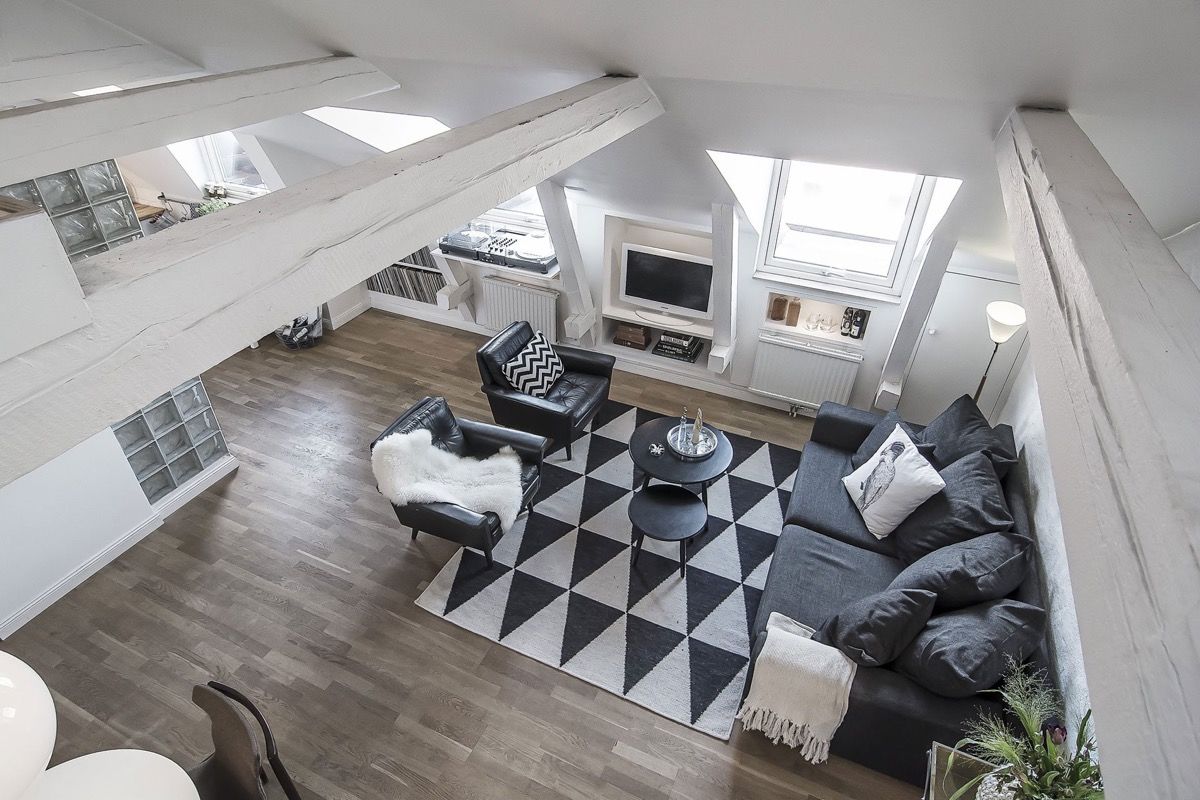 In an answer to chevron madness, this triangle pattern is just different enough.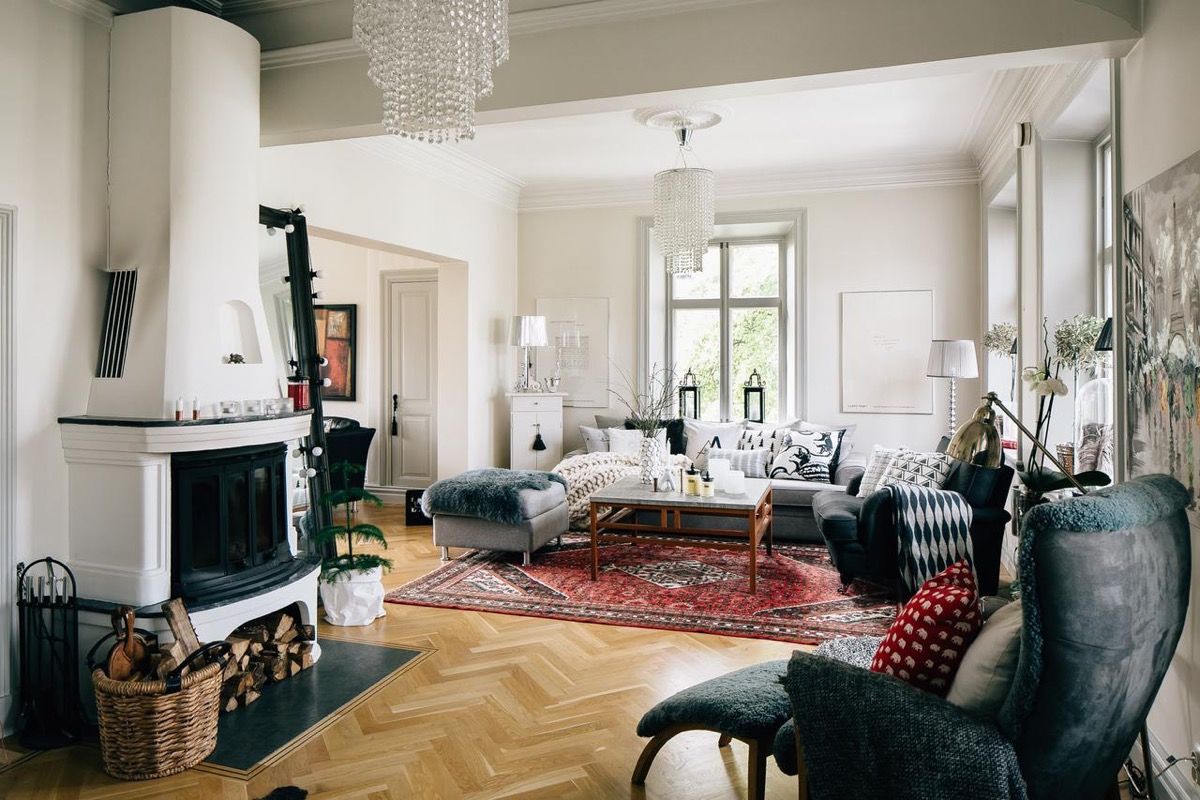 Mismatched furniture and a vintage rug are not strictly Scandinavian but the space is still quite cozy.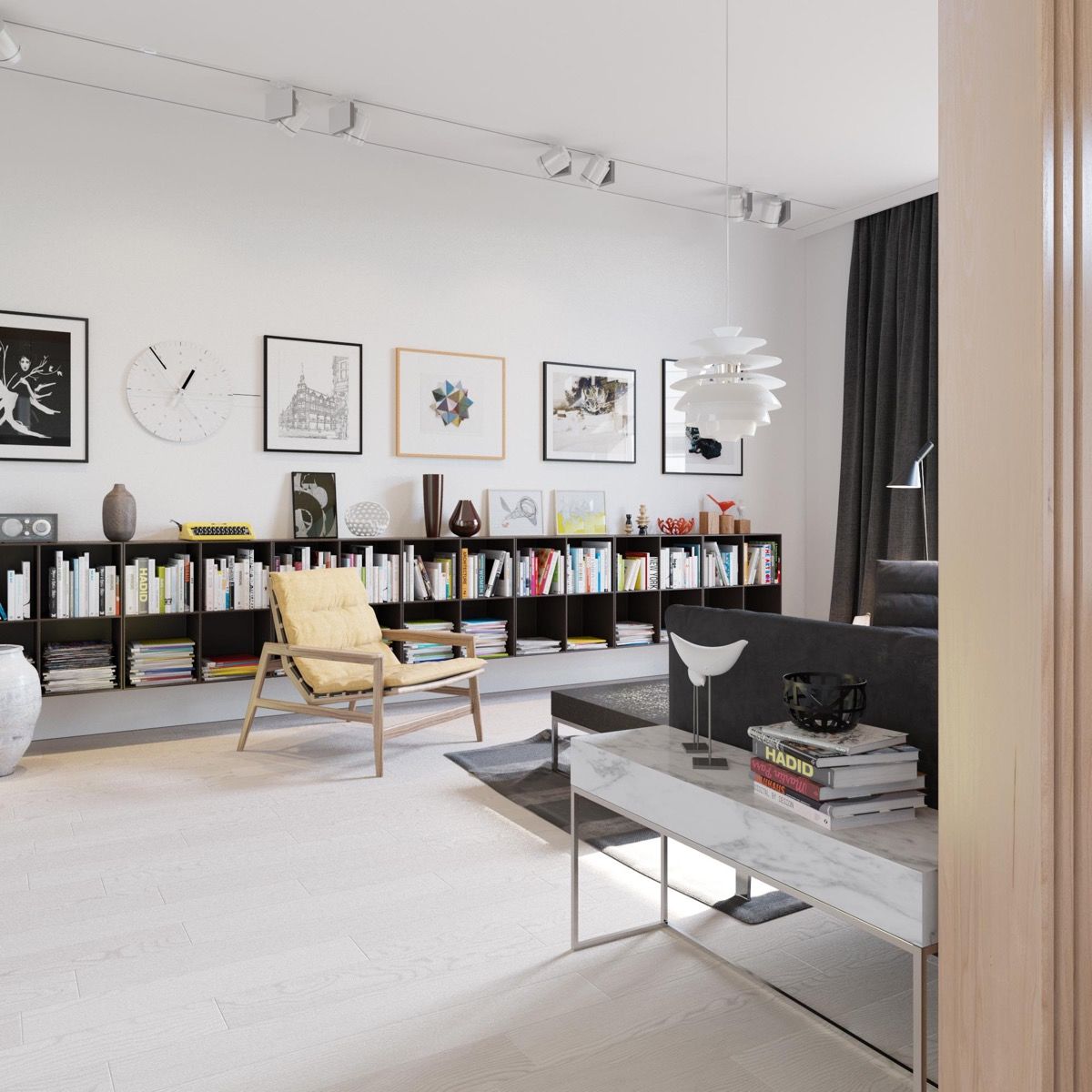 More long low shelving keeps the eye moving horizontally.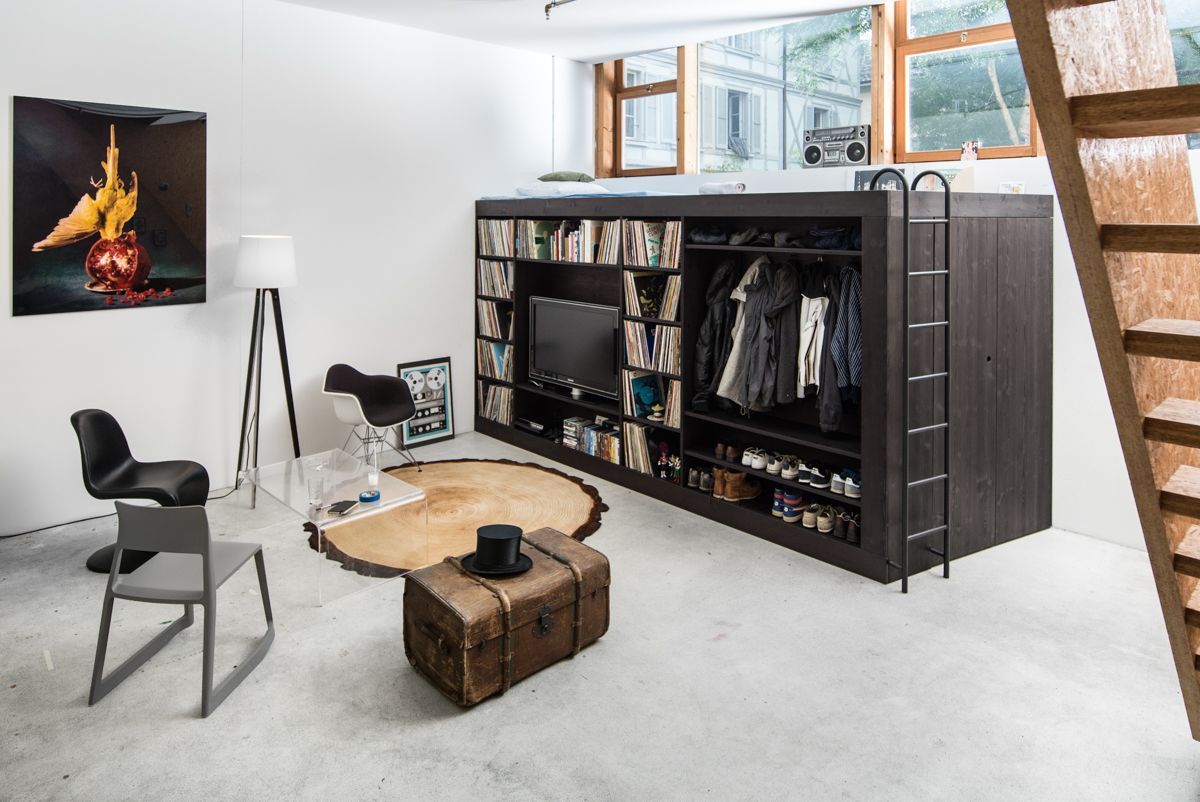 This studio apartment with lofted bed is the ultimate in simplicity with bed, closet, entertainment center and storage all in one.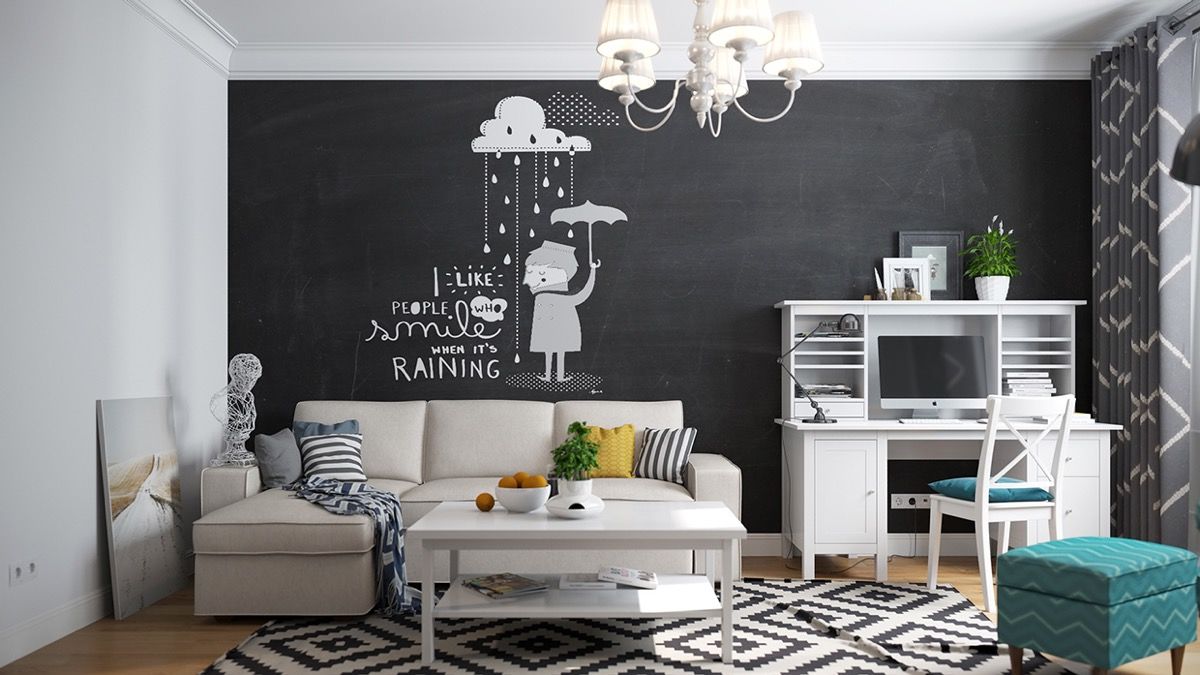 A touch of artistic whimsy can go a long way.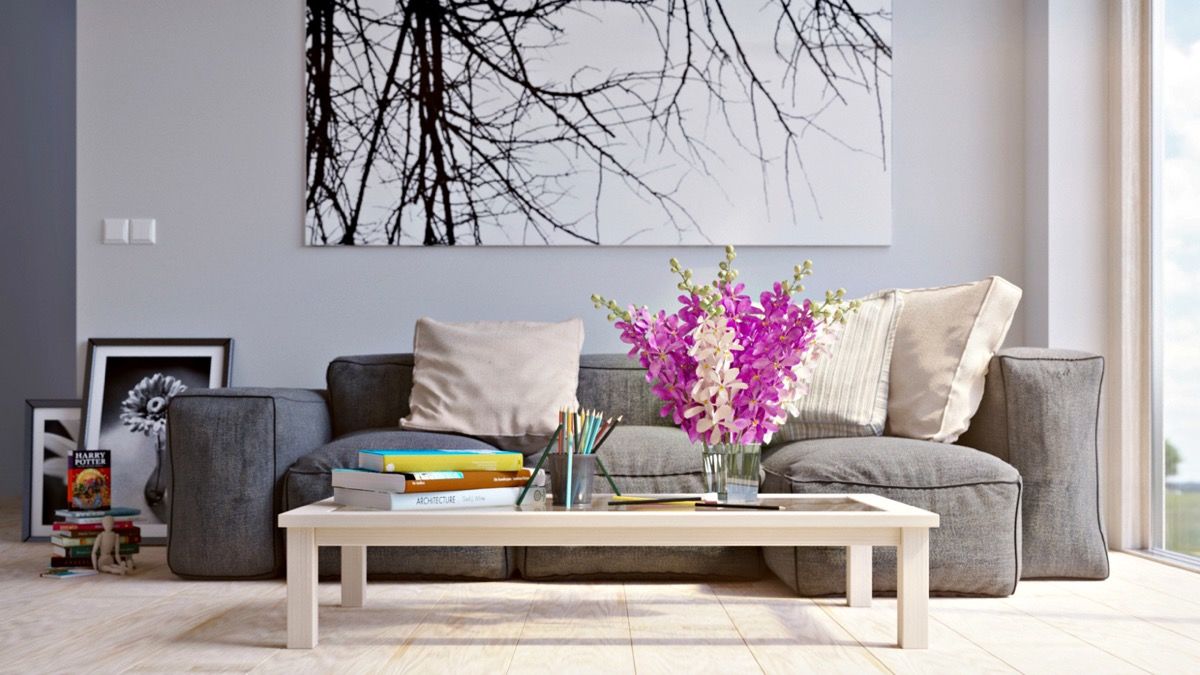 Minimalism doesn't have to feel over the top. This living room is particularly comfortable and kid-friendly.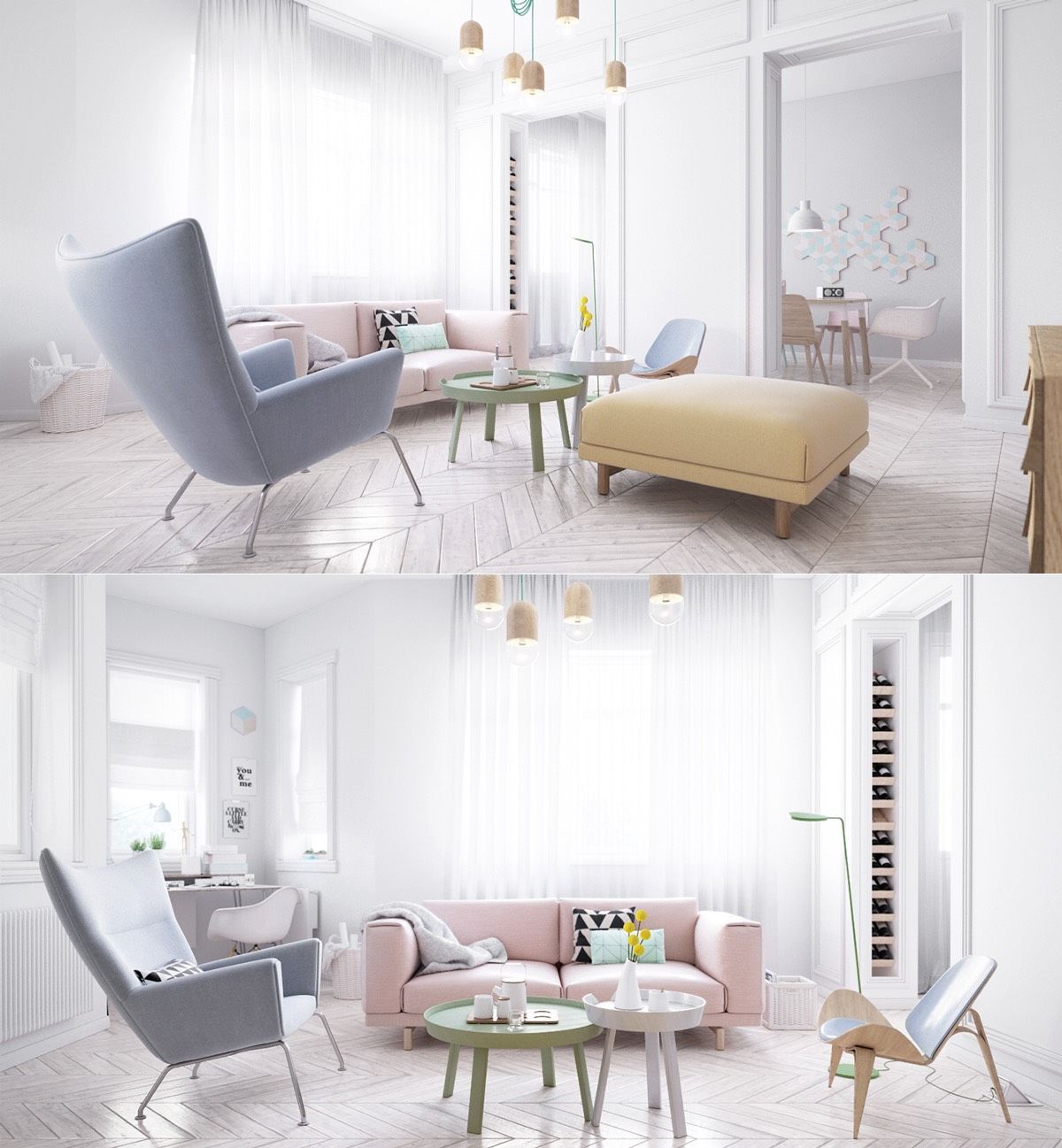 Easter egg pastels give a space a delicate, feminine whimsy. The nesting coffee tables you see here are the Muuto Around tables.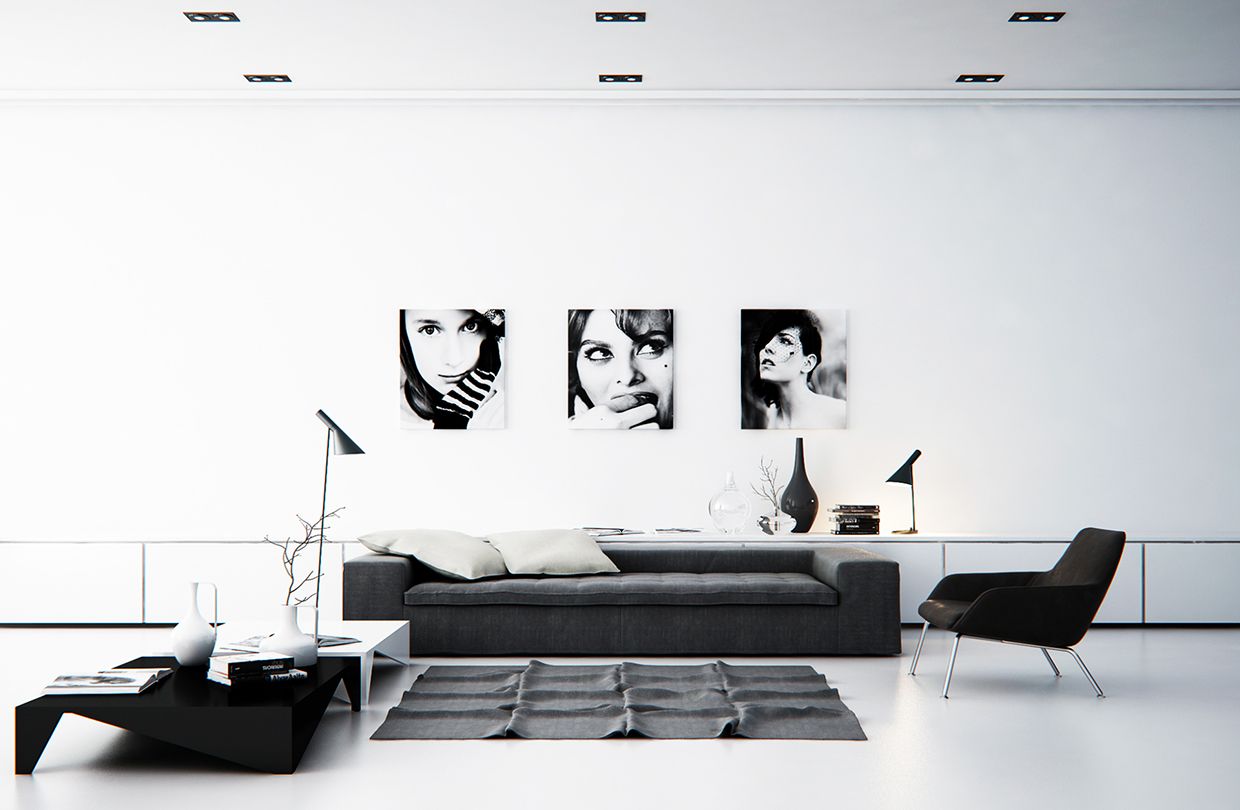 Take inspiration from different eras, like this mod and mid-century space that fits perfectly into contemporary spaces.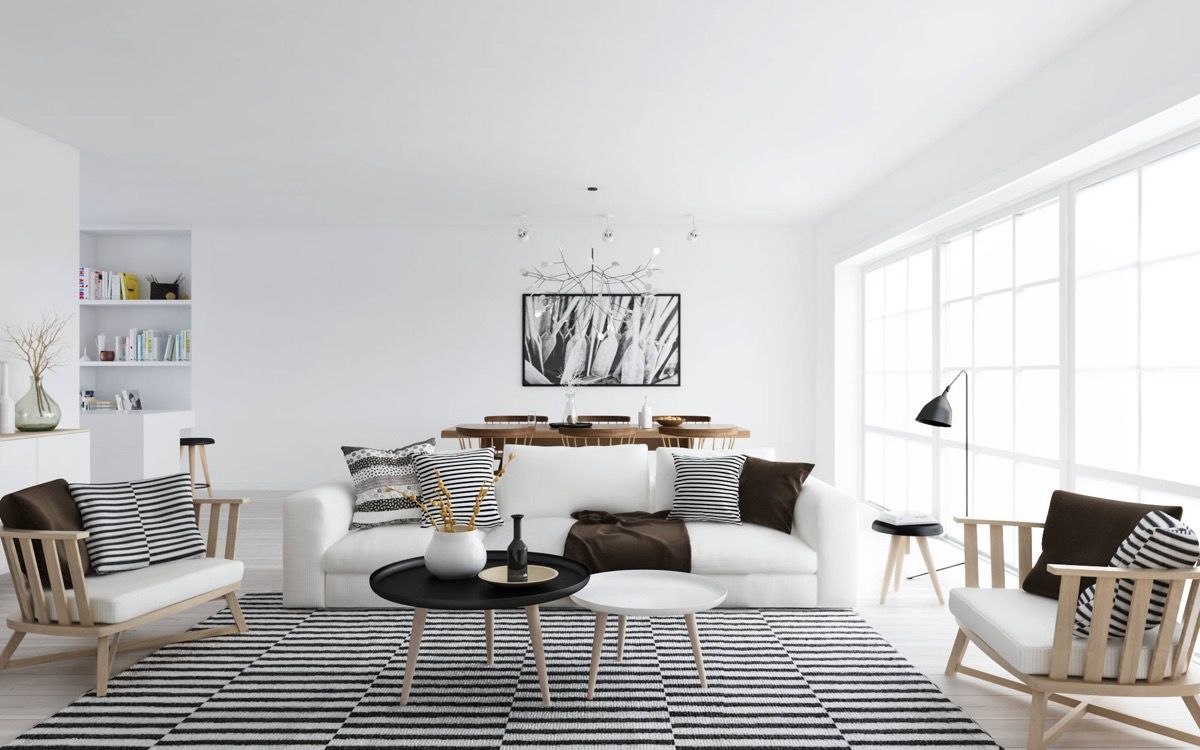 Black and white stripes truly never go out of style. You don't have to go as big as this room, but a throw pillow or blanket can be a good choice.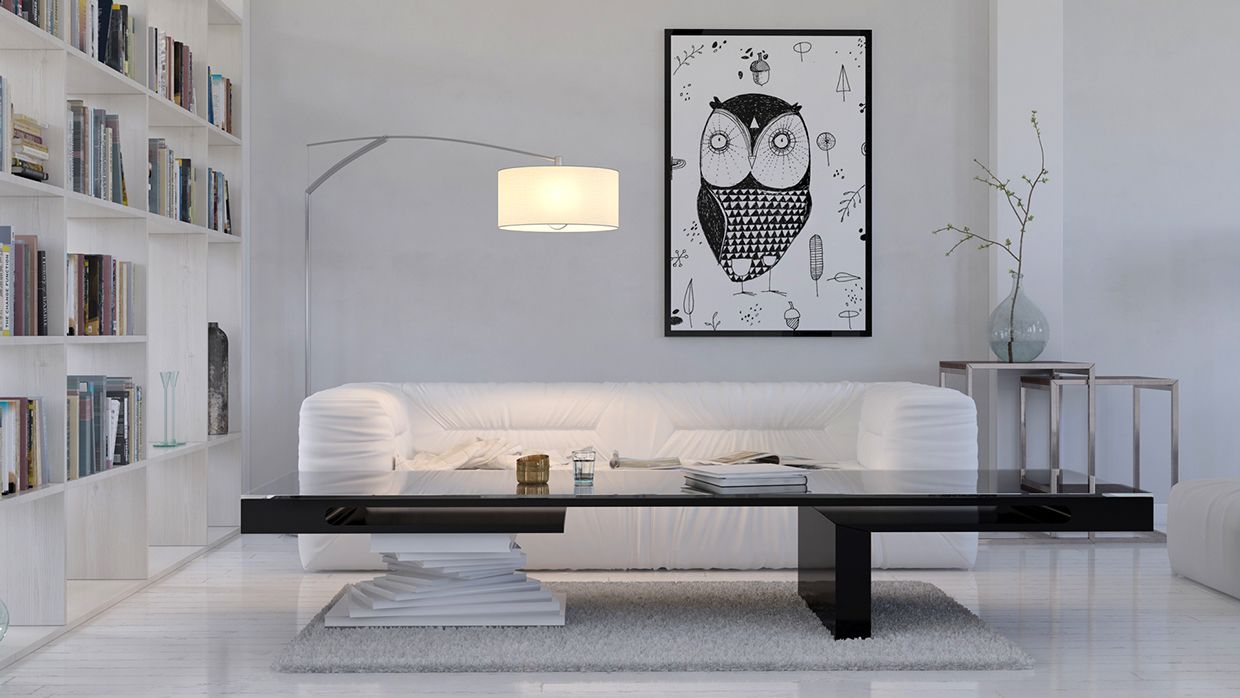 The minimalism of this style is offset by the whimsy of the oversized owl drawing. The large unique floor lamp adds a special touch.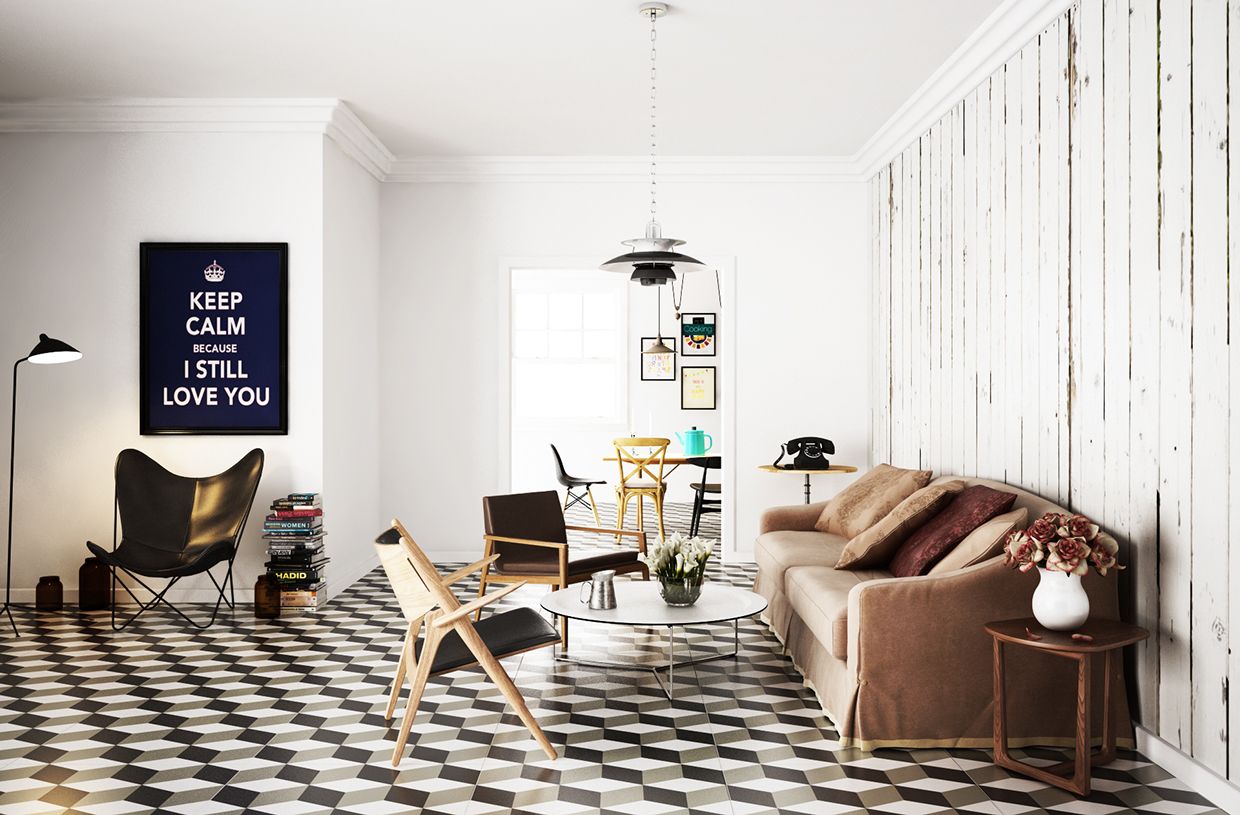 Checked floors and whitewashed walls are a bit upscale dorm in this space.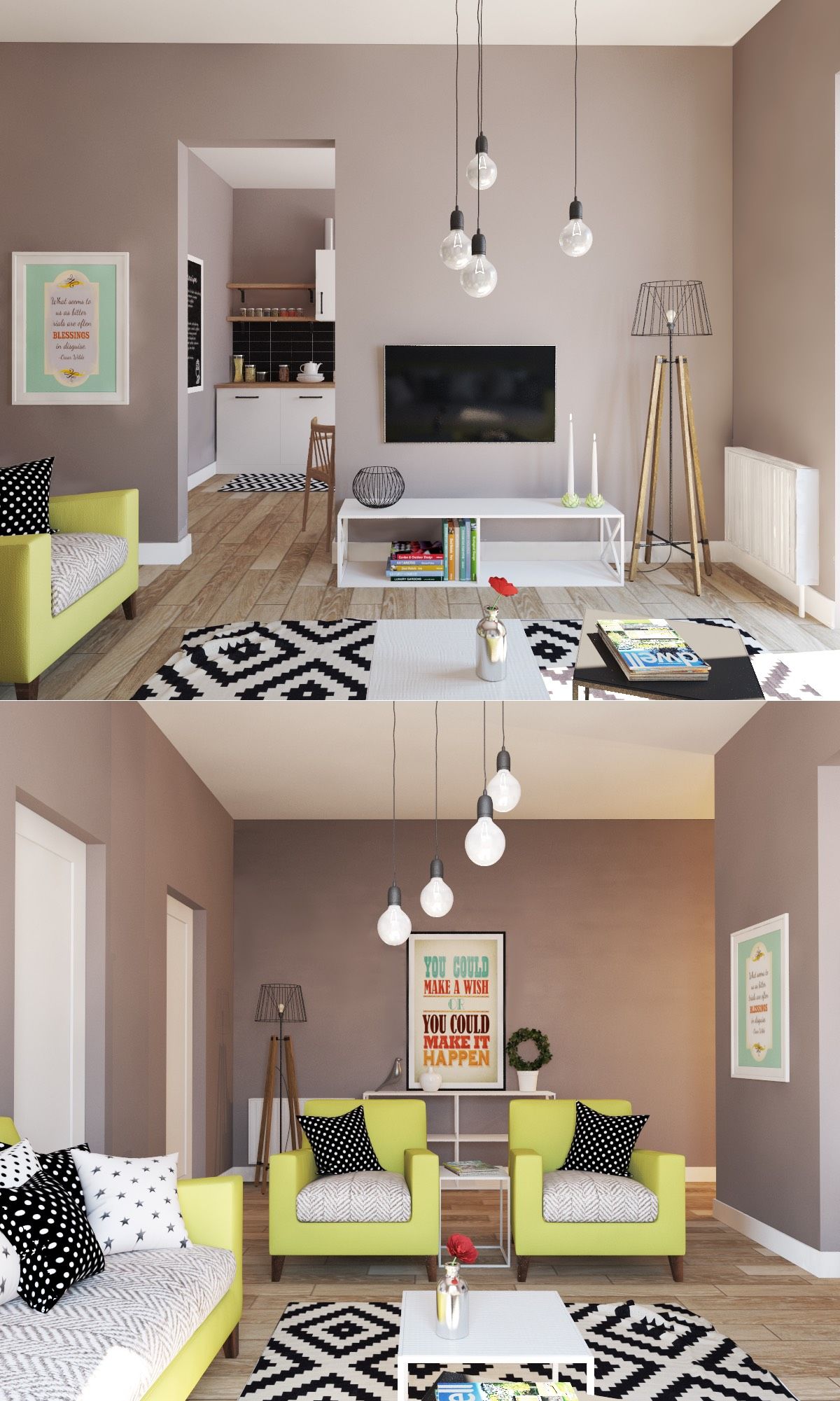 Here's a yellow option that's a more neon and therefore gives the space a trendy, youthful glow.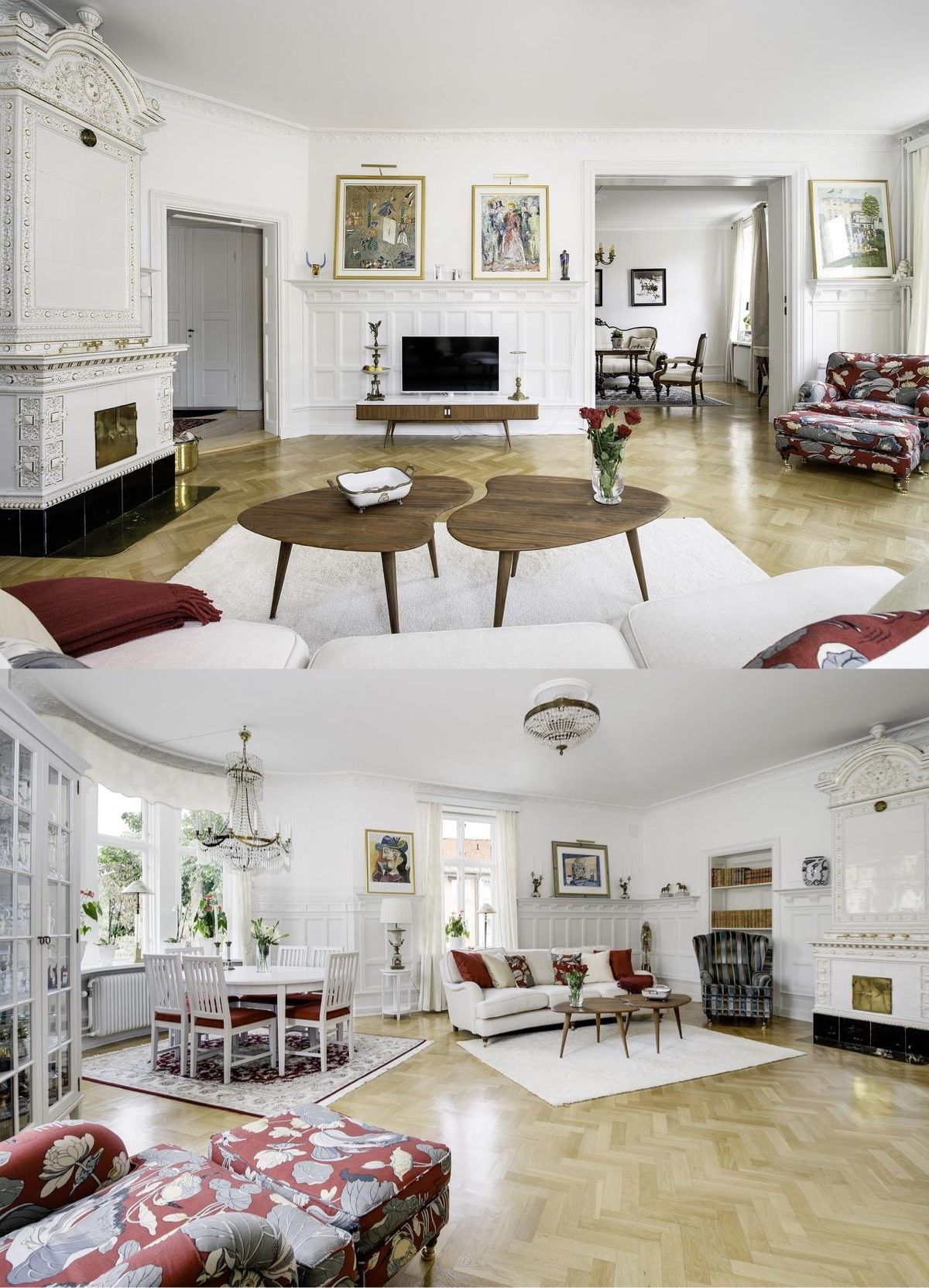 A floral print chaise lounge chair is a bit more classic than simple but elements like mid century modern coffee tables and sparkling wood floors definitely fit the bill.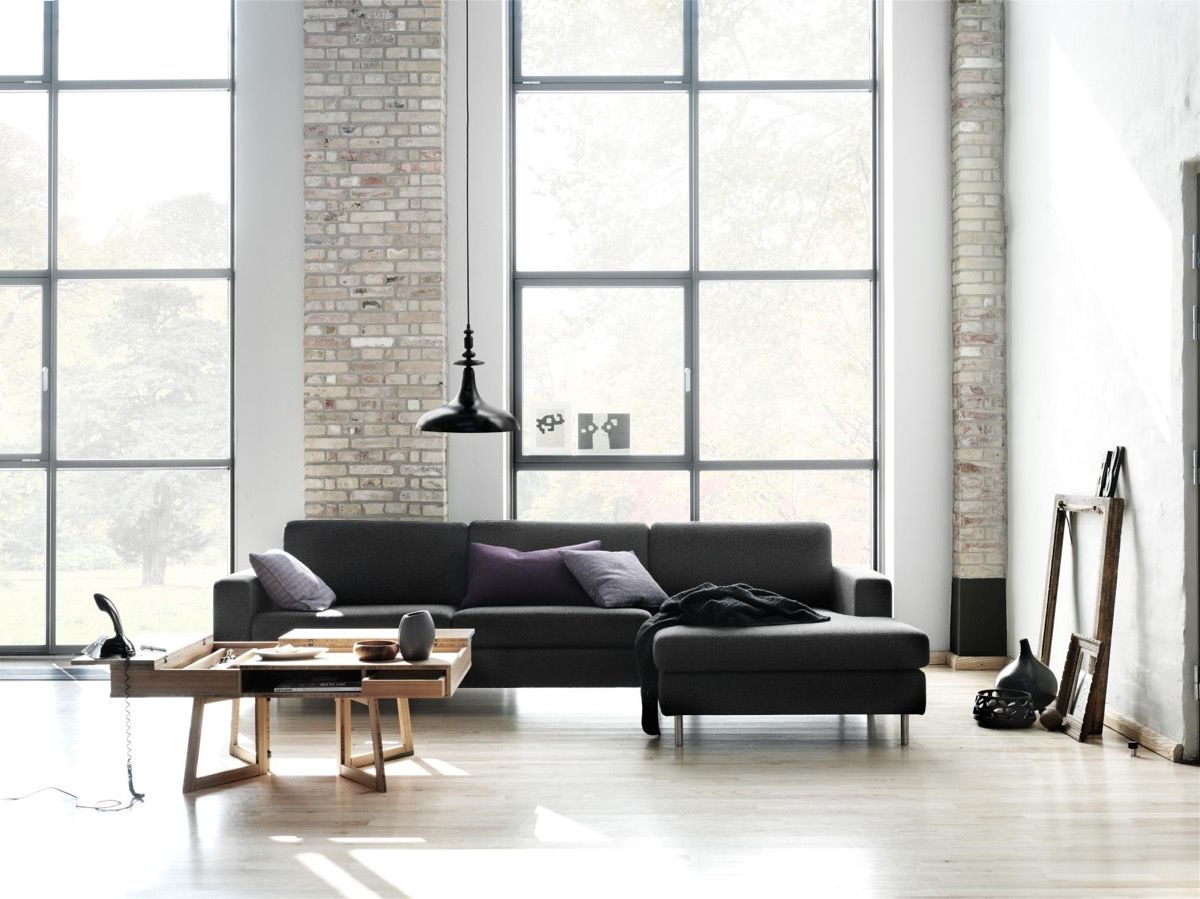 Massive windows don't offer much privacy but in the penthouse you don't need it.
And a final entry into the black, white and yellow category is this dreamy mustard colored sofa.