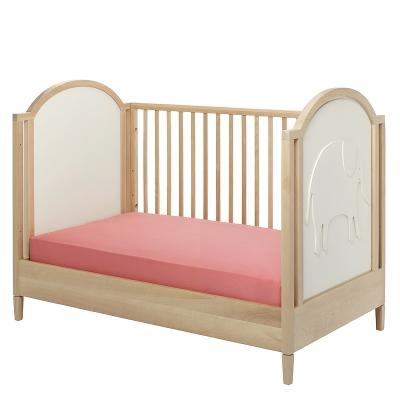 Each piece uses formaldehyde-free glues and is finished with low-VOC paints and stains. The designs are functional, versatile and solidly built to last throughout childhood and into the next generation. The Q Collection Junior Lunar Crib is everything you need to take your child well into the toddler years. Conversion allows for three easy configurations: crib, daybed, and toddler bed without the need for a separate conversion kit. Easily removable side rails make the transition a snap.
Fixed side rails, Mattress support adjusts to four heights.
Hardwood frame in locally sourced birch (clear finish), side panels and elephant applique (both ends) in no formaldehyde added MDF (Cloud finish).
Mattress support is made of no formaldehyde added plywood.
Non-toxic, water based finish, free of VOC health hazards.
Made in the USA.
Assembly required.
Brand Q Collection Junior
Designer Q Collection Junior
Materials Constructed with FSC-certified (Forest Stewardship Council) wood or wood that is locally-sourced from responsibly managed forests, formaldehyde-free glues, and low-VOC paints and stain finishes.
Features Made in the USA. Q Collection is a member of
1% for the Planet
, which donates a percentage of sales to an alliance of environmental organizations worldwide.
Dimensions 54.5" L x 40.25" H x 30.25" D